Dental Refugee, Nuevo Progresso, Mexico
May 2019
In late April, my Dentist in Dallas had recommended that to fix issues with food getting stuck between 2 of my molars, I needed to get an onlay on one of the molars. Cost estimate was $1200; and that it would take 1 week for the onlay to get made at a local lab; using computerized equipment to make the onlay. My Dallas dentist is wonderful, very reasonably priced, and one of the best dentists' I have used; BUT I thought spending over a thousand dollars on one tooth was too high; being the cheapskate that I am.
Tips for Low Dentist Bill
Get out of the US and visit Nuevo_Progreso for a cheap dentist treatment
So, I researched alternatives, and was recommended by my friend, Shanawaz, to try out a dentist in Nuevo Progresso, Mexico; which is across the border from McAllen, Texas, USA. This was a dentist he and his family have used for several years now and have been very happy. I talked to the staff at this dental office, and they informed me the pricing which was attractive, and that if we arrived early before 9:30AM, then they would be able to computer generate the onlay I needed by 2:30PM that same afternoon, as they had the lab in their own facility. I would therefore be taken care of the same day; no waiting overnight.
So after making an early morning appointment, we took a late evening flight from Dallas to McAllen, TX, and spent the night at a Holiday Inn near the airport. Dinner was at a nearby local Mexican food place; where they were making fresh tortillas.
Next morning, we picked up a rented car at McAllen airport. The rental car was not as cheap as we get in Dallas and other places; and upon inquiring, it seems that there is a lot of business traffic between US and Mexico here, and therefore, there are a lot of other businesses that support this, resulting in a lot of demand for rental cars (& I assume, hotel rooms). Anyway, we drove about 20 miles east to Weslaco; and then turned south to the Mexico border; about 7 miles away. When we arrived at the border, we parked the car at a parking lot on the US side of the border; cost was $3, that we paid to a very pretty parking attendant. Then, we walked to cross the Rio Grande river border bridge.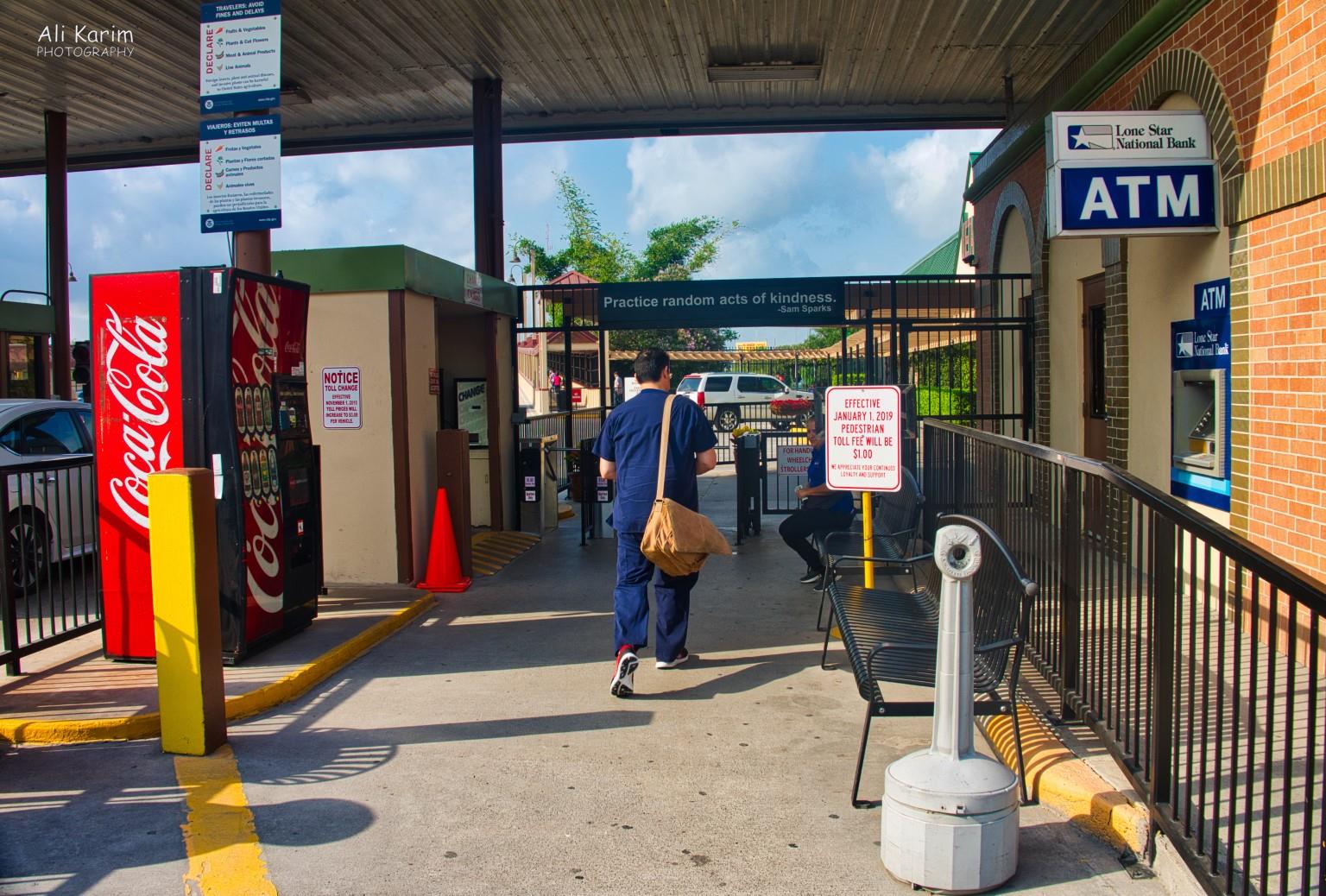 Pay and walk
To walk on the bridge you have to pay a toll of $1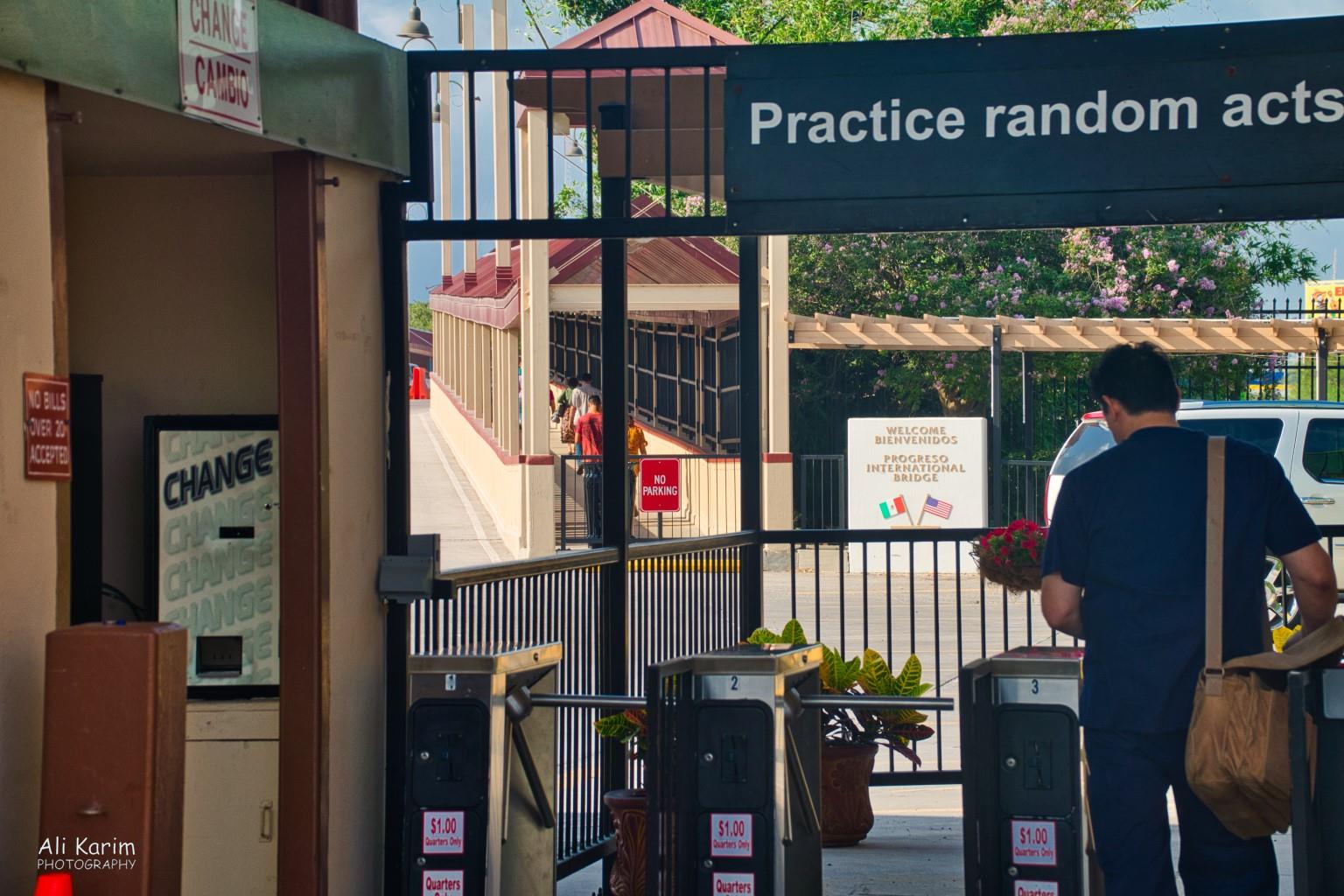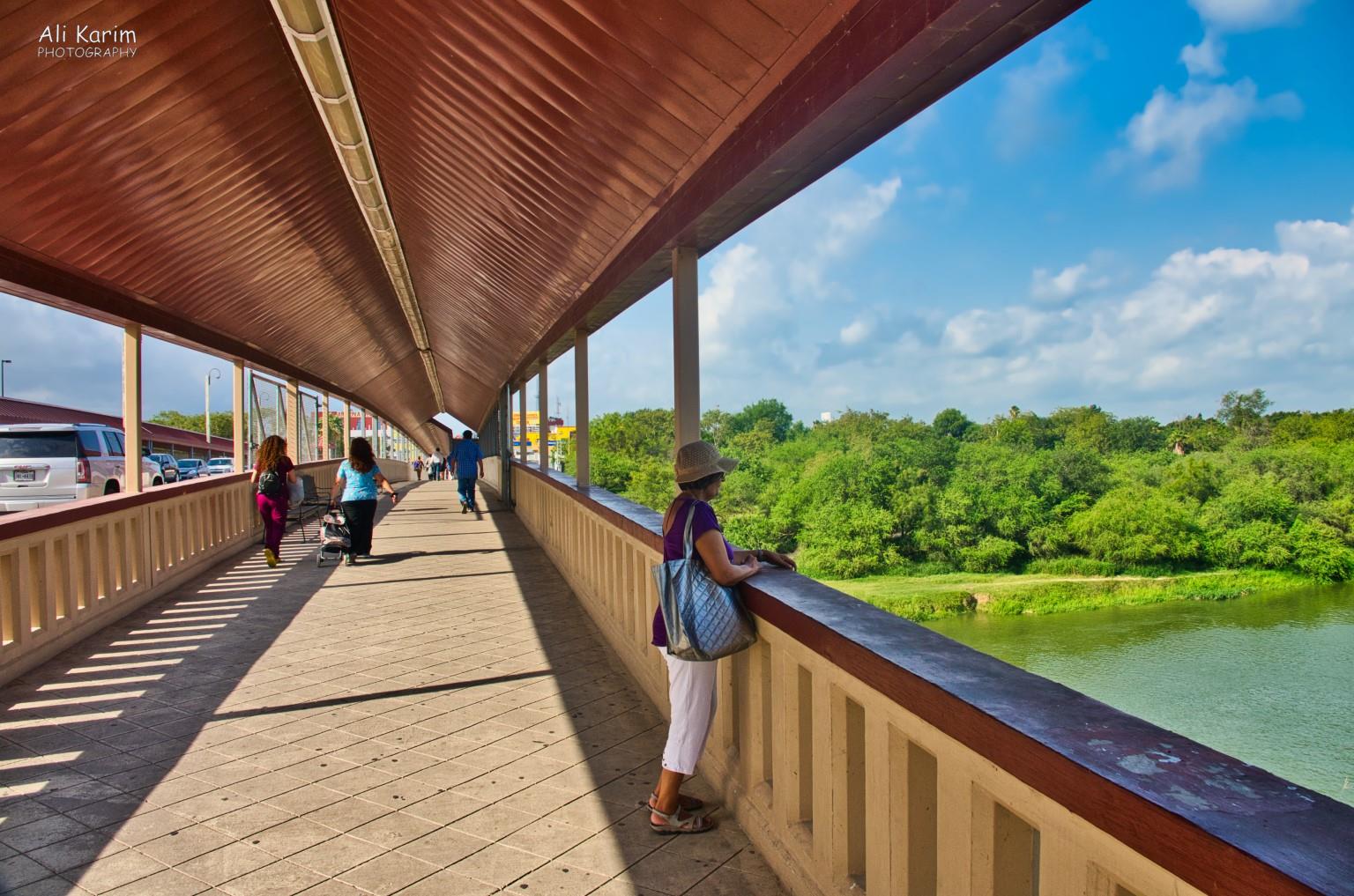 To cross from the US to Mexico, there is no US Immigration or Customs you have to pass thru. You simply walk from the US to Mexico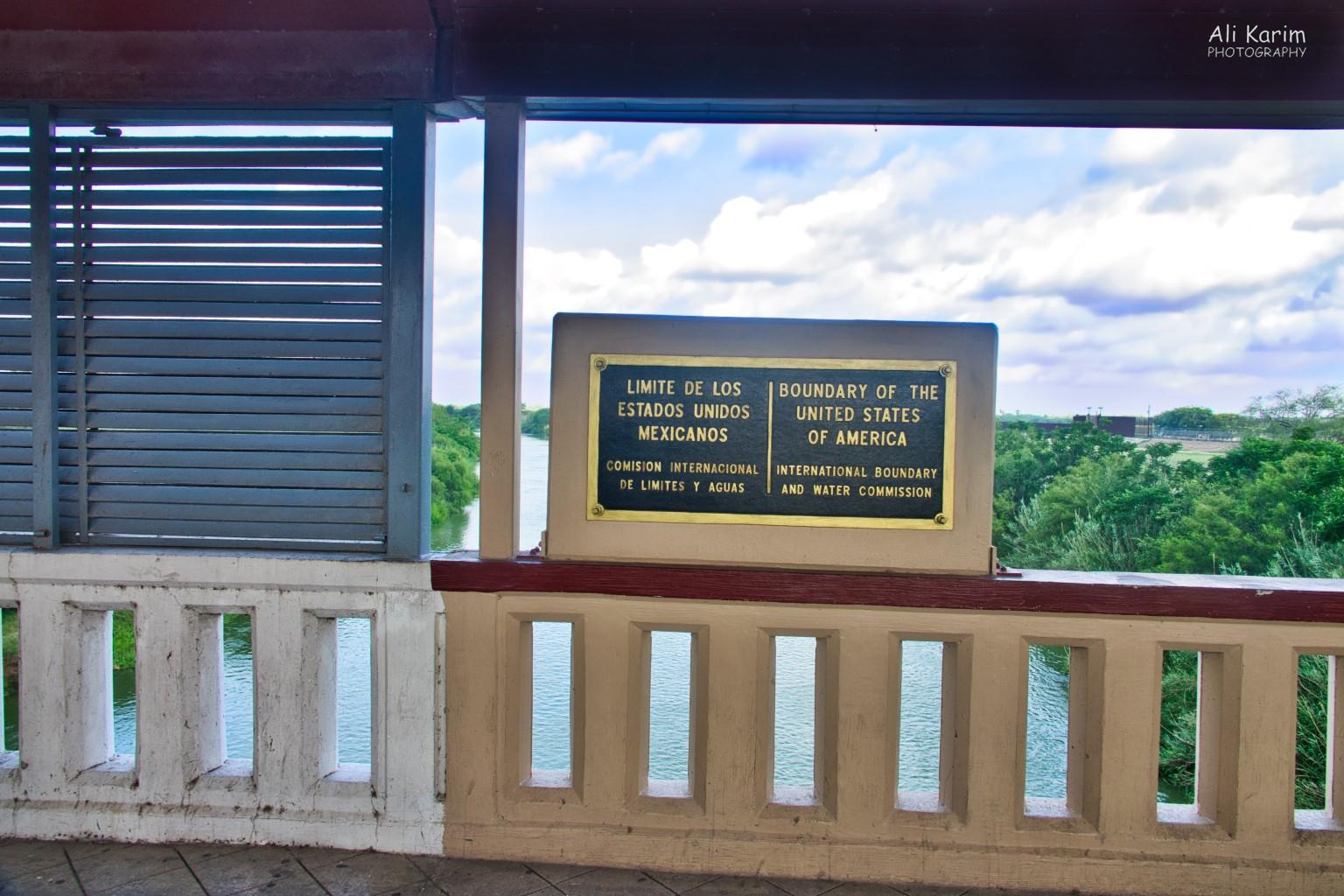 On the Mexico side, to enter Mexico, there was also no Mexican Immigration or Customs we had to go through; the only thing we had to do was to put our backpacks through the X-ray scanner. And we were in the town of Nuevo Progresso , in Mexico 🙂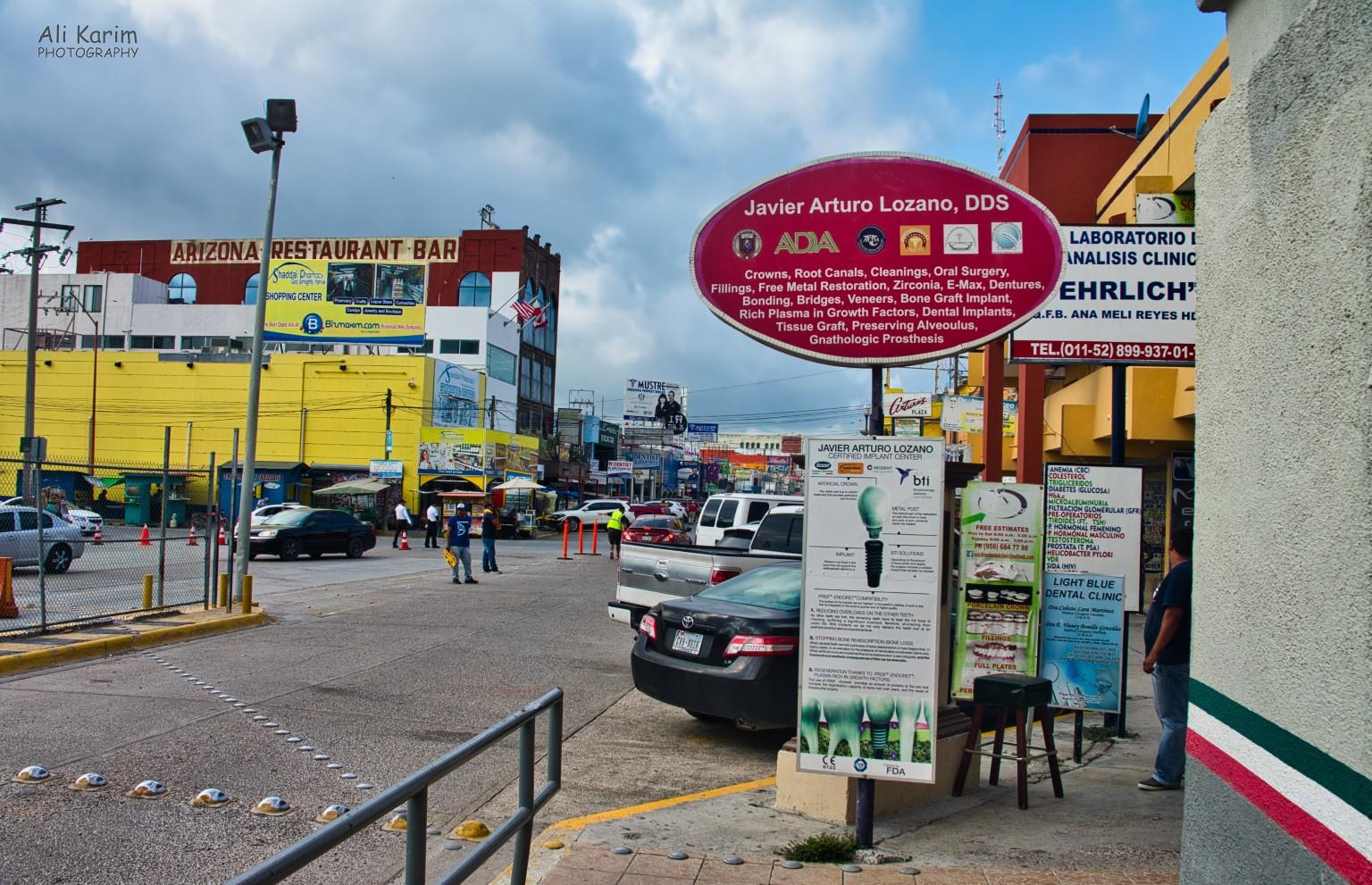 What we noticed as soon as we left the bridge, was the multitude of Dental offices here; with people giving you business cards of the Dentists, and offering to take you to the Dentists that had paid them; commission basis.
Dental Tourism
There are so many dentists Just as you reach Nuevo Progresso that it seems like people come here for Dental Treatment quite often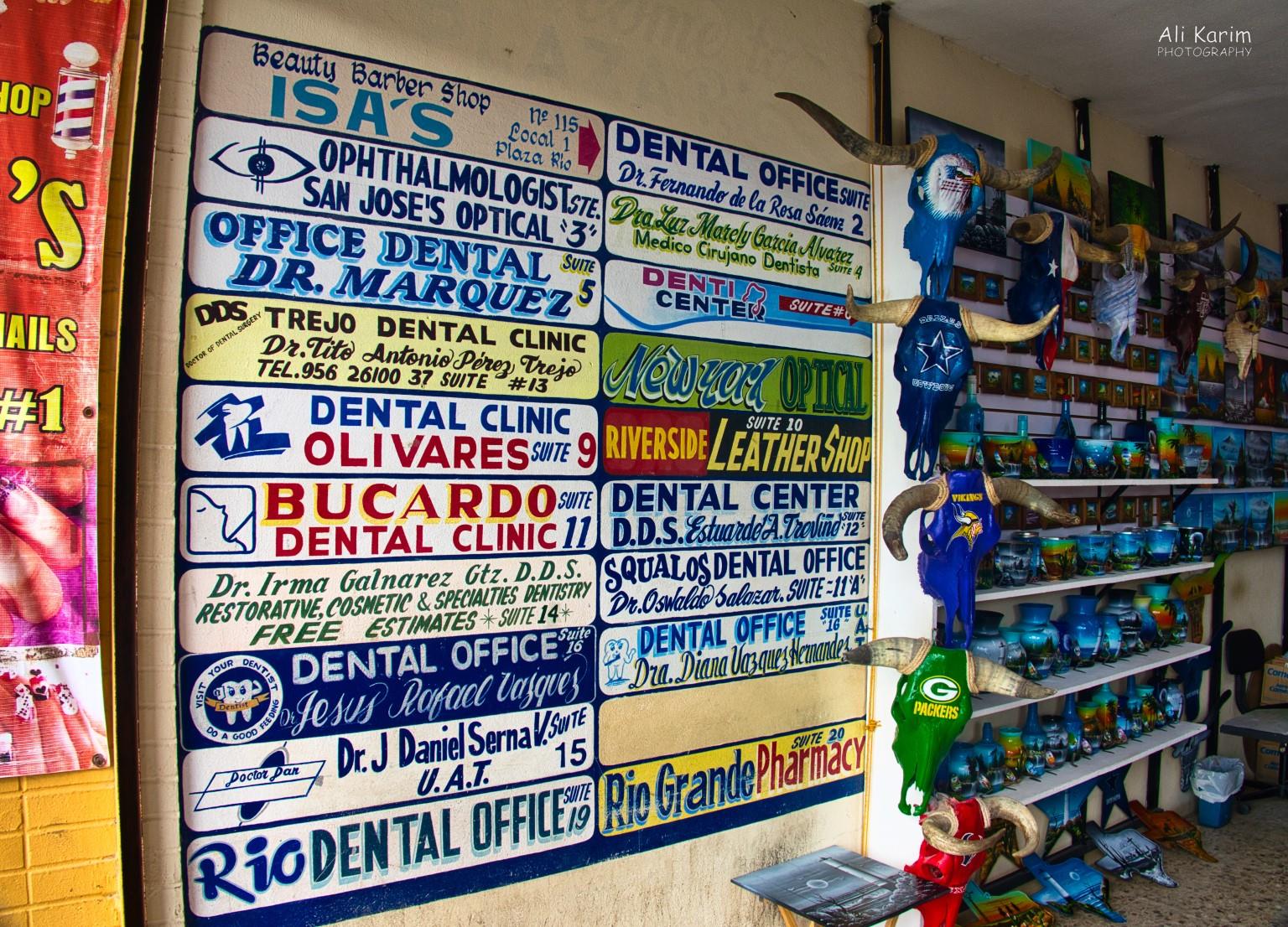 We found our dentist here where we had booked the appoints for us both.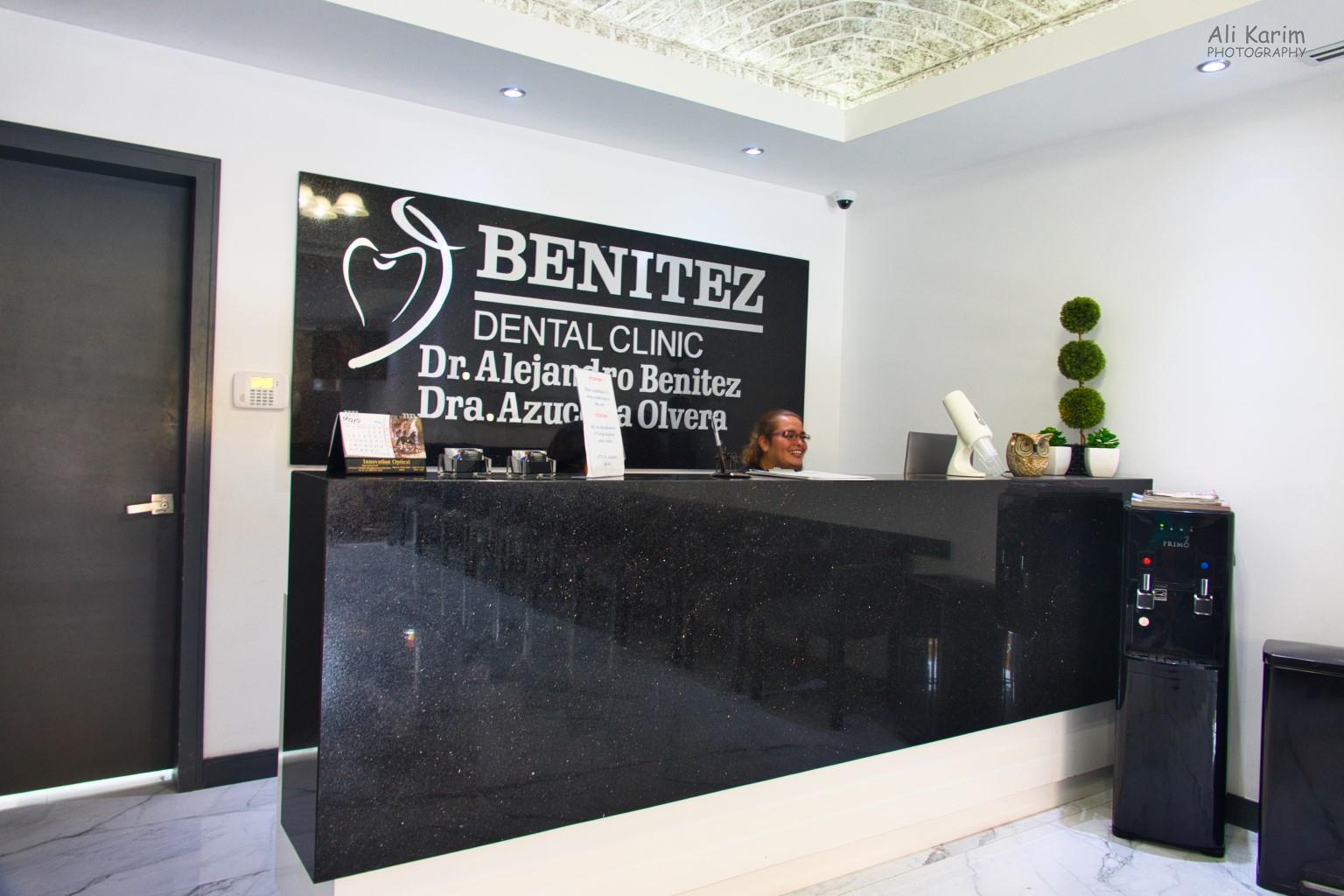 We were both ushered into the dental offices inside. The offices were open concept, and the whole place was very modern, clean and immaculate; and all facilities like X-rays, labs etc were within.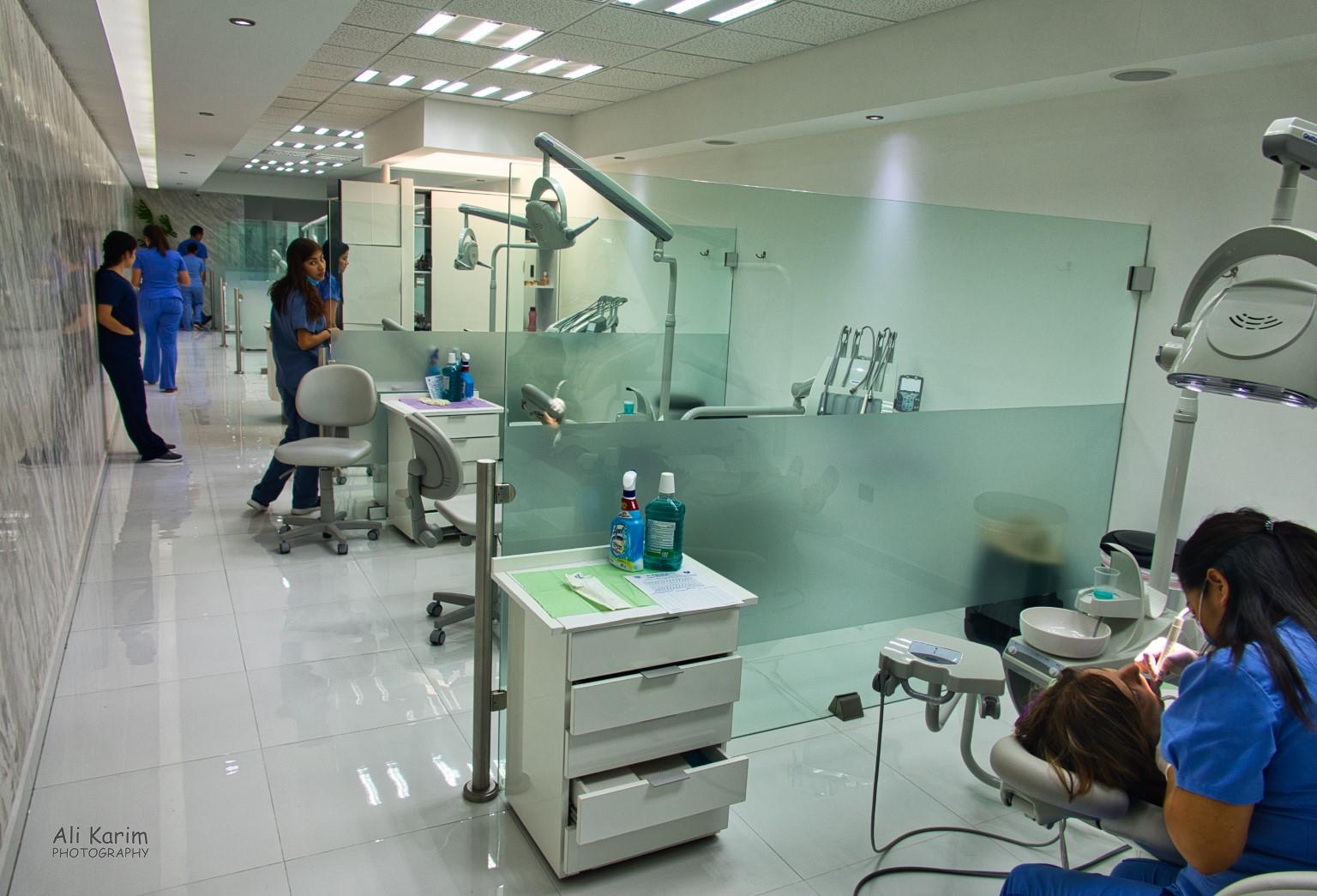 I got a young male dentist, who spoke no English, but there was always a translator around, so no issue with communication. Dilshad got a young lady dentist, who did speak English.
Prognosis for me was the onlay (the main reason we had come here for), Panoramic X-ray, regular cleaning and 5 small fillings in other teeth (do I have bad teeth or what?).
Prognosis for Dilshad was Panoramic X-ray, deep cleaning, 6 small fillings. Dilshad decided to get Zoom teeth whitening done also.
We were aware we need the smaller fillings from our US dental visits.
So the 2 dentists started working on us with Panoramic X-rays first. After about 2hrs, all the work was done, including impressions for my onlay. And we were told to return at 2:30PM, to install my onlay.
So we walked around the town, had some food, and while I got a haircut, Dilshad got a Pedicure/Manicure in the small town. We did notice that while there were mostly dentists here, there were a lot of Pharmacies also, where one could get prescription meds over the counter. There were also a few other medical services were available; but not as extensive as Dentists.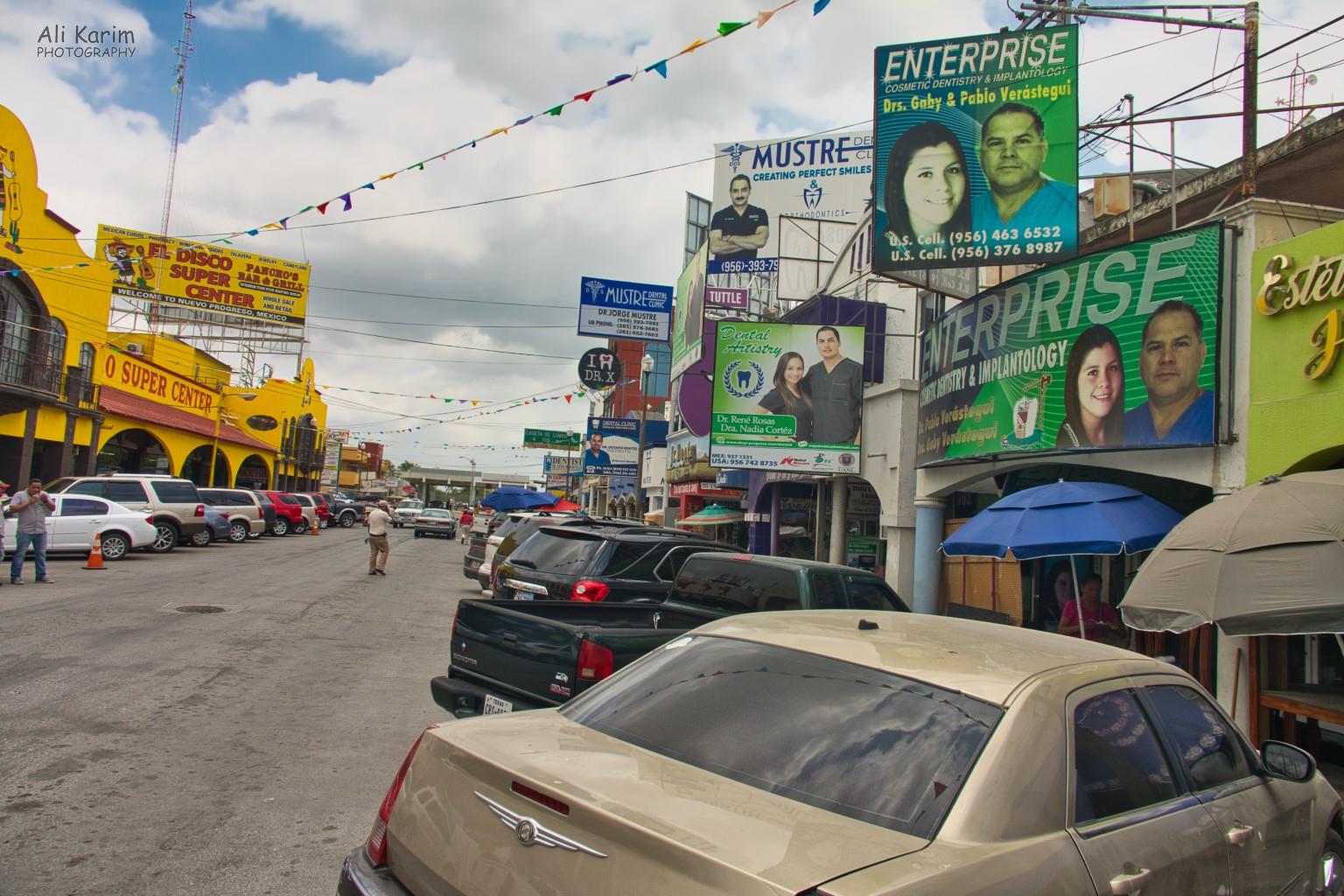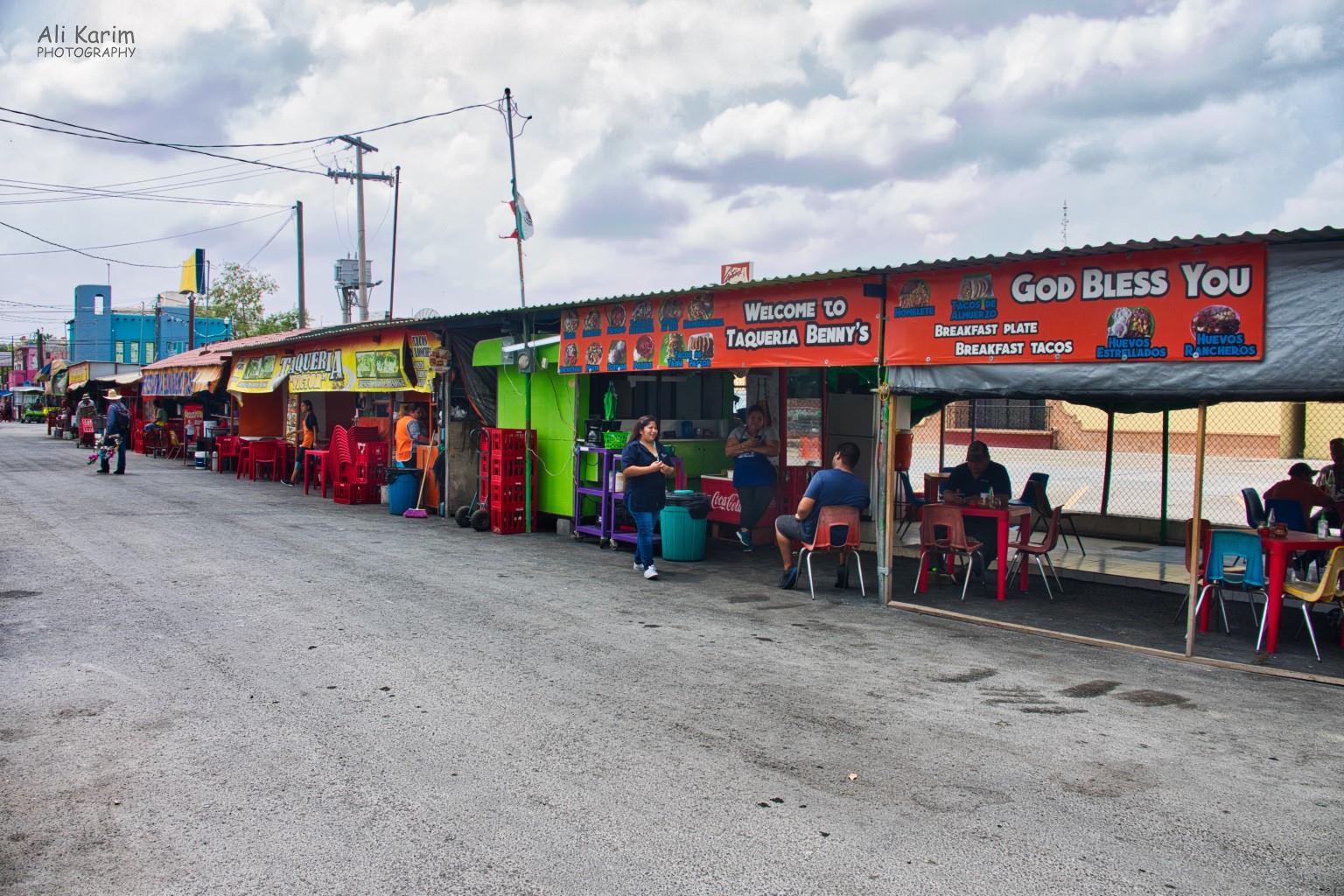 At 2:30PM, we returned, and I went back in the chair to get the onlay installed, and adjustments made as needed. By 3:30PM, we were done. Total cost for all the dental work for both of us, including the Onlay, the lunch, haircut, mani/pedicure was about $1100; just a little less than what I would have paid for 1 onlay with my Dallas dentist.
After strolling and checking out a few shops etc; we decided to head back to the US; for an evening flight back to Dallas. So, we walked back towards the bridge to cross it. To cross the bridge from Mexico to US, the toll cost was 25 cents.
On the bridge and the short road leading to it, we saw migrants camped out, wanting to get entry to the USA. See below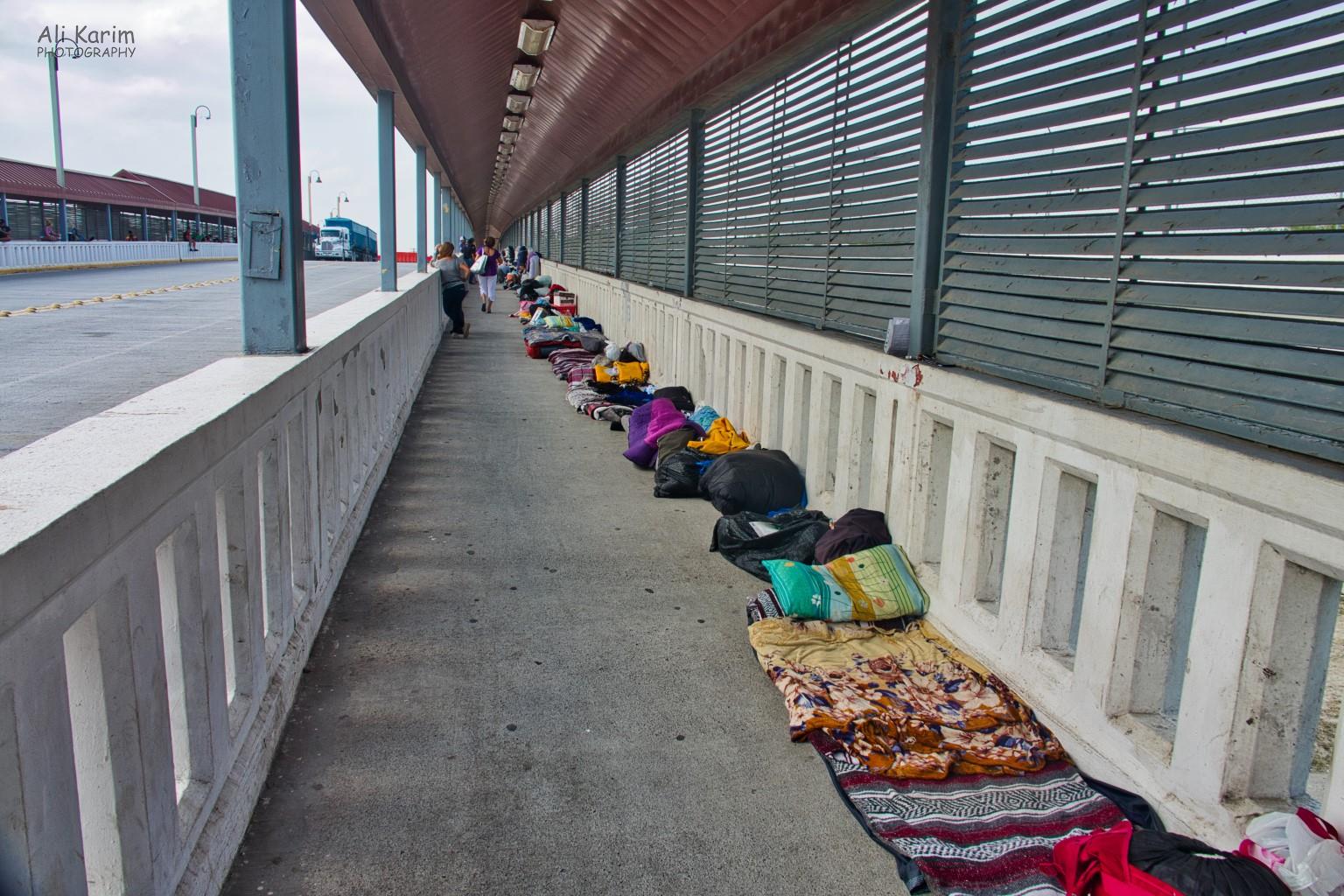 Migrants
Migrants Camp outside the Entry gates of the US
These migrants were being taken care of by NGO's here, and were waiting their turn to seek asylum in the USA. At the border crossing on the bridge, there was a metal gate (Dilshad would not allow me to take pictures of this immigration point) and several Immigration officers were present. All we had to do was to show our passports and they allowed us back into the US. I asked one of the officers why these camped out migrants were not being processed, and the answer was that the Regional holding facility nearby where migrants are taken for processing and housing, were full to capacity. So they were patiently waiting their turn (in the open). I asked how many migrants they process a day, and I was told that only 2-3 migrants were allowed into the US for processing per week, because of no room. Very sad situation. And no, I did not see any migrants trying to cross the Rio Grande river; too close to US authorities.
We walked to our car, drove to McAllen airport, returned the car, and took the last evening flight back to Dallas. All in all, a good experience. The only very sad part was the migrants.
The dental work was good and efficient, but the only way to determine if the work was good and high quality, is to get another US dentist to check it out. I have not done this yet, but so far, I have not had any issues, and neither has Dilshad. We keep our fingers crossed, and we have decided to come back here every 6 months for cleanings; arriving early morning, and flying back that same afternoon/evening. We did not see may other Dental Refugees, but were assured that many people cross over from the USA for dental work daily.
This entry was posted in
Mexico
,
Neuvo Progresso
,
North America