Cartagena Part 2, Colombia Dec 2017
Next part of Cartagena to explore was the market; so we took a taxi to Mercado Bazuto
Info for Tourists
(Ubers were not reliable here as it seems there was trouble when Uber was introduced here (Uber cars were burnt by taxi drivers), and hence Uber appears to be run as an "underground" operation here);
the ride cost us $5 from Bocagrande. Most taxi or uber rides in Cartagena cost us between
$2.80 and $5
one way.
Bazuto market is a large sprawling, haphazard, unorganized, crowded, relatively dirty market, where everything from fruits, vegetables, fish, meat, toys, household goods, electronics etc etc is sold. There are plenty of people here buying and selling goods, all at very good prices; with a lot of produce being sold wholesale. It felt hot here as there was no breeze blowing like at BocaGrande, as this place is away from the seashore.
Below are some scenes from Bazuto market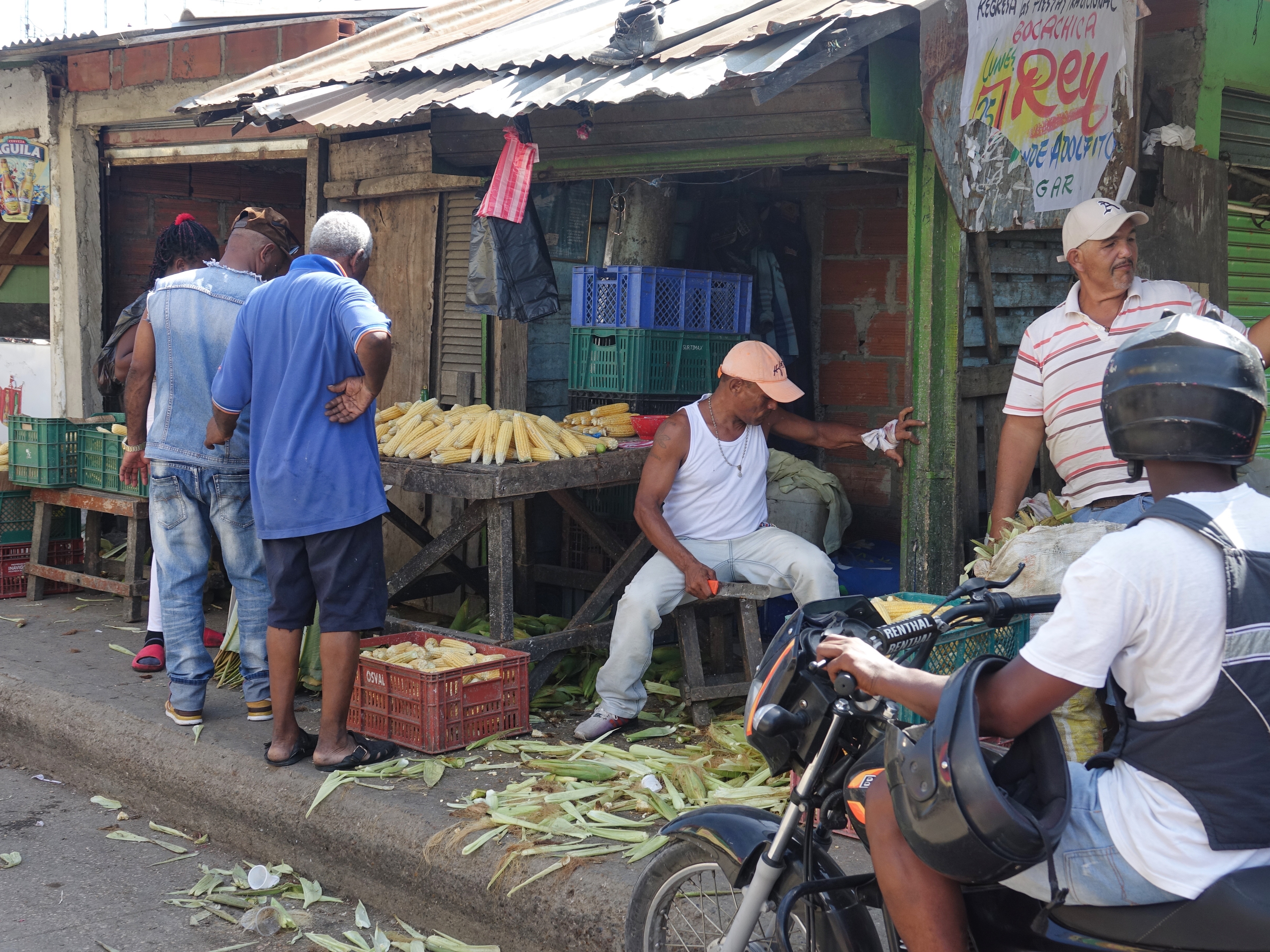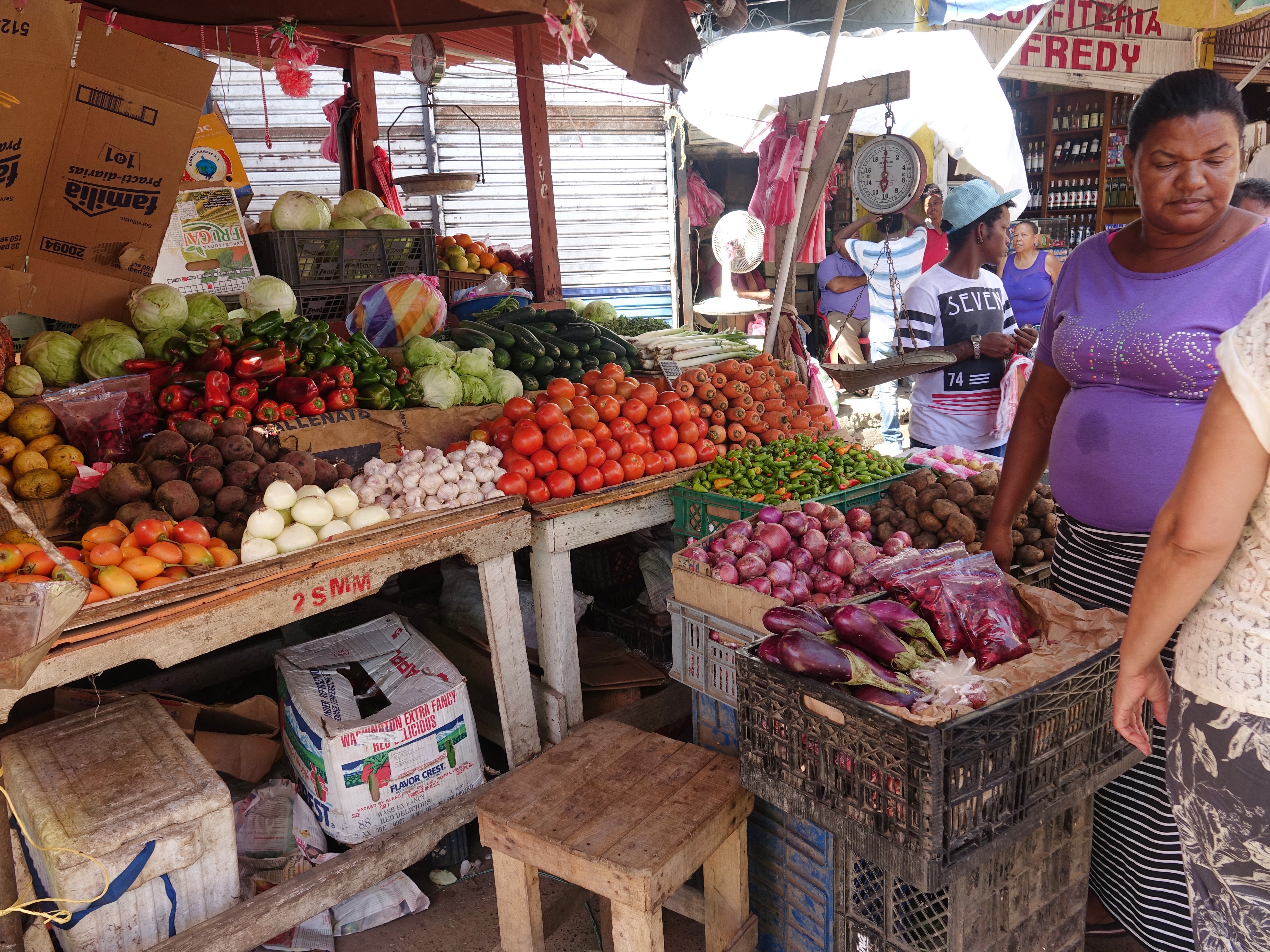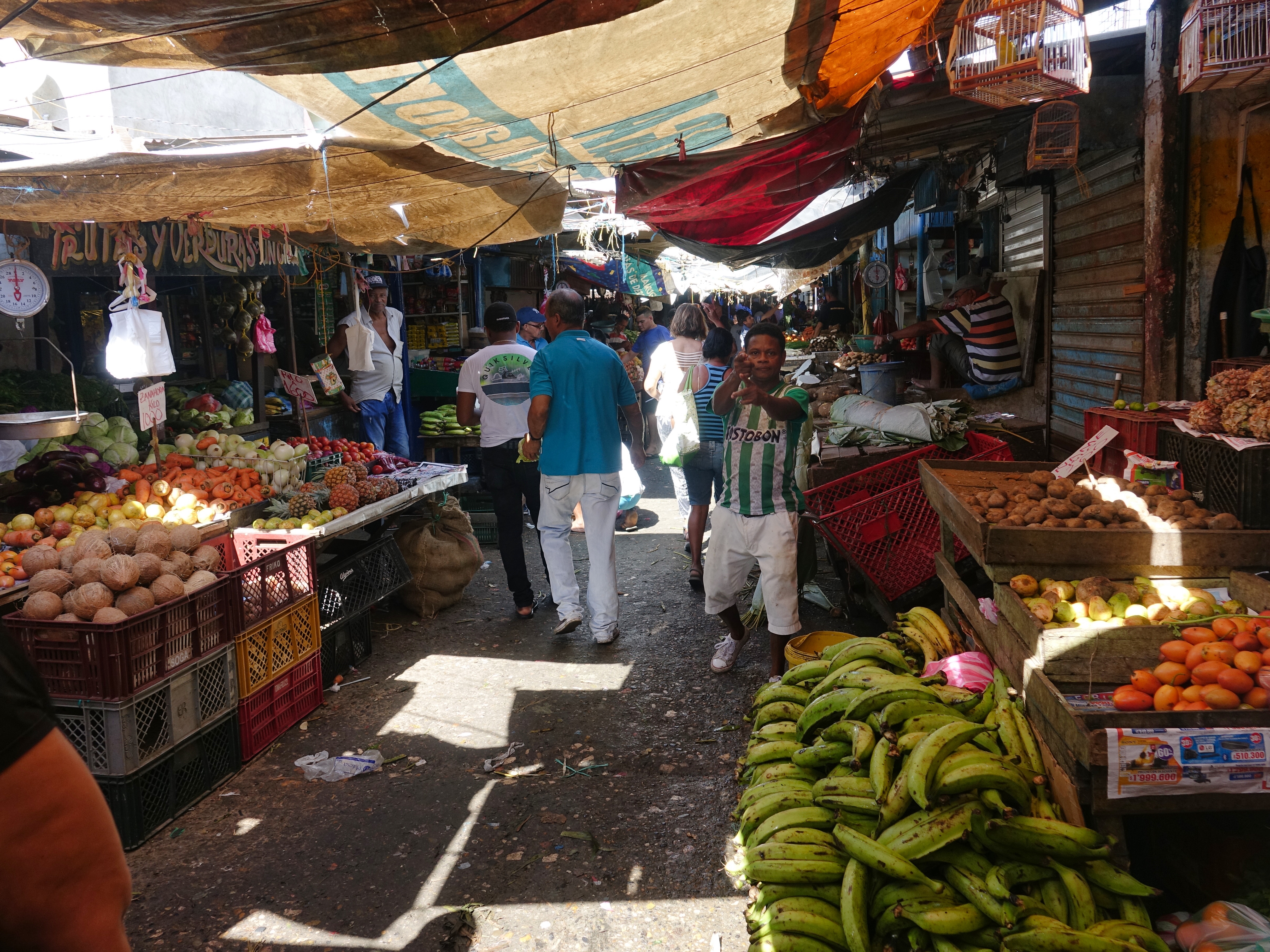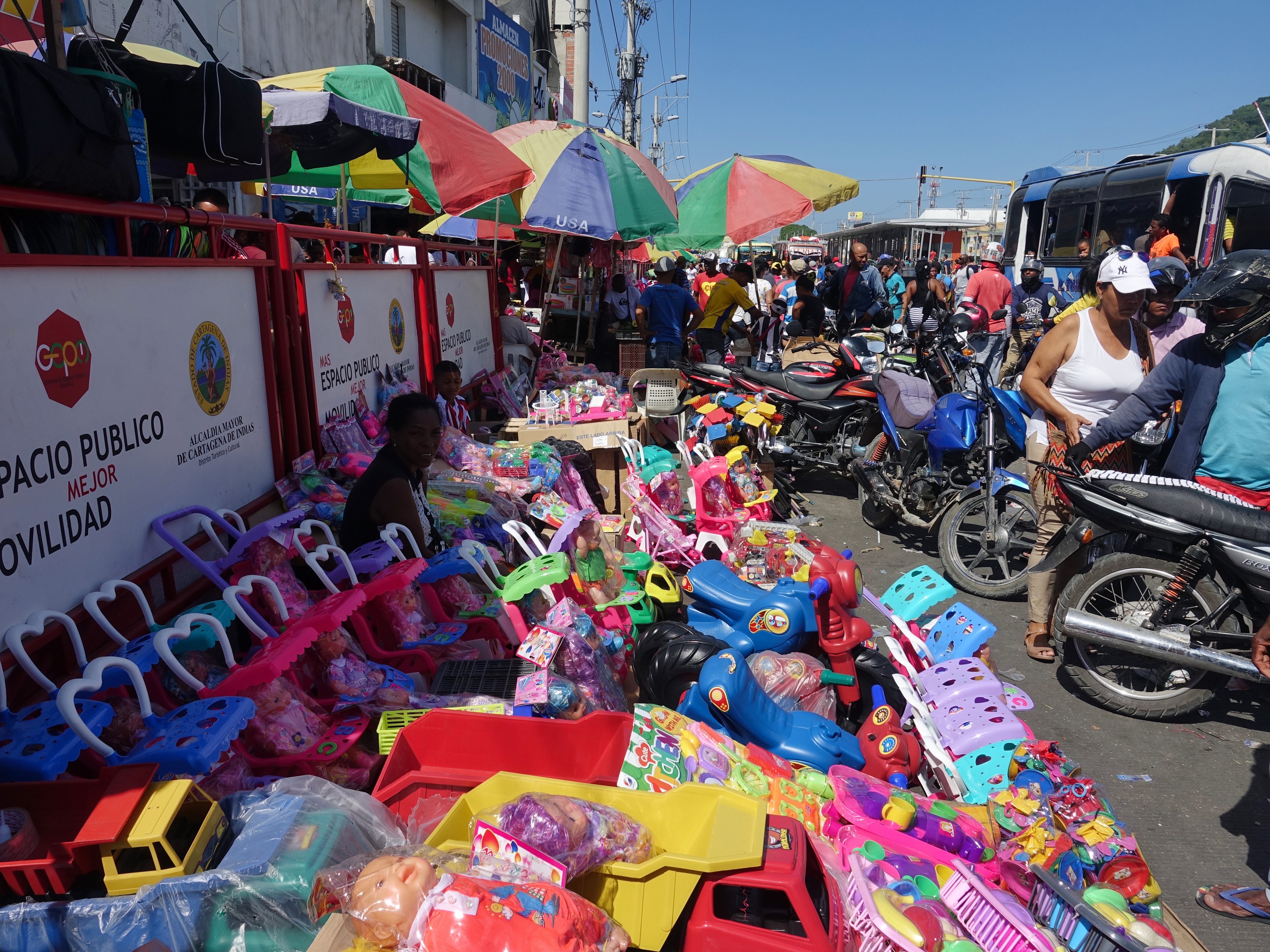 We stopped at a nice clean local restaurant, the Manhattan, which was quite busy with locals eating. We ate hearty Sancocho de Pollo (soup) here with Pastel de Pollo, and fresh Passion Fruit juice.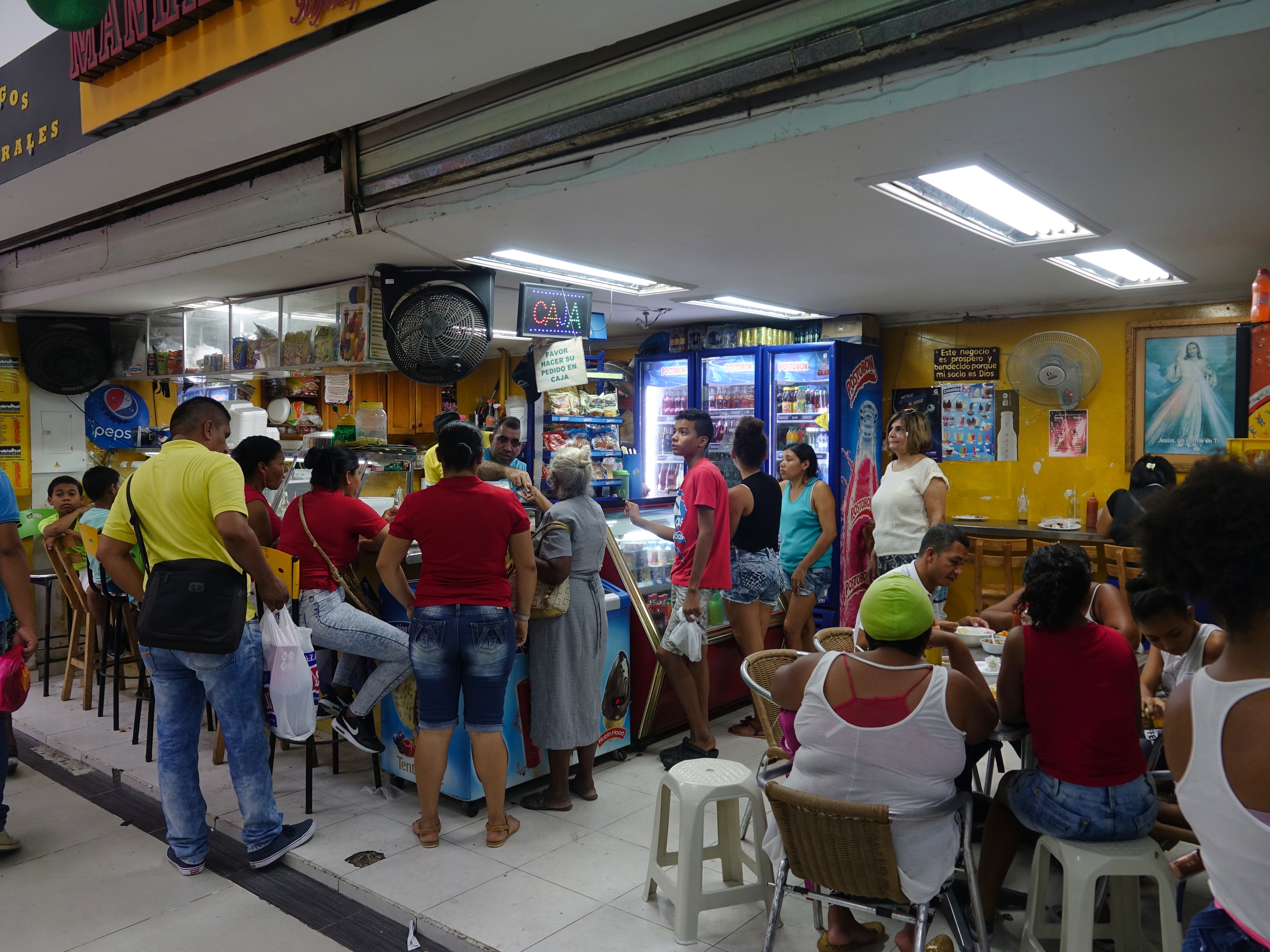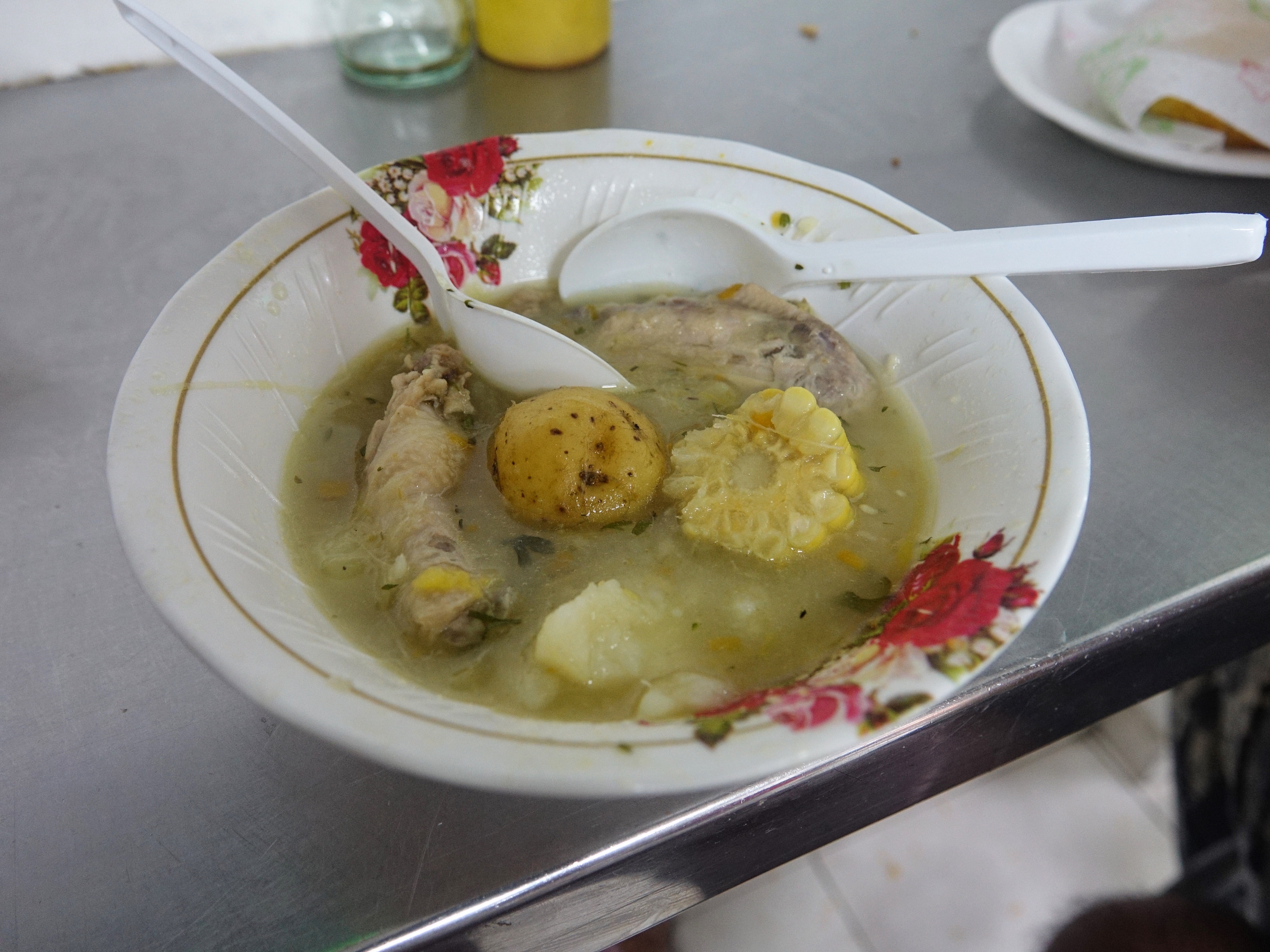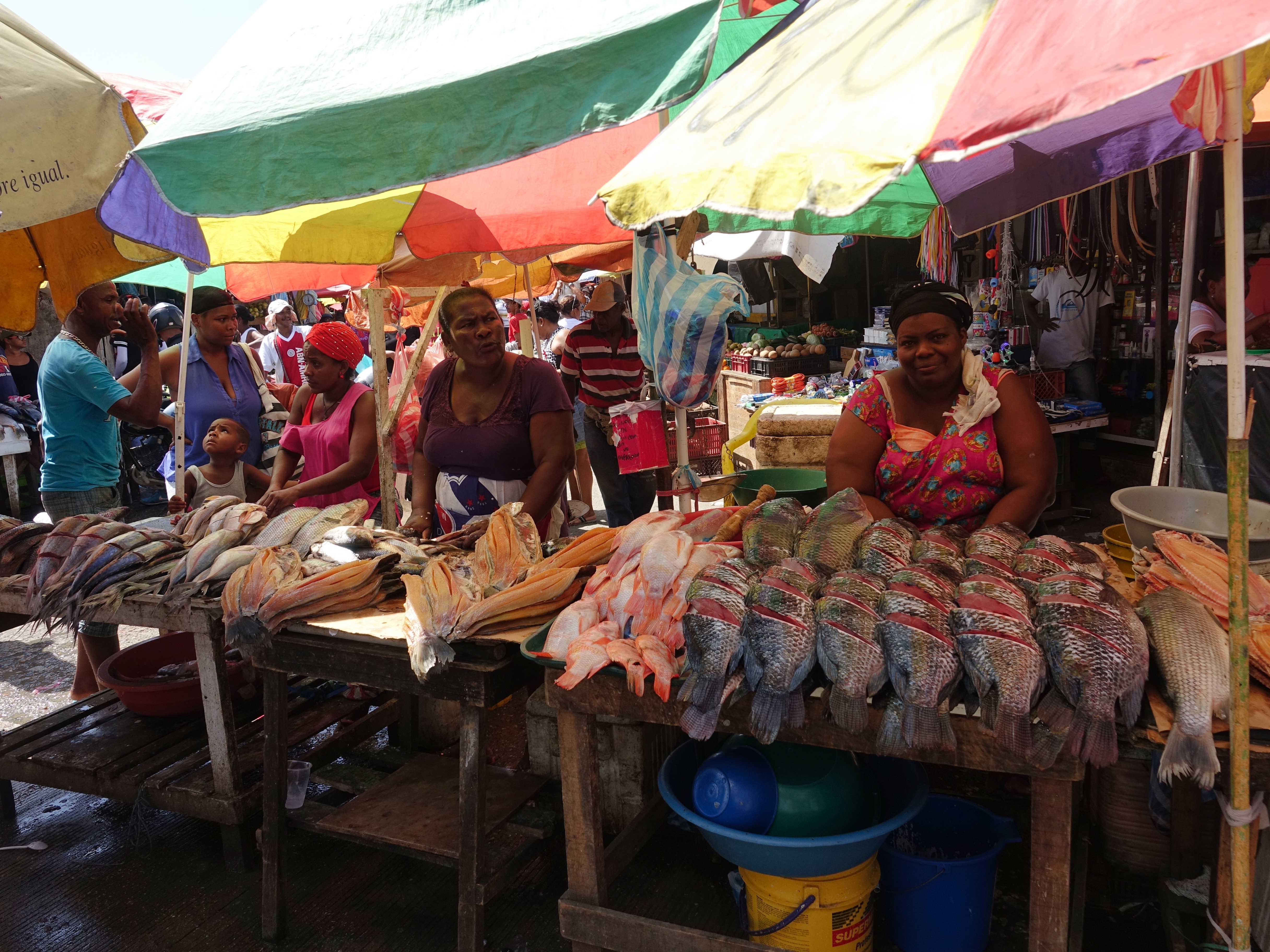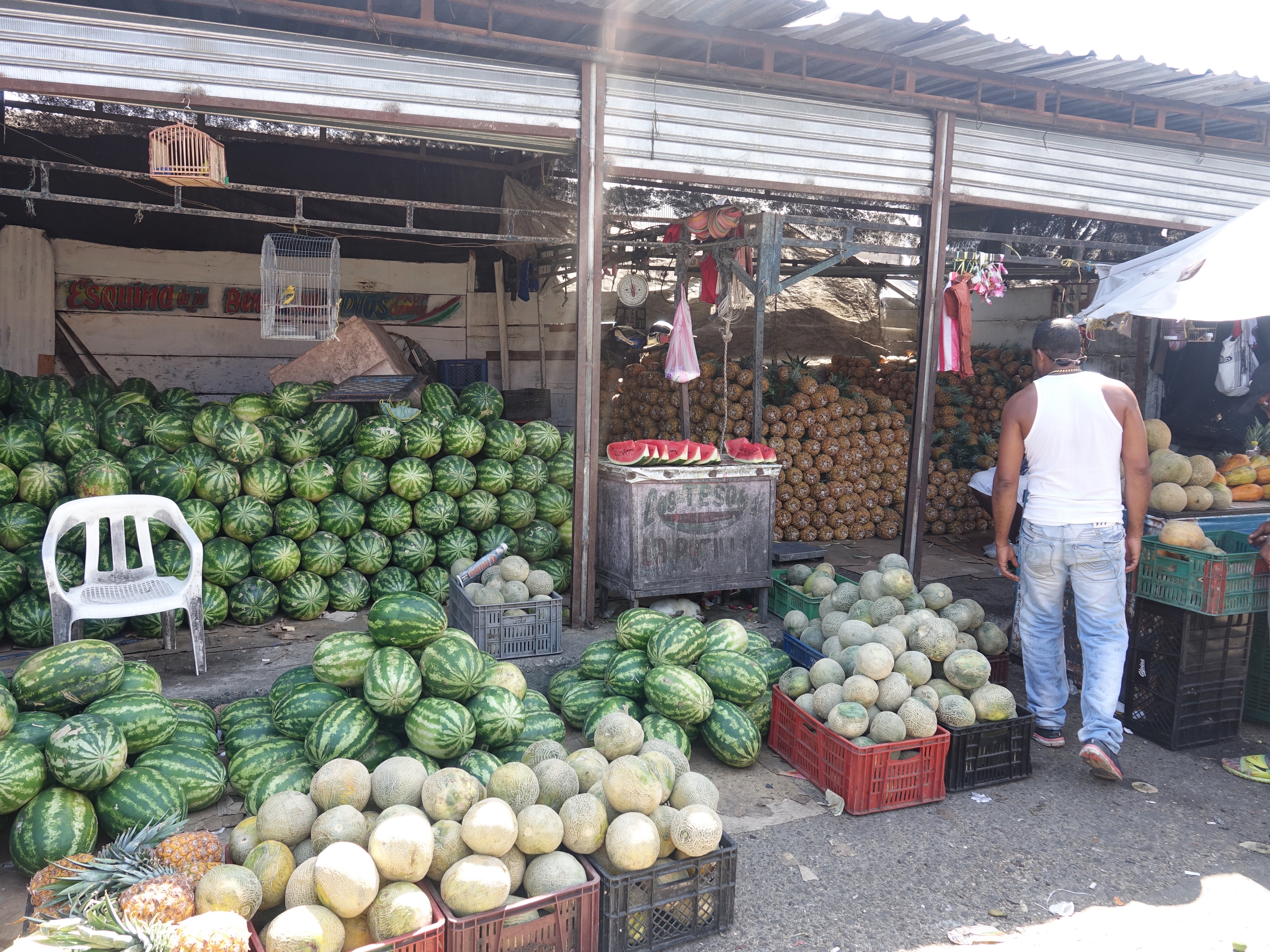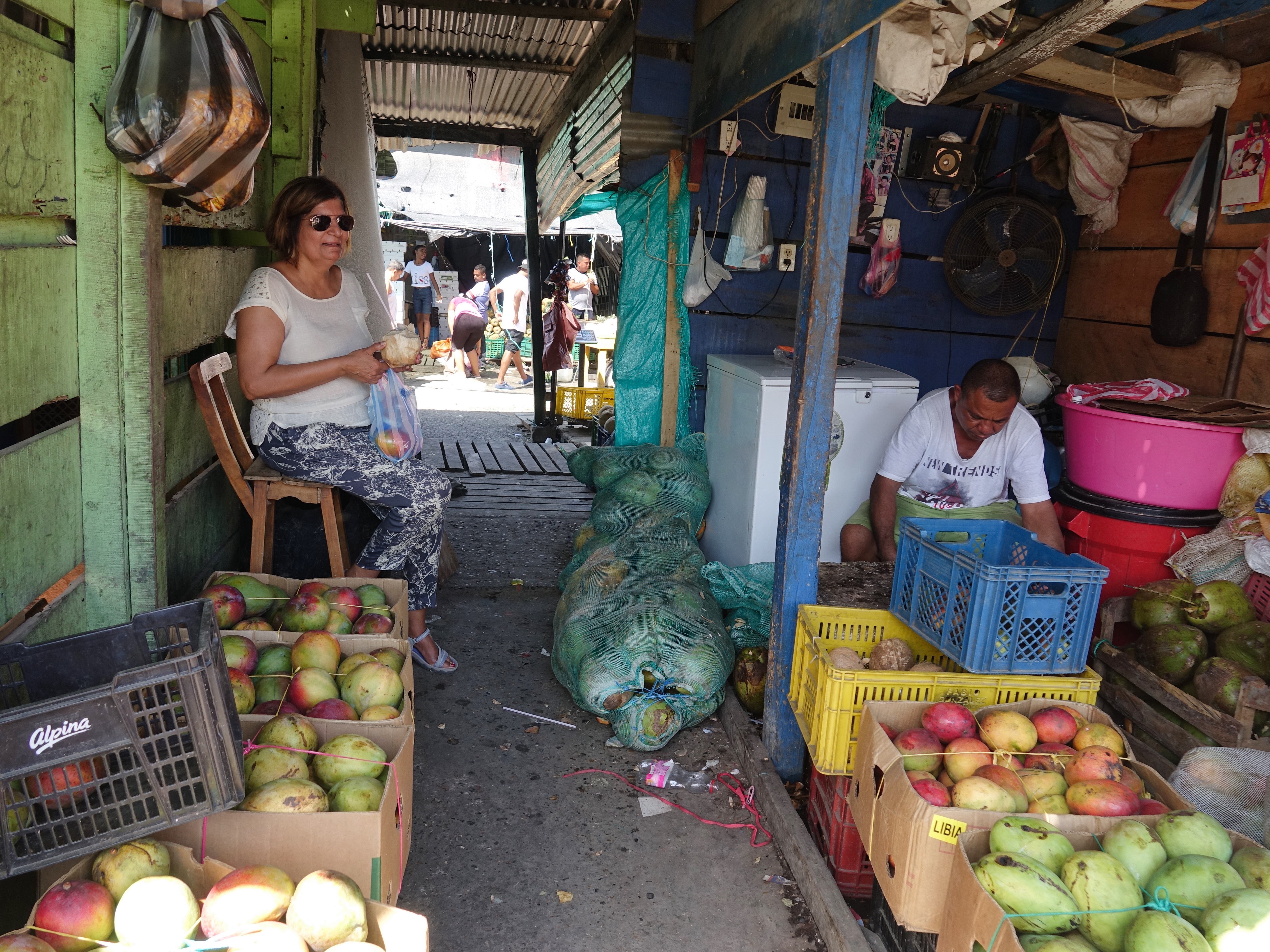 We came across this fruit below that we have not seen before; it was pulpy, very tart/sour in taste with few small seeds; taste was kind of passion fruit.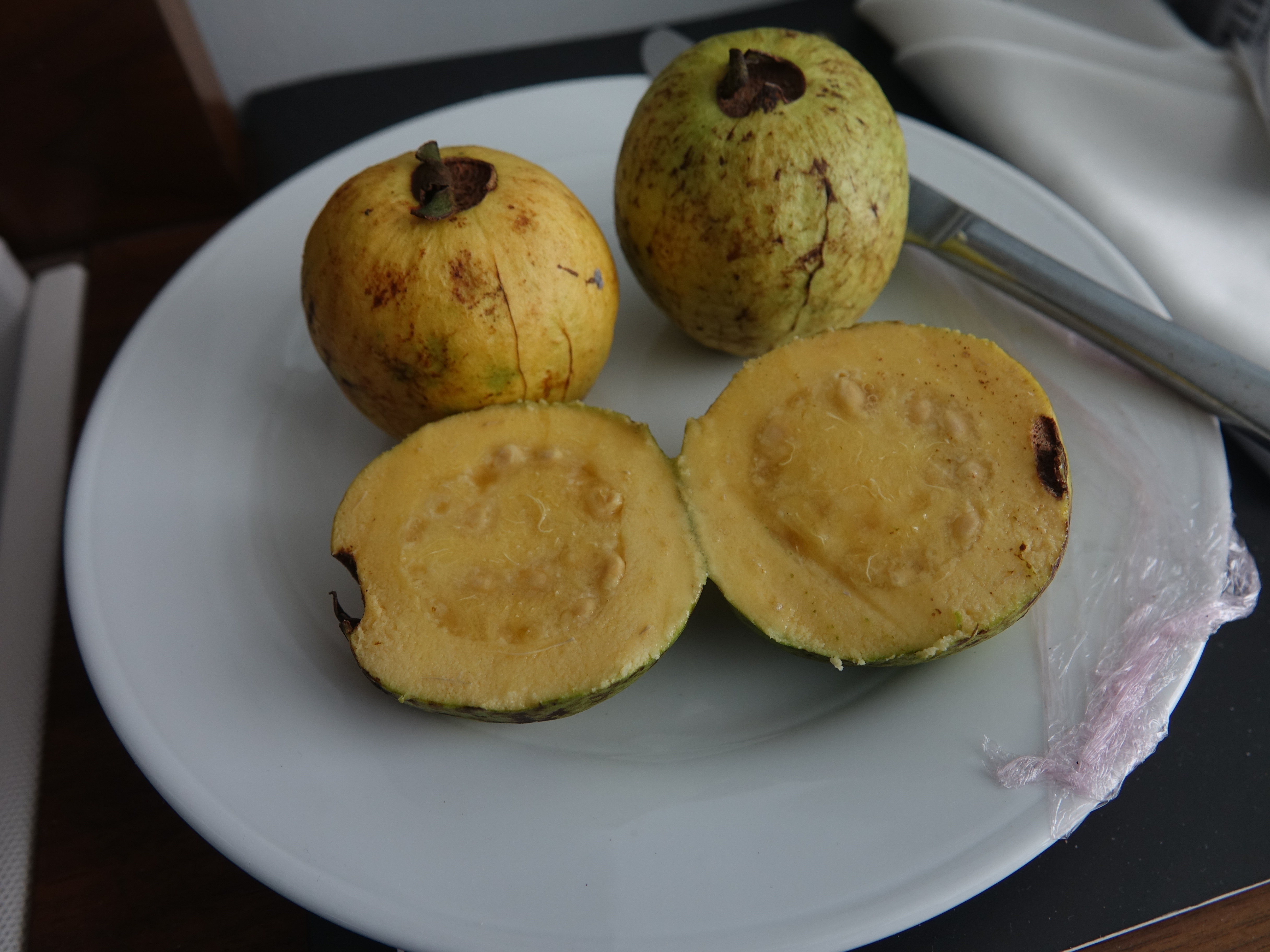 Back at the hotel, we relaxed at Bocagrande beach and watched a great sunset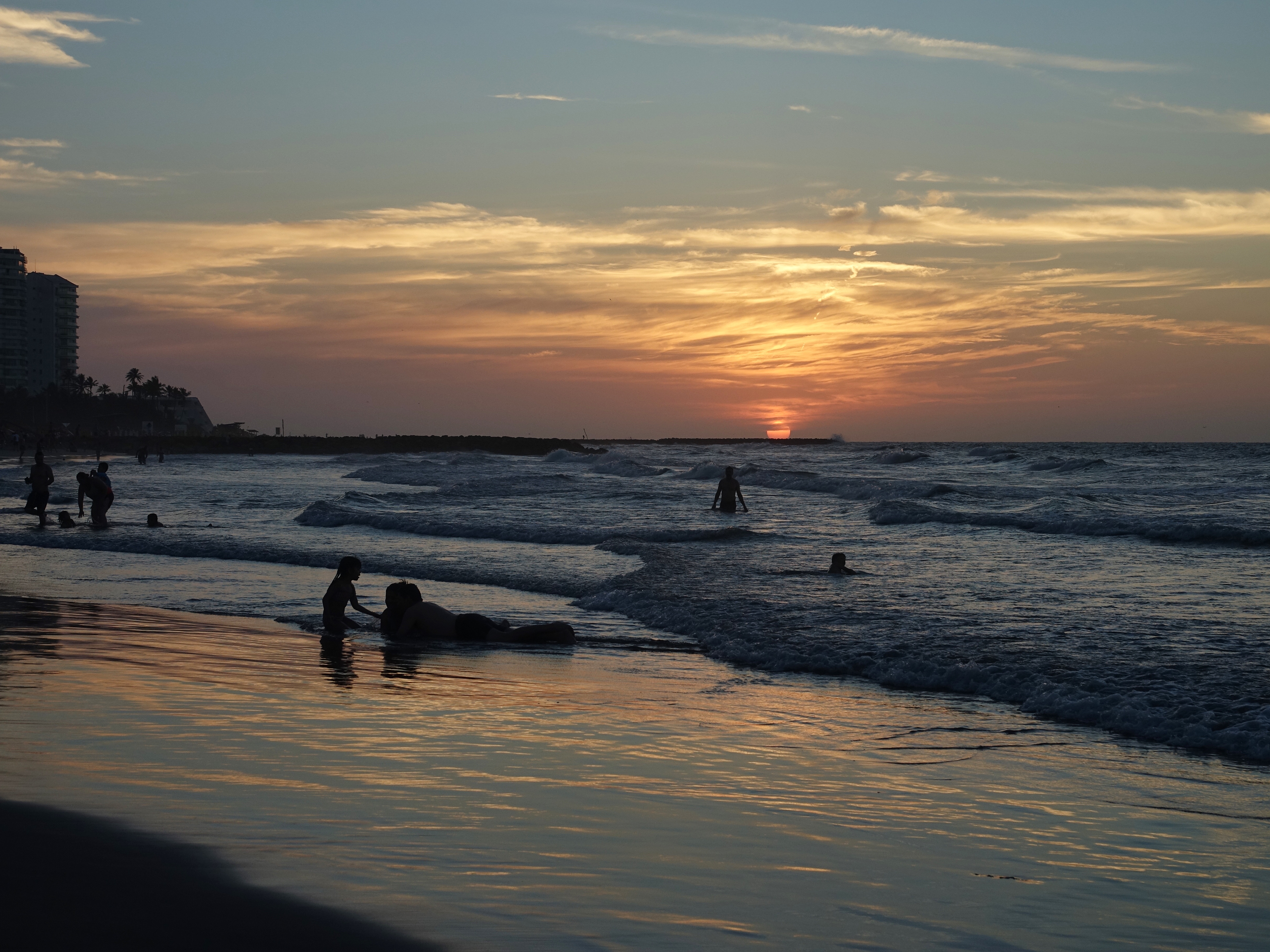 At night, we went back to the old Walled City and walked around on the city walls and other squares.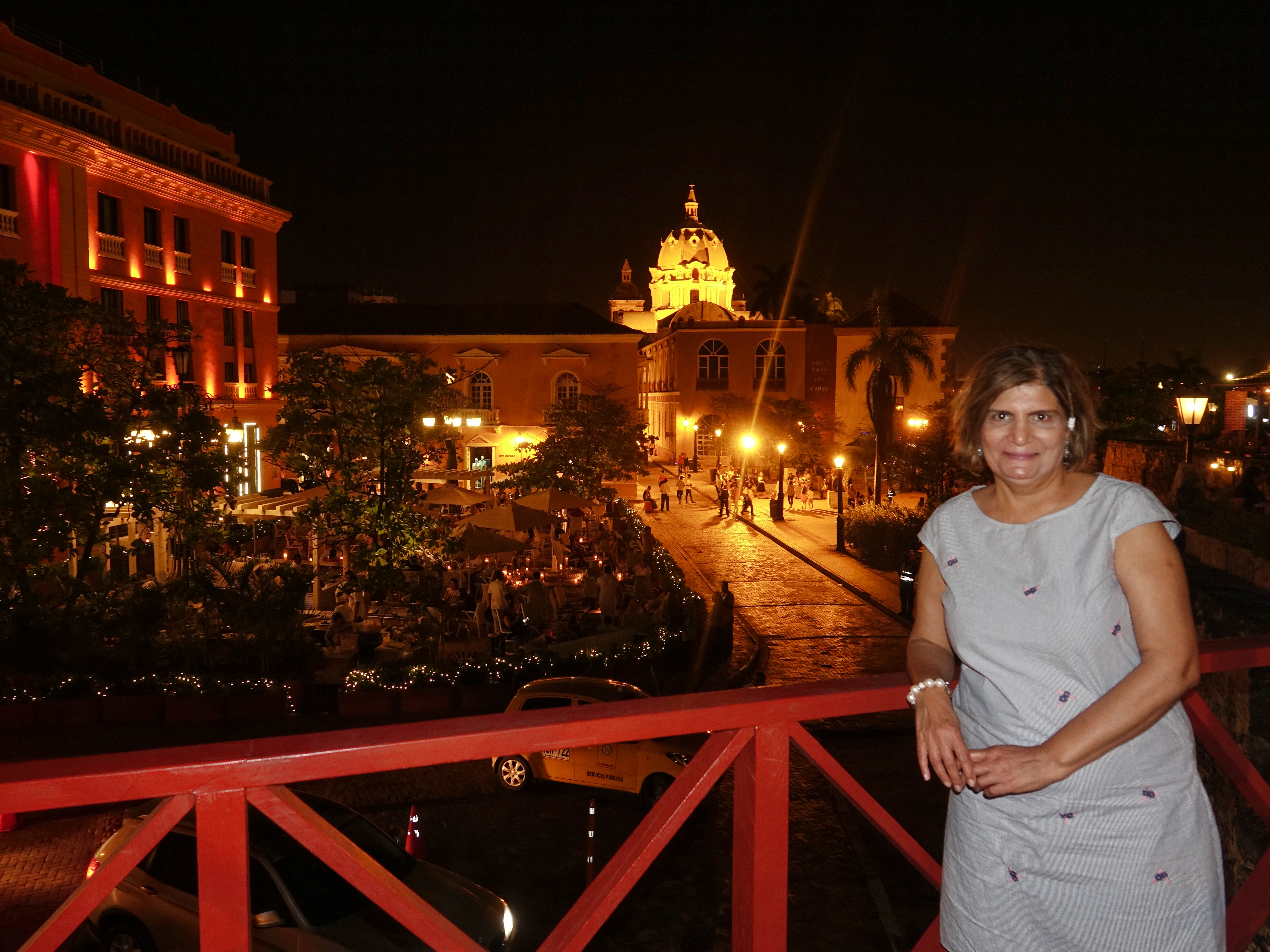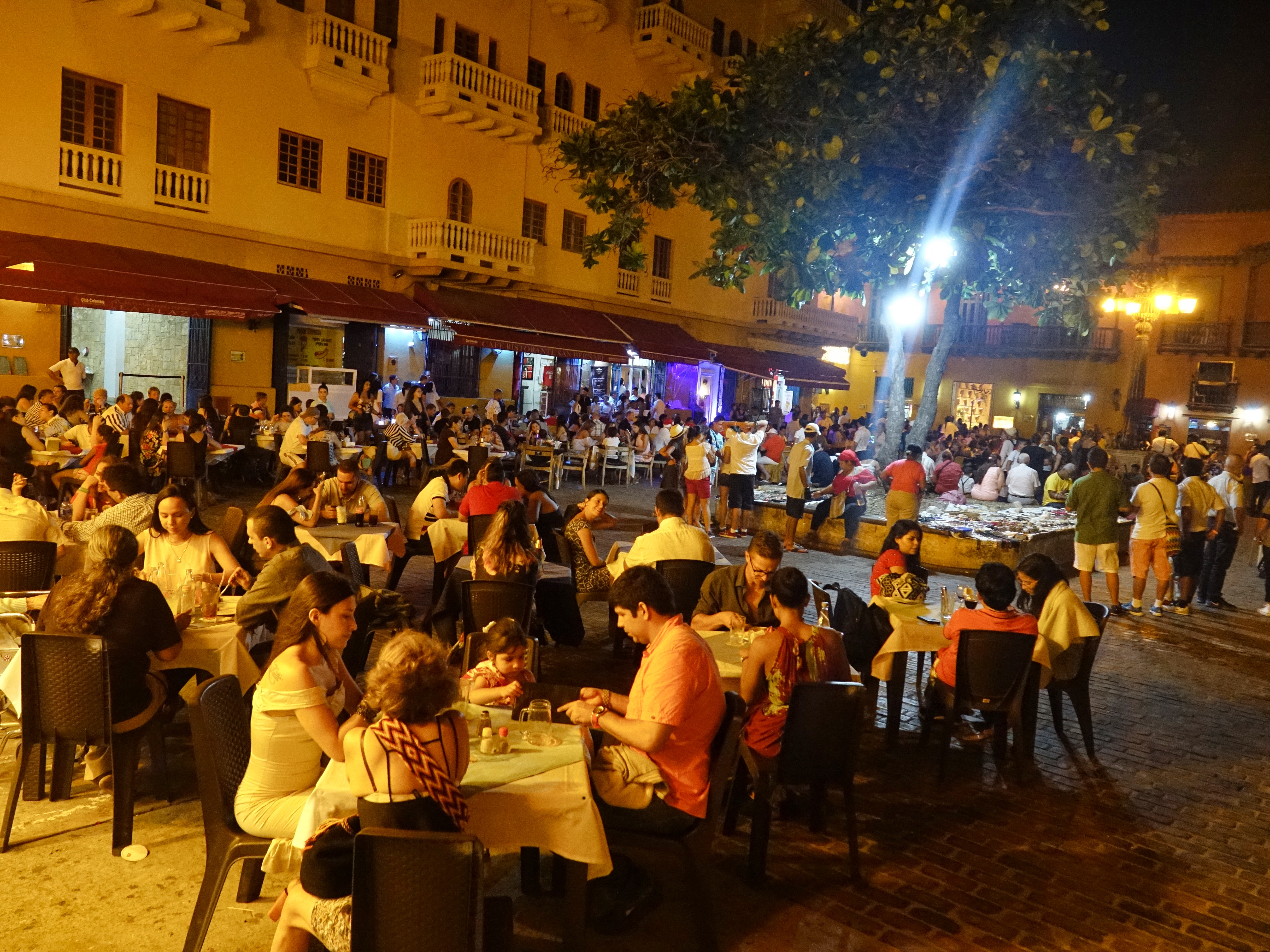 Since it was Xmas eve, we decided to attend midnight mass at St Petrus Claver church, in the Centro area. The church was packed, and the sermon/ceremony went on for about 45 mins, all in Spanish 🙁 . At the end of the ceremony, the families greeted and hugged each other, and they also greeted and gave blessings to the others around them; very similar to what we do. A very nice experience.
We also explored the Getsemani barrio of the Walled City over a couple of days/nights. This neighborhood is much more "local" than Centro, which is very gentrified and touristy. Getsemani had locals living there and was much livelier with local flavor than the Centro area. In the evenings; locals would sit outside their homes eating, chatting with neighbors, playing cards, listening to music while the children played on the street. Very nice homely atmosphere. Some parts of Getsemani looked seedier/rougher than others, so we avoided the rougher looking areas. Some scenes below during the day and night of Getsemani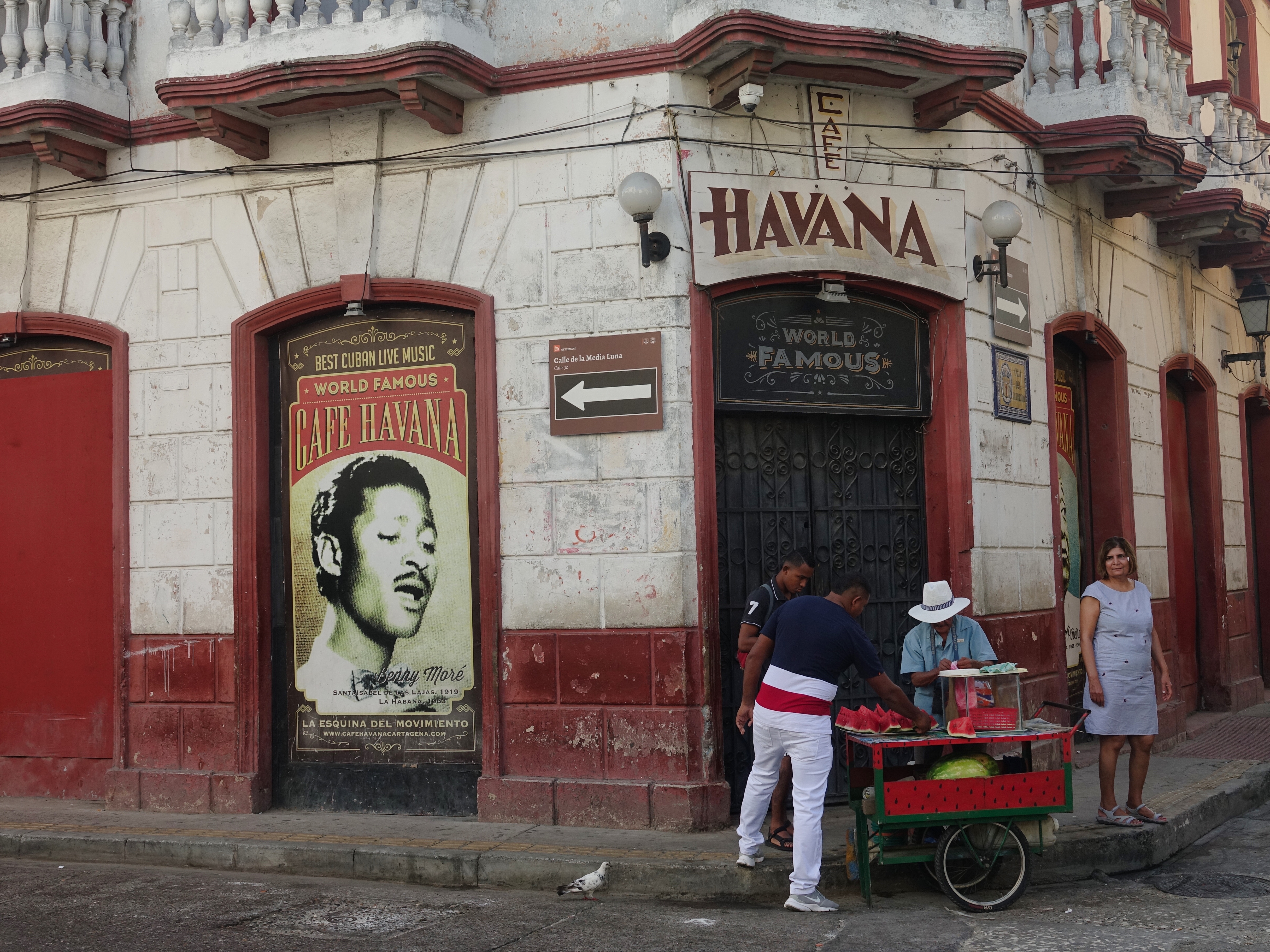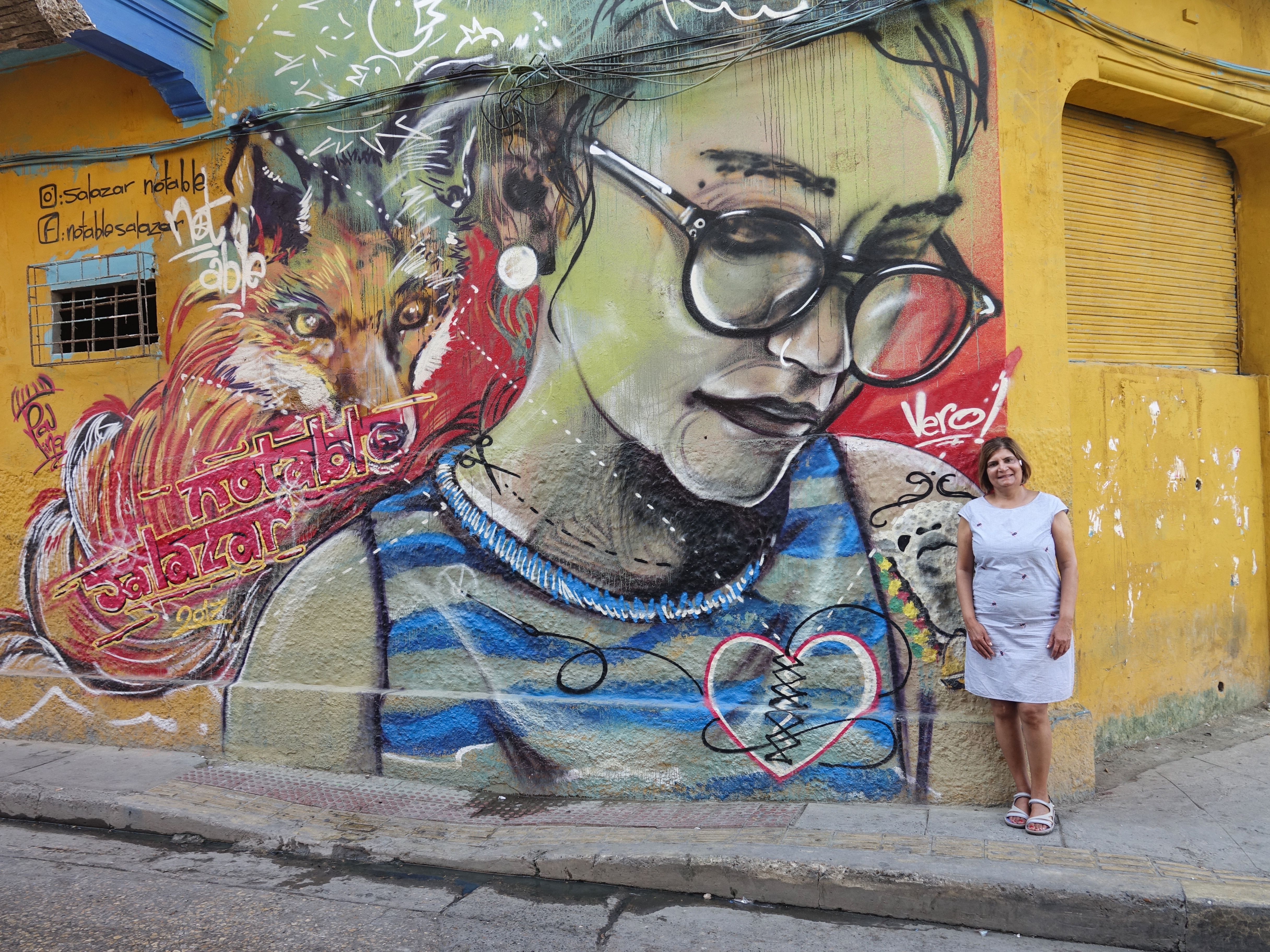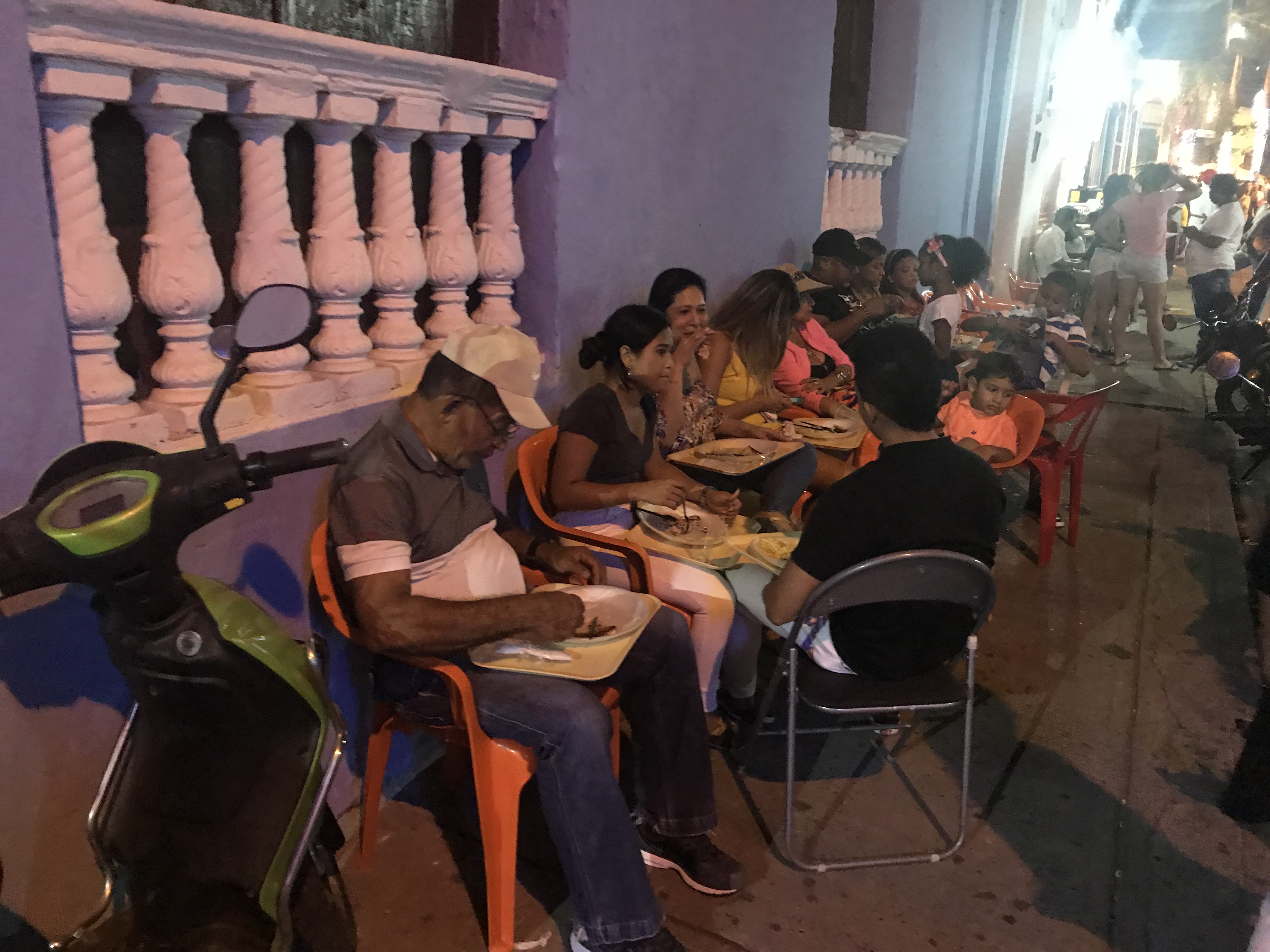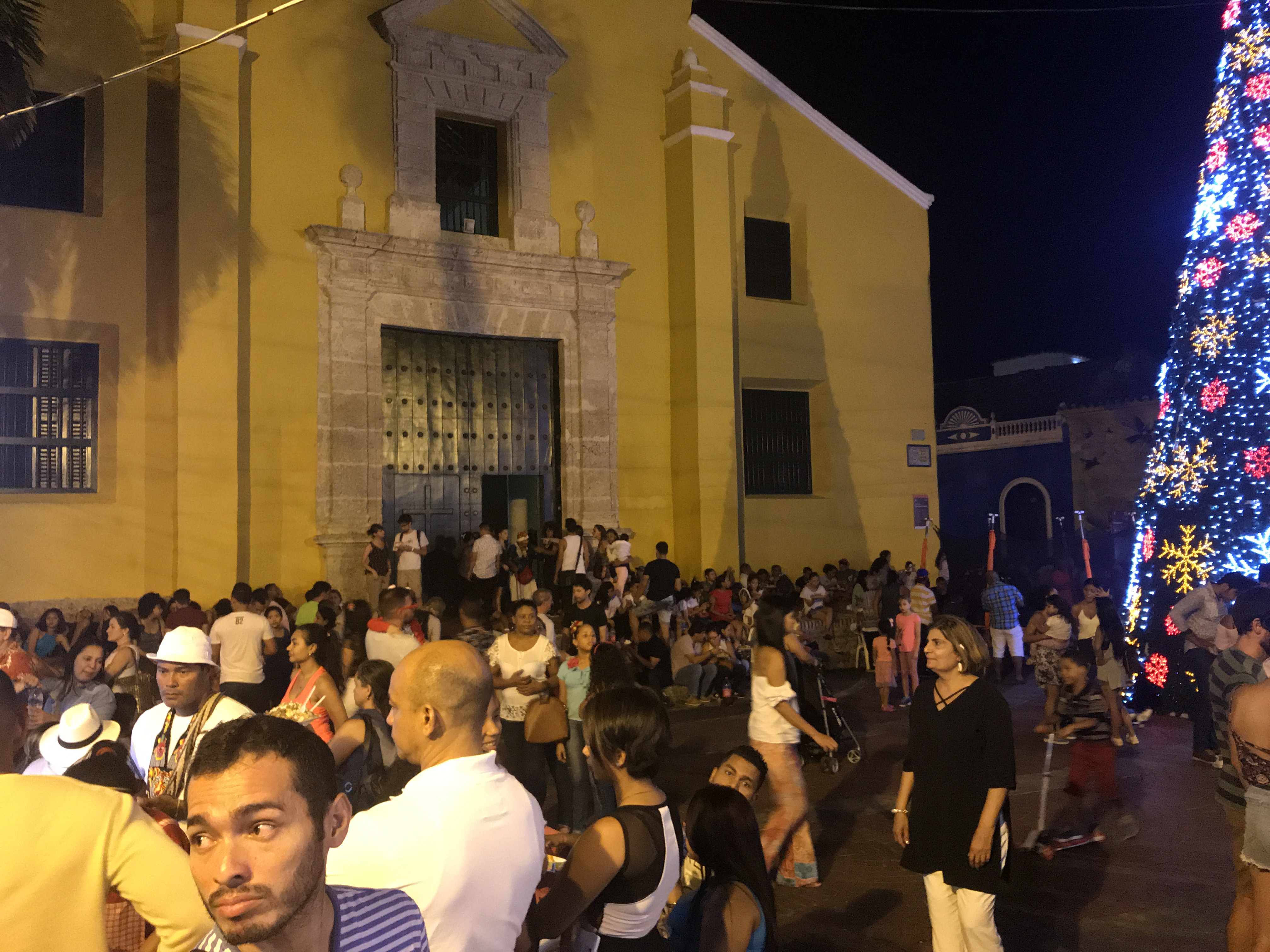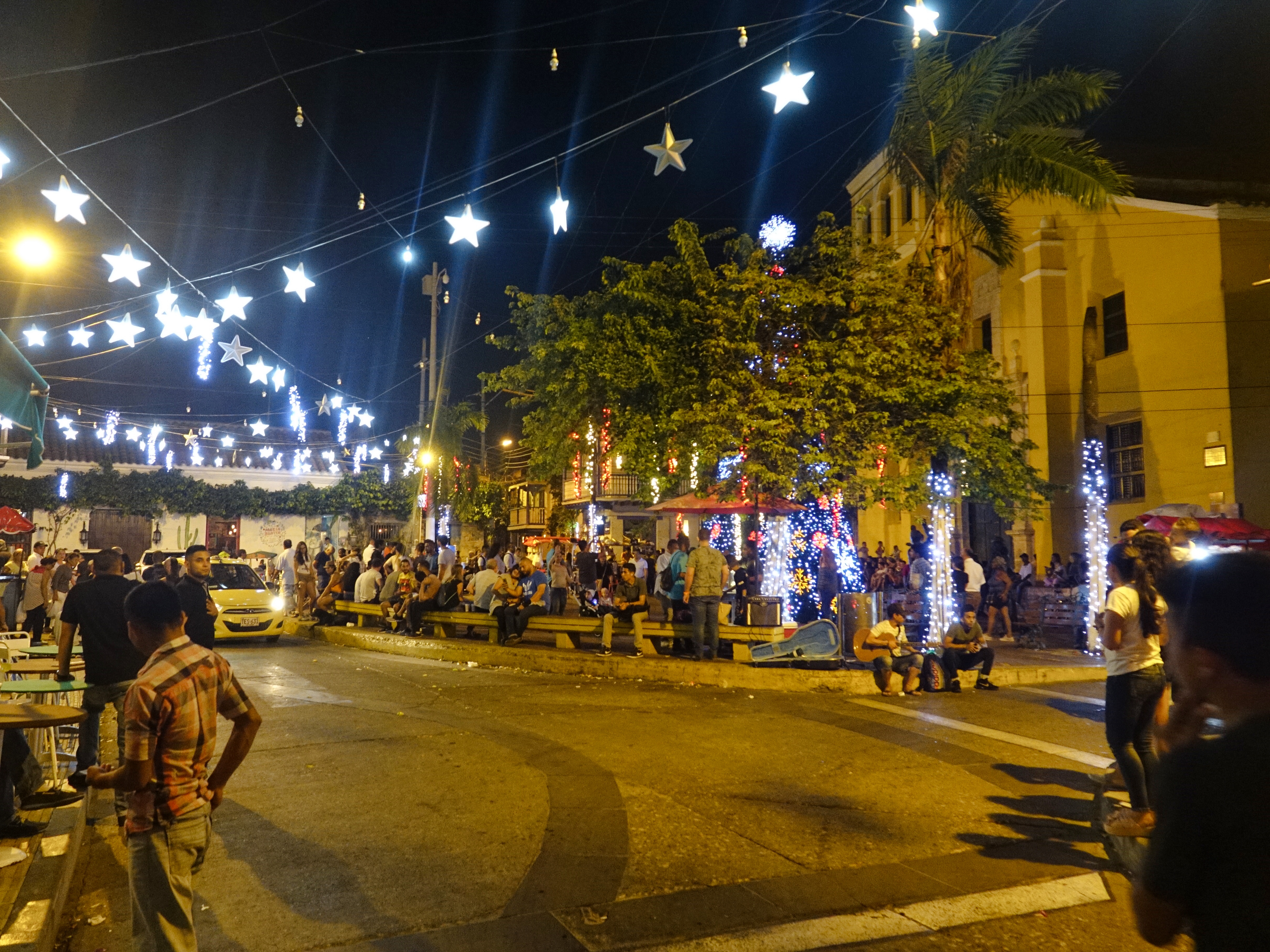 Check out the local scene at Iglesia Trinidad in the video below; very nice and lively
Another must we were told to visit in Cartagena is Playa Blanca, on Isla Baru, about 45 minutes ride south of Cartagena. The beach there was supposed to have white sand, with turquoise waters. To get there, one can either take a boat, or a bus, or drive there. We opted to take a shuttle operated by a backpackers hostel (Hostel Mamallena) that we had come across while exploring Getsemani. The shuttle bus took a bunch of us there and back for 50,000 pesos each; about $17. A private taxi would have cost 250,000 pesos.
Brief History
Isla Baru was formed as an "island" when the Spanish colonialists dredged a shipping canal all the way from the Caribbean Sea just south of Cartagena, to the Magdalena River to enable their boats to reach far inland to bring goods to and fro from the sea to the interior. Quite an engineering feat as this was done in the 1500's.
The Mamallena shuttle took about 1hr to get to Playa Blanca; and then we had a short boat ride to get to a quieter part of the beach; as where the shuttles park, there are many vendors who we were told, could be quite bothersome. Going to the quieter part of the beach made the experience better. The beach was indeed very nice with soft white sand and turquoise waters. Well worth the outing for a day.
Some scenes from Playa Blanca below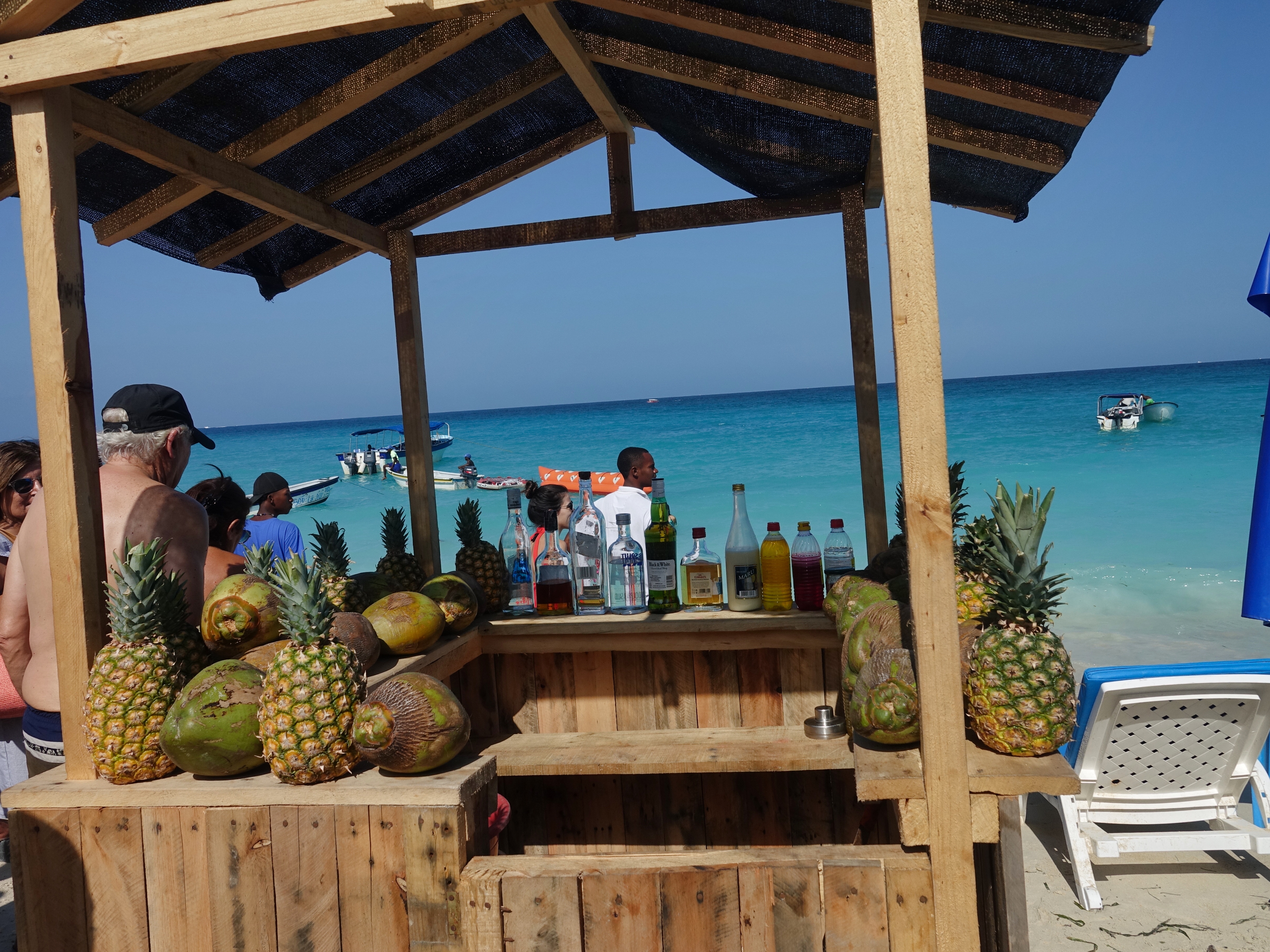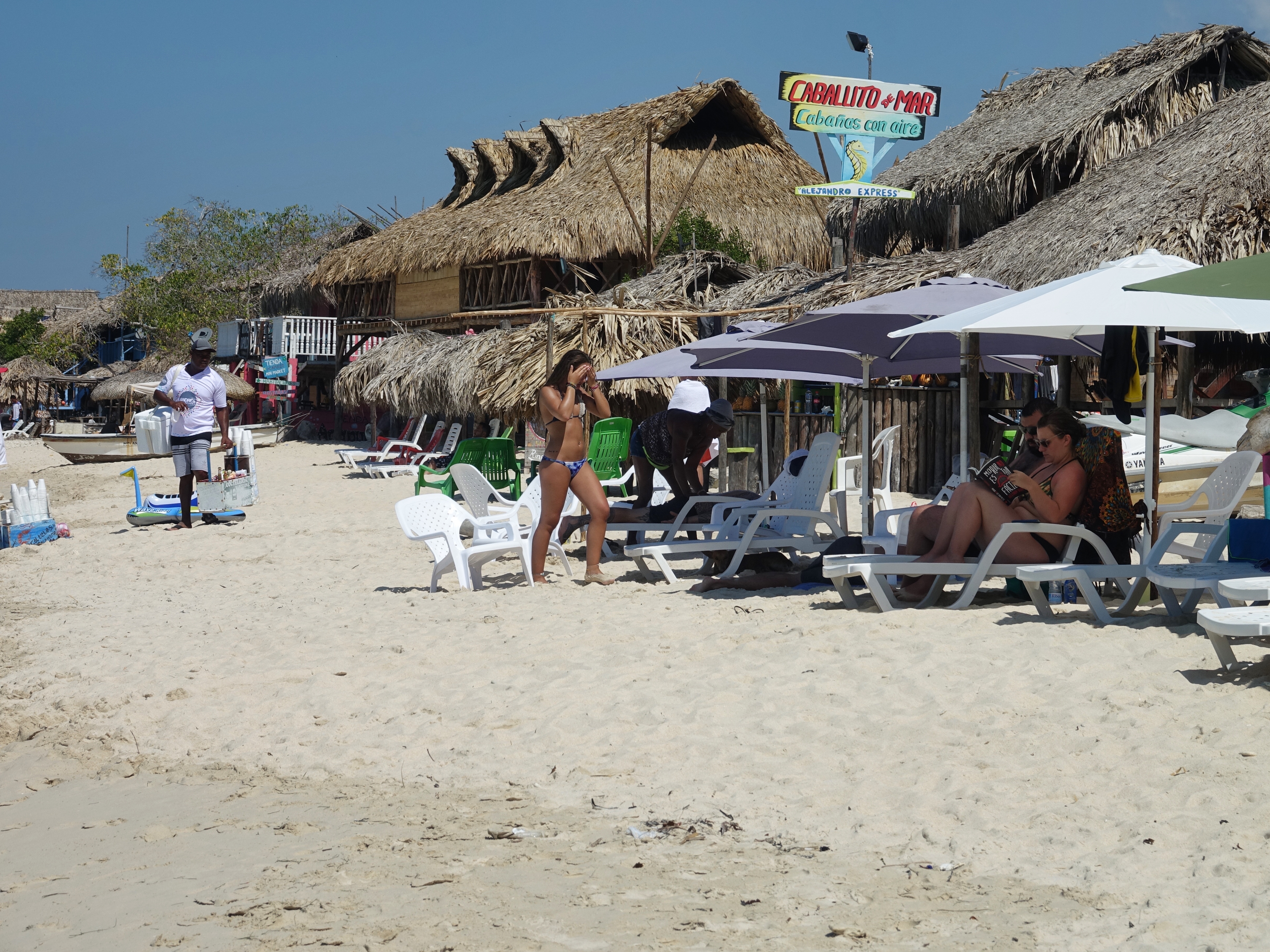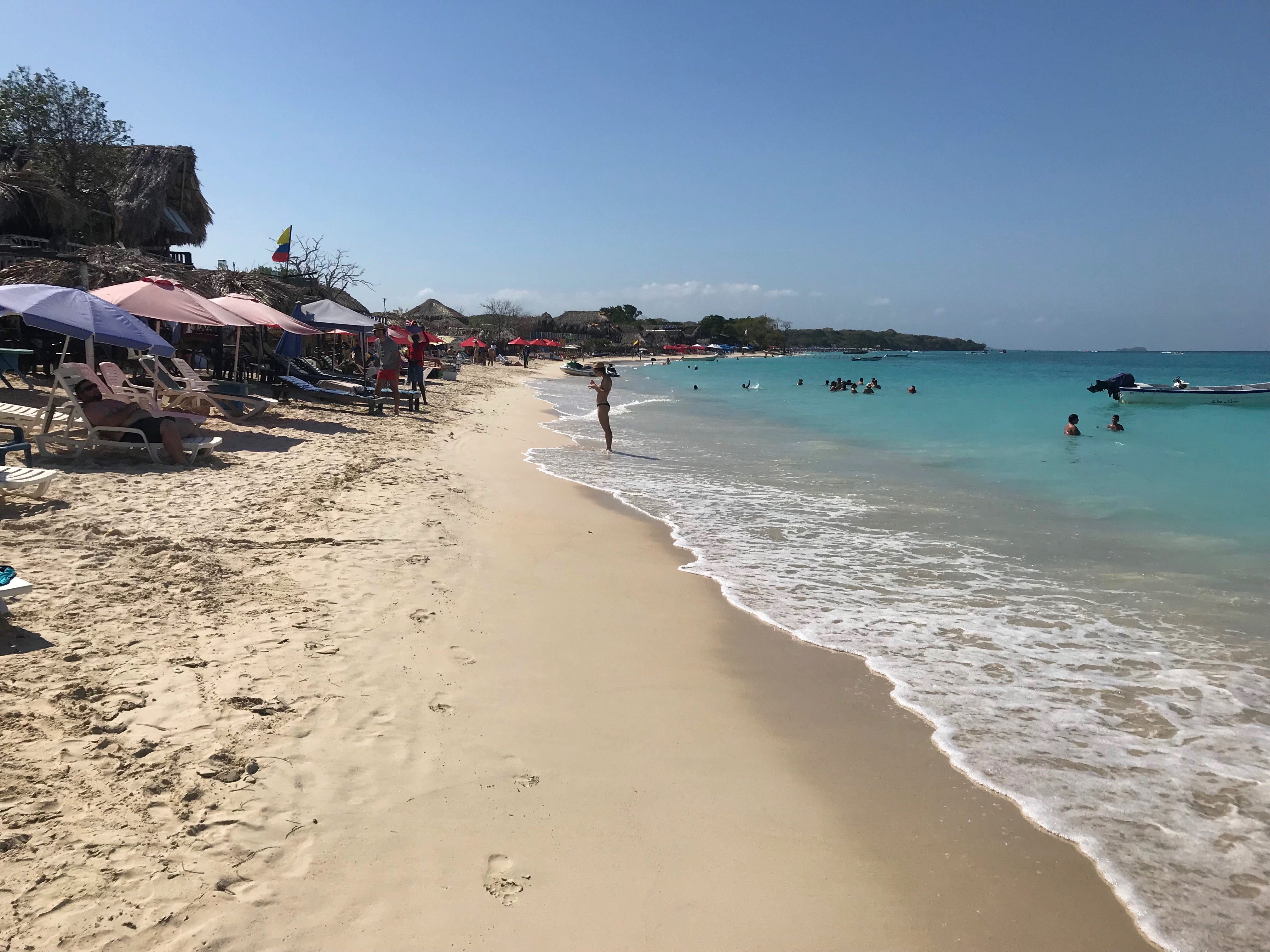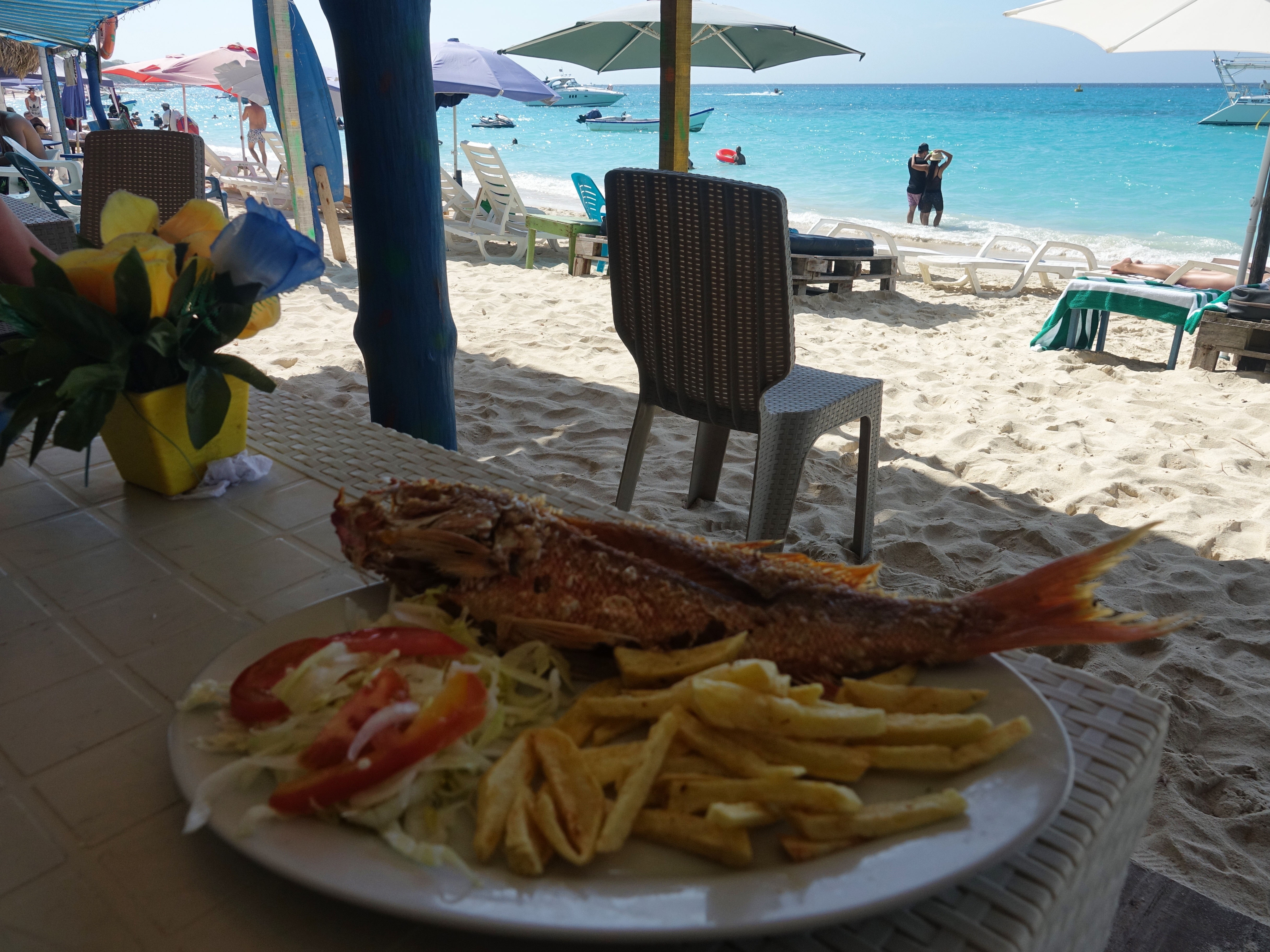 All in all, a very nice experience in Cartagena; highly recommended.
Recommended
Cartagena is a very nice holiday/fun experience; where lots of tourists, including local tourists come to for fun. And the fun was not wild crazy/drunk fun, but good family fun with lots of good experiences; old and new architecture, gentrified and local barrios to visit; beaches and markets to experience etc.
To get back to Dallas, we flew from Cartagena to Bogota on Avianca airlines, the local carrier. When we got off the Avianca plane in Bogota, Dilshad noticed that the pilot, also leaving the plane, looked rather young. So she started chatting with him. Turns out he was only 24 yrs old; he had gotten his Private Pilot's license at 18, his Commercial Pilot's license at 19 and started flying Avianca jets at age 20 and so had been flying commercial aircraft including our 200 passenger plane for 4 yrs now. Very impressive. I don't imagine too many 20yr olds that are that focused.
Flight back from Bogota to Dallas was a direct flight with American airlines.
Another place checked off the bucket list 🙂
This entry was posted in
Cartagena Dec 2017
,
Colombia
,
South America