Silk Road 17: Lenin Peak & Turpal kul (lake), Kyrgyzstan, Sept 2019
After a great few days exploring Osh , it was time to move on towards Tajikistan. So early the next morning, Erali arrived with his brothers Ahmadali and Sherali, who were going to be our driver and guide for the next 7 days on our drive through the Pamir mountains into Tajikistan.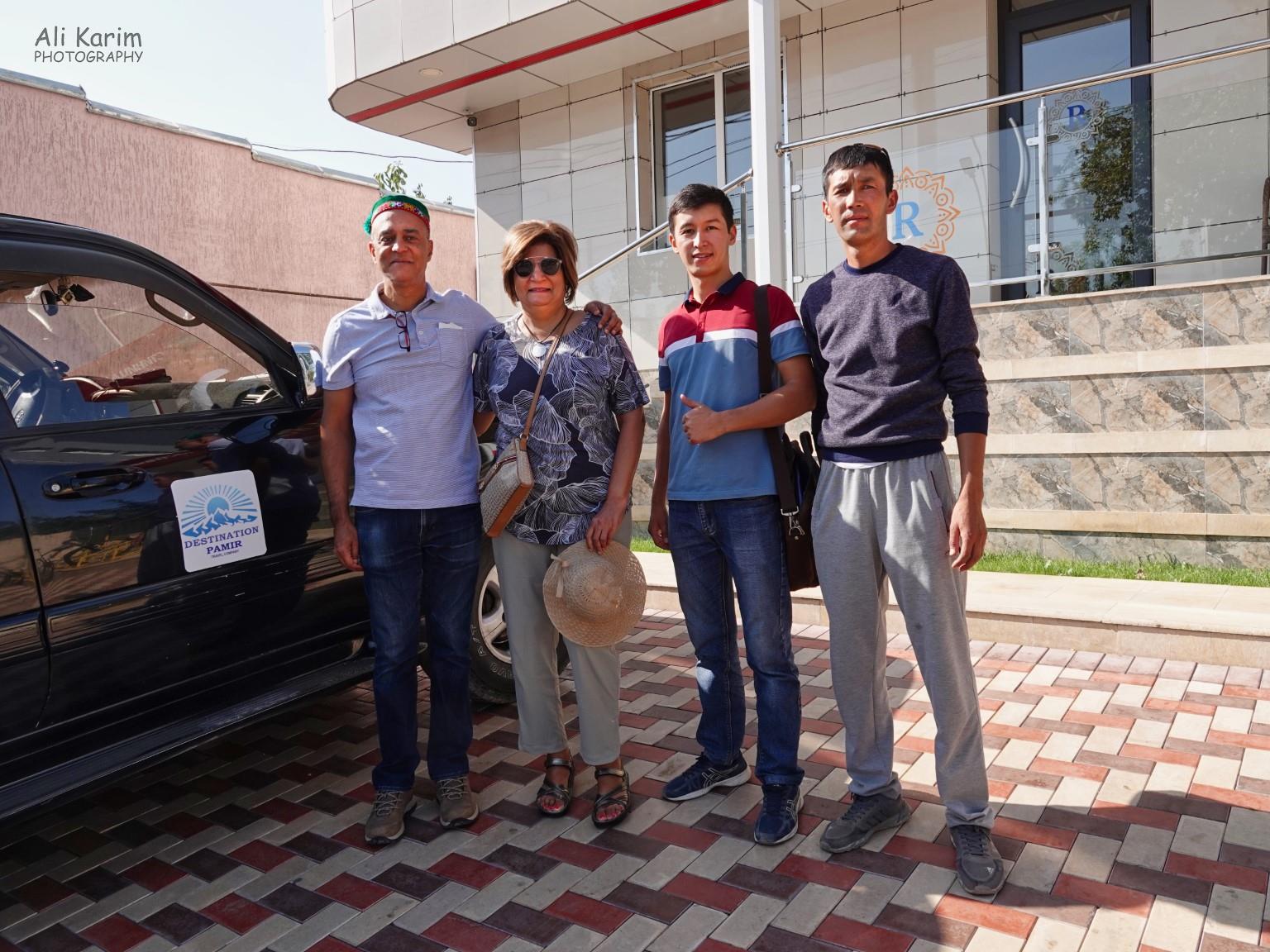 We started driving south from Osh after saying goodbye to Erali, the organizer of our tour. These 3 are brothers, and run tours over this region. Before leaving Osh, Ahmedali stopped and topped up on Petrol (42 Som/liter; or 57cents) and on Compressed LPG (20 Som/liter or 29 cents); our Toyota Landcruiser was dual fuel purposed. Gas is relatively cheap here, and I suspect it is due to the close proximity and trading relations with Kazakhstan, which has vast oil reserves and production.
A short while outside Osh, the brothers stopped at roadside food/fruit stands where they stocked up on fresh vegetables and fruits etc. Upon asking why; I was informed that in Murghab (Tajikistan) our 2nd stop on the trip, nothing grows, so all vegetables and fruits are brought in from outside.
Information
Nothing grows in Murghab so People stock up Fruits and vegetables from outside Osh.
Chinese goods do come in, but are clothing, shoes, household good, equipment, building materials etc i.e. basically everything except fresh foods. This should be interesting.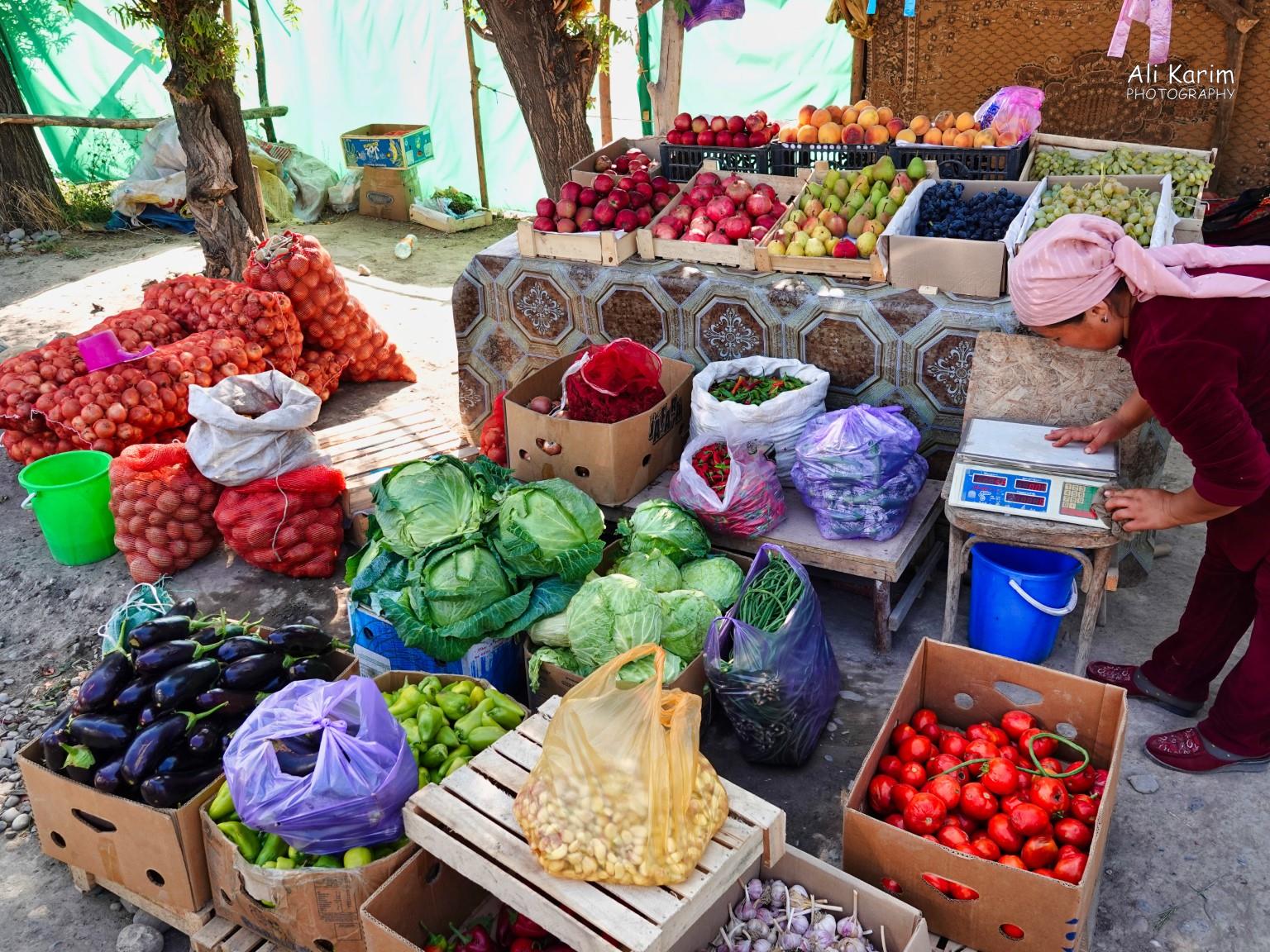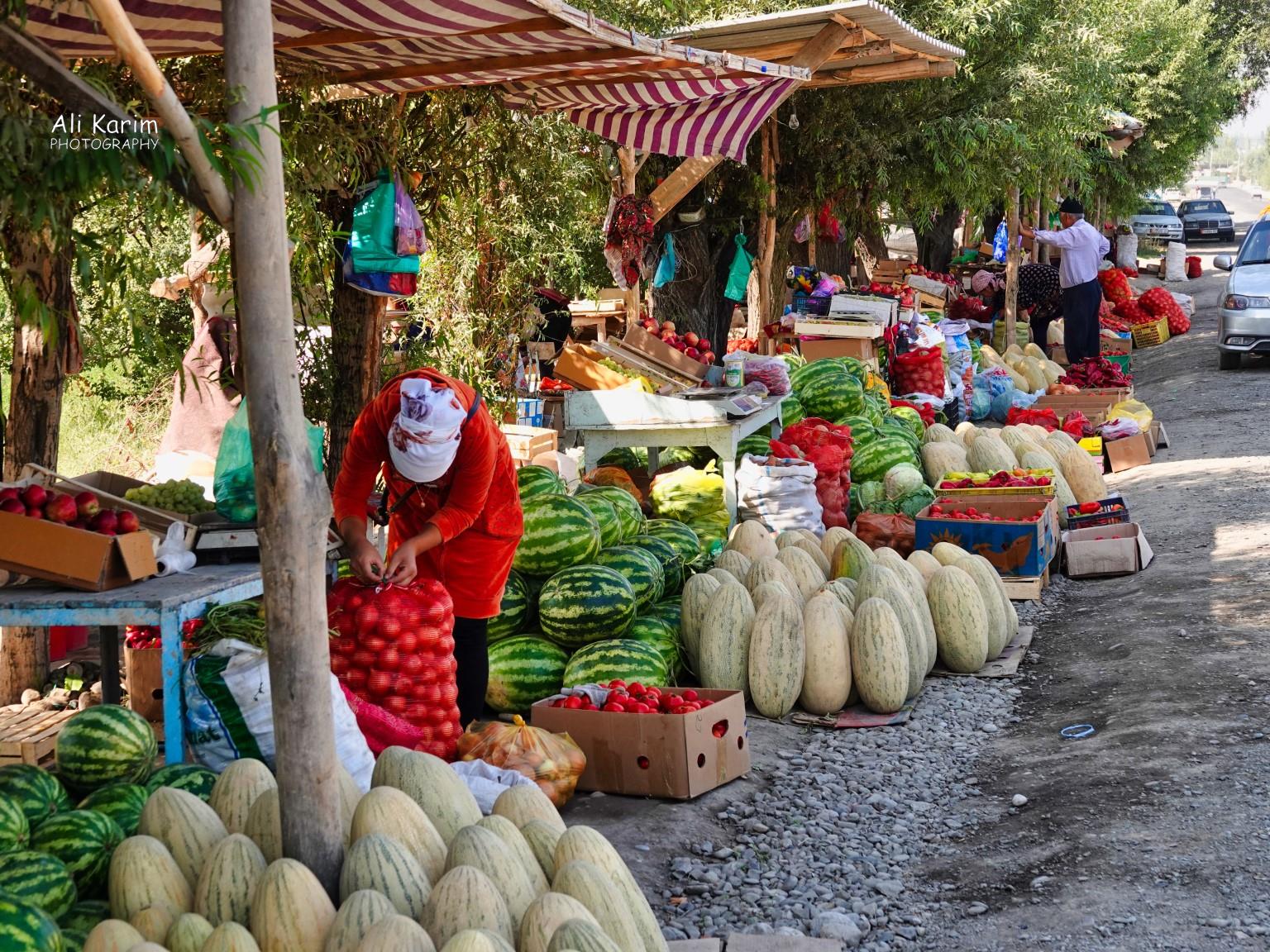 We drove towards Sary Tosh in southern Kyrgyzstan, and below are some scenes along the way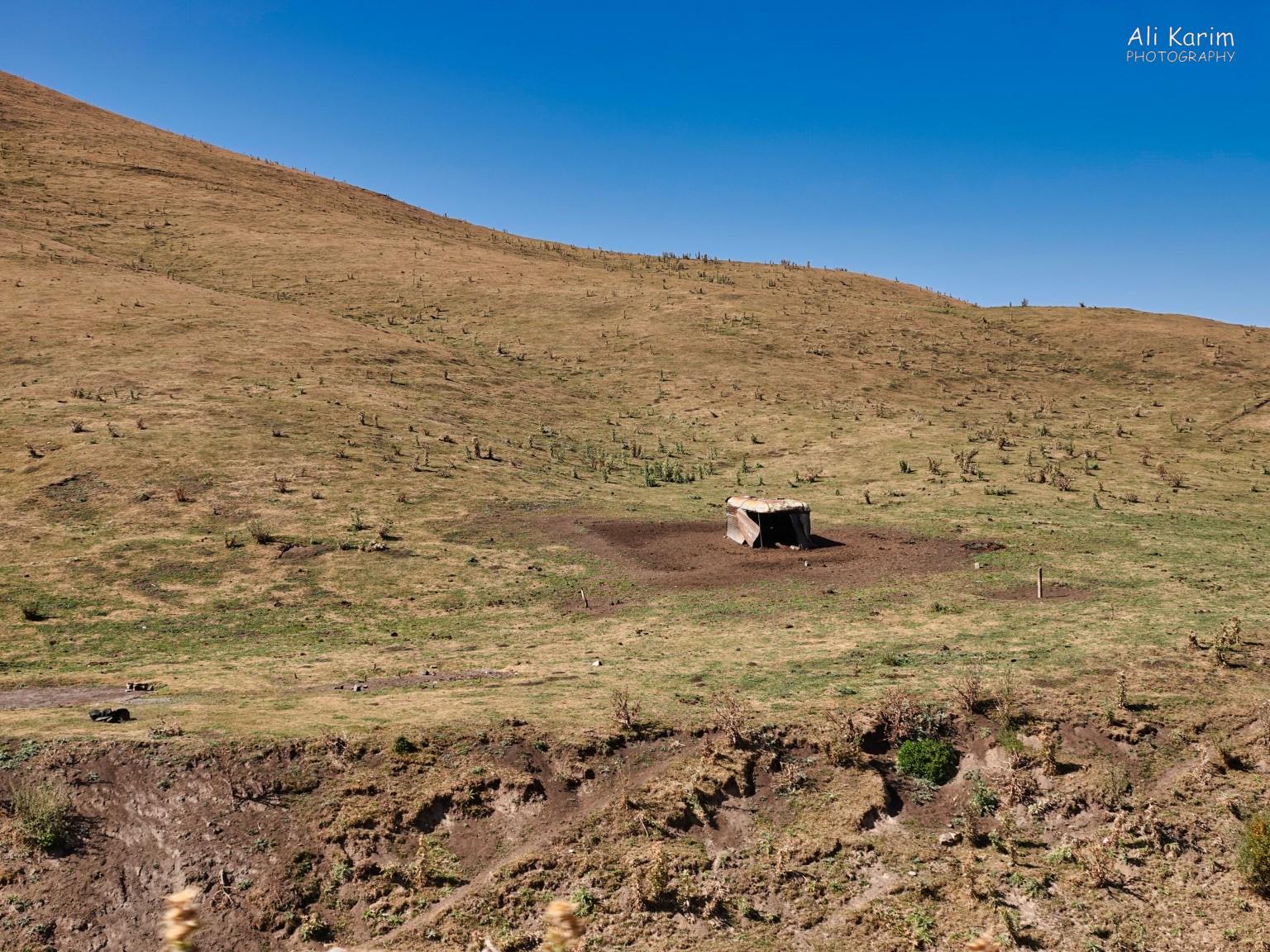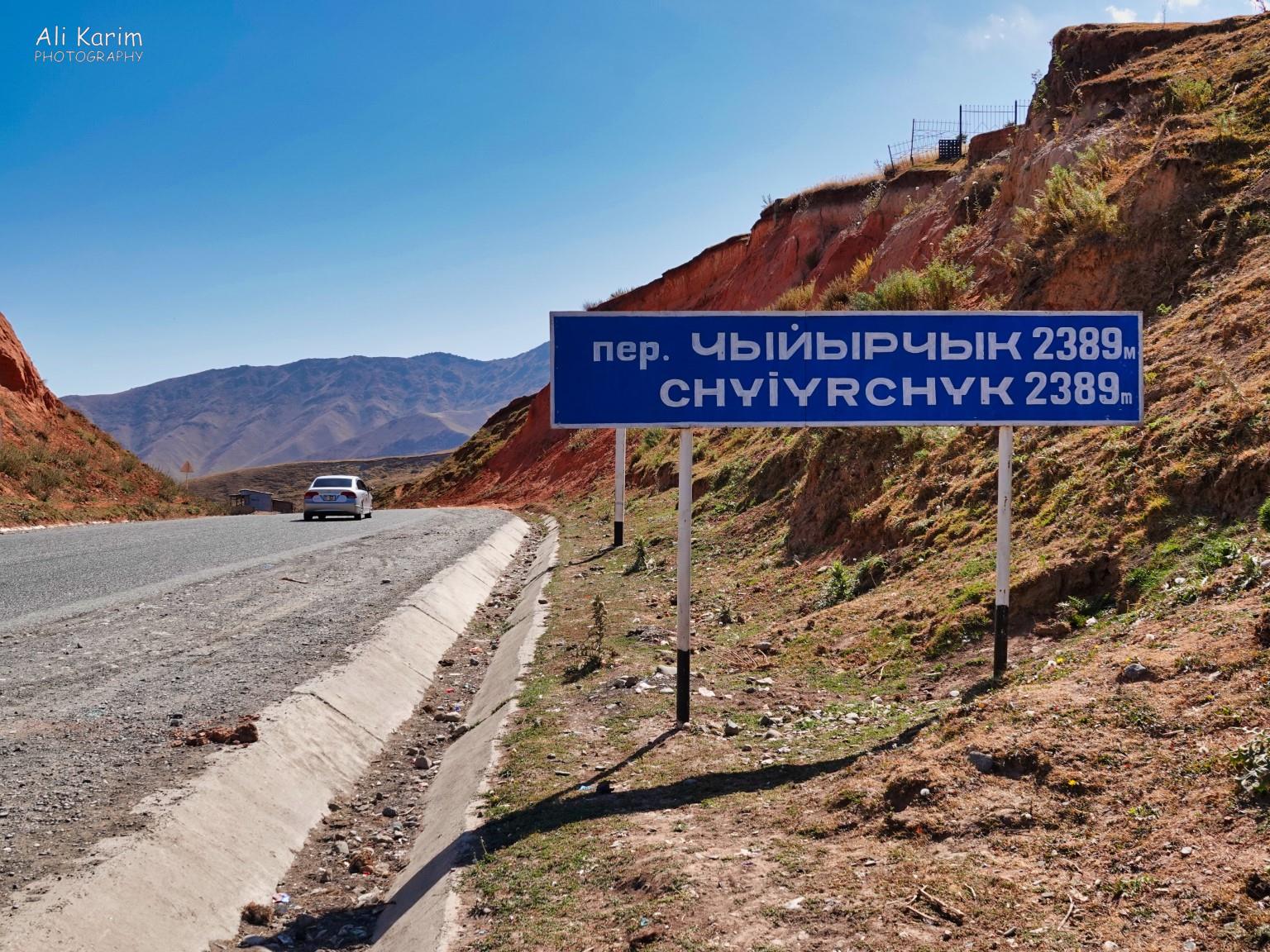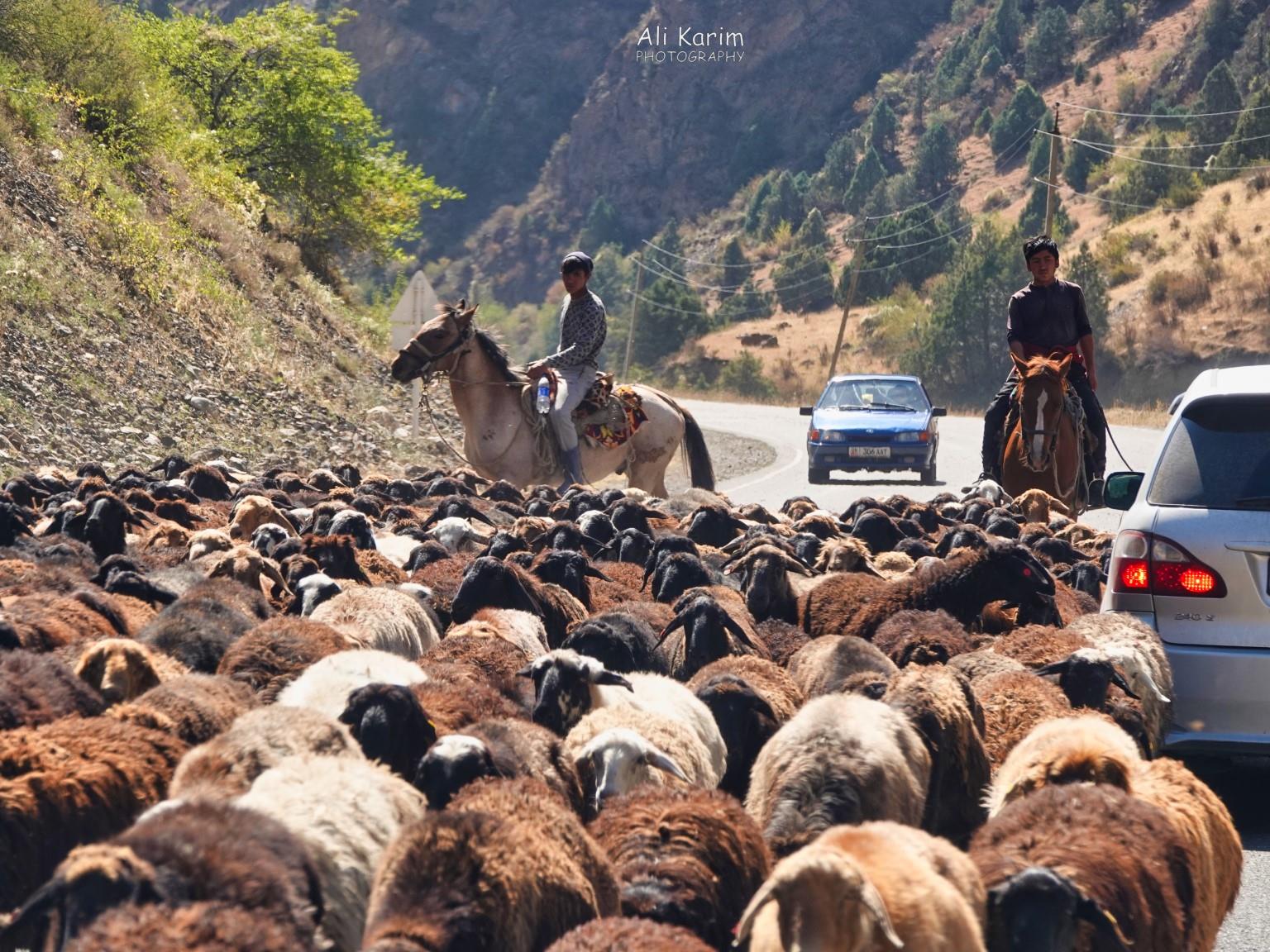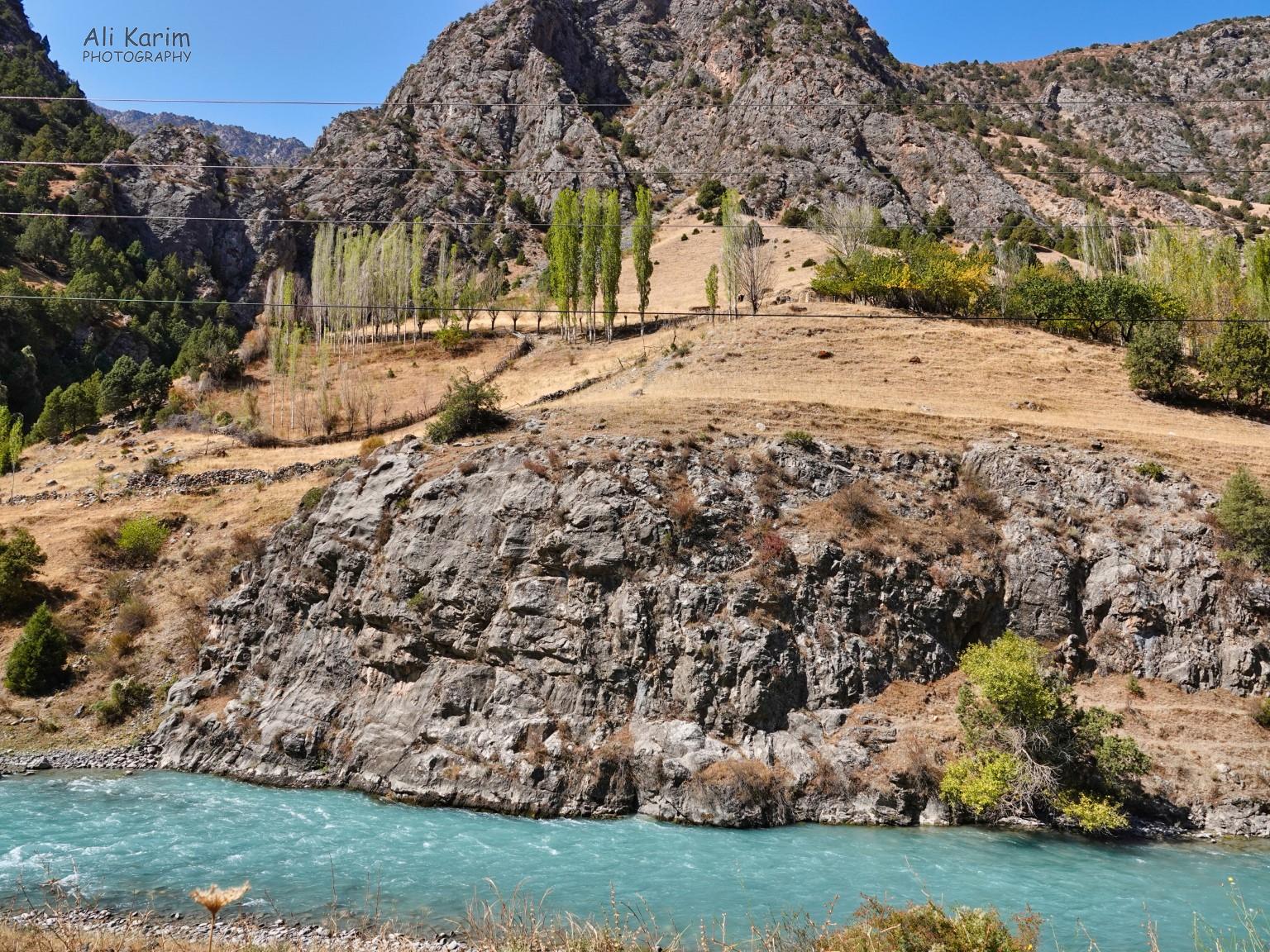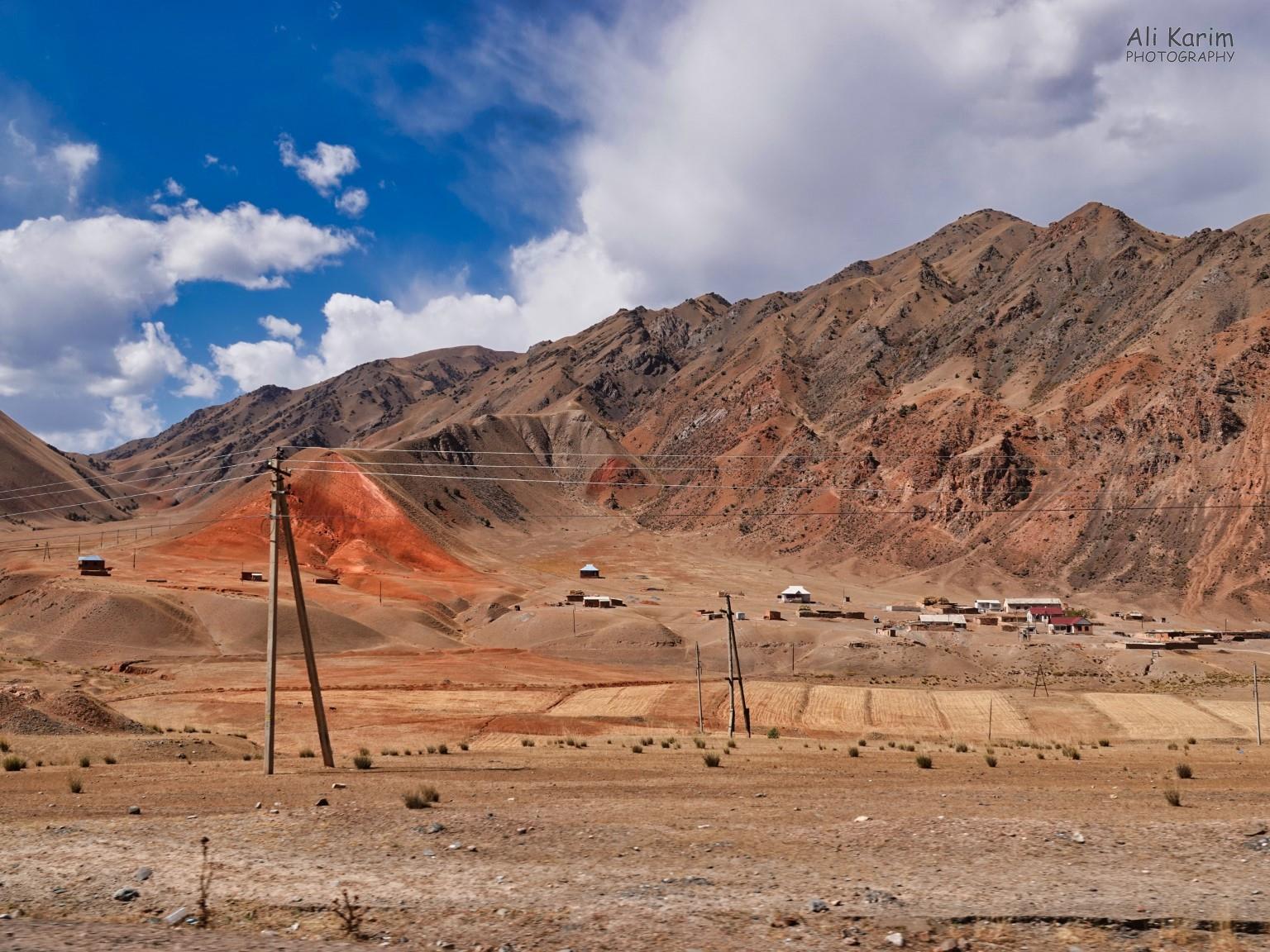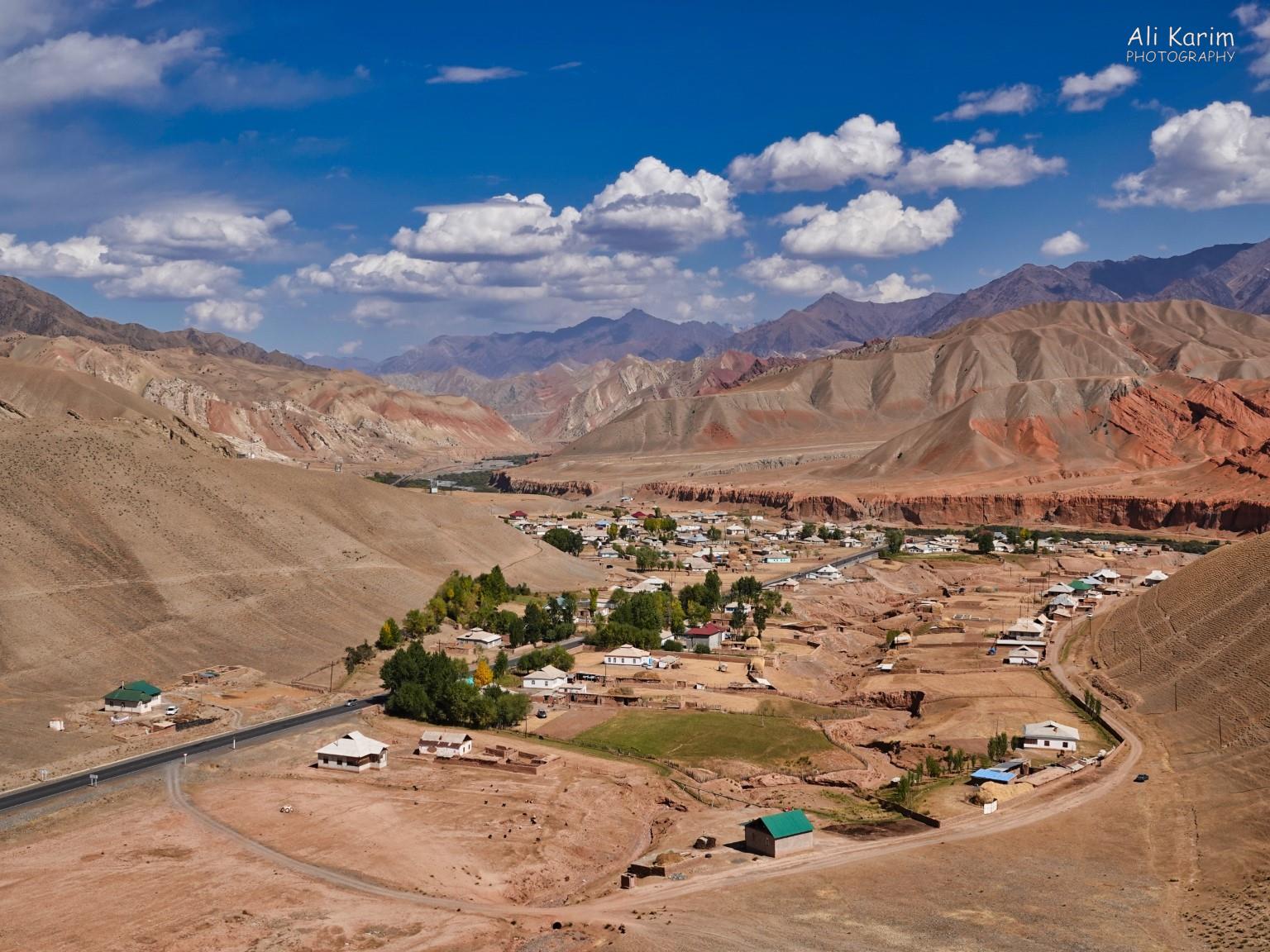 Views of the picturesque mountainous area here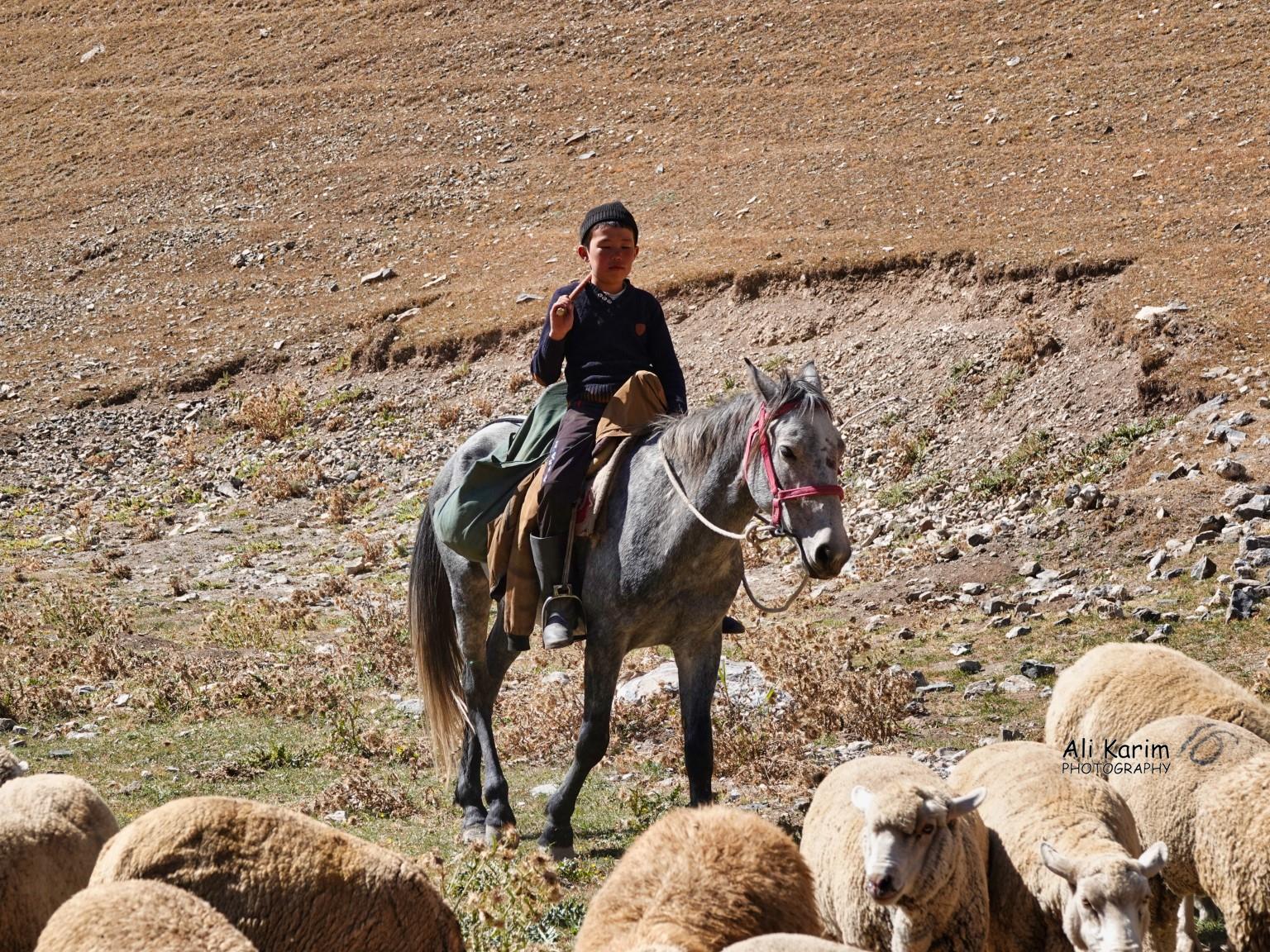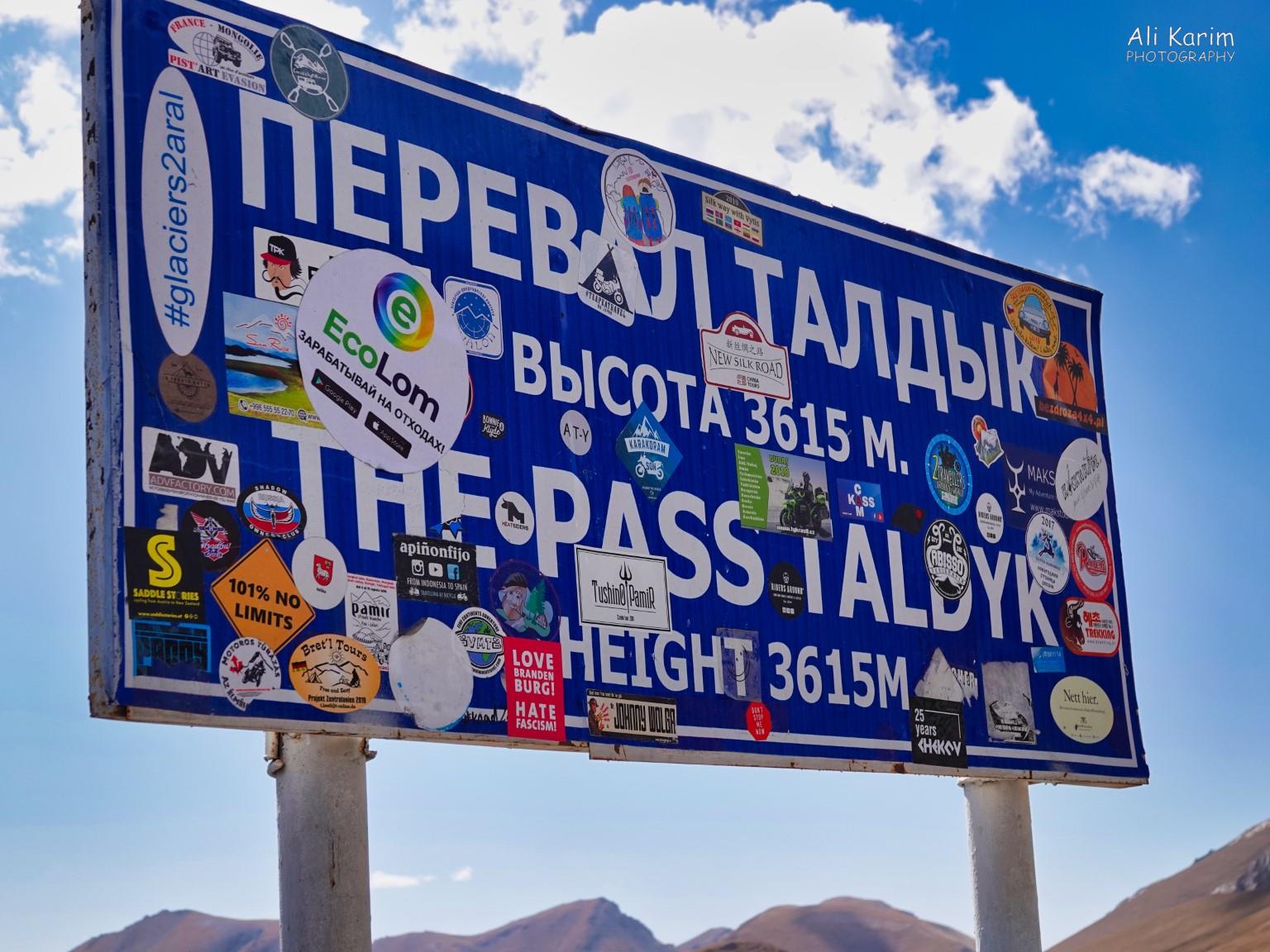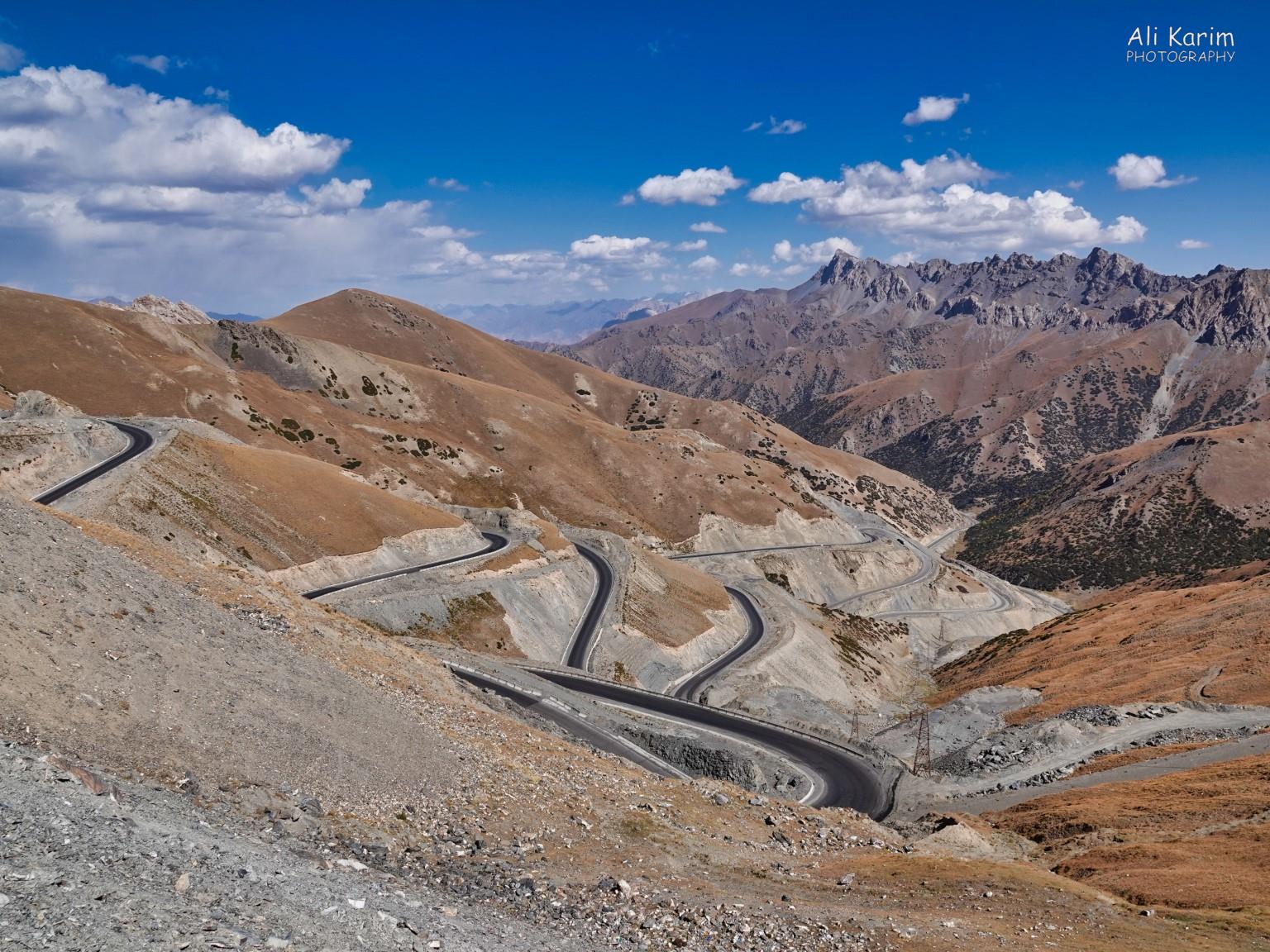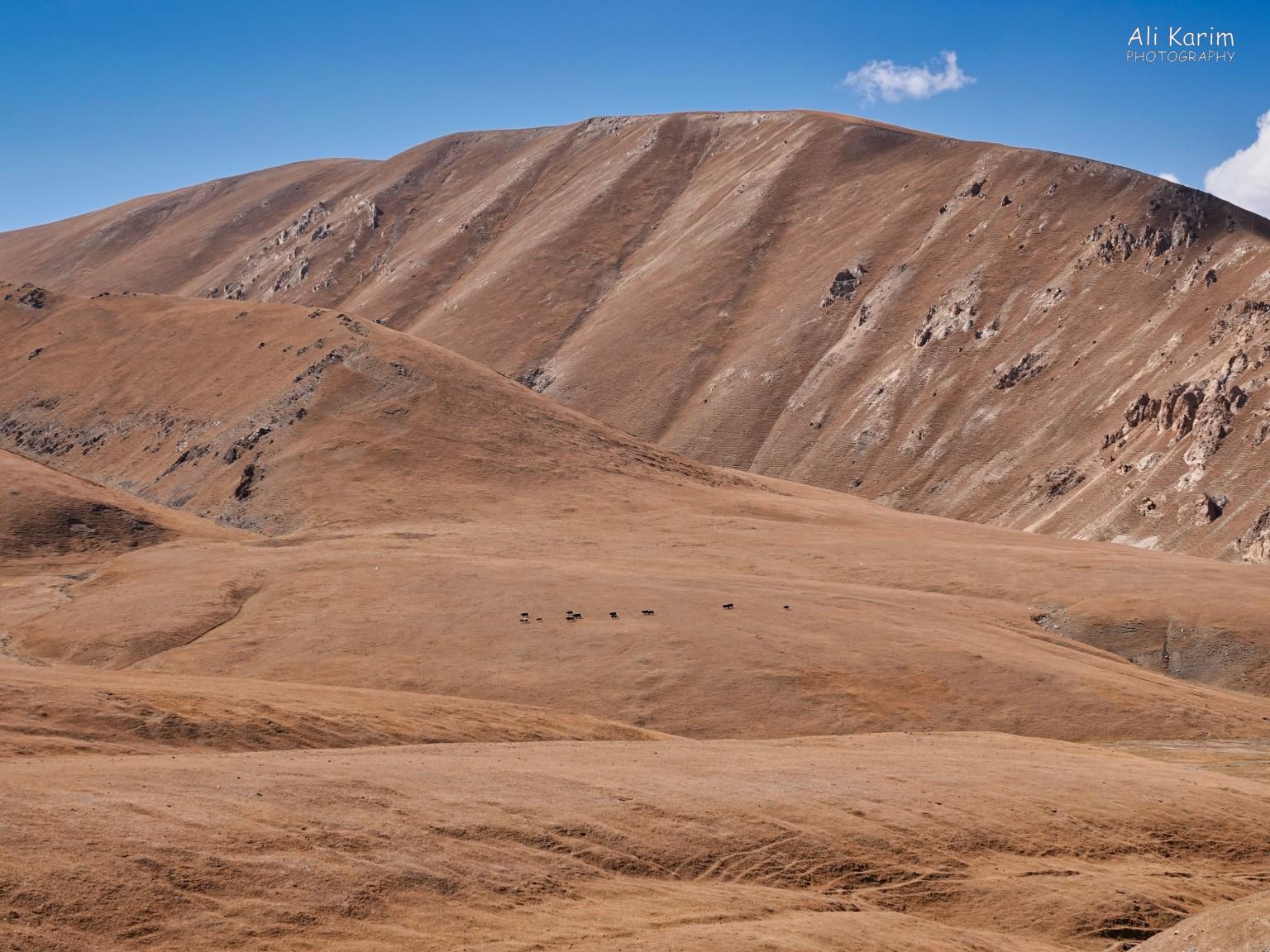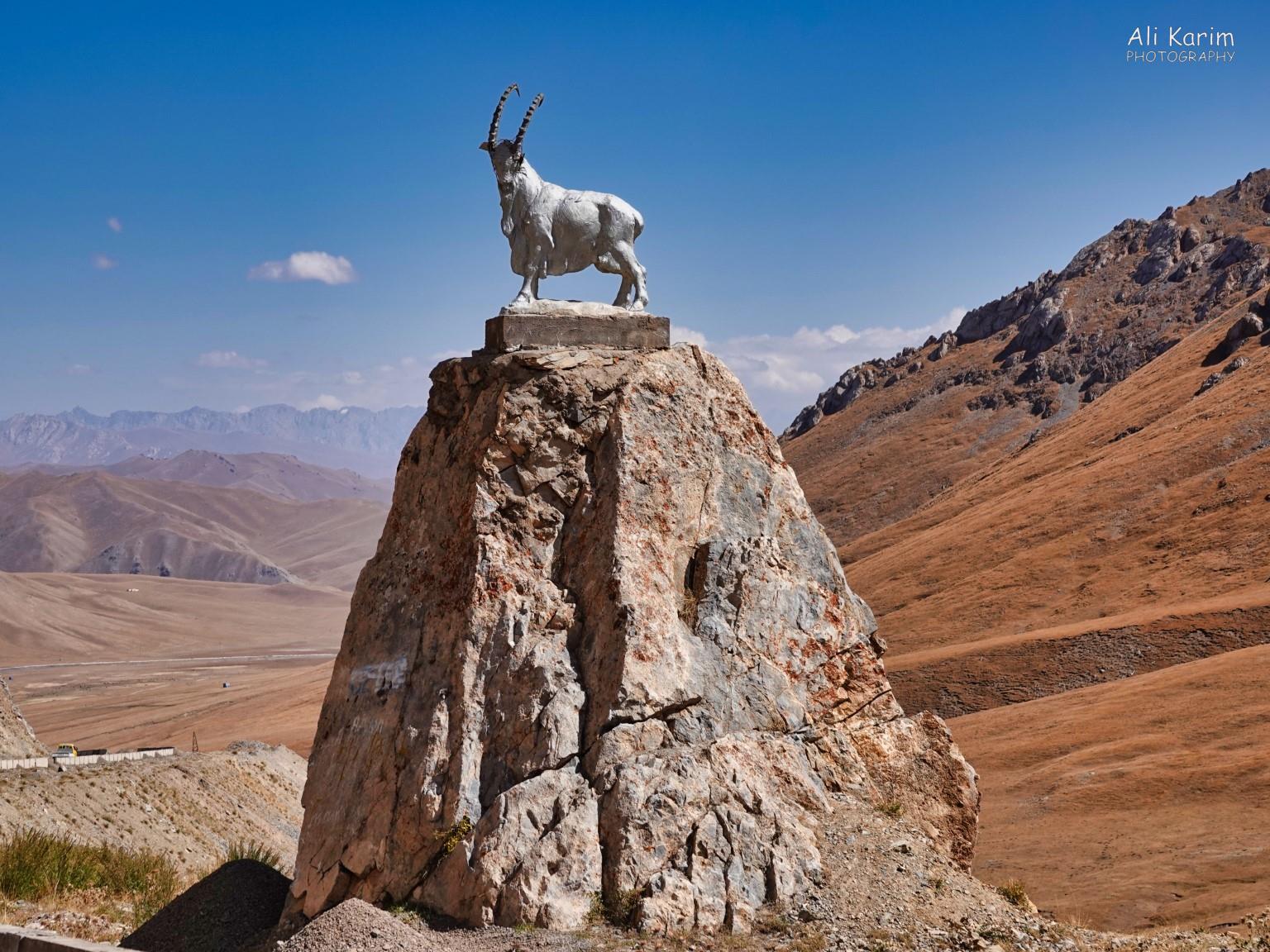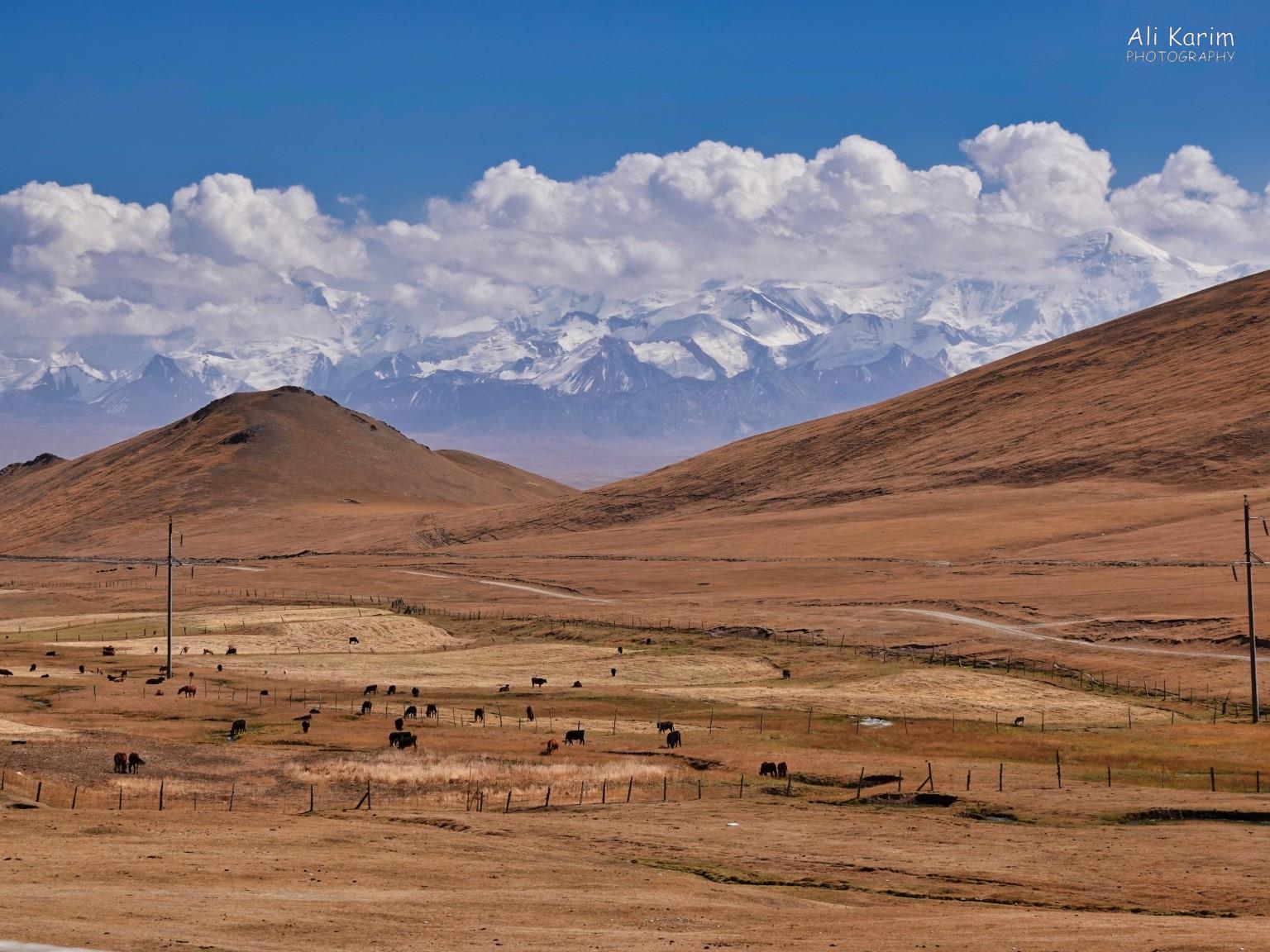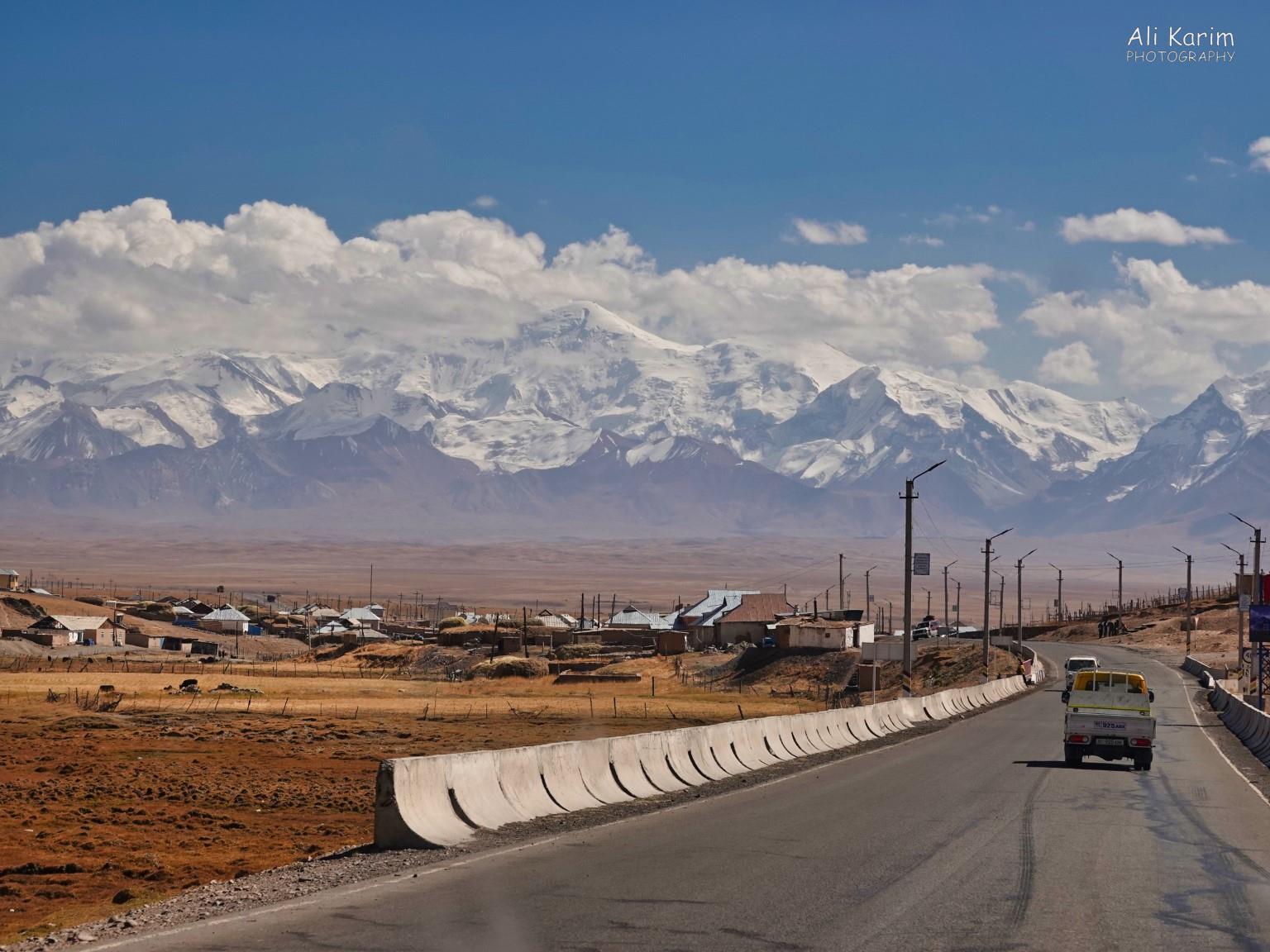 We arrived in Sary Tosh, where we stopped for lunch at one of the 2 small cafeterias' here.
Information
The Road Trip is very picturesque and we get many instagramable pictures.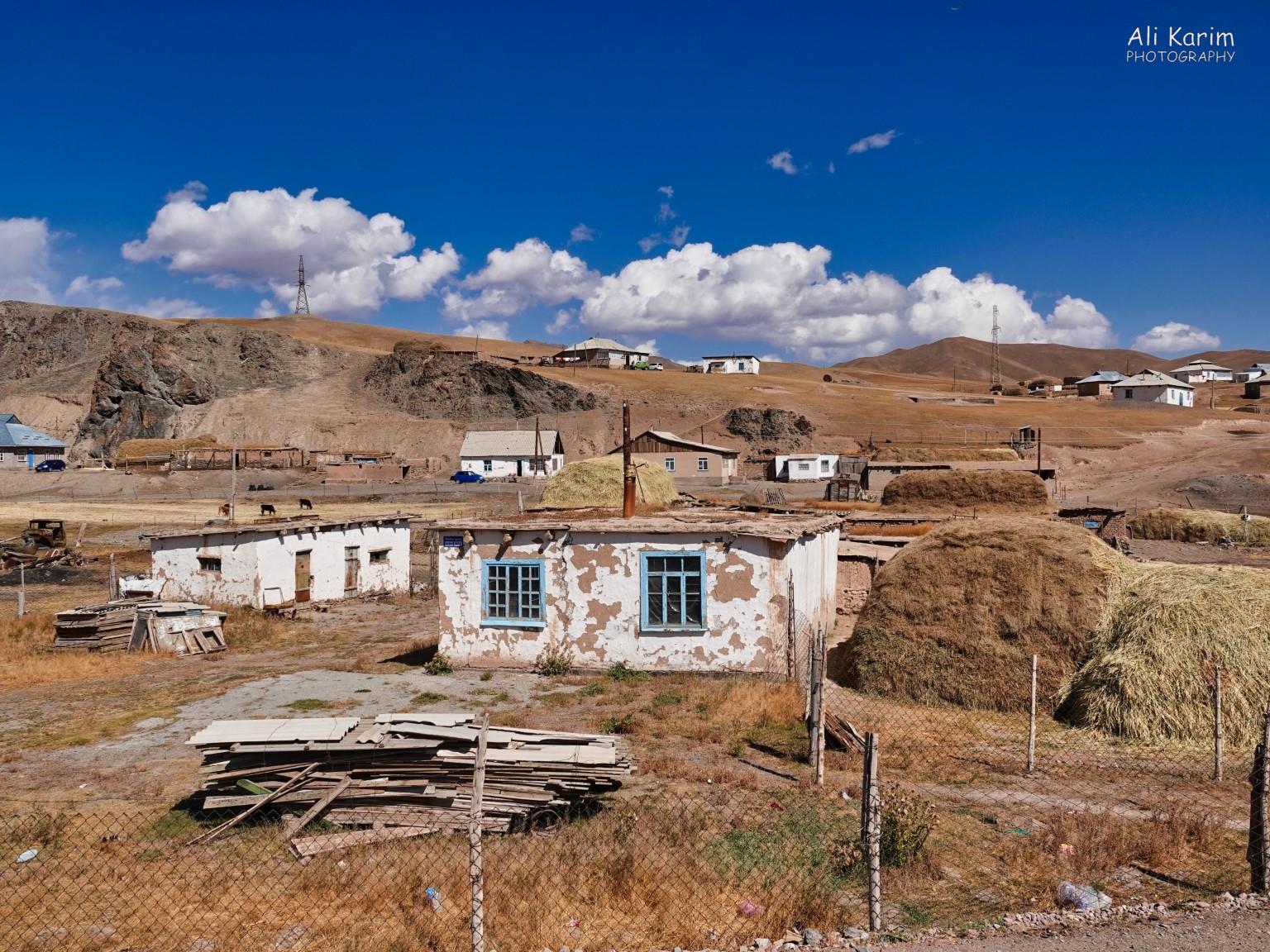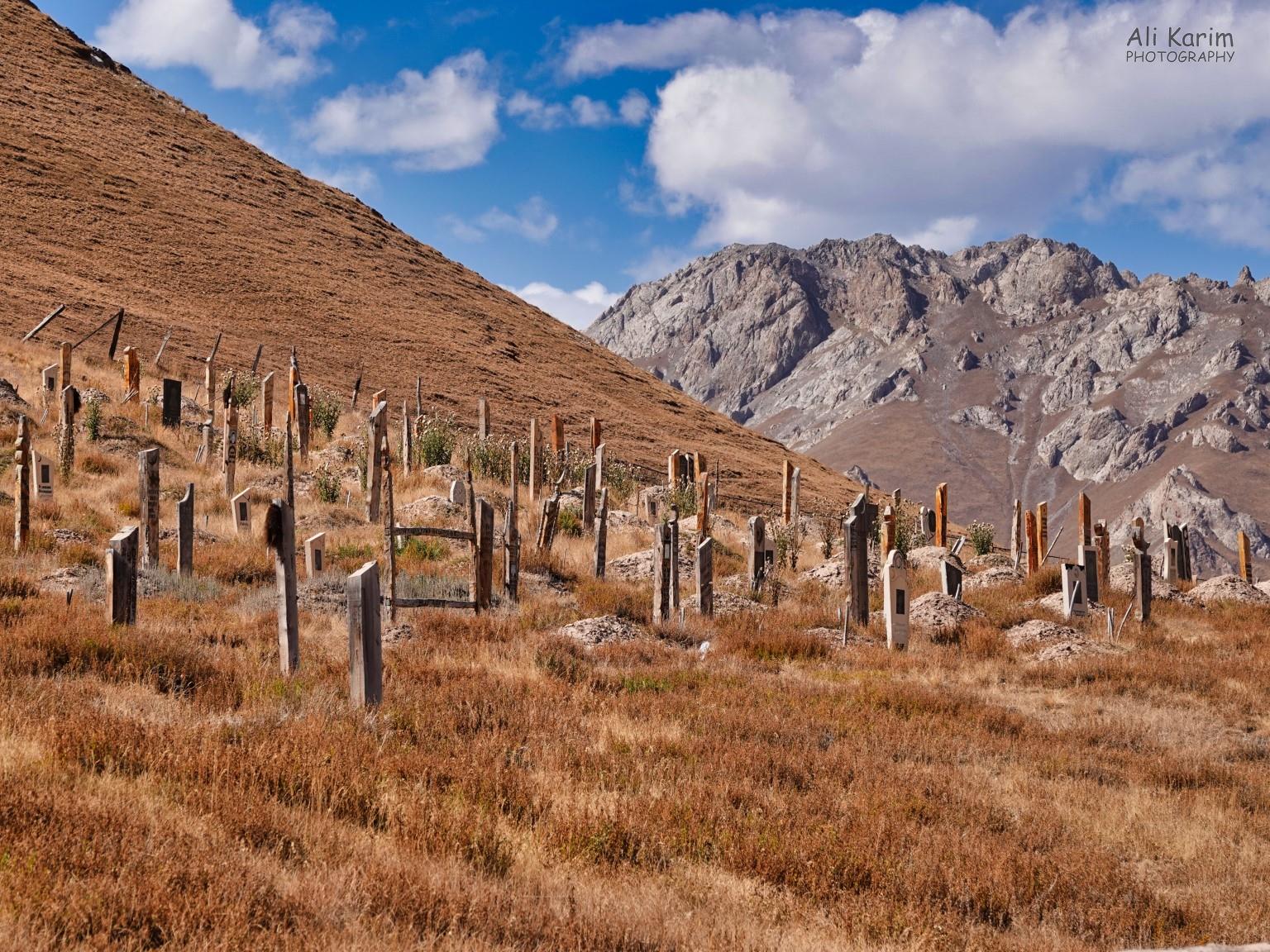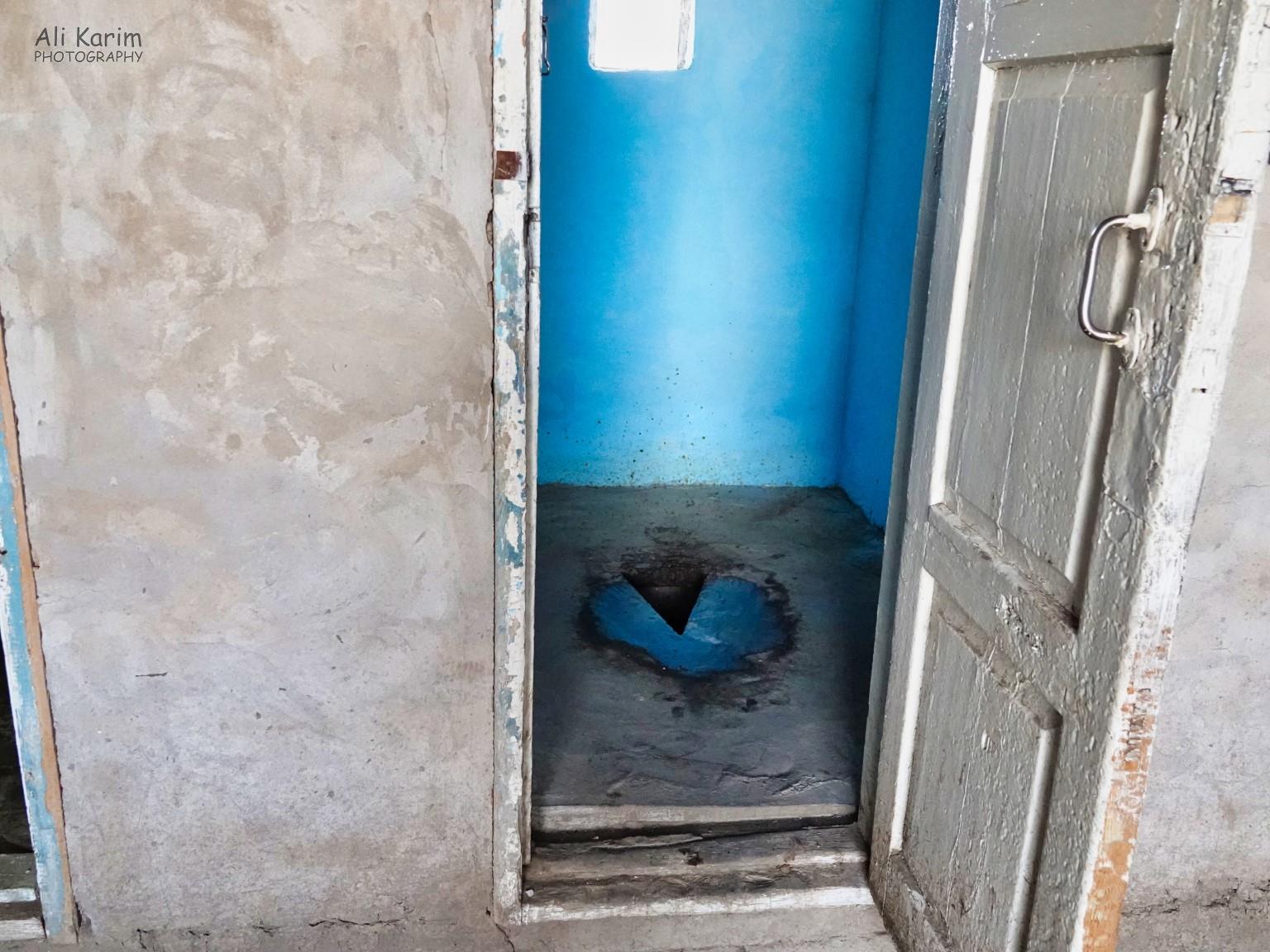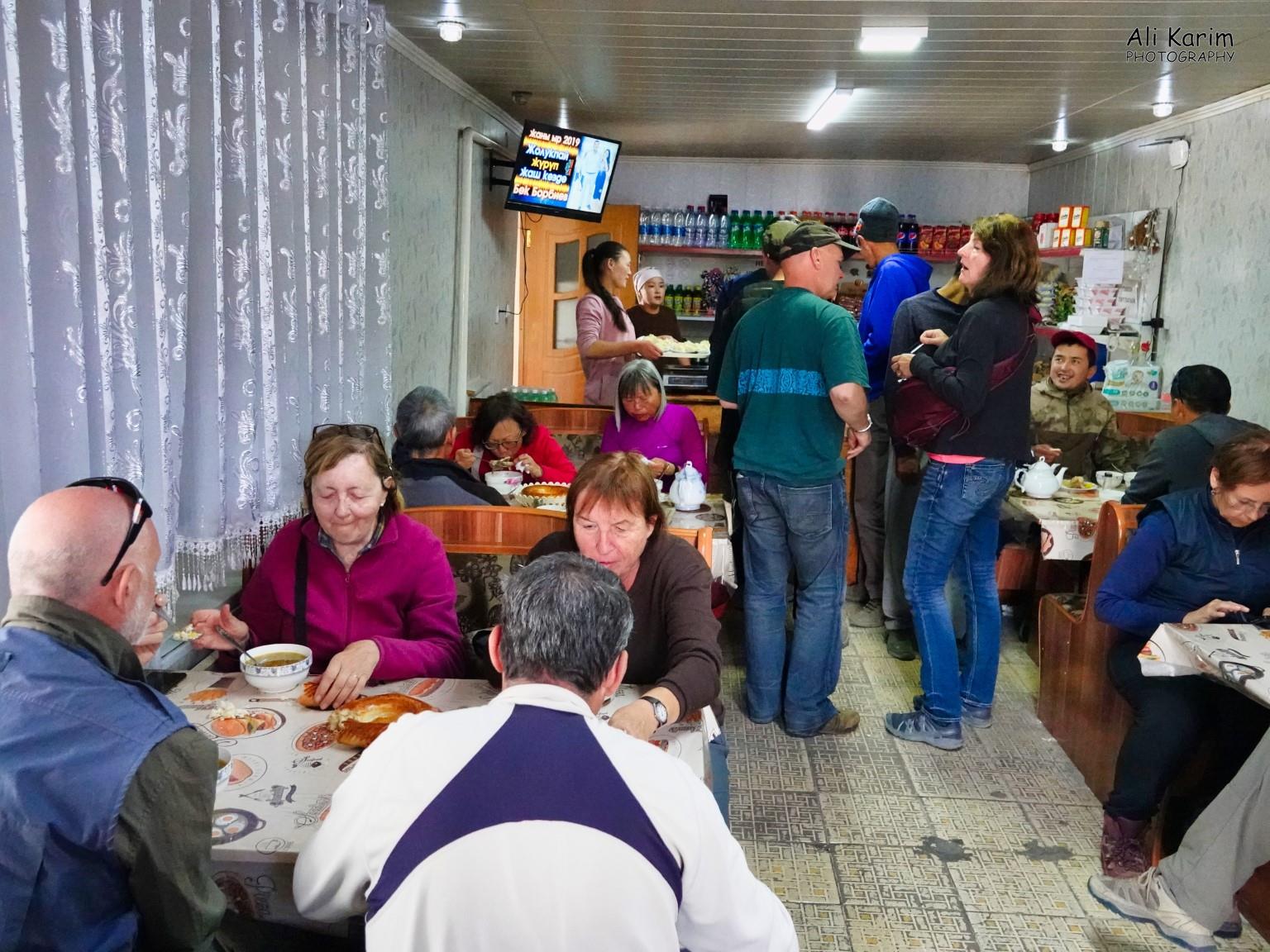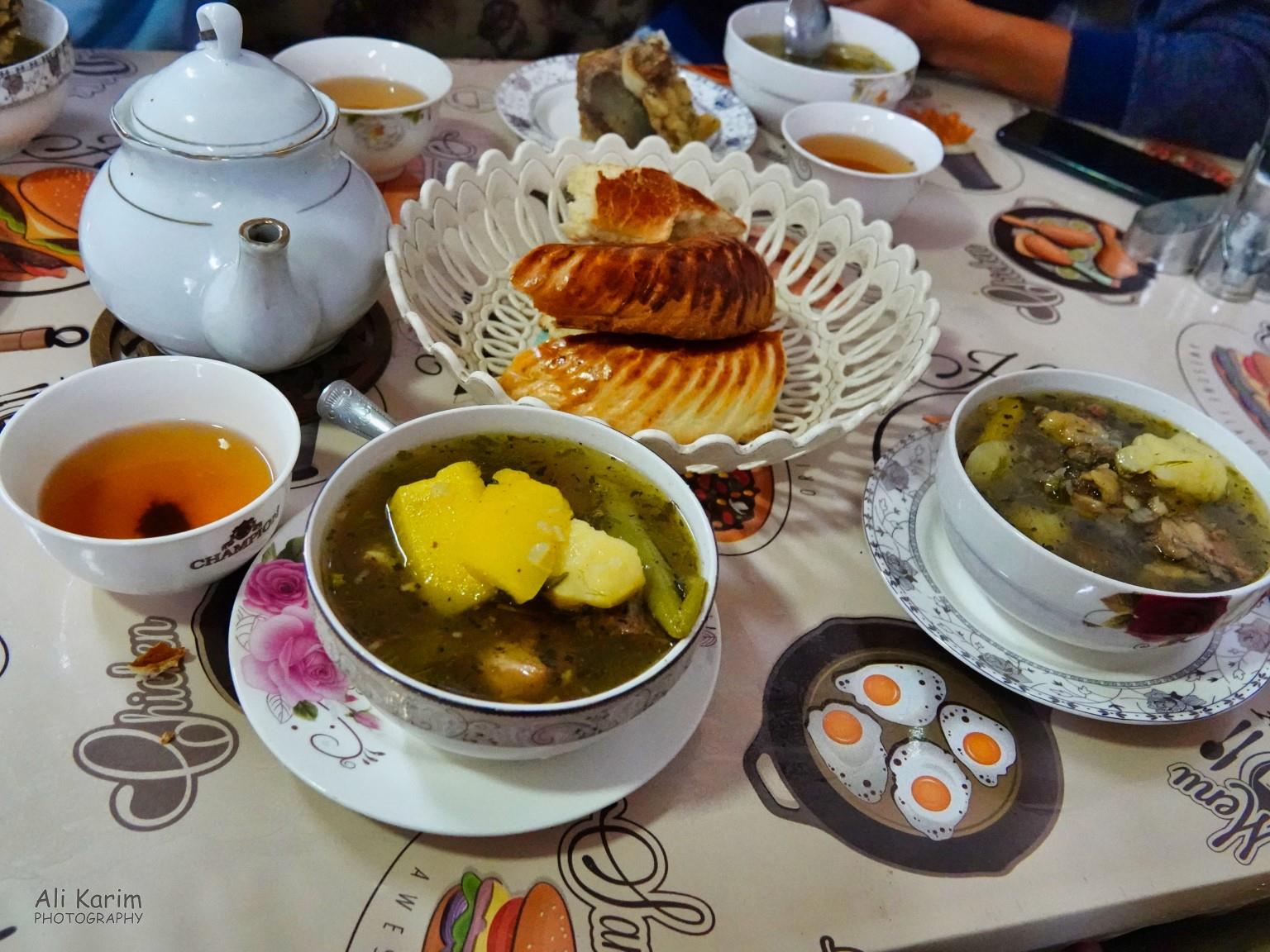 After this lunch, we drove westwards towards Sary Mogul; some scenes along the way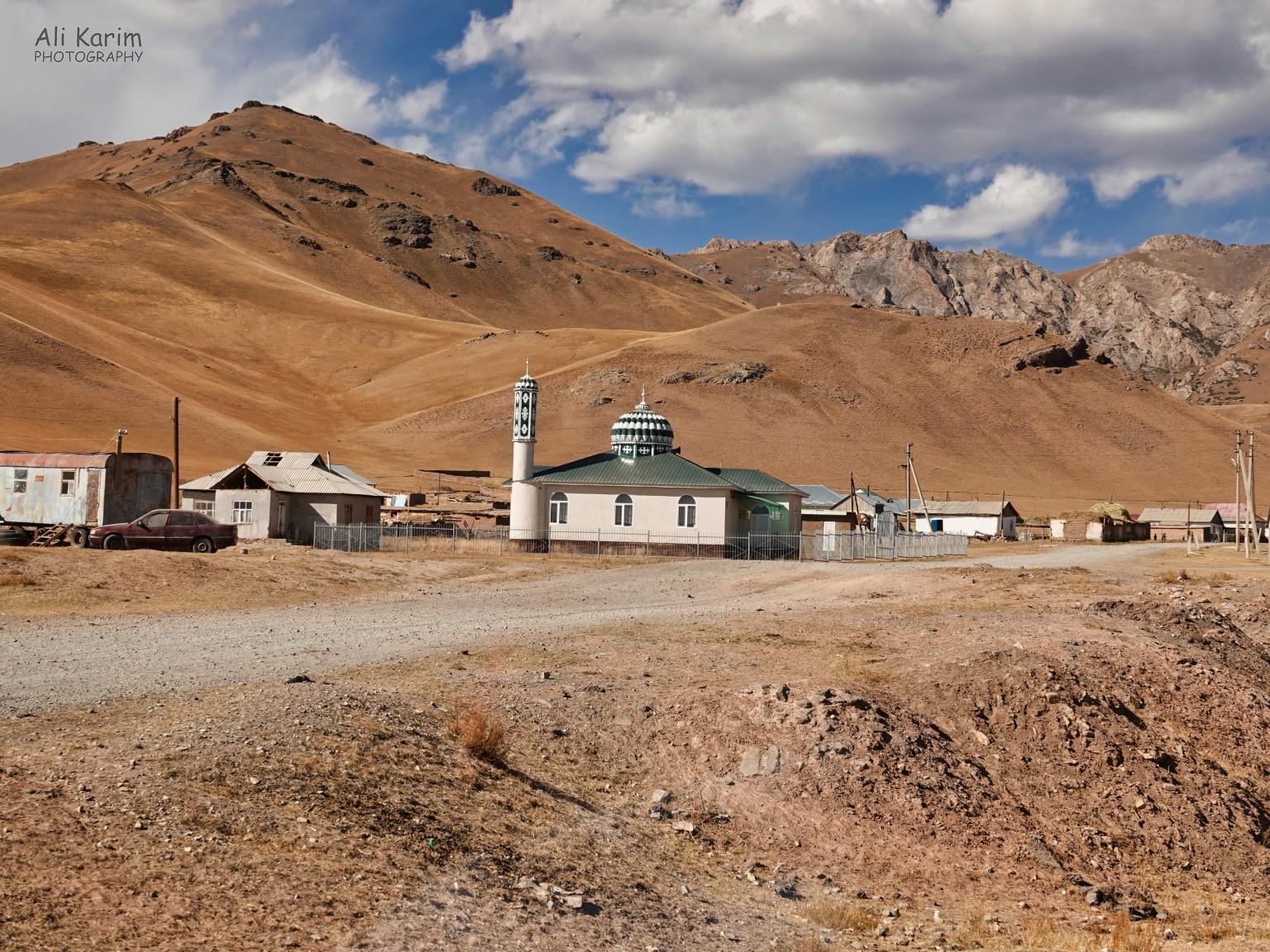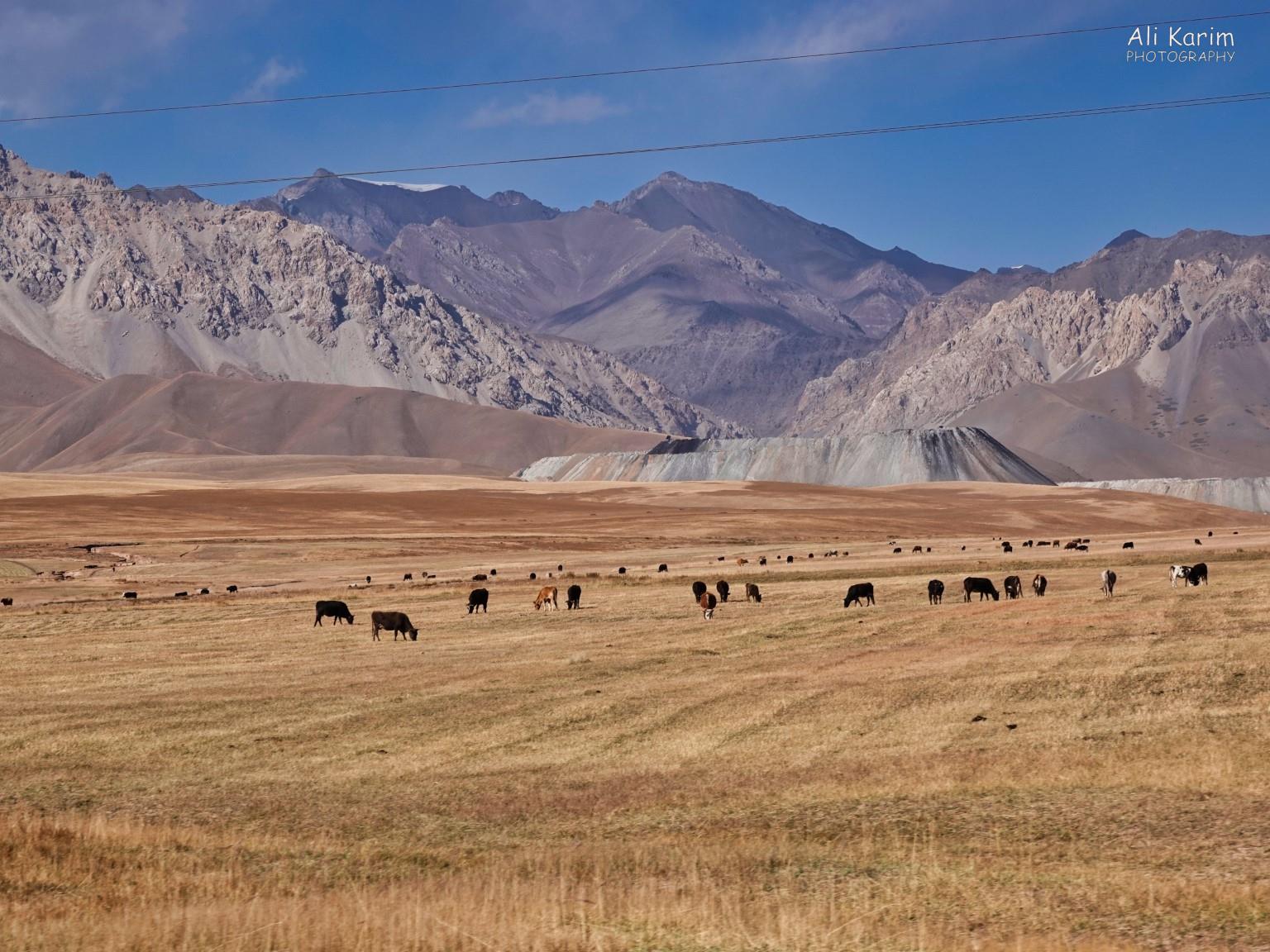 We arrived in Sary Mogul, a small town, and turned left off the main road, going south, on dirt roads, towards the Pamir-Alay mountains, that form the border with Tajikistan.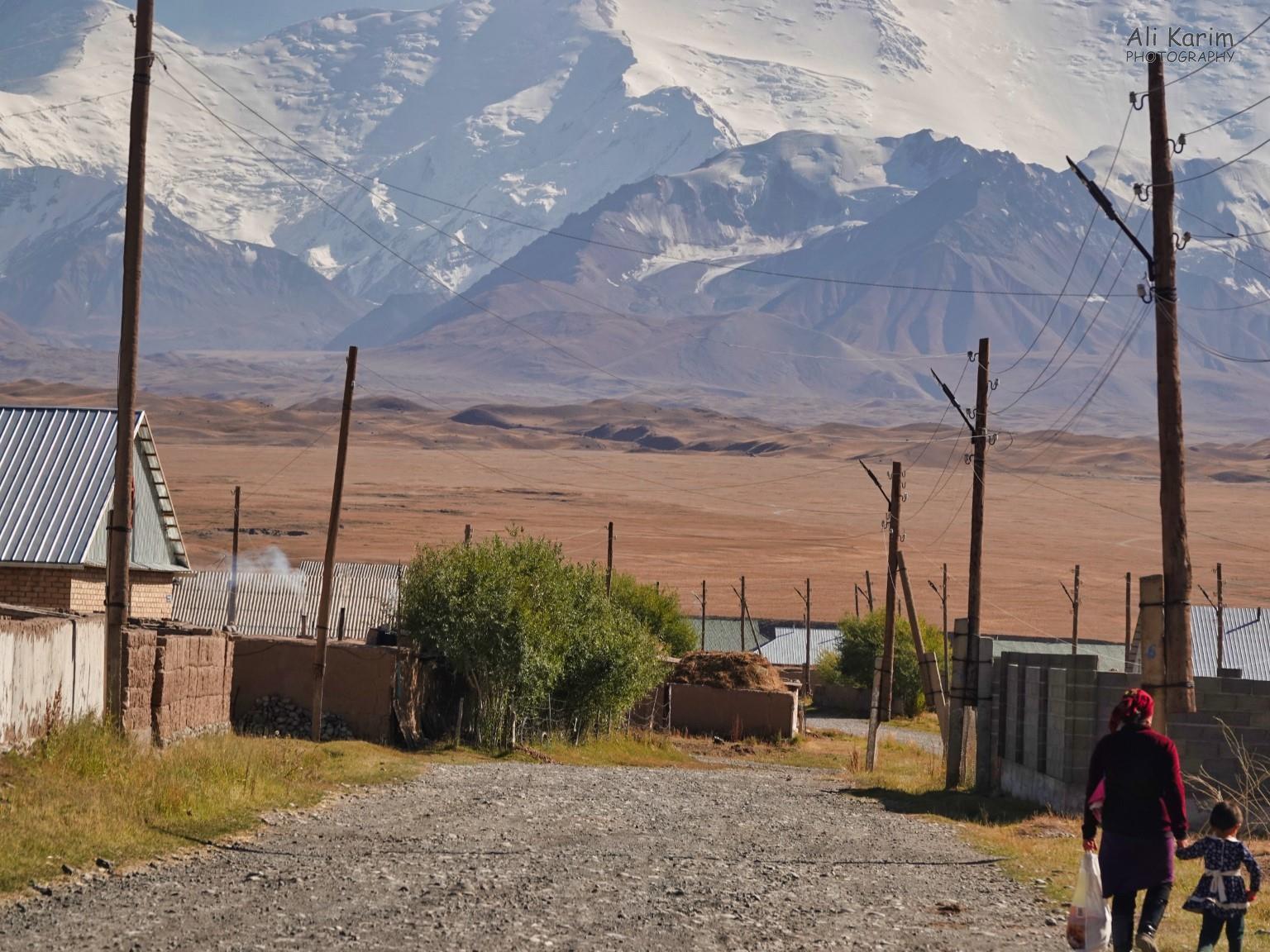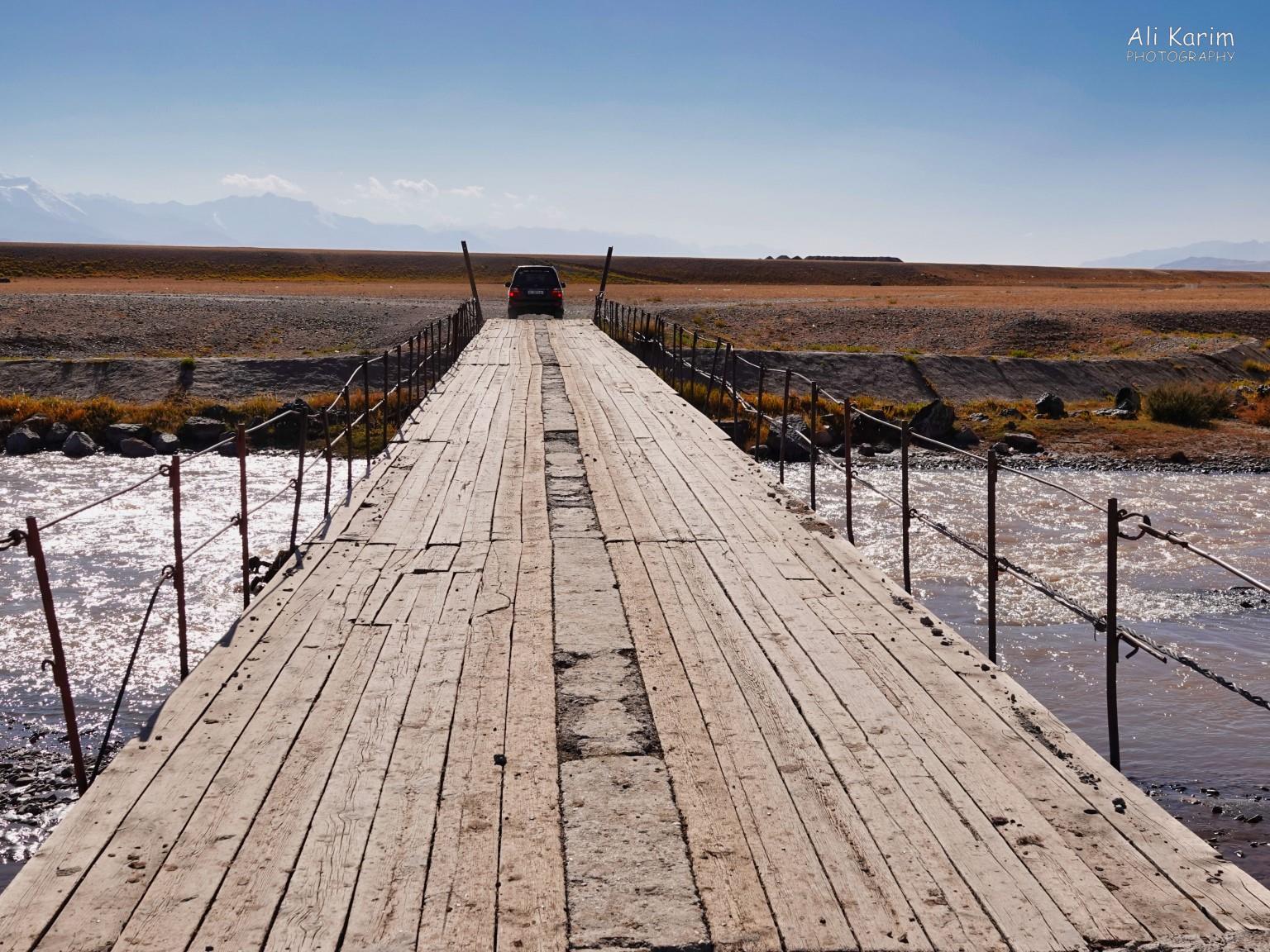 View of the majestic Pamir-Alay range; Lenin Peak is one of the peaks here

After driving 25kms south on a dirt road, we arrived at Turpal kul (lake) at an altitude of 3500m or 11,493ft. The air was rarified, and we were advised that since this was our first day at high altitude, we should not exert ourselves, and walk slowly and easily.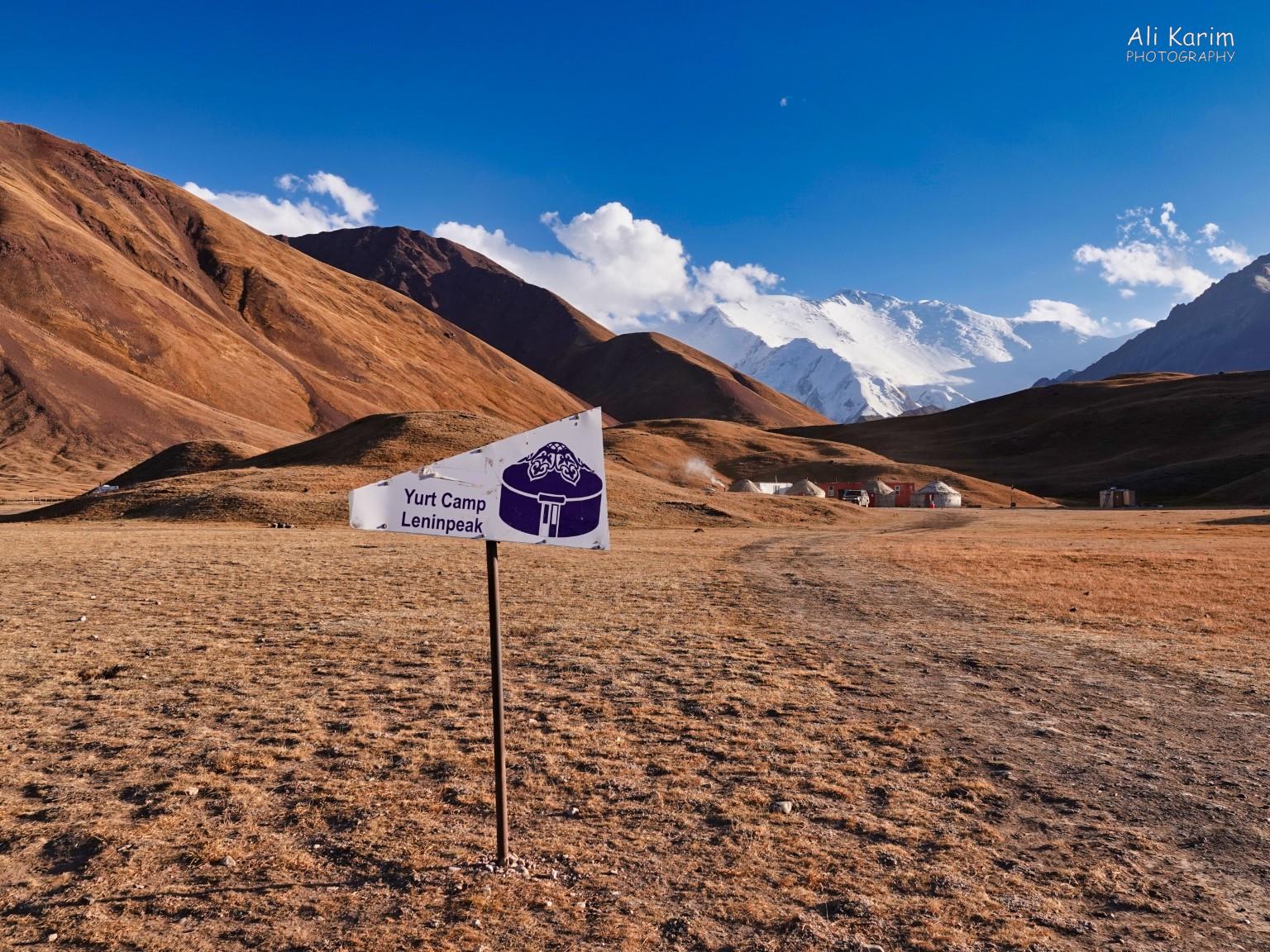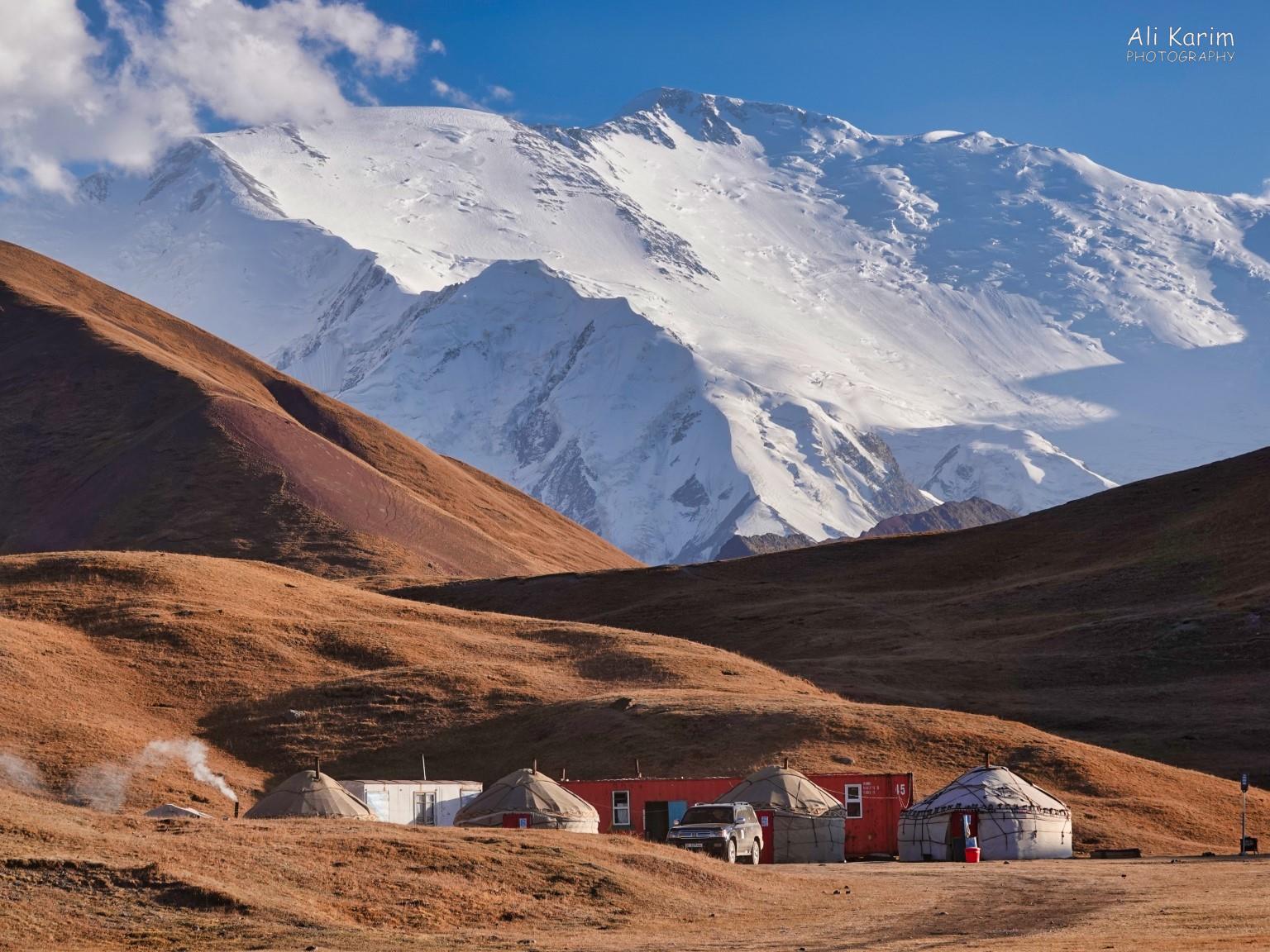 Landscape around our Lenin Peak Yurt Camp

After getting our Yurt assigned, we took a short hike towards Lenin Peak Base Camp, before it got dark. Lenin Peak is the highest mountain peak of this range, and is actually physically located inside Tajikistan. The Tajik border line is a mere 1-2 kms climb south of where we were staying at the Lenin Peak Yurt camp in Kyrgyzstan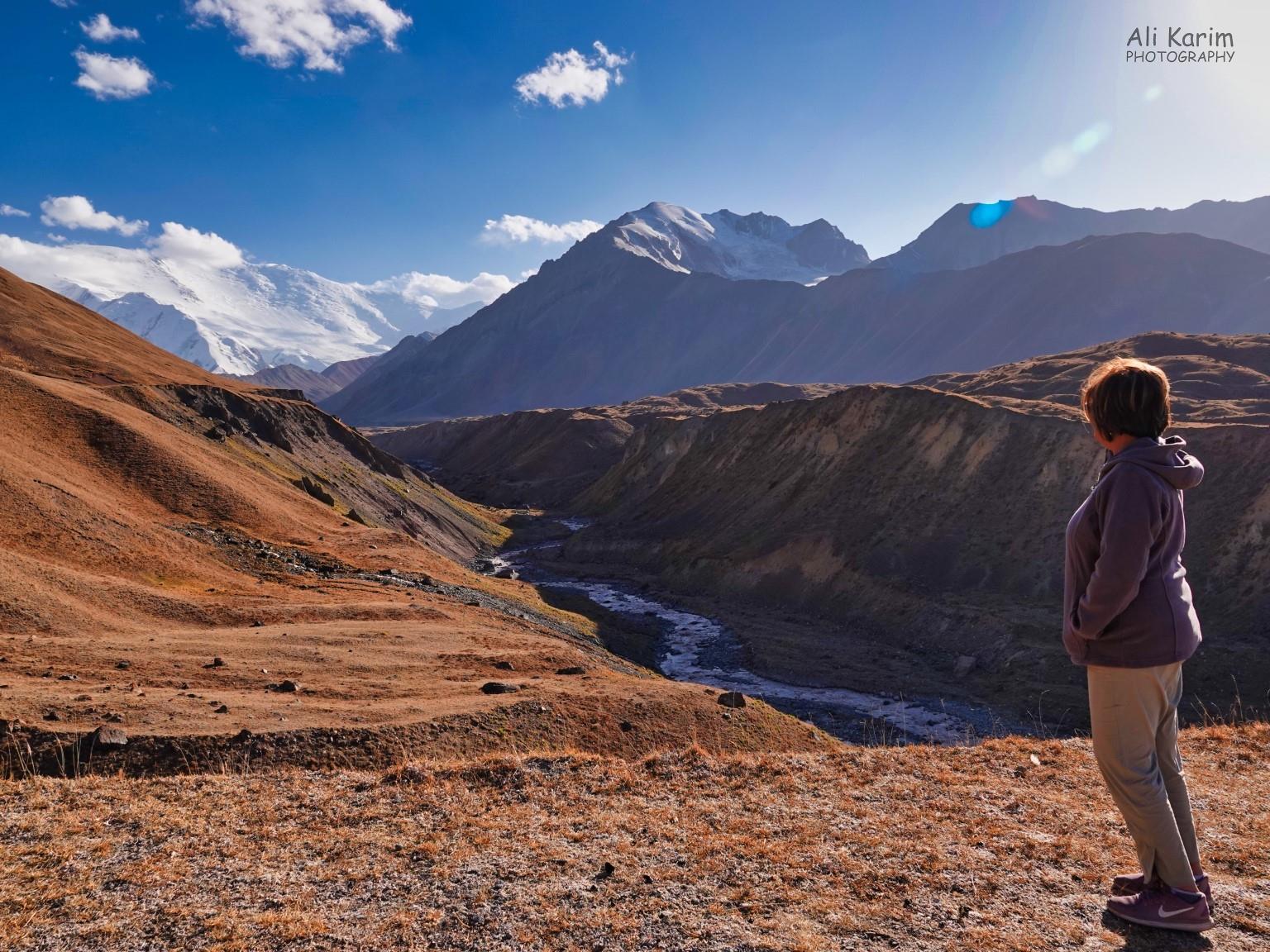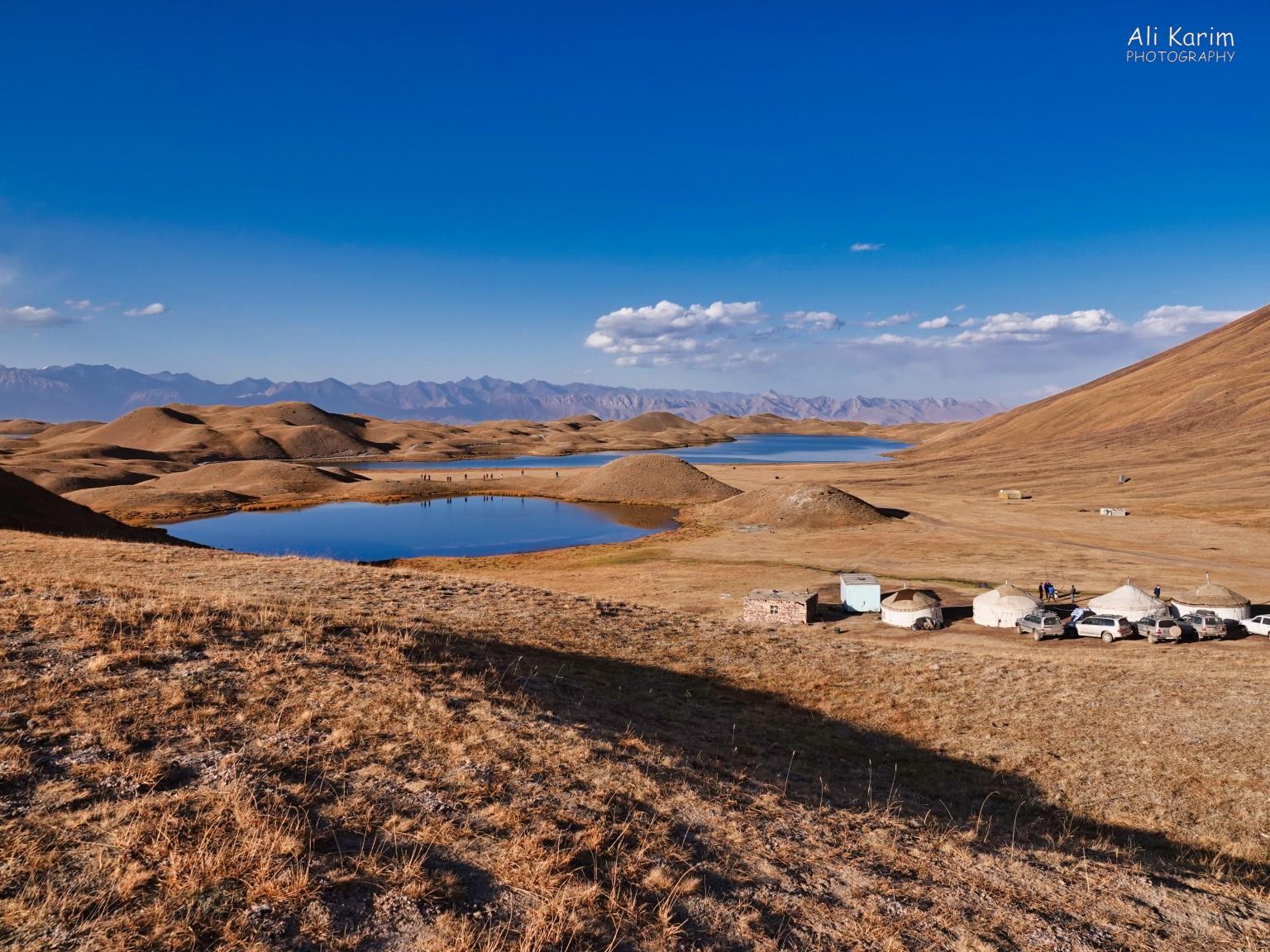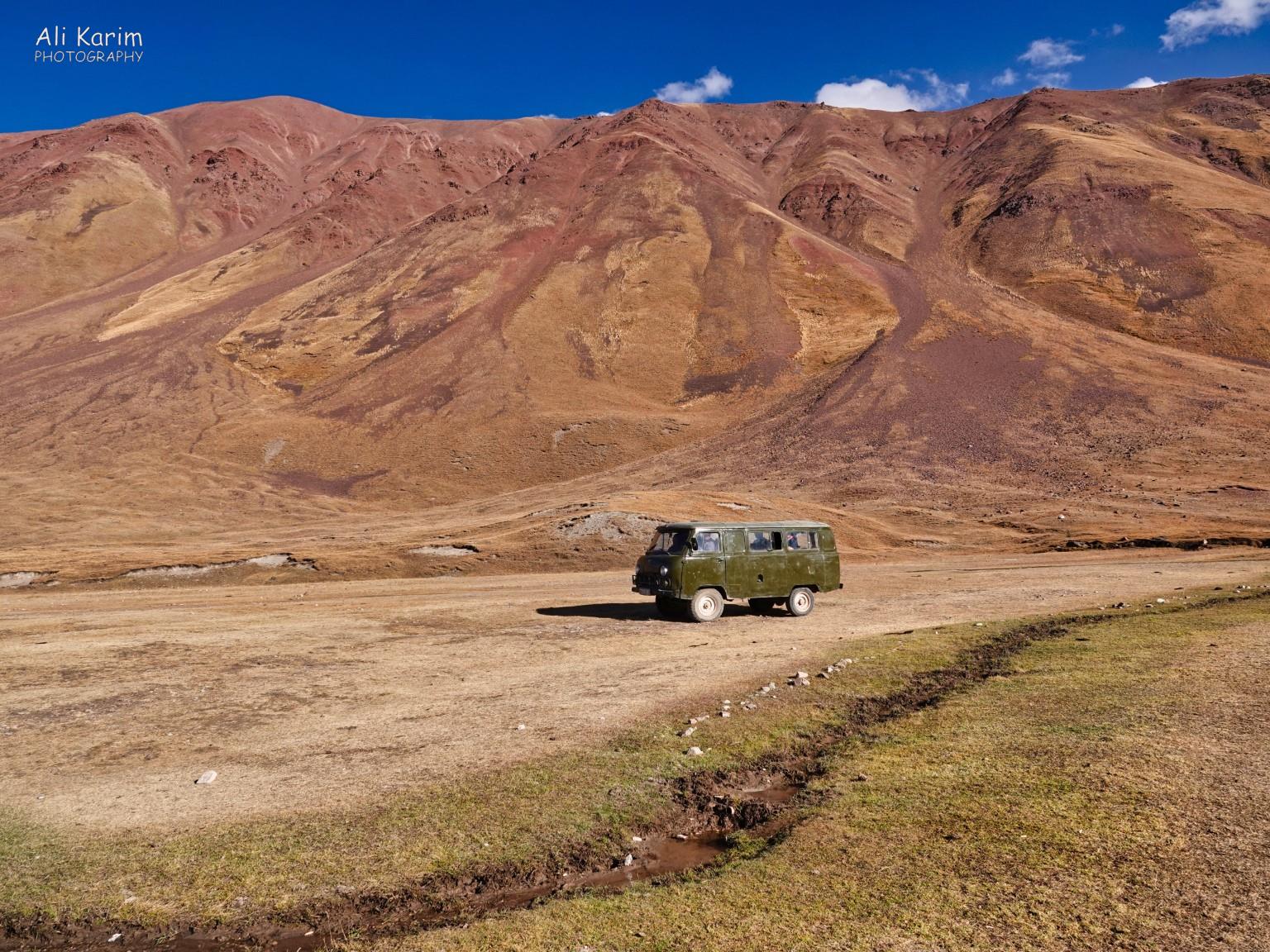 We then went to check out our yurt and the facilities; see below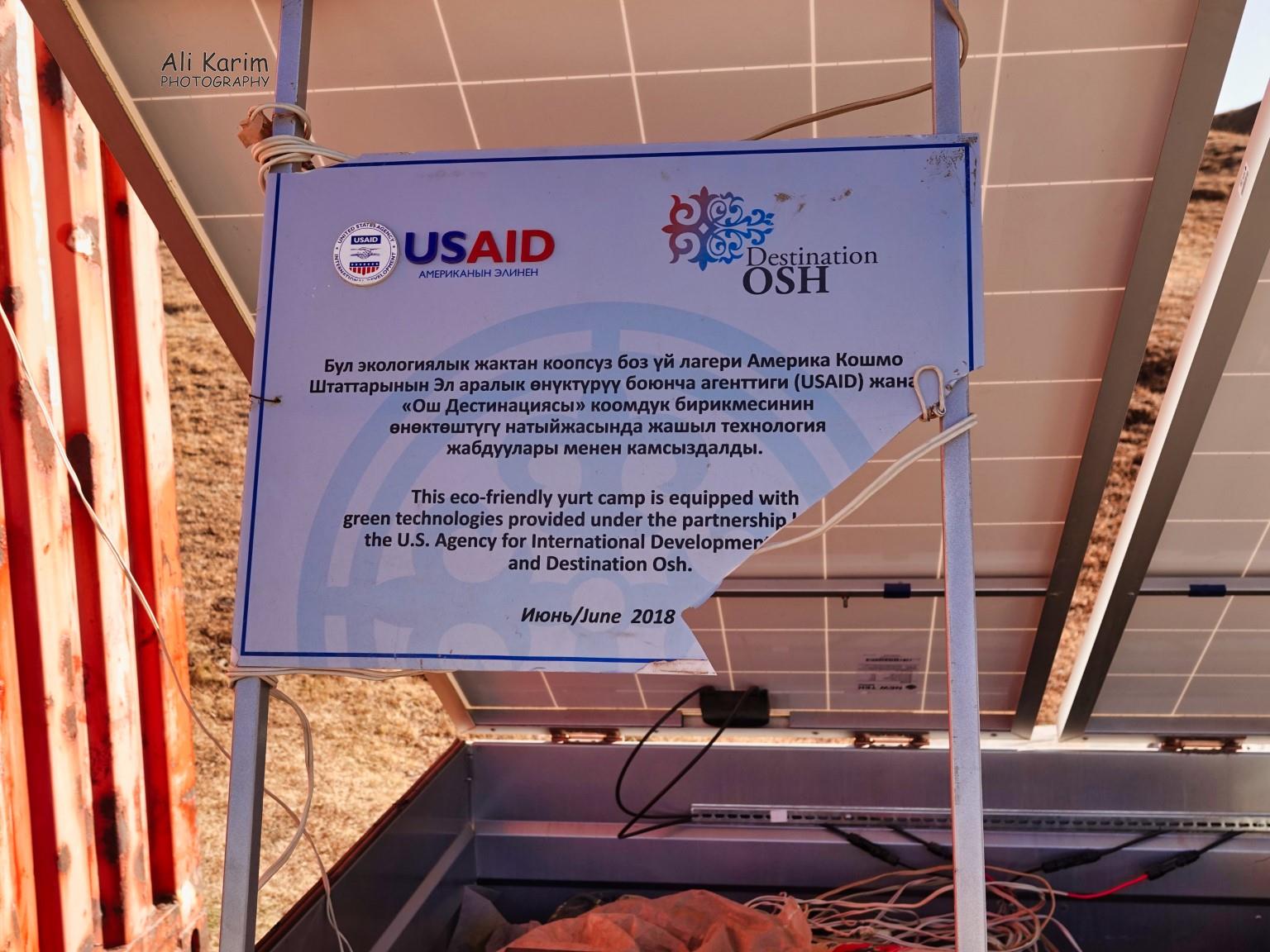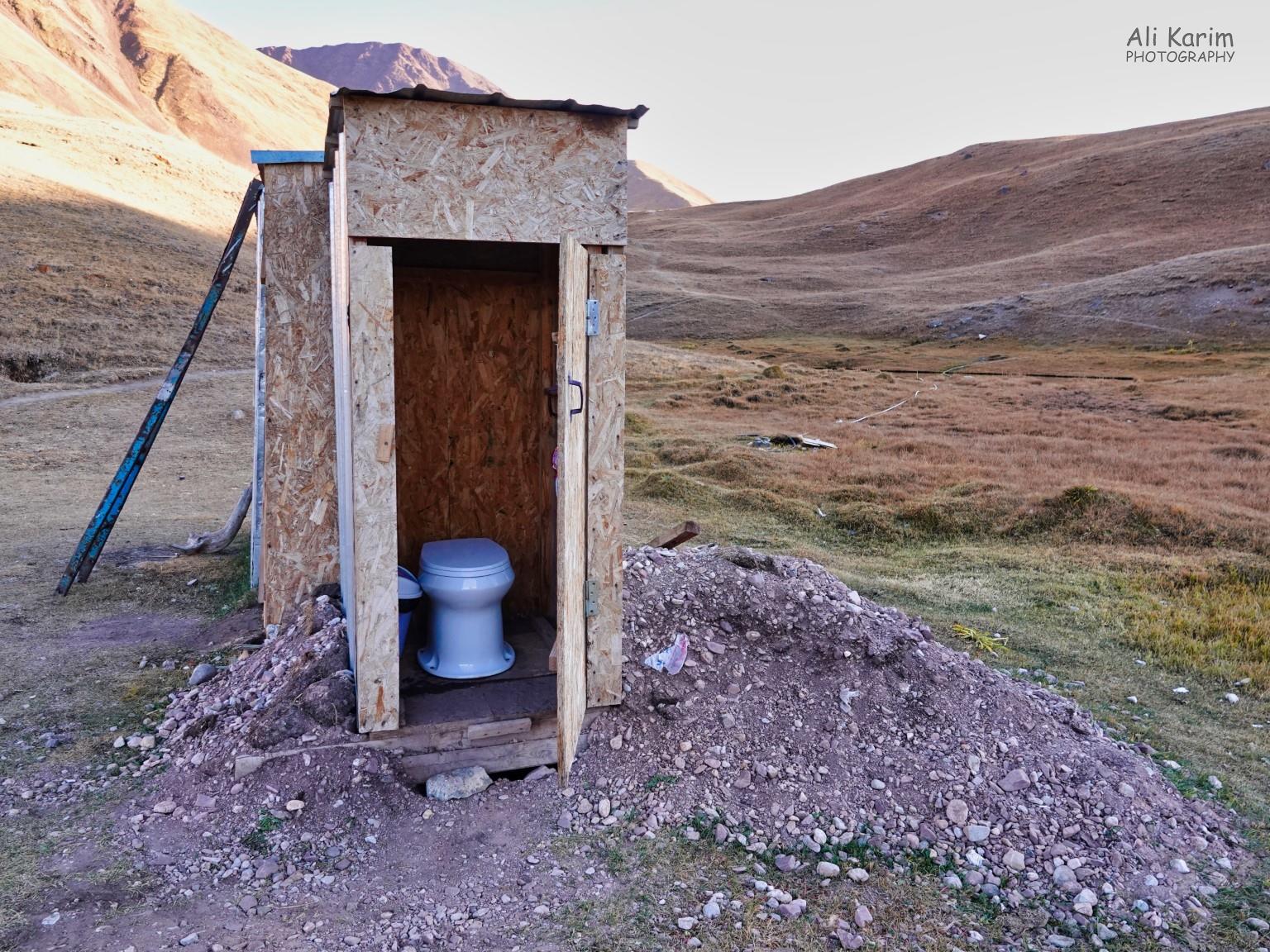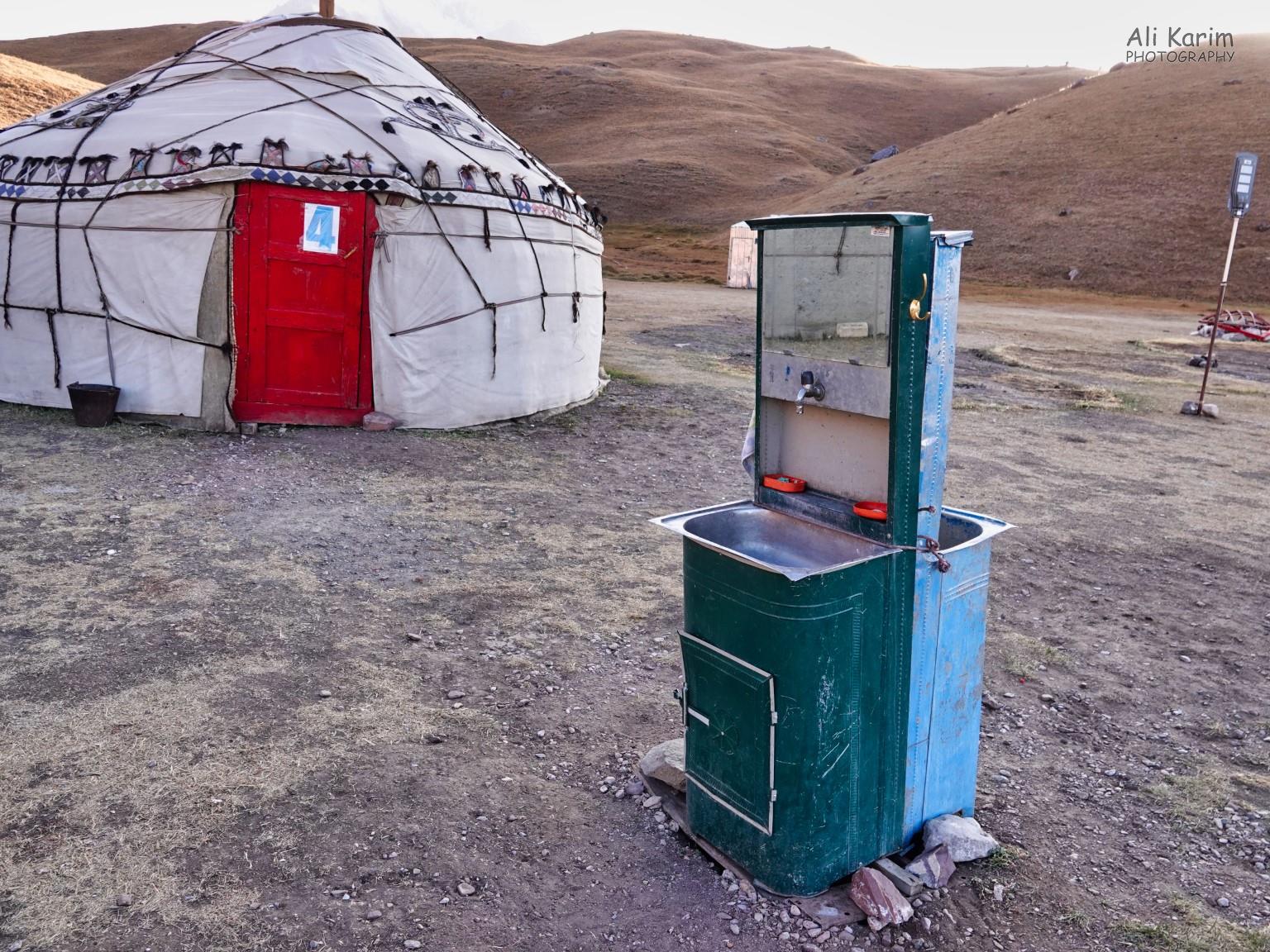 We checked out our yurt for the night

The altitude here was 11,493ft, so quite high. We walked slowly during our hike, but we could tell the effects of high altitude/rarified atmosphere; feeling a slight headache, and Dilshad felt like she could not eat. We had started drinking mate de coca that we had brought along; we had used these on a trip to Cuzco, Peru, many years ago, and it had helped with altitude sickness; so we were not feeling too bad. The evening was not cold; light jacket was all we needed. However, it did get cold in the evening soon as the sun went down.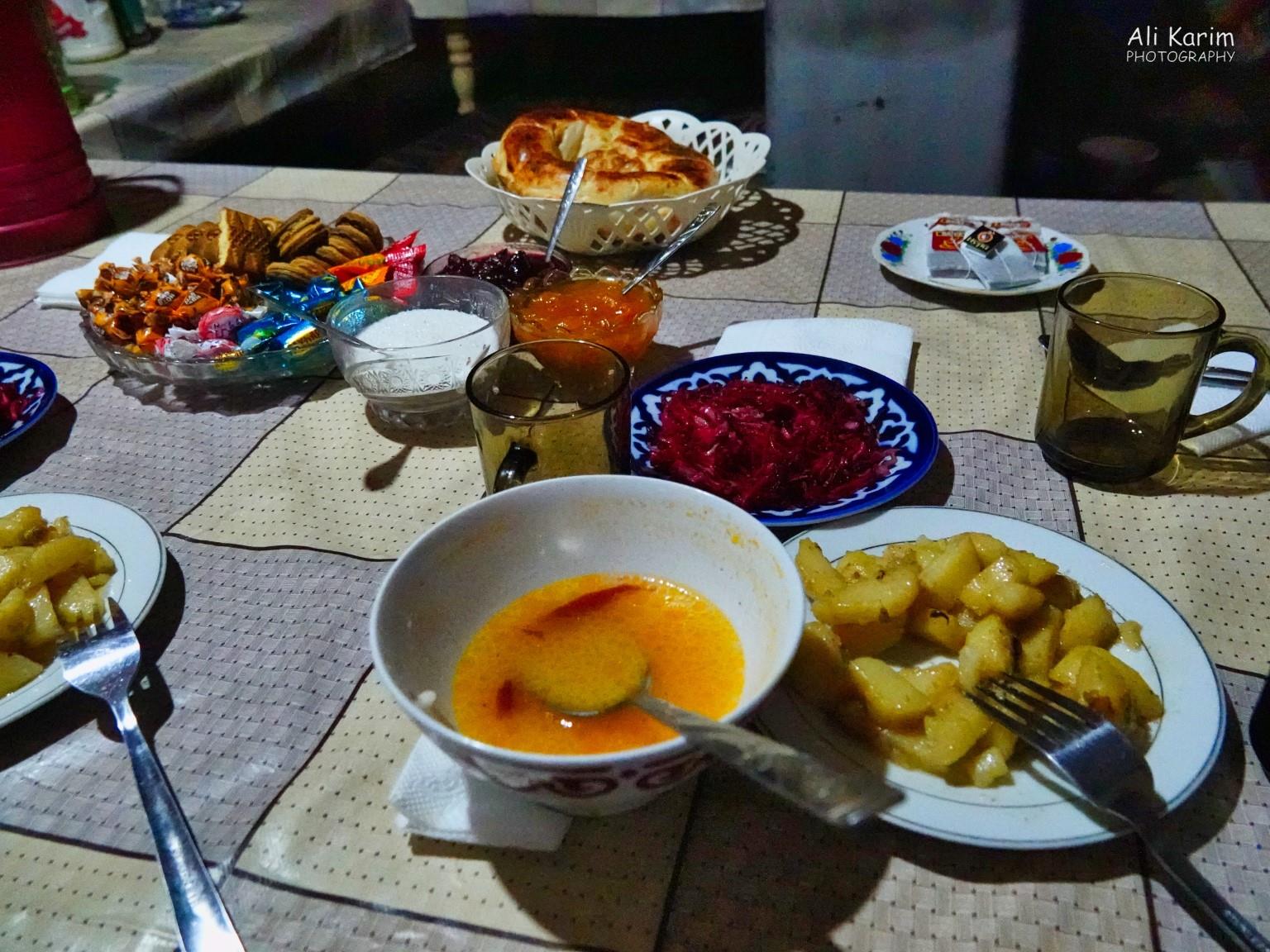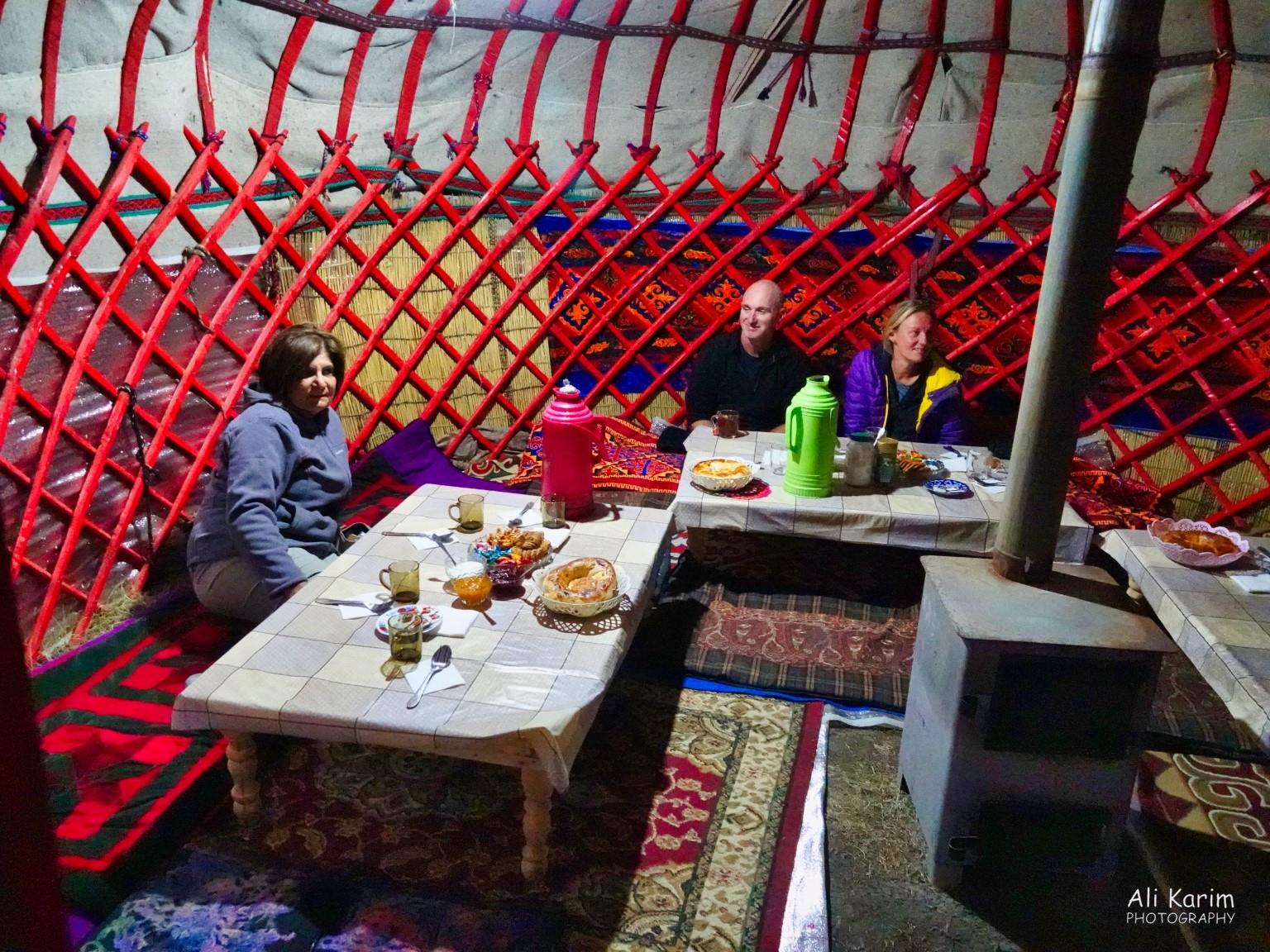 Information
A traditional yurt is a portable, round tent covered with skins or felt and used as a dwelling by several distinct nomadic groups in the steppes of Central Asia
We went back to our yurt for the night, and soon, the staff came by and lit the stove for the night. They filled the stove with several alternating layers of burning coal and dried cow dung. The yurt became comfortably warm in a very short while, and we got ready for bed. Lighting was an LED bulb. Soon after, the stove was roaring, and there was no way to control the burn rate, so the yurt got quite hot, forcing us to shed clothing. However, at about 4AM, the fuel ran out, and since it was -10C outside, it became quite cold in the yurt, so we had to layer up again in bed to stay warm.
I suspect they did not give us extra fuel to use at night or allow us to control the stove, as we may have set the place on fire not knowing what we were doing. Sad, because it caused us to be too hot, and then too cold in the same night.
Bathroom use at night meant dressing up for the cold (-10C) outside, walking to the outhouse and doing our stuff in the cold. Fortunately, they had motion activated LED lights outside to help us find our way. Interesting experience staying in a yurt, our first ever.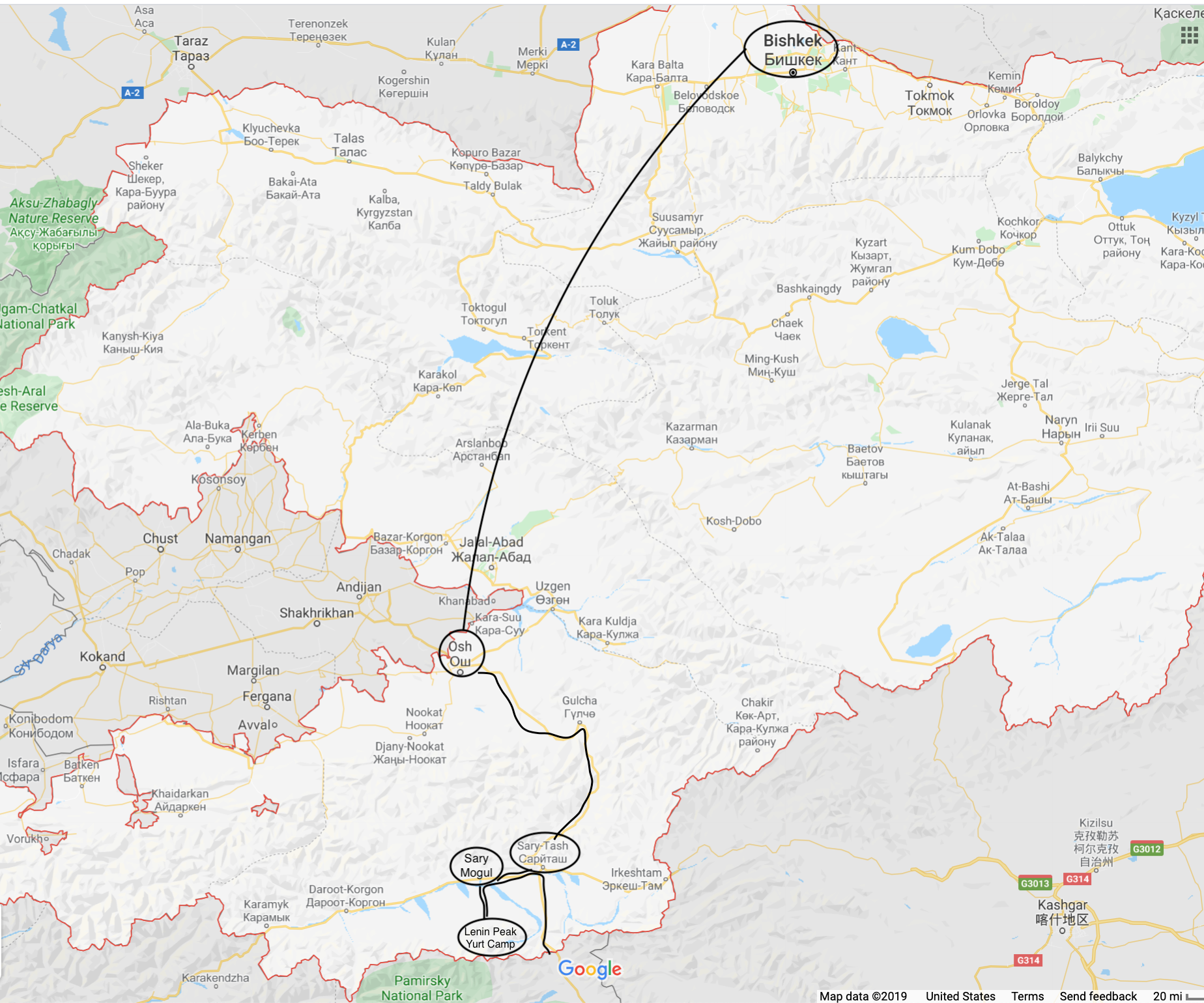 Murghab Tajikistan next
This entry was posted in
Asia
,
Kyrgyzstan
,
Silk Road Kyrgyzstan Sept 2019