Show More Posts
Silk Road 21: More Langar & Ishkashim, Tajikistan; Sept 2019
After Bulunkul visit the previous day, we arrived in Langar in the afternoon; plan was to stay the night at Misha's Guest House in Langar. Langar is a small town (280 families) in the Wakhan Corridor, along the Panj river, with Afghanistan across the river. By now, the altitude had dropped from the 4,300m (14,000ft) in the Pamir mountains to 3,000m (9,800ft); still high altitude, but since we had spent the past week in the high Pamirs, this lower altitude was no issue for us; and the weather had got warmer.
Since this Wakhan Corridor area was 99+% Pamiri (Ismaili) from here till past Khorog; we knew Misha would be a Pamiri, and so introduced ourselves to Misha as Ismaili's. Misha spoke a little broken English, and introduced us to himself (real name was Mohammedali, Misha was a nickname), his wife Aklimo, his sons Romish & Gafur, and his baby daughter, Osima. They welcomed us warmly and told us a little about himself. He had worked in Russia for 10yrs like many Pamiri men; sending home money for his family, and savings. Eventually, he had saved enough so he came back, and started his Homestay and family, adding to it over time. He runs the homestay in the tourist months (spring-fall) and then in the winter, he uses his car as a taxi to ferry people from Langar to Khorog and Murghab; to make ends meet. Very nice family, hardworking.
I asked him that we wished to attend prayers that evening, and after making a few calls, he said that there was no prayers that evening in Langar, because of harvest time. Disappointing. We settled ourselves in, and had a shower (they had hot water showers and indoor western flush toilet 🙂 ). There were a few other guests that joined us in the Homestay that evening. Aklimo showed us her daughters ECD books, and we talked with their boys. Cellphone coverage was now available (but not for my TMobile service), but data was slow and unreliable, and therefore not usable.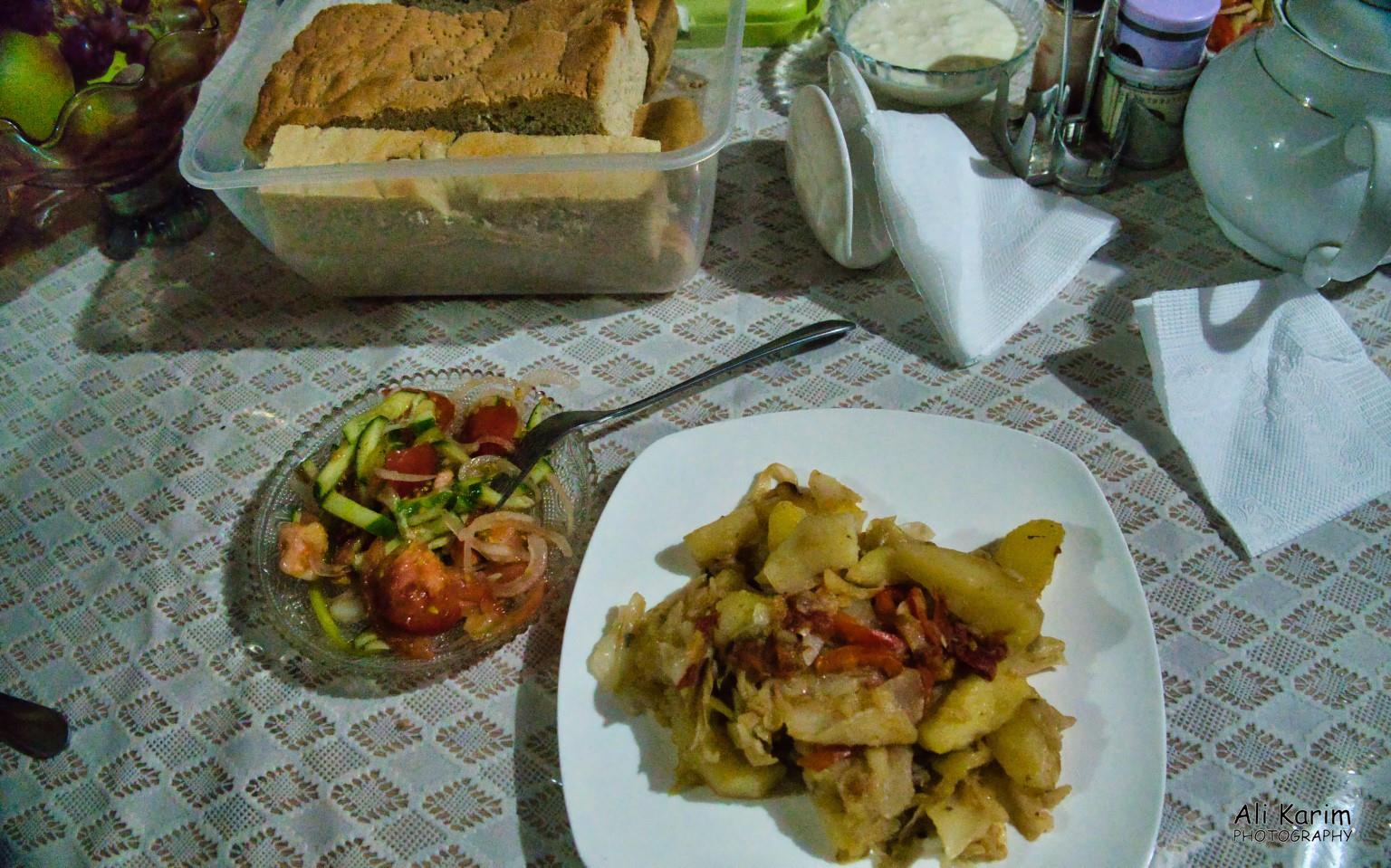 After dinner, Misha asked us to come with him for prayers. This was a surprise to us as earlier, he had said there were no prayers. Turns out (as we found out later), that since he made his calls to the local Khalifa's earlier; they decide to gather that evening for us to grant us our request. Prayers that evening were not in Langar (280 families), but in Hisor, a small village next door to Langar, with a population of 100 families. Misha drove us there with Romish, his eldest son. When we arrived, the Khalifa of Hisor, and a few elders of the congregation were there to meet and greet us. No English, but fortunately, Misha's cousin, Fatima, was there, and she spoke decent English. They led us down a tiny alley to a house in the back, which was the prayer house. It was a traditional Pamir house, similar to the ones we had seen here in Tajikistan, and in Hunza, Pakistan. There were about 40 Pamiri's here gathered for prayers.
Prayer house and the Pamiri's gathered for prayers

After the prayers, the Khalifa welcomed us (with Fatima translating); and asked us if we wanted to say anything to the congregation. So with Fatima translating, we recounted the same story we had portrayed at the prayer meeting in Osh; we gave them a history about our Gujarati Indian Khoja origins, followed by migration of our grandparents to Kenya, Africa for economic reasons, and to escape the famine/Spanish Flu in 1918; two generations born in Kenya, and then to England to study Electrical Engineering at university, followed by migration to Ottawa, Canada and eventually to the USA. We told to them about our travels all over the world (South America, Asia, Middle East, Europe, etc) as our hobby, and they were very interested. We asked them if they had any questions, and both the men & the ladies had questions. Since they had not visited much of the world past GBAO, I'm sure our stories must have fascinated them. At the end, the Khalifa got up, and with Fatima translating, the congregation gifted me with a Pamiri hat and Dilshad with pony tail hair extensions. So very humbled at their kindness.
After this, we said our goodbyes; and the Khalifa escorted us back to Misha's car. Fatima had invited us to her house in Hisor for tea, so after making sure it was OK with Misha, we went to Fatima's place. Turns out, she and her family were also running a Guest house called Davlatkhan, in Hisor village. When we went to the kitchen to meet Fatima's mother, we went through the communal dining room, and there were a group of about 10 Dutch tourists having dinner. So we briefly chatted and exchanged stories about our travels, before having tea and snacks in the kitchen with Fatima and her mother. Very nice and hospitable. After this, Misha took us back to his Homestay for a good night's rest after a wonderful day.
The next day, after a nice breakfast, Misha told us that this was the first time an Ismaili family had stayed with them in their homestay, and they gifted Dilshad with a Pamiri hat and I was gifted with thick woolen socks. Amazing that these humble and simple people were always so generous to us everywhere we turned. Wonderful experiences. Misha then took us to check out the Langar prayer house and Museum. First, he showed us where the Aga Khan had visited and given an audience when he visited Langar in May 1995.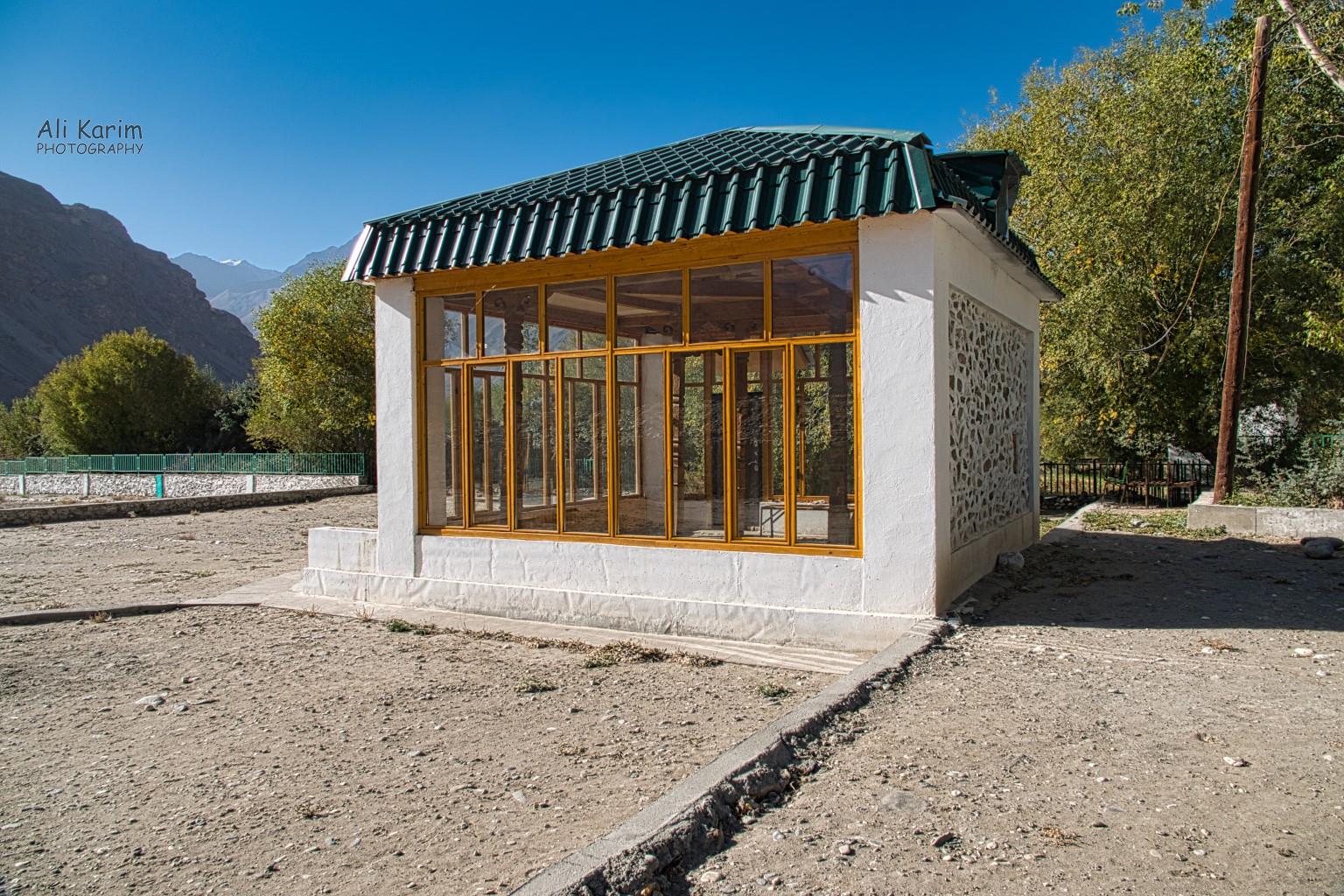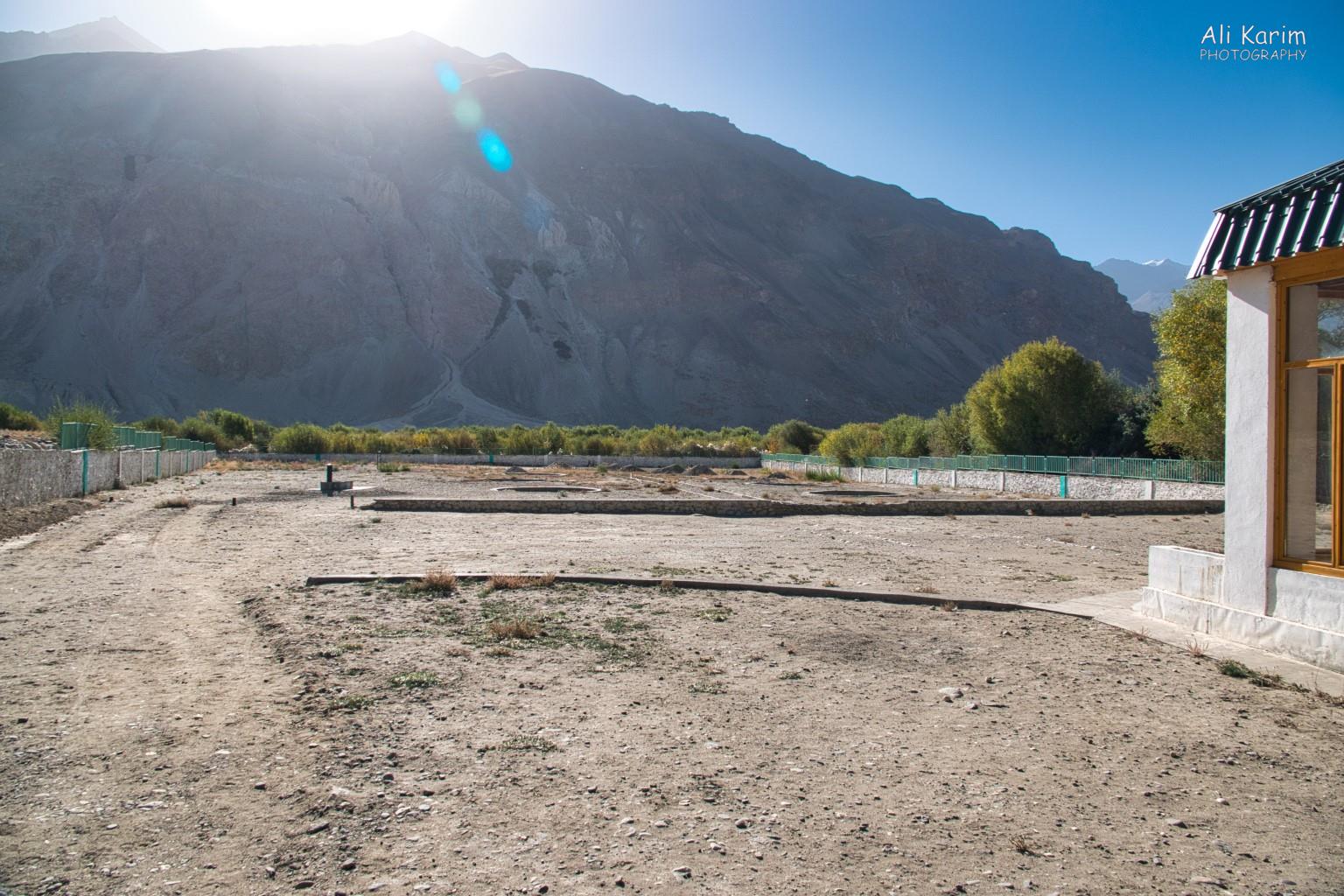 Next door, was the small building that housed the prayer house and museum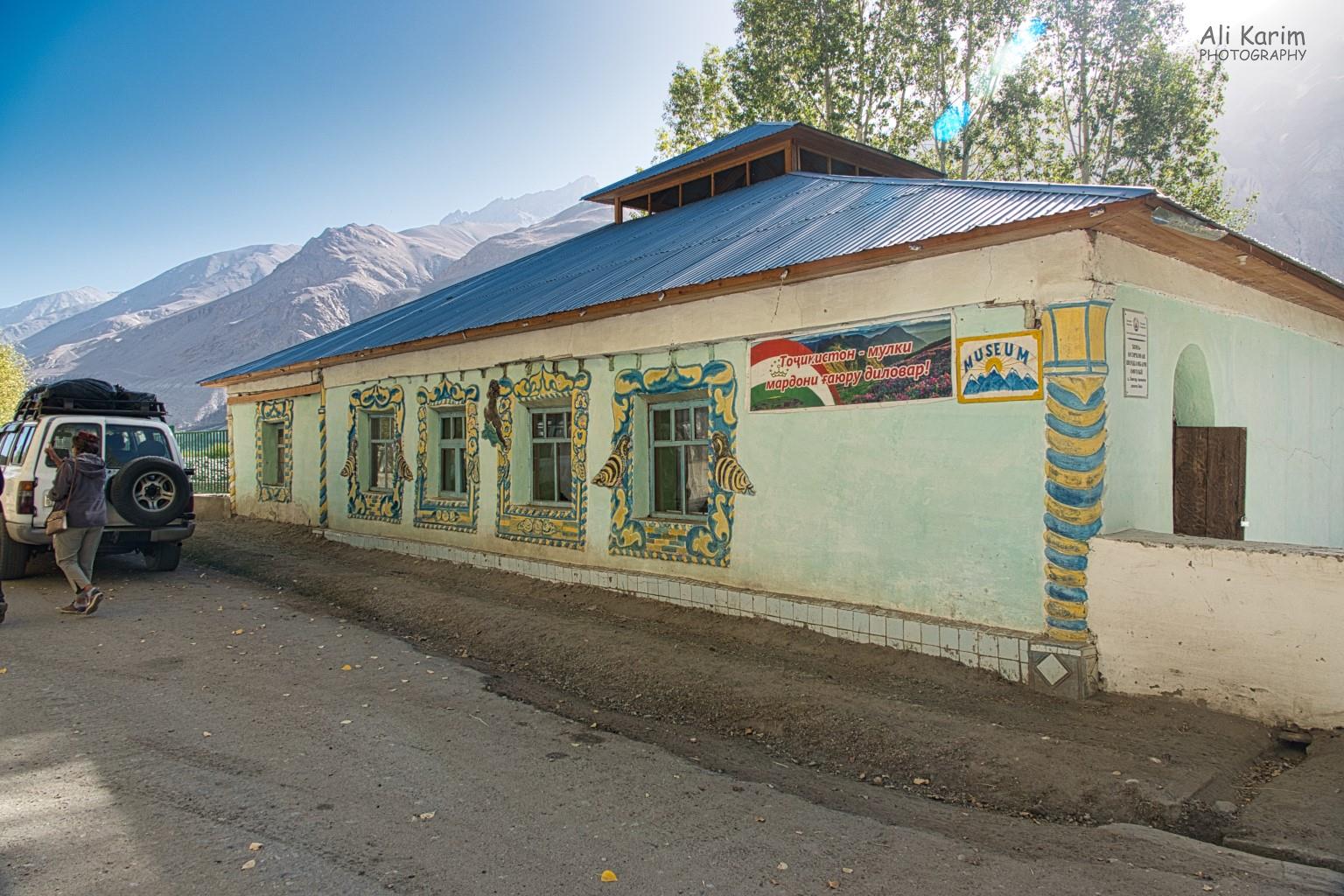 The museum contained a few artifacts from the region, as well as some religious background materials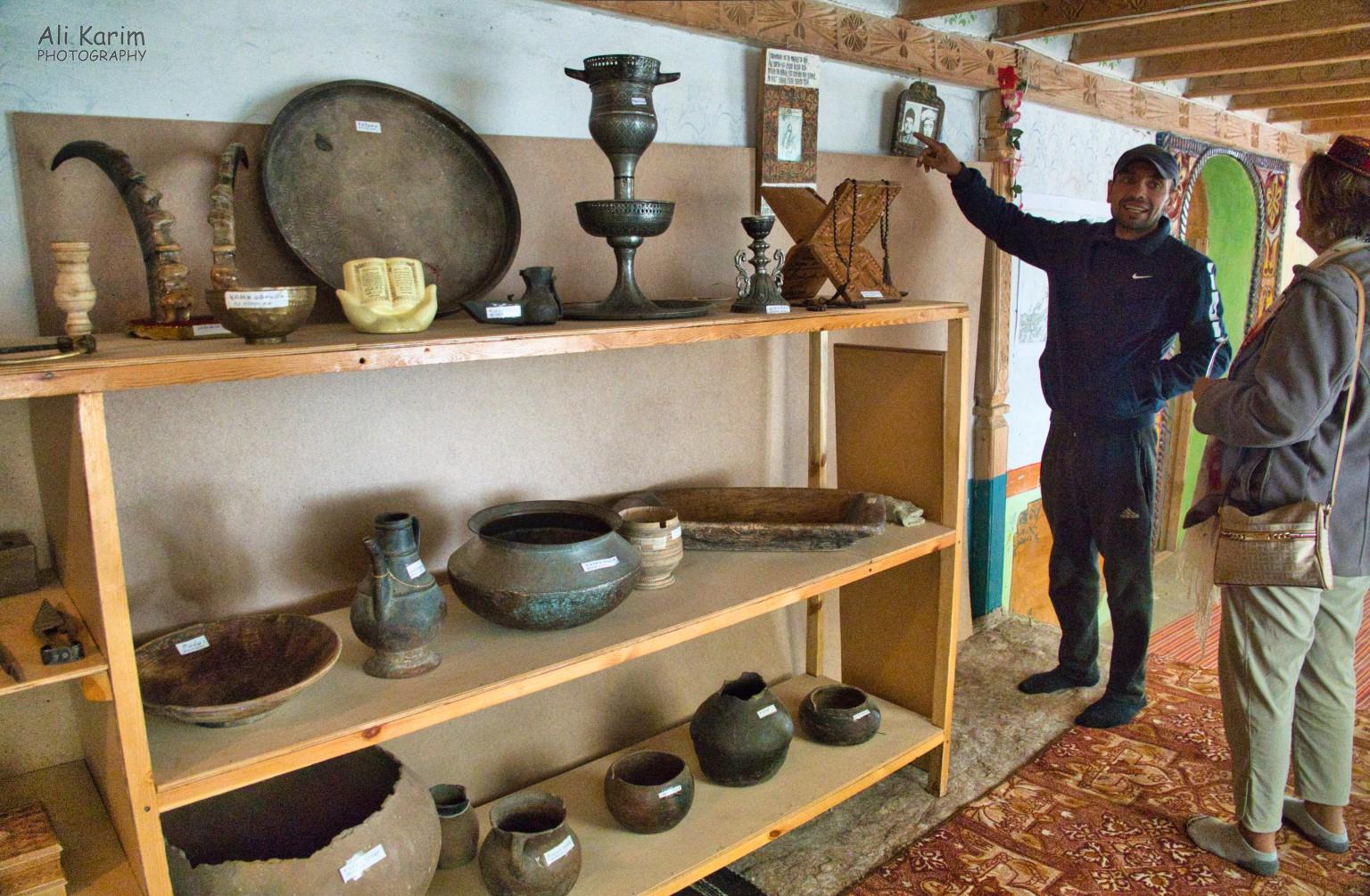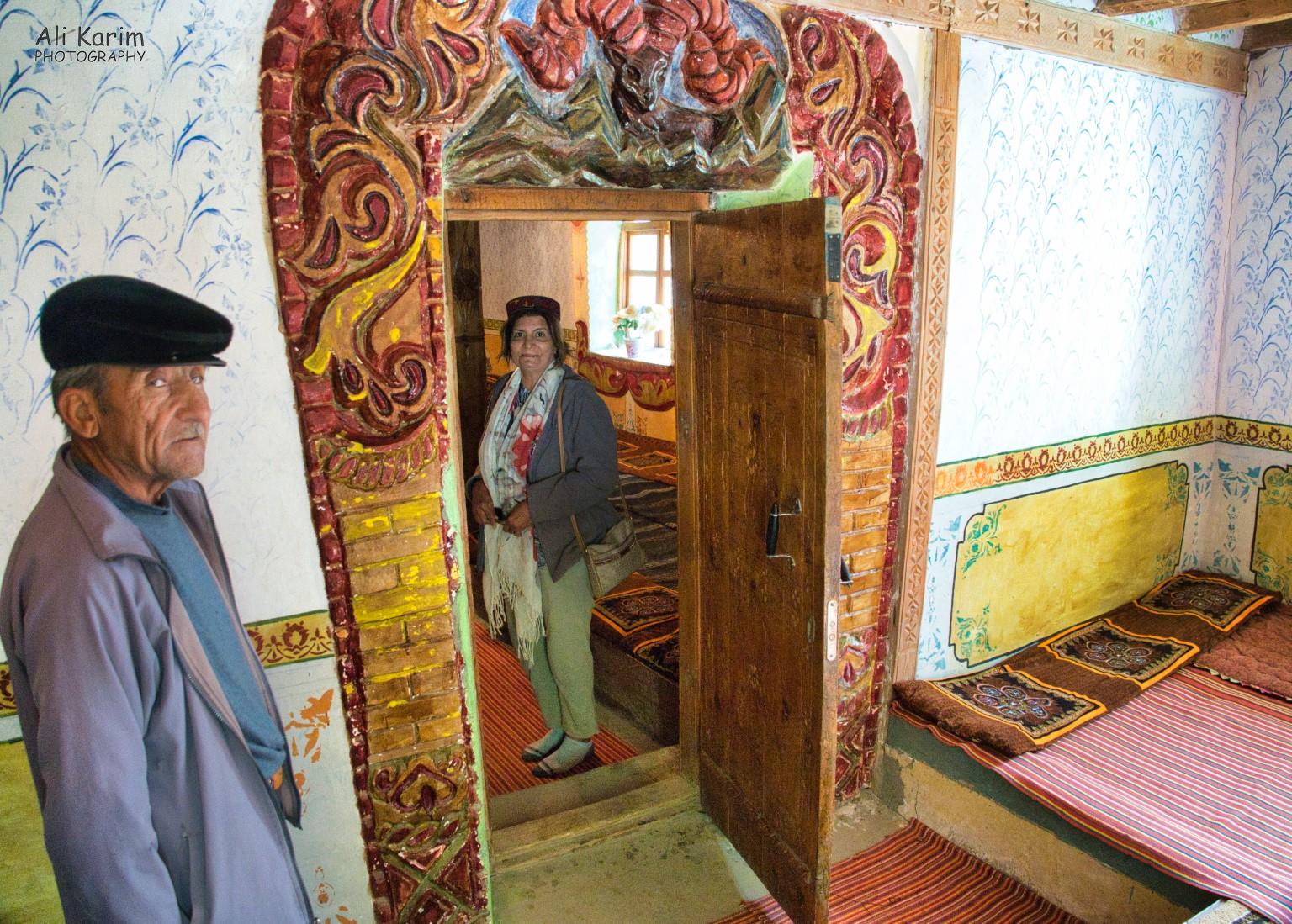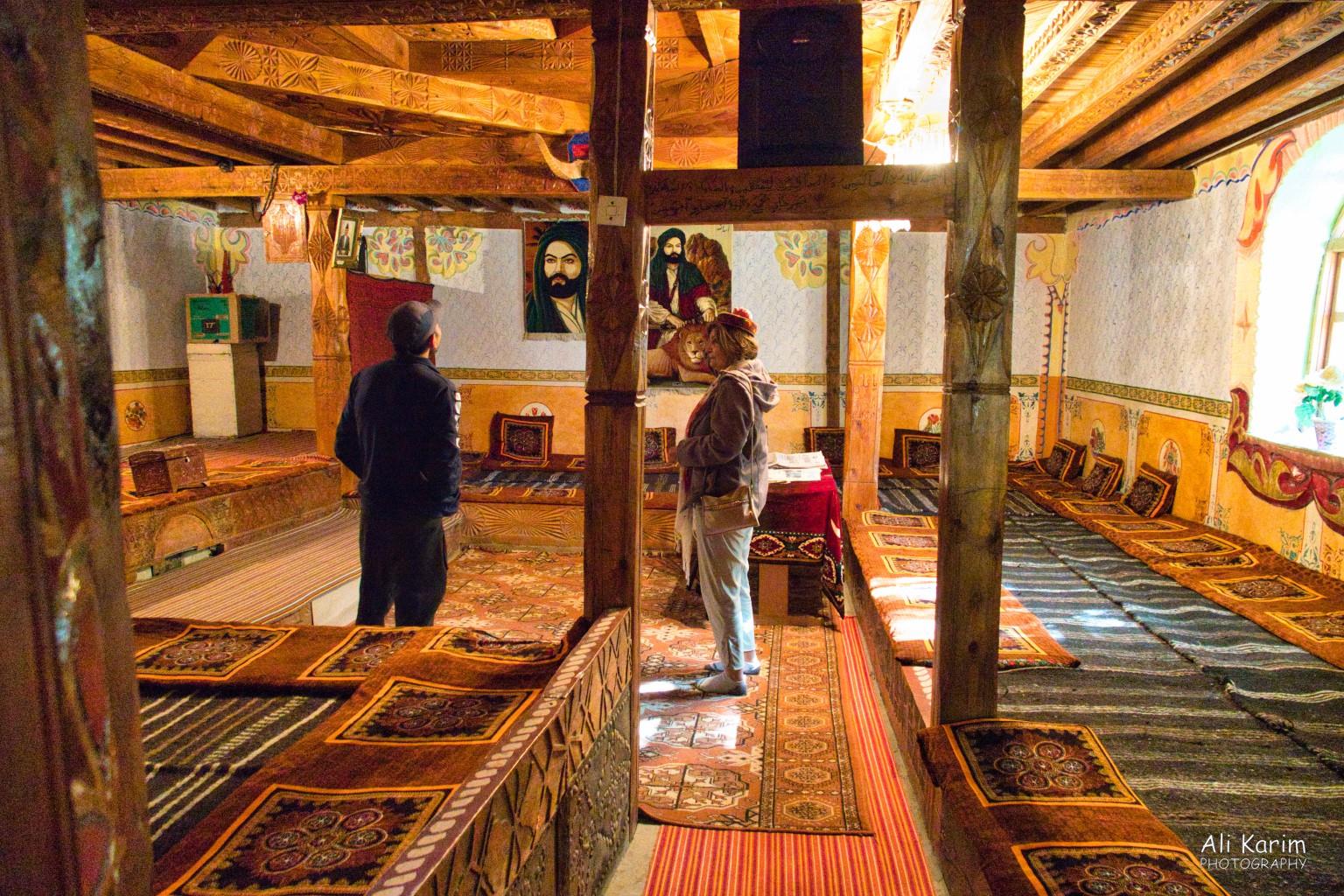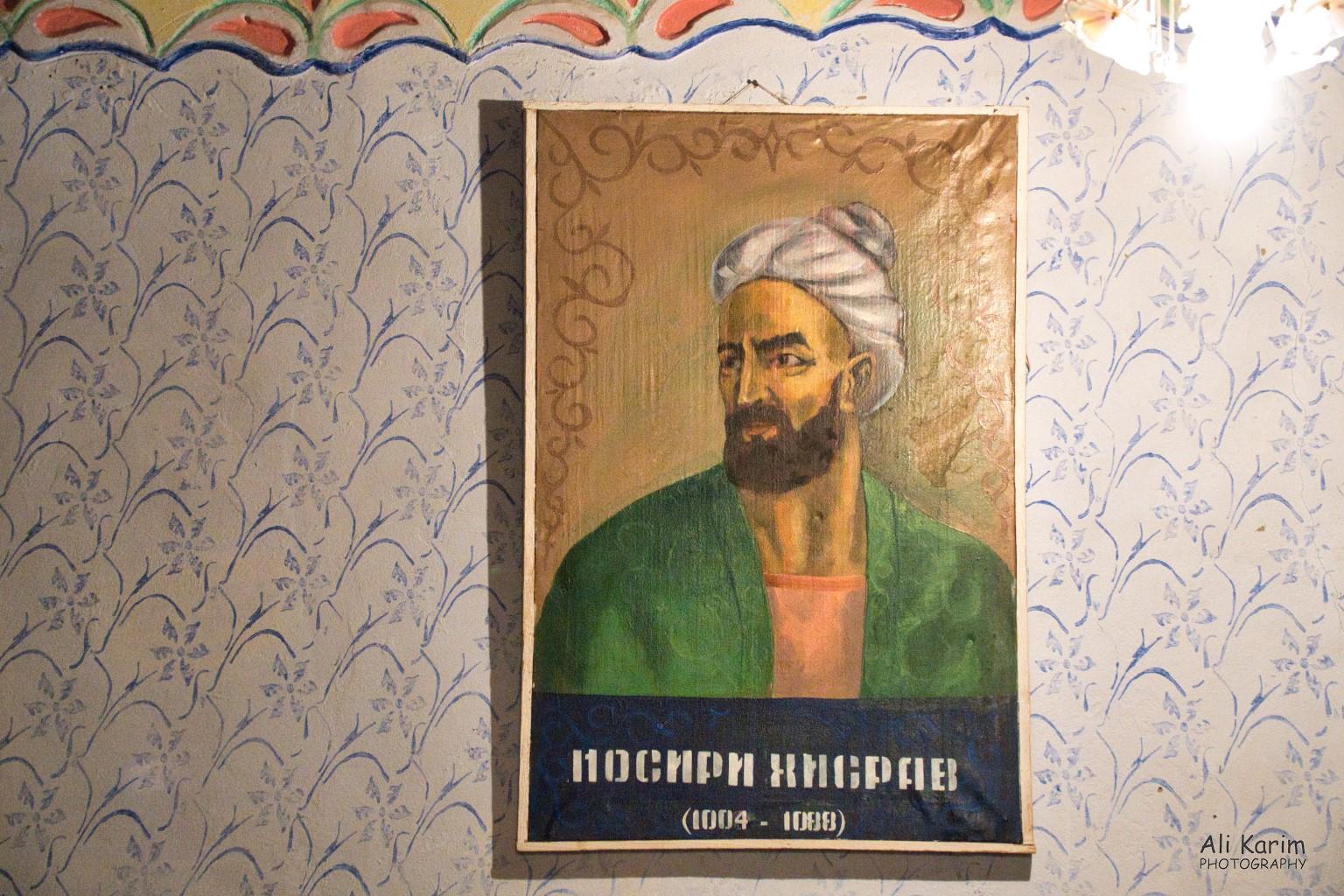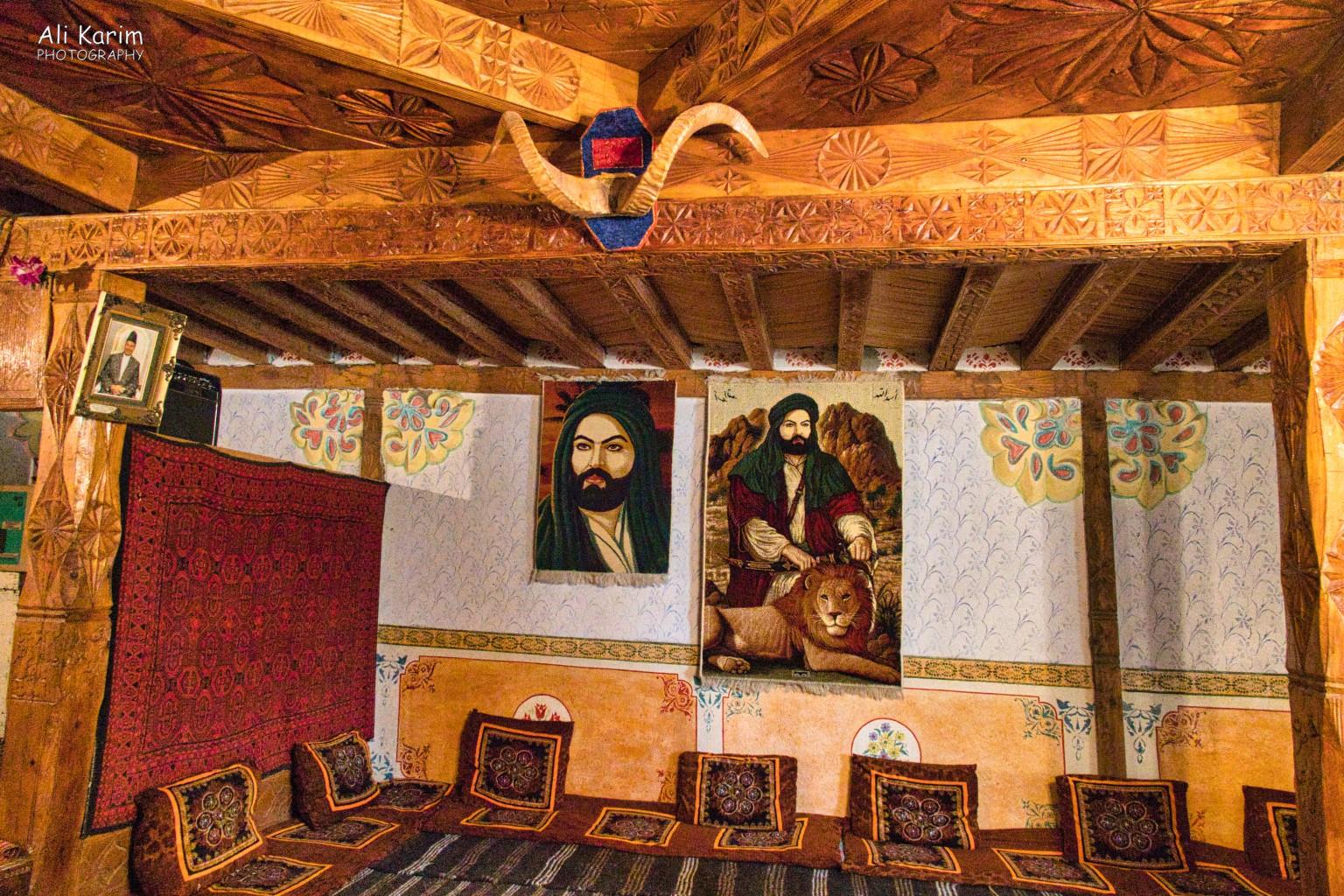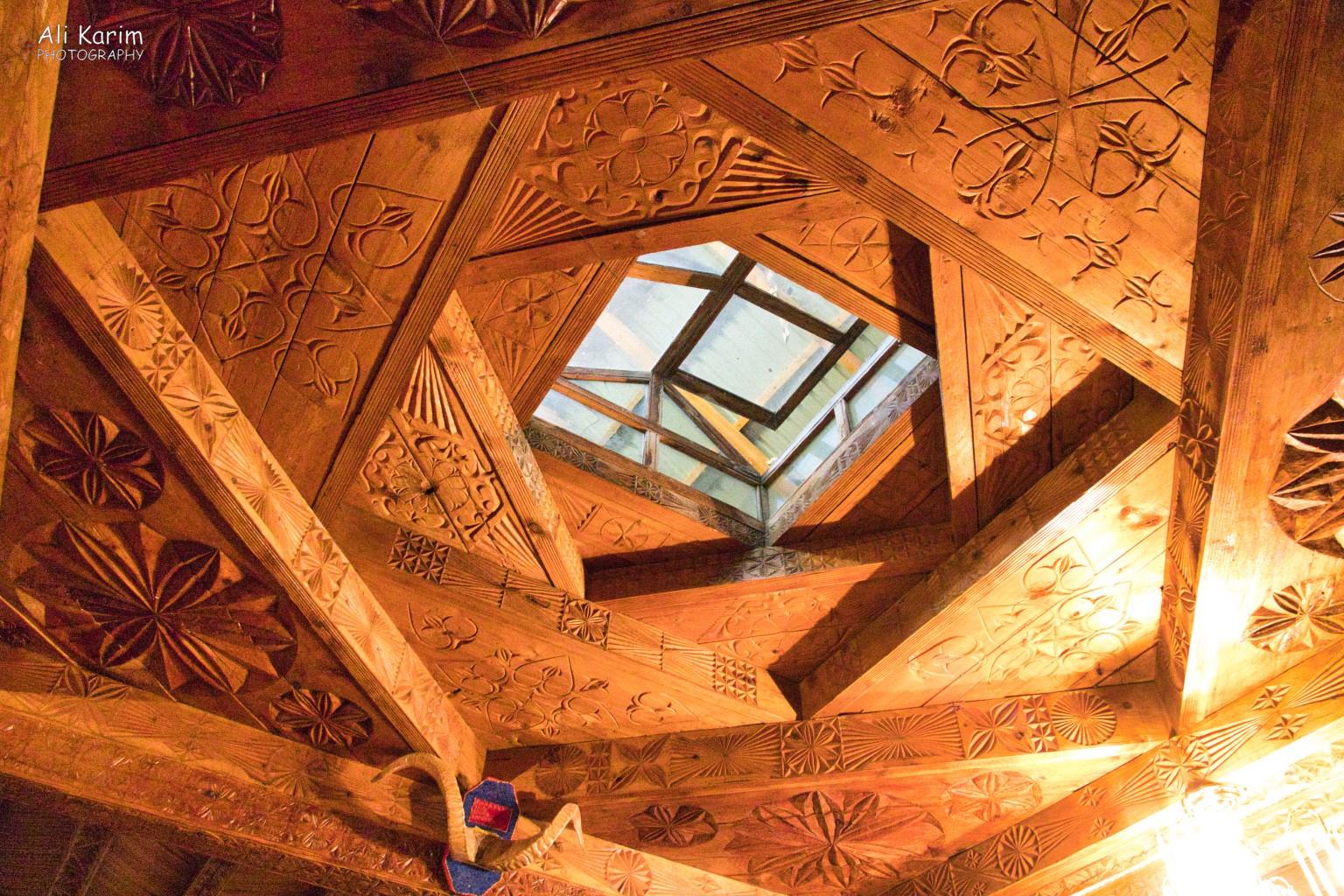 We left the Prayer house and drove back to Misha's place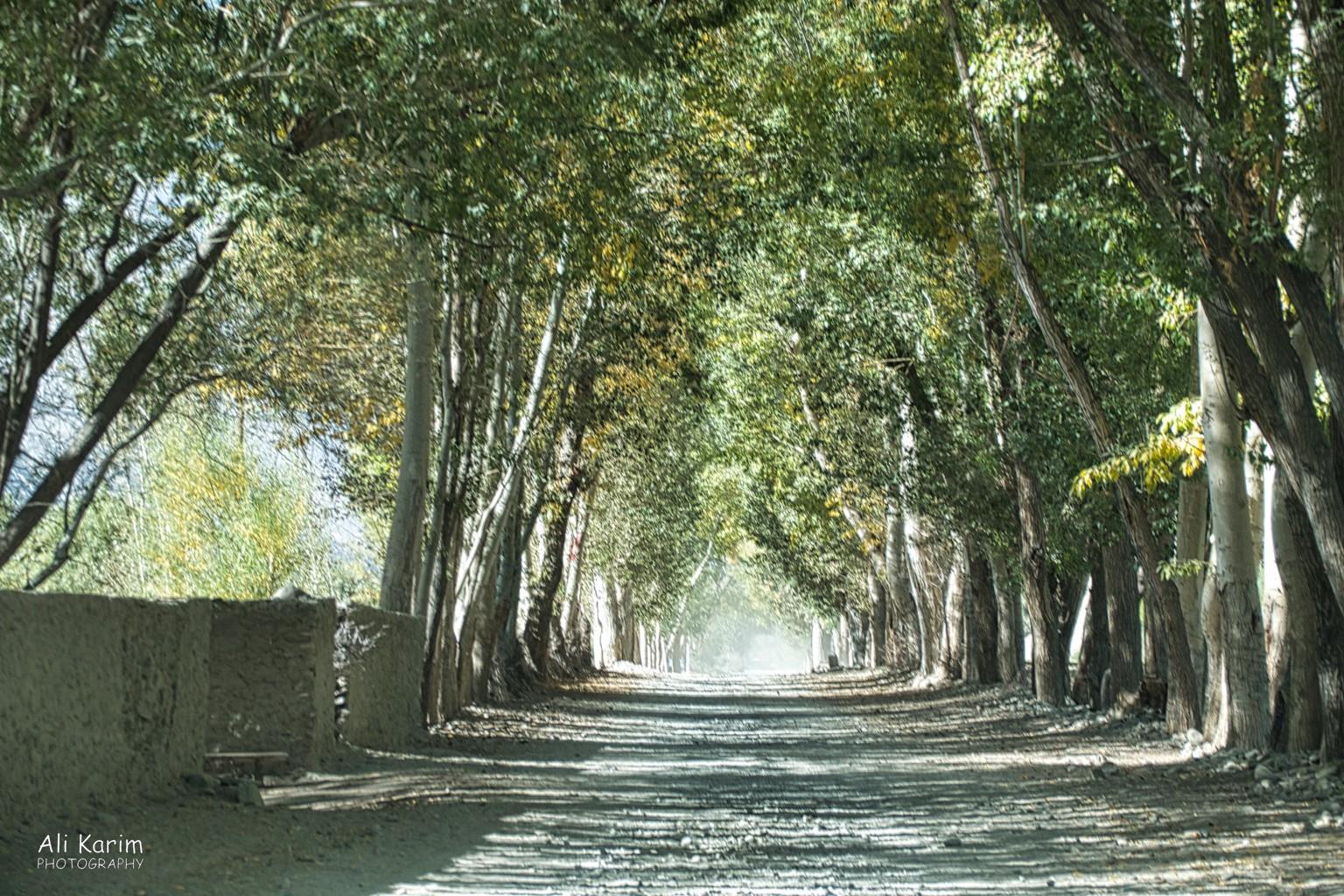 Back at Misha's place, we packed up and loaded up the Landcruiser, as it was time to keep going.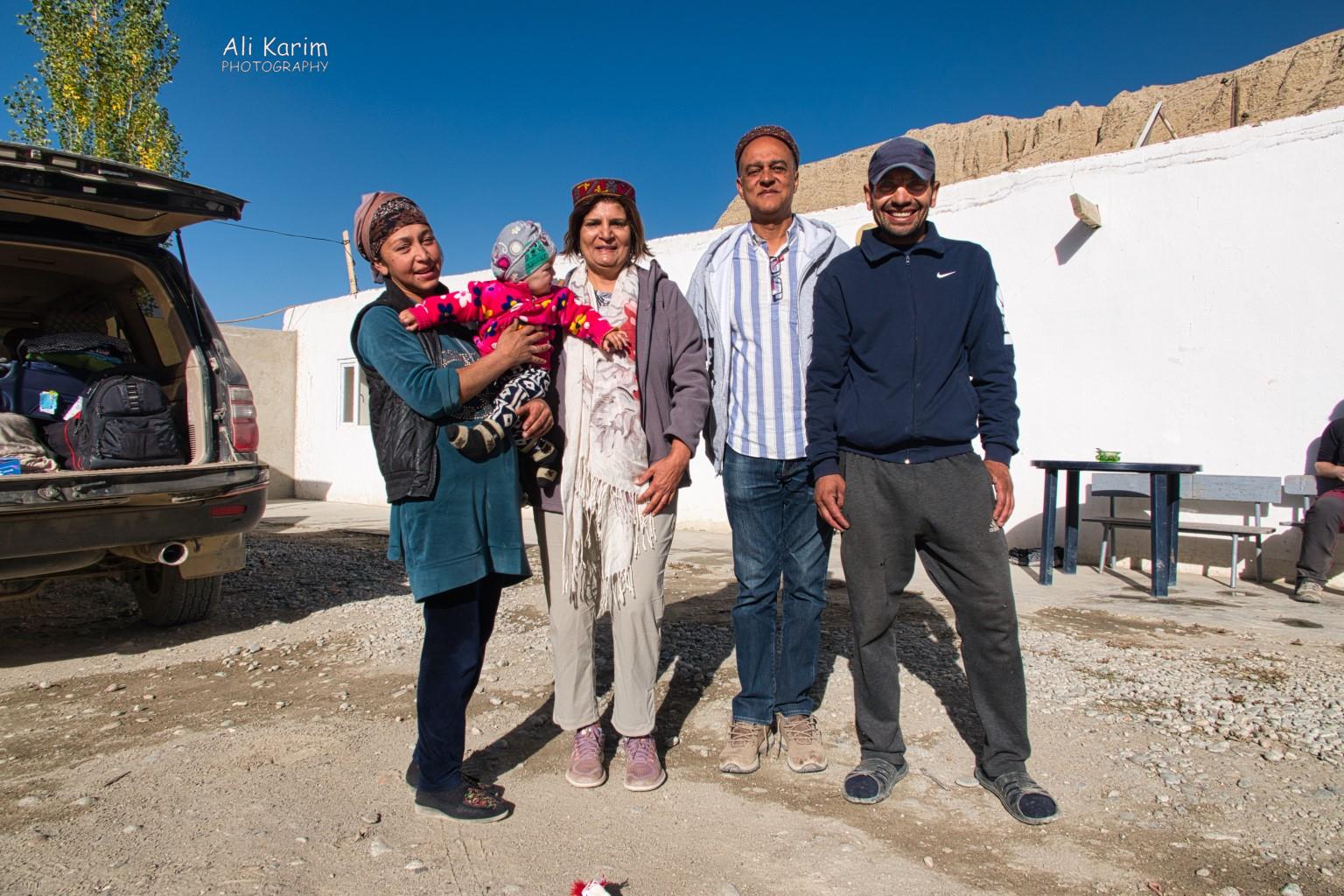 We started driving towards Ishkashim; most of the time following the Panj river to our left with Afghanistan on the other side. Some scenes along the way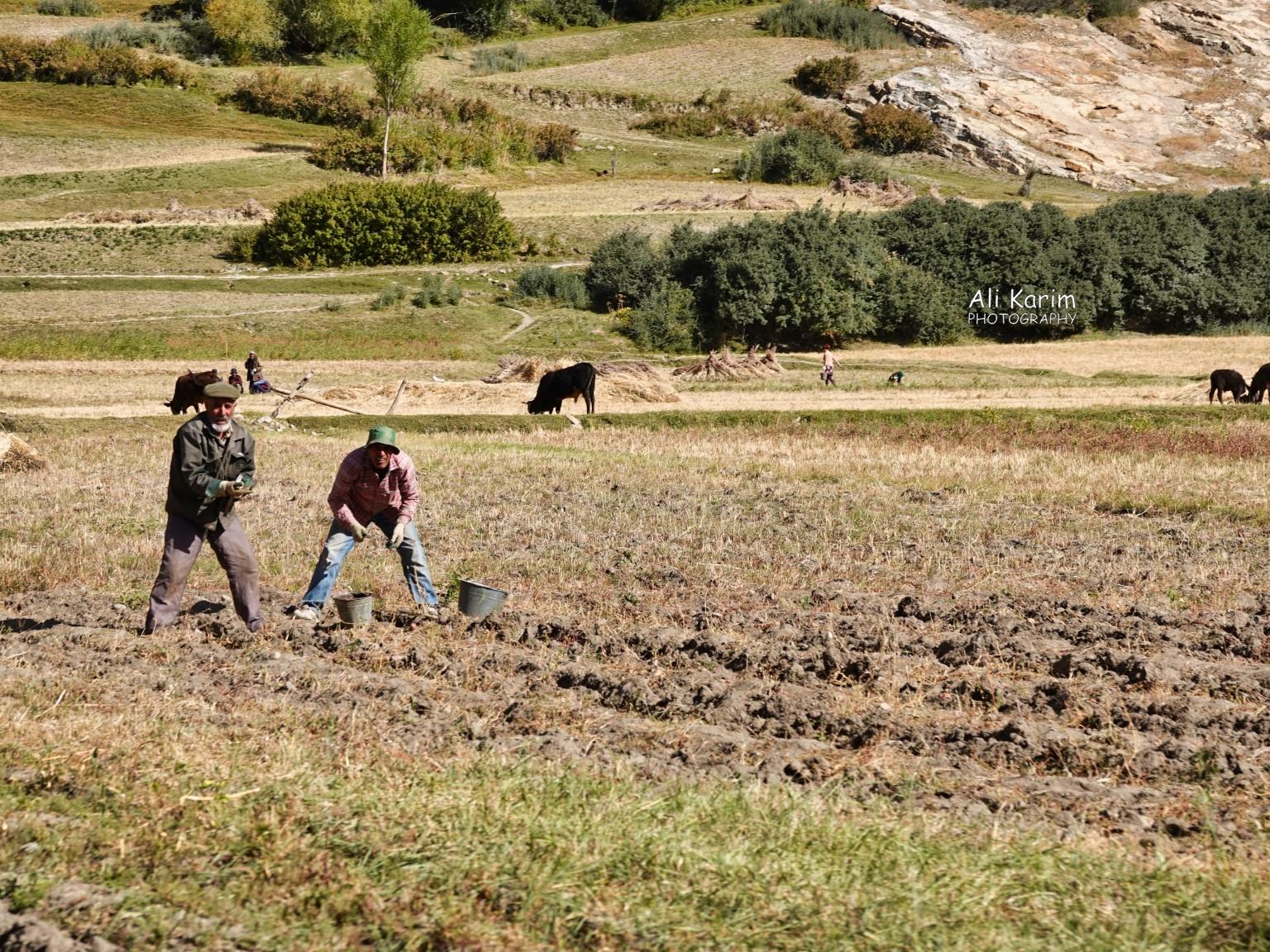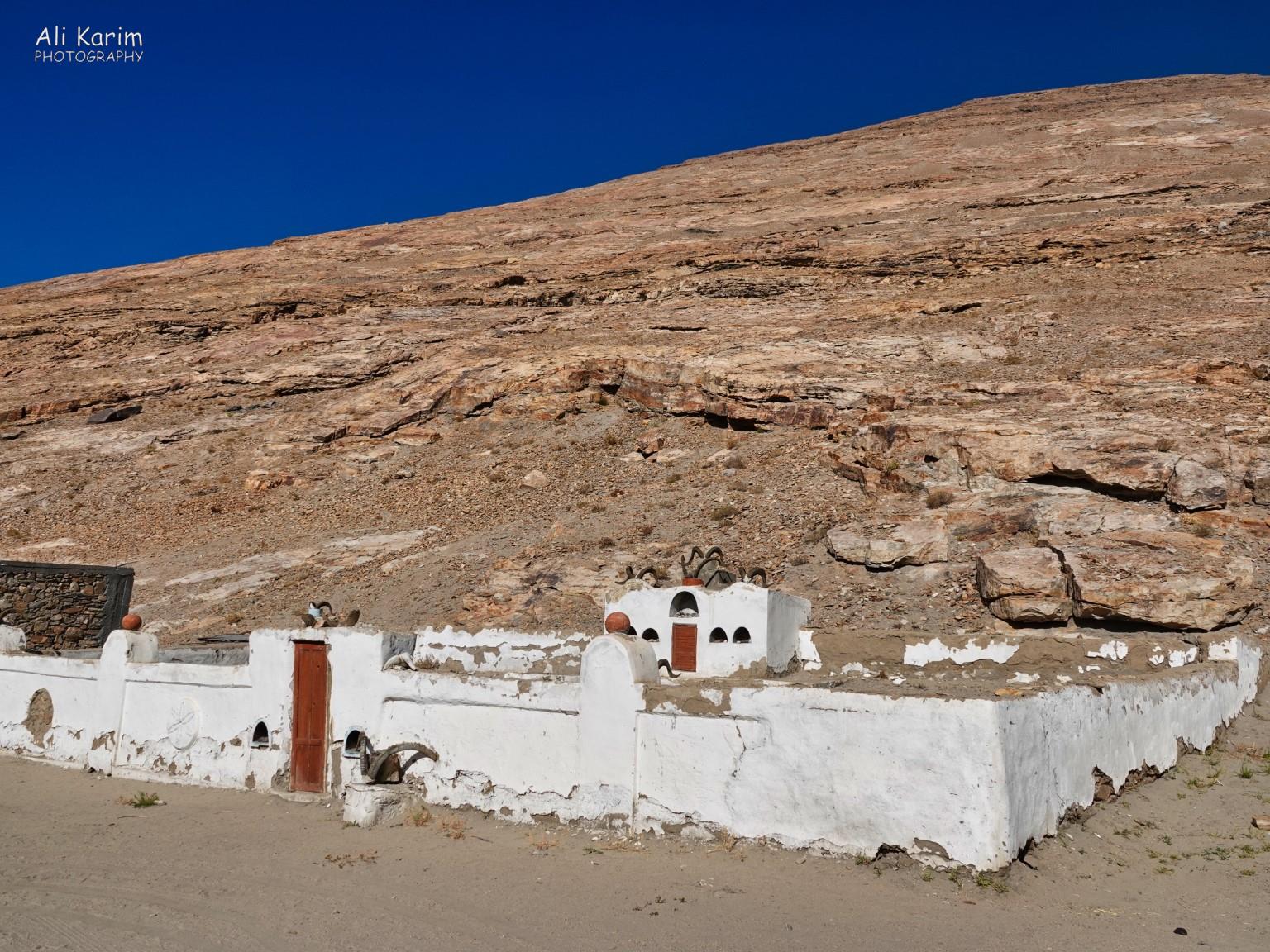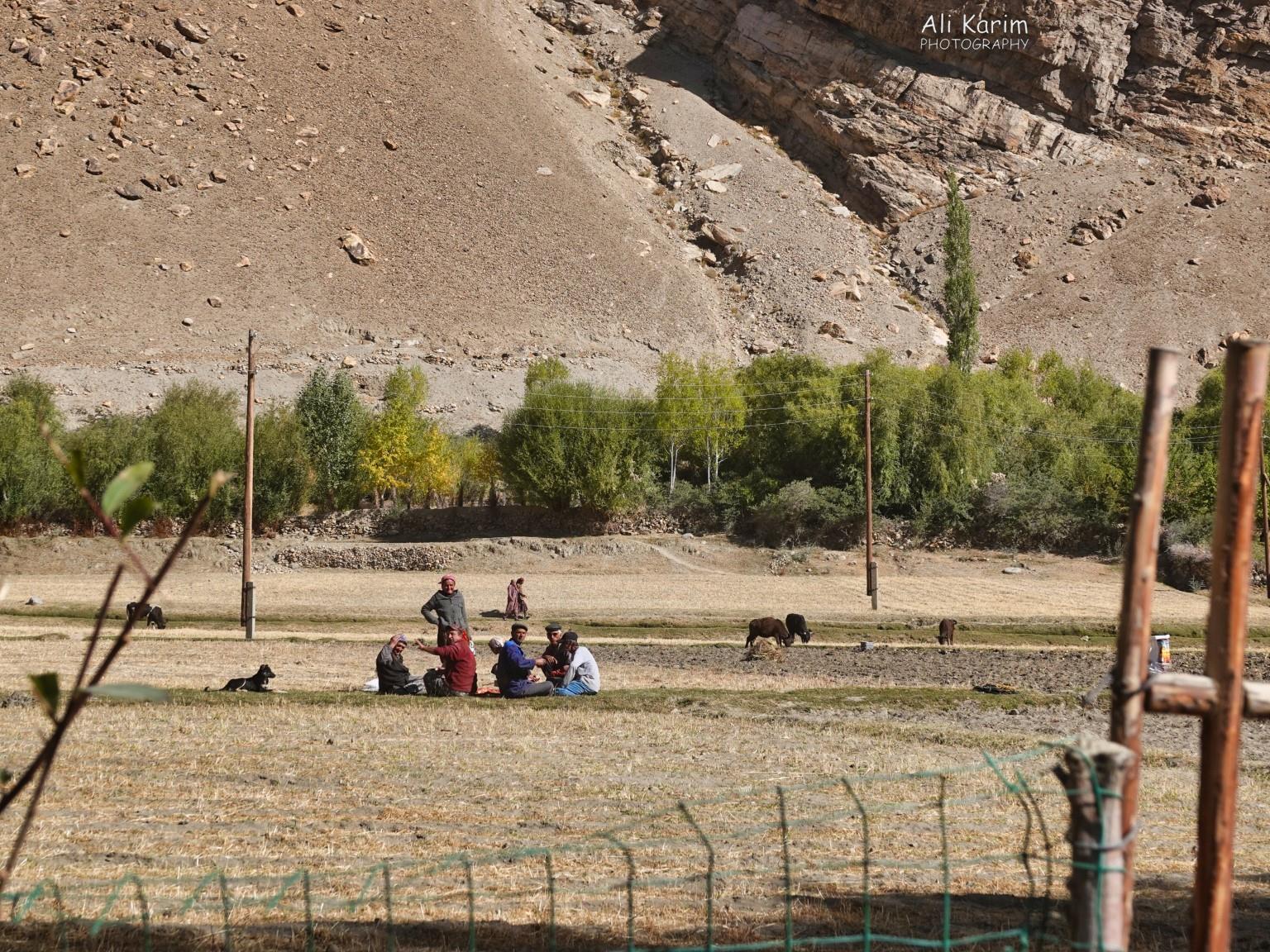 Soon, we arrived at a small roadside construction, where a café was being built above a natural underground spring, which is why we had stopped. There were several people filling up water bottles and we filled our as well. But Sherali asked me to taste this water with a small sip before drinking more, as the taste of this spring water was different from what we had been drinking till now. We both tried a small sip each, and the taste was definitely different. But we could not figure out what the different taste was (the taste was not bad). We closed the bottle and kept driving. A while later, I felt thirsty, and opened the top of this bottle, and I heard some gas slip out, as would happen with a carbonated drink. That's when we realized that the different taste was because the spring water was carbonated. This was a first for us, a natural spring that had carbonated water. Amazing.
We continued driving; some more scenes below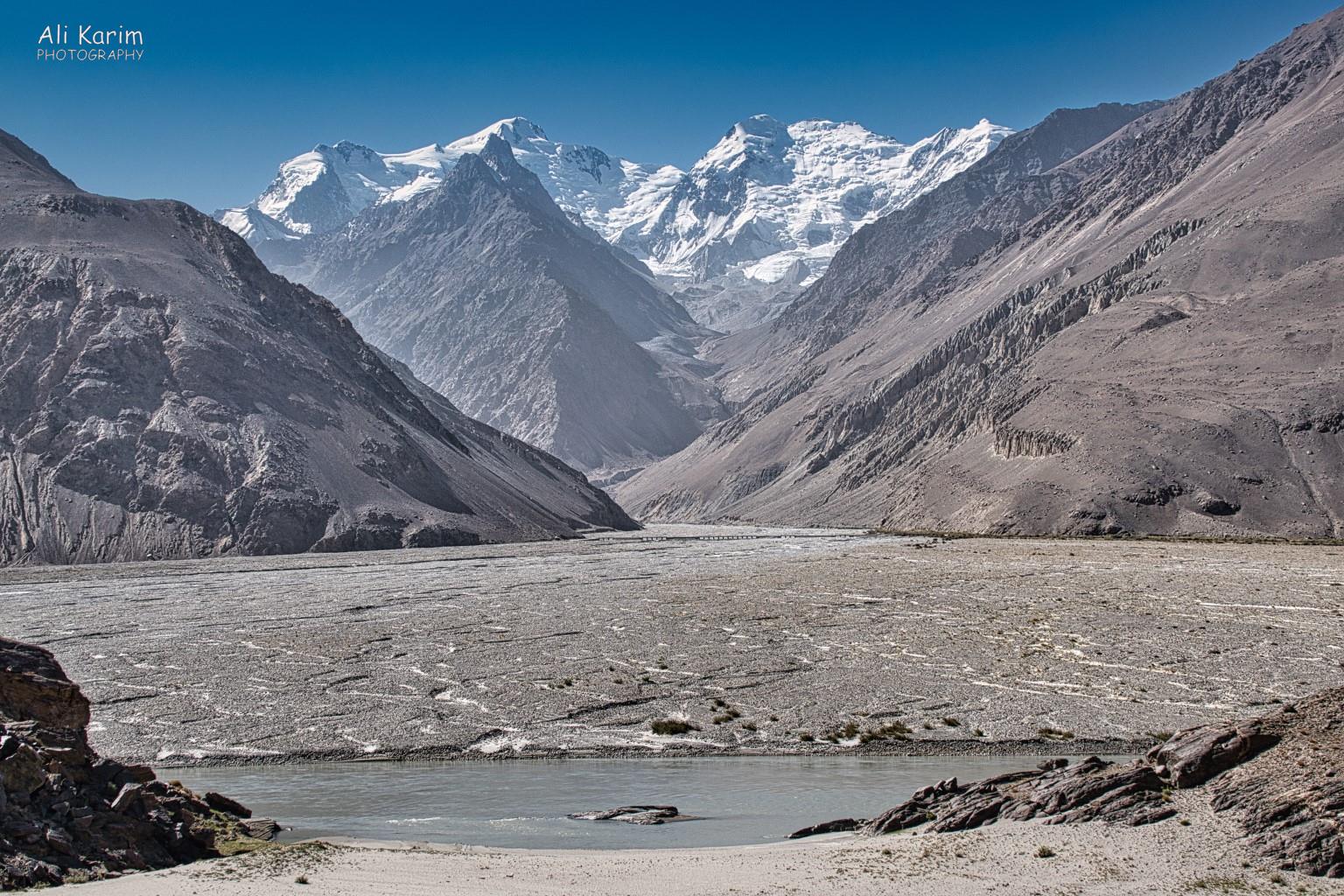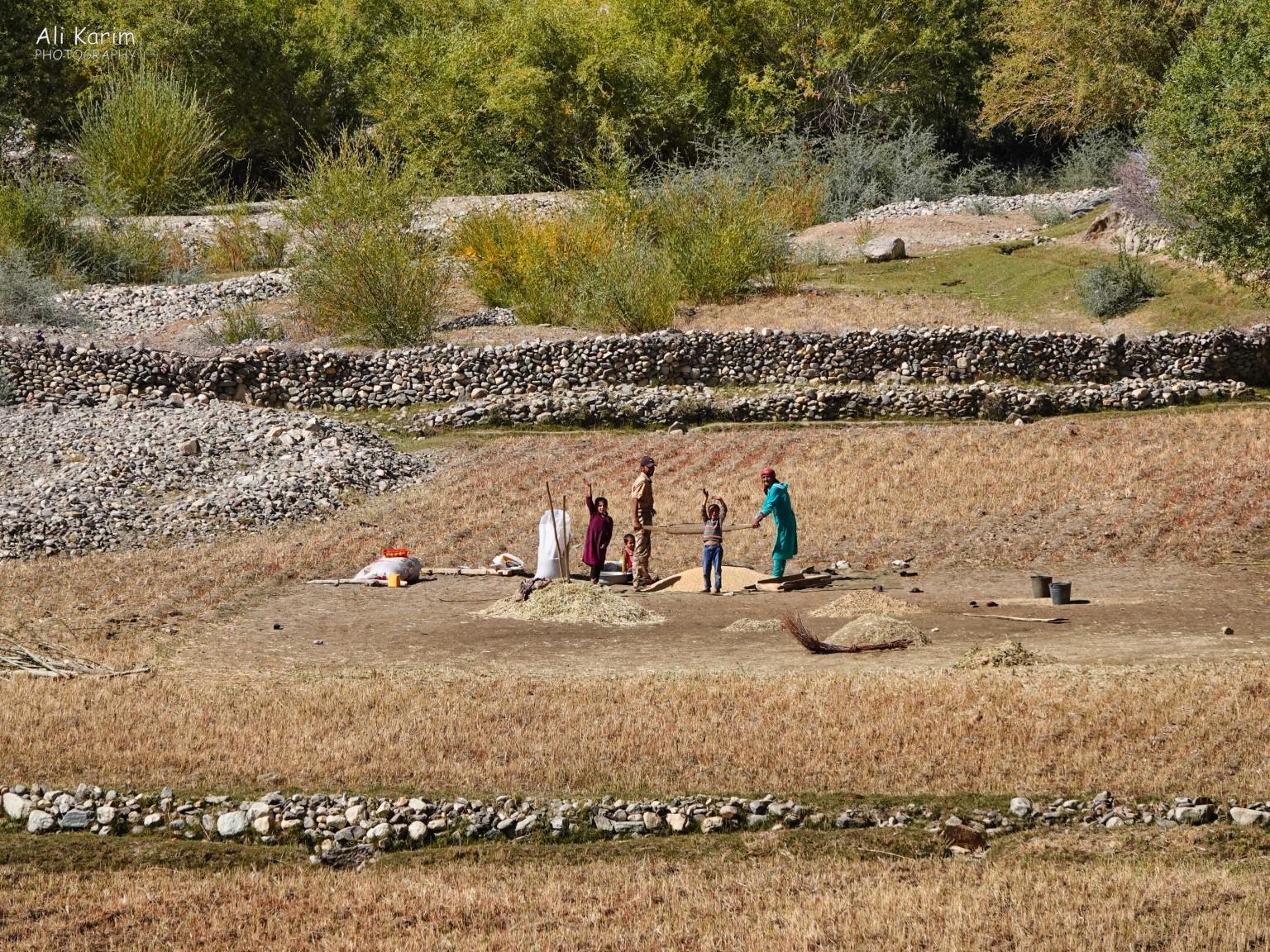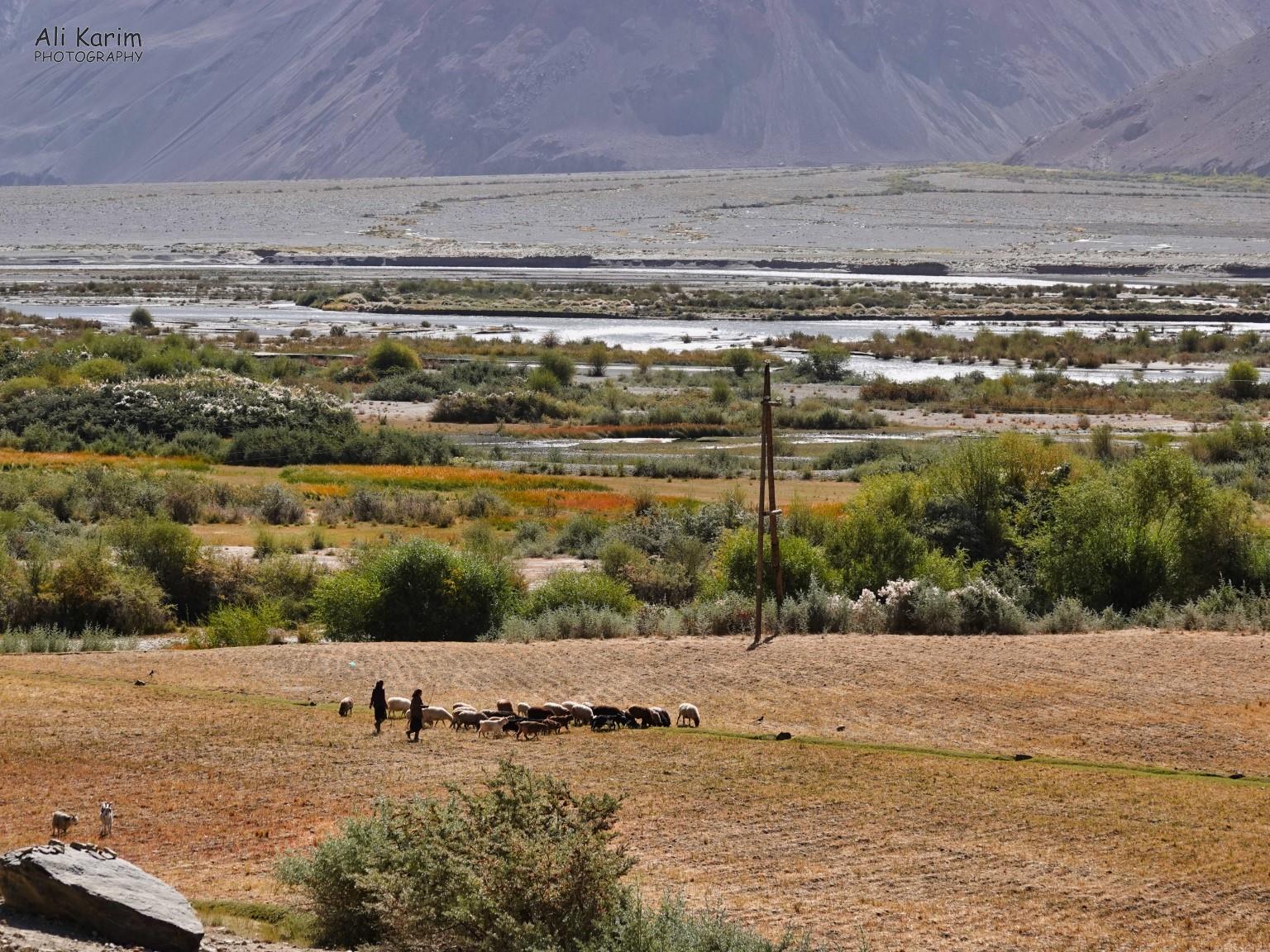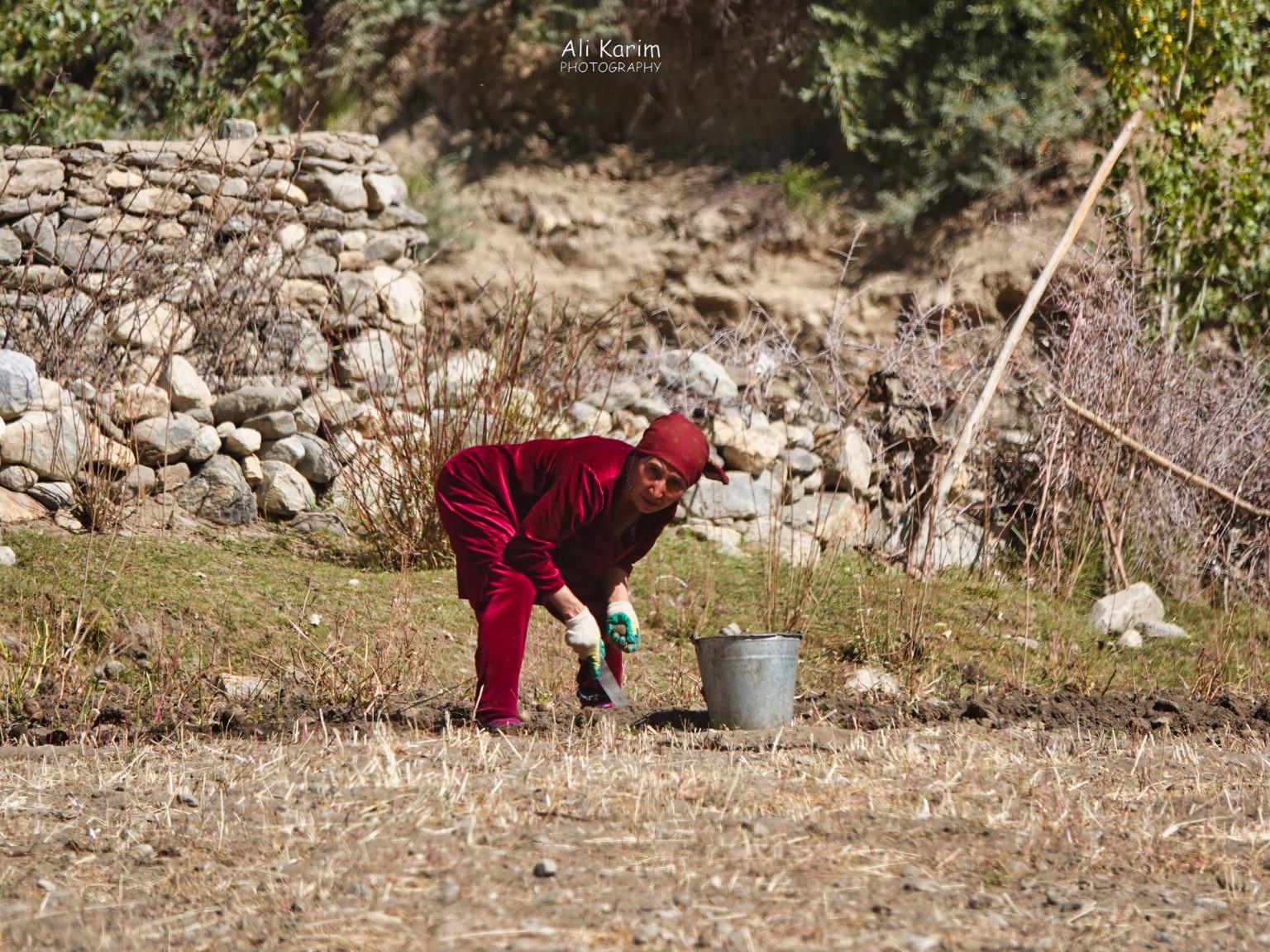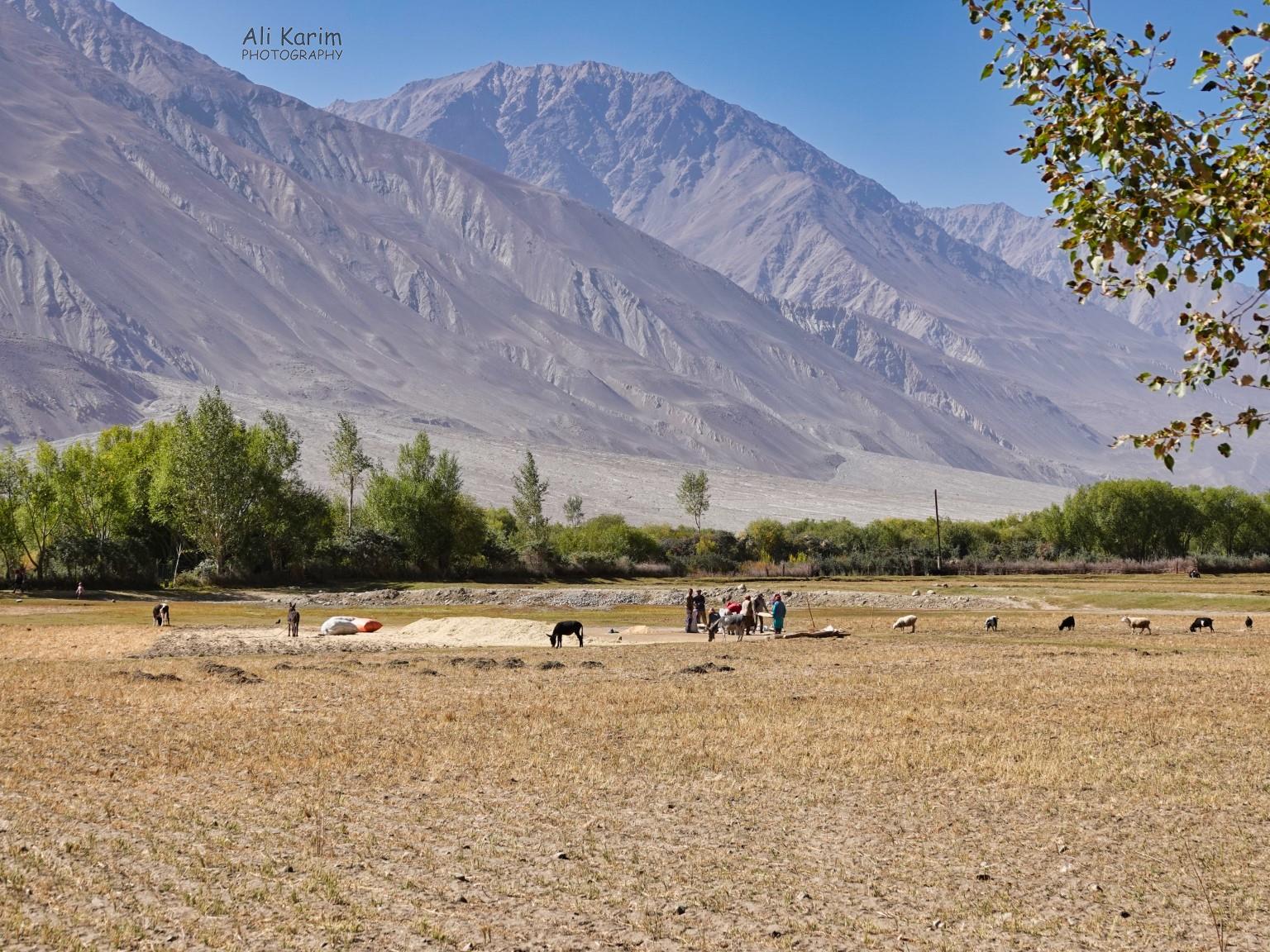 We stopped at the village of Vrang, to check out an ancient Budhist Stupka ruin. Here, we met Aziz and his friend, just returning from school for lunch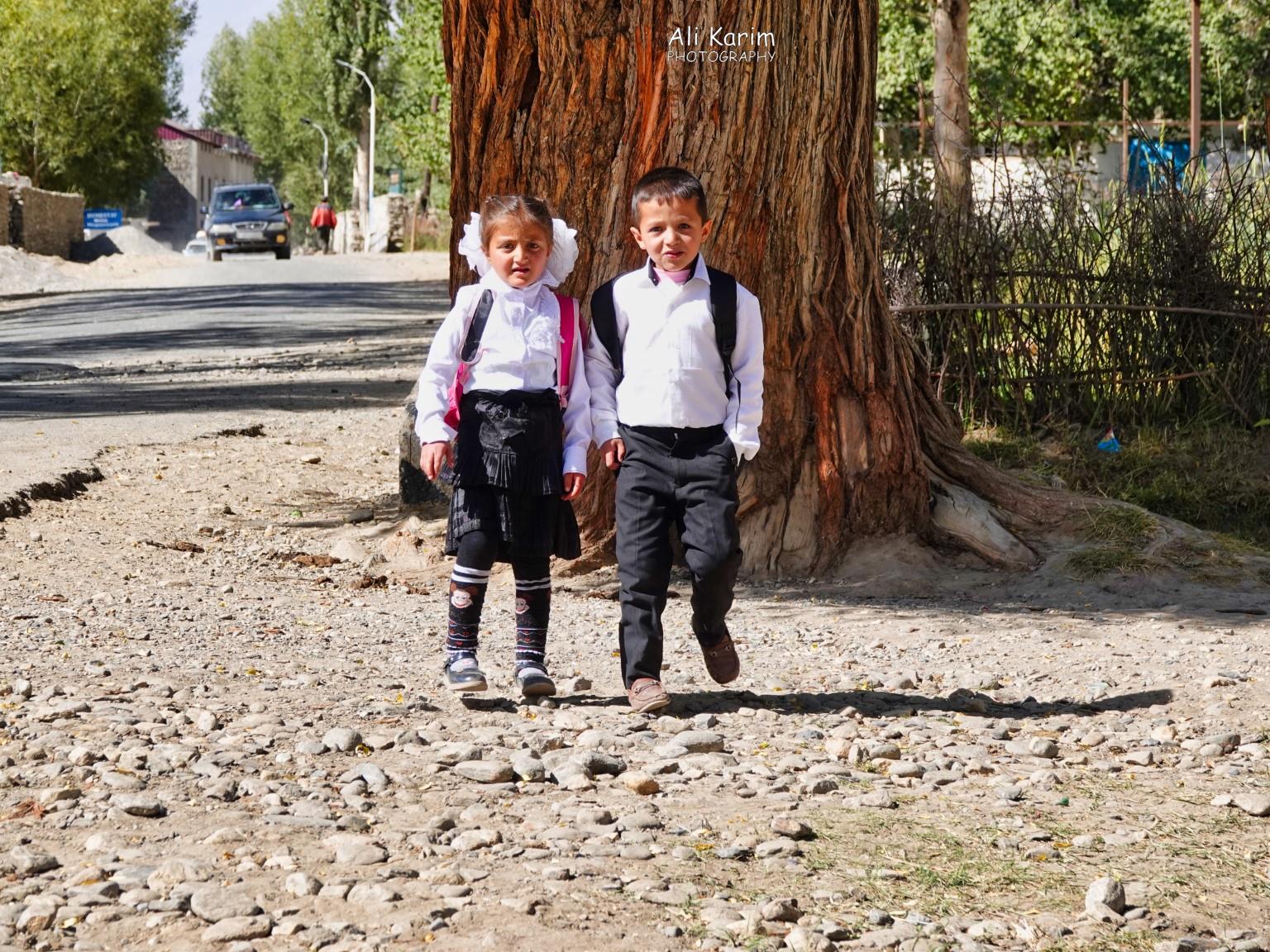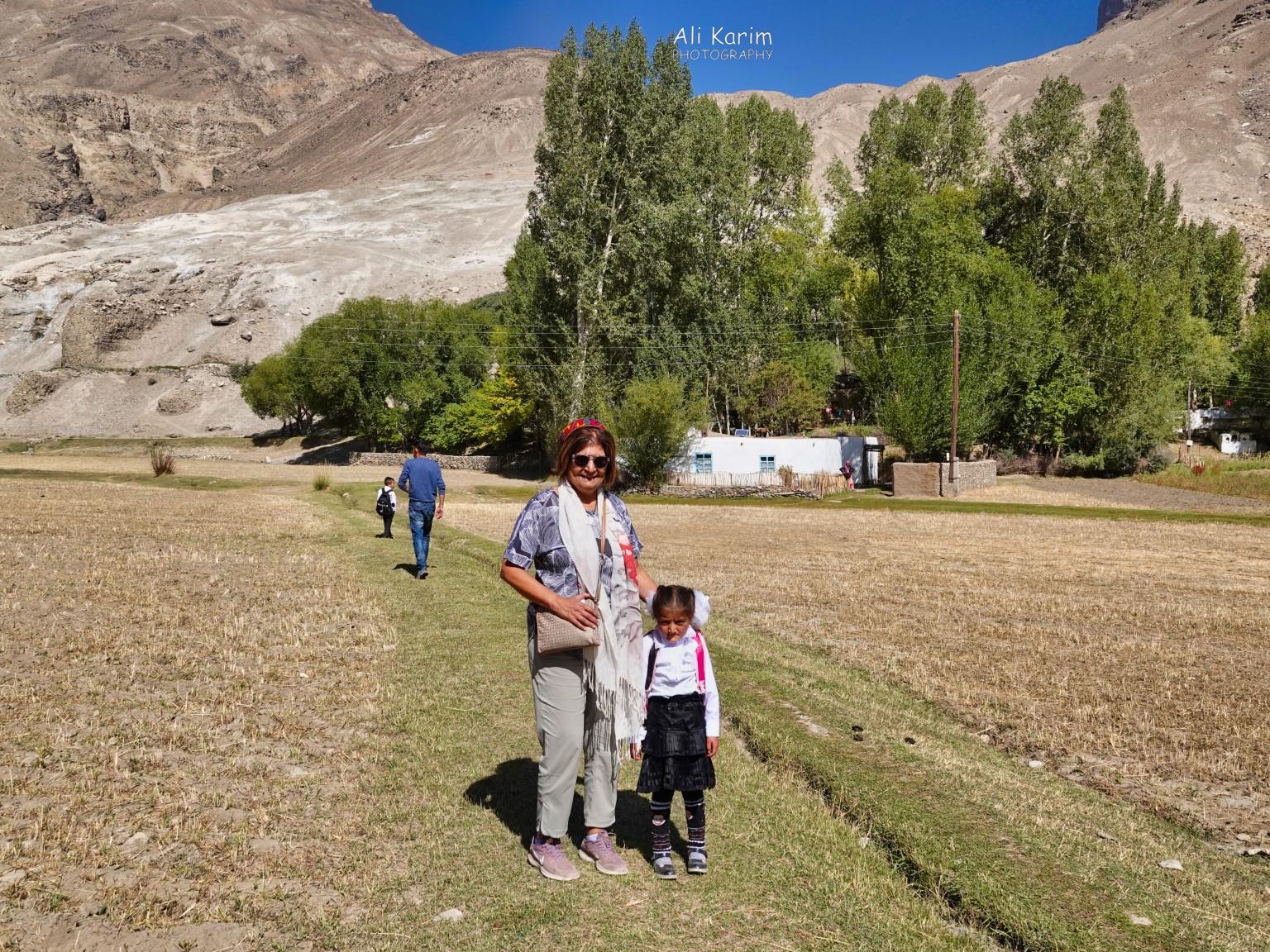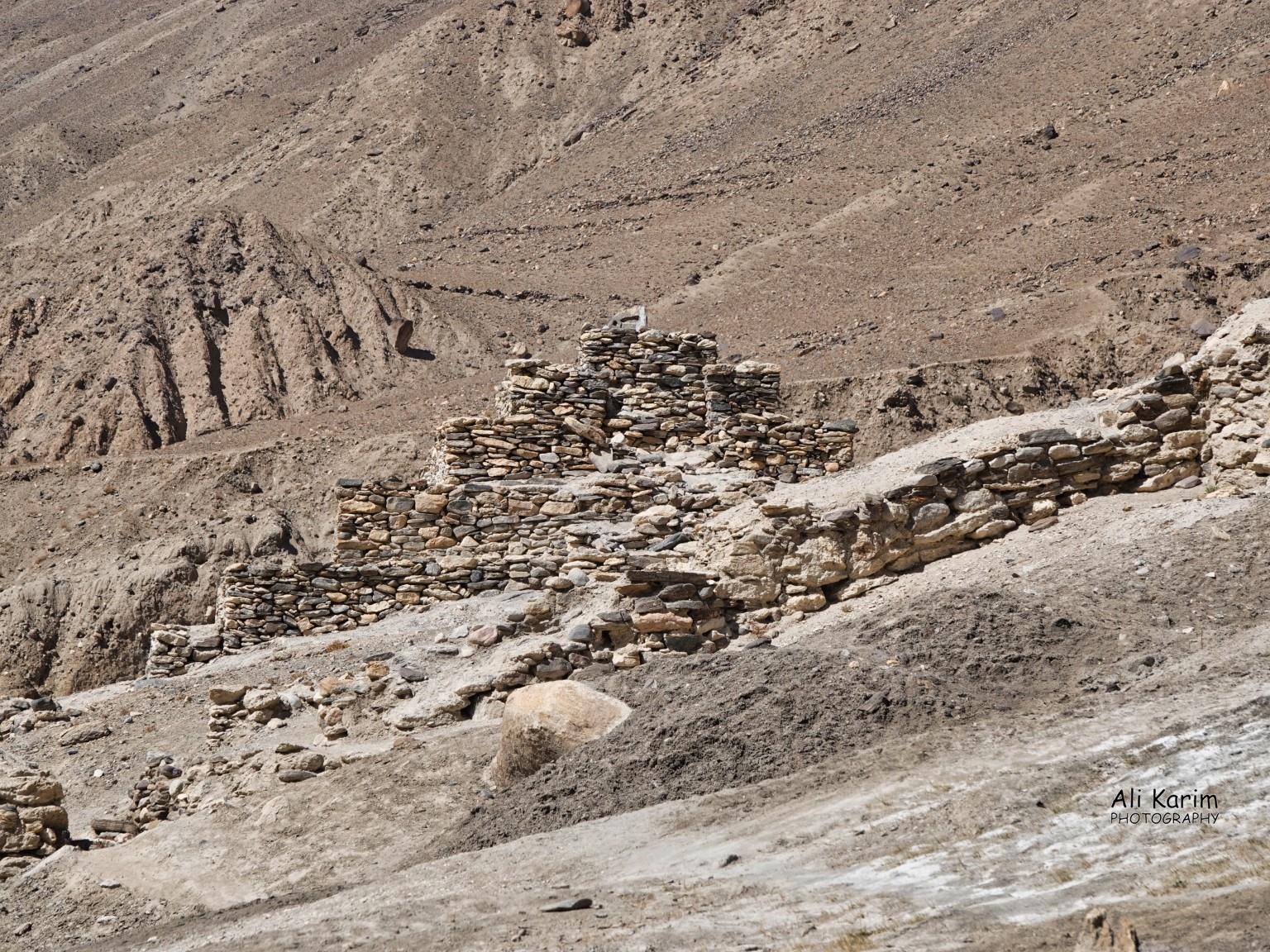 Views of the fertile farming plains of Vrang from the Stupka

Dilshad gave Aziz two US $1 bills as our thanks for guiding us to the stupka; Aziz was so excited, he ran to show the bills to his friends 🙂
We continued to another small Pamiri village, Yamg, where Ahmedali turned off the road and took us to the small Museum of the Ismaili Sufi, Mubarak Wakhani.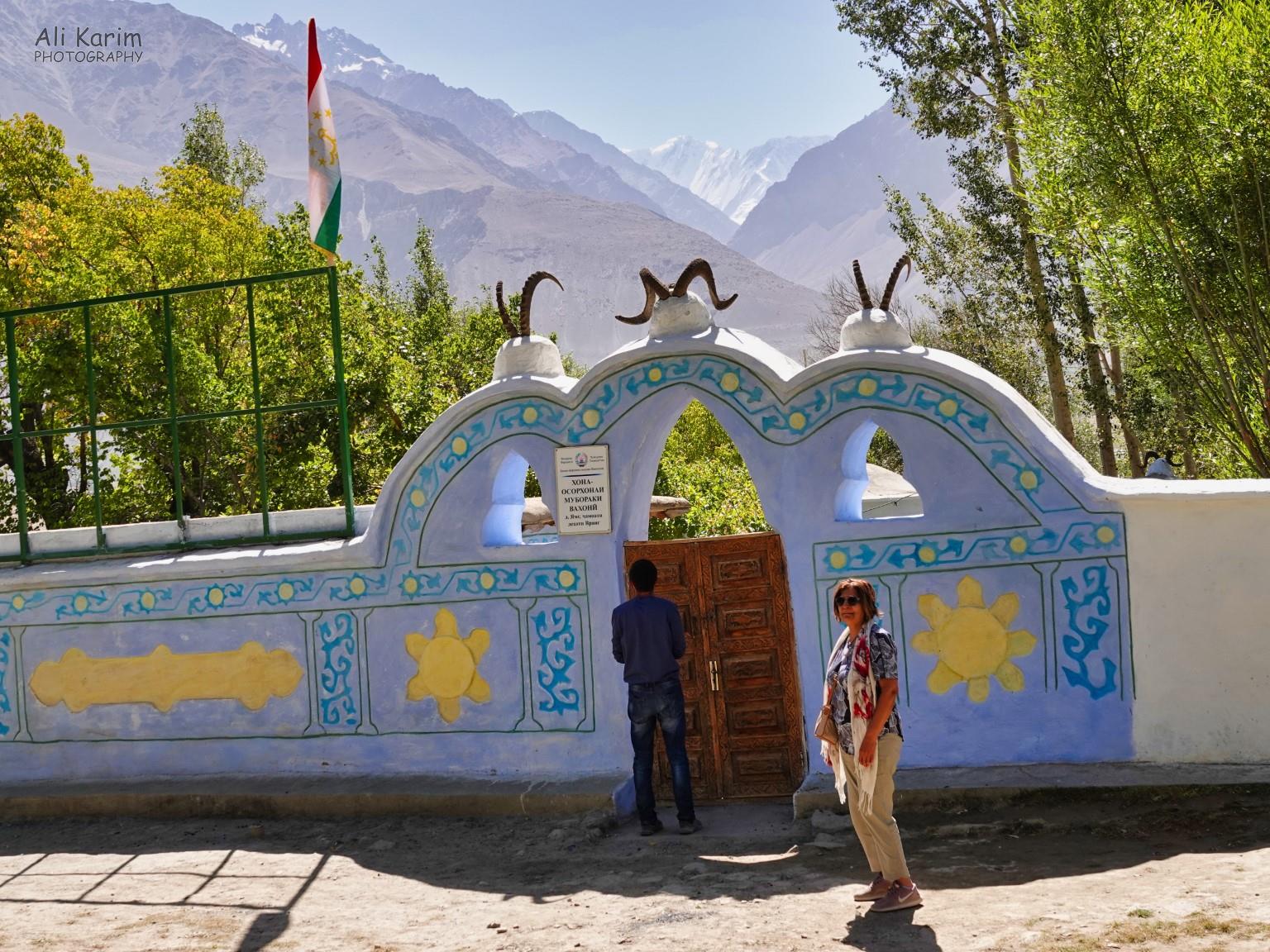 Sherali knocked at this entrance till a gentleman came out; who turned out to be a descendant of the Ismaili Sufi, mystic, poet, Mubarak-i Wakhani. He introduced himself as Ahmadbek, and took us inside the well-kept Museum (a typical Pamiri house), where he showed us some of the artifacts he had collected, played the local stringed musical instruments and then showed us his collection of books, newspapers and manuscripts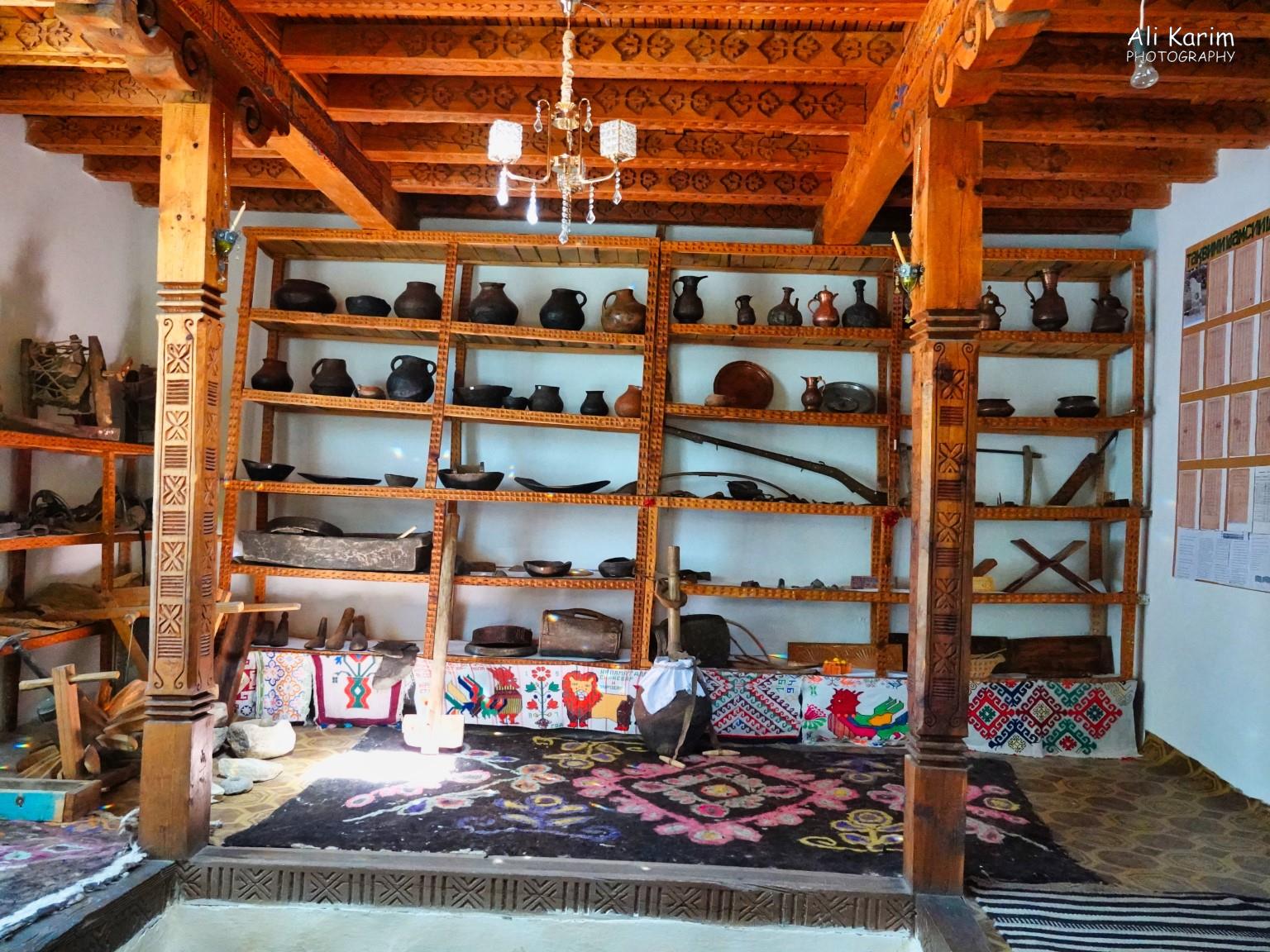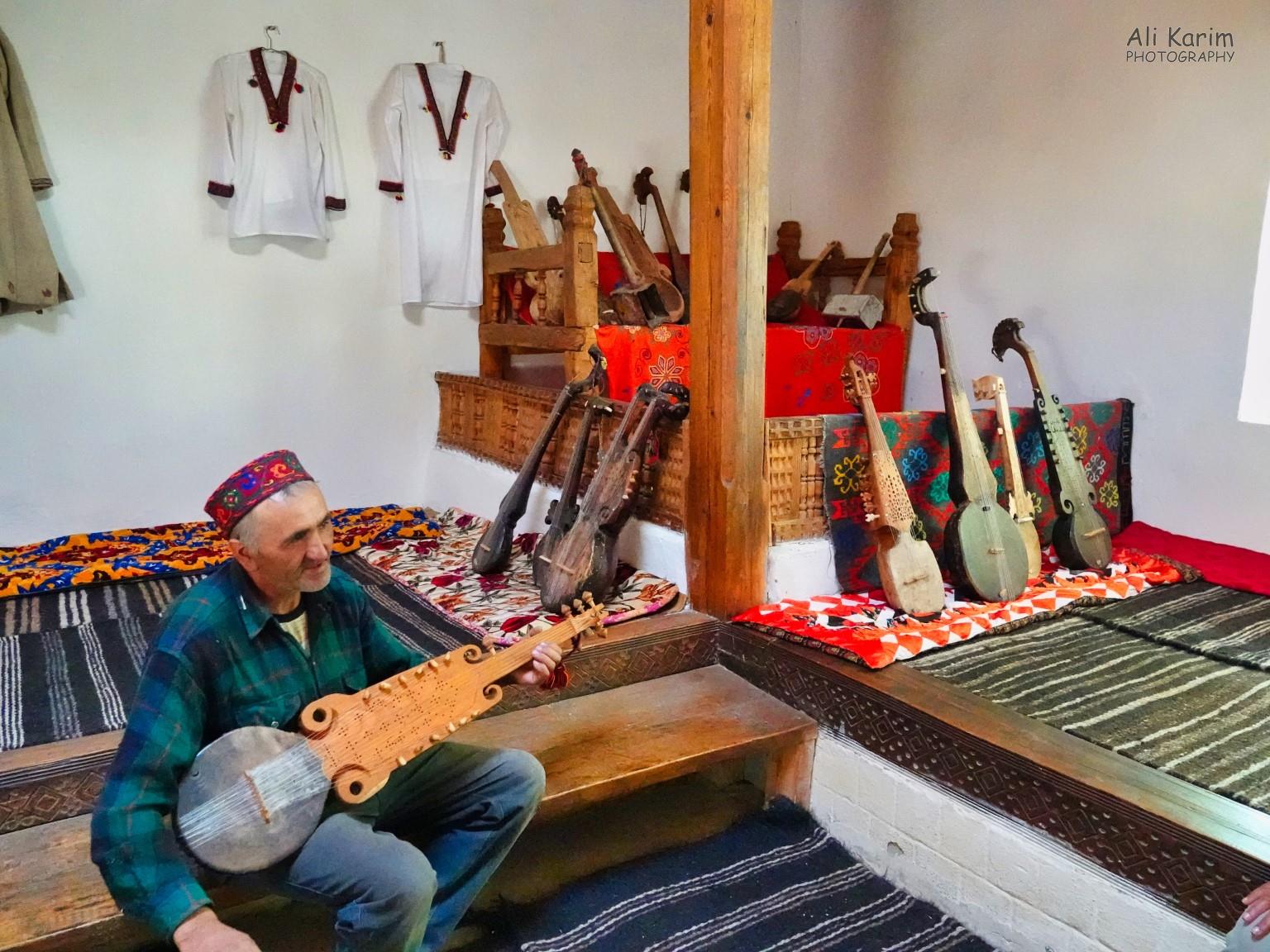 Music demo by Ahmadbek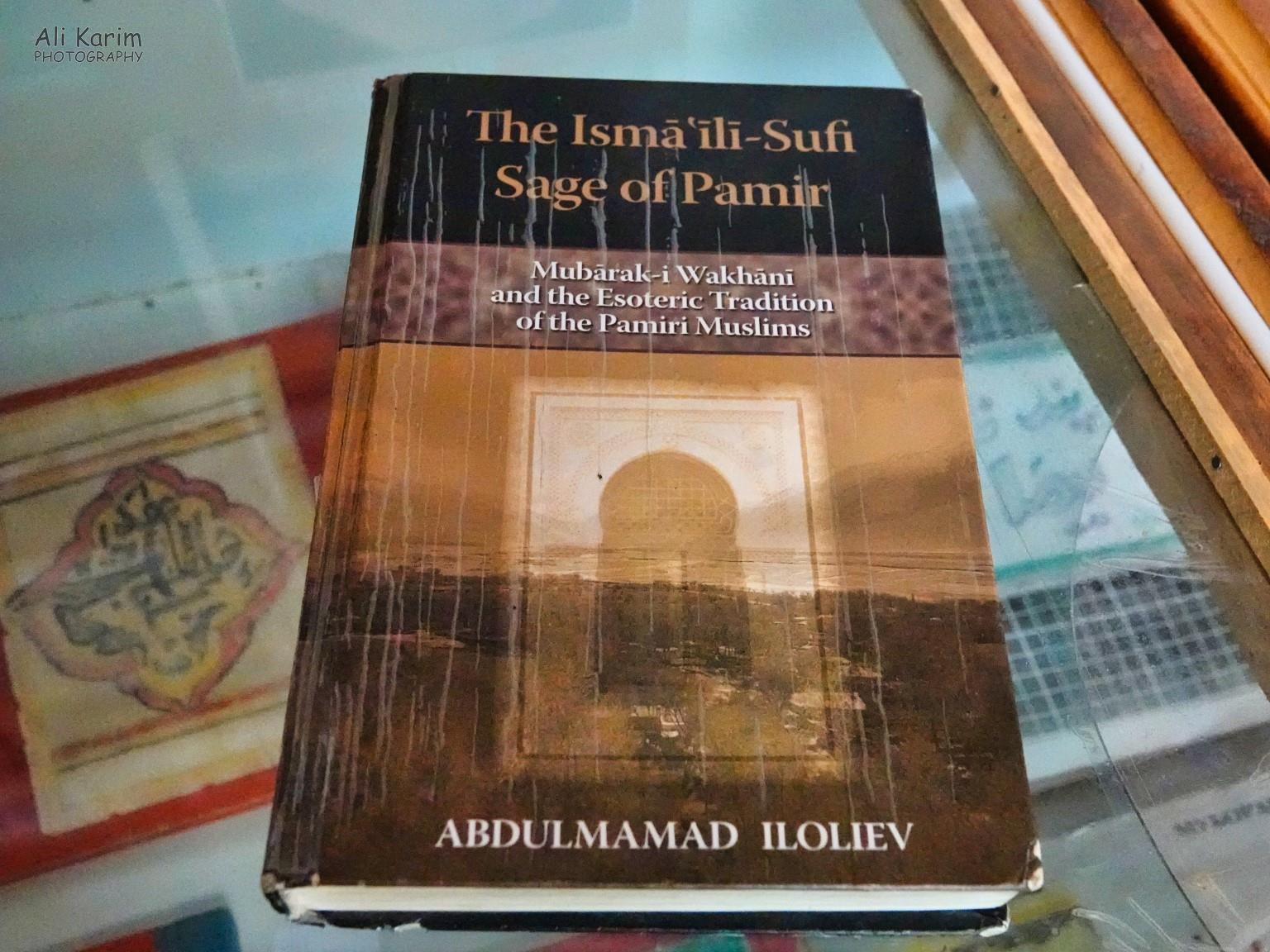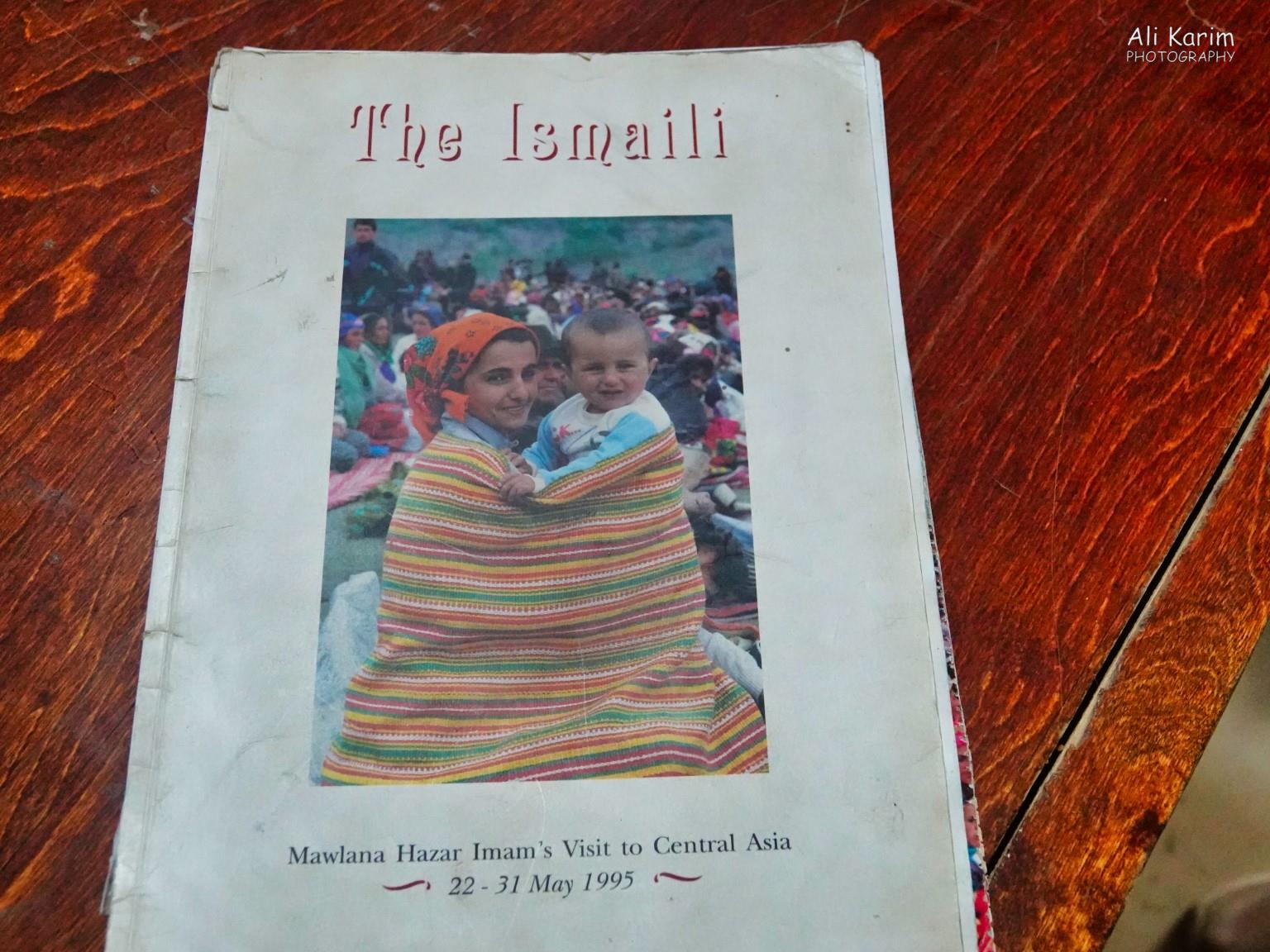 Outside at the entrance to the Museum, was a small Observatory. We thanked Ahmadbek for showing us around, and he refused to take any money from us, as Sherali had introduced us as Ismailis. Again, generosity toward total strangers. We left and drove along the Panj for a short time before turning right back into the mountains, to check out Yamchun Fortress and Bibi Fatima hot springs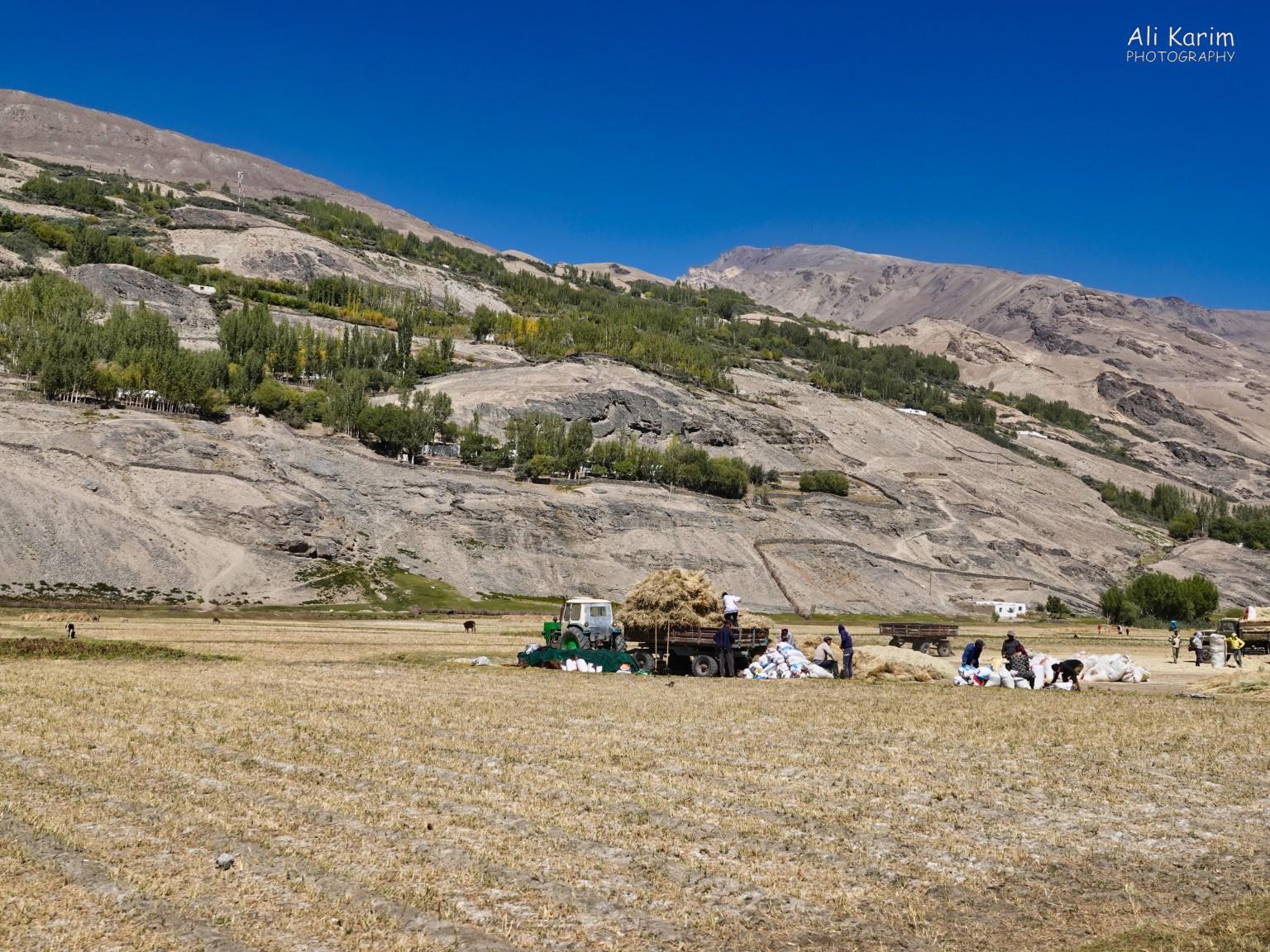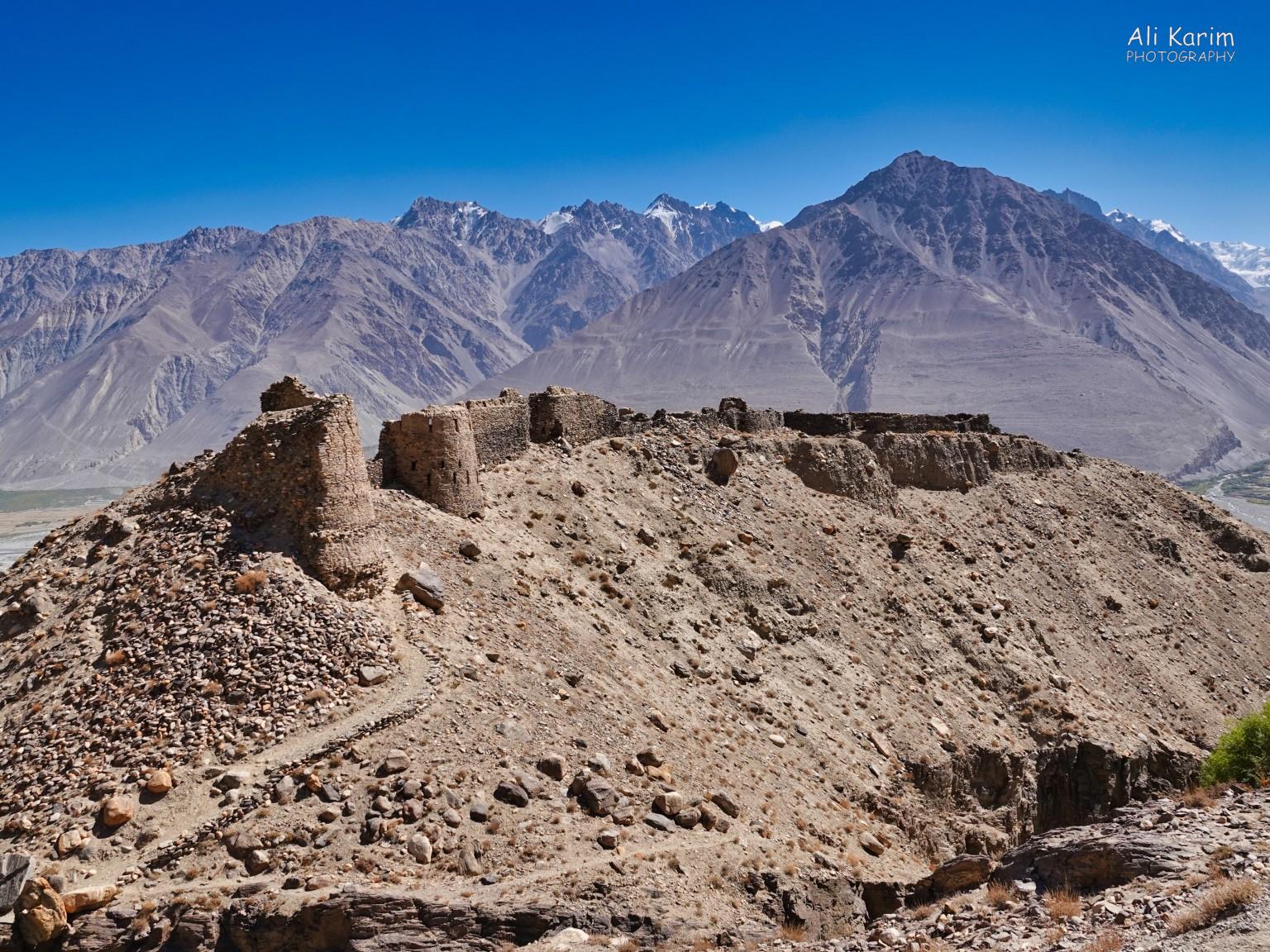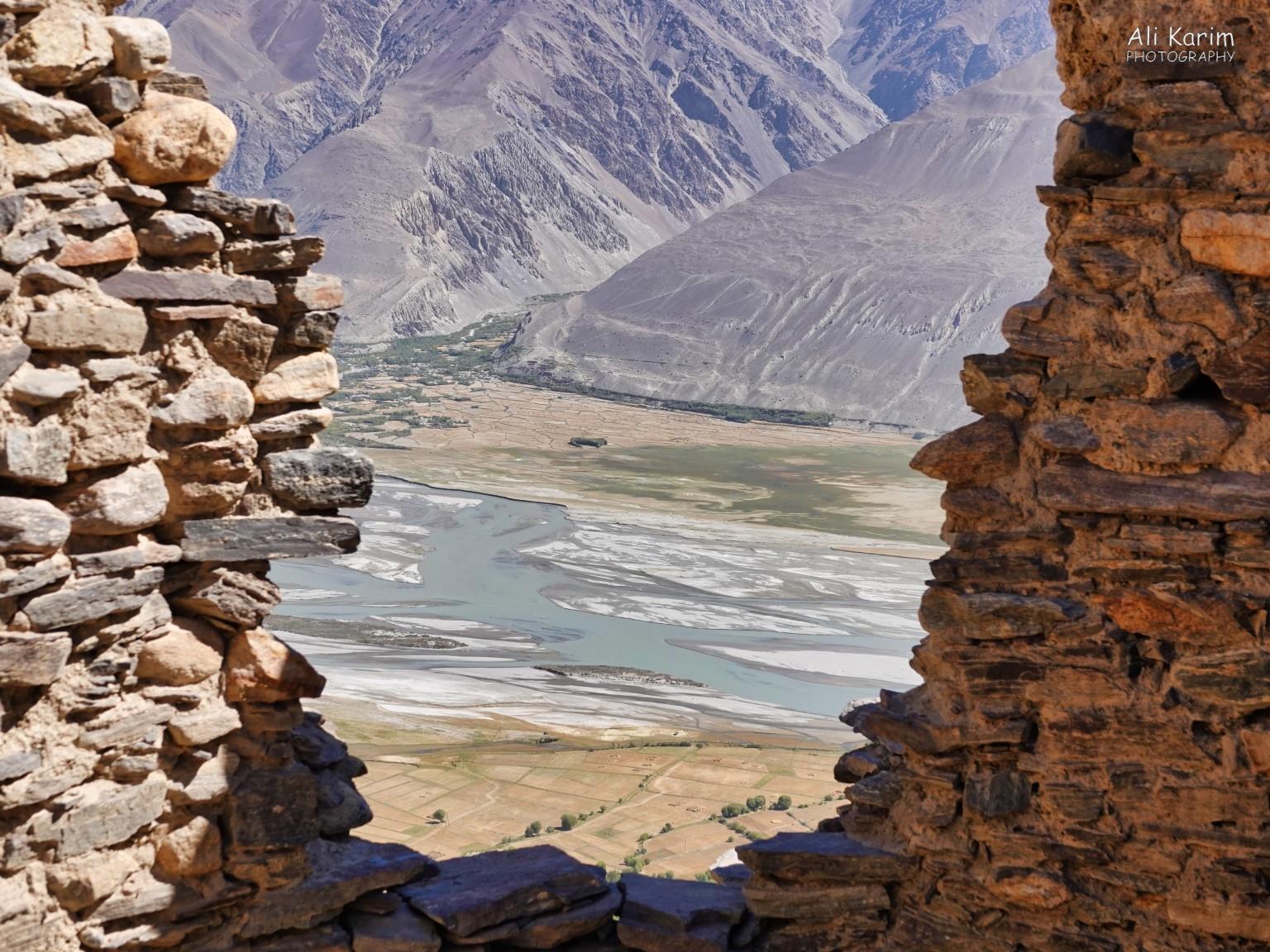 We drove another 3kms to arrive at the Bibi Fatima hot spring; where a natural hot spring spouted 40C water all year round, with many dissolved minerals in it. We stopped here for tea and bread, and spent a little time in the hot spring; there was a natural stony-cave area where the spring emerged, and there was a separate pool, men and women rotated between using these two areas.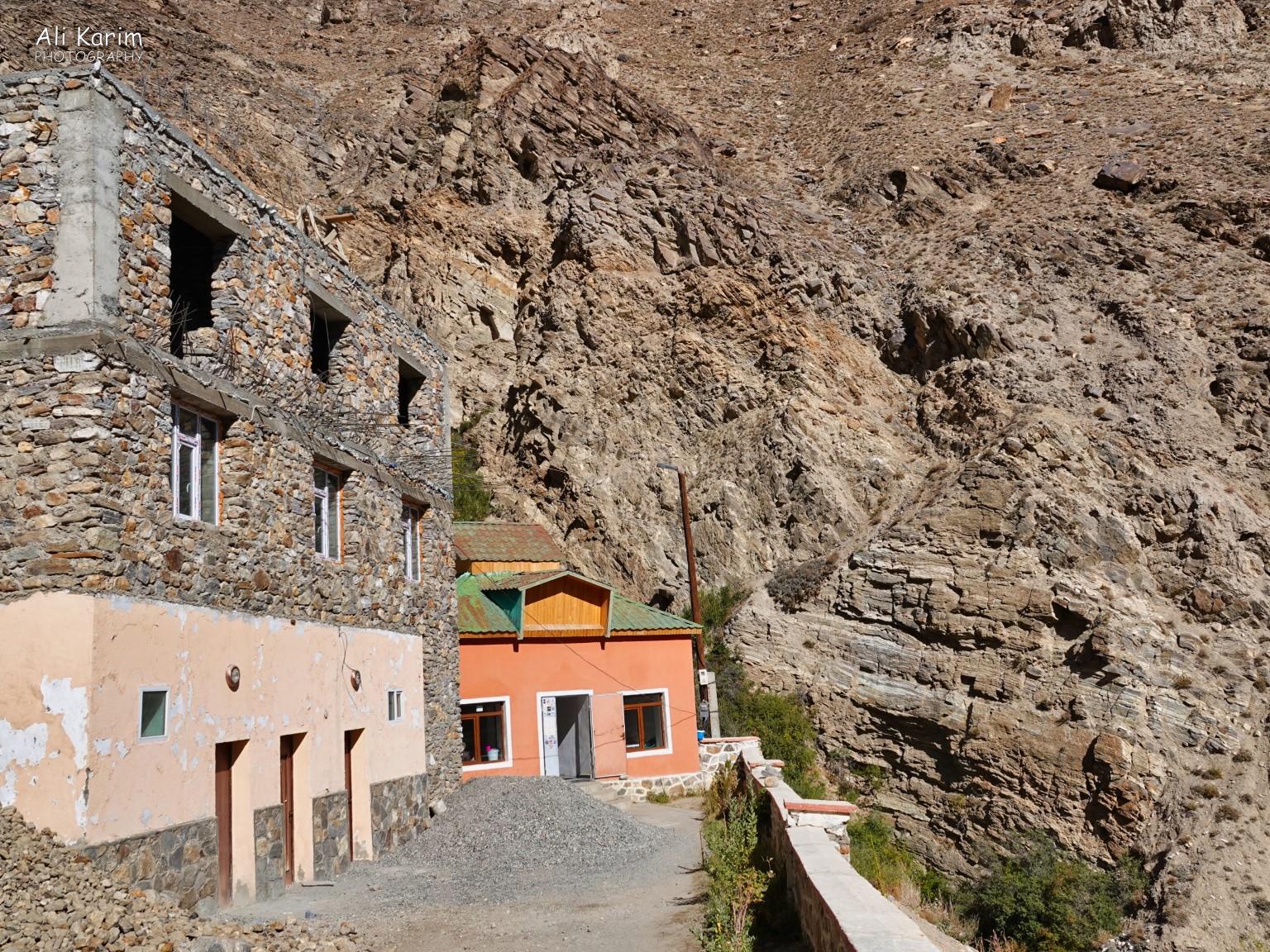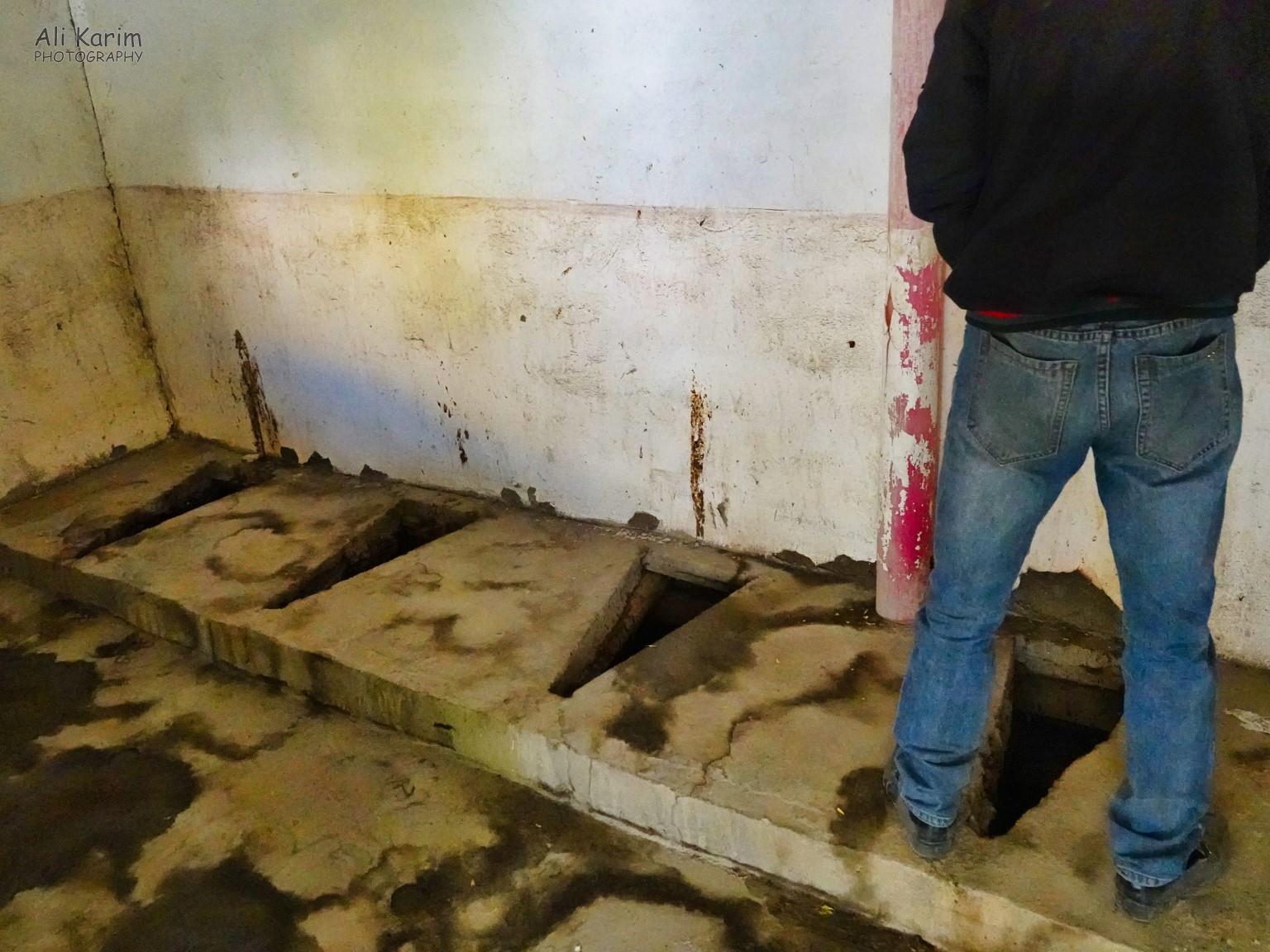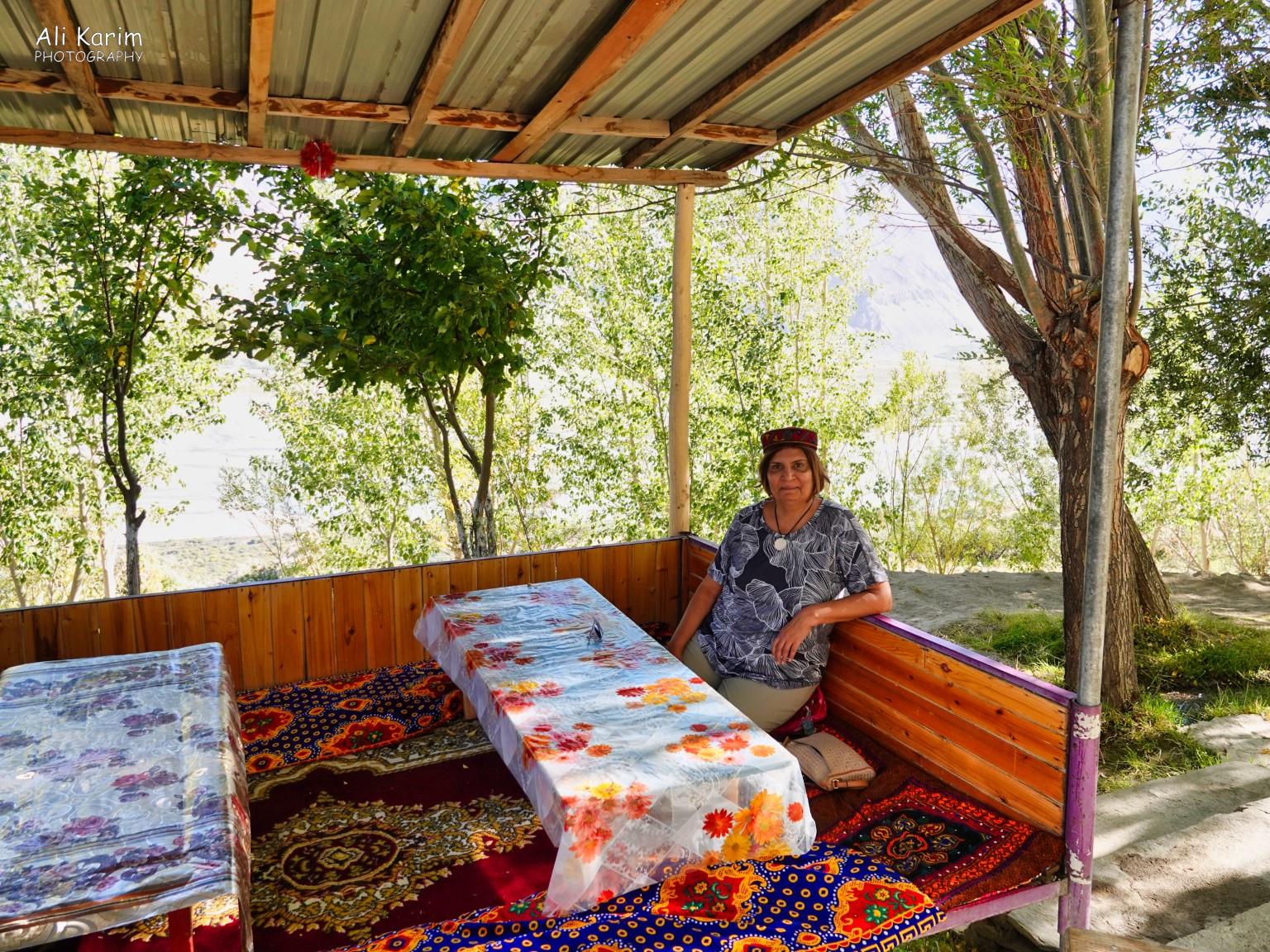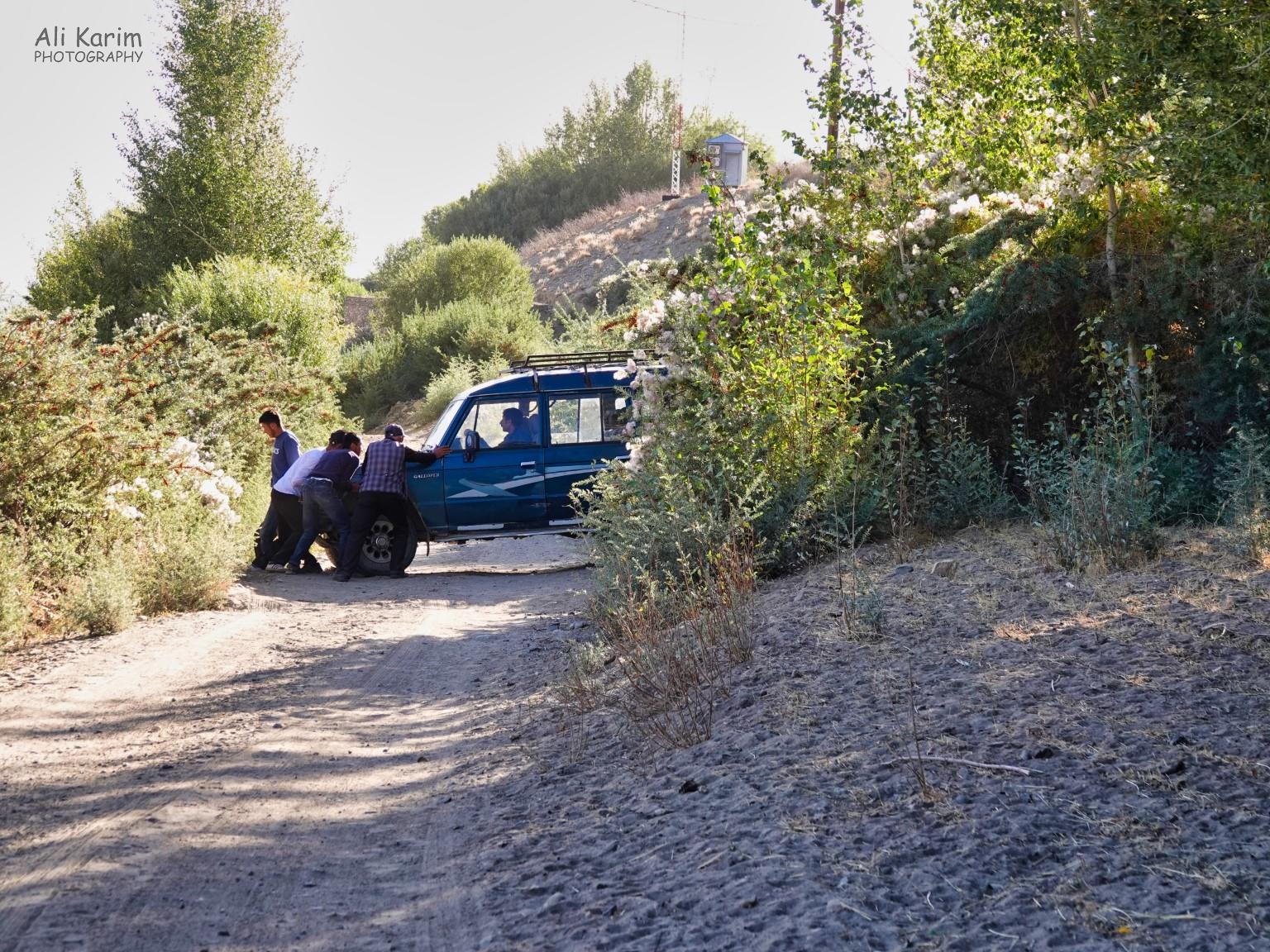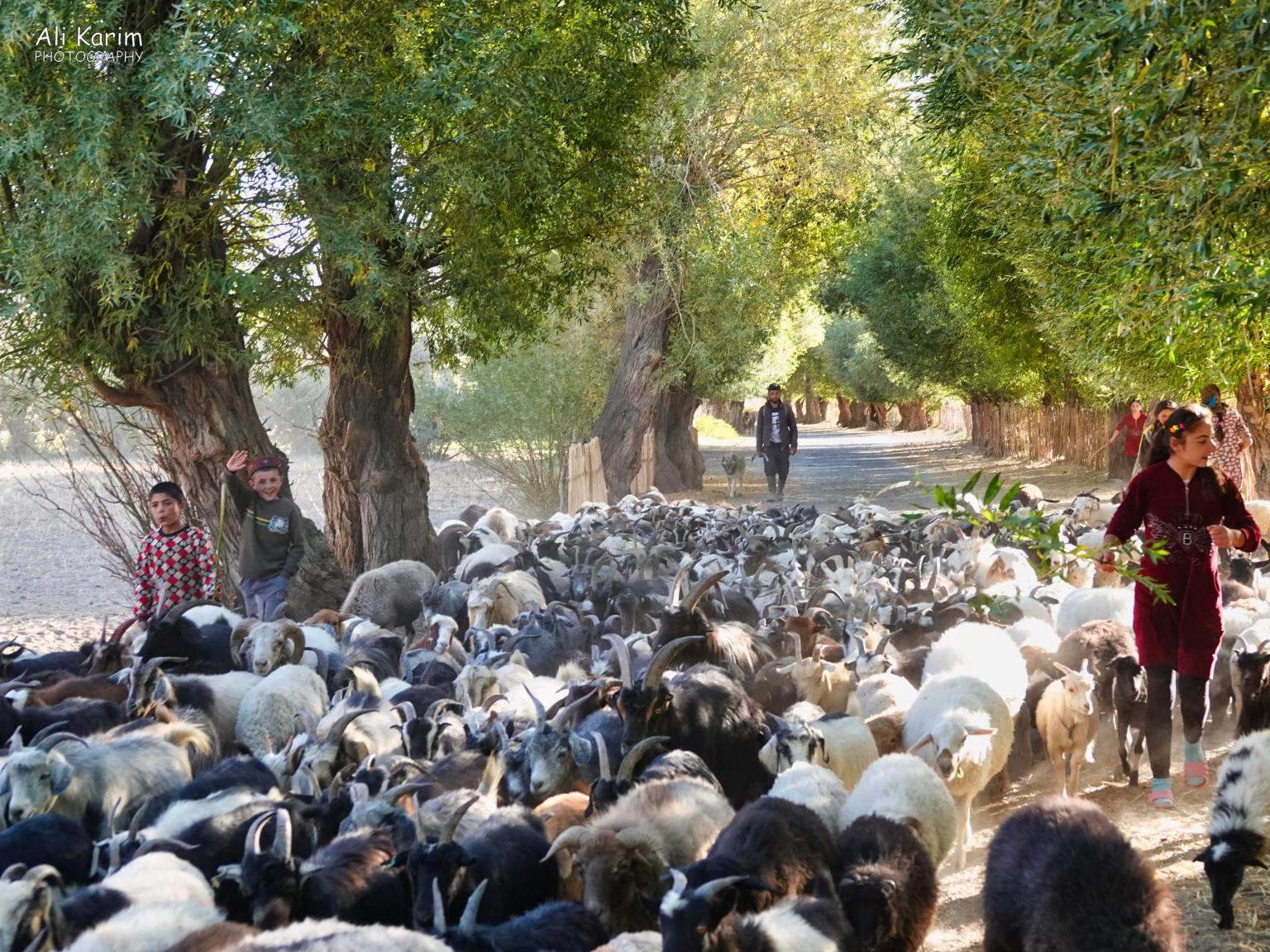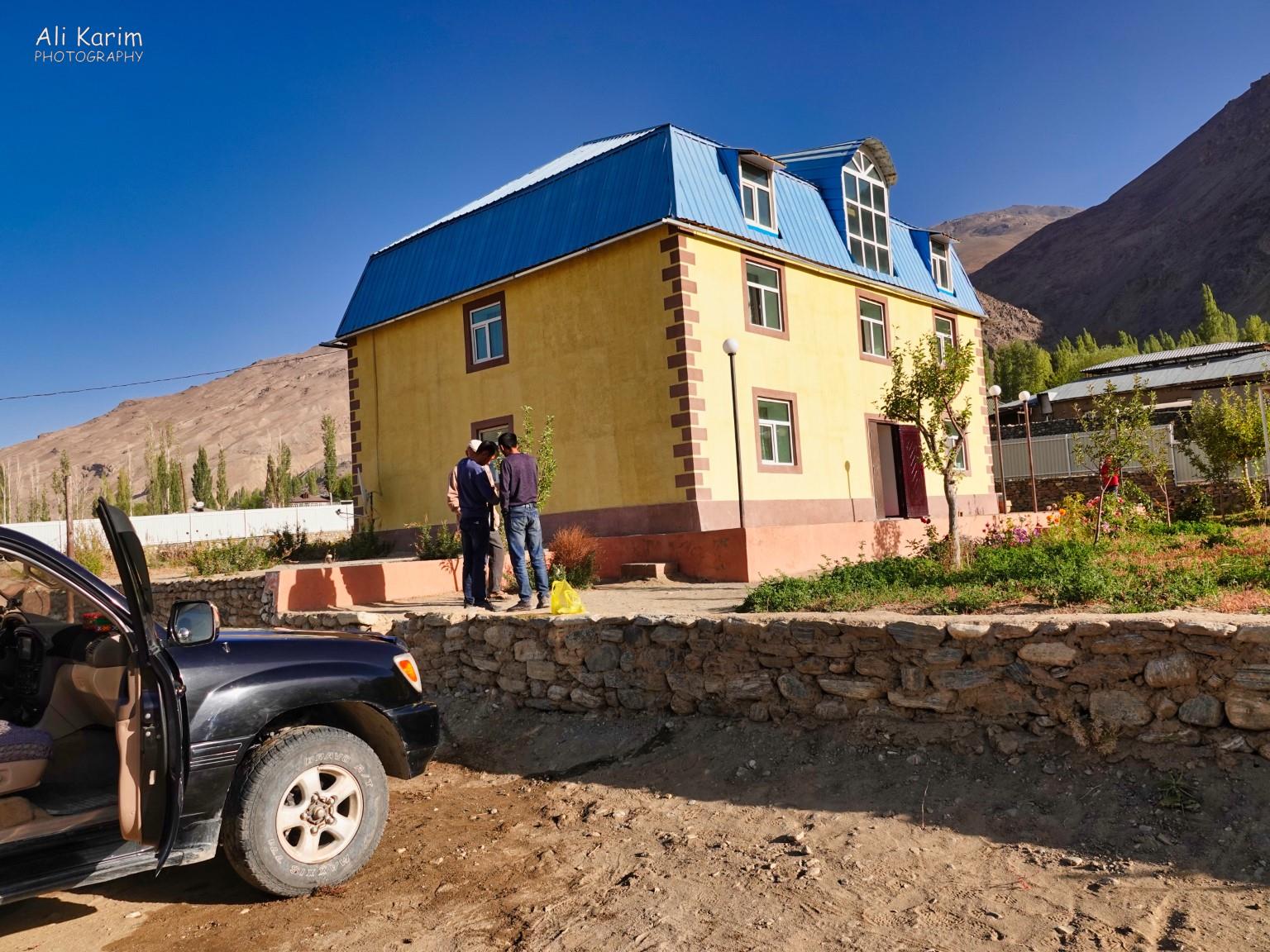 Our trip so far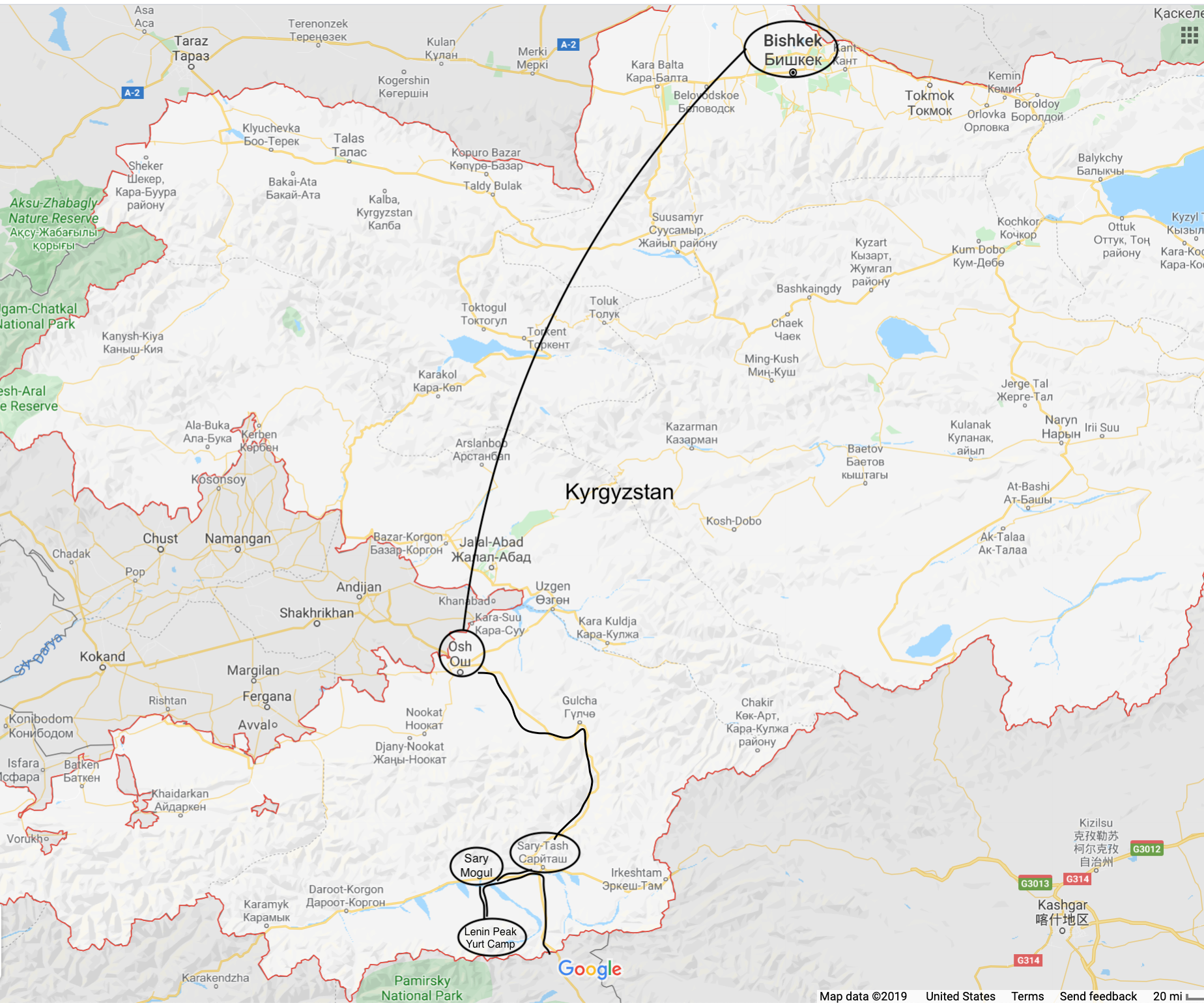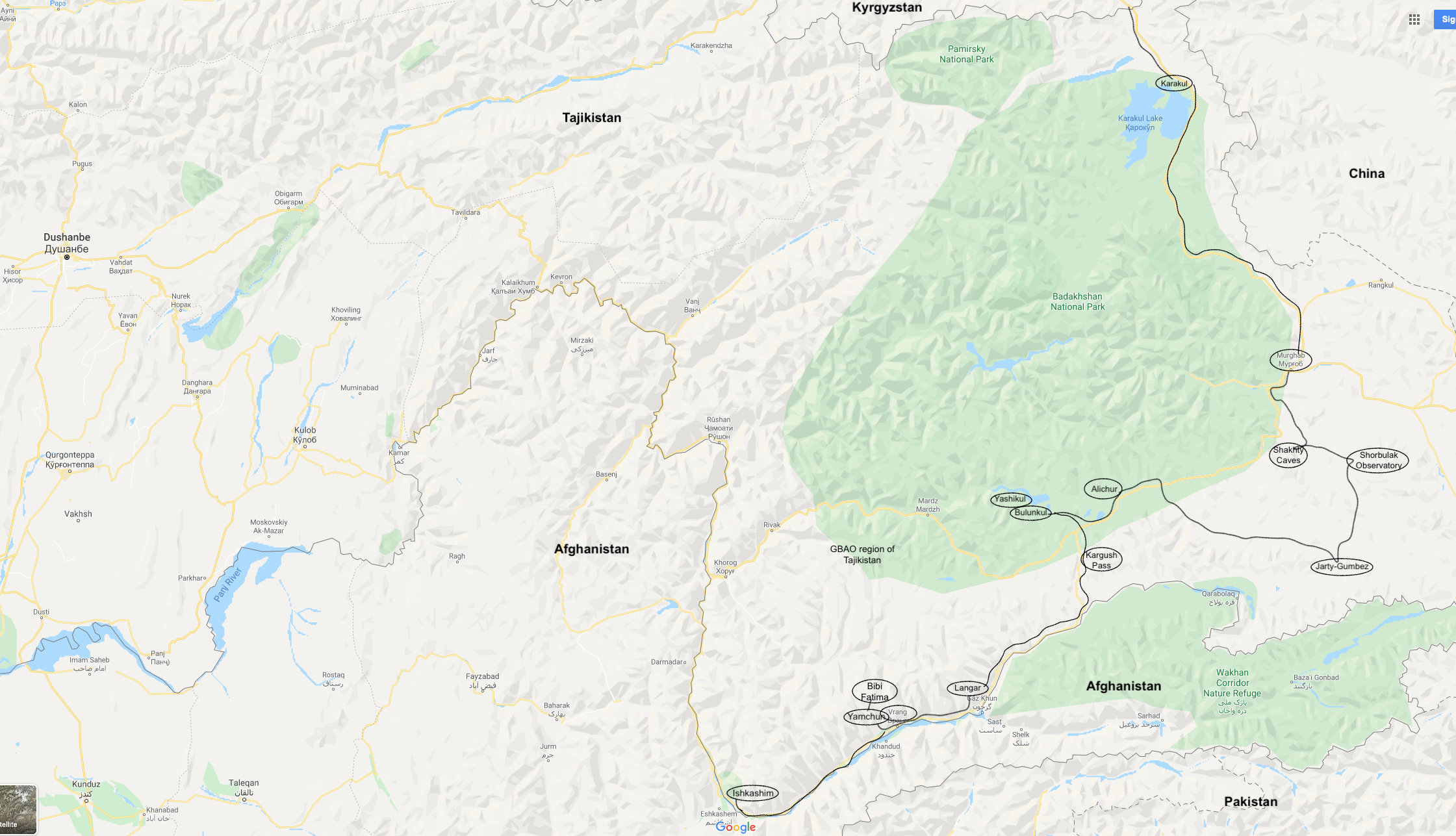 Onto Khorog next
This entry was posted in
Asia
,
Silk Road Tajikistan Sept-Oct 2019
,
Tajikistan