October 5, 2019
After the Pamiri wedding celebrations the previous evening, we got up at the Serena Inn and had a very nice leisurely breakfast. The plan was to spend several days in Khorog, in part to recuperate from the strenuous trip through the Pamir mountains, and in part to learn more about Khorog, meet some local Pamiri's, and to check out a few projects in Khorog.
So, to start with a little about Khorog: The town of Khorog is the capital of the Autonomous Region (GBAO) in Tajikistan & is also the capital of the Shughnon District of GBAO. It has a population of 30,000 people, mostly all Pamiri Ismaili's. Khorog is 2,200 metres (7,200 ft) above sea level in the Pamir Mountains (ancient Mount Imeon) at the confluence of the Gunt and Panj rivers. The Gunt flows through the city, dividing it almost evenly until its delta merges into the Panj river in the eastern part of the city. The Panj river is also known as Amu Darya, or in antiquity, the Oxus, forming the border of GBAO Tajikistan and Afghanistan, and flows from there north-westwards emptying into the southern remnants of the Aral Sea.
Modern Khorg and GBAO is one of the poorest areas of Tajikistan, with the Aga Khan Foundation providing employment and projects that generate cash income. The city does have its own university (Khorog State University), founded in 1992, twelve schools, and several hospitals. There is a museum, the Khorog Regional Museum, an Ismaili Centre, and the second-highest botanical garden in the world, the Pamir Botanical Garden.
Khorog is also host to the University of Central Asia, Khorog, one of three campuses of the University of Central Asia (UCA). The University was founded in 2000 by the governments of Kazakhstan, the Kyrgyz Republic and Tajikistan, and The Aga Khan. It is the world's first internationally chartered institution of higher education. The Khorog Campus offers BA and BS degrees in Economics and Earth and Environmental Sciences.
My friend Kam Shams had introduced me to Muboriz Amonbekov, who was from Khorog originally. Muboriz introduced me to Zanjir in Dushanbe, and Zanjir introduced me to Hakim, who was the Project Manager at the Ismaili Center in Khorog. I connected with Hakim and went to meet him at the Ismaili Center. There are 2 entrances to the Ismaili Center compound, and only 1 was open during the day, and only people that have business to be in the Ismaili Center are allowed in by the Security guards. They called Hakim and he asked them to let me in. After getting scanned, I was allowed in and visited Hakim's office. I told him that I needed his help to tour the Ismaili Center, check out the University of Central Asia (UCA) Campus, and visit the Pamir Energy Power generating station. Hakim was extremely nice, and arranged everything for me, including transportation. All for a complete stranger; again, the very kind nature of the Pamiri's coming through.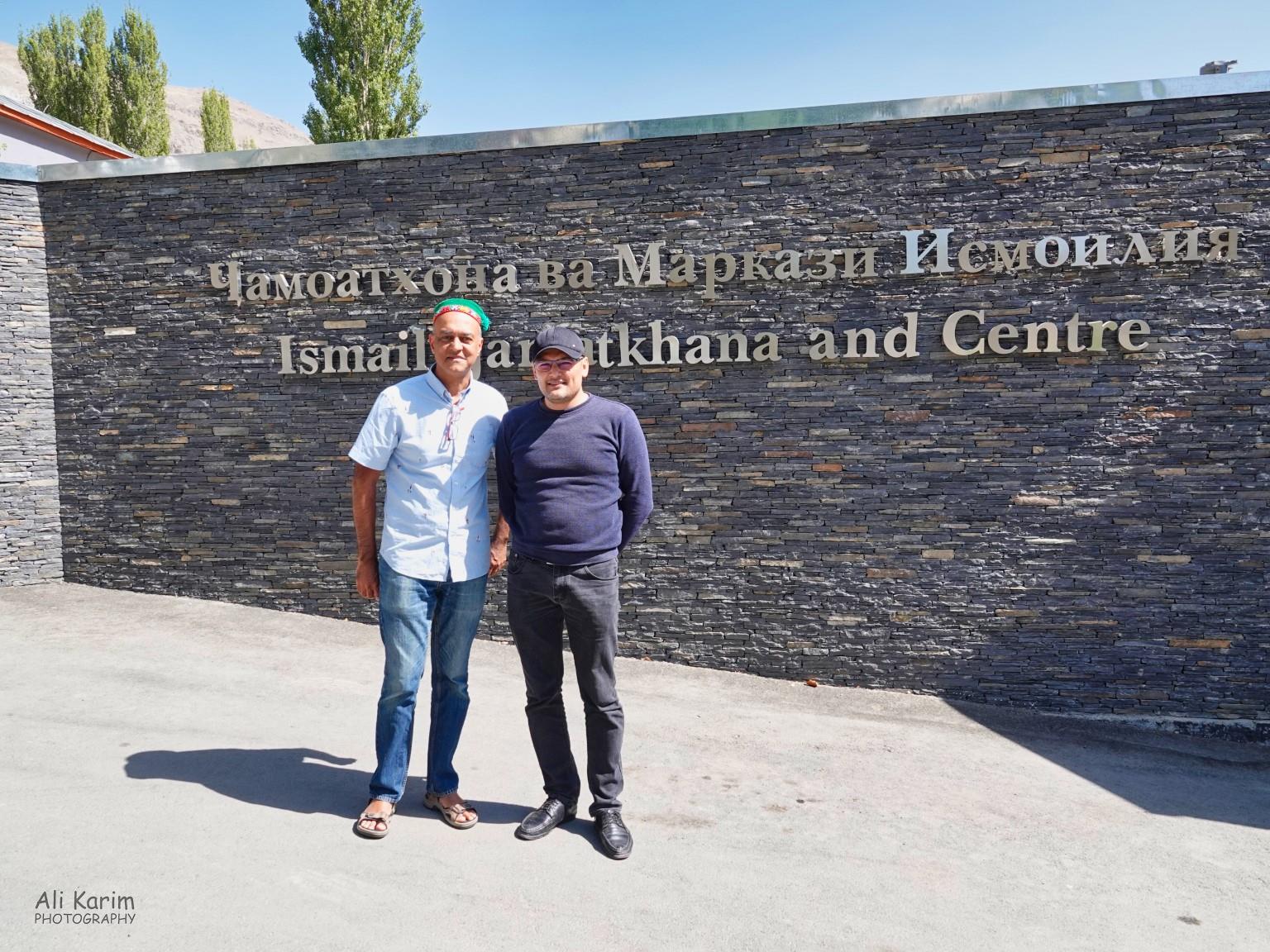 First stop was the UCA Campus; some images along the way below. The driver I had did not know any English, so no communications 🙁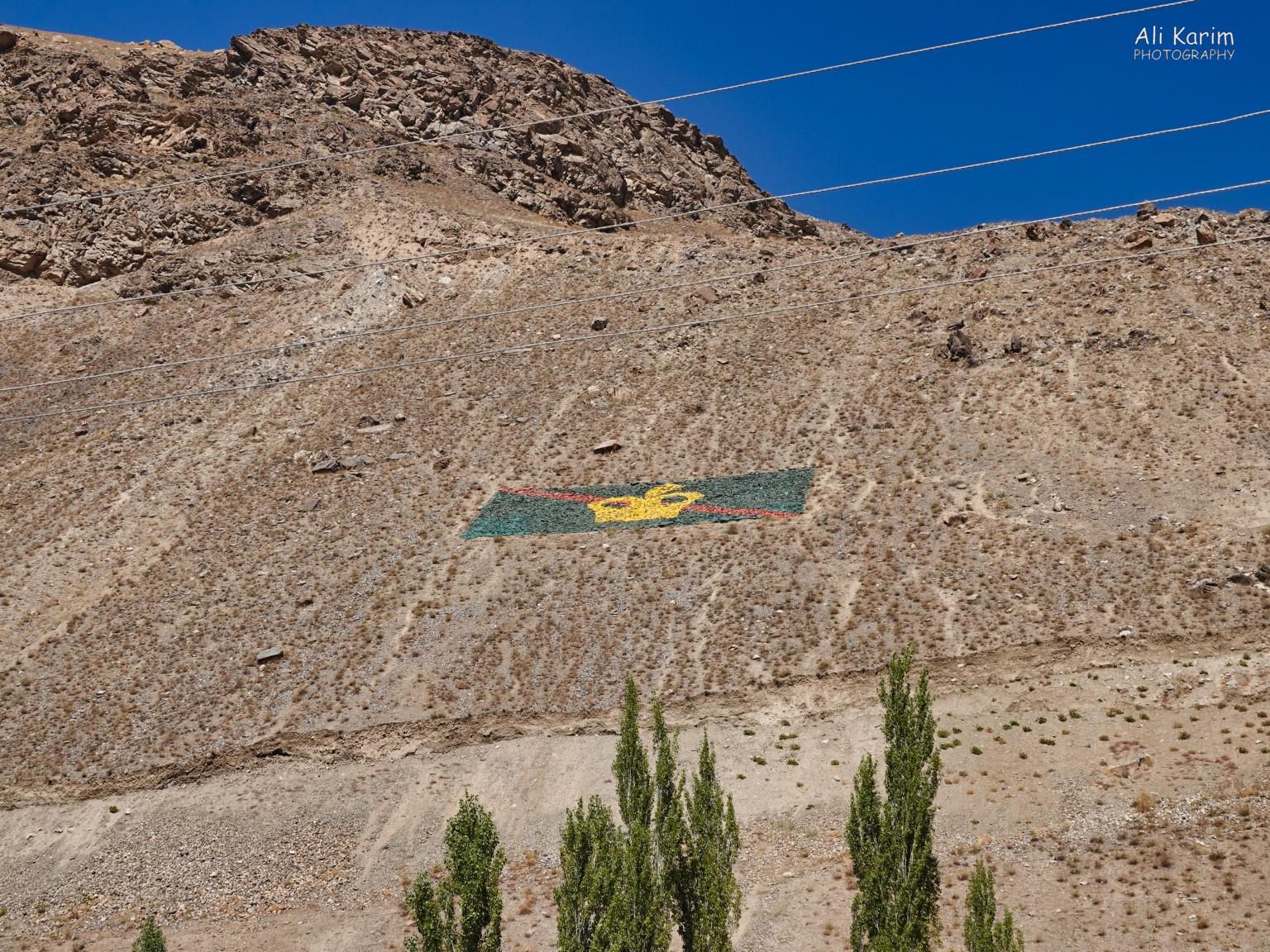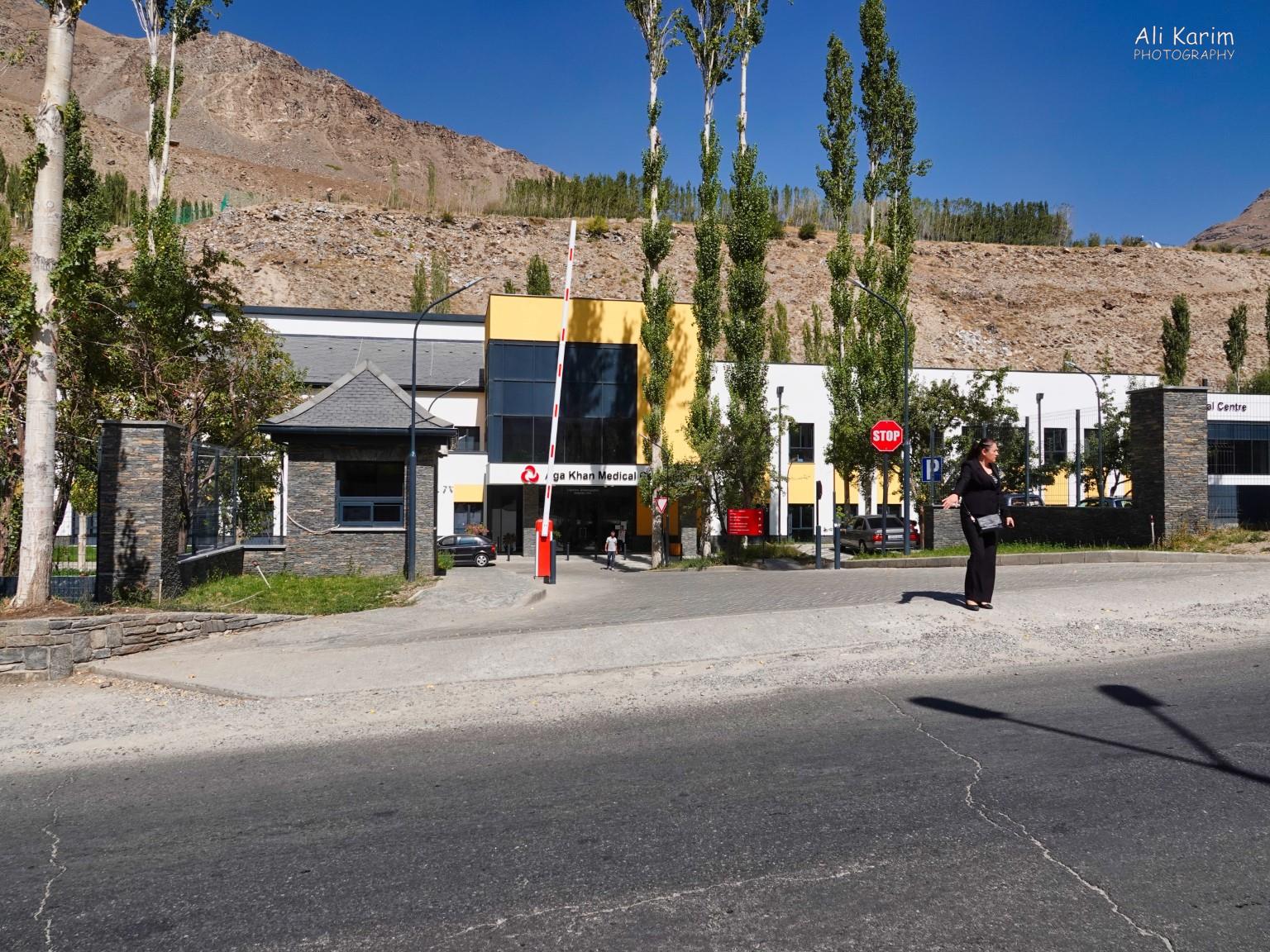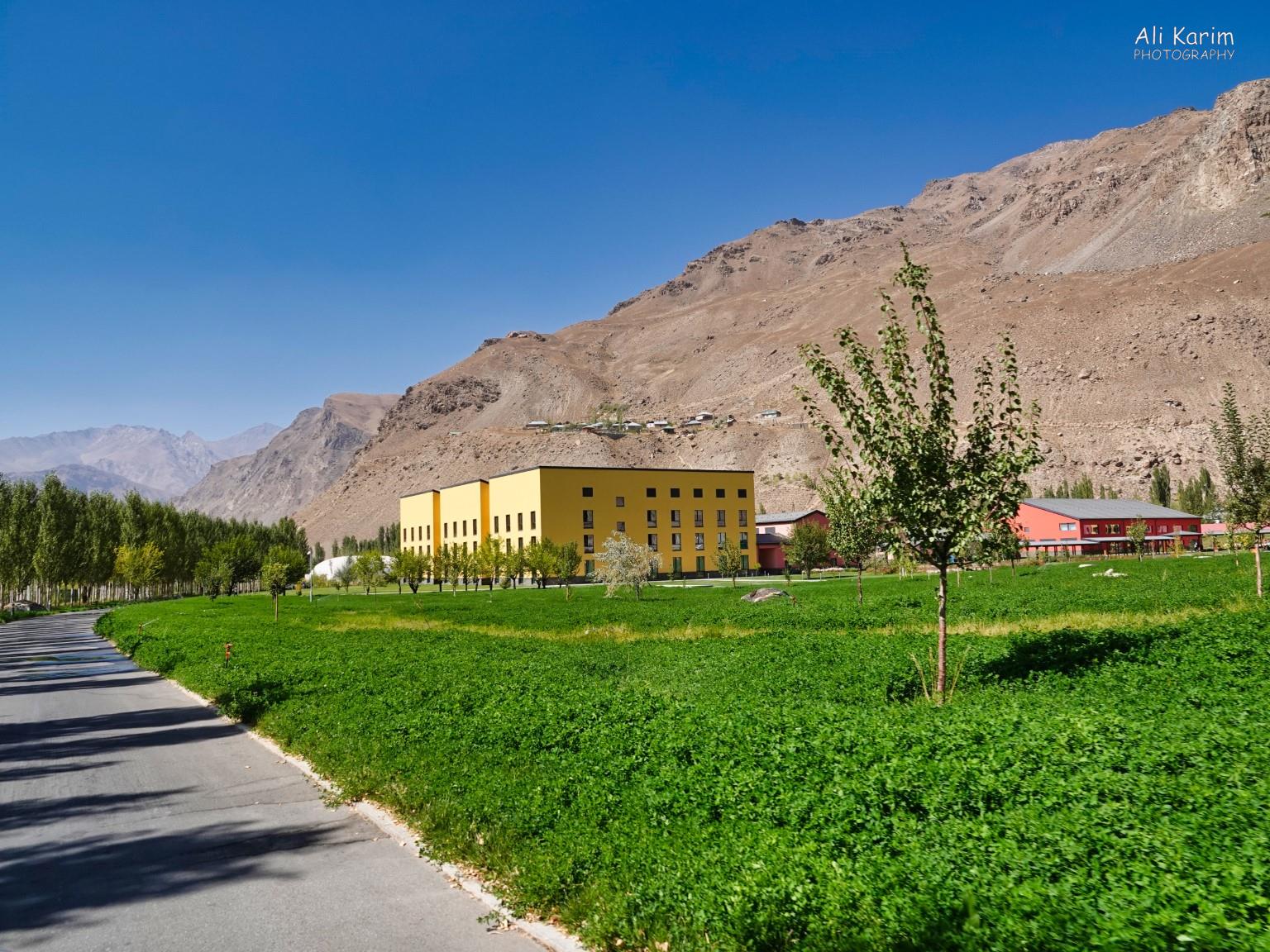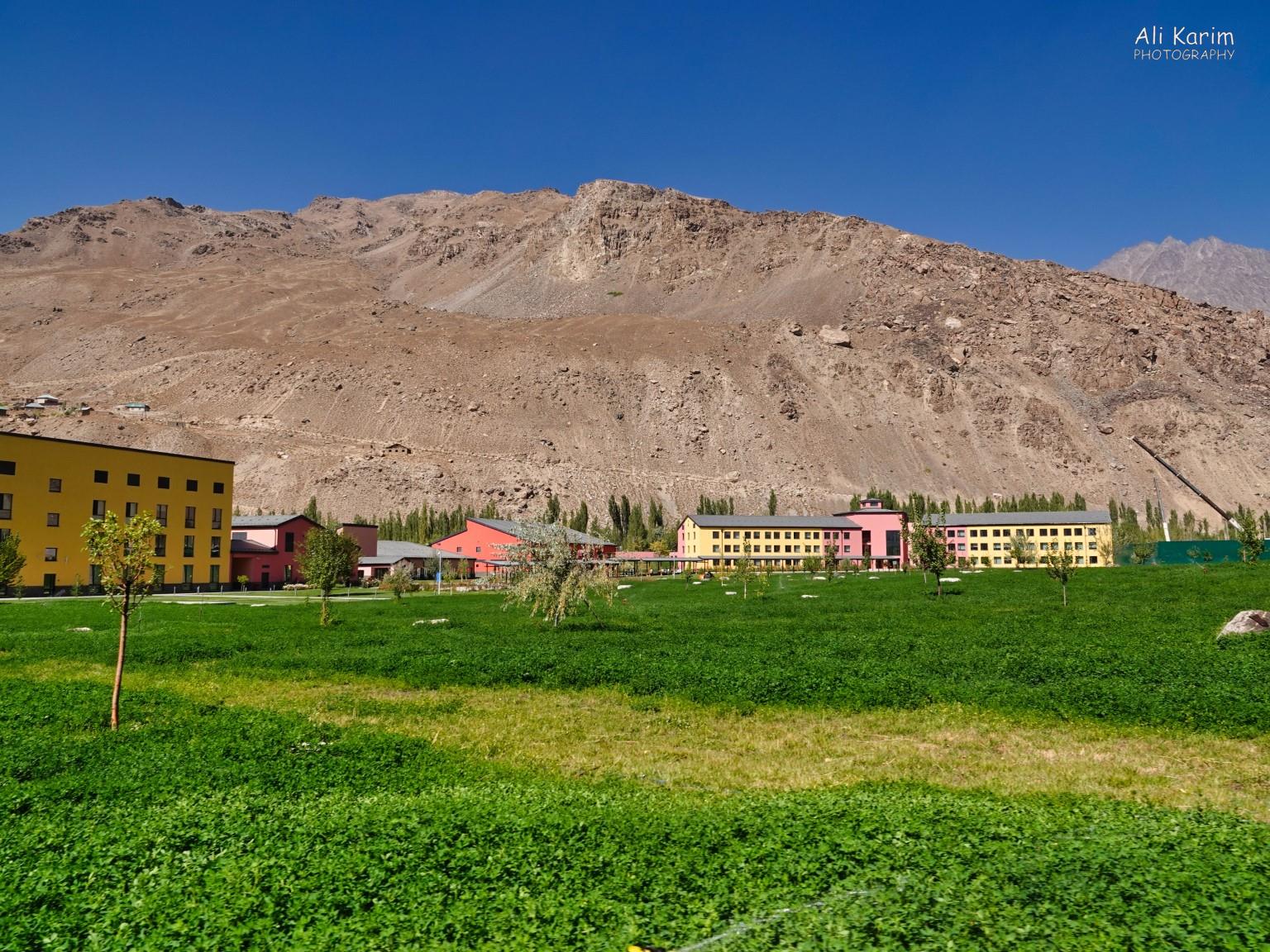 Here, I was met by Zulov, my guide and host for a tour of the UCA Khorog campus. Zulov explained that these few buildings were the 1st phase of the university, and that construction was going on, on the 2nd phase. He showed me around the admin, instruction classrooms, and dorm rooms of the campus. This campus had about 149 students housed in 150 rooms. Staff were from all over the world and also lived on campus. Students were also from different parts of the world, including Tajikistan and surrounding countries, Kenya, India, Pakistan etc. I asked about fees and costs here for the students, and Zulov explained that Tuition Fees were about US$8k annual, and housing costs were in addition to that. He said students were admitted solely on merit, and the UCA went to great lengths to ensure that merit admission was the only criteria for admittance. Annual costs (including everything) was about US$30k per student per year, but since the UCA supported all needy merit students on a need basis, he said that on average, each student was paying about US$1k per year for everything.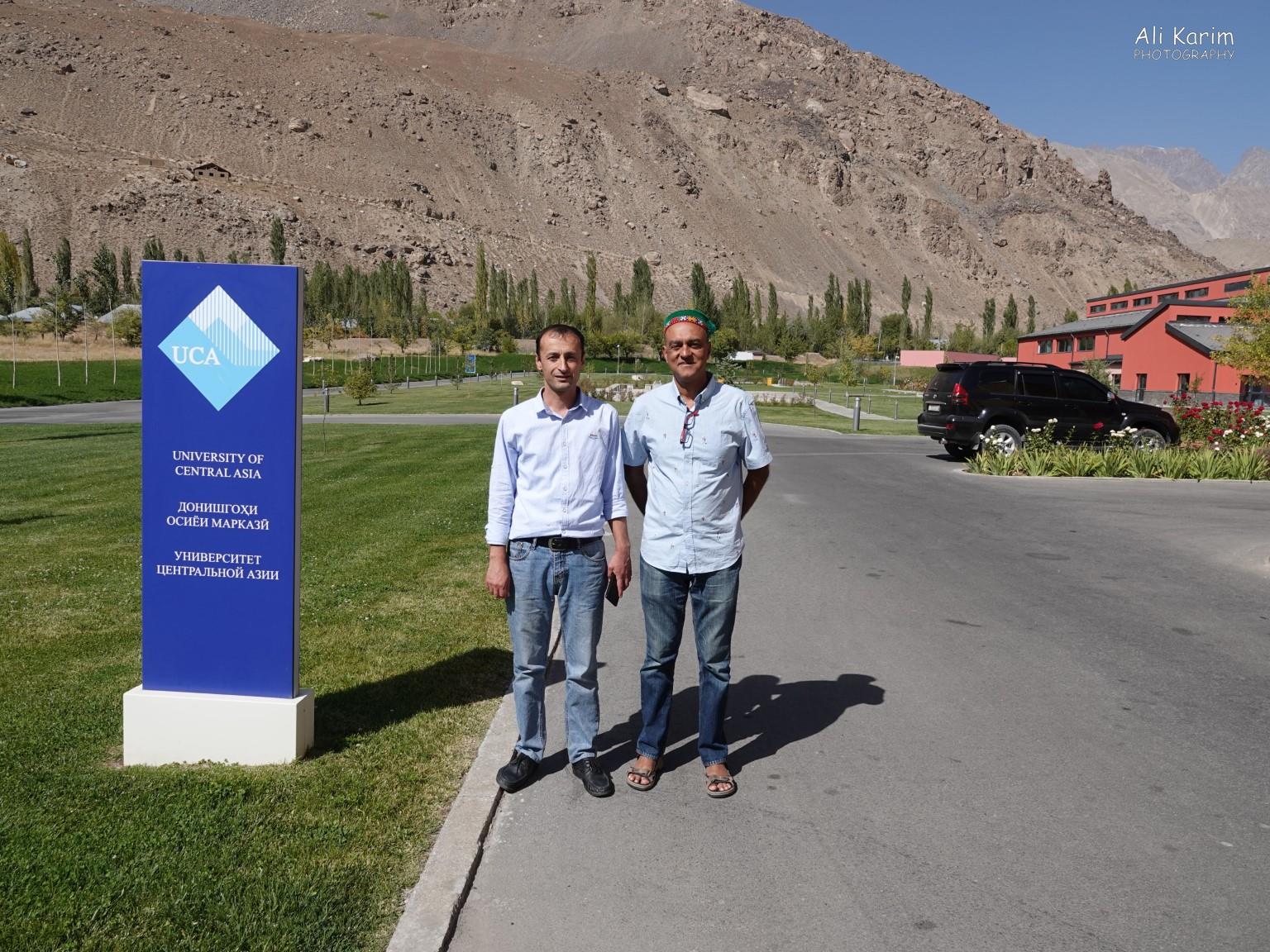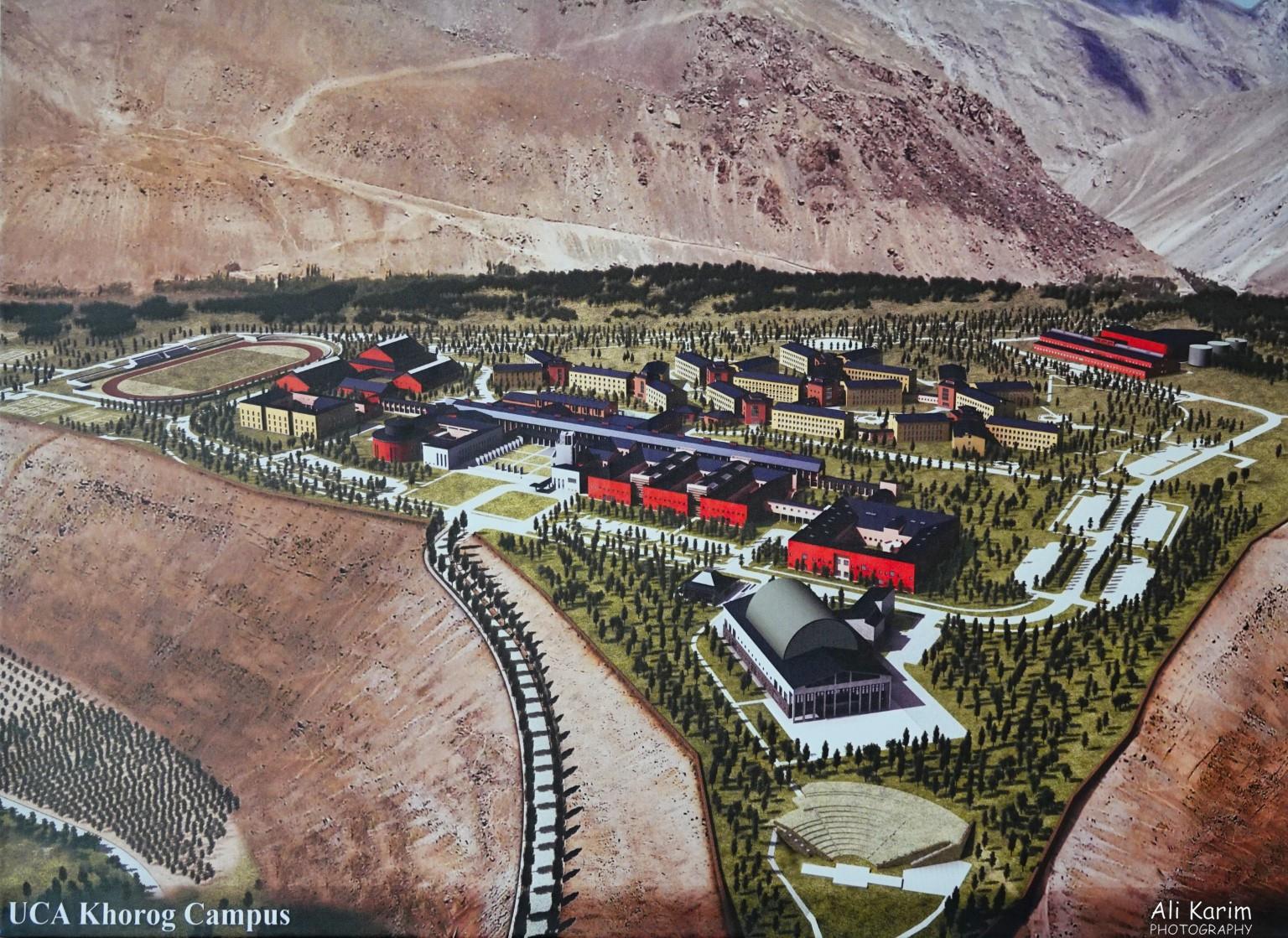 The buildings, offices and facilities were all modern, well-kept and very pleasant. Zulov insisted on treating me to lunch at the cafeteria (again demonstrating the tremendous hospitality of the Pamiri's). The food was nice and tasty, and I met & chatted with a couple of students from Pakistan.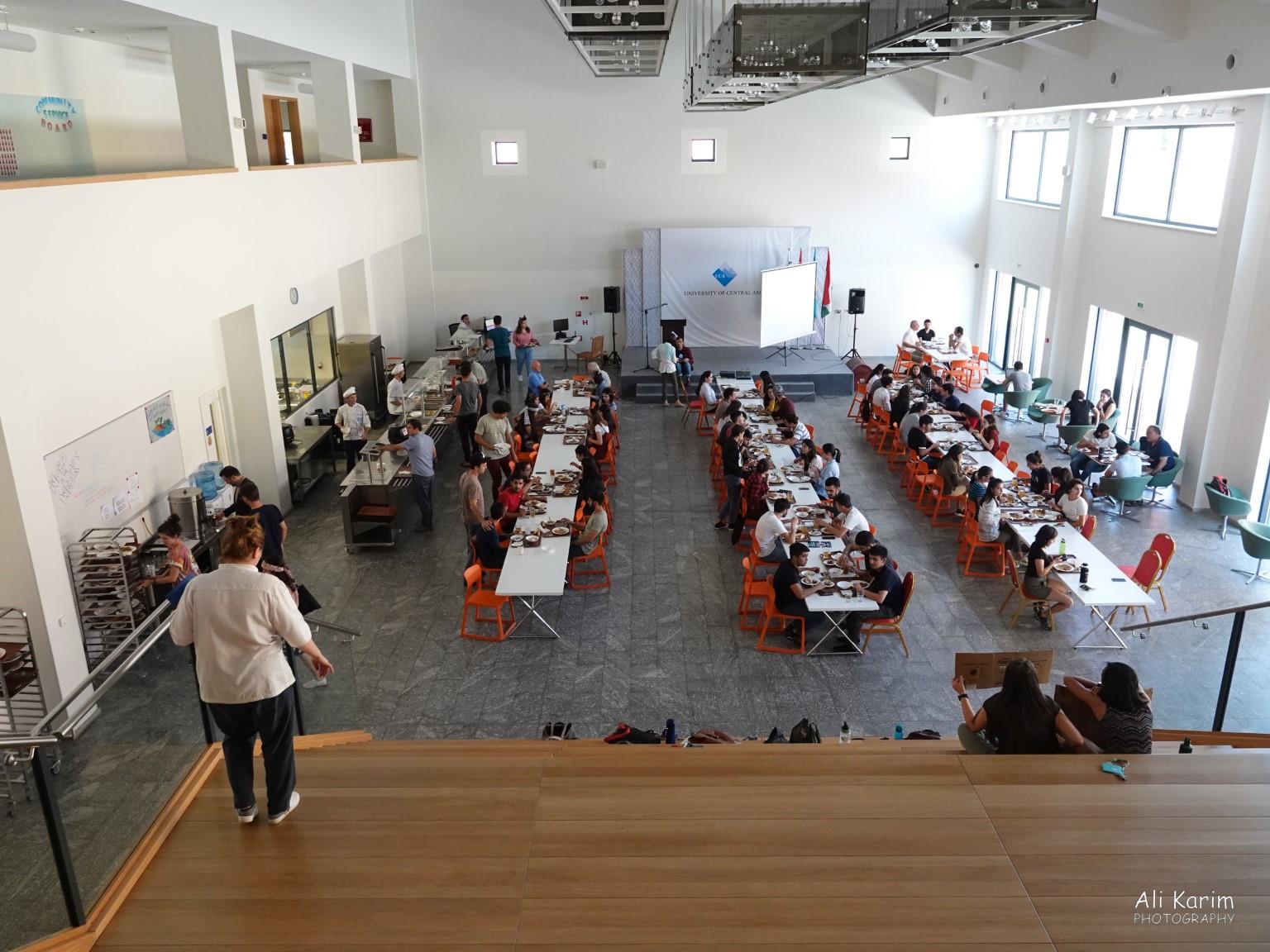 Zulov then showed me an empty Dorm room; where 2 students would share 1 room. Very nice and modern, well equipped
Dorm room at UCA Khorog

After this very nice tour, I thanked Zulov, and we drove to the Pamir Energy project. This is a micro hydro-electric power plant located about 25kms east of Khorog; so we drove along a small road eastwards along the Gunt river. We soon arrived at this project, and I was met by the Chief Engineer here; unfortunately, he did not speak any English, and neither did anyone else here. Per my understanding, when the Aga Khan Foundation first set up offices here, they realized that the electric supply was compromised in this region, and that the Soviet era power supply was not maintained and decided that stable and reliable electricity was a must for any long-term development. So, Government permission was obtained, and this mini power plant was implemented. This included building a tunnel several kms from the Gunt river valley (the exit point) through the mountains, to a reservoir lake up high in the mountains, to provide the gushing waters required to drive the 4 turbine generators to produce electricity. They also had to build high power transmission lines to take this power to Khorog and surrounding areas to reliably distribute the power produced. The nice Chief Engineer gave me a tour of the facilities and the power plant; images below. Only 1 generator was in operation when I visited, as energy needs were low at that time.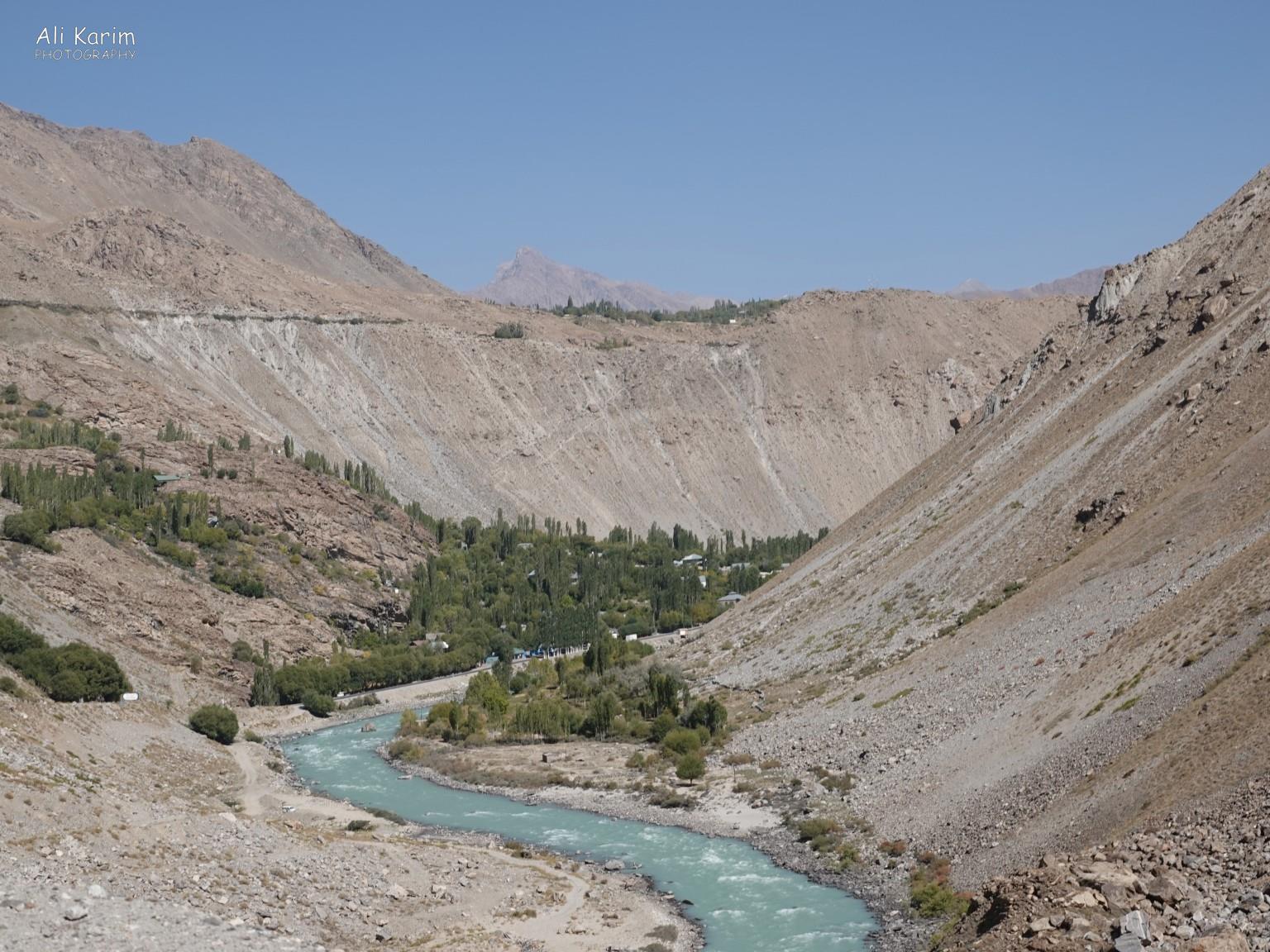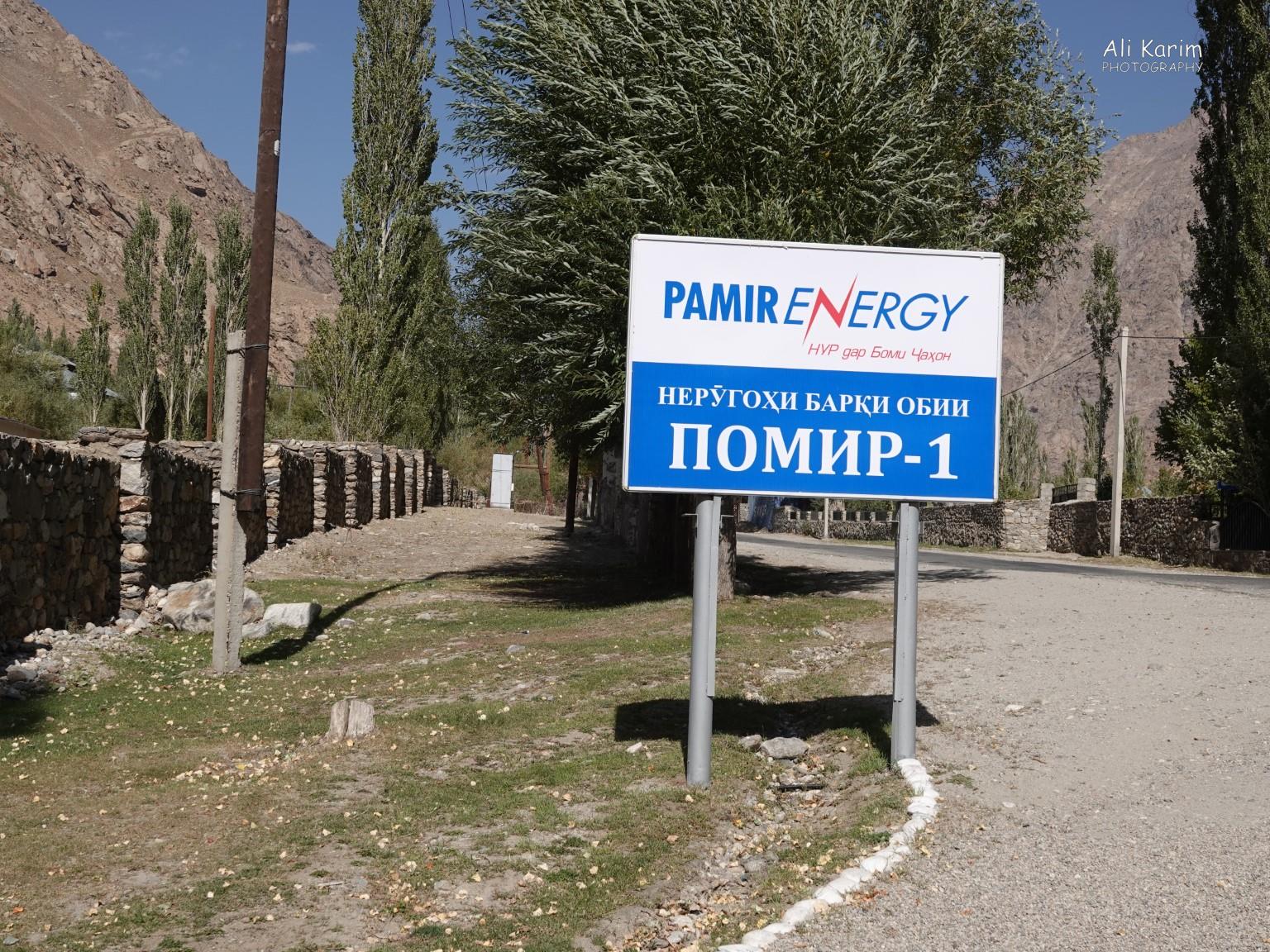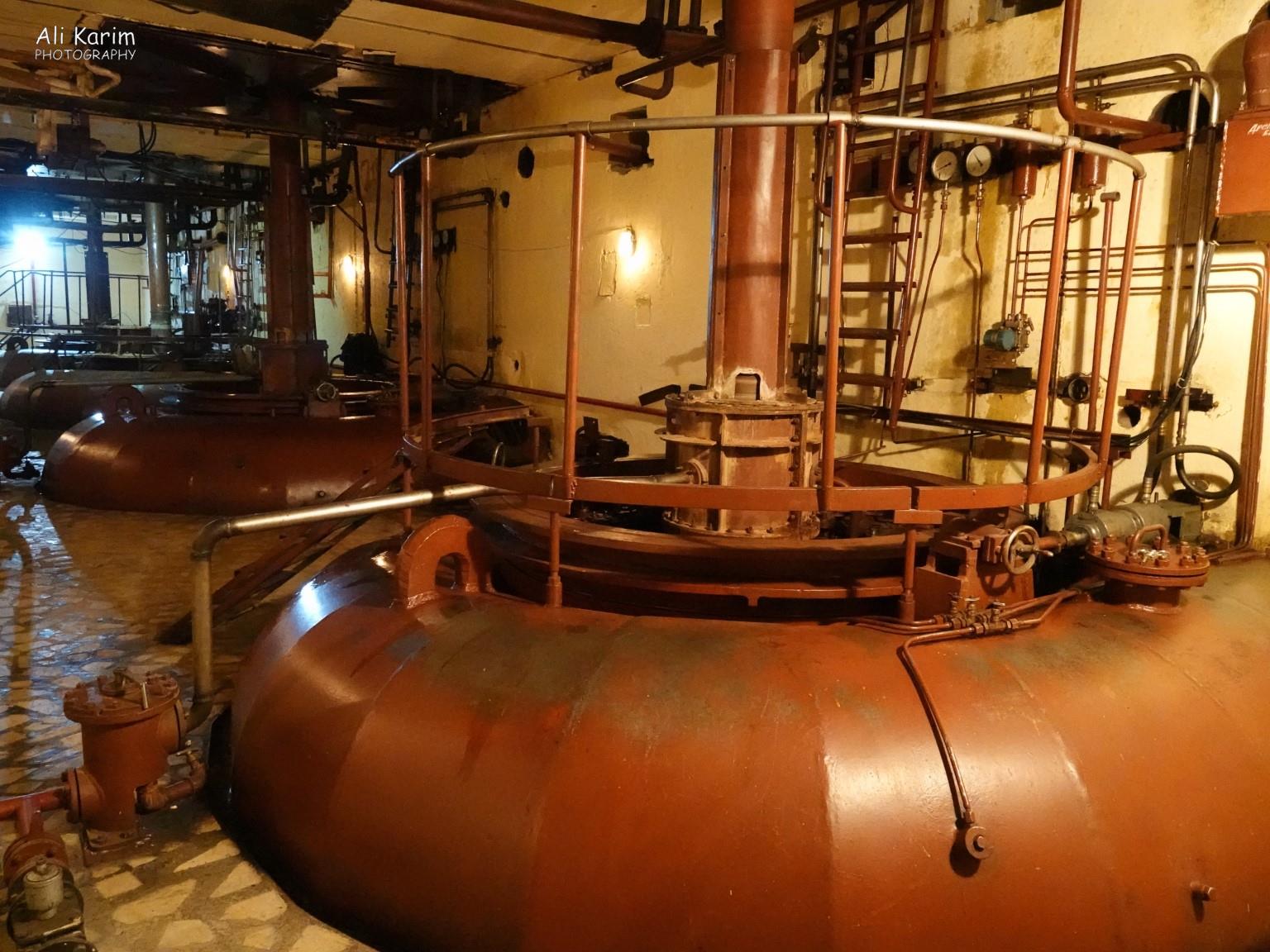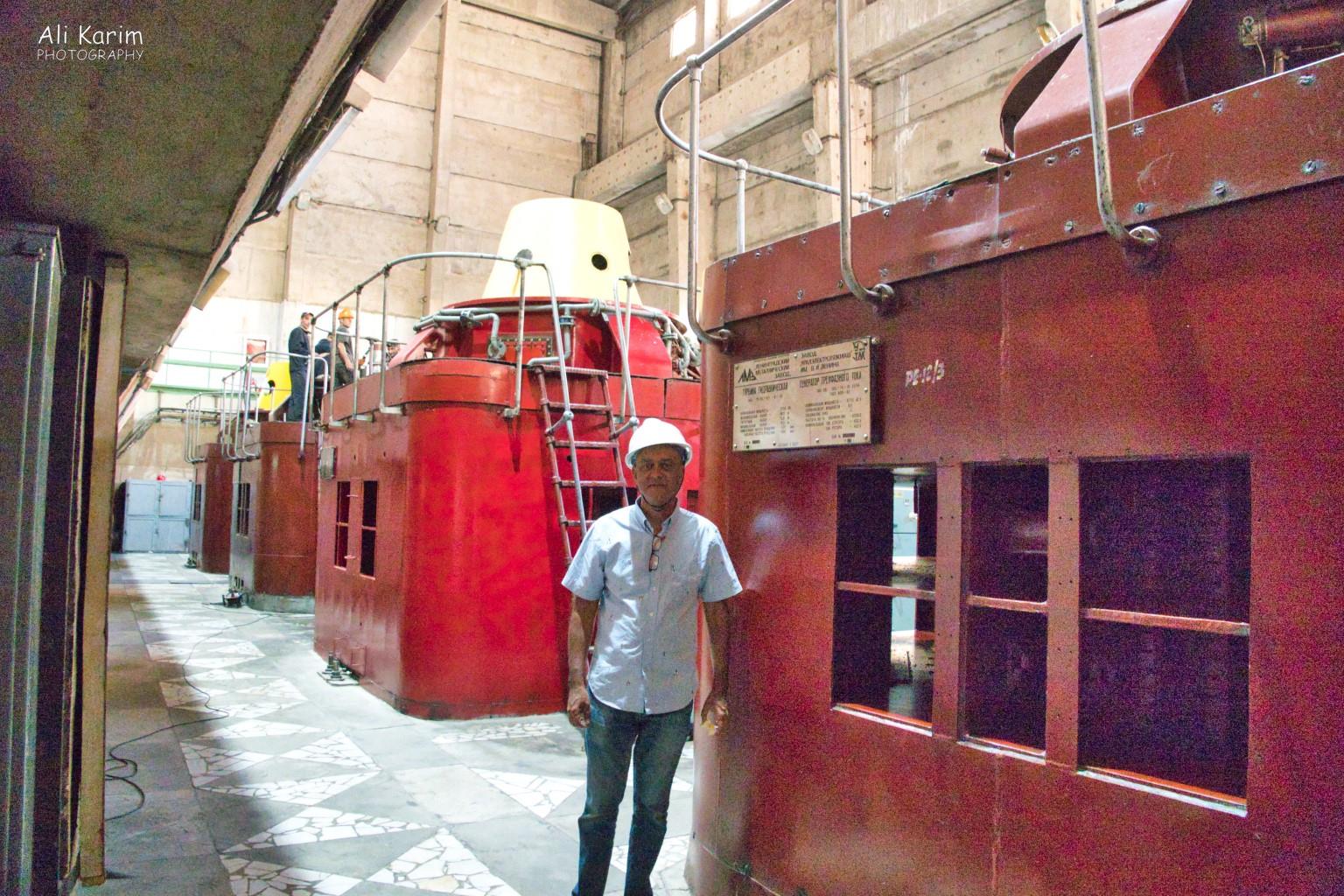 There were 4 identical generators here that produced electricity; 3 had been purchased from Russia, and 1 From India.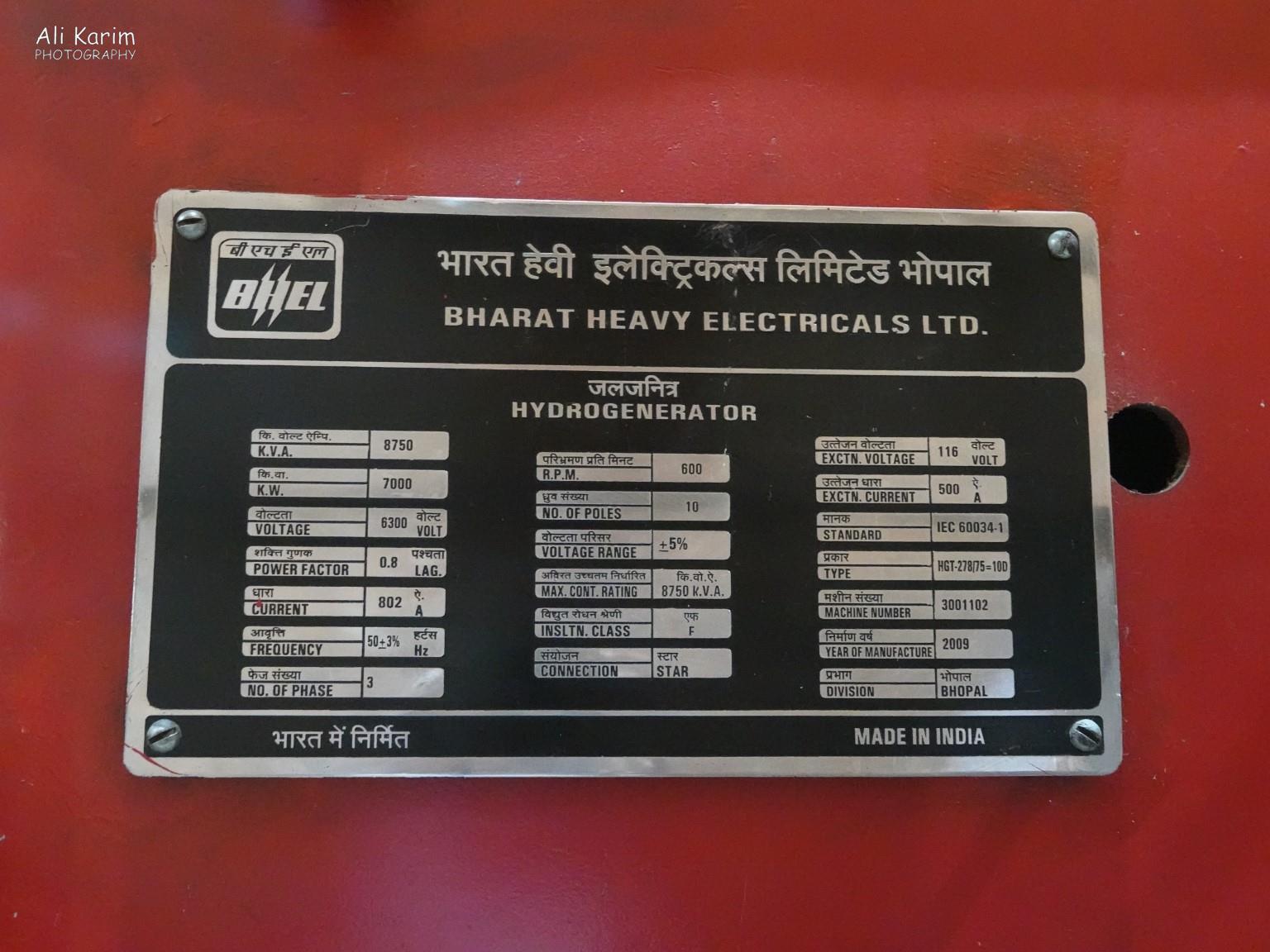 View of the 4 generators from the ground entrance level; 1 was under maintenance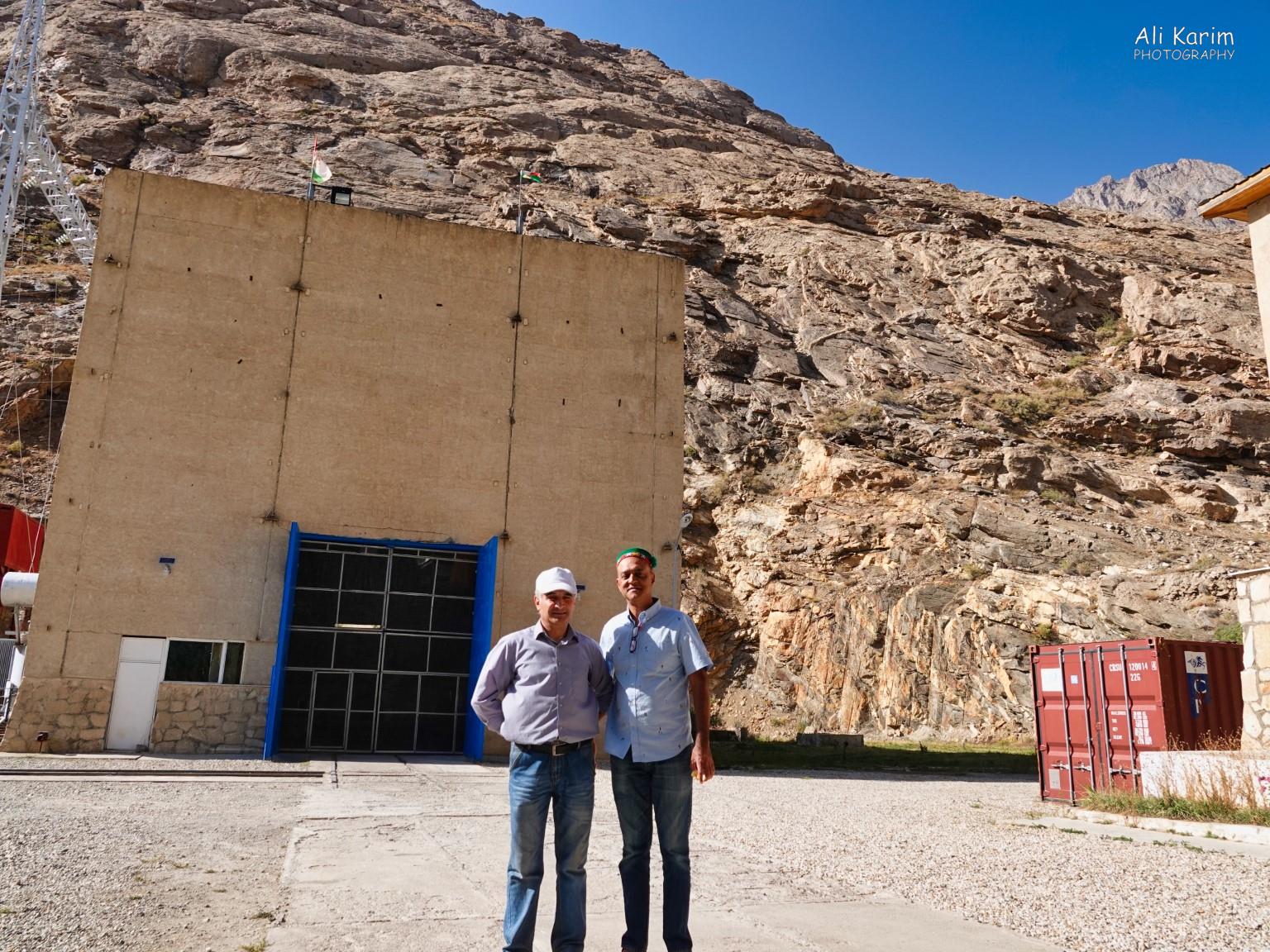 We said goodbye to the Chief Engineer, and left to drive back to Khorog
At another time, it was time to go back to the Ismaili Center Khorog, for a tour of the Center that Hakim had kindly arranged
Below are various views of from the outside of the center that was purpose built & opened in December 2018; and houses the admin offices, library, various social/community and meeting rooms with audio-video facilities and of course the prayer hall. The building was quite large, and was very clean, modern, well-kept and comfortable, and was next to the Pamir Botanical Garden and Park, along the Gunt river. No pictures were allowed of the inside.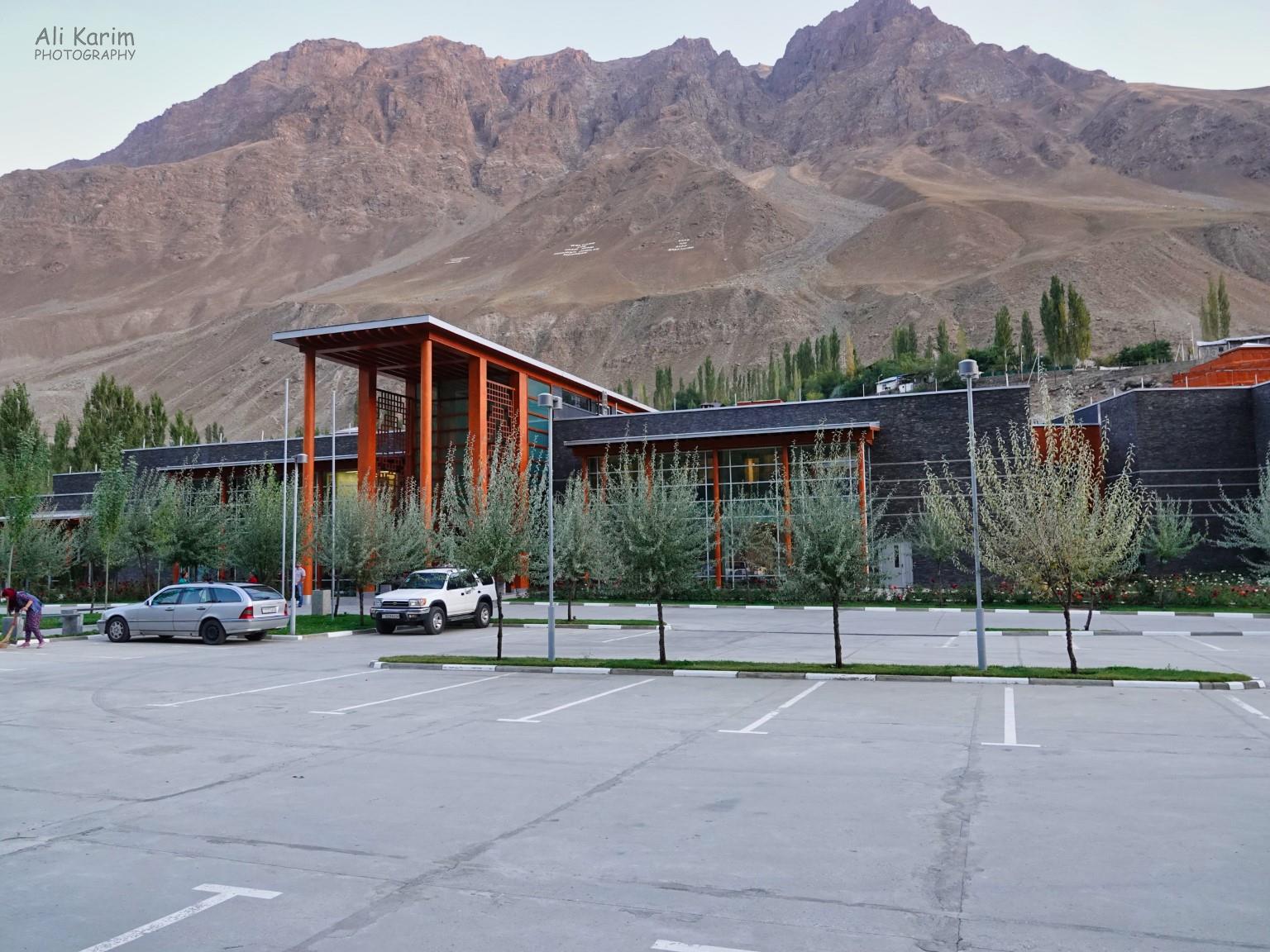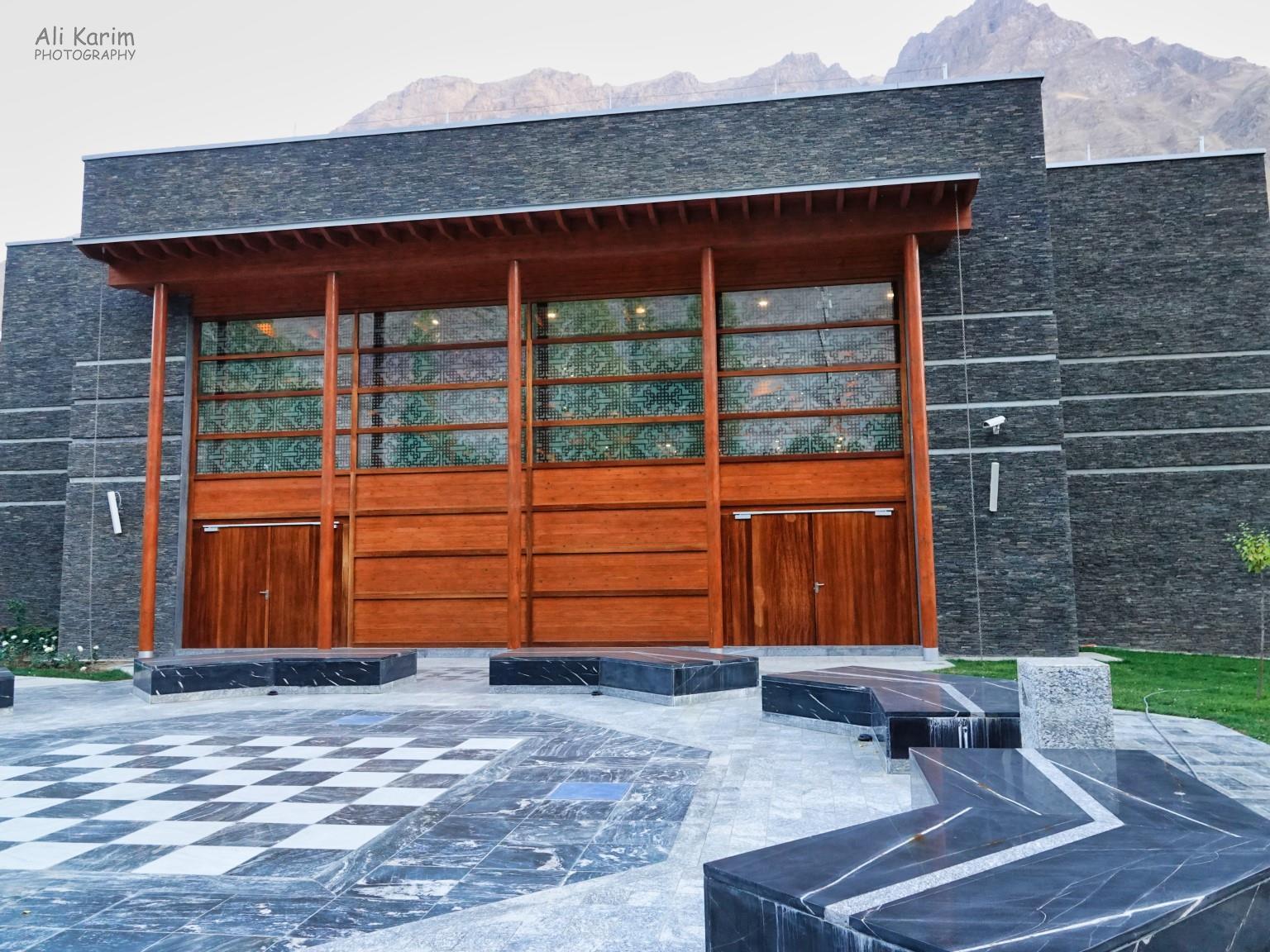 Rear view of the Ismaili Center, facing the river Gunt

One evening, we went to the Ismaili Center for Friday evening prayers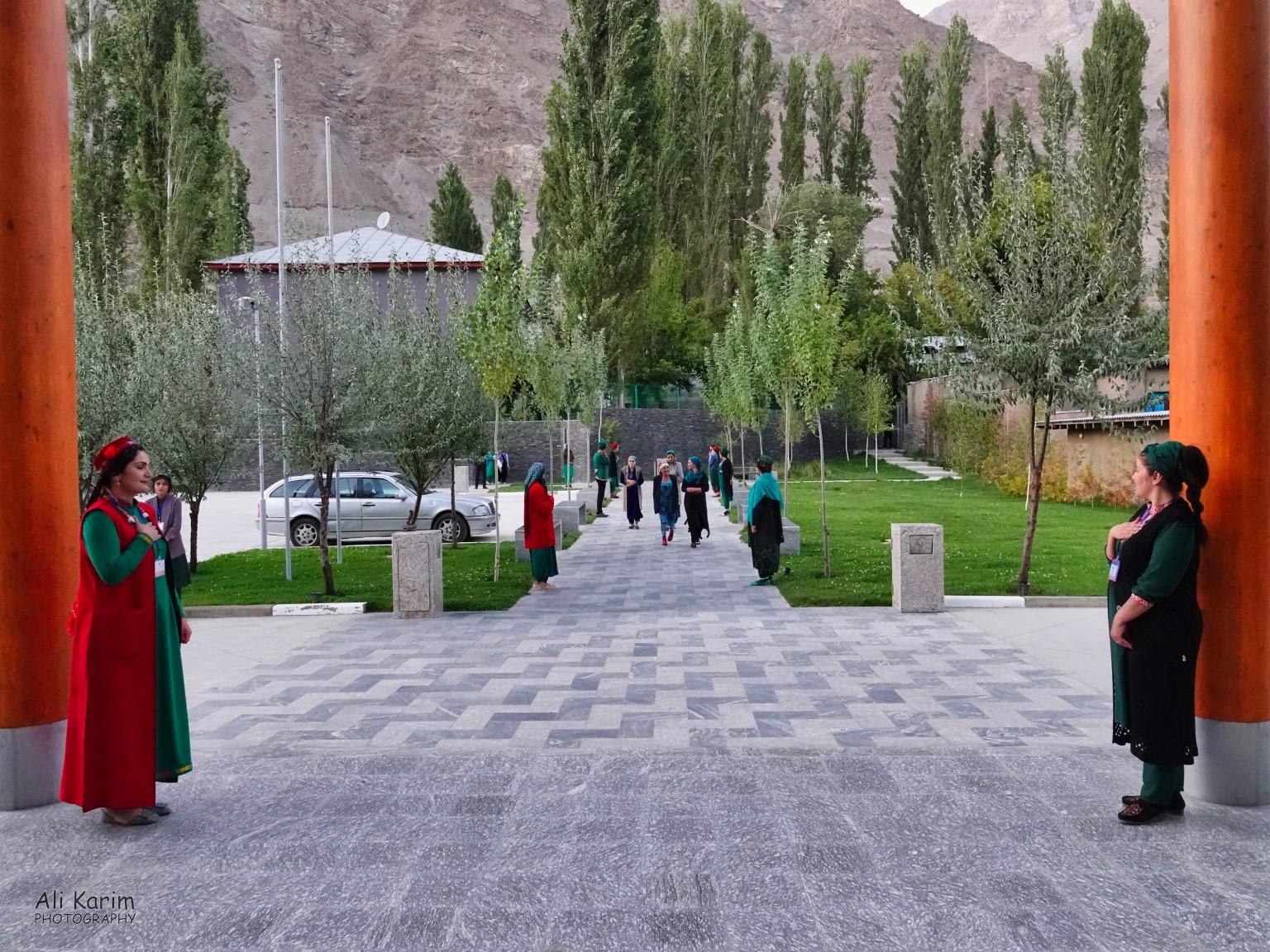 After the prayers, Maisara met with us and we walked to her home not far from Marco Polo restaurant where we had been previously for the Pamiri wedding celebrations. Maisara is the daughter of Alifbek Azizmamadova, who had hosted us in Osh, and the sister of Shuhrat Azizmamadova, who had very kindly arranged all his family and friends to meet and host us, including Abakhon in Bishkek. Maisara and her family welcomed us into their home.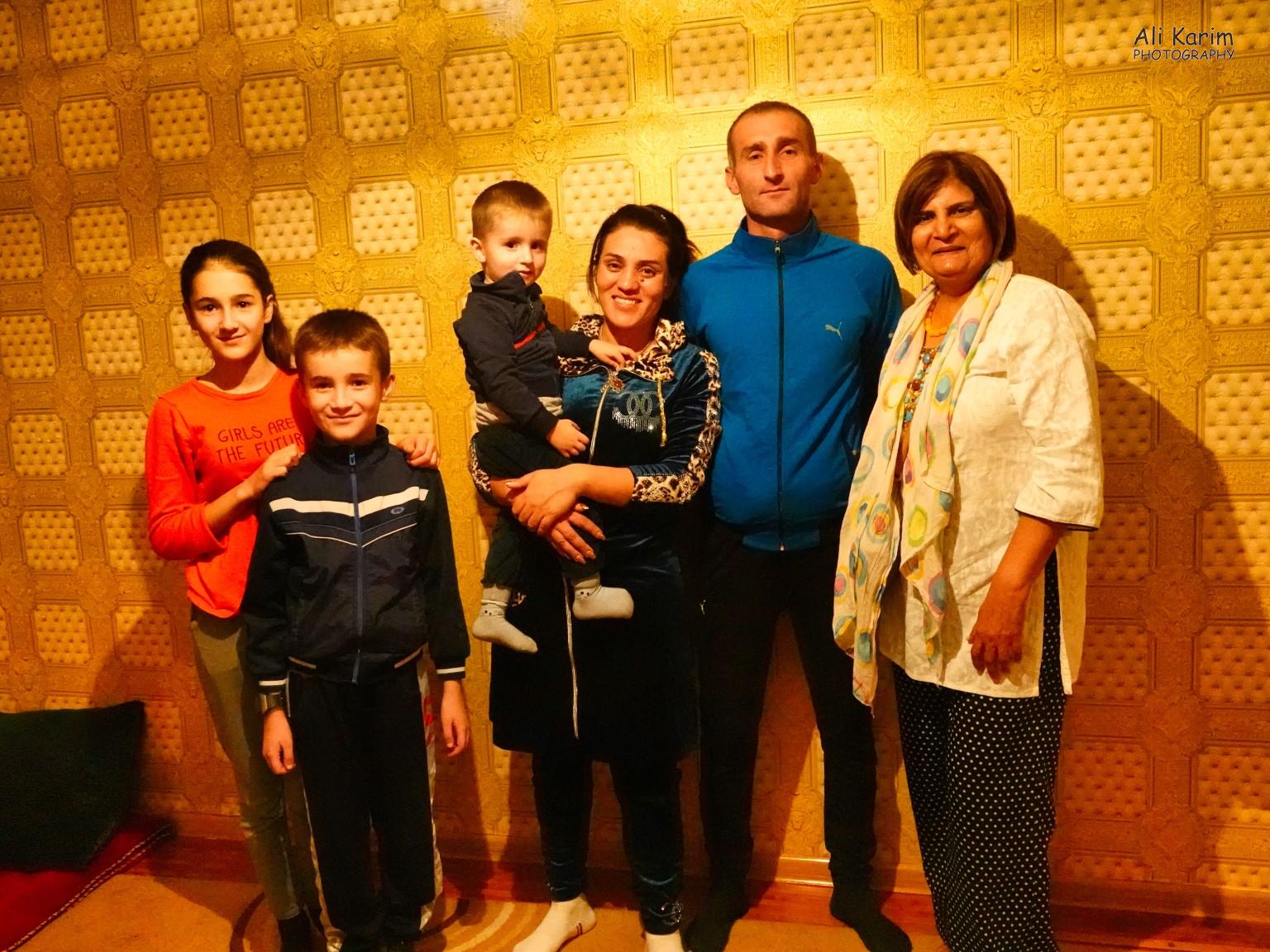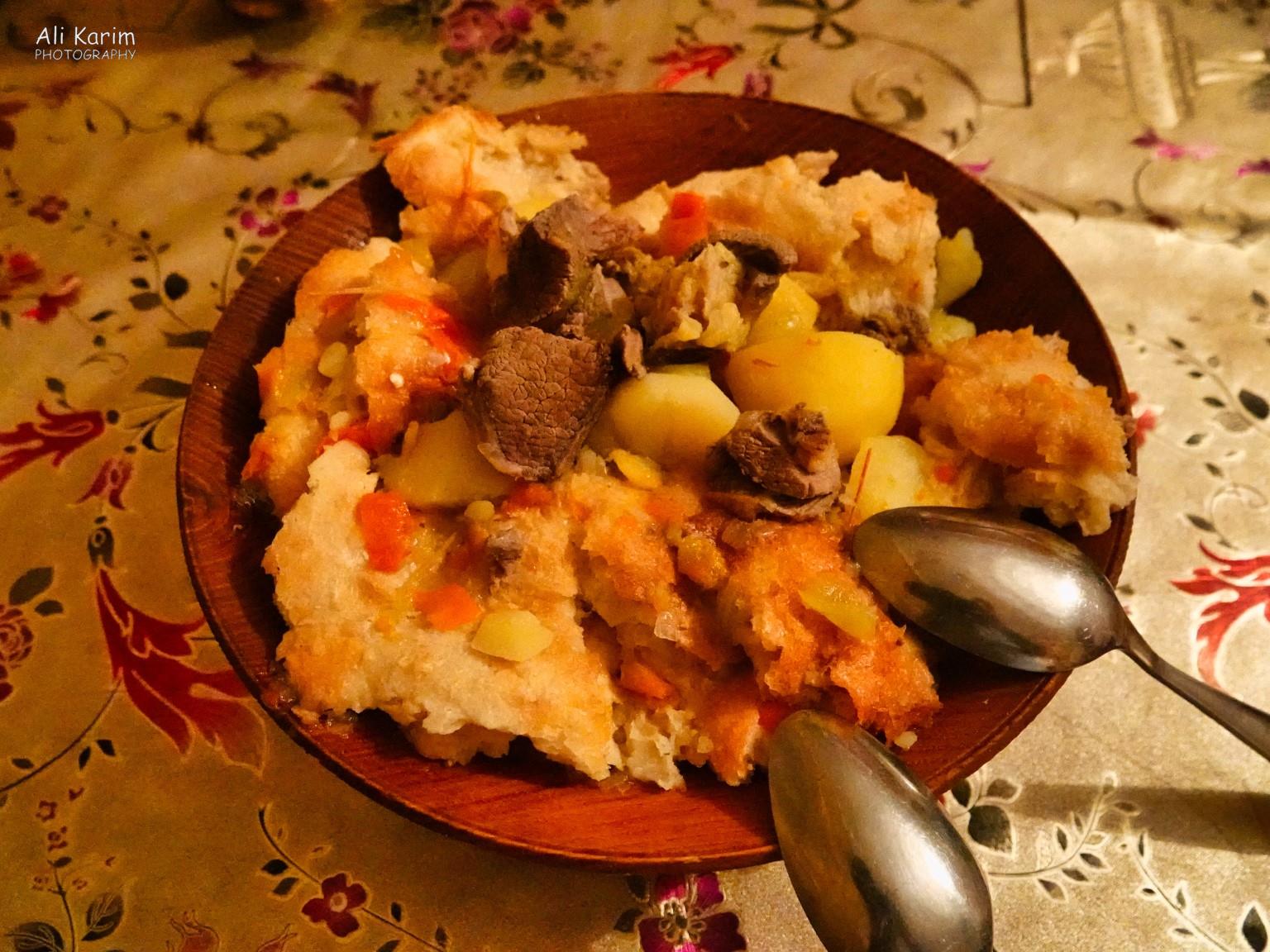 After this delicious dinner and chatting, it was after dark at about 9:30PM, and time to go back to the hotel. Maisara asked how we would get back saying there were no taxi's available at this time of the night and said that Farid would arrange with his friend nearby to drop us off in his car. Farid, Maisara, Anise, and the 2 of us walked out to Farid's friend's house nearby, and got into the friend's car and he drove us to our hotel, stopping a several times along the way to make adjustments to the car as it was having issues. We finally made it, and my payment to the friend (no English) for taxi money was politely declined. What nice and hospitable people.
Another day, we went to check out a potato chip factory (Mountain Foods) near our hotel. The factory was set up by Iqbal & Shamim Talib and their partners (US based), over a span of 7 years from idea to first potato chip rolling off the line. Lots of Red tape and logistics issues. The plant was semi-automated and employed about 25-30 people as far as I could tell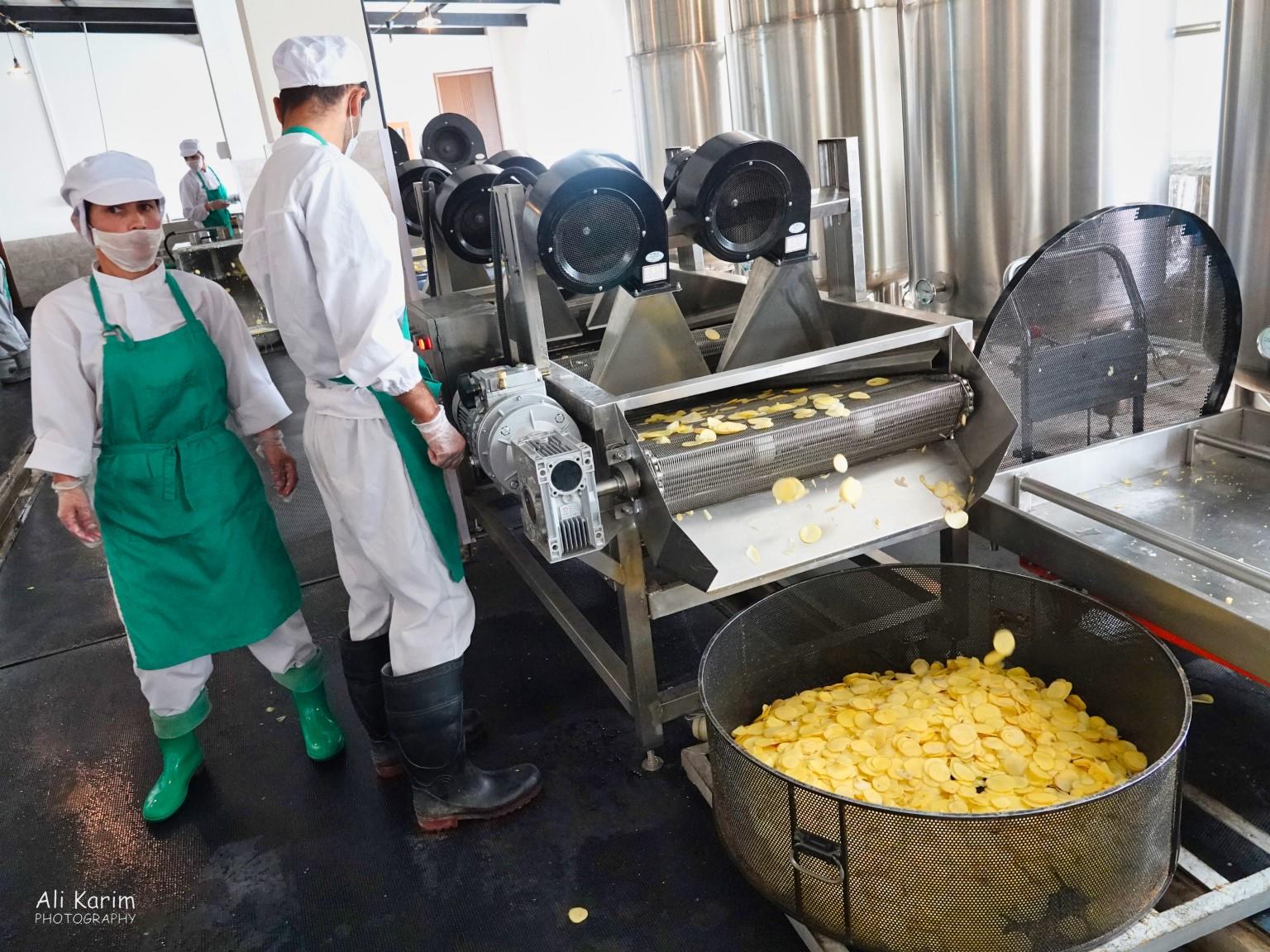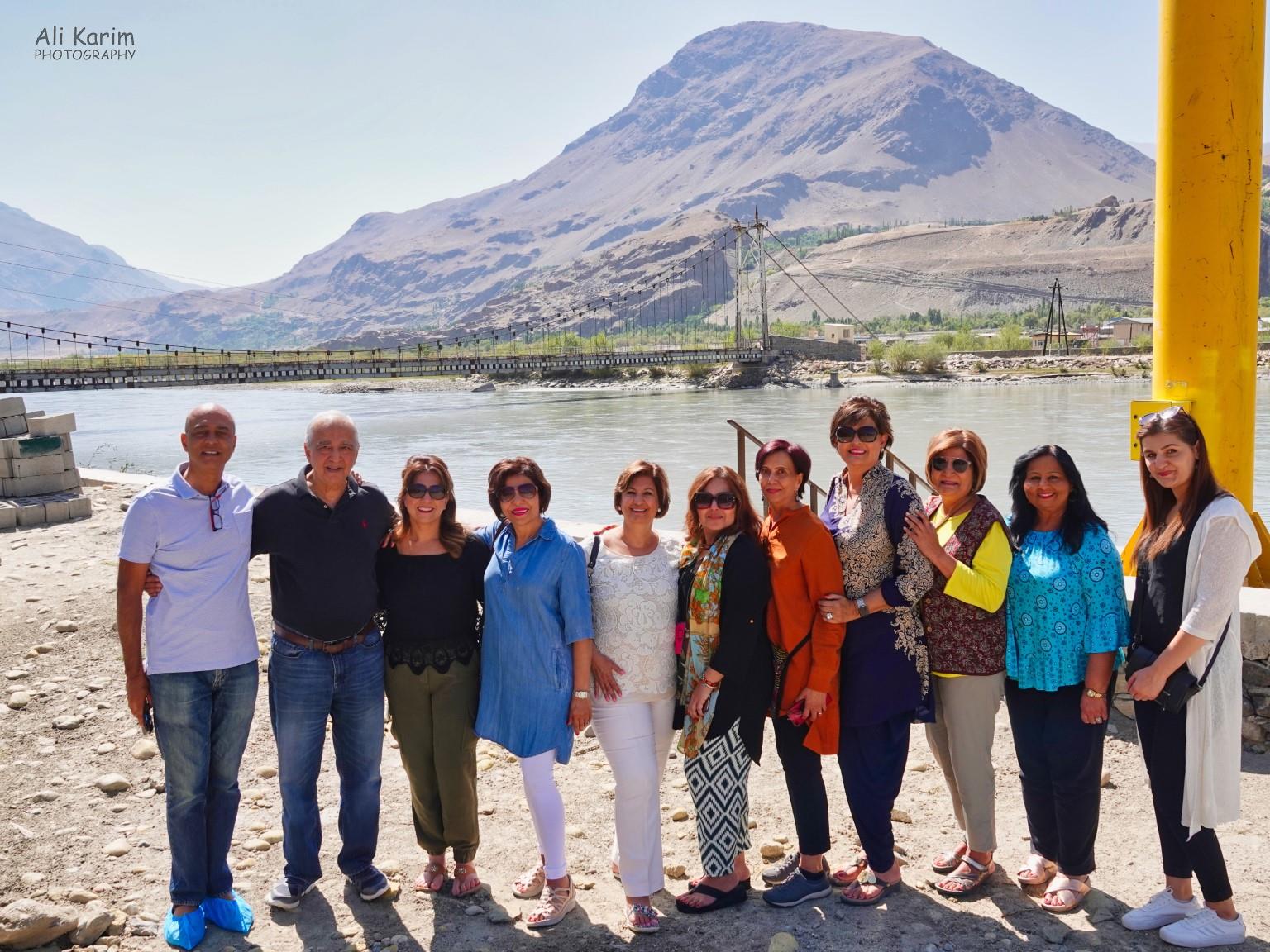 We spent some time meeting and talking with Rangina Davlatmirova (again introduced to us by Kam Shams), who is the coordinator for American Space, Khorog. These are US Govt supported "spaces", to promote English language, education and showcase America and American culture etc to the local population; a way to bridge American to the rest of the world. Rangina explained the various women entrepreneur projects she and American Corner are promoting. We then met and visited with Munira Mirmamadova (again through Kam Shams), an energetic and enterprising young lady who started several enterprises successfully in Khorog, including Luni's Coffeeshop, Khorog Fried Chicken (no relationship to KFC) and most recently, her 3rd restaurant, World Cuisines; with help from Kam and other US social investors. I also met with Masrur Garibmamadov who I had met with at the wedding celebrations previously. Masrur is part of the Sorbon Credit Union that was set up and organized by locals to help locals with credit/micro-finance. With such interactions with Gulguncha, Maisara, Rangina, Munira, Masrur, Sadriya, Iqbal, and several others, we got a good glimpse of life of the Pamiri's in Khorog.
Below are some scenes from Khorog that we took wandering around the town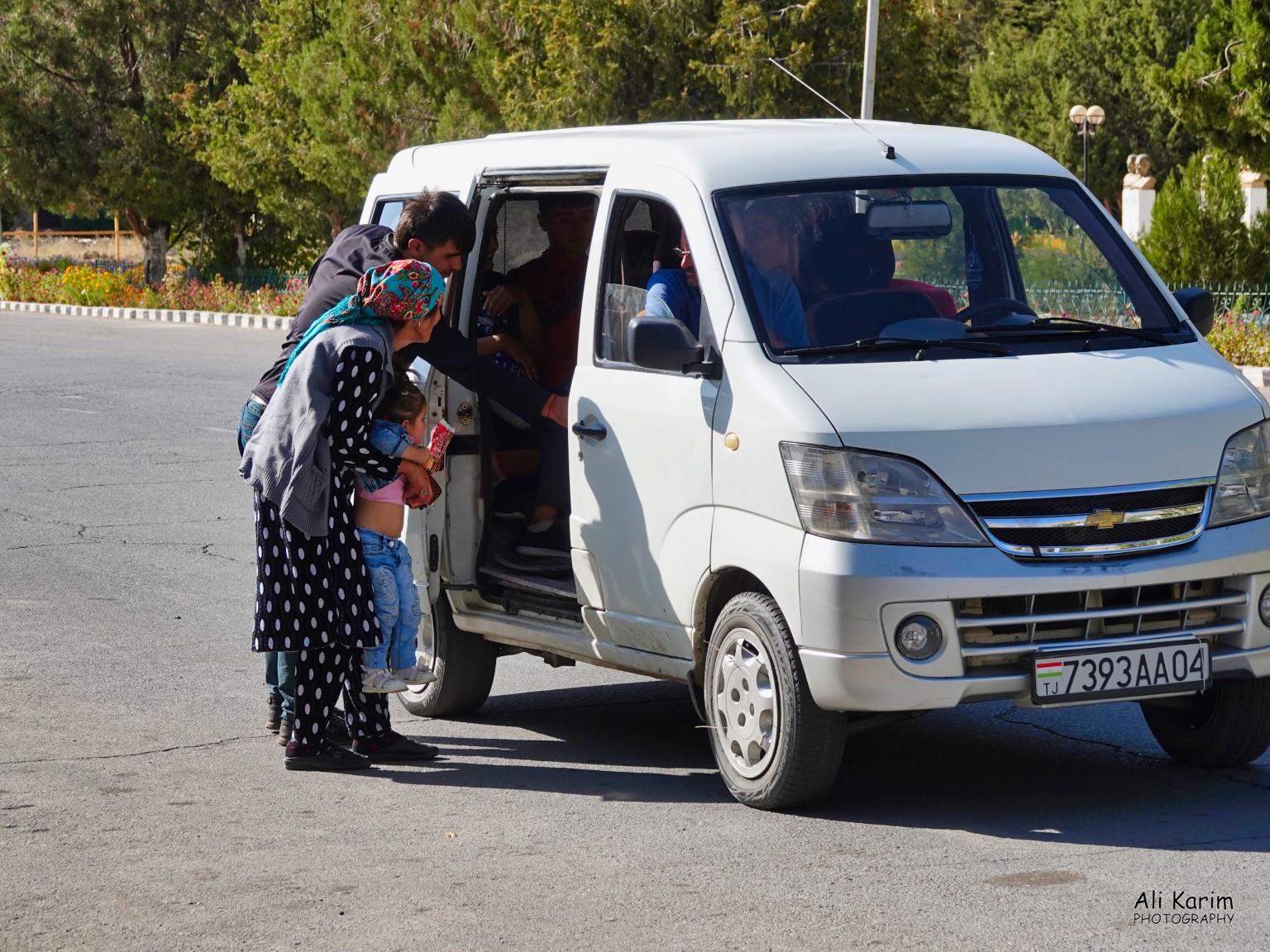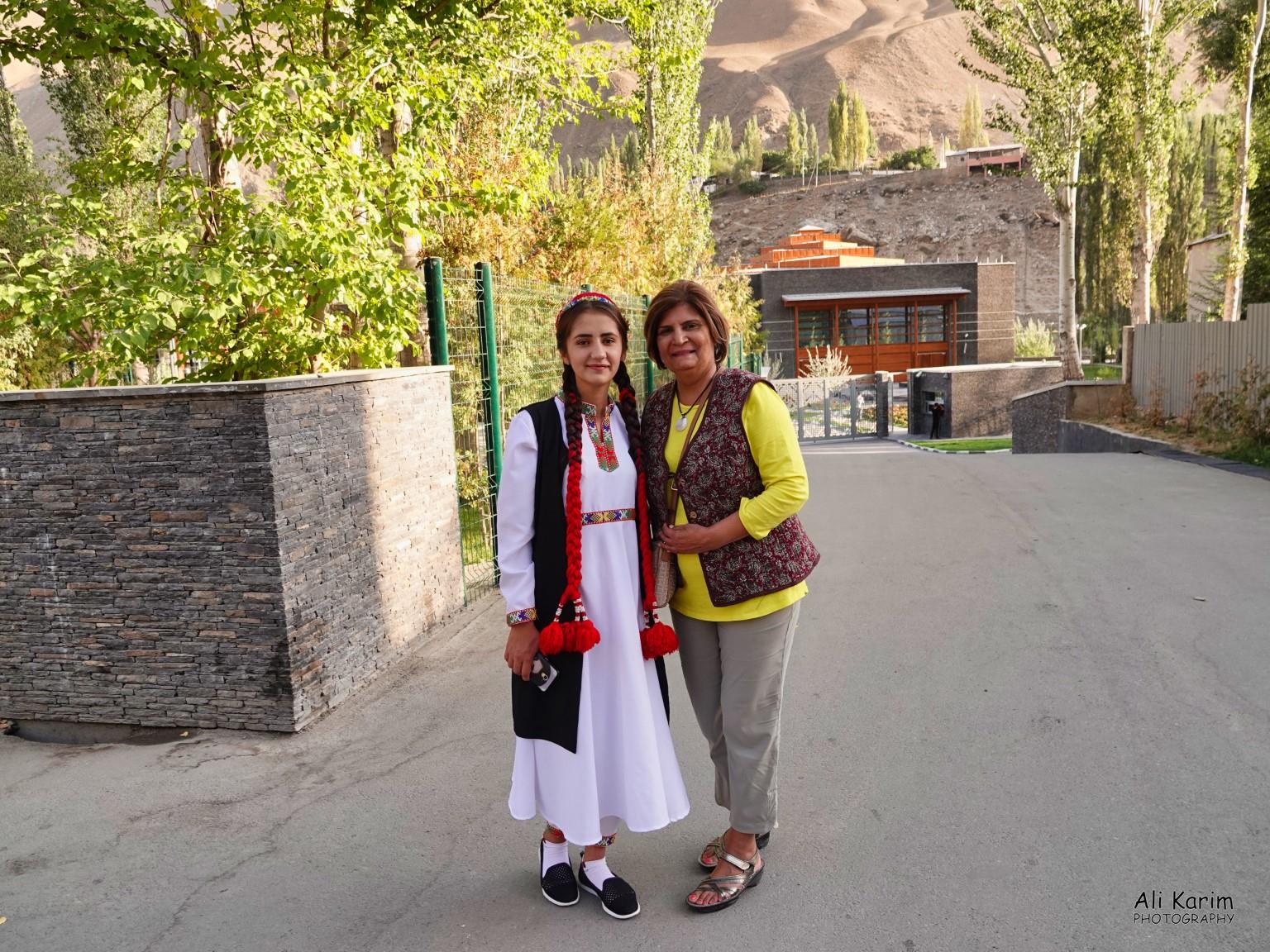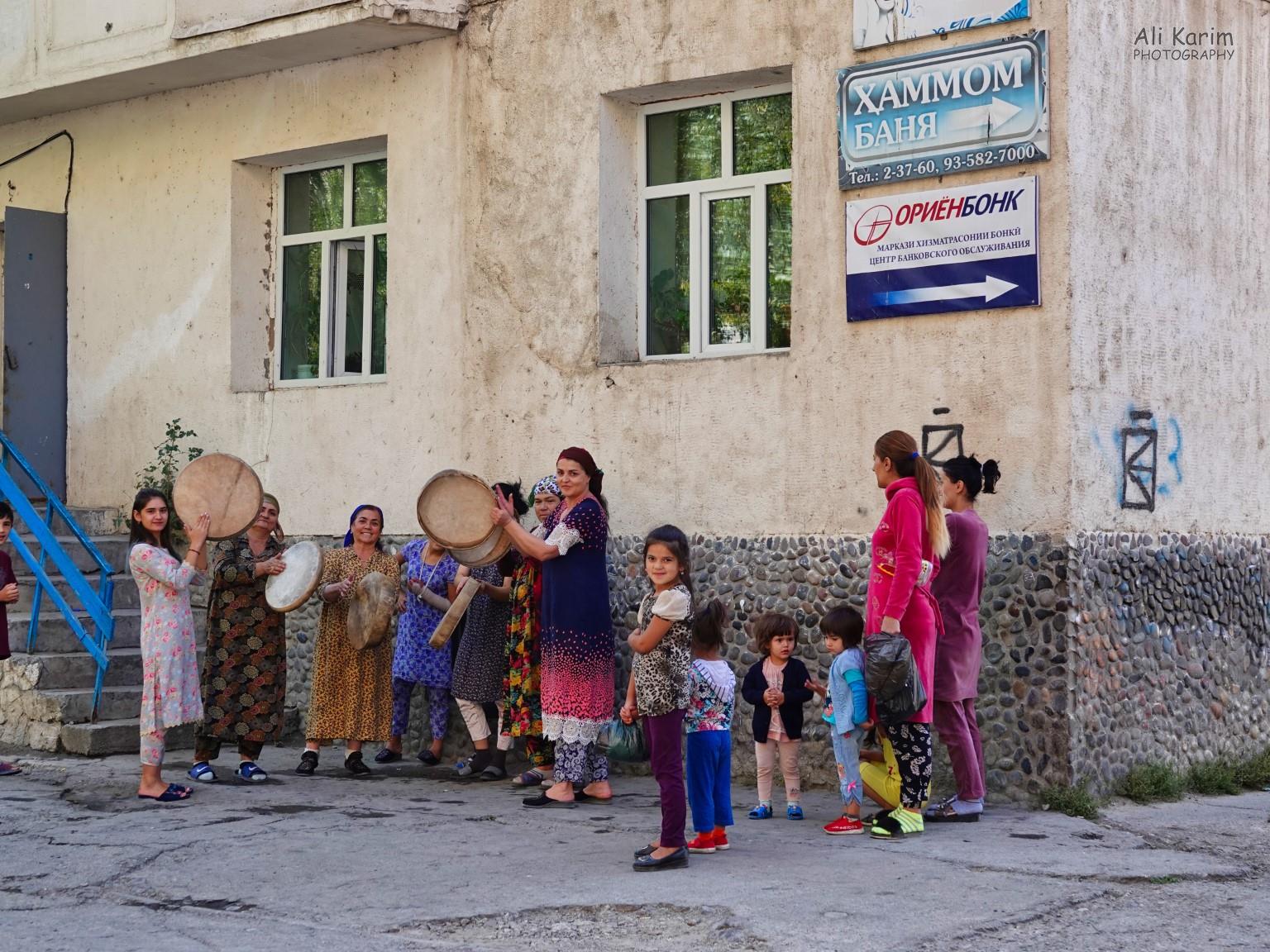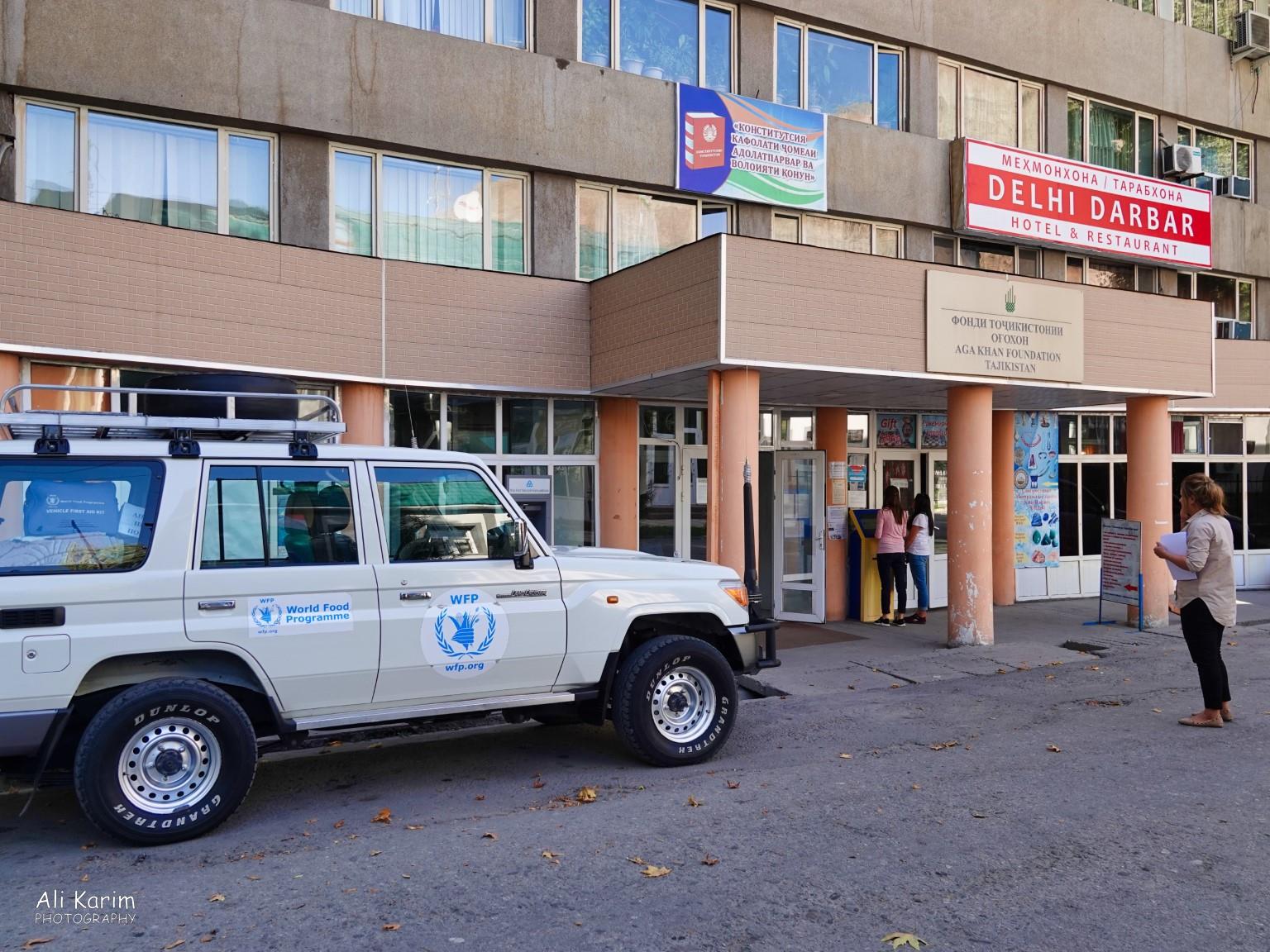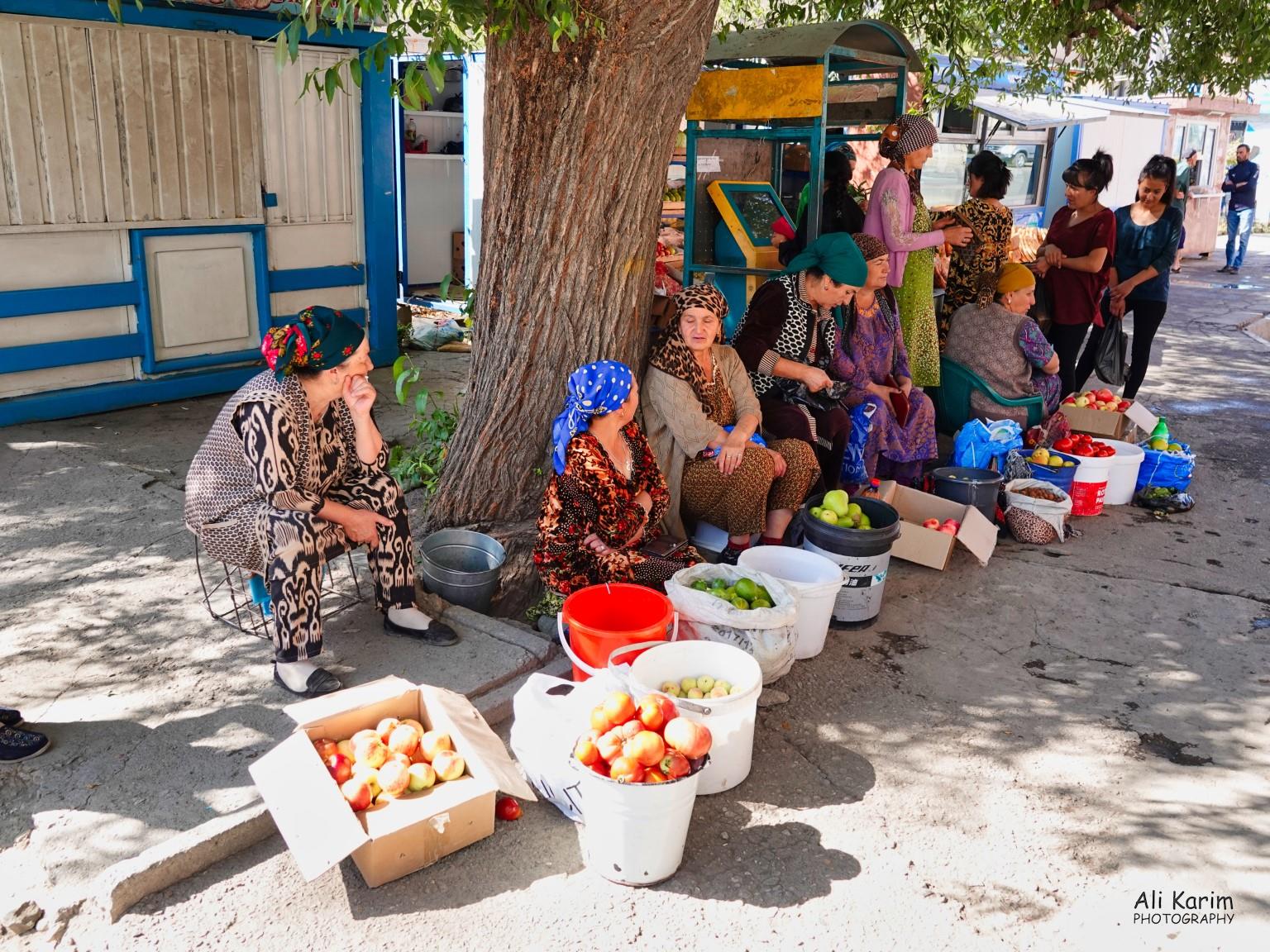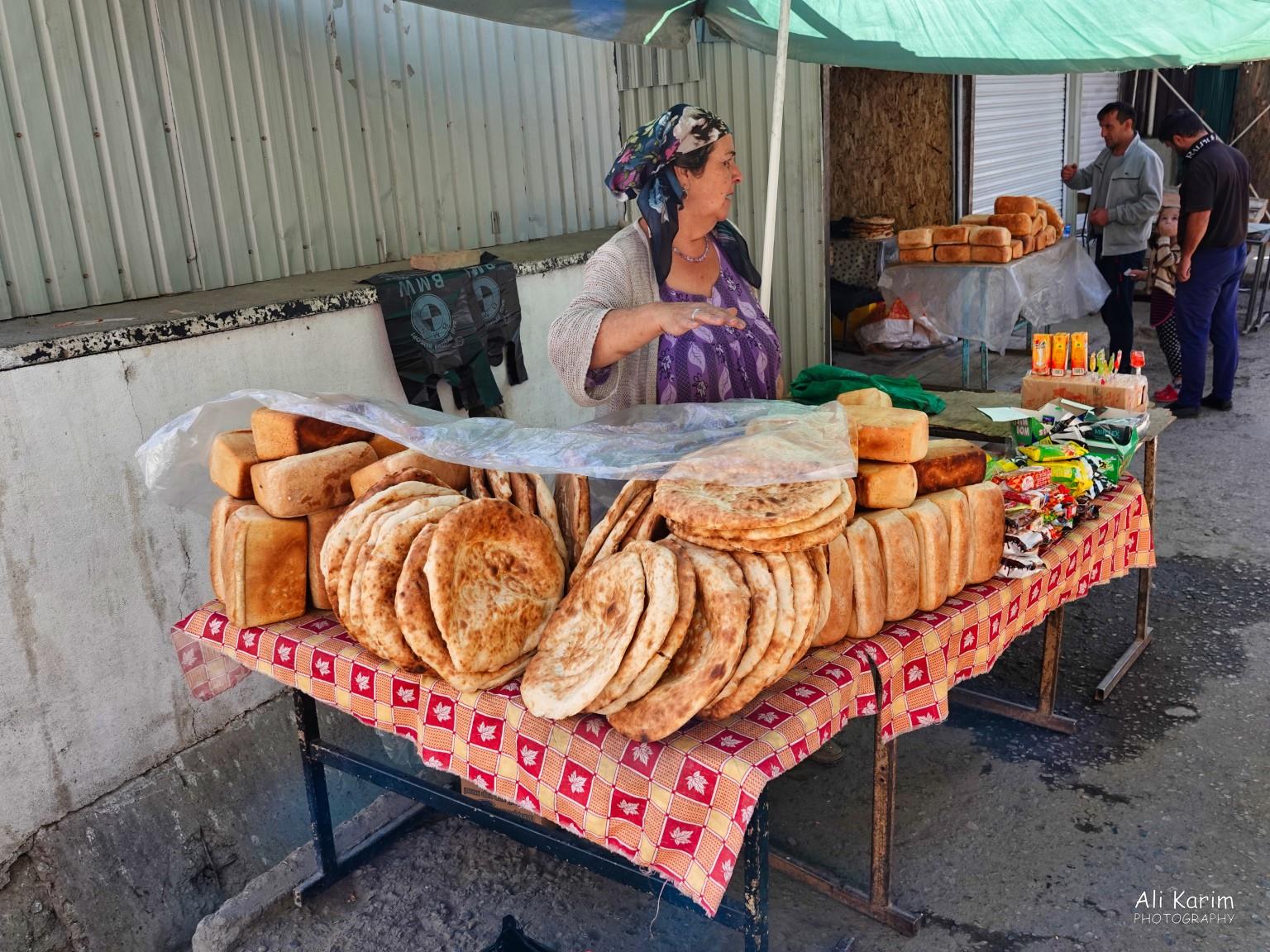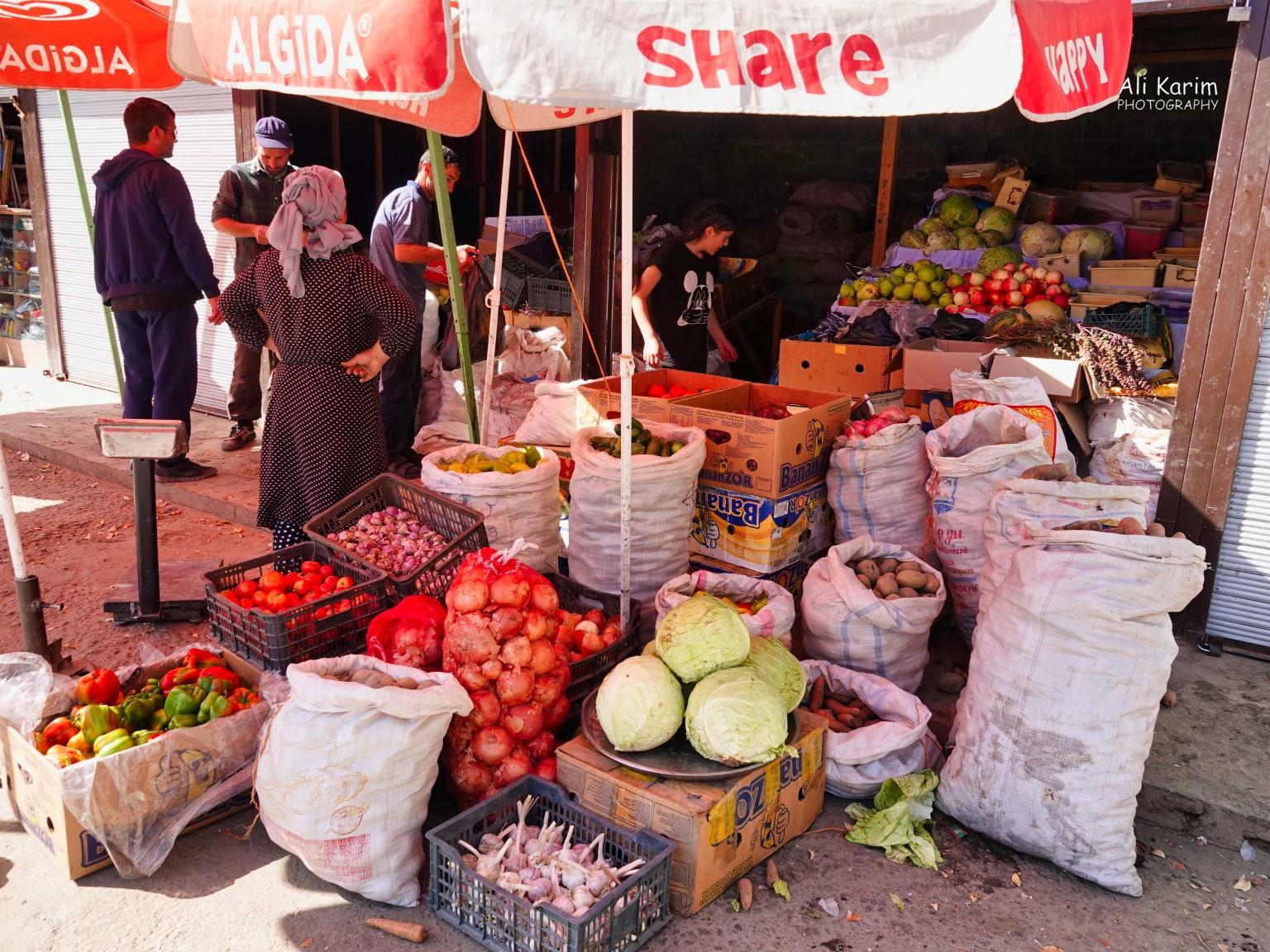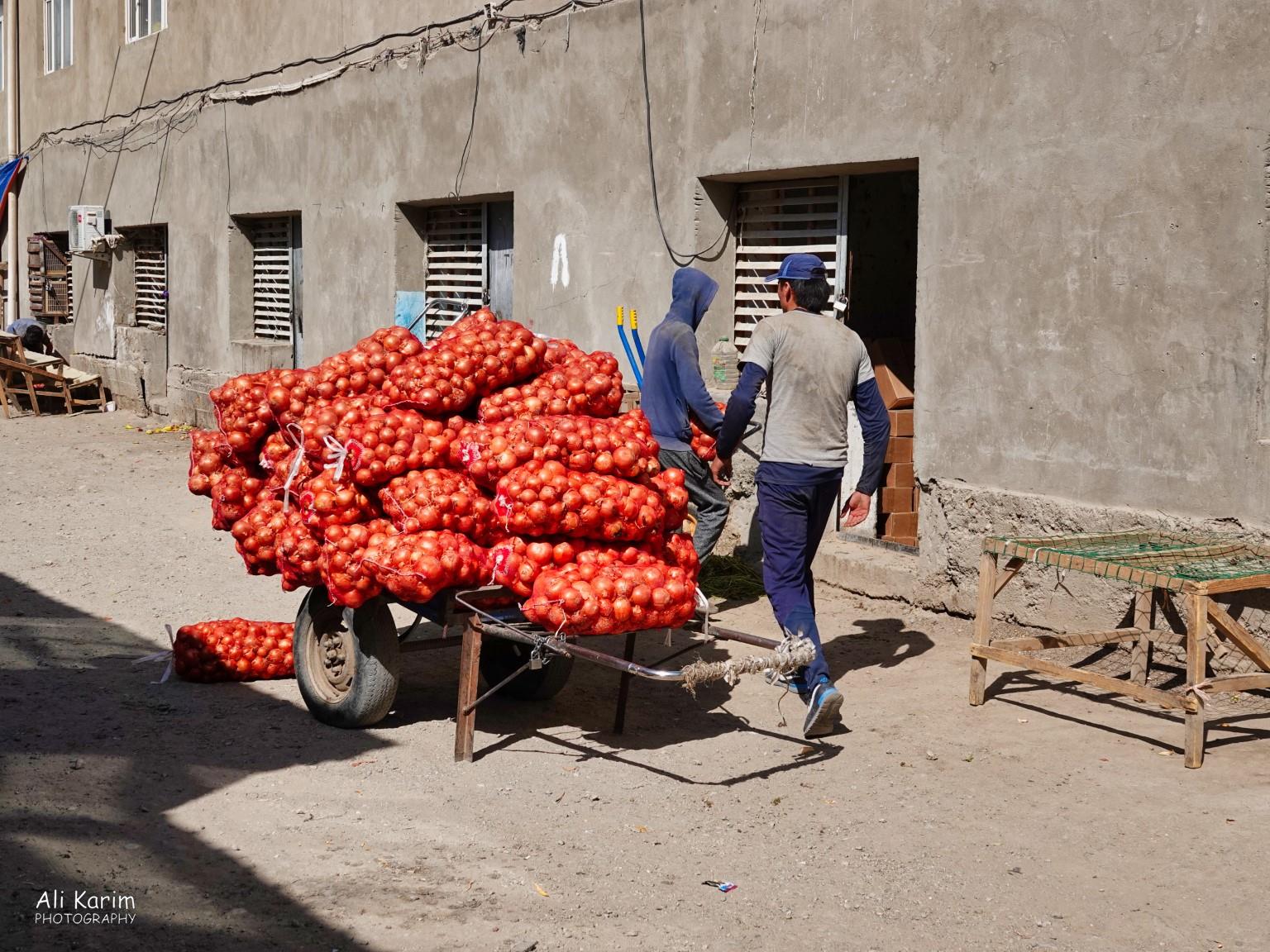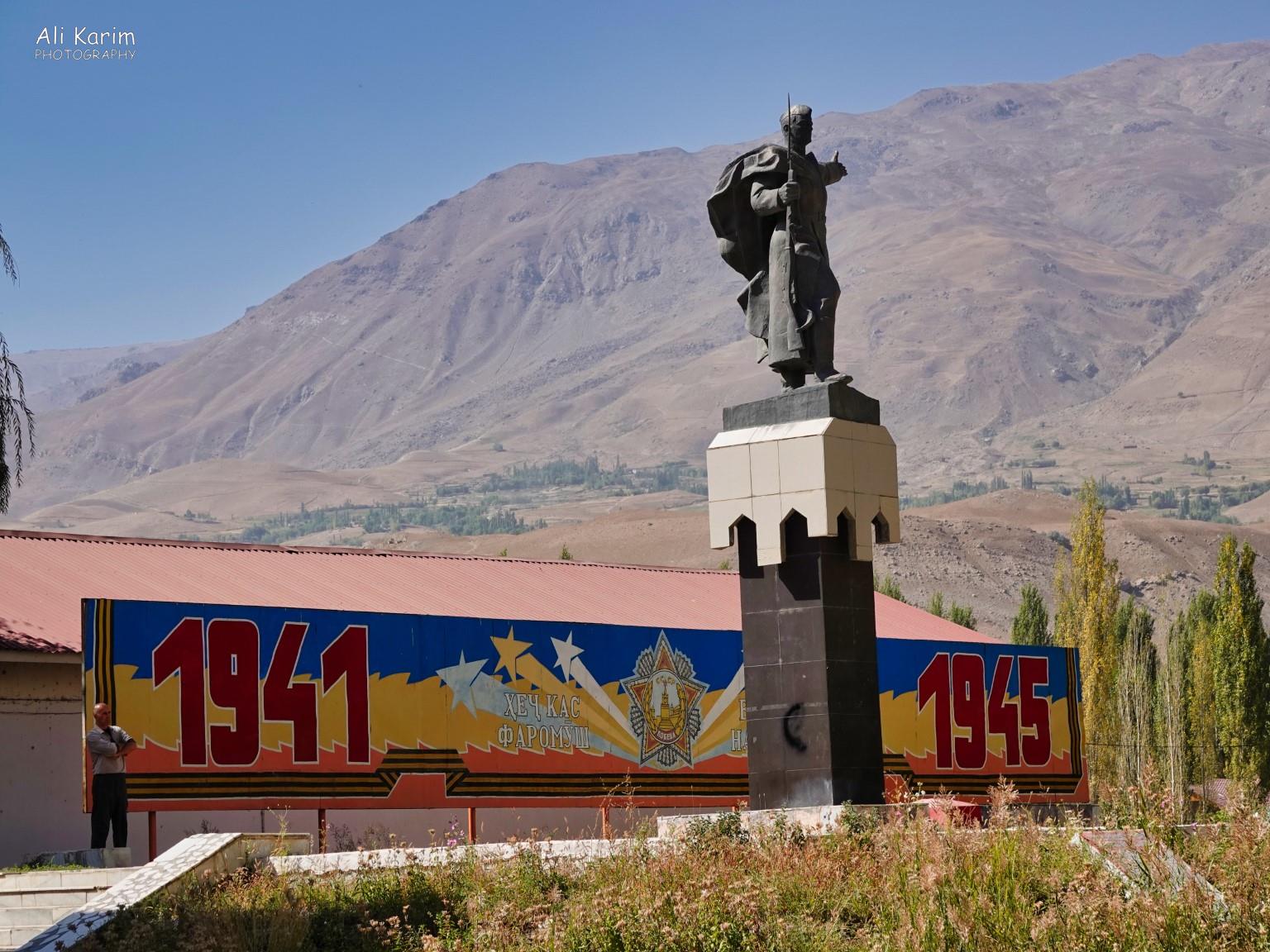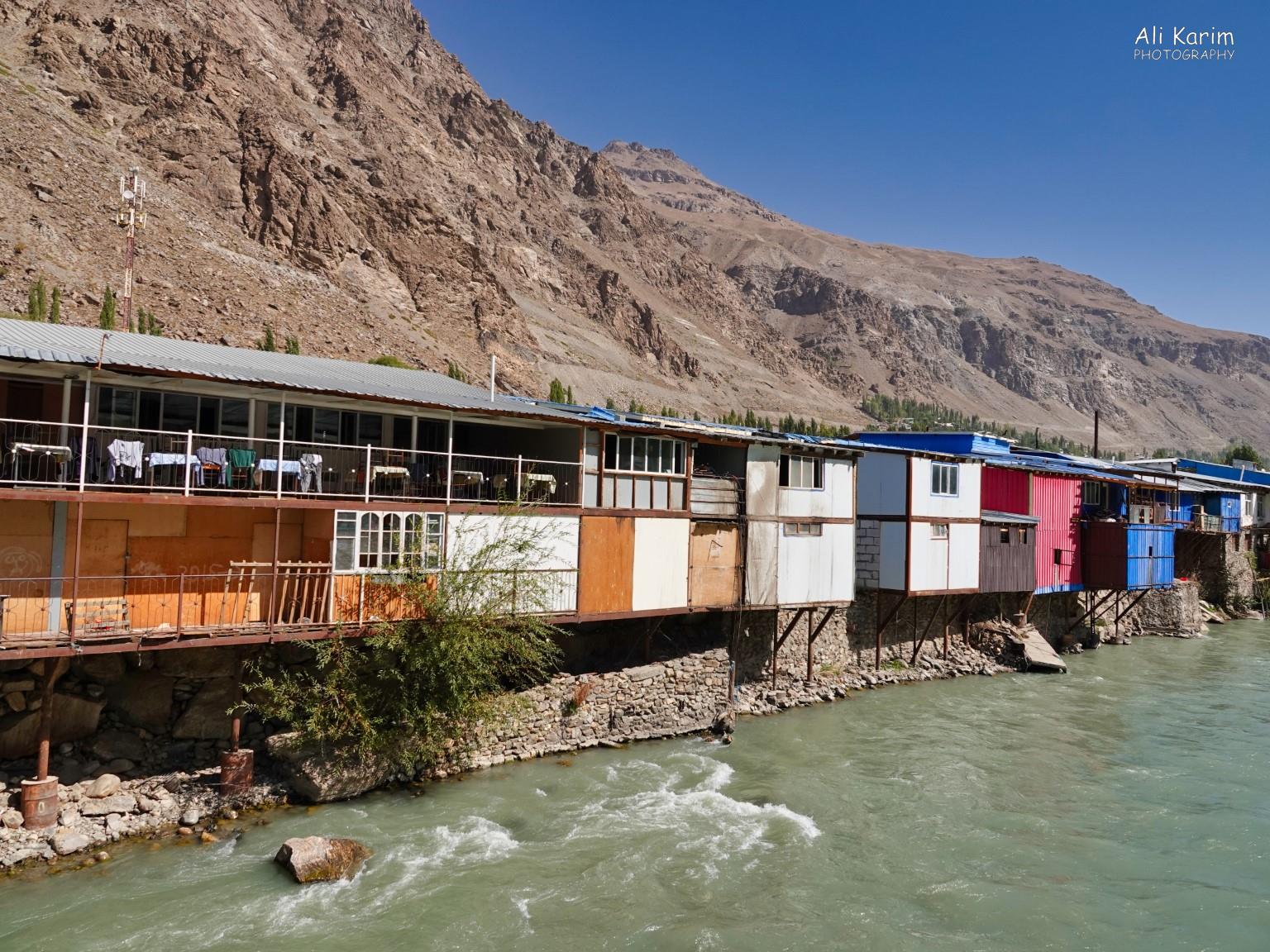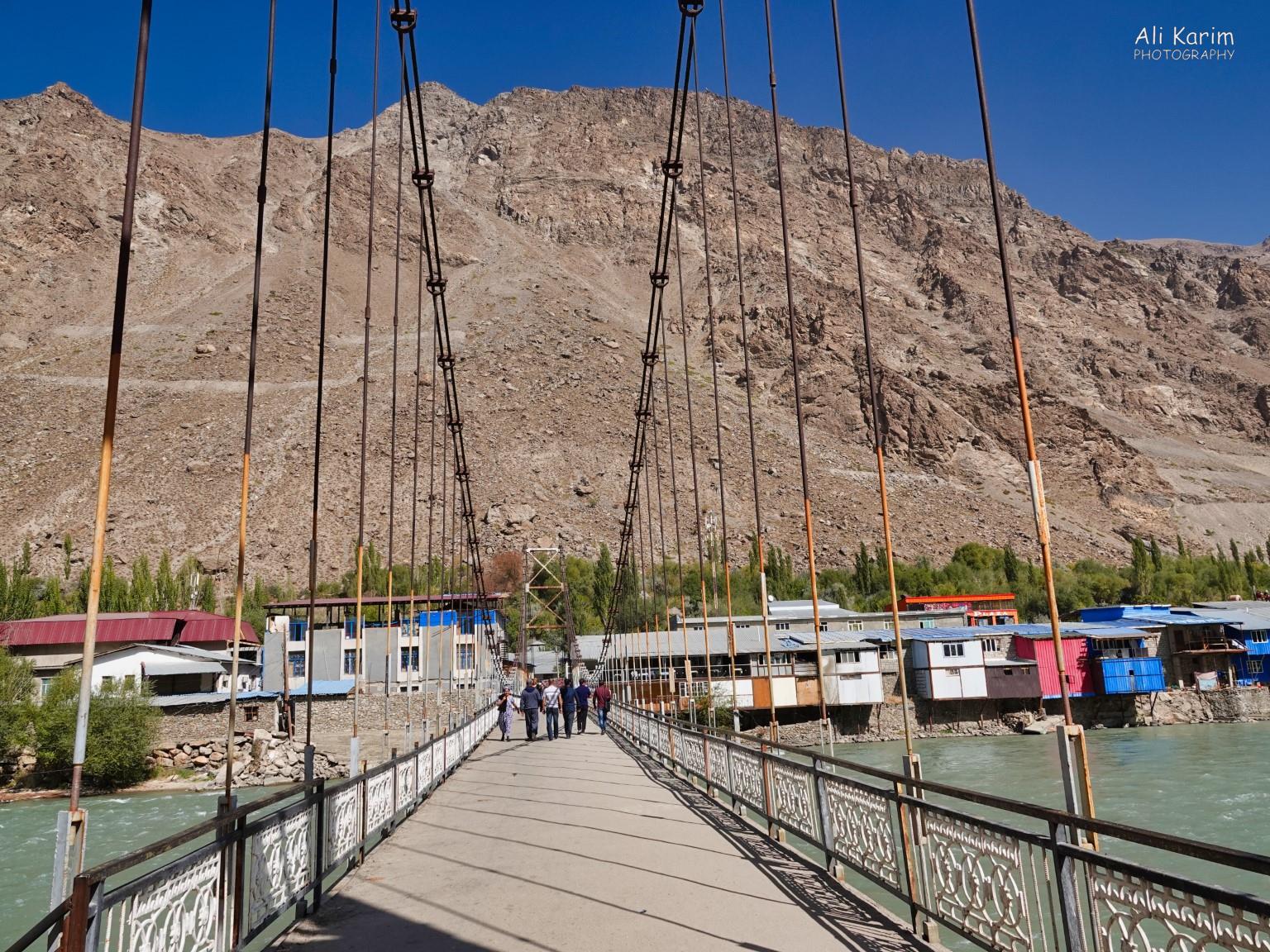 Some thoughts on Khorog, GBAO region, and the Pamiri people. The Pamiri's have to be some of the most generous people we have ever met; they were so willing to open up their hearts and homes to us, hosting and welcoming us; it was amazing. The GBAO area is very under-developed, partly due to the remote, harsh mountainous region; but also perhaps due to lack of interest by the Tajik Govt to invest in the infrastructure to spur more industry and commerce in GBAO. Lack of good roads and other infrastructure makes development difficult, so there are few jobs here. Education level is high among the population thanks to the Russian occupation, but life is harsh here; the people are very resilient, make do with that they have, and help each other. Community spirit and help/cohesiveness is high. Many, many families have 1-2 members of their families working in Russia, sending remittances home for the family to survive. I imagine life & work in Russia is probably not easy either, as the work available is mostly daily wage manual labor. But at least, it is work.
I would like to suggest that the people in this region can definitely benefit from investments/industries there that can create jobs, because they are highly skilled and hard working. Even simple tourism to area can help a lot with proving jobs to the population. The local population is not looking for handouts, but can definitely use help from the western world, even if it is as simple as tourism to see this beautiful part of the world.
Our journey so far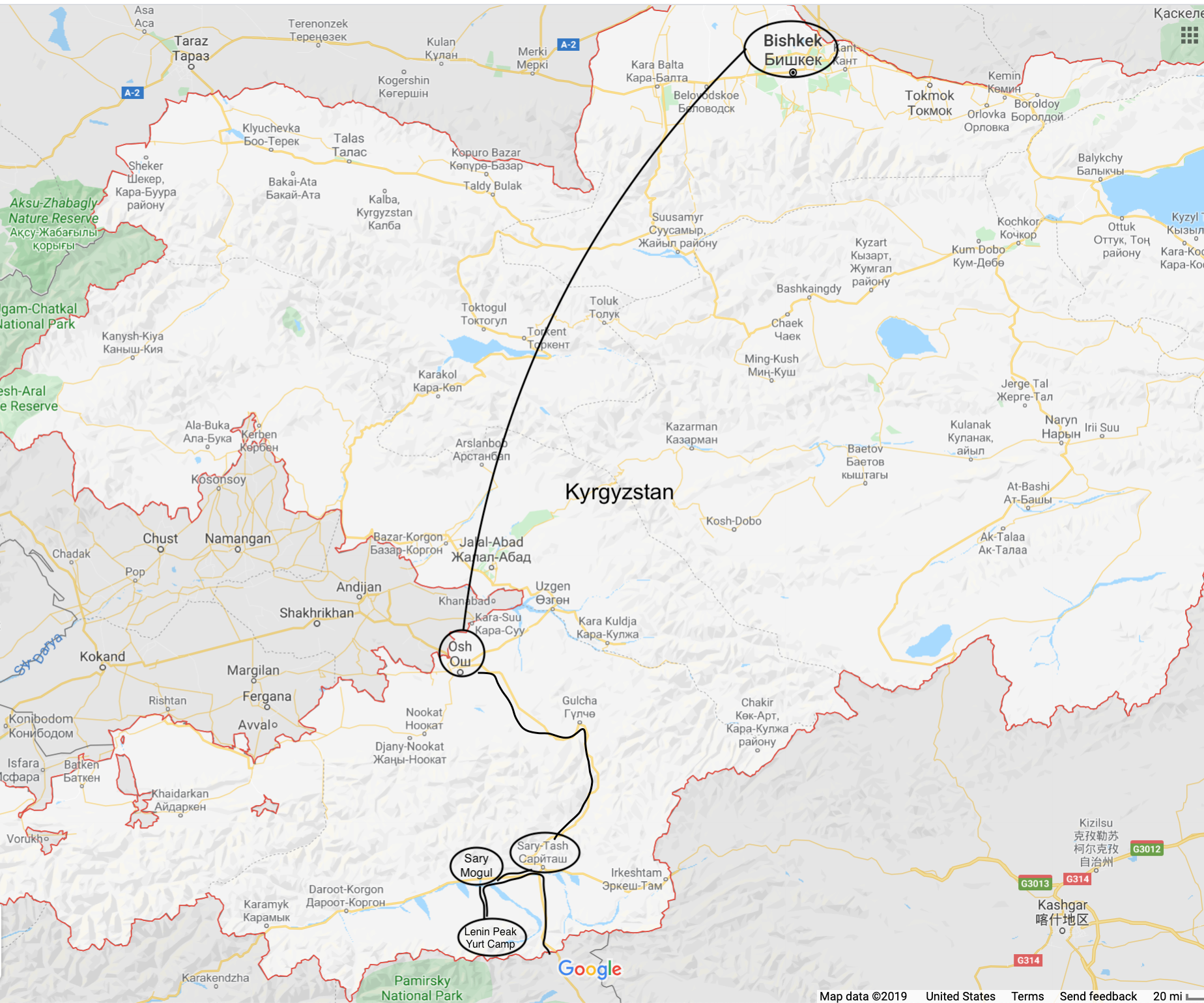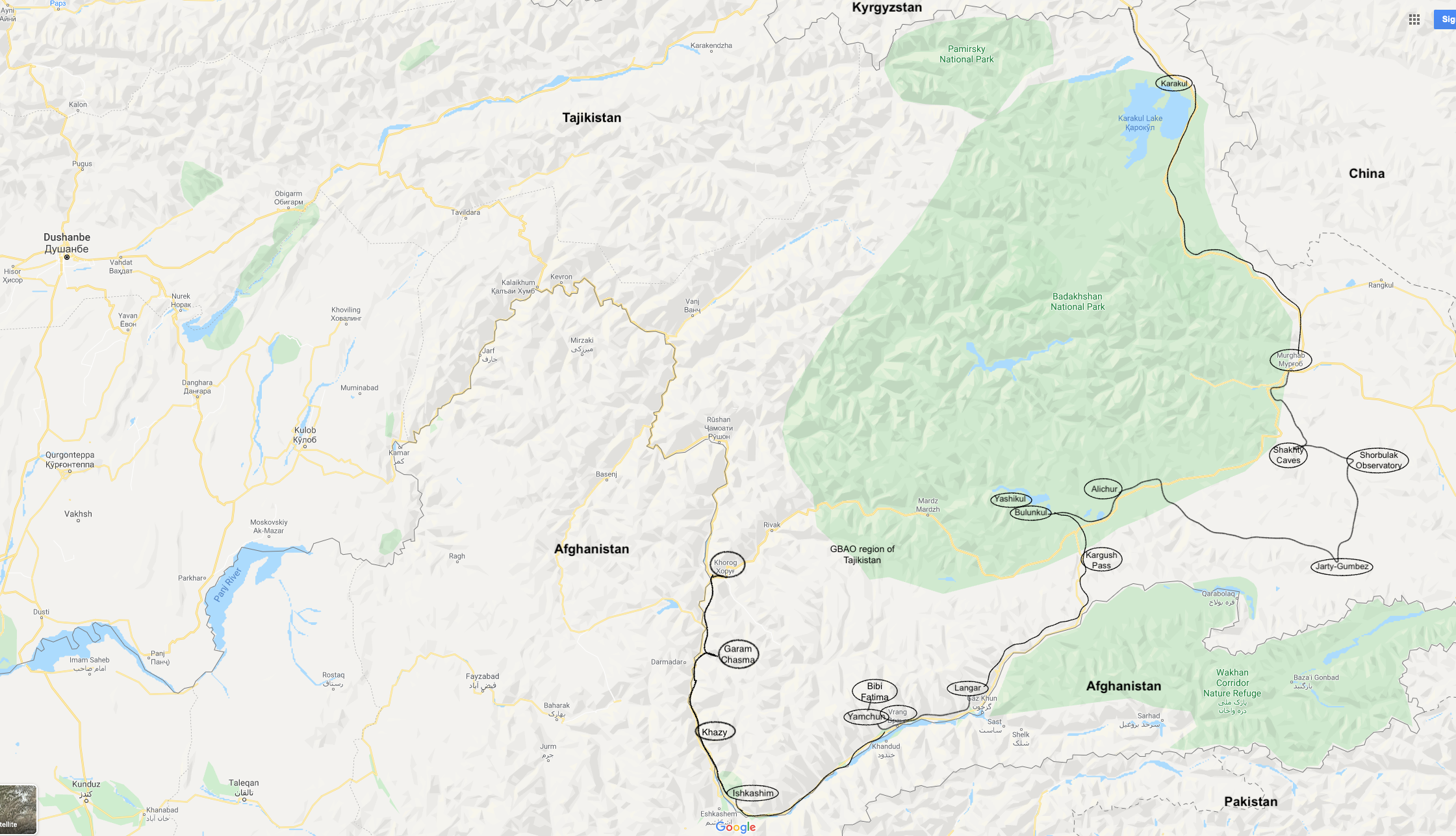 Next, we are off to Dushanbe, the Capital of Tajikistan
This entry was posted in
Asia
,
Silk Road Tajikistan Sept-Oct 2019
,
Tajikistan