Silk Road 14: Bishkek, Kyrgyzstan; 15th Sept 2019
Since we had a wonderful trip in mid 2016 covering part of the Great Silk Road in Xinjiang, China and Gilgit-Baltistan, Northern Pakistan , we decided to continue checking out more Silk Road routes, this time in Kyrgyzstan, Tajikistan and Uzbekistan; the "stans" of the former Soviet Union. So, in mid-September, we flew overnight from the USA to Munich and then onto Istanbul, Turkey; and took a day off here to recover from jet lag. Why Istanbul? Because Turkish Airlines is one of a few Airlines that fly into Kyrgyzstan, the start of our journey. We arrived into Bishkek early-morning 8AM after a late night flight from Istanbul, and breezed through immigration and customs, with no questions asked. Visa was issued on arrival, no cost.
Bishkek is the Capital and largest city of Kyrgyzstan, which at different times was a part of the Kyrgyz empire, Mongol empire, Chinese Qing Dynasty empire, Uzbek empire, and the former Soviet Union. It is located at an altitude off 2,600ft, just north of the Kyrgyz Ala-Too mountain range, which are an extension of the Tian Shan mountains in Western (Xinjiang) China. It is bordered by China to the east, Kazakhstan to the north, Tajikistan to the south and Uzbekistan to the west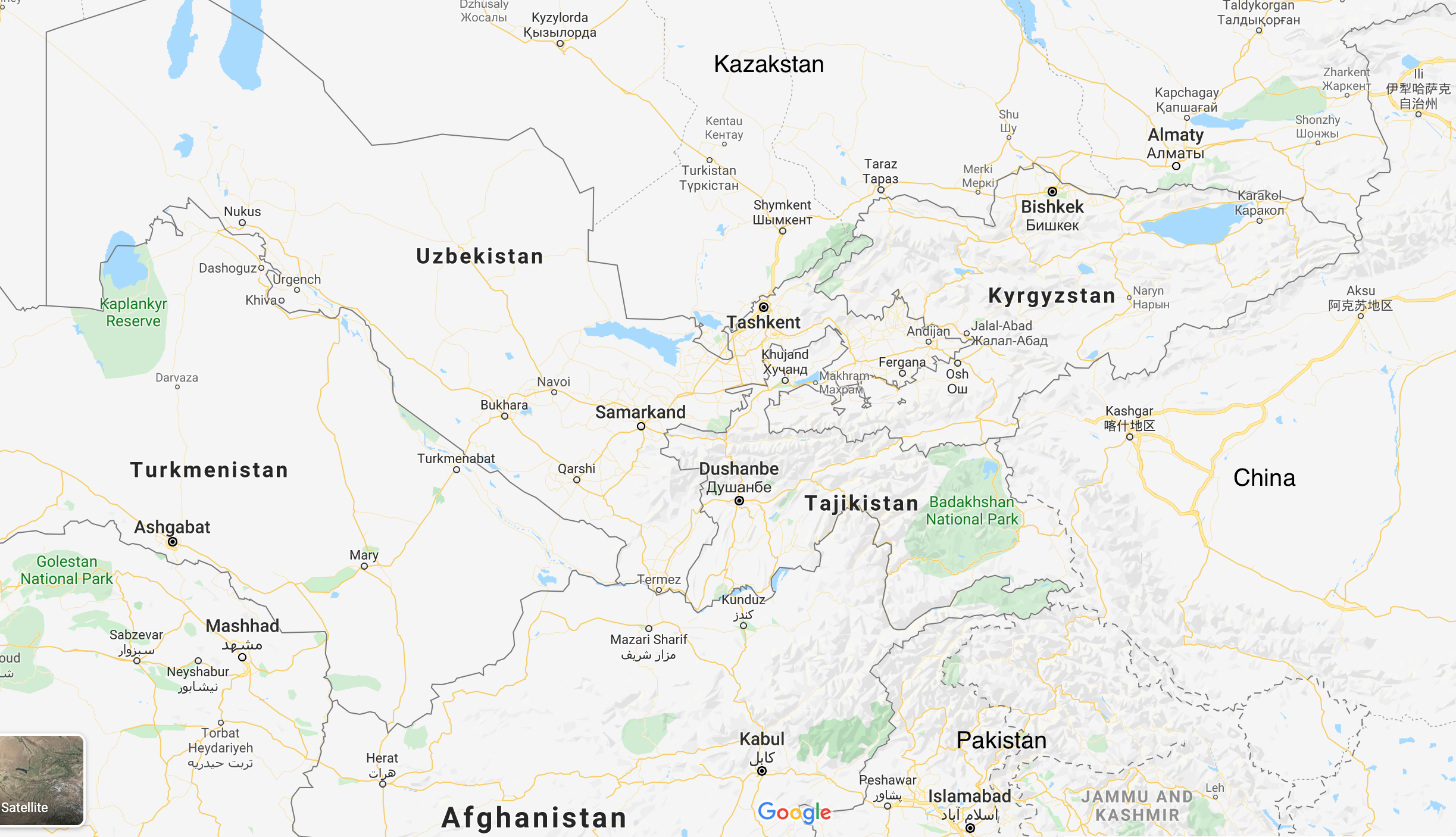 Bishkek was a Caravan rest stop & market on one of the minor northern routes of the Great Silk. Kyrgyzstan was annexed by the Soviet Union in 1860; before finally gaining independence in 1991 upon the breakup of the Soviet Union. Kyrgyz and Russian are the main languages, and 90% of the population is Muslim, with the remaining mostly Russian & Ukrainian Orthodox Christian
The Bishkek airport is a little north of the city, so we took a taxi (US$9; negotiated) from the airport to the boutique hotel (My Hotel Bishkek) we had booked. The drive was fairly nice, and since Bishkek is located on flat plains north of the Ala-Too mountain range, we frequently had great views of the snow-covered Ala-Too mountains. Some scenes below on the way into the city of Bishkek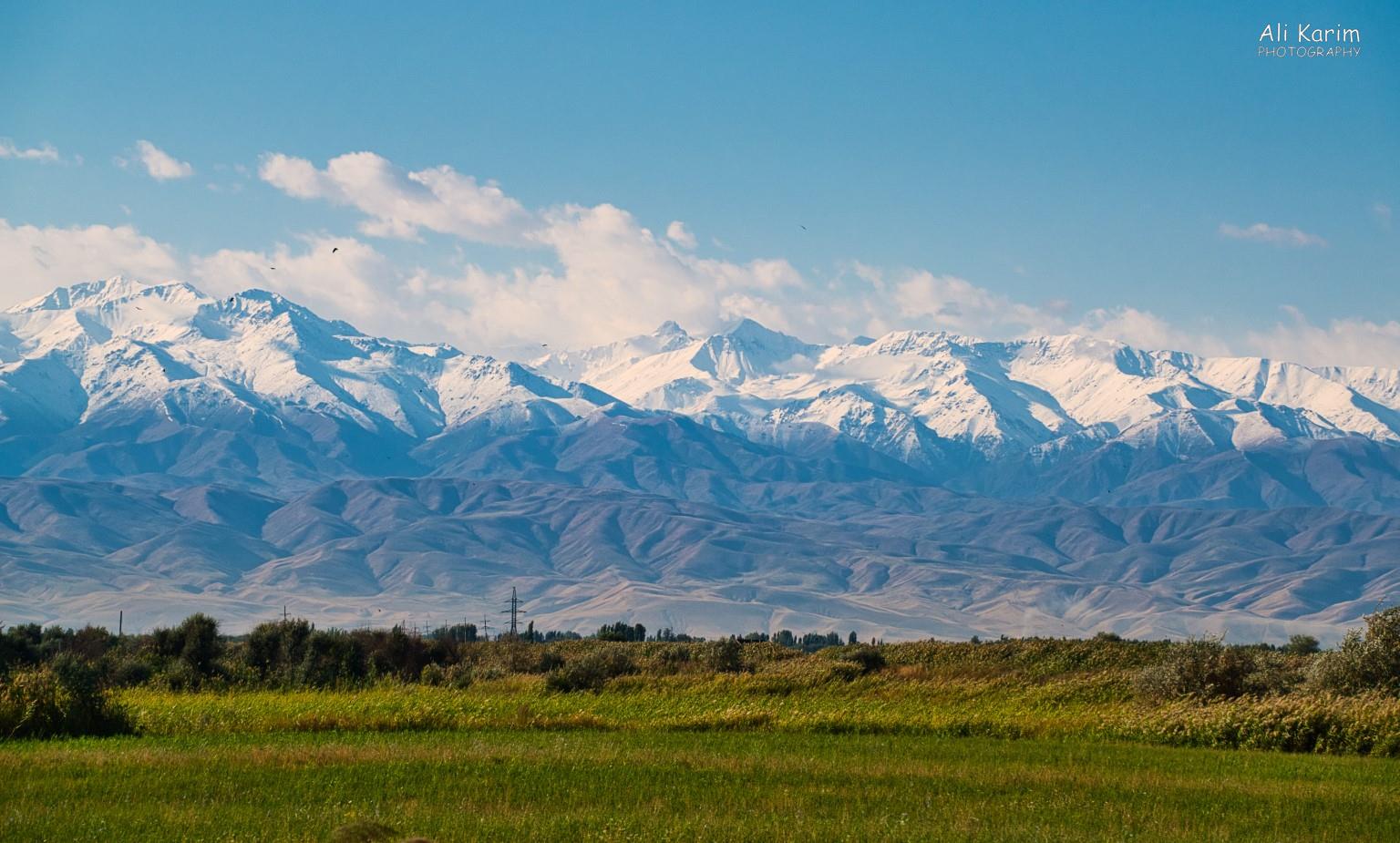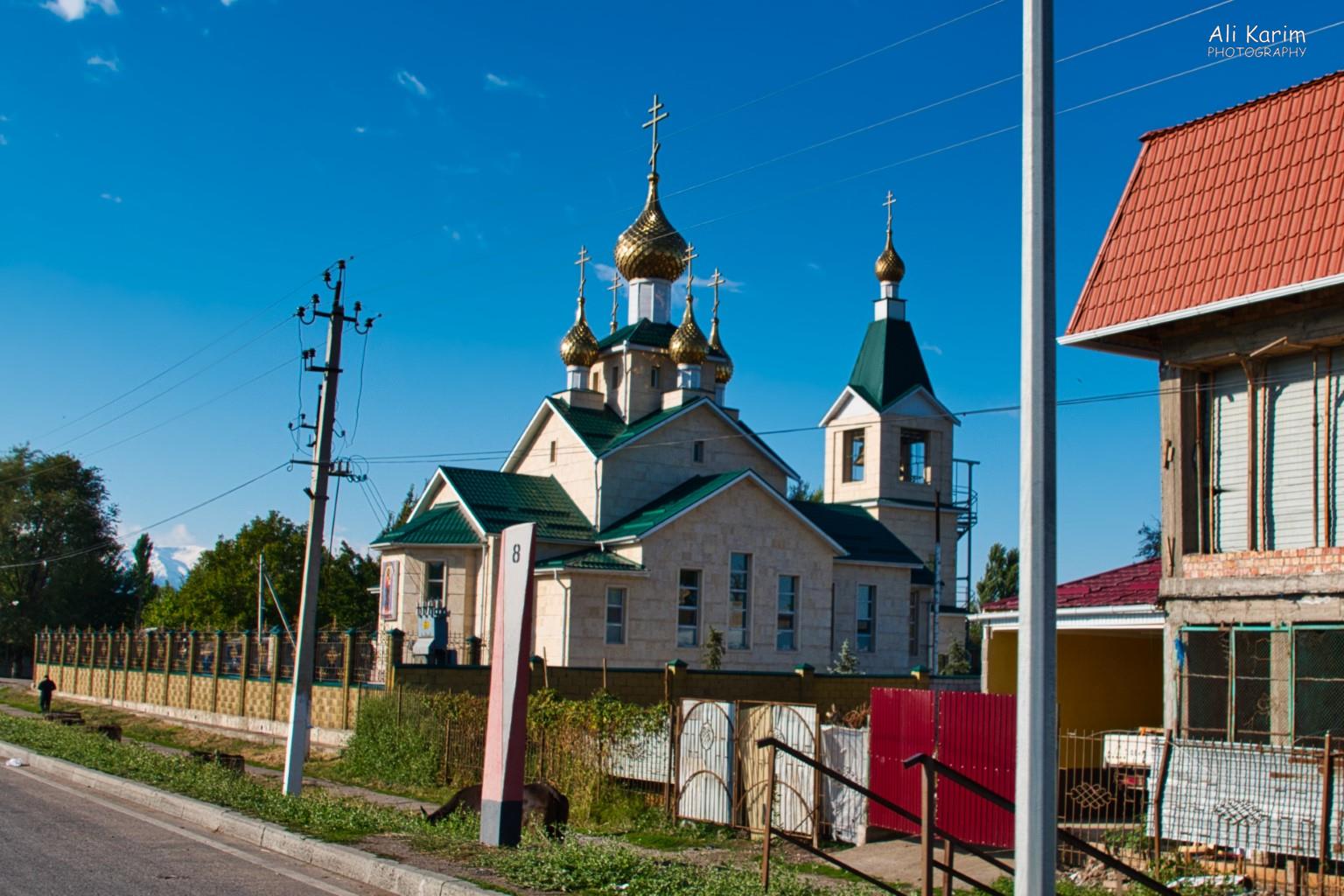 We got dropped off at the hotel, which was on a quiet residential street, one block back from the main street. This was a nice, clean, well-furnished hotel (about 3 star), newish; and one of the staff spoke some English. The rate included breakfast, and cost was ~50US$ per night; which was very reasonable.
After settling in and having some late breakfast, we got directions for the nearest ATM and started walking that way; it was on the way to the downtown area anyway. The first Bank/ATM we went into was a local bank, and its ATM was for its own bank account holders; so we asked for the next ATM, and were directed to another small Bank, which did have a working ATM that dispensed us Kyrgyz Som, the local currency. Exchange rate was just under 70 Som for 1 US$.
Armed with local money, we then hailed down a taxi ($3) and asked him to take us to the Osh Market, the local market. This was supposed to be a largish local market for produce, and many other items. We got dropped off on a busy street and the driver indicated to us to go inside a warren of small shops; we got lost but several friendly locals actually took us there, when we asked. When we got there, it was not super busy, and we got to walk around and interact with the vendors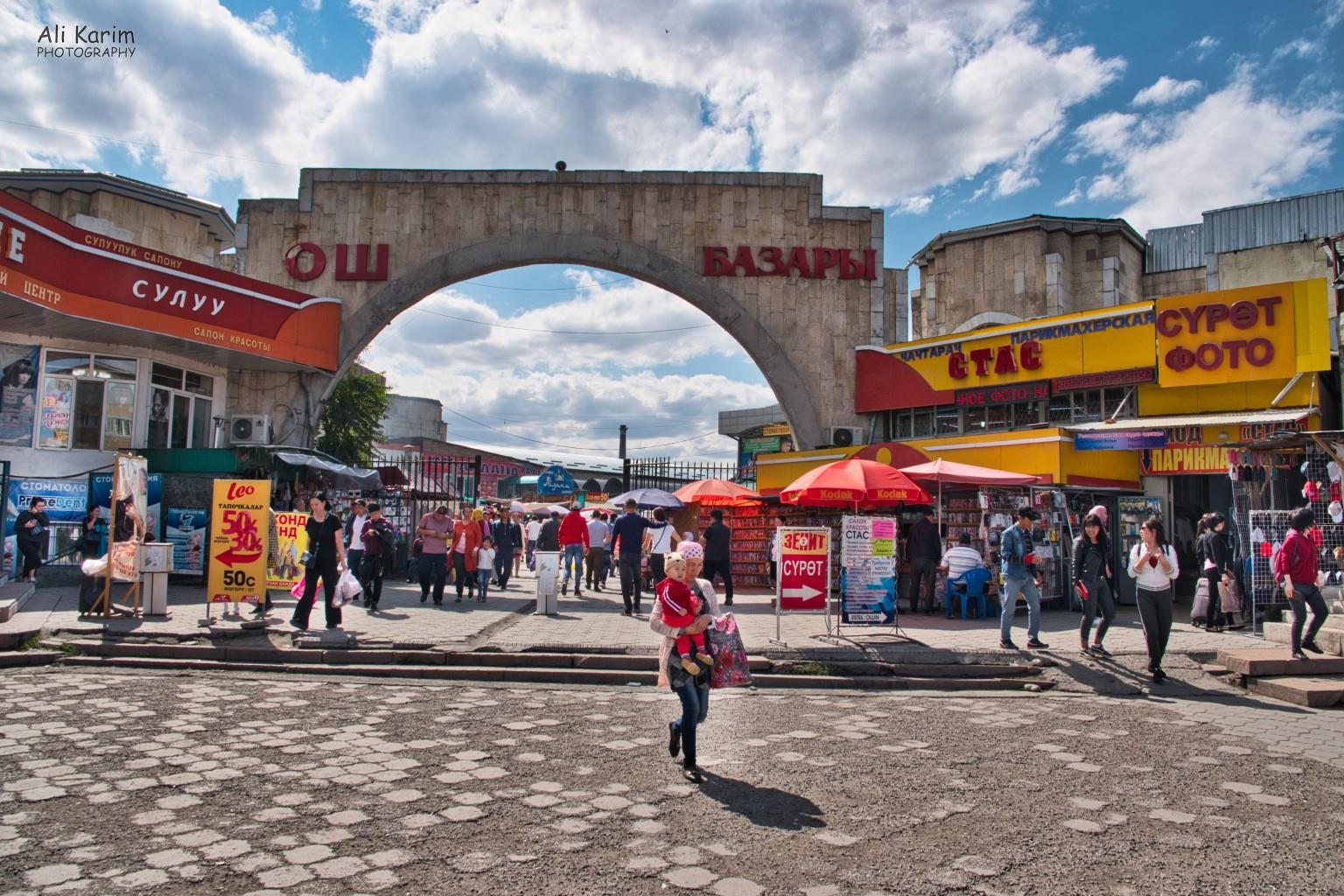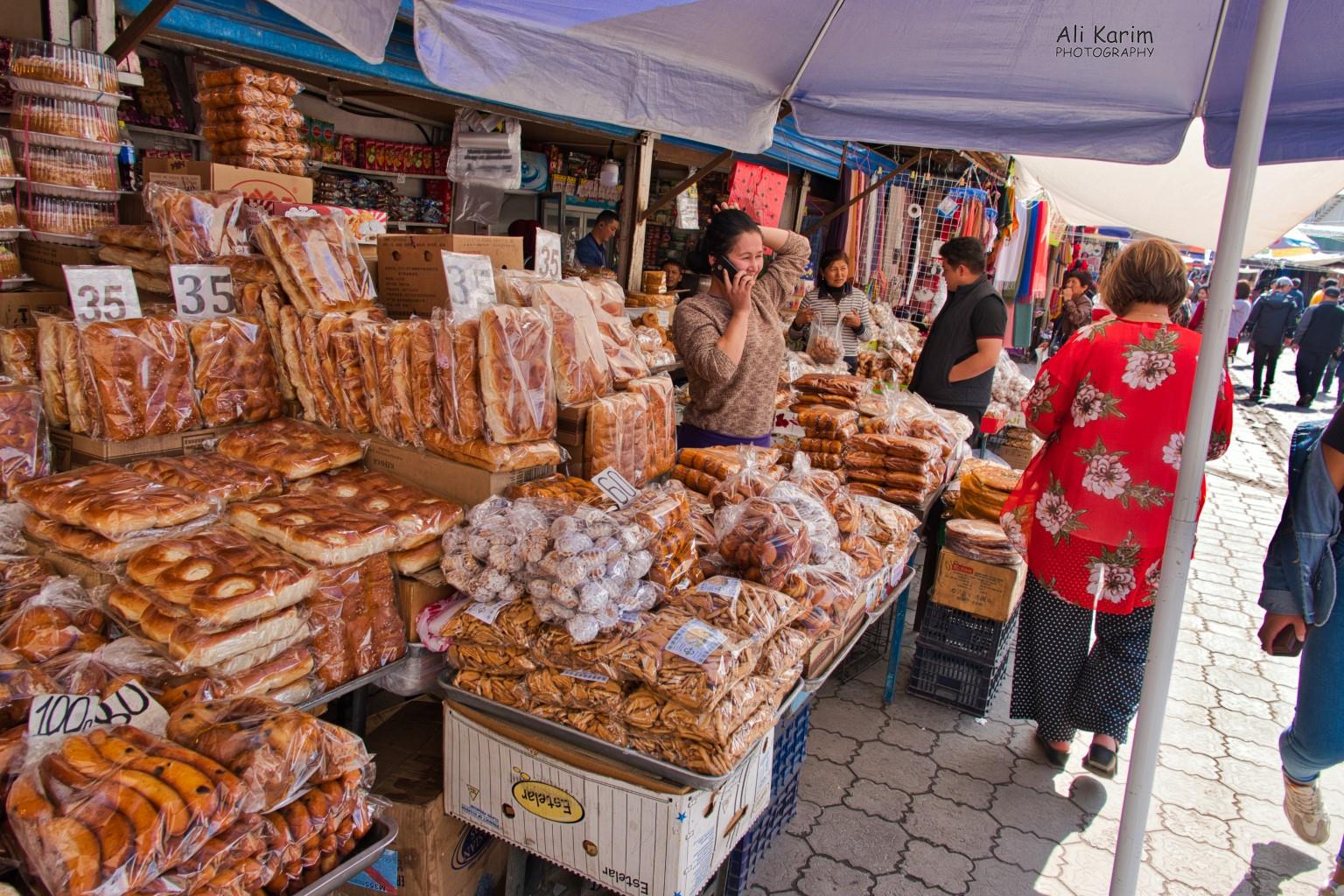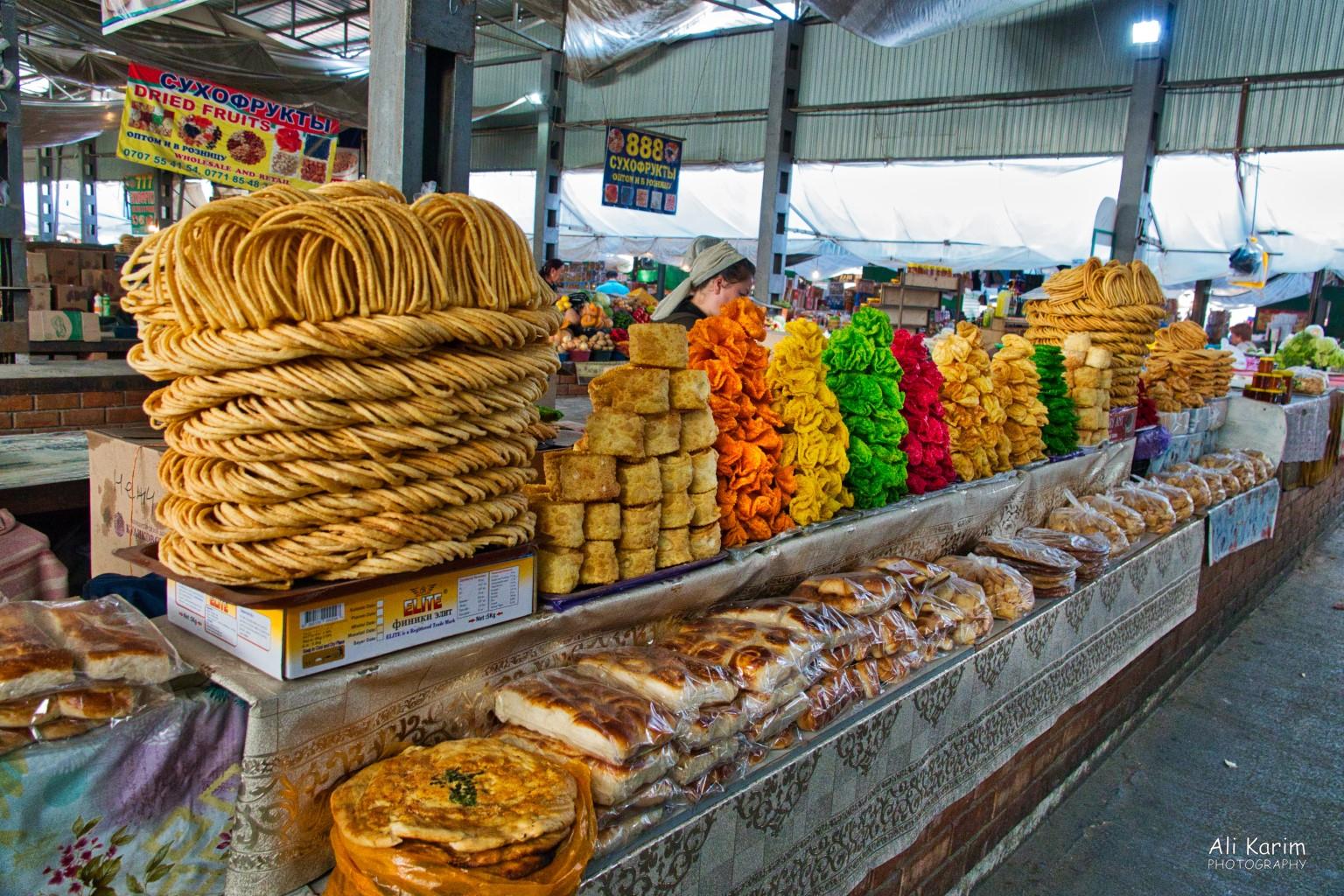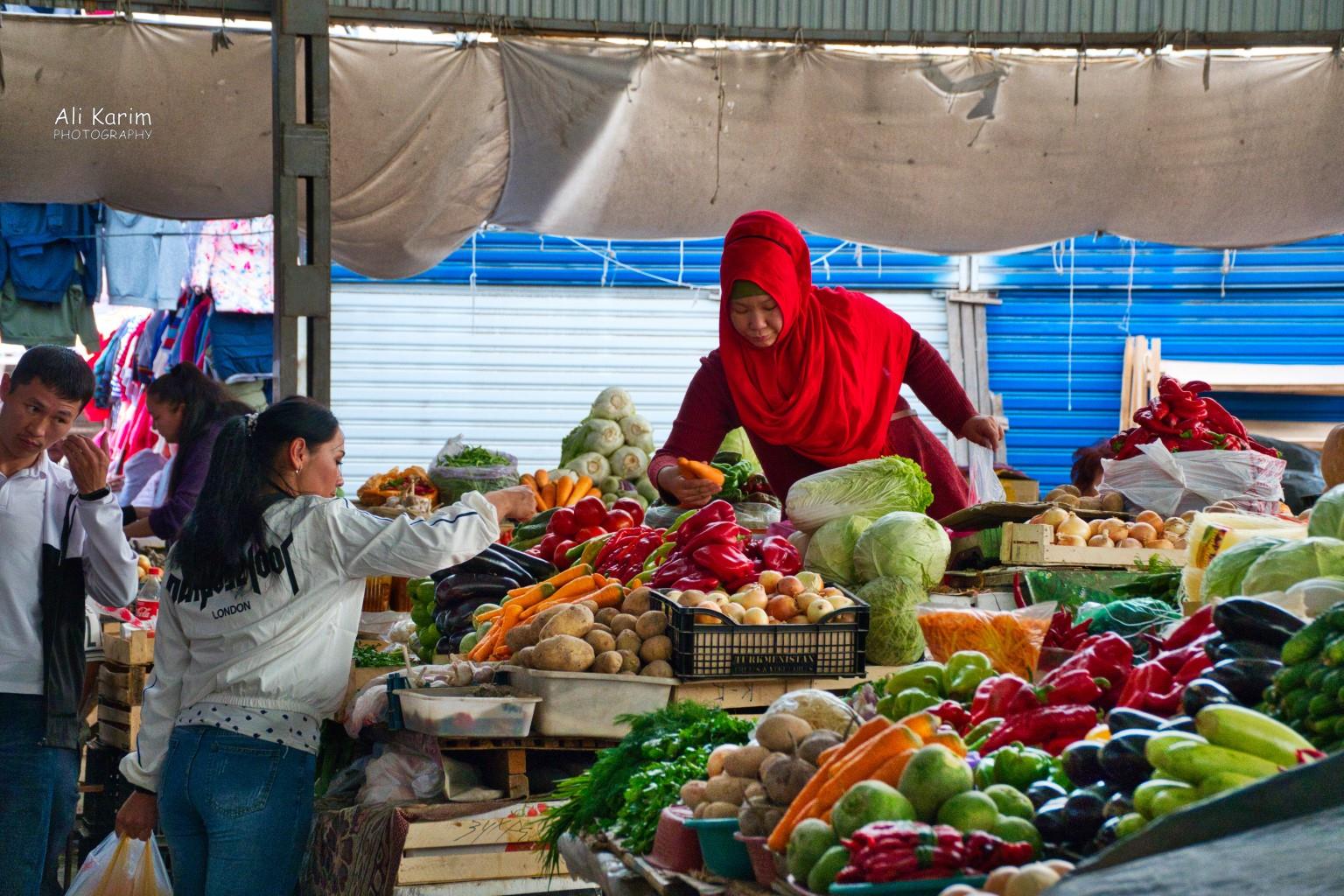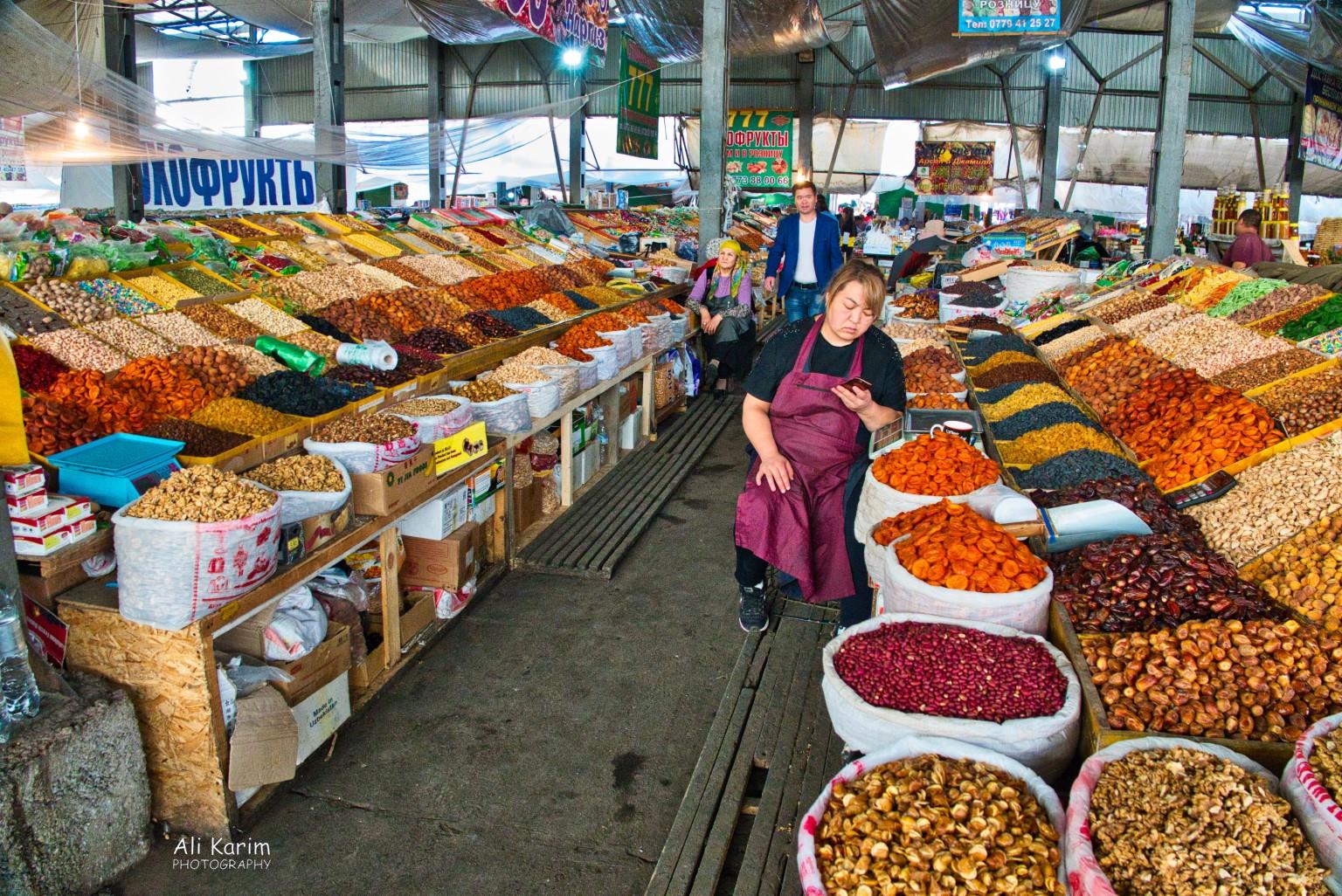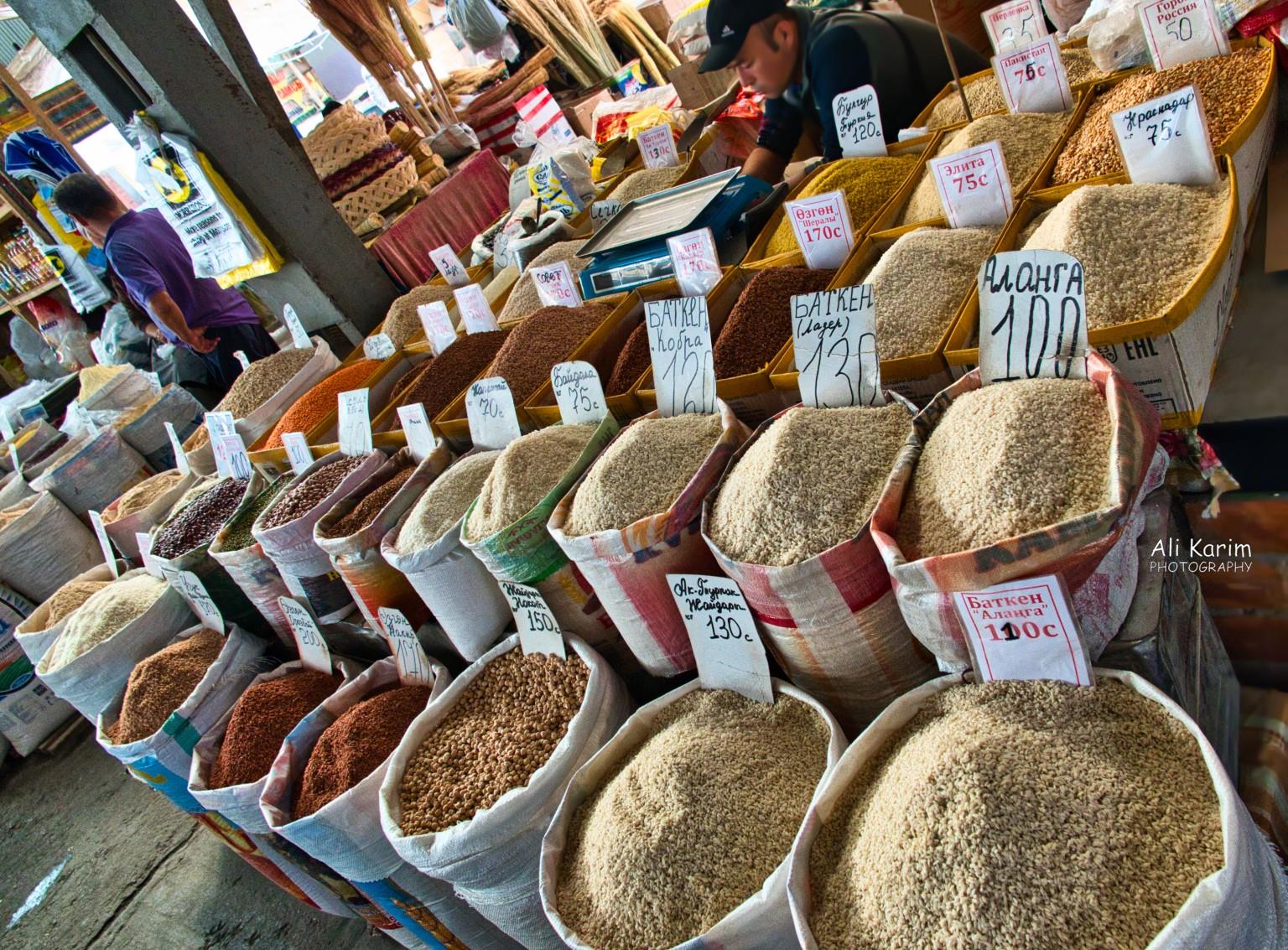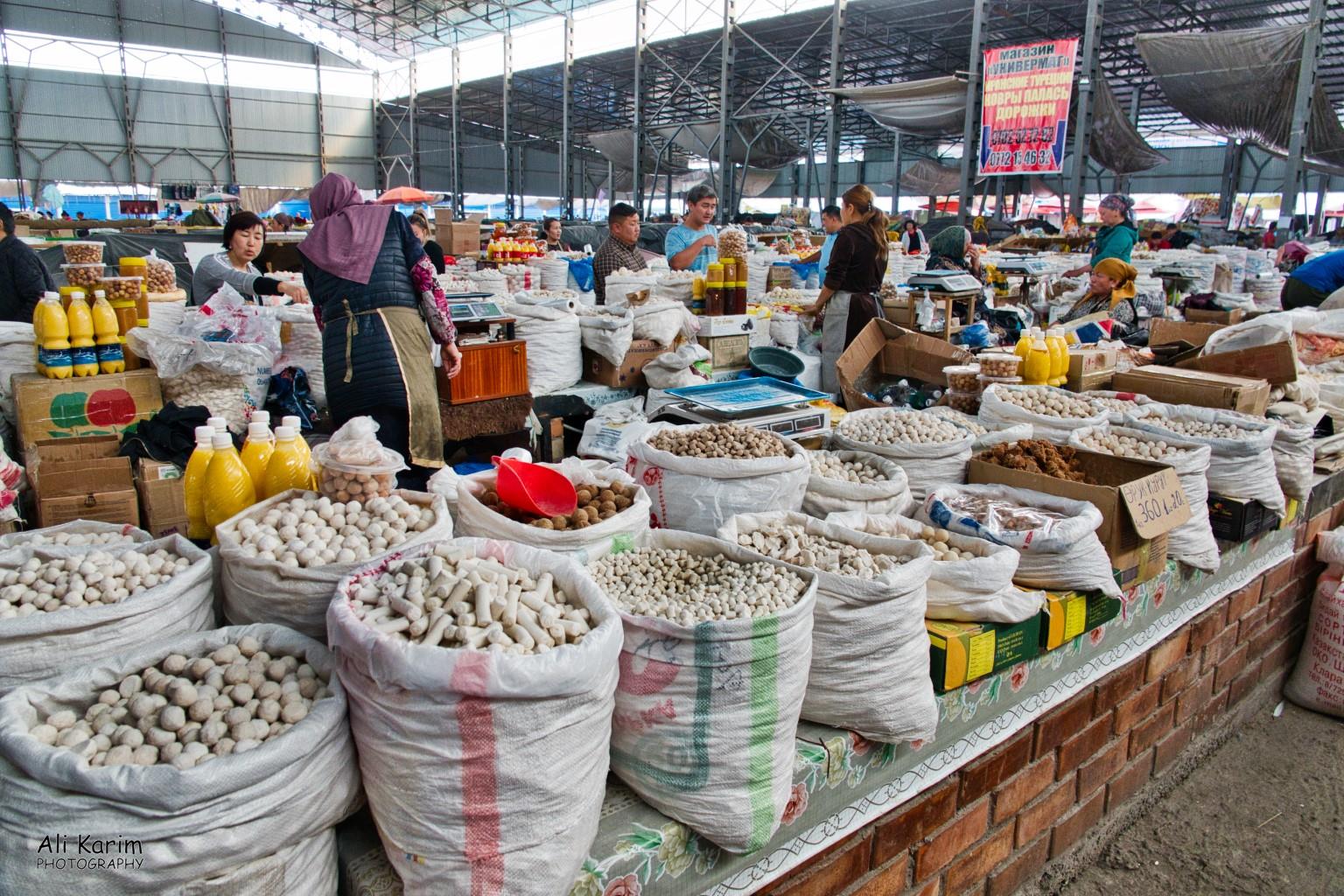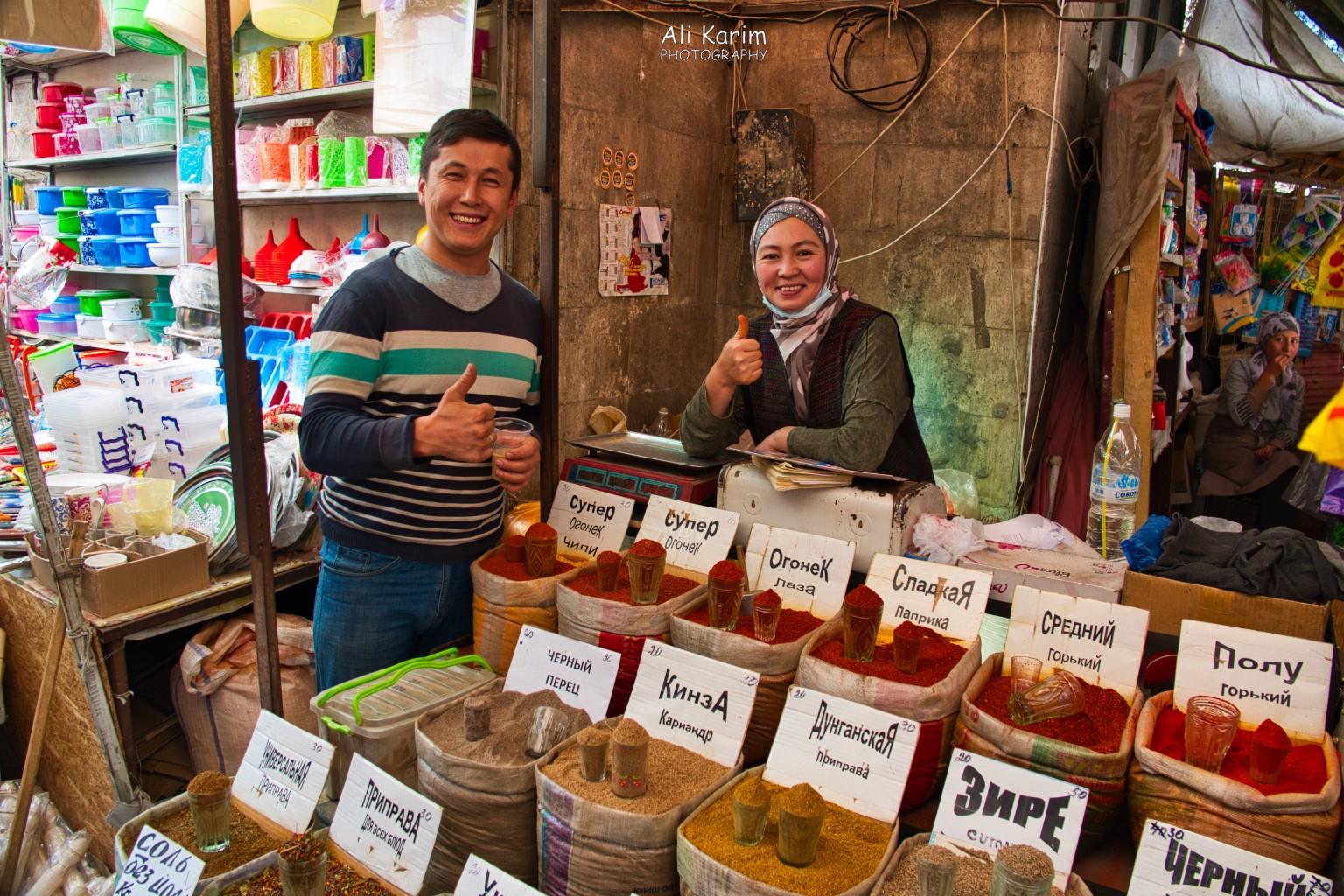 We got talking to this friendly couple selling spices and they said they had a lot of India students as customers (Kyrgyz food does not use many spices); and we asked about local eating places; and they guided us to a local restaurant (locally called chai khana) in the market for some local foods.
We went to the chai khana and sat down. However, nobody spoke English here, and the menu was only in Russian. Cellphone internet was slow and so we had no translations available. We ordered their manti dumplings (by pointing out what nearby tables were ordering). The manti arrived with black tea, and were filled with lamb meat that was quite fatty; over the course of time, we found out that Kyrgyz people eat a lot of fatty meat.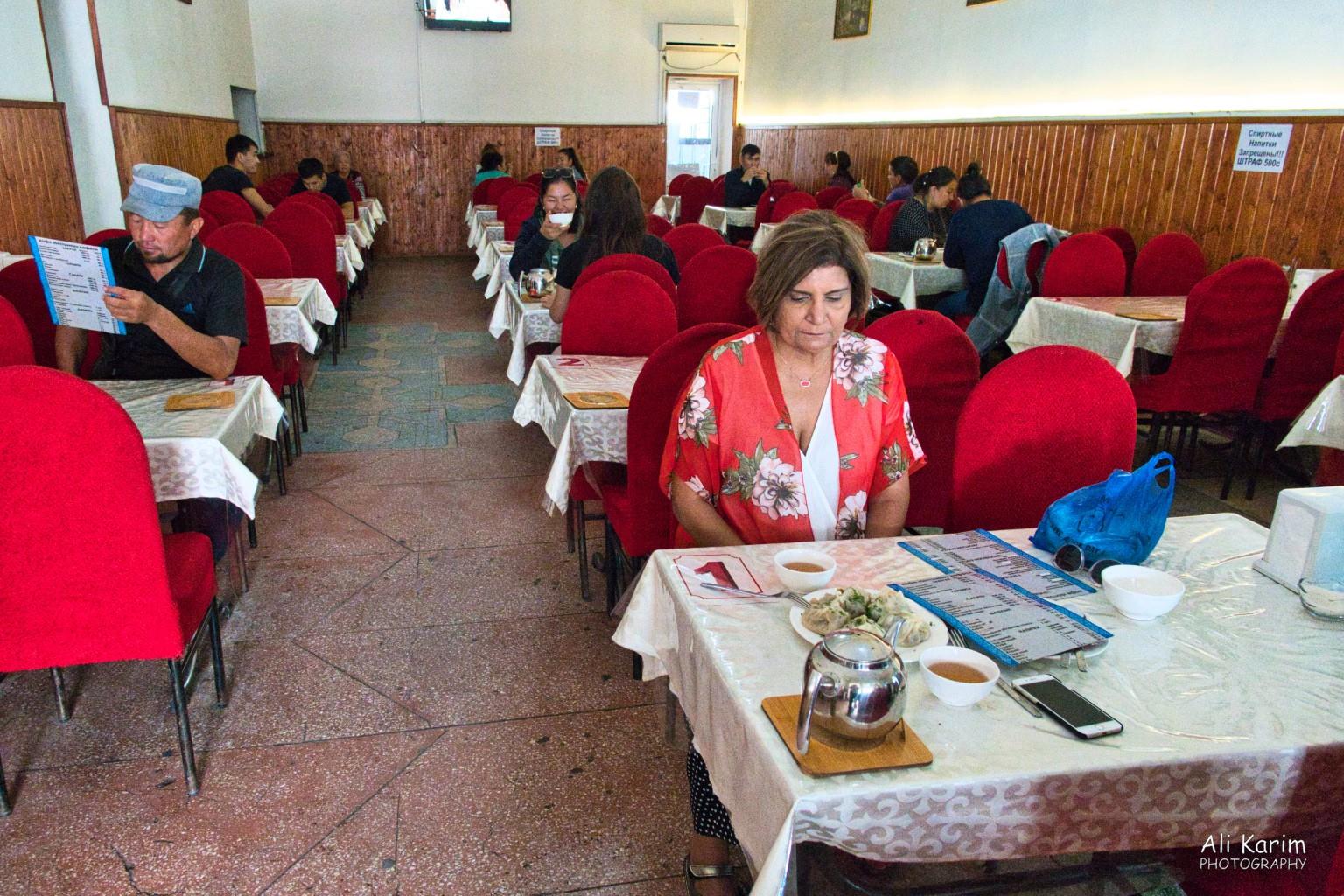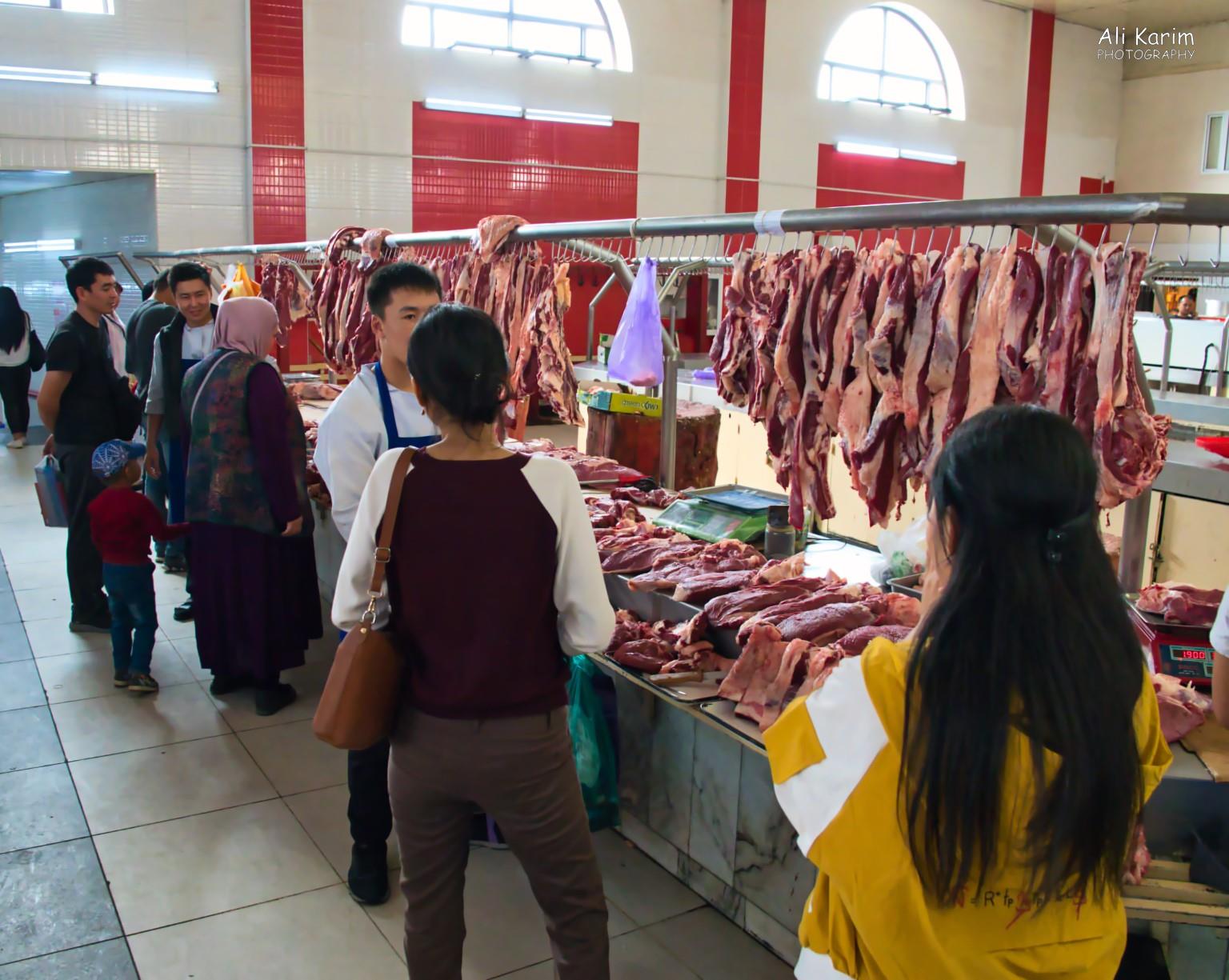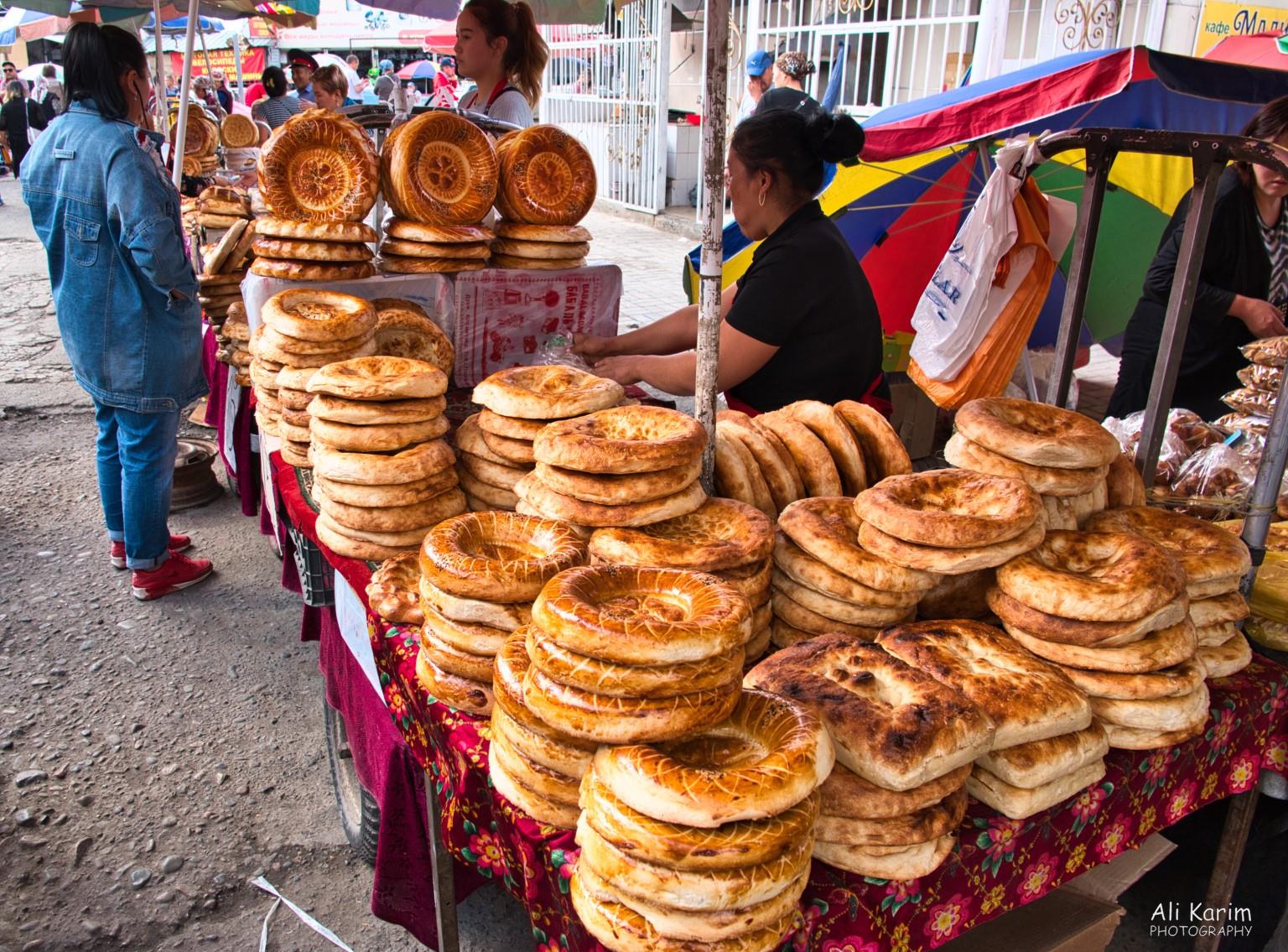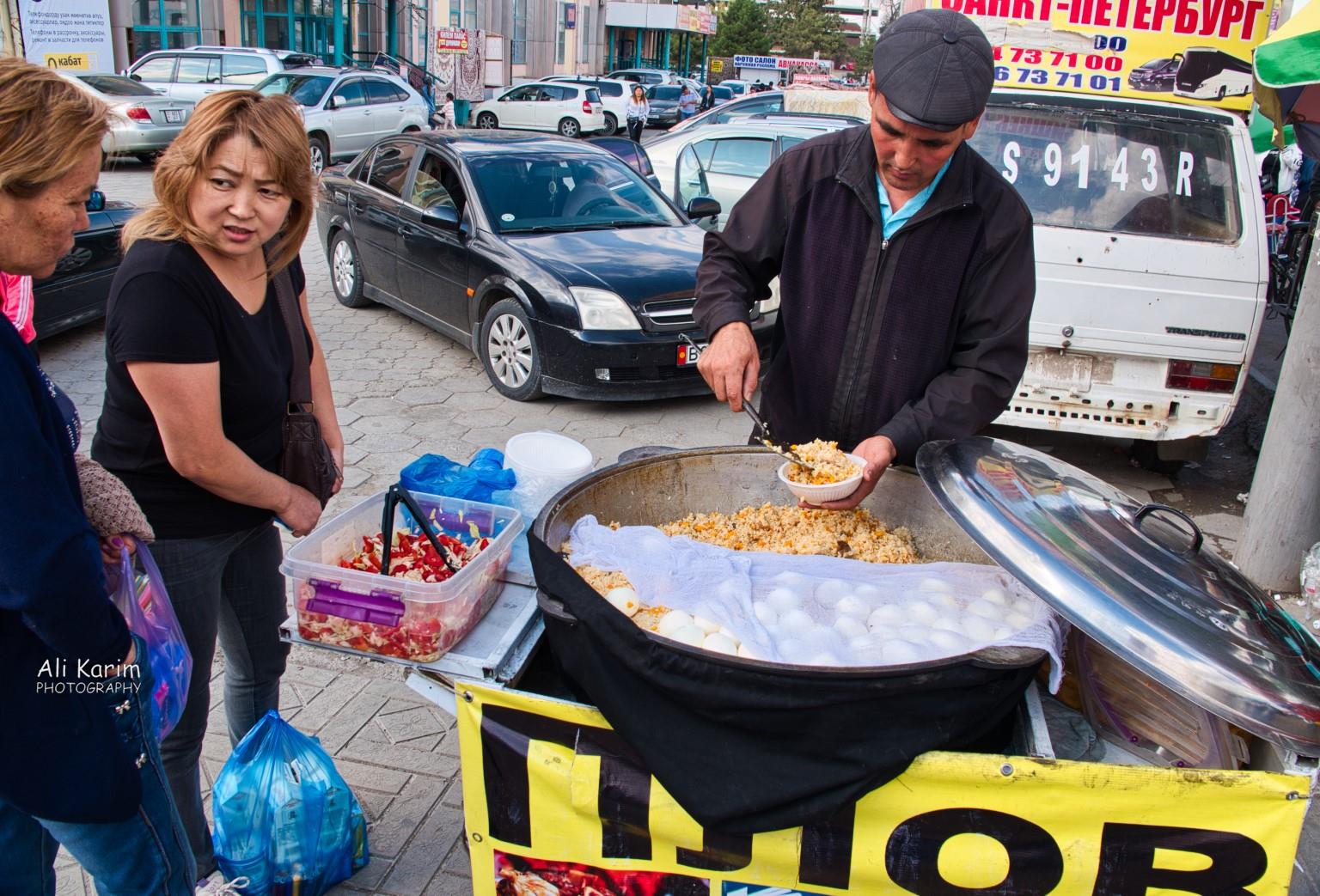 We had eaten similar plov dishes in Xinjiang, China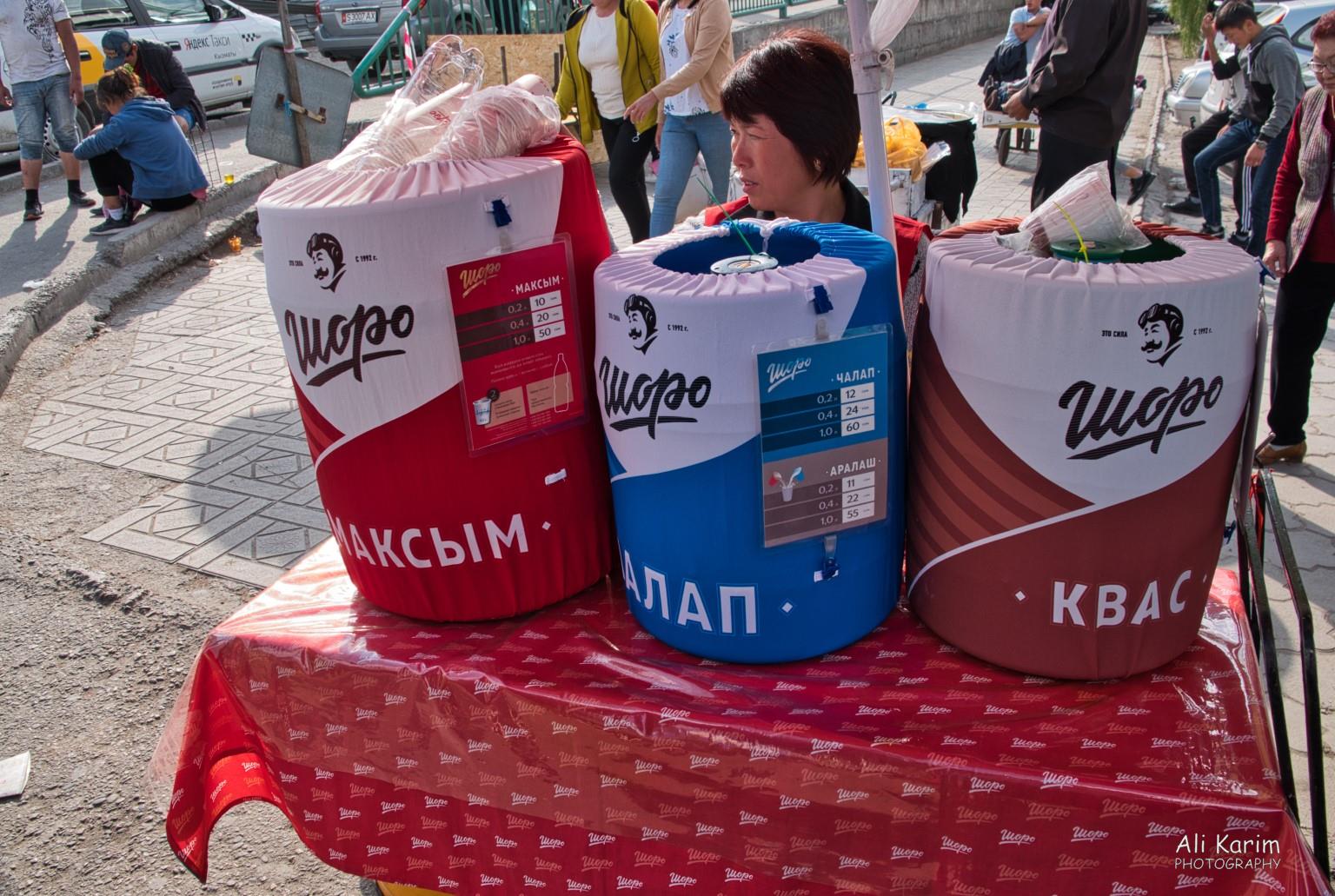 Of course, I had to try this. Dilshad refused to try it as she feared getting sick. However, this stand and all the others in the market has all been super clean, and free of flies, bugs etc. So all very hygienic. The lady poured the fermented milk and then added something else to it that may have been crushed seeds or something; the taste was a little tart, but pleasant. Actually, during the fermentation of the mares' milk, lactobacilli bacteria acidify the milk, and yeasts turn it into a carbonated and mildly alcoholic drink; kumis.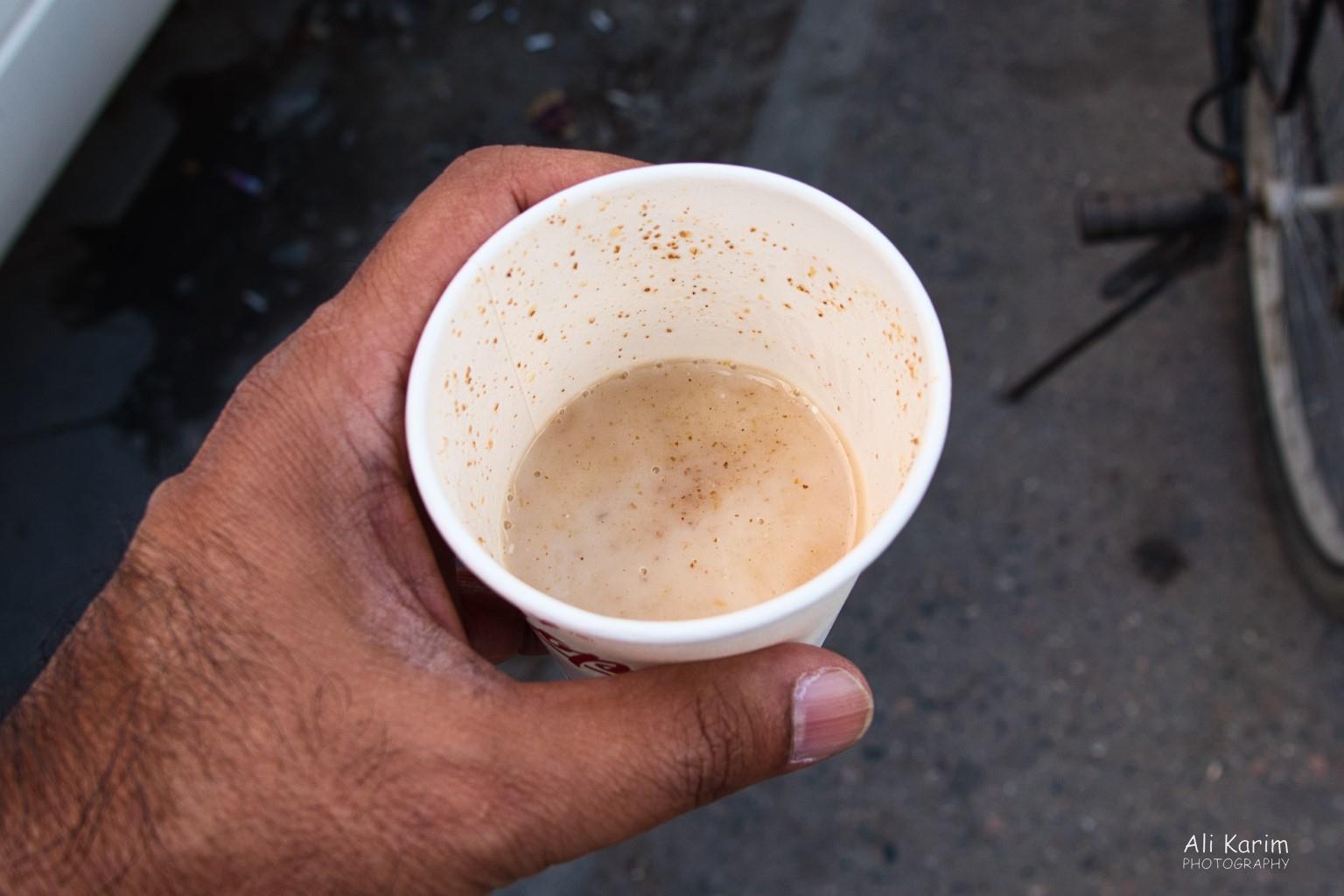 We then got another taxi ($2) to take us to the main square in downtown Bishkek, the Ala Too square. This square is very large with beautiful gardens and majestic architecture buildings around. At one end was the State History Museum, but it was closed. No square in the Soviet republics is ever without at least 1 statue. Below are some scenes from the Ala Too square downtown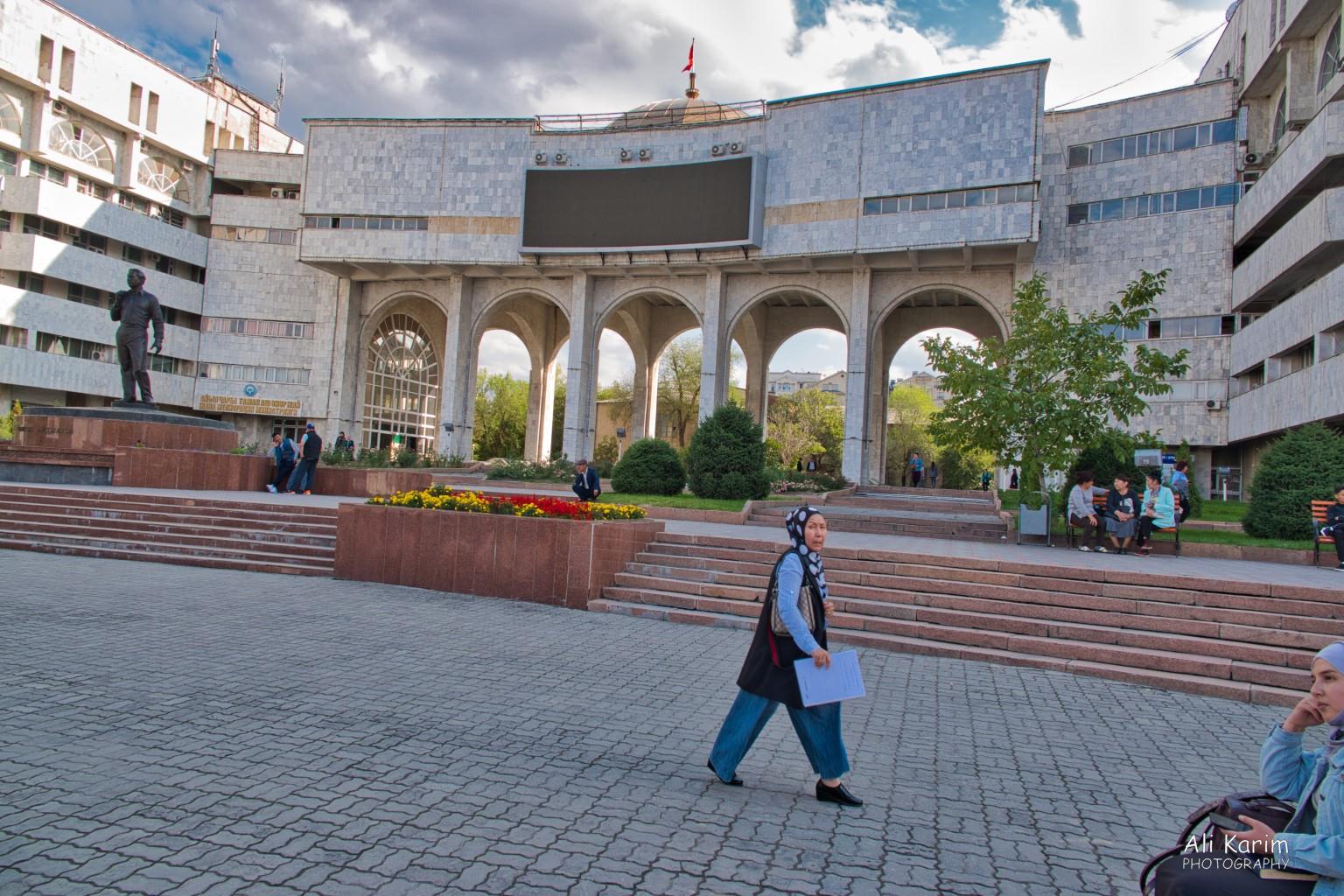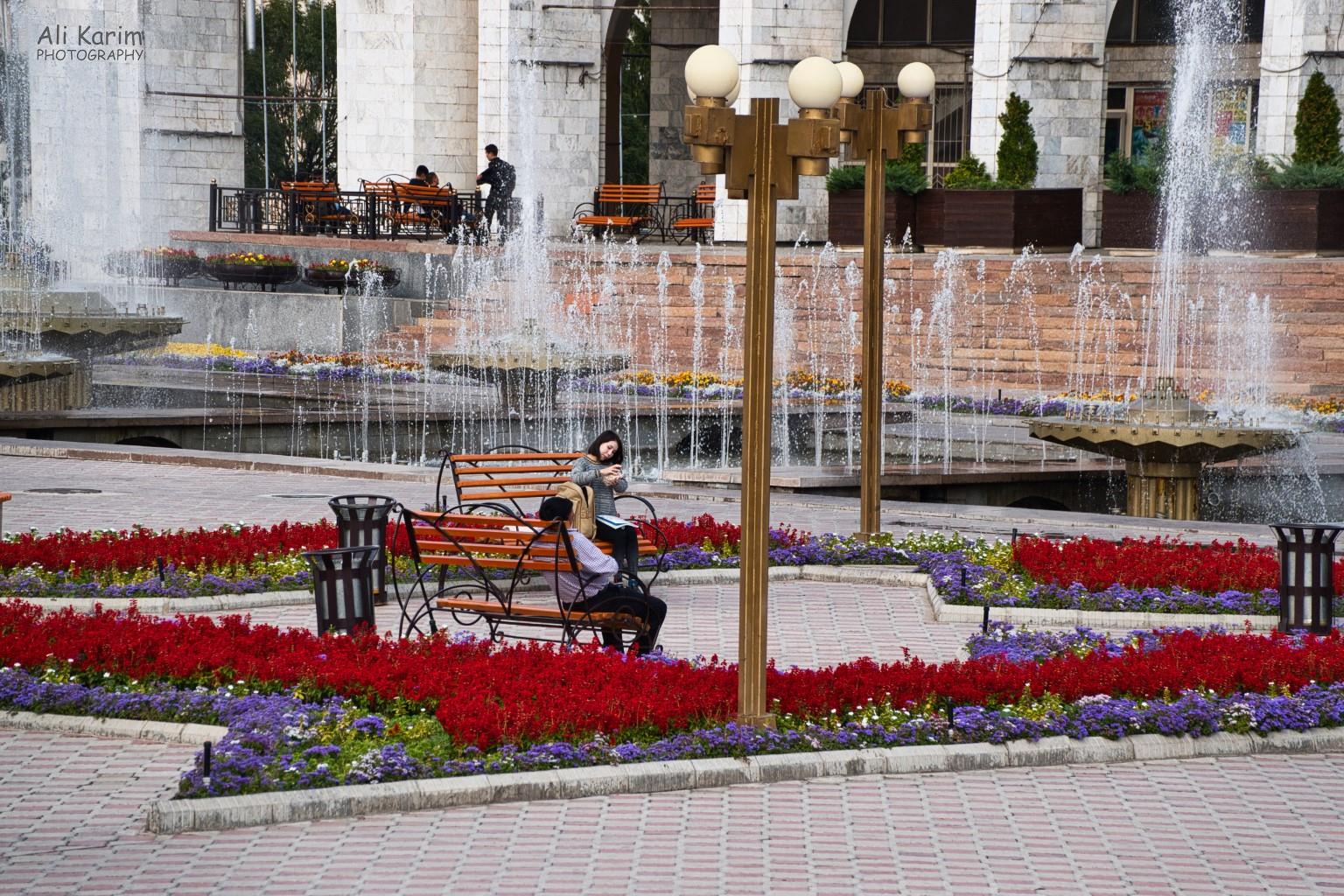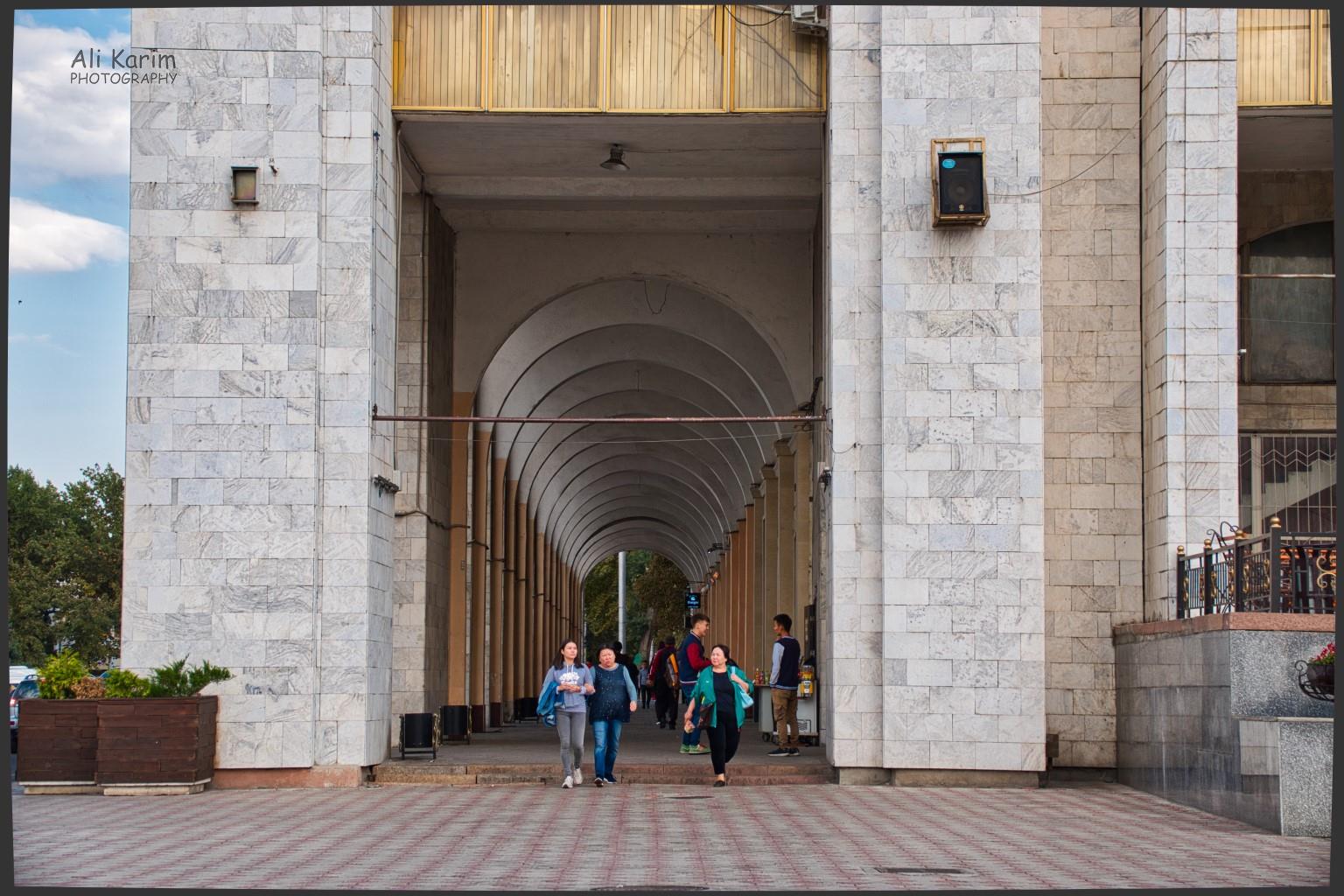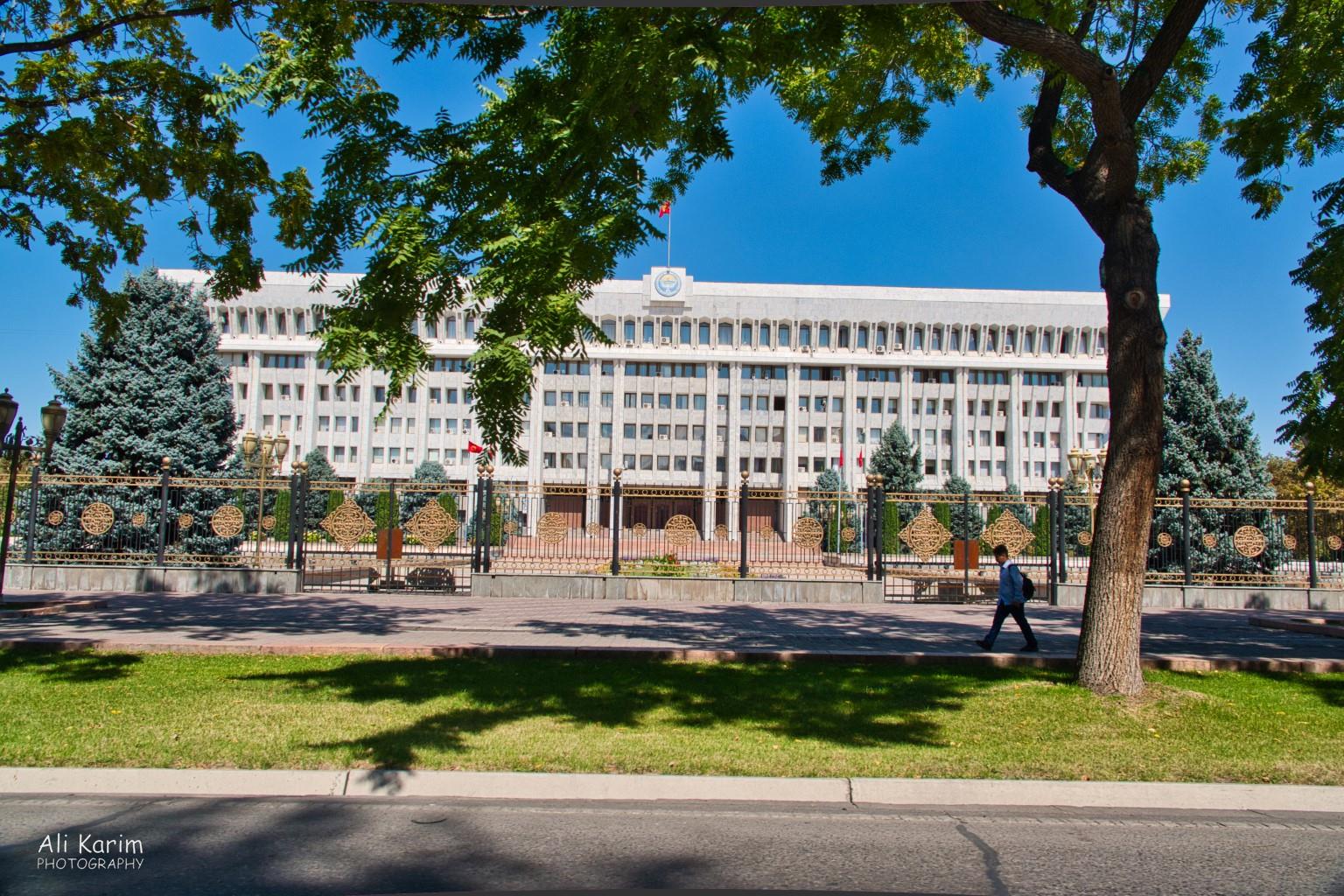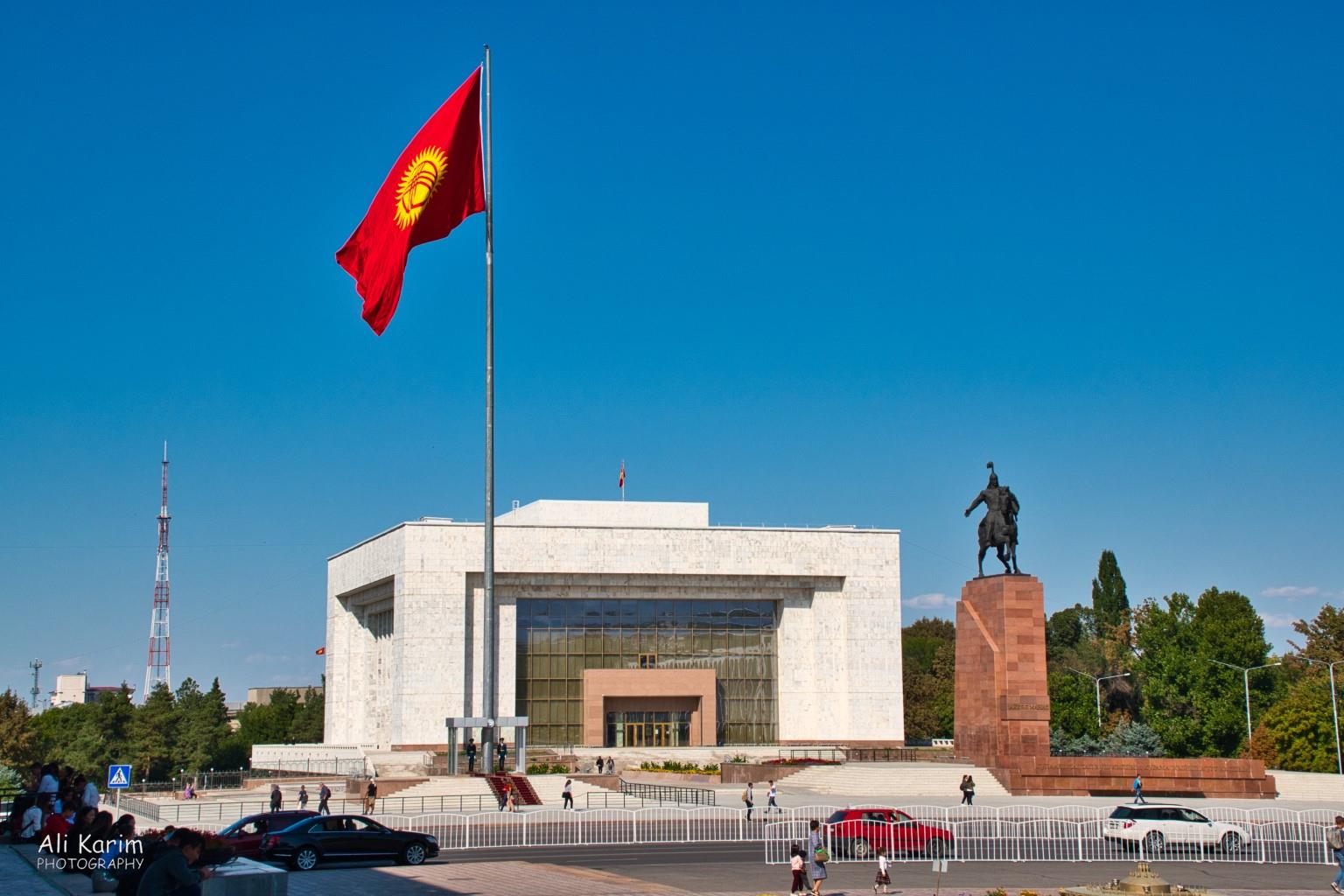 The Museum was unfortunately closed, so we wandered around the area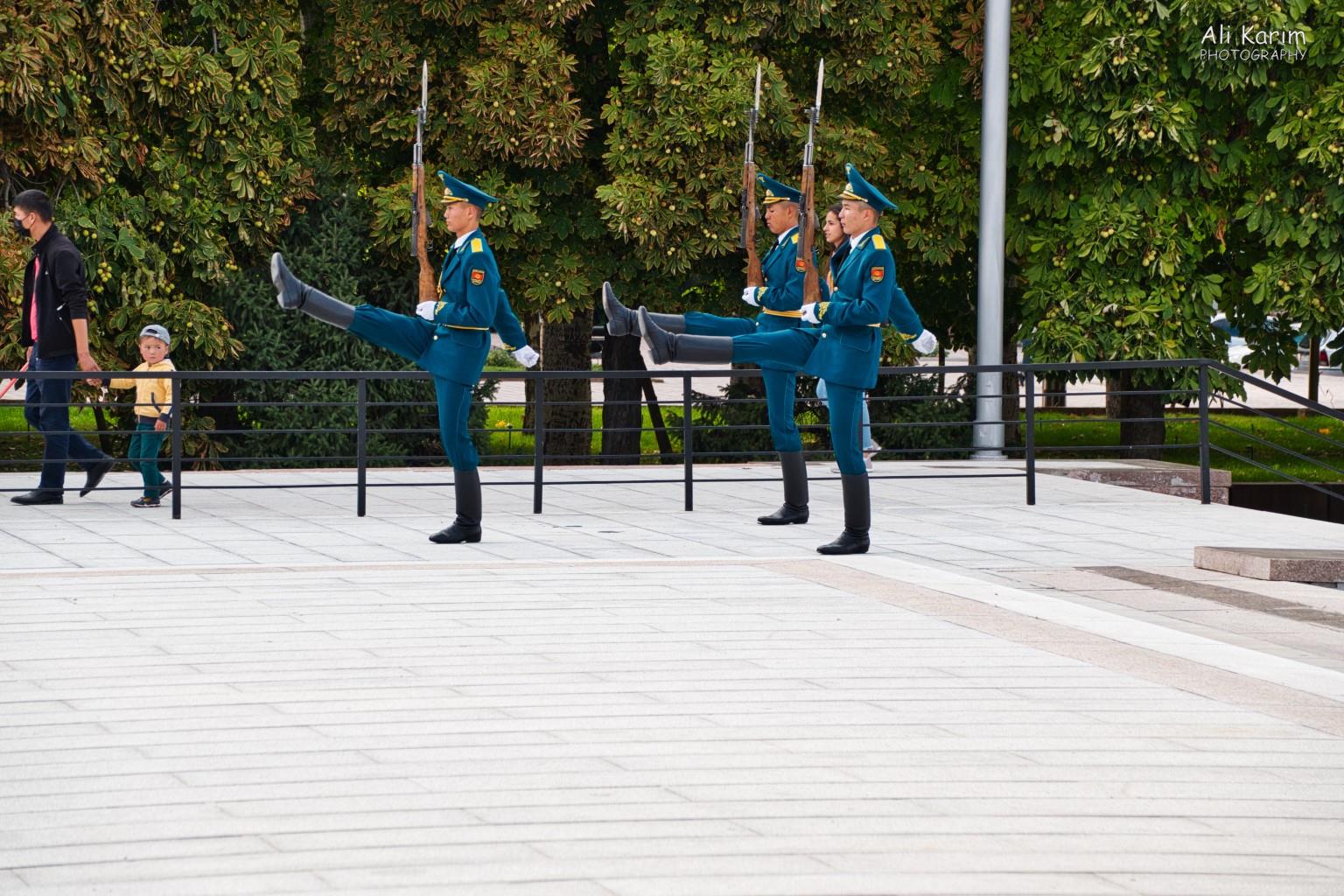 Views around the Ala Too square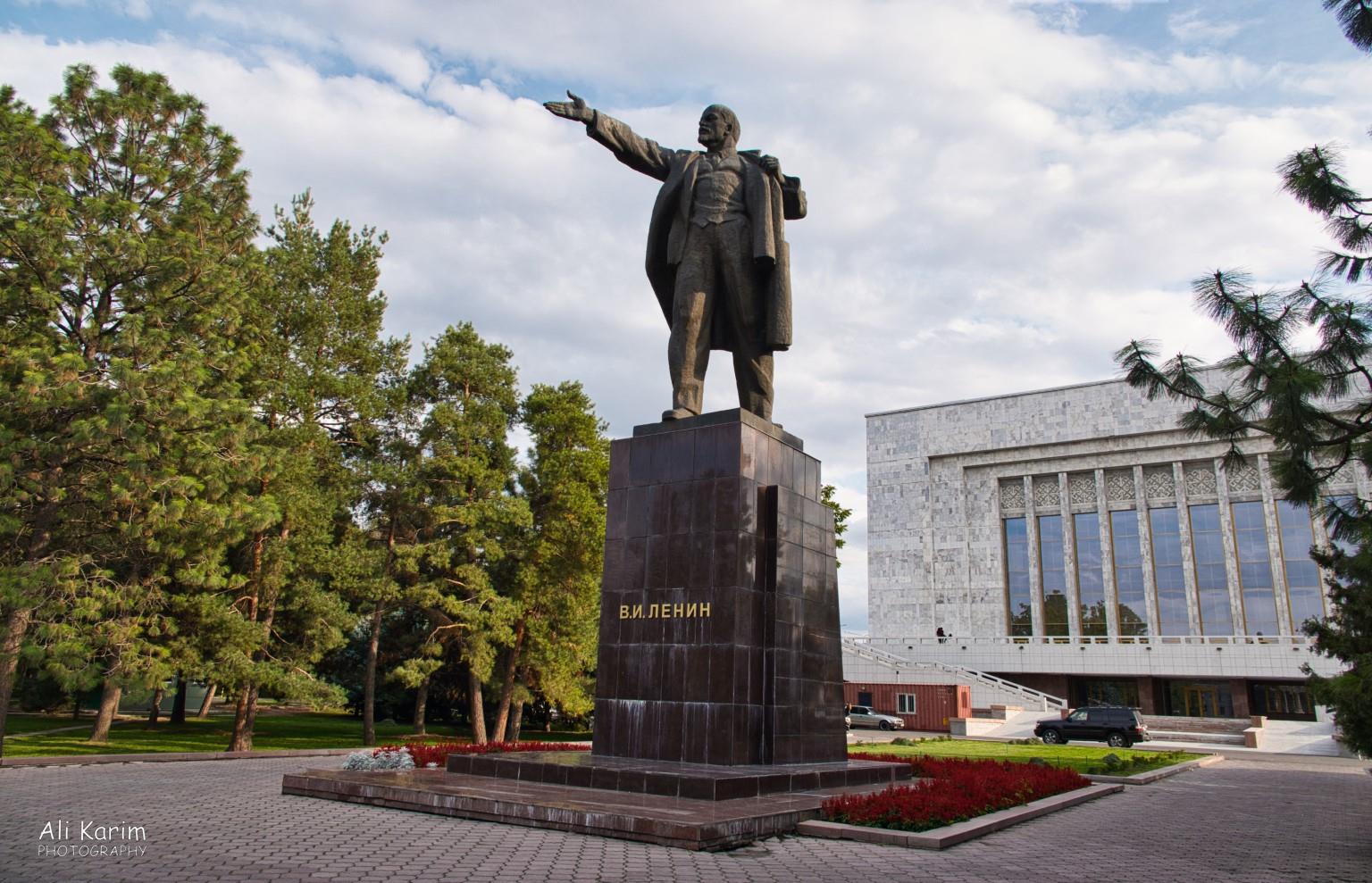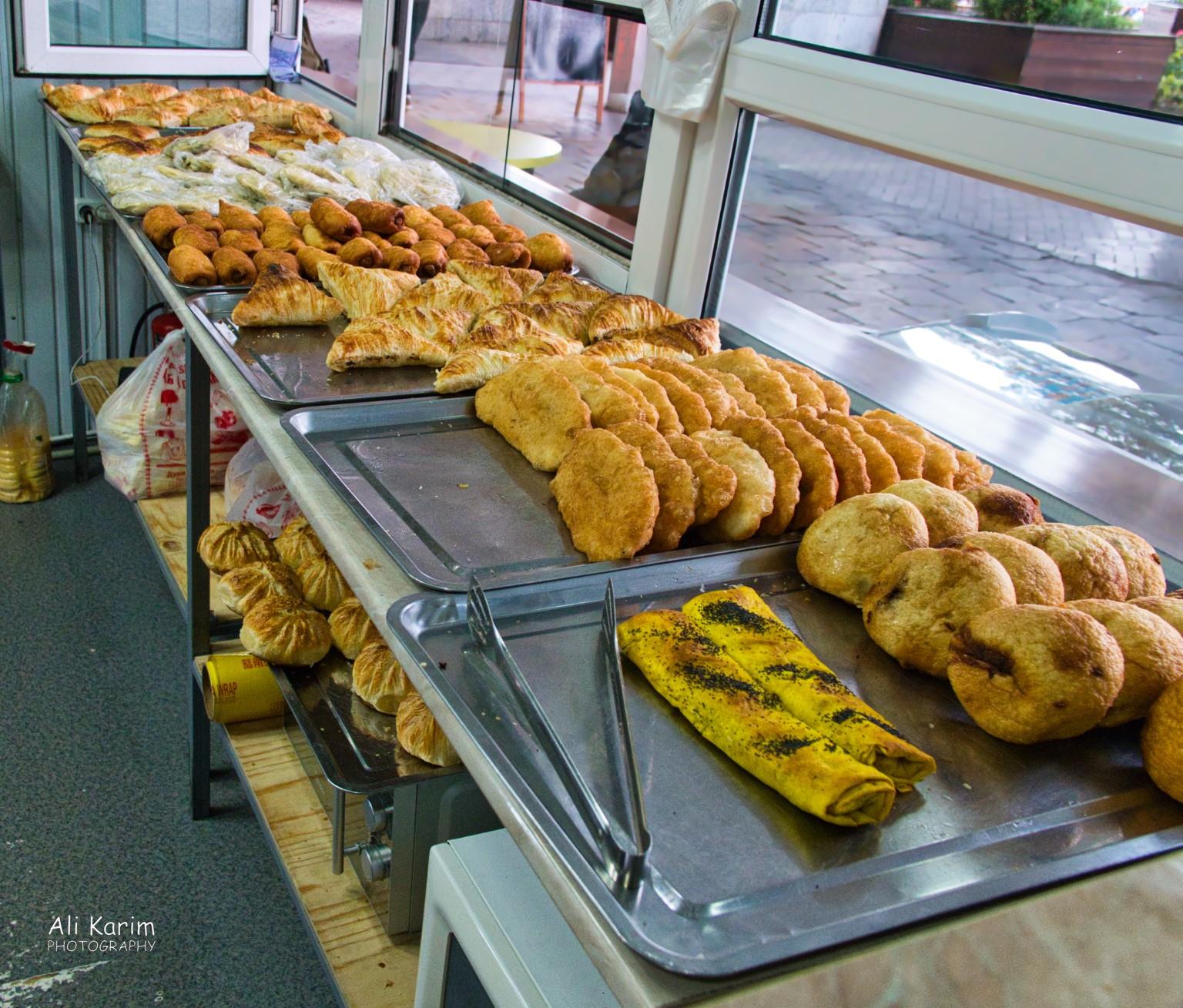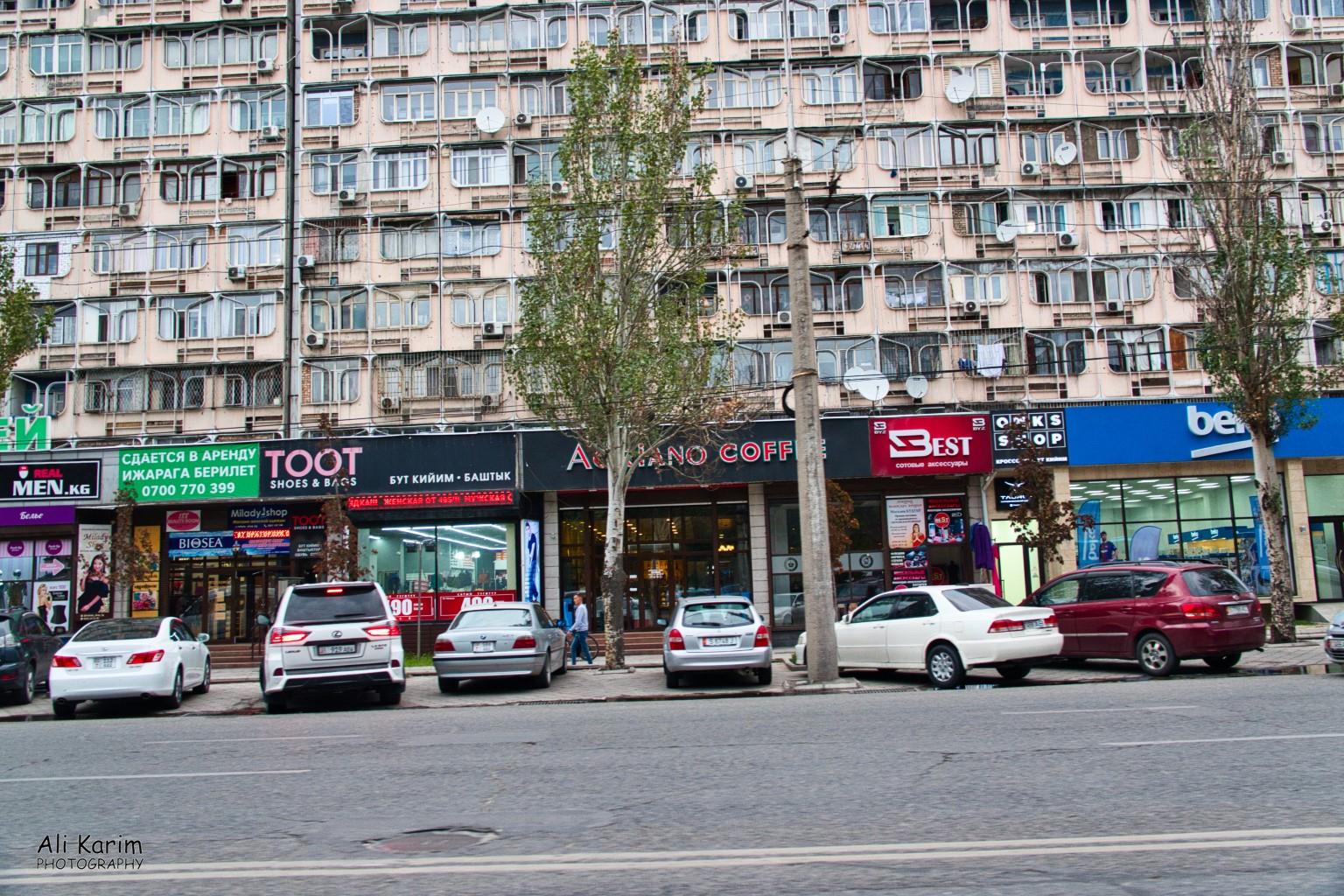 That evening, we decided to get a massage and some tasty Thai food, so we were recommended a Thai massage place by the staff; and it was indeed very good. The Thai restaurant was called Baan Baan and was owned and run by a chef who spoke good English. After the meal, we asked the owner to call us a taxi, and he recommended we use a app called Yandex, which is like Uber, but you pay the driver cash. We tried this and not only was it cheaper, it was far more efficient than flagging down a taxi, having language issues, and then having to haggle over a fair price. Good for Yandex 🙂
Next morning, we decided to check out the new Central Mosque, that had been built over the original central mosque, and was Turkish funded. Apparently, after China, Turkey is Kyrgyzstan's largest trading partner. The mosque was modelled after the Blue mosque in Istanbul. This mosque was very beautiful, impressive and did indeed resemble the Turkish mosques. This one had a capacity for 20,000 worshippers, inside and outside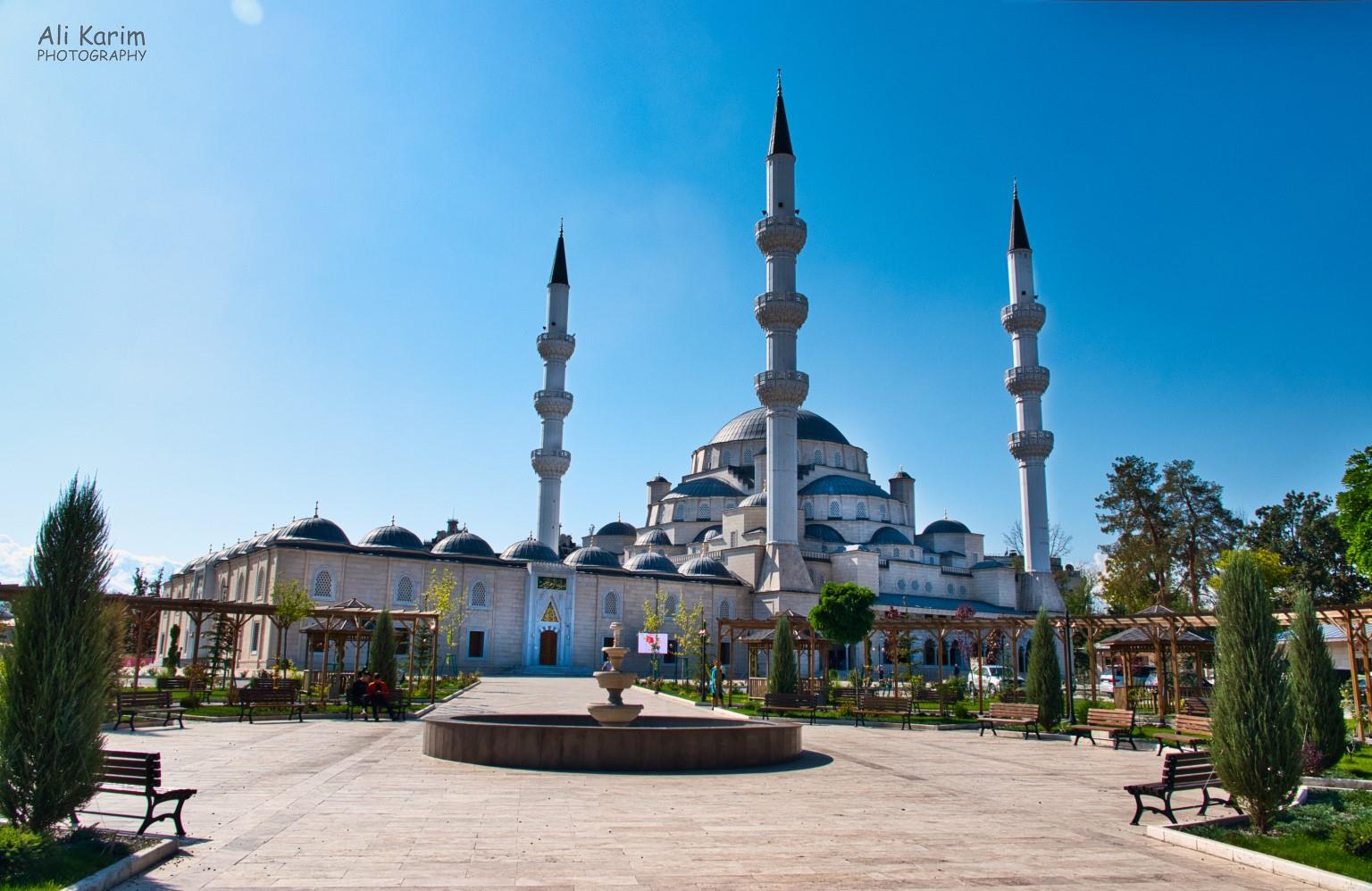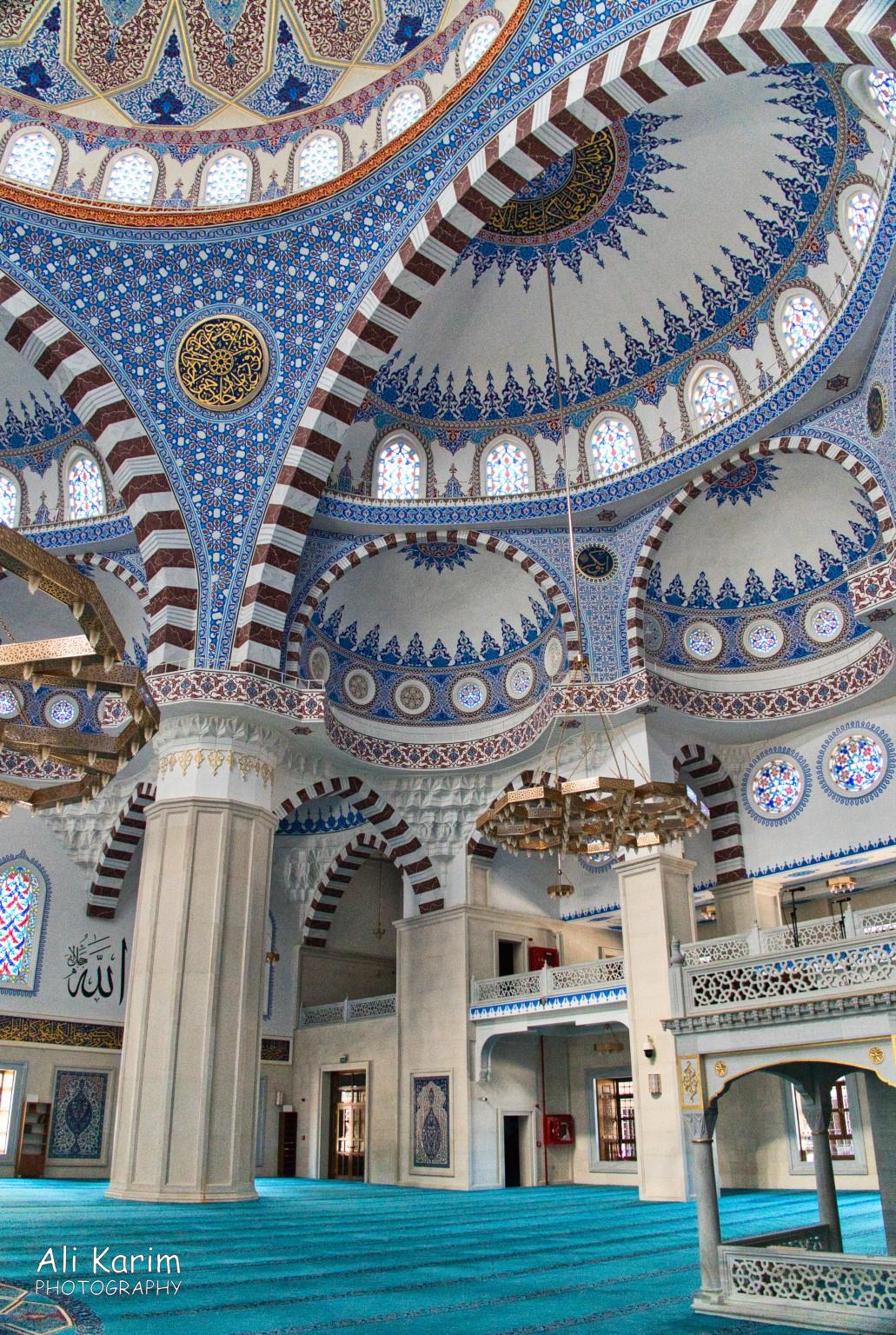 Inside the mosque

Next stop was the Victory Park Memorial to the WW2 soldiers who gave their lives. An impressive monument with an eternal flame at its center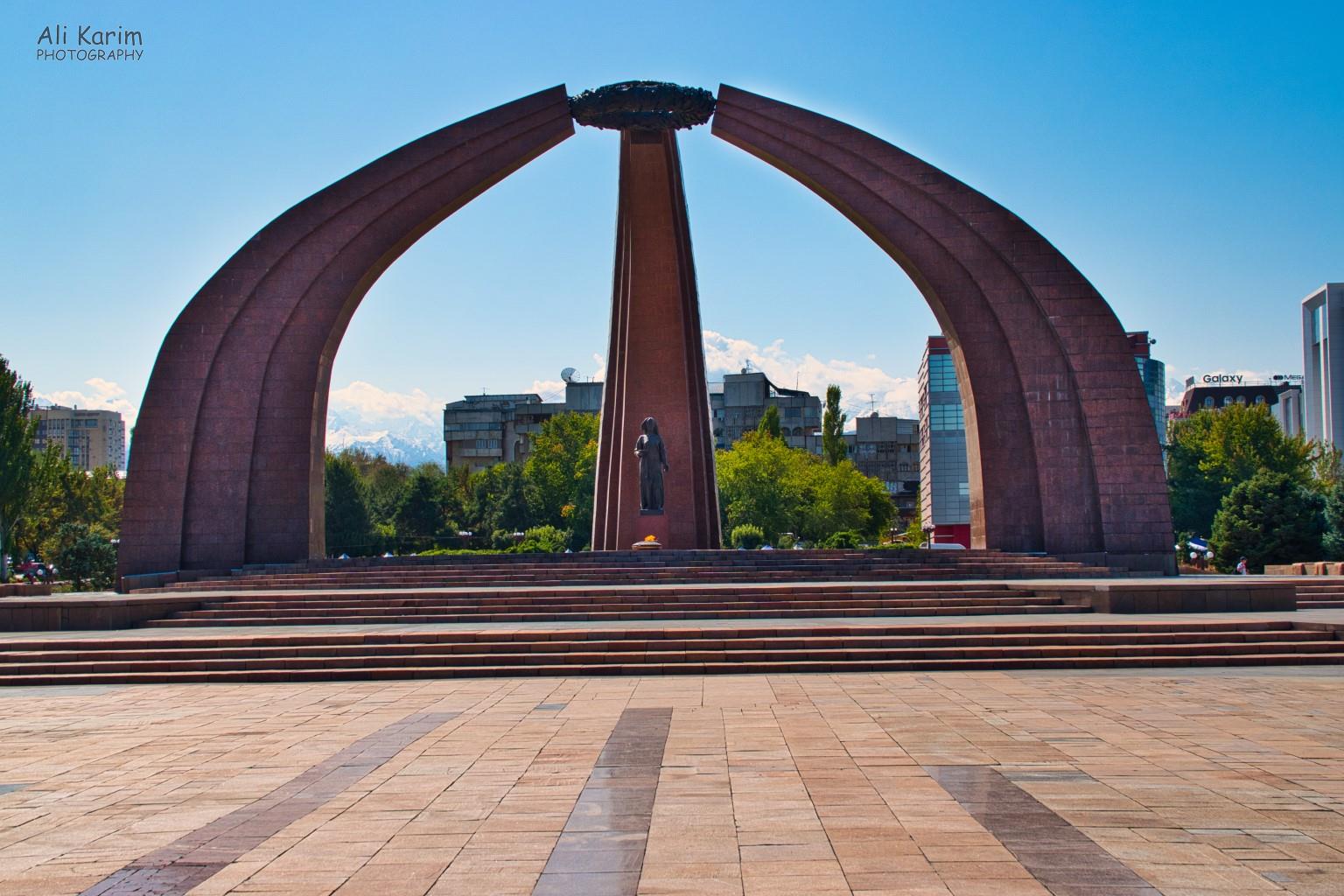 Some random scenes below near the monument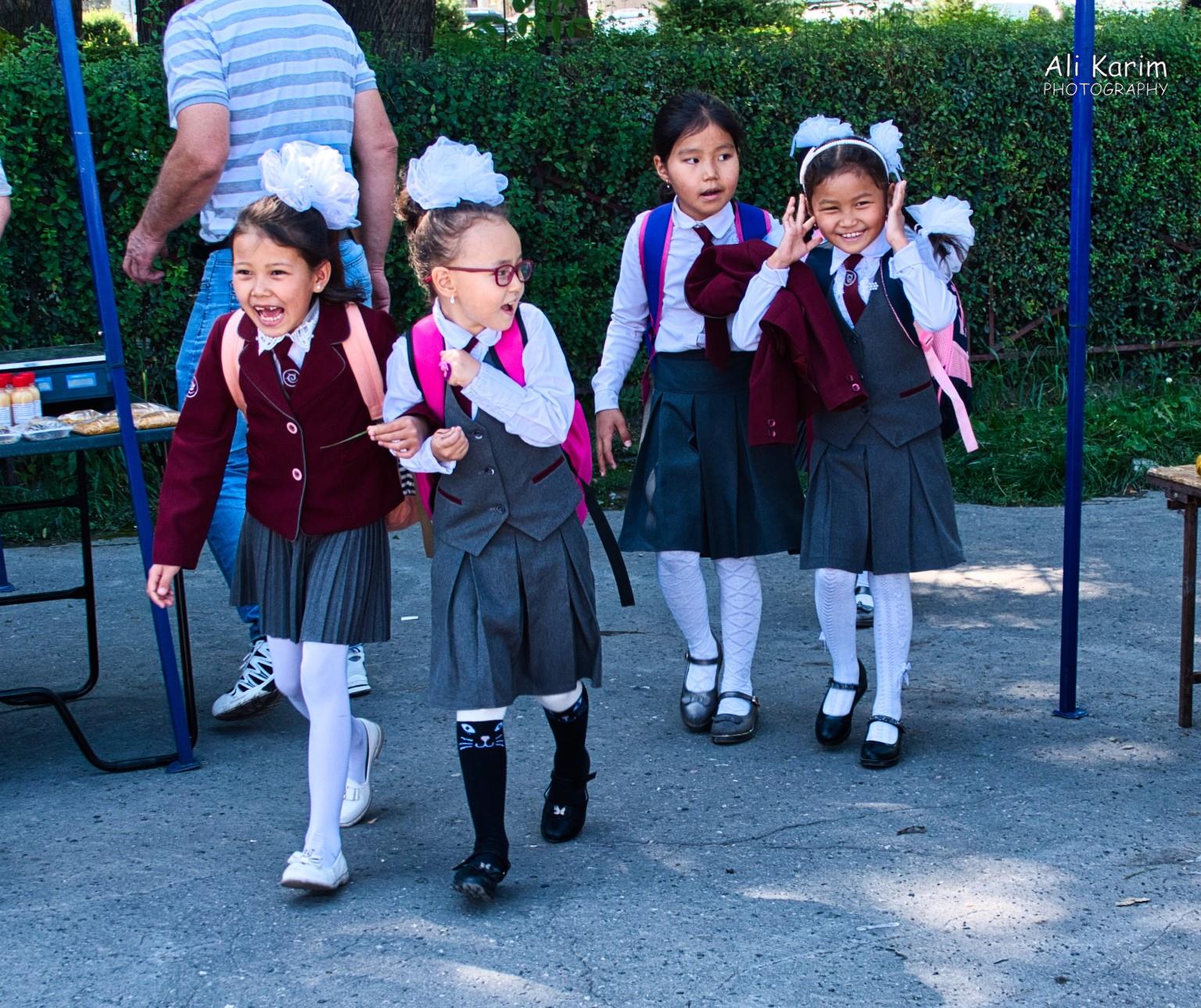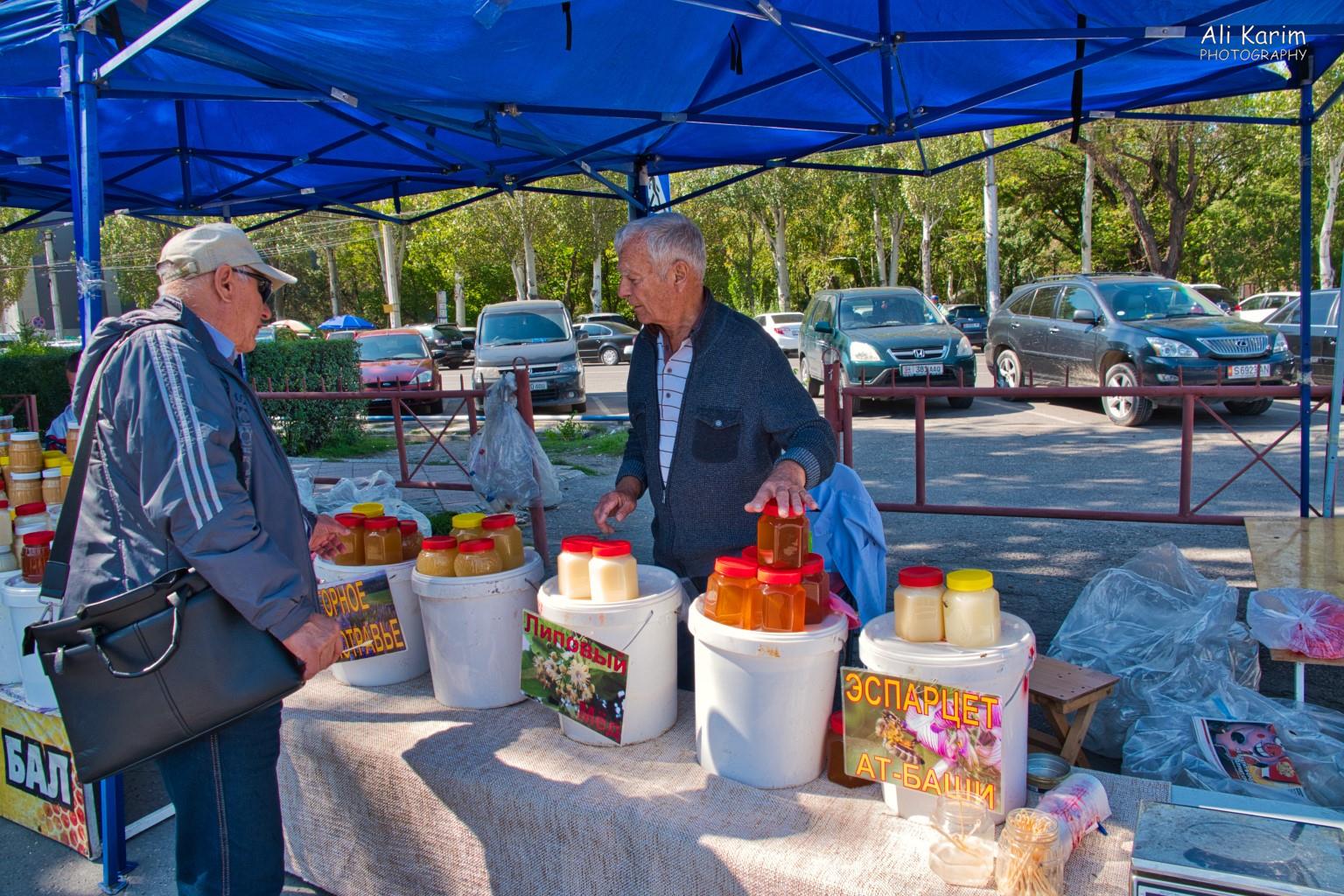 We then went back the downtown to meet up and have lunch with Abakhon. Abakhon was a contact we had received from Shuhrat Azizmamadov in Atlanta, who was in turn introduced to us by Kam Shams, our friend in Dallas. Shurat and Abakhon grew up together in Khorog, Tajikistan. Abakhon has been living in Bishkek for 15yrs now with his family, so is practically a local. Abakhon took us to the Navat restaurant, a very nice restaurant and he treated us to local delicacies and local dishes; all of which were very good. Abakhon also gave us a lot of background info about Kyrgyzstan, Bishkek and the culture.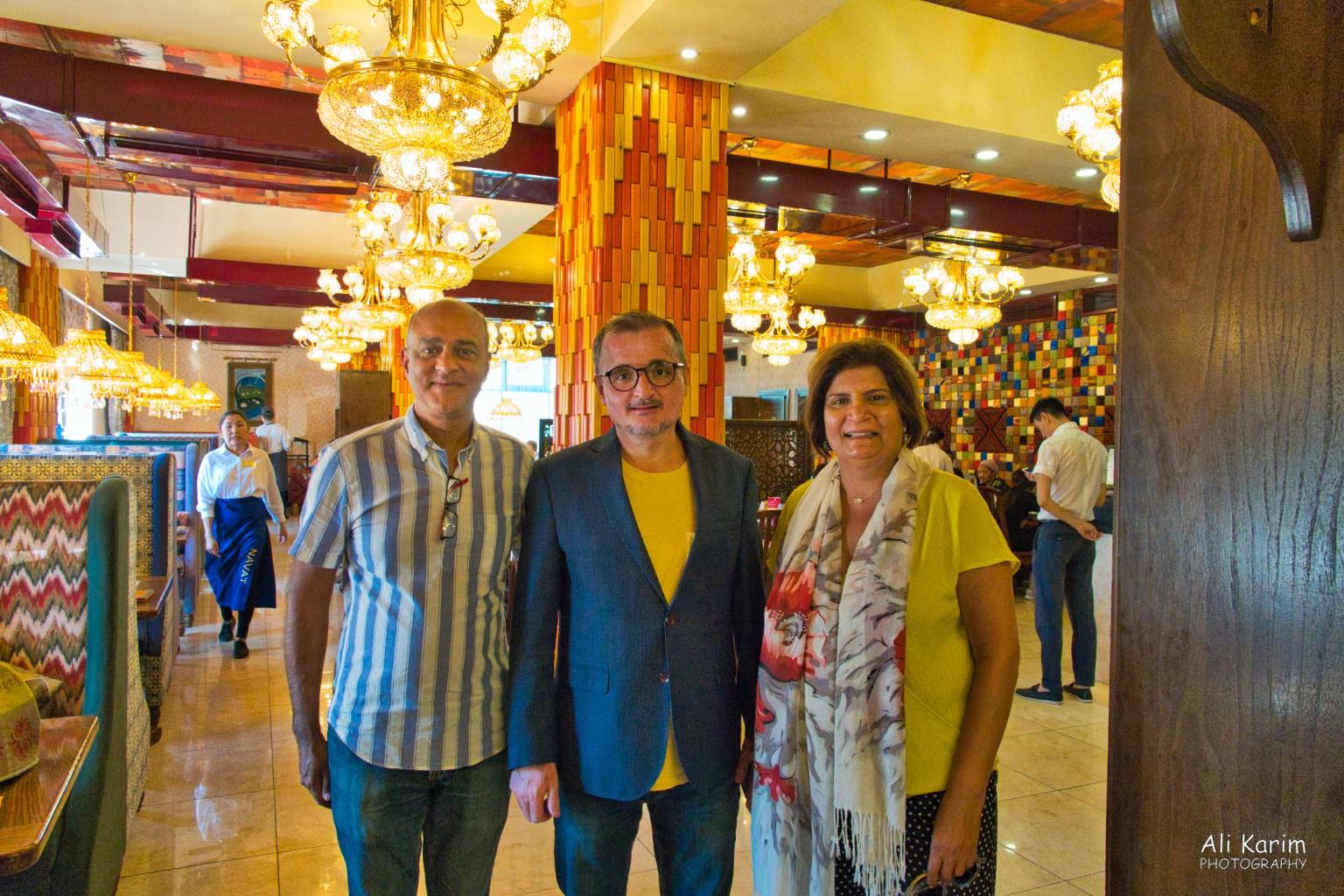 After the nice lunch and conversation with Abakhon, we then walked around downtown some more; more scenes below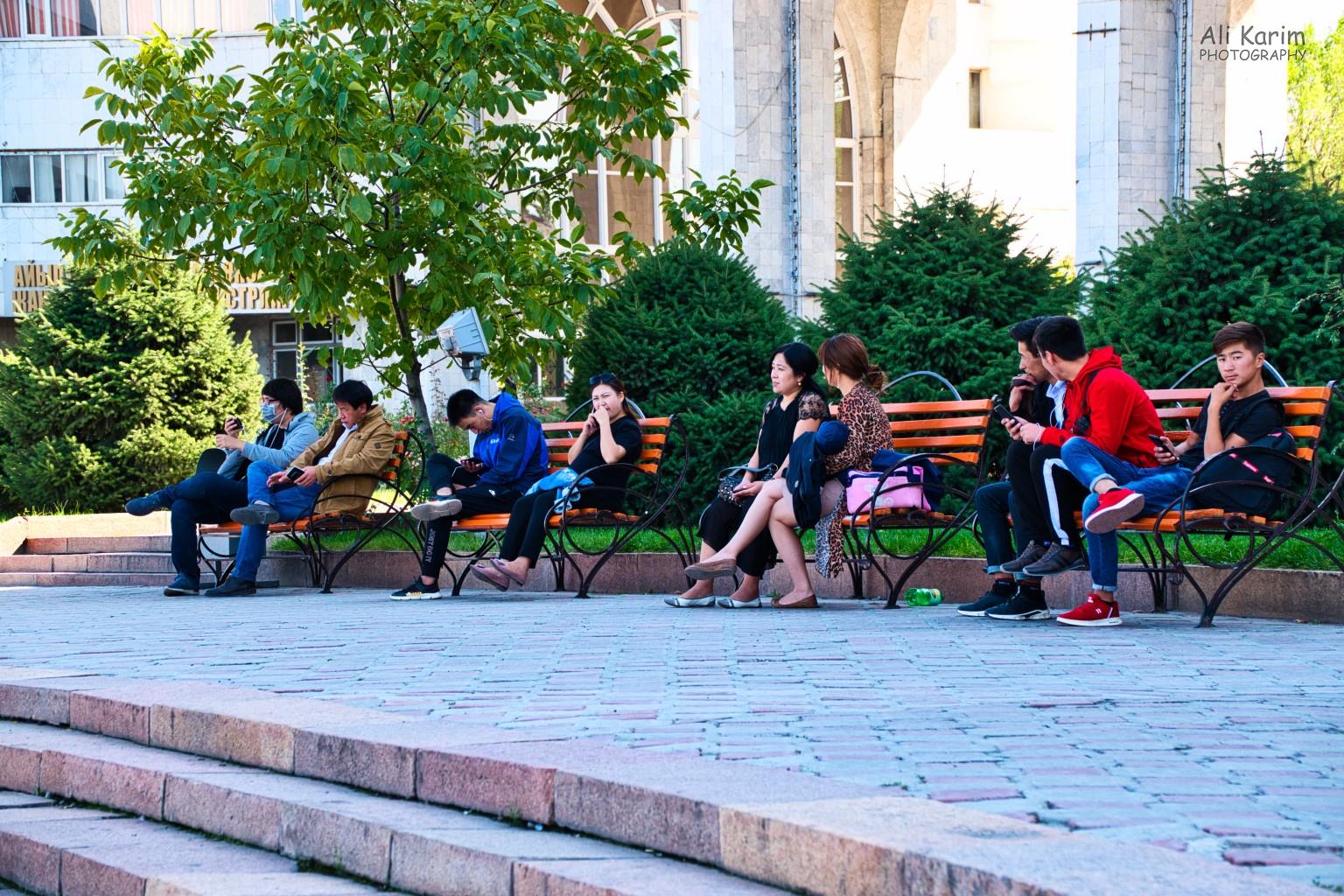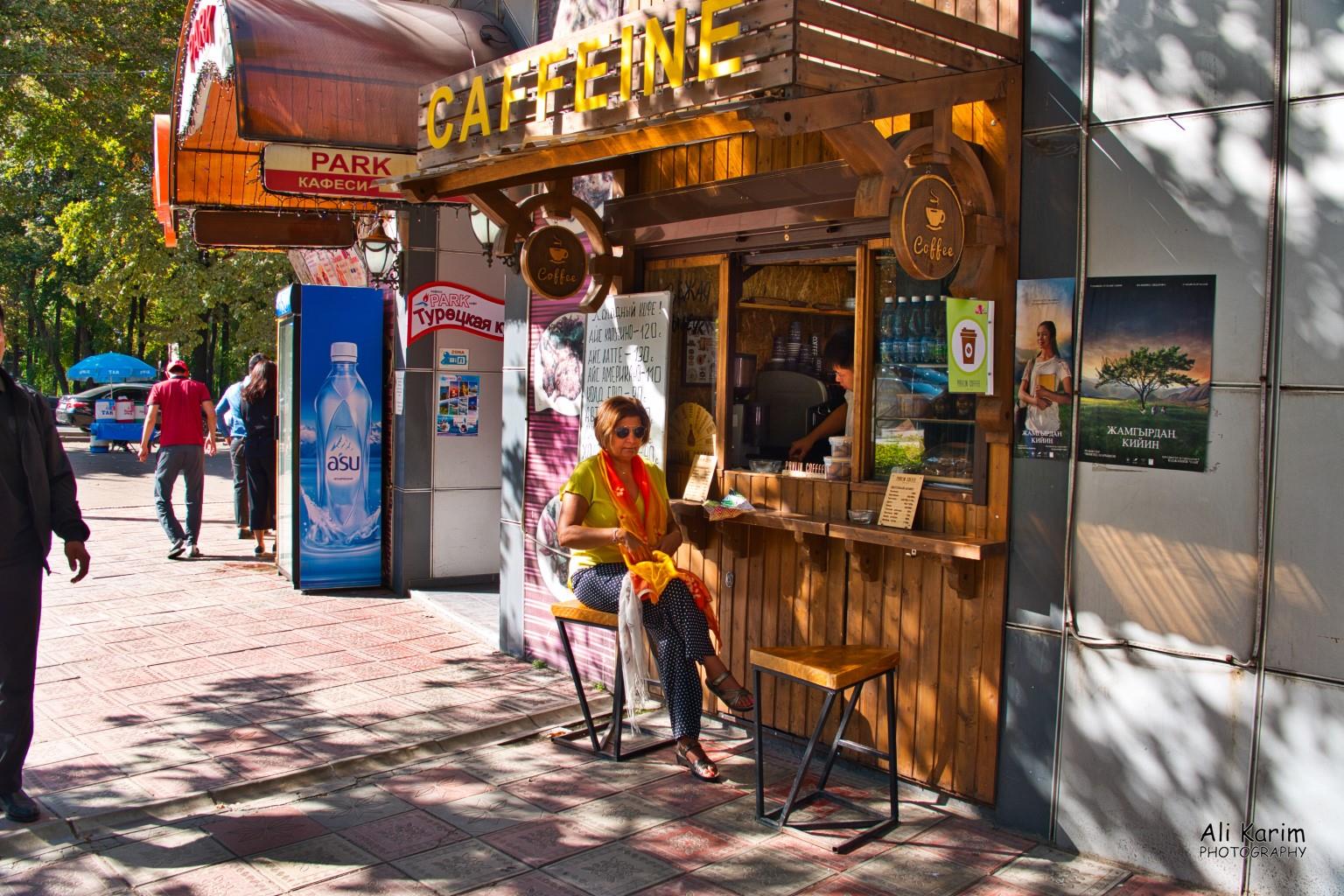 That evening, we decided to check out a Russian Banya (spa) and on the hotel staff recommendations, went to the Zhirgal Banya.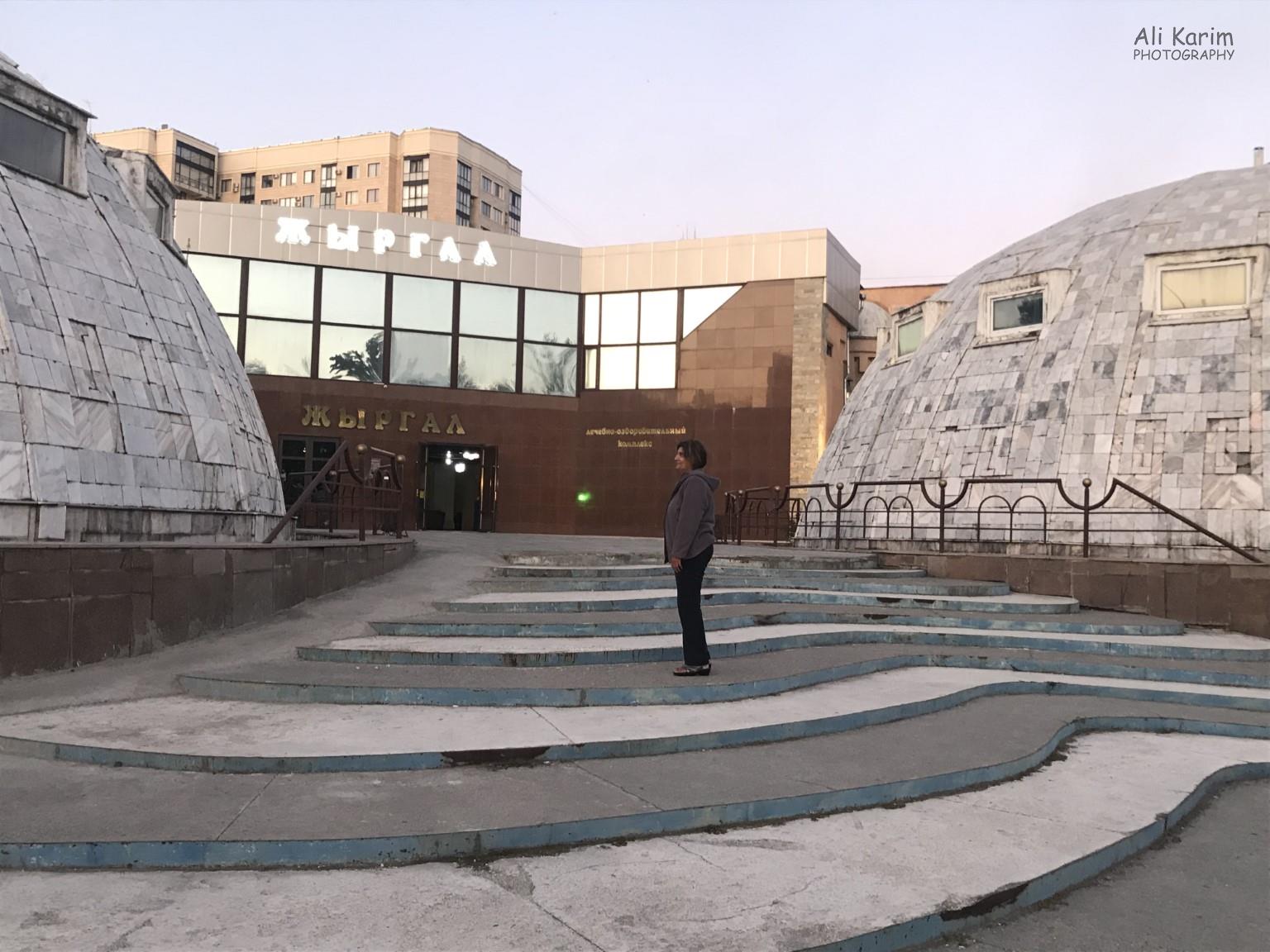 We got there and nobody spoke English. Fortunately, a young Kyrgyz man came over shortly and introduced himself in good English, saying he had visited many western countries, and was manager here, and was 23yrs old. He informed us how the spa worked, with hot (dry, wet sauna's and showers etc) and cold (pools at "0C, not +1C , not -1C, but 0C"). I paid 300 Som ($4) to use the Spa, and Dilshad paid 1000 Som ($13) to use the spa and get a body scrub and pedicure. We spent a good few hours here and enjoyed the experience.
So what was in the Russian Banya? The Spa areas had open hot showers with soap, razors etc for shaving, scrubbing, cleaning; and there was a hot dry sauna and a steam sauna. Temperatures were quite hot in the spa's; and all the users were butt-naked. They basically did a routine going from the hot spa's to the cold pool; simply jumping into the very cold pool; and then back to the hot spa, and repeating. They did not seem to come out shivering from the 0C pool. After watching this, I mustered up the courage and jumped in myself into the freezing pool. After the initial shock, I did not feel cold; and came out without shivering; and simply went back to the hot spa's. I did this a few times, and if I, a 62yr old man can do this, then anybody can 🙂
After this, it was nightfall, & we took a taxi back towards the hotel looking for somewhere to eat. We saw a bright place for halal pizza, so we asked the Yandex driver to let us off here. Went inside but the nice Muslim lady with a hijab inside told us (broken English) that their kitchen was closed (it was now 9:30PM). We asked her where there was a good place to eat nearby, and she told us to go to Habibi which was 200m away. So we walked and tried to look for Habibi; but could not find it. We asked a passerby for this place, and he pointed it out to us. There was no way we would have found this place, because the neon sign outside was all in Russian 🙂
Went inside, and this turned out to be a stylish club, with nice privatish booths for the customers; and hookah's were being used. A nice young lady named Nurai waited on us, with very limited English. We ordered a pizza and devoured it as we were hungry. Cost for a large pizza, beer, wine and water was 695 Som (US$ 10). Called it a night.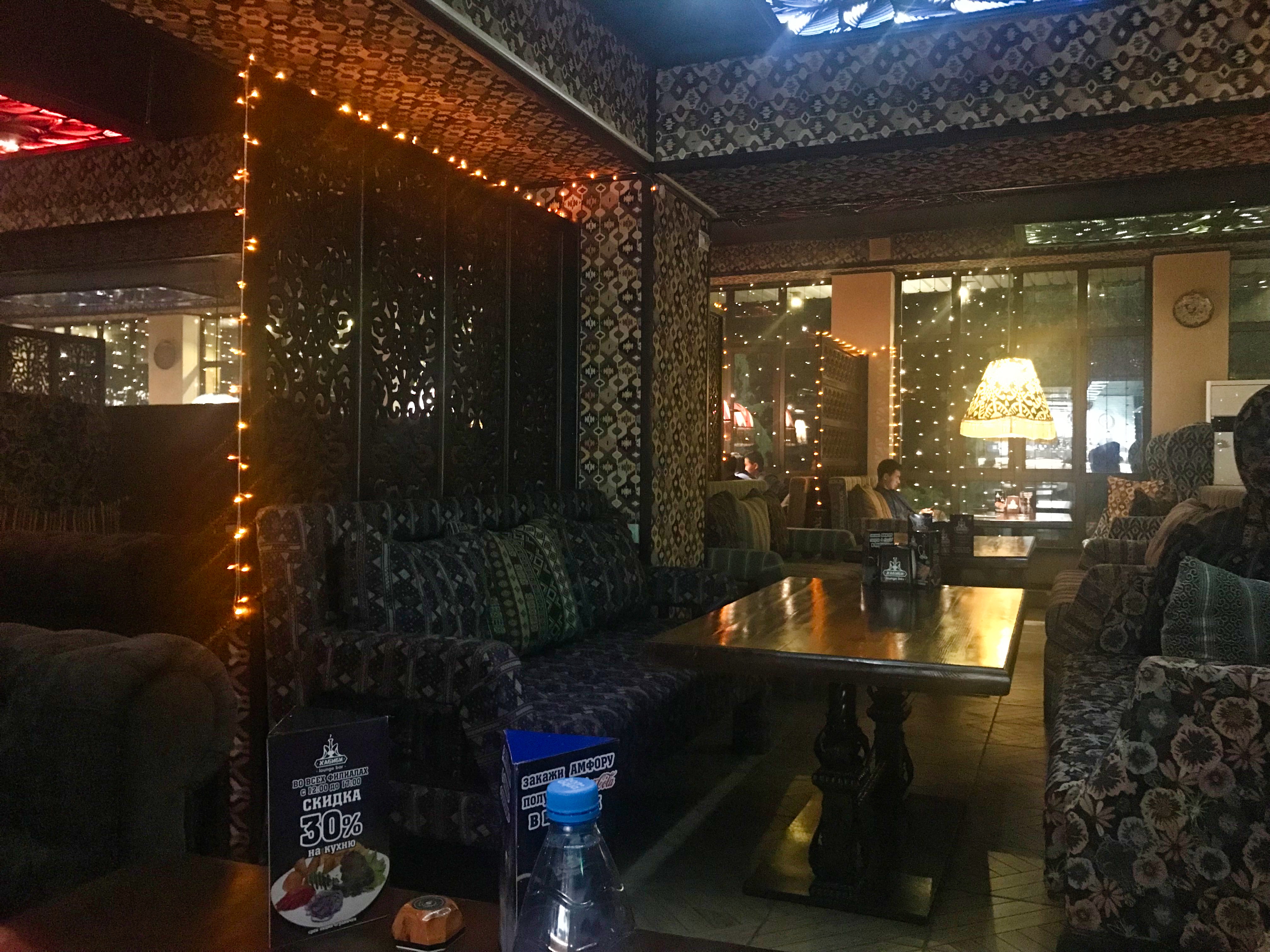 Next day, we started early, as we wanted to check out the Dordoy Bazaar, which is a few kms away from Bishkek. This Bazaar is the modern Silk Road market for Chinese goods (mostly Chinese good, some from Turkey, local, Russian etc), where buyers from other Central Asian countries (Uzbekistan, Kazakhstan, Tajikistan, Russia etc) come to shop for everything from clothes, shoes, furniture, electric and electronic equipment, toys, automotive supplies, construction materials, etc. It is mostly wholesale, but also has retail sections. The shops in the market are in shipping containers, stacked 2 high; the bottom container being the shop, and the top container being the storage area. Since we were early, it was just starting to open up, and it did get very busy. This was an enormous market and sold literally everything in different areas spread out over a km in each direction, employing 20,000 people. One thing that struck me was that in spite of the many people and activities here, it was all orderly and very clean. Something we noticed everywhere in Bishkek. Scenes from the Dordoy Bazaar are below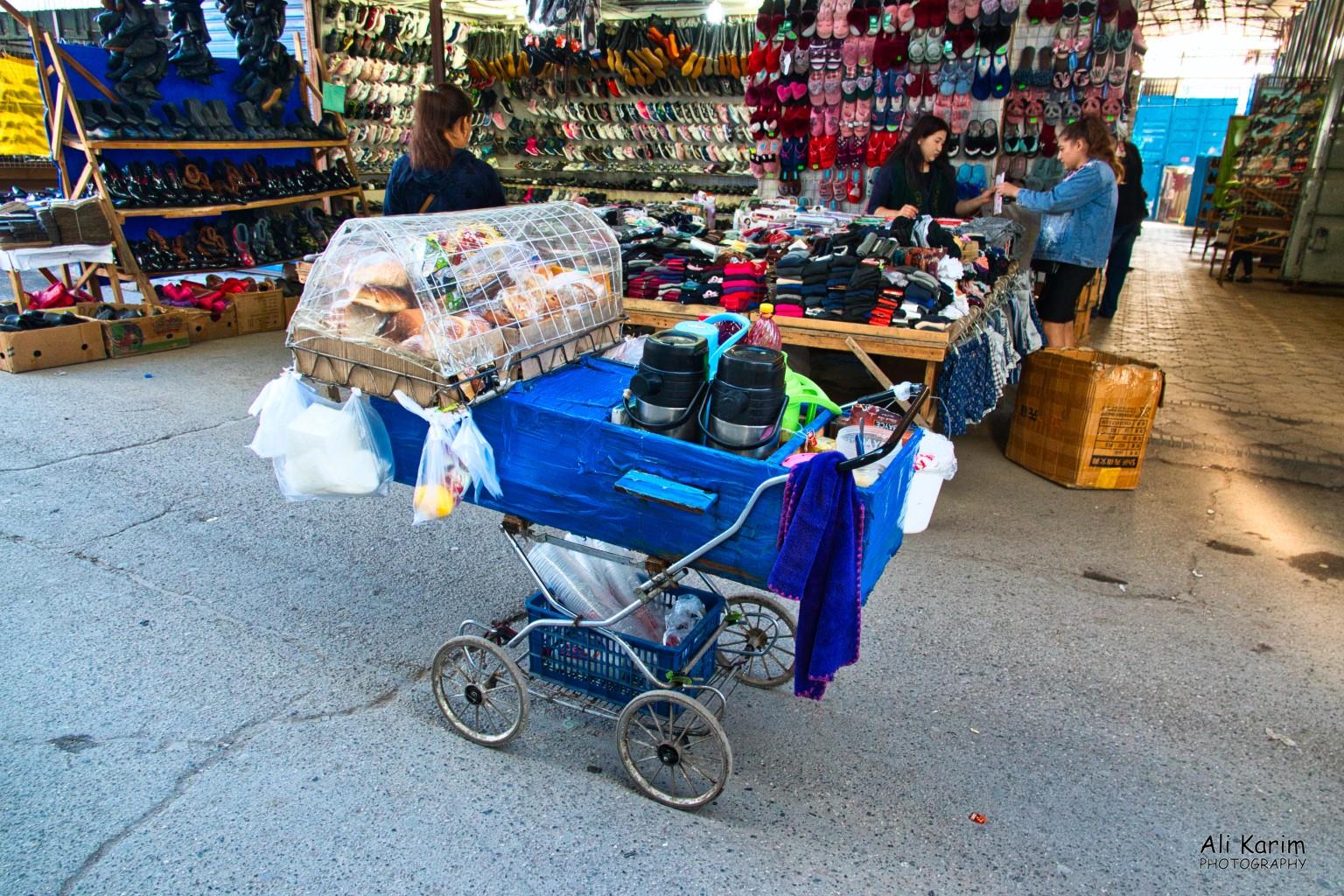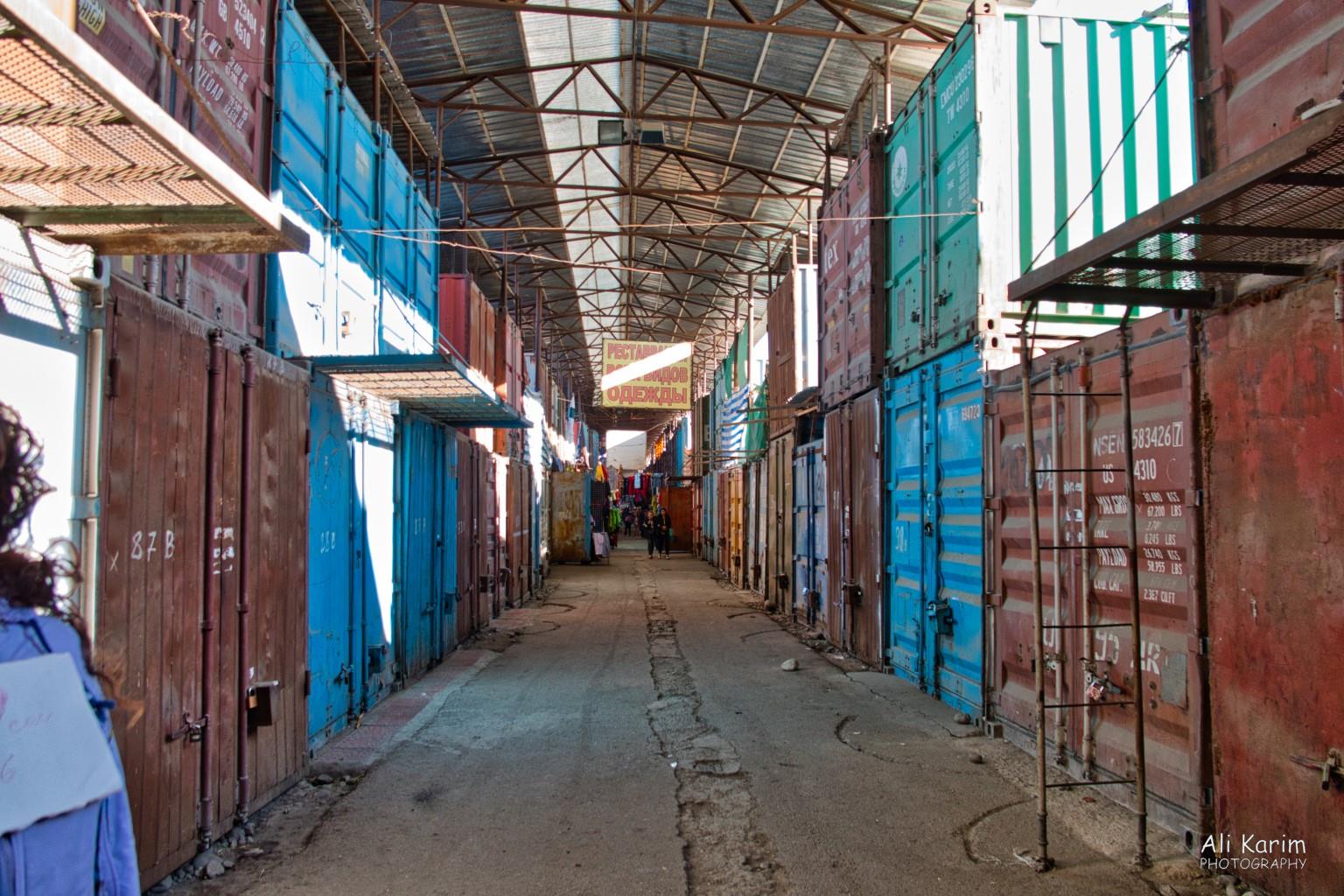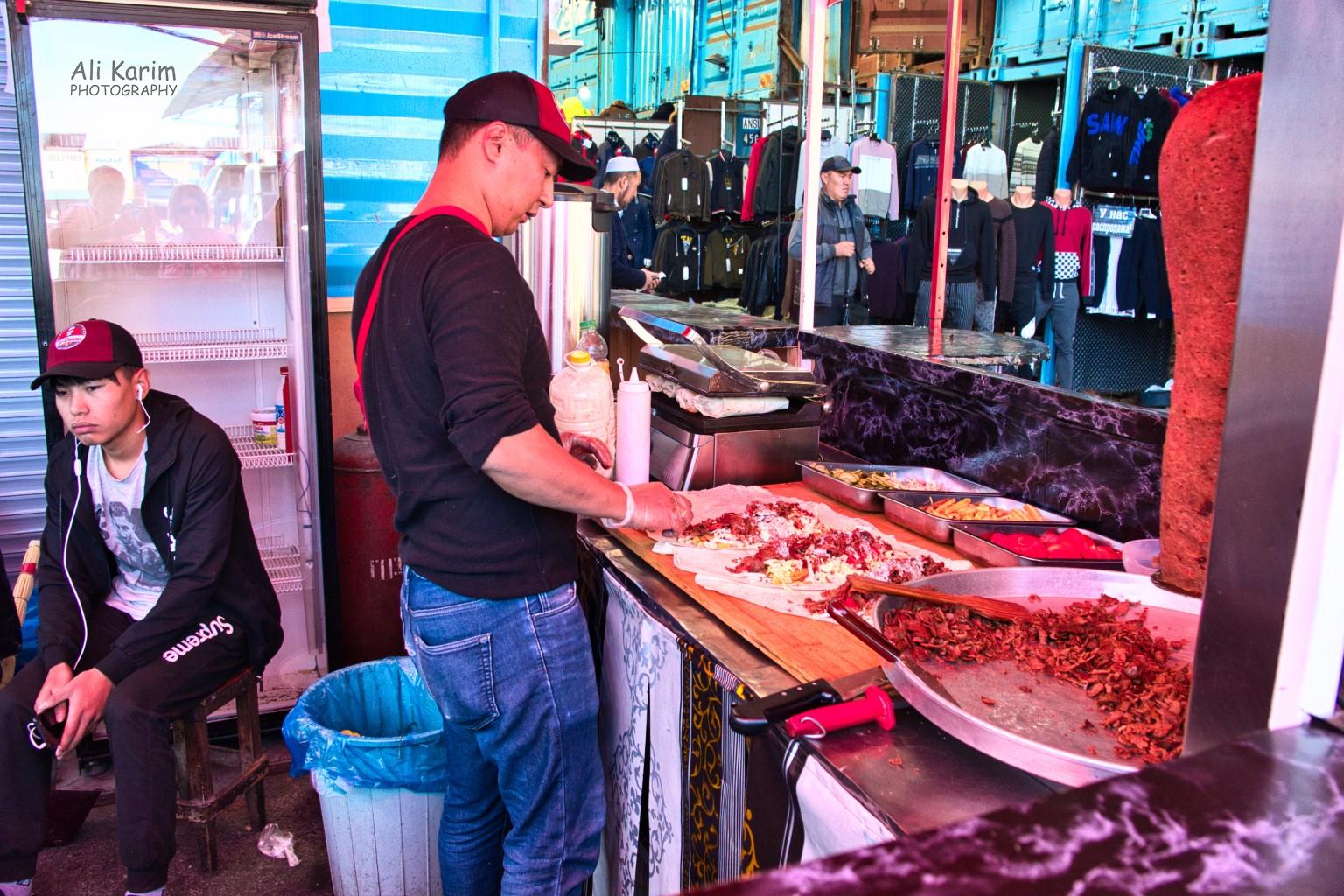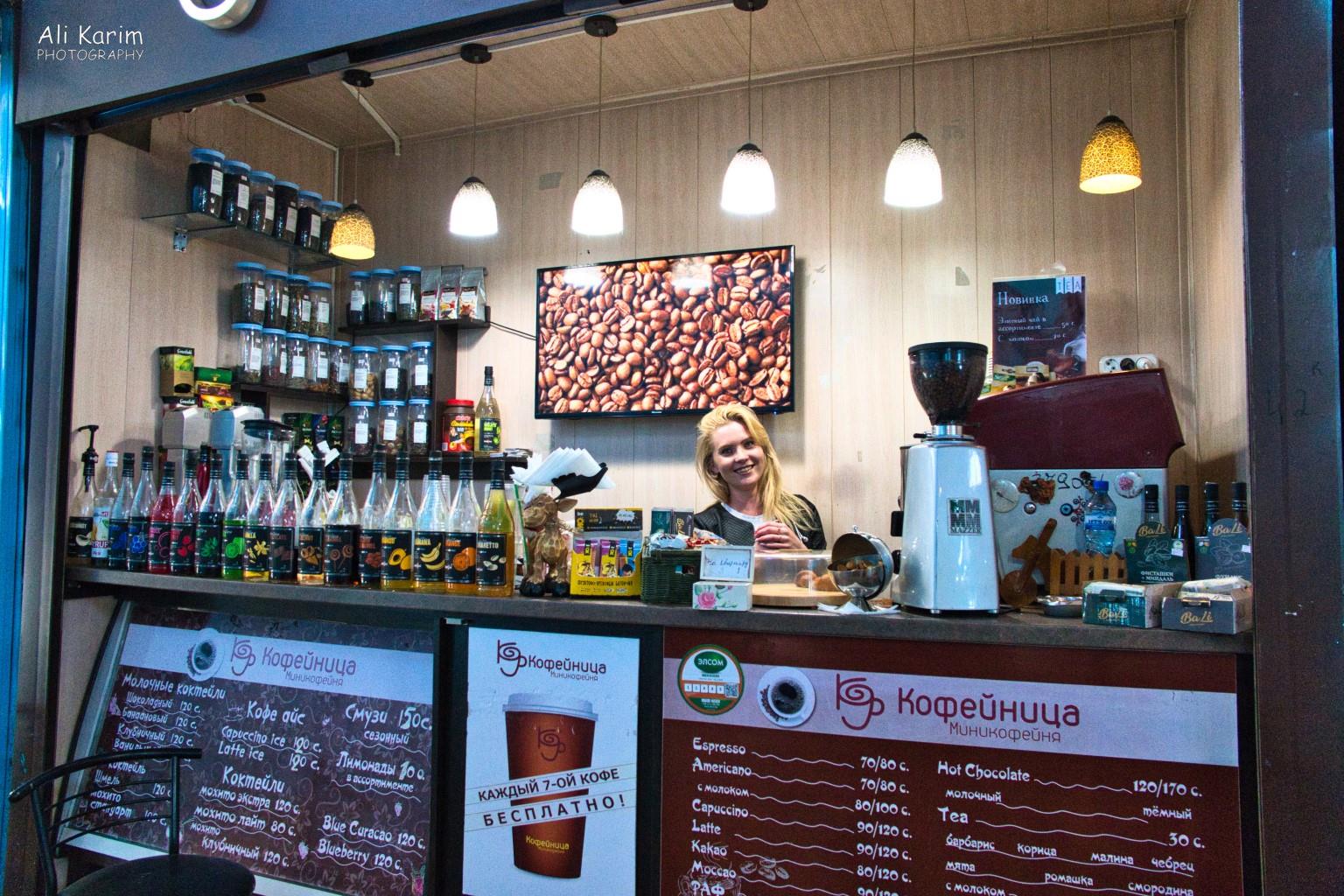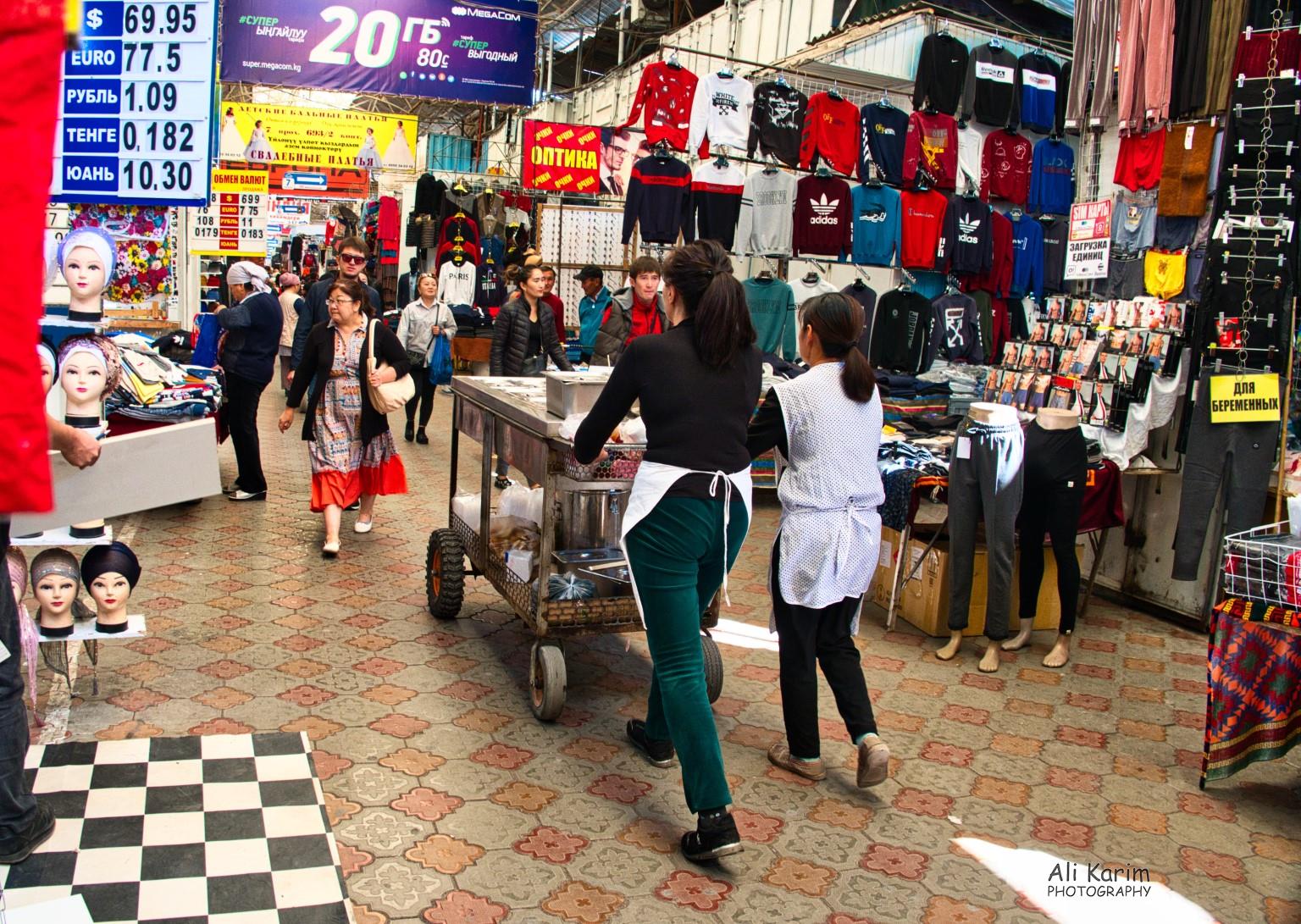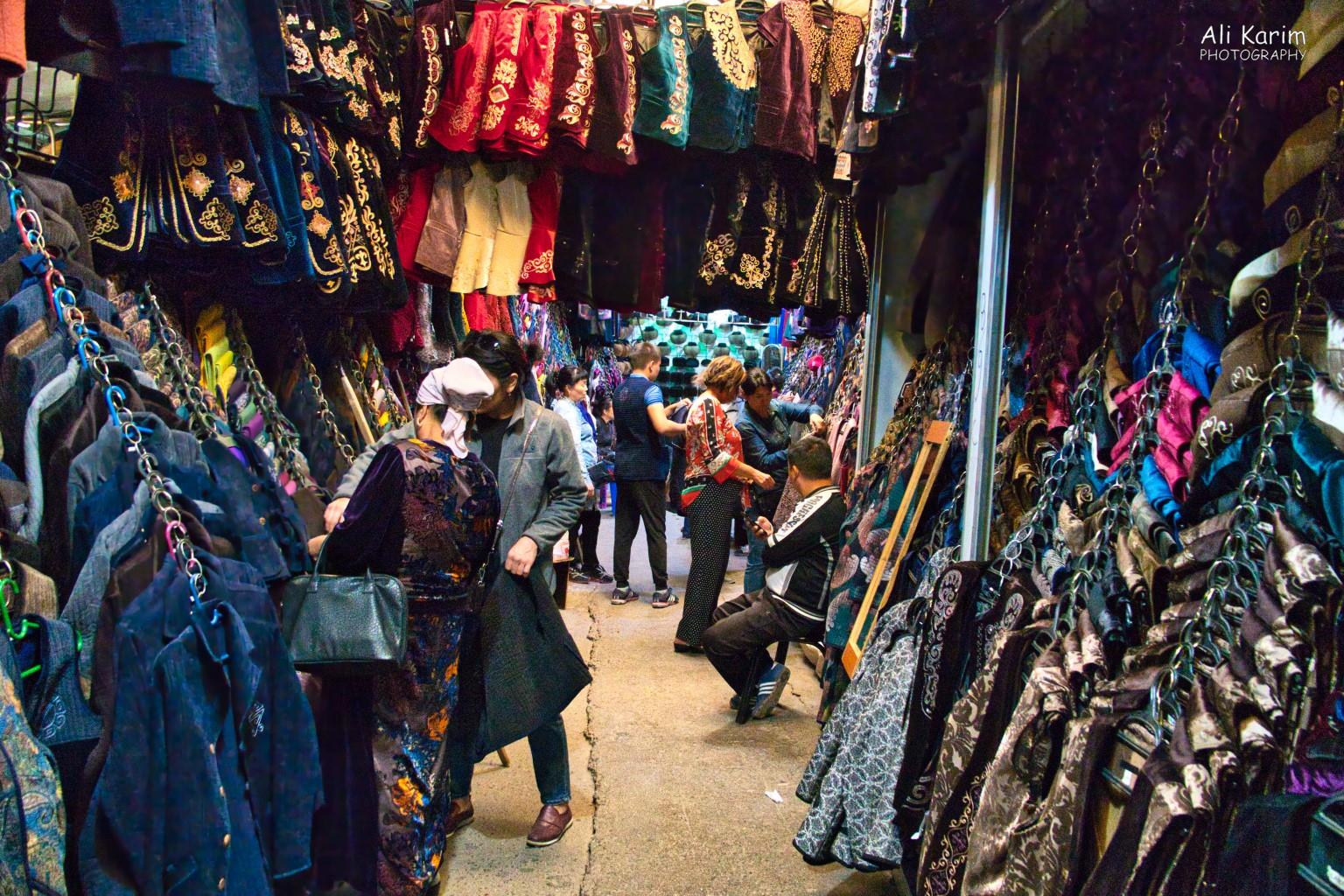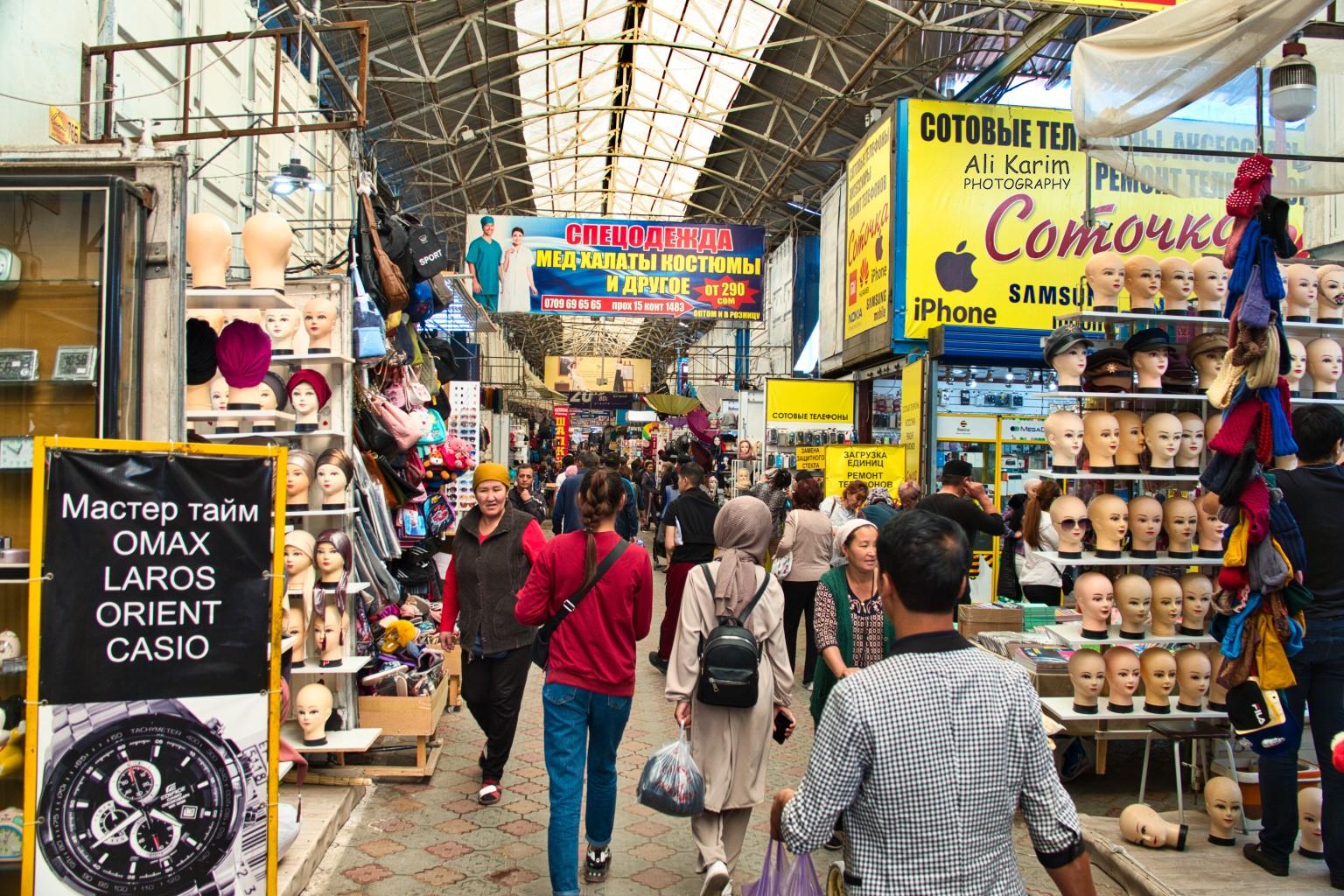 We caught a taxi back to the hotel, and then a taxi to the airport where we were going to take a short plane ride to Osh, in southern Kyrgyzstan. The airline was Air Manas; which we had booked with a Turkish partner, called Pagesus Airlines. Cost was $35 each for this short 50-minute flight; not bad at all.
A very nice and pleasant time in Bishkek, which was clean, orderly and had all the conveniences of a Capital.
Osh next
This entry was posted in
Asia
,
Kyrgyzstan
,
Silk Road Kyrgyzstan Sept 2019