Samarkand, Uzbekistan, Oct 2019
Oct 13, 2019
After a few nice days in Dushanbe, it was time to move onto our next destination, Uzbekistan.
Our plan had been to fly from Dushanbe to Tashkent, the capital of Uzbekistan, as we were tired of being on the road. So we researched flights, and found that direct flights from Dushanbe to Tashkent operated only once a week with Uzbek Airways (Tajik Air had ceased operation a few years previously) and the next flight was 4 days away. The other option was to fly Turkish Airlines back to Istanbul, stay overnight, and then next day to Tashkent. Both options were not good, so it was back to the road 🙁 . We researched getting from Dushanbe to Samarkand (UZ) via the border at Panjakent (TJ), and we found a good recommendation on TripAdvisor for Ramzanali who drove people in both directions. So I called the number and fortunately, he spoke some English. He said he was at Panjakent and was driving back to Dushanbe the next morning with a customer, and would be able to drive us to Panjakent that same afternoon. That was too late for us, so I asked if he had an option for us to be driven to the Uzbek border the next morning, and he said he had a cousin, Faizali, who could do that, but Faizali did not speak any English. But he would be available on the phone for any translations. No problem; we agreed on 500 Tajik Somoni (less than US$50) for this 240km drive the next morning.
The next morning after breakfast, at 10AM, Faizali was promptly waiting for us outside the hotel. We got into his sedan (a mid-size car) and started the drive to Panjakent. Plan was to get to the border, cross the border into Uzbekistan on foot, and then catch a taxi on the other side to Samarkand. The drive was on good paved roads, some images along the way are below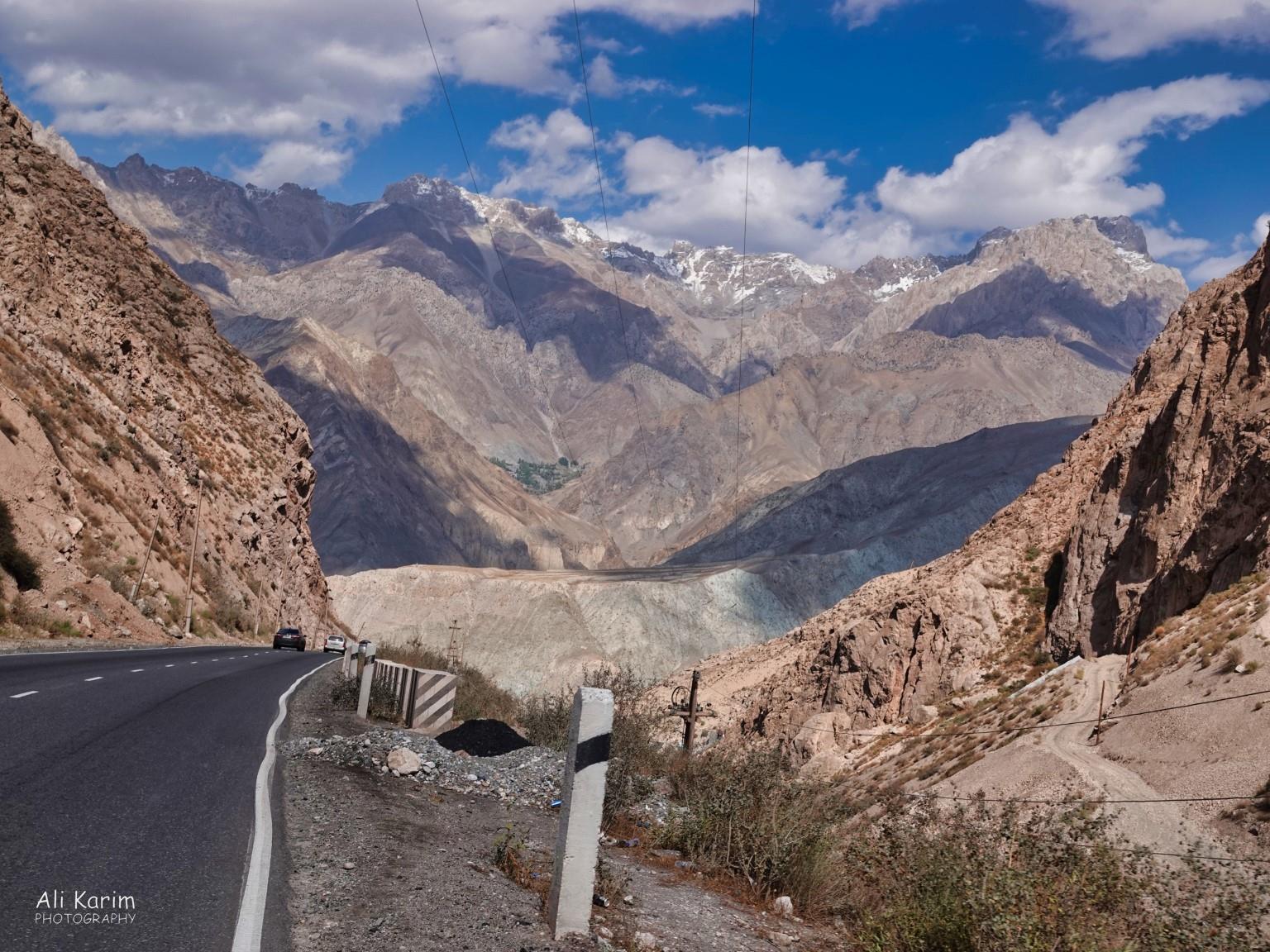 Because of the mountains, there were multiple long tunnels along the way; one was 2.2kms long, another was 4.4kms; Soviet engineering. The ventilation inside the tunnels was very poor, so vehicle exhaust fumes stayed trapped inside, making the drive through the tunnels quite unpleasant.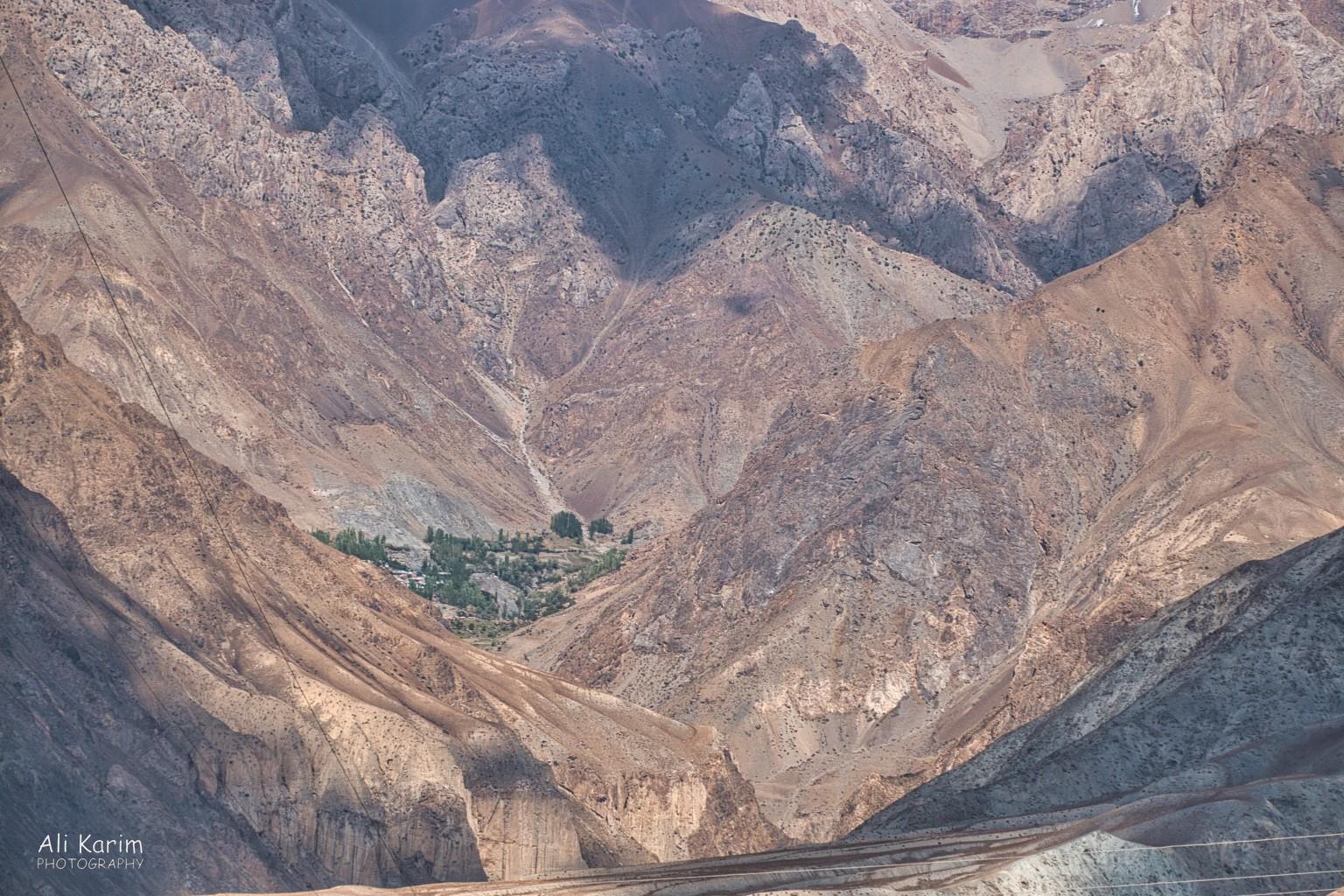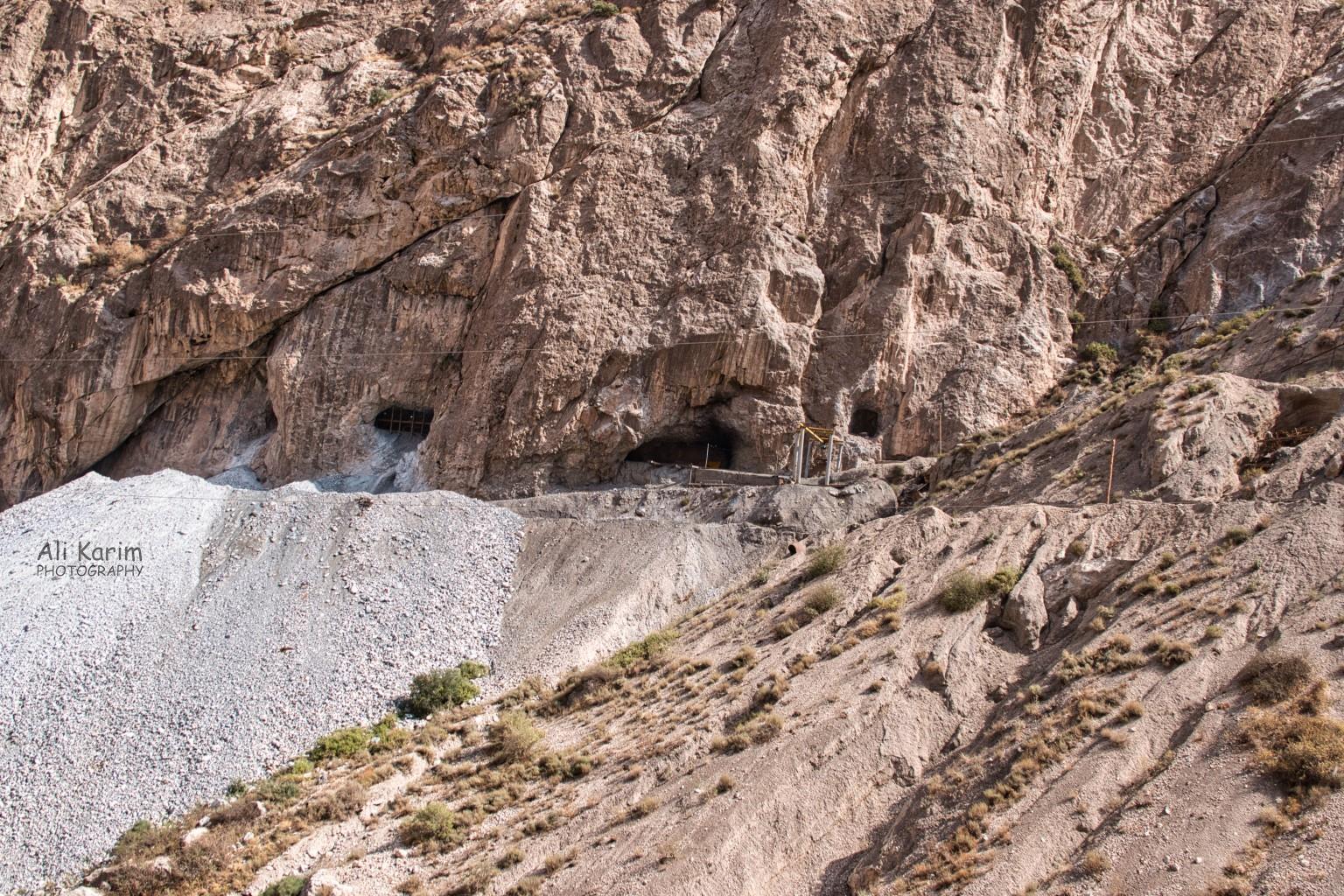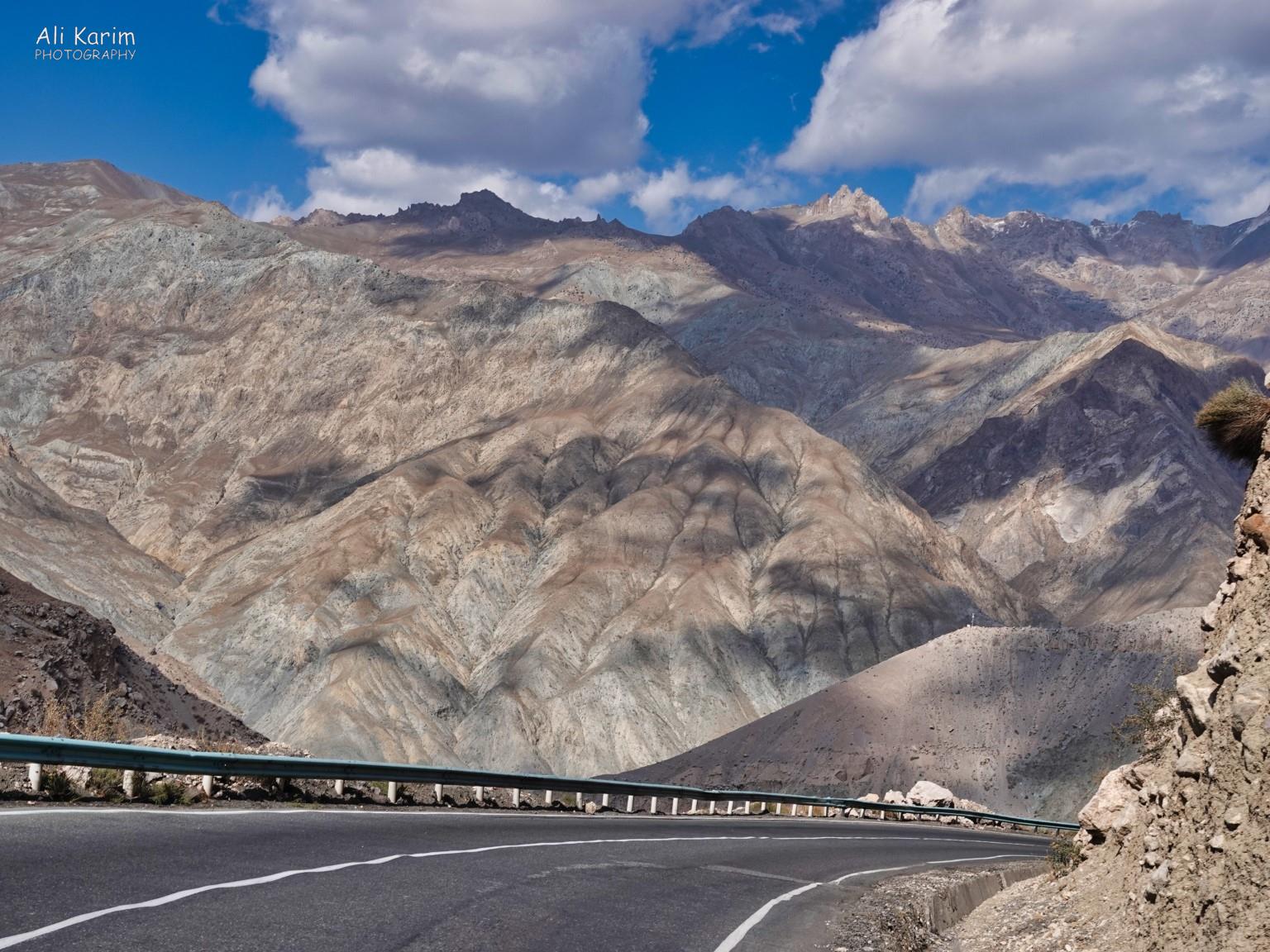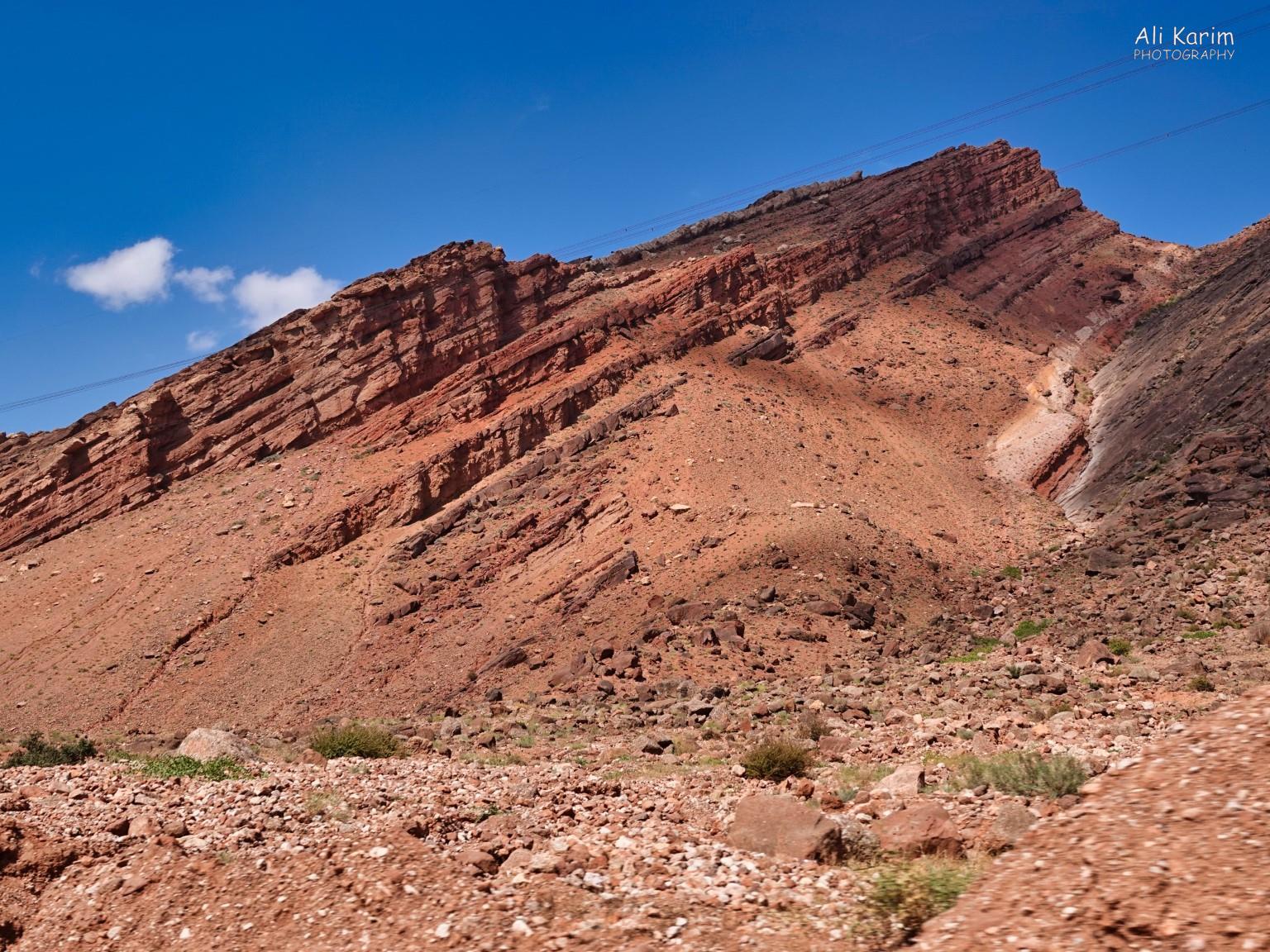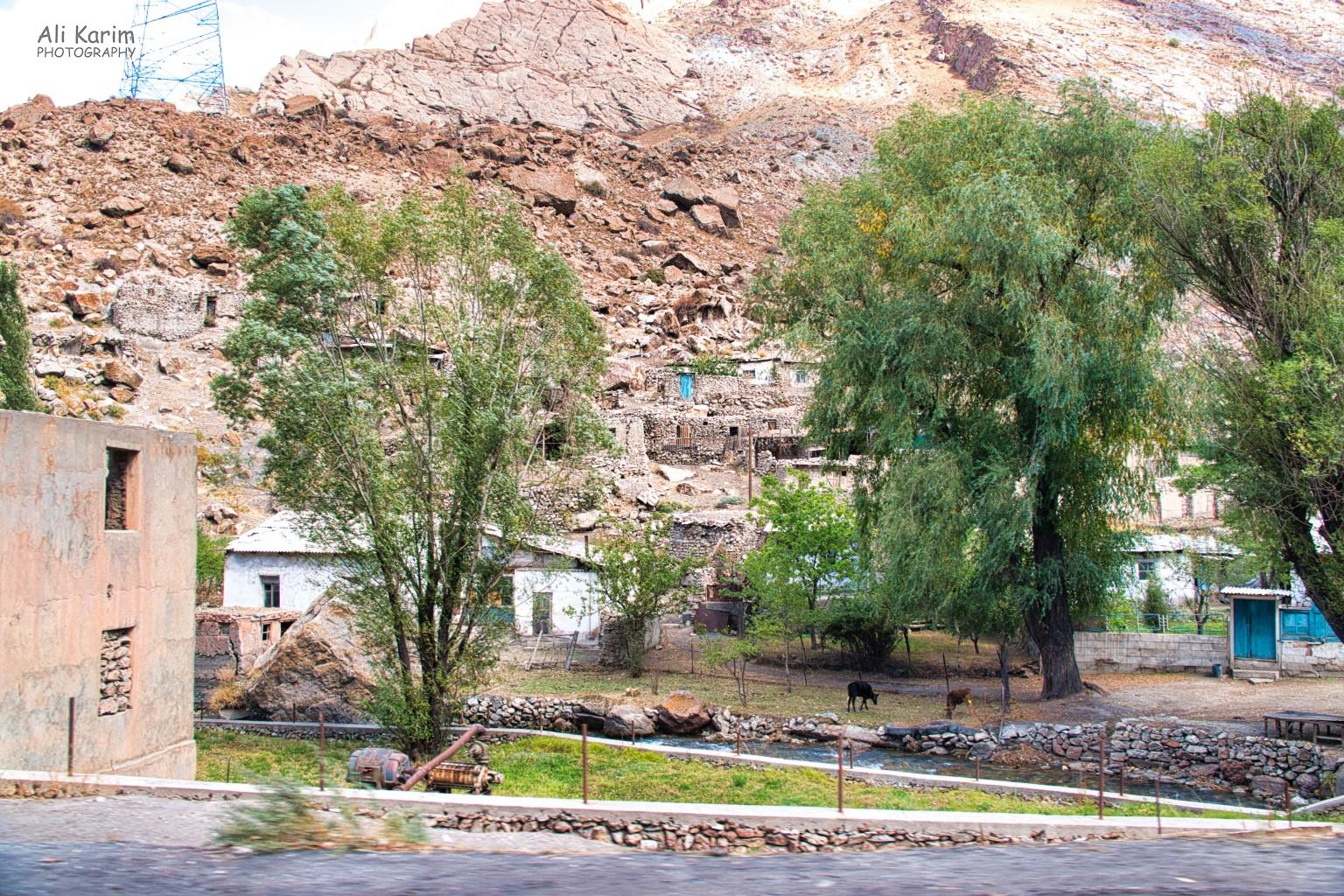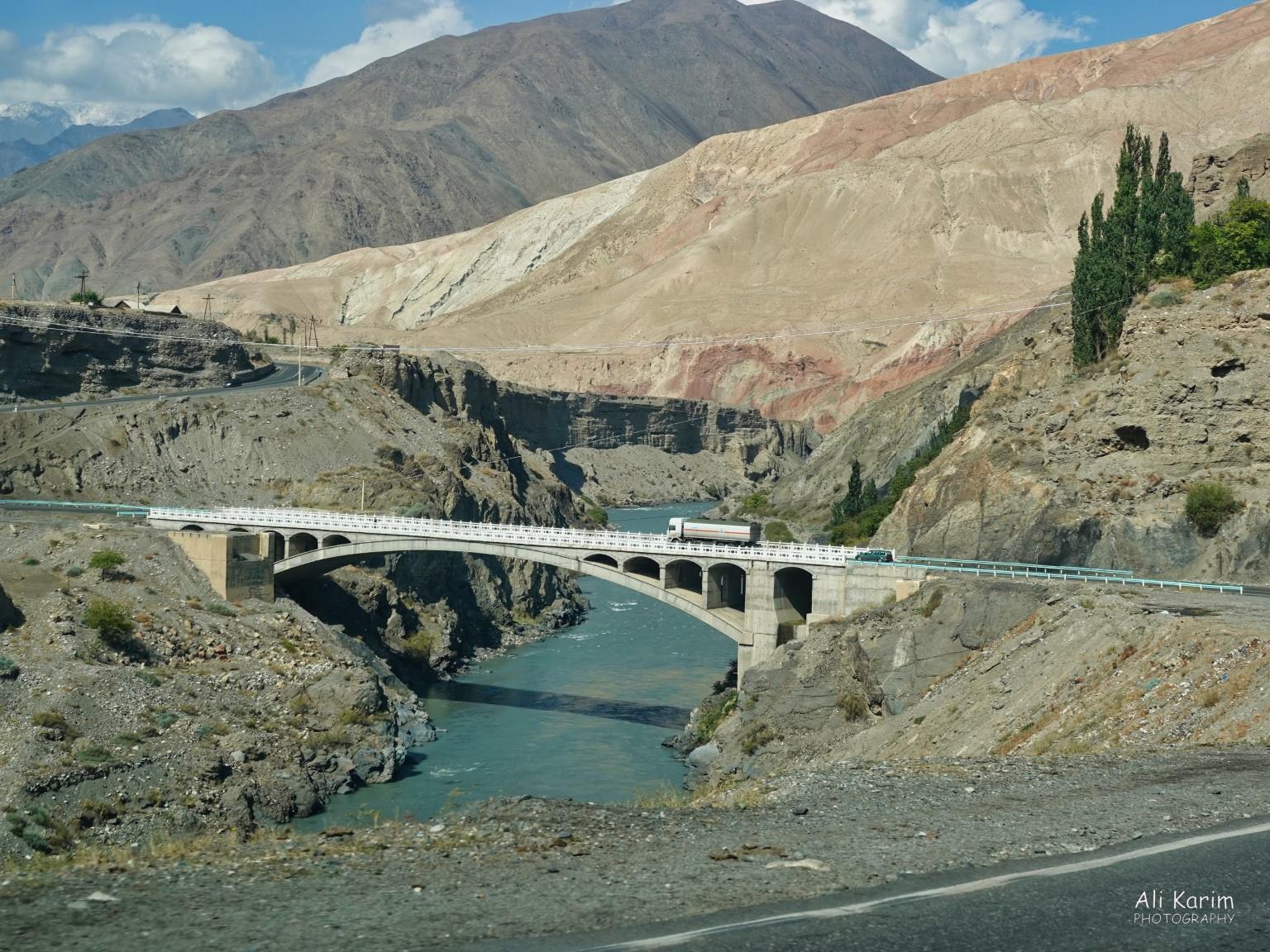 We stopped at a small town called Ayni for gas and bathroom stop. Hanging around, and near the gas station were many men, all dressed up in identical long black fur coats, with a colorful scarf tied around the waist, and wore the Muslim caps. I tried to take some pictures of this unusual gathering, but Faizali suggested I not do that. Curious, I asked him to call Ramzanali to find out what was happening. Apparently, this was a funeral gathering for someone important, and so I did not take any pictures. Most interesting customs; you live & learn.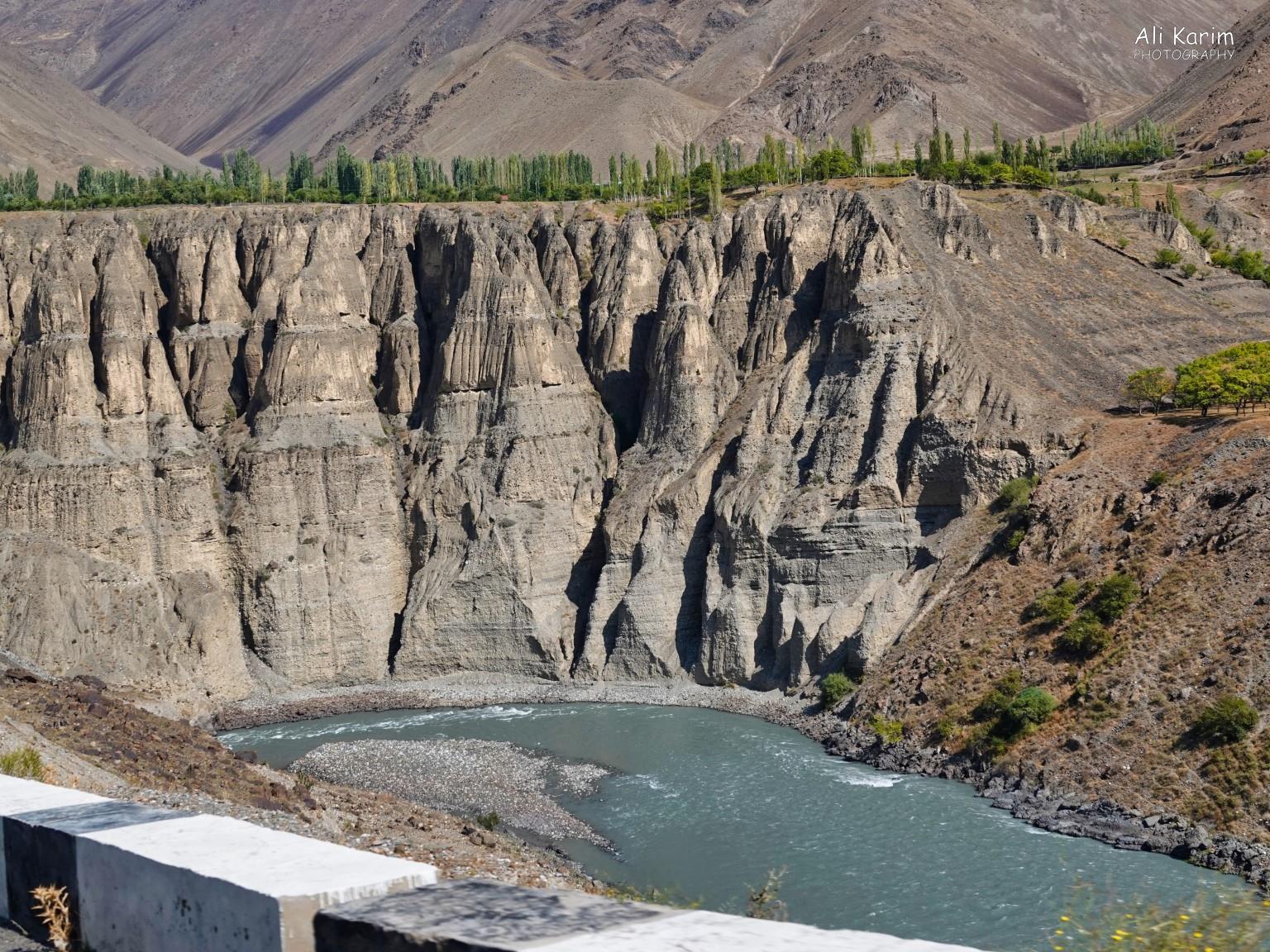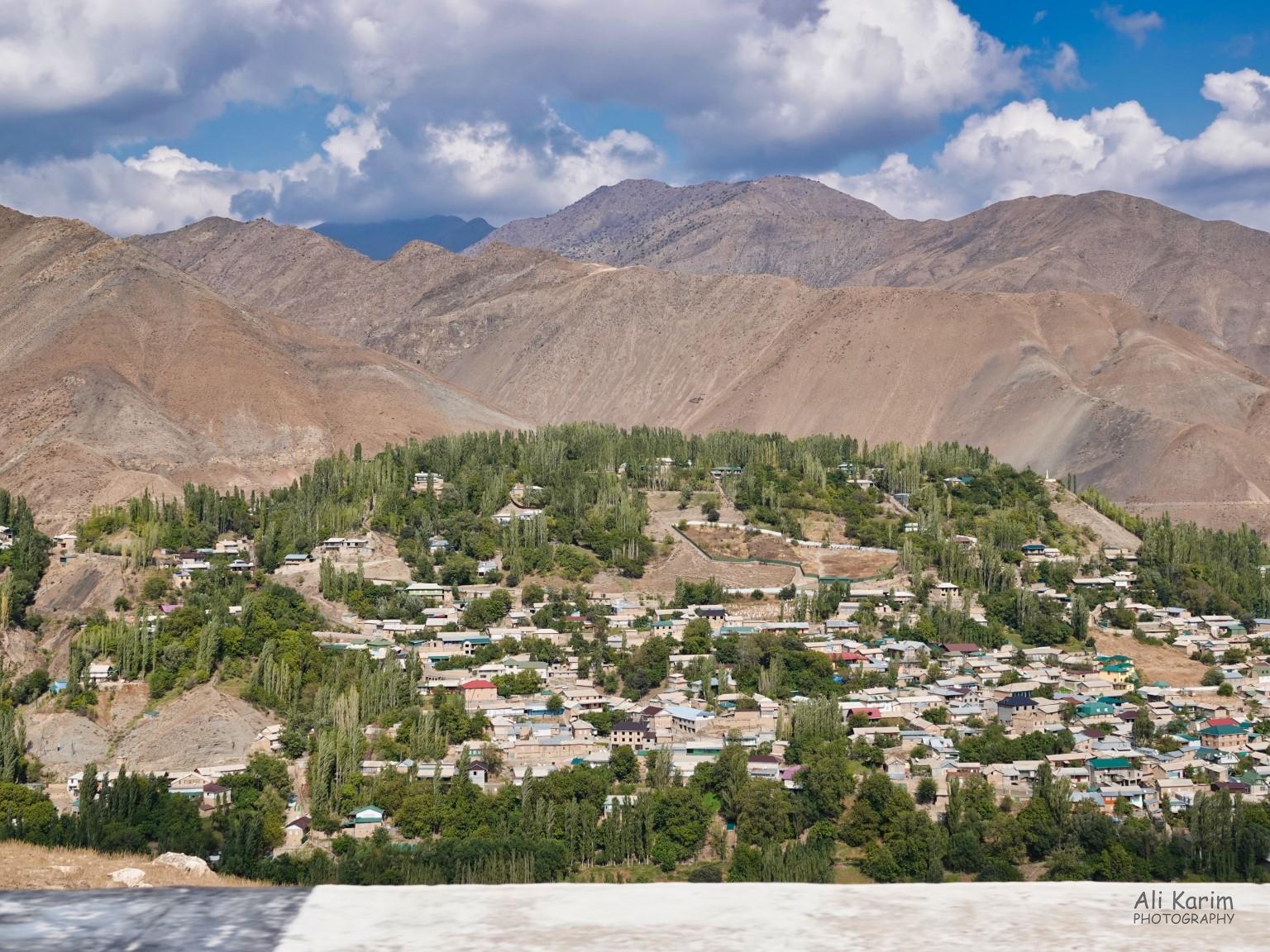 Faizali drove quite fast, and with one stop in Ayni for gas/bathroom, and one more jungle bathroom break, we arrived at the town of Panjakent, near the Uzbek border, in 3hrs and 15 mins, a ride that normally would have been 4hrs at the speed limit.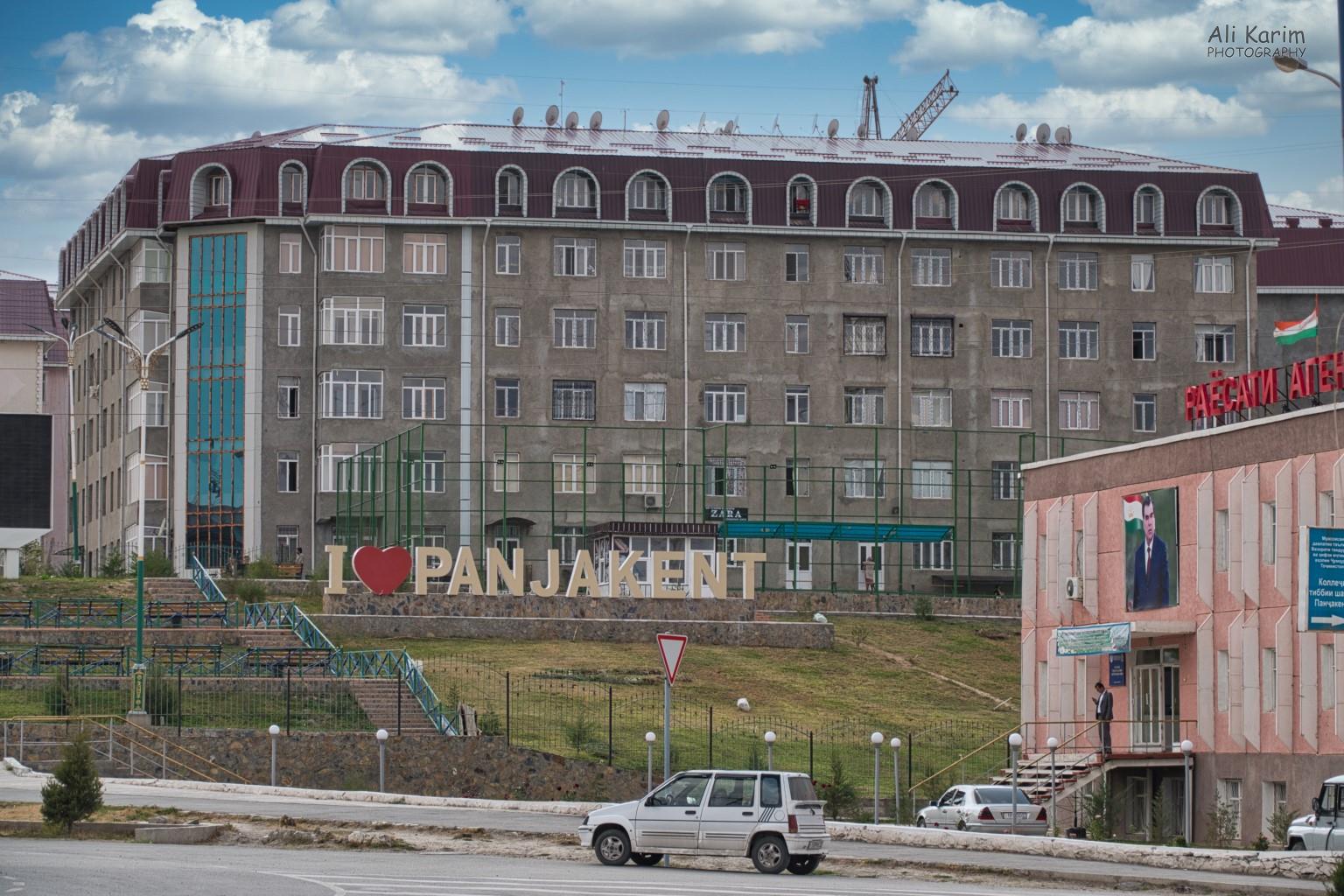 The border crossing was about 15kms west of Panjakent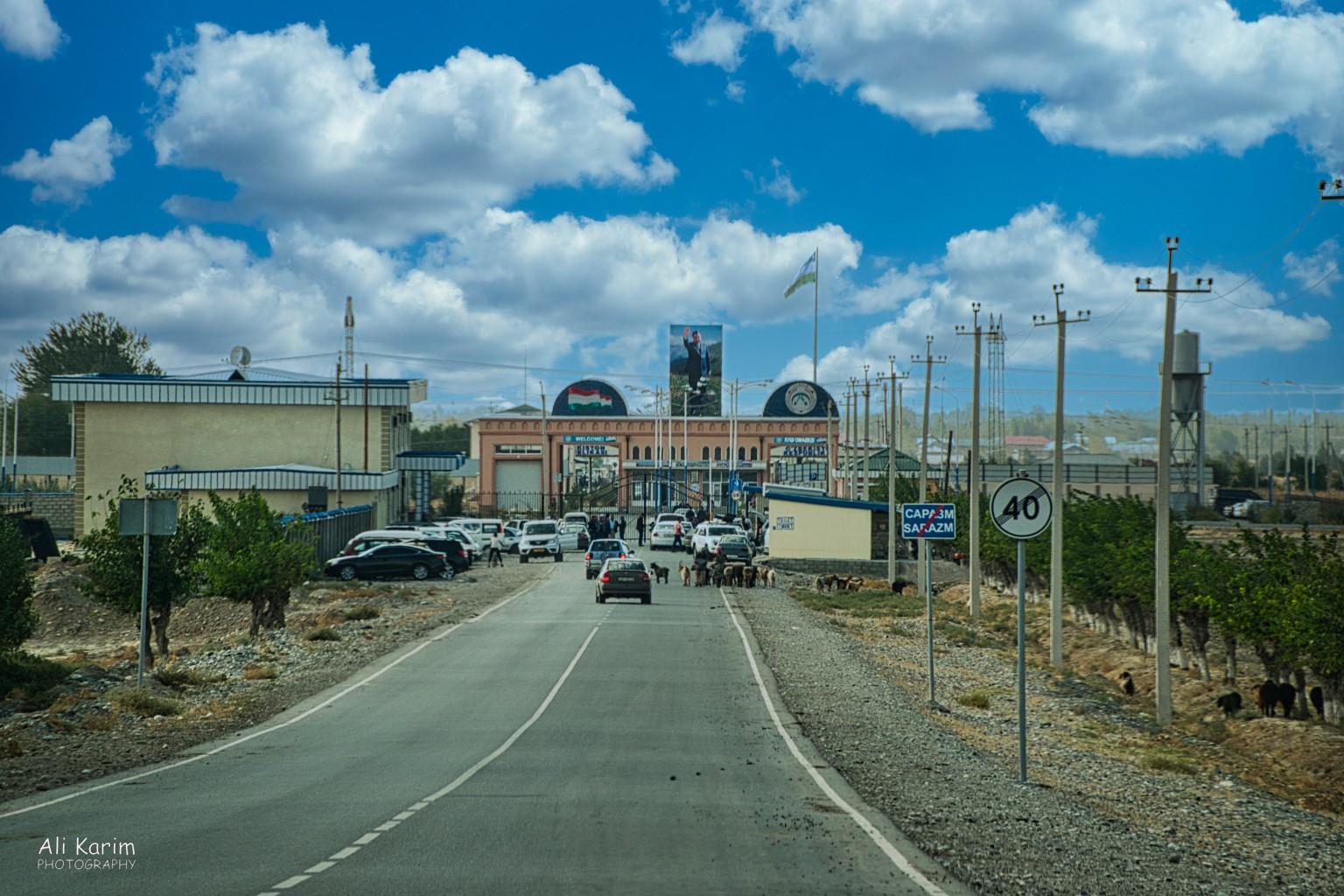 We paid Faizali his 500 Tajik Somoni, and since we had no Uzbek money, Faizali changed us US$50 into Uzbek Som at 9,000 Soms for 1 US$, and I stuffed this princely sum of 450,000 Uzbek Som stack of banknotes into my pocket. We took our bags, said goodbye, and crossed an opening in the fence into no-mans land. We walked 25m in no-man's land to the Tajik immigration post, where our passports were stamped after our visa's were examined. We then walked another 25m to the Tajik customs post, where we were cleared; we then walked another 25m to the Uzbekistan Immigration and Customs; where our online pre- purchased visa's were checked, and we were welcomed to Uzbekistan 🙂 . We made it in one piece 🙂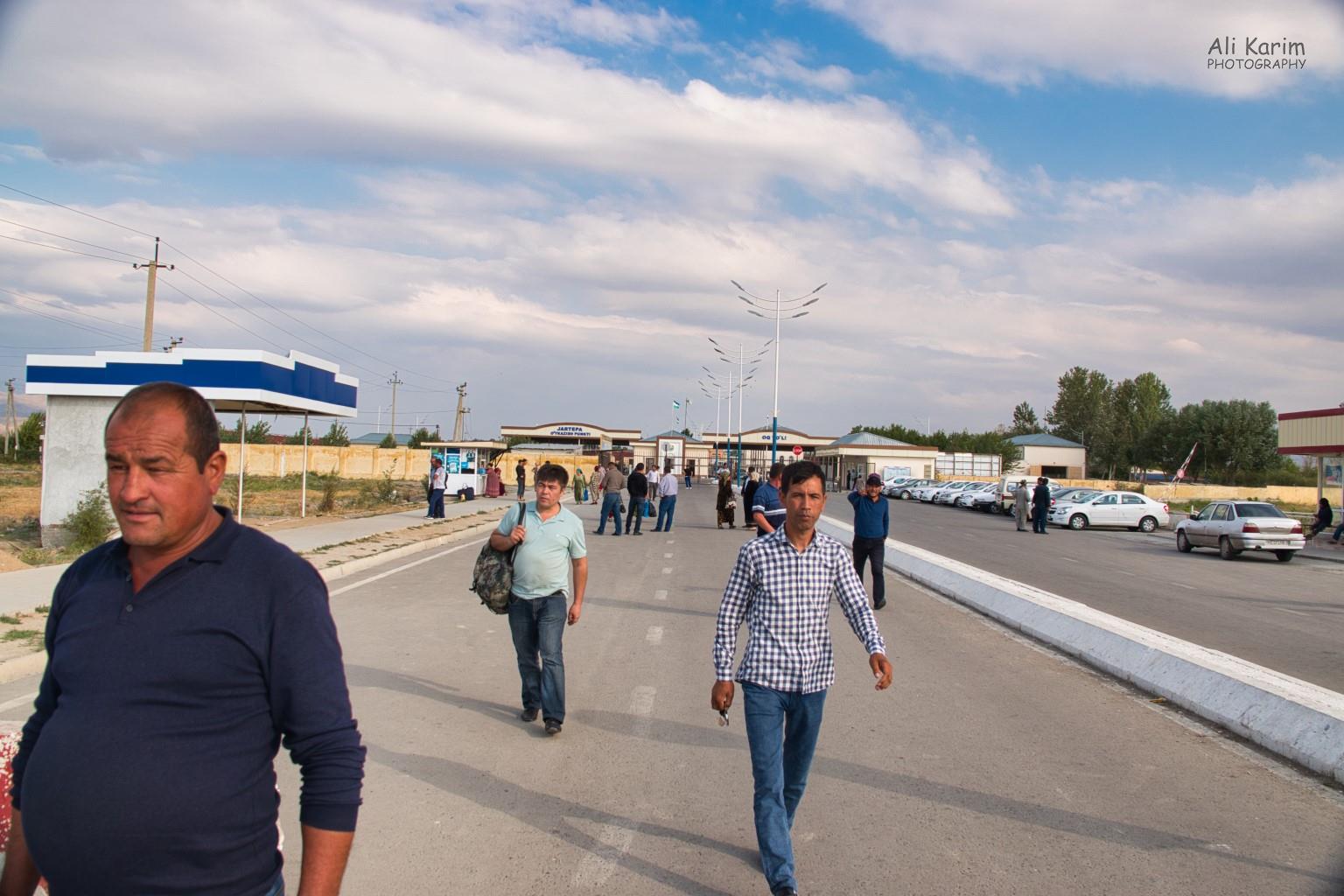 Once in the Uzbek side, we were inundated by taxi drivers offering to take us to Samarkand, a short 45 min drive away. They started at $25 for the taxi, but I had read online that this was a scam, and the actual price should be $5 total. Not bad. So I started negotiating with them and they reluctantly came down to $20 telling me it was not possible for $5. In the meantime, Dilshad had walked on past this group of taxi drivers bargaining hard with me, and agreed with another driver for $5 🙁 . All my negotiating skills down the drain…. This other taxi was actually a shared taxi, so the rate should have been less that $5, since he took on two other passengers, a lady and her daughter. You win some, you lose some 🙂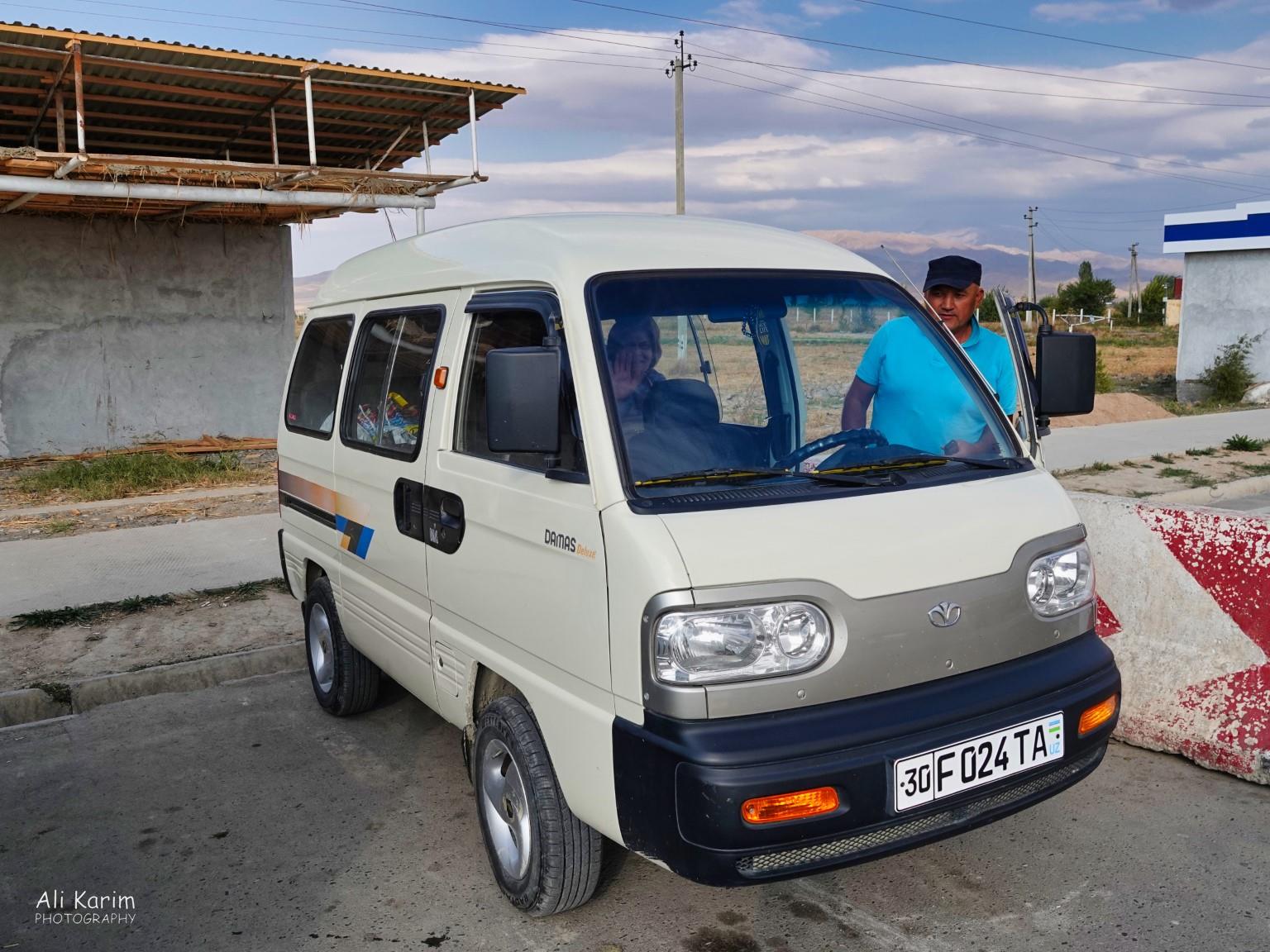 So off we went in this minivan with the other family to Samarkand. Since we had not stopped anywhere for food on the Tajik side, we were hungry, so I asked the taxi driver to stop for some Samsa's which we had read were good in Uzbekistan. Soon, he stopped at a roadside bakery and I got 5 Samsa's; one for each of us.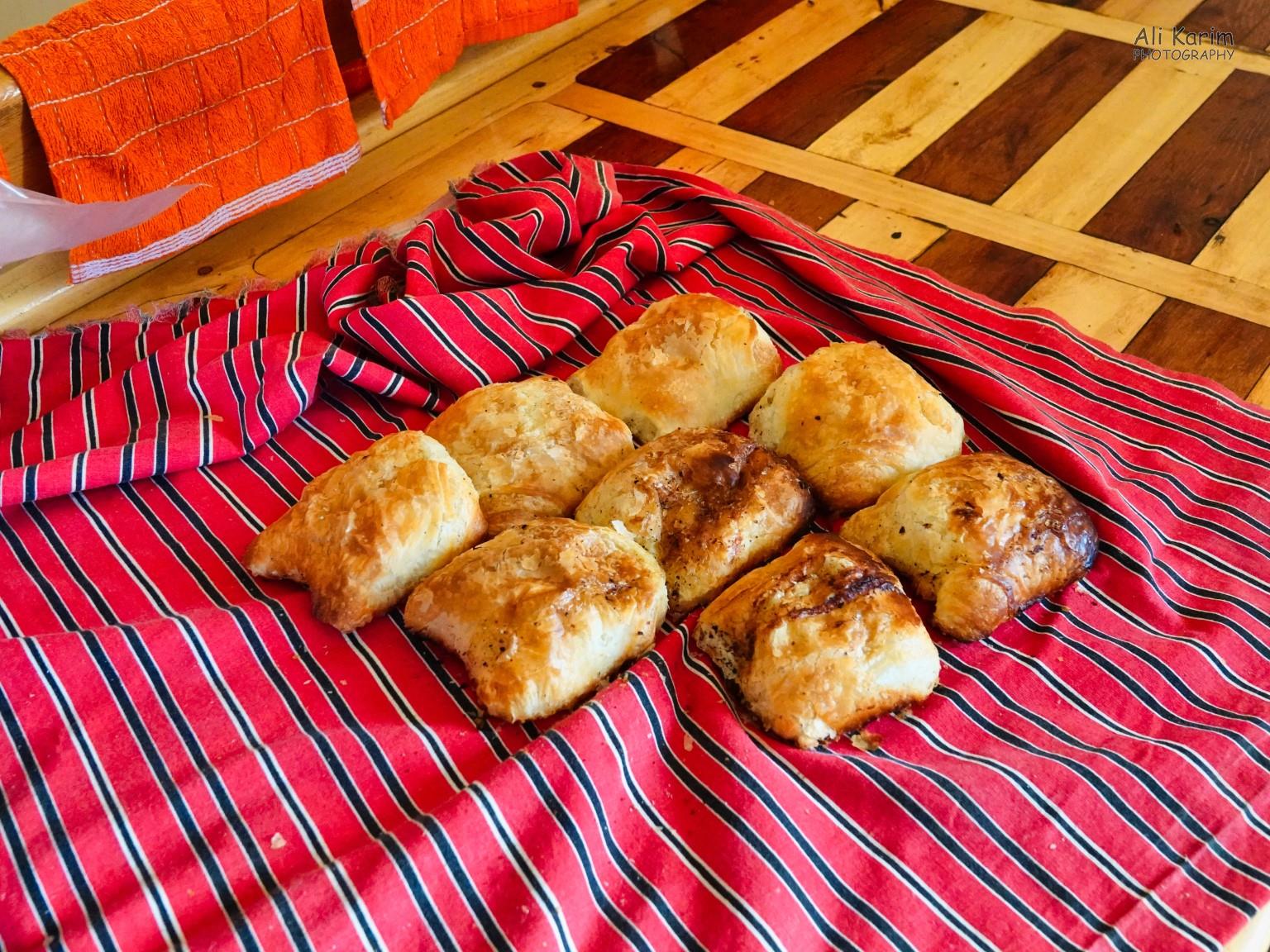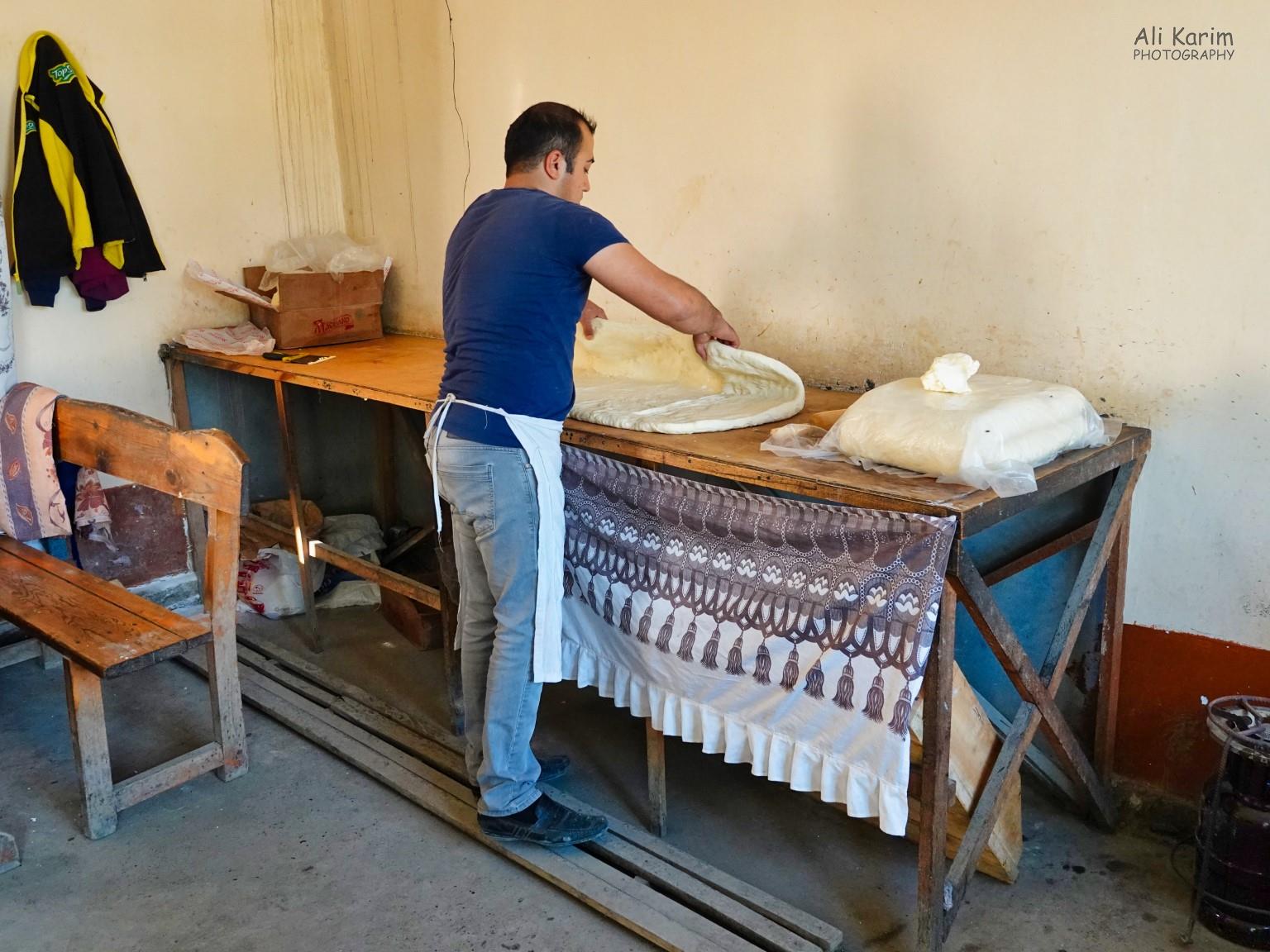 After dropping off the lady and her daughter along the way, we finally arrived at Samarkand, and since the driver did not know where the B&B was, I gave him the tel number for the B&B we are staying at that we had booked the previous night, the Samarkand Safar. He called but there was no answer. Several times. Since I had an address, and since I finally had mobile data and TMobile service, I guided the driver using Google Maps to where the Samarkand Safar was supposed to be. Talk about the blind leading the blind; I had no idea where I was, in a totally strange country, did not speak the local language, leading a driver who did not speak or understand English, to a place neither of us had been to before 🙂
We made it to the Samarkand Safar, which was an old house converted to a B&B run by a nice family. Here, we met Farkhad, a young man (son of the family) who ran the B&B, & spoke English, and when we told him about the calls we had made to him with no answer, he said that they had lost electricity, and so the landline phone did not work 🙁 . I paid the taxi driver and we settled into this B&B, freshened up and had some tea. By this time, it was dark and dinner time and we were hungry, so we asked Farkhad to recommend a place nearby. He told us to try the Samarkand Restaurant the next street over, which he said was decent but not exceptional and not to his taste. Others were further away. So we walked a little to the Samarkand Restaurant which was one block away.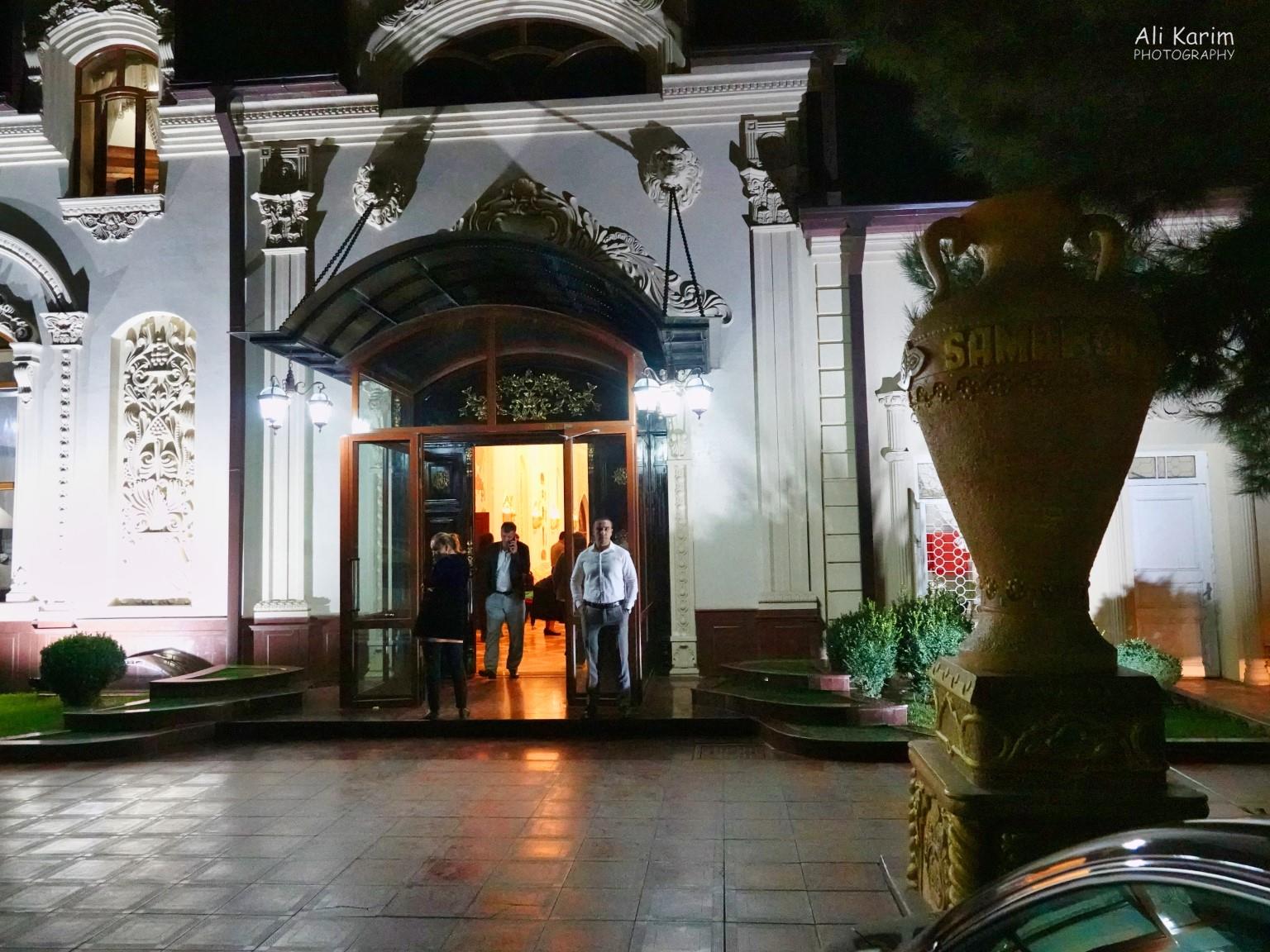 We walked inside and saw a large hall inside, with nice live music and many well-dressed people inside. It looked like there was some kind of celebration party going on and assumed it was probably a private event. So of course we had to try our luck since this place was lively; and when someone in charge approached us, I gestured to him that we were 2 people, and to our surprise, he led us to a small table and seated us. We had expected to be told that this was a private event, and we were casually dressed compared to the well dressed people around us. The man brought us a menu (in English) and that is when it dawned on us that this was not a private event, and that people dressed up to go to a restaurant, and there was live music and lots of families here. Very nice; reminded us of the time we gate crashed a party in Turpan, Xinjiang, China. Some images below in the restaurant.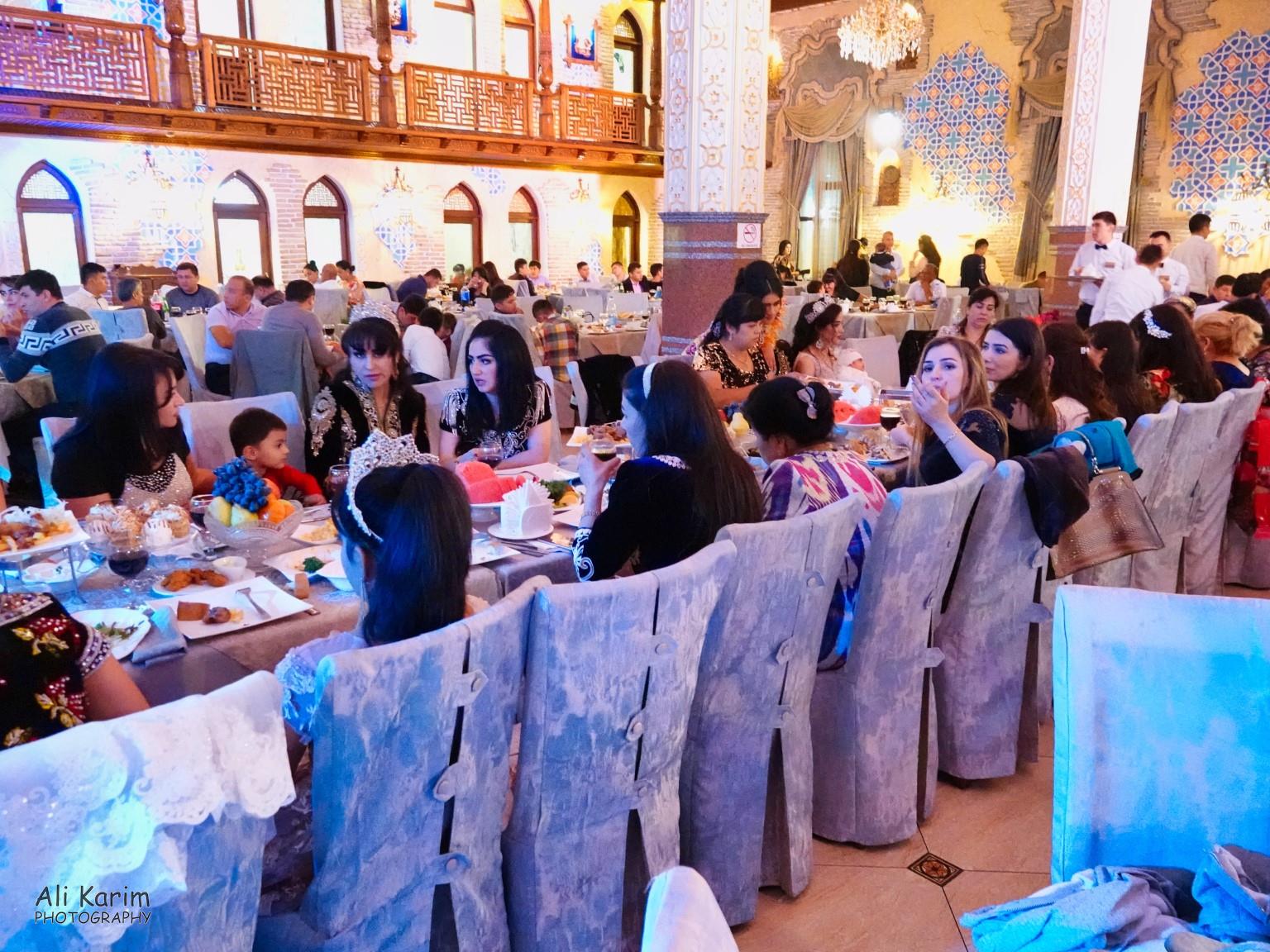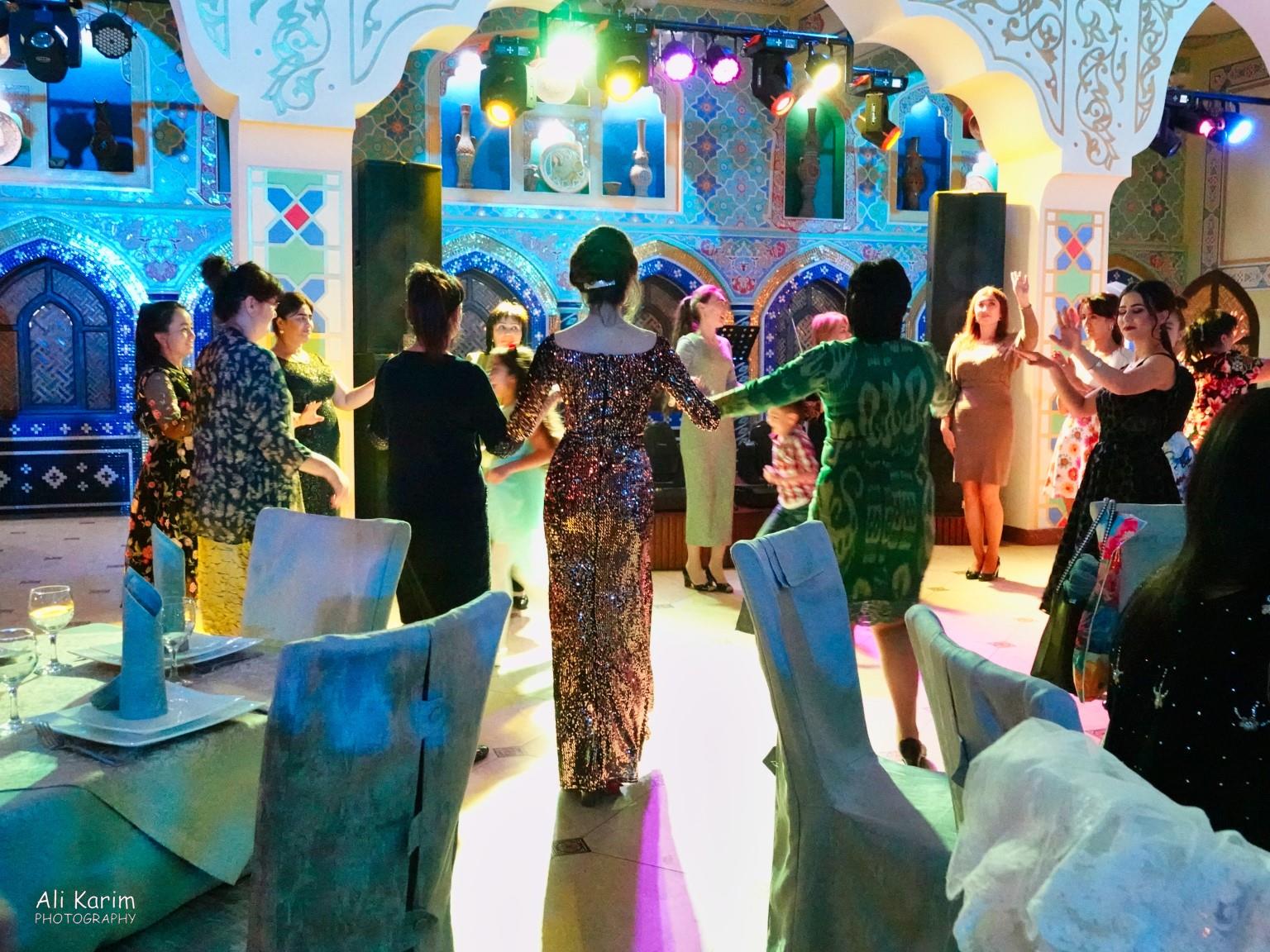 Patrons enjoying the dancing and music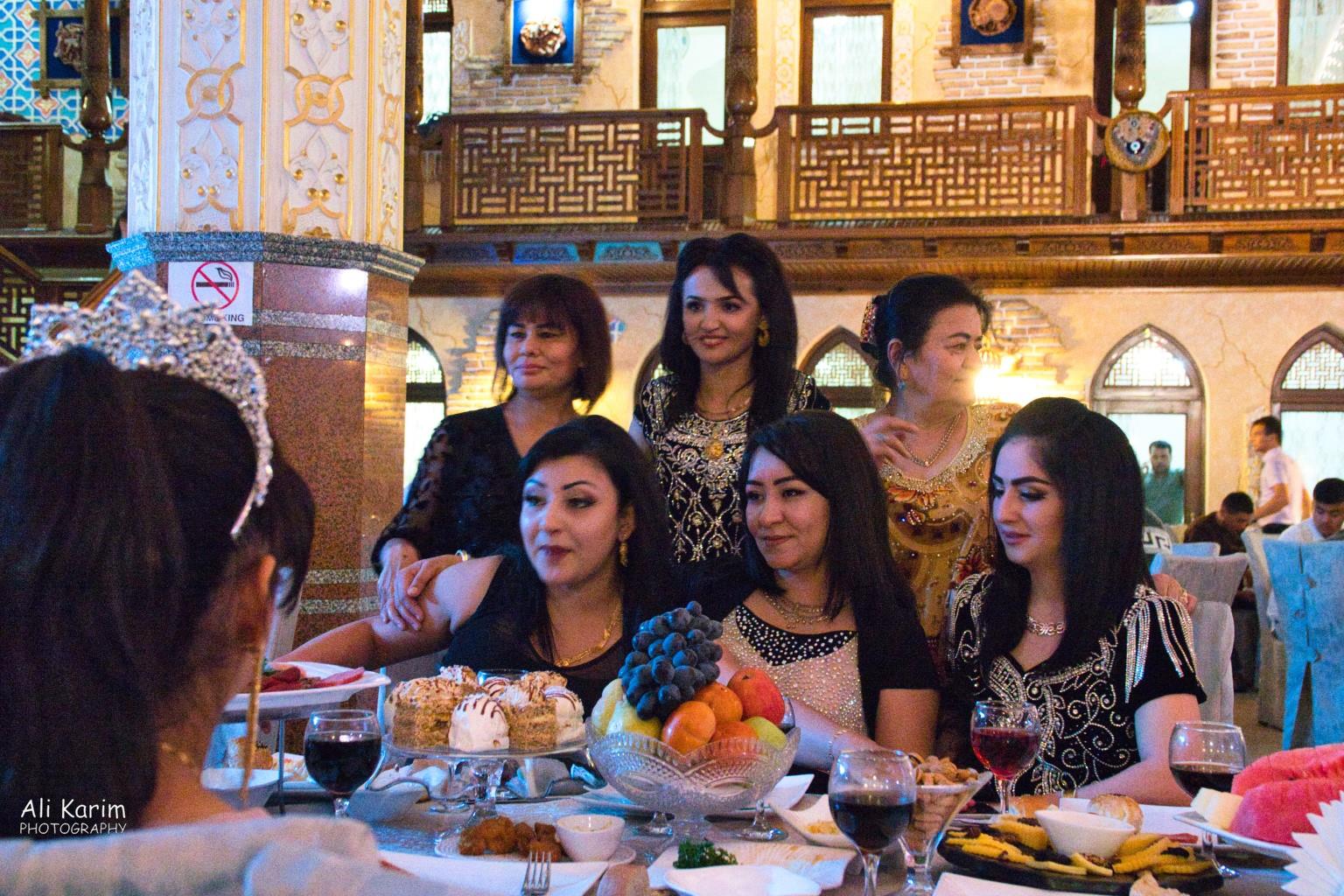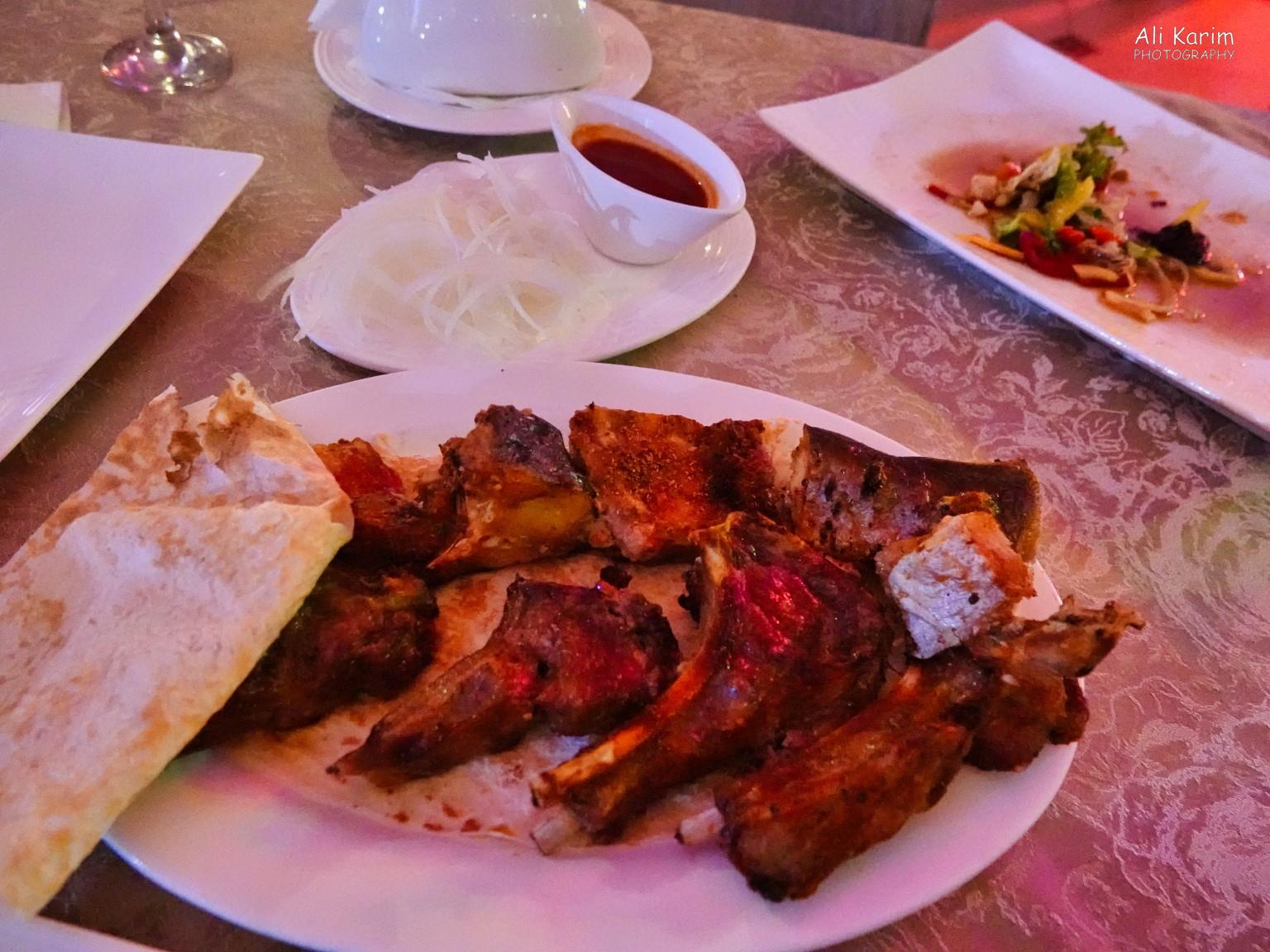 After staying longer enjoying the music and dancing, we left this wonderful restaurant, and walked back to our B&B for a good night's rest. Plan was to explore Samarkand the next couple of days.
So far, in our journey through Central Asia (Kyrgyzstan, Tajikistan and now Uzbekistan), Uzbekistan seems the most progressive (I finally had mobile service and mobile data that actually worked well); and most welcoming of tourists. A very welcome change after the past 2 weeks in Kyrgyzstan and Tajikistan.
A little about Uzbekistan from Wikipedia. What is now Uzbekistan was in ancient times part of the Iranian-speaking region of Transoxiana and Turan. The first recorded settlers were Eastern Iranian nomads, known as Scythians, who founded kingdoms in Khwarazm, Bactria, Sogdia (all 8th–6th centuries BCE), Fergana, and Margiana (both 3rd century BCE – 6th century CE). The area was incorporated into the Iranian Achaemenid Empire and, after a period of Macedonian Greek rule, was ruled by the Iranian Parthian Empire and later by the Sasanian Empire, until the Muslim conquest of Persia in the seventh century. The Early Muslim conquests converted most of the people, including the local ruling classes, into adherents of Islam. During this period, cities such as Samarkand, Khiva and Bukhara began to grow rich from the Silk Road, and witnessed the emergence of leading figures of the Islamic Golden Age, including Muhammad al-Bukhari, Al-Tirmidhi, Ismail Samani, al-Biruni, and Avicenna. Central Asia as a whole, was decimated by the Mongol invasion in the 13th century. Thereafter, the region became dominated by Turkic peoples. The Turco-Mongol conqueror Timur (Tamerlane), who in the 14th century established the Timurid Empire and was proclaimed the Supreme Emir of Turan with his capital in Samarkand, which became a center of science under the rule of Ulugh Beg, giving birth to the Timurid Renaissance. The territories of the Timurid dynasty were conquered by Uzbek Shaybanids in the 16th century, moving the center of power to Bukhara. The region was split into three states: the Khanate of Khiva, Khanate of Kokand and Emirate of Bukhara.
Central Asia, bar Afghanistan, was gradually incorporated into the Russian Empire during the 19th century, with Tashkent becoming the political center of Russian Turkestan. In 1924, national delimitation meant constituent republics of the Soviet Union, like the Uzbek Soviet Socialist Republic, was created. Following the dissolution of the Soviet Union, it declared independence as the Republic of Uzbekistan on 31 August 1991.
Uzbekistan has a diverse cultural heritage due to its layers of history and strategic location. Its official language is Uzbek, a Turkic language written in a modified Latin alphabet and spoken natively by approximately 85% of the population. Russian has widespread use as an inter-ethnic tongue and in governance. Uzbeks constitute 81% of the population, followed by Russians (5.4%), Tajiks (4.0%), Kazakhs (3.0%) and others (6.5%). Muslims constitute 79% of the people while 5% follow Russian Orthodox Christianity and 16% of the population follow other religions or are non-religious. A majority of Uzbeks are non-denominational Muslims.
Following the death of its 1st hard authoritarian president, Islam Karimov in 2016, the second president, Shavkat Mirziyoyev, started a new course, which was described as a A Quiet Revolution and Revolution from Above. He brought in reforms and opened the country to trade with the rest of the world; and tourism is a major source of revenue today. Relations with the neighboring countries of Kyrgyzstan, Tajikistan and Afghanistan drastically improved.
We explore Samarkand next
Our journey so far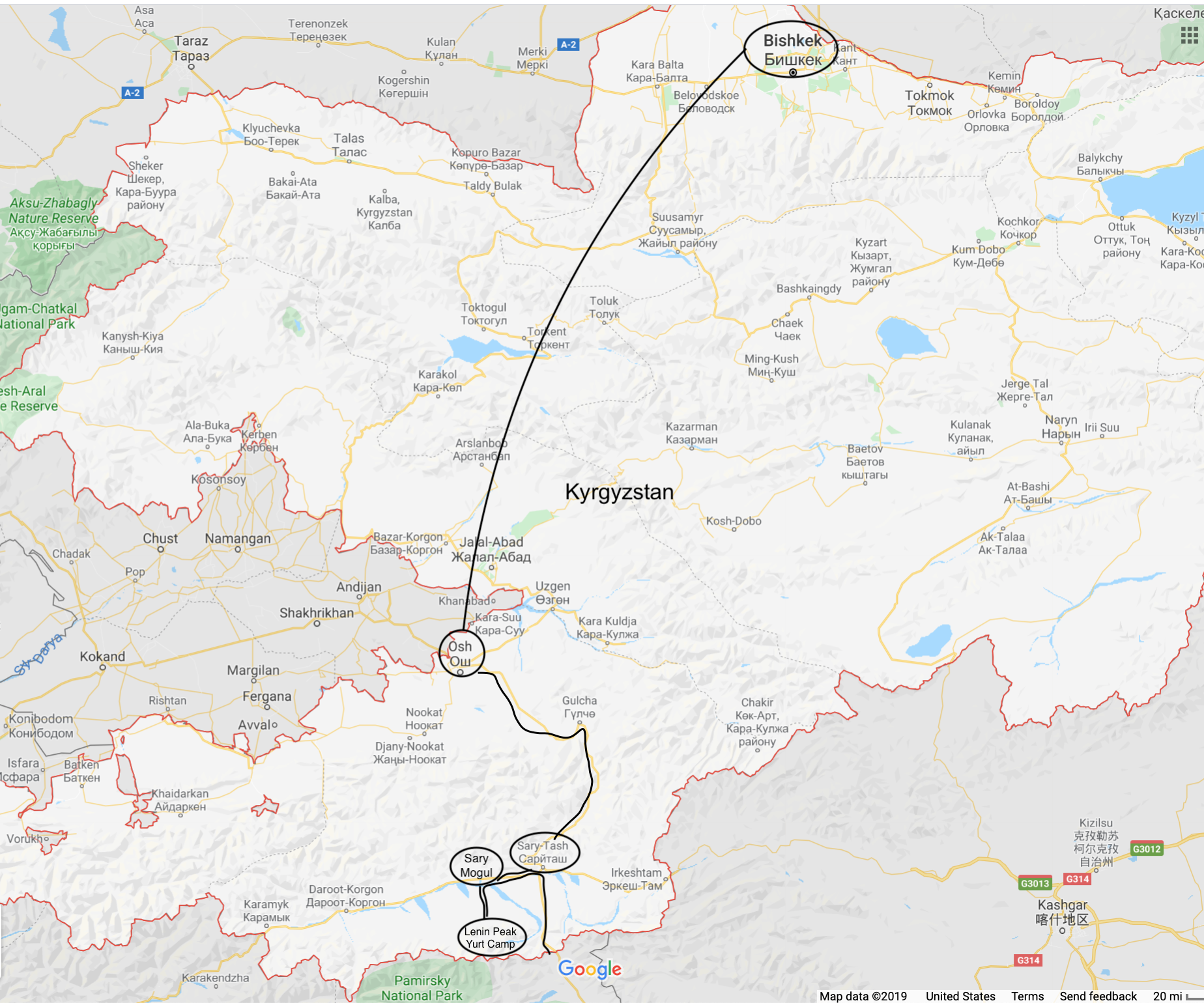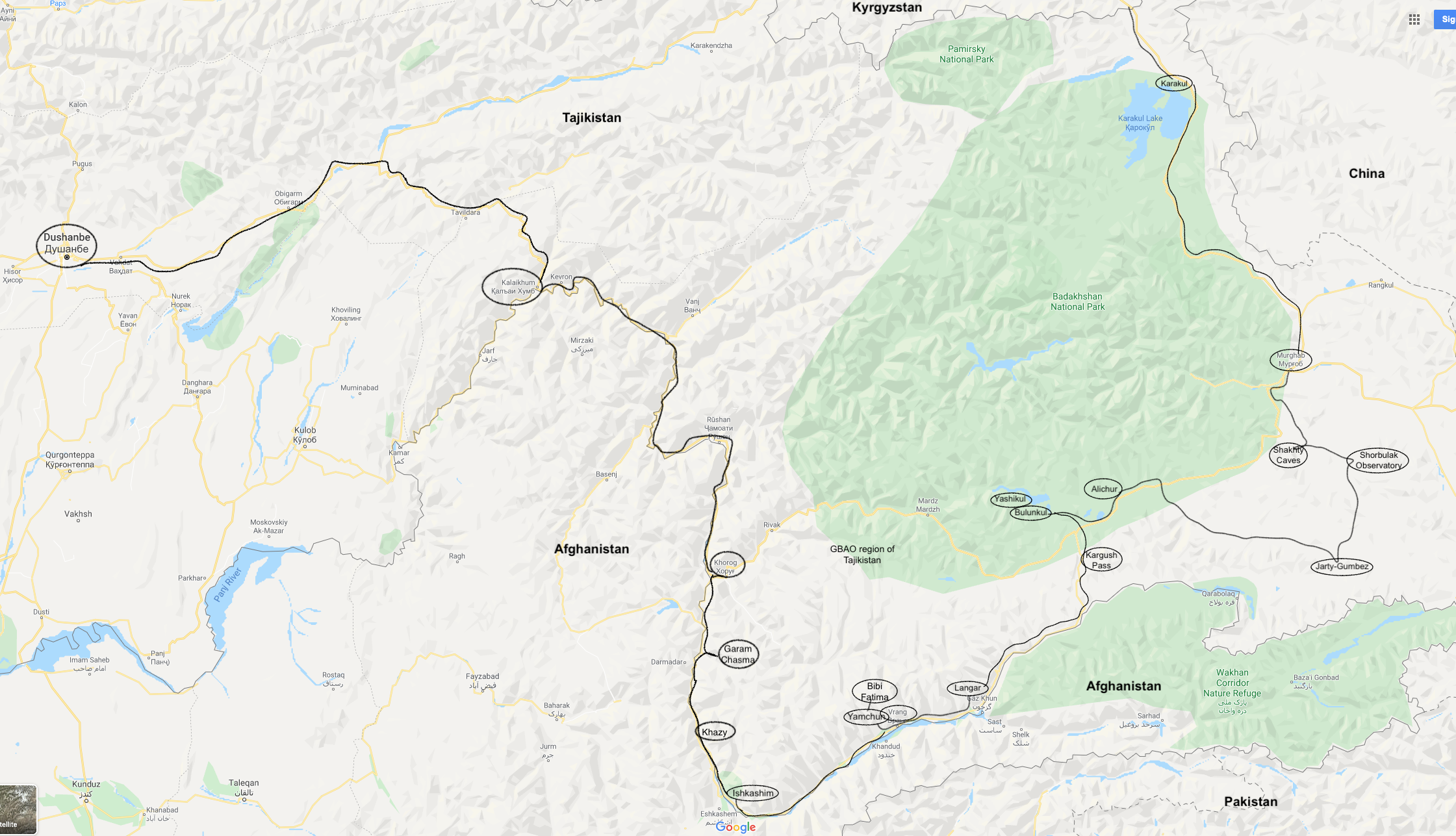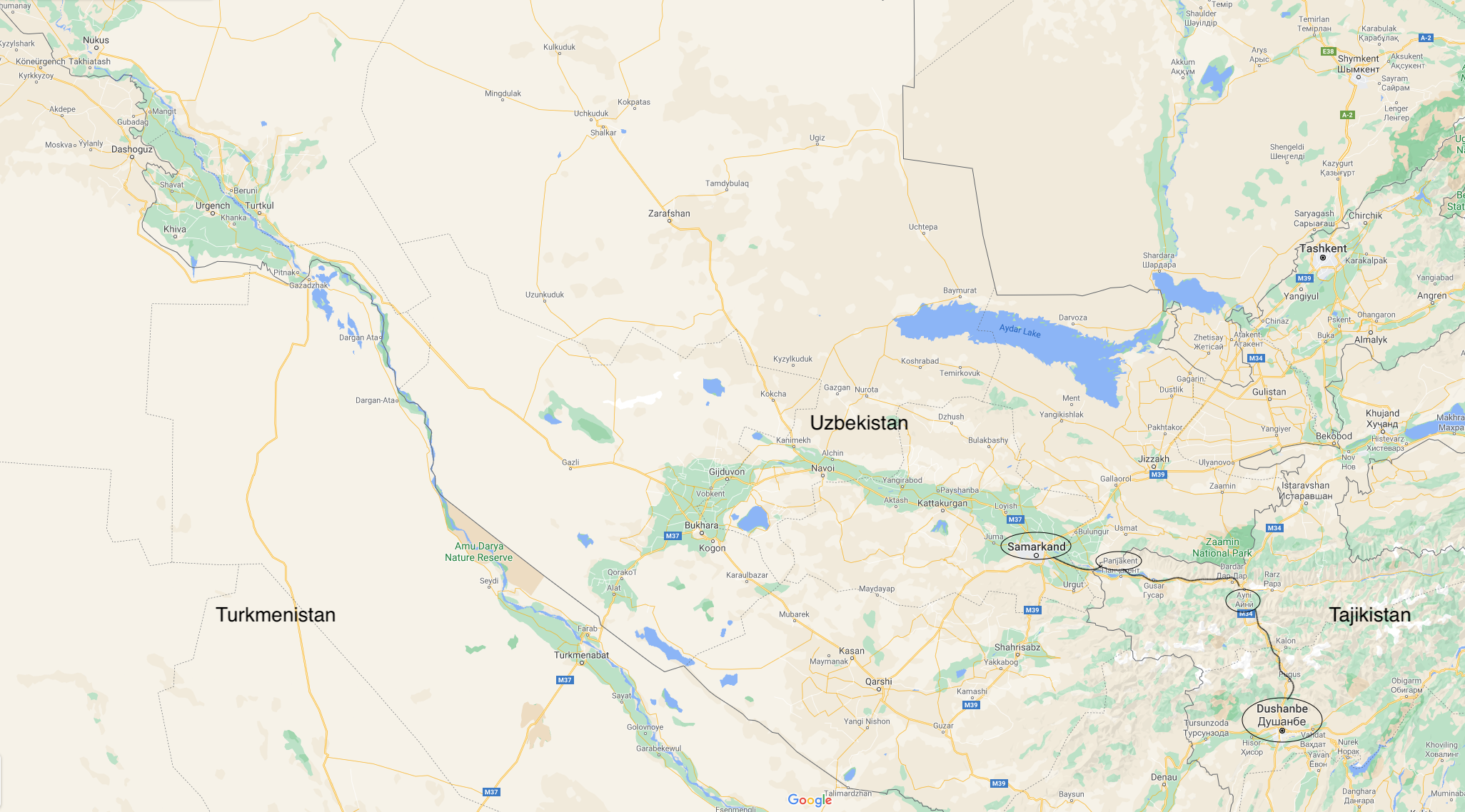 This entry was posted in
Asia
,
Silk Road Uzbekistan Sept-Oct 2019
,
Uzbekistan