Sicily 1: Catania, Sicily
Took a trip to Sicily; one of those places on my bucket list. We flew from Dallas to Rome on American Airlines, and then took Alitalia from Rome to Catania in Sicily.
History
Sicily has a varied and interesting history; it was initially colonized by the Greeks in 8th Century BC. Then followed the conquest by Carthaginians from North Africa or western parts of Sicily. This was followed by the Roman occupation and wars between Romans & Carthaginians in 242 BC; and the Romans ruled for 600 yrs, before the Roman empire started crumbling, and the Byzantines conquered Sicily. In 902 AD; the Saracens (Arabs, Tunisians, Berbers etc) took over the island; but were driven out by the Normans in 1091 AD. THen in the 14th Century, Sicilians revolted and took over control of the island for themselves for 100 years, until in 1479 AD, the Spanish empire took over. Eventually, after various battles with French, British and Italians, the Italians took over in the late 1800's, and in 1946, Sicily became an autonomous region of Italy. Buy what a history.
So the island of Sicily has a tumultuous past of multiple conquerors who brought their own architecture, religion, food, customers, culture etc. As a result, different parts of the island have different architectures, and foods; and also dialects.
Catania was our first stop in Sicily; and after landing, we rented a Hertz Fiat Tipo, and drove off to find our room at then B&B Globetrotter Catania (49 Euro's per night), which we knew was in the heart of the old city.
The old city has many old buildings; hundreds of years old, that are mostly well taken care of. The old town contains a myriad of small gullies and alleyways. After maneuvering our Fiat through these gullies and getting lost; we finally found our B&B which was located just a short distance away from the Duomo; the heart of the city with its cathedral. Parking was tight as there were many cars all over the place in the gully's so maneuvering was tigWeather was good; mid 70's, so T-shirts were fine. We got situated in our room, and walked around the old city. Surprisingly, it was quite deserted and shops were all closed. We were told by Daniele (B&B owner, who spoke good english) that this was normal as it was Siesta time from 1-4PM; and shops etc would open after 4PM.
We walked around and found a restaurant that catered to tourists that was still open and had a late lunch of pizza (Sicilian's don't eat pizza for lunch). We walked around to get our bearings in the gully's of the old town, and discovered the market area (now closed), the Duomo area; and we even found an old castle; all within a few minute's walk from our B&B. Lot of old history within a few blocks.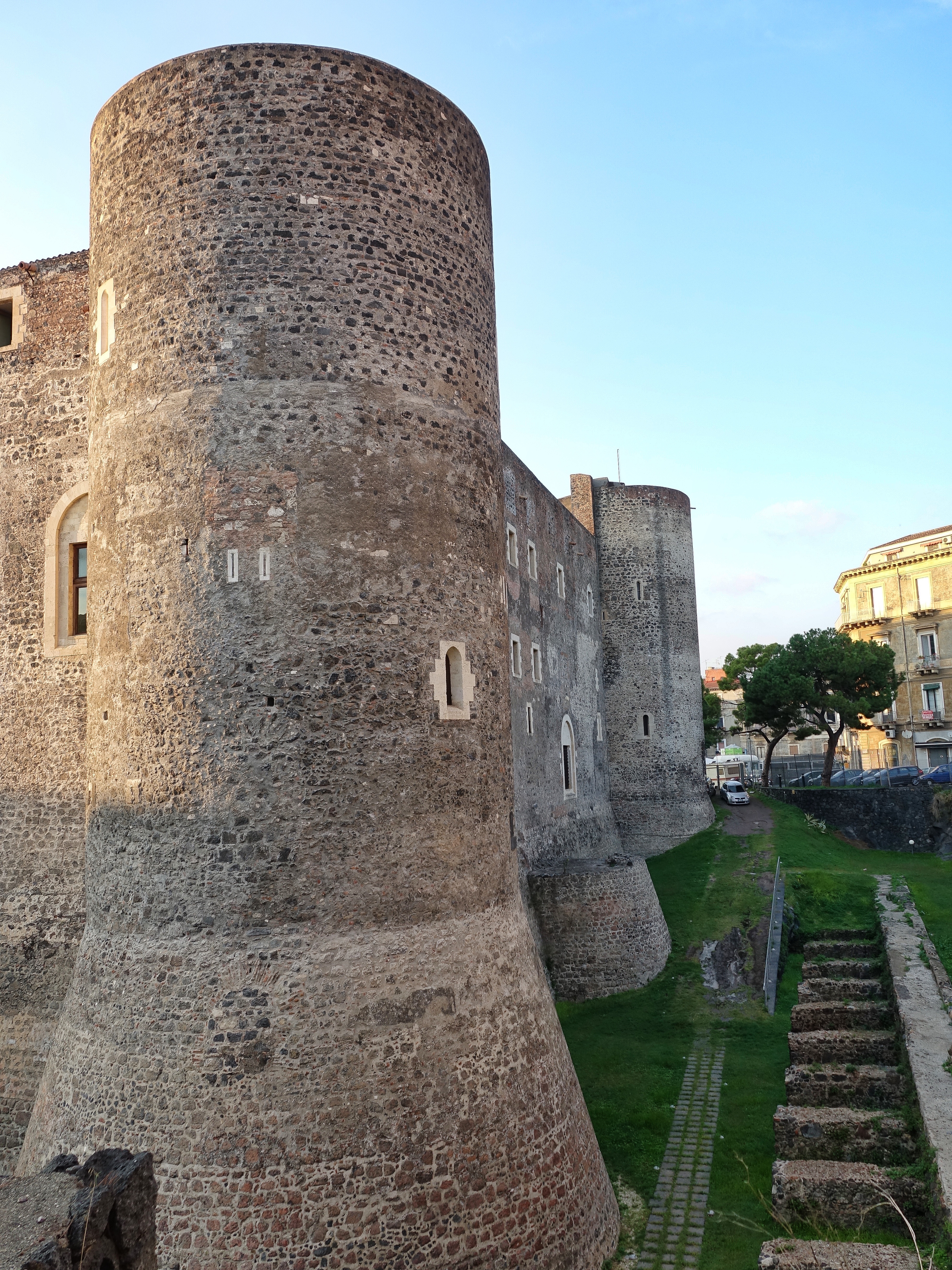 For dinner; Sicilian usually eat after 9PM; so we went out at 8PM, found a nice outdoor bar where we ordered a bottle of red wine (6 Euros; this was already becoming my kind of place 🙂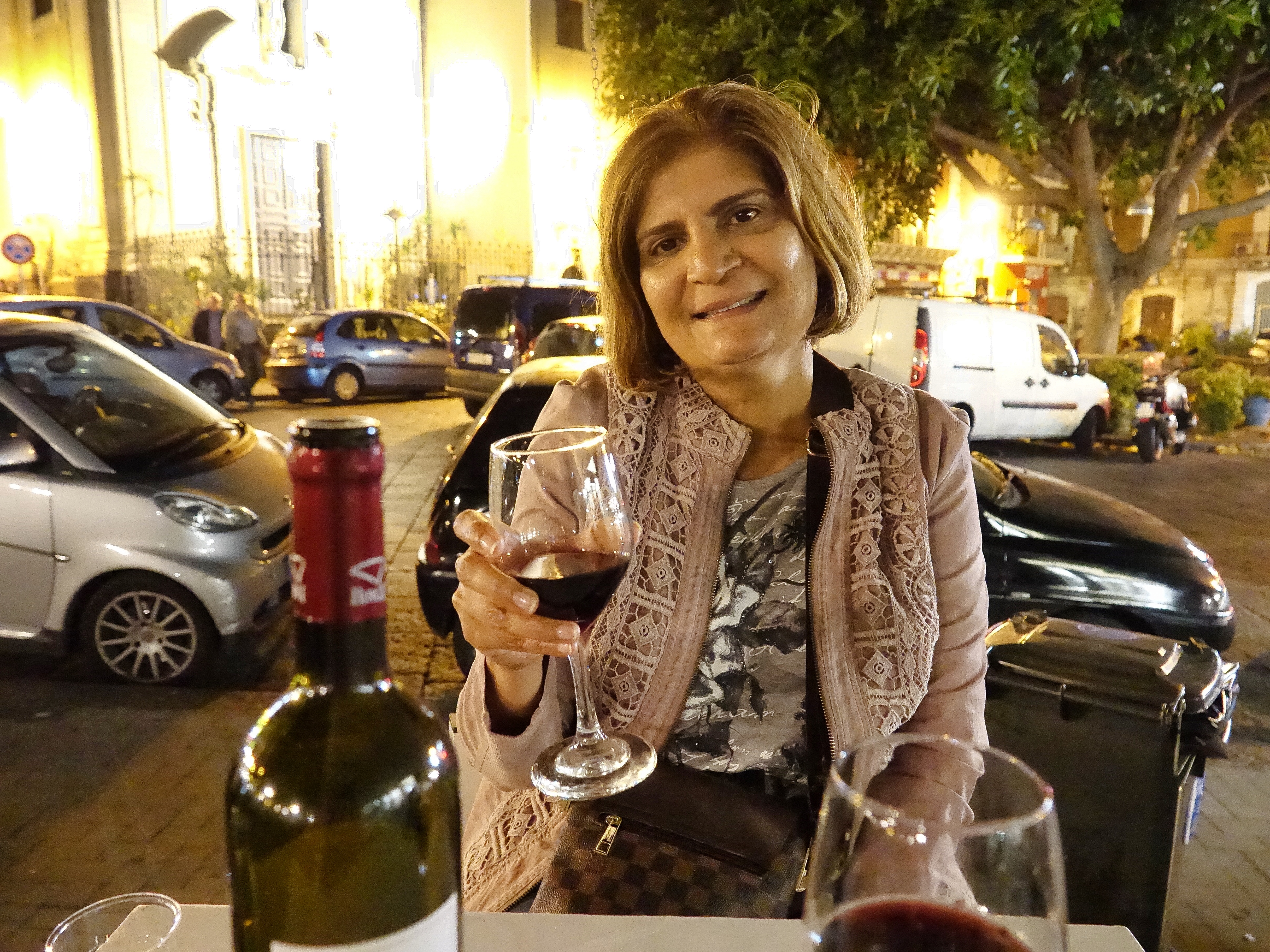 The bar was located opposite the castle, and the area steadily got busier & livelier as it got late. We had a dinner of seafood spaghetti; about 8 Euro's a plate; in a nearby Trattoria. The food was tasty in this local busy and lively Trattoria; a great start to this travel.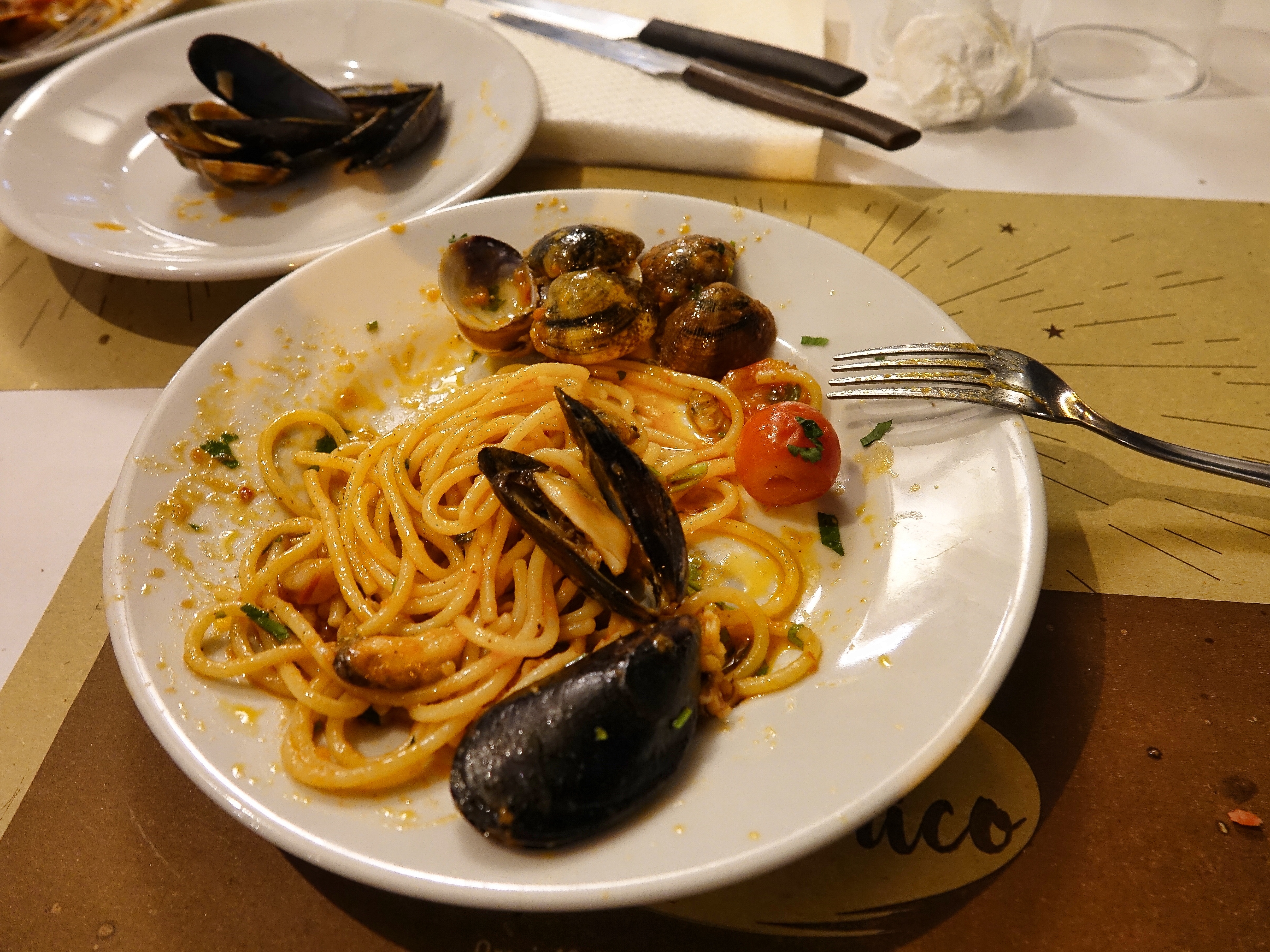 Next day, after a continental breakfast of fruit, breads, great Sicilian coffee/cappuccino; we went to check out the market area that was less than a minute's walk away. This market area was very lively with many small stands of local vegetables and fruits, and lots of locals shopping for their food.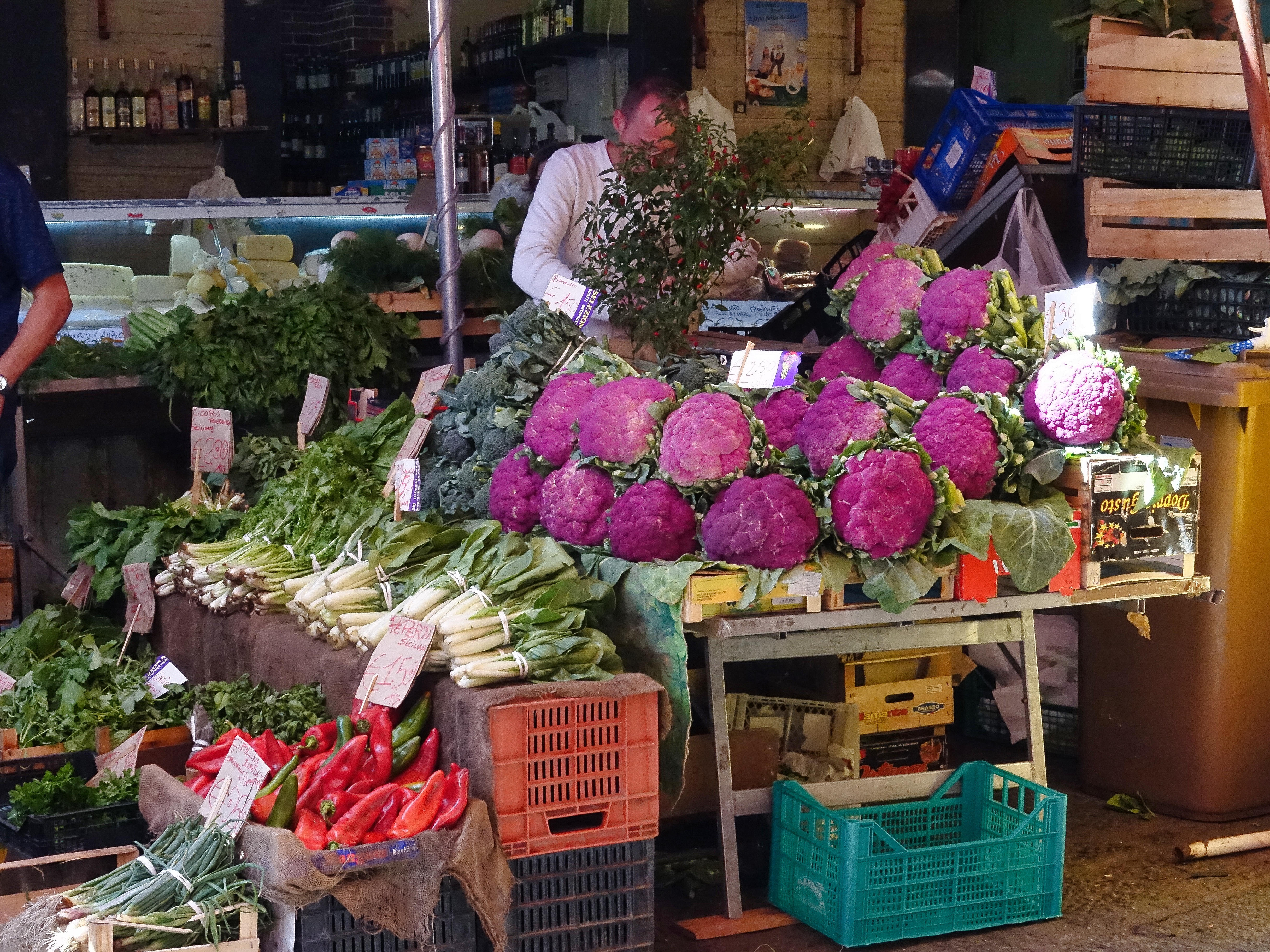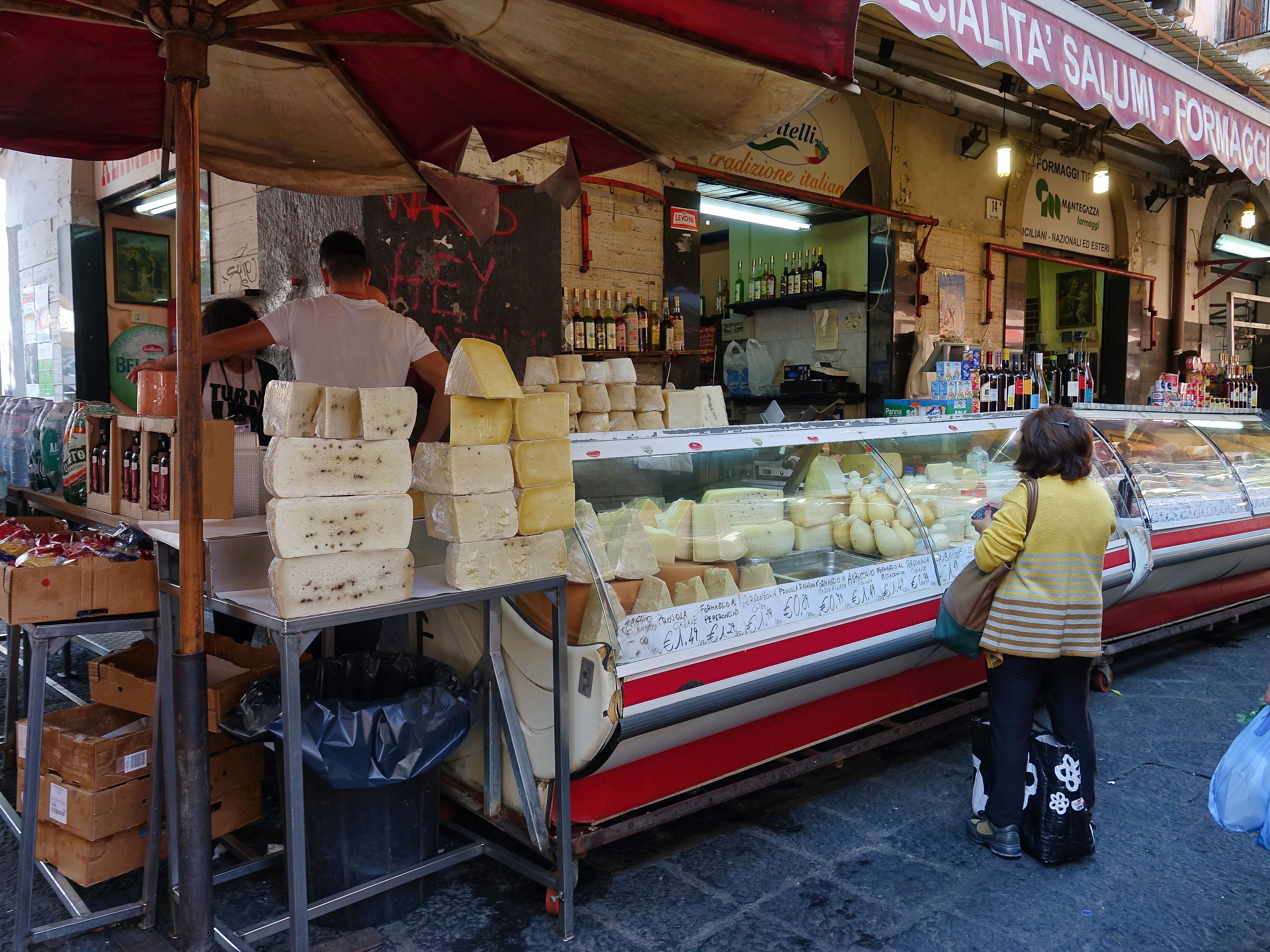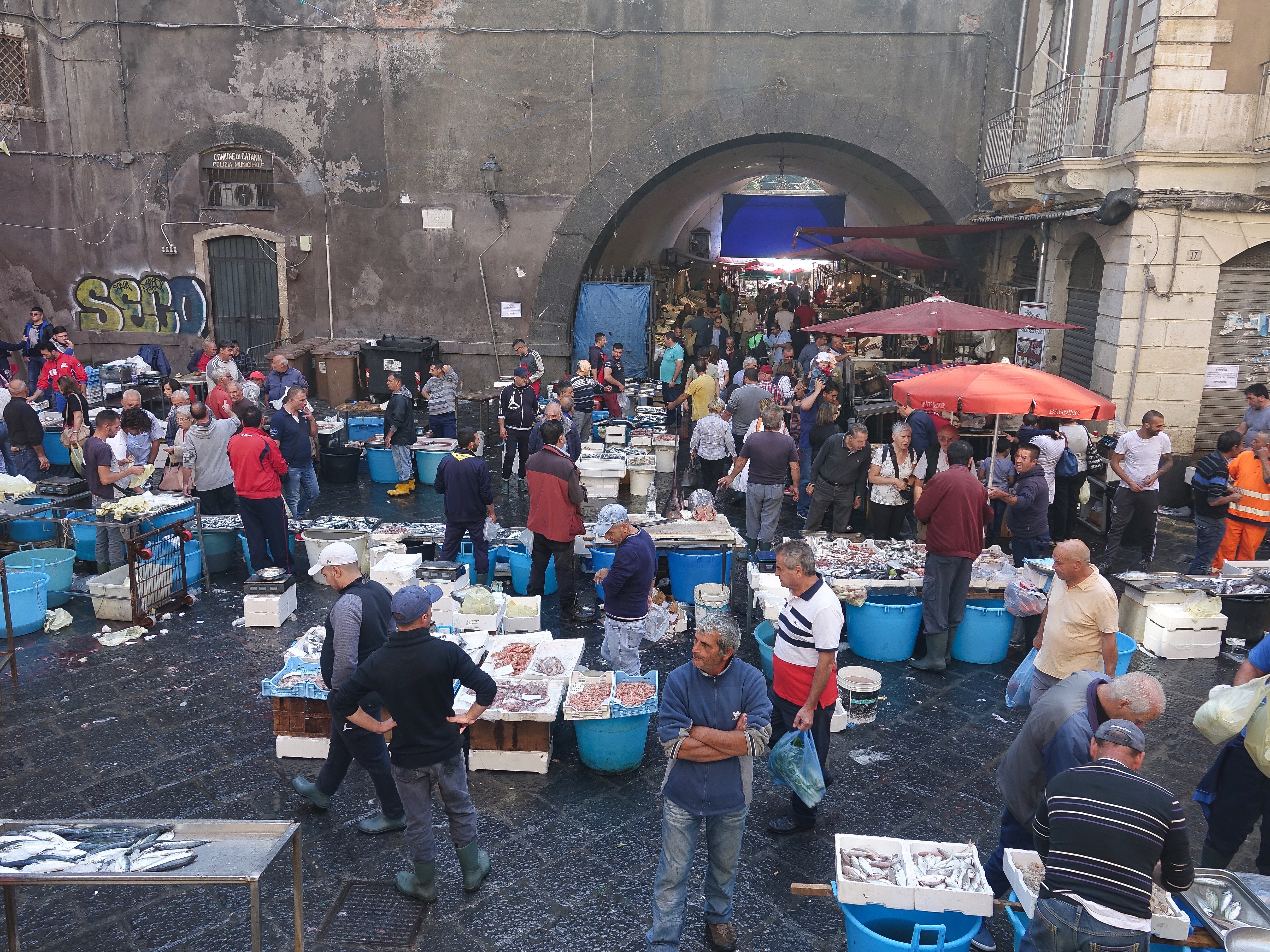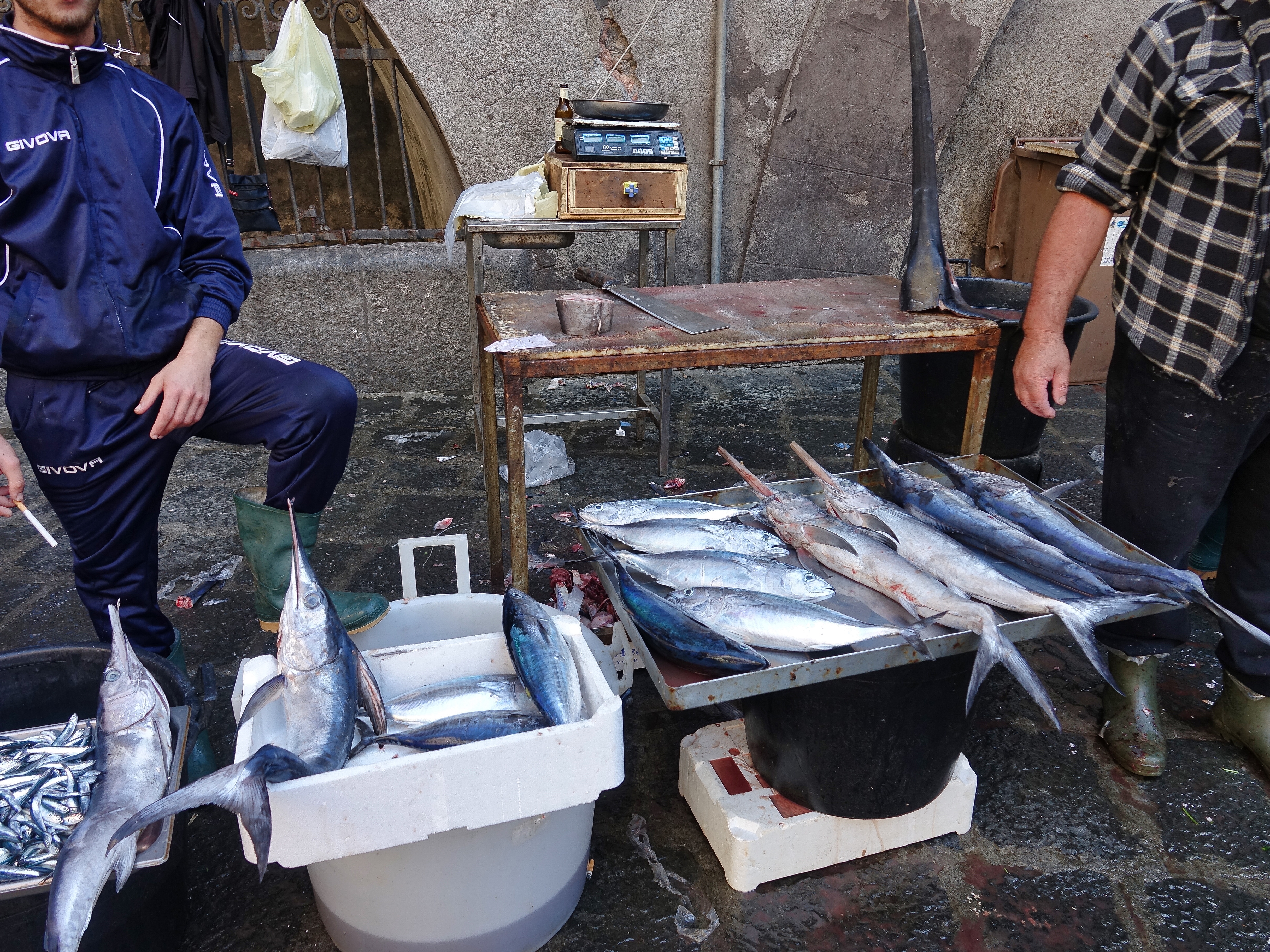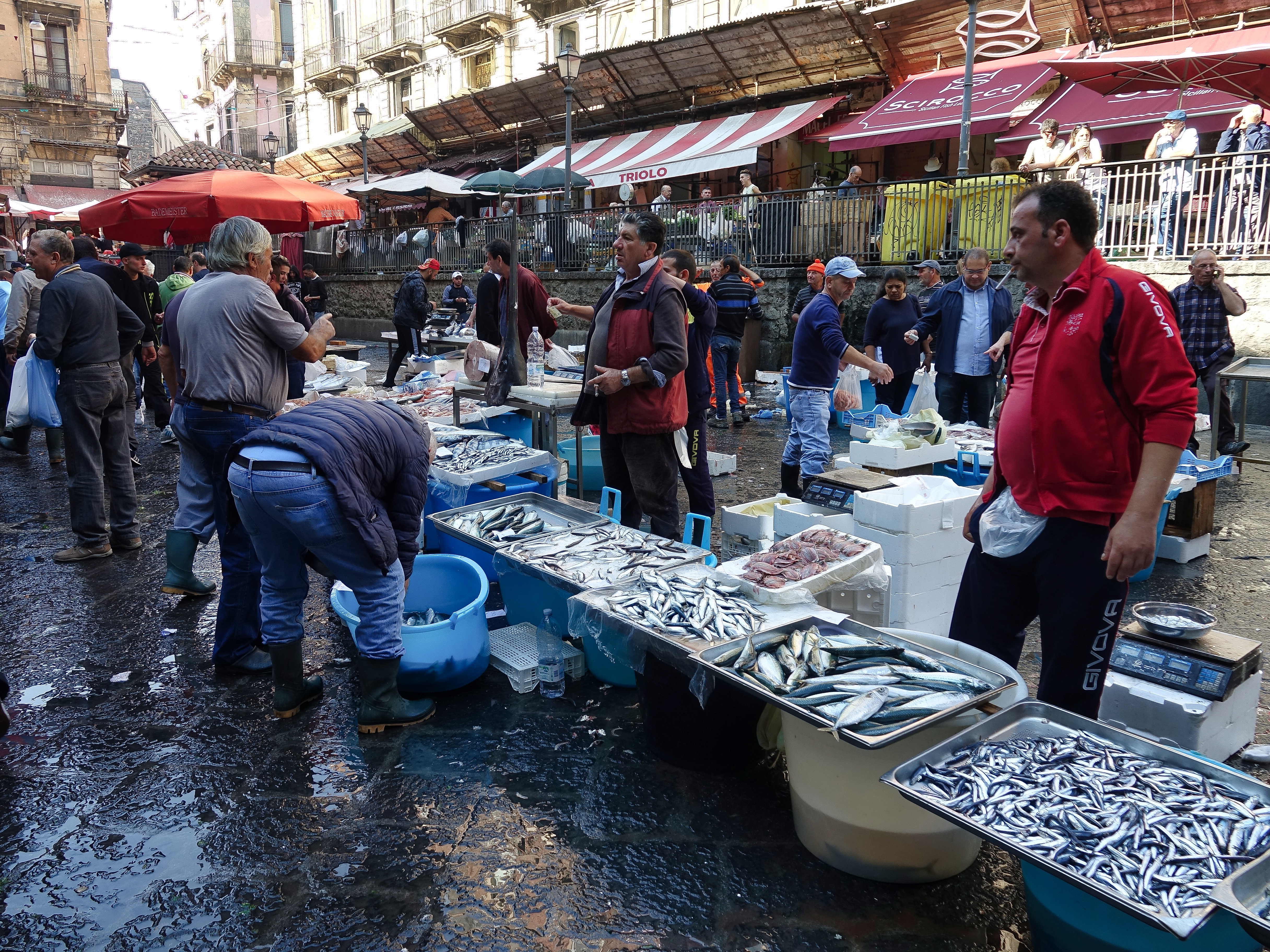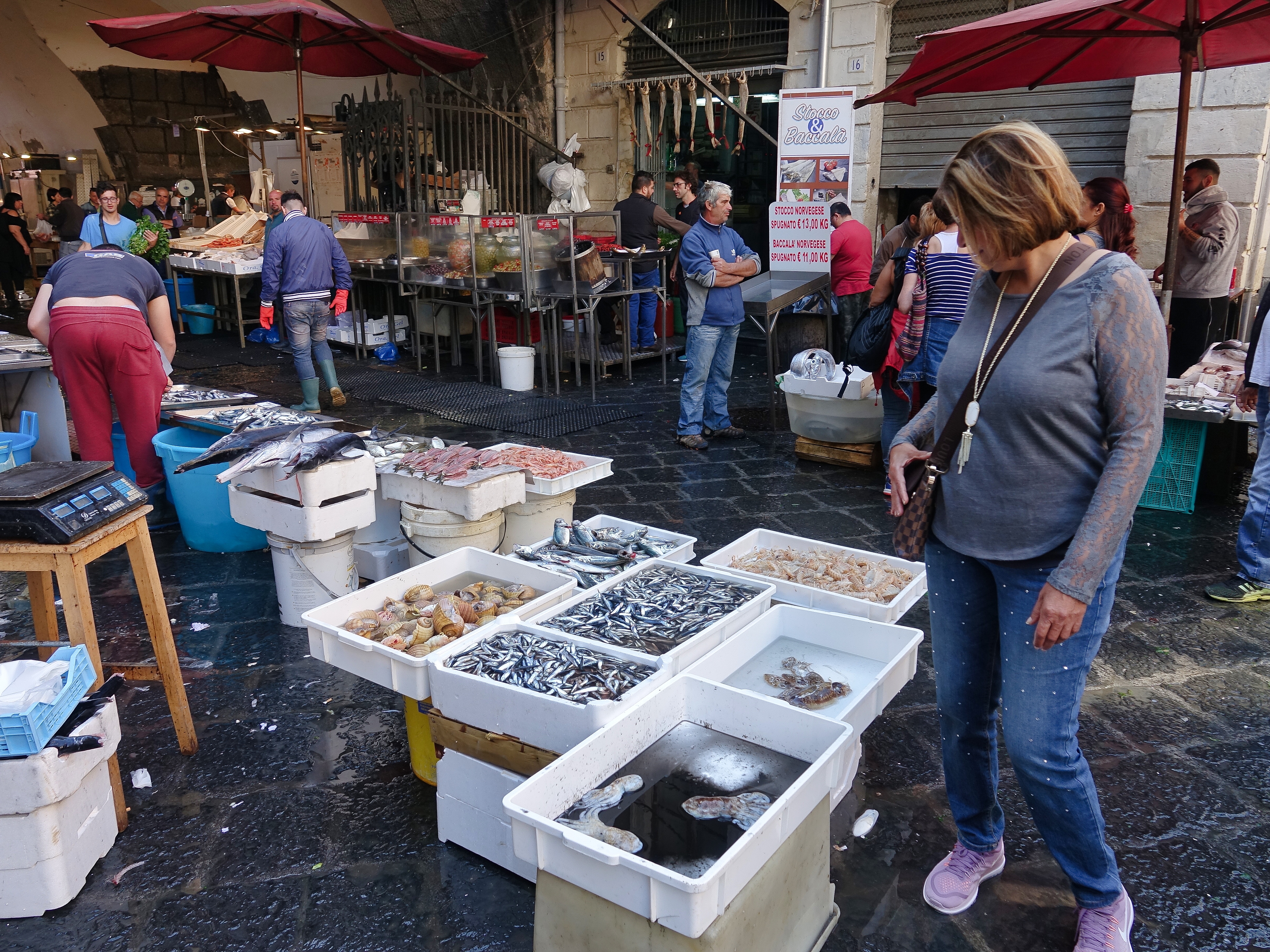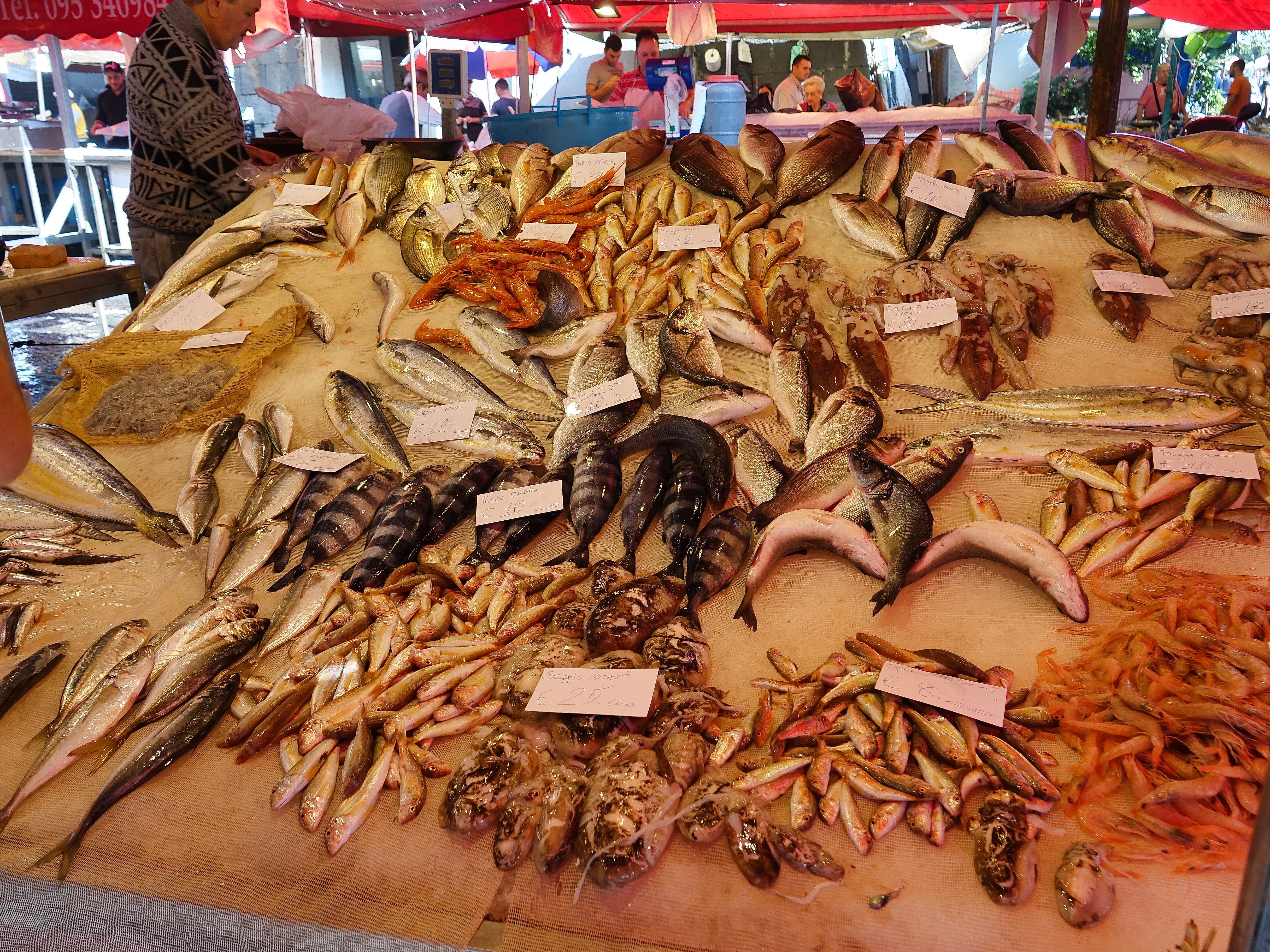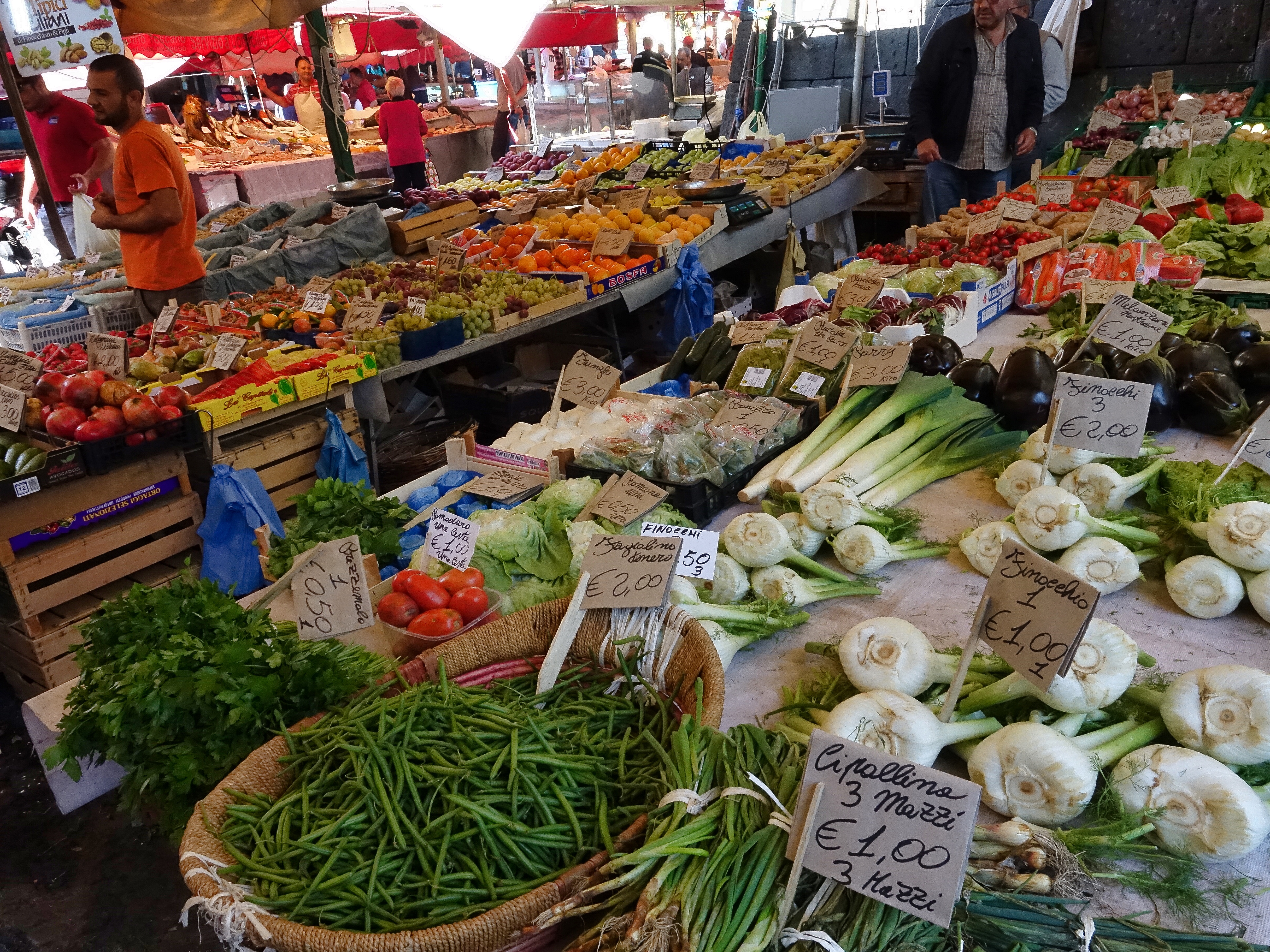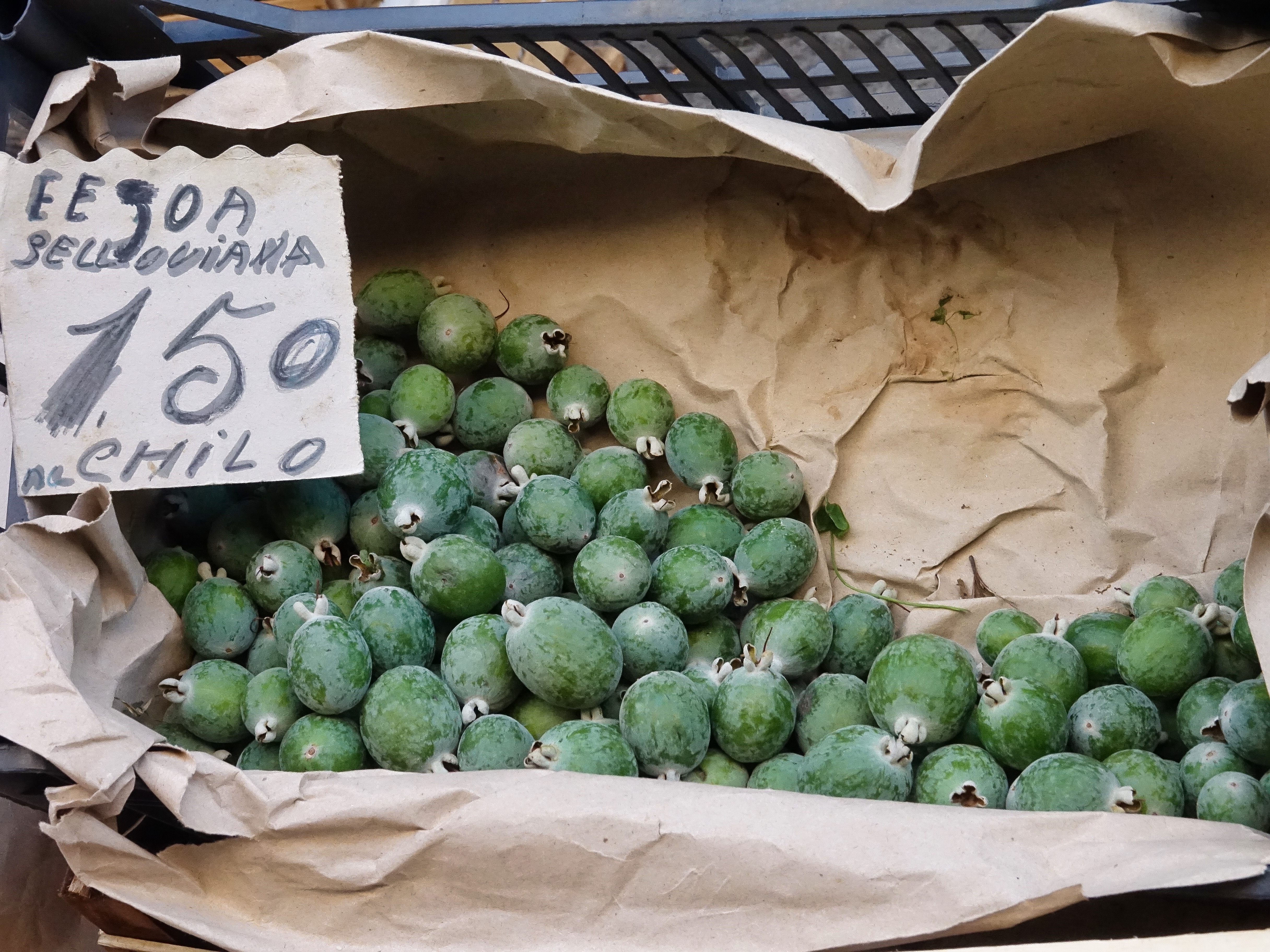 After seeing all this fresh stuff in the market we were hungry; so we went off for lunch to Pranza, a local restaurant recommended by Daniele for seafood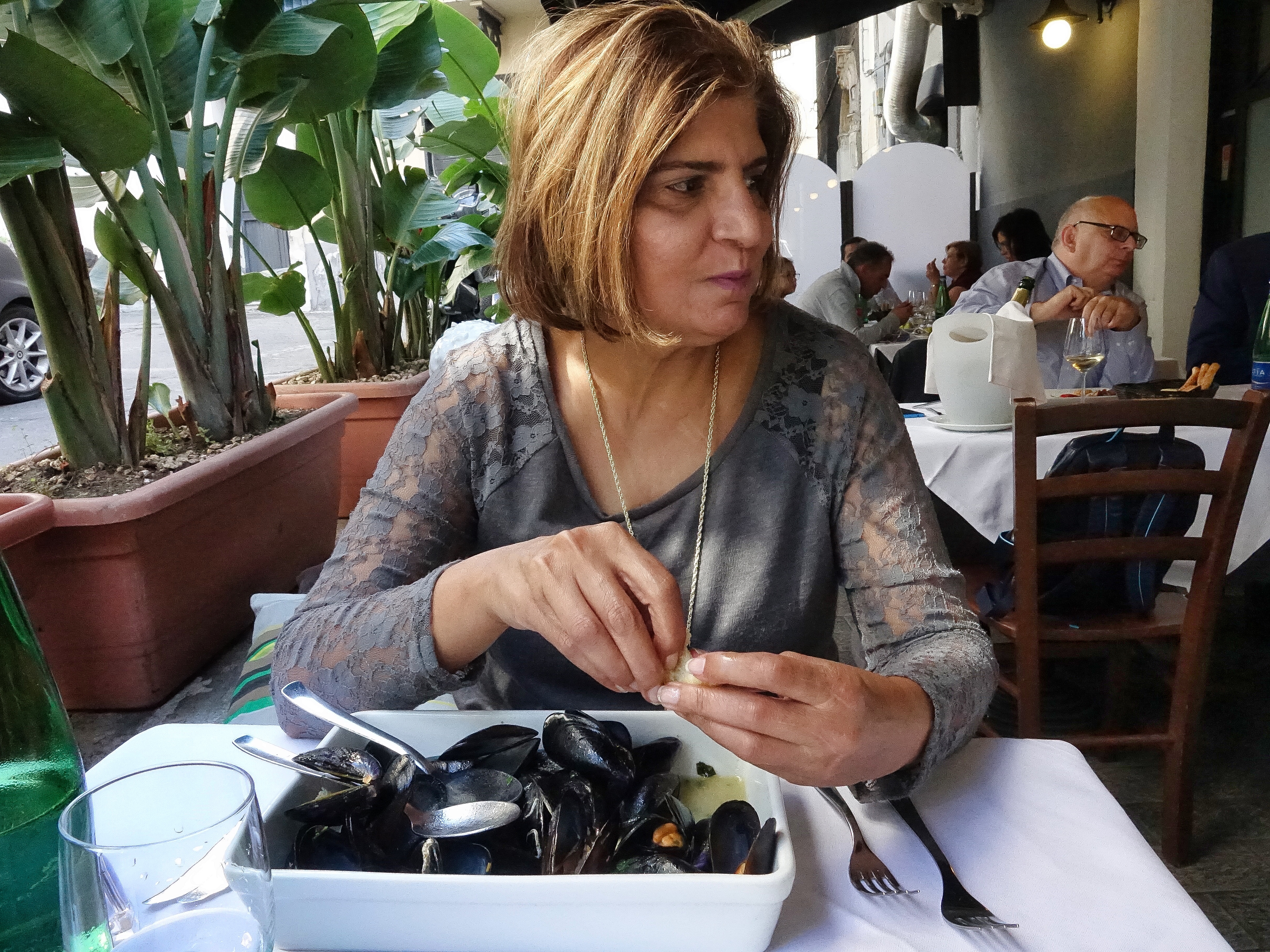 After this delicious meal, we decided to drive and visit the area around Mt Etna, which is still a live volcano that does erupt regularly. Last major eruption of Mt. Etna in 1669 and a devastating earthquake in 1693 had first buried Catania and other nearby cities completely and then destroyed the remaining buildings; that they had to be totally rebuilt, ironically, using bricks made from the same lava from Etna that buried these towns.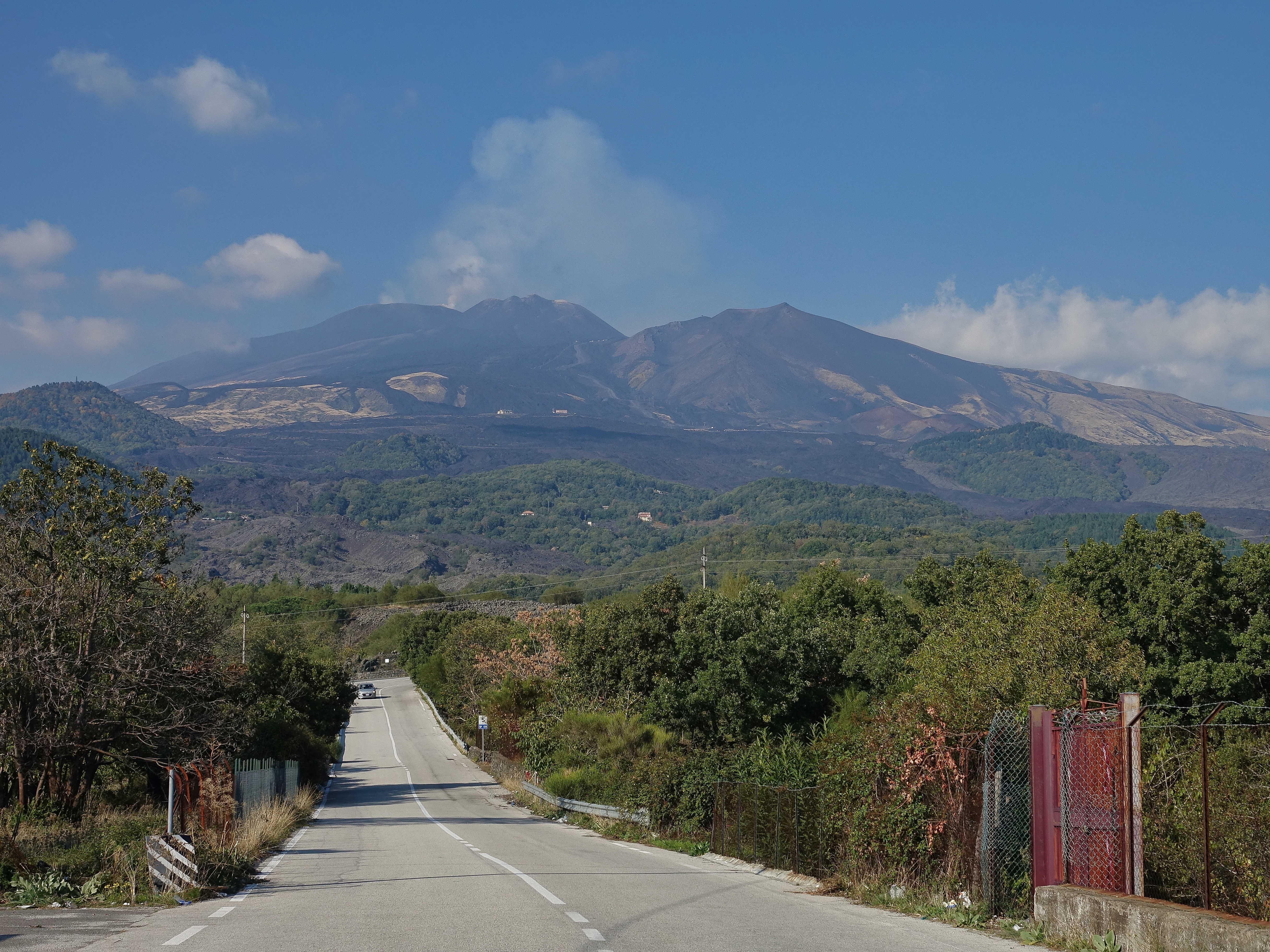 We then drove up the side of Mt Etna, up to about 7,000ft above sea level; to where cable cars take you higher up Mt Enta.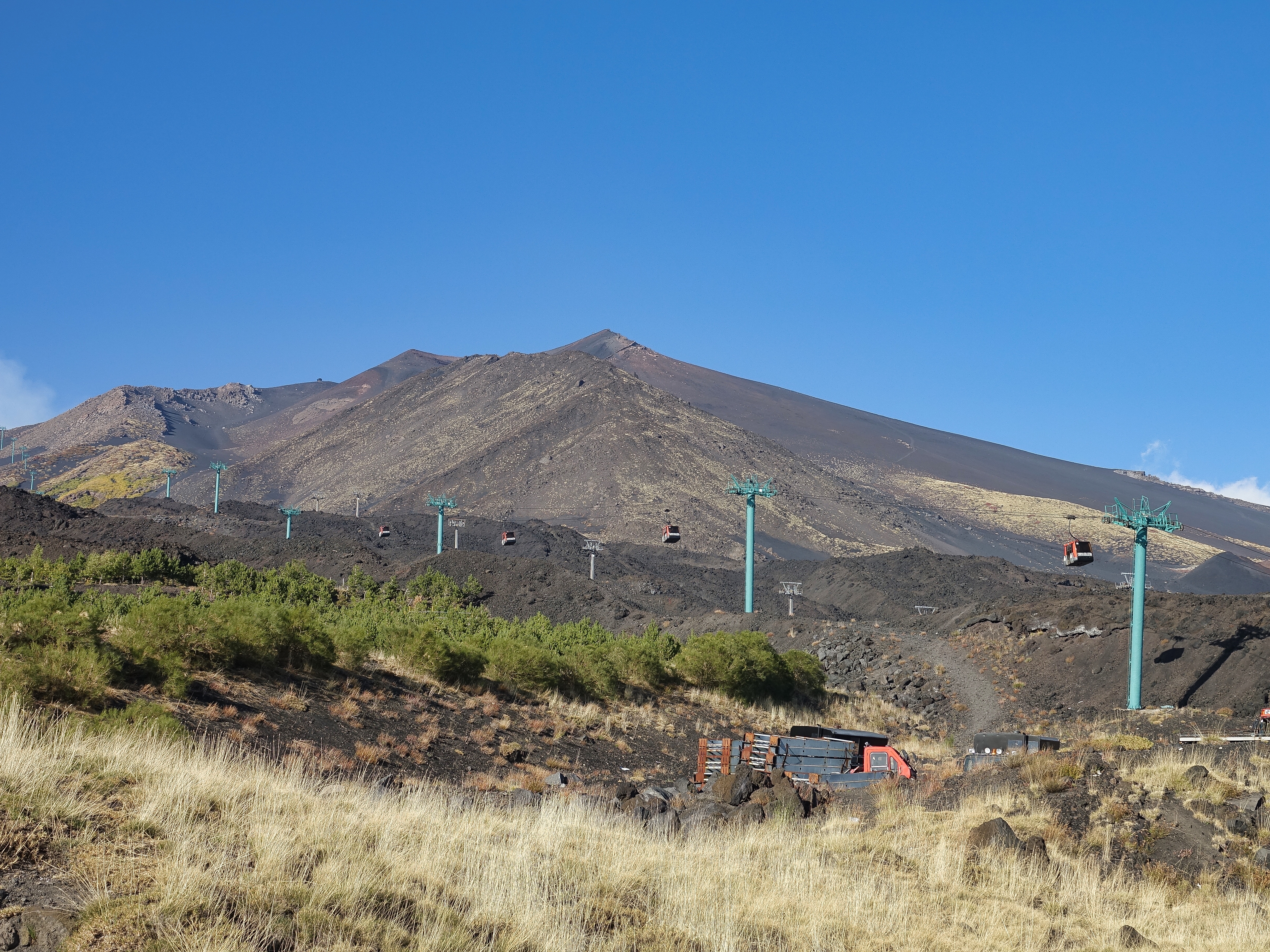 It was quite chilly up here, and the landscape was mostly barren, though you could occasionally see a small forest of trees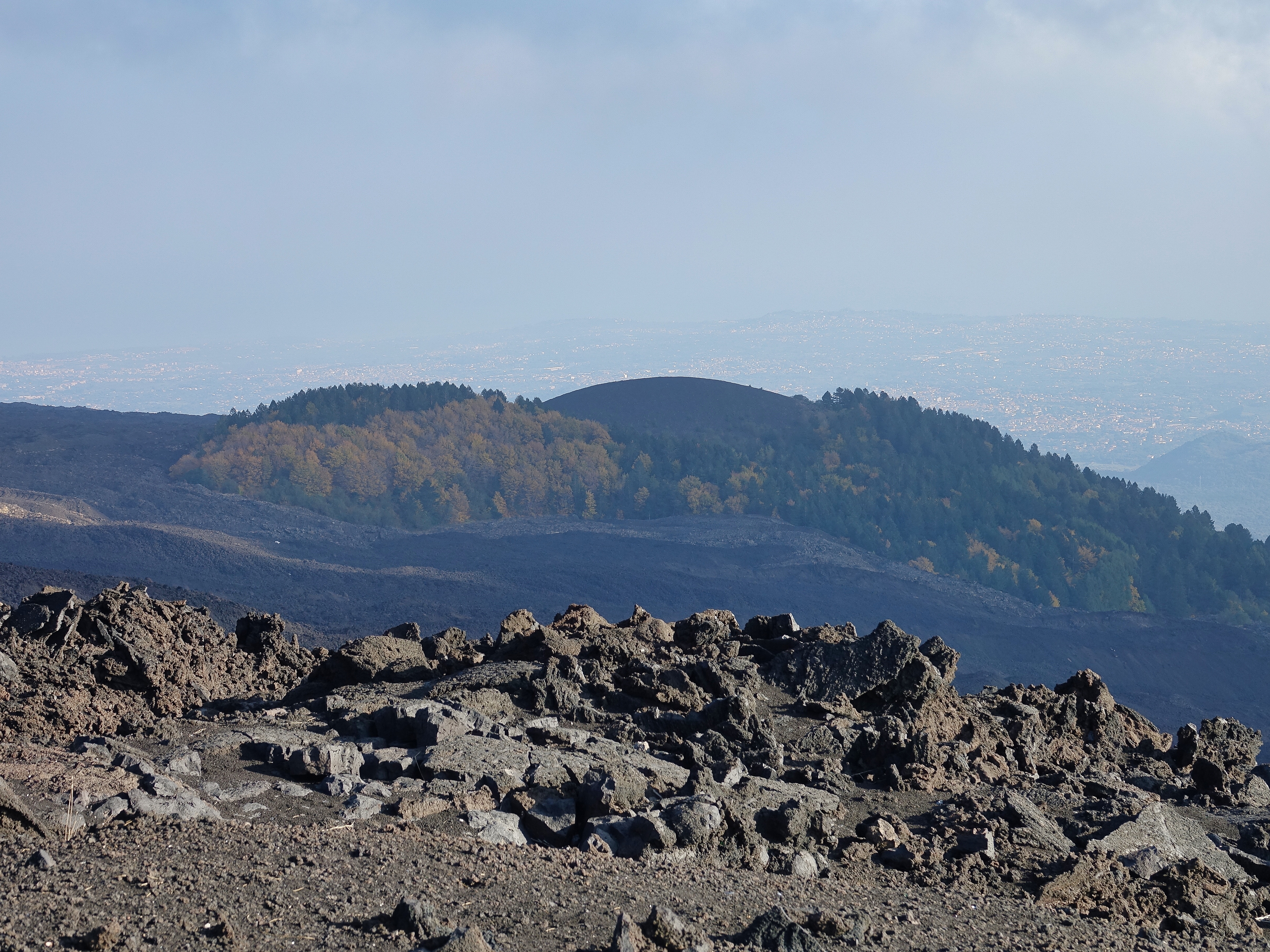 After Mt Enta, we drove downhill through a forest of Chestnut trees; with lots of chestnuts & prickly pears; in full season. There were people who had parked their cars along these narrow back-country roads collecting Chestnuts and Prickly pears.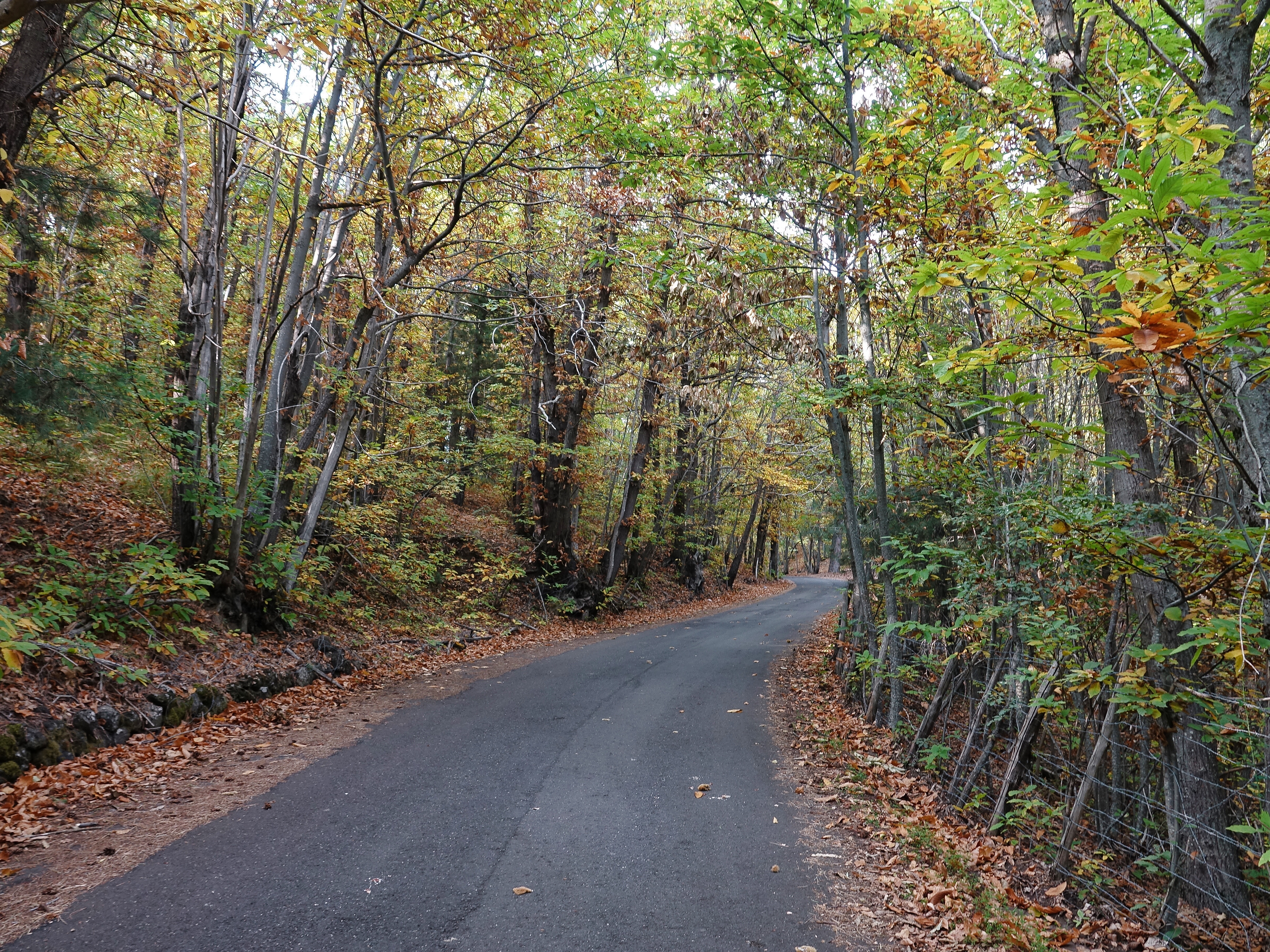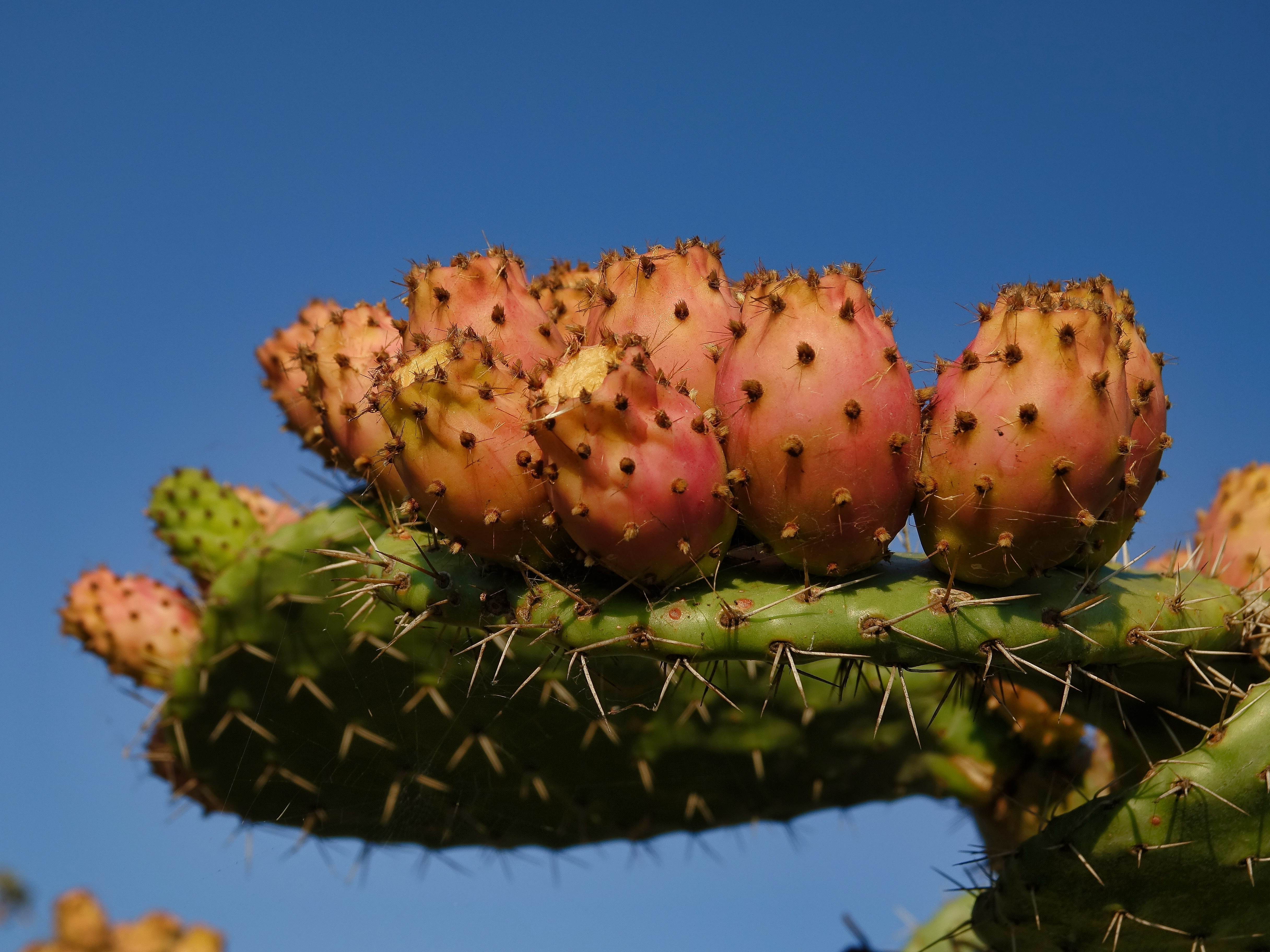 We then drove to Bronte, a small town on the NW edge of Mt Etna, which is famous for growing pistachios; and here, there were all kinds of foods made from pistachios. After getting full, from tasting different pistachio recipes and ice-creams, we drove back to Catania.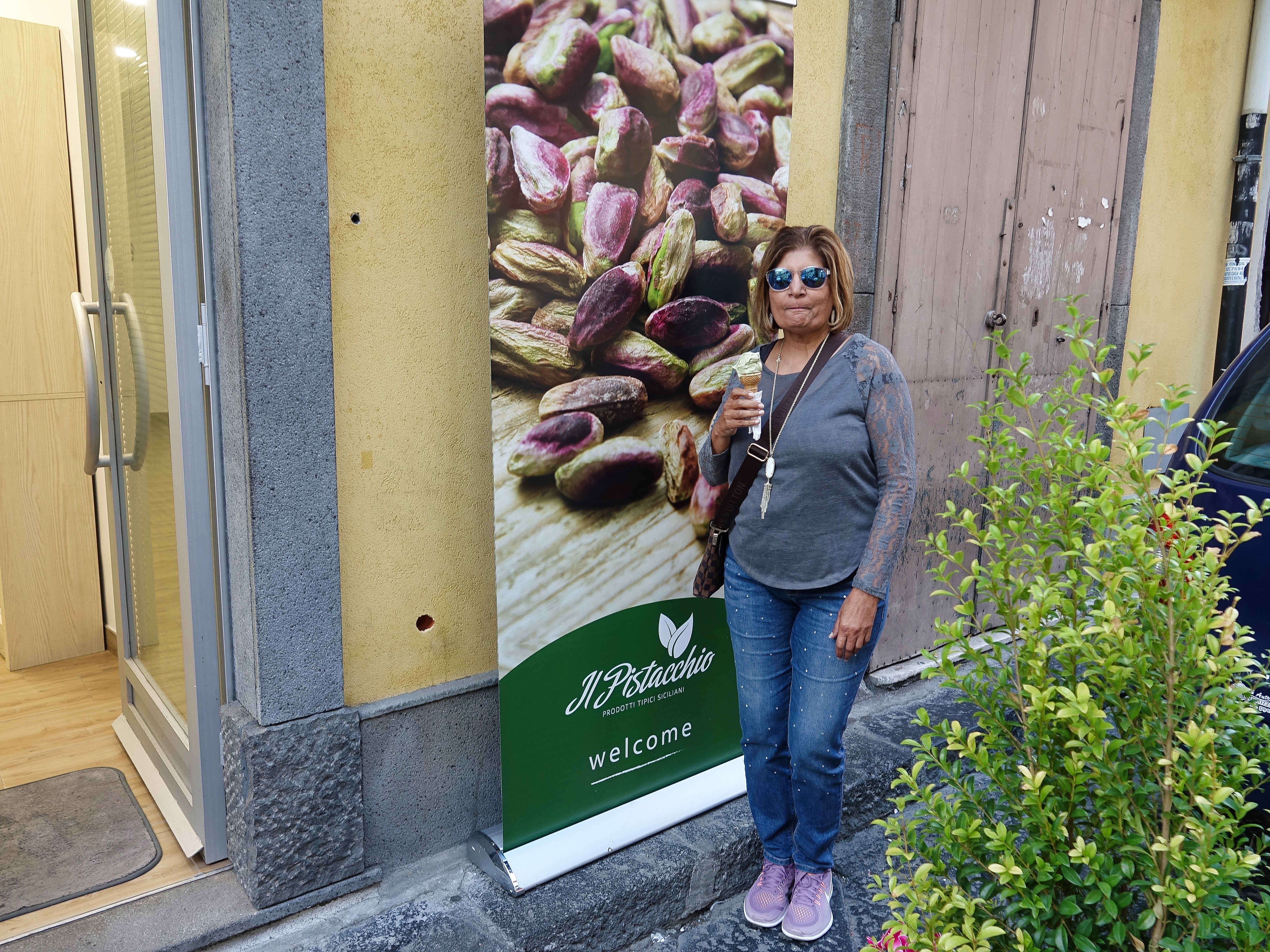 This area was hilly, so we passed through some nice picturesque towns; on our way back to Catania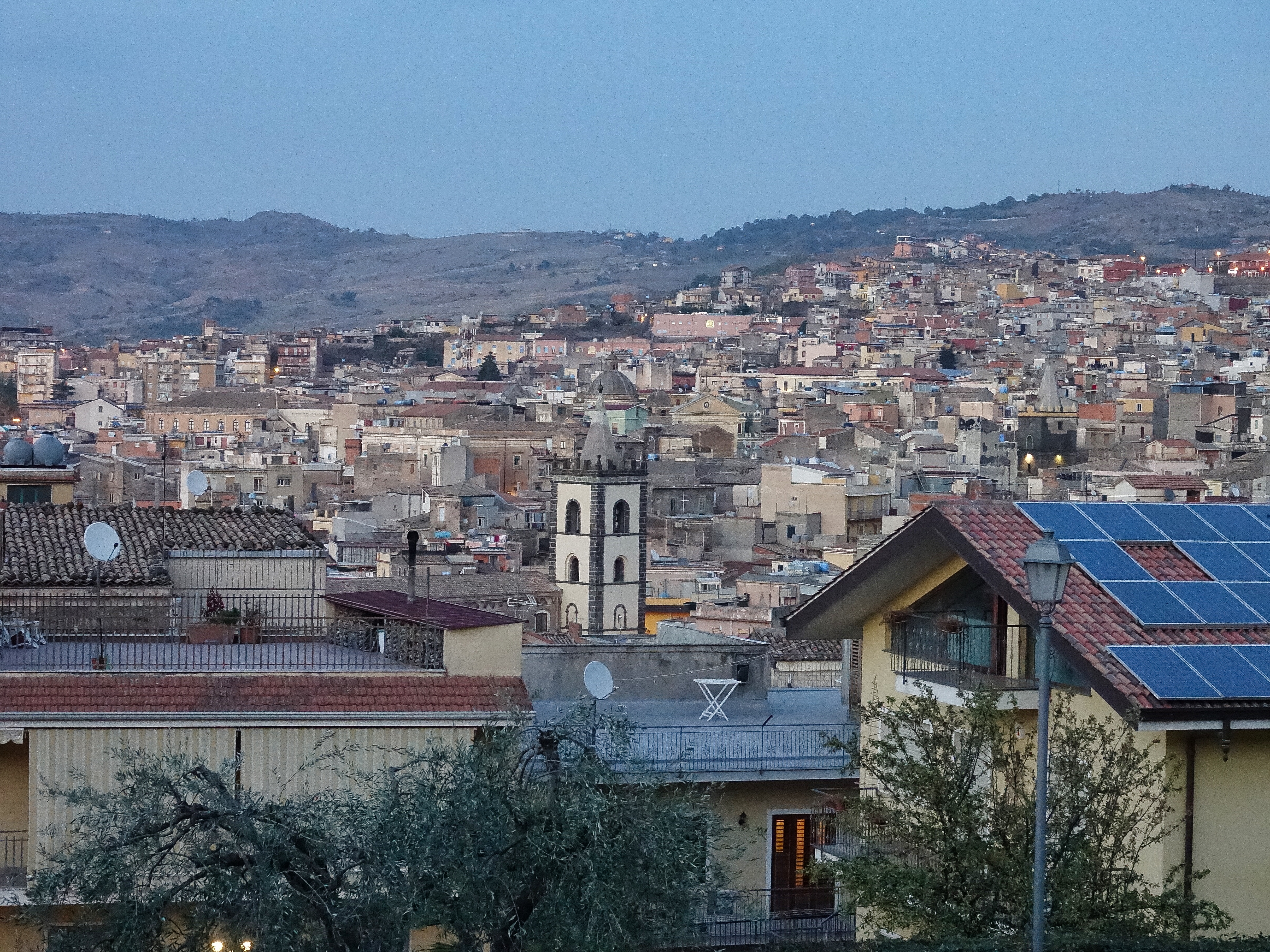 Dinner was at Agora restaurant, next to our B&B.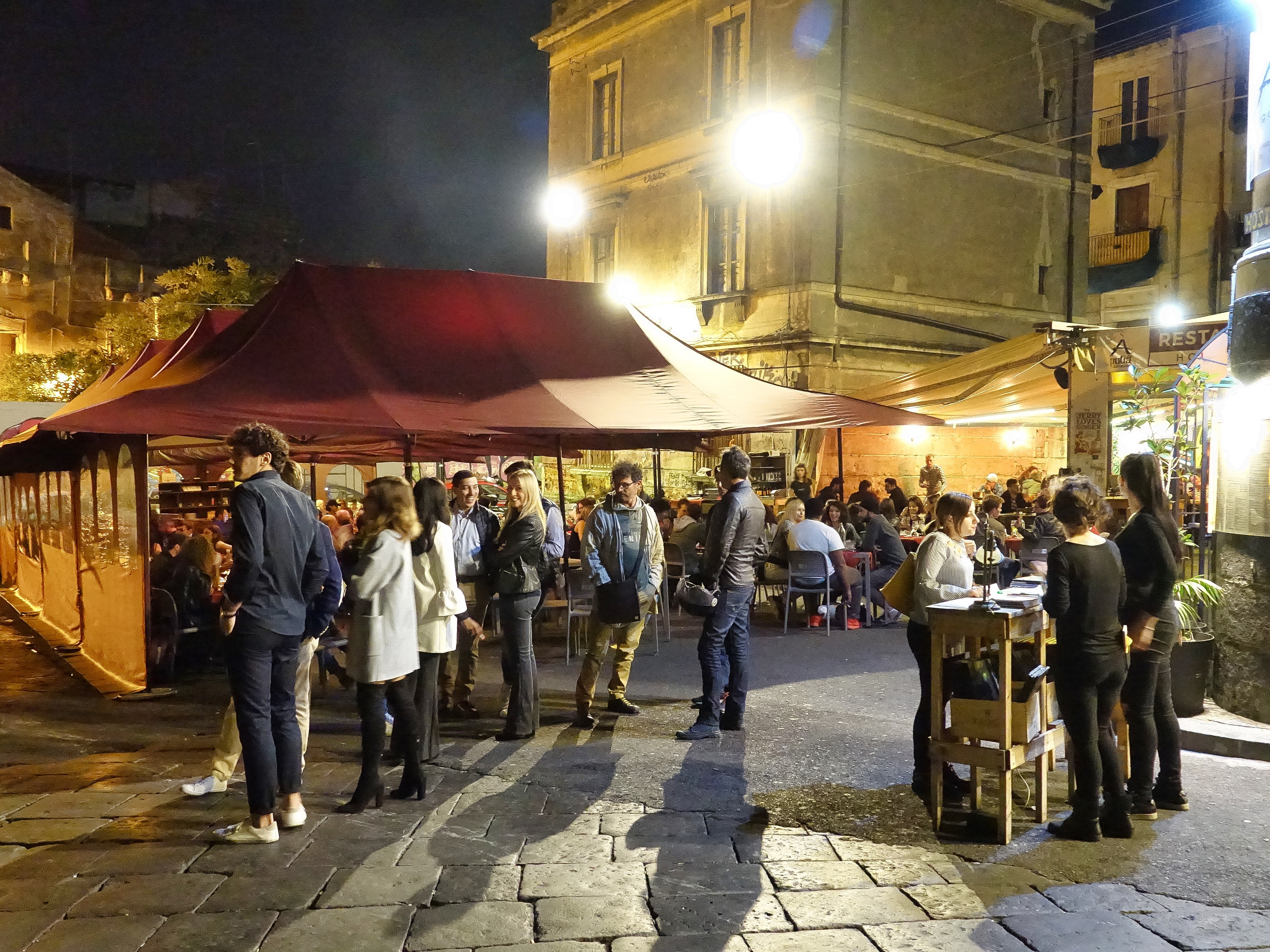 This place was very lively late at night; and in addition to this dining area, it had an underground cave for dining, complete with a real underground stream; again recommended by Daniele.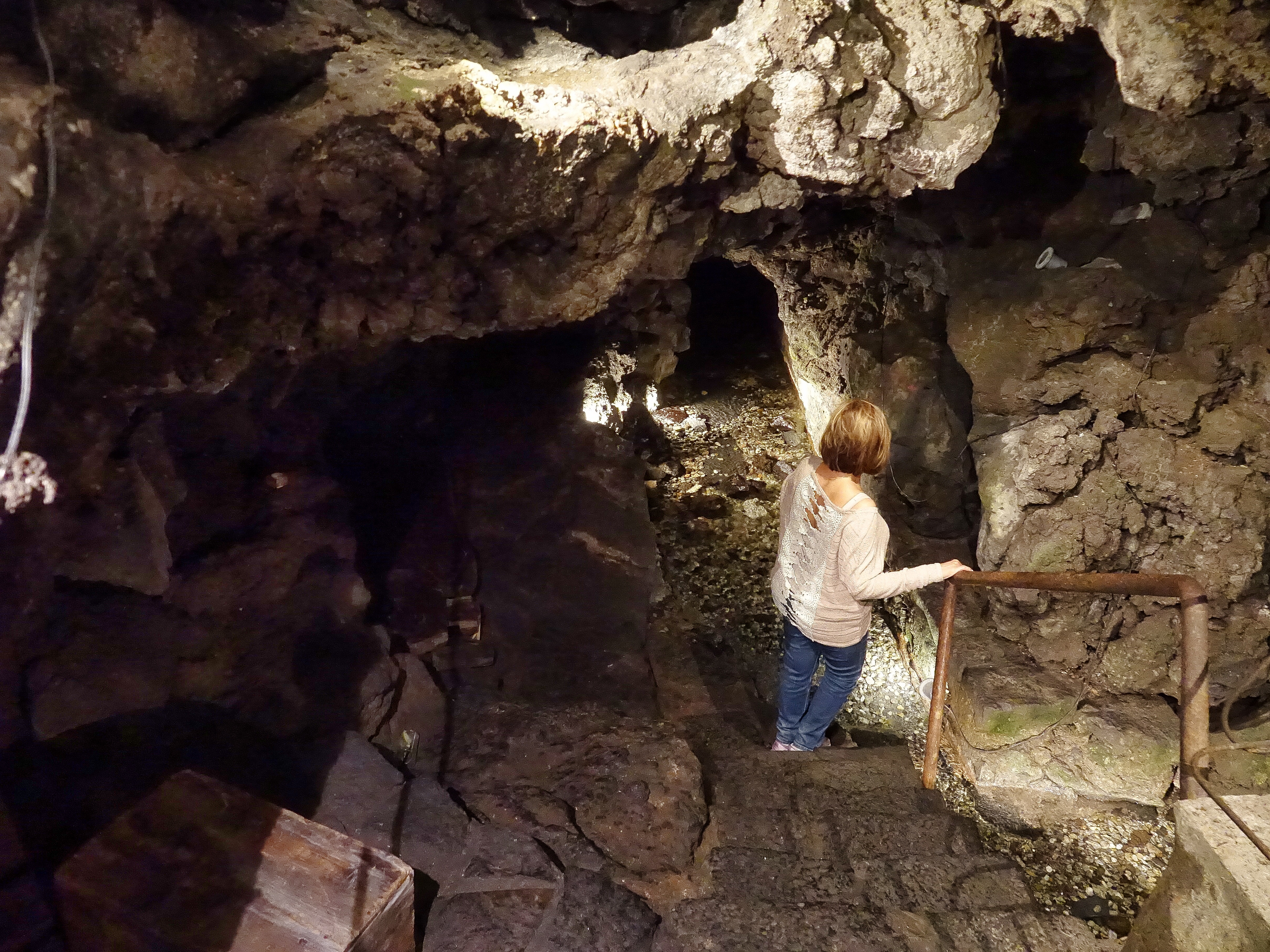 We had the Antipasti here, which is a sampling of different kinds of hot and cold starters; quite filling. One Antipasti and half a liter of red house wine came to 14 Euro's. The food so far had always been excellent in taste and freshness; and the price was very reasonable.
So far, so good. We walked back to the B&B, and stopped for some freshly roasted hot chestnuts which were delicious 🙂 .
Good first few days in Catania; the food quality and taste has been very high which is very welcome.
Off to Taormina tomorrow
This entry was posted in
Europe
,
Italy
,
Sicily Oct 2017