September 30, 2019
In Ishkashim, we stayed with another Pamiri family; the Ruun guest house run by father and son. Their place was 2 story guesthouse, recently built, so fairly clean and modern; but the bathroom was still an outhouse 🙁 . We were the only guests here; Wifi was available, but there was very intermittent connection to the internet, and even the rare times it worked, performance was so bad that it was not usable. We are now getting used to freedom from the Internet 🙂 . That evening, I asked for attending prayers that evening. But the father informed me that because it was harvest season, people worked long hours to complete the harvest, so no prayers.
The next morning, after breakfast, we left to drive to Khorog, the final destination for us with Sherali and Ahmadali. At Ishkashim, there is a bridge that crosses over into Afghanistan to the sister town. This bridge is only open on Saturdays, to allow a market to take place on the Afghan side across the Panj river. However, the times we were there, the bridges were all closed due to issues on the Afghanistan side, presumably due to Taliban activity.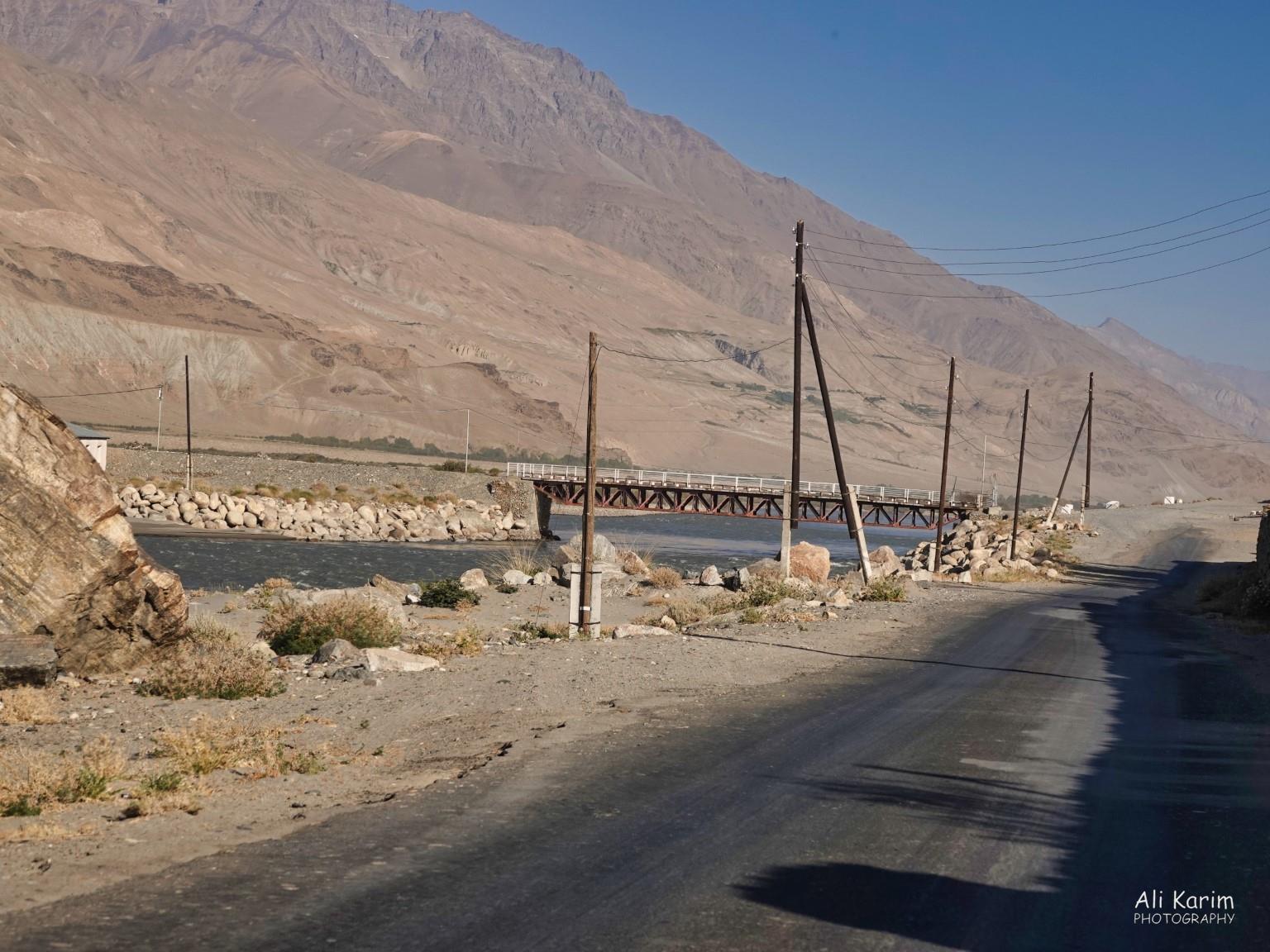 We continued to drive along the Panj river, with great views of the Afghan side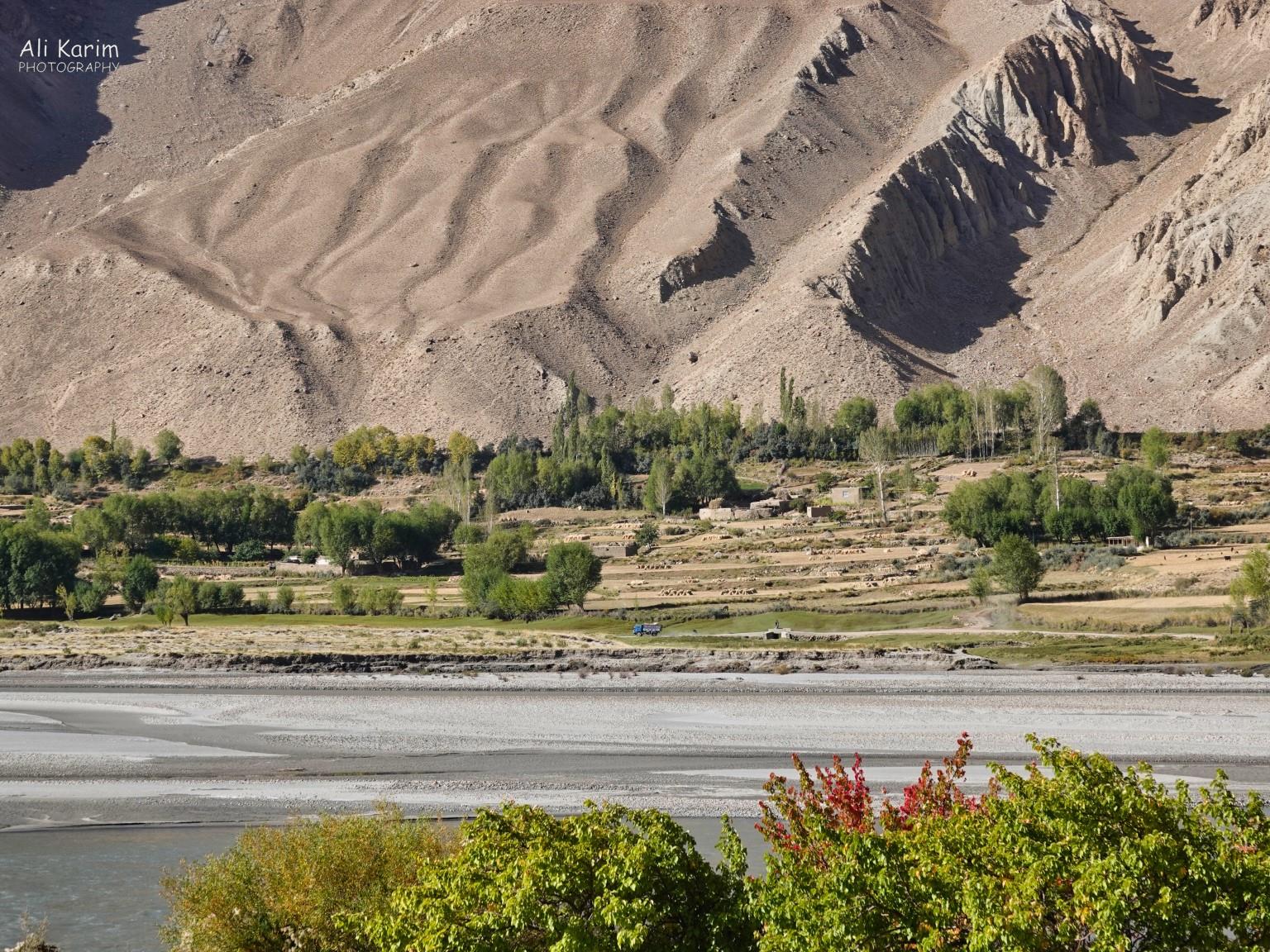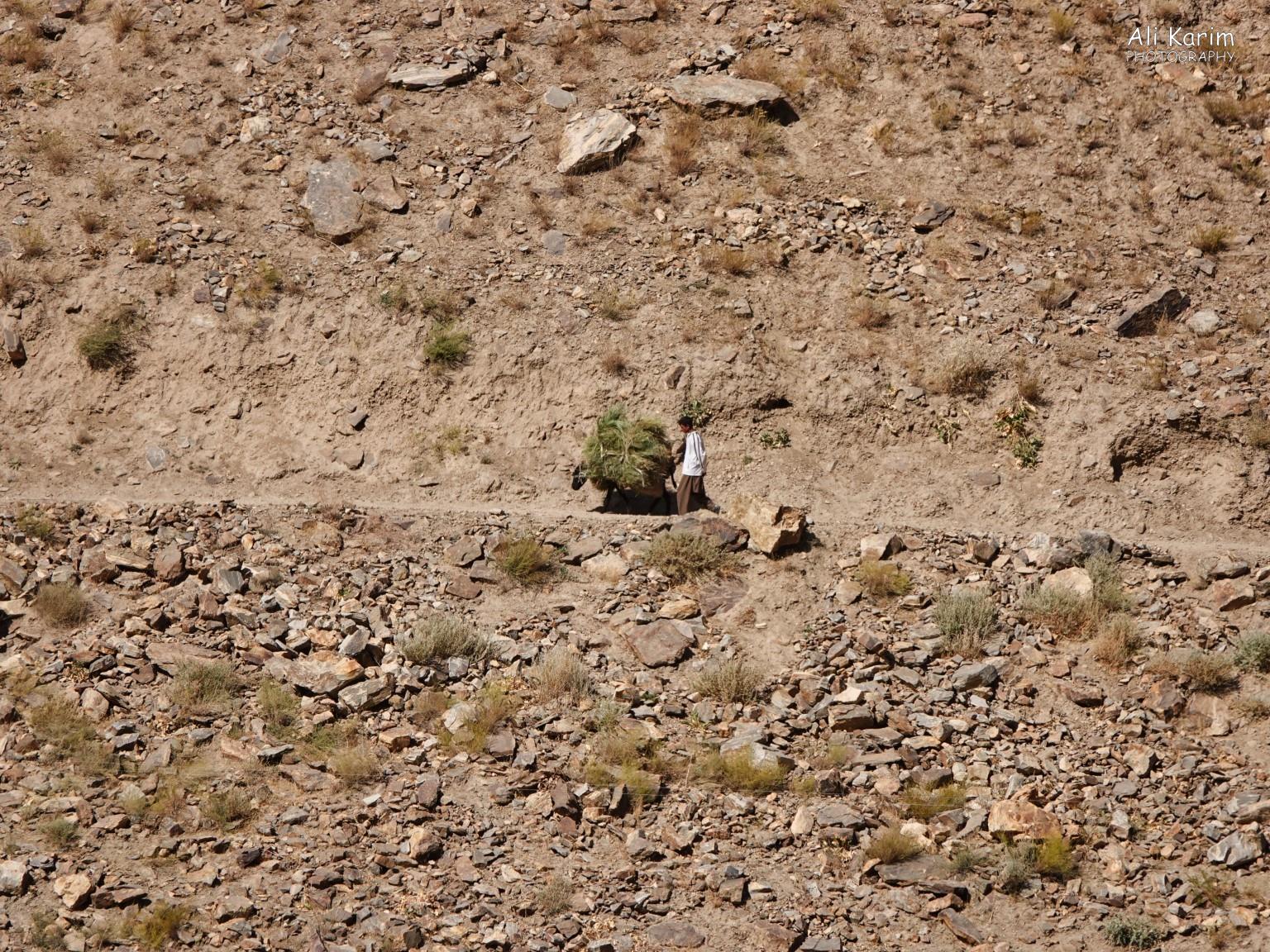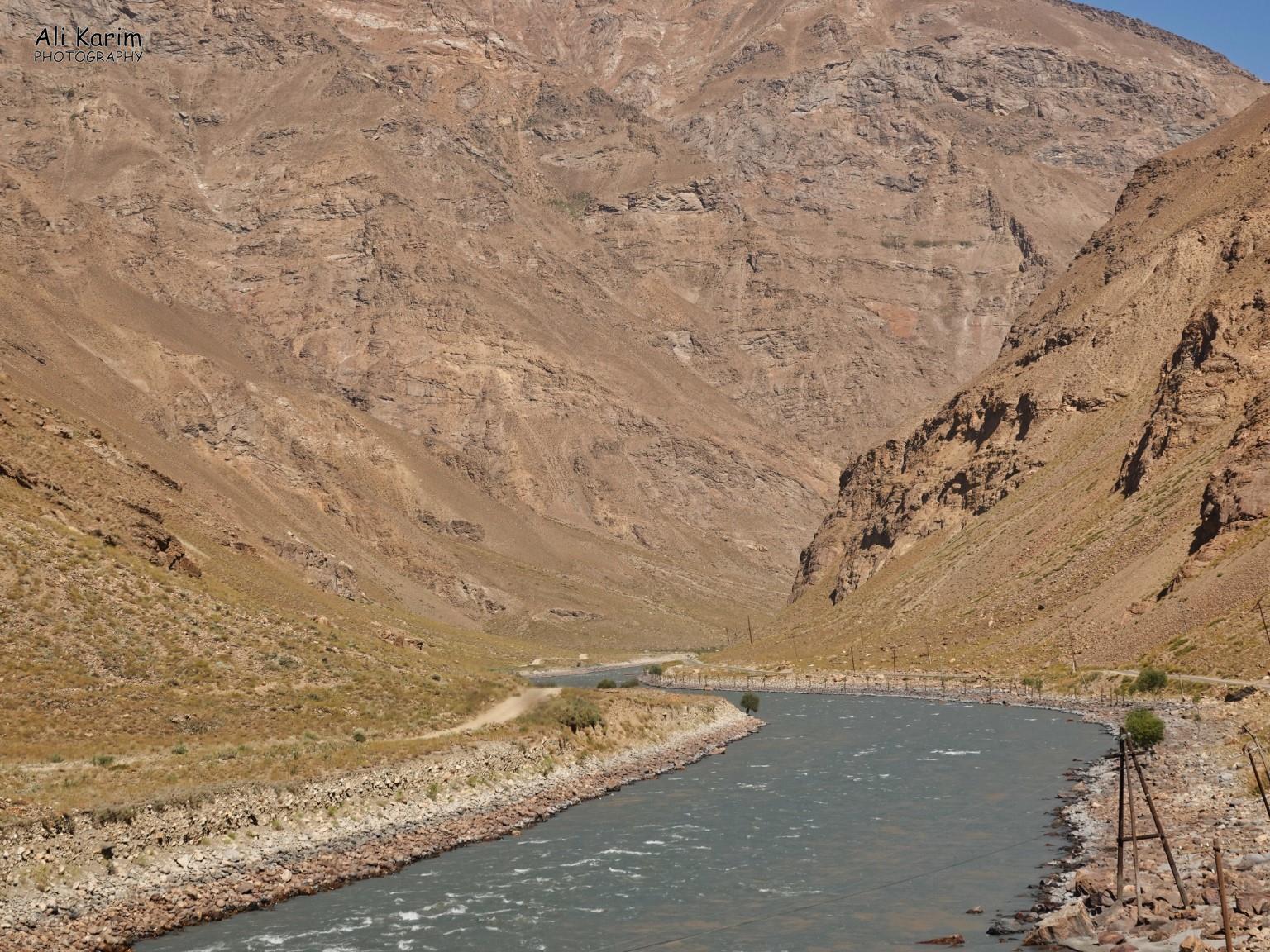 Ahmedali was looking for gas (petrol) for the Landcruiser, and knew there was a petrol station in this area, but could not find it. So he stopped at a little village of Khazy, and asked for direction. An older gentleman came towards us and told Ahmedali that we had passed the gas station about 1 km back, and got into the Landcruiser with us to show it to us. Very nice of this gentleman, who spoke no English. We got to the gas station, which was right on the river, which was narrow at this point, so Afghanistan was a stone throw away. This was another gas station with no pumps, but buckets and funnels made do. There were several armed Tajik soldiers here, due to the closeness of Afghanistan, so no pictures allowed 🙁 .
While we were getting gassed up; Dilshad noted writing in English on the back of the gentleman's jacket, about Child development, and with Sherali translating, we determined that this gentleman helping us was a Medical doctor, Dr Kurbanali, who worked and lived in Khazy, and was doing volunteer work with an AKDN project for children in rural areas. Sherali introduced us as fellow Ismaili's. We gassed up and drove back to Khazy town to drop off Dr Kurbanali, when he invited us to his home for tea. We were getting used to this kindness daily; so off we went with Dr. Kurnabali into Khazy village, after making sure with Sherali that we were OK with the time.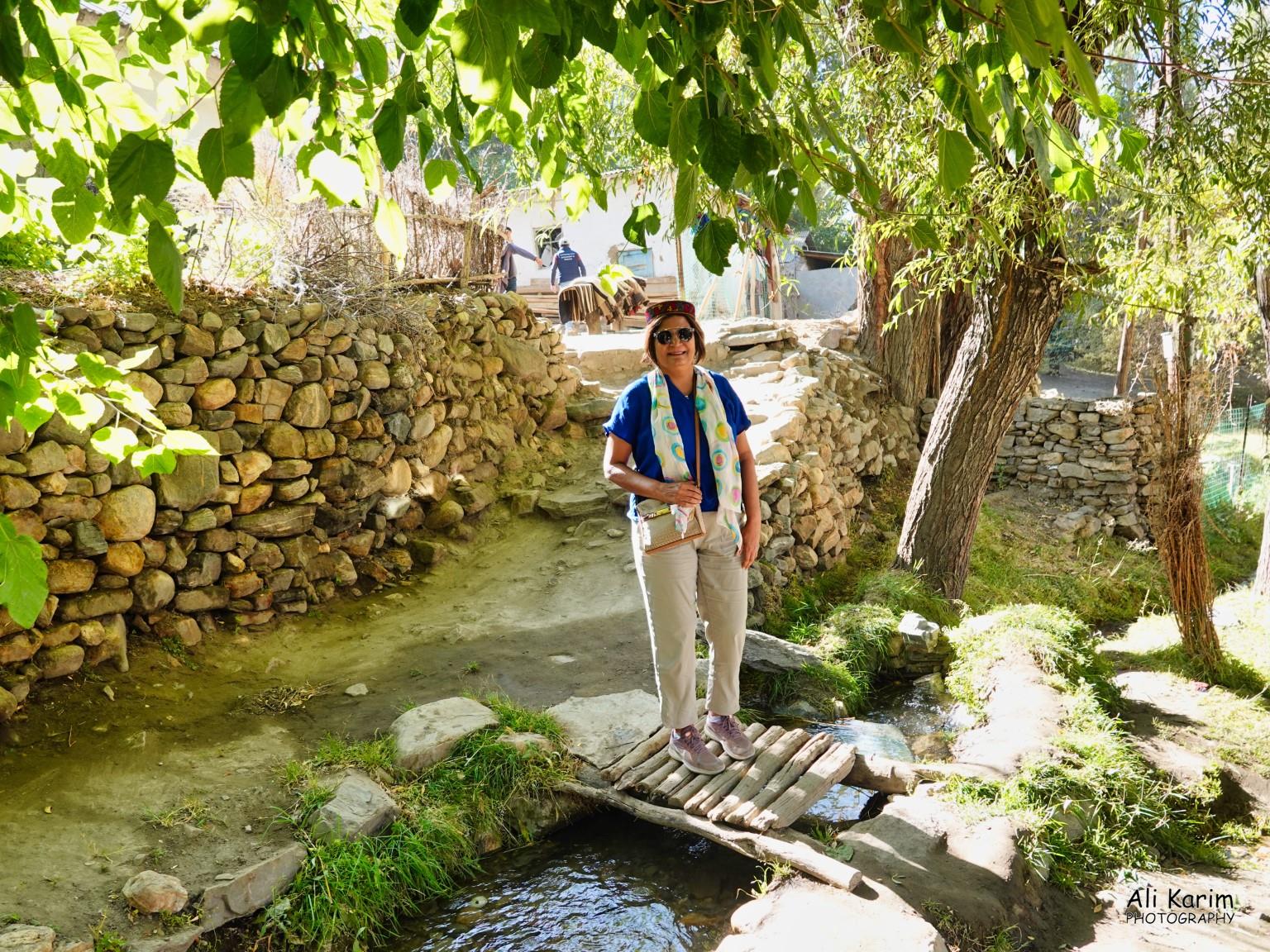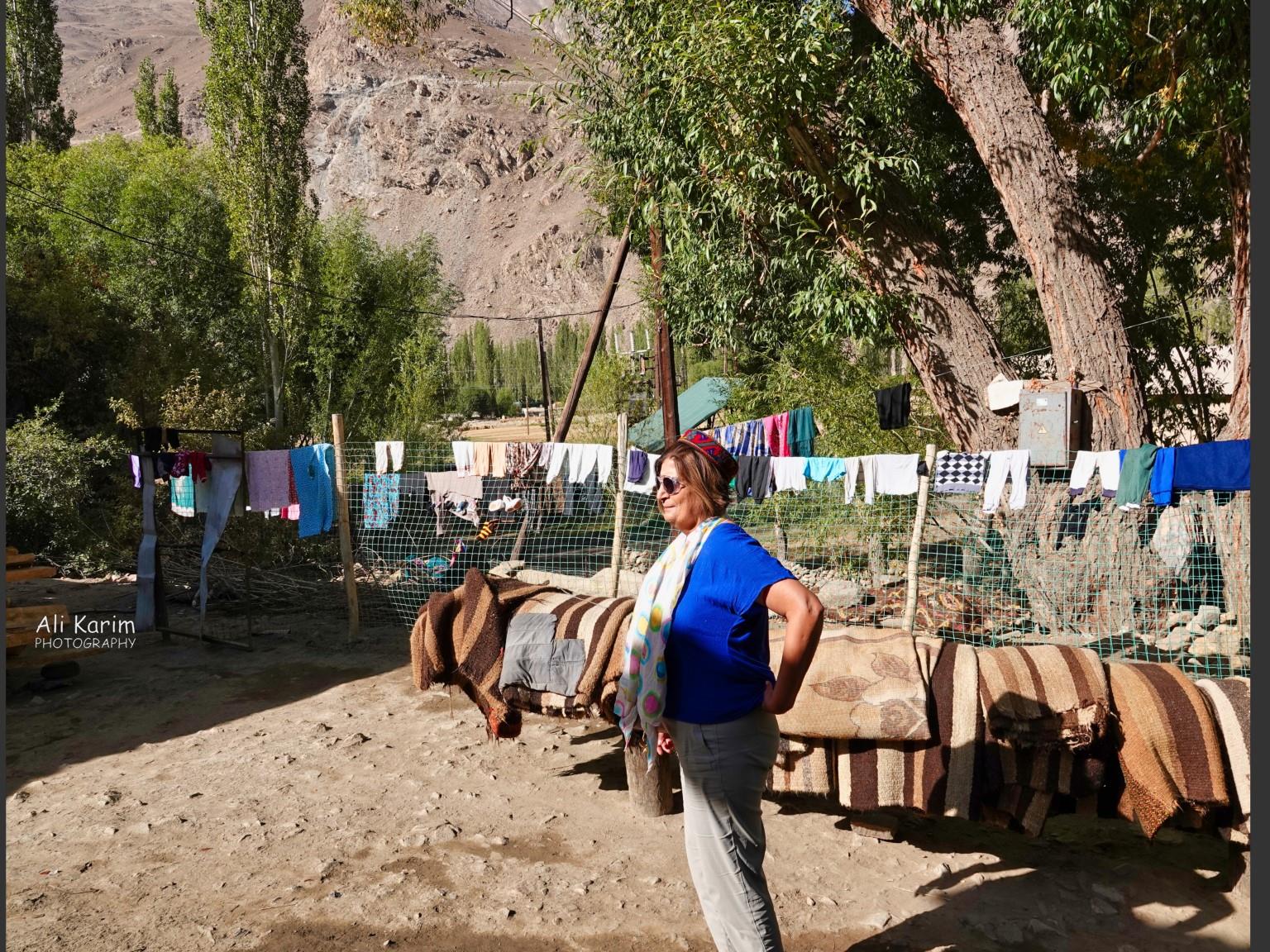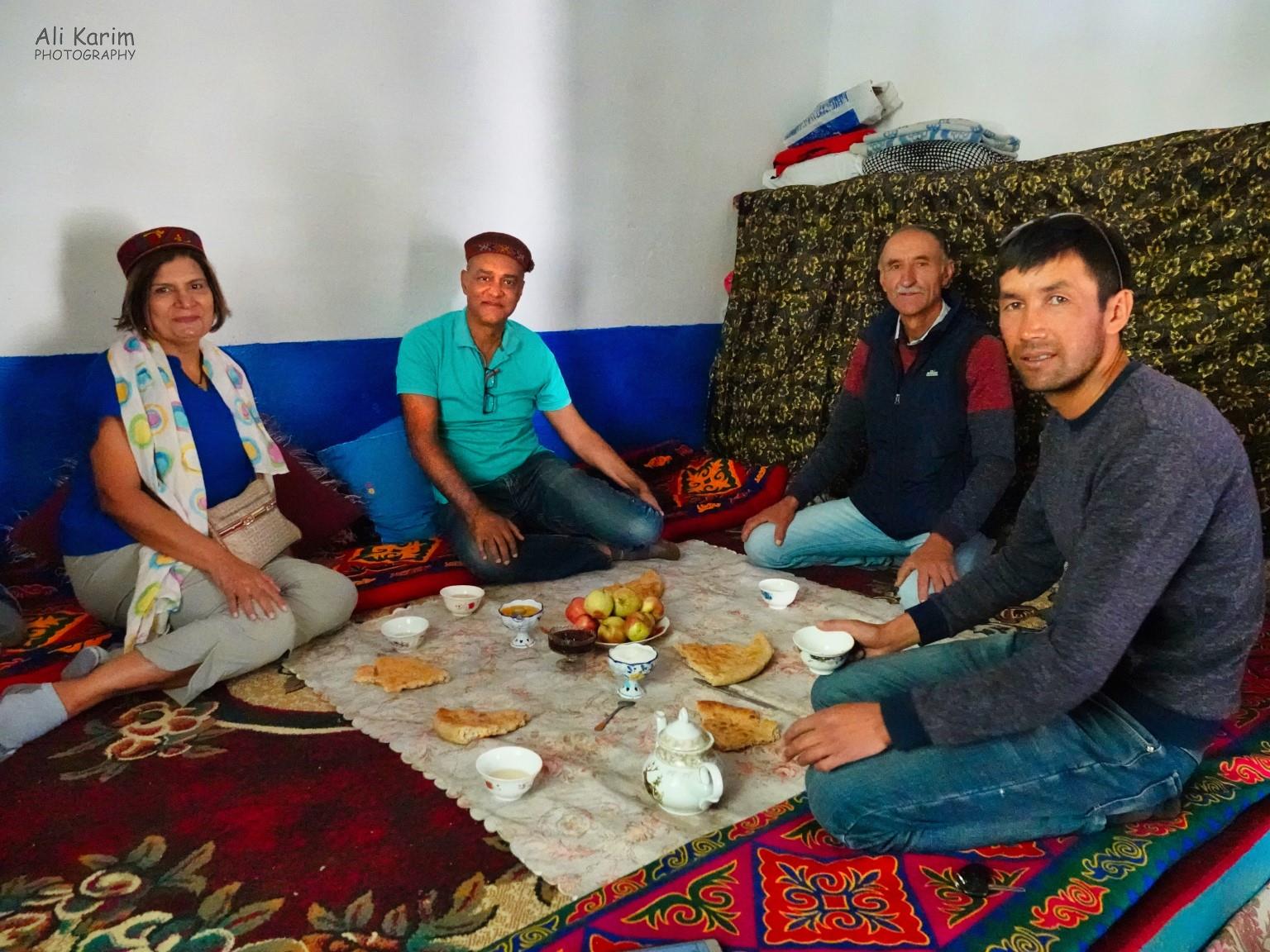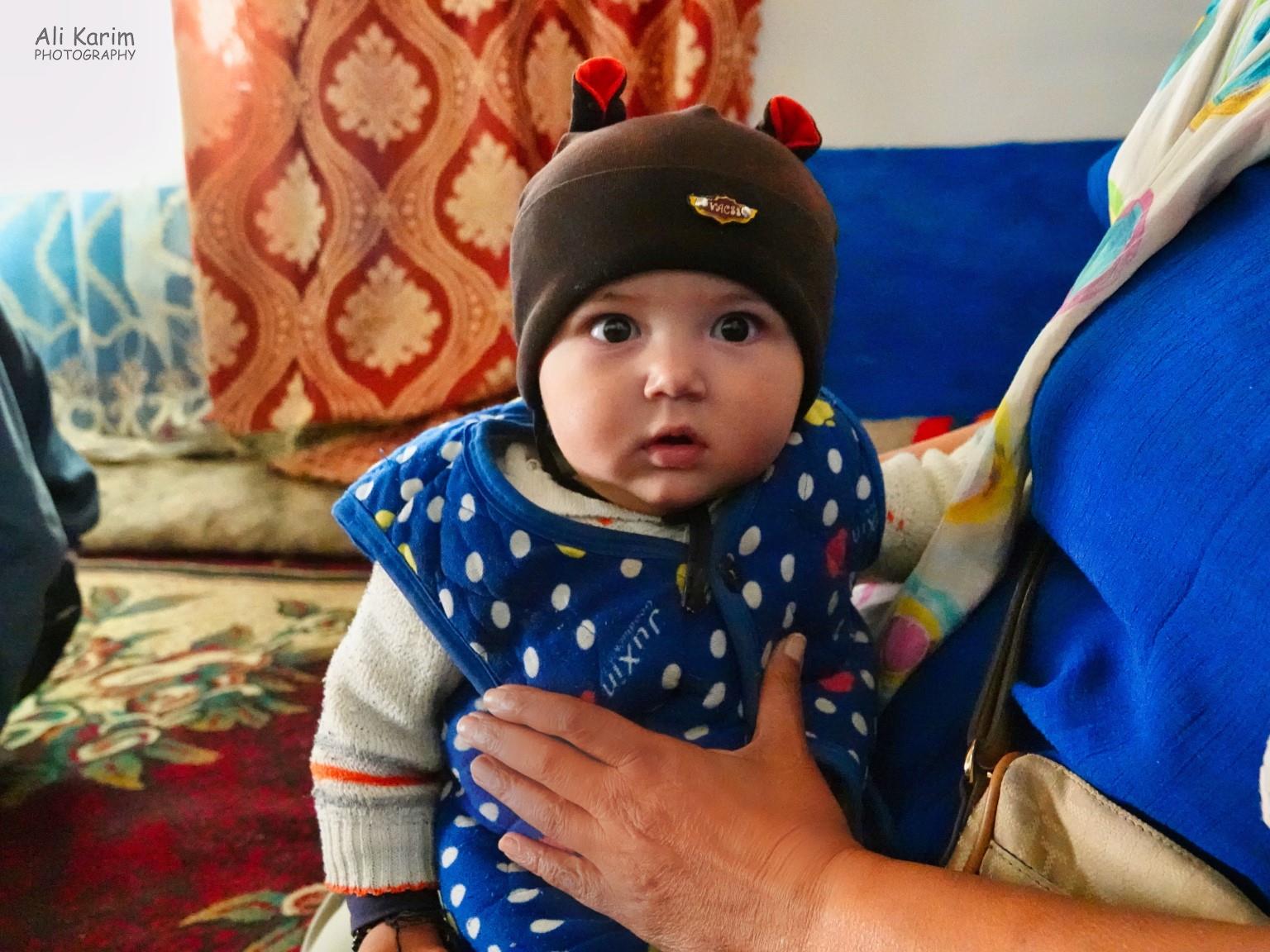 We asked Kurbanali where his son was, and the answer was that he was in Moscow, working and supporting the family. This is something we heard a lot; and a large portion of the GDP of Tajikistan comes from remittances from Tajiks working in Russia. These men thus spend a lot of time away from their families.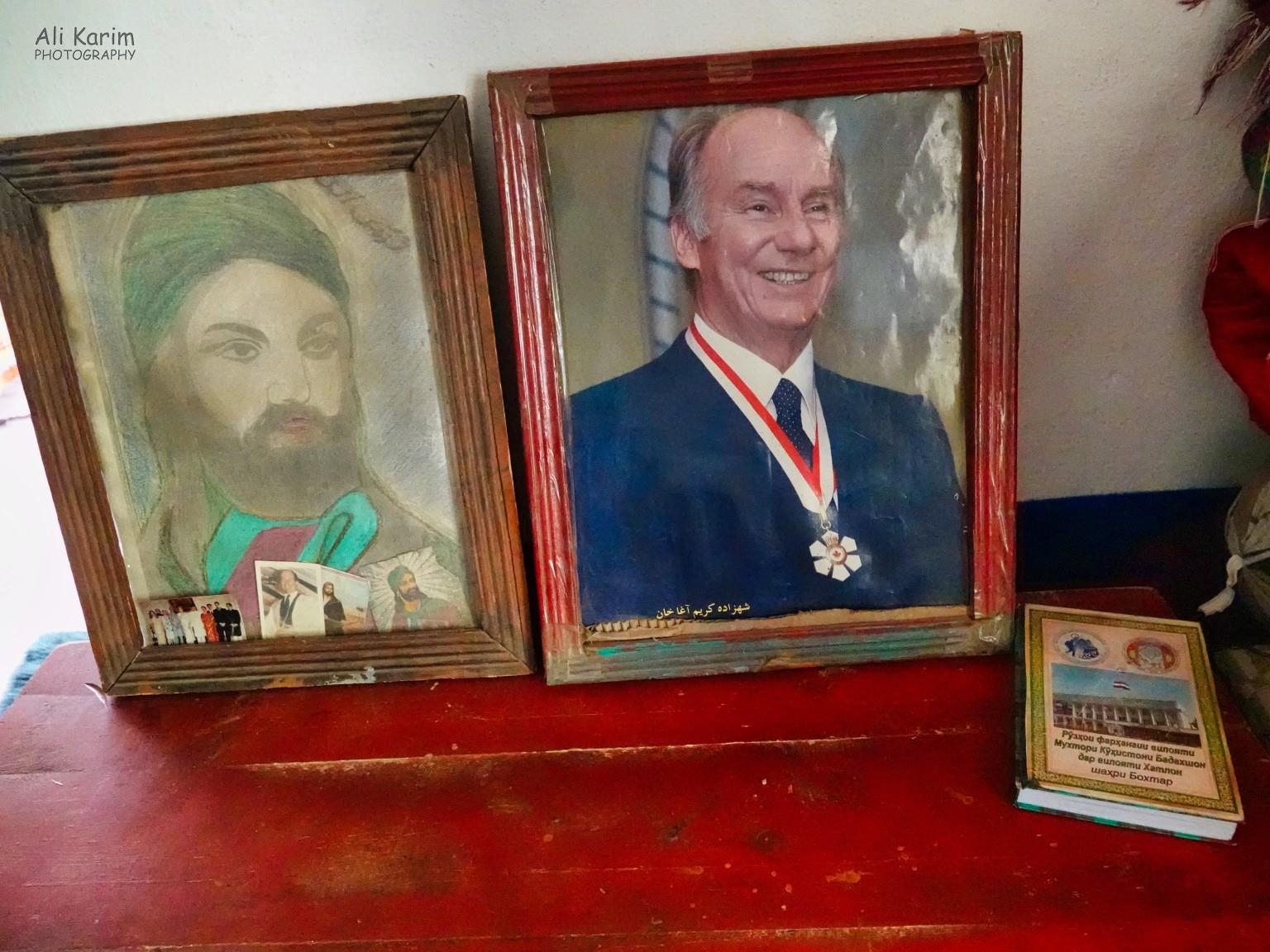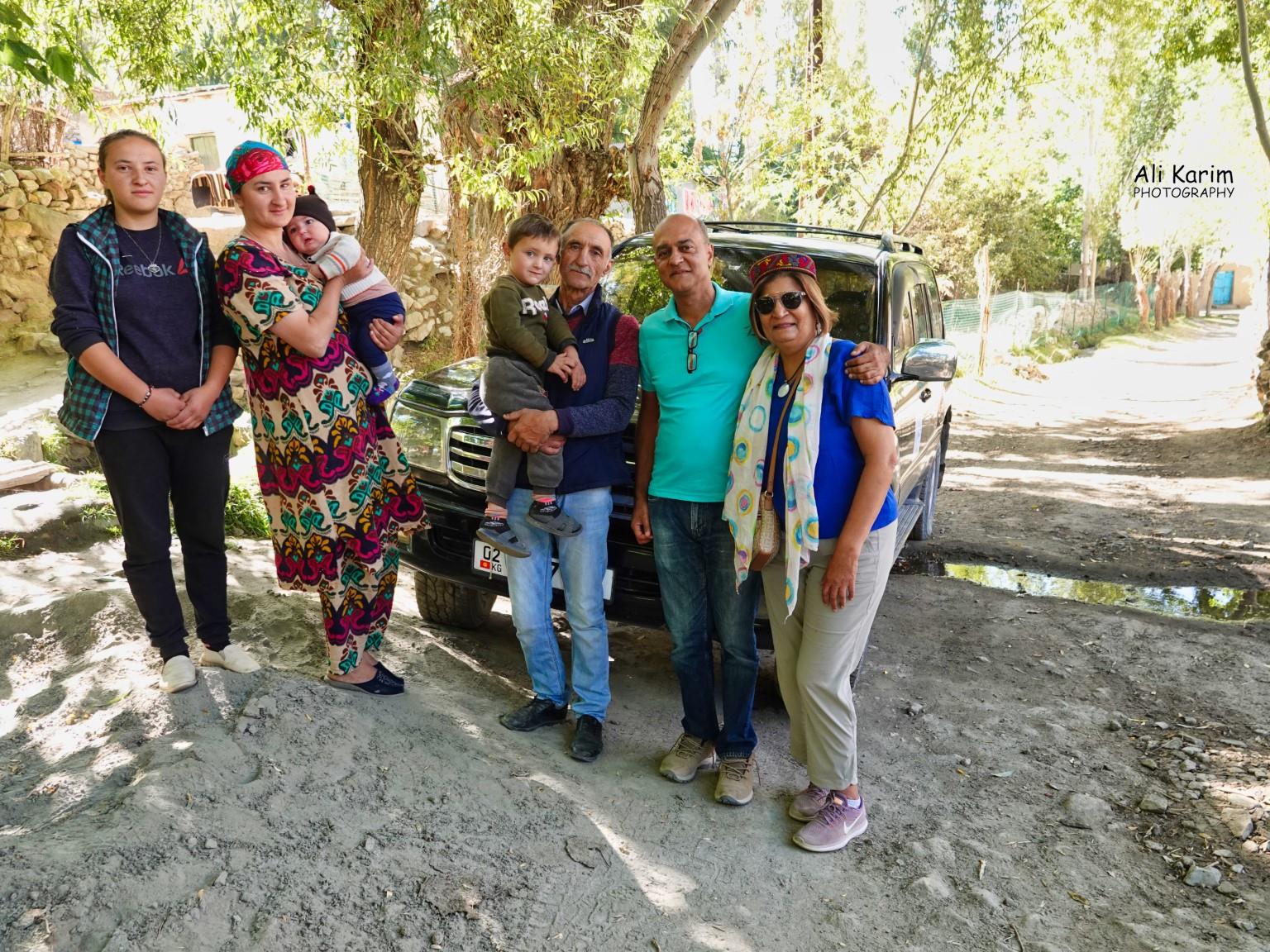 We said our grateful goodbyes to Kurbanali and his family for their kindness and hospitality to us total strangers, and kept driving towards to Khorog. Some more scenes along the way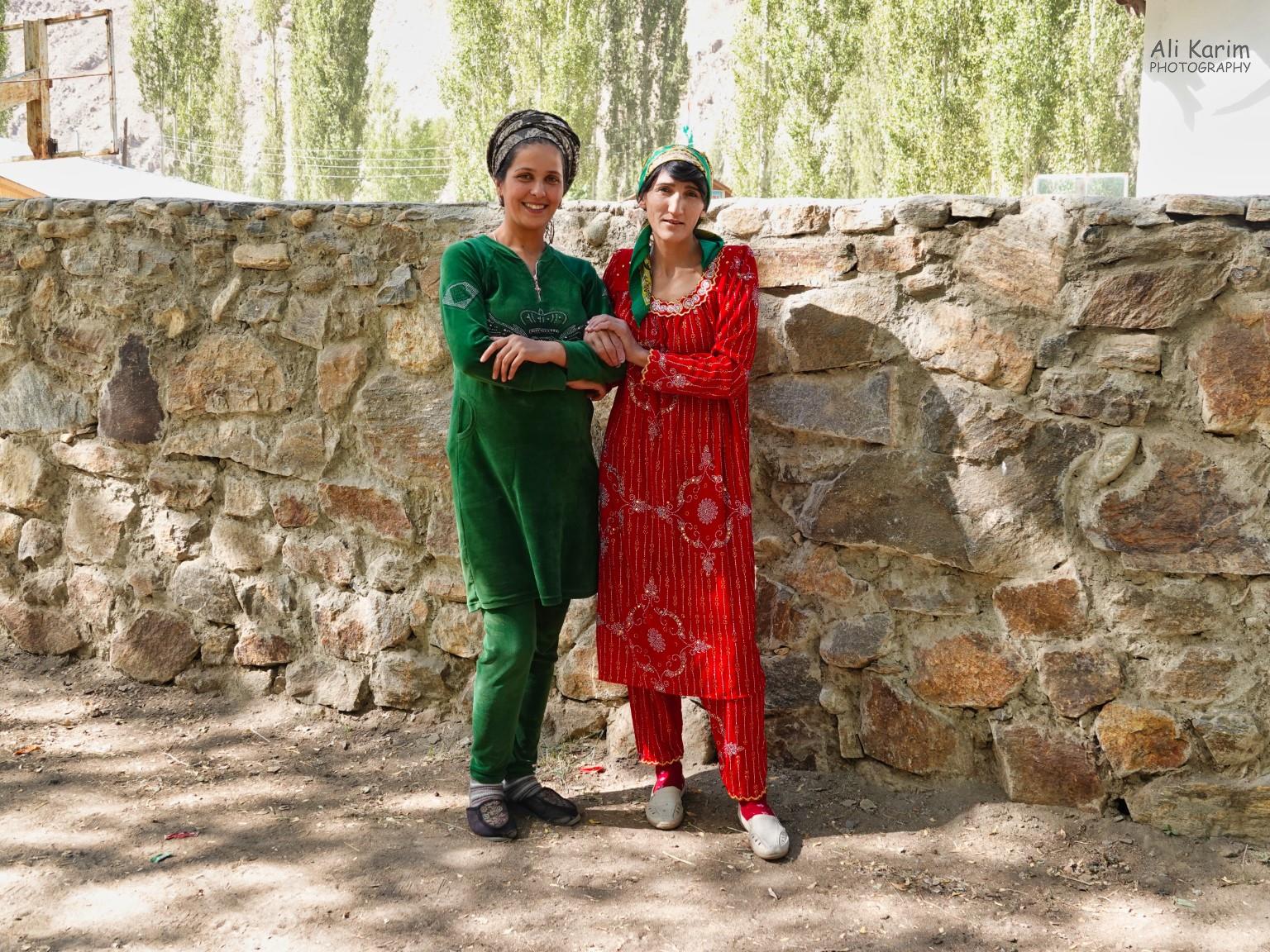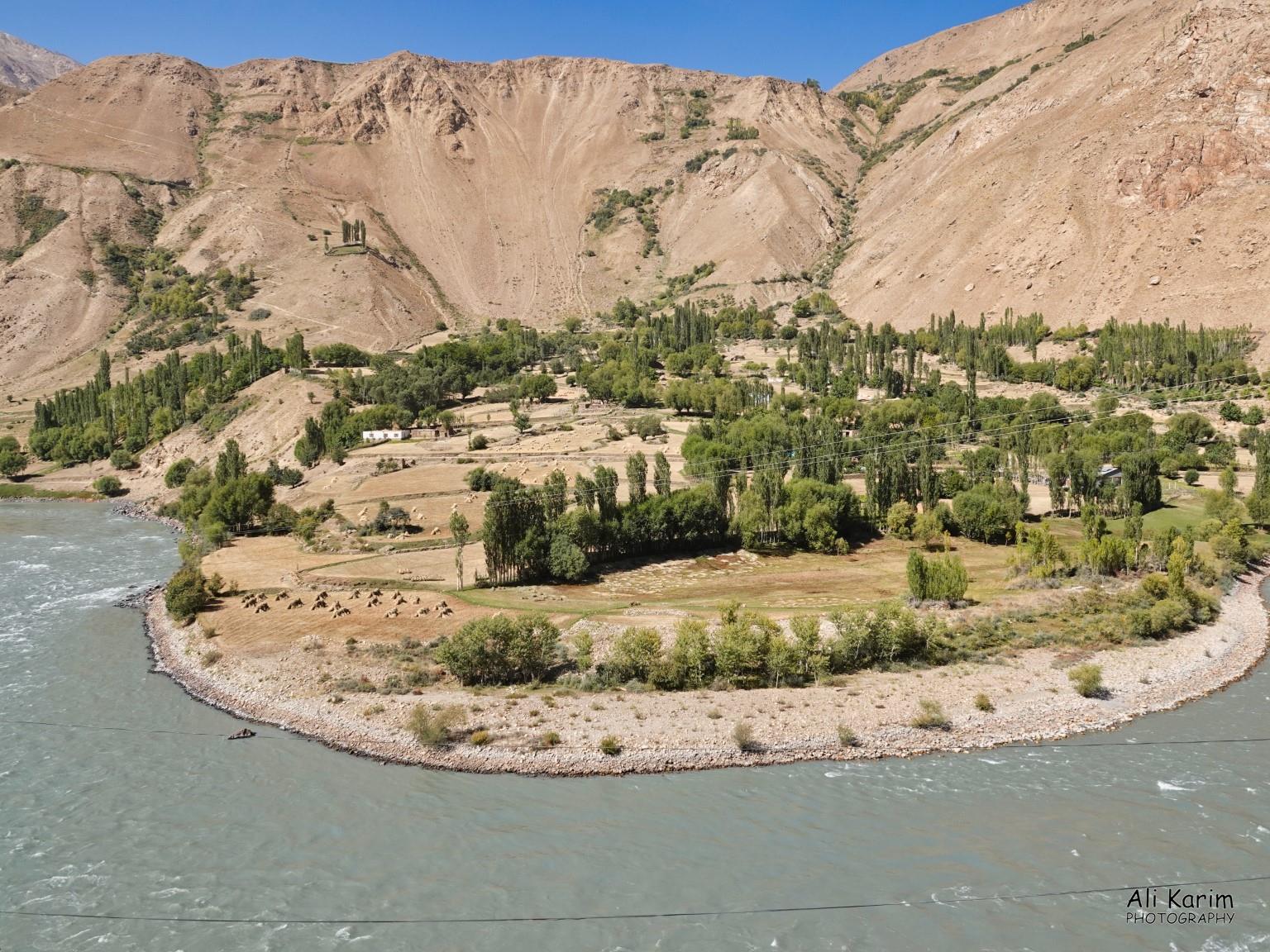 Along the way to Khorog, we stopped at Garam Chasma, which is a natural hot spring with a natural pool and a separate pool; where men and women alternated.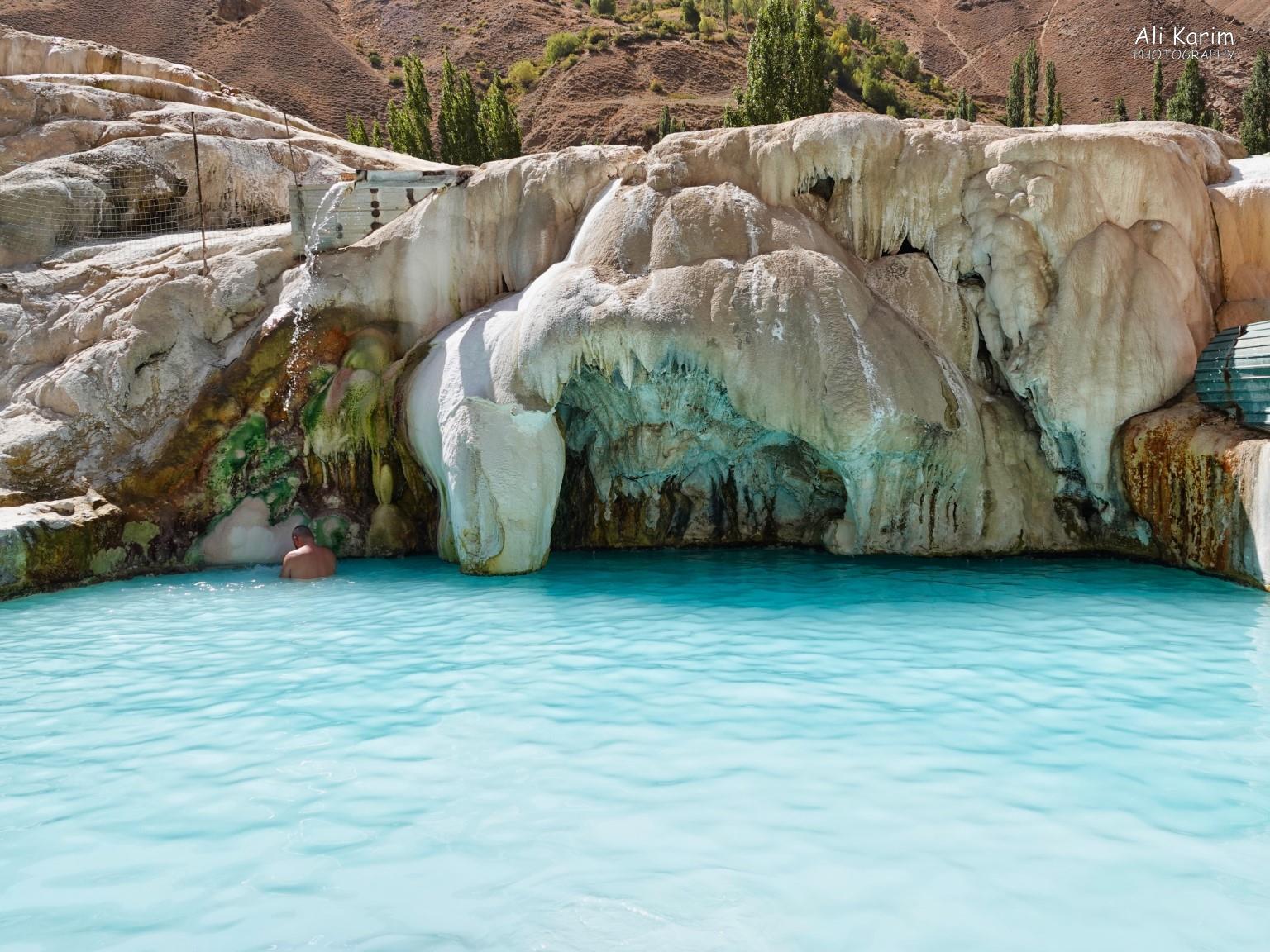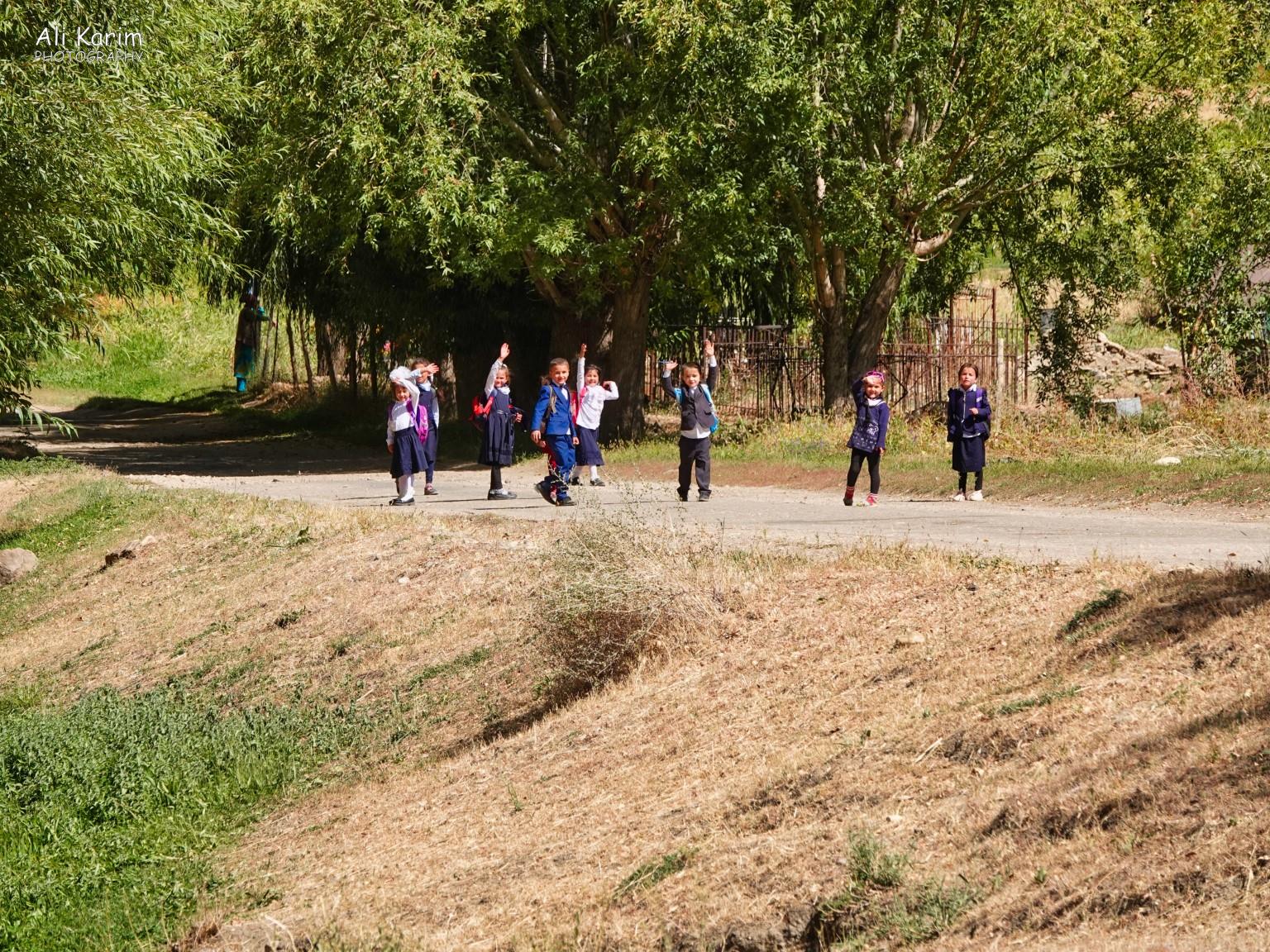 Finally, we arrived in Khorog, which is on the river Gunt at the confluence with the Panj river.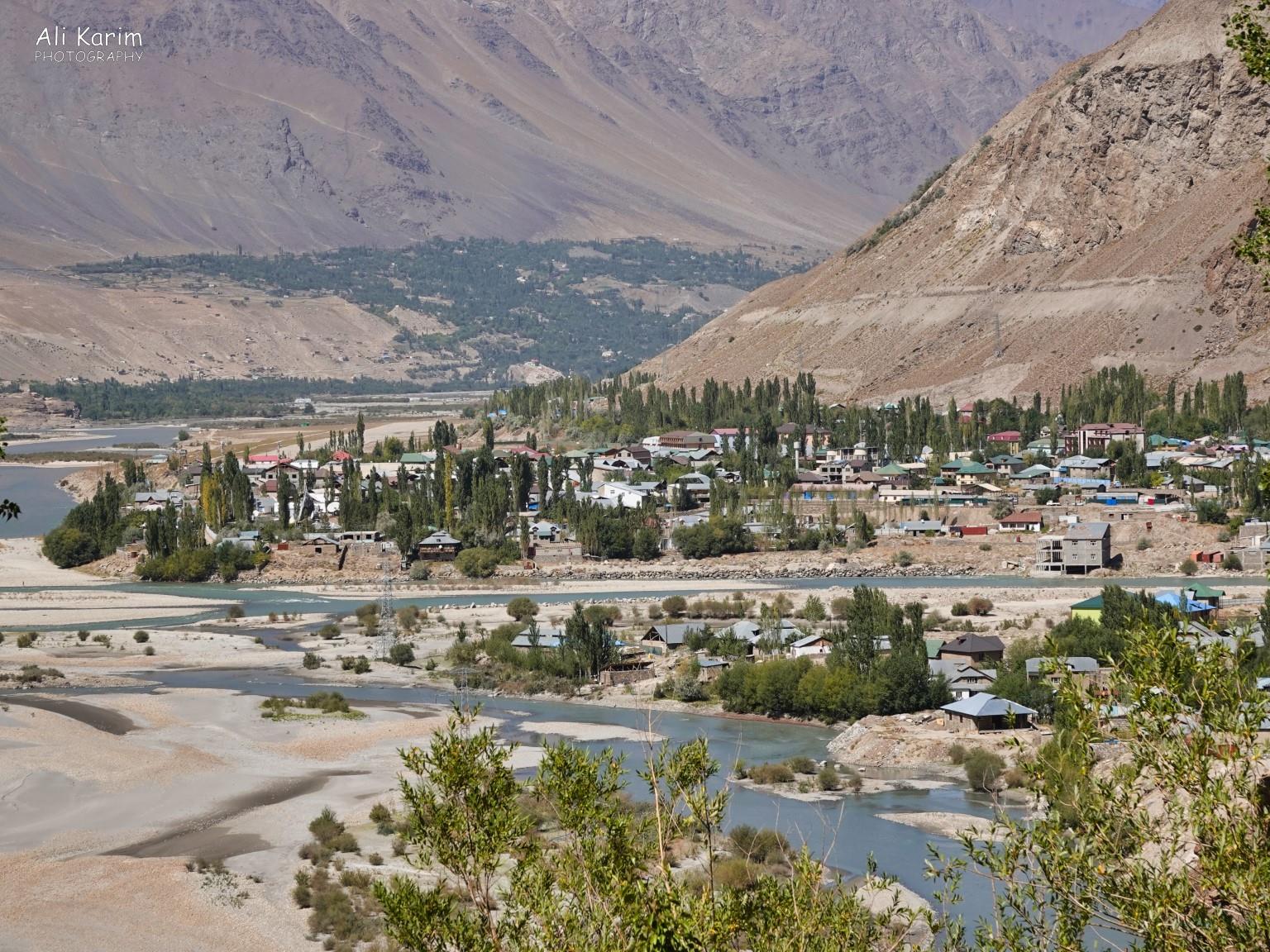 View of Khorog, the river is the Gunt river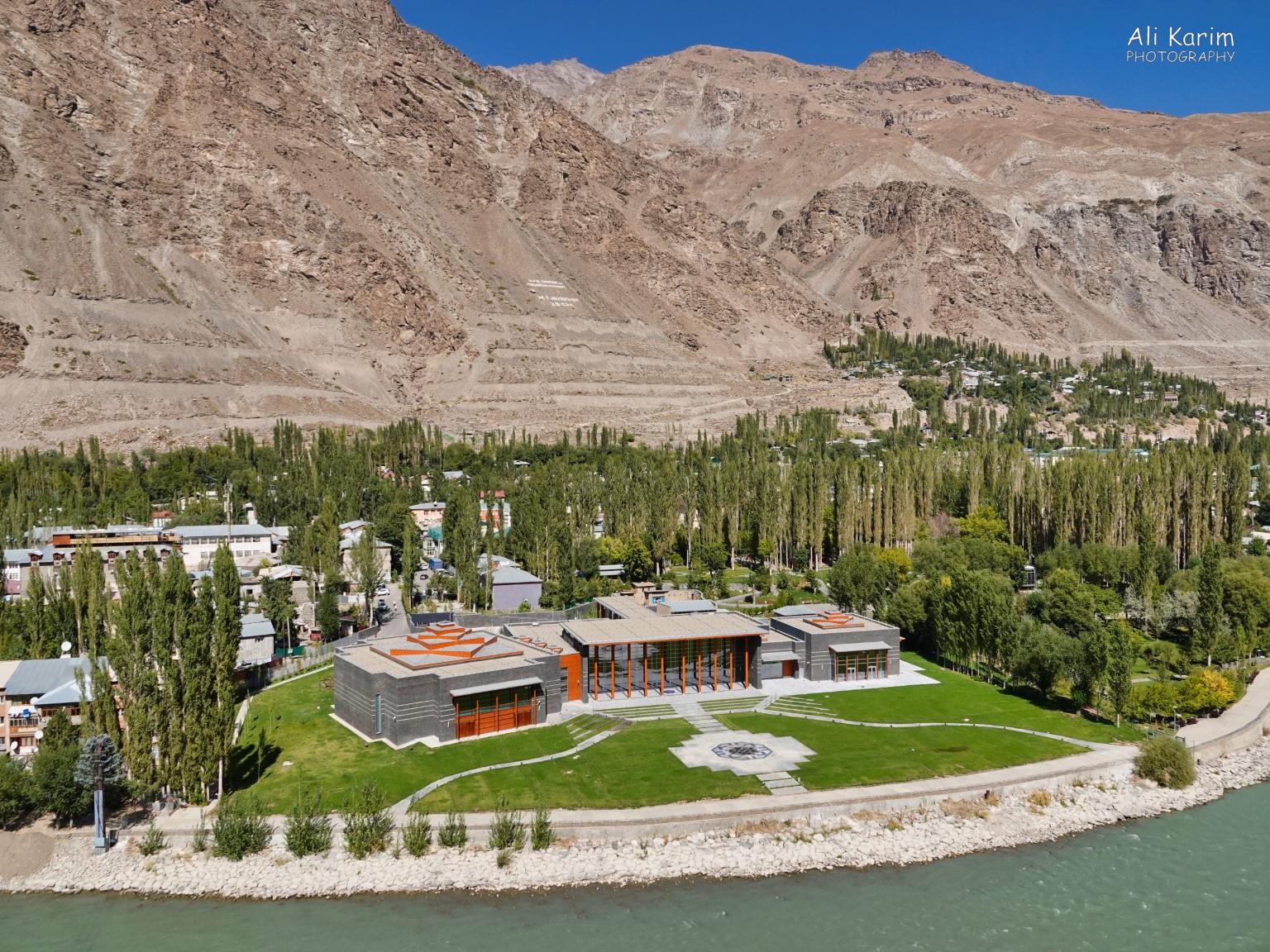 We had decided to stay at the most comfortable place in Khorog, since we had been "roughing" it for the past week since we left Osh. So we had booked at the Serena Inn, which is a little east of the town, next to the airport. Sherali asked for directions, but not many people knew where it was. We finally found it, and since this was the end of our journey with Sherali & Ahmedali, we said our fond goodbyes; they had taken great care of us throughout our trip. They started driving back to Murghab.
Khorog is the largest town in GBAO, with a population of 30,000 Pamiri's; spread out along the Gunt river valley. At an altitude of 2,100m (6,900ft); it was still high, but way below the 14,000ft we stayed at along the Pamir mountains. We were acclimatized 🙂 . Until the late 19th century, Khorog was in an area disputed between the Emir of Bukhara, Shah of Afghanistan, Russia and Britain. The Russians emerged the winners of the region after The Great Game, which fixed the current northern border of Afghanistan on the Panj River and established the territory of Russian Pamir around Khorog.
Serena Inn turned out to be reasonably decent, but not like the Serena hotels we had used in the past. It is a smaller property (6 rooms); hence the "Inn" designation. After settling in, we took a taxi to the town center, where the hotel told us Dilshad could find a beauty spa; by now, she was dying for one. We got off here, and went up the stairs to the 1st floor spa. It was nice inside, but nobody spoke English. So to translate, they called someone on the mobile, who could translate. We found out that the cost to get a wash, blow dry and a pedicure was about US$3. So Dilshad to get the works including a manicure and facial for $5 🙂 . I am liking this place already 🙂 .
While Dilshad was getting the royal treatments, I decided to wander around the town, get some tourist info, cash etc. So I went to the area around the Ismaili Center; the Bank was closed for lunch; I was told to come back at 3PM. So I went off to the Park behind, which had a carpet fair/sale on; multiple vendors selling carpets on the sidewalks.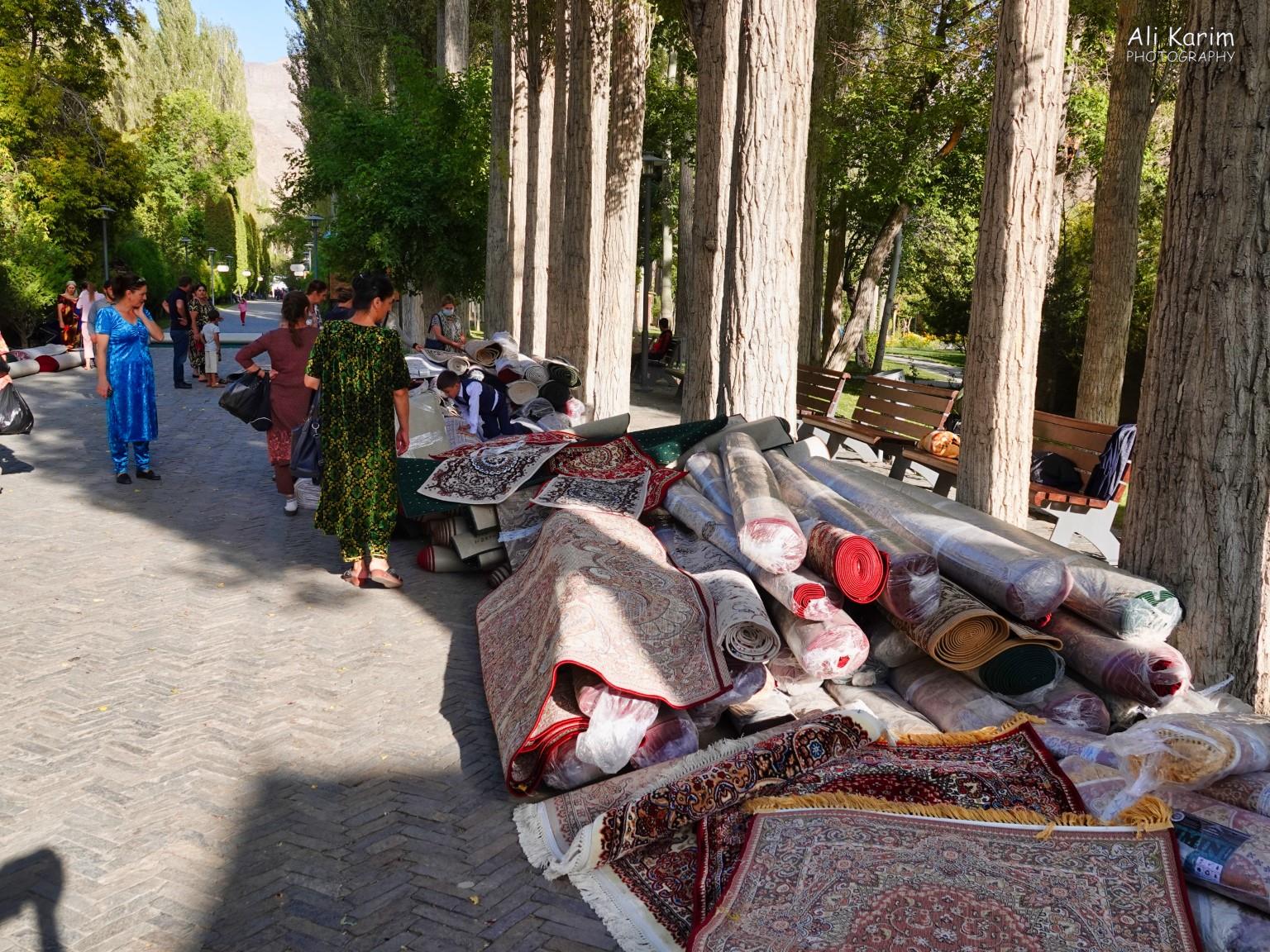 Inside the park was an information center where the people did speak English; so got a layout of the land and what to see/do; not much in Khorog in terms of traditional tourism.
Walked back the Bank abut 3:30PM, and it had opened and closed. I was told a window would open at 4PM. So wandered around a little more and returned at 4PM, exchanged some US$'s into Tajik Somoni money. Banks close at lunchtime, and open limited hours in the afternoon, so need to be careful if you need cash quickly. I wandered some more before going to check how Dilshad was doing with her Spa experience. When I got there, Dilshad was still getting worked on; but while there, she had asked the staff about her wish to attend a Pamiri wedding. No English, so they asked another customer to translate. The other customer was Gulguncha, who was the manager at the Delhi Darbar Indian restaurant nearby, and she spoke good English. Turned out, she was going to a wedding reception at 5:45PM that same day, and invited us to go there with her 🙂 . What a wonderful coincidence.
Dilshad was worried that we were too casually dressed, and did not have time to go to the hotel and change, but Gulguncha told us it would be fine. So at 5:30PM, when both Dilshad and Gulguncha had finished their treatments, we paid for the spa services, and walked with Gulguncha to the restaurant and got into a waiting vehicle which took us to the reception hall at the Marco Polo restaurant/banquet hall.
We were ushered inside the hall, as many Pamiri's were arriving. The ladies were all well-dressed. Inside, there must have been about 300 people sitting around large tables overflowing with starters, and later with dinner. The tables (of 10) were arranged on either side of a central open corridor. Dilshad and Gulguncha sat with a group of ladies and Gulguncha took me to a table full of men, and introduced me to Masrur, who did speak English, and took care of me. No-one else at my table spoke English.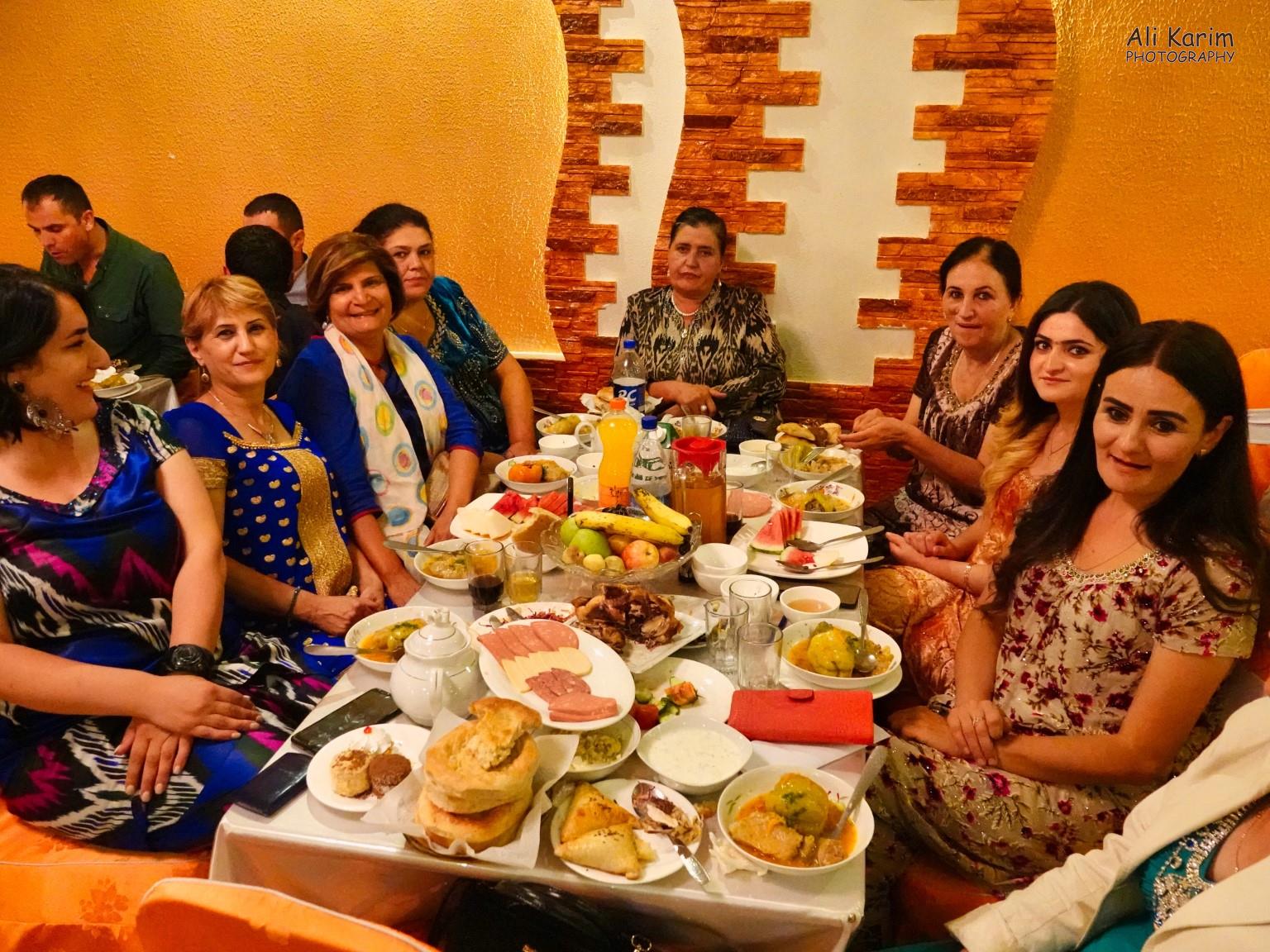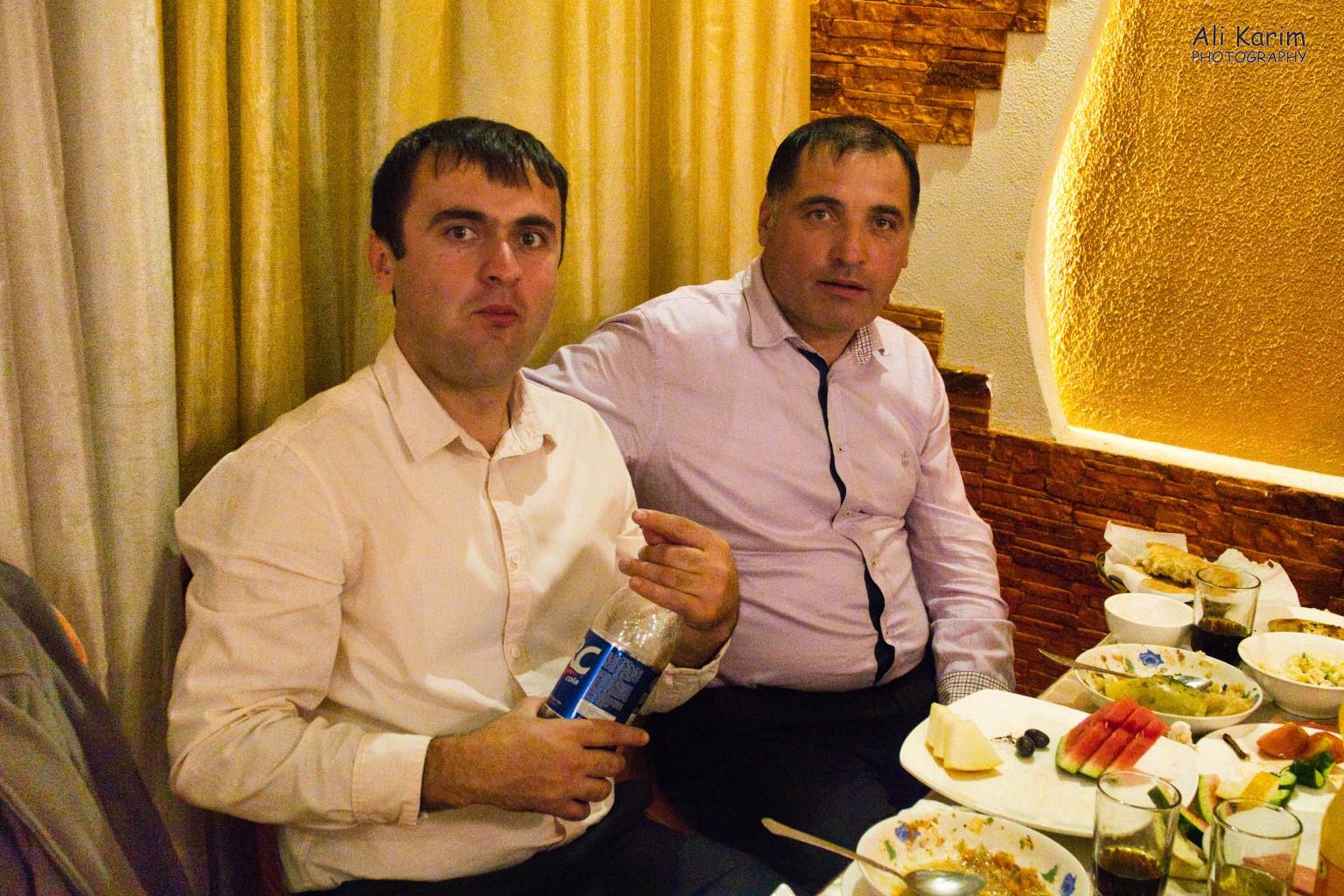 Soon after we settled down, one gentlemen came to our table and joined us. He brought a plastic bag with him, and he had 3 bottles of vodka inside for our table 🙂 . So the vodka started flowing 🙂 , as did the food (starters, followed by the main meal, then desert). Shortly thereafter, the bride and groom entered. They had to walk along the central corridor to their table, but their progress was deliberately slowed down by all the dancers between them and their table. I guess this must be a tradition at Pamiri weddings.
Masrur explained to me that this was the Pamiri wedding celebration, and that all ceremonies are conducted at home. The groom was an IT person with the AKF, and that all the guests were Pamiri's (Ismaili's). He explained that all gatherings in GBAO, including weddings, are regulated by the Govt. Weddings are limited to 150 people, and for only 3 hrs max. Here, there were about 300 people, and Masrur explained you can ask for exceptions permits from the Governor, and he grants them every now and again. Similarly, for religious gatherings, children under 18 are not allowed; fear of getting radicalized is the reason. Masrur explained that this event was from the groom's side, and that the next day, was a similar event for the bride's family, because they need to invite a lot of people they know.
Some of the lively dancing and wedding venue scenes below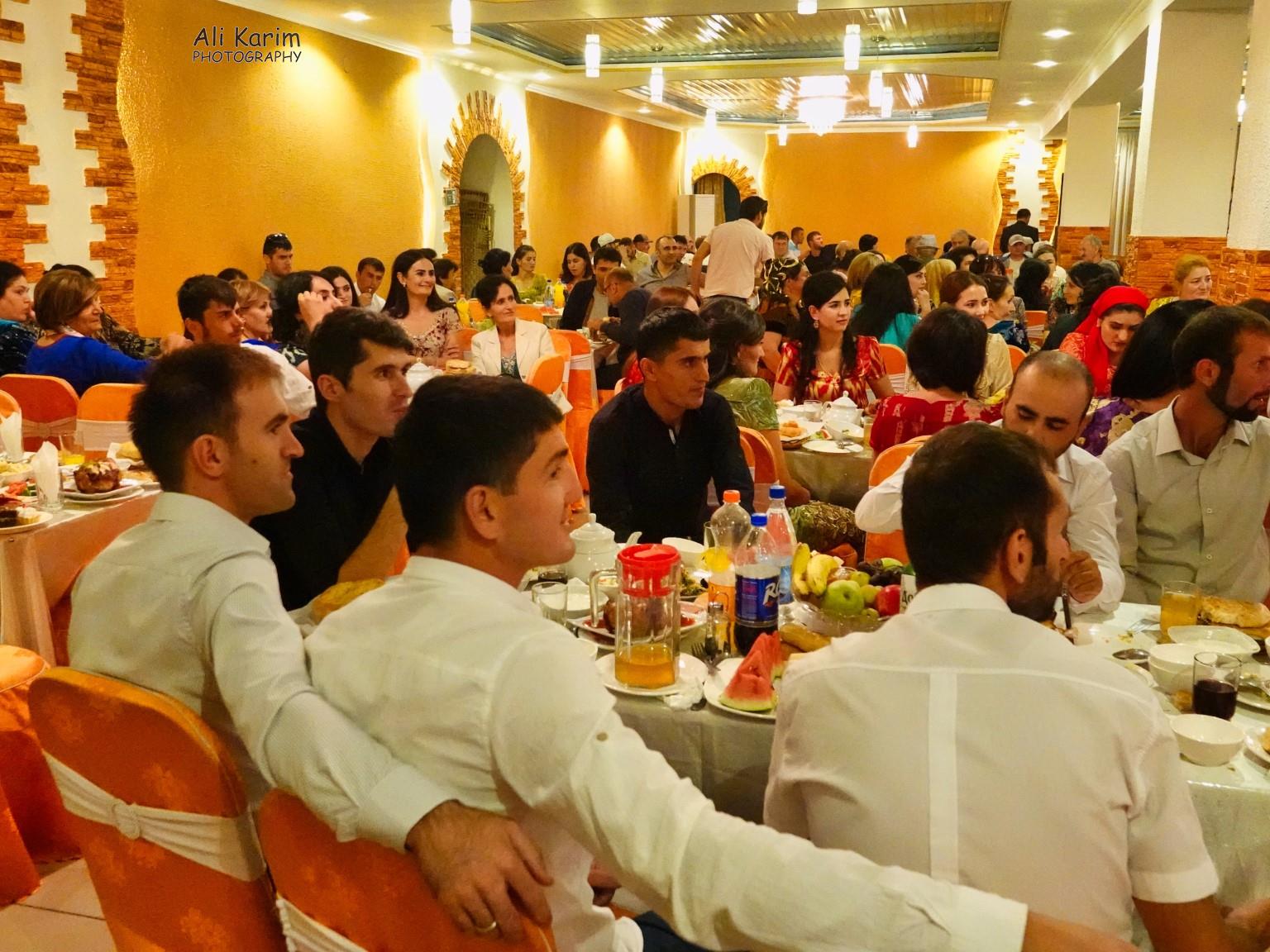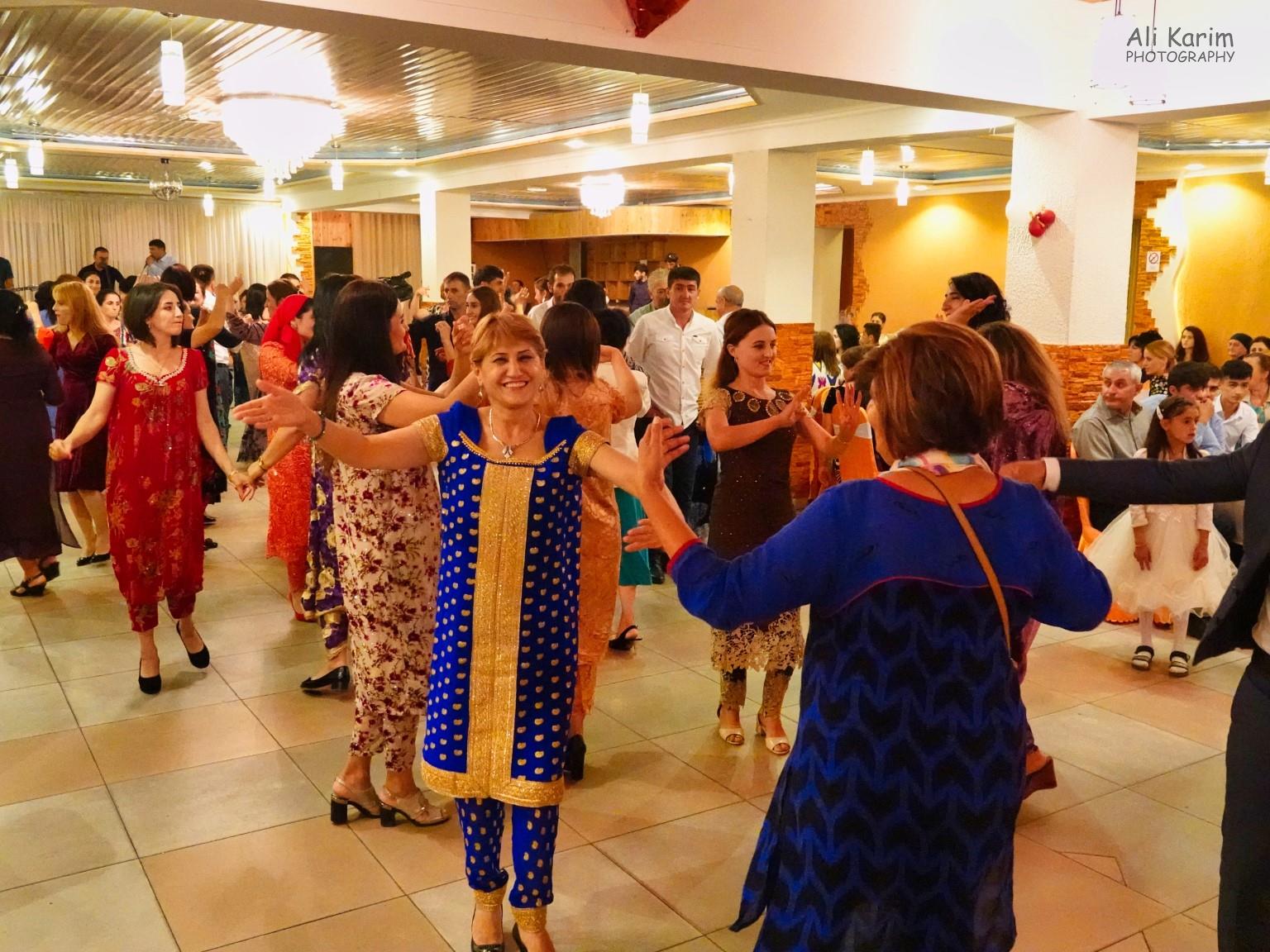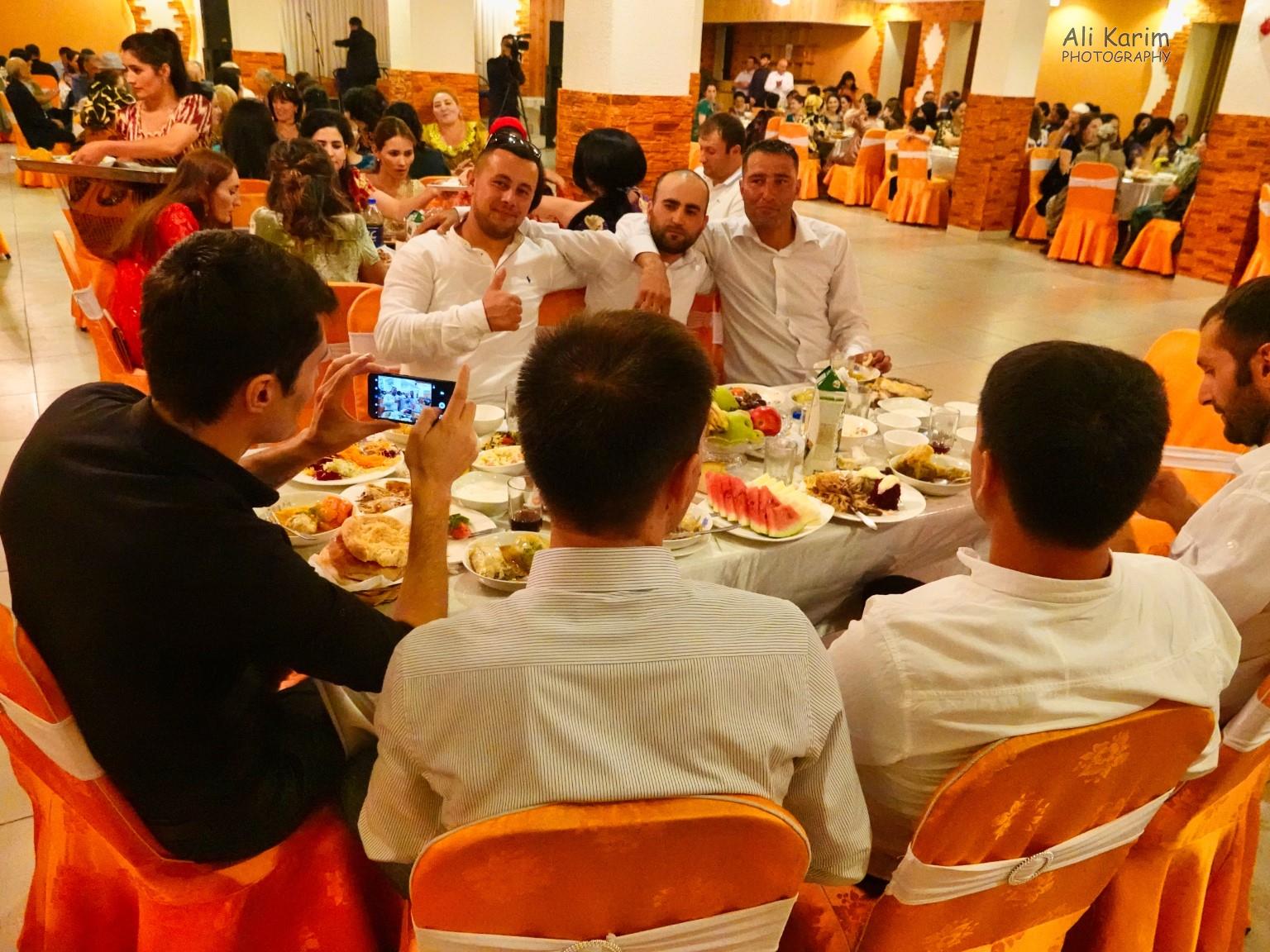 Arrival of the bride and groom; dancers slowing their path to their table

Lively music and dancing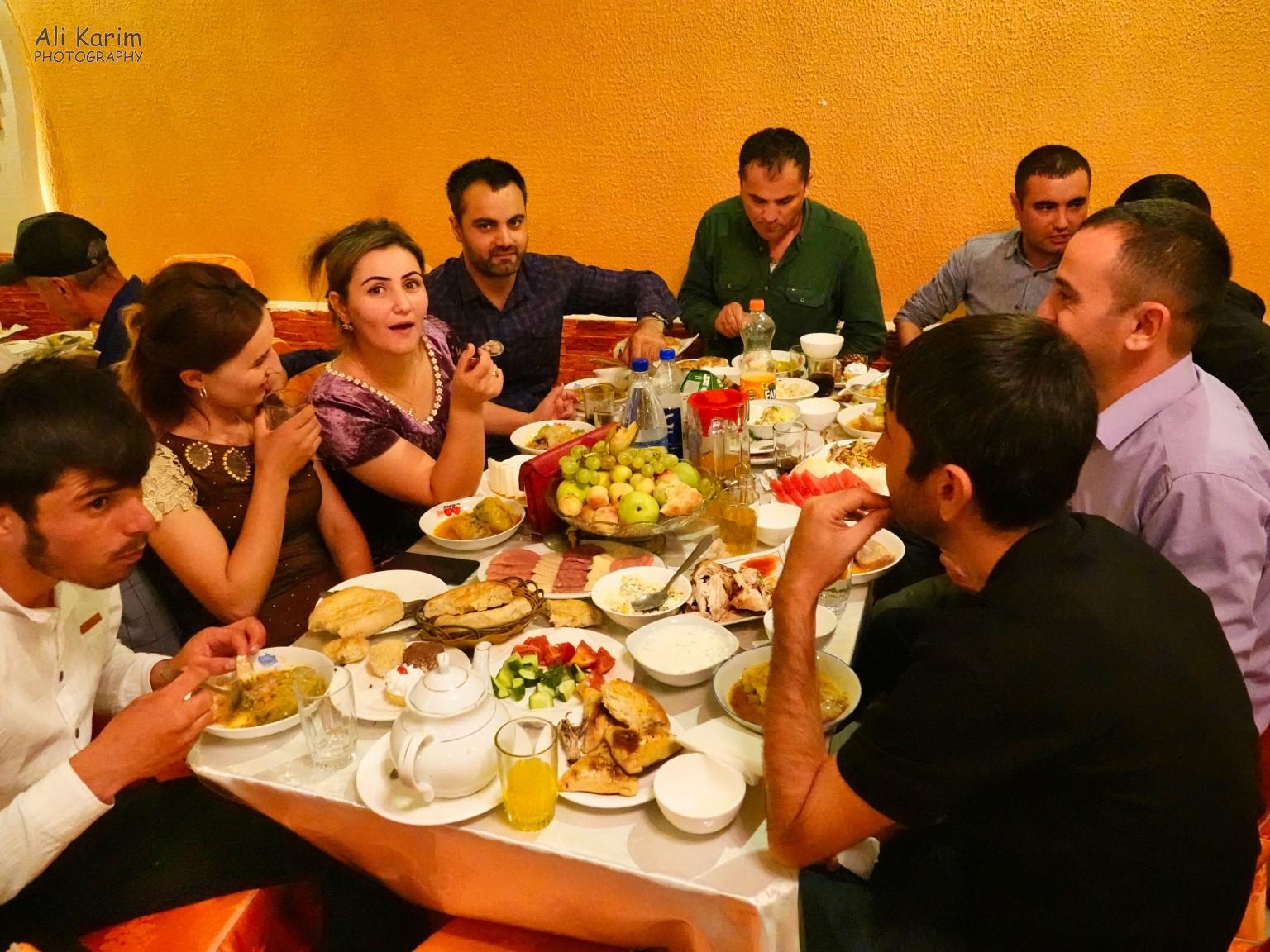 I was not going to be left out of the Tajik dancing 🙂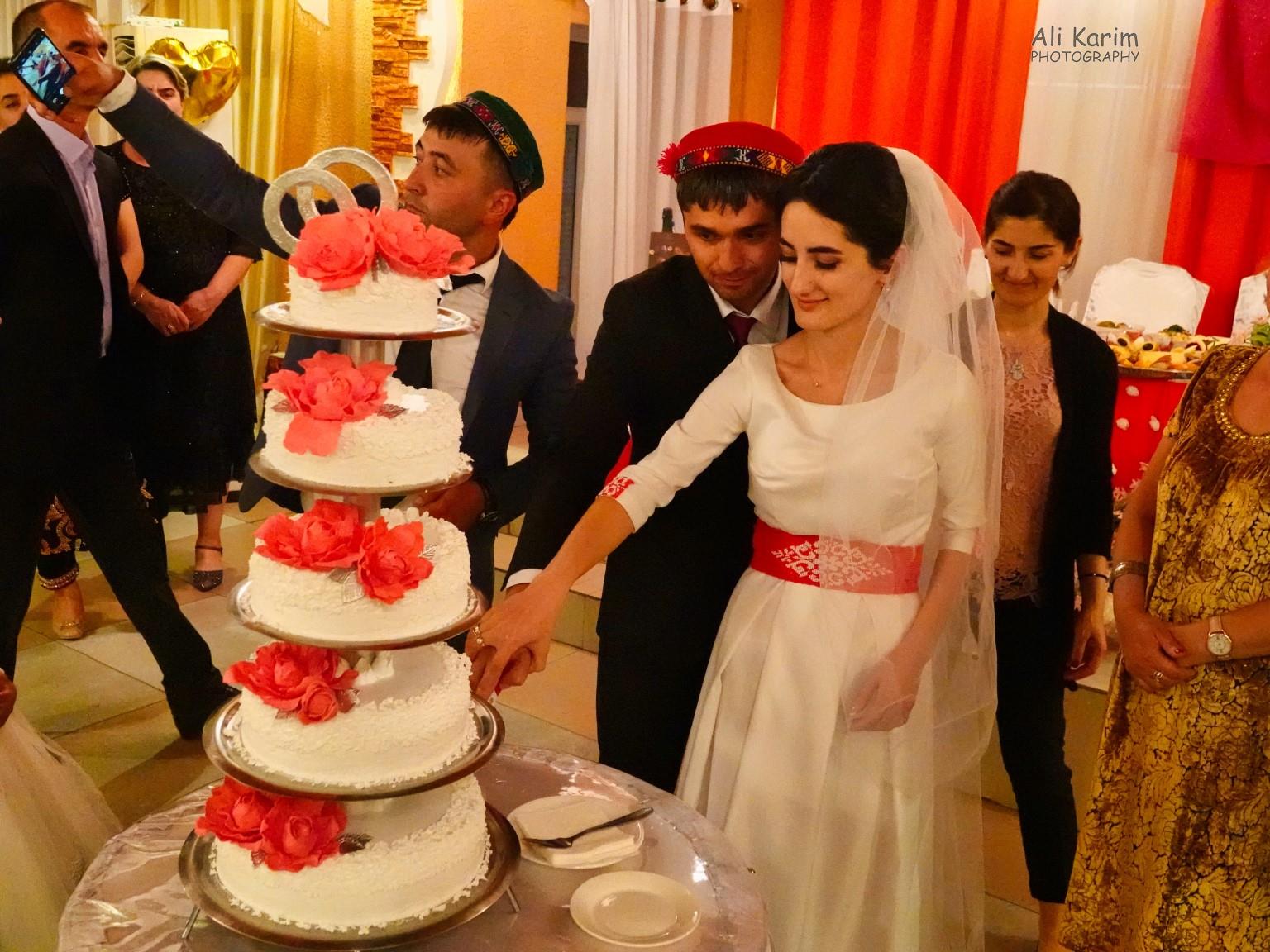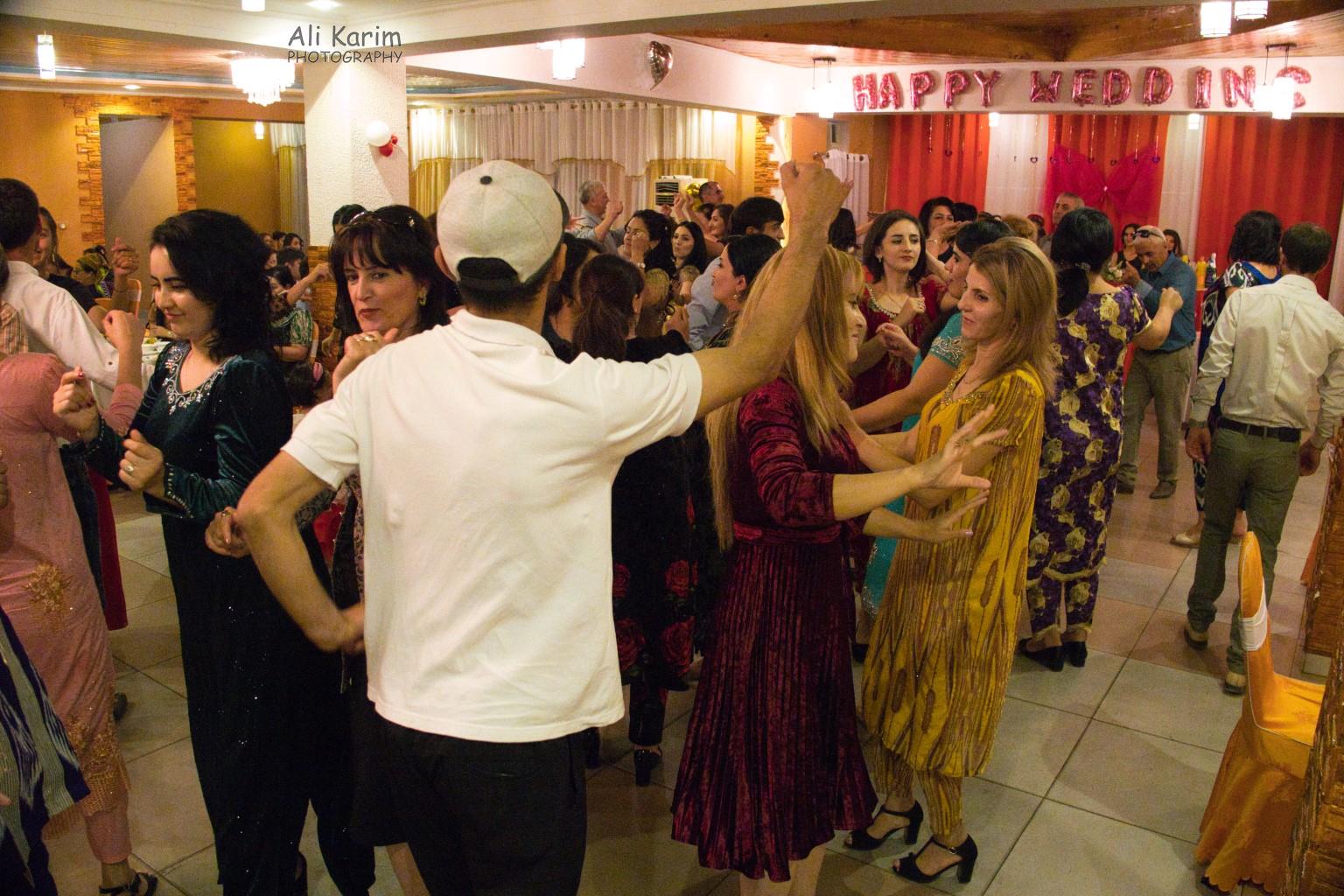 Soon it was time for the newlyweds to leave, again with the their progress slowed by dancers

At 8:45PM sharp, the festivities stopped, and the guests started leaving.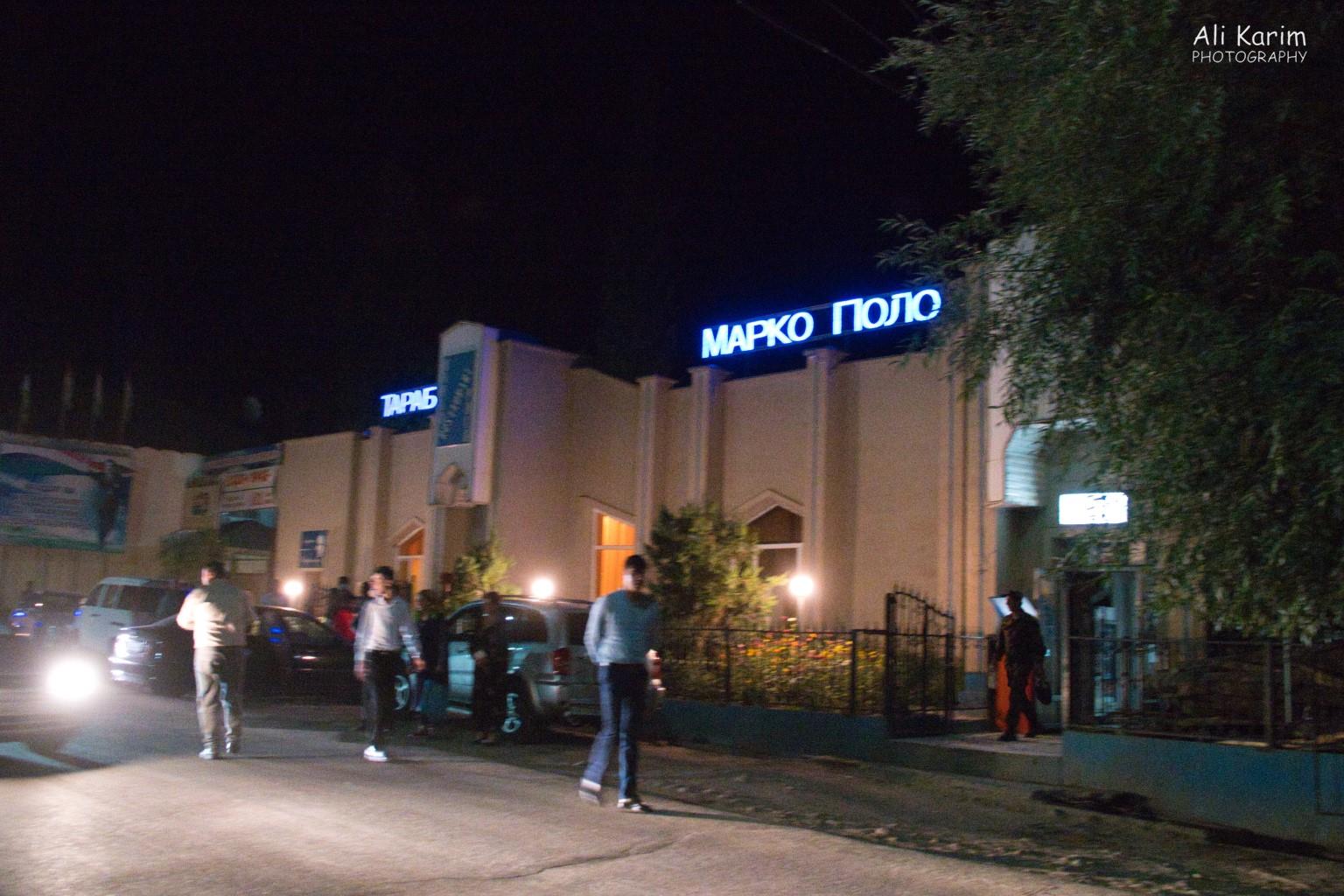 We waited for a taxi, flagging down every car going by, and finally a small minivan stopped with 2 young men in the front. We dropped Gulguncha at her place, and then they dropped us at the Serena Inn, which is a little outside town. Cost was just over half of what we had paid earlier to go from the Serena to the town.
A great 1st day at Khorog
Our trip so far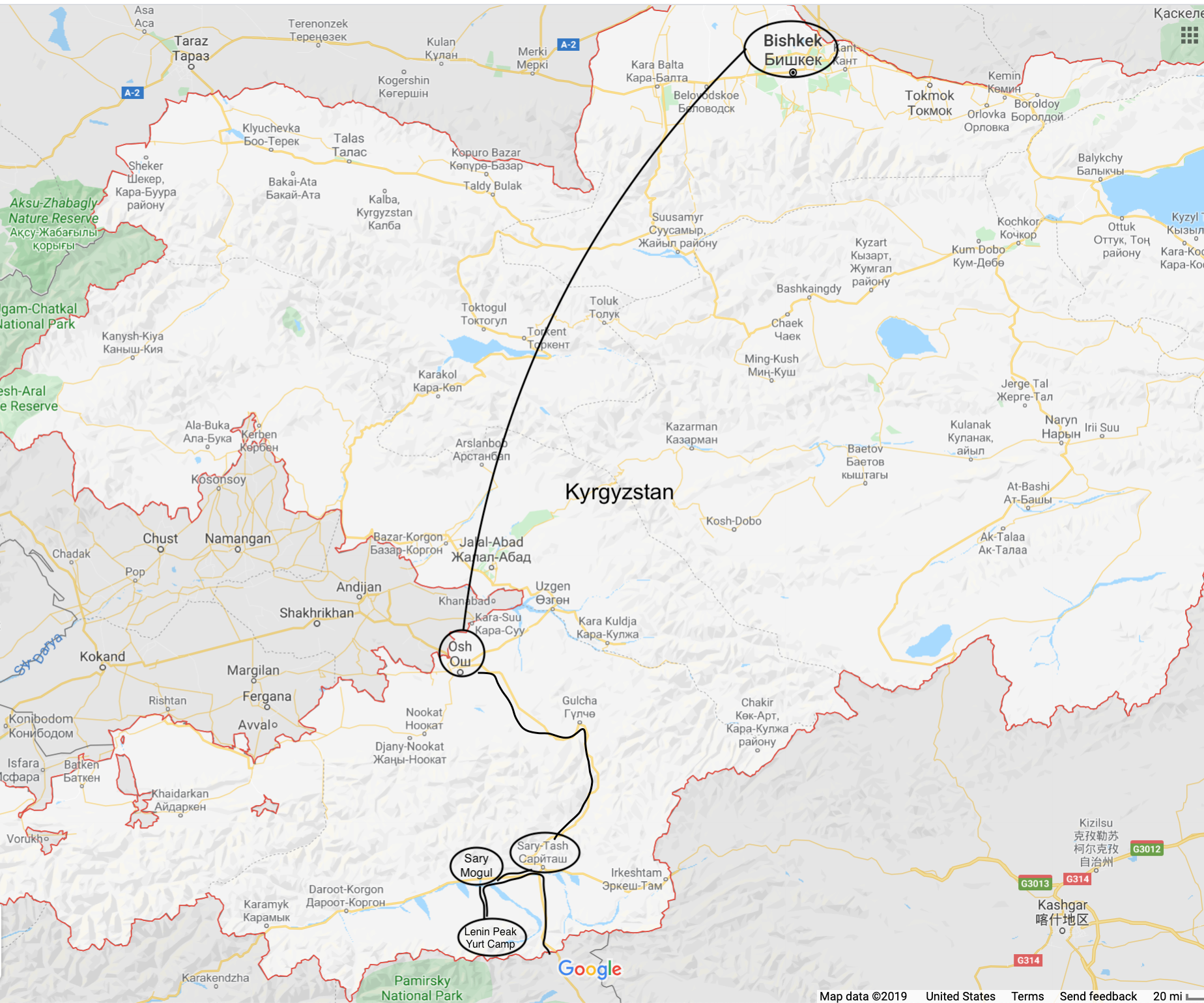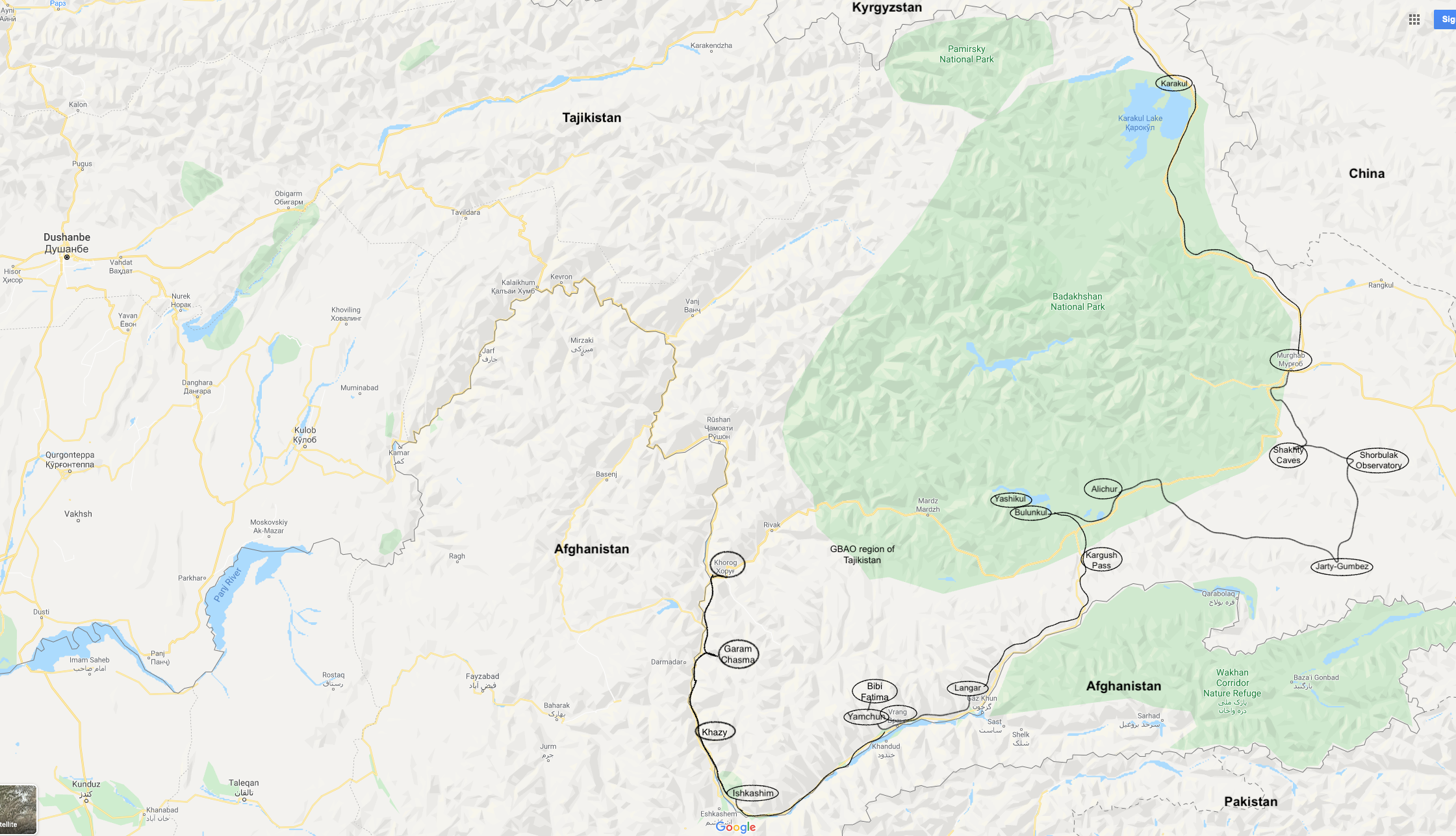 More Khorog next
This entry was posted in
Asia
,
Silk Road Tajikistan Sept-Oct 2019
,
Tajikistan