Florianópolis, Brazil. Feb 2019
We had a business trip to Brazil, and decided to spend a few days checking out Florianópolis, (or Floripa as known by locals). Our flight was from Dallas to São Paulo, Brazil, from where we took a local connecting flight on LATAM airlines to Floripa.
São Paulo, Brazil's vibrant financial center, is among the world's most populous cities, with a population of over 12 million. We have visited São Paulo a couple of times and the blogs are available here and here. This time, we did not stop in São Paulo, simply transited. The vastness and density of São Paulo is apparent in the image below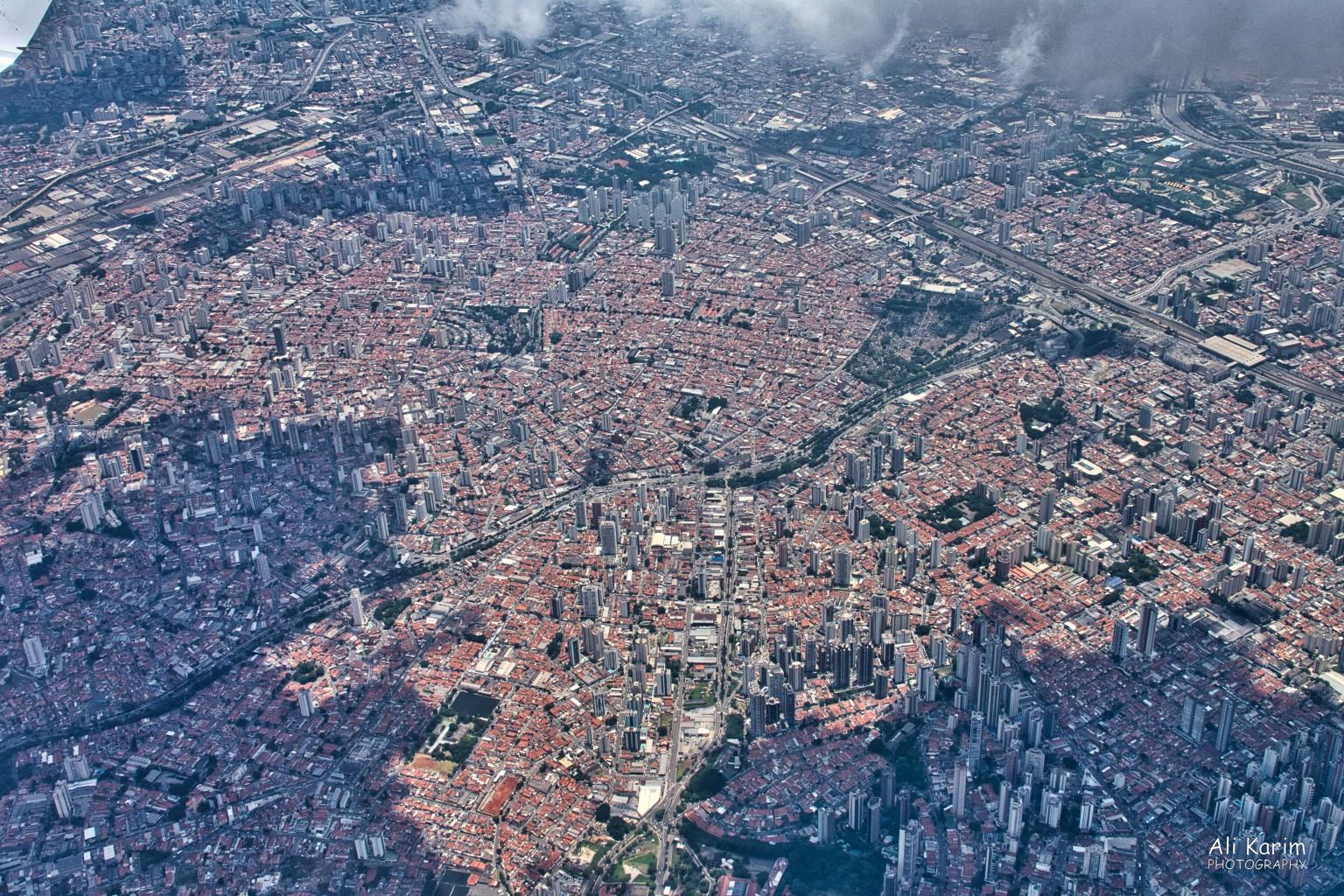 Florianópolis is the capital and second largest city of the state of Santa Catarina, in the South region of Brazil. The city encompasses Santa Catarina Island and surrounding small islands, as well as part of the mainland. The metropolitan area has an estimated population of 1.2M. The economy of Florianópolis is heavily based on information technology, tourism and services. The city has ~42 beaches and is a center of surfing activity. Lagoa da Conceição is an interior salt water lagoon; and a famous area for tourism, recreation, nature and sports.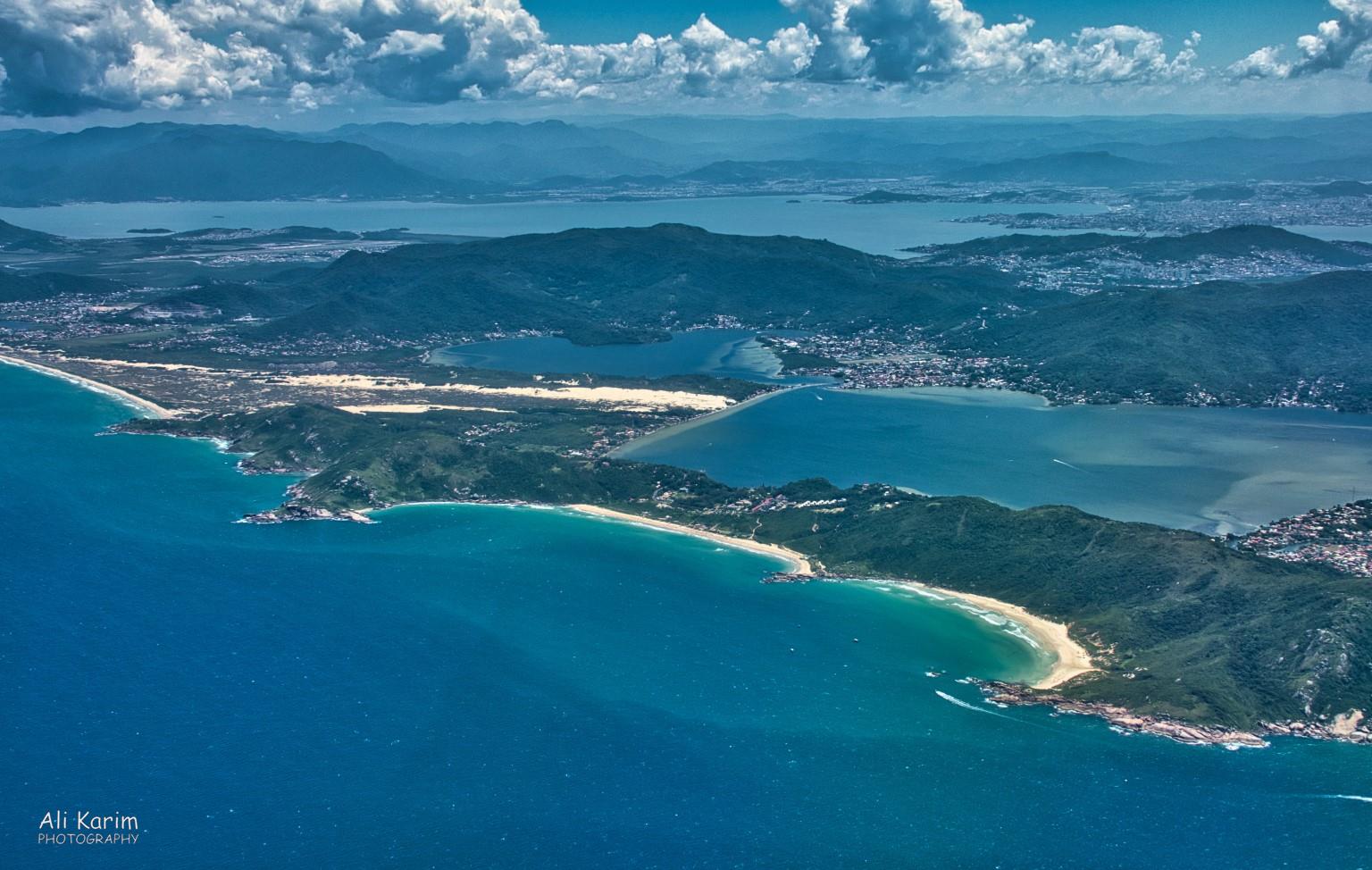 We landed and were surprised to see that our hosts and friends, Rafael Jorge, Martha and their son, Gui, were at the airport to meet us. How nice of them 🙂 . We rented a car, and followed Rafael and family to the B&B they had found for us.
Though the B&B was only a few miles away from the airport, it took us over 40mins to get there, because the island has only small 2 lane roads, no "highways", lots & lots of traffic, and many traffic humps to discourage speeding.
Information
Smaller Roads leads to Road Blocks and Slow Traffic in the area
The Haute House Guest House where we were staying was located right on the shores of the Lagoa da Conceição; and was very nice indeed; with bright, new, clean rooms with a nice view of the Lagoa. Breakfasts were at the swimming pool, and were very nice and filling. We paid about $55 per night, and it was definitely worth it.
We dropped our stuff off, said goodbye to the Jorge's who were headed home, and went to check out the nearest beach; the Praia da Joaquina (or Joaquina beach). It was getting evening by this time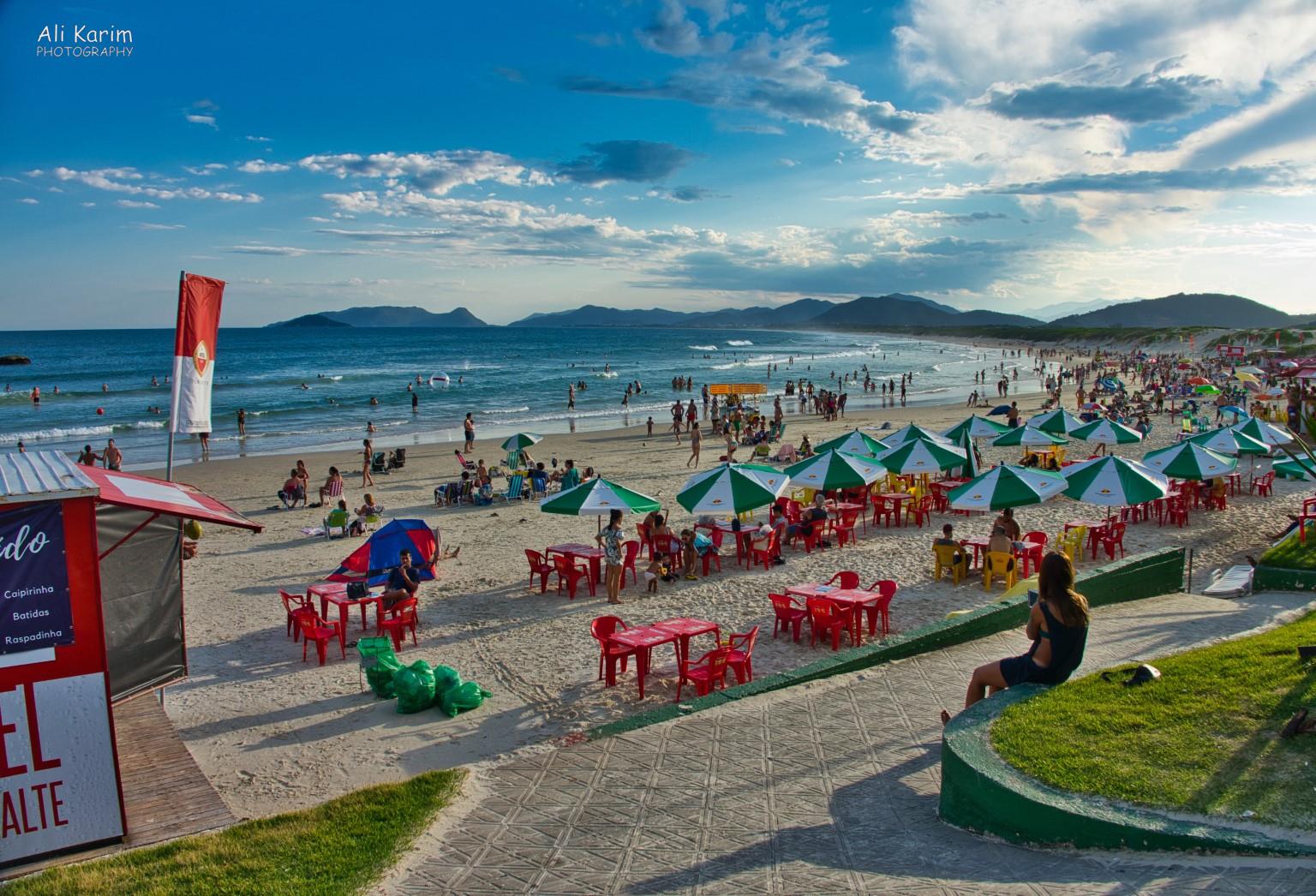 Fresh fruit juice, coconuts were plentiful and available everywhere. We saw a strange fruit below, that we have never seen before.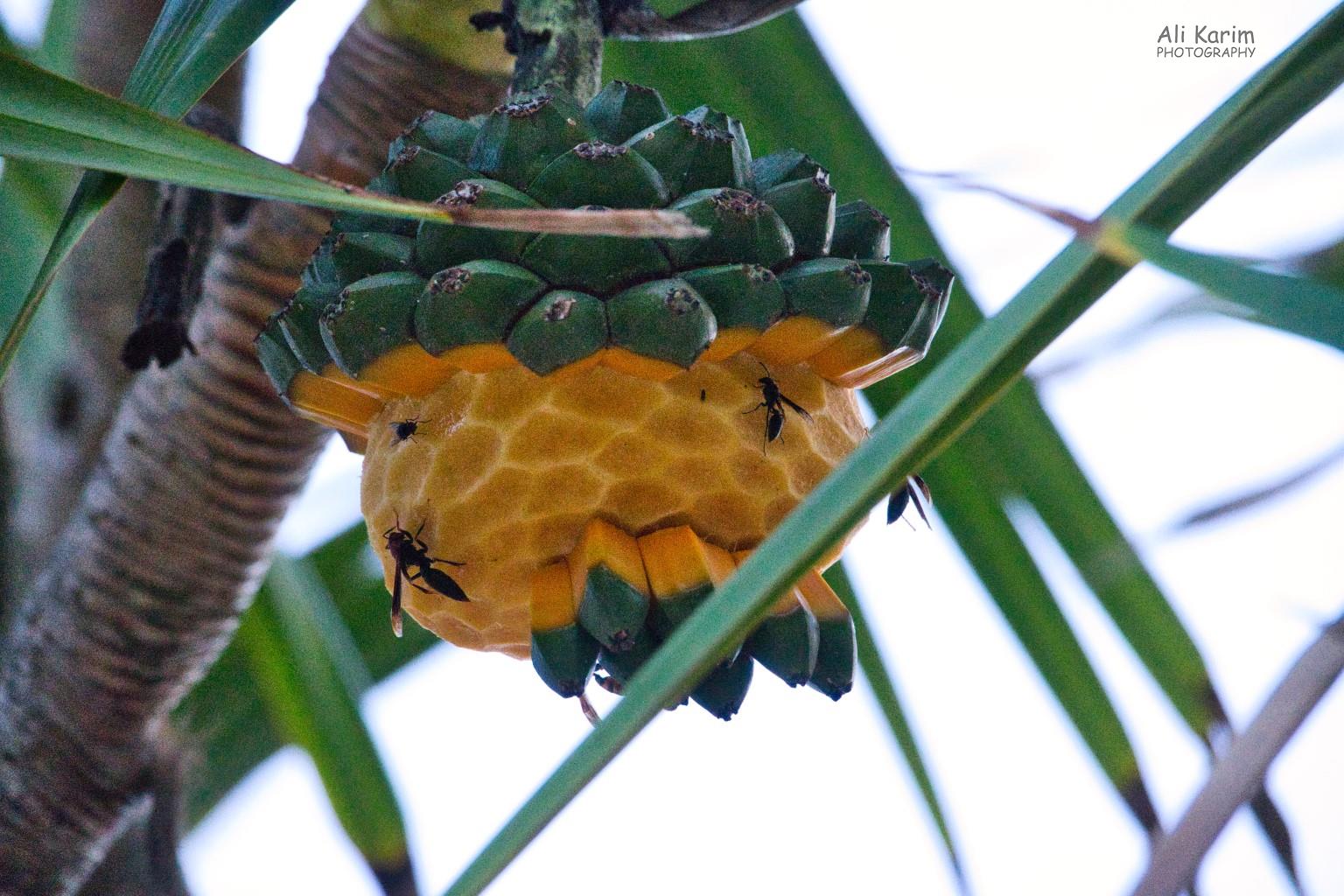 For dinner, we drove past Praia Mole to a small inland navigable waterway between the sea and the Lagoa, and ended up at Restaurante Rancho de Canoa, which is on the waterway, and is a nice casual outdoor eatery, sitting on the waterway watching people boating by. The fried local white fish, shrimps and accompaniments were delicious, except for the pirão, a traditional gruel made with fish stock and manioc flour. The texture was odd for me, something like a congealed blob, and no flavor. Decided to stay away from pirão from now on. The portions were quite large, and the 2 of us could have shared one dish. Prices were a little high for me; we paid $35+ for this meal. Drove back to our B&B for a good night's rest.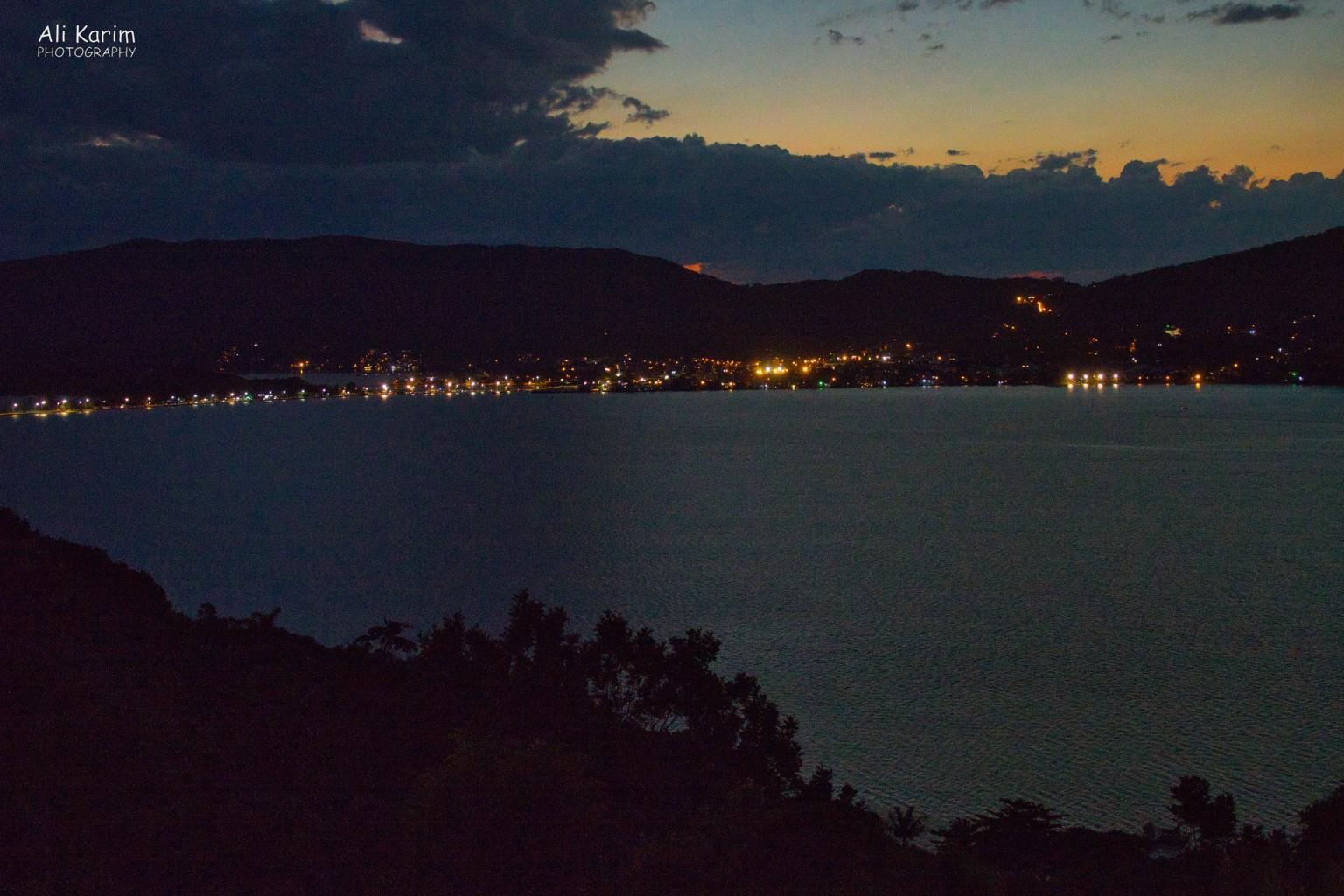 Next few days, it was more beaches, more local foods and exploring 🙂 . Some images below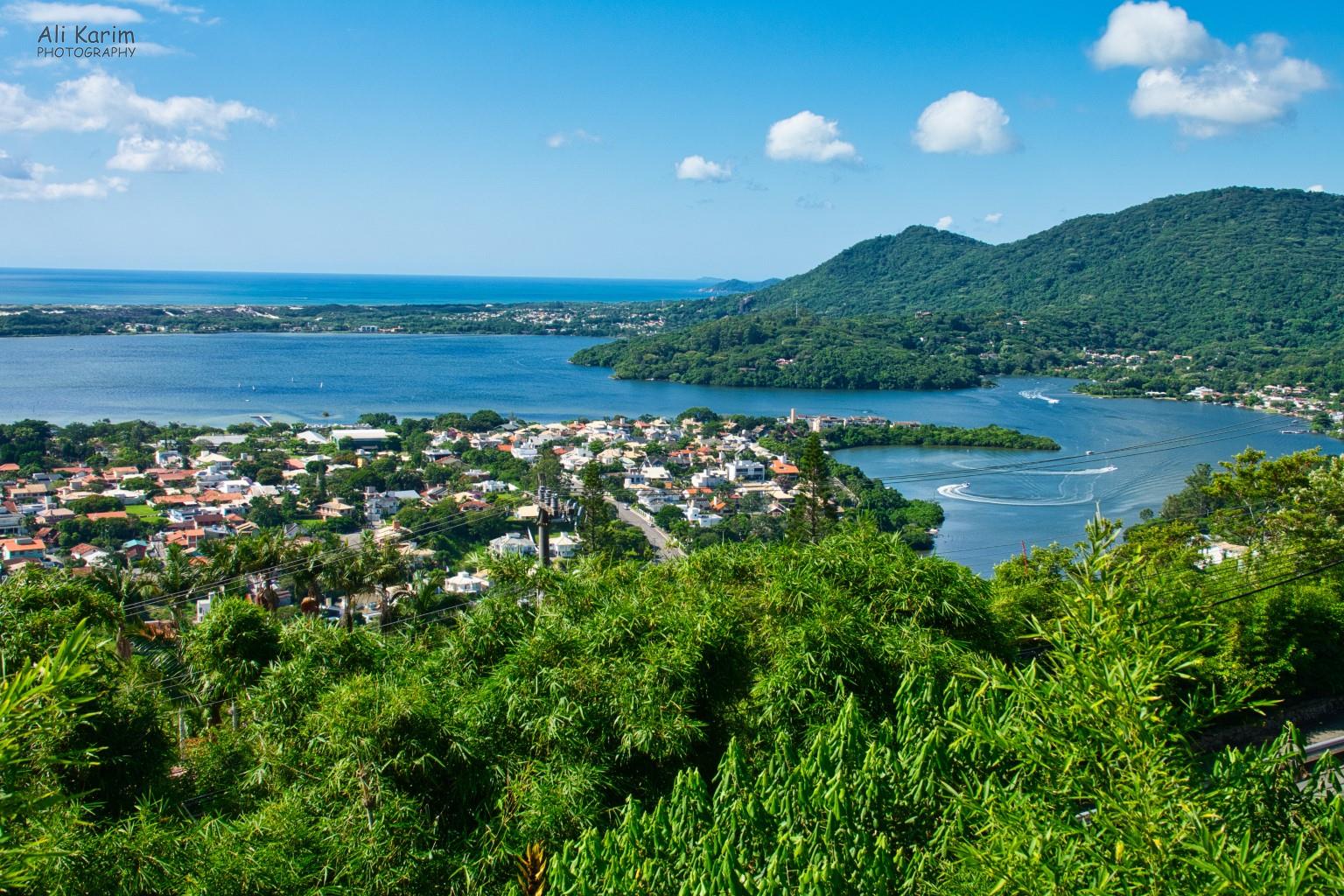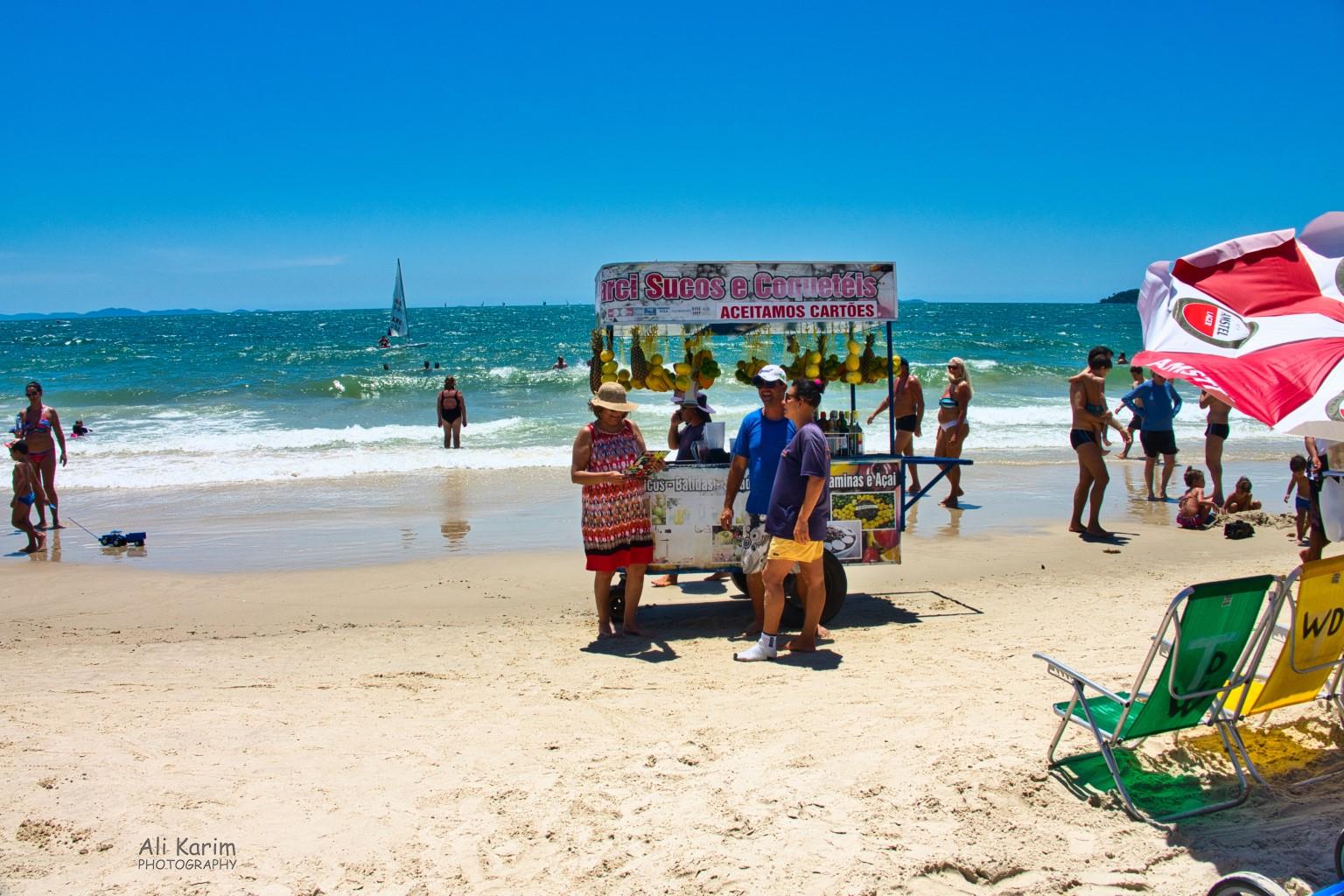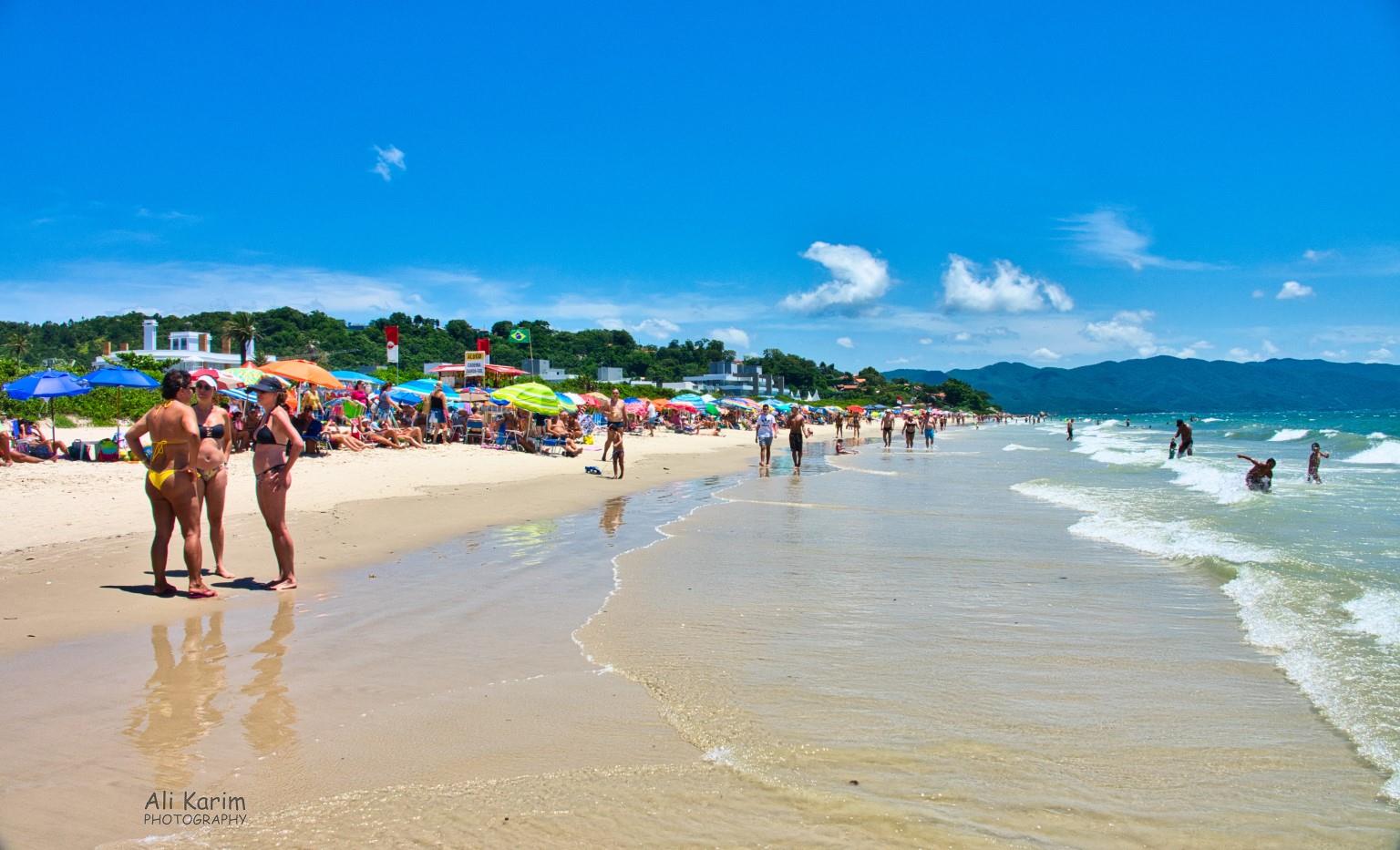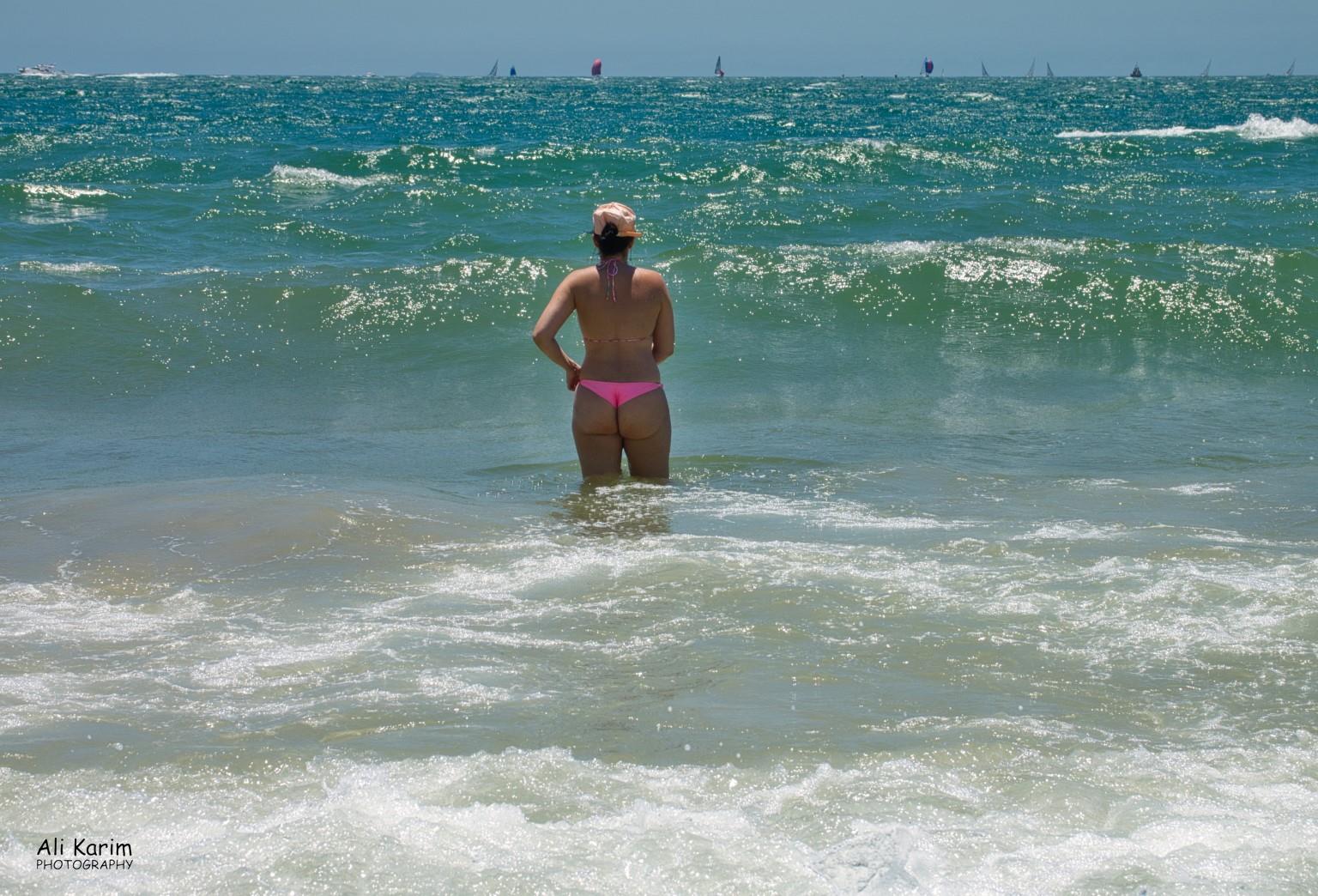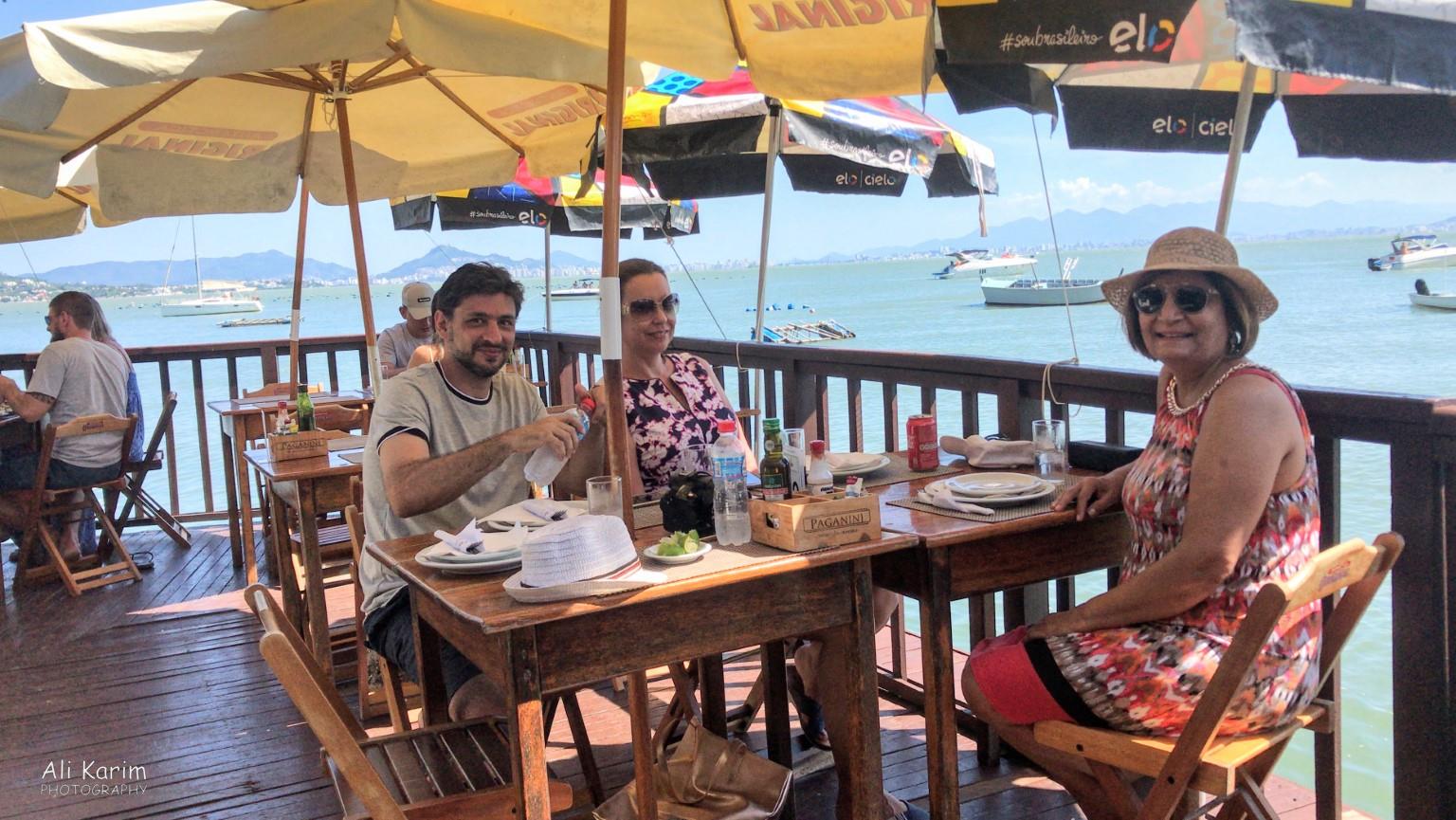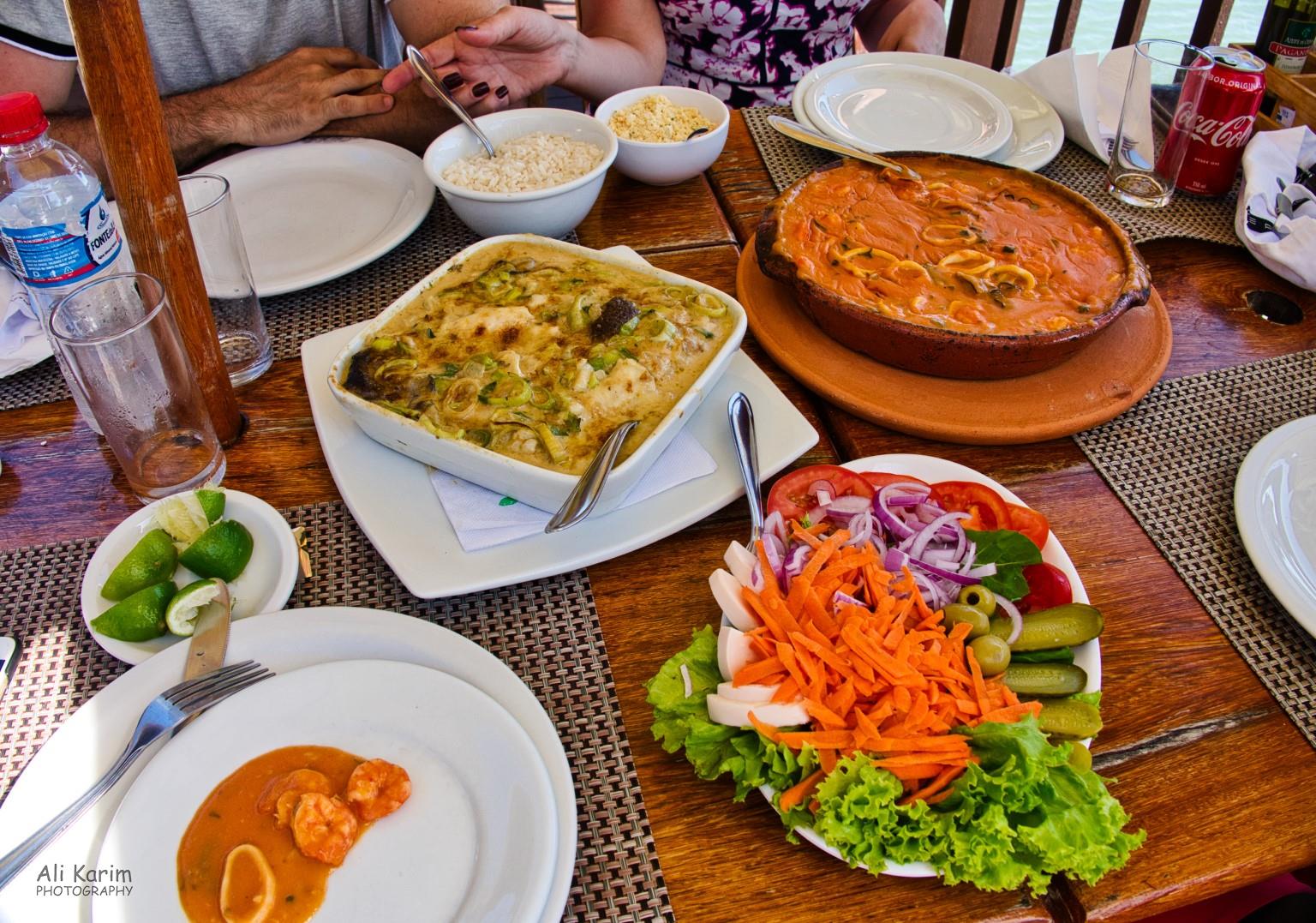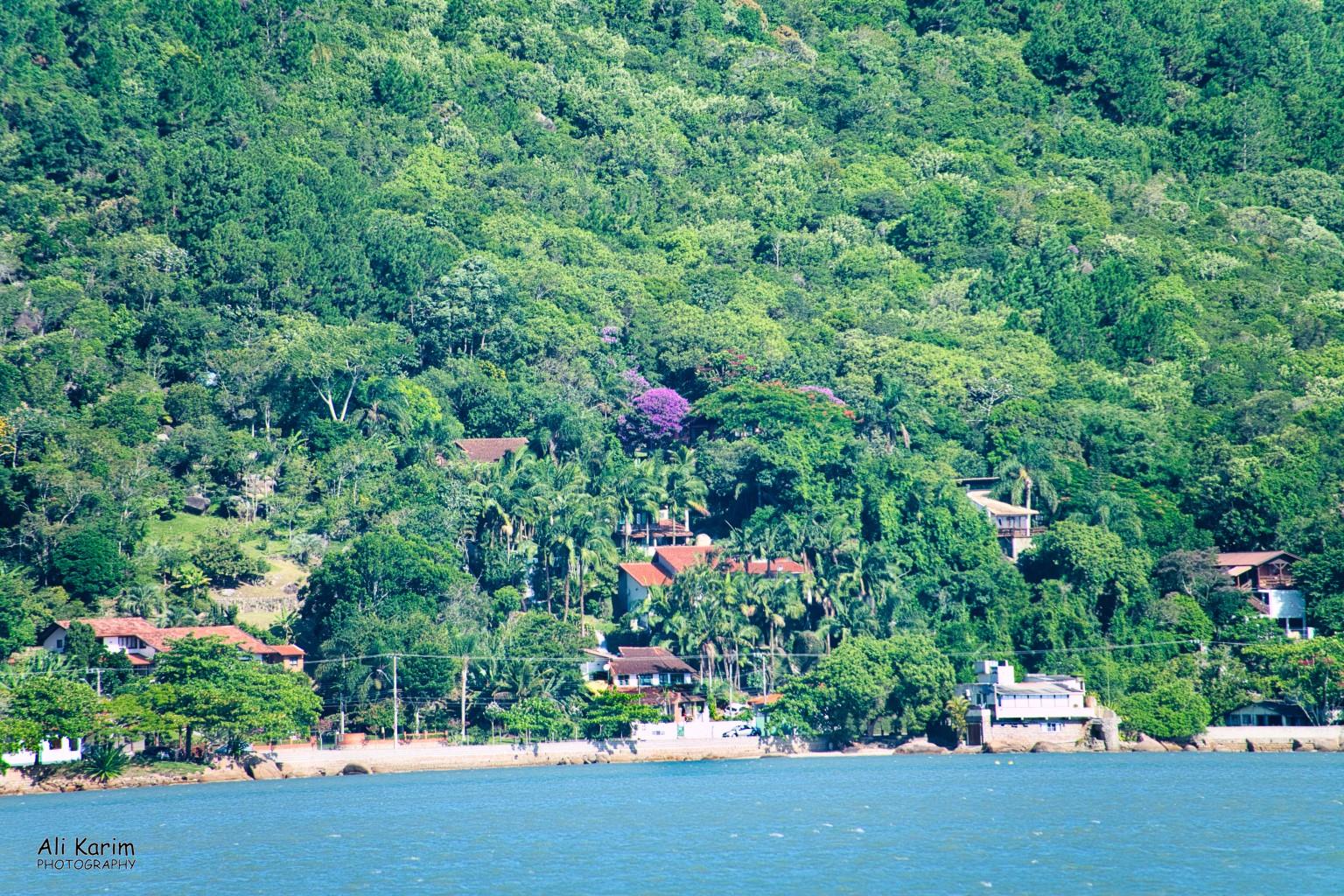 Rafael and his family invited us for dinner at their place on the mainland one evening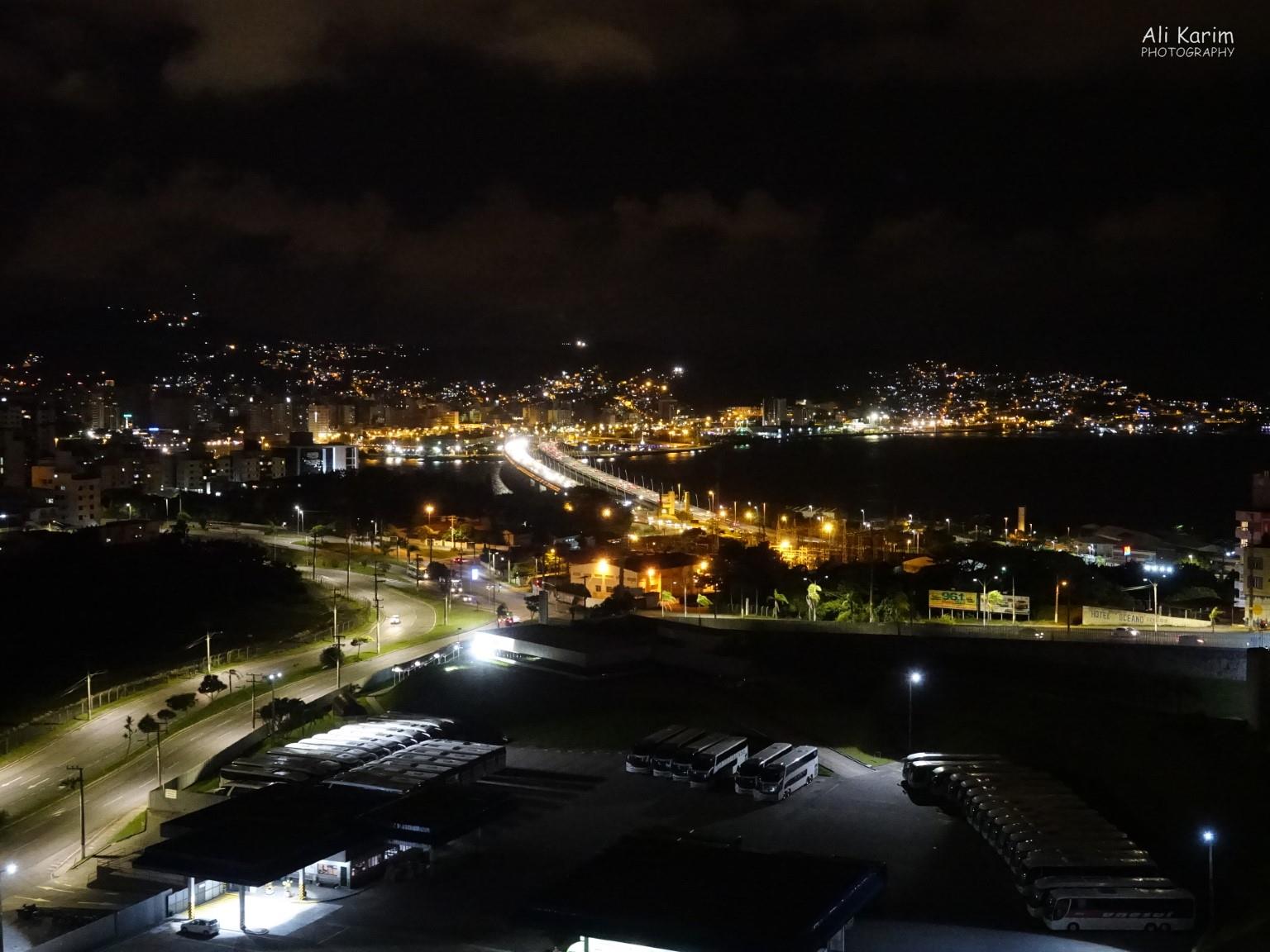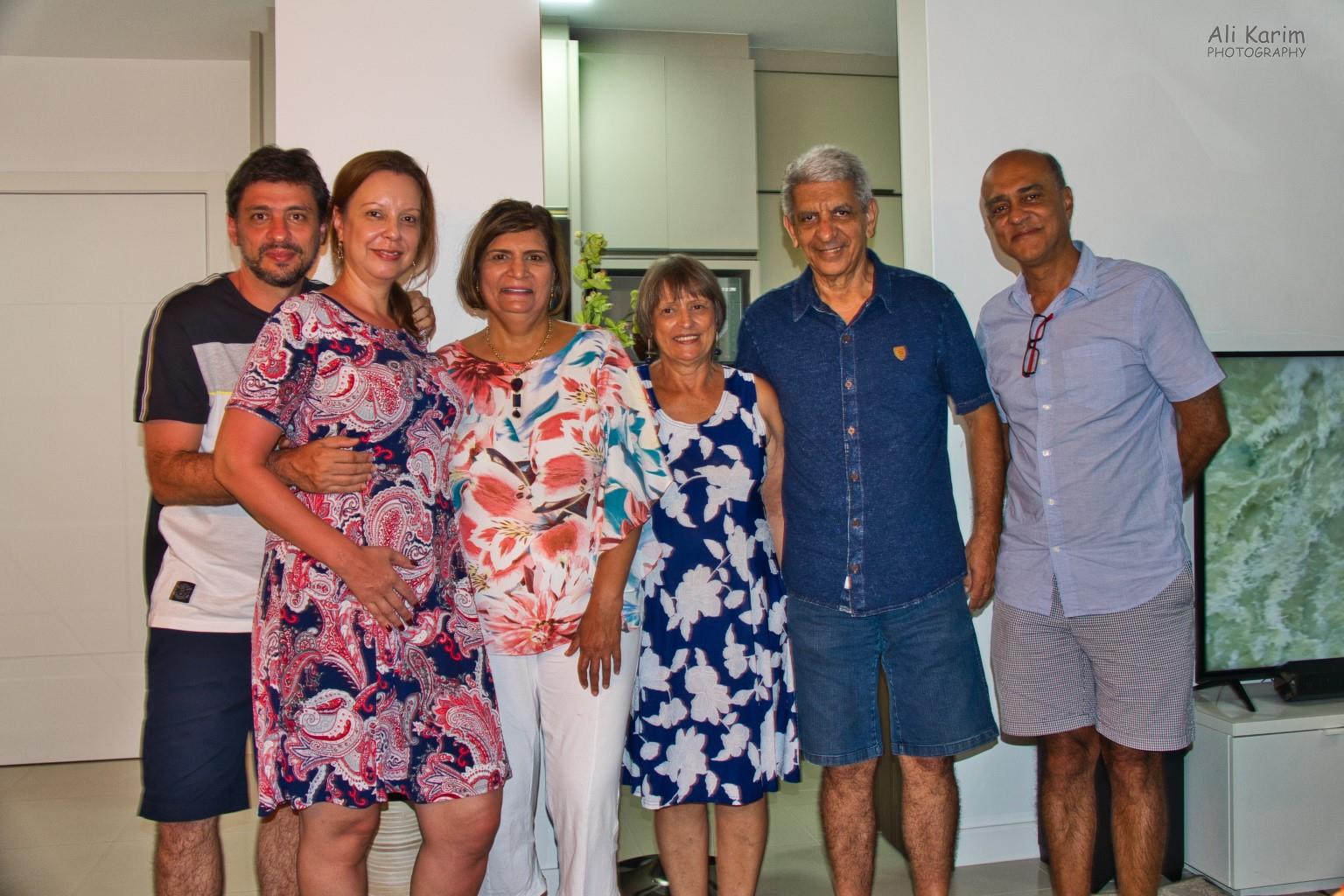 We inquired about getting Yellow Fever vaccinations in Floripa, since these vaccines are very expensive in the US, at about $250 per vaccine, and are required of all visitors going into the Amazon jungles (Amazonia is on my bucket list 🙂 ). After researching, and asking Rafael and at our B&B, we determined that we may be able to get these vaccines at low cost or even free at the local public (Govt) run clinics. So armed with our passports, we found out where the local clinic was to our B&B, and went there late one morning.
Information
Get vaccinated in Floripa instead of Spending $250 in the US
The clinic appeared to be clean, nice, well organized and well equipped. We went to the reception and communicated with the staff what we were looking for. They were not surprised at this request, and entered our info into their computer system and asked us to wait. Shortly thereafter, a nice young lady came by and took us into her vaccination office, and got someone who spoke a bit of English to communicate with us.
Apparently, because of the prevalence of Yellow Fever (YF) in Amazonia, the Govt gives free vaccinations to anyone; Brazilians and foreigners, who plan to travel to the rain forests. Great news. She asked is if we had ever had YF vaccines when we were younger, and we told her that we could not remember, but most likely, we probably had had this vaccine. At this point, she informed us that since we were over 59, and since we had been administered the YF vaccine when young, the Govt medical directive was that we did not need another YF vaccine. Interesting. So we left feeling comfortable about a future trip to the Amazon rain forest.
Footnote: When we got home, we checked our old vaccination booklets from Kenya, and found the YF vaccination records page to be totally blank 🙁 . So we were never vaccinated against YF in Kenya when younger; and had missed this opportunity to get YF vaccinated 🙁 . Mental Note to try this again next time we go to Brazil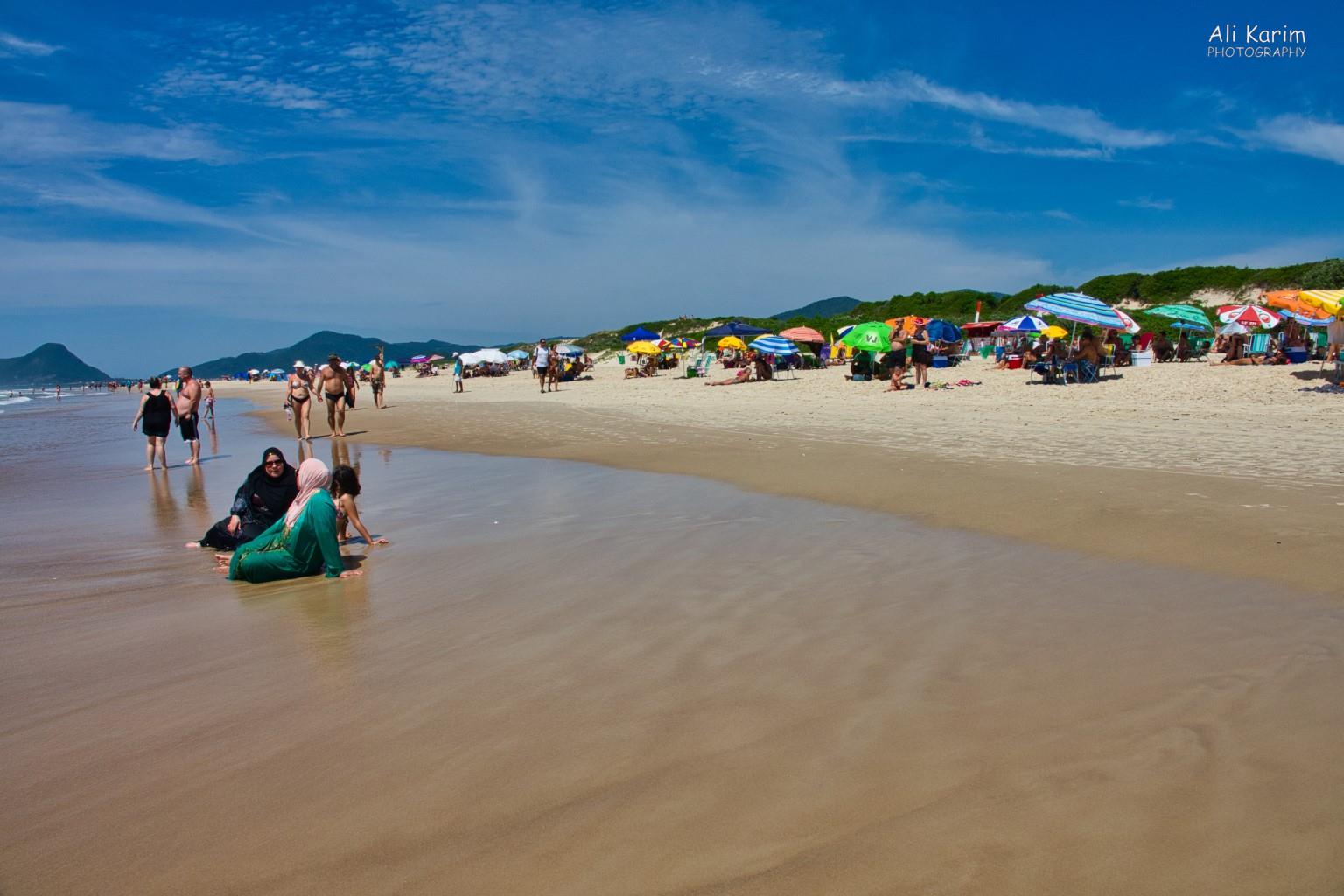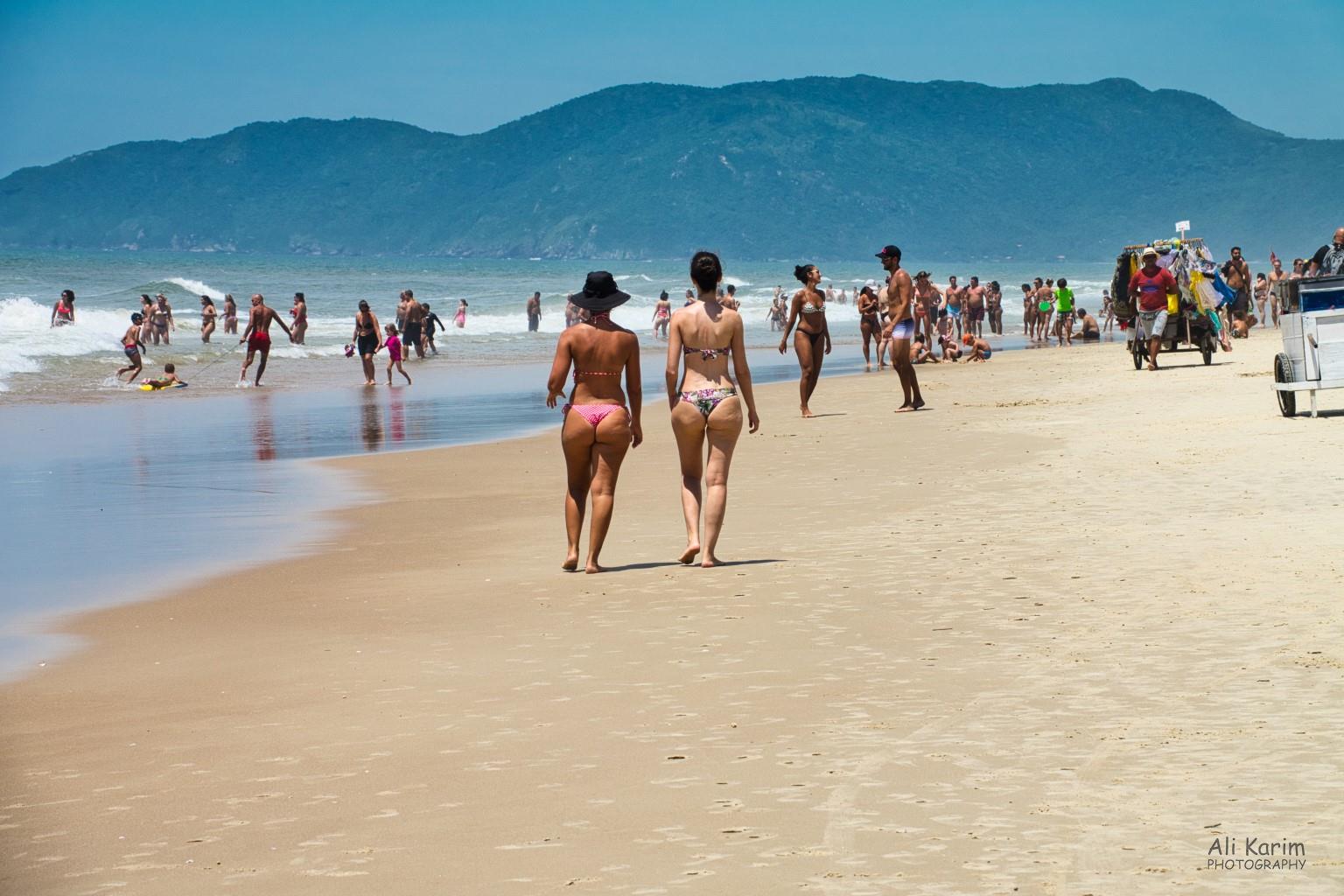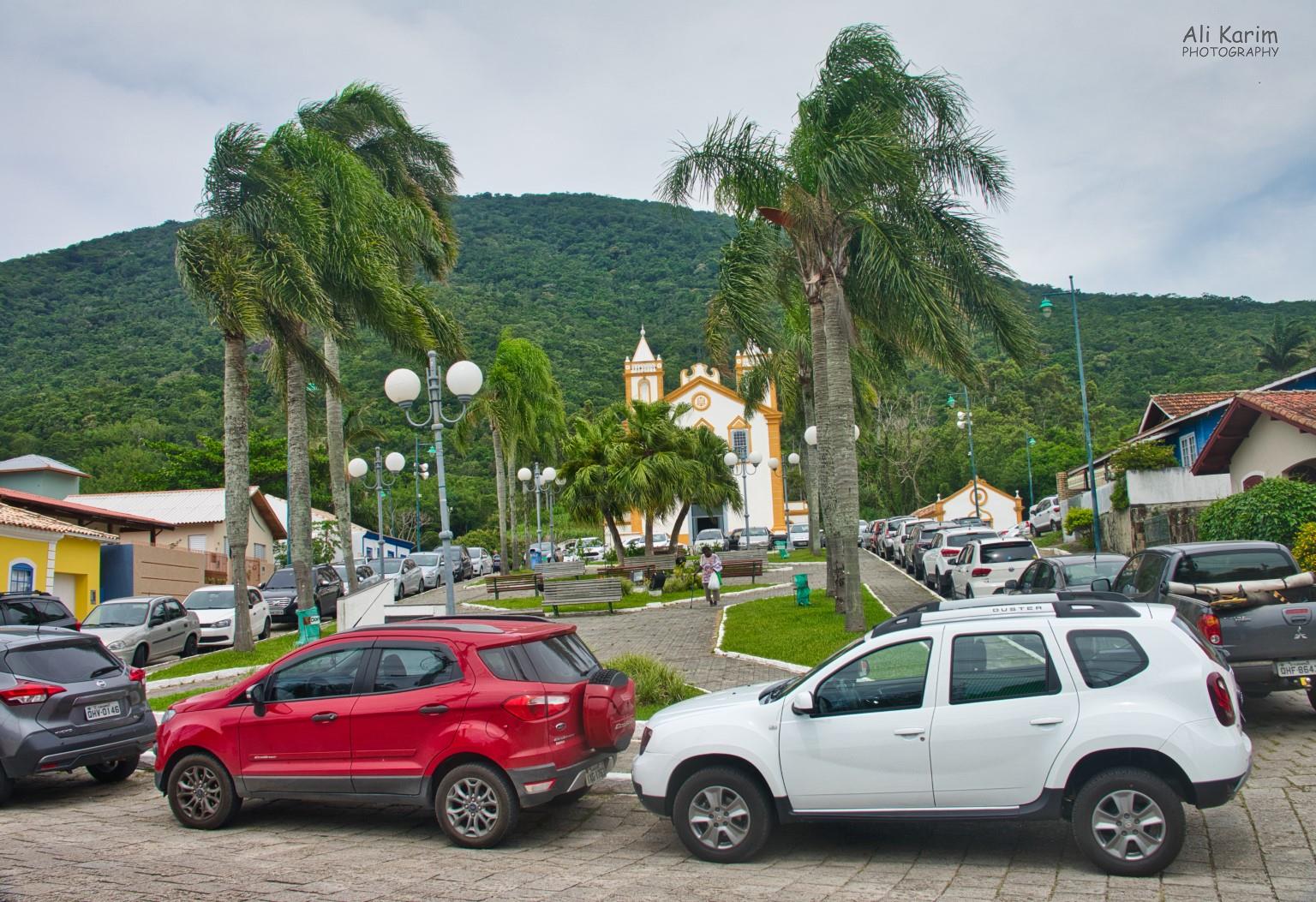 There is a high hilltop above the city of Floripa, the Morro da Cruz, where you get excellent views of the city. The drive there is very steep but well worth it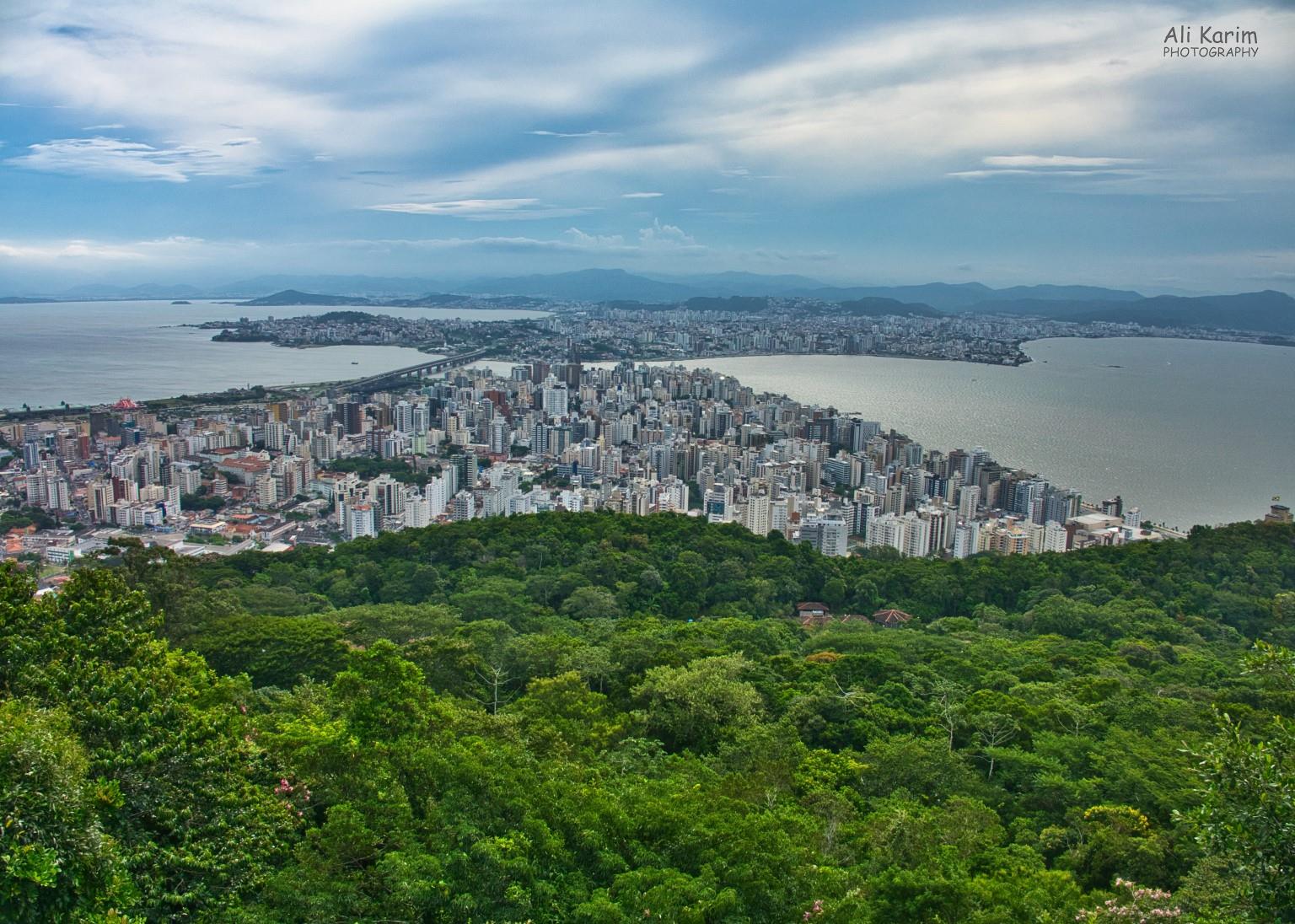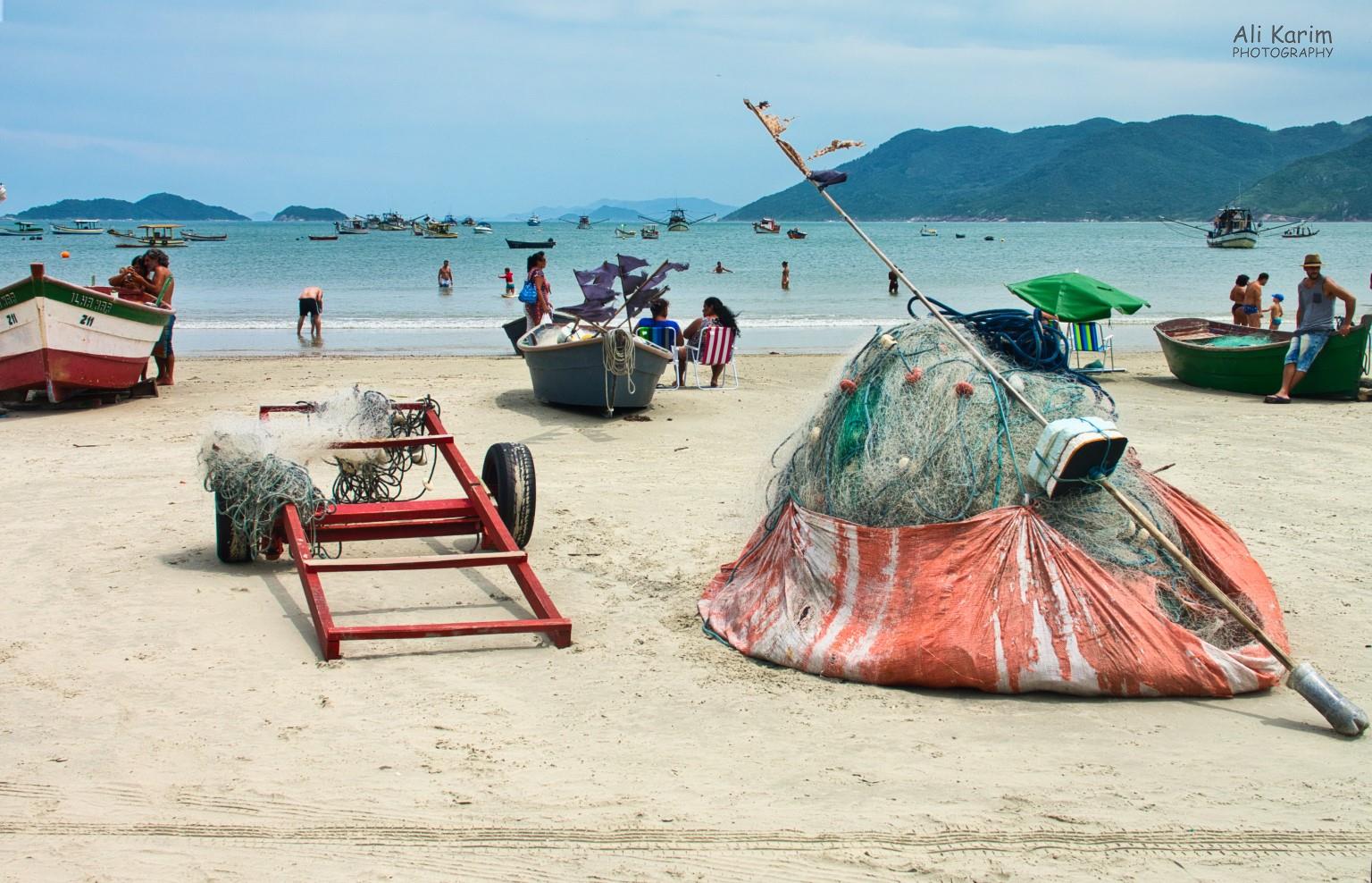 We stopped here for early dinner at the Arante restaurant on the Pantano do Sul beach.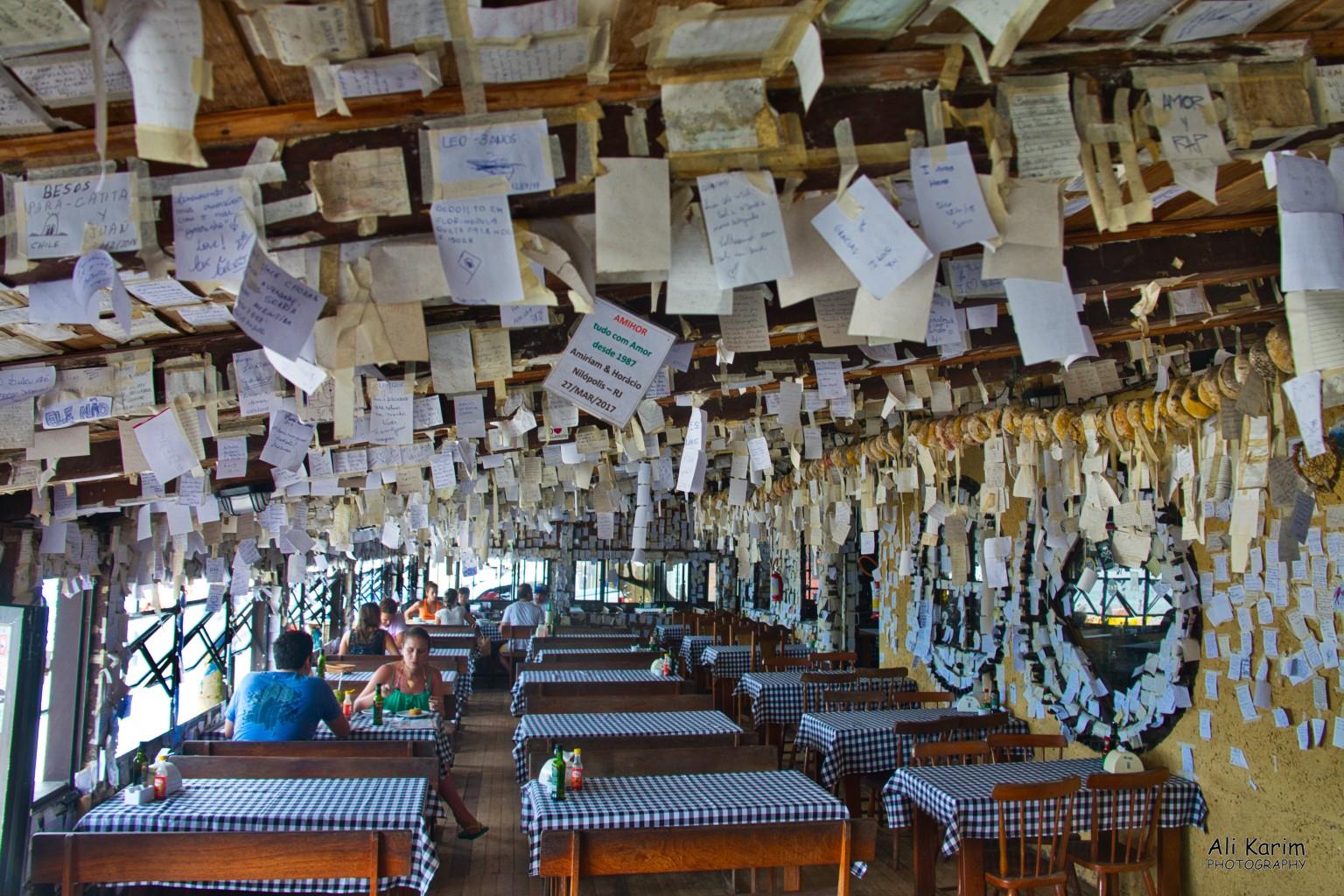 This restaurant used to be a meeting place for low cost travelers (hippies) in the olden times, and people used to stick up notes to stay in contact with other fellow travelers by these notes; long before the internet or cellphones arrived. This restaurant became famous as a result, and now, everyone is encouraged to leave behind a note. Of course, we too had to leave a note there, especially as It was Valentine's day 🙂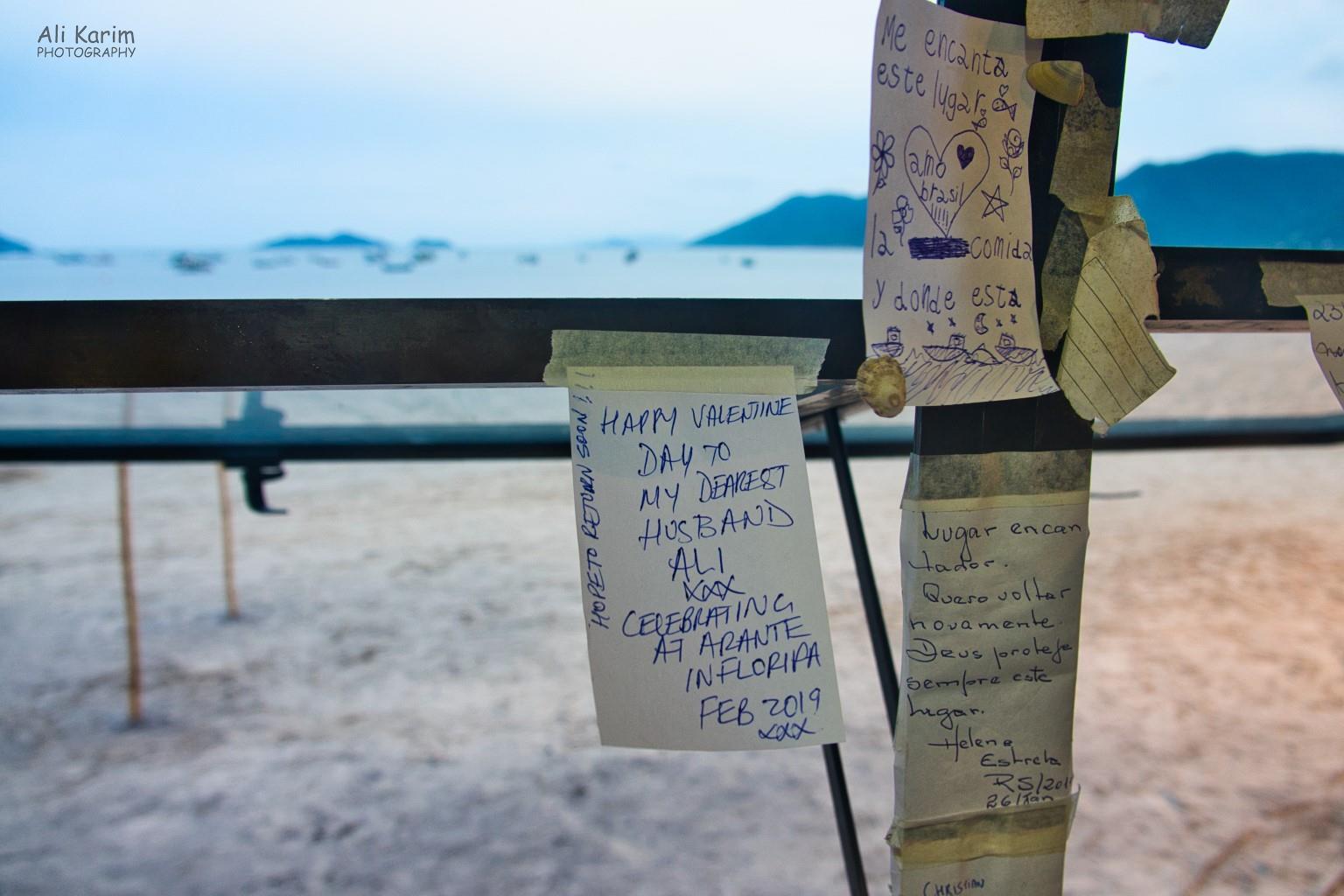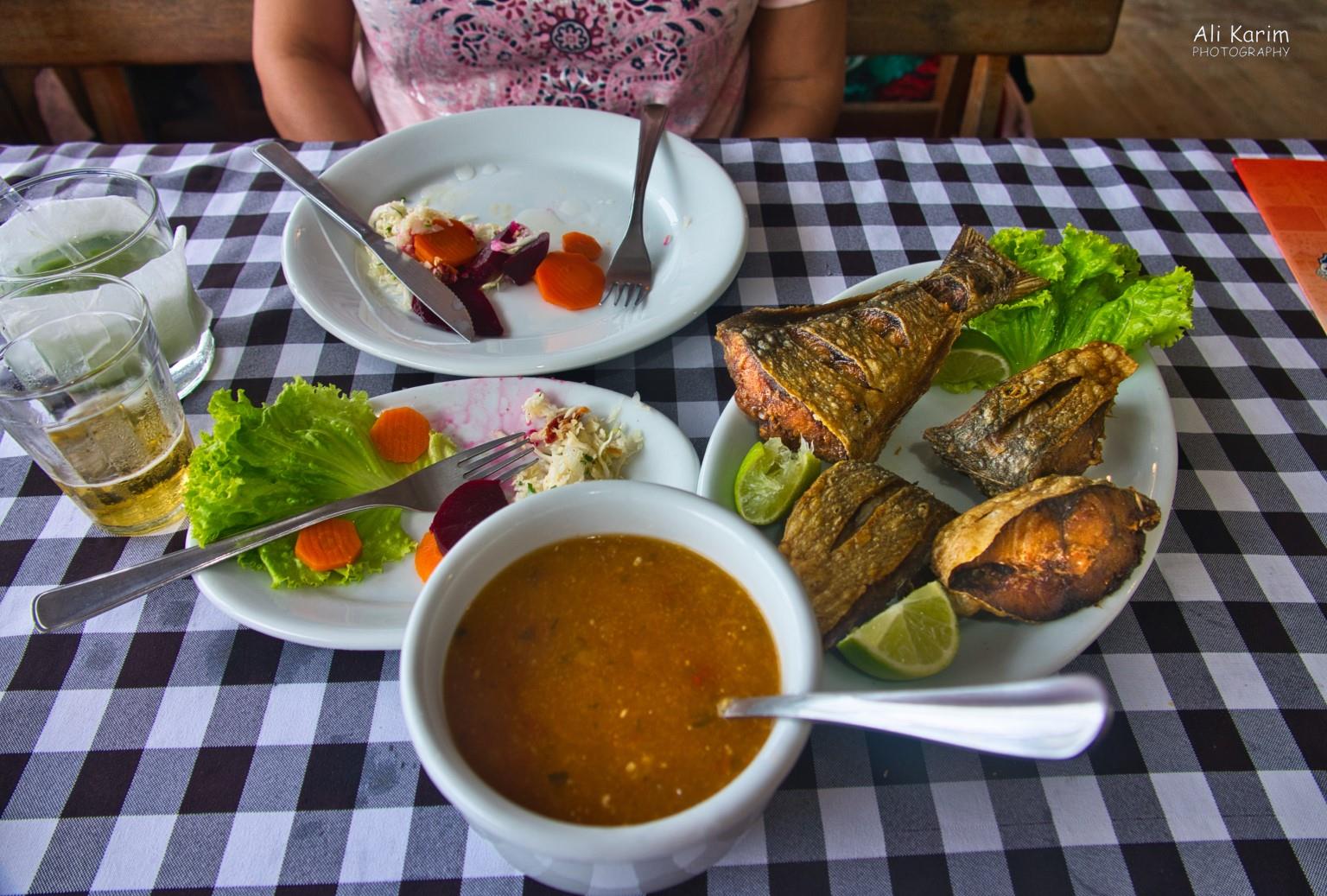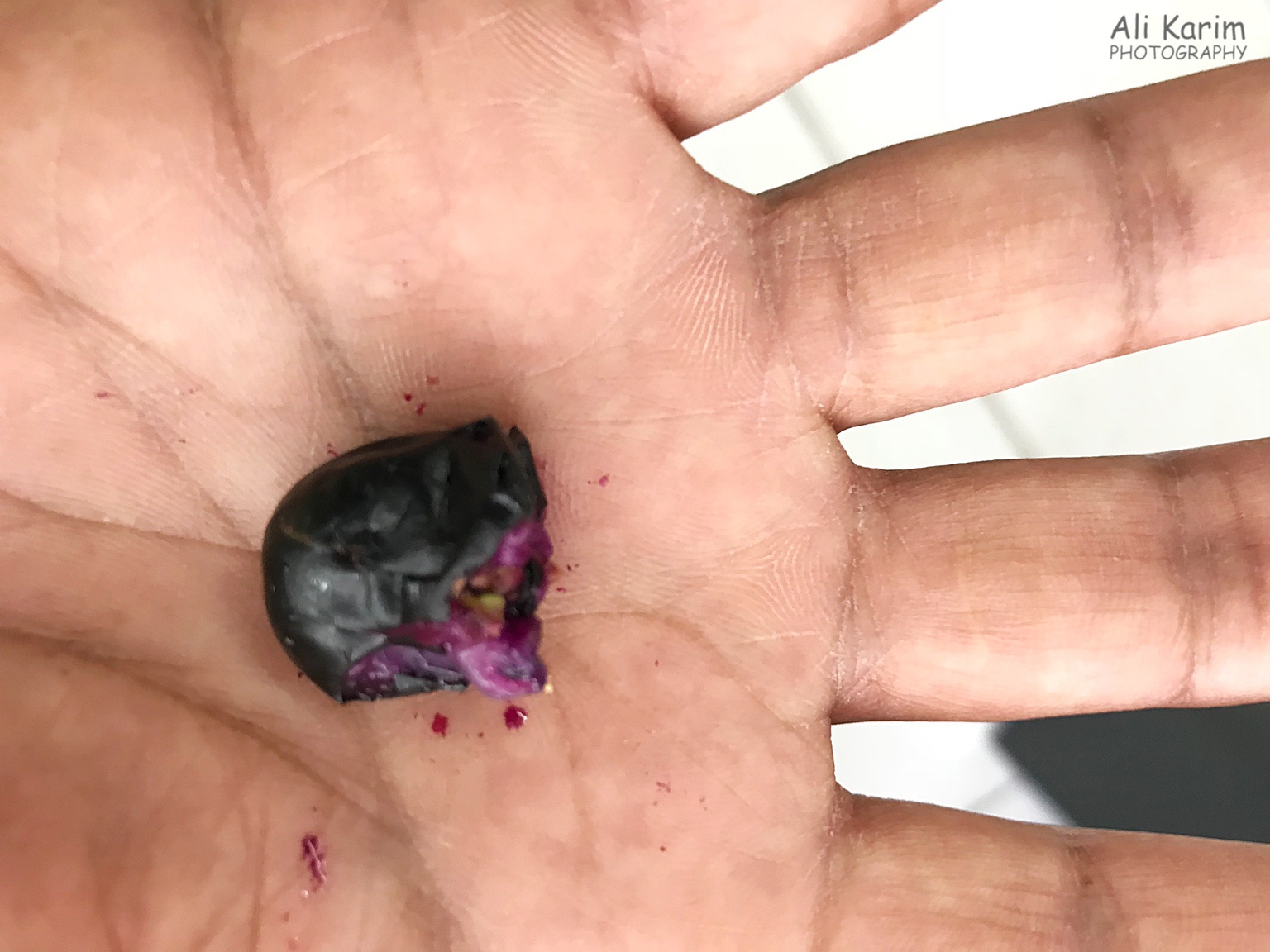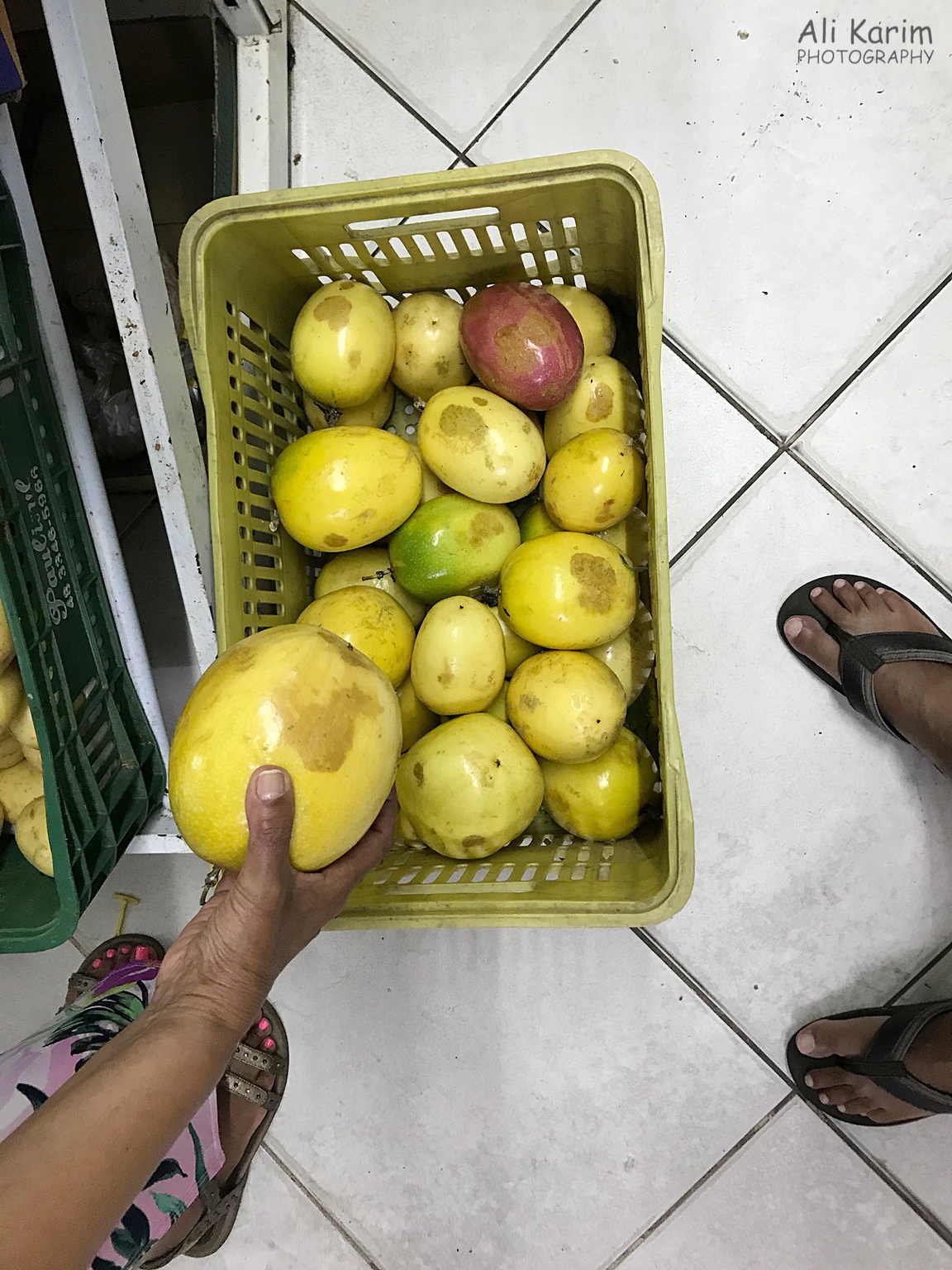 After a nice few days exploring Floripa, thanks to Rafael and Martha, we flew back from Floripa to Dallas via São Paulo. A very nice and hospitable few days.
Floripa is a nice, clean, safe place to visit, with great weather (high 80's most of the time during the day, low 70's at night in Feb). There are many beaches to enjoy here and they are all mostly very nice; though there are some which may be polluted more than others. So need to ask around and research. The place is "upscale" and a lot of wealthy Brazilians and Argentinians, Europeans have 2nd homes here.
Information
Its a Clean and Nice safe Place to enjoy
So prices for eating out etc were higher than what we have experienced on trips to other parts of Brazil. Also, we did not find a typical Mercado here; people simply get their foods at Supermarkets.
We got dental cleaning done here, and it cost us about $45 per person; cheaper than Dallas, but not significantly cheaper. The natural beauty is amazing and distances are small (small island); however, the 2 lane roads, lots of traffic and traffic humps means it takes long to get anywhere. Worth visiting.
This entry was posted in
Brazil
,
Brazil. Feb 2019
,
Florianópolis
,
South America