Silk Road 18: Murghab, Tajikistan; Sept 2019
After the cold night in the yurt at Lenin peak, we awoke in our yurt, did our business, had a quick breakfast, and left to drive onto Murghab in Tajikistan.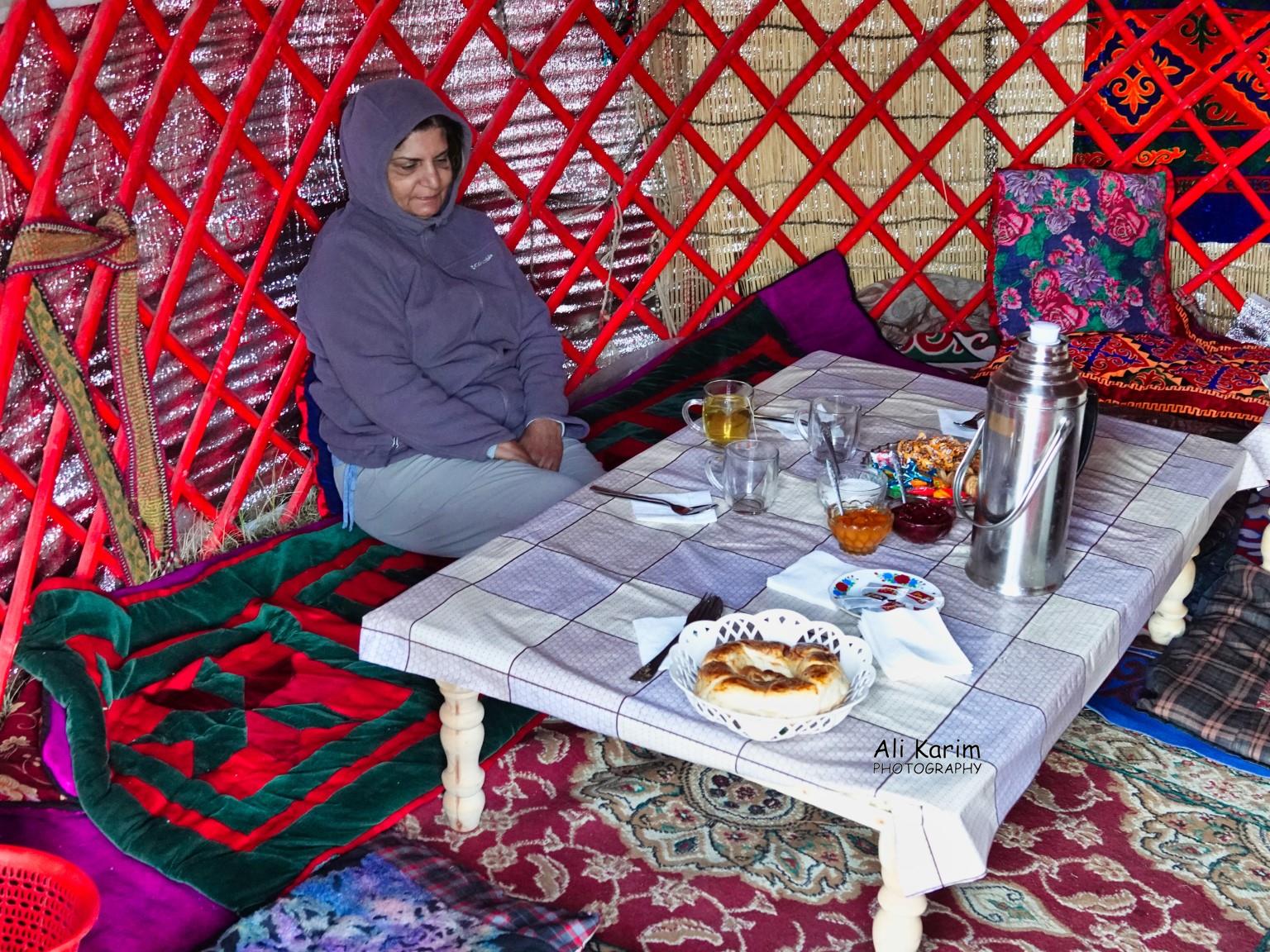 We did not have a very comfortable night, because it got cold at night outside (-10C), and our heater stove had run out of fuel in the night, meaning it got cold inside the yurt. It was also our first day at this high altitude of 12,000ft, low oxygen environment, and we were trying to fight off the altitude sickness and we were not used to the cot-beds. Not complaining, as we did this out of our choice, and the experience was well worth it; sleeping in a yurt under the massive Lenin Peak. I try to highlight all experiences; good and bad 🙂
Information
Everyone to get accustomed to the high altitude for a day or two which will help to counter the low oxygen levels and high altitude sikness.
We said goodbye to the other patrons, and drove the 25kms dirt track back to Sary Mogul, the nearest village.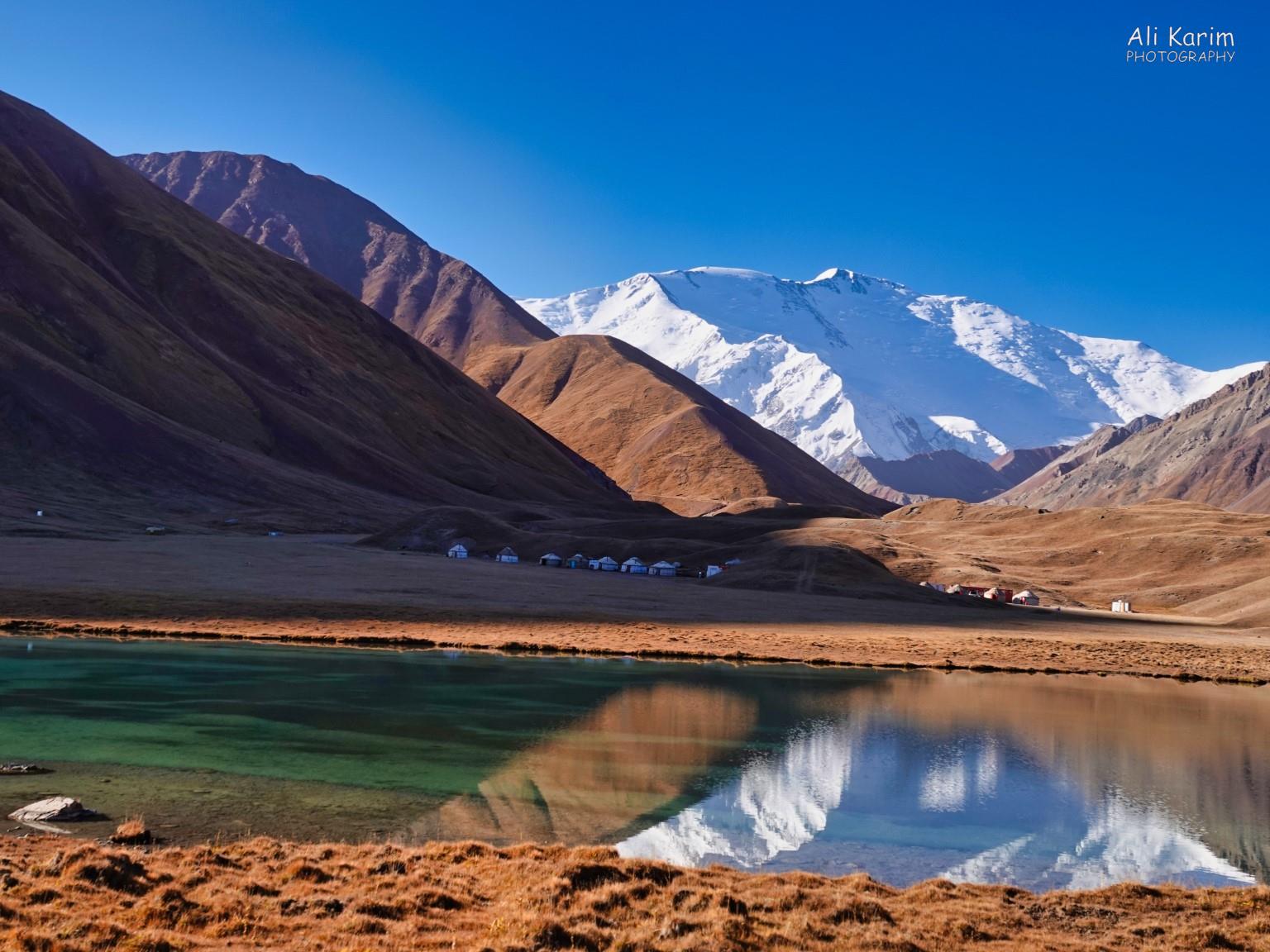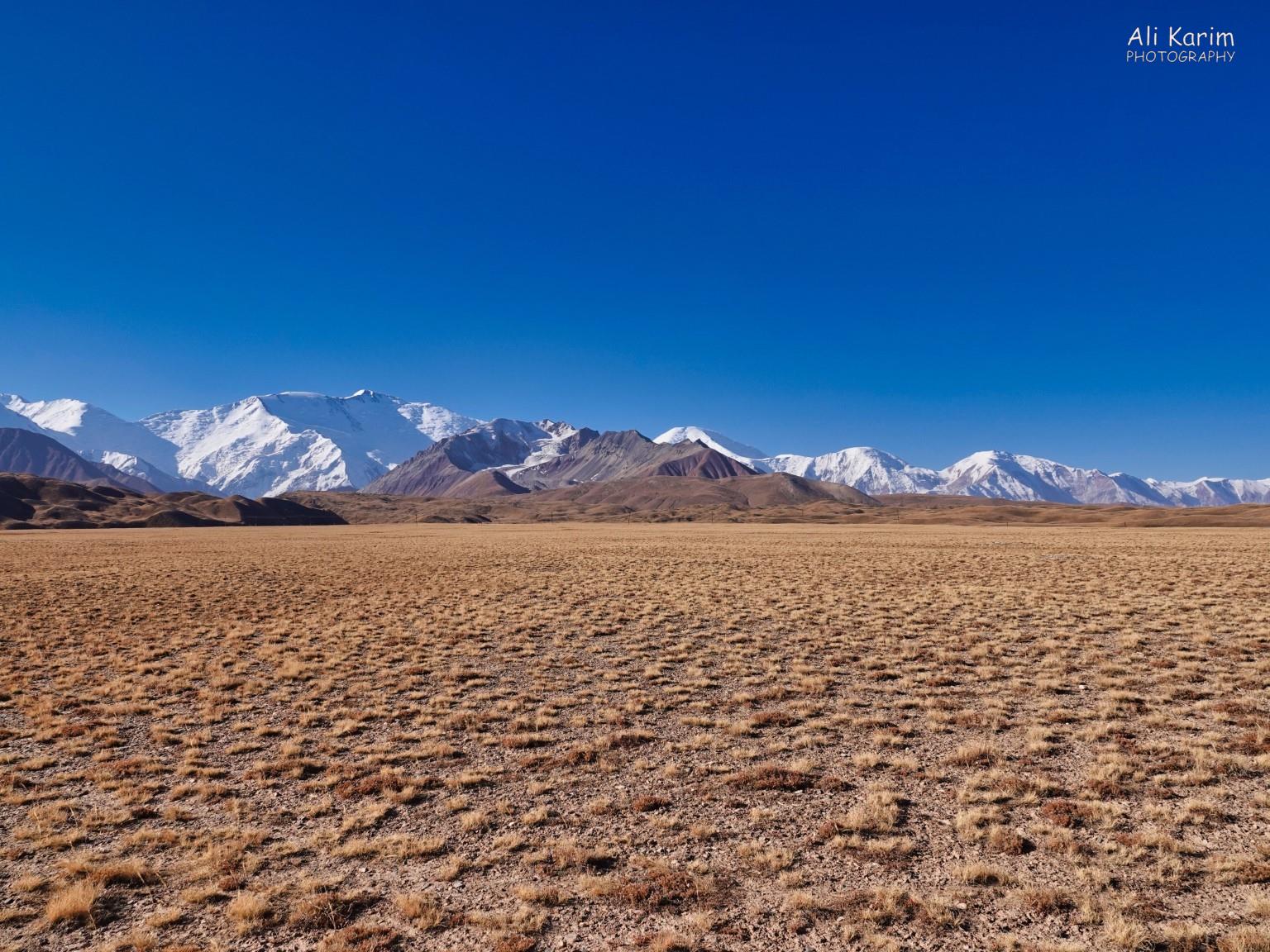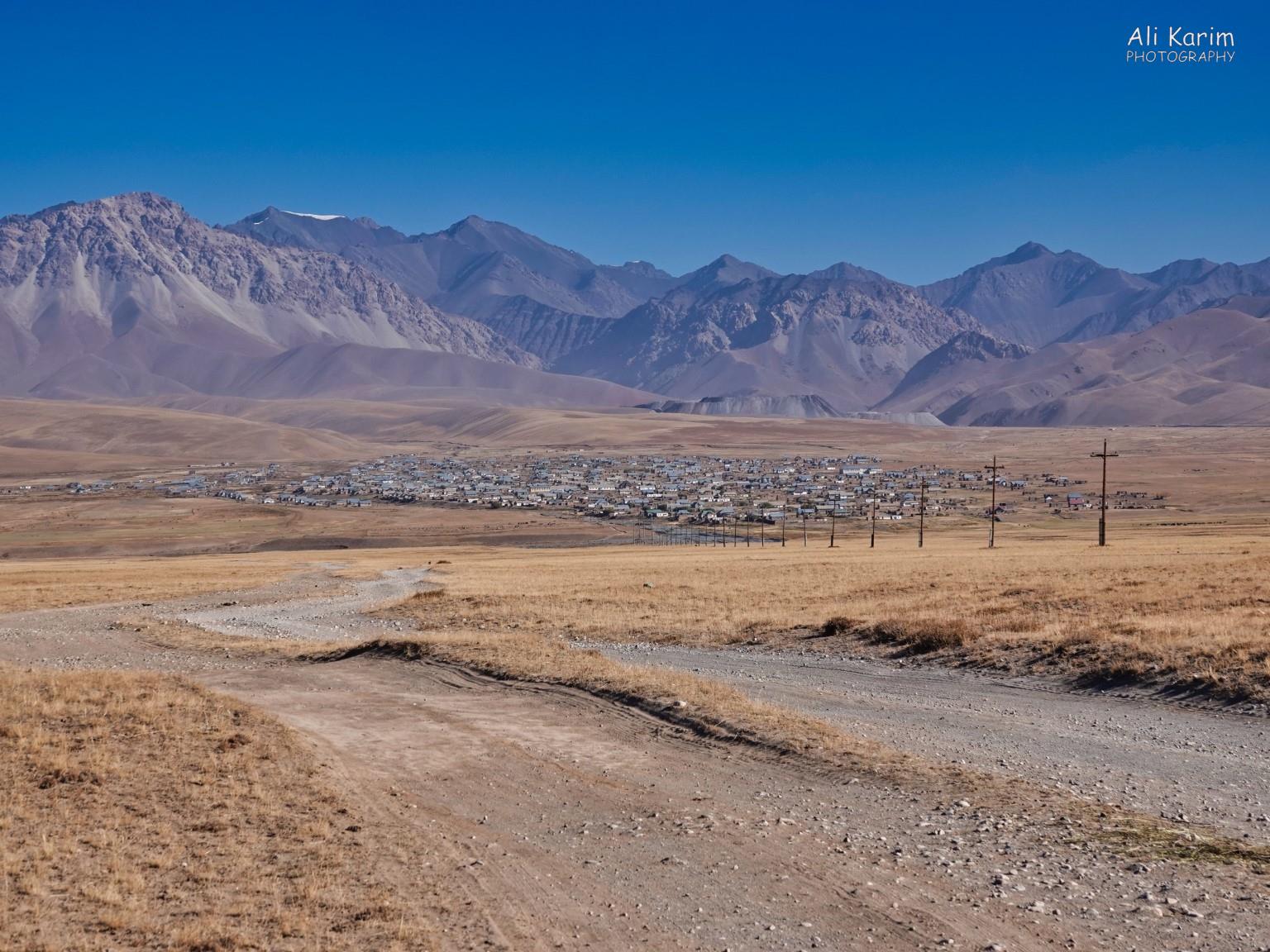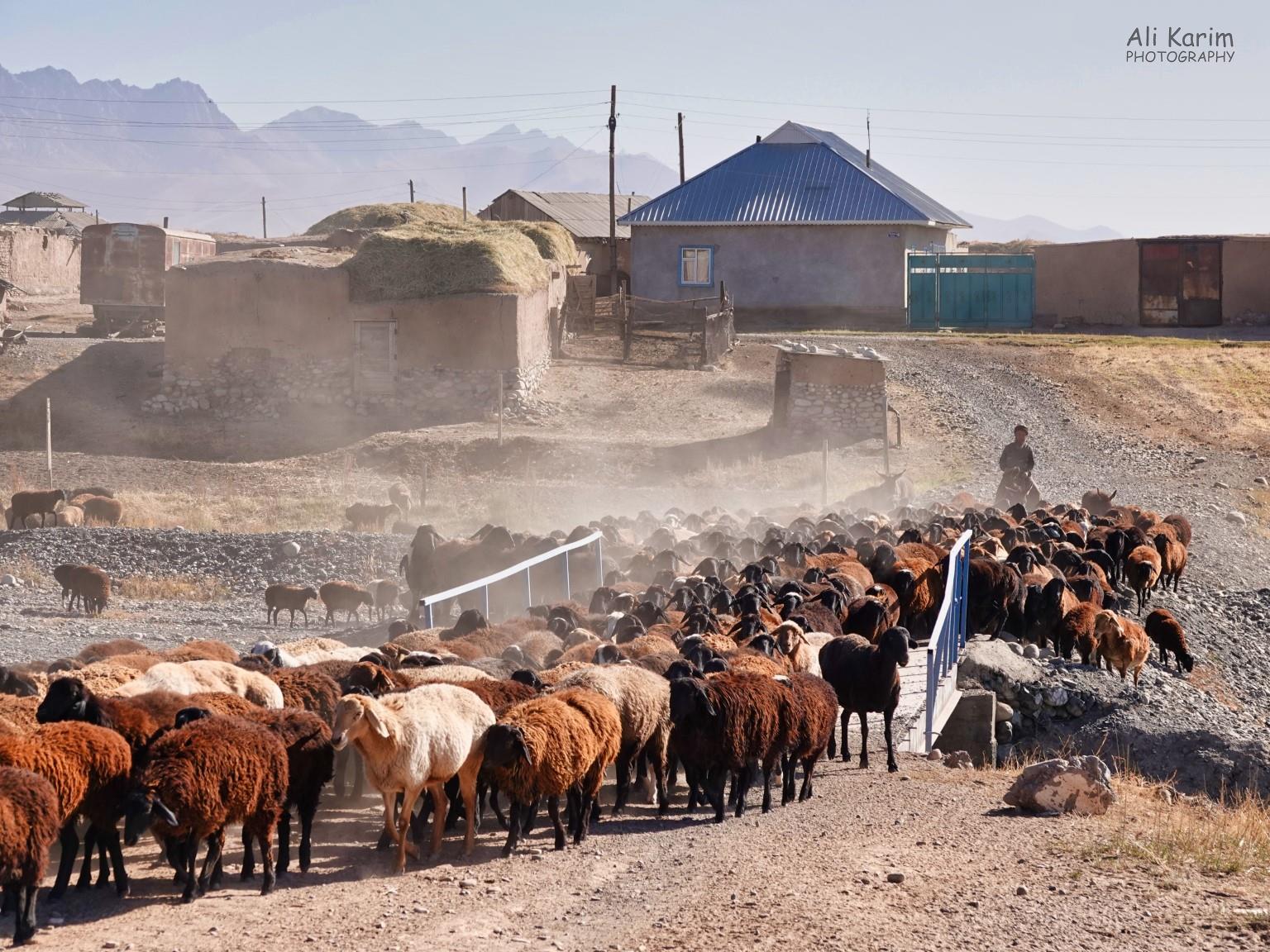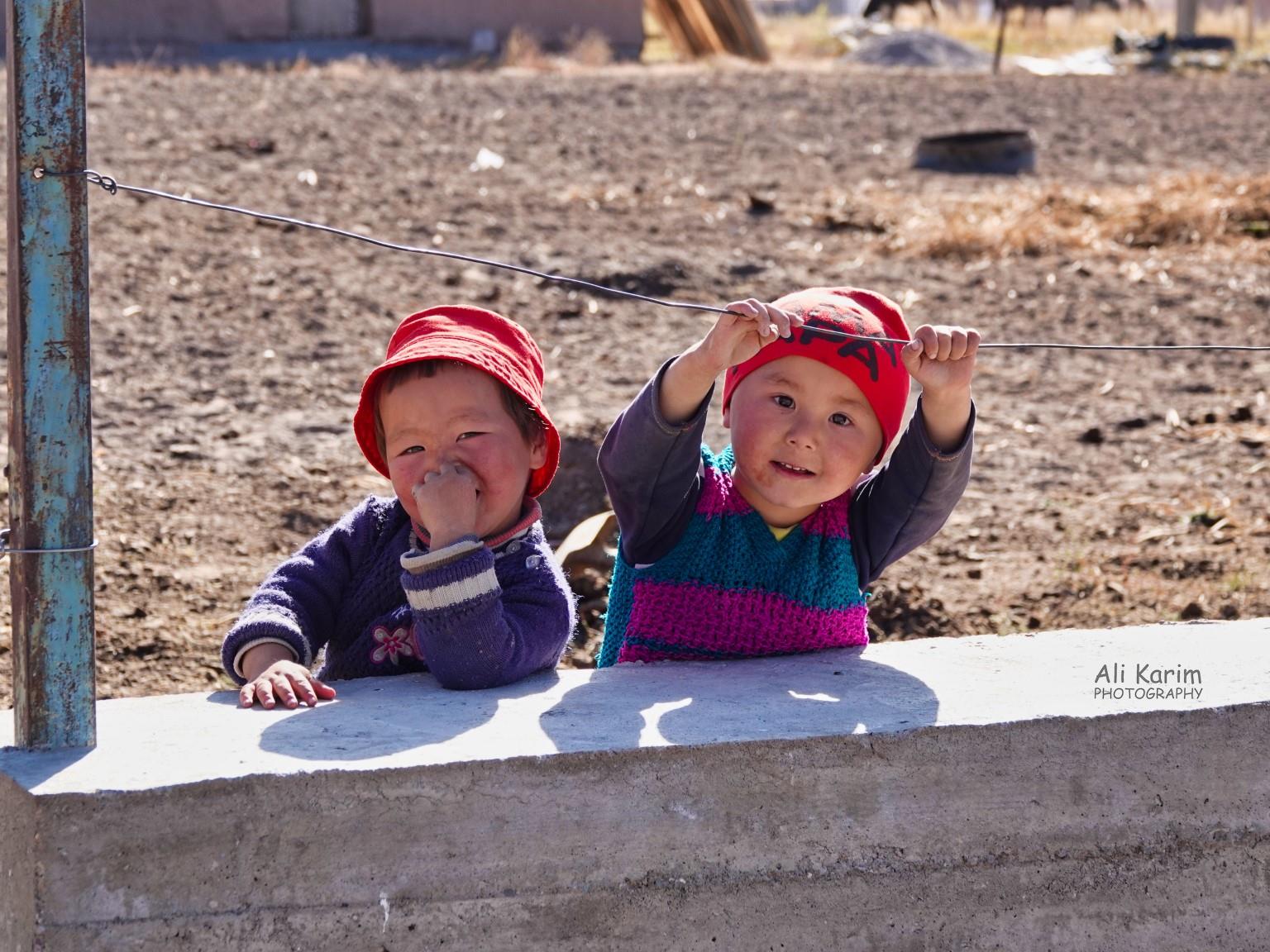 At Sary Mogul, Ahmedali drove us to Erali's mother-in-law's house. Apparently, Erali's wife's mother lives here, and Erali's wife, Aitolkun, had brought their daughter, Alia, to visit grandmother.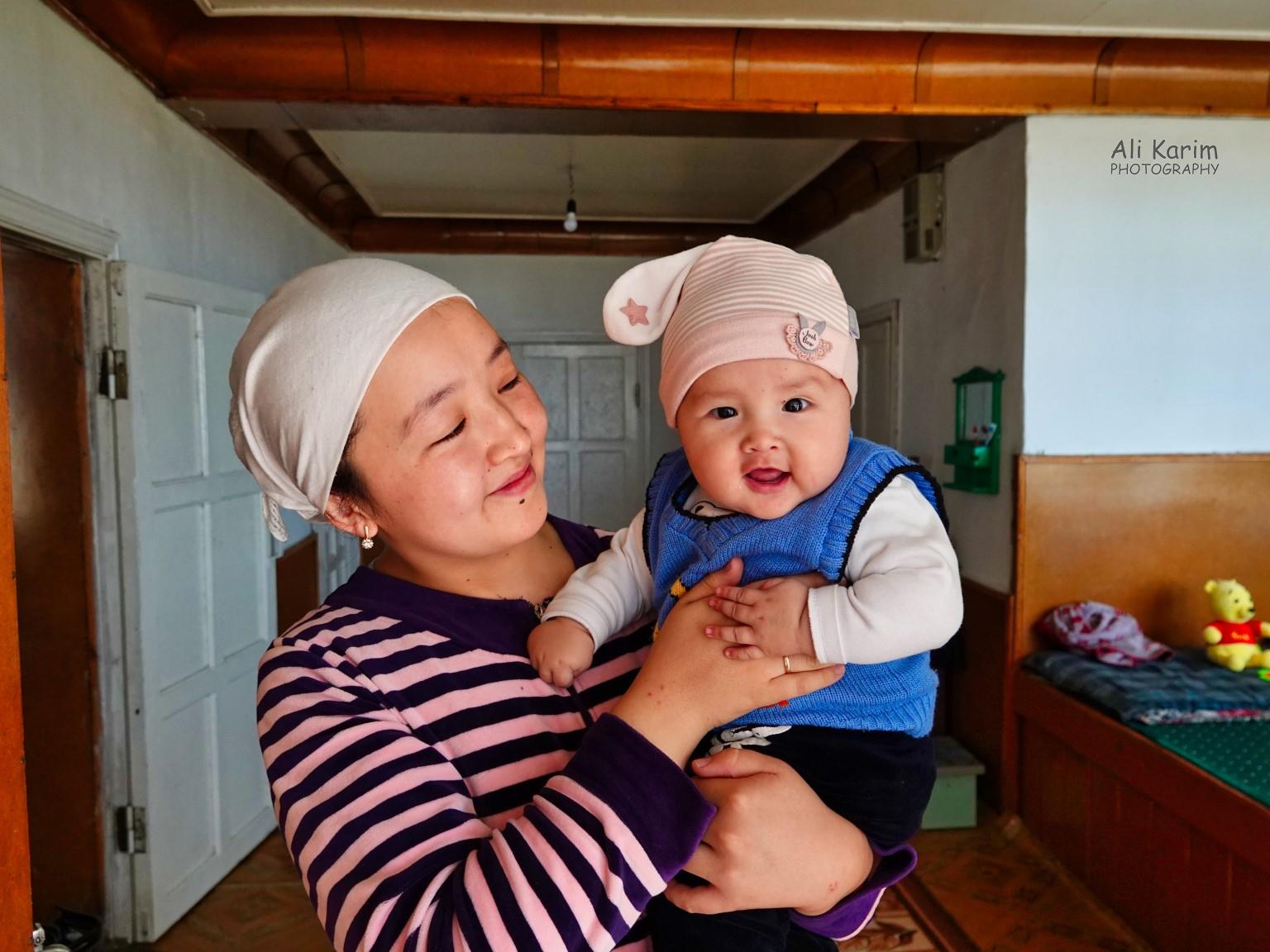 Aitolkun's mother had laid out a lavish breakfast for us, complete with Sher chai 🙂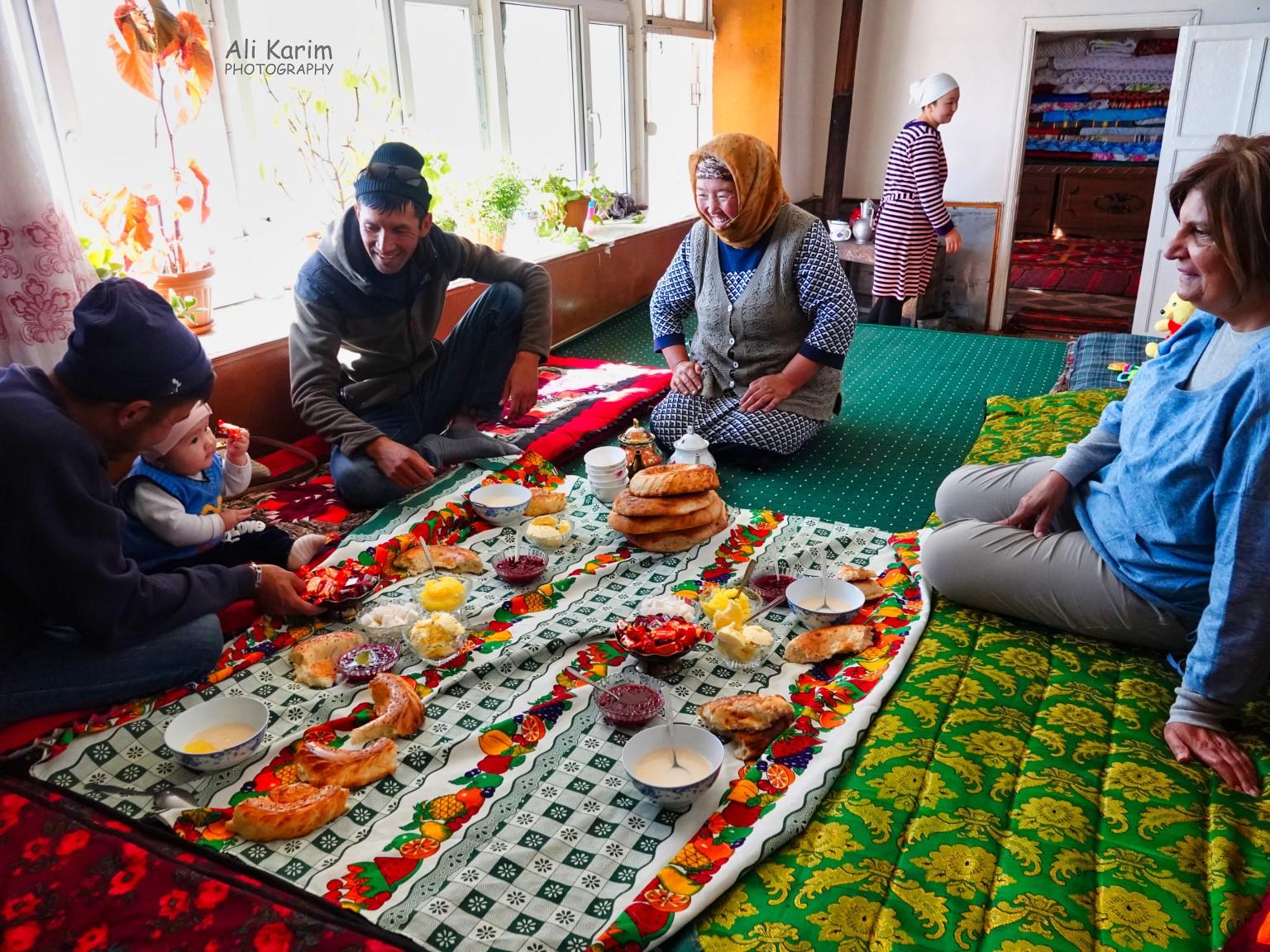 After this second breakfast and spending some time with Aitolkun (who spoke good English), we said our goodbyes, and left to go back to Sary Tosh, from where we would head into Tajikistan. We drove almost all the way back to Sary Tosh, and just before the town, we turned right, and headed south towards Tajikistan.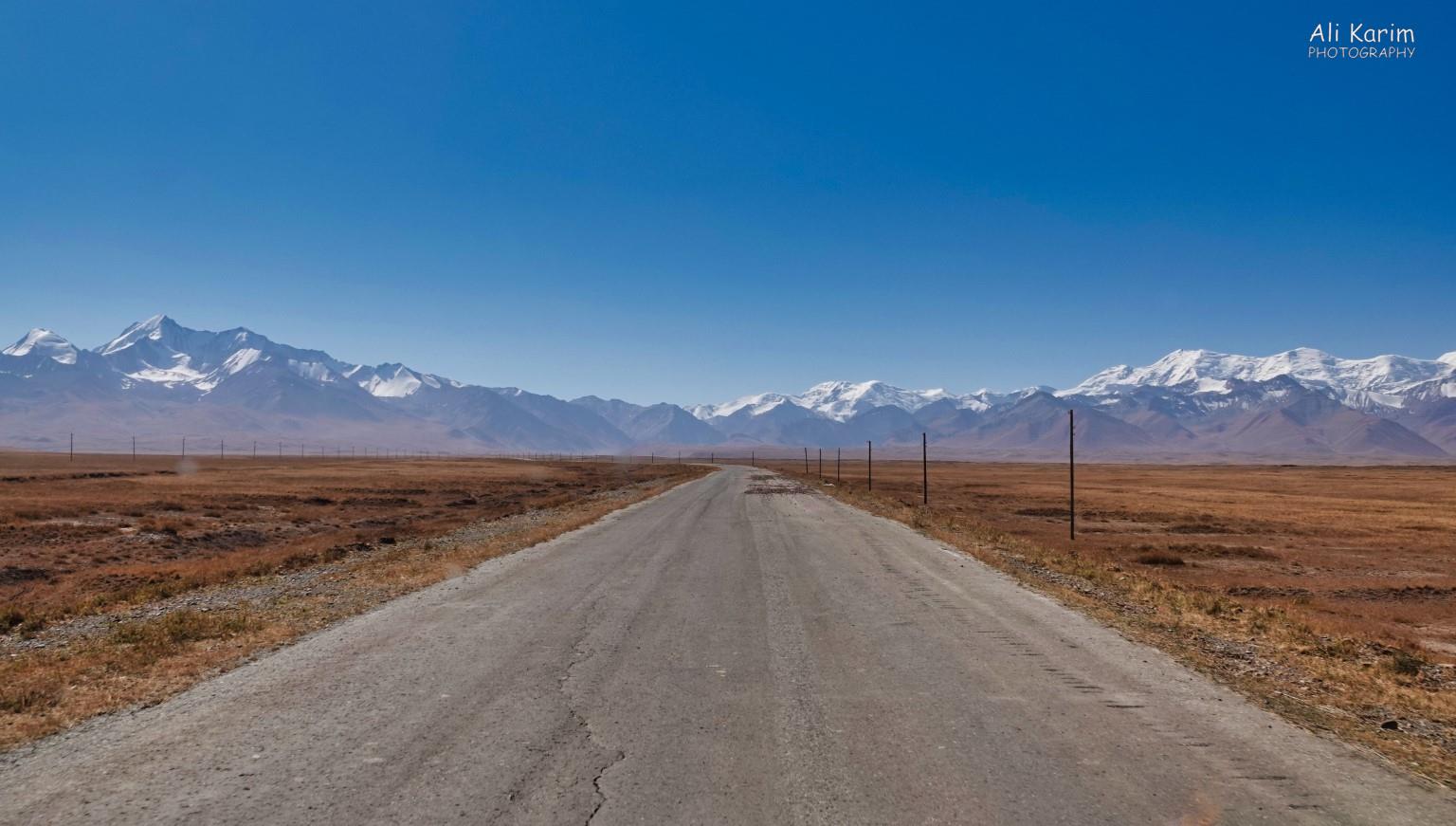 We soon arrived at the Kyrgyzstan border post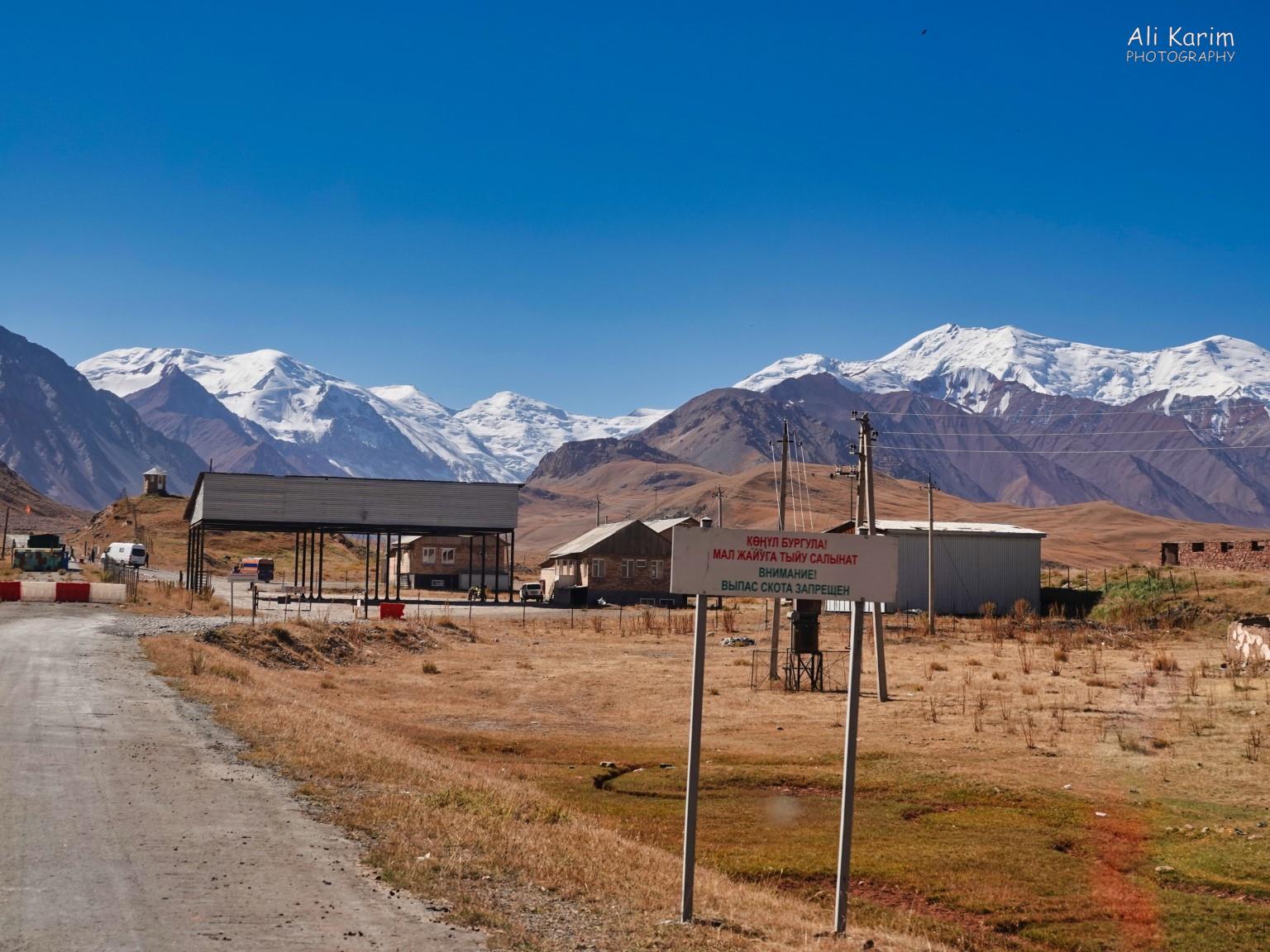 Ahmedali and Sherali went inside the border post, and took care of all formalities and we were soon on our way. Turns out, there is a 25km distance from here to the Tajikistan border post; effectively creating a no-man's land buffer zone between Kyrgyzstan and Tajikistan. Since we had been at this high altitude, we had not seen any trees, as we were above the tree line. And the vegetation was mostly scrub. Some images below, in this no-man's land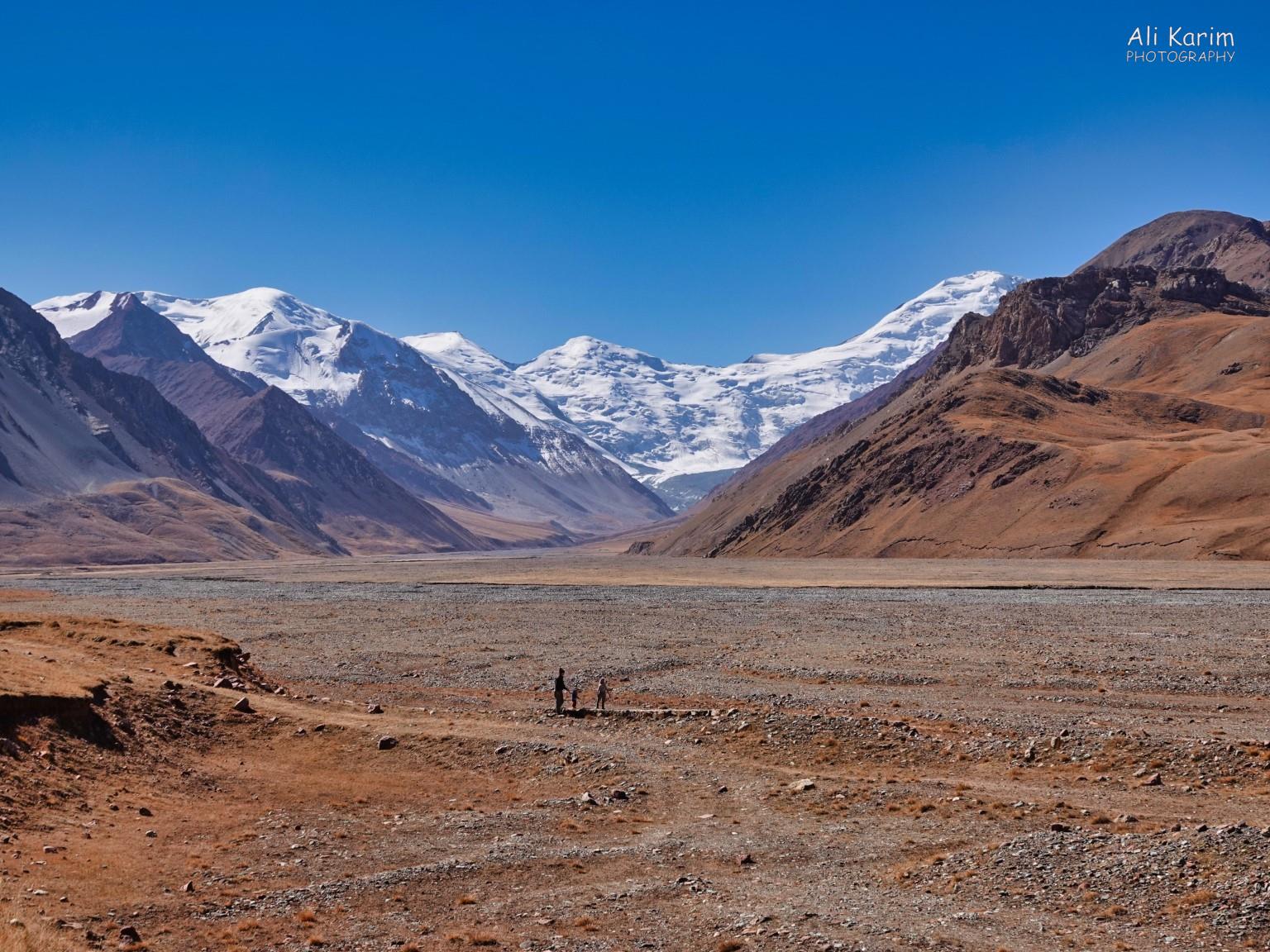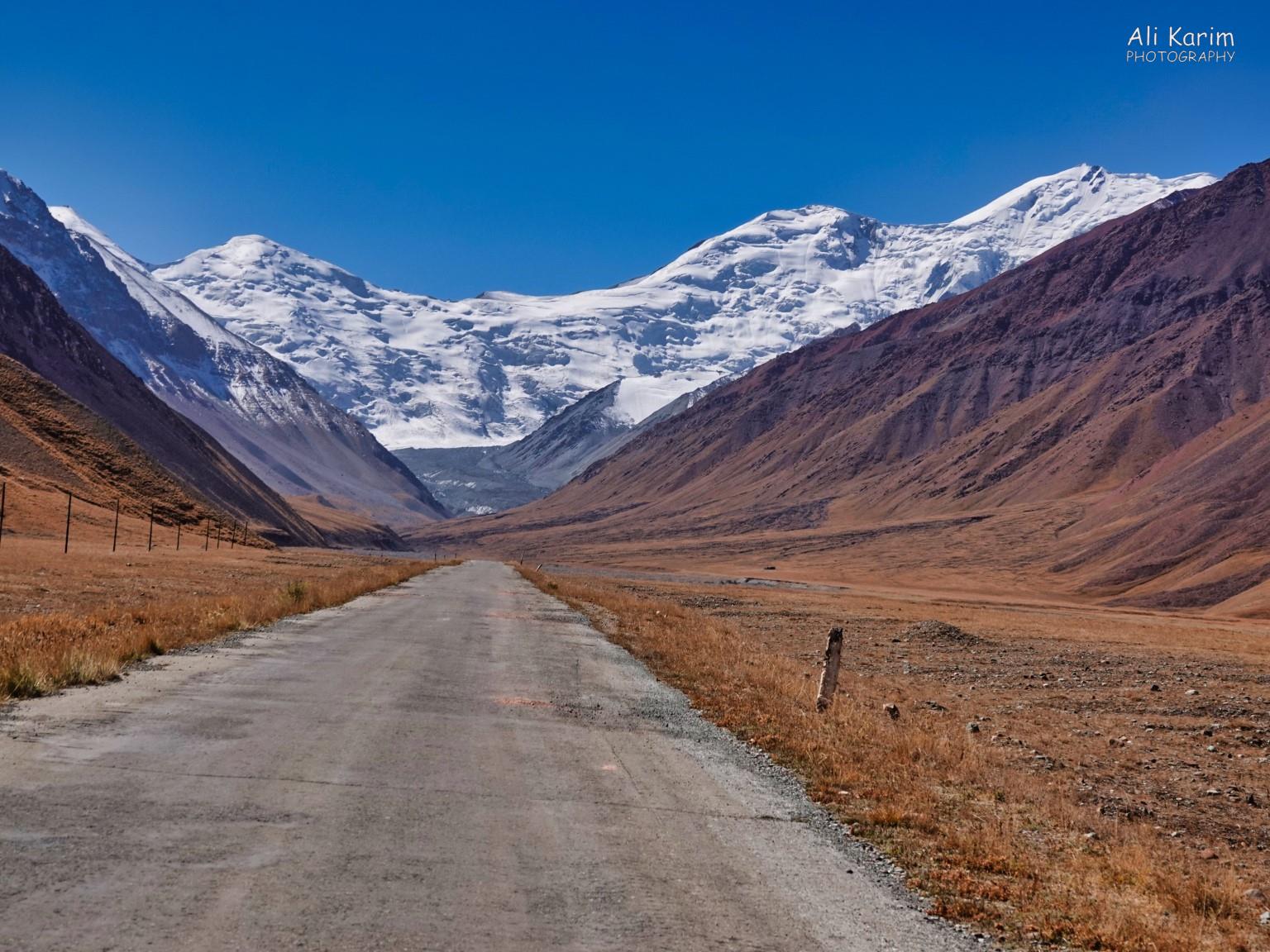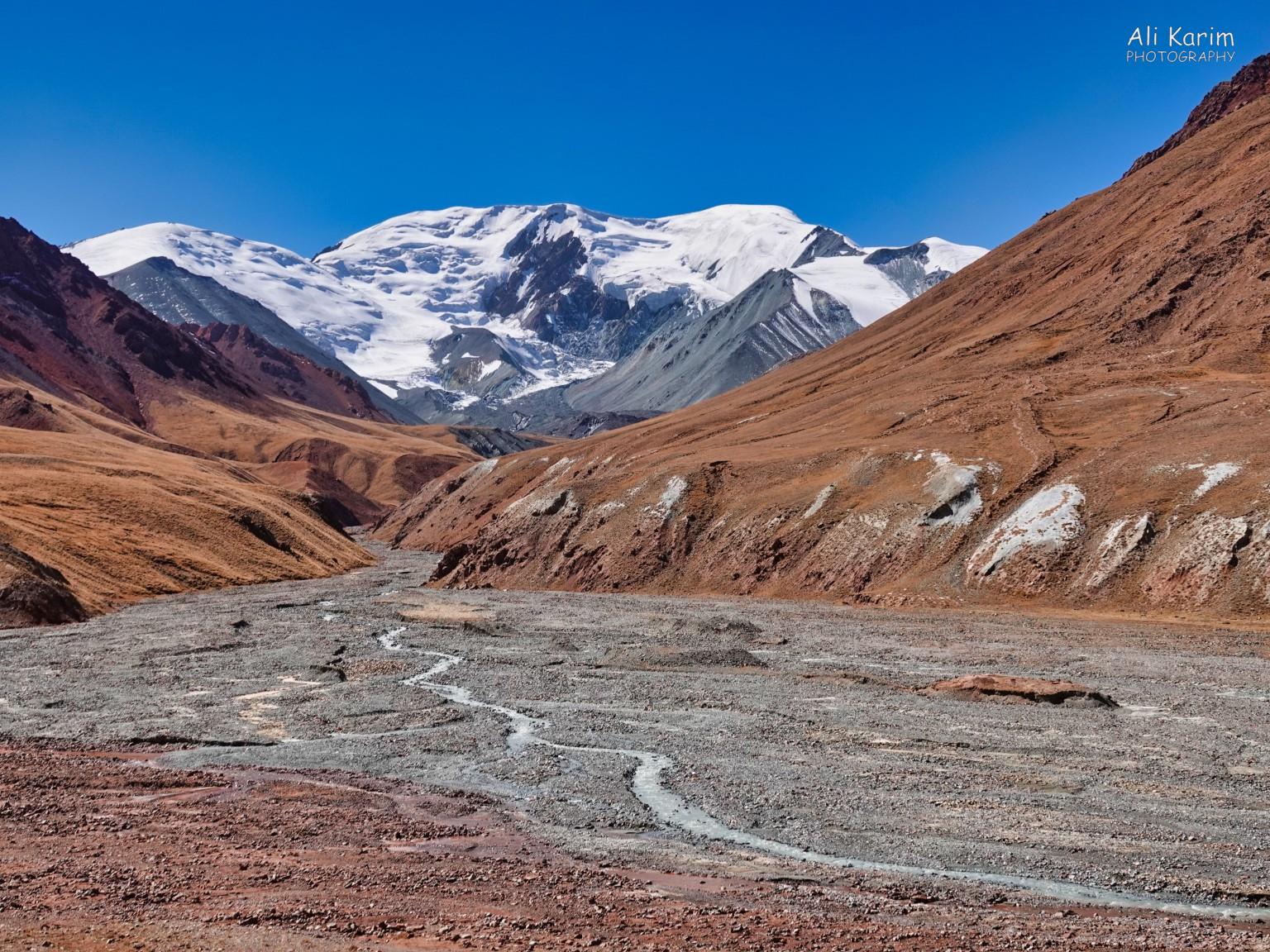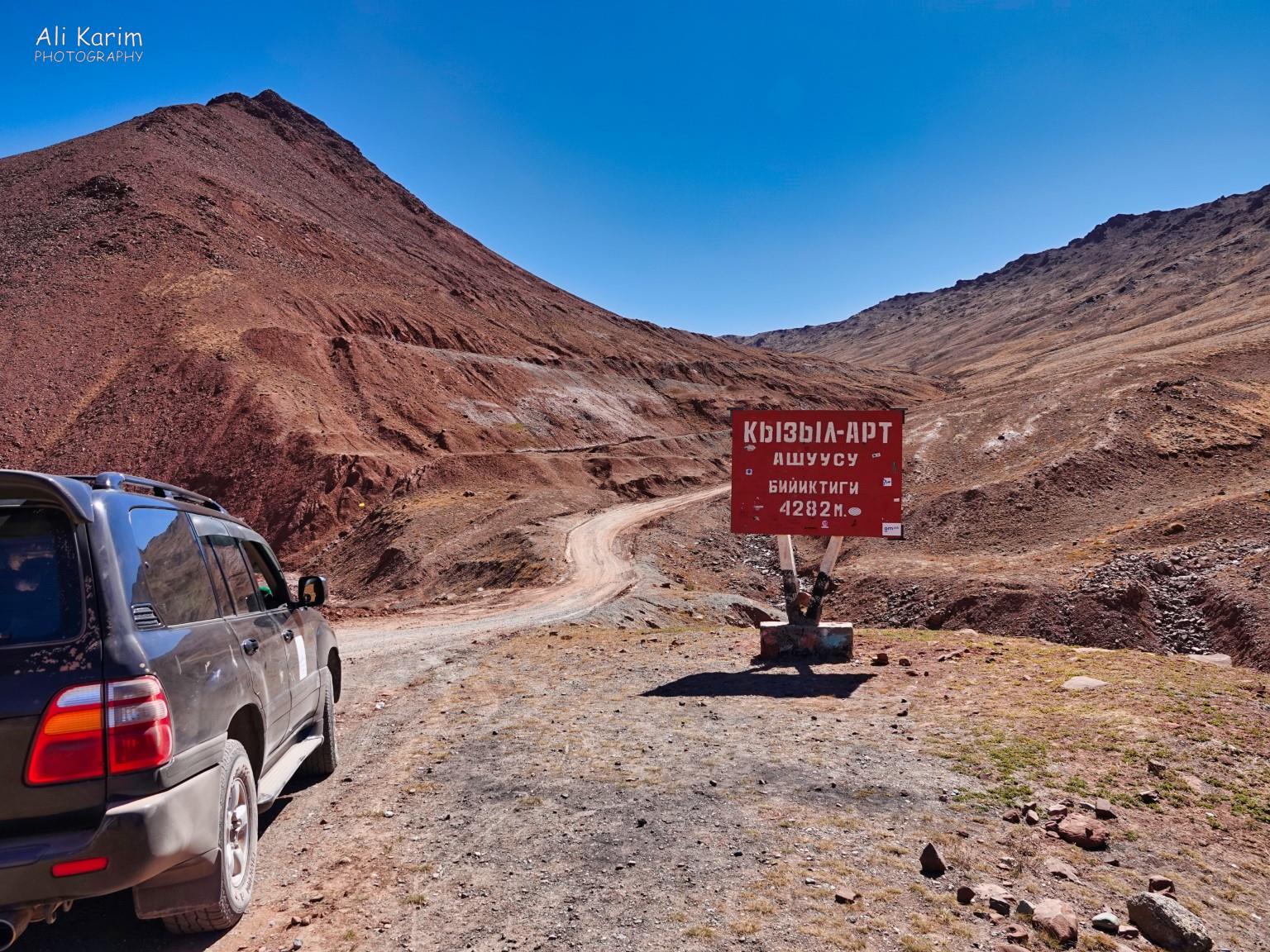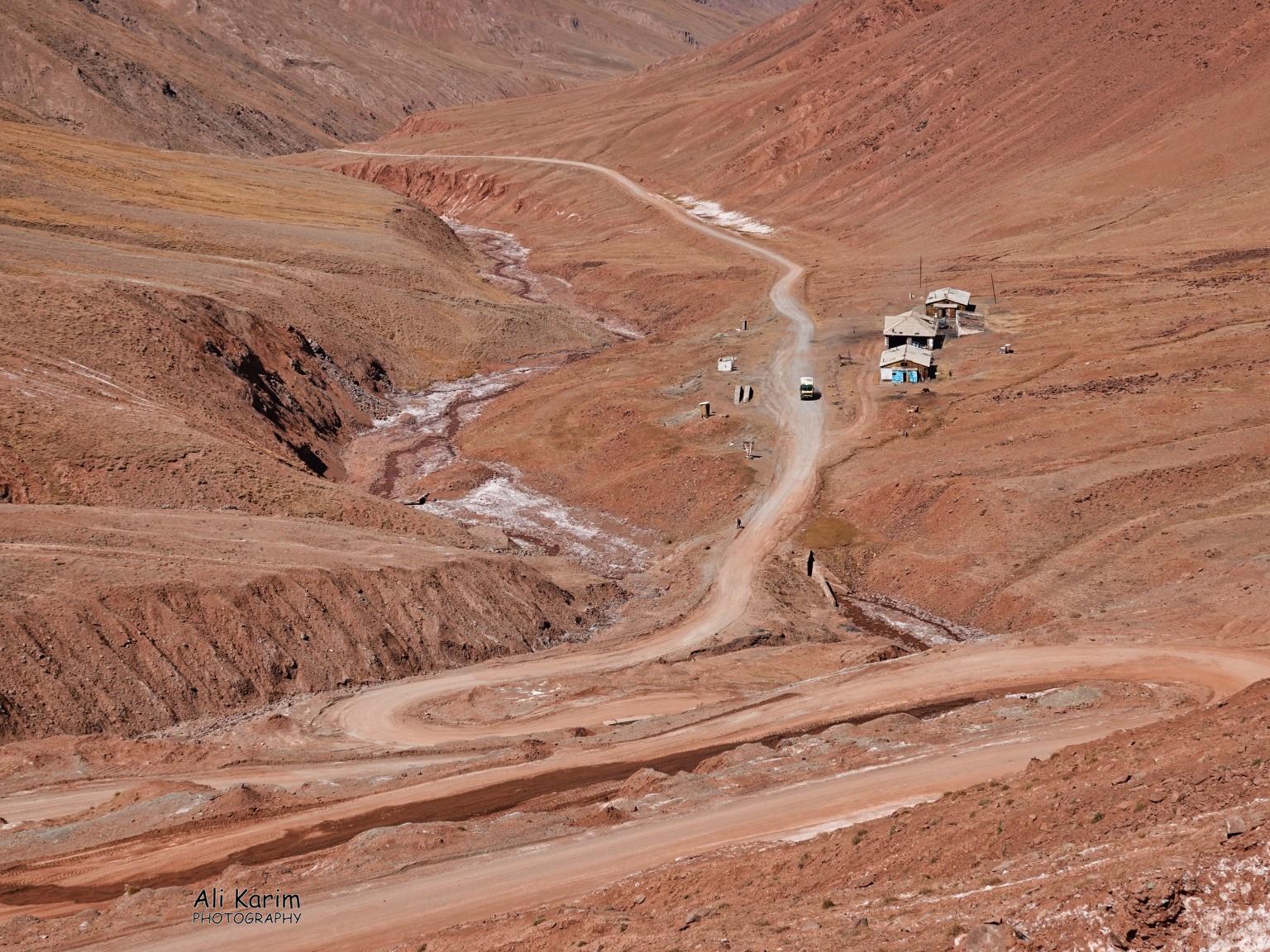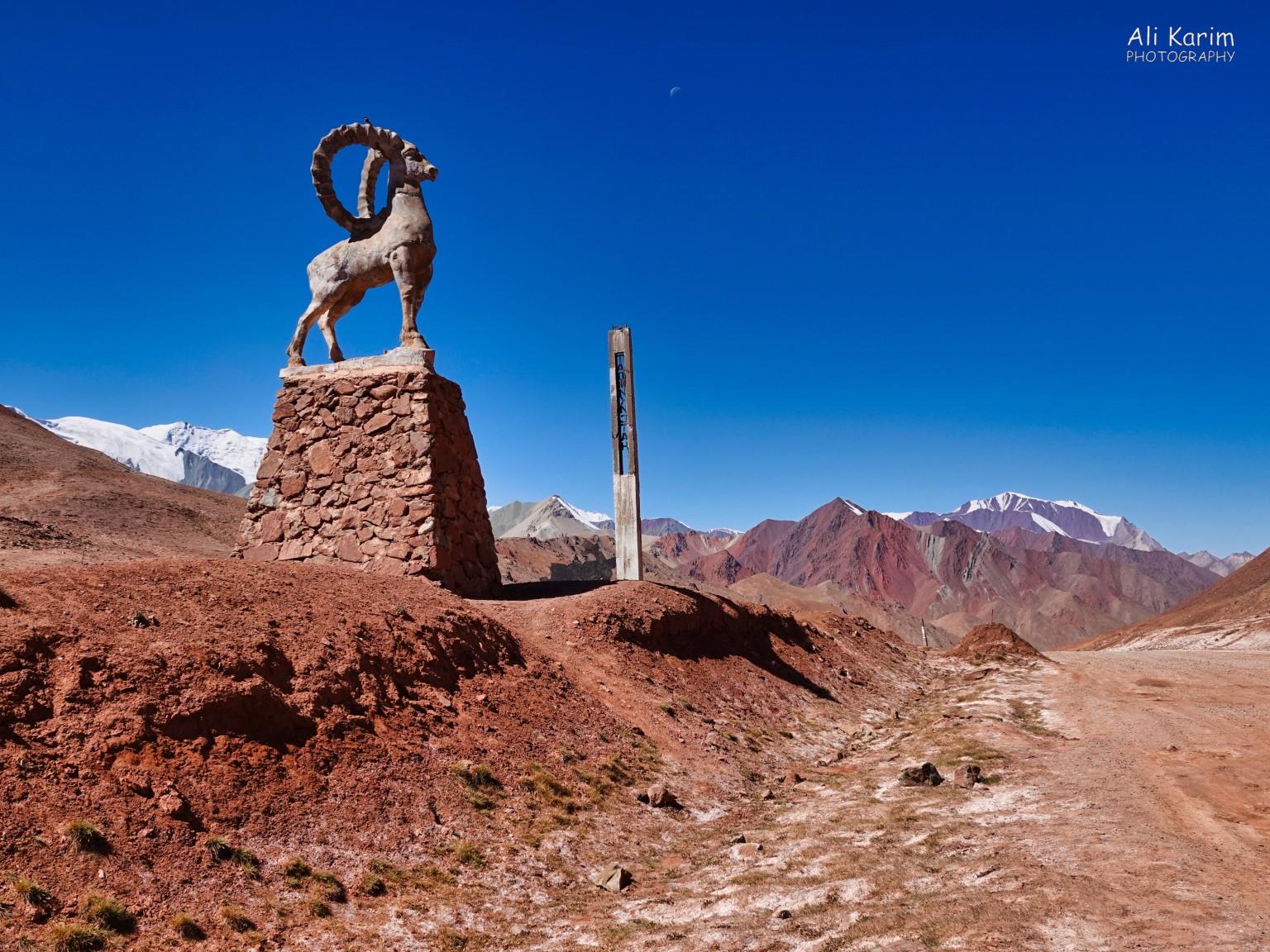 Views of Kyrgyzstan and Tajikistan at Kyzl Art

This Kyzl Art (Red Pass) was at 14,048ft, which was still 1,300ft ft below the Khunjerab Pass between China and Pakistan at 15,397 feet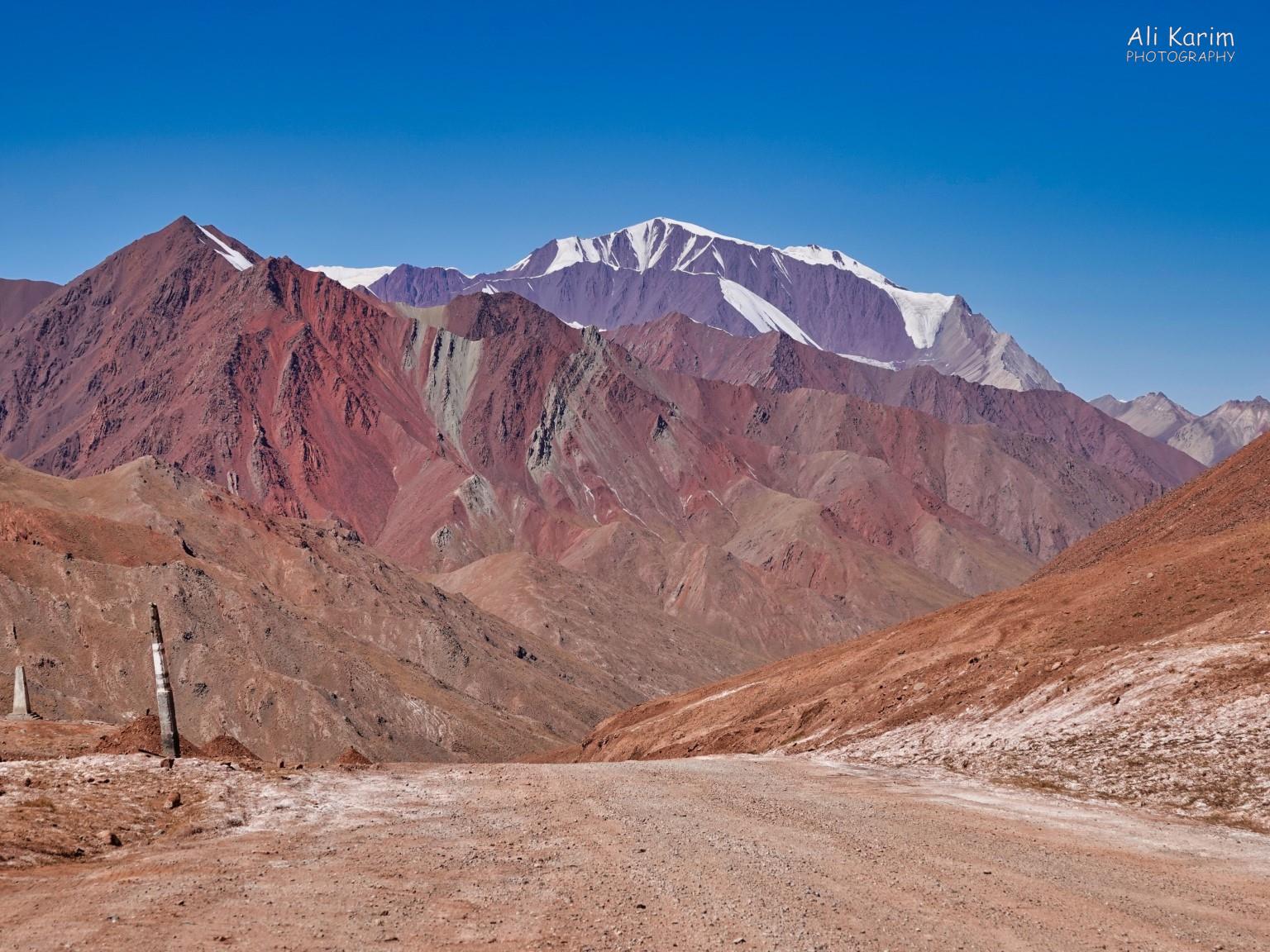 About a mile after this pass, we reached the Tajik border post, where Ahmedali took care of the formalities (immigration and customs (currency, food, weapons, alcohol/tobacco, flora/fauna)). We had gotten our visa's for Tajikistan for $25 each online beforehand, with an additional $50 each for entering the Gorno-Badakhshan Autonomous Region (GBAO) of Tajikistan; which we were in now. At the very last customs stop before the final gate, a guard called out and asked where we had got the hat (the topi that Alifbek had gifted me in Osh, that I had left visible on our vehicle dashboard). I told him it was from the Ismaili Khalifa in Osh, and the guard, who turned out to be an Ismaili, had recognized the distinctive Pamiri hat, and welcomed us to Tajikistan 🙂 . Nice start to Tajikistan.
A little bit about Tajikistan. The territory that now constitutes Tajikistan was previously home to several ancient cultures, starting with the Neolithic and the Bronze Age, and was later home to kingdoms ruled by numerous empires and dynasties, including the Achaemenid Empire, Alexander the Great, Sasanian Empire, Hephthalite Empire, Tibetan empire, Chinese Empire, Samanid Empire, Mongol Empire, Timurid dynasty, the Khanate of Bukhara, the Russian Empire, and subsequently the Soviet Union. Within the Soviet Union, the country's modern borders were drawn when it was part of Uzbekistan as an autonomous republic before becoming a full-fledged Soviet republic in 1929.
History
After the collapse of the Soviet Union in 1991, Tajikistan became an independent Republic; and almost immediately, collapsed into a 5yr civil war between multiple factions over economic hardships, and communal rivalries/differences. When the
civil war
broke out in 1992, the local government in Gorno-Badakhshan declared independence from the Republic of Tajikistan. During the civil war, many Pamiris were targeted for killing by rival groups and Gorno-Badakhshan became a bastion for the opposition. Later the Gorno-Badakhshan government backed down from its calls for independence and remained an autonomous region (GBAO), as it does today, within Tajikistan.
In 2011, Tajikistan ratified a 1999 deal to cede 1,000 sq km (390 sq mi) of land in the Pamir Mountains to China, ending a 130-year dispute, and the relinquishing of China's claims to over 28,000 sq km (11,000 sq mi) of Tajikistan territory. In 2012, the region saw a series of clashes between the Tajik military and militants loyal to former warlord Tolib Ayombekov after the latter was accused of murdering a Tajik general, and of drug trading. So a tumultuous history in GBAO.
The population of Tajikistan is just under 10M and 98% are Muslims, mostly Sunni Muslims. The GBAO region covers all the eastern part of Tajikistan, and borders the Xinjiang Uyghur Autonomous Region of China in the east, the Badakhshan Province of Afghanistan in the south, and Osh Region of Kyrgyzstan in the north. The region is mostly mountainous, the Pamir mountains which are known as the roof of the world, and three of the five 7,000 meter summits in formerly Soviet Central Asia are located here, including Ismoil Somoni Peak (formerly Communism Peak, and, before that, Stalin Peak; 7,495 m), Ibn Sina Peak (formerly Lenin Peak, and still known by that name on its Kyrgyz flank; 7,134 m), on the border with Kyrgyzstan, and Peak Korzhenevskaya (7,105 m). GBAO makes up 45% of the land mass of Tajikistan, but has only 3% (or roughly 300,000) of its population living here; they are mostly Pamiris, as the Ismaili's are known here; though there is a decent size Kyrgyz population, especially closer to the Kyrgyz border that we had just crossed.
Three major routes of the Silk Roads ran through present day Tajikistan. These ancient routes were mentioned in contemporary Persian, Greek, Chinese and Arabic sources which highlighted Tajik contributions to the commerce and culture of the time, especially between the 5th and 12th centuries. The first route was the Sogdian, or North route between Samarkand (UZ) and Kashgar (CN); the second one was Karategin route between Termez (UZ) and Kashgar (CN) and the third one was Pamir route linking Balkh (Afghanistan) and Tashkurgan (CN).
We were now in GBAO Tajikistan, and the altitude was about 4,200m (or 13,800ft) consistently. The region was arid, almost completely devoid of vegetation; a high altitude desert, as this area was consistently above the tree line. The word "Pomir" is supposed to mean "the roof of the world" though some claim it means "feet of the sun". Some images below of the Pamirs in Tajikistan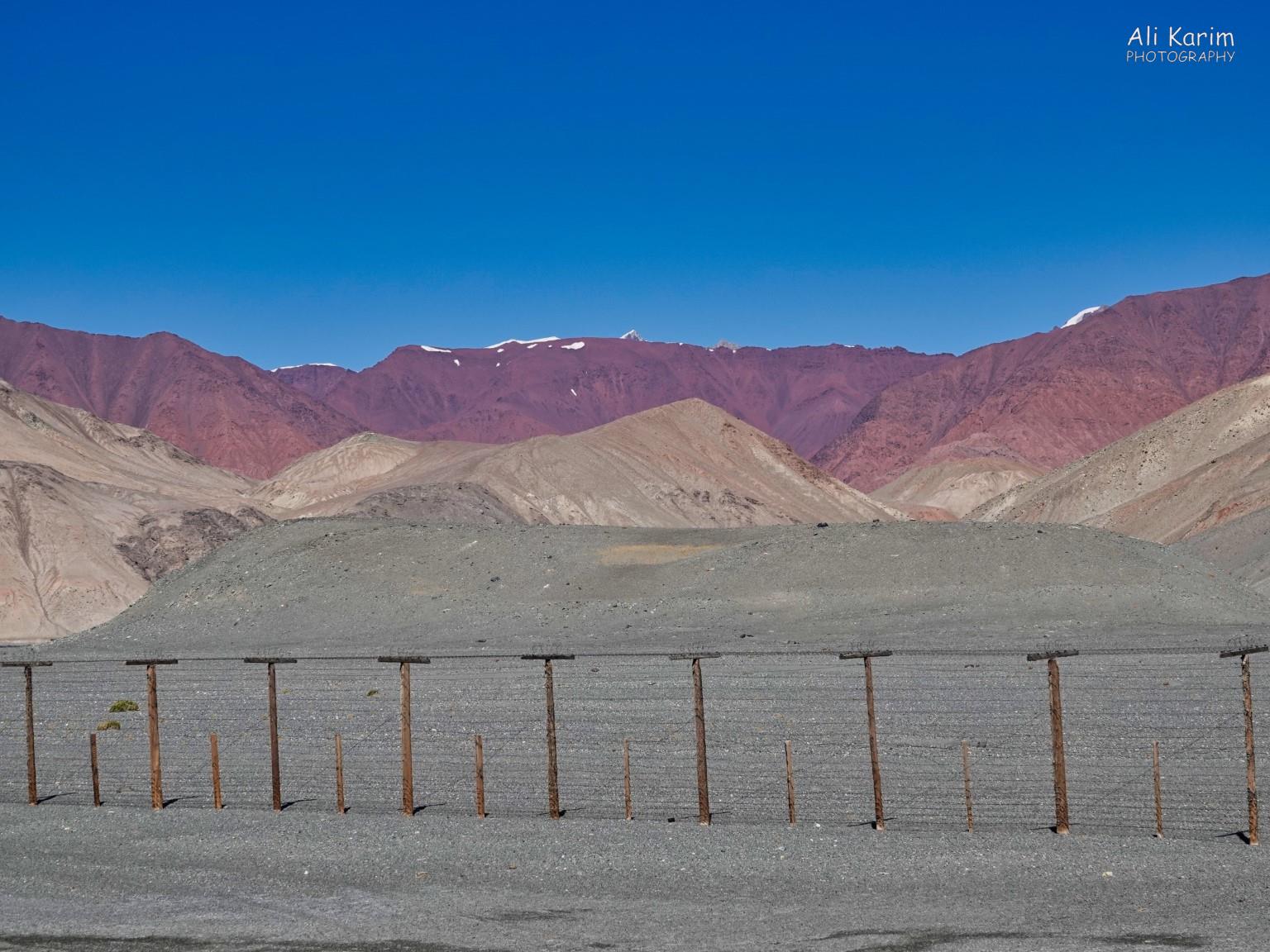 Views of the landscape on the Pamir mountains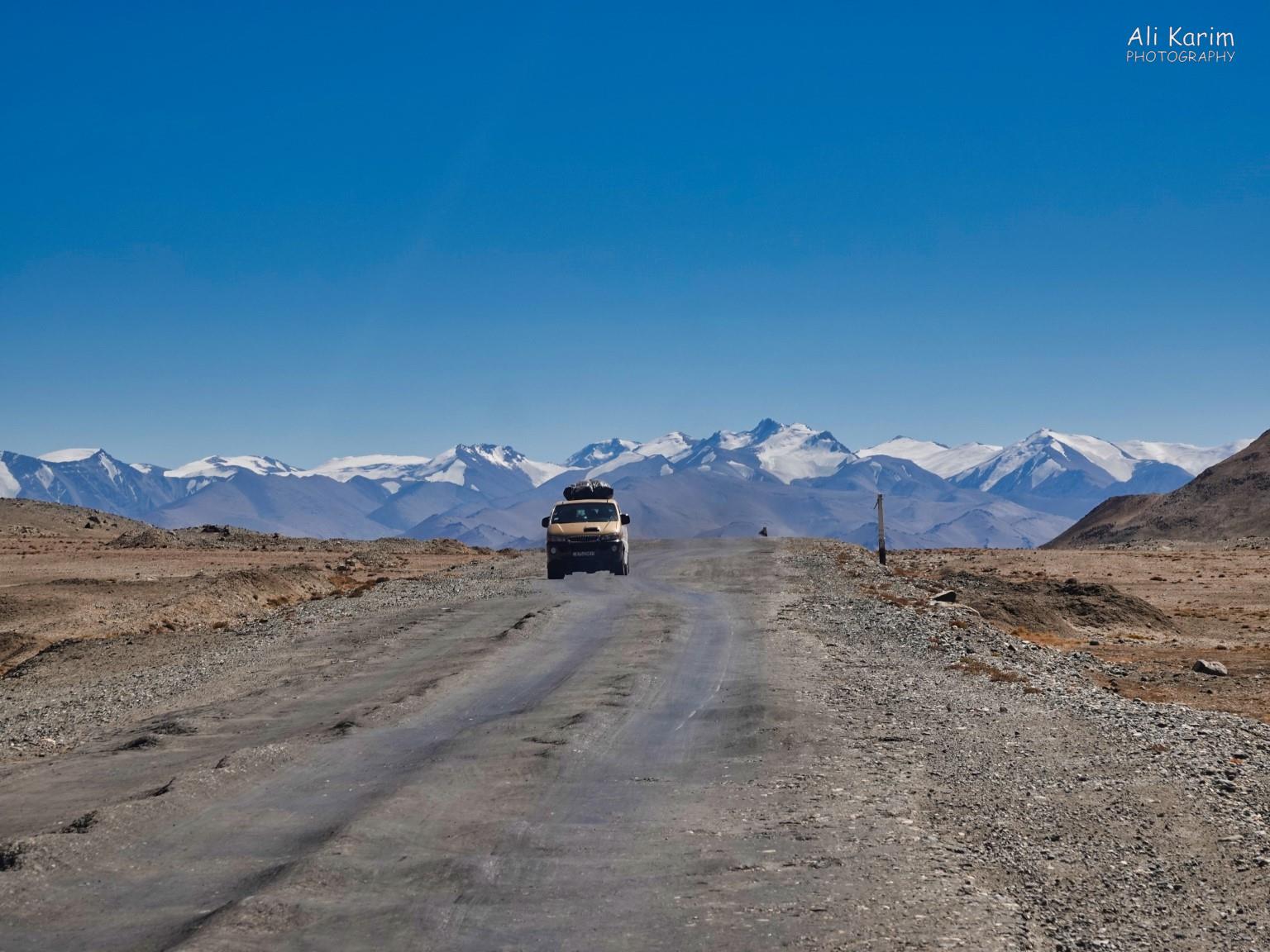 We soon arrived at Karakul (Kyrgyz for Black Lake) Lake, not to be confused with the Karakul Lake in Xinjiang, China, both are high altitude basin lakes, meaning they are in a basin, and have no outlet. They get filled from snow melt, and evaporation leaves behind salt and mineral deposits; the lakes getting saltier each year.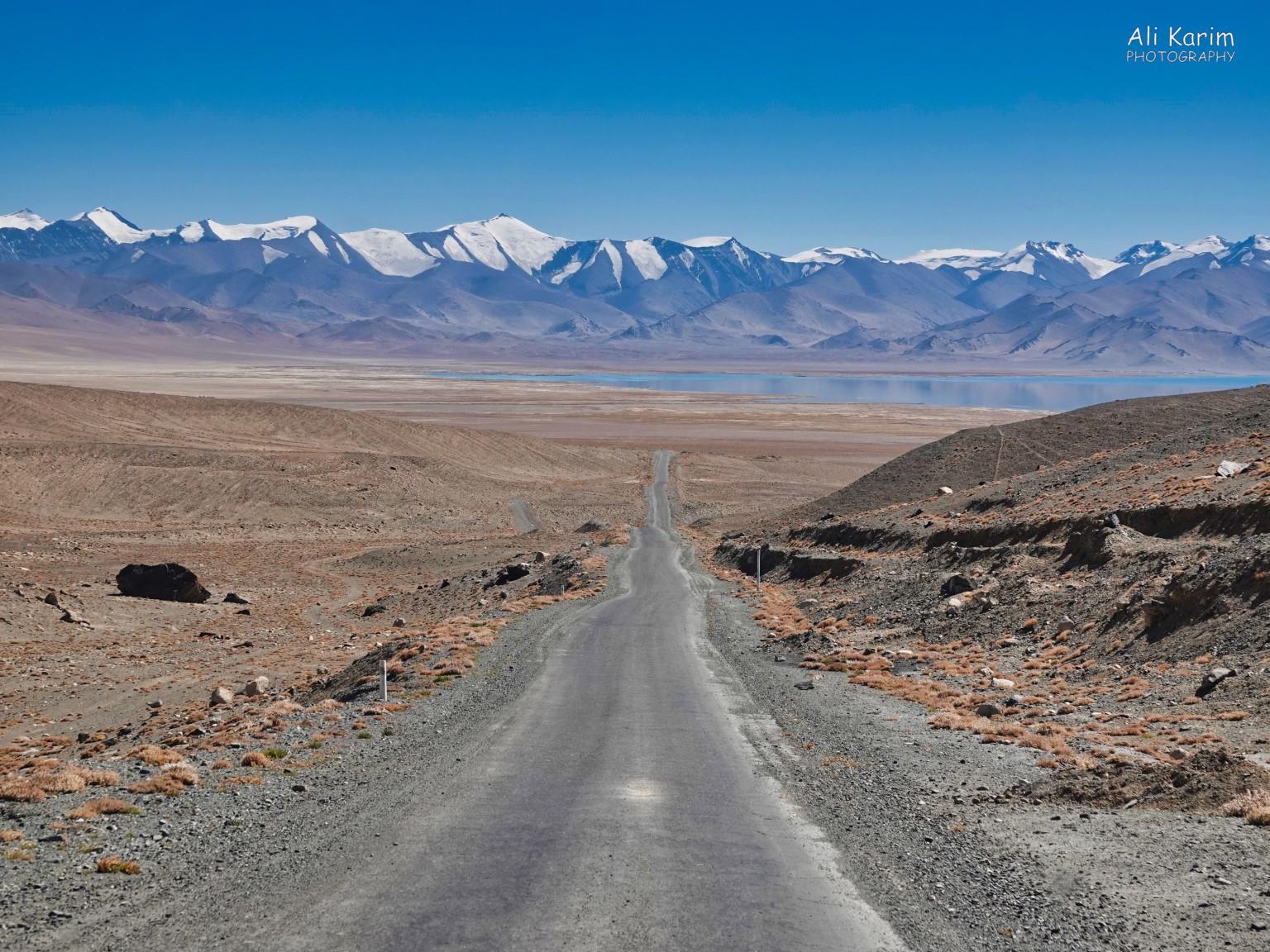 Views of Karakul Lake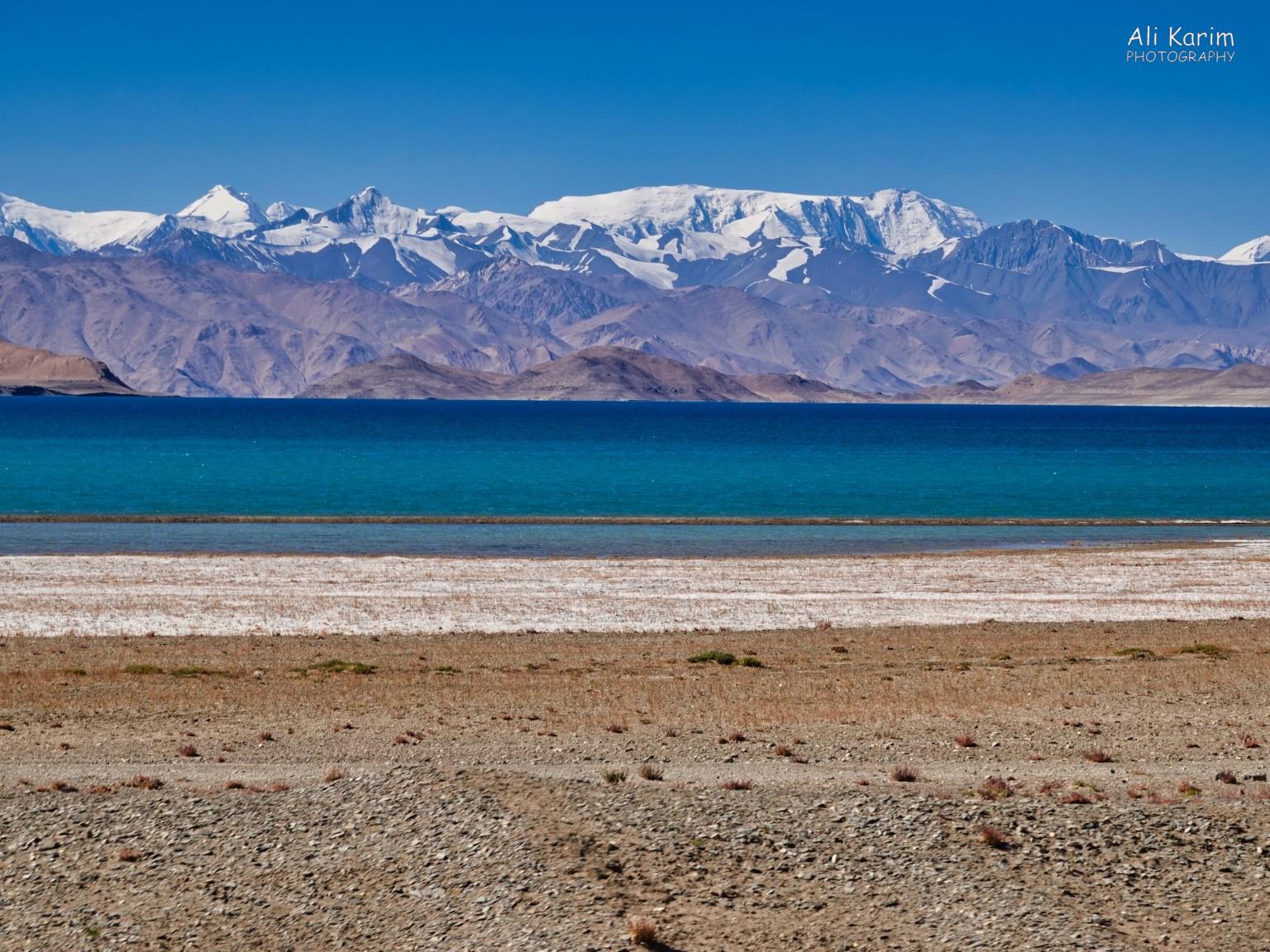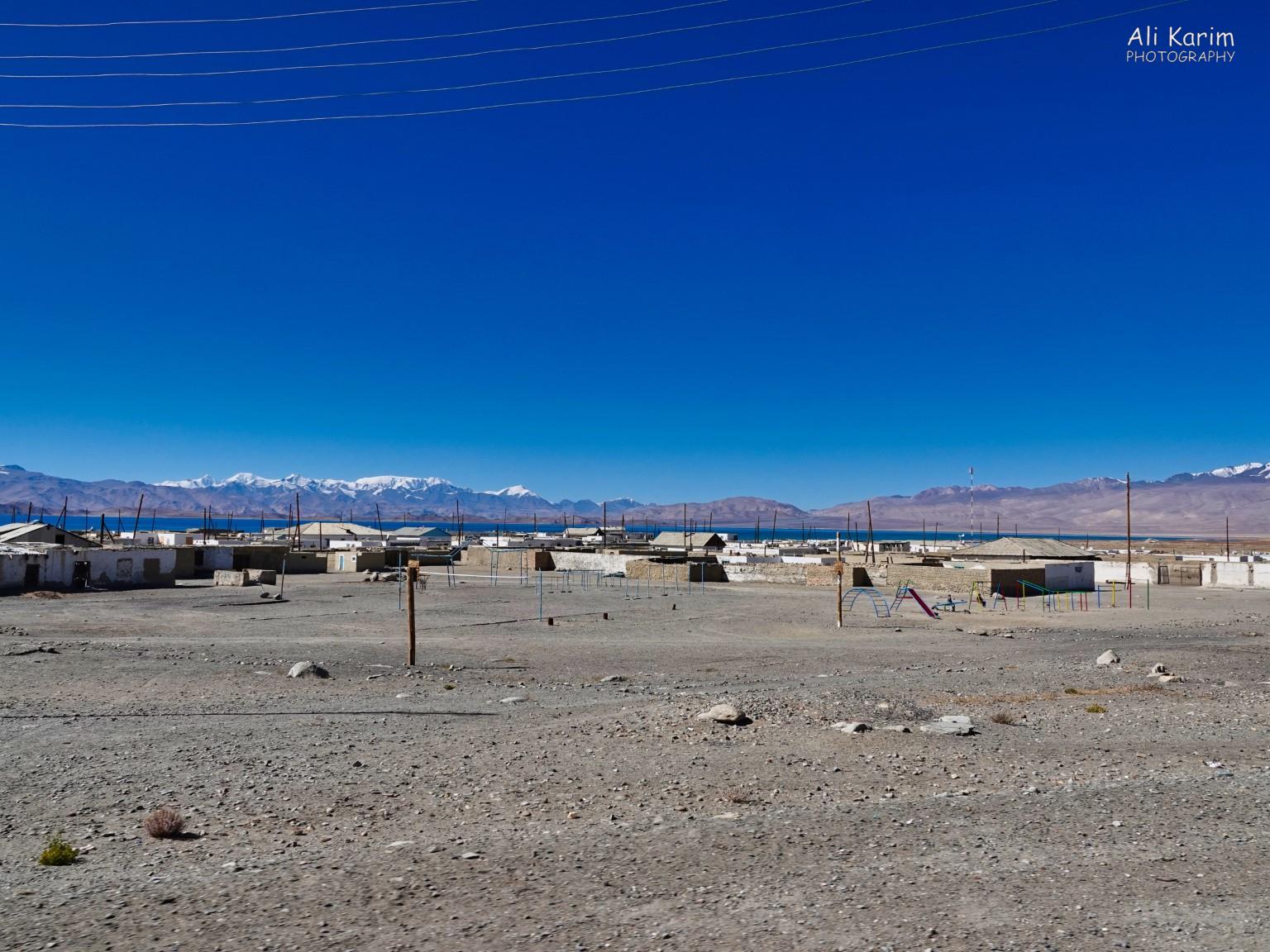 We soon arrived at the small town of Karakul, which was a collection of small houses on the edge of the lake; not sure what the sustenance of the village was, as the lake has little life, and the land is a high altitude highland desert. The wooden poles once used to carry electricity and telephones wires to the community, built in the Soviet days, but now unused and in a state of disrepair. We stopped here for lunch at a home stay.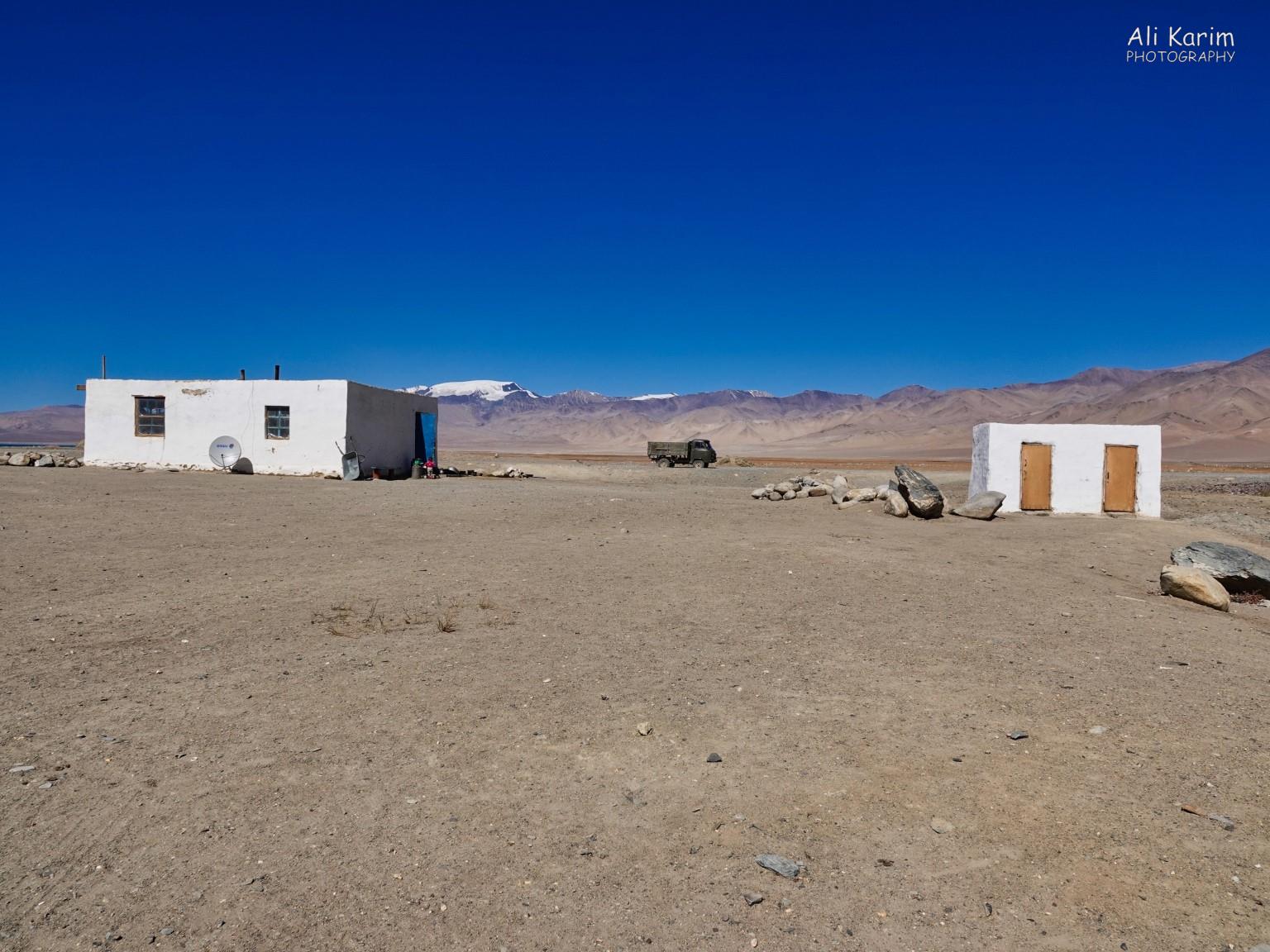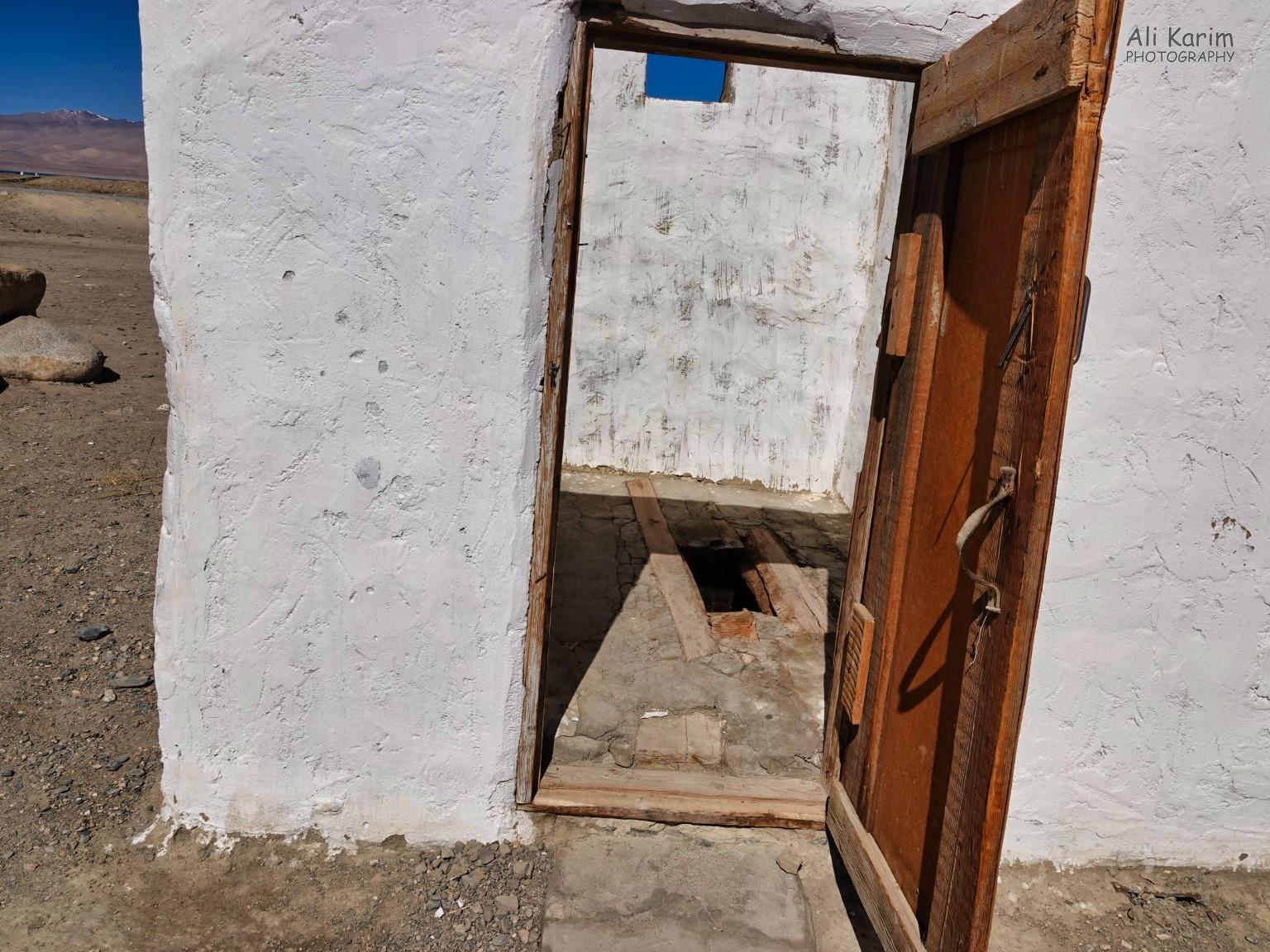 Since there were no trees here and the electricity supply was no longer working, I asked what they used for heating/cooking fuel.
Information
Since there are no trees scrub is used for cooking
I was shown this kind of scrub below, which I later researched to be Teresken. Unfortunately, this scrub takes a long time to mature, and with the lack of electricity and trees, this scrub is being "harvested" to the extent that it is becoming scarcer and scarcer over time. Most unfortunate.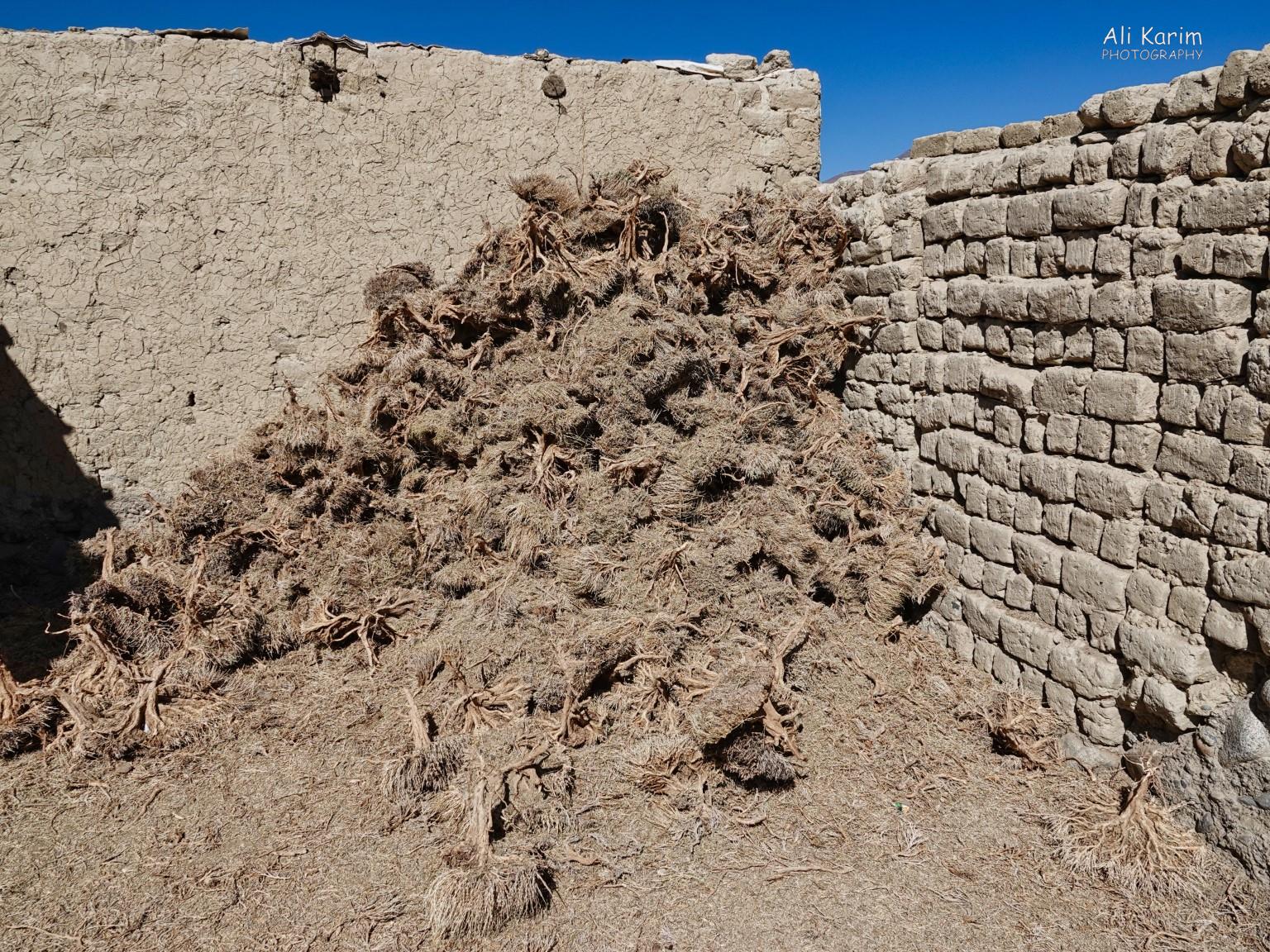 After lunch, we said our goodbye's and left Karakul and started driving towards Murghab, our first overnight in Tajikistan. Some scenes along the way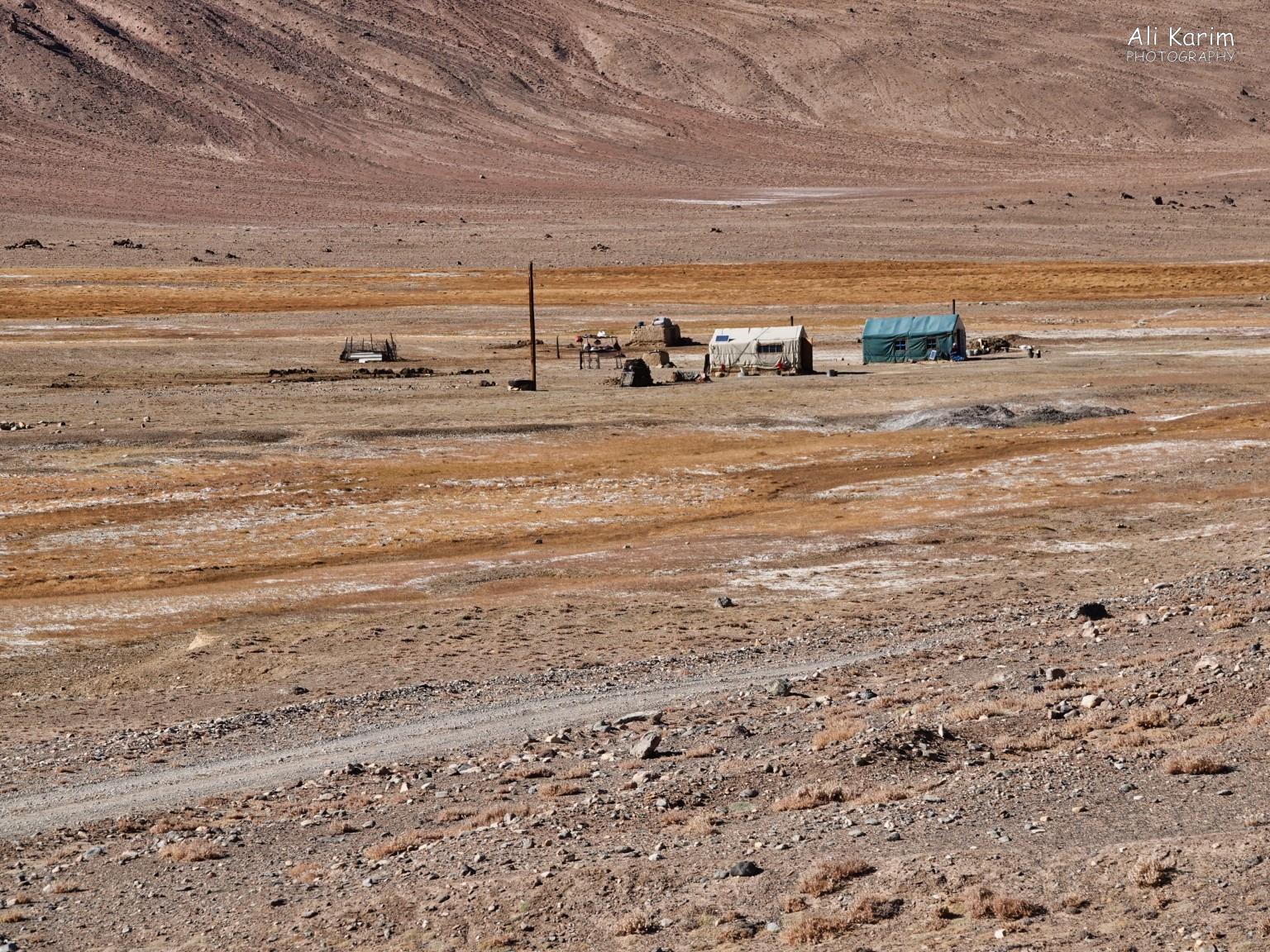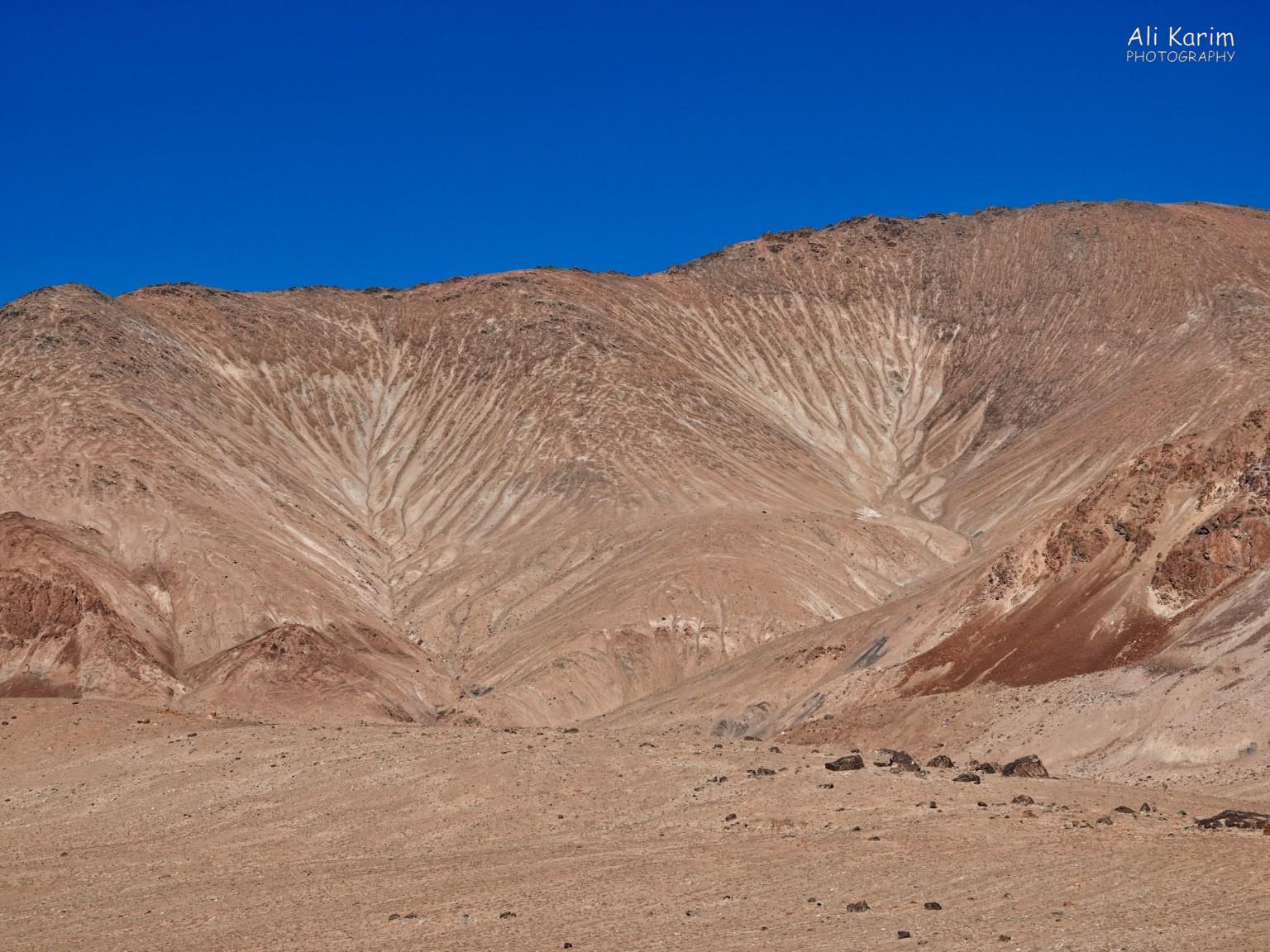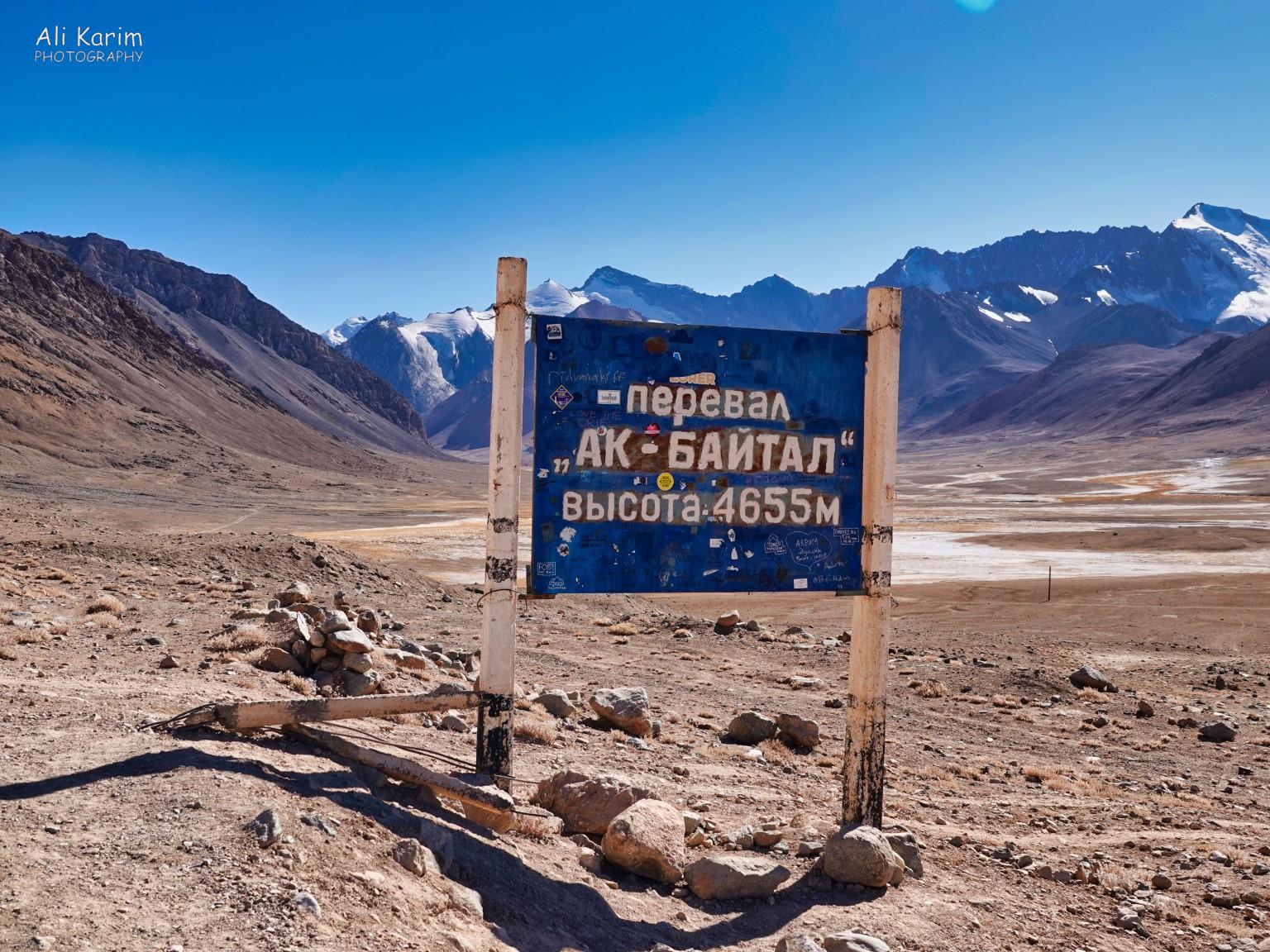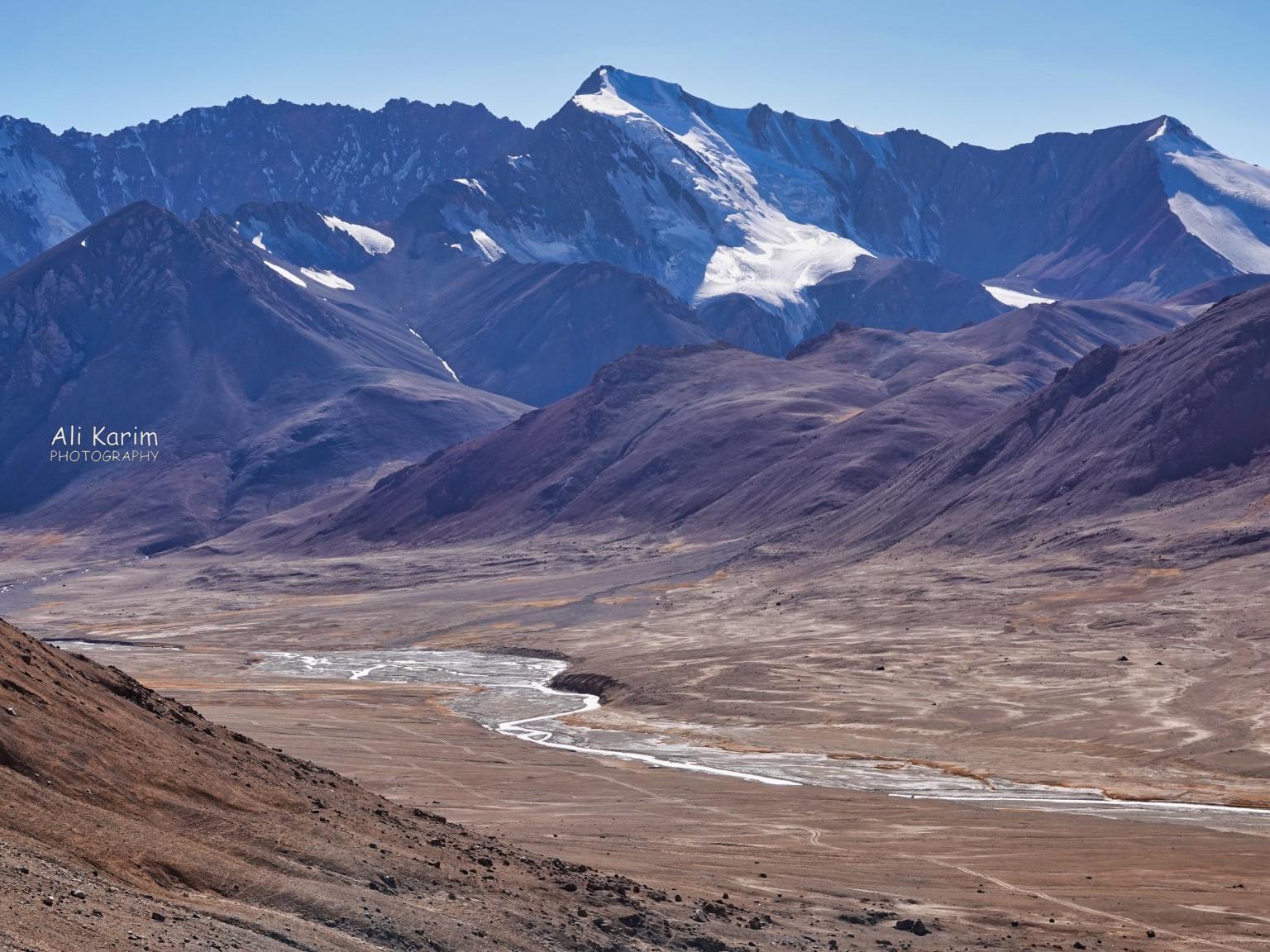 View at Akbaital (white horse) Pass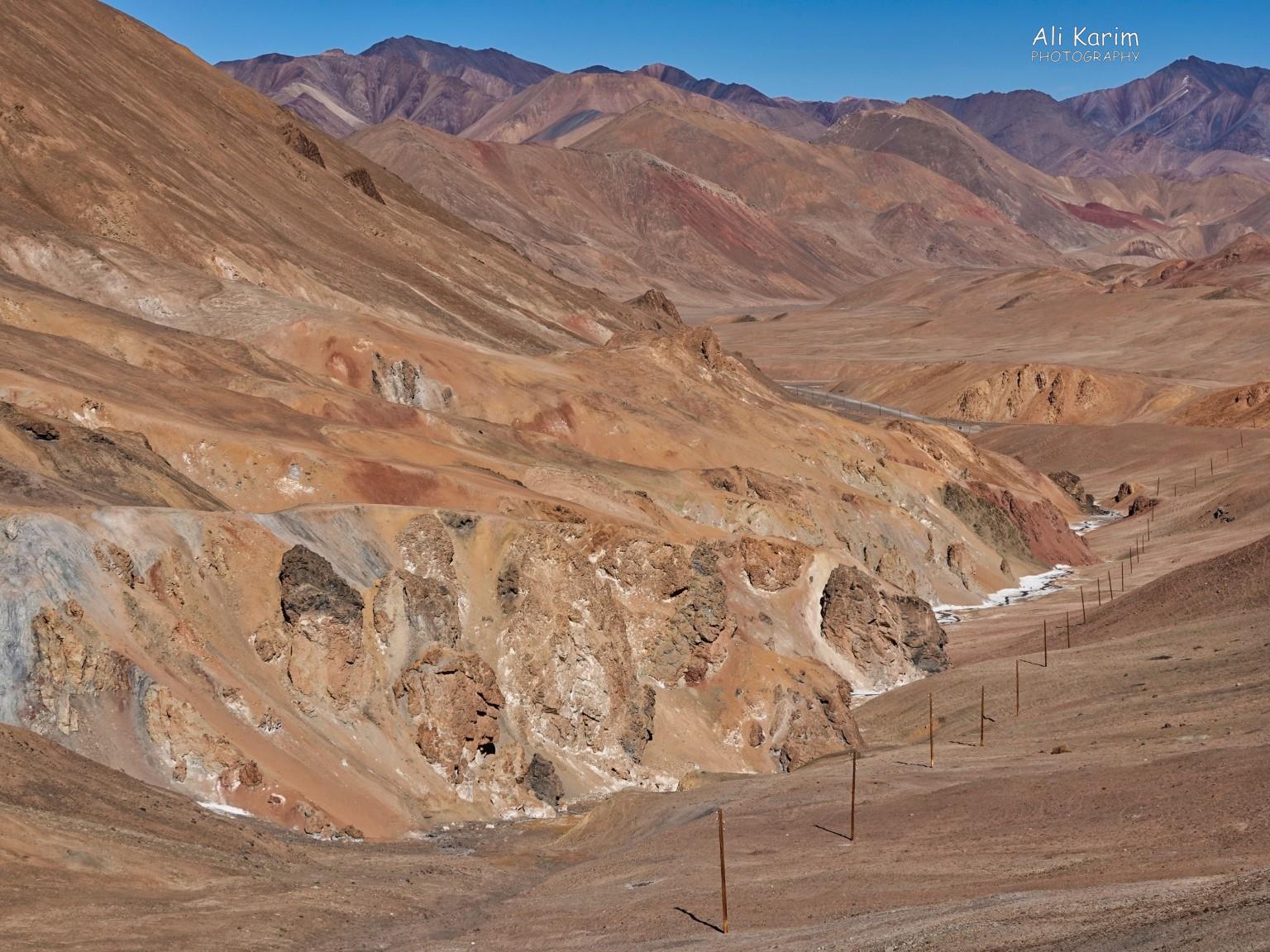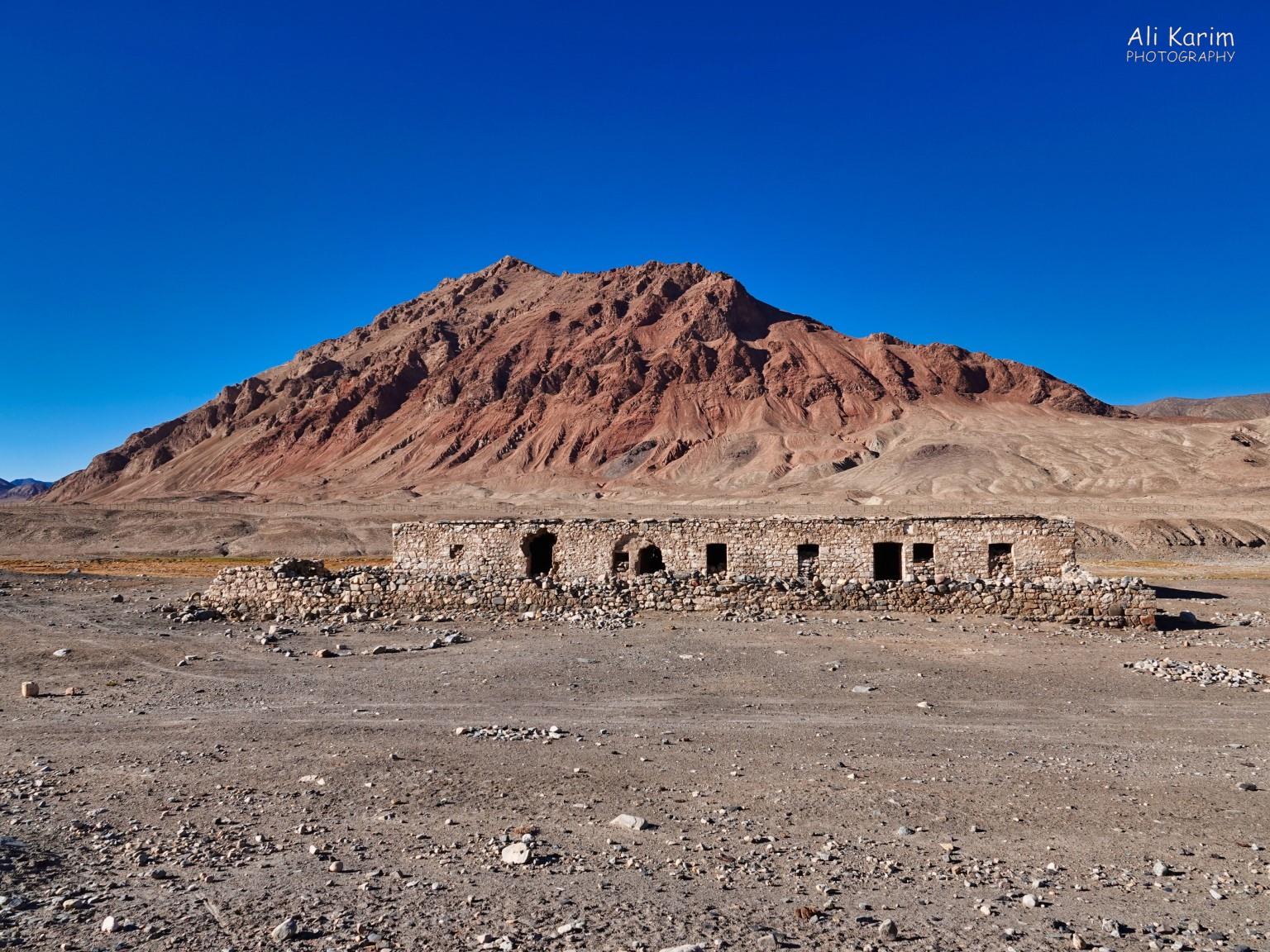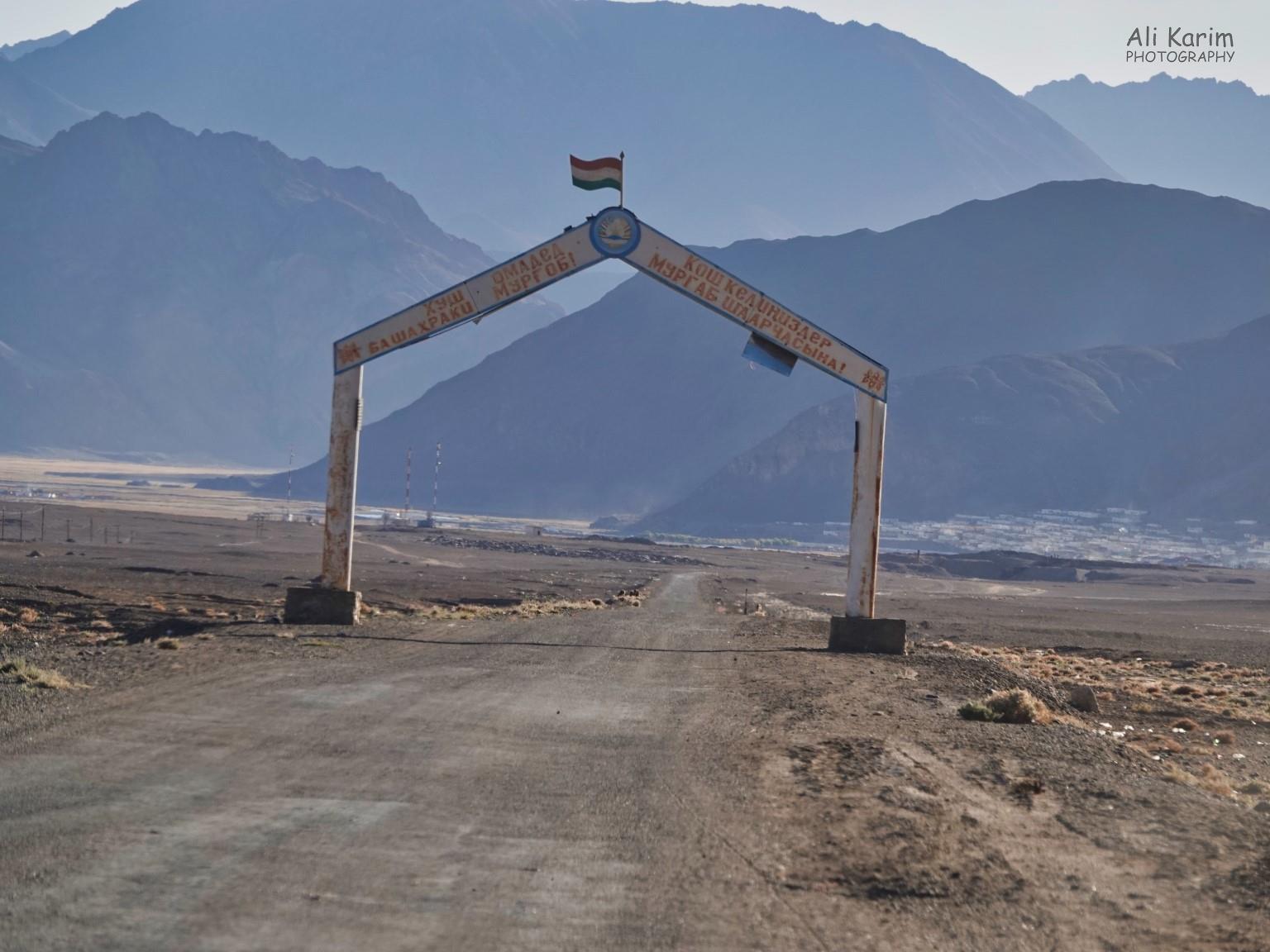 We soon arrived at Murghab, from the Persian word margh-ab meaning "prairie river". Murghab is the capital of Murghob District in the Pamir Mountains of Gorno-Badakhshan Autonomous Region, Tajikistan. With a population of 4,000, Murghab is about the only significant town in the eastern half of Gorno-Badakhshan Pamir mountains. It is the highest town in Tajikistan at 3,650m or approx. 12,000ft. elevation. The population is 85% Kyrgyz (due to closeness to Kyrgyzstan) and 15% Pamiri (Ismaili's). We drove to the family's guest house (Erali's family) where Sherali, Ahmedali and the parents live. Ahmadali and Sherali were all glad to be home with their families 🙂 . Accommodations were basic but decent, and they did have the luxury of an indoor western flush toilet, and hot showers 🙂 ; oh how we take these things for granted in the western world 🙂
Our trip so far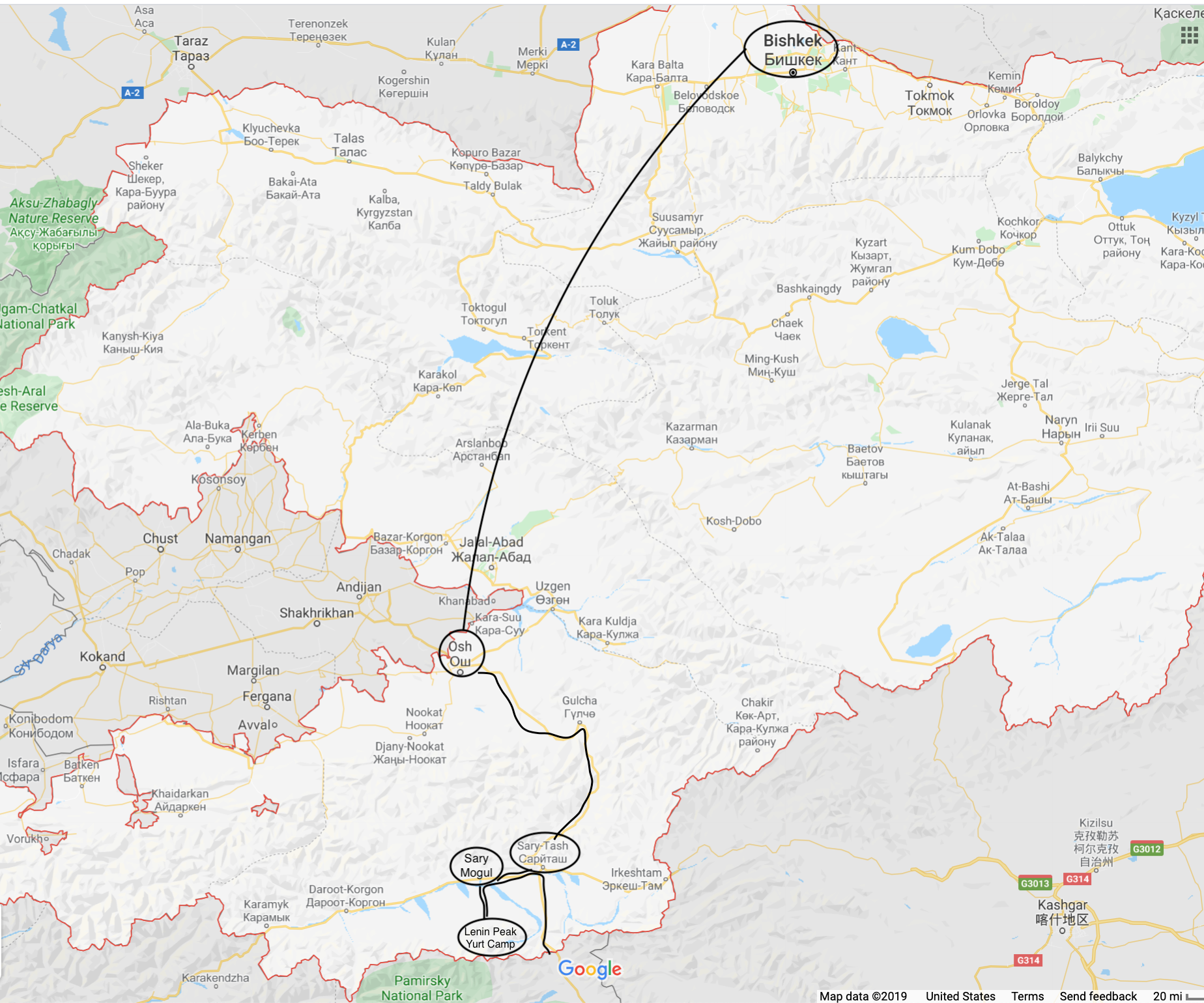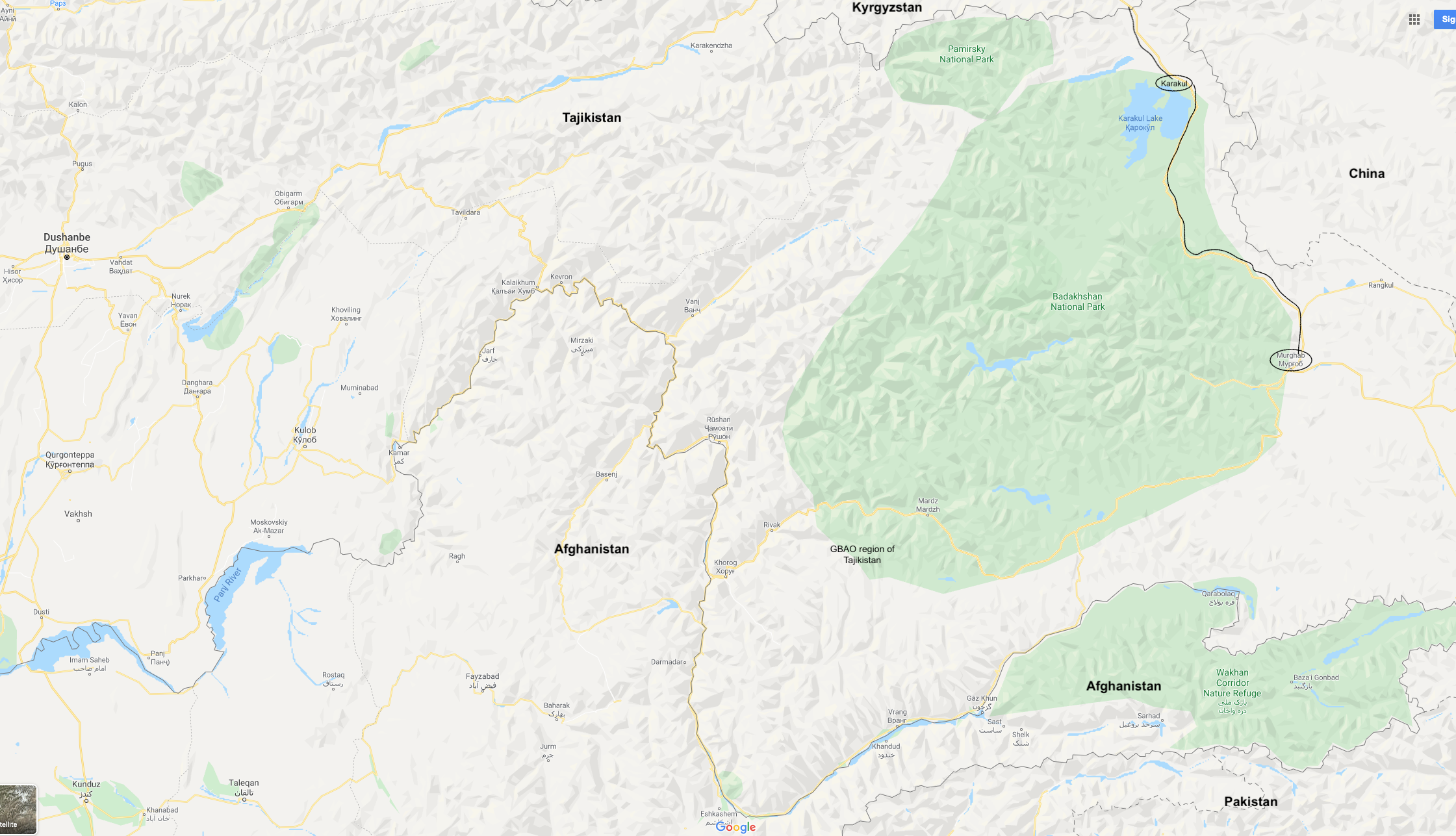 Next, more on Murghab, and then onto Alichur and beyond.
This entry was posted in
Asia
,
Silk Road Tajikistan Sept-Oct 2019
,
Tajikistan