We left Pushkar the morning the Camel Fair was wrapping up, and drove towards Bikaner, Rajasthan. The roads were reasonably decent even if they were not major roads, till we reached Nagaur, where we stopped for a short break for some famous Kesar Chai (Saffron milk tea) at a famous local roadside tea and snack shop.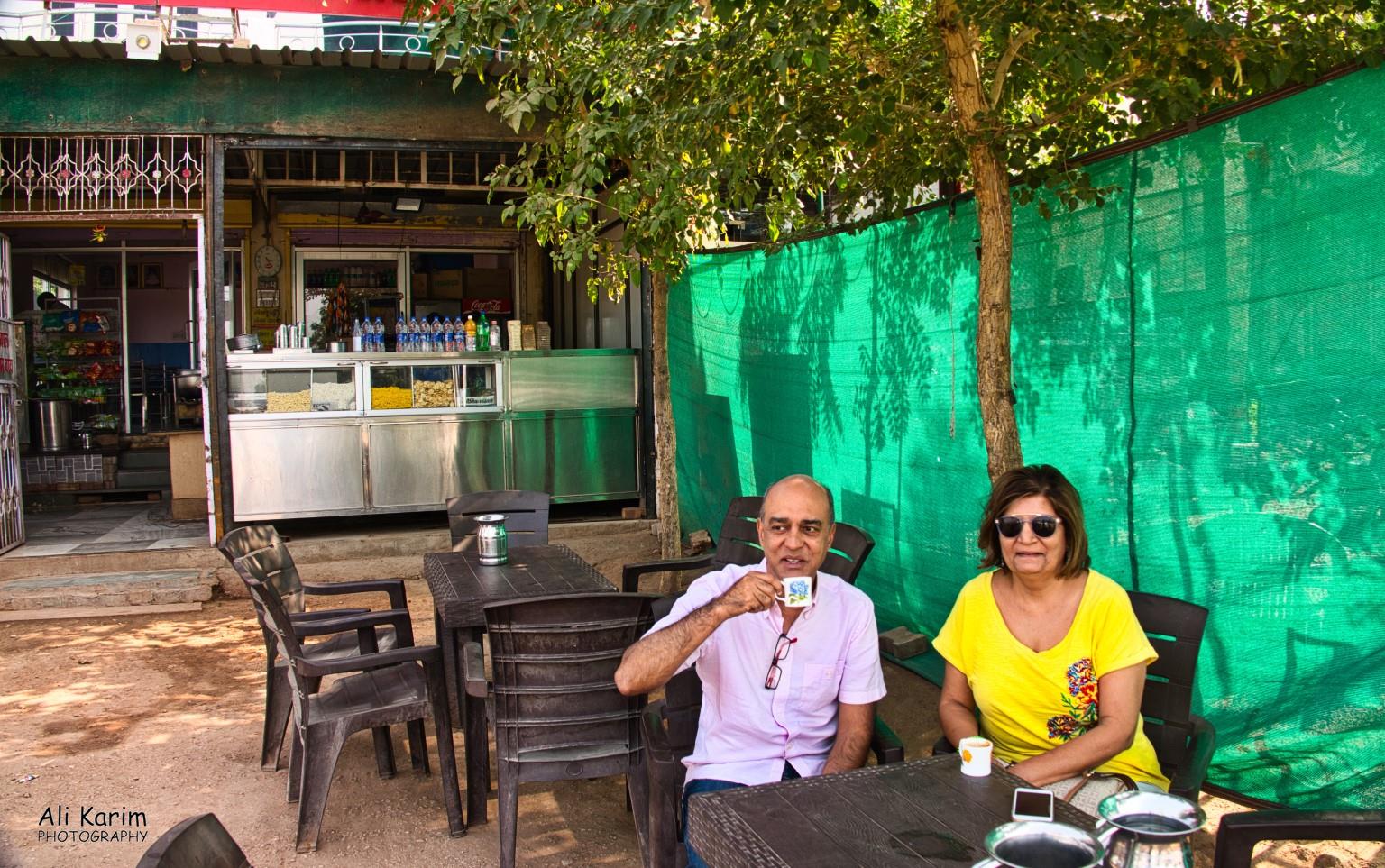 At Nagaur, we joined the major road 62 towards Bikaner, which is in north–west Rajasthan, close to the Pakistan border. Some scenes along the road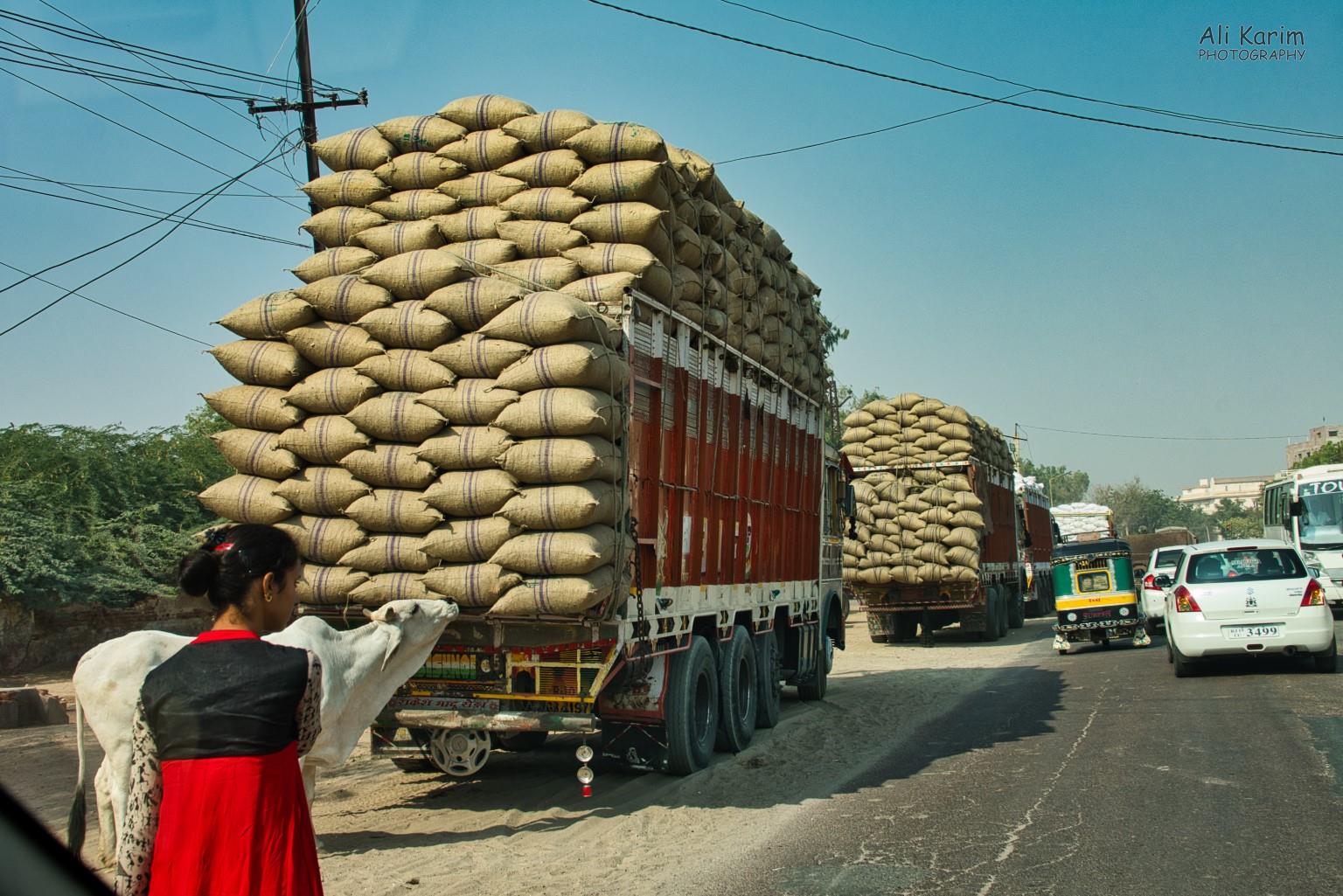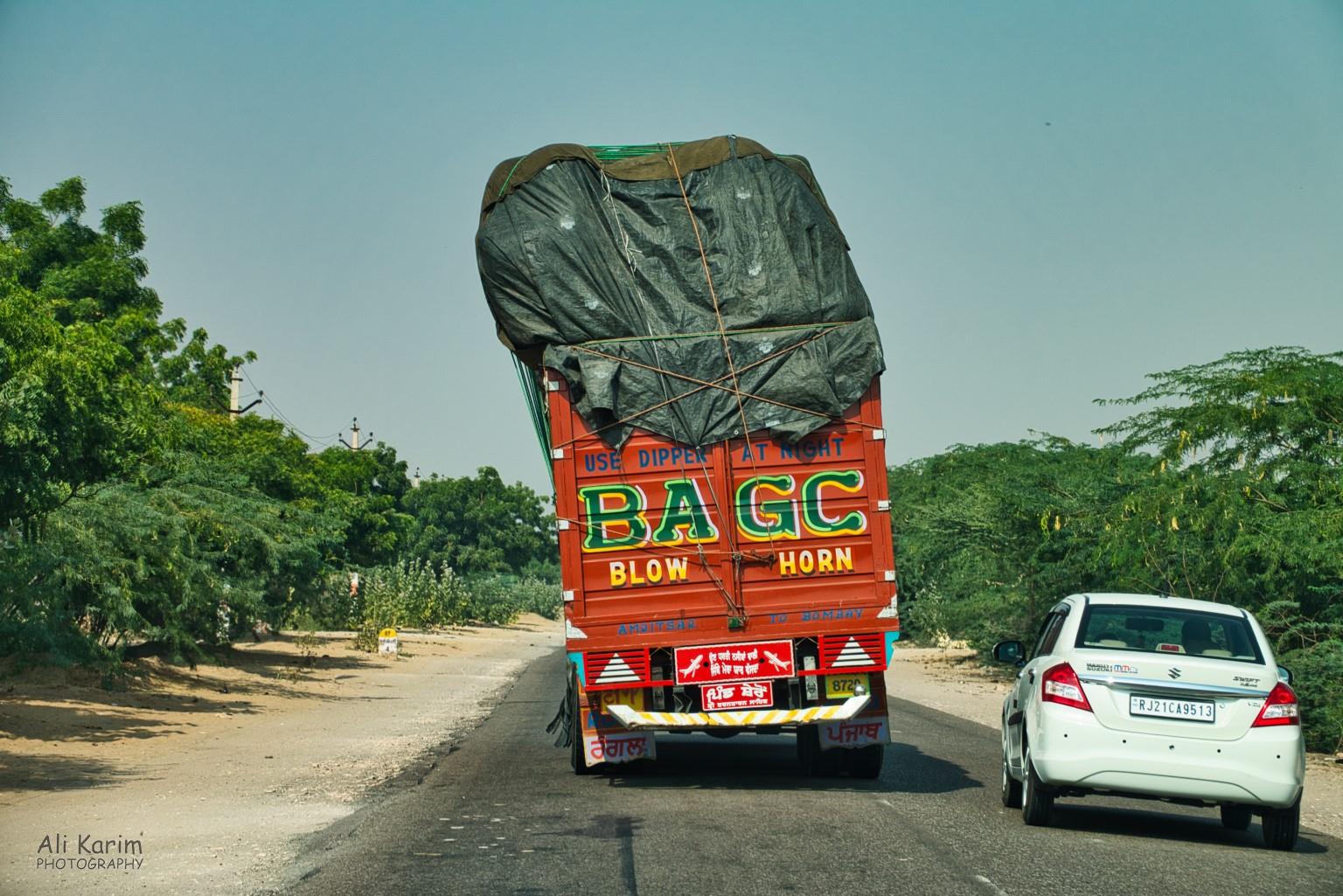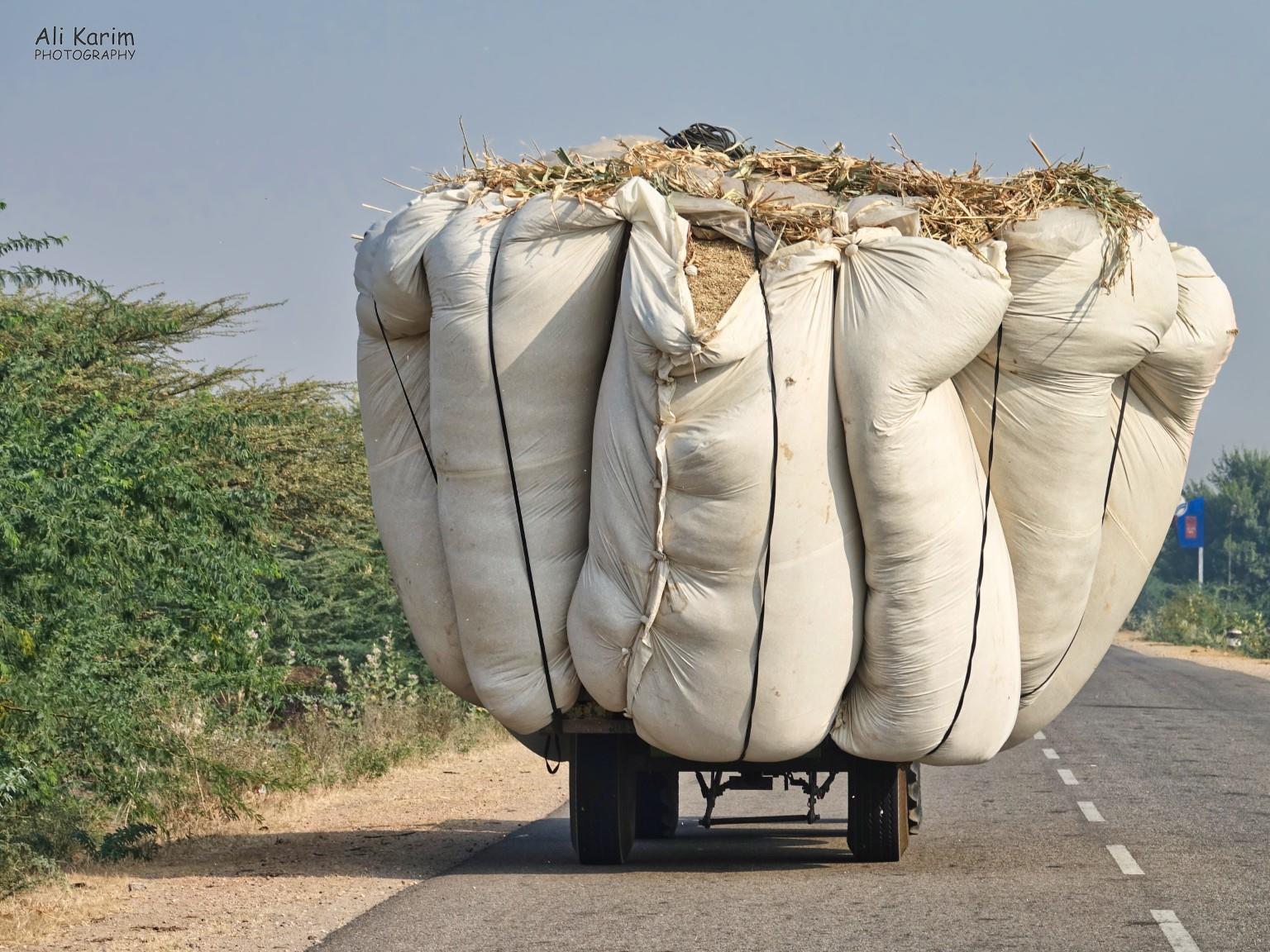 About 30kms before Bikaner, we stopped at Deshnoke, to visit the Karni Mata temple, where after taking off our shoes outside, and paying 30 rupees for the privilege of taking my camera inside, we entered this pink temple.
Information
Karni mata Mandir is one of the most visited places near bikaner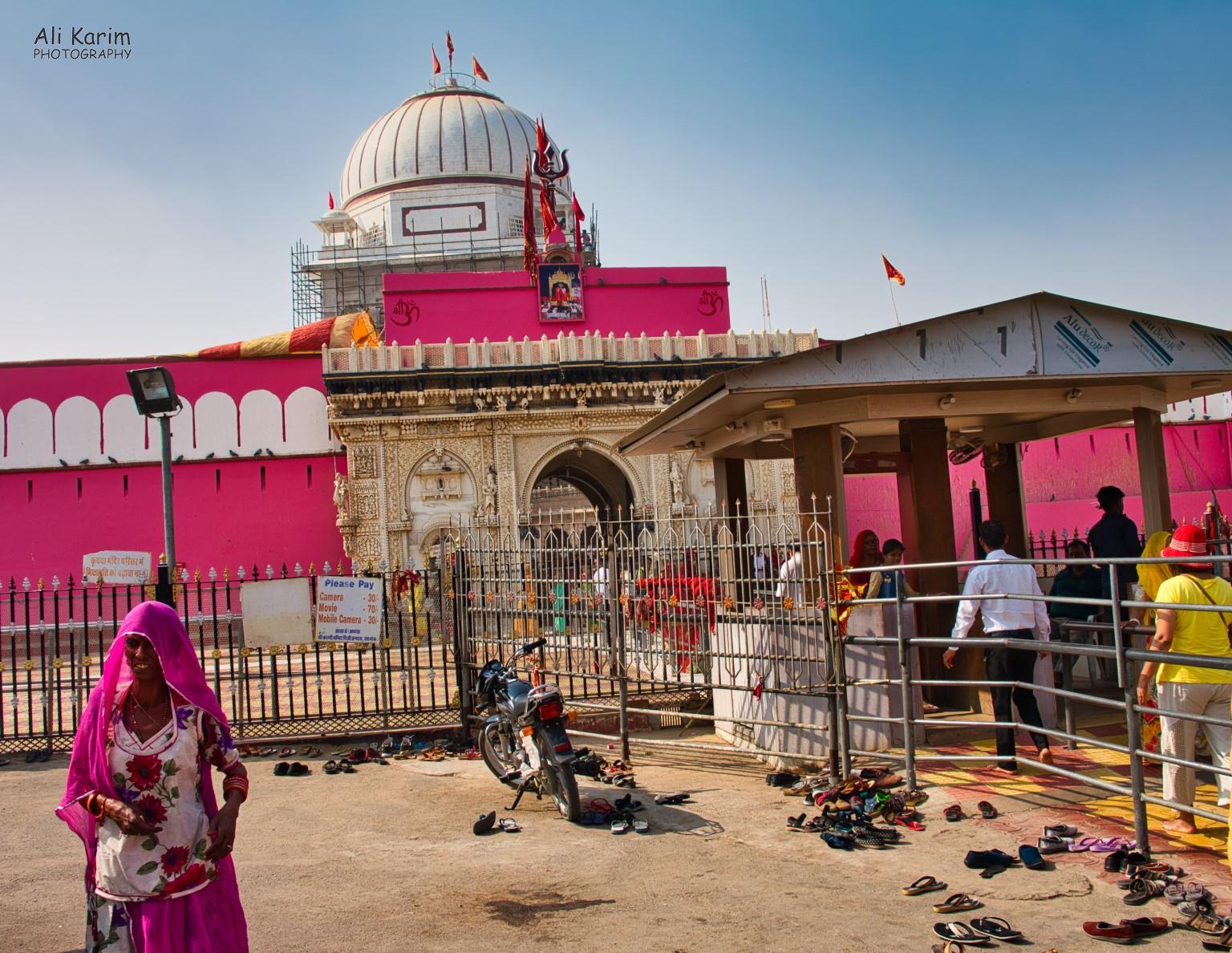 The story behind this temple is that Laxman, son of Goddess Karni mata, drowned in a pond while he was attempting to drink from it. Karni Mata implored Yama, the god of death, to revive him. First refusing, Yama eventually relented, permitting Laxman and all of Karni Mata's male children to be reincarnated as rats. Karni Mata temple is therefore dedicated to rats, the descendants of Goddess Karni Mata's sons.
You don't see any rats outside the temple, but once you enter the temple, it is overrun with hundreds of rats; who are fed by the devotees who bring food offerings, and are taken care of by the temple staff. You are expected to walk barefoot in this temple area (women also need to cover their heads), amid hundreds of rats scurrying all over the place.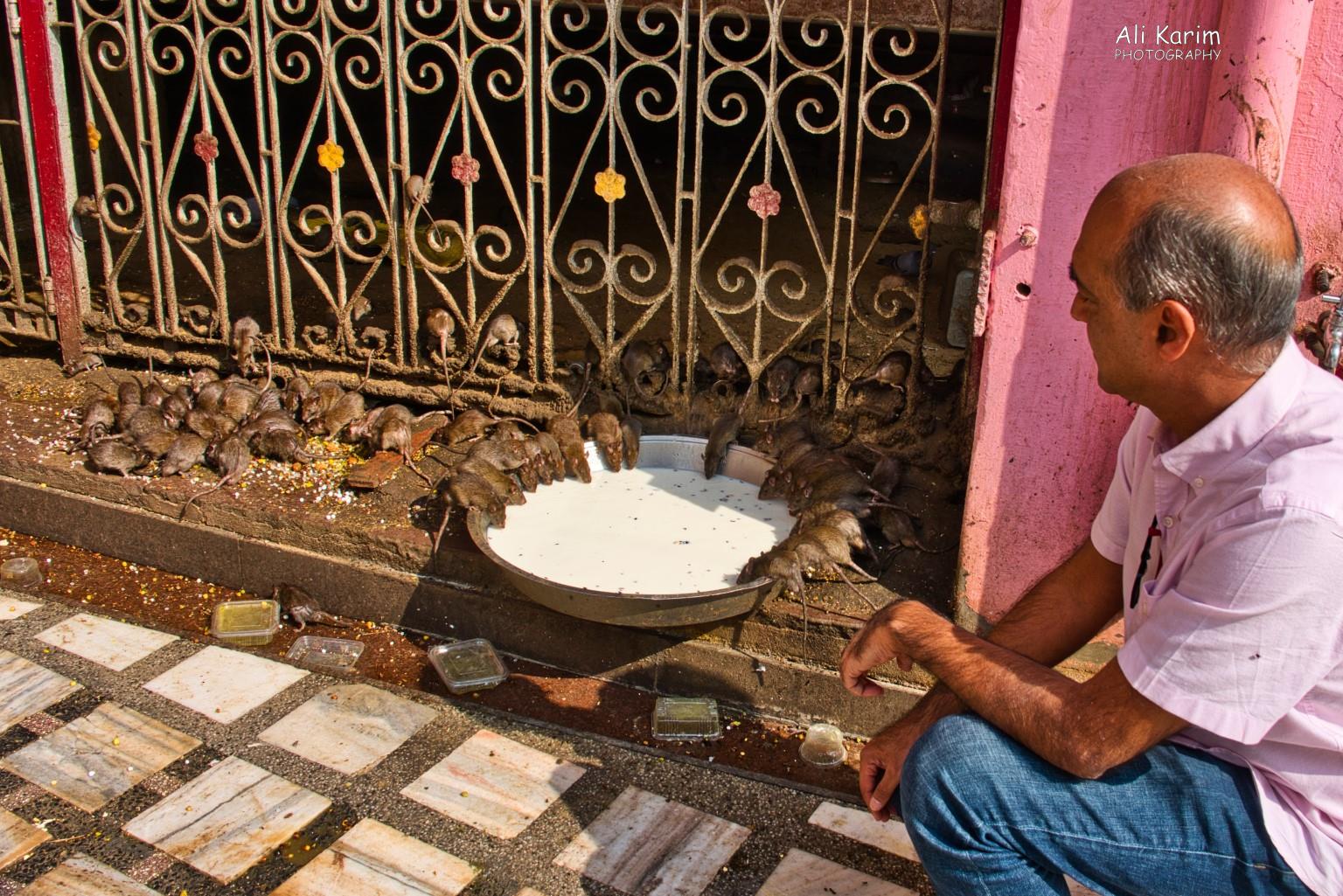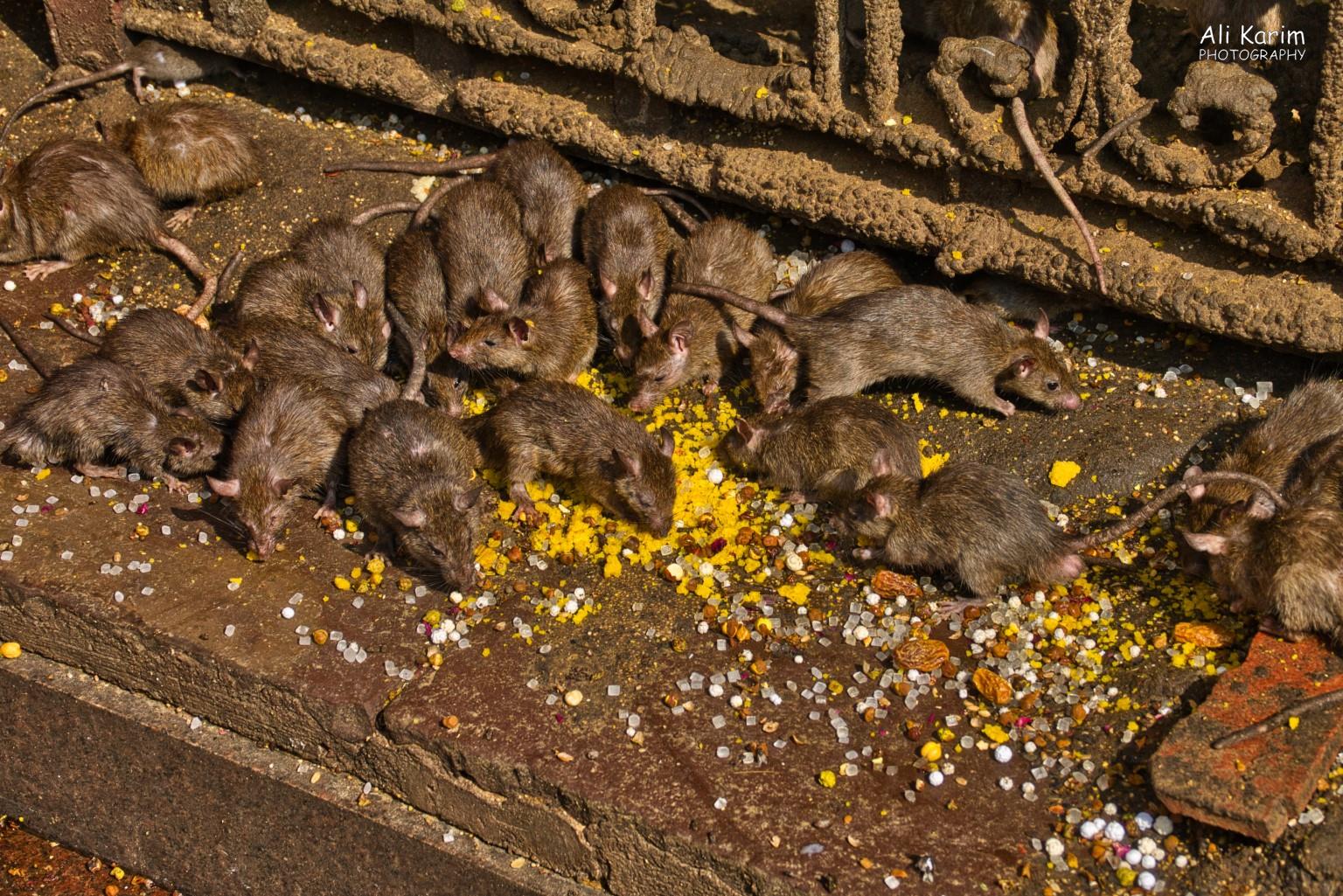 The rats are unafraid of humans, and freely run all over the place. I jumped out of my skin when I had one rat run over my feet as I was taking pictures and not paying attention. It is said to be very auspicious if you can spot a rare white rat, so a lot of devotees spend time looking for them.
Information
It is said to be very auspicious if you can spot a rare white rat, so a lot of devotees spend time looking for them.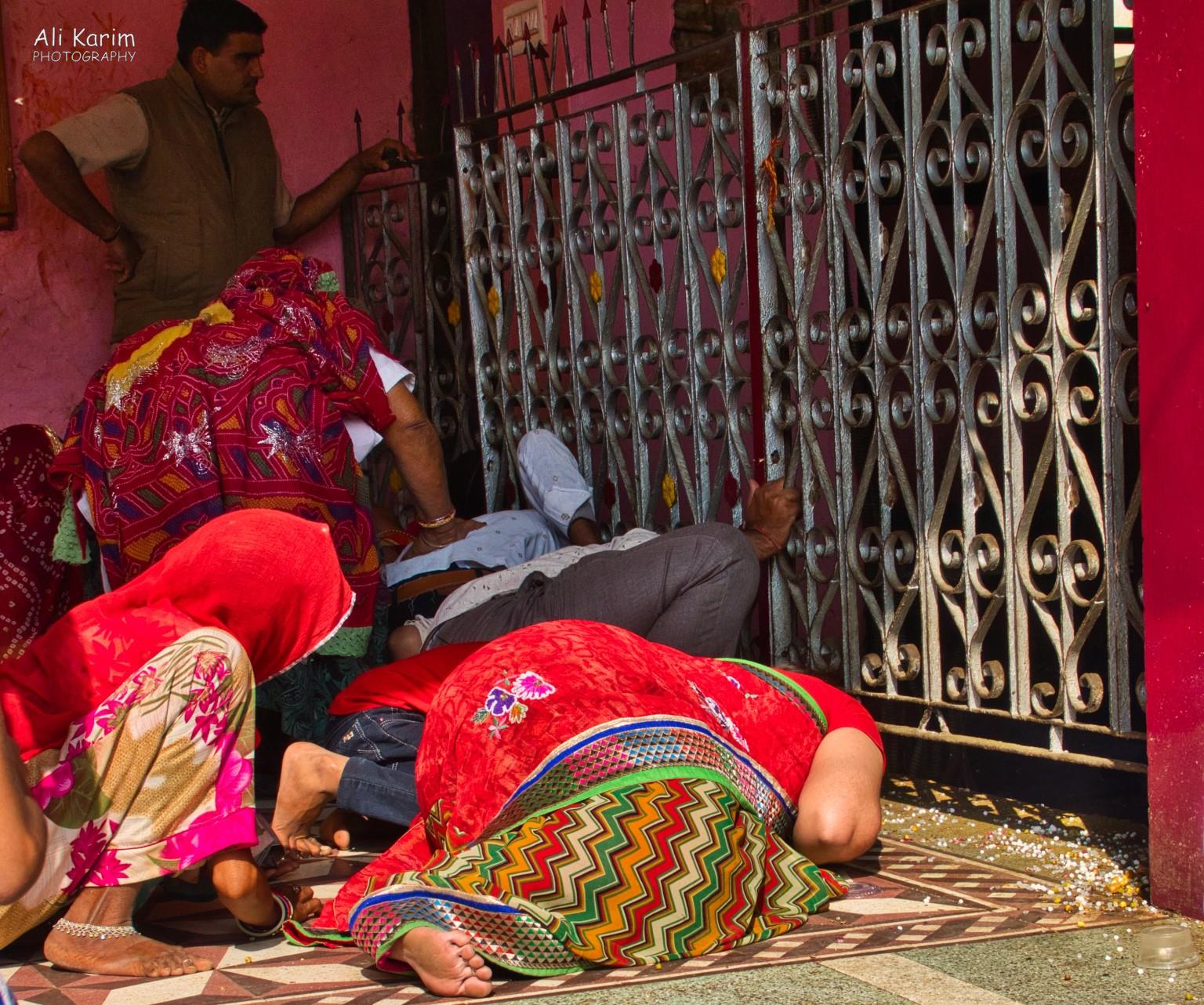 Devotees offering sweets to the rats
Karni Mata Temple groundsInside Temple

This is a very unique place. Only in India. The rats run freely all over the temple grounds and so do their business freely everywhere, and since you have to walk around bare-foot, you can feel the floors being sticky. The whole place is swept and cleaned (and dead rats removed/cremated) thoroughly every night, top to bottom, to keep it clean and to prevent diseases from spreading. Only in India 🙂 .
We left Karni Mata temple and drove to Bikaner; and checked into the NarendraBhavanhotel, where we had decided to stay. The Narendra Bhavan was the palace/residence of the last Maharaja of Bikaner, Narendra Singhji; and is now converted into a hotel, well-kept and well preserved. On display everywhere are artifacts collected by the Maharaja over his lifetime, from all over the world; including several old cars, making this hotel very eclectic and interesting at every corner.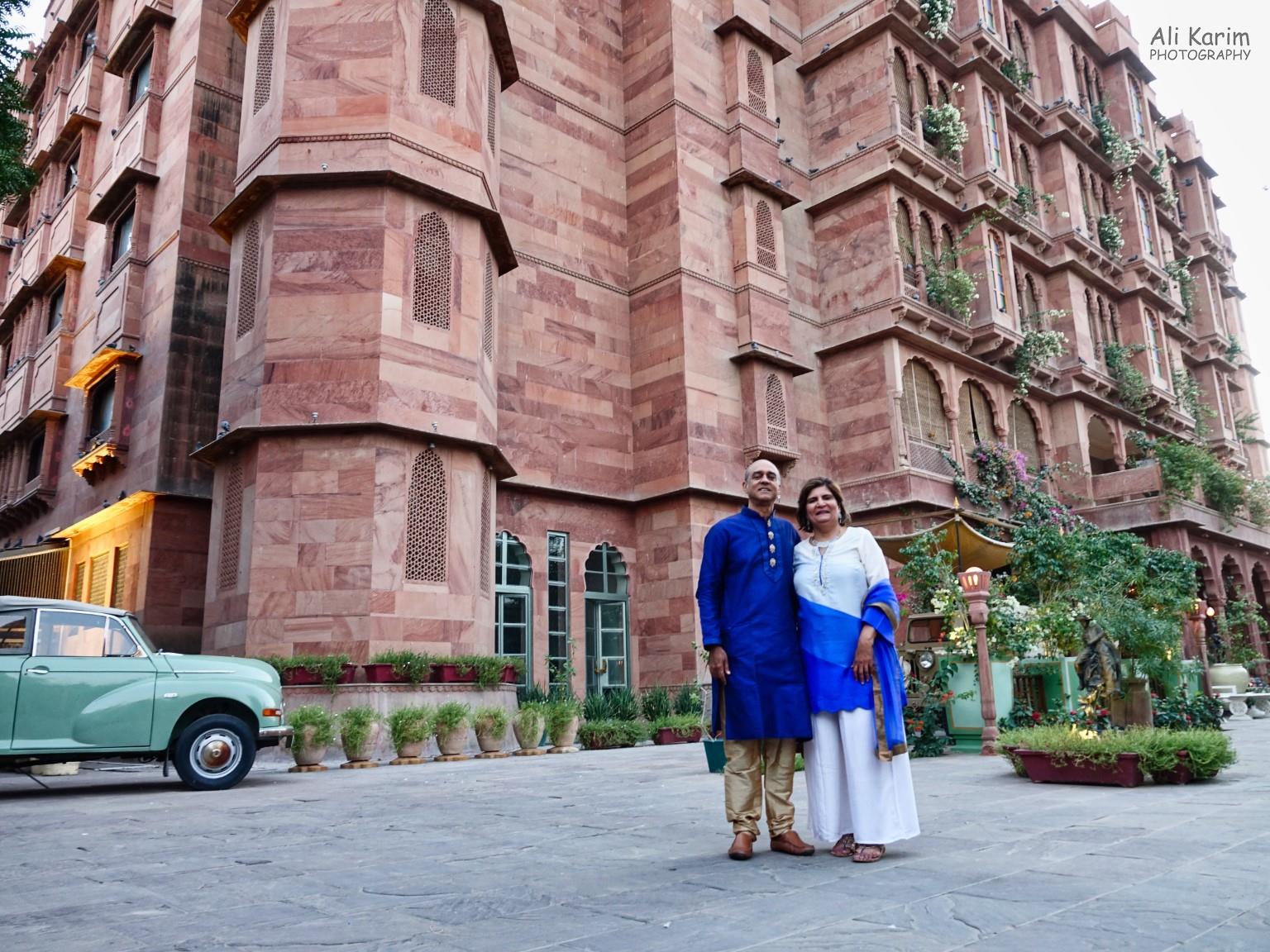 A little bit of Bikaner before the Marwari wedding we were invited to. Bikaner is another of those old walled & fortified cities ruled by Maharajah's in the good old days. The old Junagarh Fort is an extensive and large fort, and very well preserved. I purchased the local price ticket of Rs 10 (vs Rs 100 for foreigners; practicing my limited Hindi 🙂 ); and while waiting for the guided tour; I met a couple of people who were also visiting & attending Ankit's wedding. Small world. The tour was in Hindi, so I did not catch all of it, but the guide was good and well informed, and the Palace and fort tour was very nice, as the whole palace/fort was very well preserved.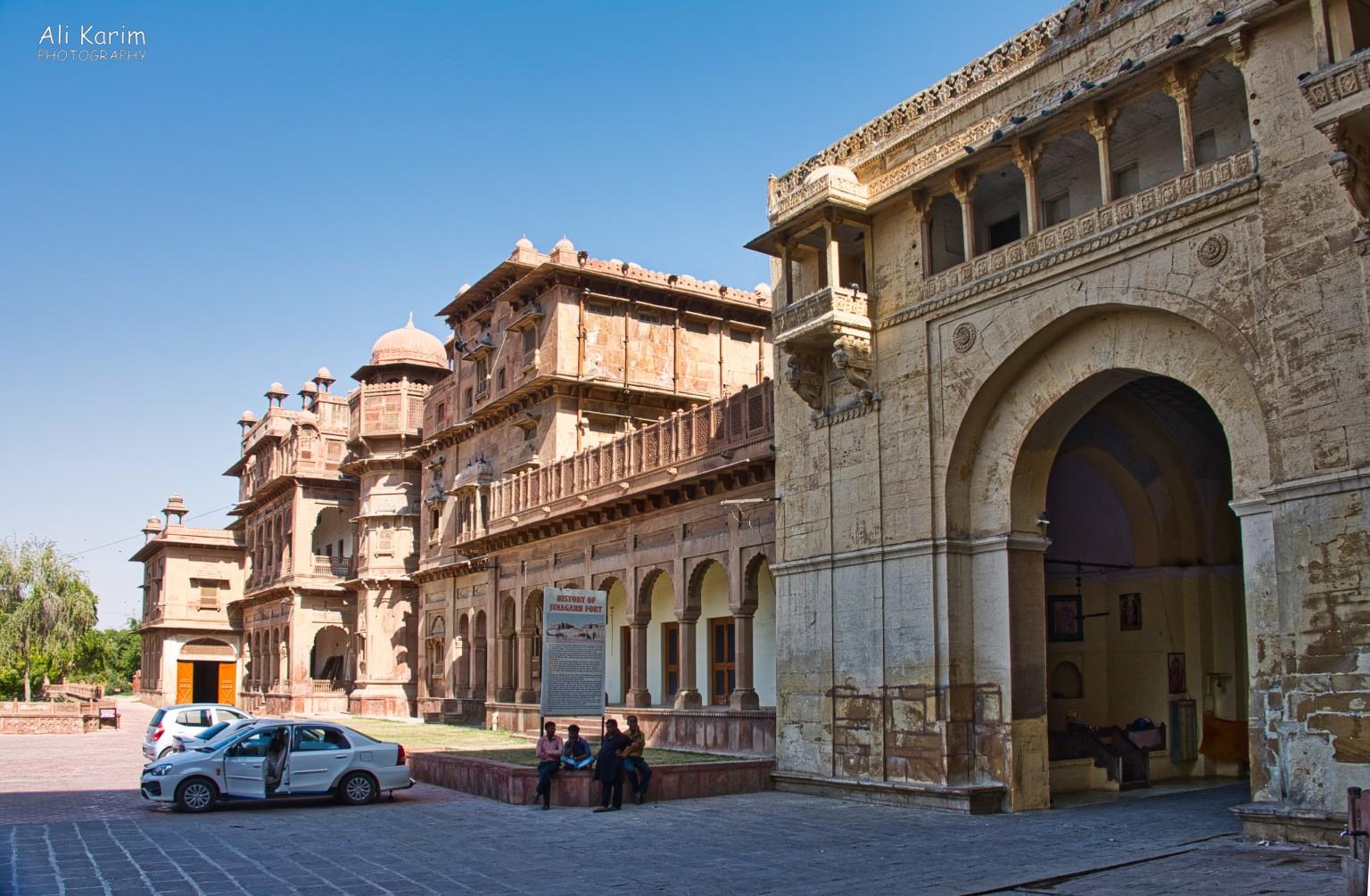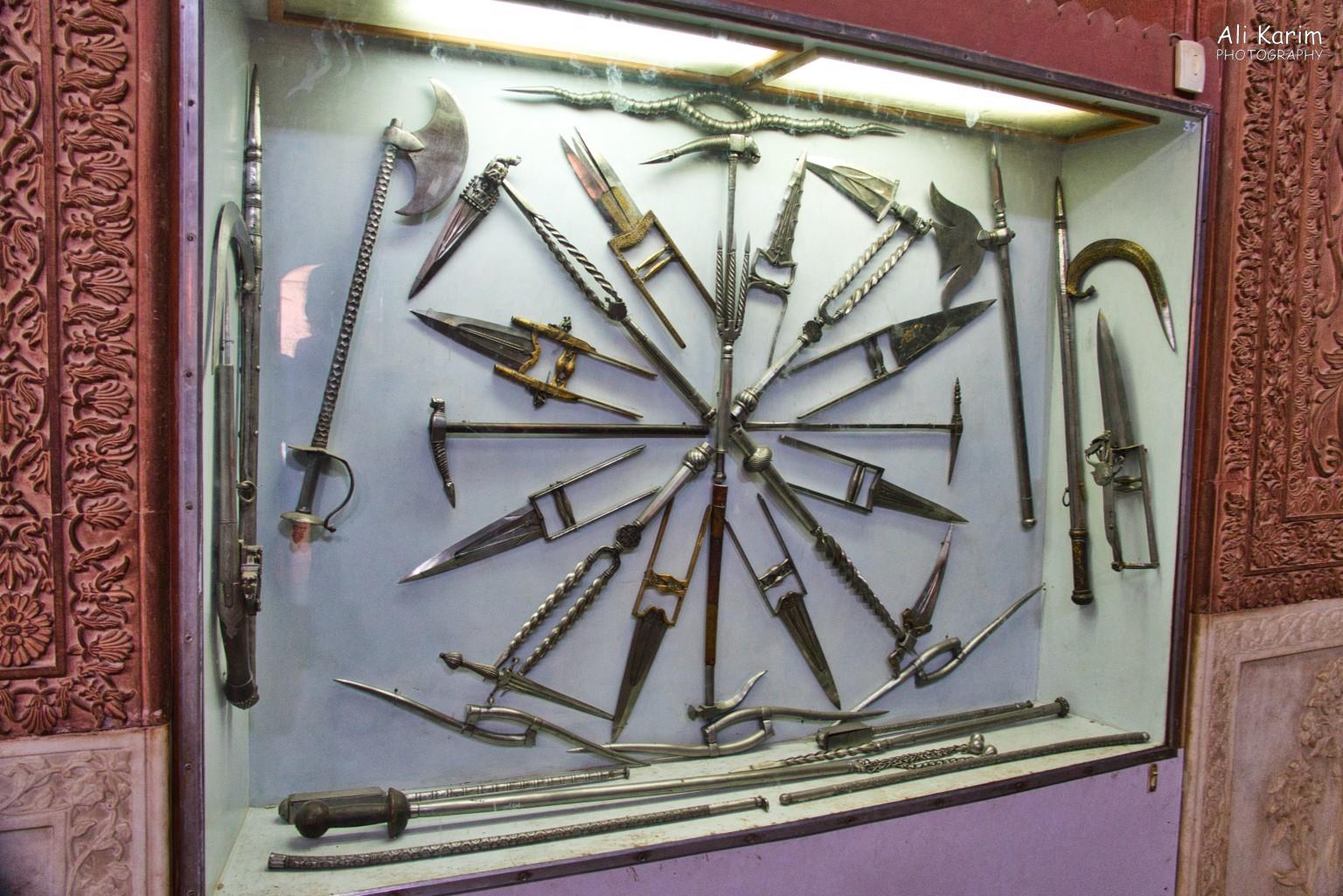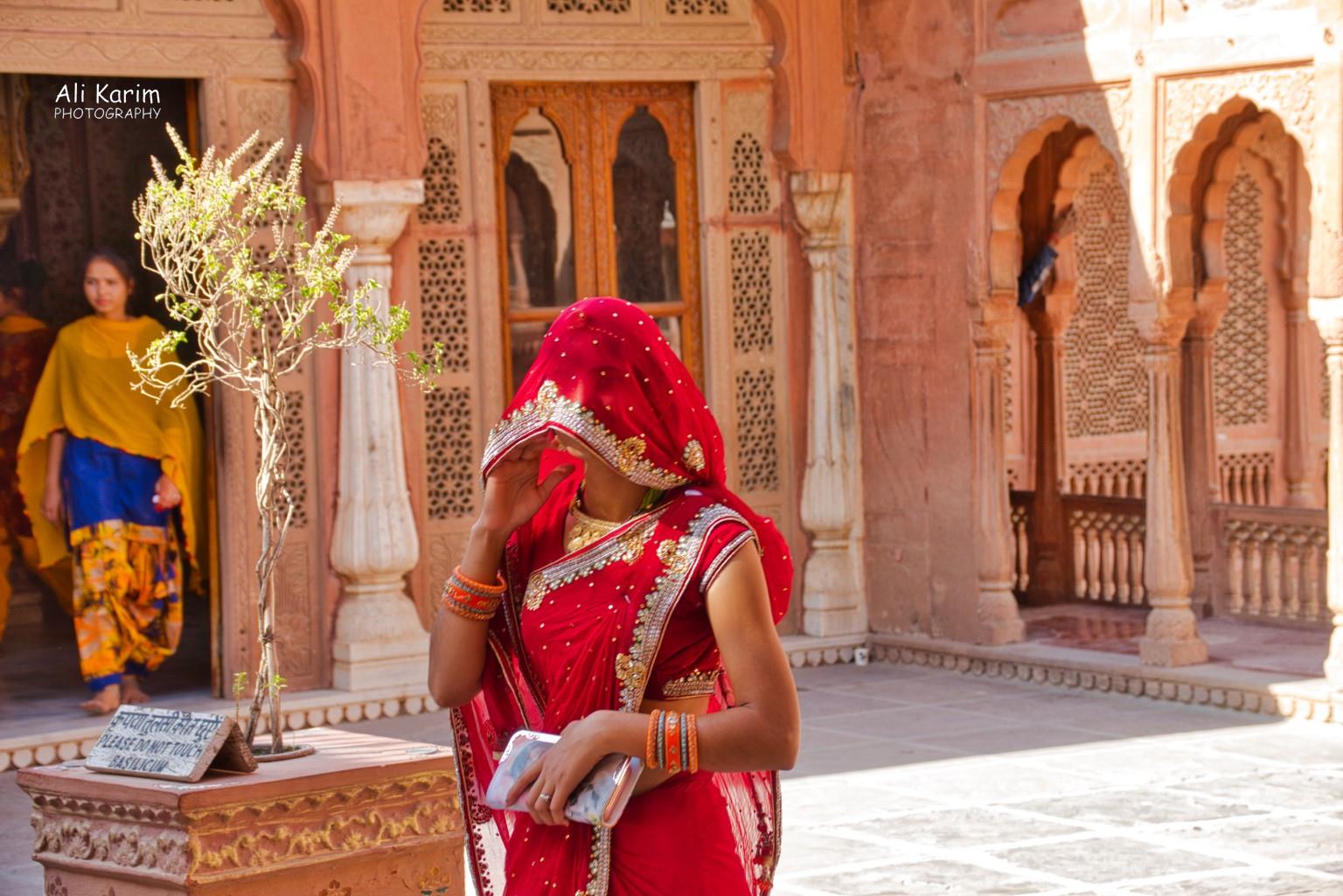 The Laxmi Niwas Palace was built by the Maharajah Ganga Singhji in 1904 for his personal residence, & was named  after the Hindu Goddess of wealth, prosperity, and beauty, Laxmi. It is now a Heritage luxury hotel.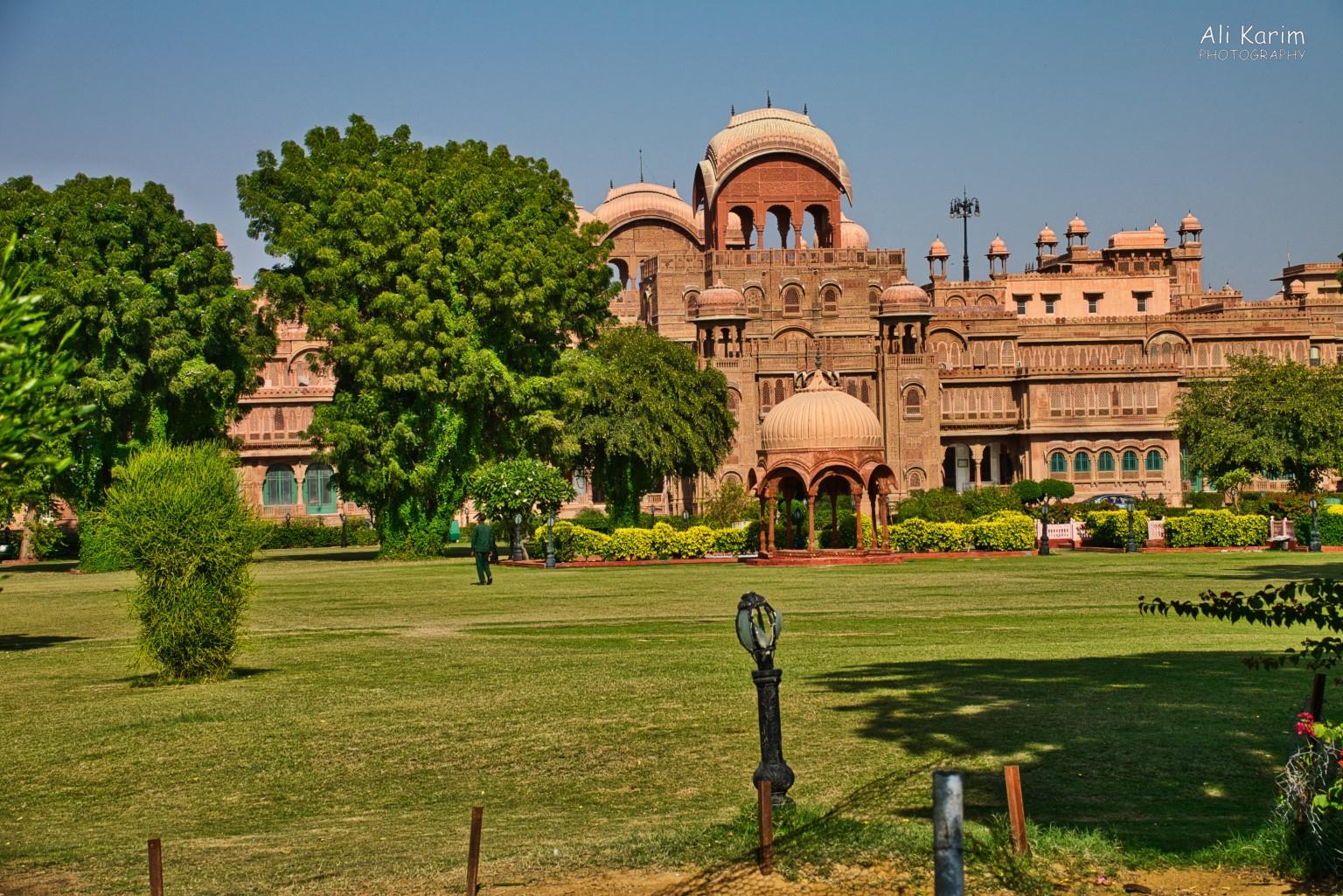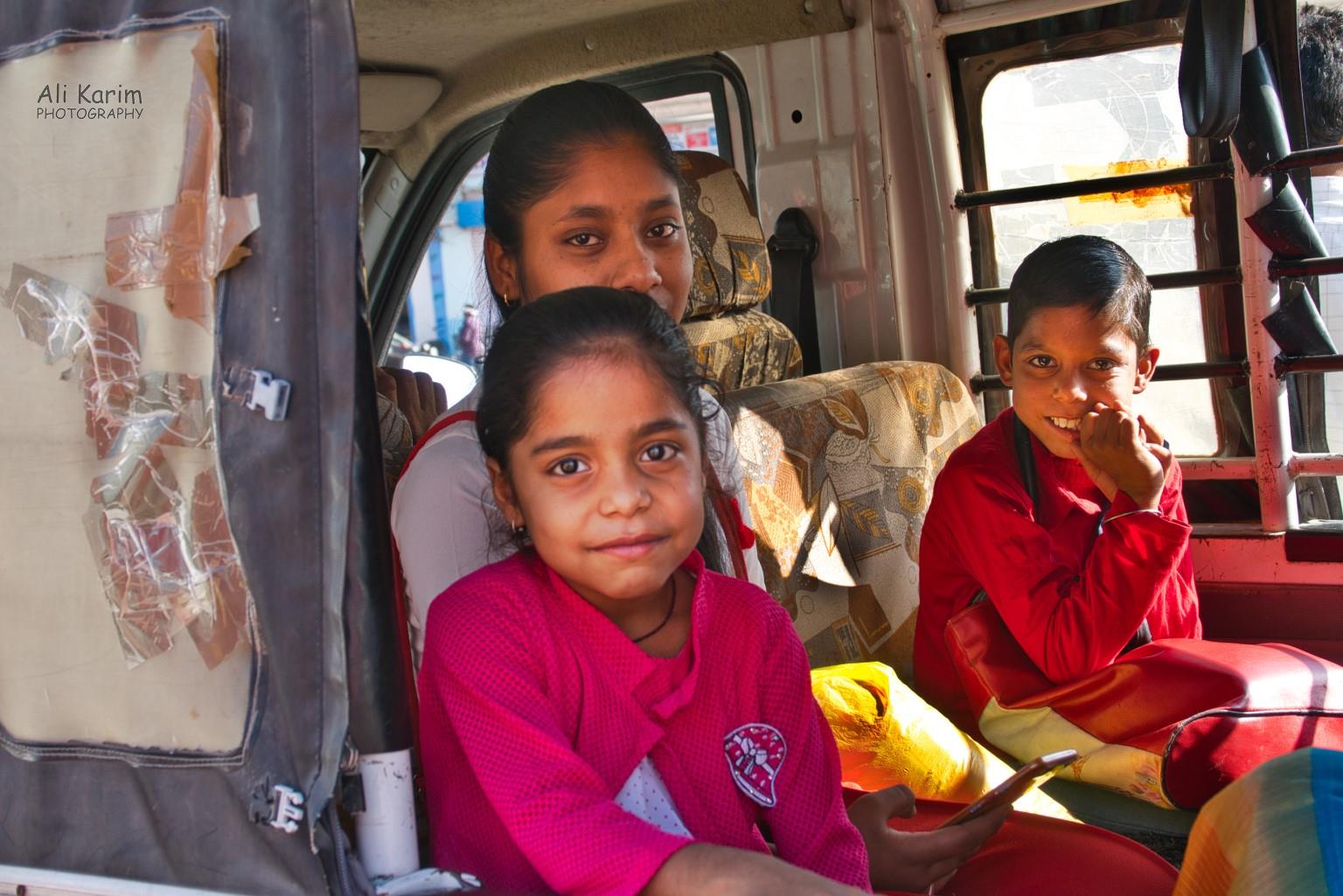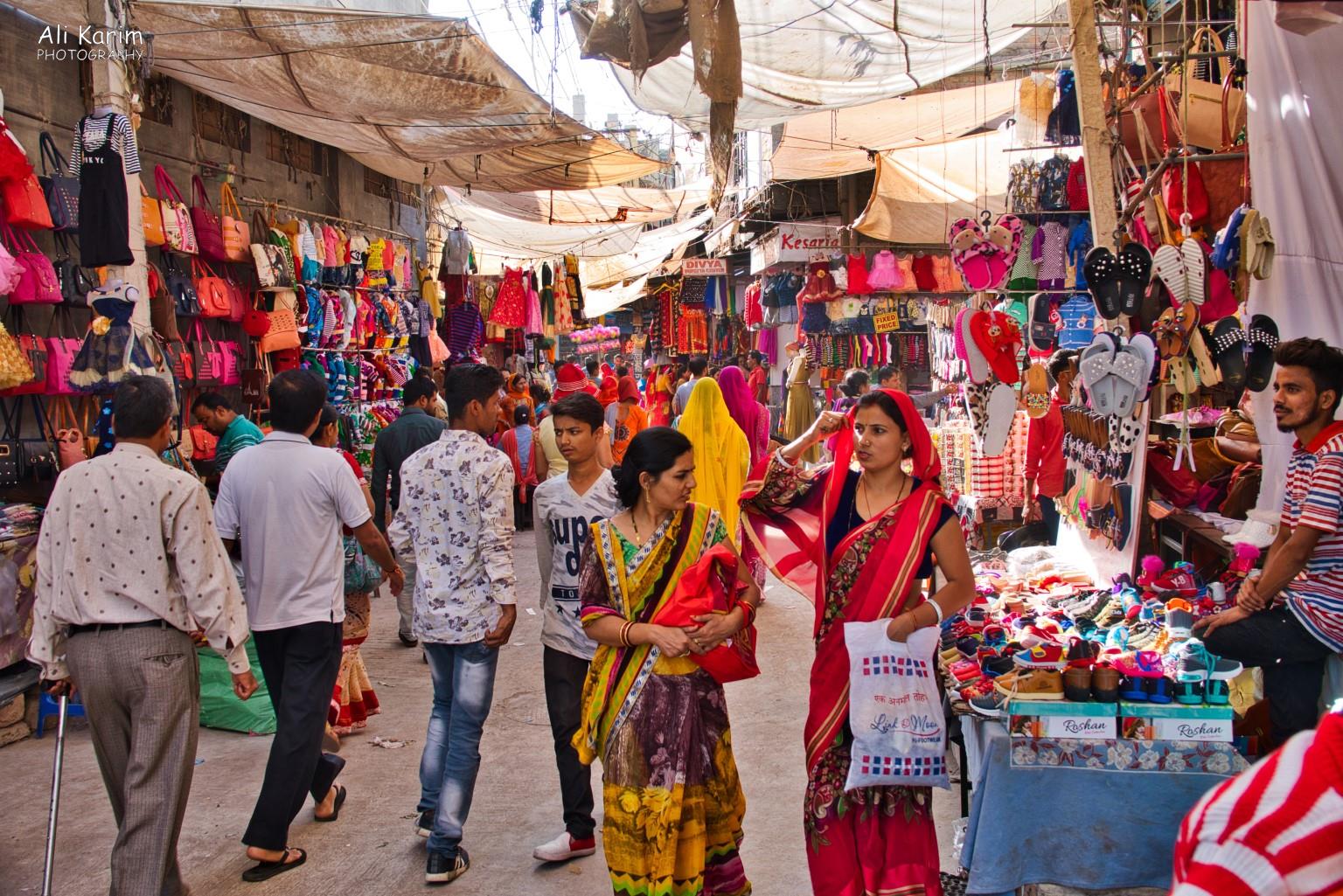 Marwari wedding:
Ankit & Palak are Marwari's, a community of Rajasthan, whose families had their roots here, but had migrated to other parts of India. Marwari people are the people from the former princely state of Marwar, a part of the Jodhpur region of Rajasthan. Marwari's have their own language, also called Marwari, which is very close to Rajasthani language, which in turn has its roots in, and evolved from old Guajarati. So while in Pushkar and in other parts of Rajasthani, we could understand snippets of conversations of locals, as they had Guajarati origins; and we both speak Guajarati and Kutchi.
Since both Ankit & Palak were not from here, this was a "destination" wedding for them. There were multiple events planned for this traditional Marwari wedding; see below schedule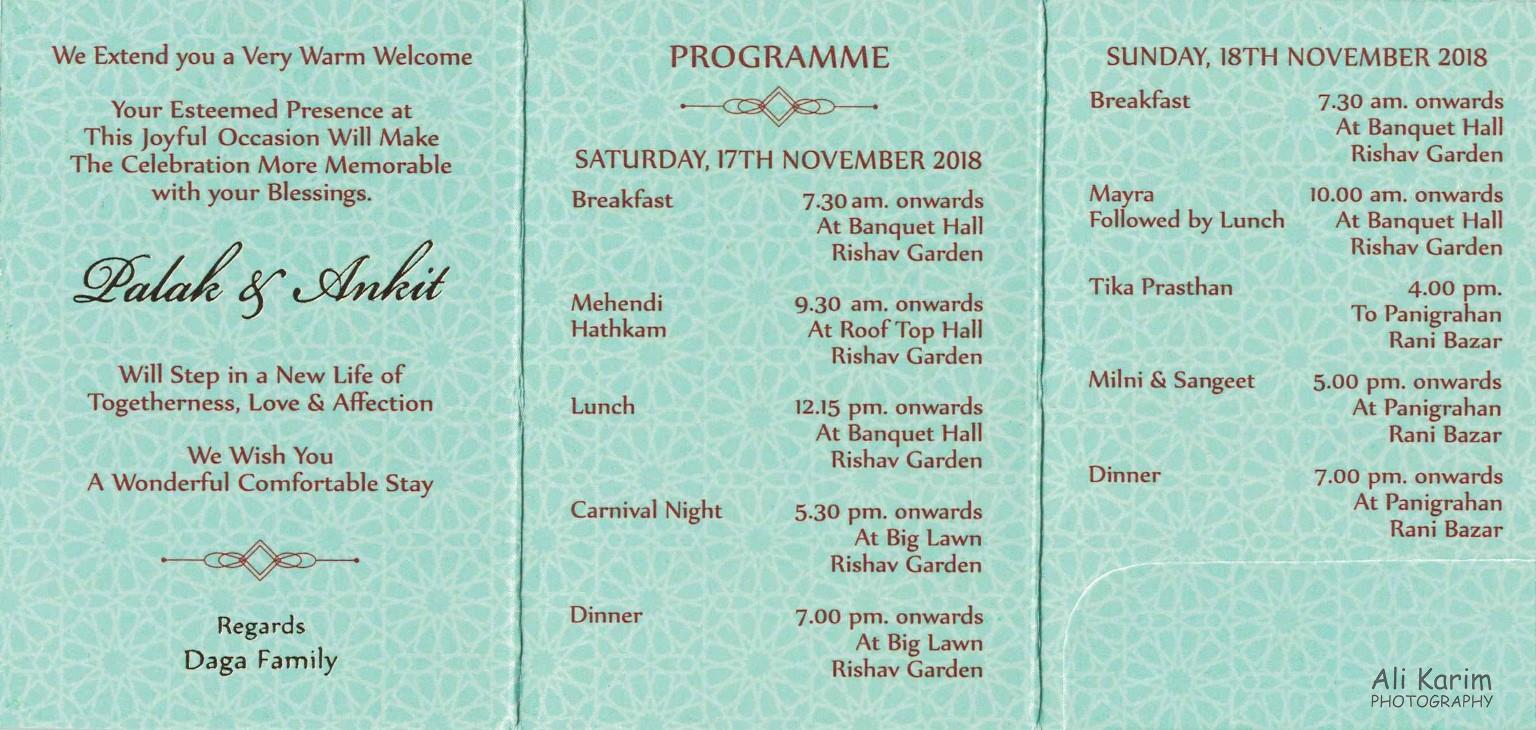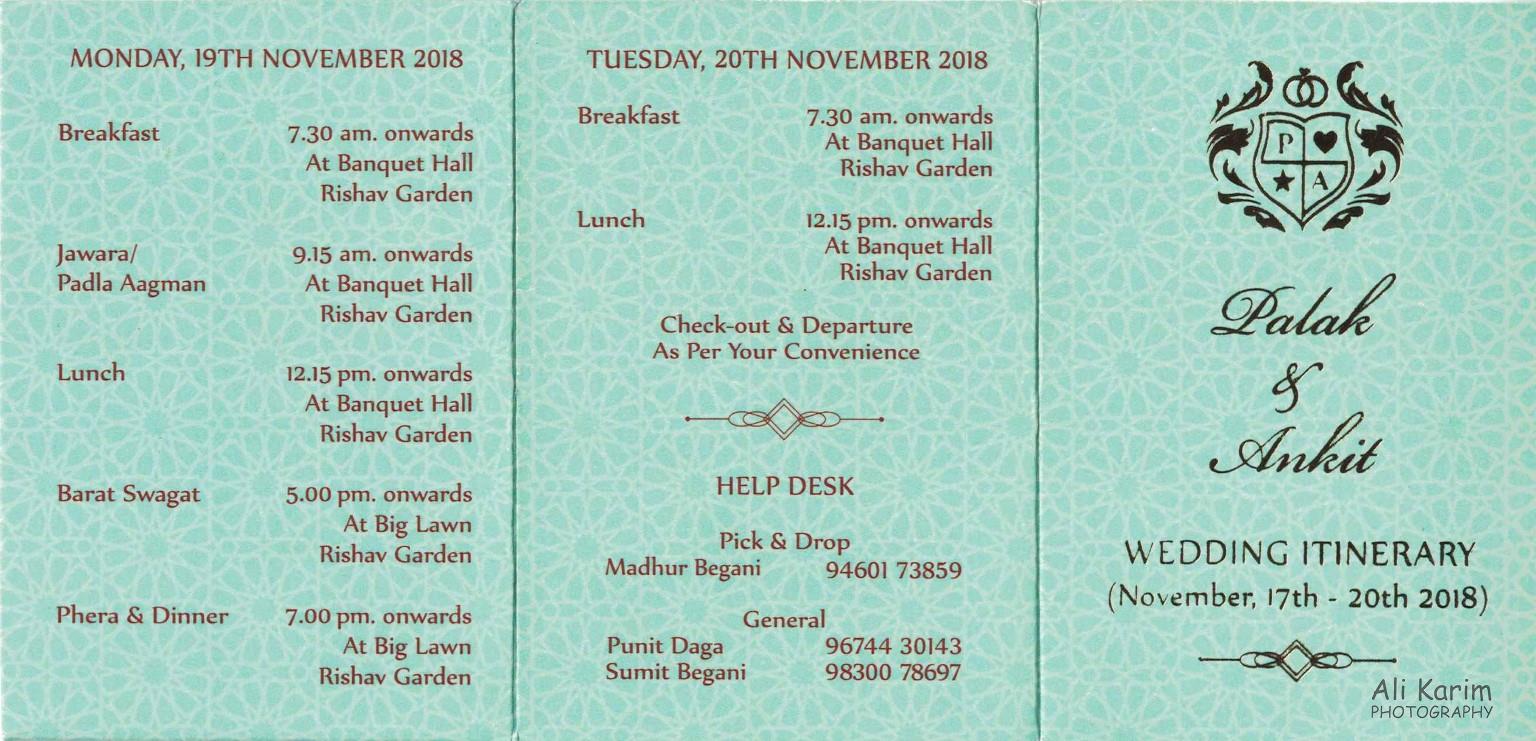 Note that all guests were provide all accommodations, lodging and food for all days of the wedding; a magnanimous gesture not found in other parts of the world. We decide to stay at the Narendra Bhavan hotel instead, so only partook in all the food and fun events 🙂
We first went to Palak's Mehendi Hathkam event; in which yellow was the dress code. Note that the word Hathkam is the same as in Gujarati, meaning handwork. The women were getting their hands and feet decorated with Mehendi, followed by dances and singing, exchanging gifts between family members, followed by a late lunch. Below are some images from the Mehendi.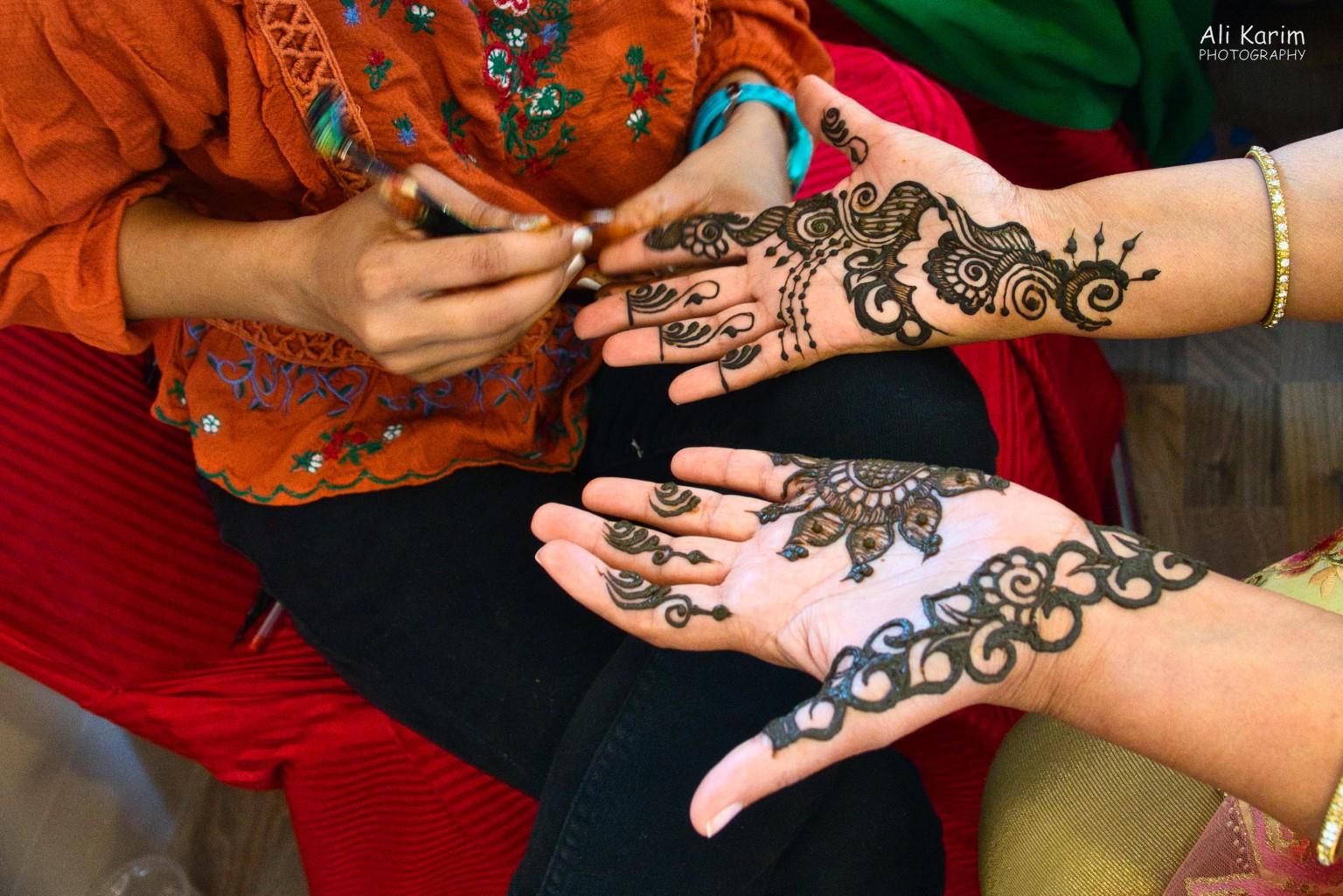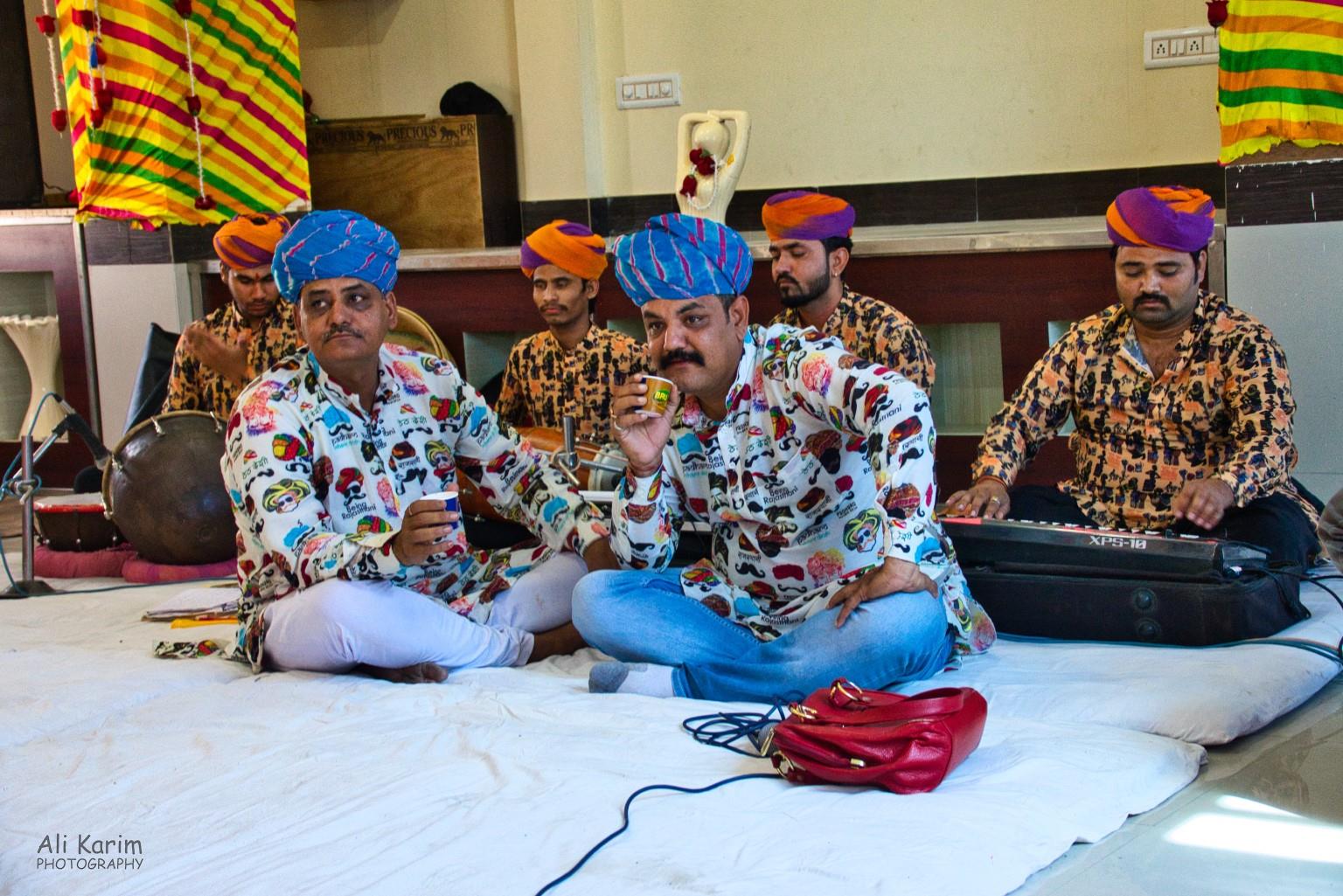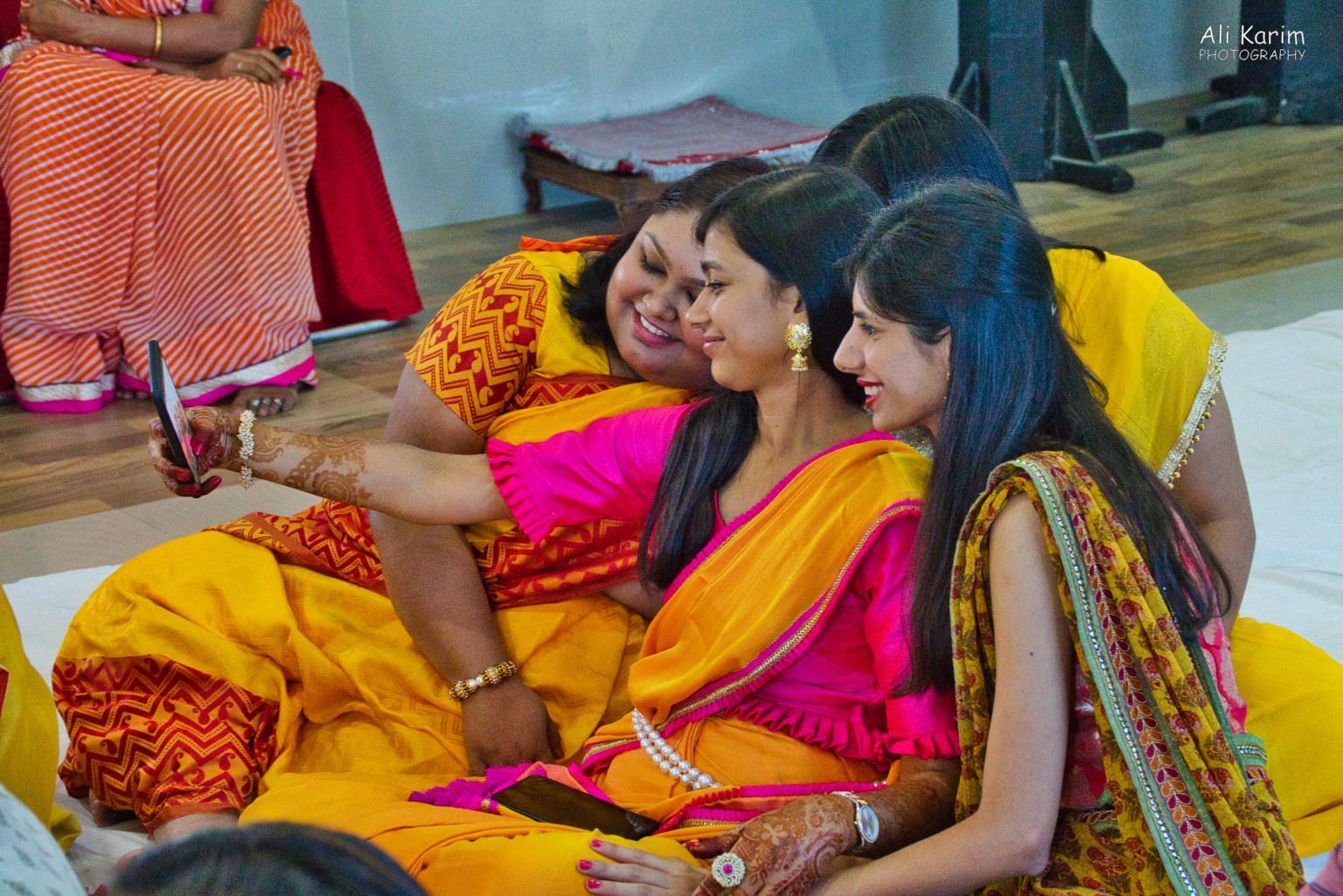 Performance by the ladies of the family and friends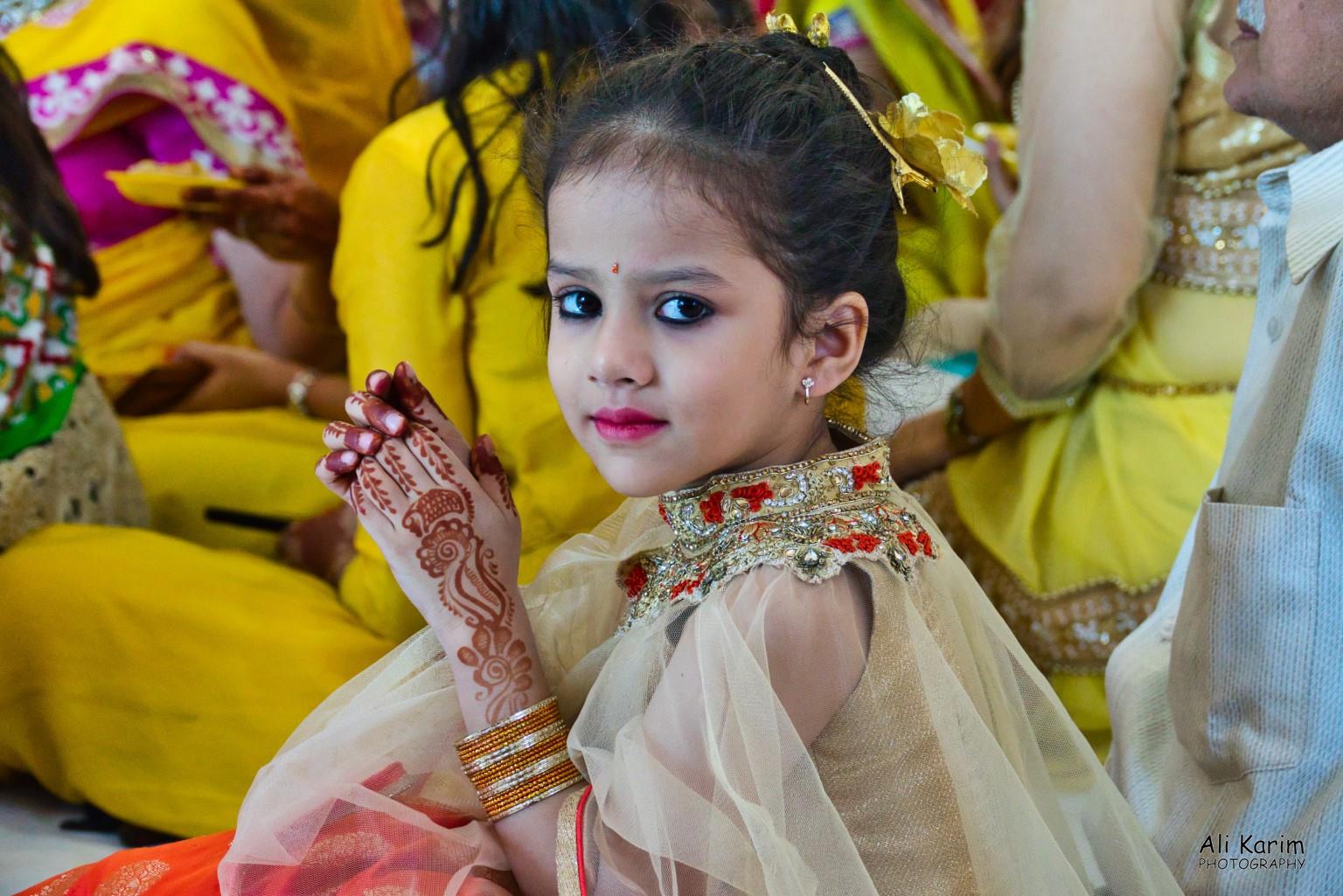 After lunch, we left, went to pick up some clothes, and returned in the evening for dinner and entertainment by the bride's family. In the evening, the bride's family entertained the guests with events/skits, with all family members participating. Very nice. Some images & videos from the evening below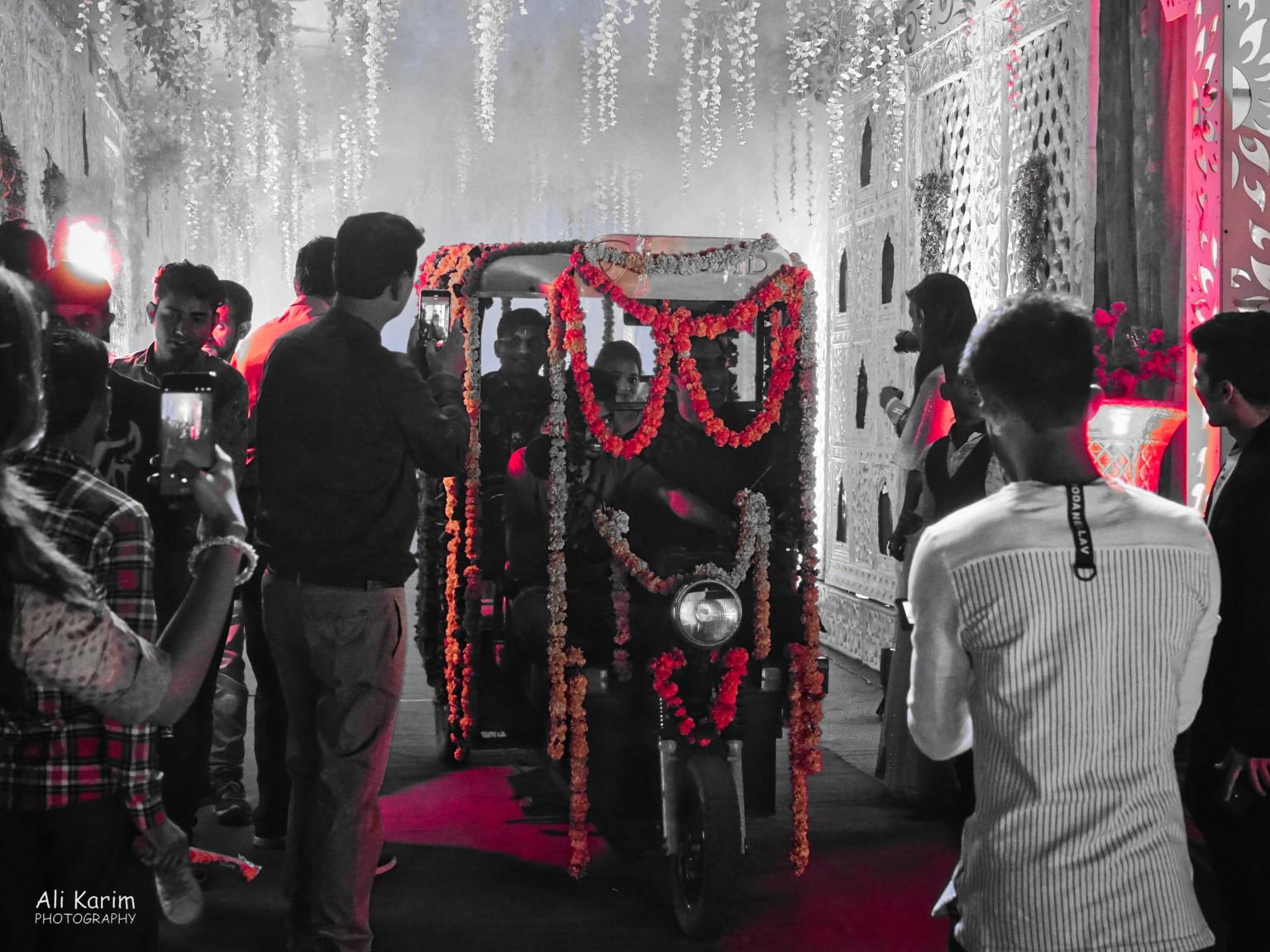 Performance by the bride's brother

      Performance by the bride's parents

                       Performance by the bride's Mama and Mami (aunt and uncle)

      Pretty soon, free for all; party time 🙂

After pigging out on the great feast, we left and returned the next evening for the pre-wedding night of fun. Another interesting night. First, the men folk from both sides, all wearing Pagrees, sat together on stage, and agreed to all the marriage details; probably a hangover from the olden days of marriage negotiations. Then the women folk from both sides took to the stage, and the custom was for Ankit, the groom, to sit on the bride-side women's laps, be given a gift, and then have his nose pinched 🙂
He must have had a sore nose by the end of this ceremony 🙂 🙂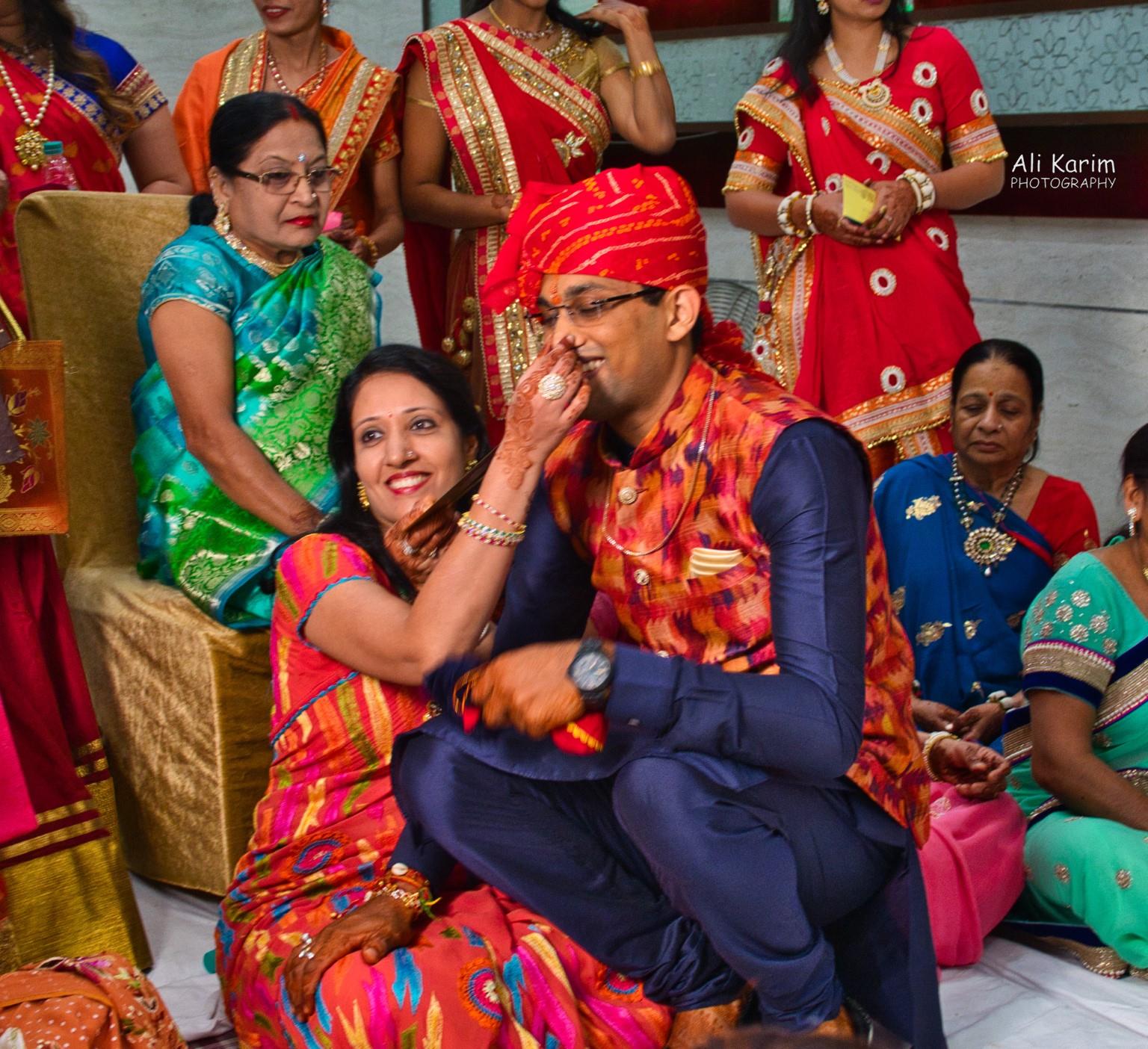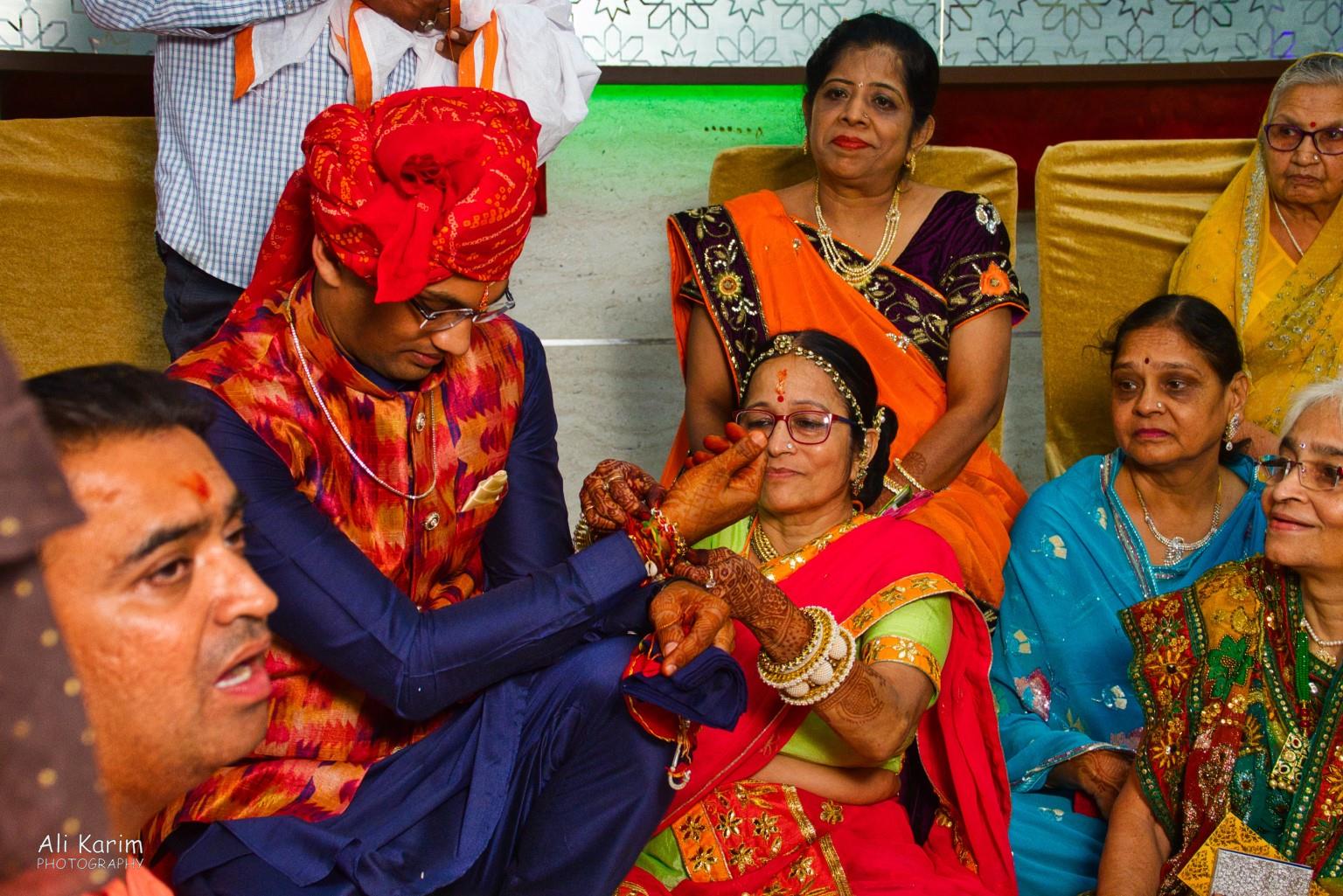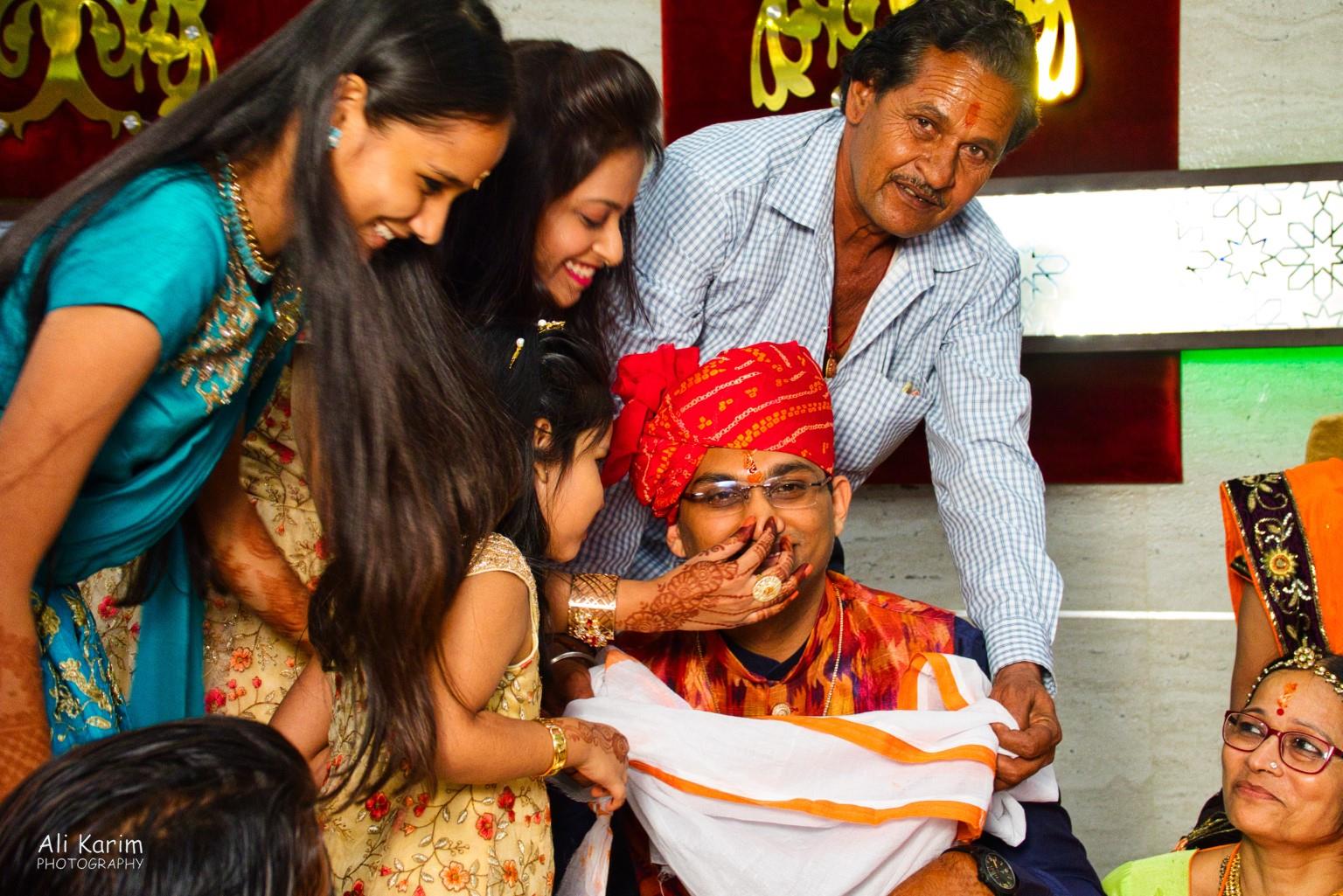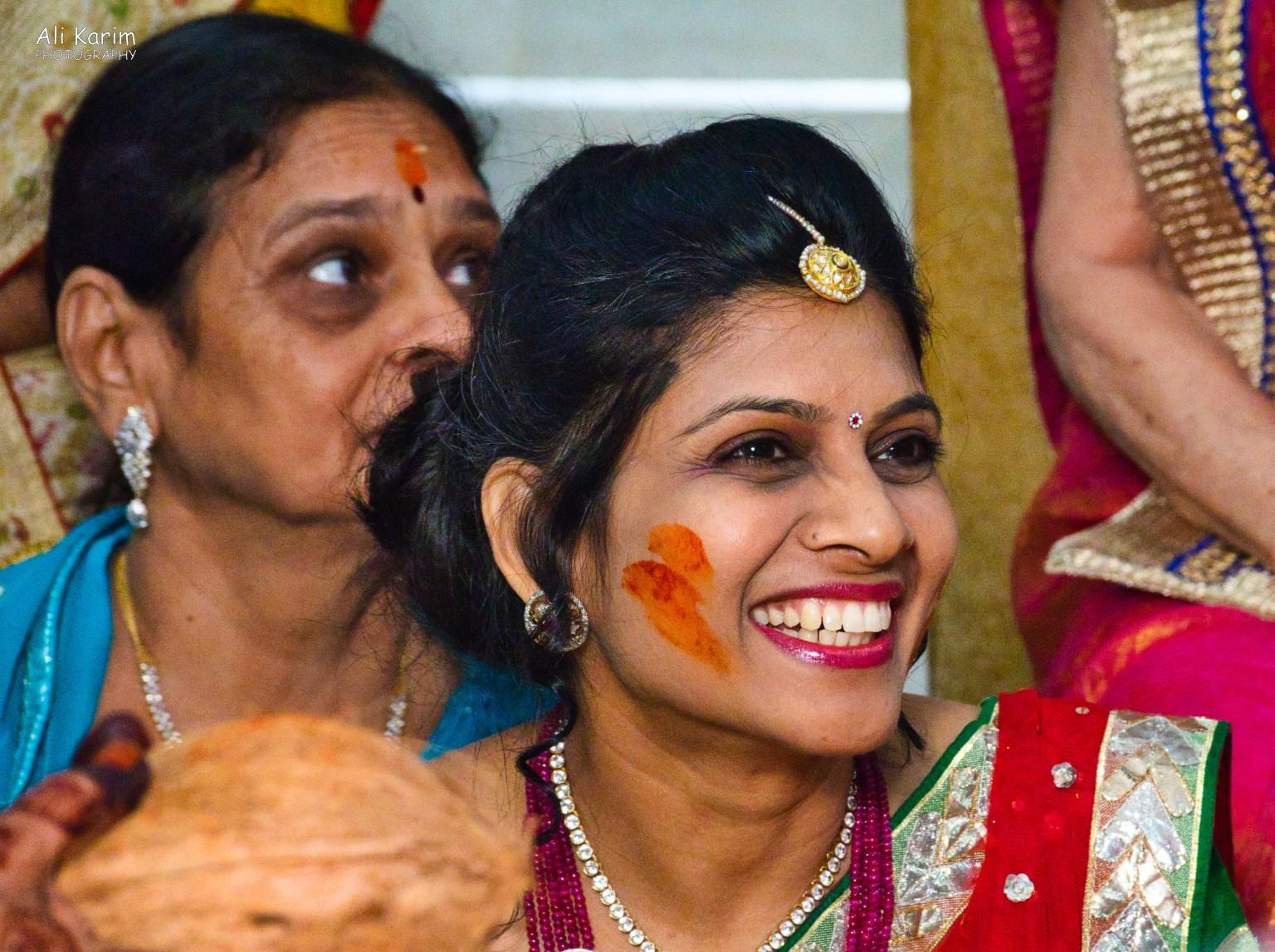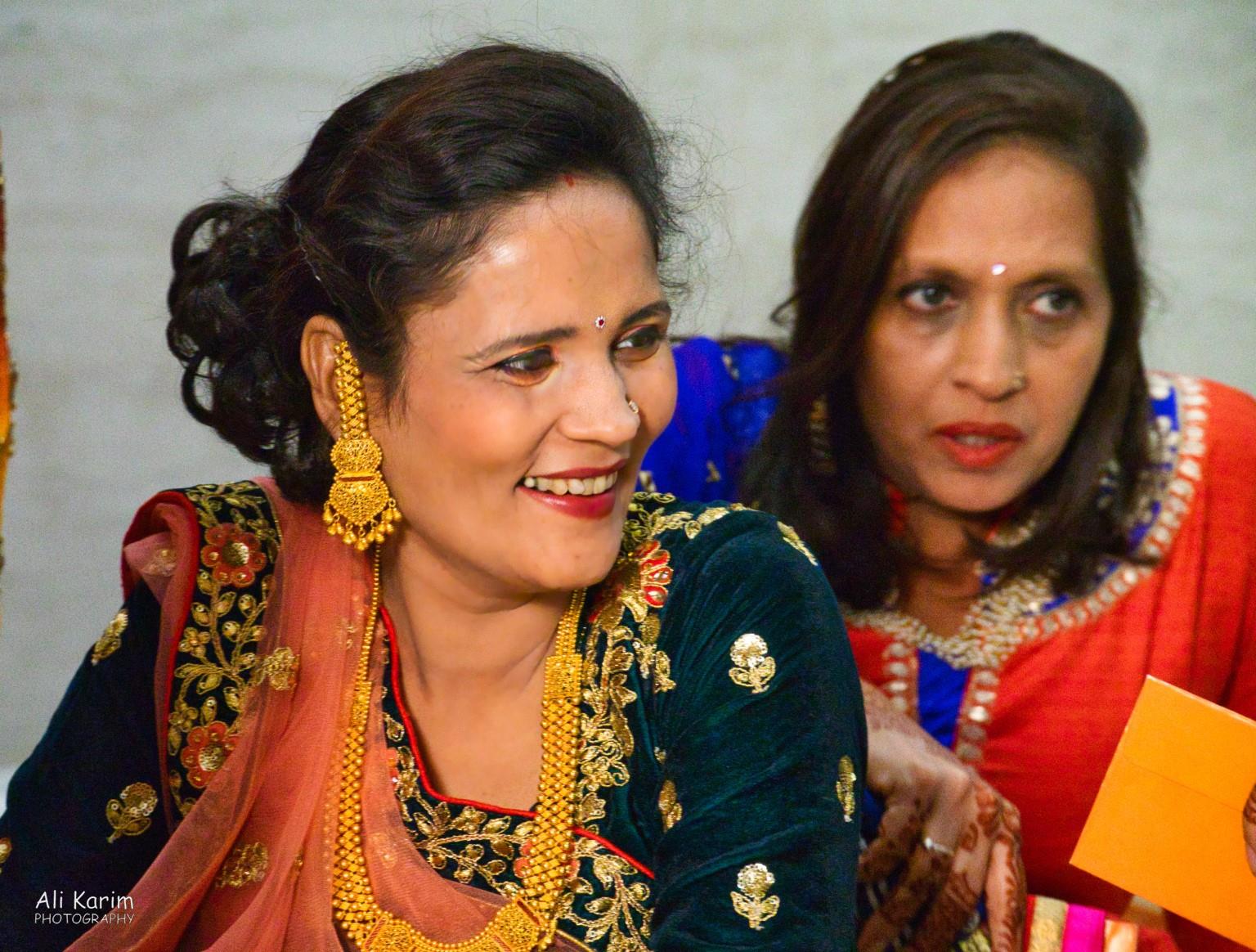 After all these ceremonies were finished, outside in the compound of the hotel was a huge wall-to-wall spread of food; most of it being prepared and served fresh.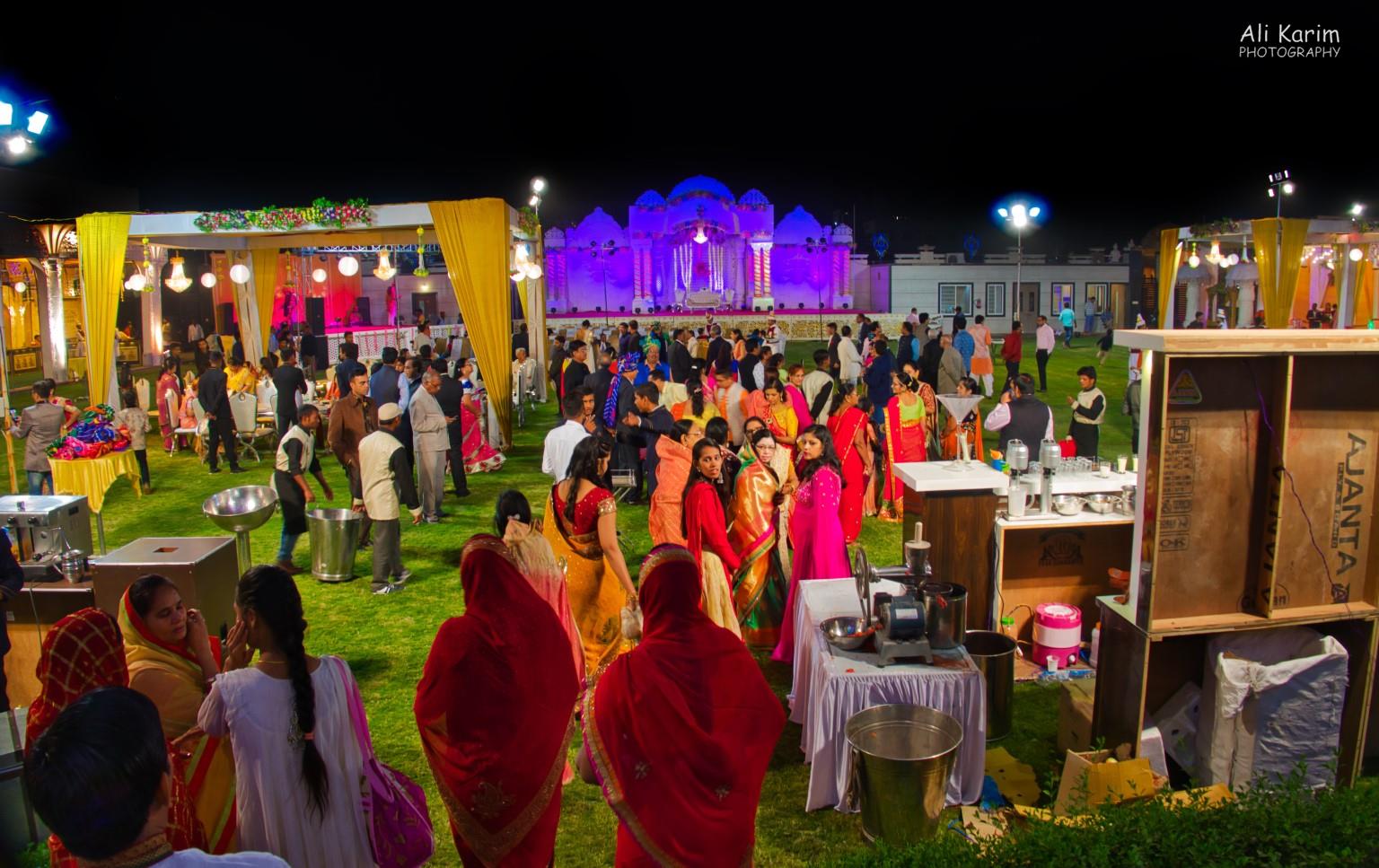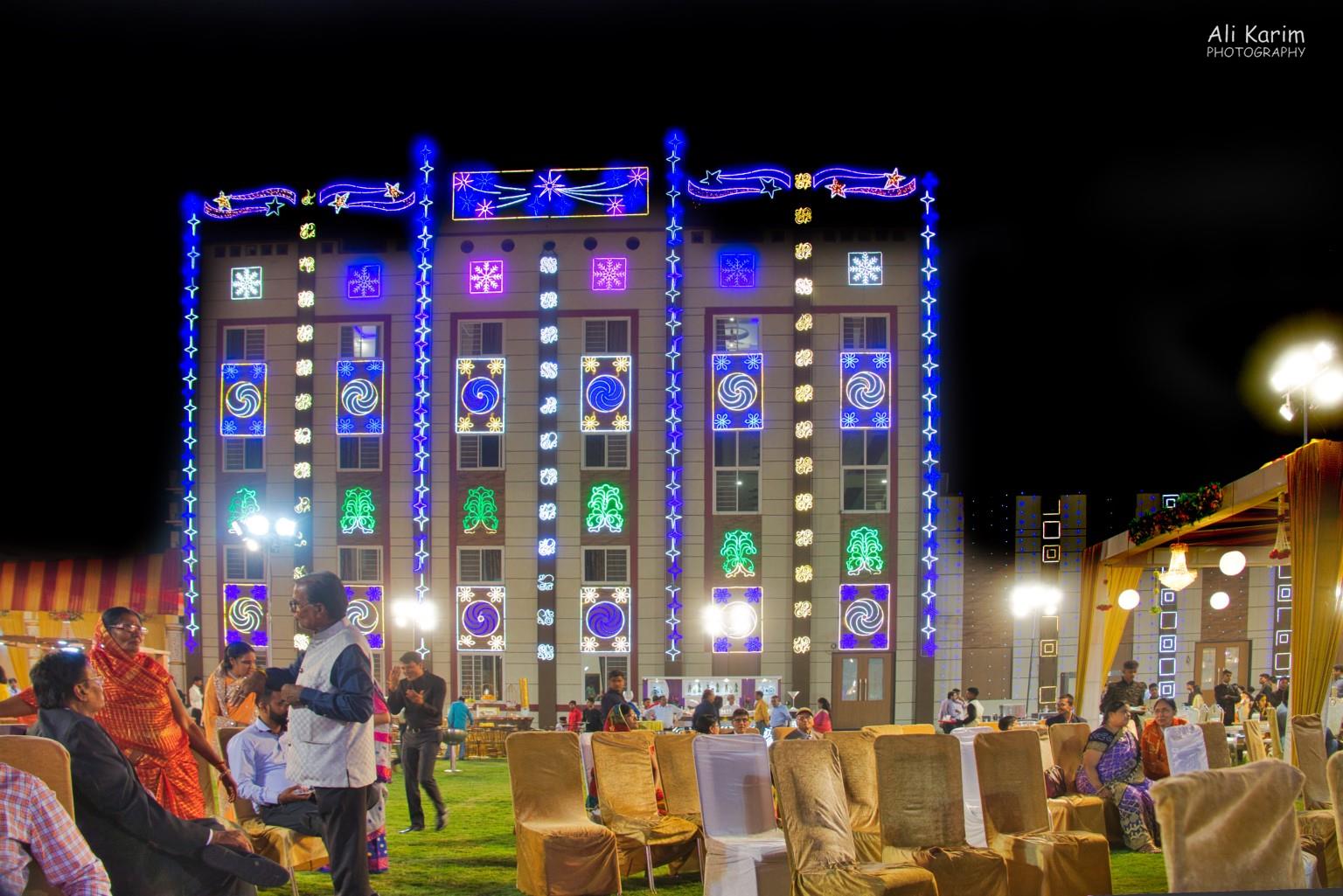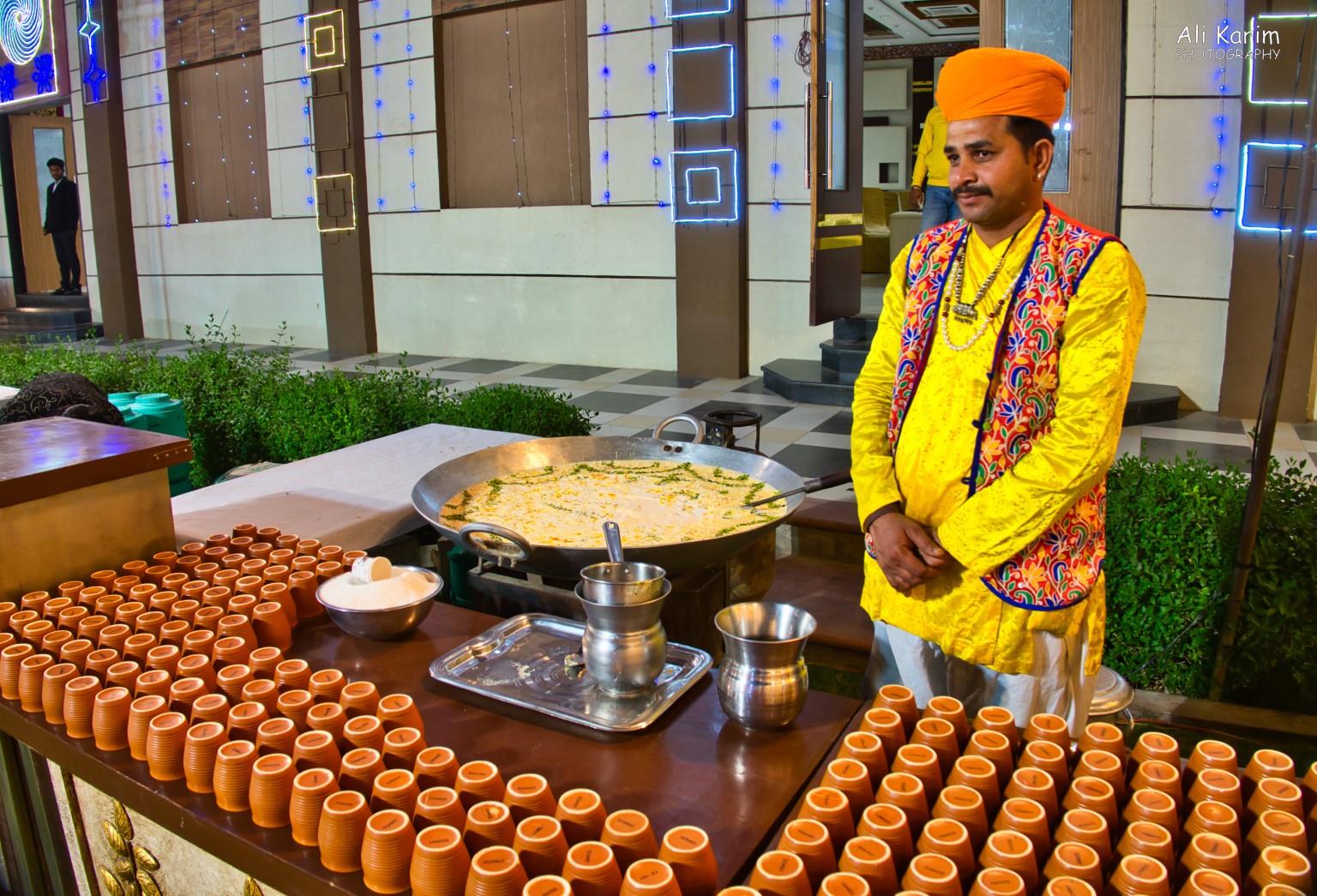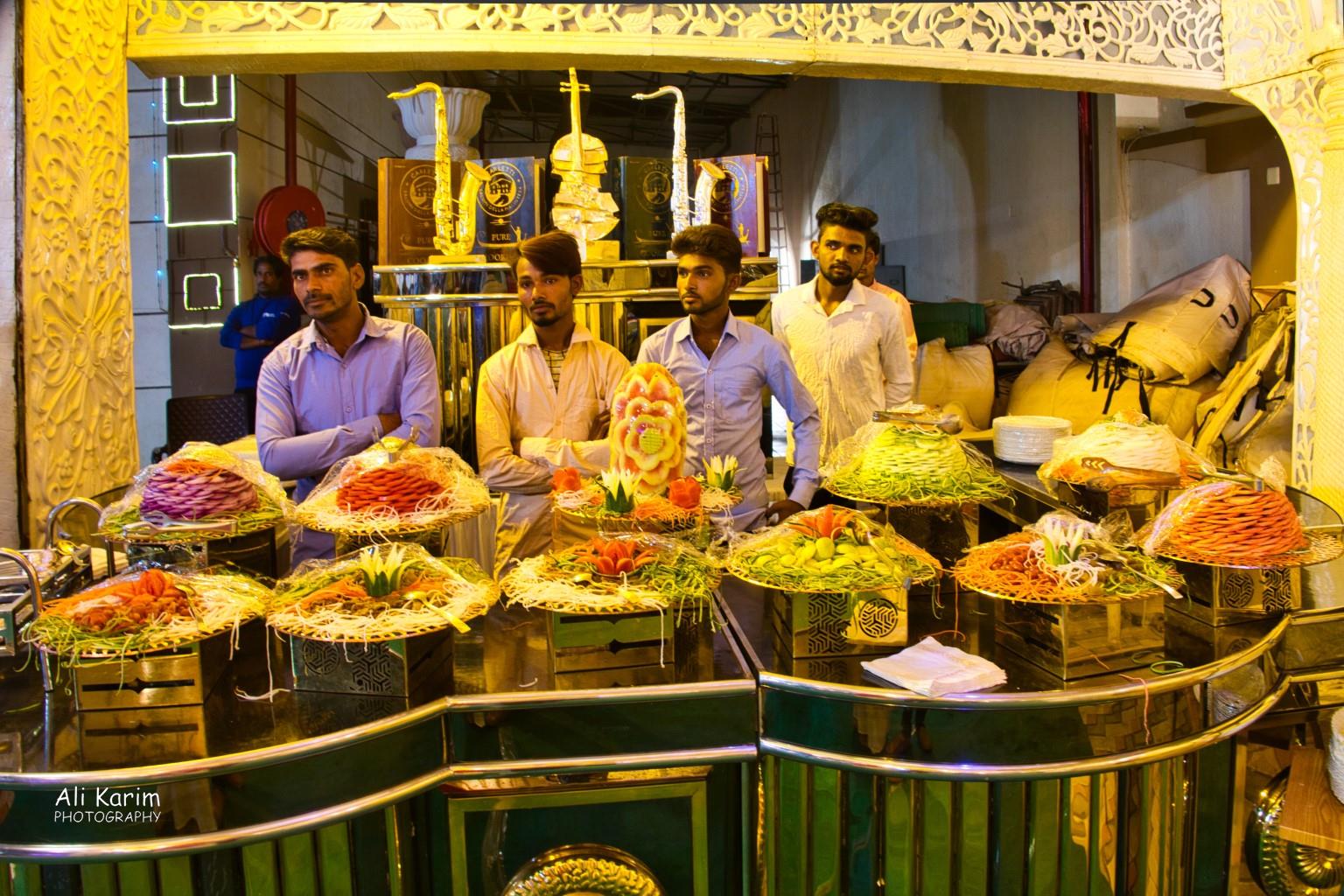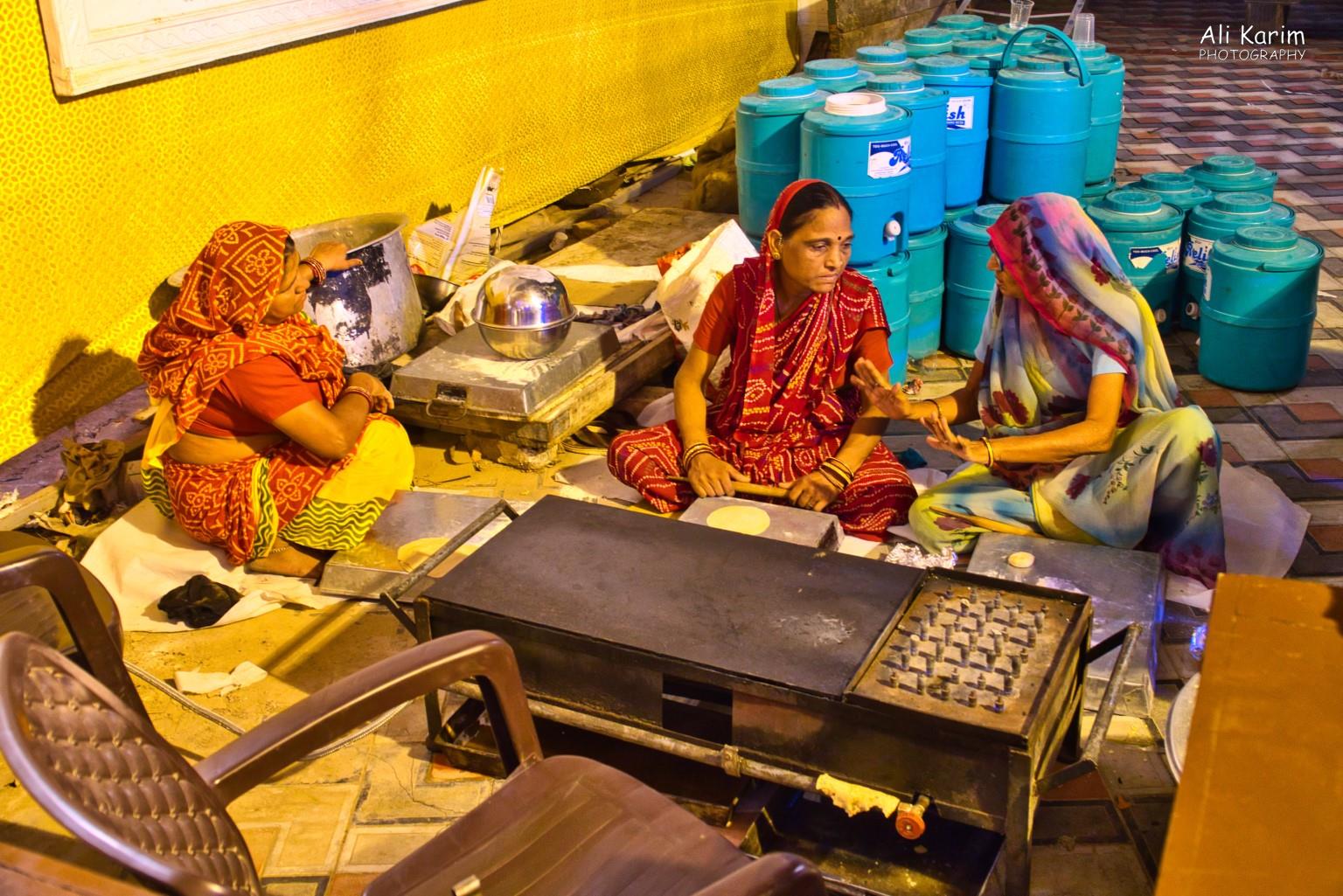 Note the 3 sides of the large courtyard all lined with wall-to-wall food

Then, on the stage, rings were exchanged, more gifts given and ceremonies. Thereafter, there were multiple performances on the stage by the grooms family this time; some are shown below
Performance by Ankit and Palak, the bride & groom

This guy did a great dance; yes this guy

After all these wonderful celebrations and food, we called it a night.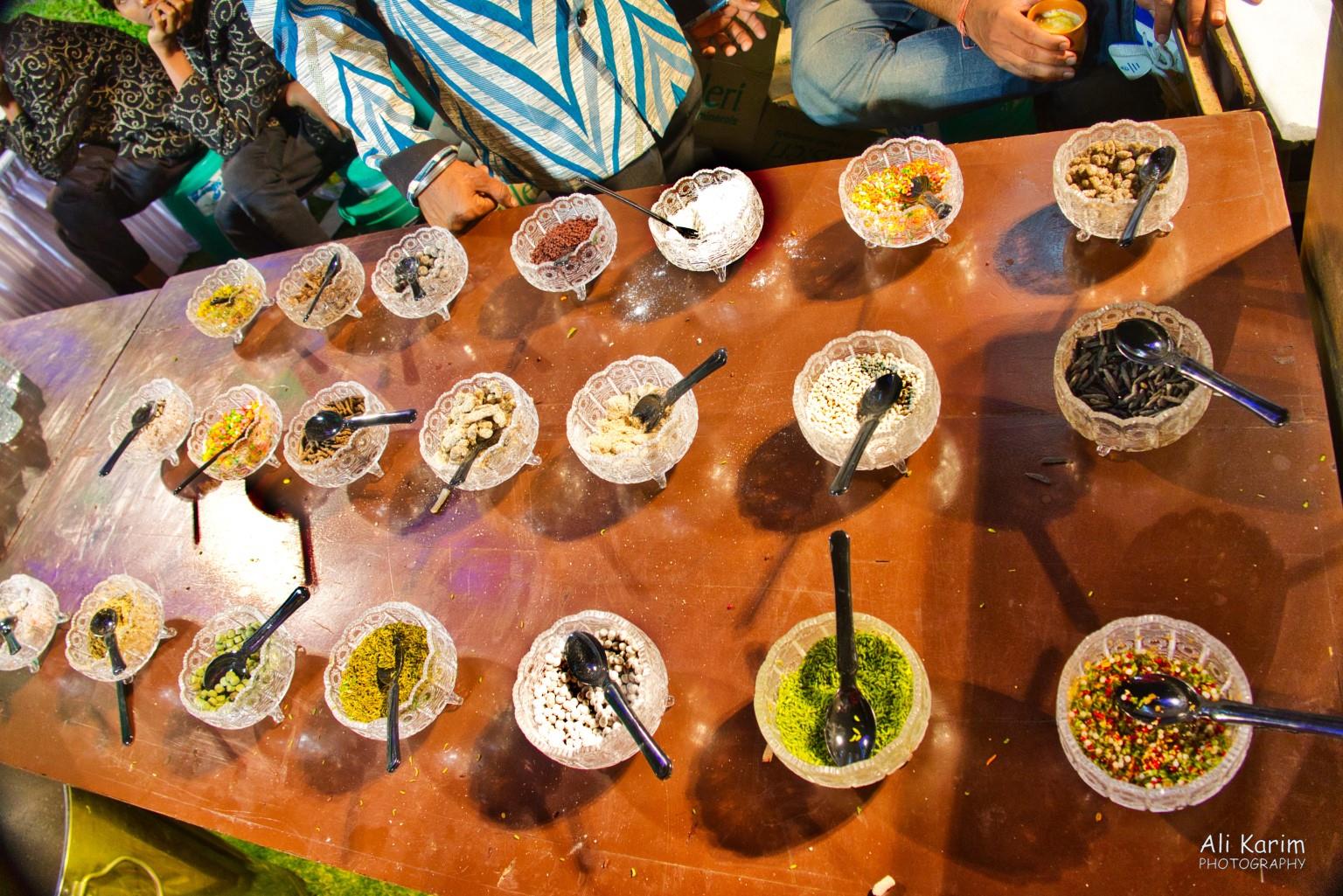 I had miscalculated my timings required in Jodhpur, so next day, we skipped the actual wedding ceremony, and headed off to Jodhpur, Rajasthan. Our sincere thanks to Ankit & Palak's families for hosting us so wonderfully; something we will always remember fondly.
This entry was posted in
Asia
,
India
,
Rajasthan - Kutch Nov 2018