We spent the next few days in Bhuj checking out the few sites they have, shopping (Dilshad), and experiencing the great street food, enjoying the people interactions and language. So while we were at the Hill View Resort hotel, we took the auto-rickshaws everywhere, as they were readily available and cheap. The rickshaws stopped at a street corner about a quarter mile from our hotel, so we always walked there and back.
The images below are of the street foods and the people going about their daily work. Kutch is famous for street foods, but one always has to be careful not to get the Delhi-belly; so we only ate where Dilshad approved; which meant the place was reasonably clean, staff appeared clean/hygienic, and the place had a decent amount of traffic, so food was not stale. In general, we found that most street food places practiced good hygiene, and there were surprisingly few flies. And best part was that we did not get sick 🙂
Food for Thought
Dabeli is one of the most eaten dishes in the state of Gujrat with rich fillings inside a bun.
One street food that was everywhere was the Da Be Li; which was a white bread bun, sliced in half, and fired lightly in butter. Then, spicy stuffing was added to one bun slice, together with garnishes like onions, chutney, tomato's, sev etc (different people had different recipes). Then the whole thing was squished lightly and warmed on the pan; see below. The squishing process gave it the name it has. And this meal was delicious; and it only cost 20 cents or so; and 2-3 of these would fill us up nicely. We only had 1 at a time so we could check out the other street food carts. We went to the recommended street carts. Everything was vegetarian which suited us just fine.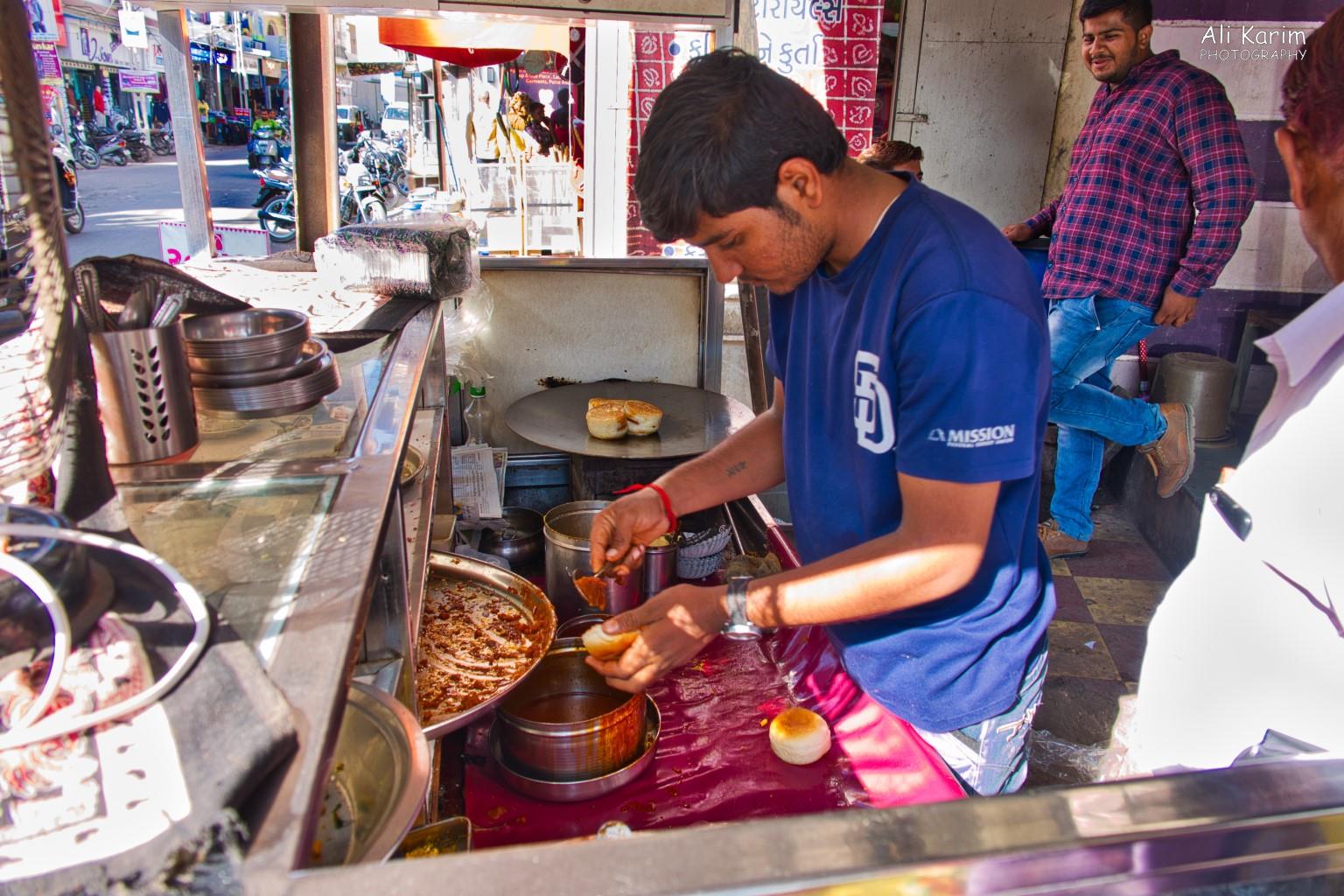 Another street cart we went for was for bateta-vada or deep fried potato stuffing balls.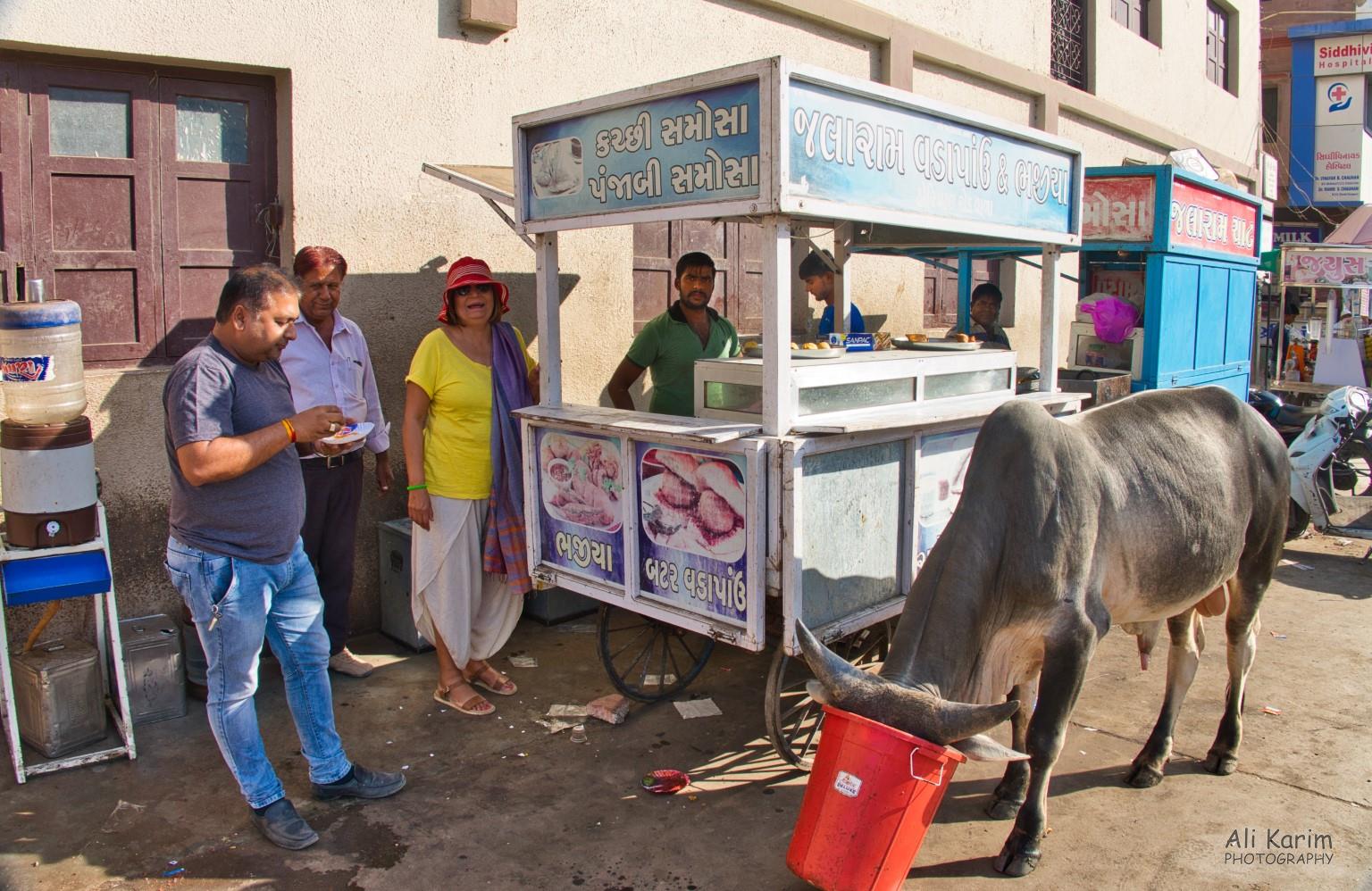 We asked for fresh ones to be made for us, and the young owners happily obliged.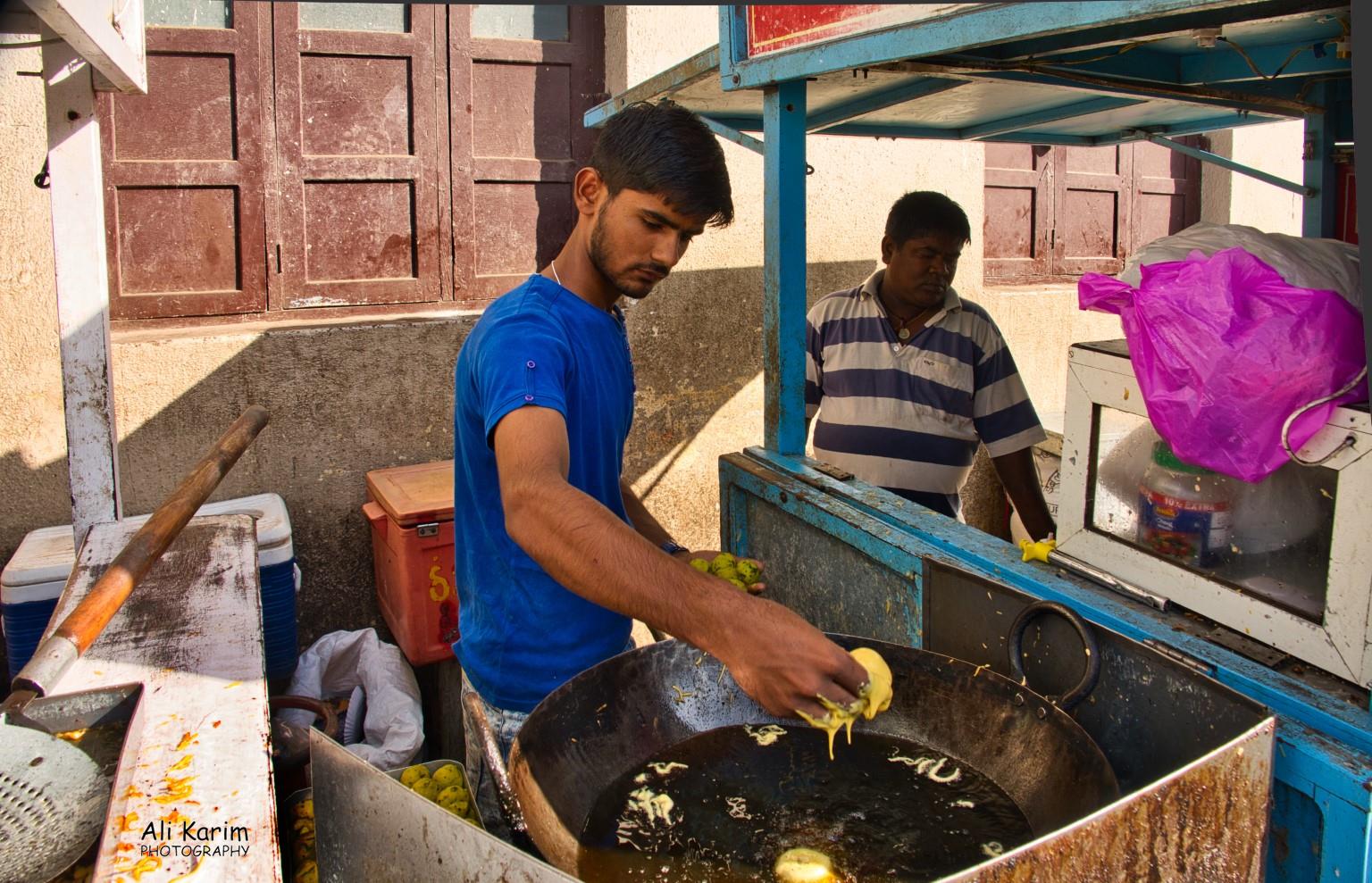 The bateta-vada's were delicious, and after having a few with the chutney, the owner refused to take any money from us; saying that he was just satisfied that we had come specially to eat at his stall, and that was reward enough for him. What amazing hospitality; especially as this cart was his only income and I am sure he did not make a ton of money daily. Such nice gestures renews one's faith in humanity and goodness of life.
Food must try
Batata vada is a must try.
This family below had a stall near our hotel, and made empanada-type stuffed, deep fried pies; see below. All fresh and delicious. And cheap. The whole family gathered there in the evenings and helped out.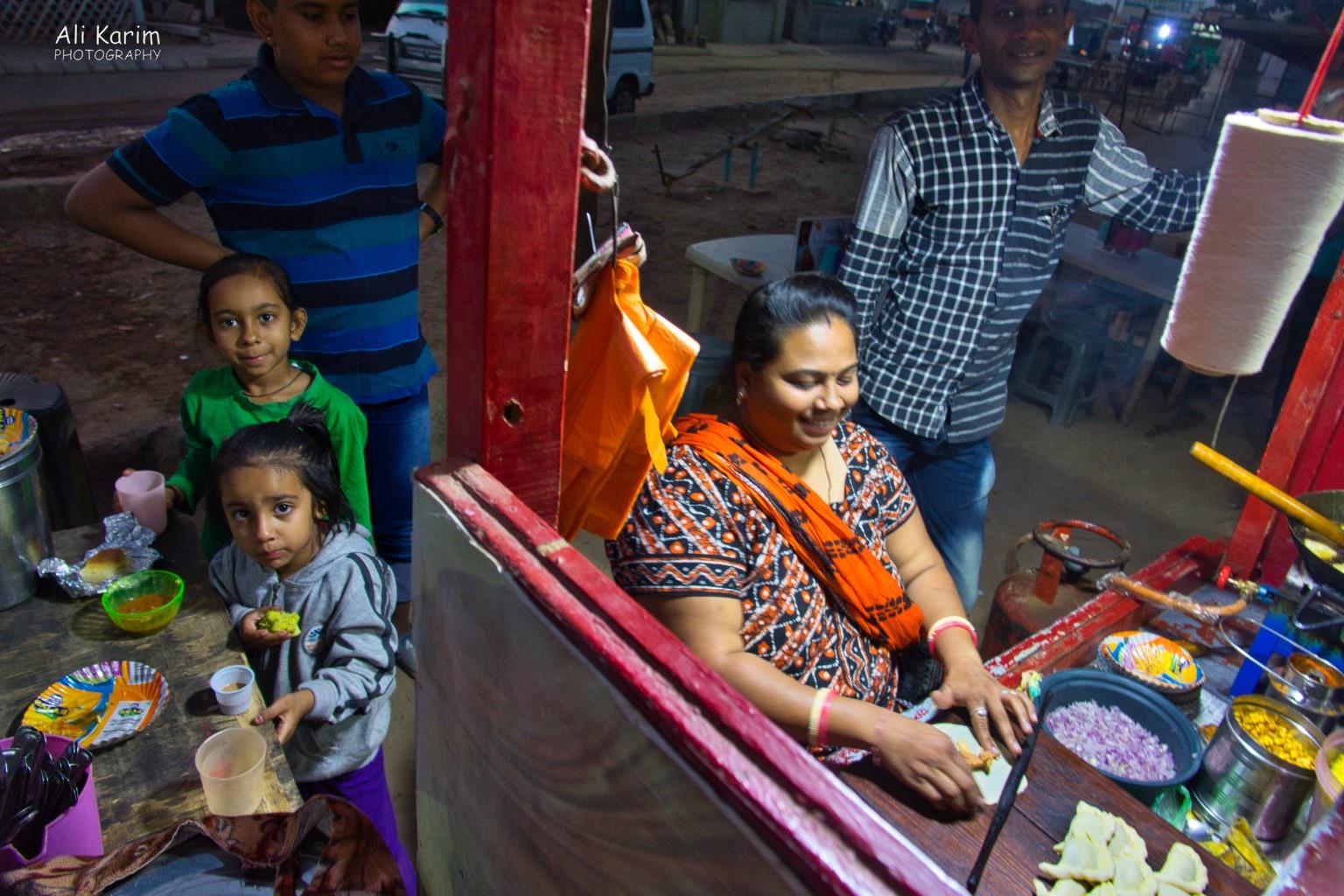 We chatted with these ladies below who were having an evening snack at a street cart. The snack was a cone (as in ice cream cone) stuffed with a savory filling, and choice of topping (cilantro, onions, tomatoes, sev, green chili, etc). We found this snack strange, and they found it strange that we found the snack to be strange 🙂 .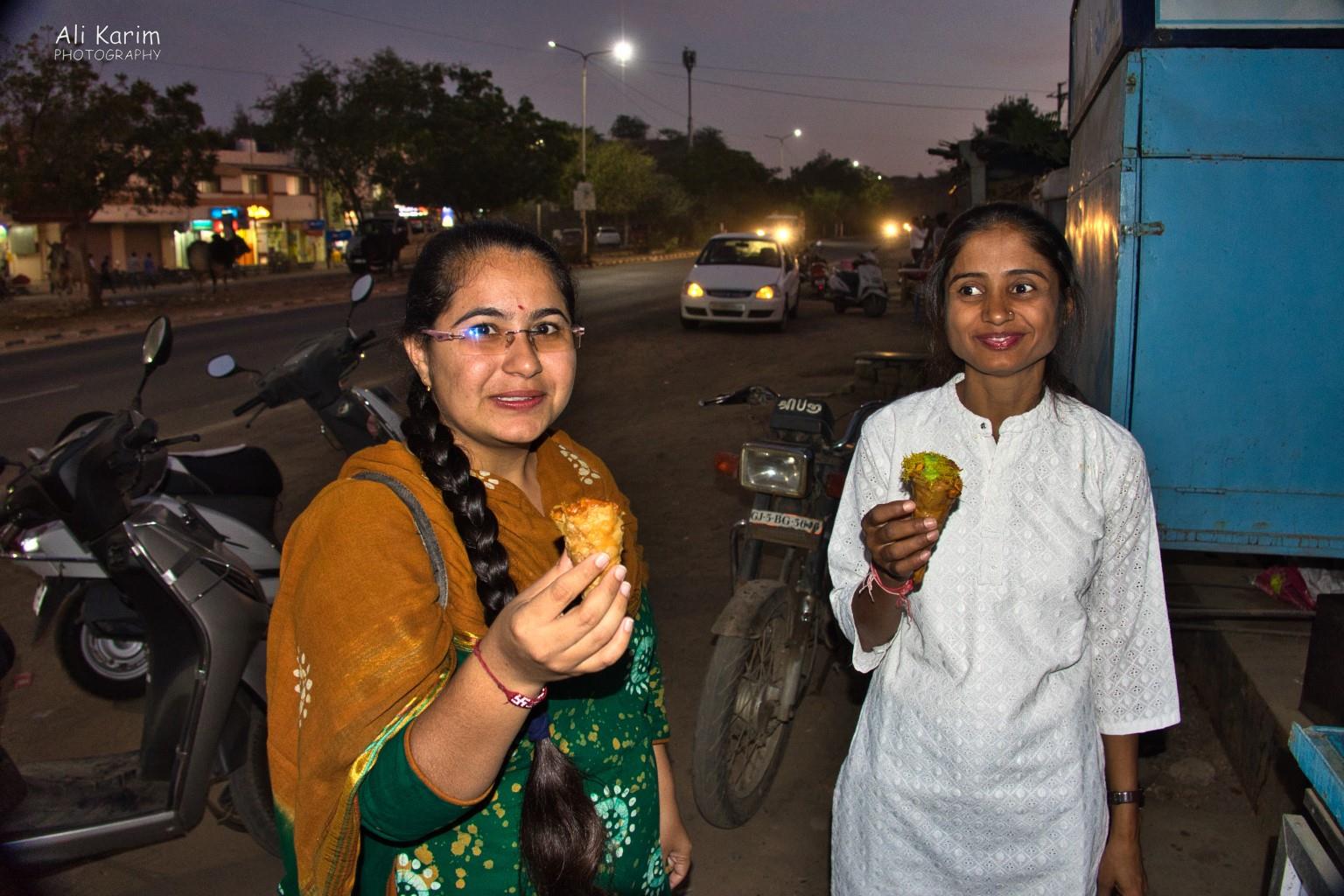 We had breakfast (included) at the Hillview hotel once; but realized that there was better choices at the rickshaw stand near the hotel' so, we had breakfast at the carts by the rickshaw stand; this guy used to bring fresh home-made jalebi's early in the morning, and they were still warm when we got there at about 9AM.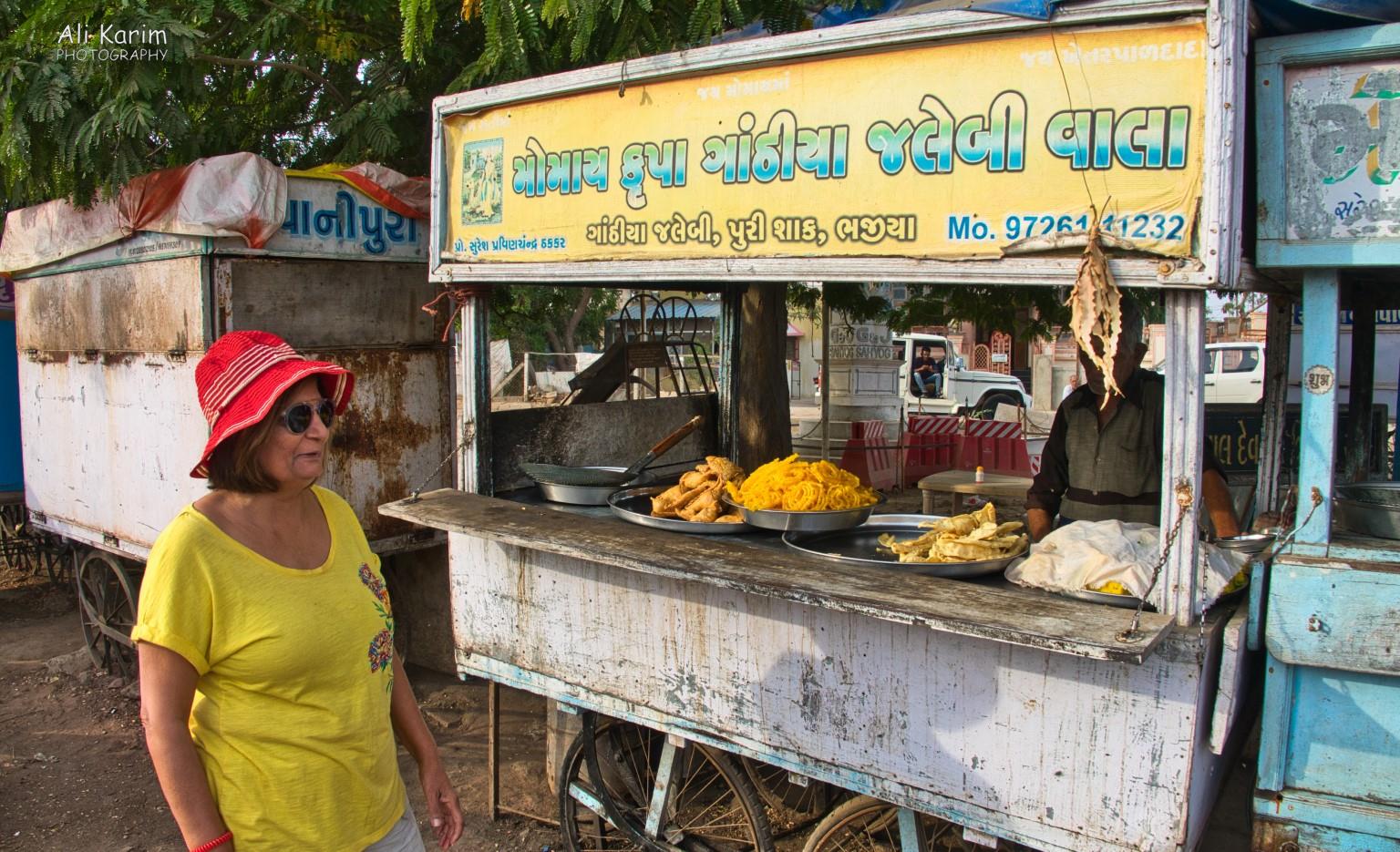 Joshi (below left) was famous for his dahi-wada, a snack made with yogurt. And it was definitely delicious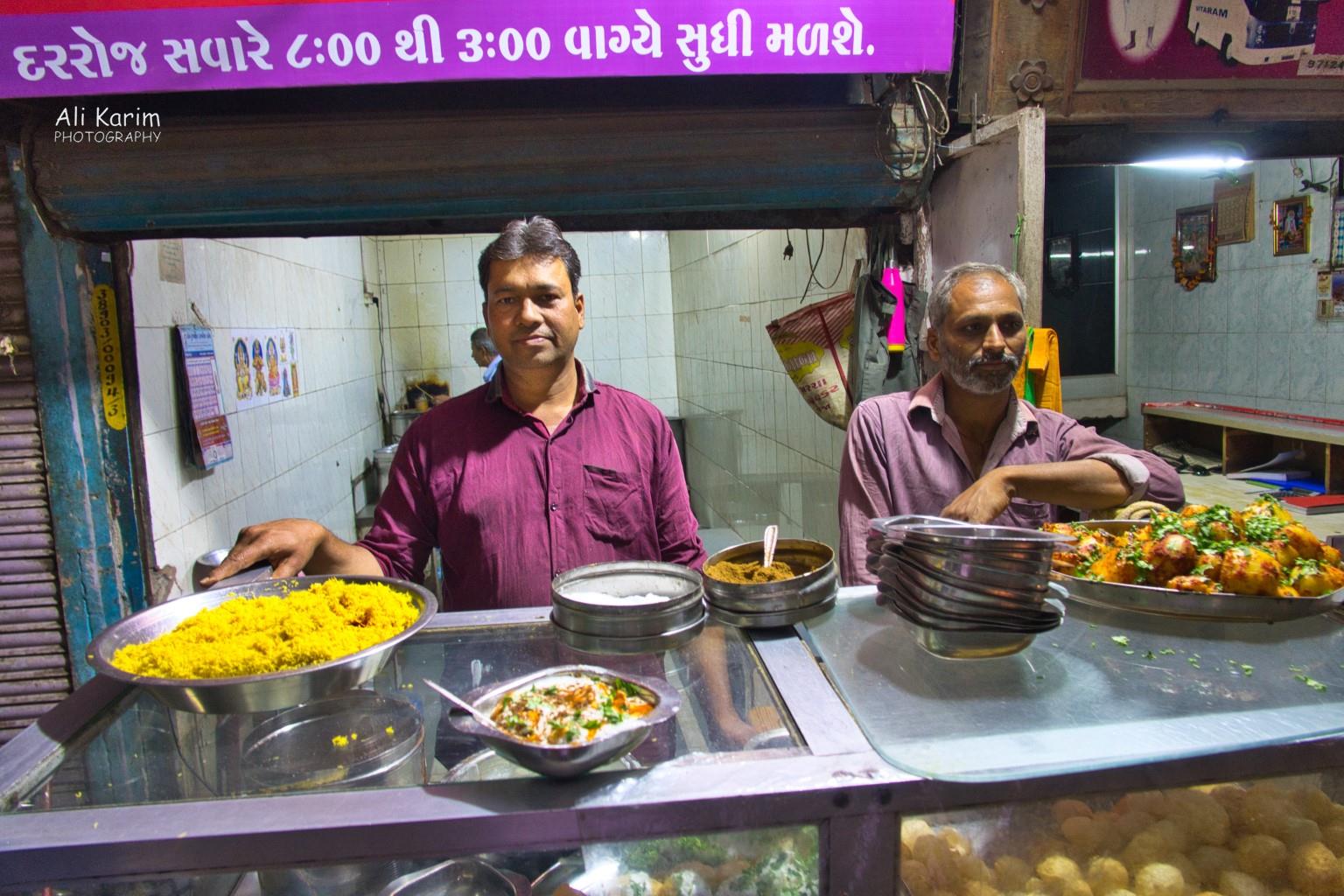 This street below was full with street stalls and small eateries, and was filled with locals stopping by to eat and socialize here in the evenings. And no, this was not a weekend day.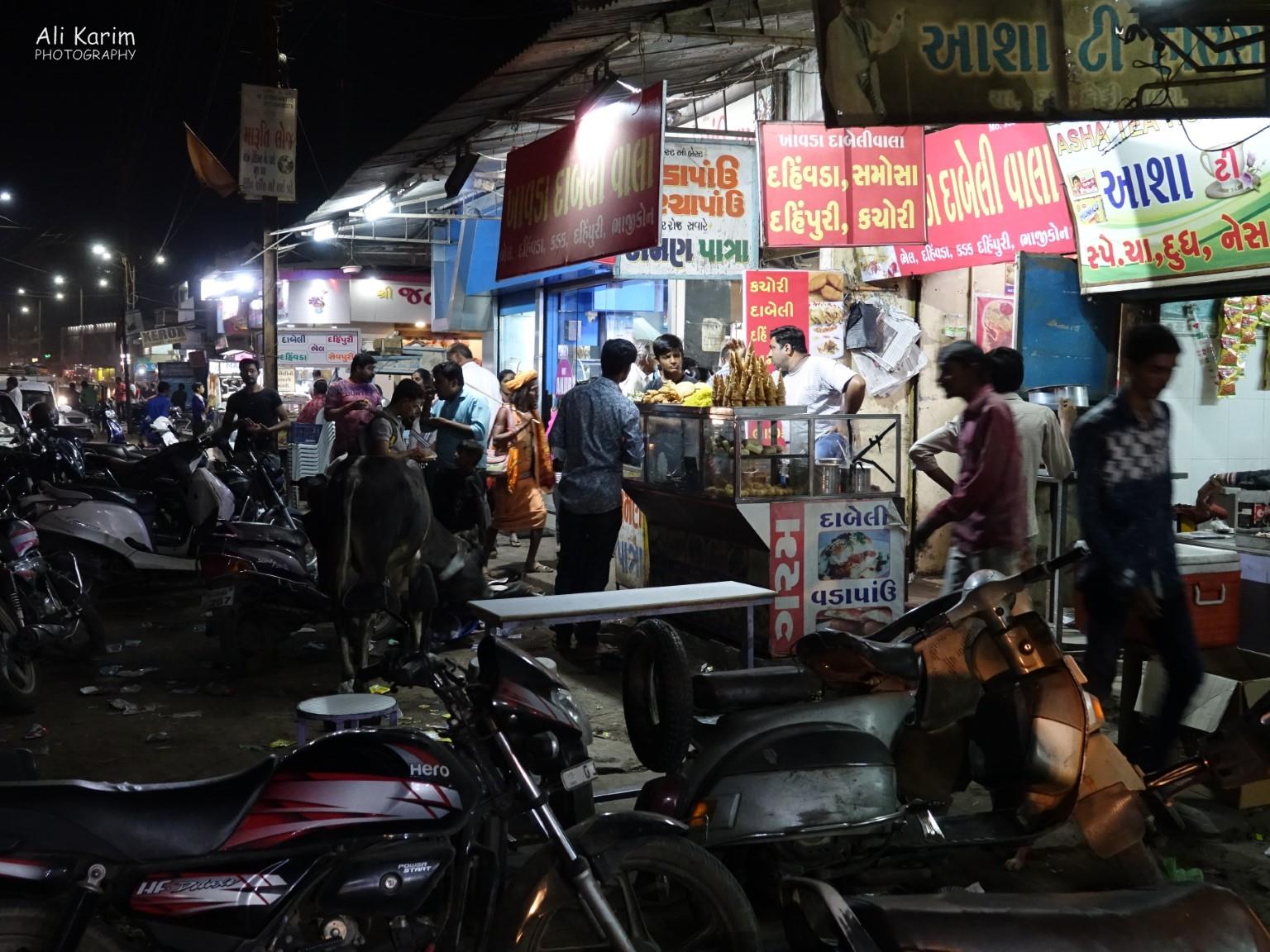 On this street, there was one particular shop that was bombarded with people waiting to pick up murcha-vada, which is basically a small (medium spicy) pepper, stuffed with a savory filling, then doused in a flour paste and deep fired. Again, this was very tasty 🙂 ; and very cheap 🙂 🙂 .
We asked a young couple for direction to the lake area, and they not only gave us directions, but took us into their wholesale shop where we were standing; and gave us mawa (dried evaporated milk solids) to try out; their business was making all different kind of milk products like mawa (also known as khoya), barfi, paneer etc, from fresh milk. Another totally unexpected nice gesture from total strangers.
Below was an area near the reservoir/lake in the old city, where families and people came out to enjoy the evening and socialize. Unfortunately, since it has not rained in Bhuj for several years now, the reservoir was almost completely dry 🙁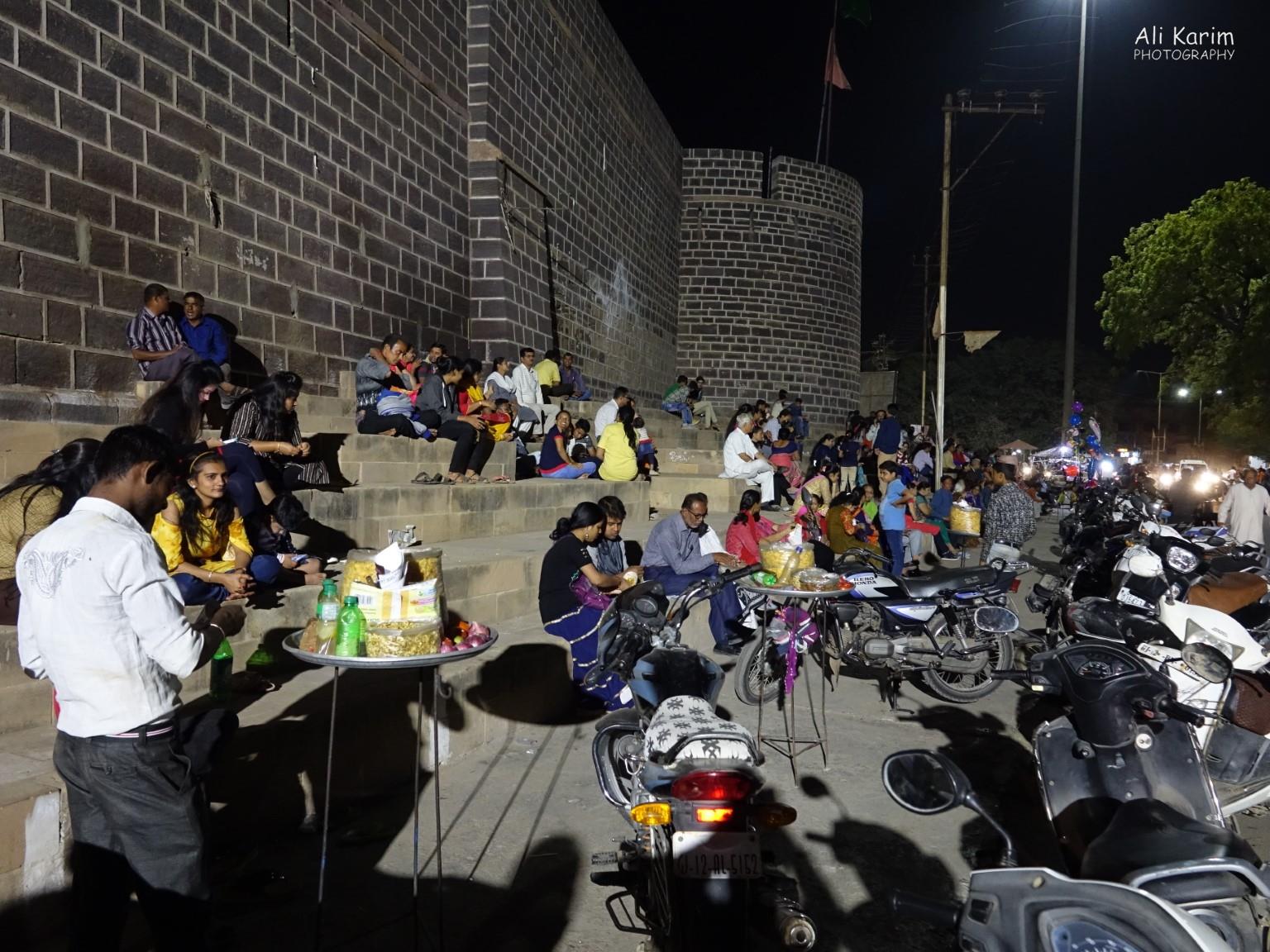 This man below had a street cart in the gully across from the ghee-wala's shop (directions given to us). He was quite friendly and got talking to us. Told us that this same cart had been in his family for several generations; always in the same spot. They had become famous for making dar-ja-bhajia and other snacks. We came here just before 5PM, when he opened shop, as we were told there would be a lot of waiting time, as he always had lineup of customers. Sure enough, soon after we arrive and placed our order, he had a big line up and people had to take numbers 🙂
The dar-ja-bhajia's were indeed delicious and worth waiting for.
One evening, we went to an restaurant that had a large open-air garden where tables were placed for eating, and after a short while, we got seated. We ordered their specialty, which turned out to be Kutchi Pizza; check out the picture below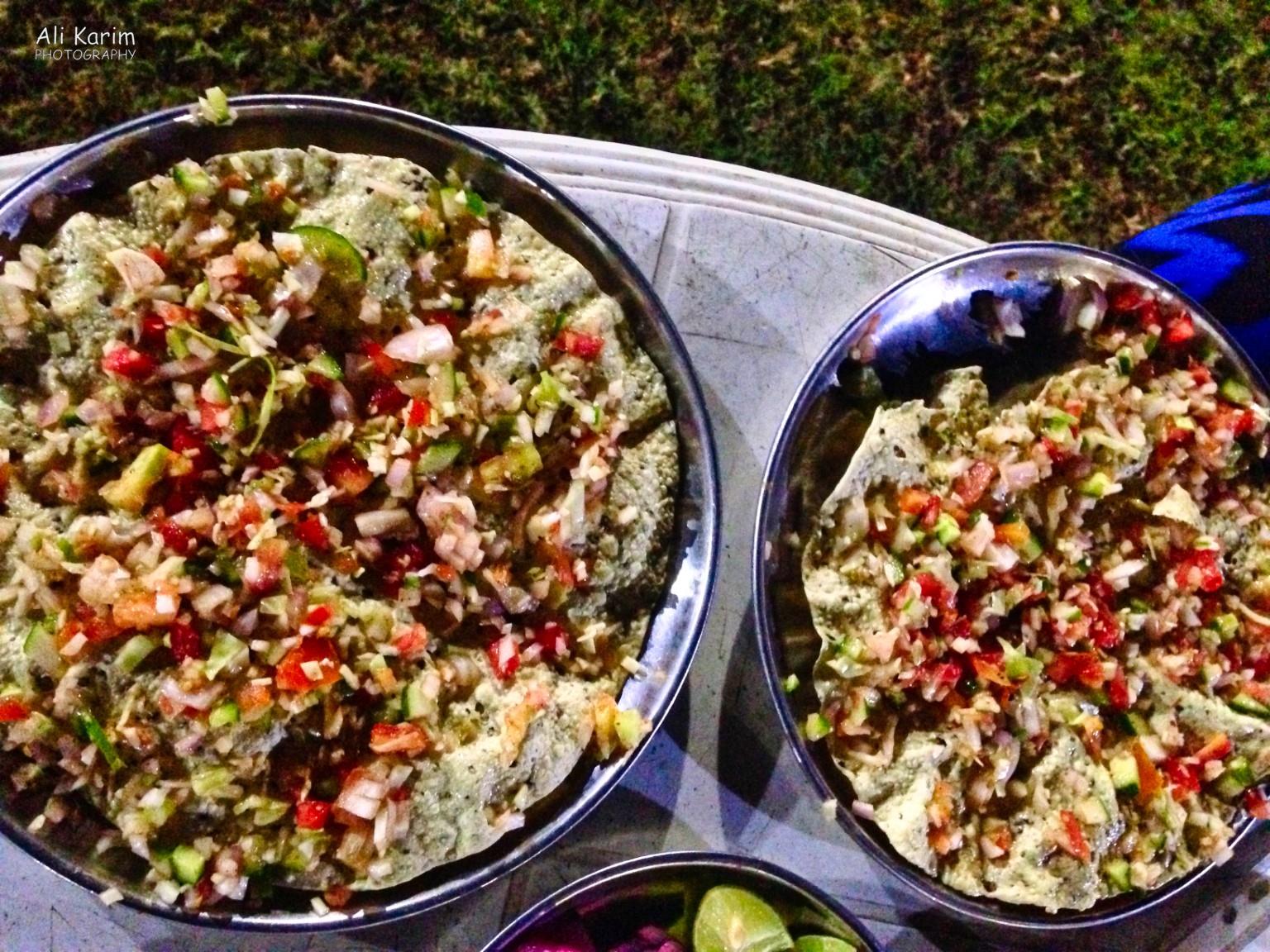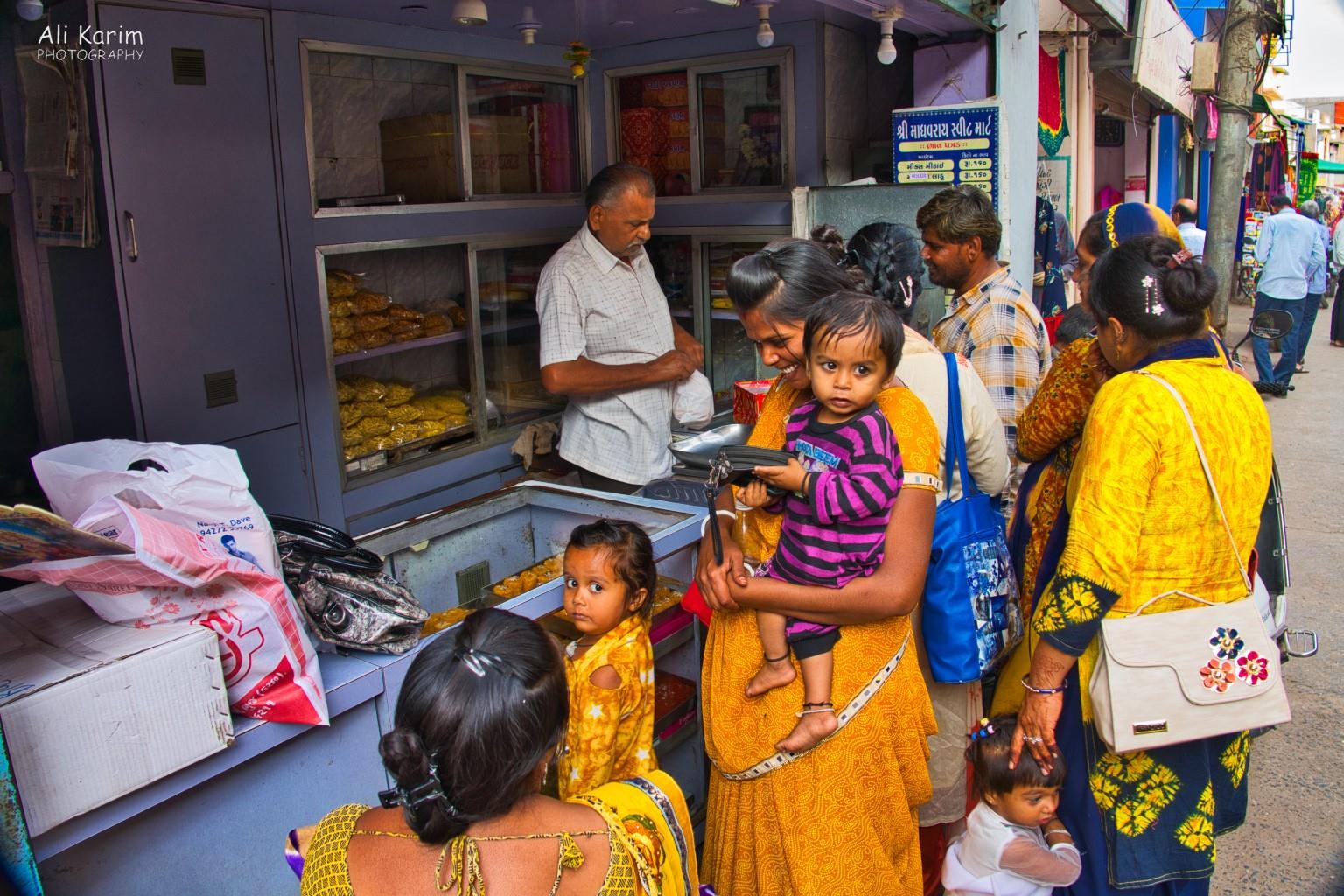 Now that my mouth is watering again; I have to say that street food we found and ate in Bhuj was of high quality, tasty, and did not make us sick. The street vendors were quite innovative in differentiating themselves; we did try everything. And it was very cheap; we could both eat a snack lunch or snack dinner for about $1. Amazing. Most of the snacks were fried.
Some street scenes below in the old city; where shopping was concentrated. We did notice a lot of tribal people intermixed with city locals, all shopping away.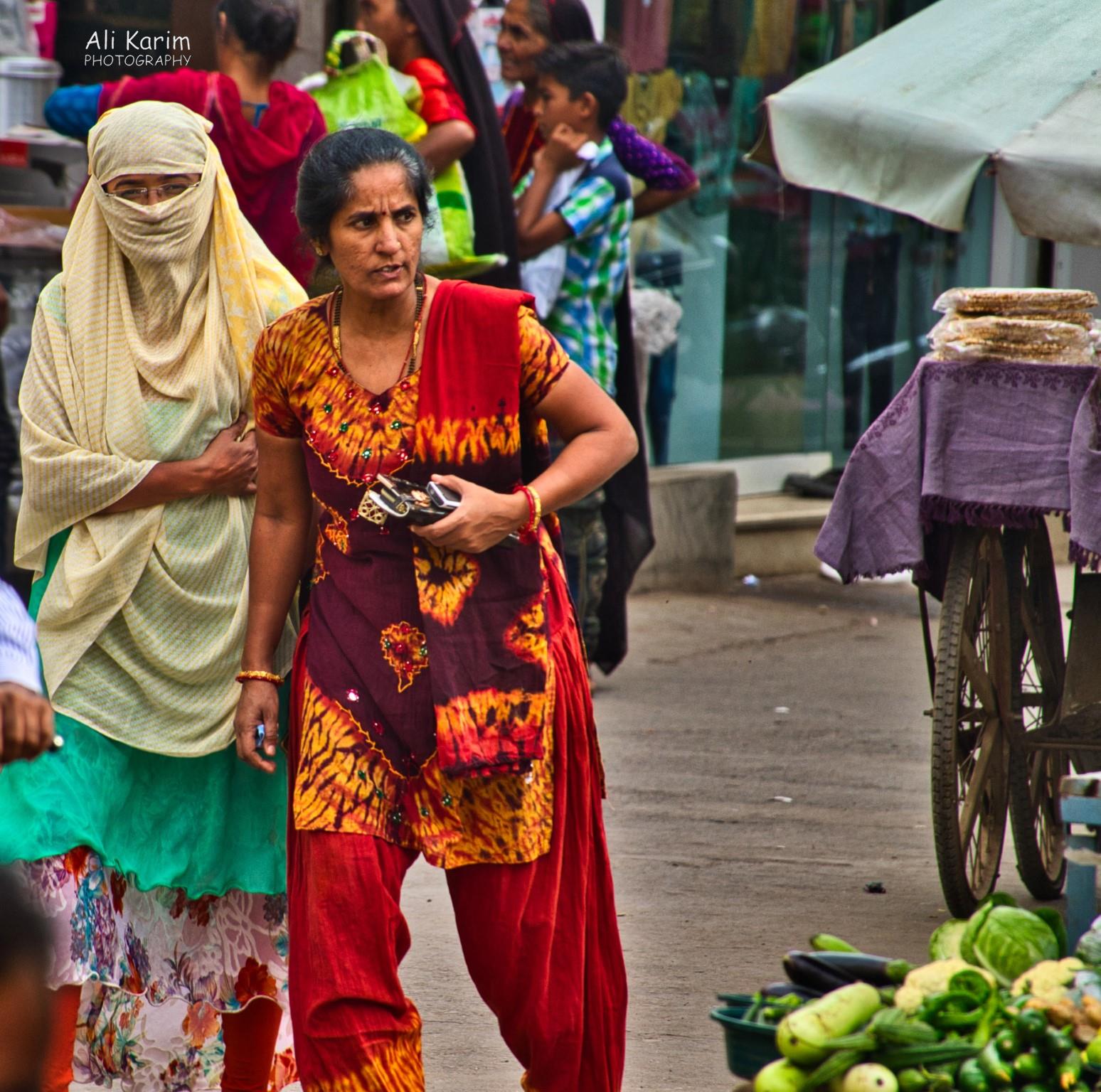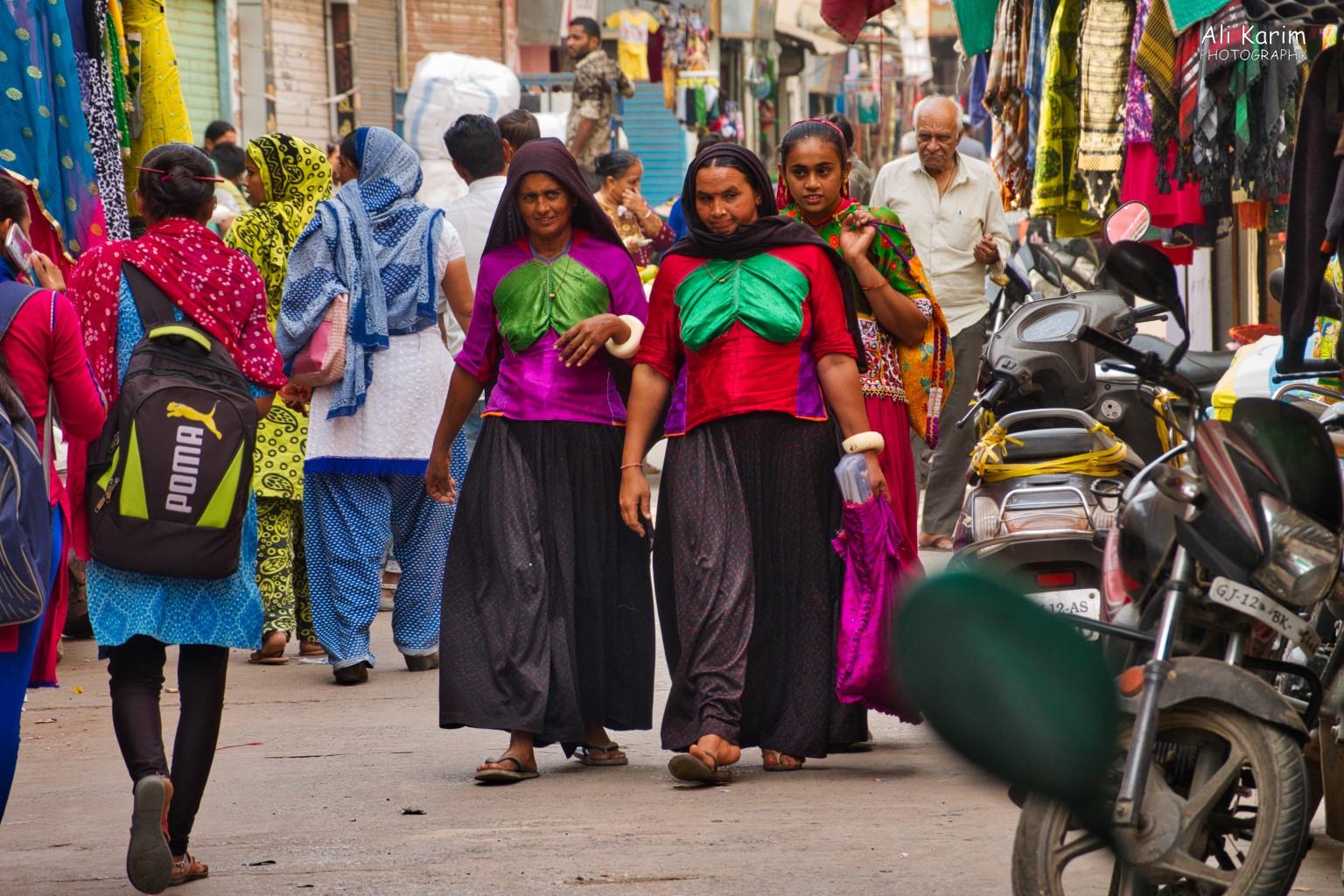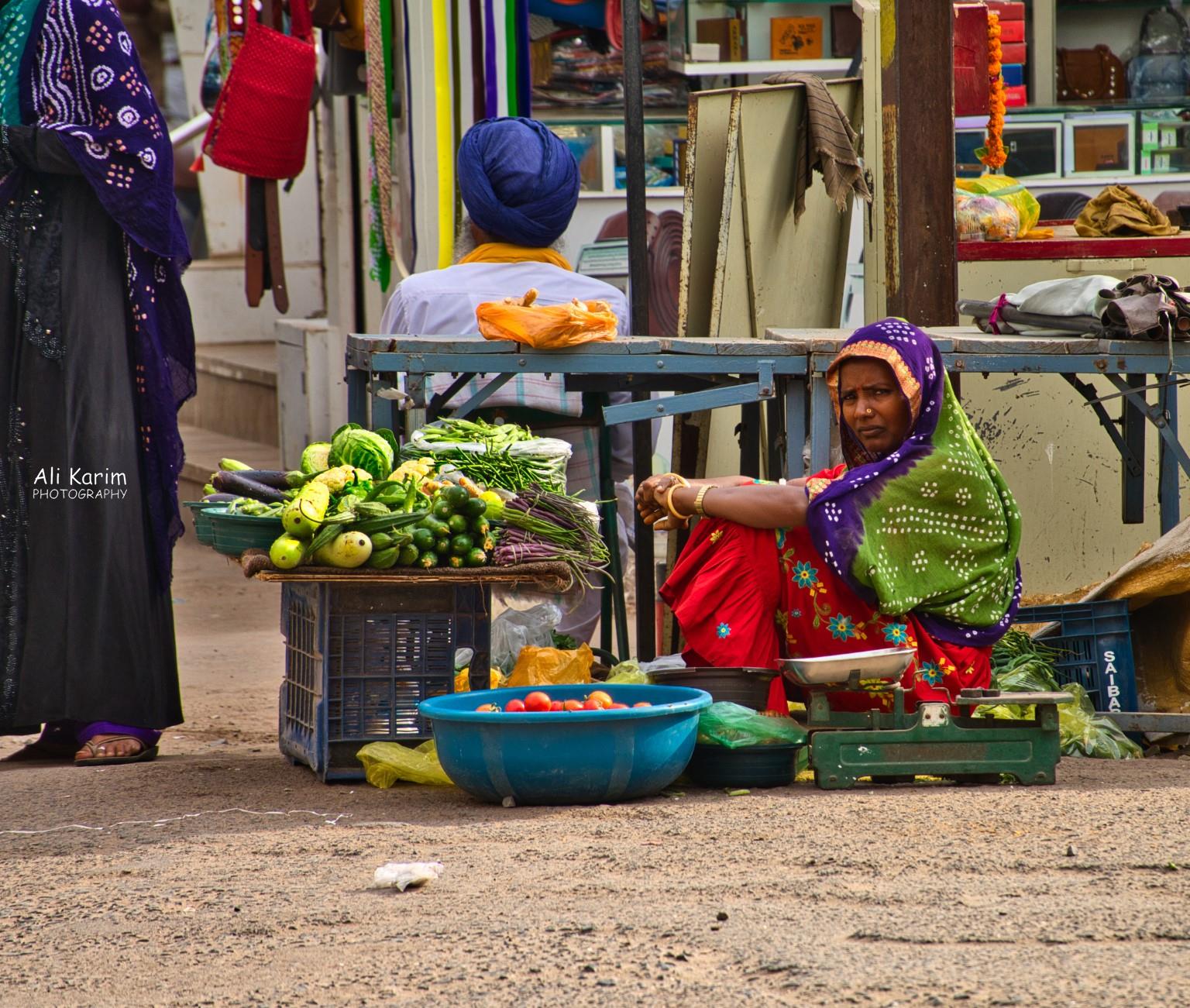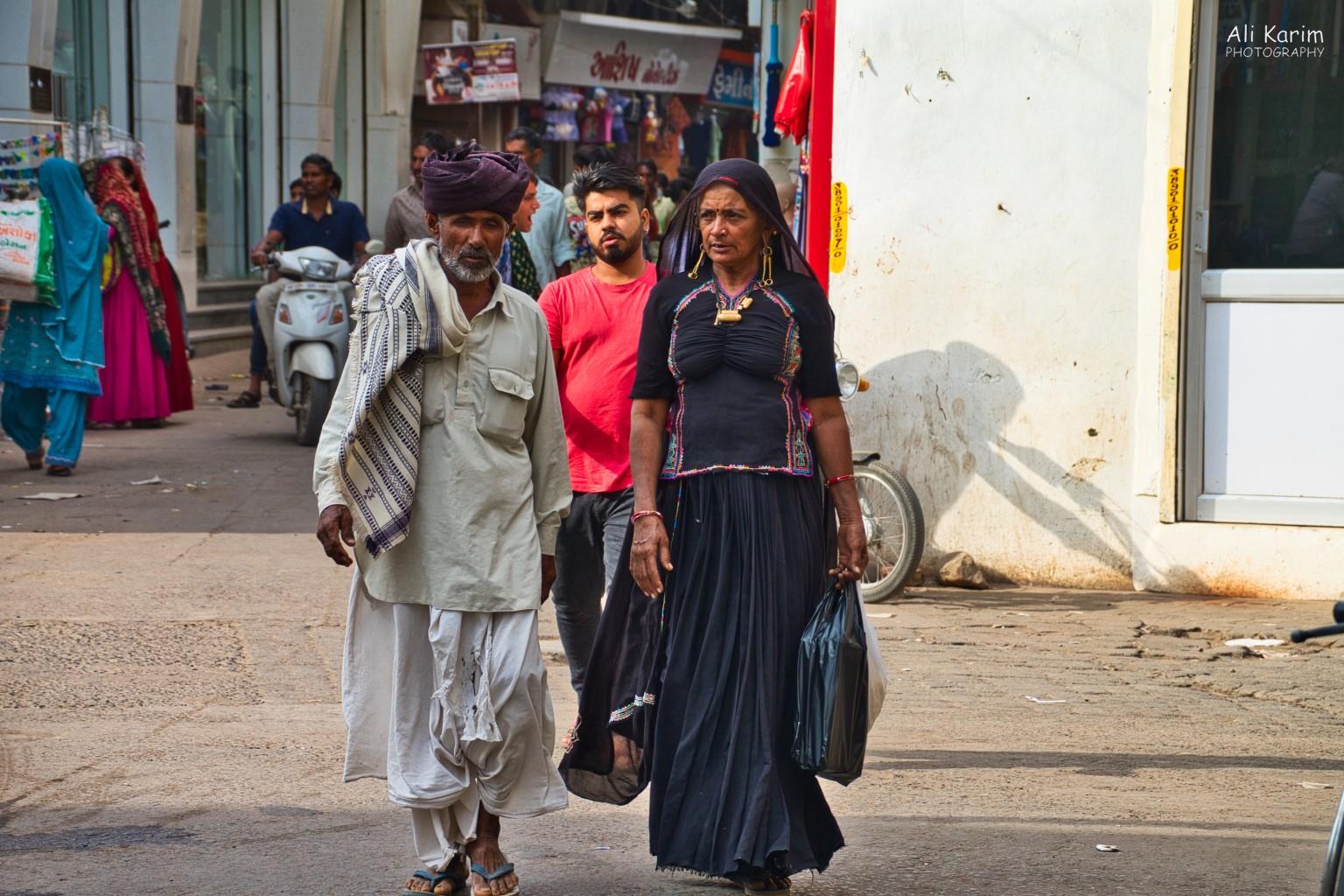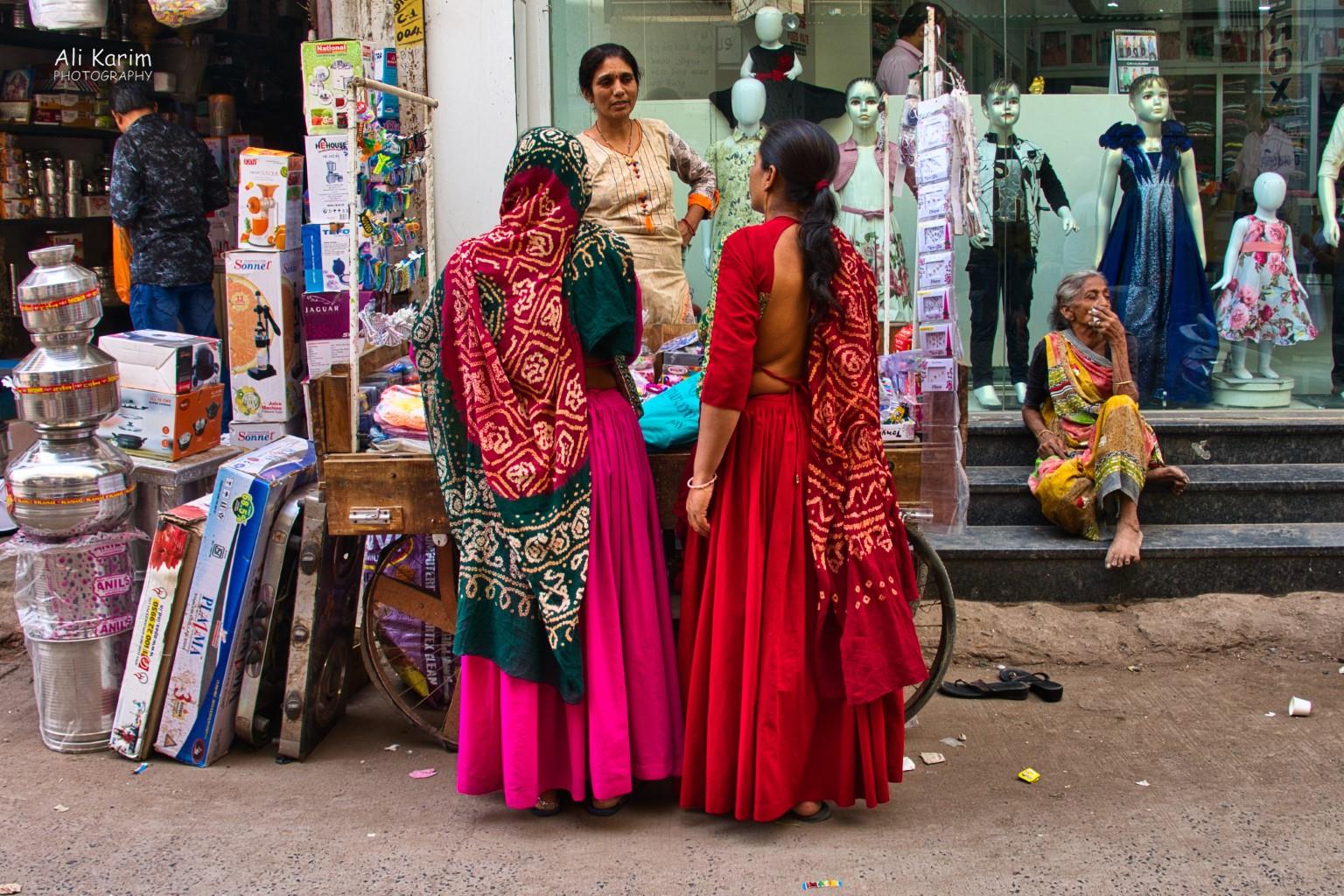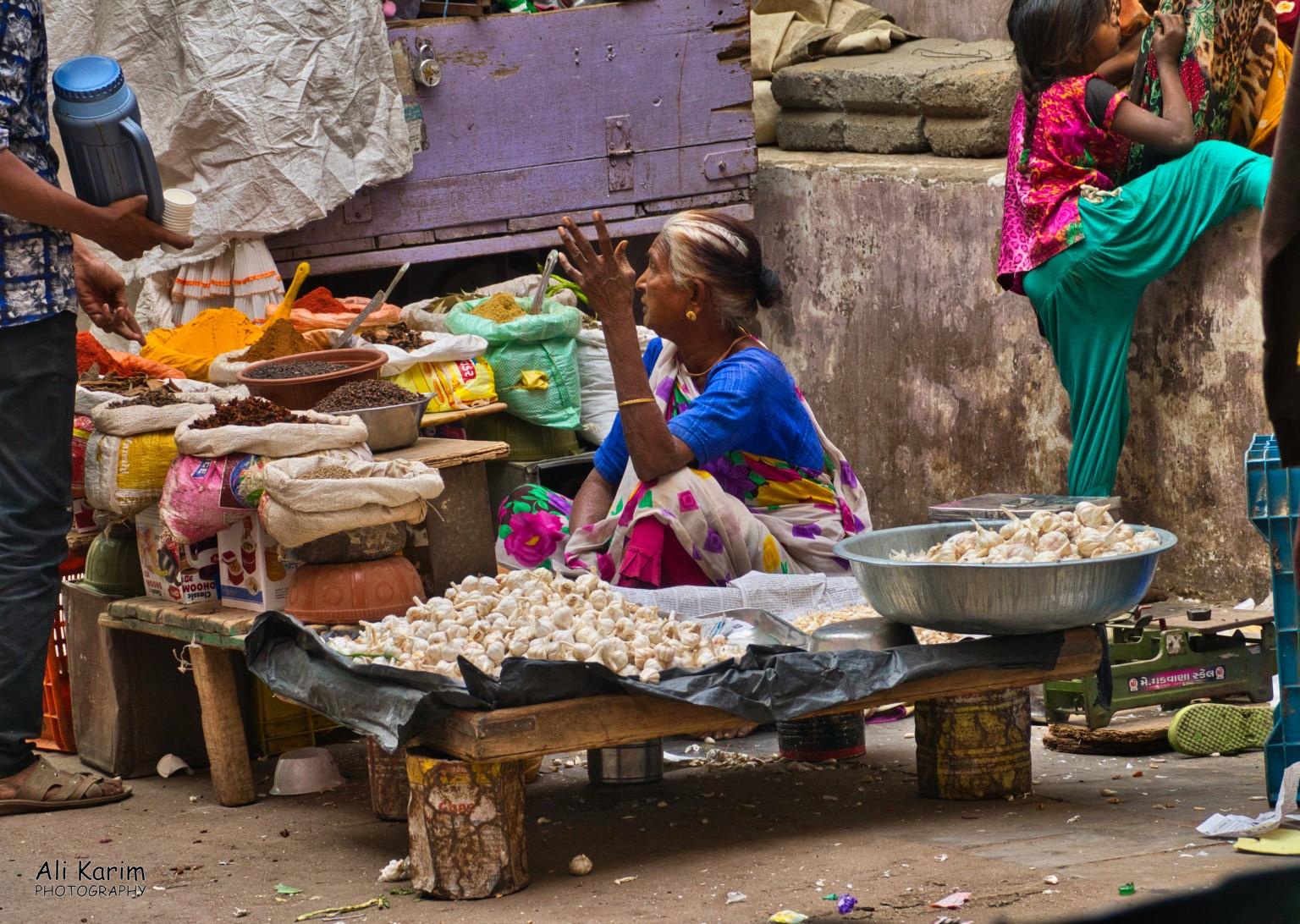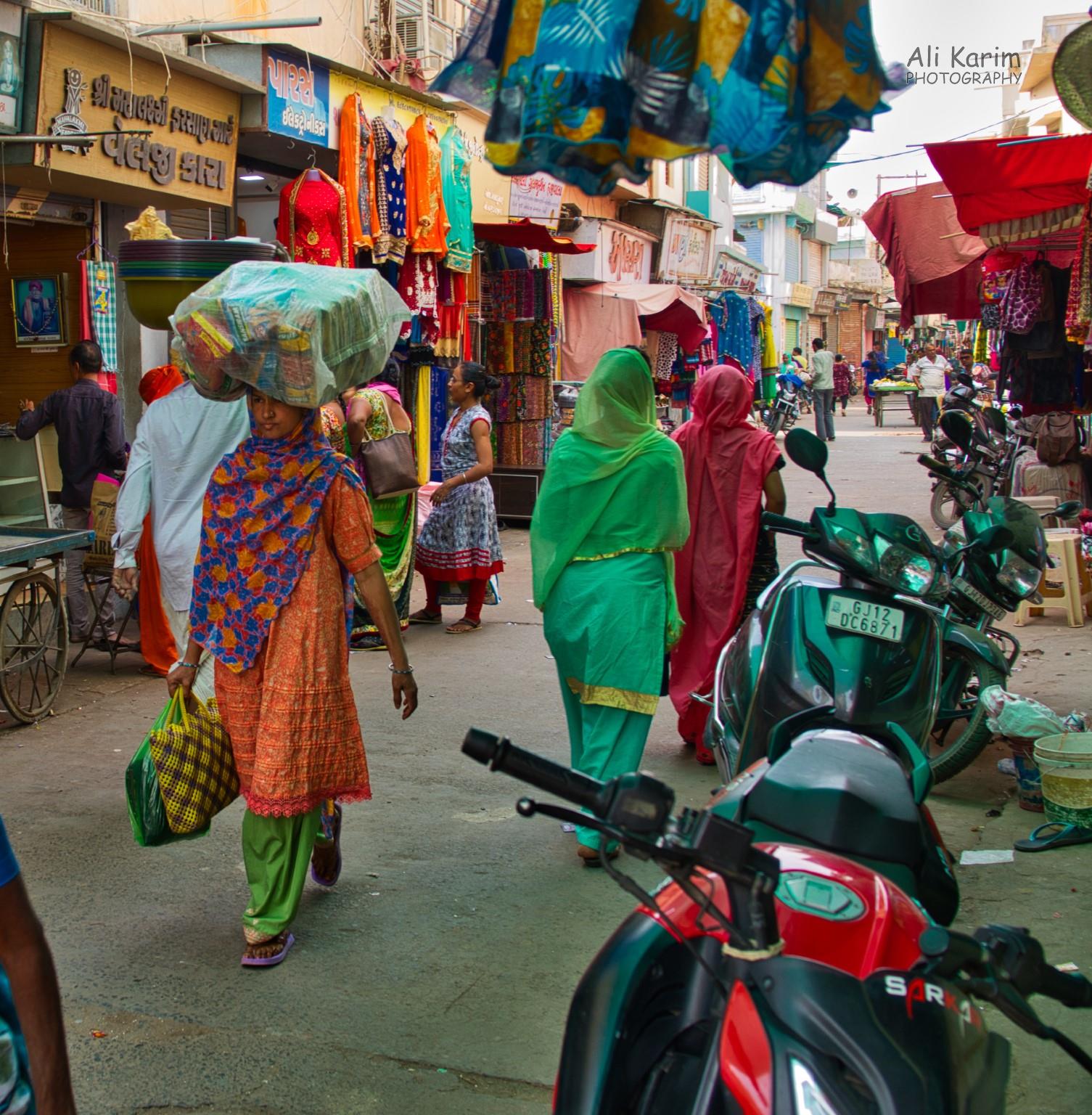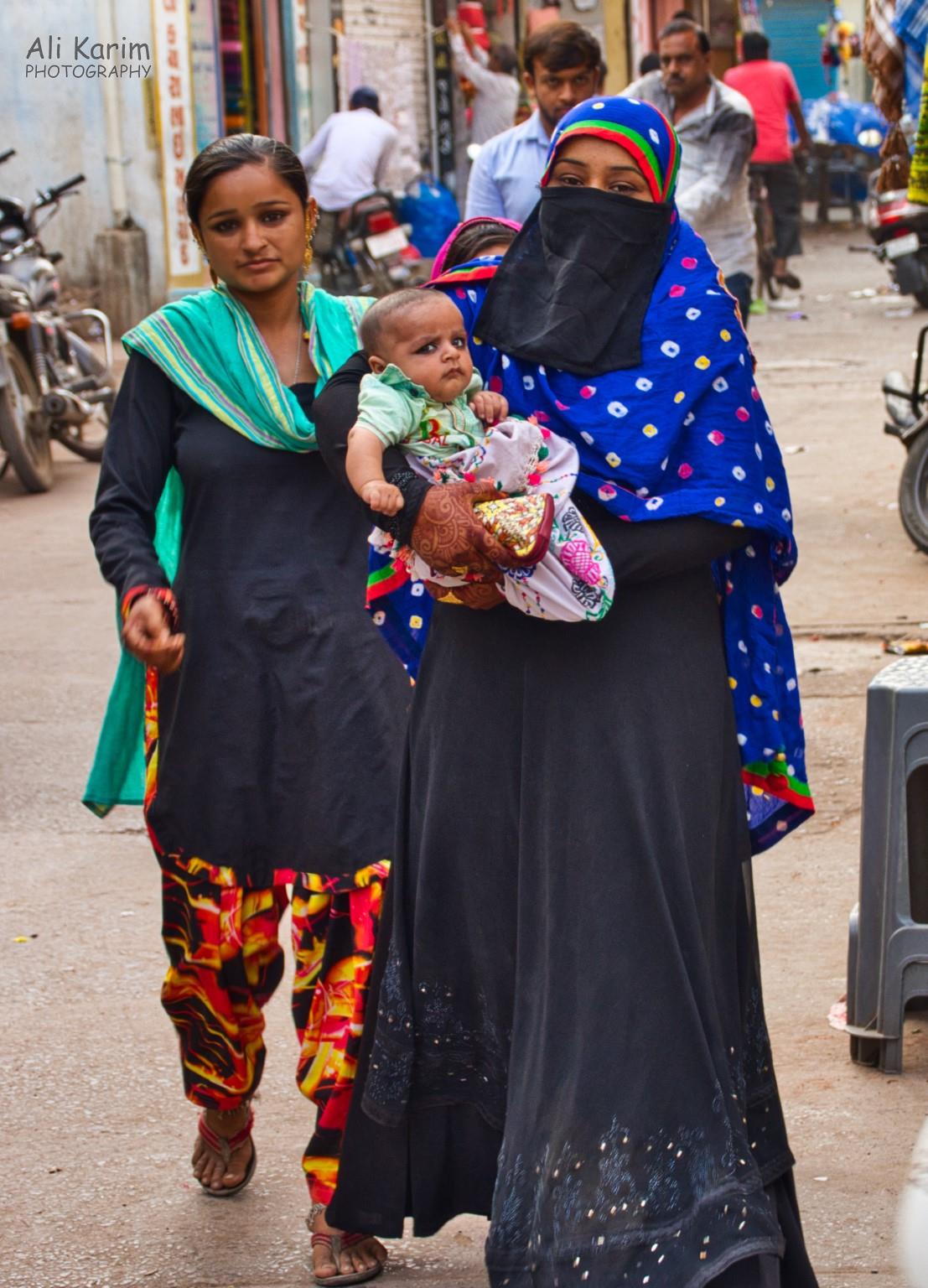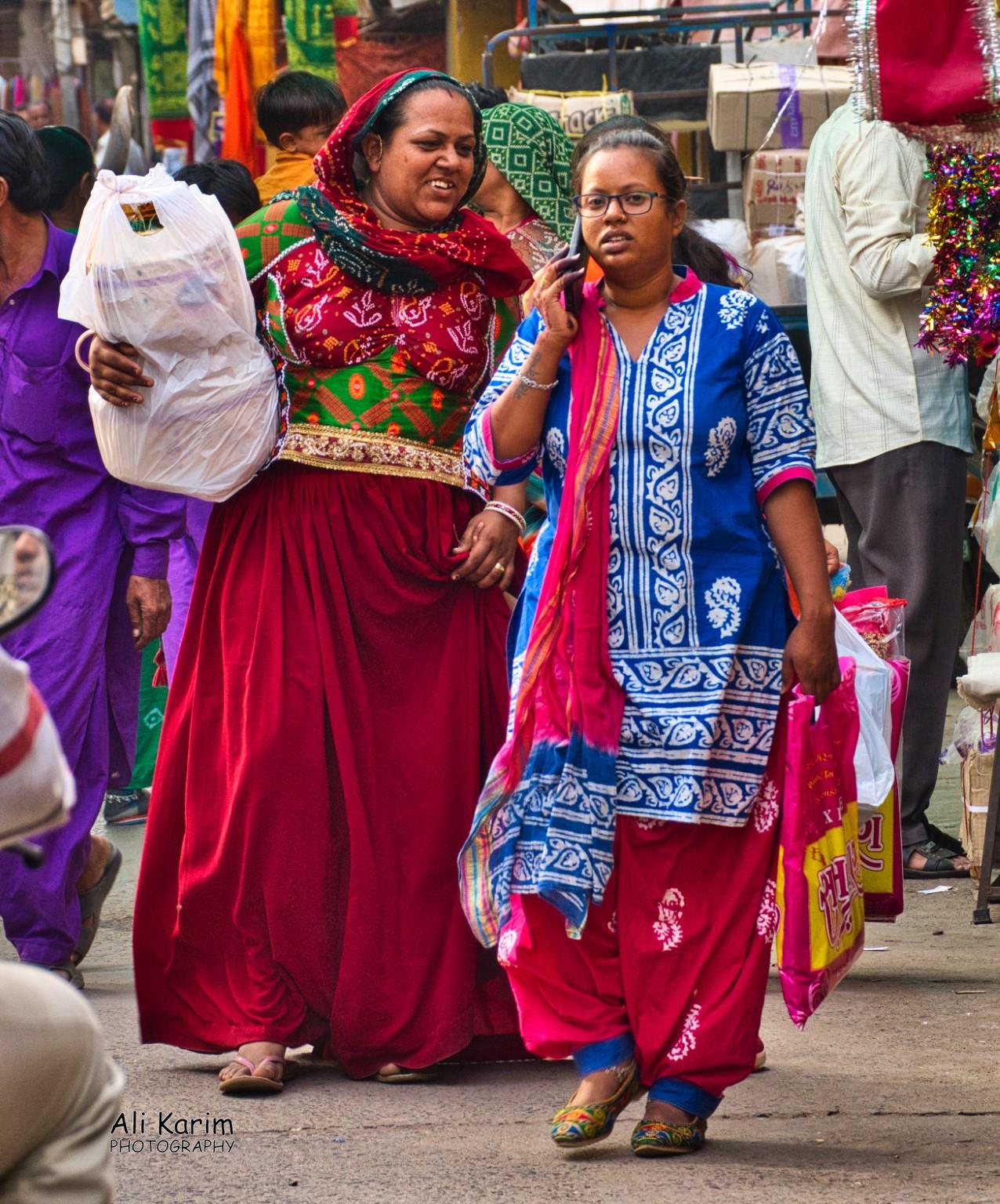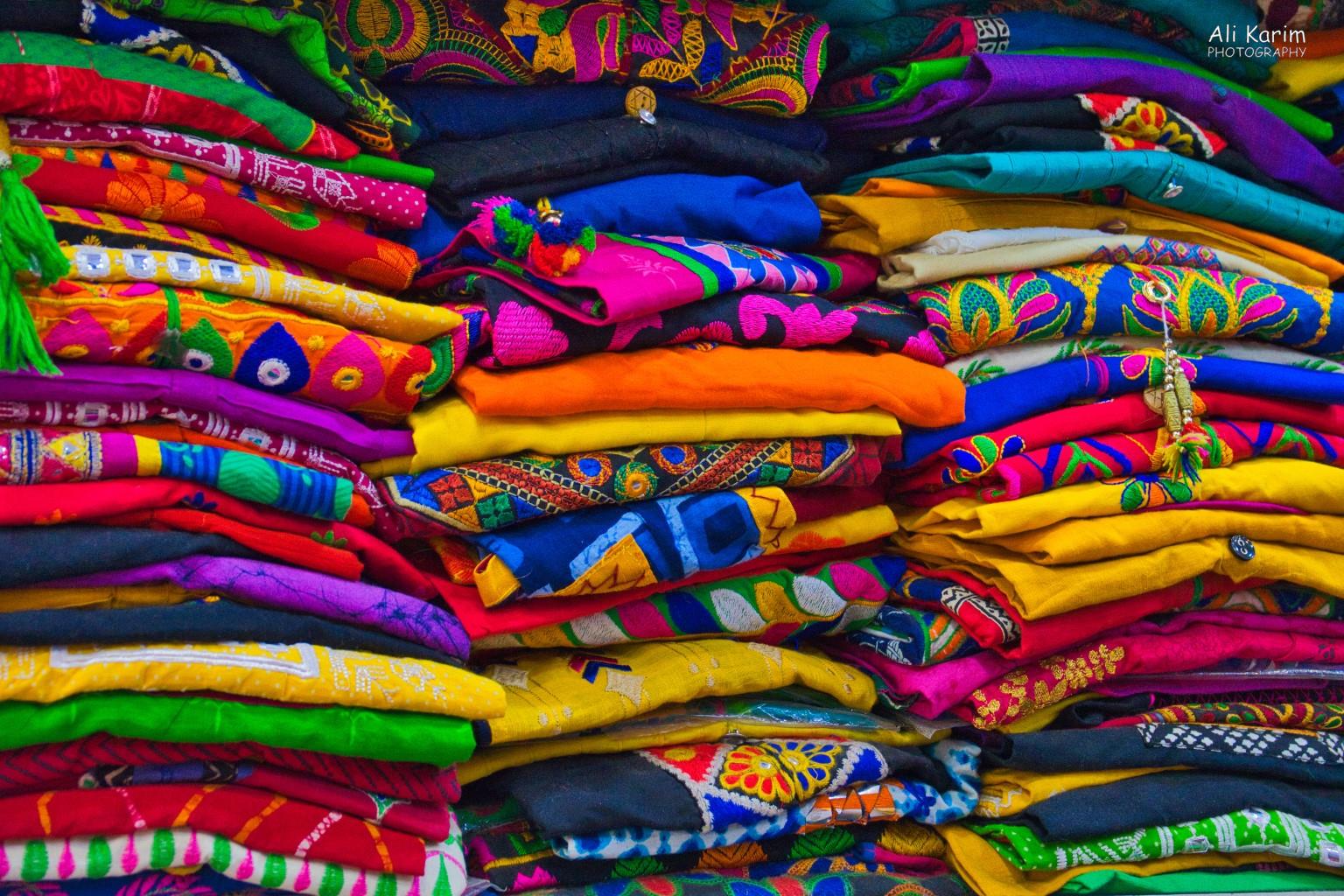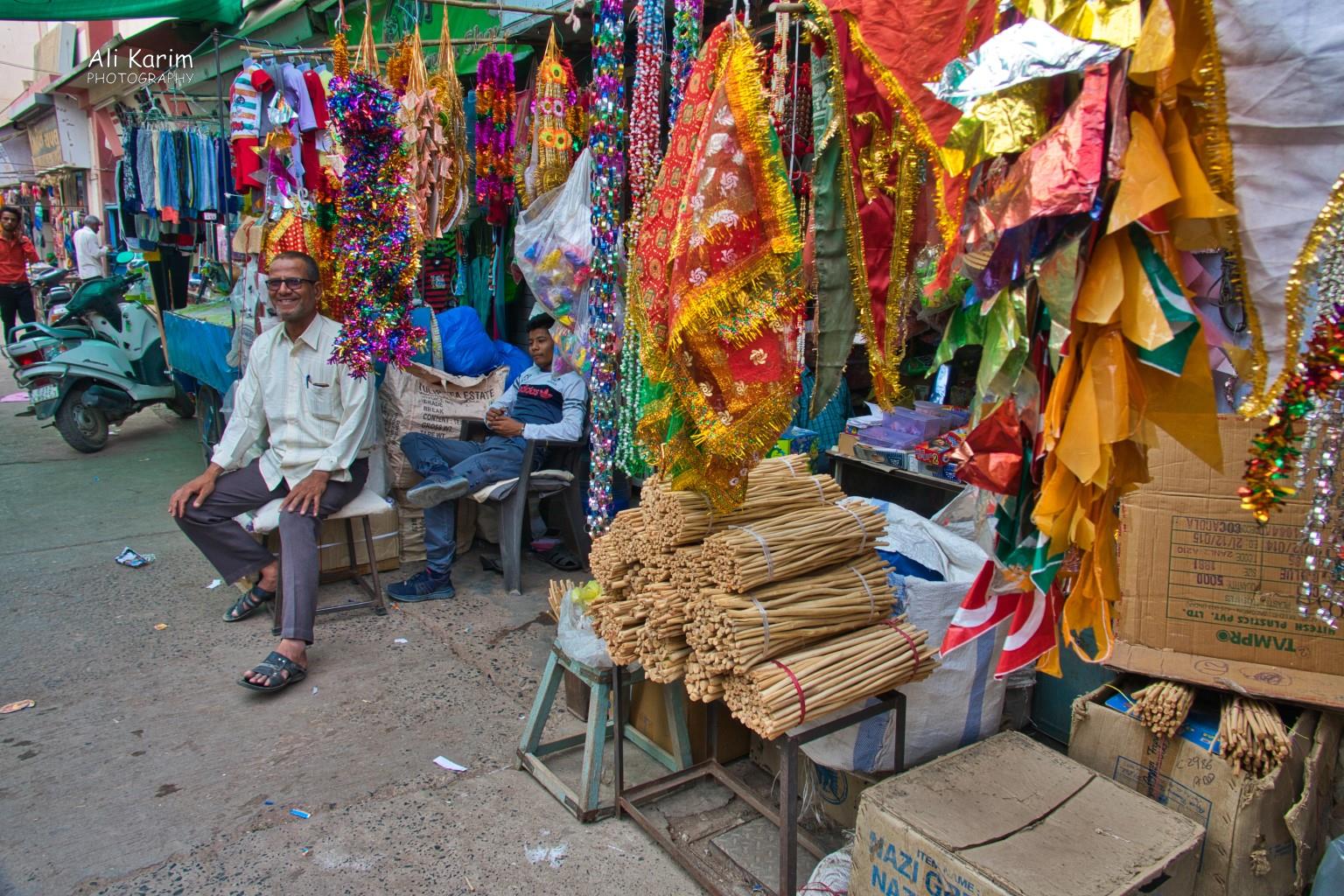 Information
Toothbrush Sticks are available for sale called daatoon.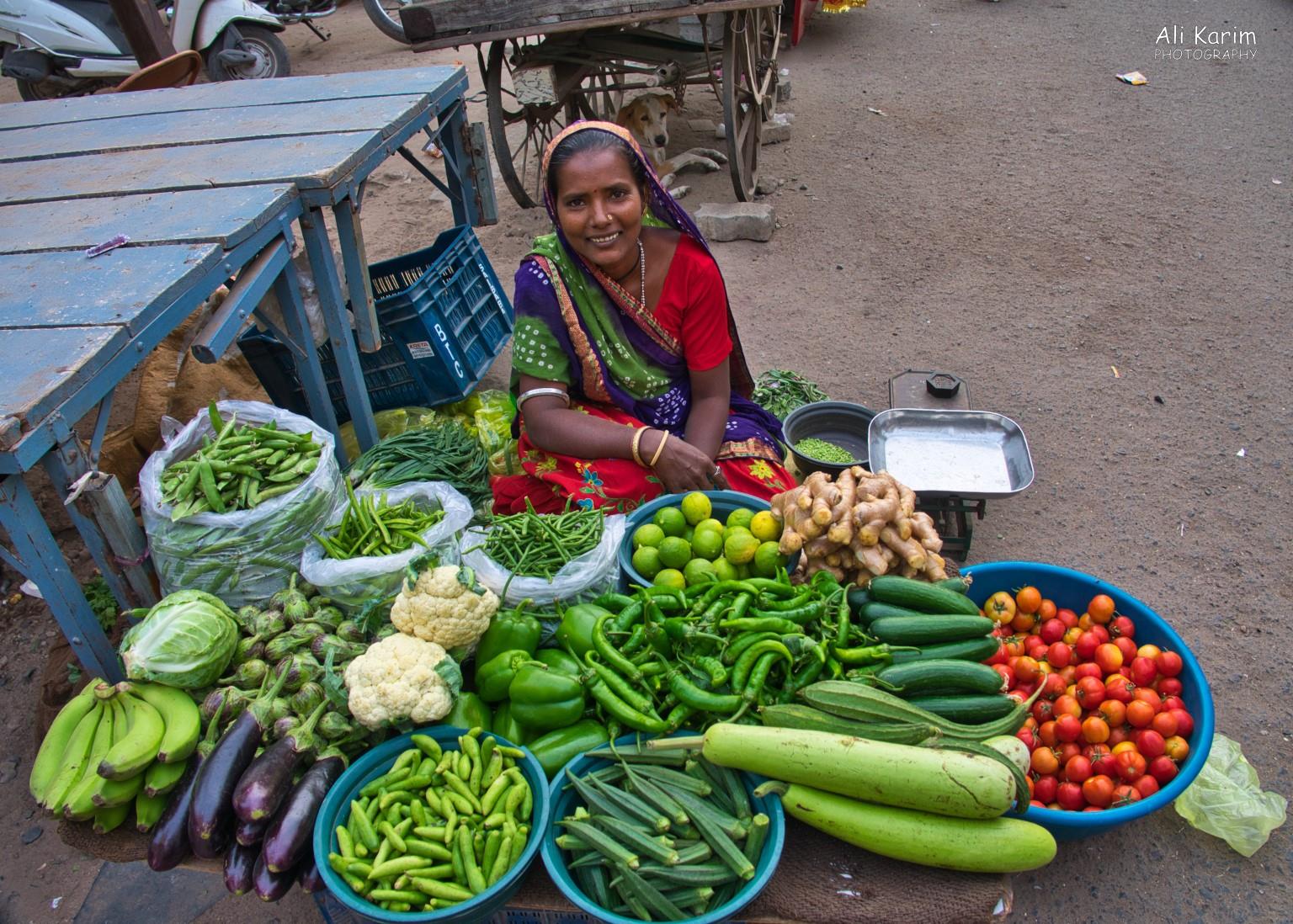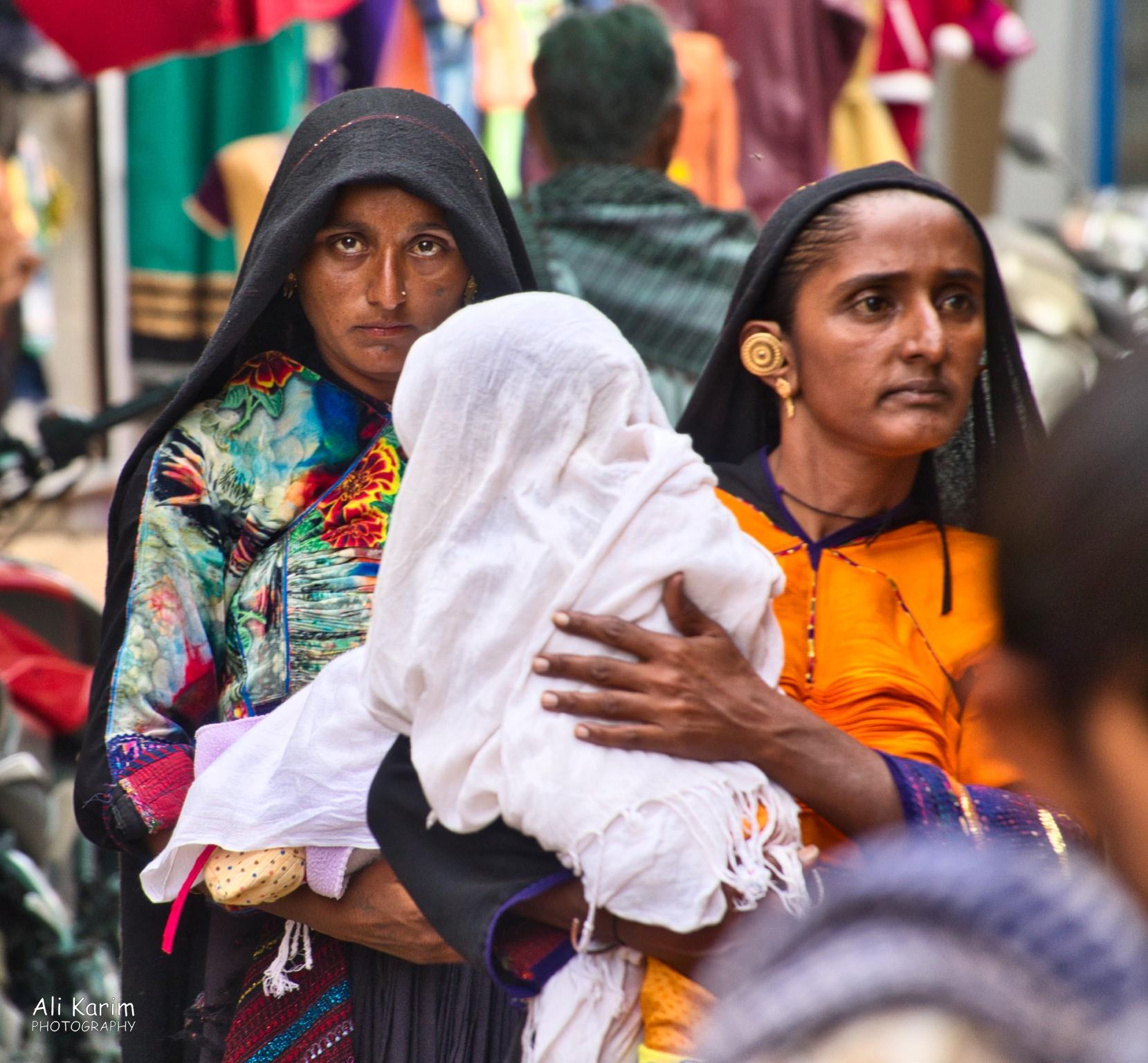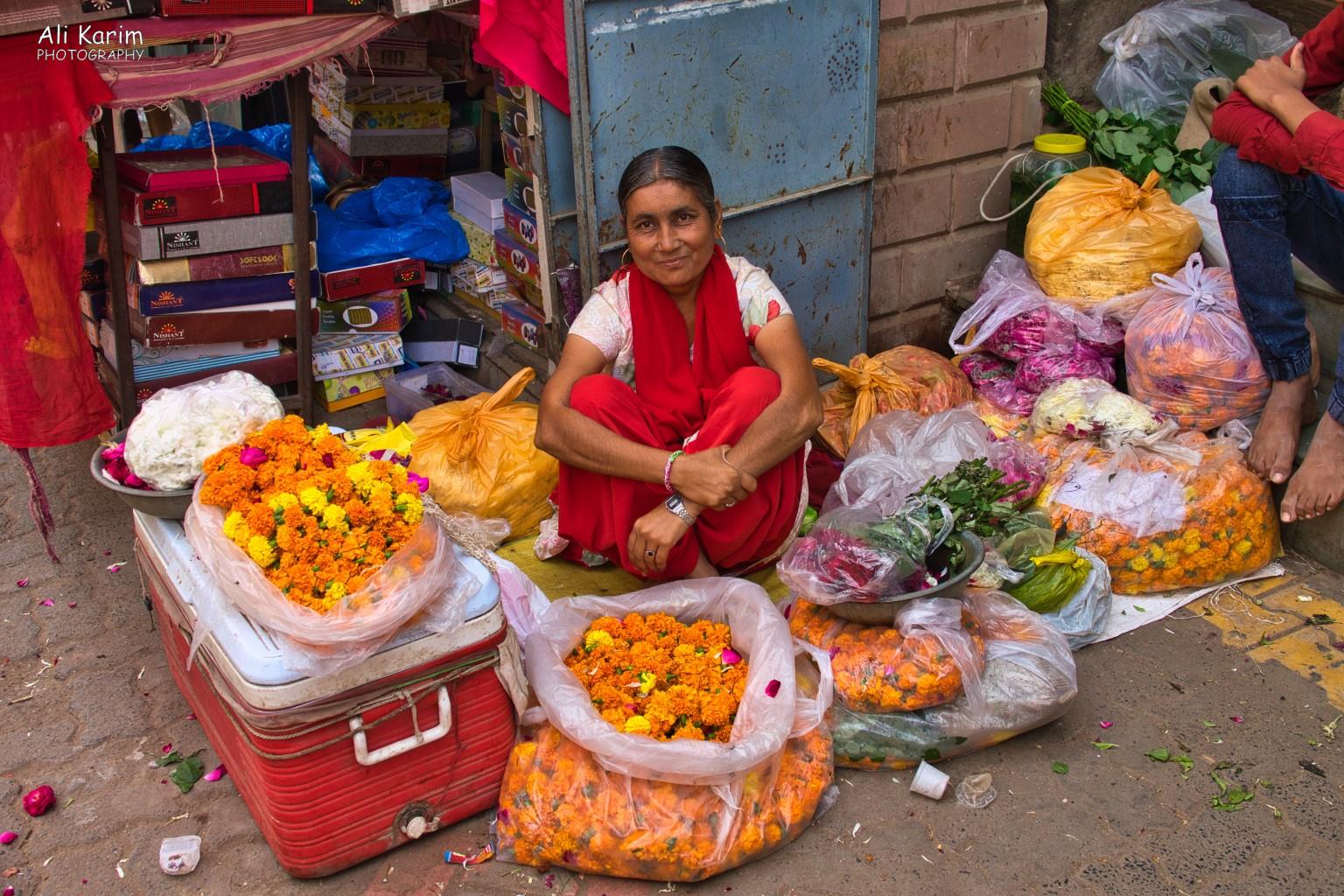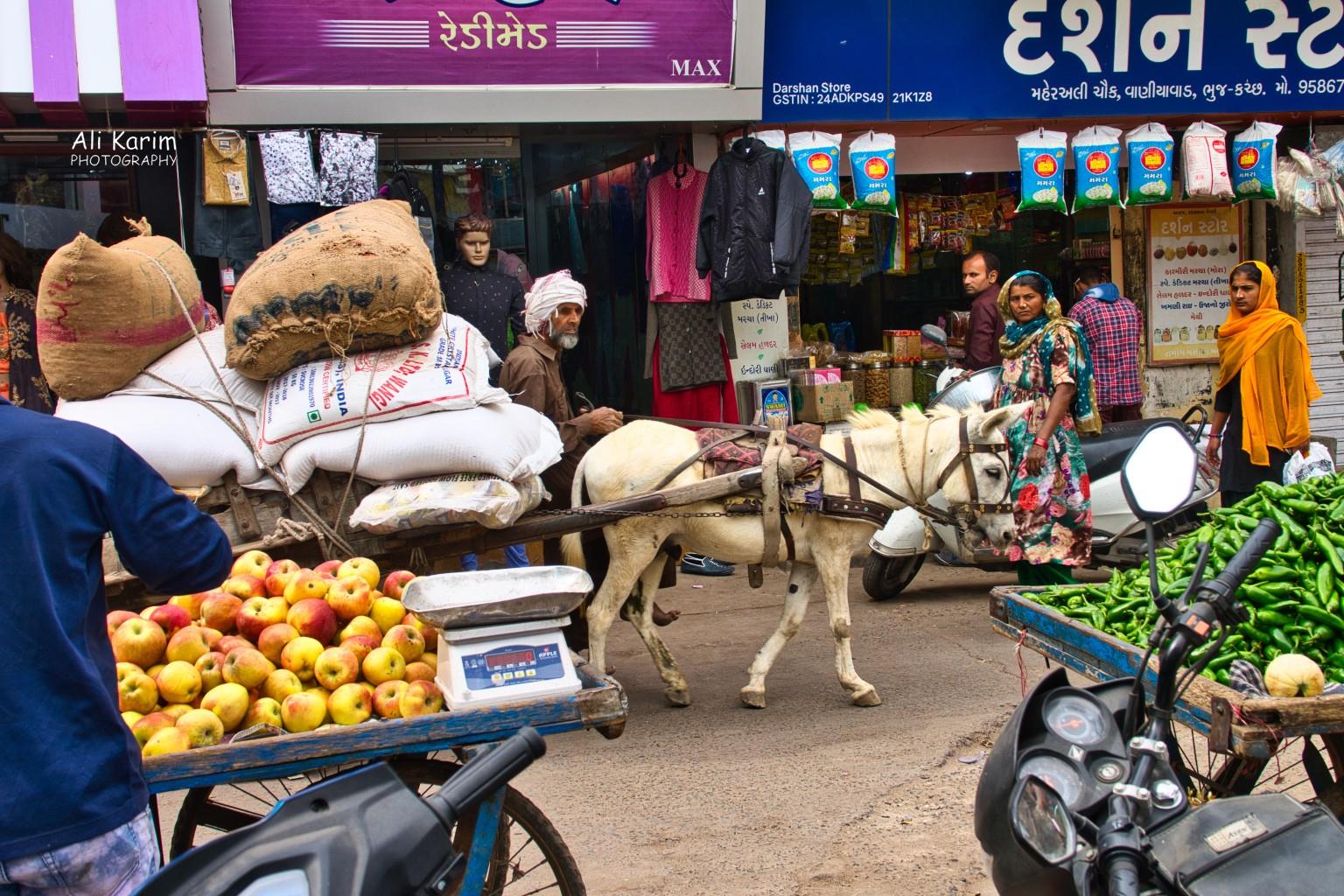 Some thoughts about Bhuj and Kutch; we felt like we had arrive "home"; because of the same language and culture. As Zahir Dharsee commented in the previous blog; it is thanks to our forefathers for preserving our language and culture and instilling this in us over 2 generations in Africa; that made us feel at home in Kutch, inspite of the 100+ yrs gap. Our forefathers had migrated from this area over 130-150 yrs ago to Africa, and the language in Kutch district had multiple influences added to it since, from Sindhi, Urdu, Gujarati, Hindi, English etc; while in Africa, it had African Swahili/Bantu, Arabic and English influences added to it. But we could still understand 70% of what the local spoke. It felt good.
And the locals thought our kutchi language was "sweet"; because they thought it was the "frozen" kutchi that was spoken over 130 yrs ago; we did not tell them that our kutchi was not "pure", and had also been influenced by Swahili/arabic/english ; why burst their bubble 🙂 .
The food was another very enjoyable experience for us.
There were a few sites to visit, like the Aina Mahal complex, but only the Pragmahal Palace was open to visit, and was decent; all other buildings were mostly damaged during the earthquake in 2001, and were closed. Same with the Bhujia fort complex, which was closed after sustaining damage during the earthquake, and renovations were not yet completed, 18 years on…
Best part was that Bhuj is off the tourist map; only the Raan of Kutch was attractive and visited by mostly local Indian tourists only. That meant that it was relatively un-touristy; and so prices were reasonable everywhere, and people were genuine; and very few tourist trinkets being pushed/sold. We had a great time; definitely worth visiting; especially if you have a similar background.
Plan was to go visit Ahmedabad next, but that meant a whole days's drive or a whole day flying/waiting, as there were no direct flights from Bhuj to Ahmedabad. Having been 3 weeks now traveling  in Rajasthan and Gujarat, we were reluctant to spend 1 more day traveling, so we we decide to skip Ahmedabad, and instead, we flew to Mumbai to visit my college buddy, Anil, and more shopping, before flying back to Dallas. All in all, a wonderful trip, a little off the beaten path.
This entry was posted in
Asia
,
India
,
Rajasthan - Kutch Nov 2018