Cartagena Part 1, Colombia Dec 2017
After a short business trip; we decided to explore Cartagena, Colombia, since we had liked Cali and Medellin earlier.
We flew to Cartagena via Miami, and when the plane landed in Cartagena, the people in the plane started clapping. We had experience this before in several parts of the world, but in addition, many passengers started singing :); definitely a first experience for us, and a good start to the trip :).
After clearing customs and immigration, we found someone offering us an Uber ride without booking online, for $5 to the hotel. We took that and after a nice ride alongside the old Walled City, and the beach area, we arrived. At that point, the fare became $5 per person; my first experience of a rip-off in Colombia. So after telling the guy it was $5 for the whole car we had agreed on, he smiled, agreed and left. Seems like since this is a tourist city, more people spoke English, and potential for rip-off was higher. Need to be careful. However, people so far have been nice.
Brief History
 Cartagena was inhabited by several indigenous Indian tribes and upon colonization by Spain, was founded as a City in 1533, located on the Caribbean Sea, and between 2 strategic rivers; that allowed it to become a major trading port for the Spanish; bring slaves to the new colonies, and taking Peruvian silver and other important natural resources from the interior of South America to Spain. It was relatively safe from pirates & invaders, but did get invaded and ransacked several times. This led the Spaniards to fortify the city by building a wall around the city, and an impressive fort to protect it.
The boss had decided that this time, the trip would be a relaxing-exploring trip vs the normal full throttle exploring trip 🙁 . So we stayed at a nice hotel on the beach and spent a week here relaxing with some exploring 🙂 . Cartagena is a city on the Caribbean ocean with a population of about 1M, a lot less than other cities in Colombia. It has several interesting suburbs; the most famous of which is the Old Walled City, which is the tourist center of Cartagena. The Old Walled City itself had several Barrios like Centro, San Diego and Getsemani. Another popular area is Boca Grande, that has Miami style skyscrapers and the best beach (Playa Bocagrande) in Cartagena. All the major hotel chains are located here and this is where we stayed.
After settling into the hotel (nice ocean view room), we went for a fish dinner at a small local kiosk on the beach; dinner was $12 for 2 people for whole fried fish, rice, salad and a beer.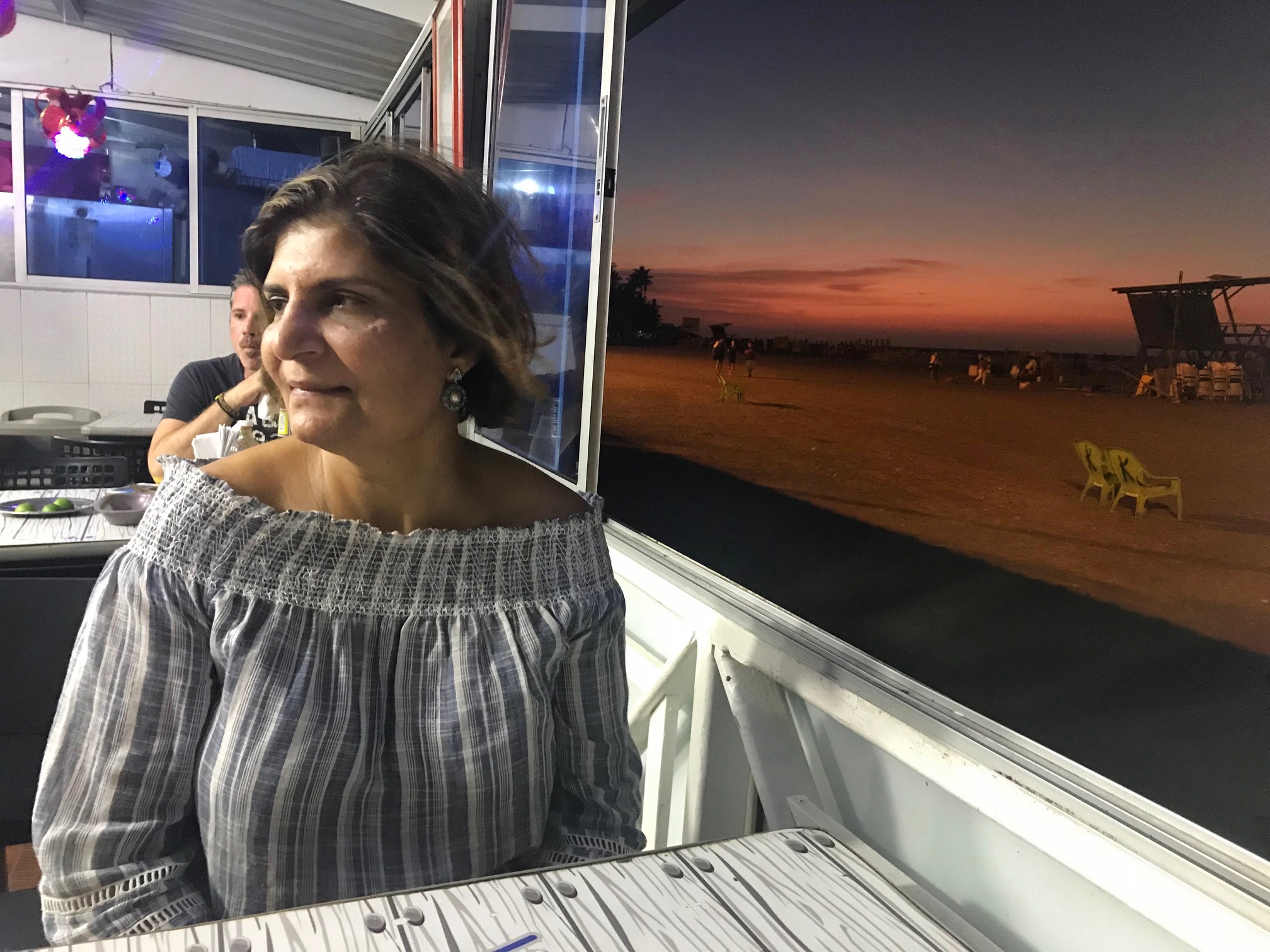 Since it was not too late, we took an Uber to the Walled City Centro; which was quite busy and active, with nice squares and people walking around.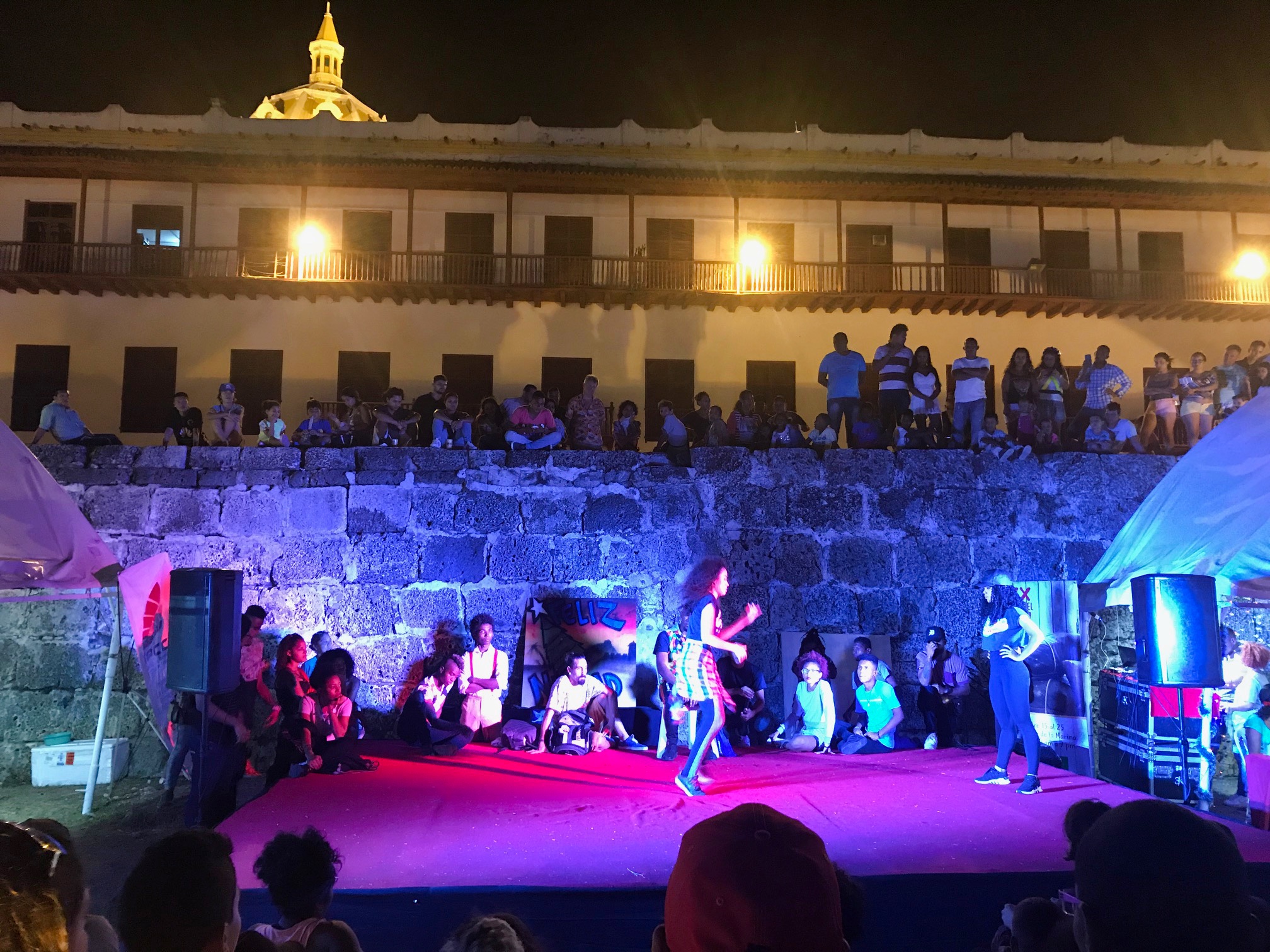 Watched this for a while and then took an Uber back. Ubers seemed to be taking a long time, but were reasonable (about $3 each way so far).
Next day, we checked out the Bocagrande beach; scenes below. The sand was a light grey, with decent size waves that lots of people were enjoying. The Caribbean Sea was nice, warm & clean hence the many people using it. The water was not clear, due to the wave activity.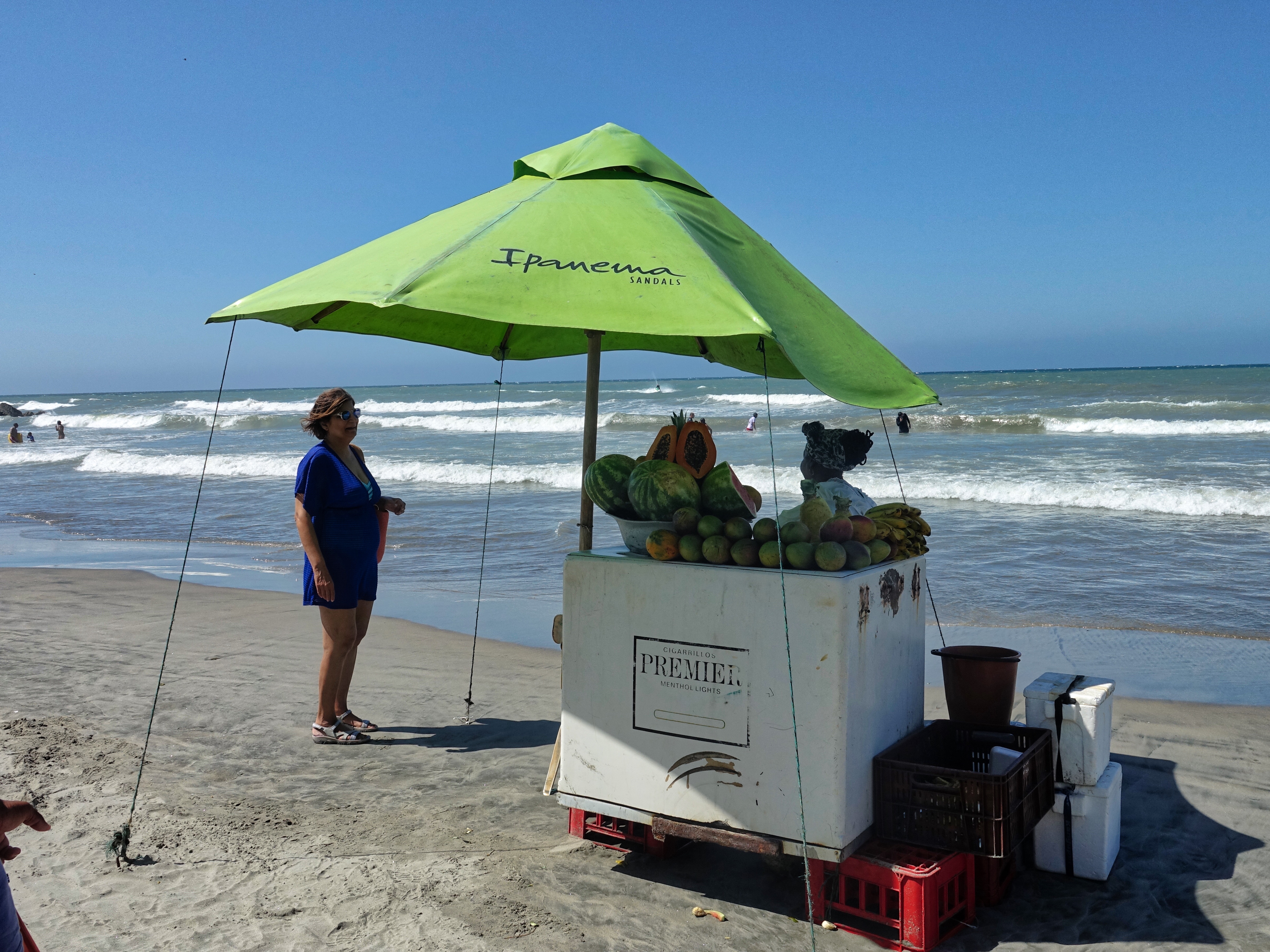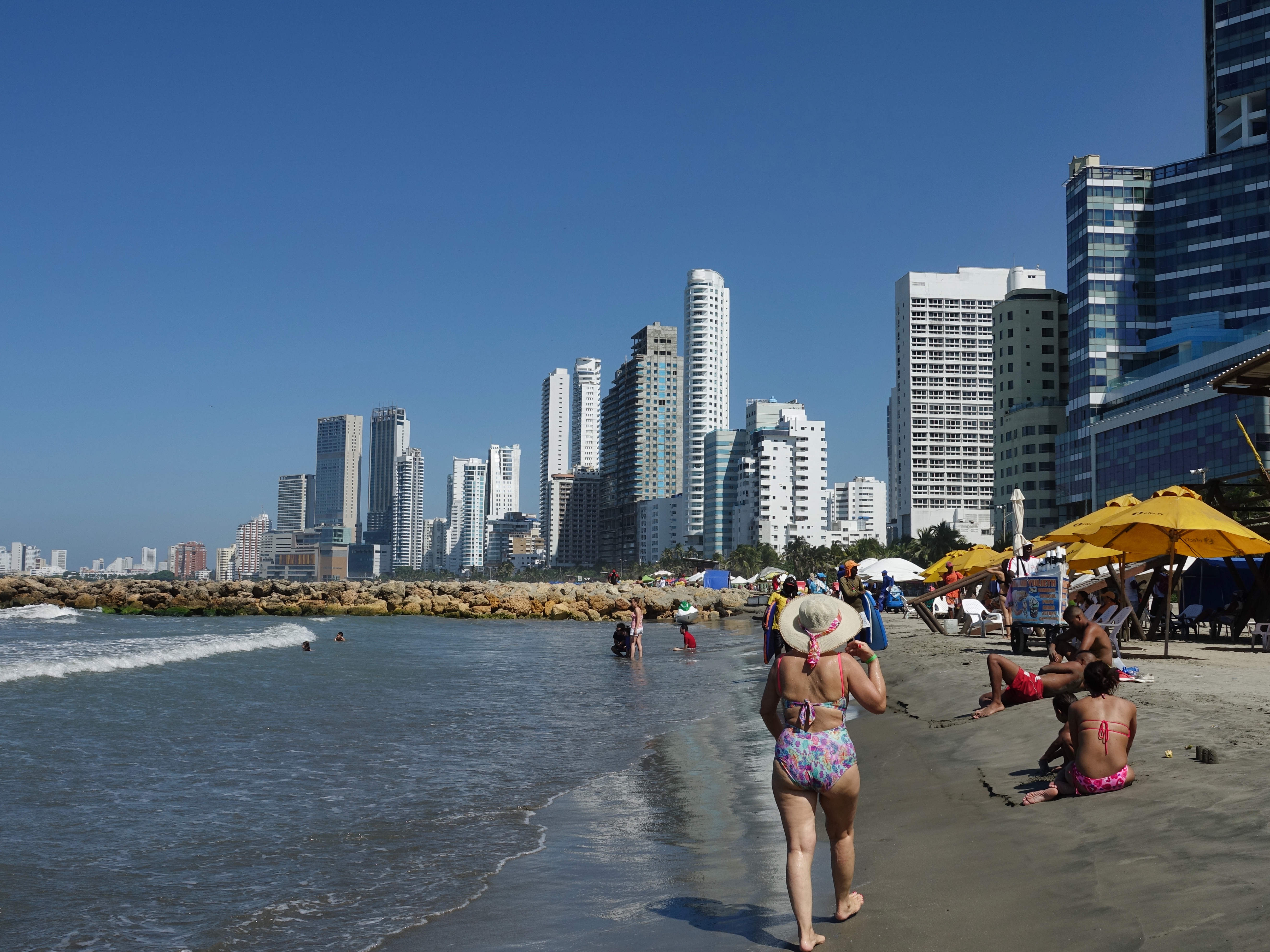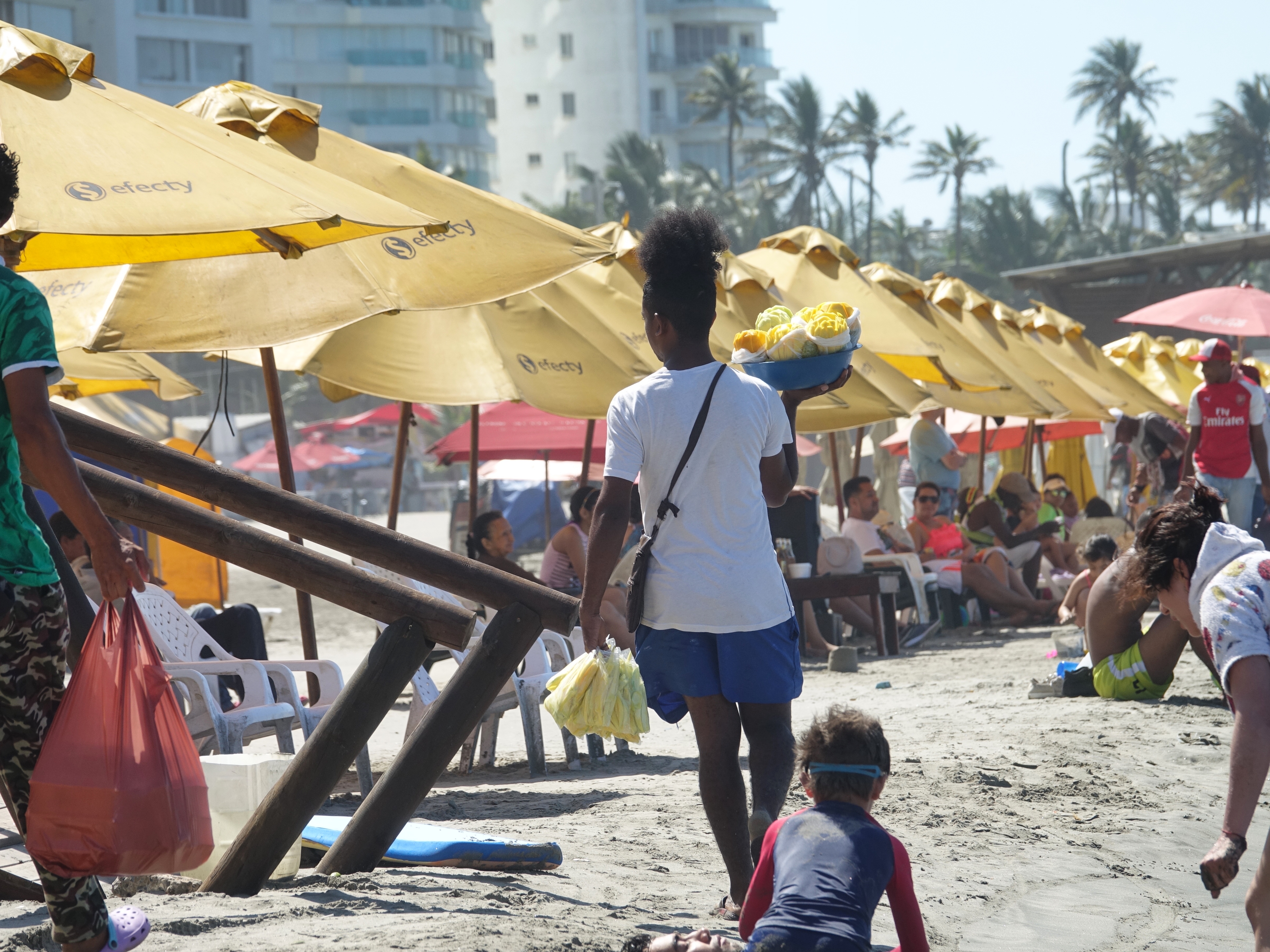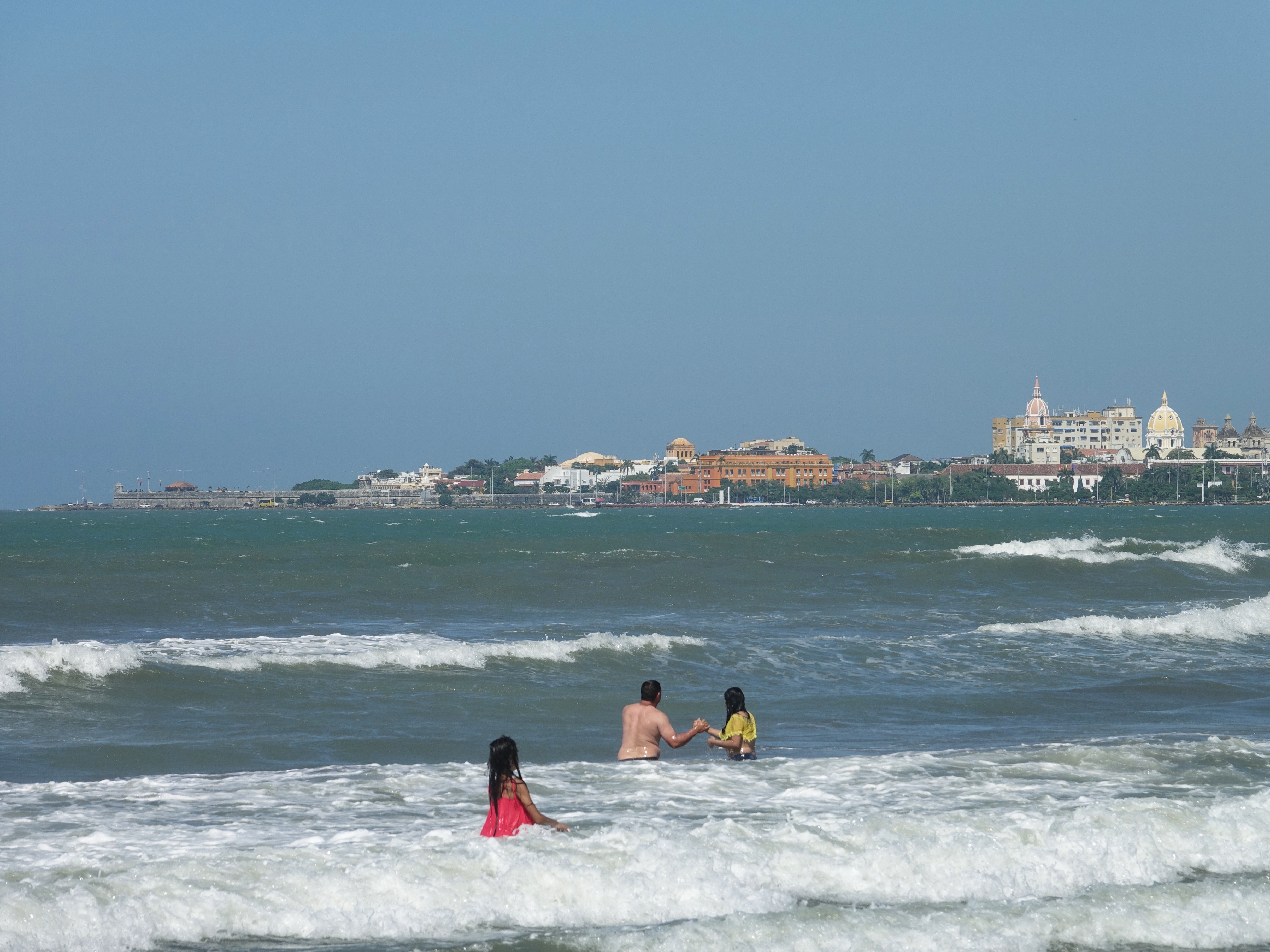 Next stop (after breaks to relax at the hotel pool and Bocagrande beach) was a visit to the largest castle built by the Spaniards in the new Colonies of Americas; the Castillo de San Felipe de Barajas. This fort was built on a hilltop in the city, to fight off the French, English navies, and to fight off the many pirates operating in this areas including Sir Francis Drake. The castle is well preserved, and has good views of the city. There are also a lot of tunnels that were dug to connect different parts of the castle, for shelter and moving goods. Entrance was a little steep at 25,000 pesos ($8 pp), but worth it.
Some images below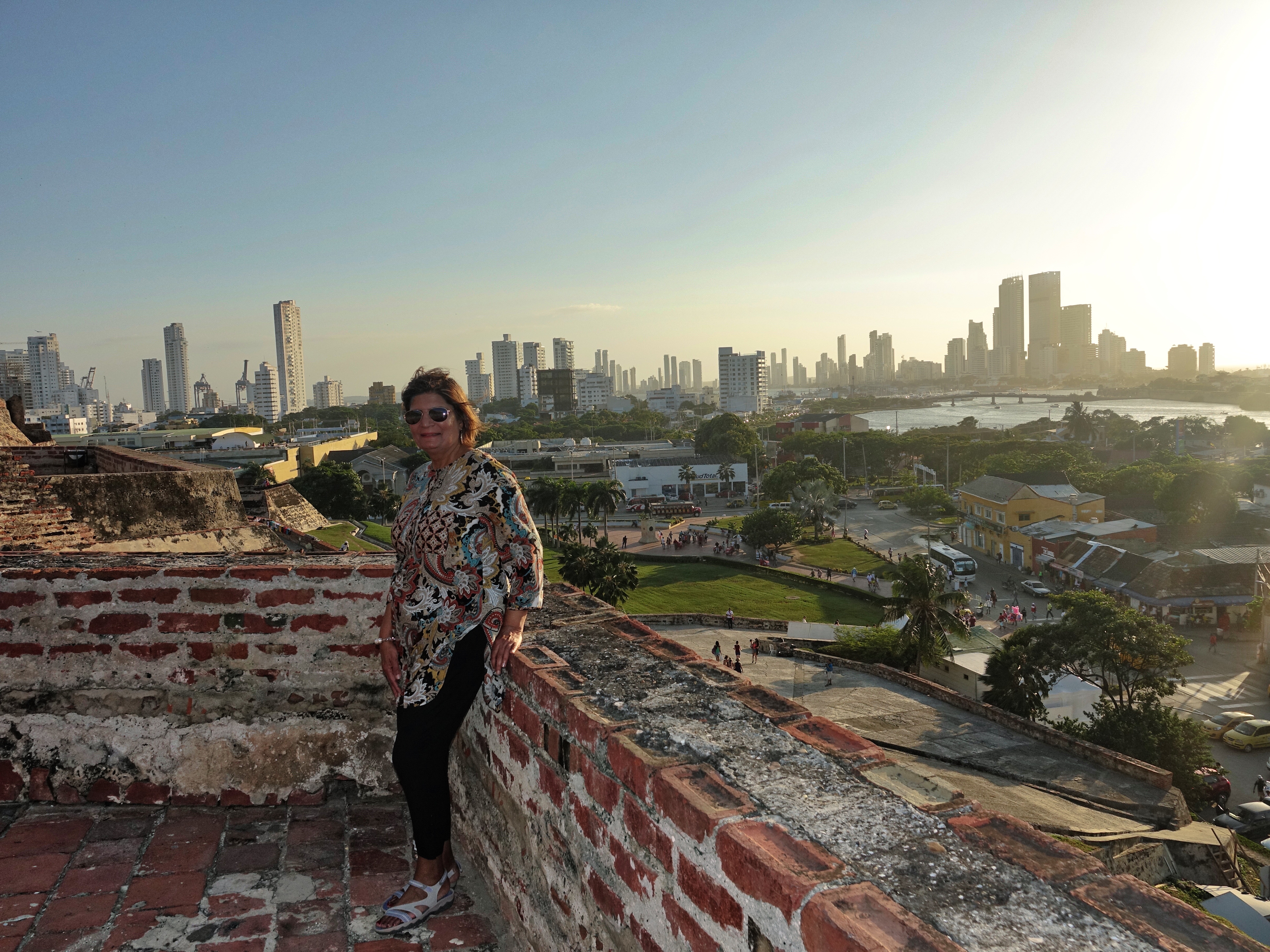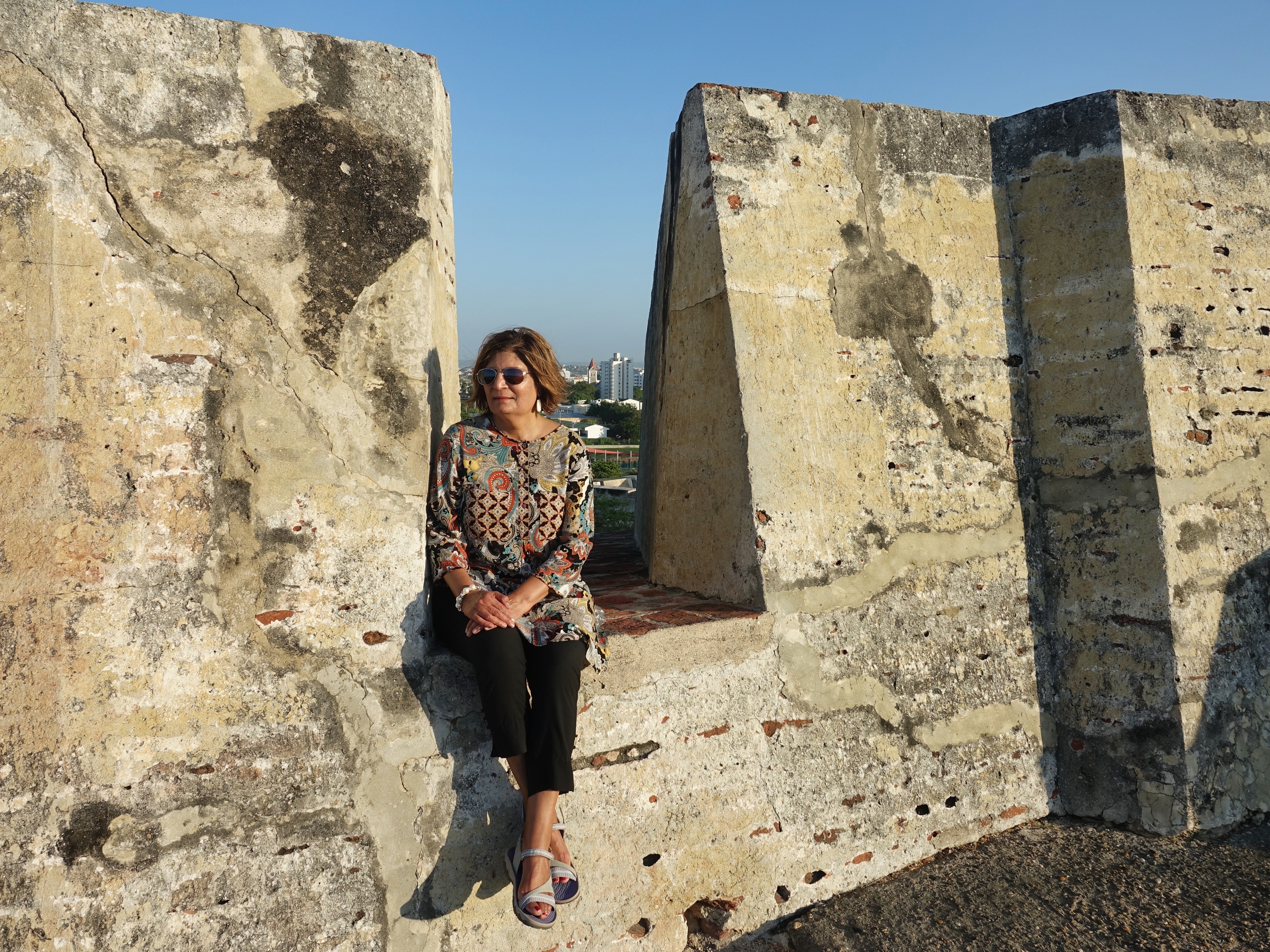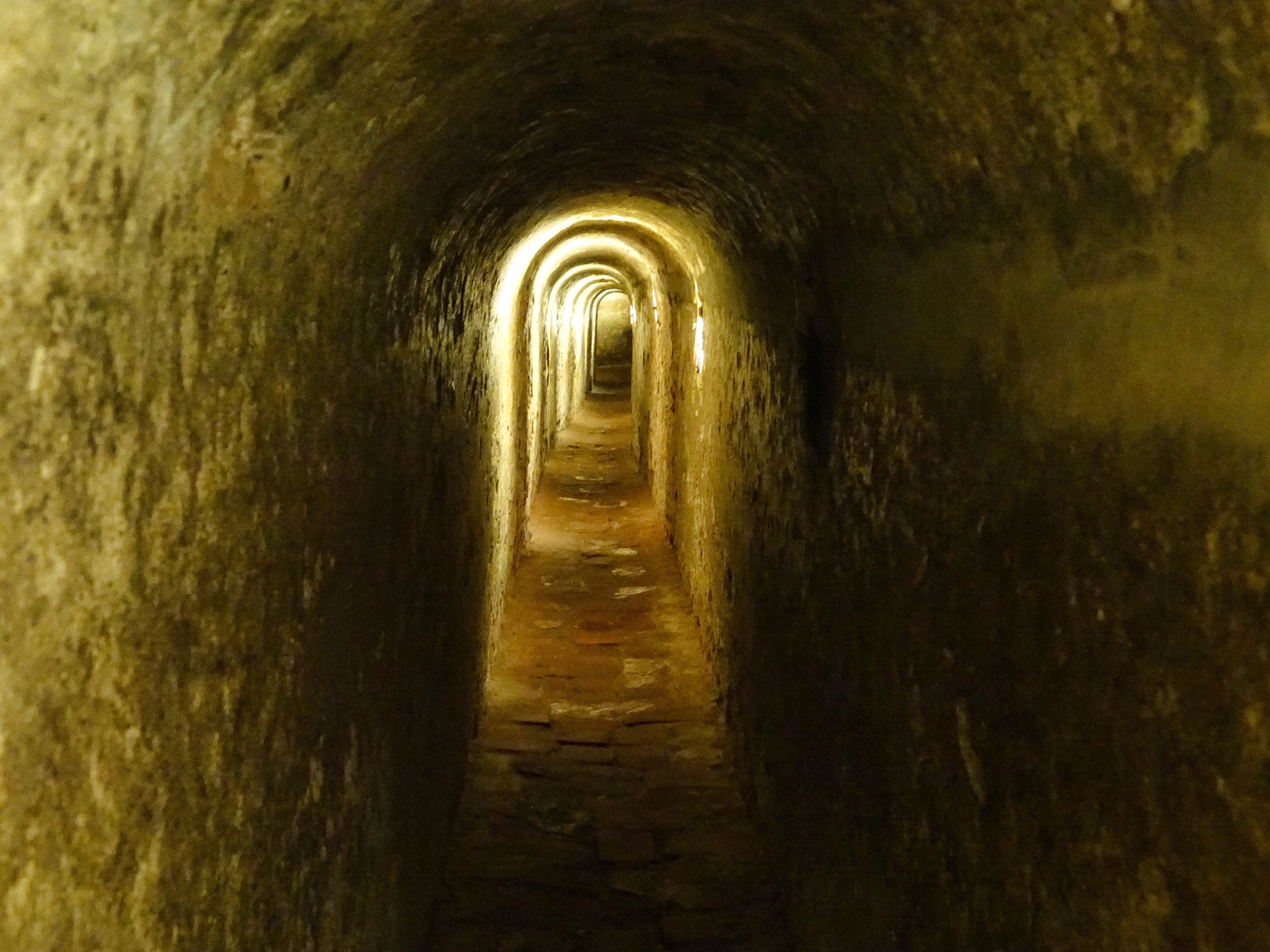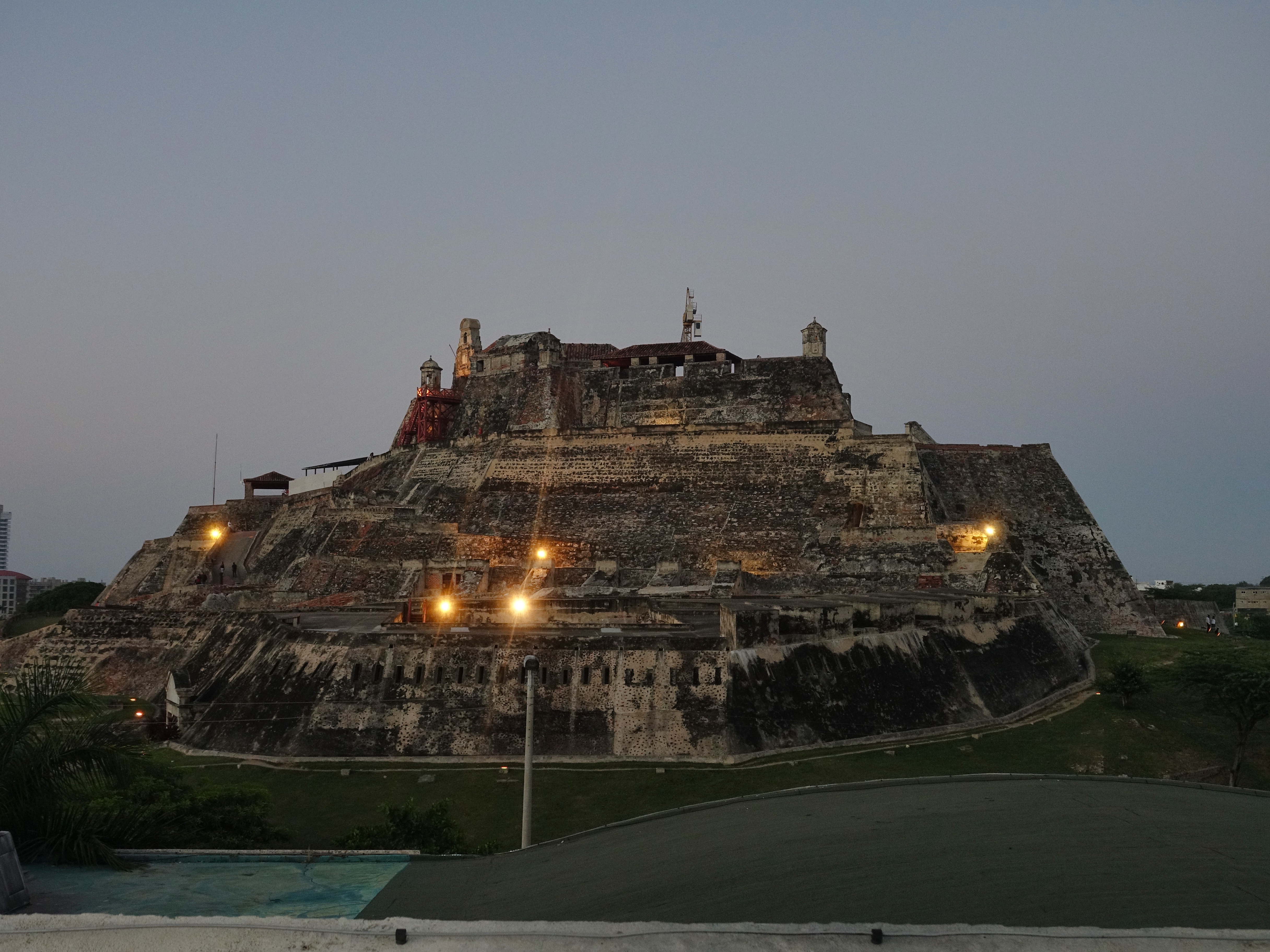 We then walked a short walk to Manga Island (so called because at one time, this island used to be covered with mango trees; not most are gone now; thanks to development). On Manga, we were told there was a nice seafood restaurant.
We found it, and in fact, this restaurant (Restaurante Club de Pesca) was actually on an old fort; the Fuerte Del Pastelillo (or Fort of San Sebasitan de Pastelillo); with great views of the Bocagrande from the Bay side. Since reservations were required and we had none, we got seated on a table for 2 in a gun turret part of the fort, and only given until 9:30PM, after which it was reserved (we arrived there at 7:30PM). So we had plenty of time for wine and a great seafood dinner here. Pricy, but very beautiful & romantic. Worth going.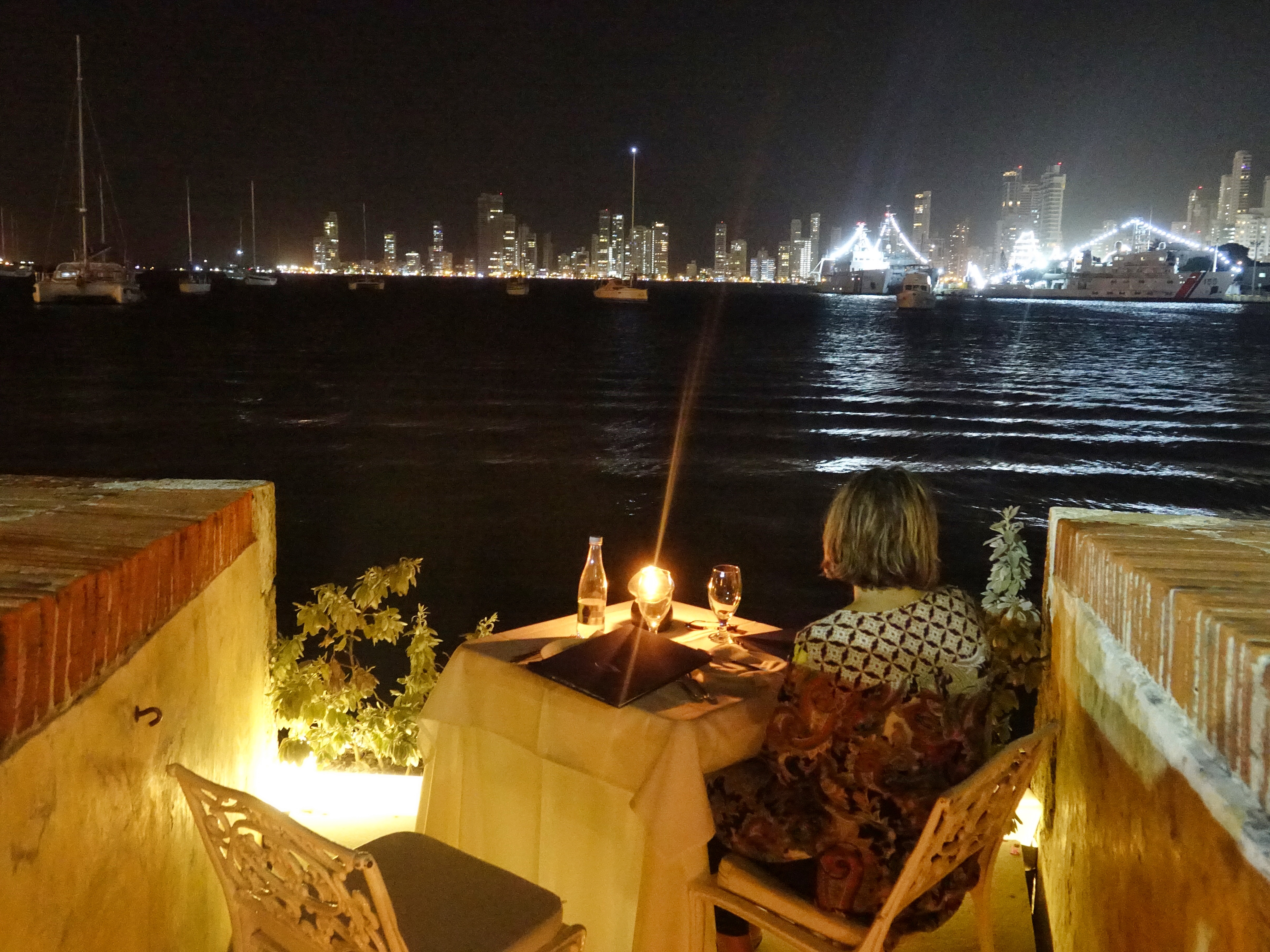 On another evening, we walked around the Centro old walled city, which was very busy with lots of people walking around and enjoying the city; locals, local Colombian tourists, and foreigners alike.
Check out some of the pics below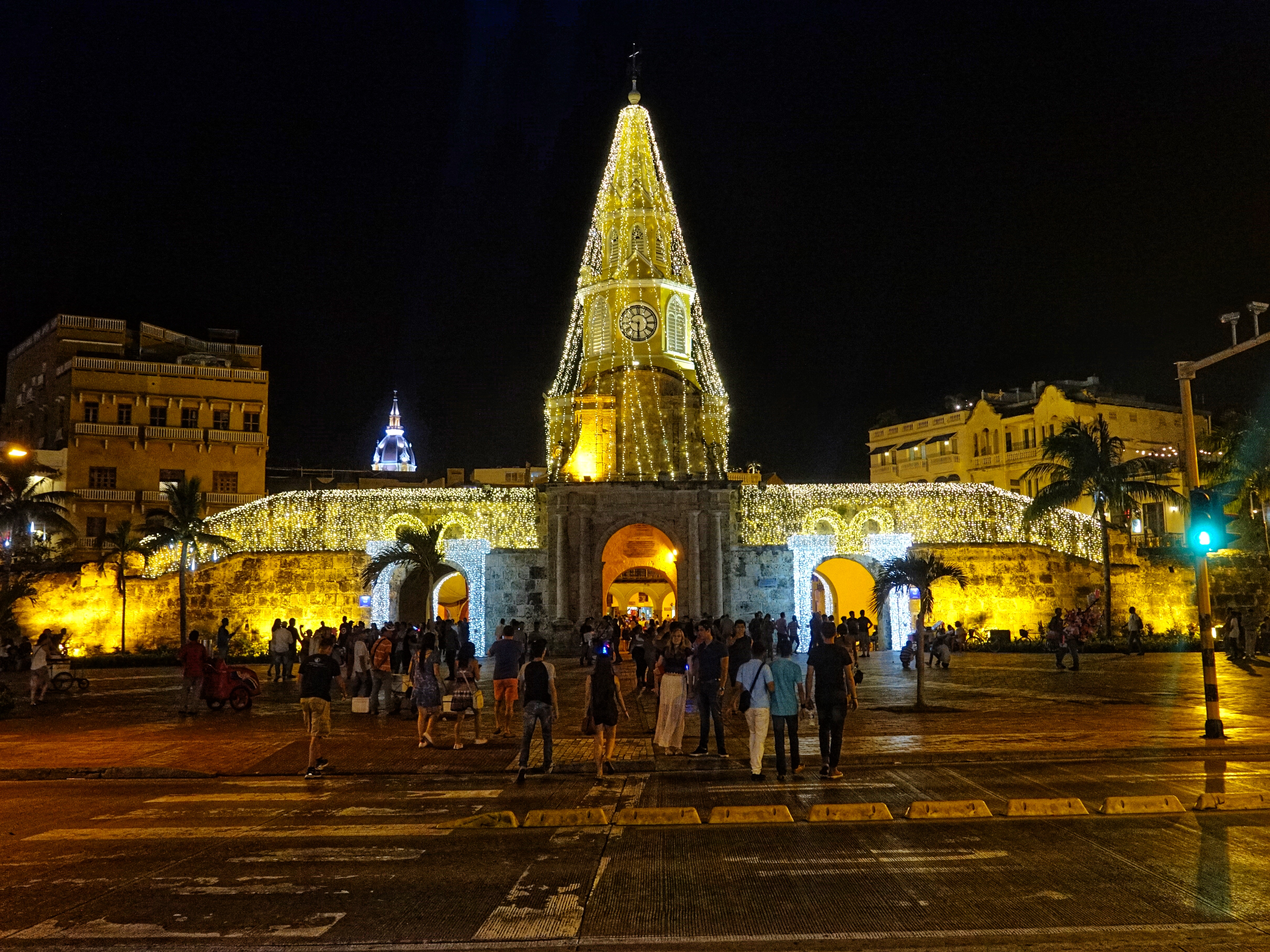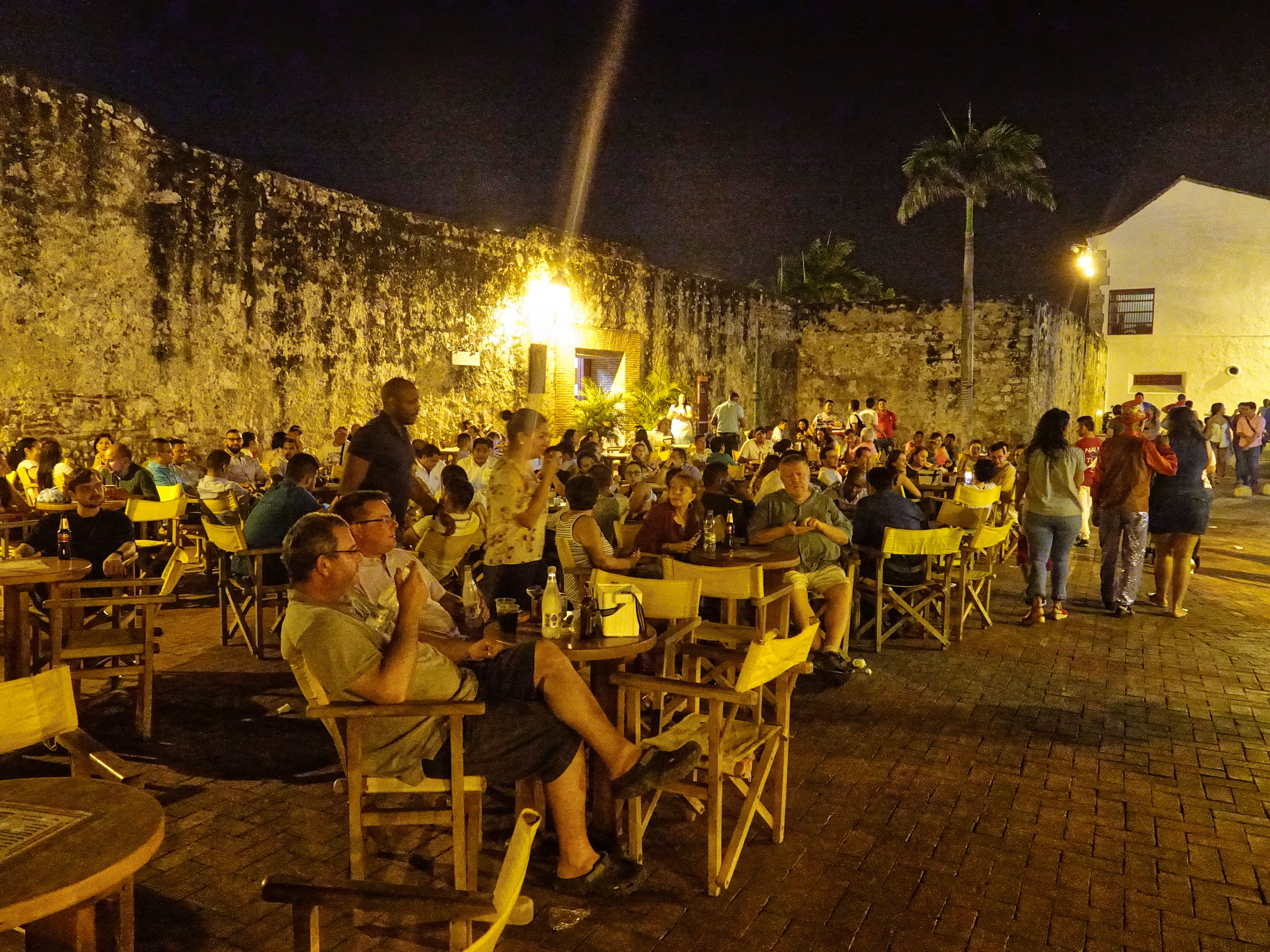 Walking around the old city, we came across a live proposal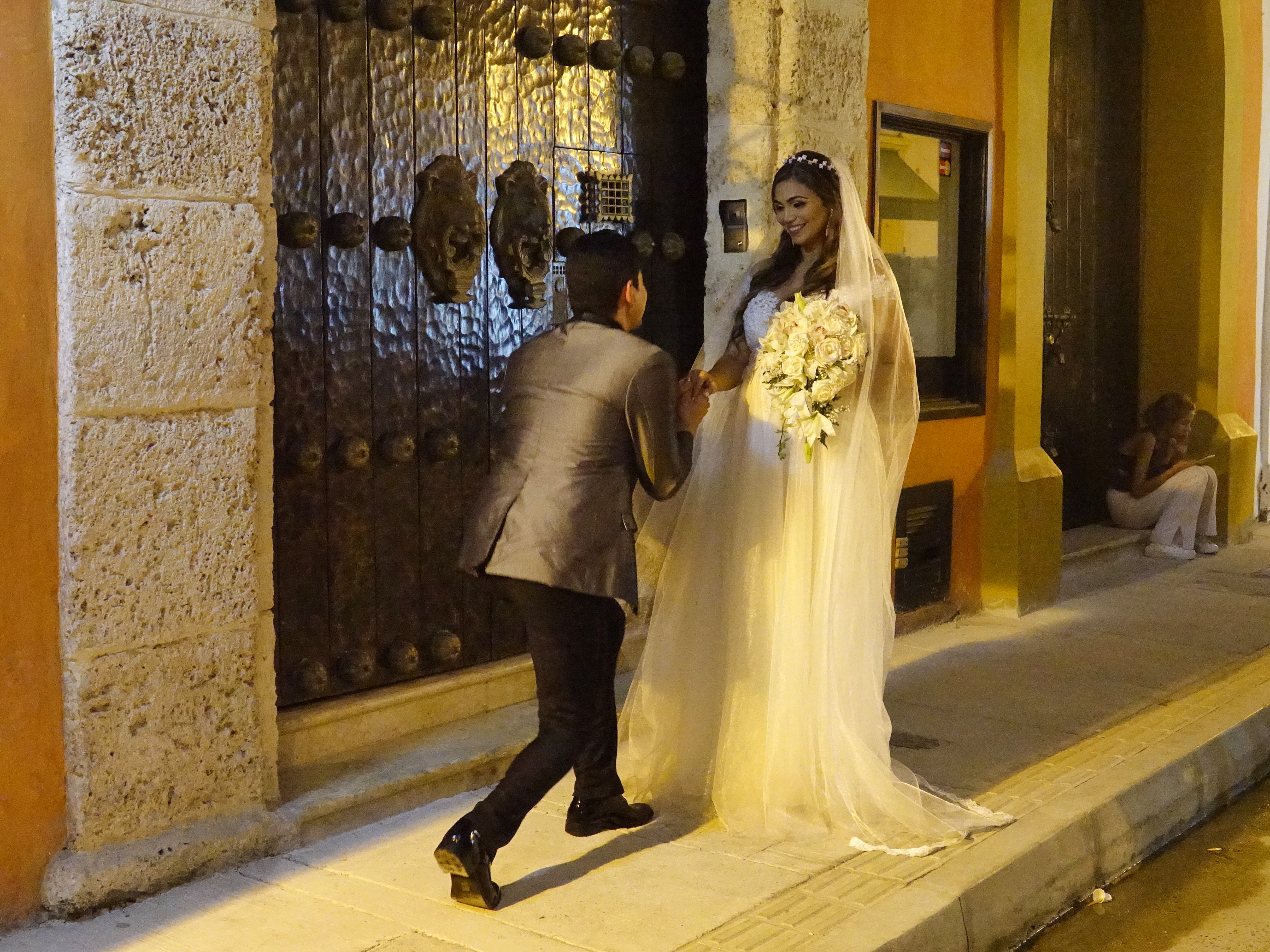 Dinner was at the food festival of the Departmento de Cordoba; local province. The food we got was rice, potatoes, vegetables, onions and chicken cooked inside a banana leaf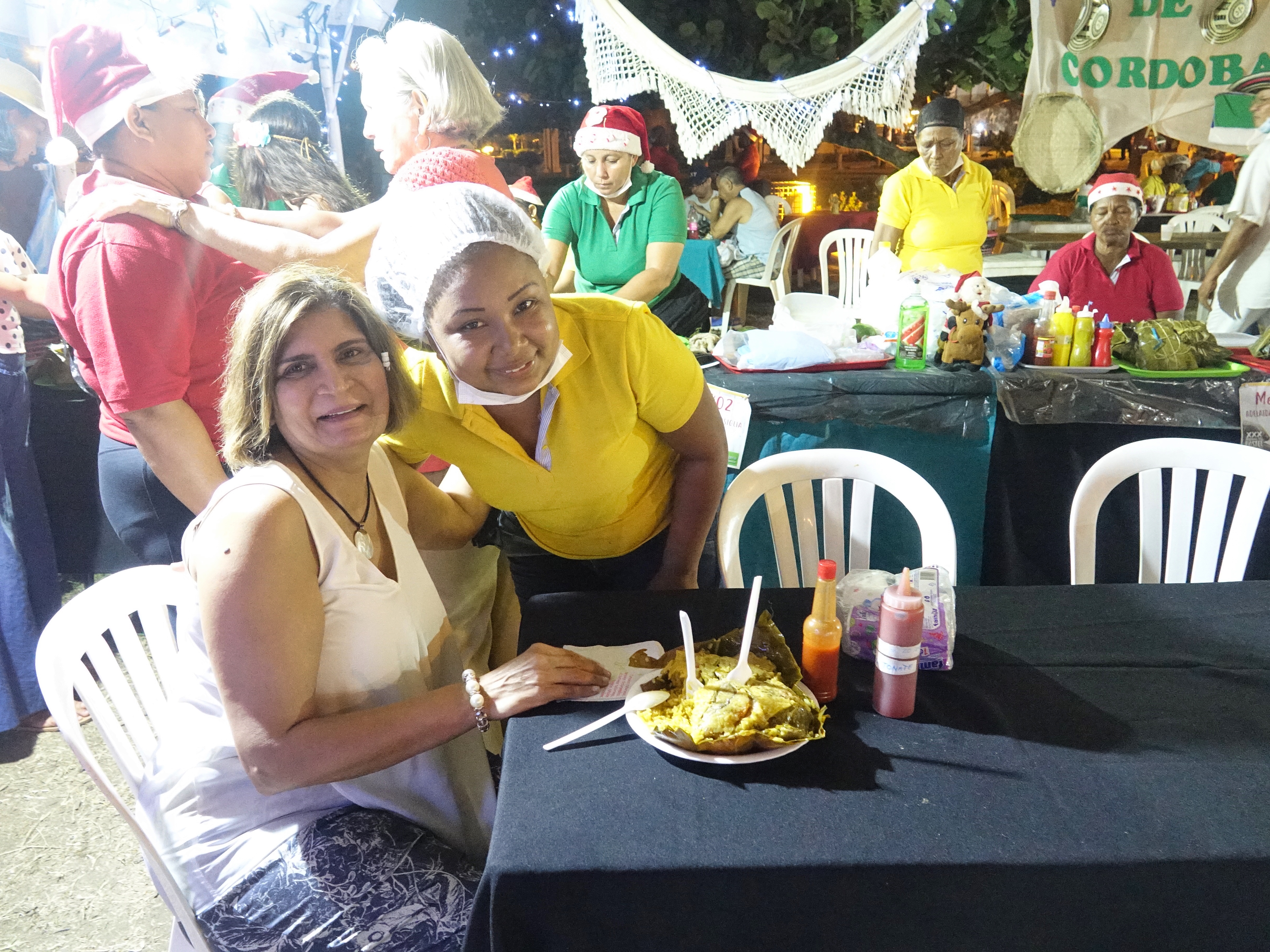 Walked around some more and came across a wedding about to start at the St Petrus Claver church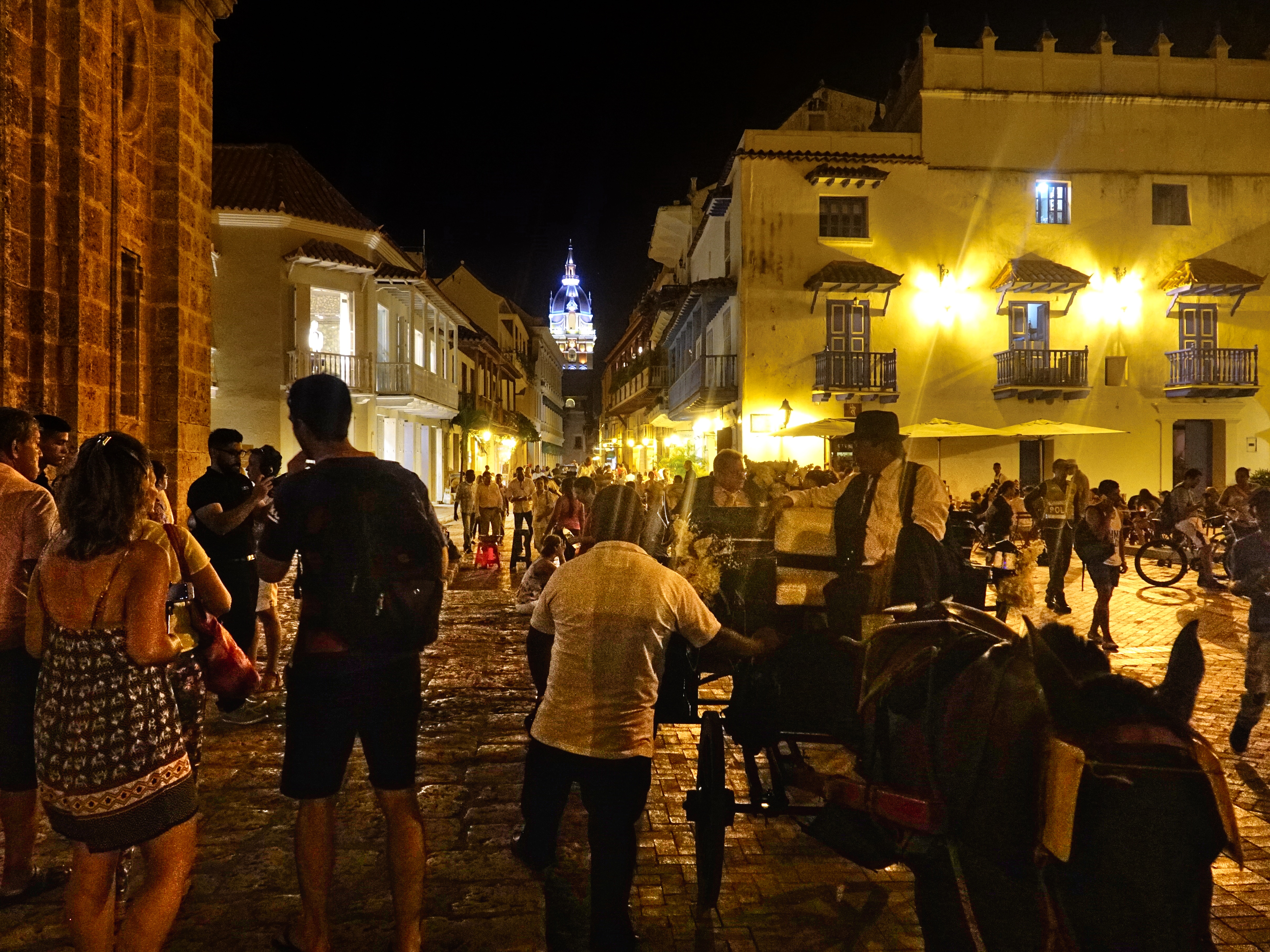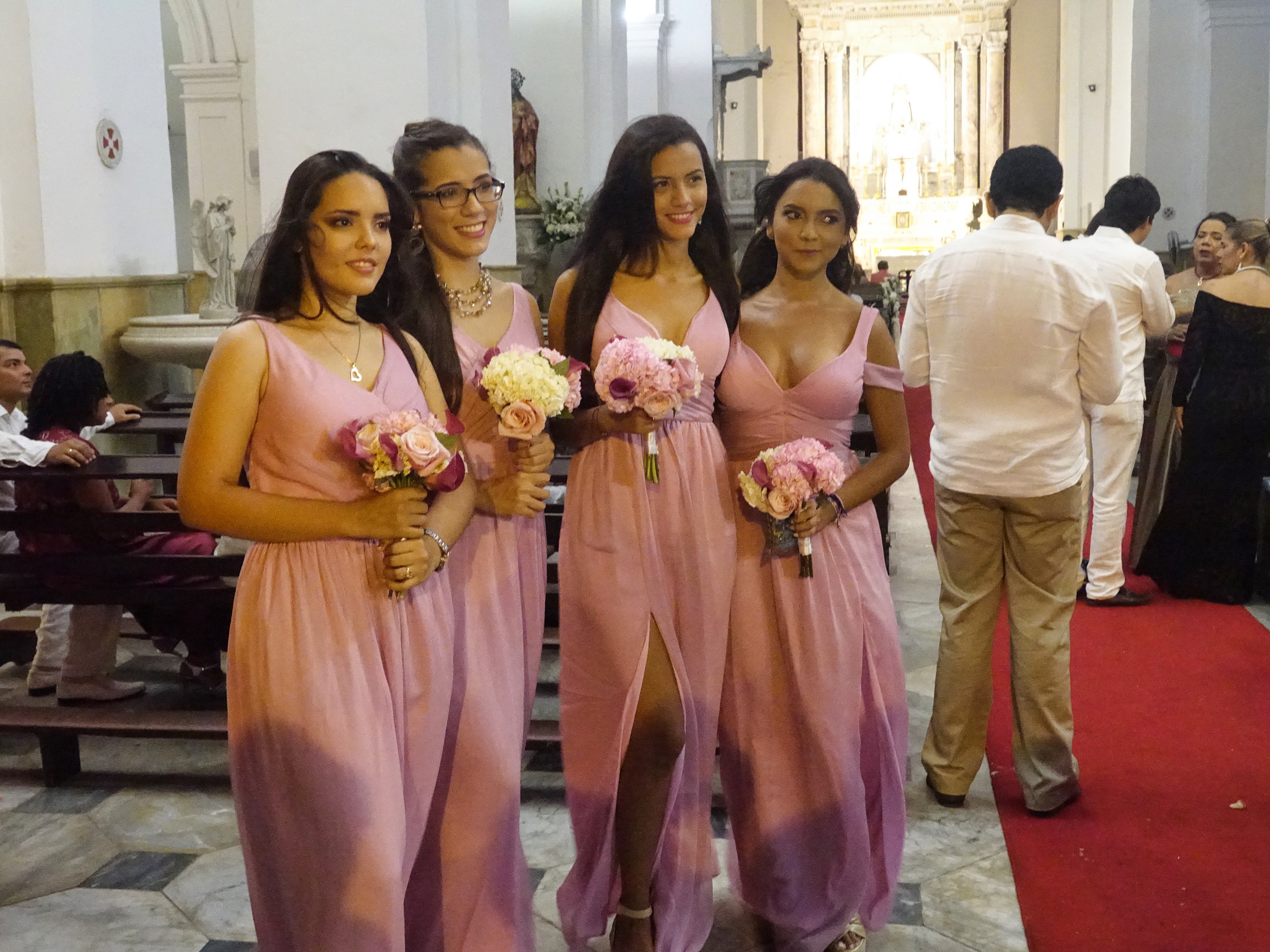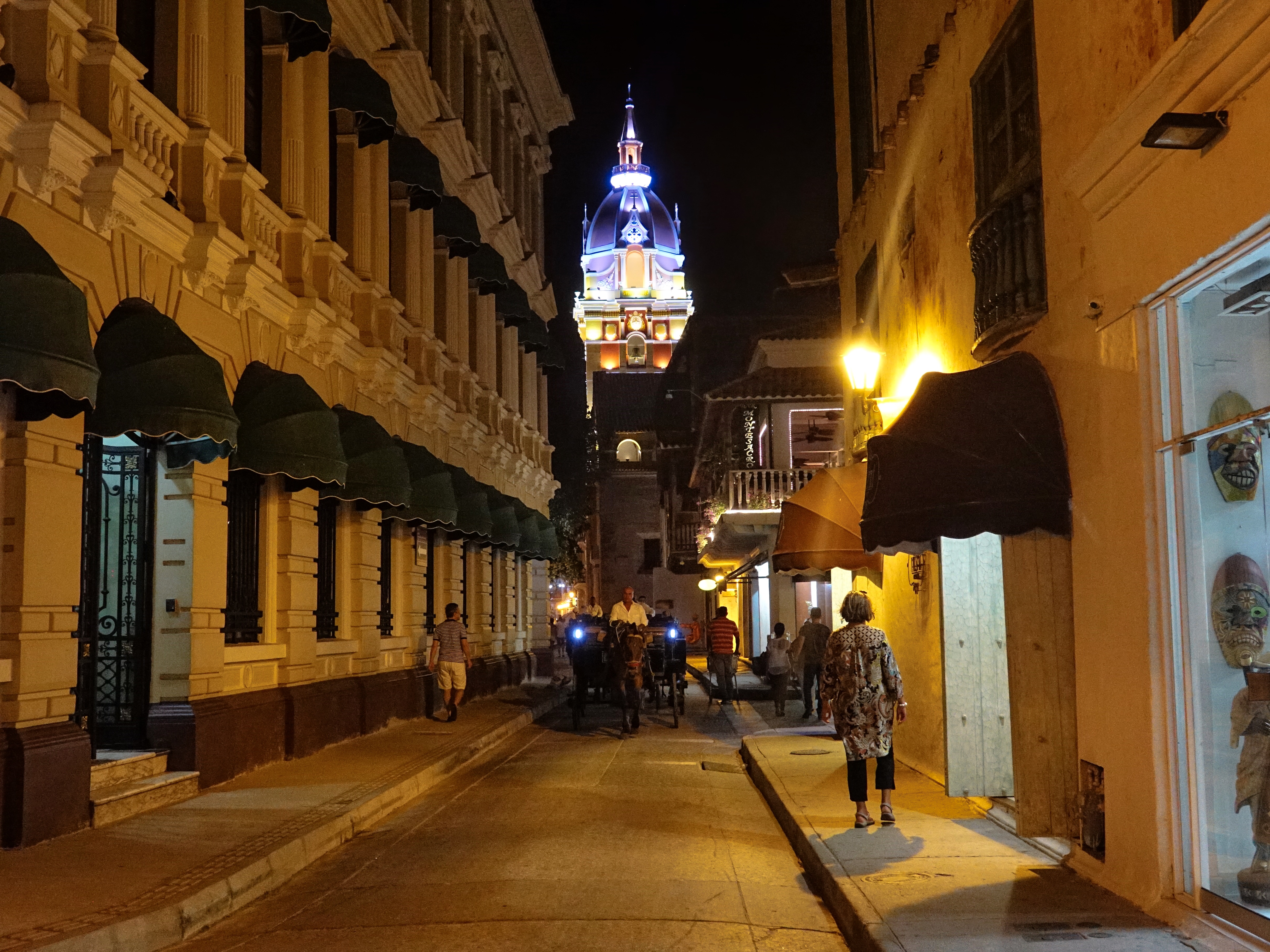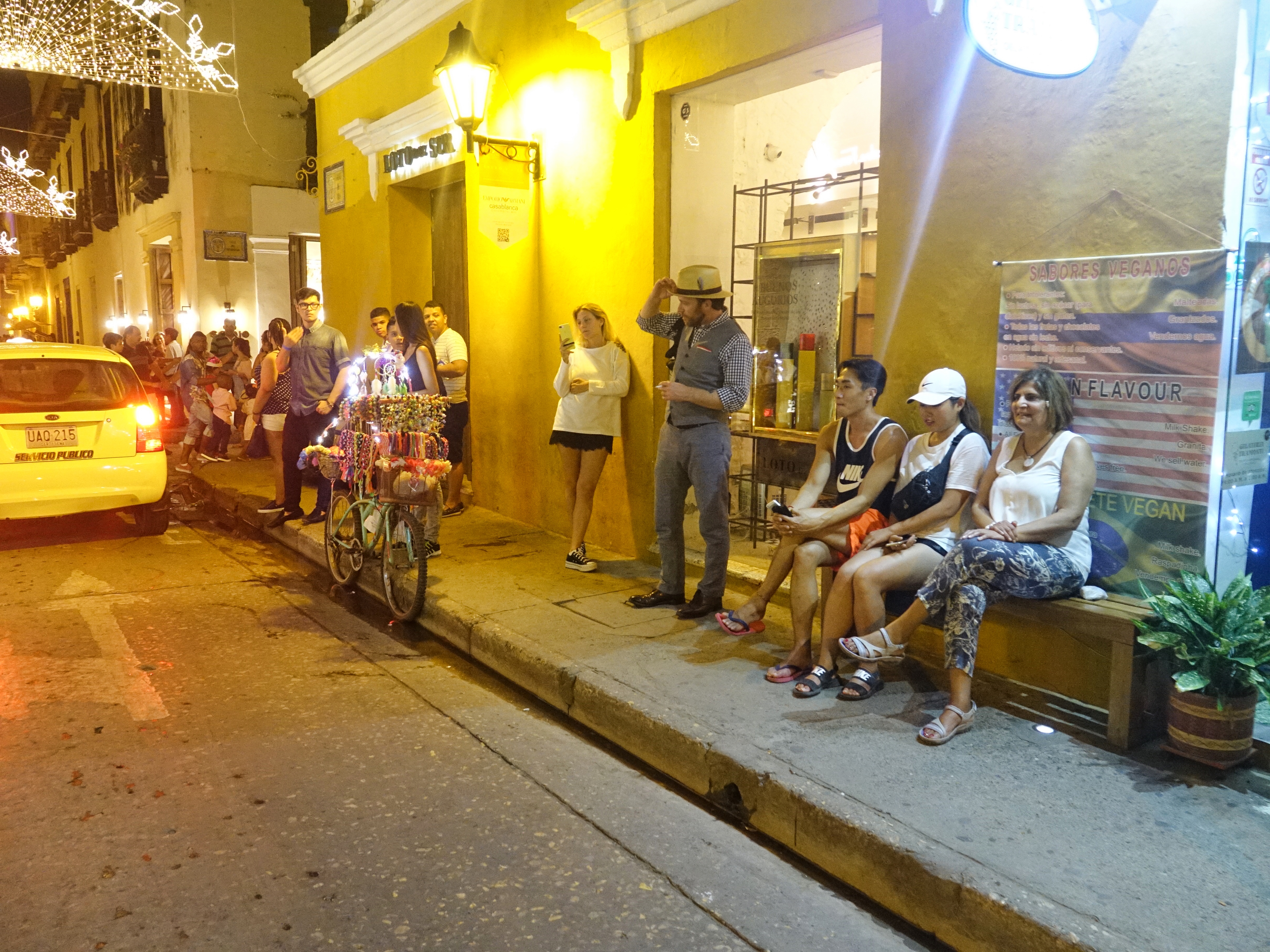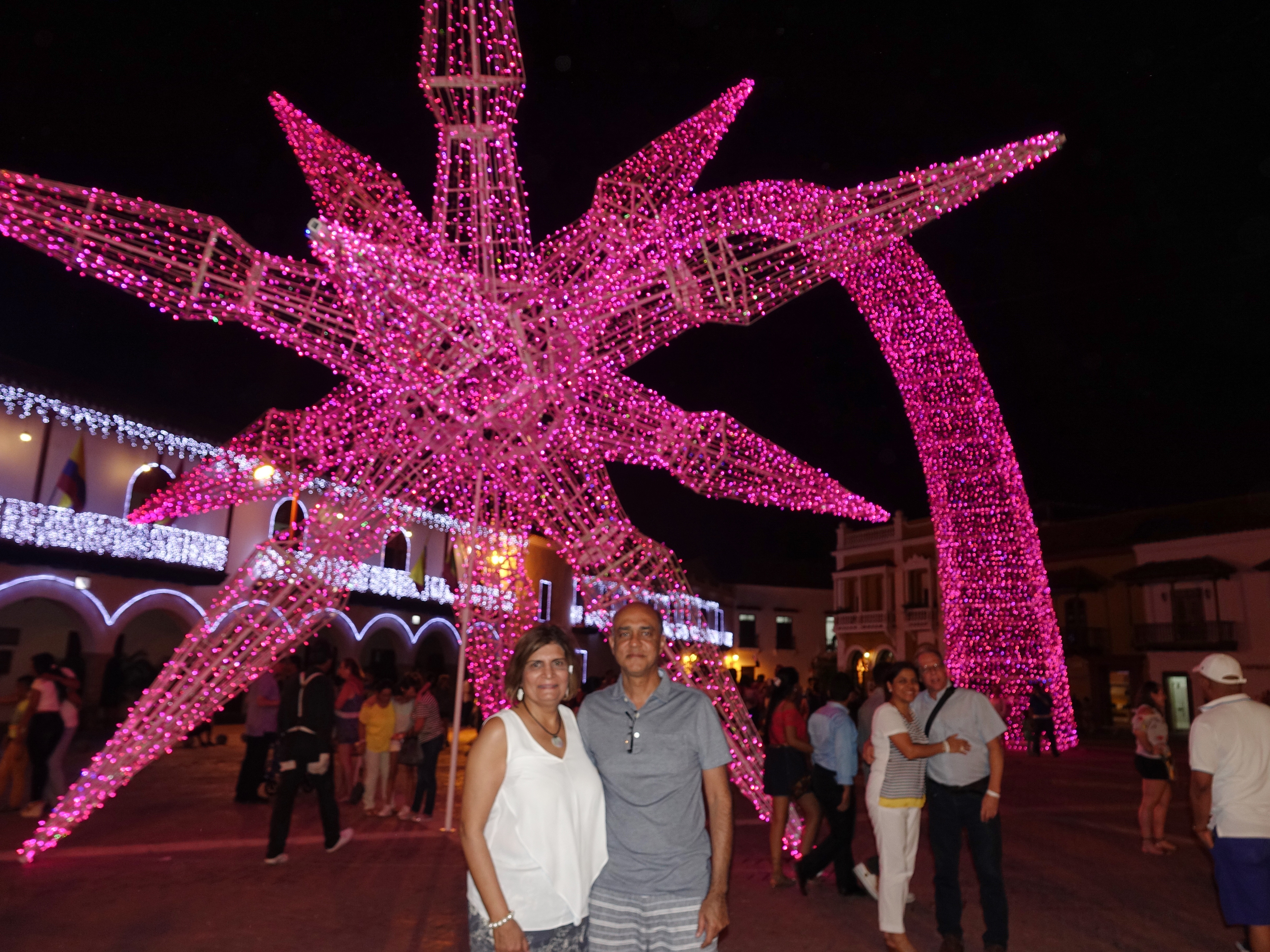 So far, Cartagena has been a "fun" vibrant and lively city; more so than we witnessed in Cali or Medellin
Next; more Cartagena explorations of other parts; and of course, the markets 🙂
This entry was posted in
Cartagena Dec 2017
,
Colombia
,
South America