We left Bera Safari Lodge early in the morning, as we had a long drive to reach Bhuj that afternoon. Reason we wanted to get to Bhuj early was because that day was full moon, and full moon is the best time to see the Raan of Kutch. More on that later.
Kutch is a district of the state of Gujarat, one of the largest and most prosperous states of India. Modi, the current Prime Minister of India, used to be the Chief Minister of Gujarat, and was responsible for significantly improving the economy of Gujarat. Kutch has its own language, Kutchi, which is different from Guajarati, the language of Gujarat state. Kutch is bordered on the west by Pakistan, on the south by the Arabian Sea; on the east by the Gulf of Kutch, and on the north by Rajasthan & rest of Gujarat. Bhuj is the capital of Kutch district.
Why visit Kutch? Kutchi (language spoken in Kutch) is our mother tongue, and our grandparents had migrated from Gujarat, India, to Kenya, East Africa, over 130 years ago, when both India and East Africa were British Colonies. Principle reason for migration was to escape famine and economic hardships. Though our grandparents lived in Gujarat proper (Balagam, Ranavav, Wankaner); and migrated from there to Kenya, their background and culture was Kutchi, so the family origins were from Kutch at some time. We were not visiting Kutch to trace any family lines, but simply to enjoy the kutchi culture, language, customs, people, food & sights 🙂 .
The drive from Bera was south on several different Hwy's to Bhuj. Along the way, we passed Mount Abu, but did not stop to go check out the Jain temple there, as we did not have time. The drive was uneventful, and on arriving in Bhuj, we found the Bhuj House easily, where we were going to be staying 2 nights. This was a traditional Parsee home that has been turned into a homestay. Upon arriving, we sorted out the bill with Bherulal, our driver during the Rajasthan portion of our trip, and he left to go back home. We had planned to use a local kutchi driver in Kutch. We settled into Bhuj House, where we had an upstairs room. This place had survived the terrible earthquake in 2001, and used to be the principle residence of the Parsee Bhujwalla family, who were prosperous business people, but now had converted their home into a homestay.
Soon, the driver that was arranged by Bhuj House came by; he was Mahesh, a little younger than us, and had a nice car to take us around in. And he spoke kutchi 🙂 ; our mother tongue. Plan was to drive to the Raan of Kutch, and see it at sunset and full-moonrise. The Raan of Kutch is a vast salt flat desert that is in Kutch, and borders Pakistan, about 80kms from Bhuj. Since the area borders Pakistan, it is an area controlled by the army, and we had to get a permit to go there. The permit was obtained online by our hosts with passport information.
Information
You have to get a permit to visit the border areas of kutch.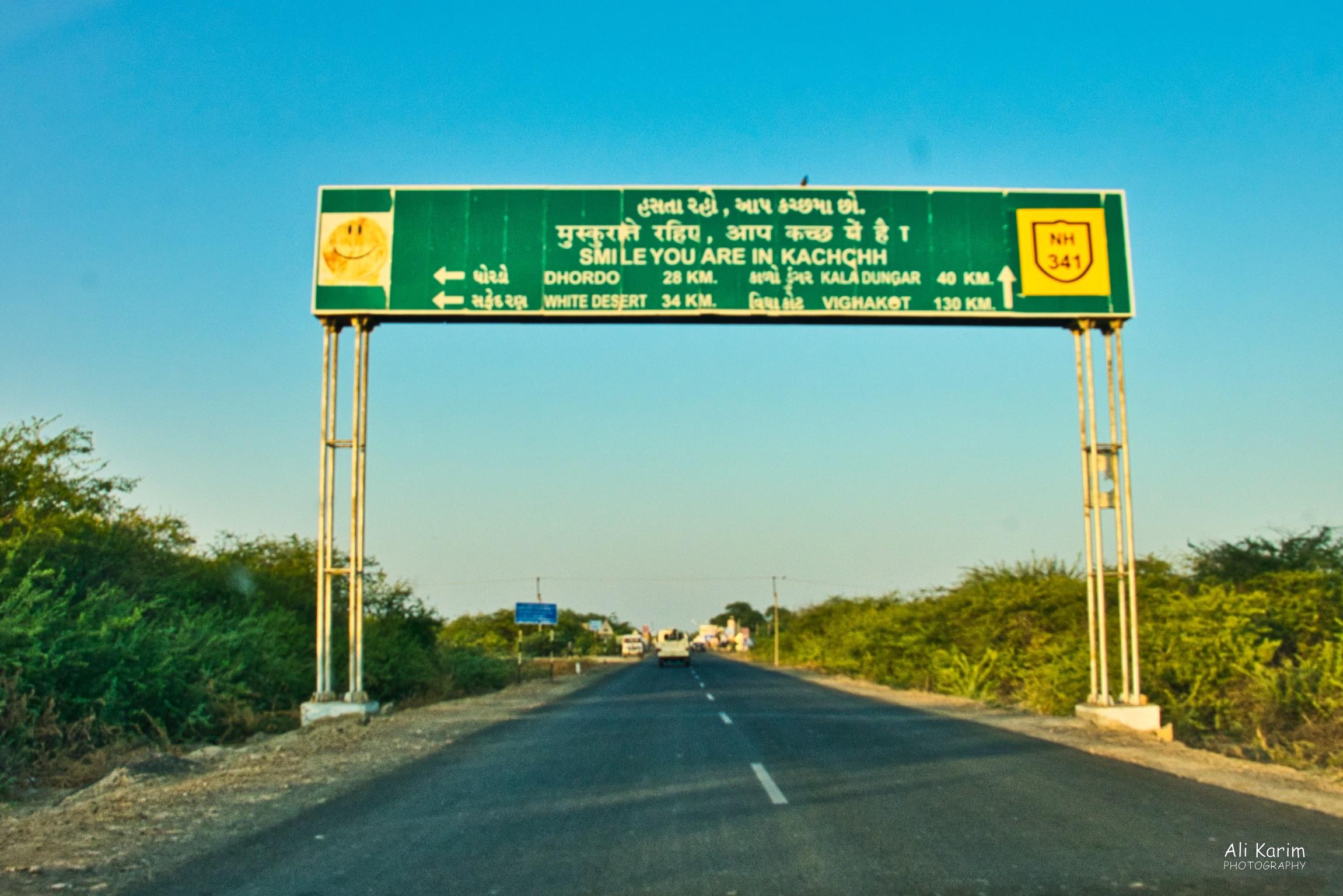 On the way, we practiced our kutchi with Mahesh. Fortunately, we found that Mahesh could understand most of our kutchi, and we could understand about 70+% of his kutchi. So communication was good.
The roads towards the Raan of Kutch were actually very smooth, new, and well preserved. I asked Mahesh about this, and he explained that since the Raan of Kutch was near the Pakistani border, the army & air-force needed good roads so that if the air-force bases were damaged during a war, they could still use the public roads to land and launch aircraft!! Very interesting. We did pass an air-force base on the way, which was heavily fortified. Made you realize you were in a controlled area; that had to be vacated by non-residents by 8PM. At a nearby police check-post, Mahesh gave in our permits and we carried onto Dhoro.
We soon arrived at Dhordo; this is a small tourist settlement, where there is a large tent city put up by the Gujarat Govt ever year for a few weeks in Nov. There are decent accommodations here (luxury tents and other tents, Bhunga (traditional round mud hut) etc available for tourists to stay in. And there are lots of stalls selling kutchi products; mostly clothing; together with cultural dances and performances. This tent city is a bit of a tourist trap, and we avoided it, and went straight to the Raan of Kutch nearby.
The Raan is a vast Salt flat desert, which gets slightly flooded once a year, and when the water evaporates, it leaves behind salts and mineral deposits. We walked on the salt-flat, which had lots of crusted salt crystals; and when we dug this surface a couple of inches, there was water underneath. Very interesting. Some images of this vast empty desert below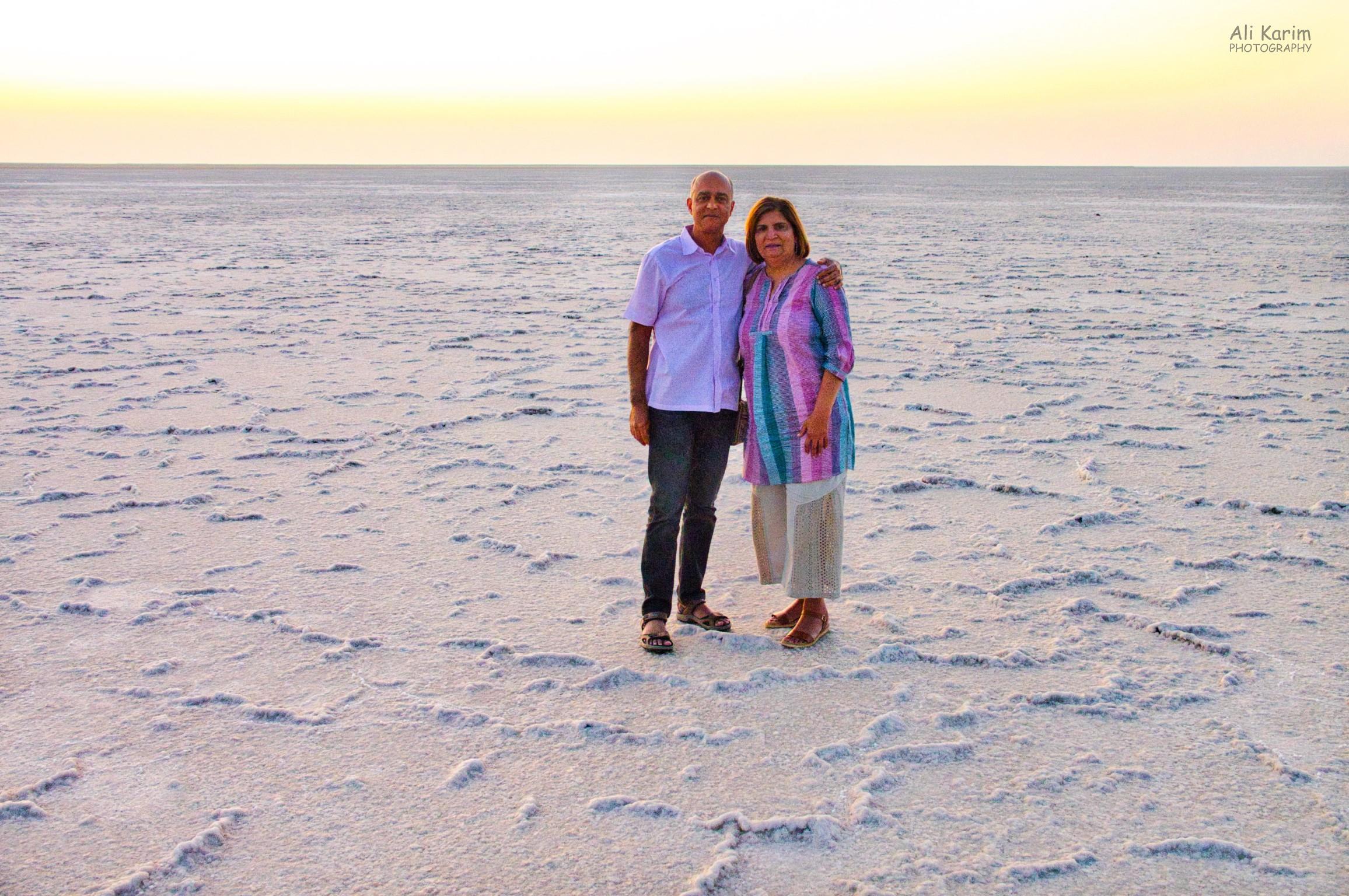 This is a vast space, with lots of tourists, mostly local tourists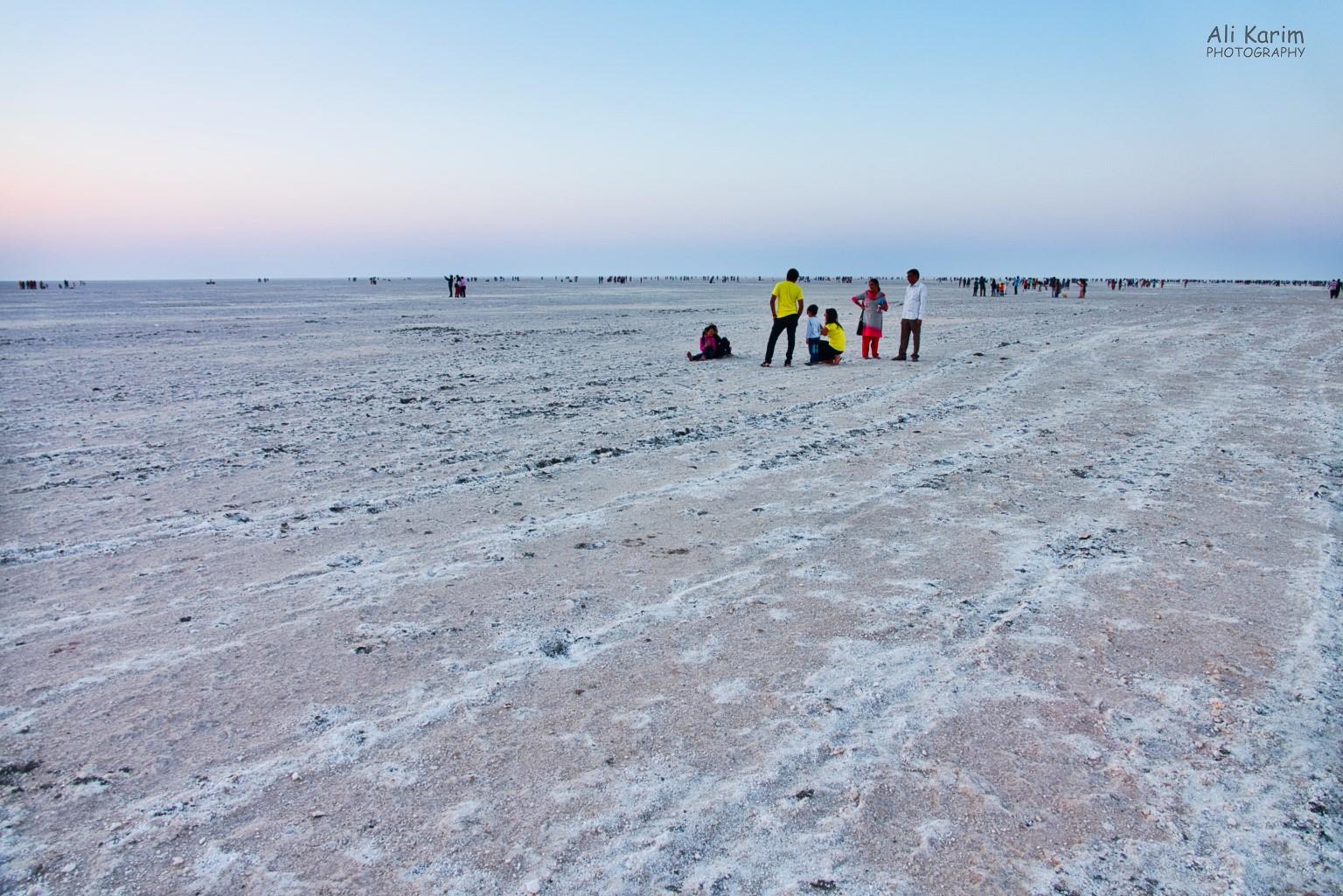 The vastness of the Raan is best seen below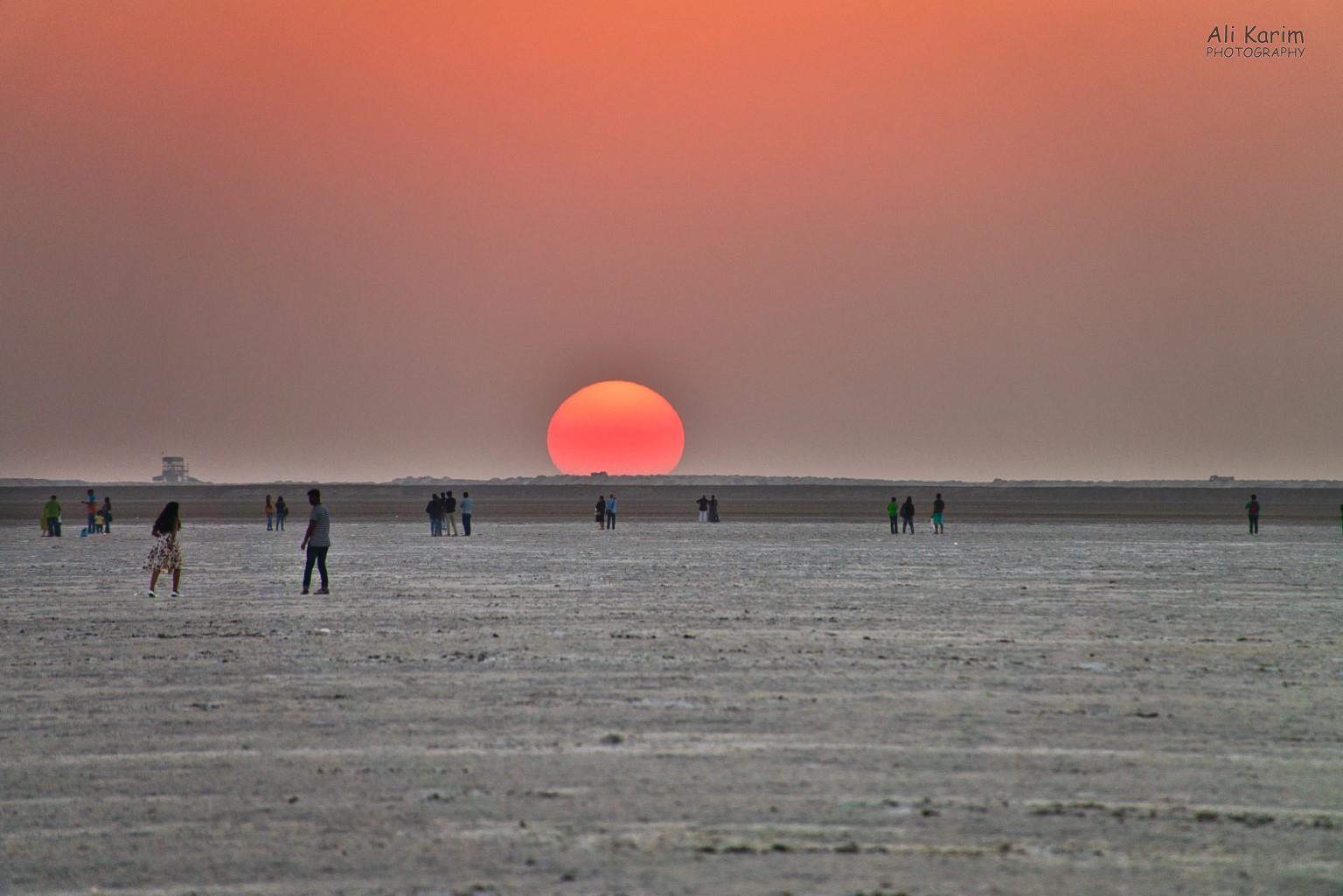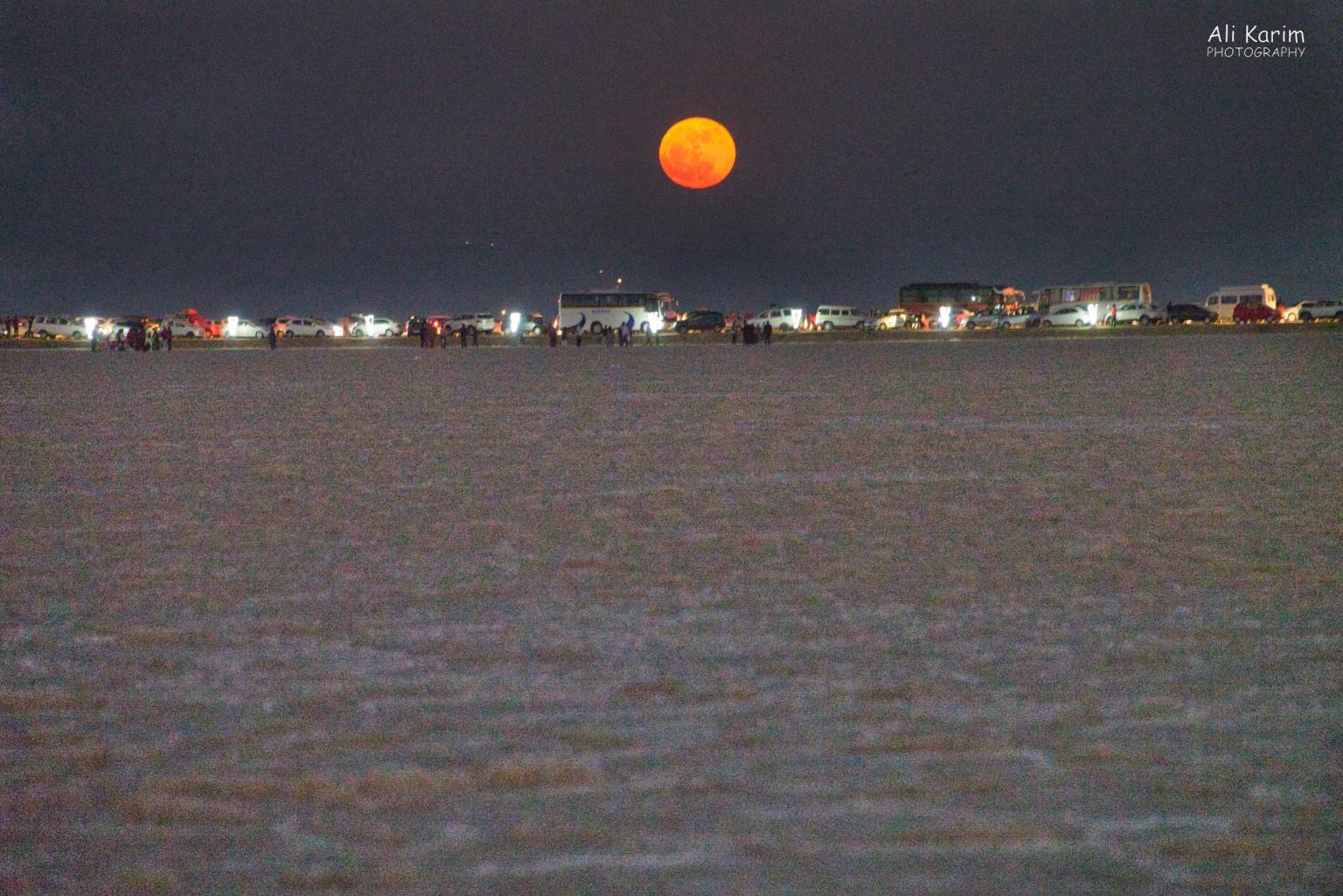 Information
The Salt desert is best to experience during sunset and full moon nights. Its just sparkles
We started heading back before the curfew time of 8PM with Mahesh, and stopped at the Shaam–e–Sharad (Sunset on the Border) in Hodka village. Shaam-e-Sharad is a community run hotel/restaurant on the edge of the Raan salt flat, on the way back to Bhuj. They only make enough food for their residents and guests who had made prior reservations; which the Bhuj house had done for us. This place had typical Kutchi food; including baajara-no-rotla with ghee, kudhi-khidchi, and vegetable curries 🙂 . It was good 🙂 🙂 .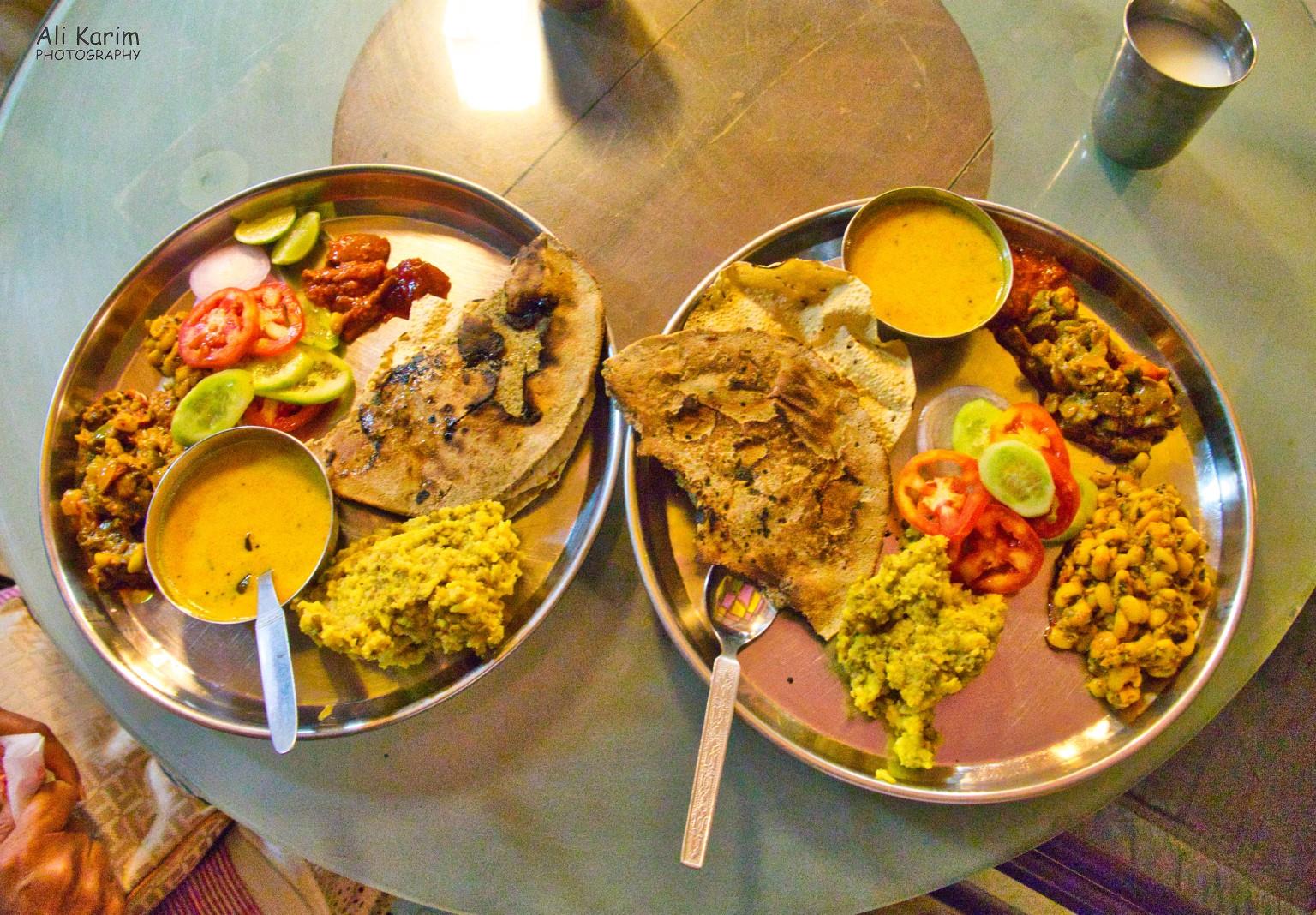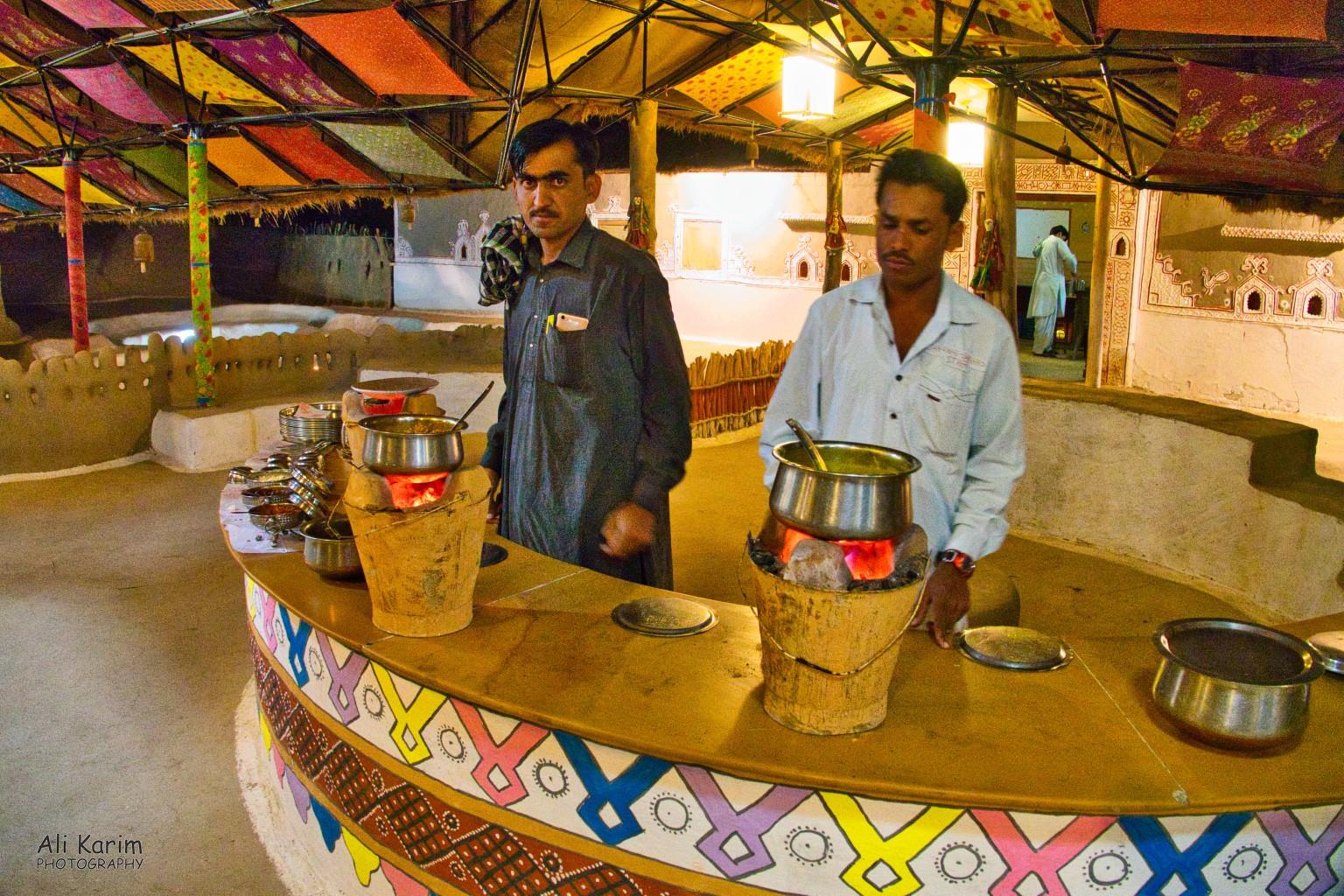 The excellent dinner was followed by entertainment. Dilshad had to join the local tourists having a good time. Note that the drummer is using upside down kitchen pots for his drums.
After a very nice dinner, Mahesh drove us back to the Bhuj house. Over the next 2 days, Mahesh took us to a local nearby villages. The villages around Bhuj are known for the good handiwork they have in making embroidery designs on clothing; all different kinds of works. We visited the villages of Hodka, Nirona, Bhujodi, and others. Each village specialized in a different specialty, including embroidery, leather work, pottery, woodwork, batik, Bandhani (fine tie and dye), Ajrakh (block printing of Kutch), Weaving, Rogan (painting on cloth), silver work, mud-mirror work and copper bell making. These beautiful craftworks are captured nicely in the video below; thanks to kutch adventures
There are several communities that have distinct features and expertise; these include the Rabari and Marwari Harijan, from Rajasthan, the Mutva, Halepotra, Pathan, Raysipotra Muslim communities from Sindh, the Ahir hindu and Jat muslim communities among others. The Khatri community of Kutch are the dyers and produce Bandhani (Tie dye), block printing and batik (wax printing). This link Communities of Kutch has a good writeup about them
Below are some images of the villages and countryside in Kutch during our touring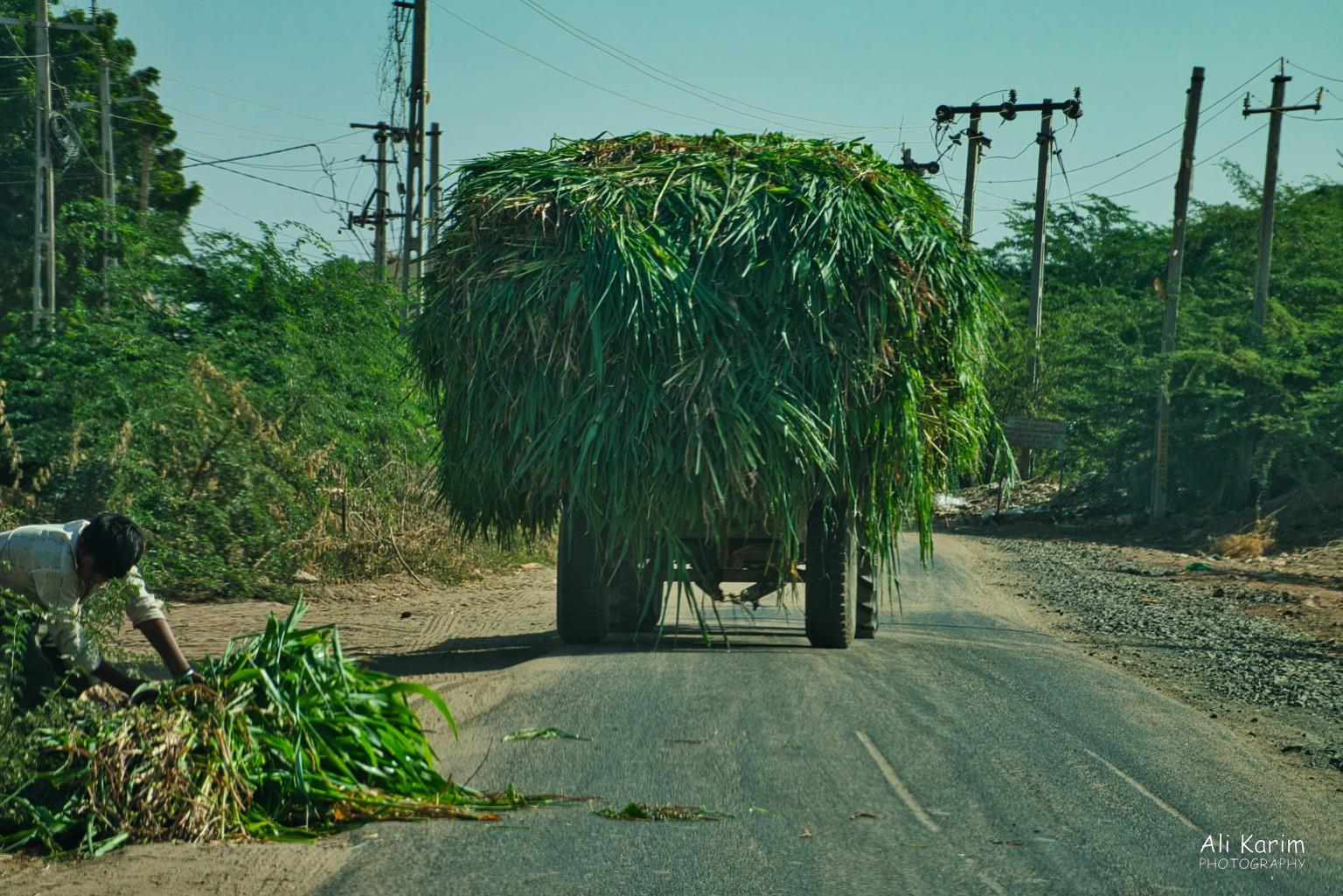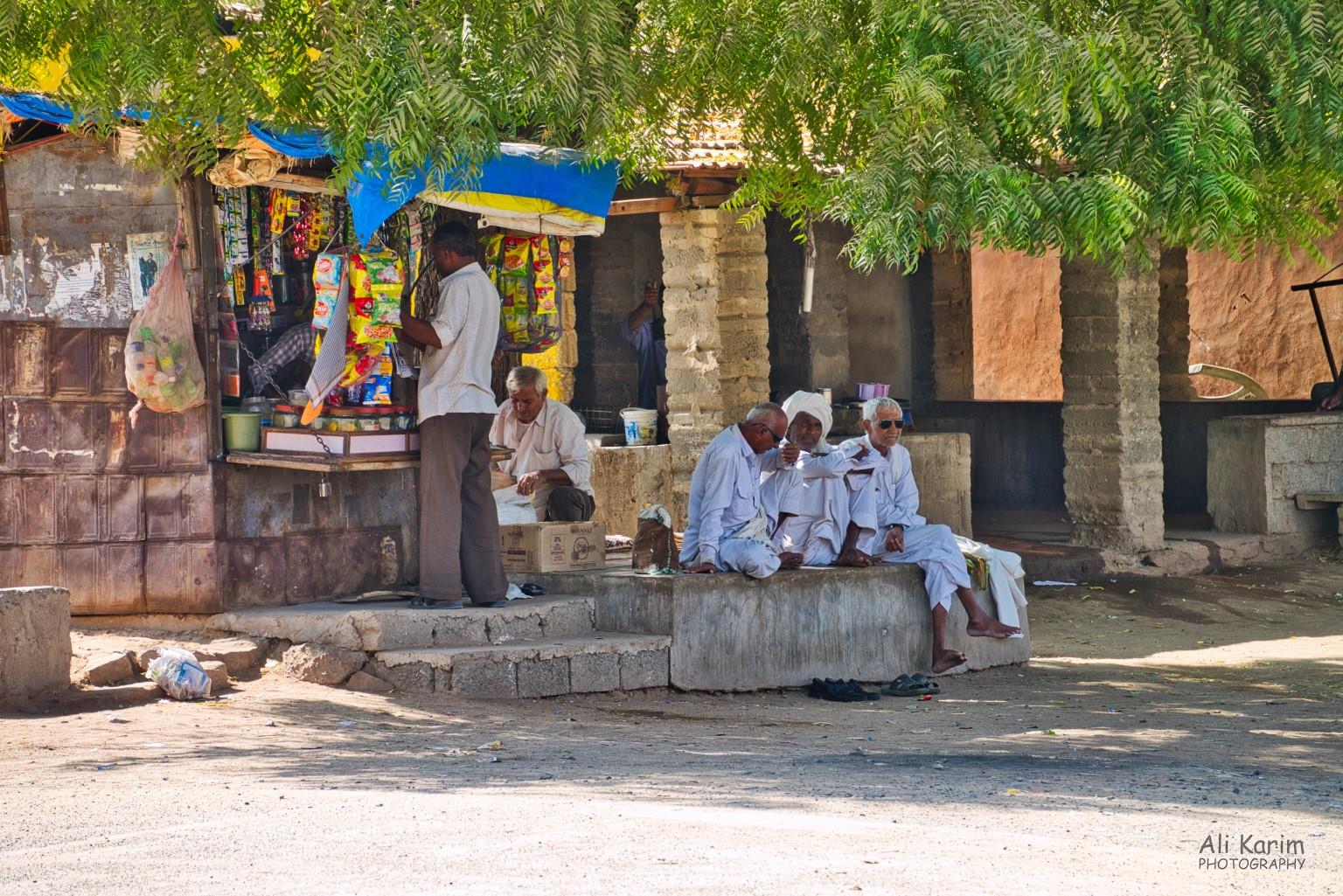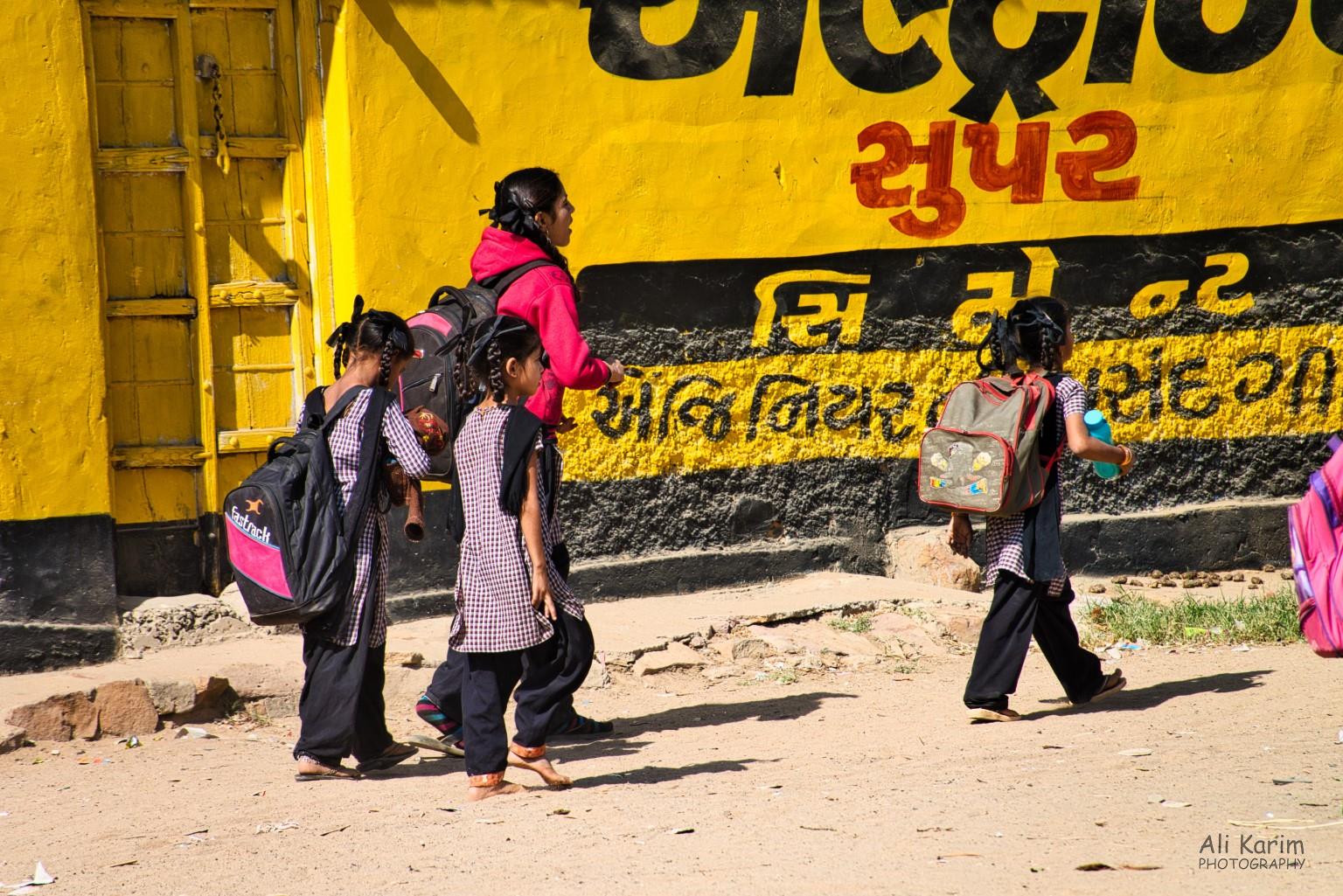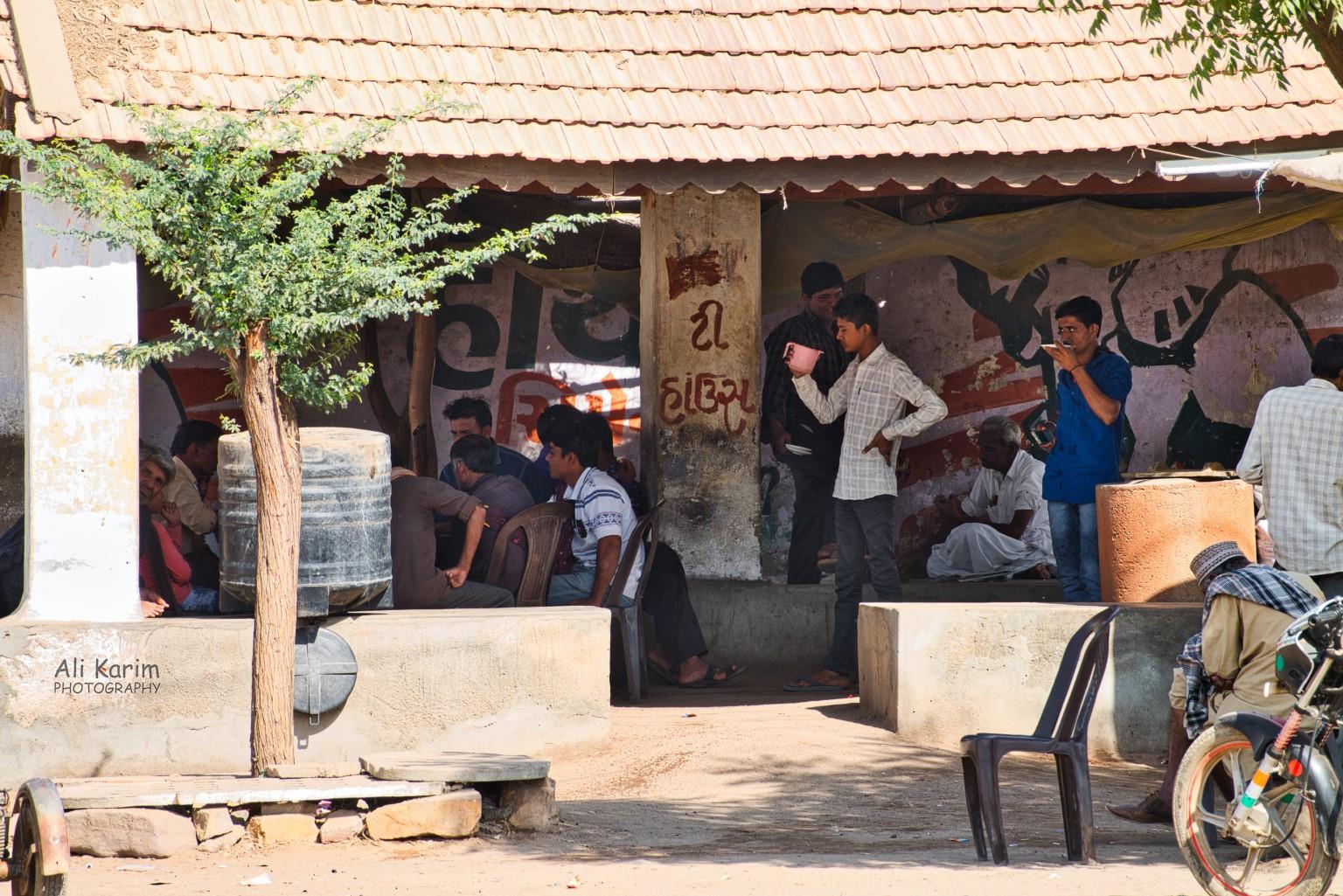 An example of Rogan Art, using oil based paint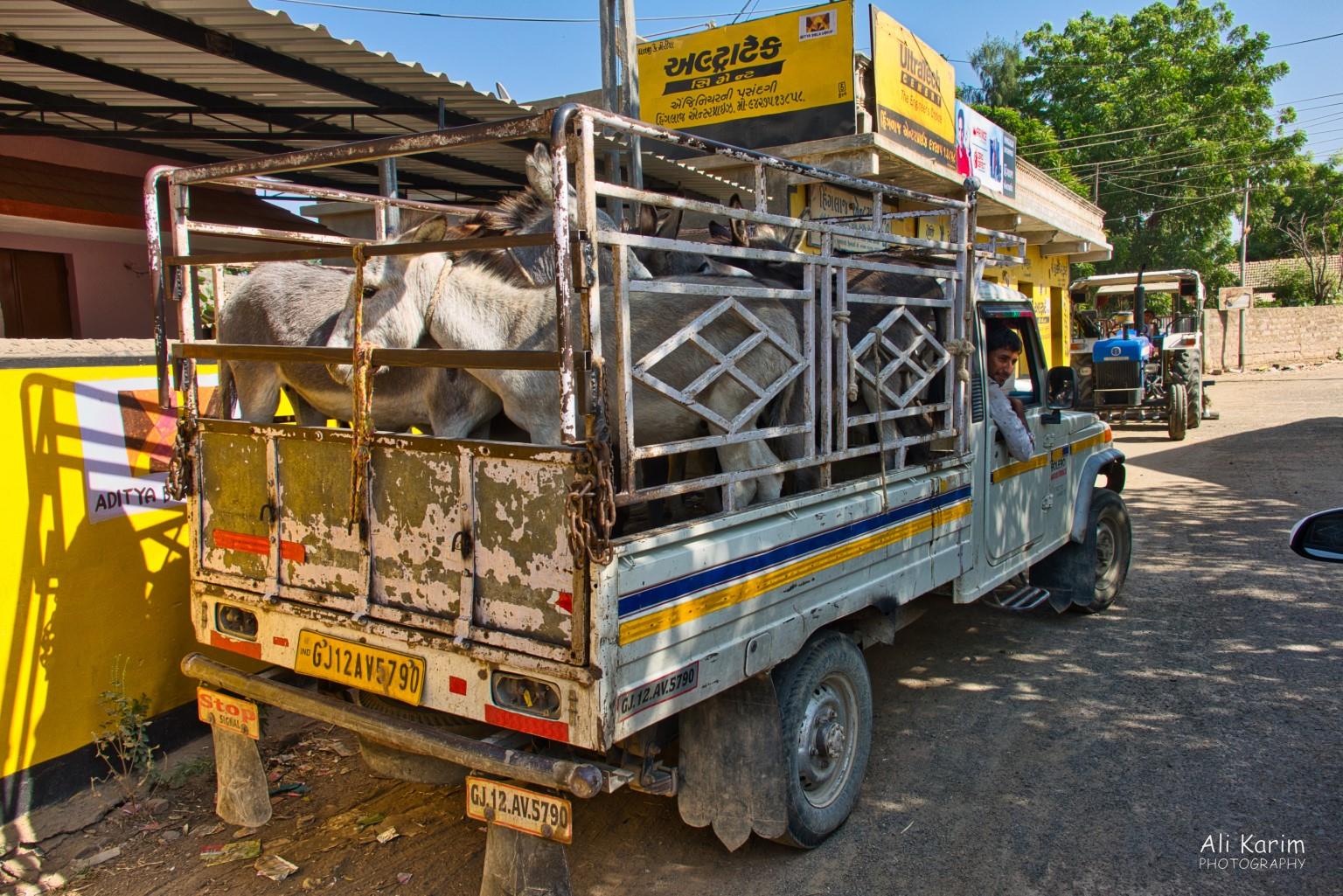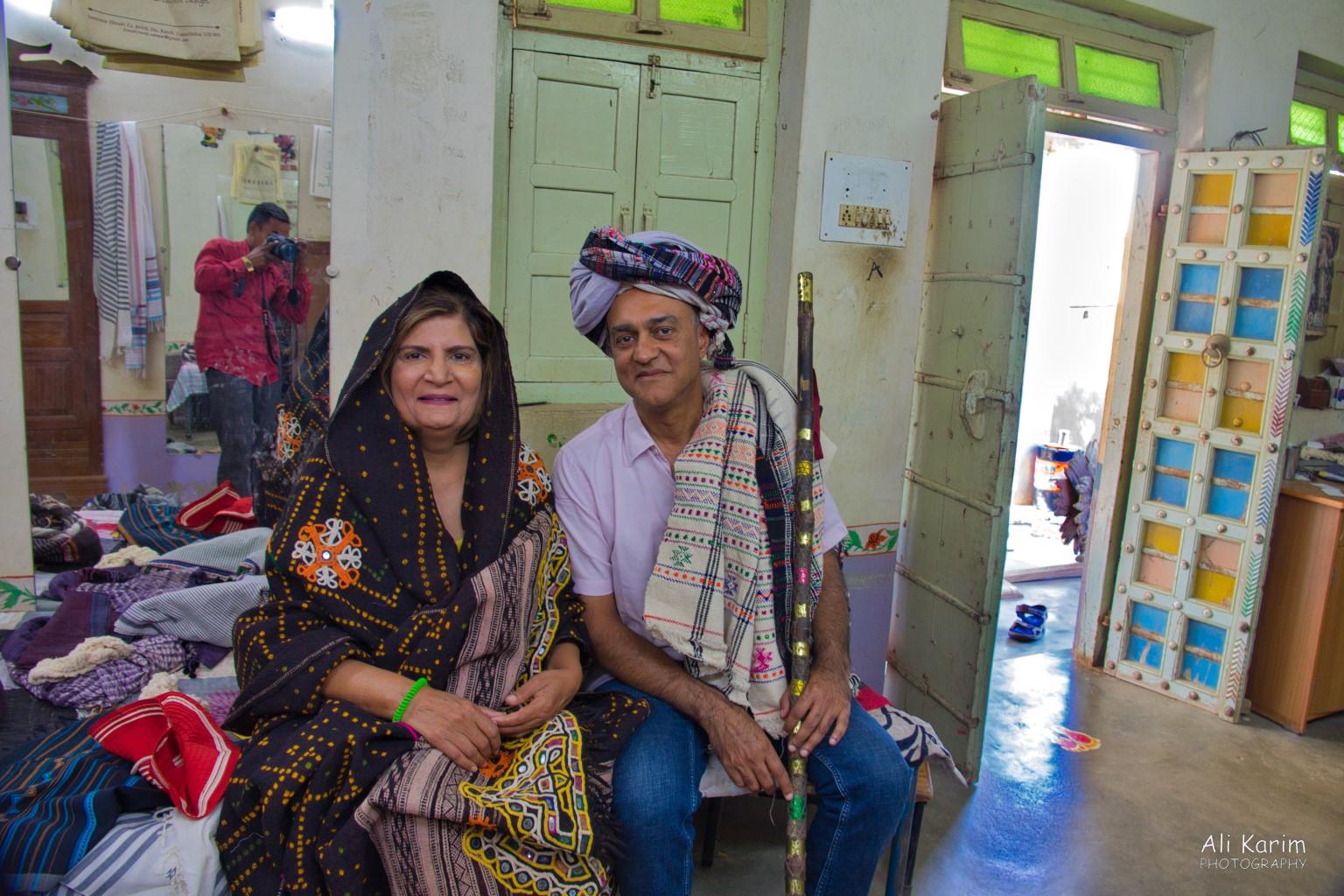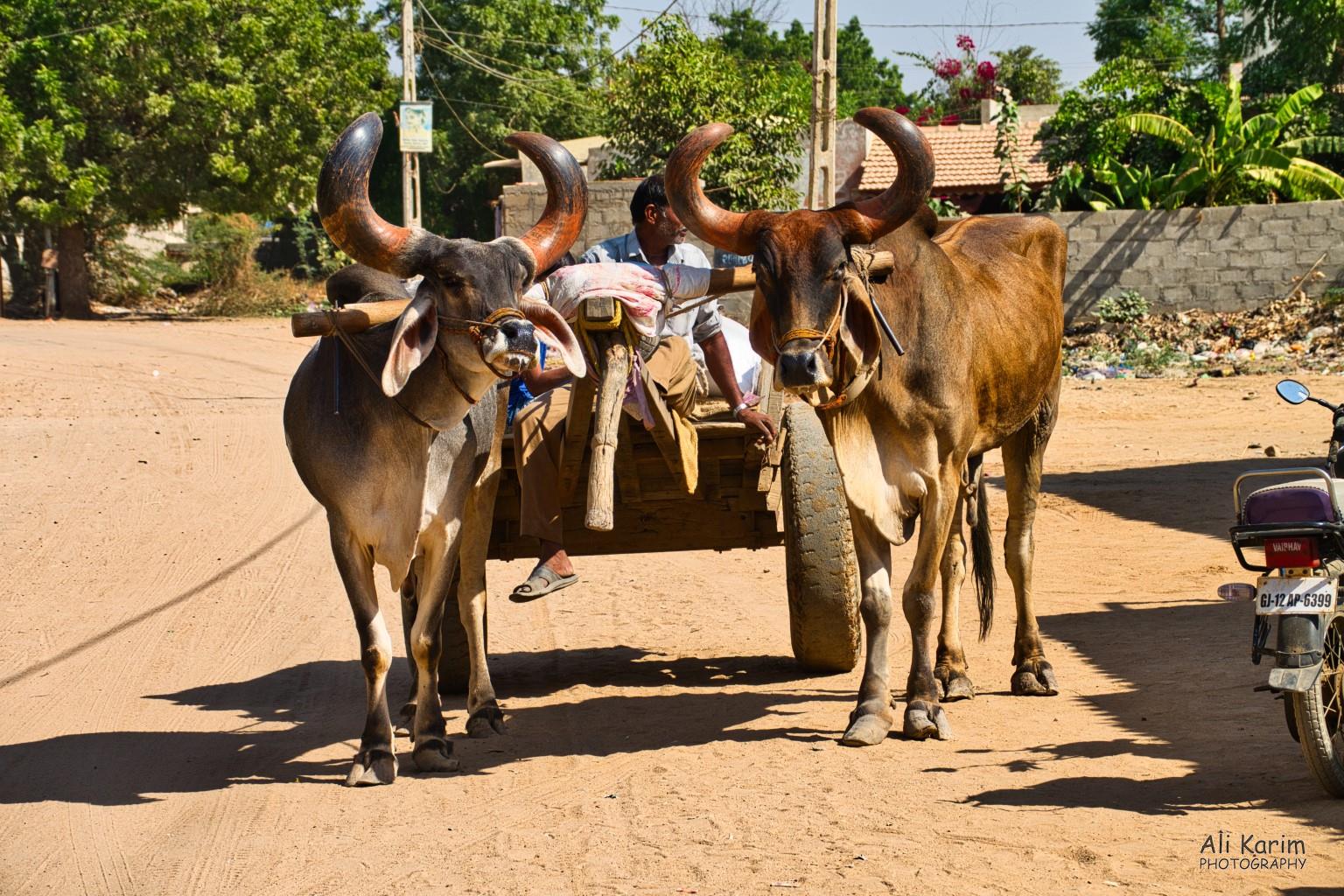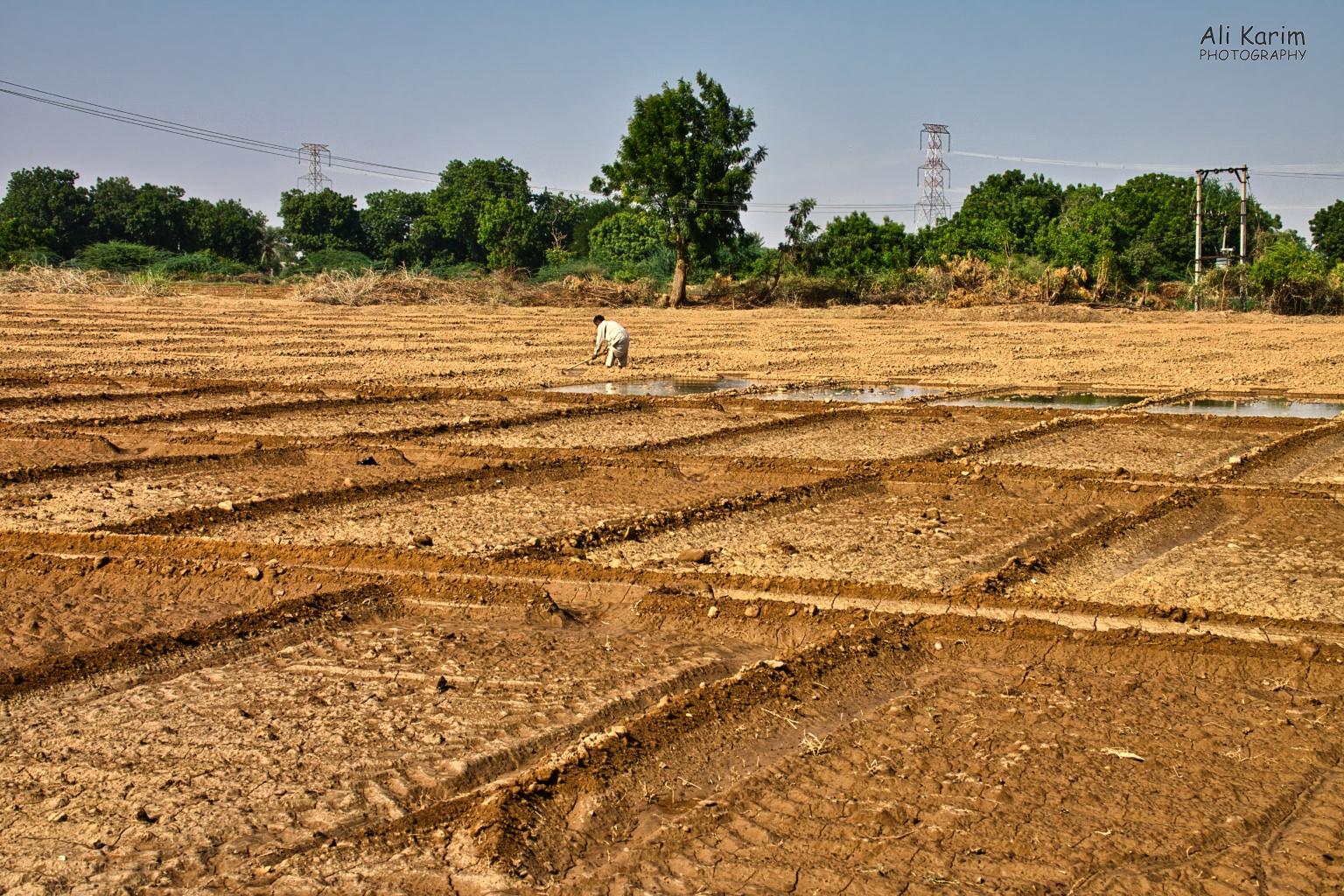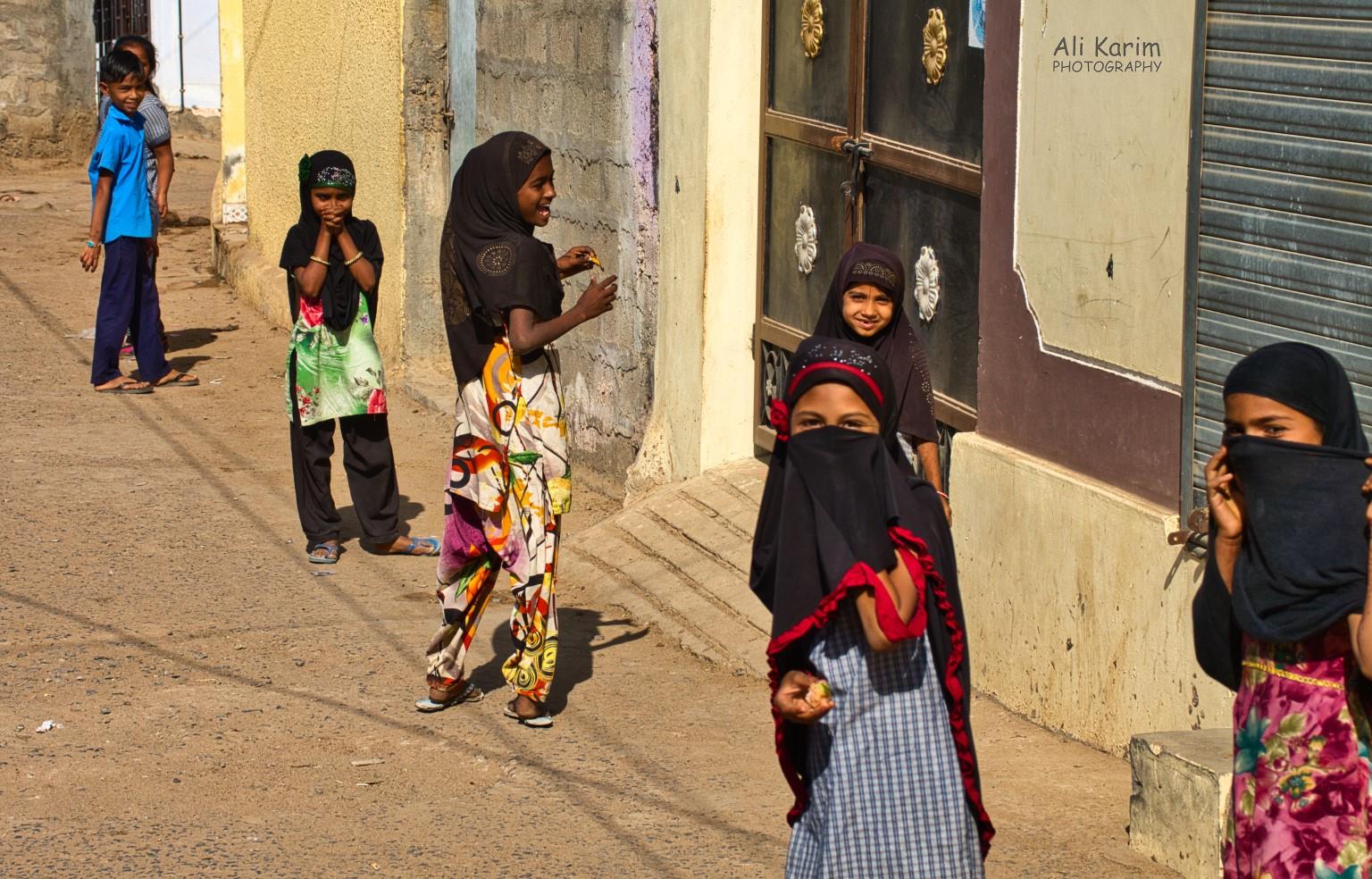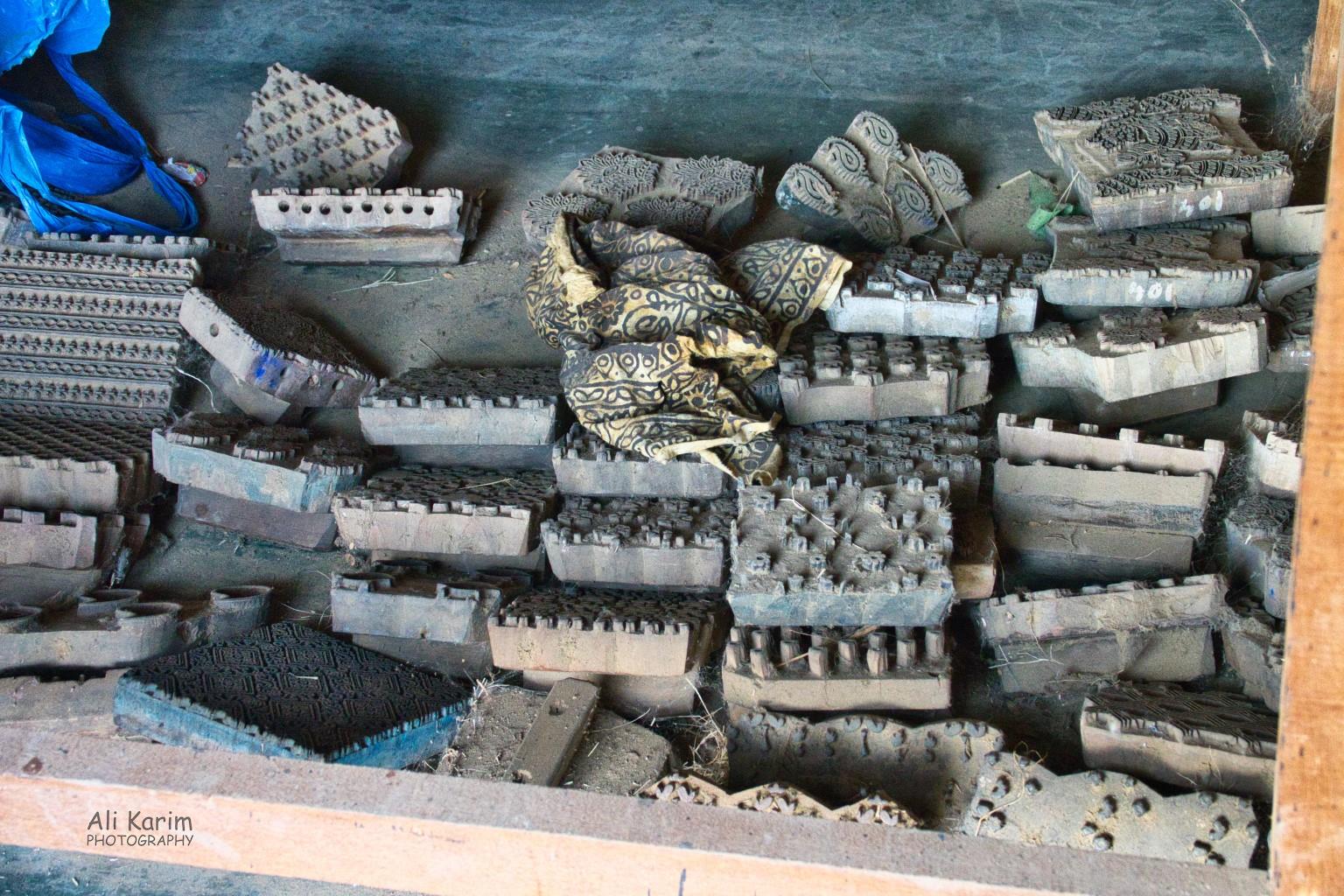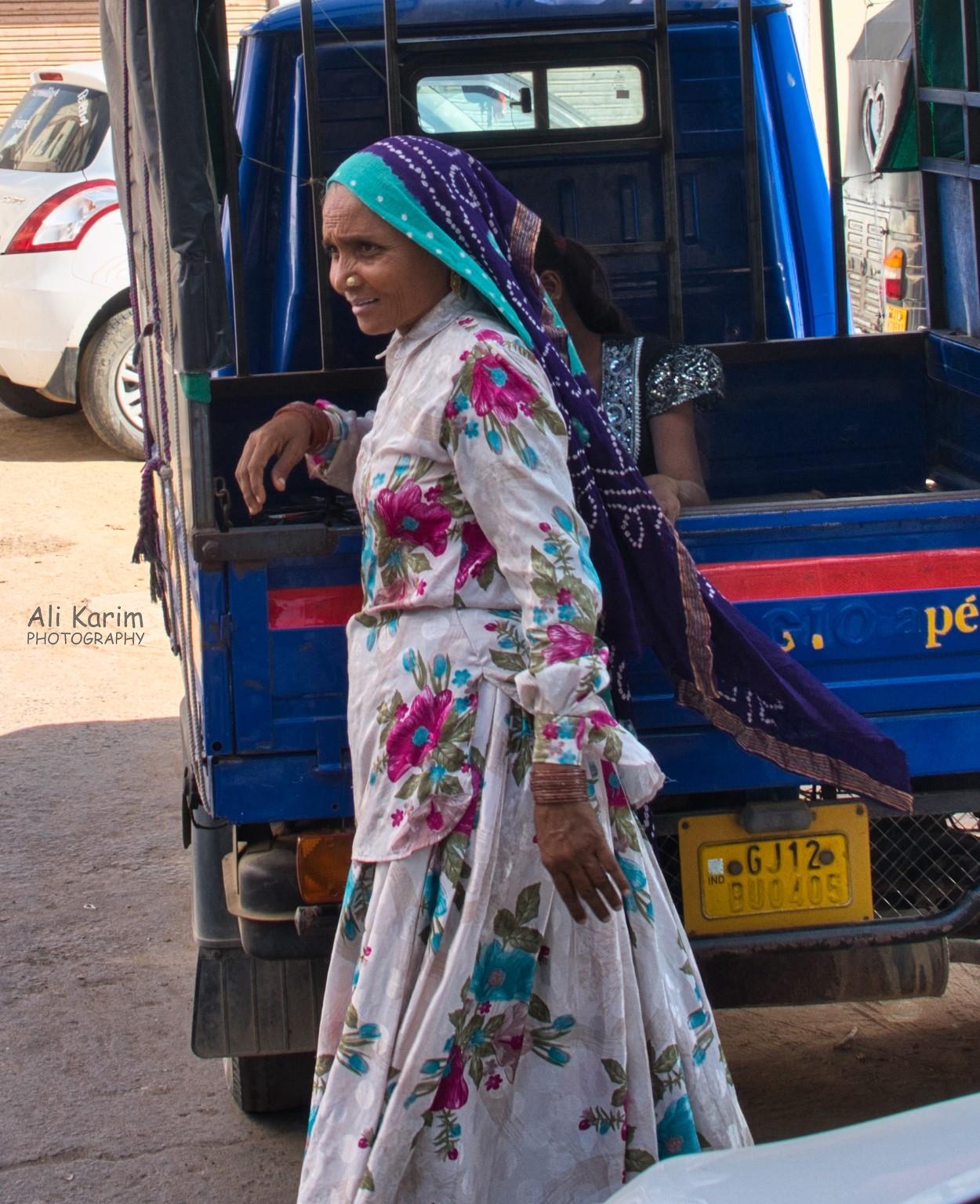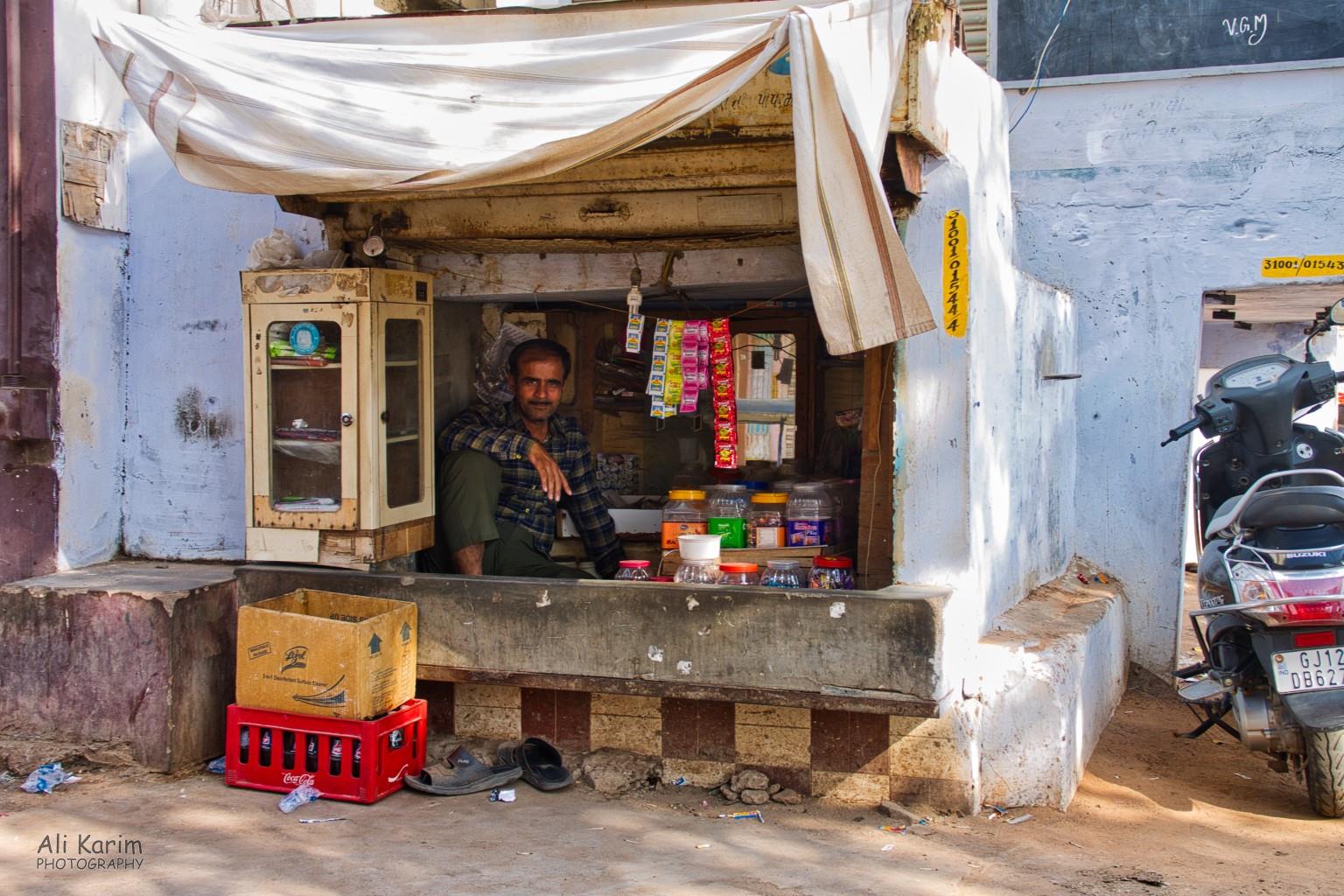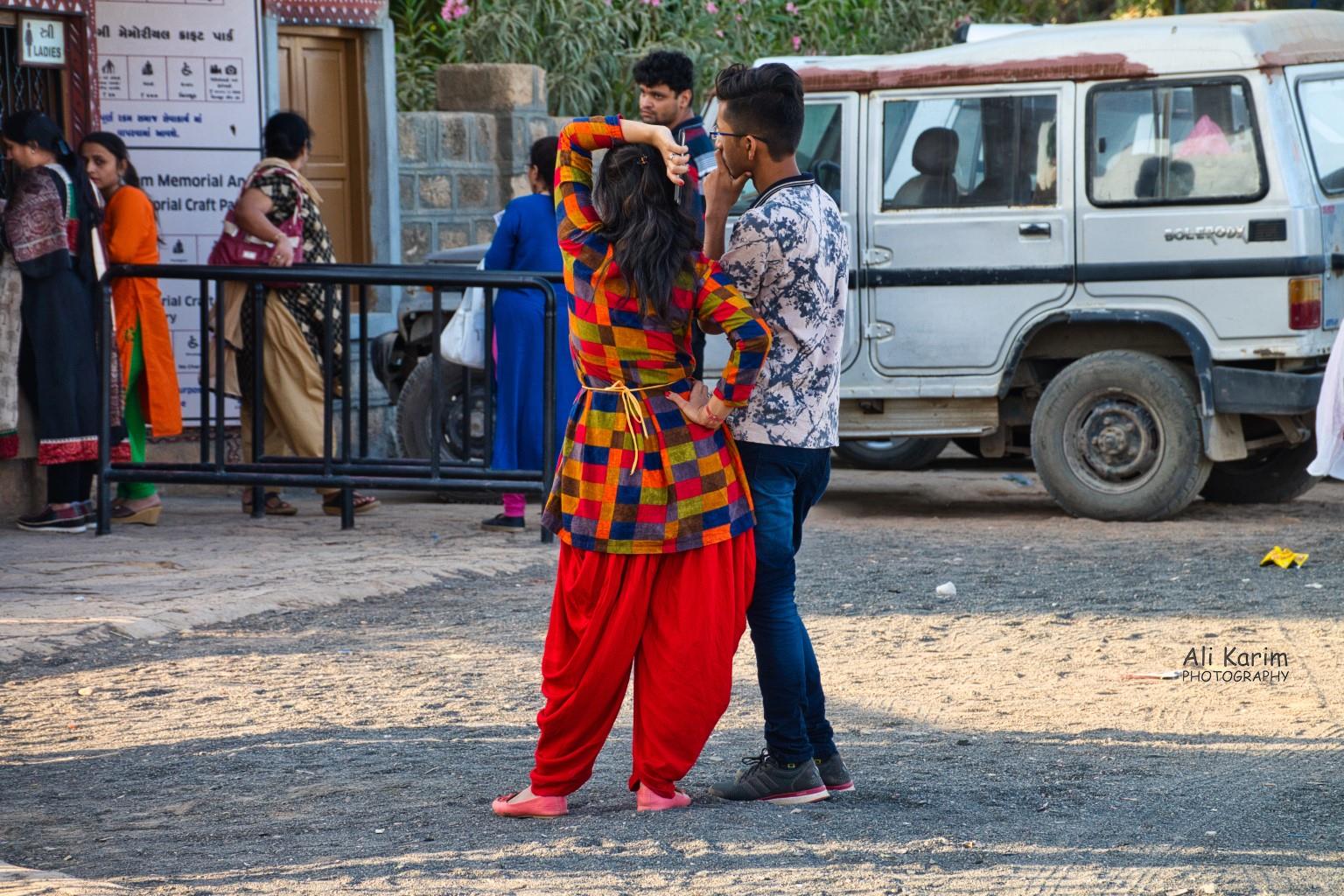 Back in Bhuj, we asked Mahesh if he knew any Ismaili's in this area. He did not recognize the term Ismaili's; but he knew right away what we were looking for when we mentioned Khoja's. He took us to an Ismaili Khoja he knew who told Mahesh where the Jamat Khana was; turns out the JK was 3 doors down from the Bhuj House where we were staying 🙂 . So one evening, we went to the JK for prayers, and had a very interesting time meeting the local Ismaili's. PM me if you need more info.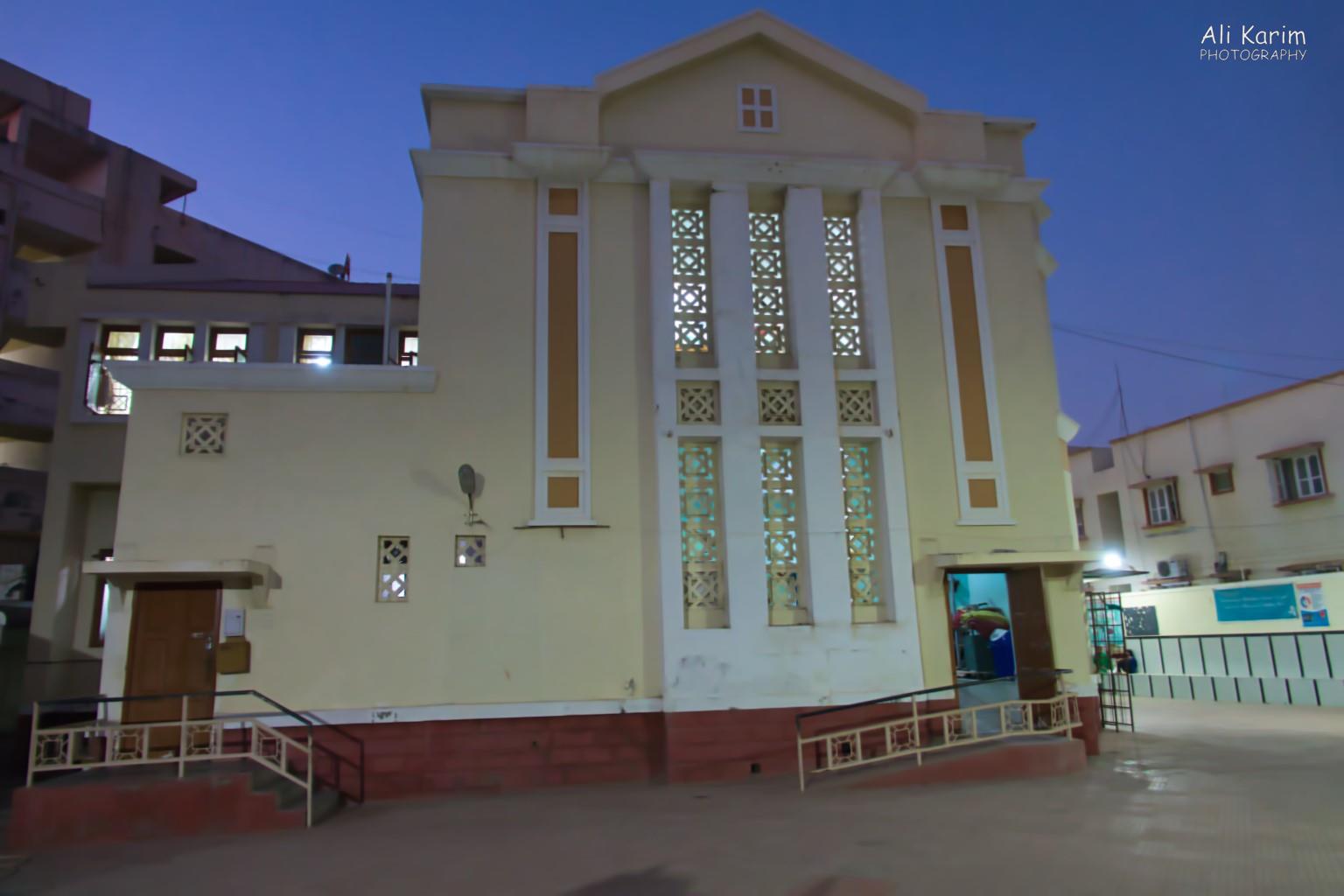 Below are some video clips of locals speaking the Kutchi language, which may be of interest to kutchi speakers
Pharmacy interactions

More on Bhuj itself, people, street foods etc in the next blog
This entry was posted in
Asia
,
India
,
Rajasthan - Kutch Nov 2018