Silk Road 16: More Osh, Kyrgyzstan; Sept 2019
After the wonderful experiences the previous day in Osh, the next day, we got up early to go to Sulaiman-Too, the sacred mountain in Osh city, for a hike, before it got too hot mid-day. This mountain was sacred because its five peaks and slopes contained numerous ancient places of worship and caves, complete with petroglyphs as well as two 16th century mosques, one of which was Babur's (founder of the Mughal empire) mosque. Several cult sites are believed to have provided cures for barrenness, headaches, and back pain and give the blessing of longevity. The site is believed to represent the most complete example of a sacred mountain anywhere in Central Asia, worshipped over several millennia.
Historic Significance
Five peaks of  Sulaiman-Too and slopes contains numerous ancient places of worship and caves, complete with petroglyphs and two 16th century mosques worshipped over several millennia. Its believed to provide cures for barrenness, headaches, and back pain and give the blessing of longevity.
We took a taxi to the base of the mountain and then walked over to the first stop, which was the Cave Museum.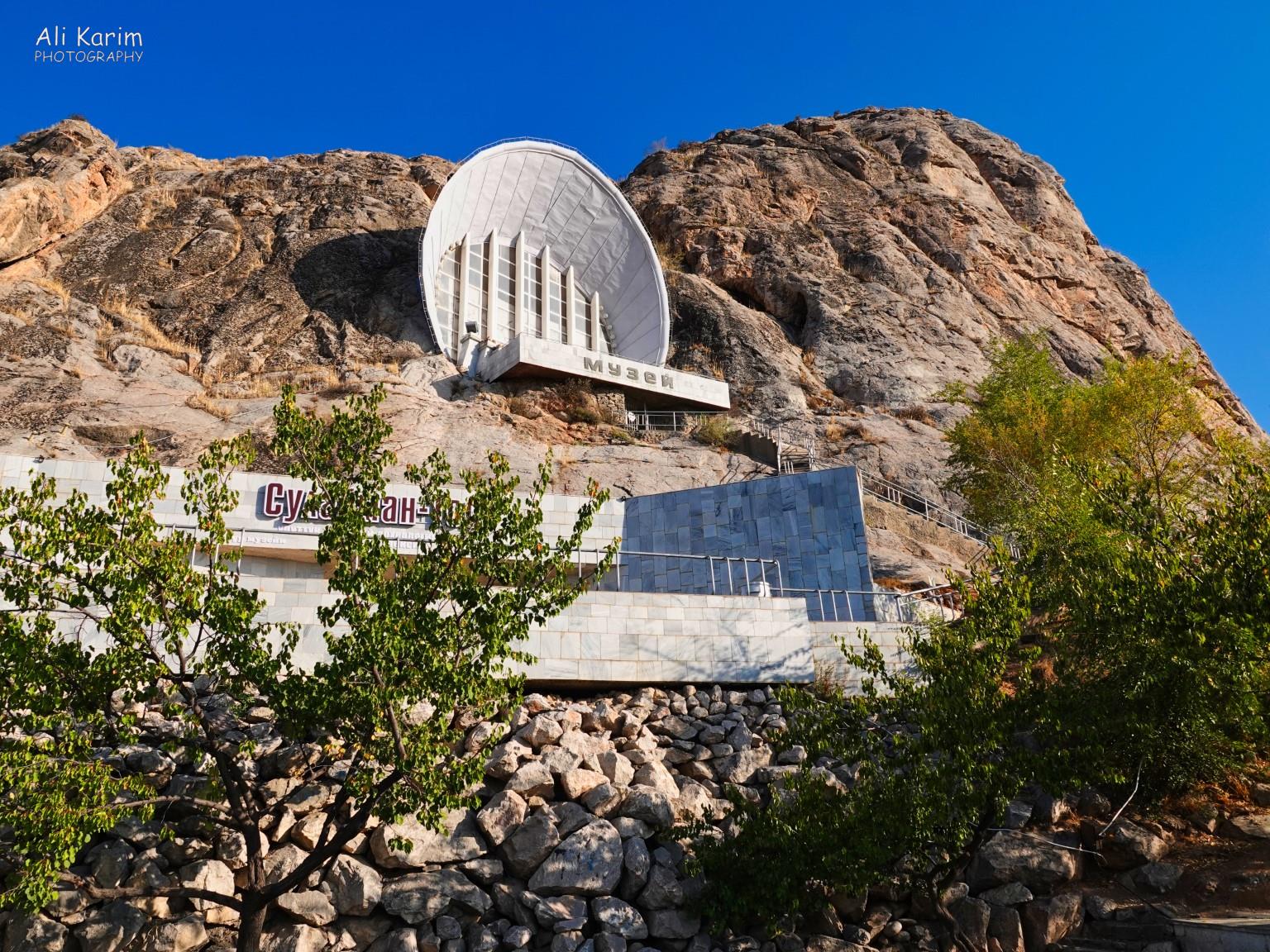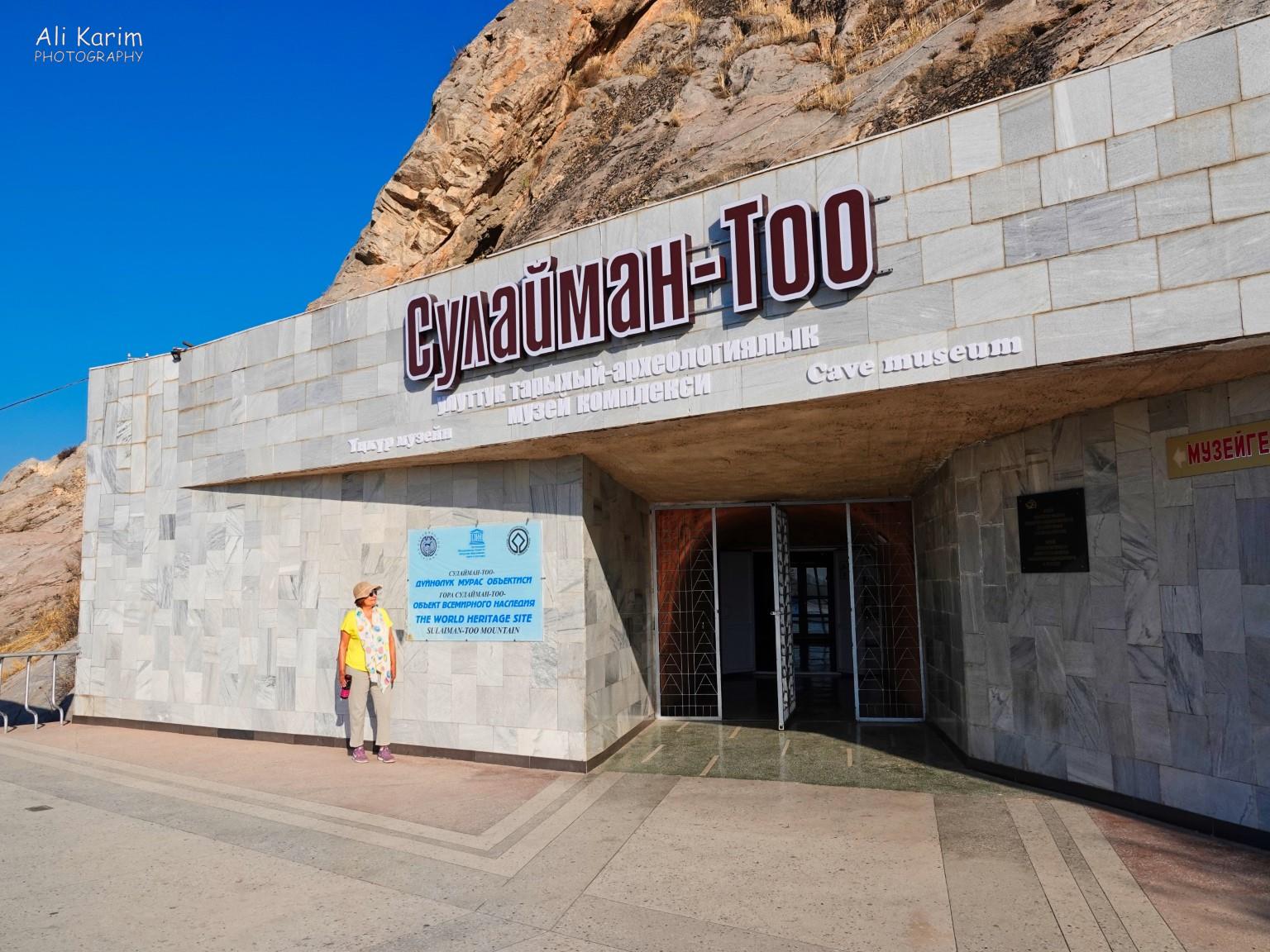 This cave museum showcases the ancient Neolithic and Bronze Age sites; and it is literally built inside the mountain. There were not many exhibits here, and most had no English explanations; so a little disappointing.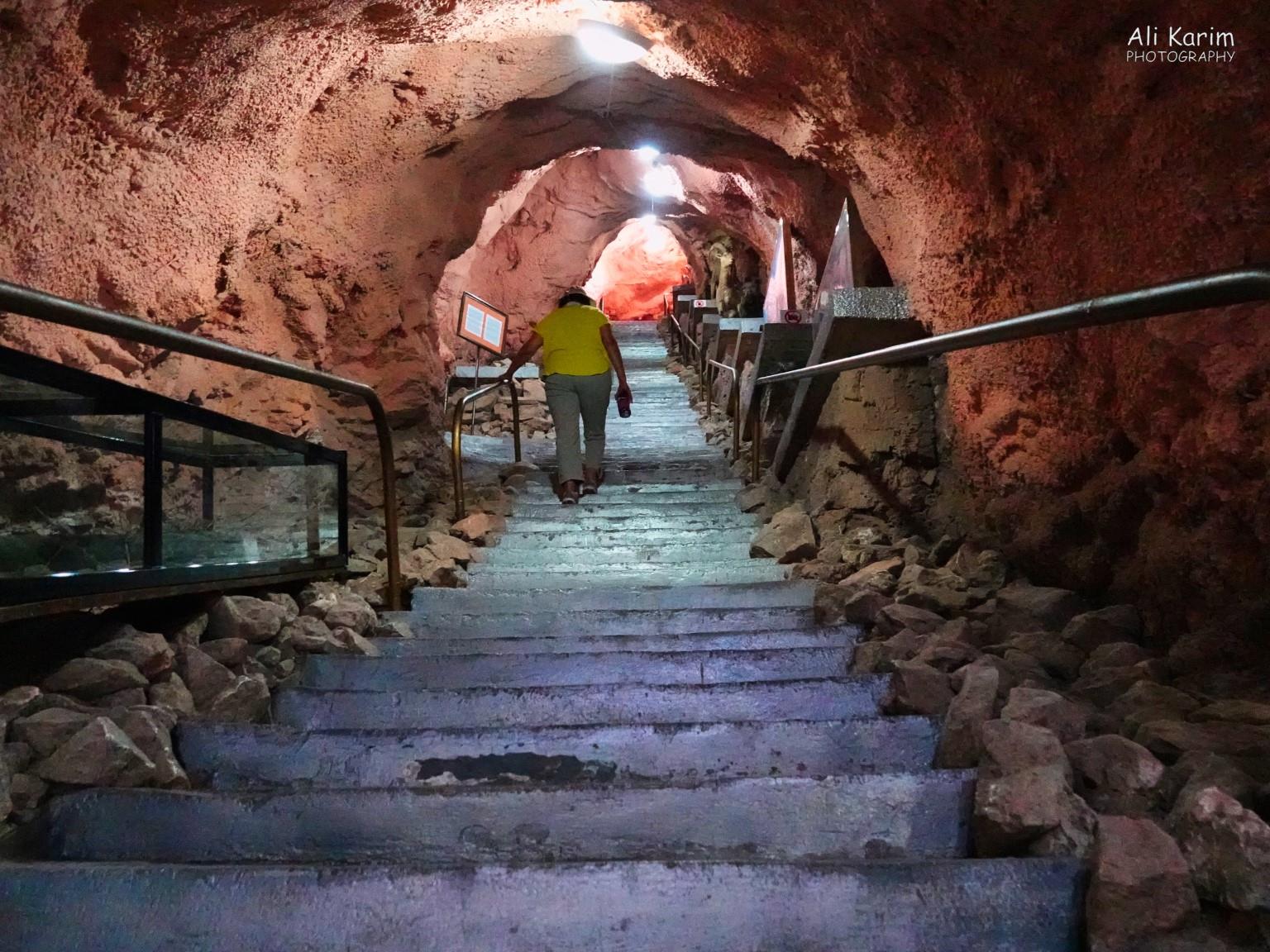 After this Museum, we took a short hike on a trail along the mountain; some views below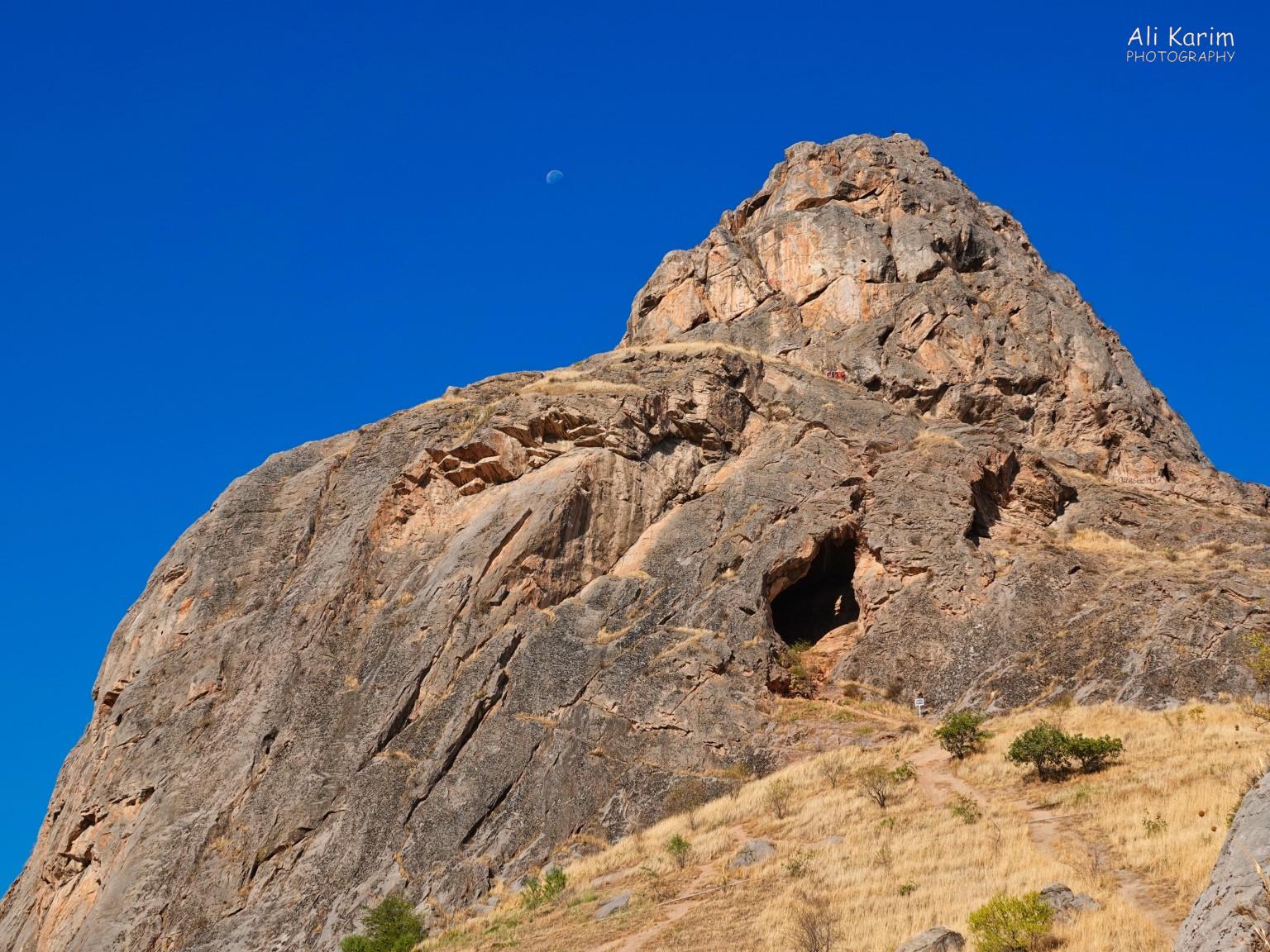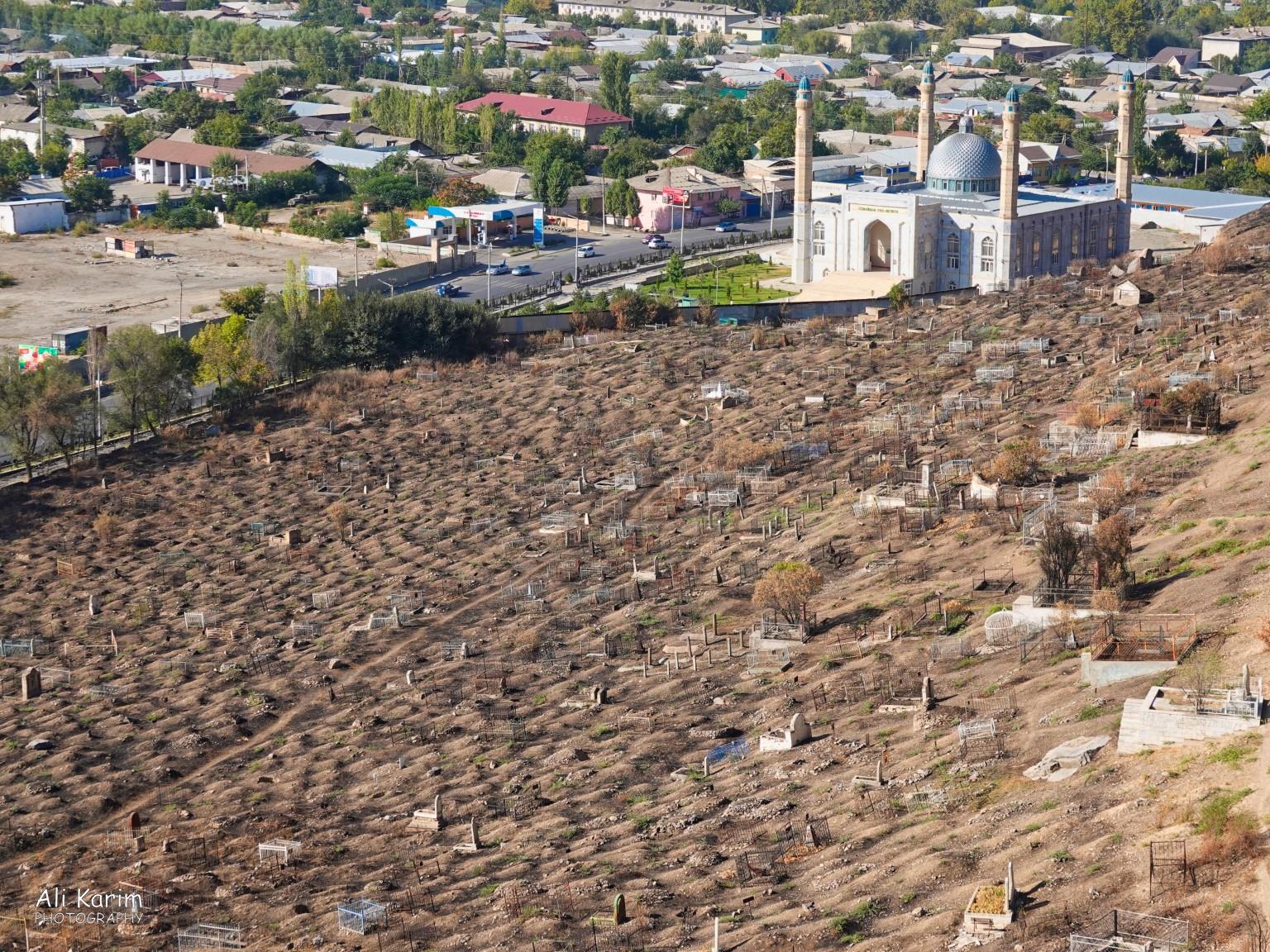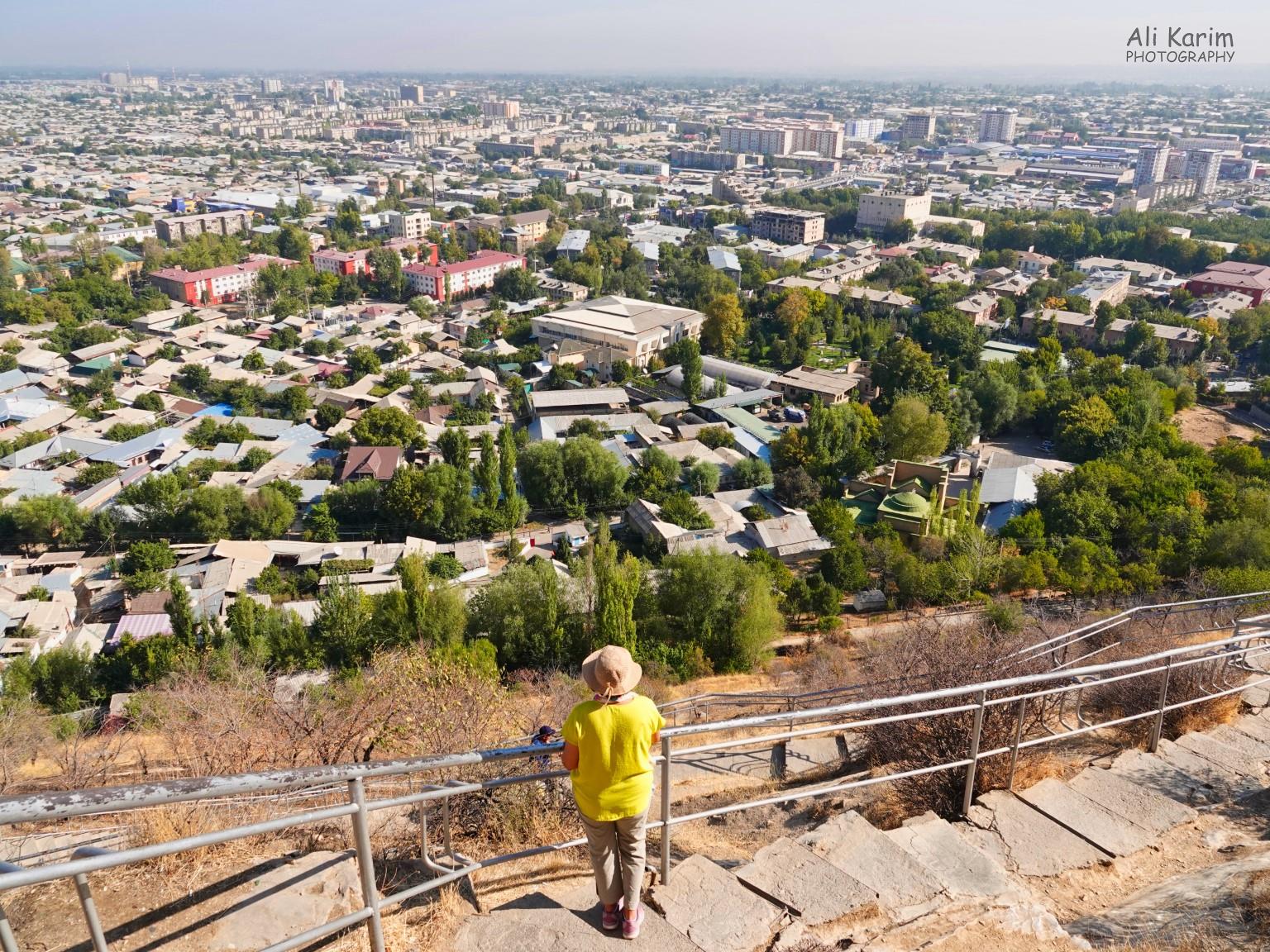 Babur's mosque was a very small 4 person size mosque; I guess it was built just for Babur.
Babur's Mosque
Very small mosque only for 4 people at the most.
Osh City from Babur's mosque on Sulaiman Too

We stopped for late breakfast at a small café at the base of Sulaiman Too, and Erali came over to meet us. Erali was the manager of the tour company, that we were using to drive us from Osh, all the way to Khorog, Tajikistan. Erali took us around to a few sites in Osh; like some old mosques, the Osh library. Below are some scenes from Osh city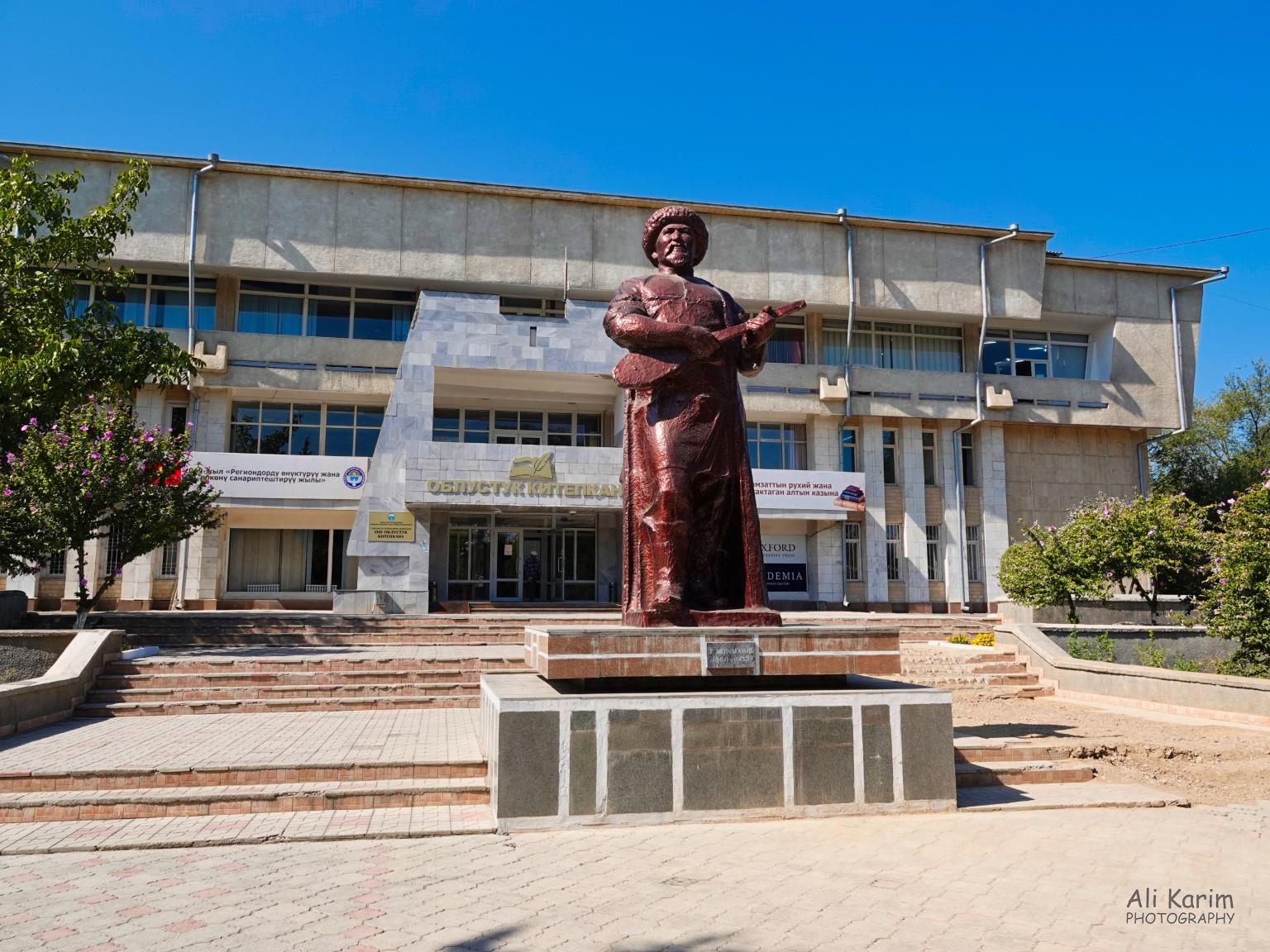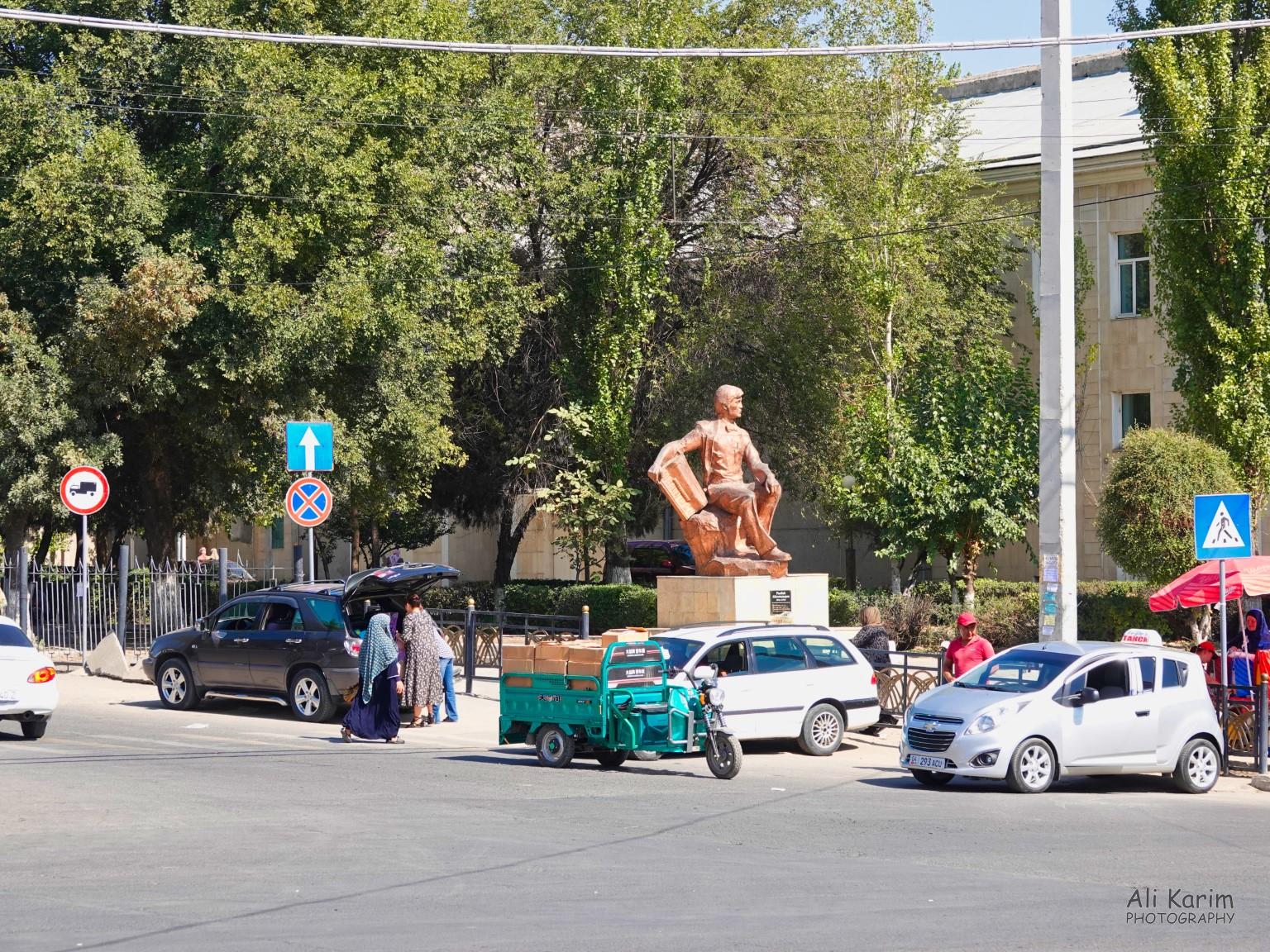 We then went back the Jayma Bazaar to pick up a few things before our road trip started. Below are some scenes from Jayma Bazaar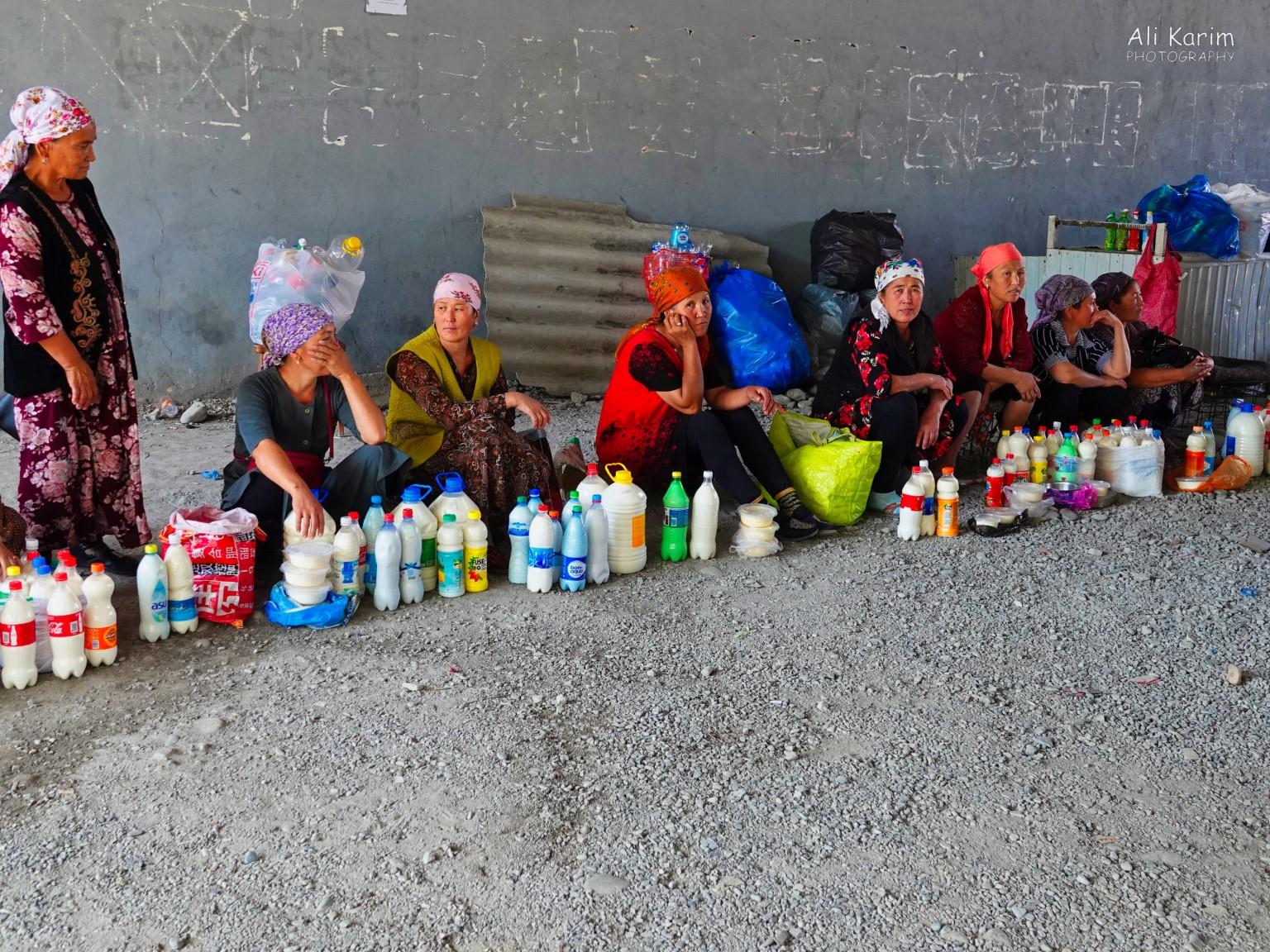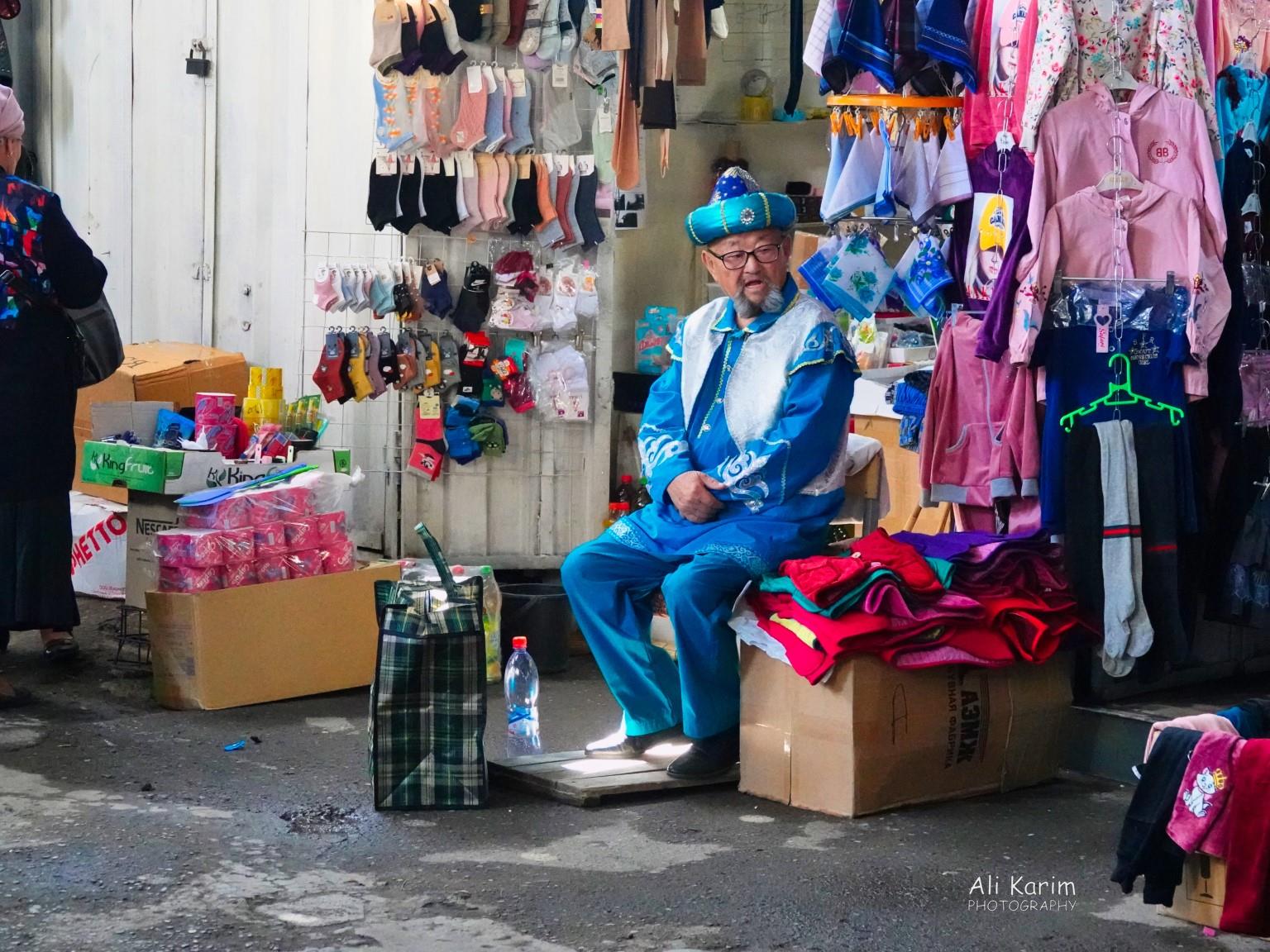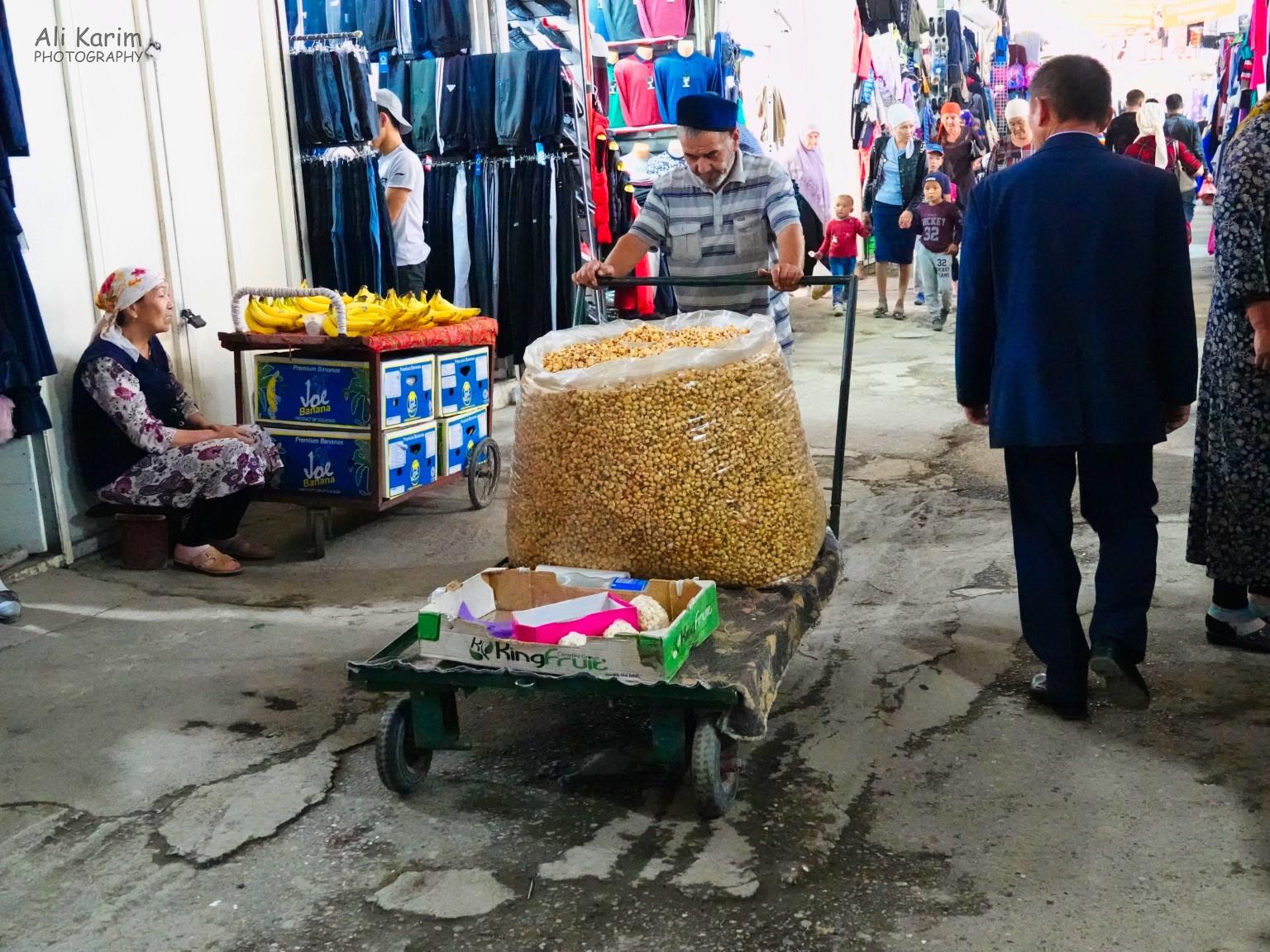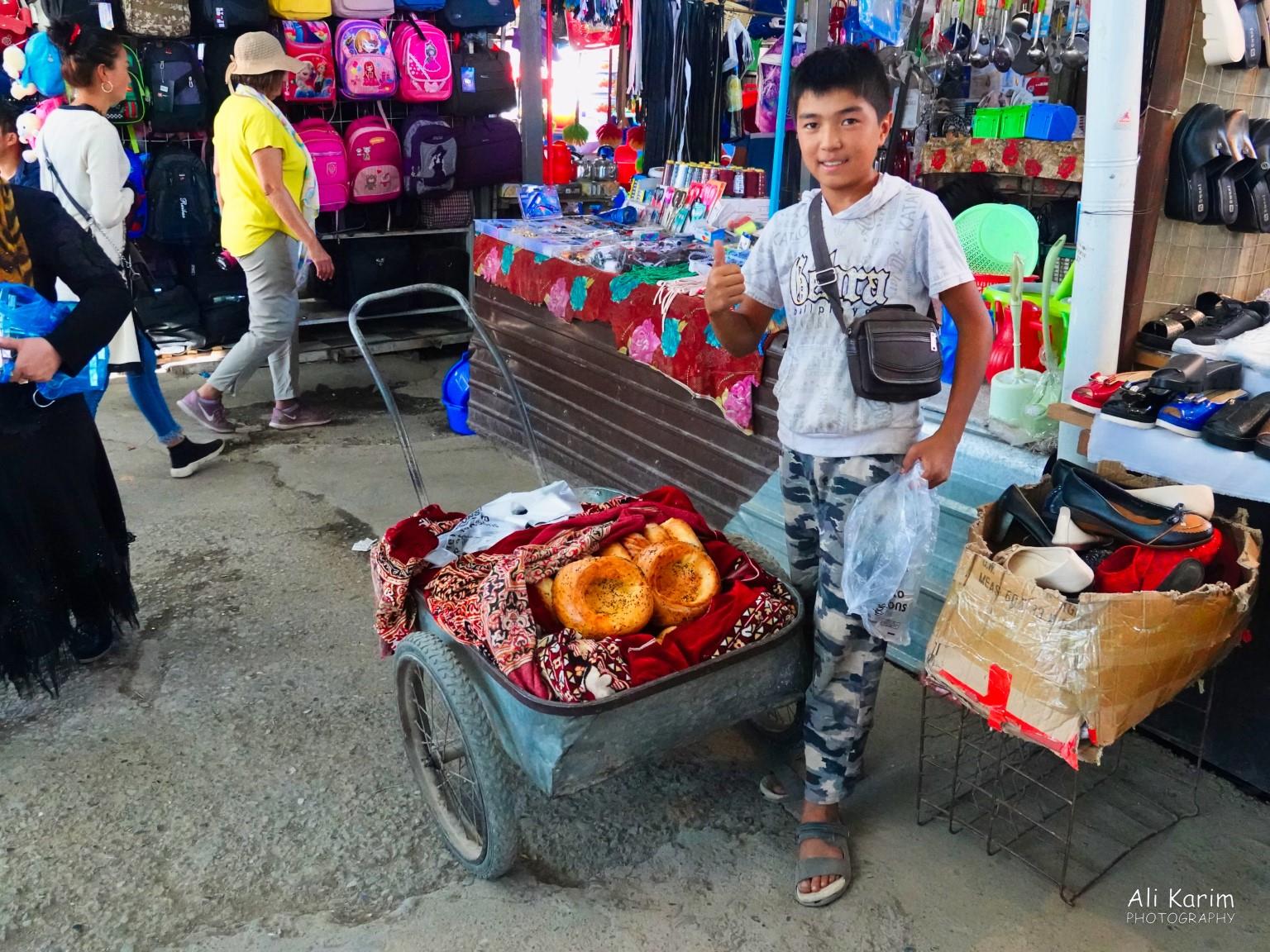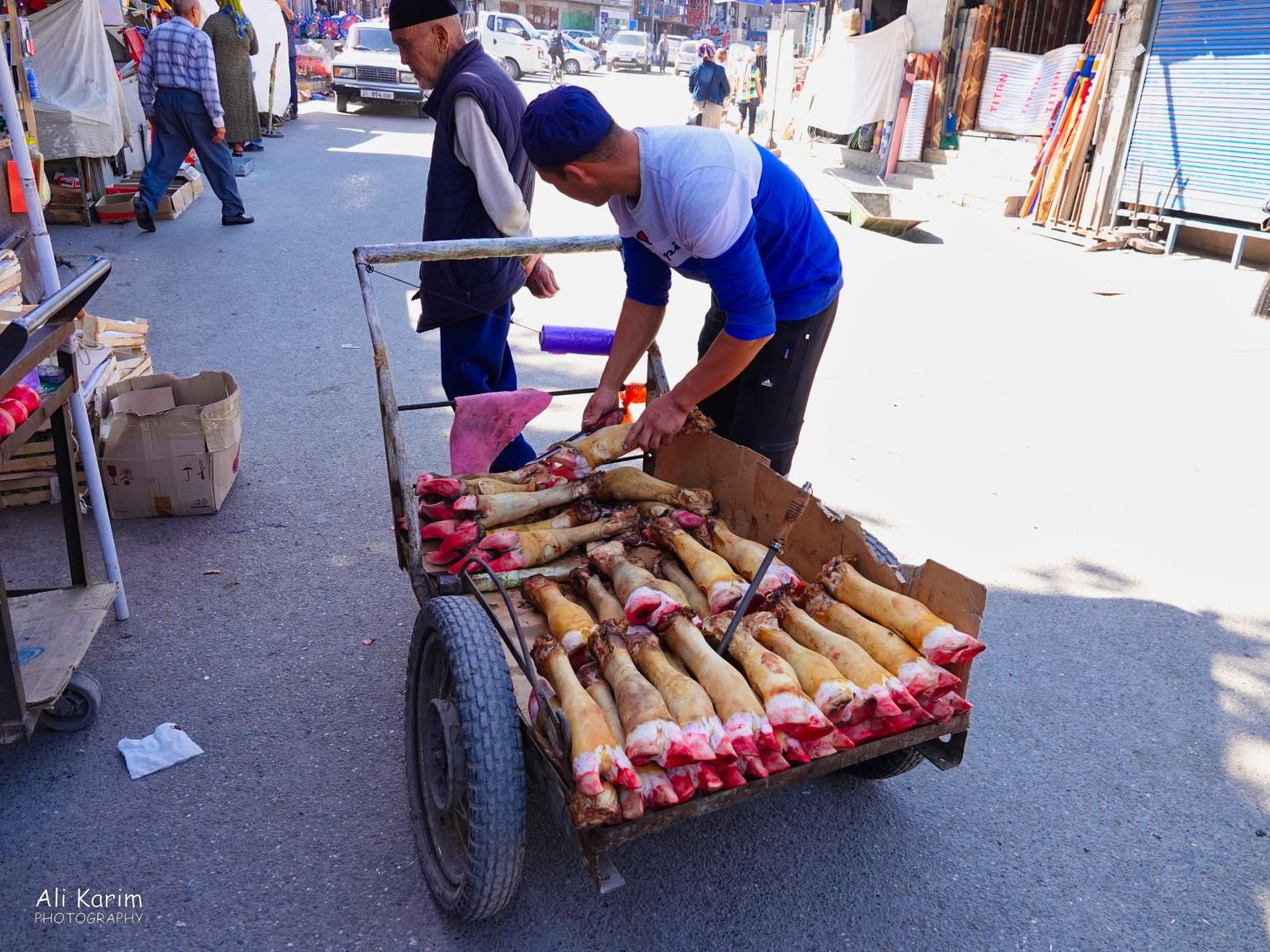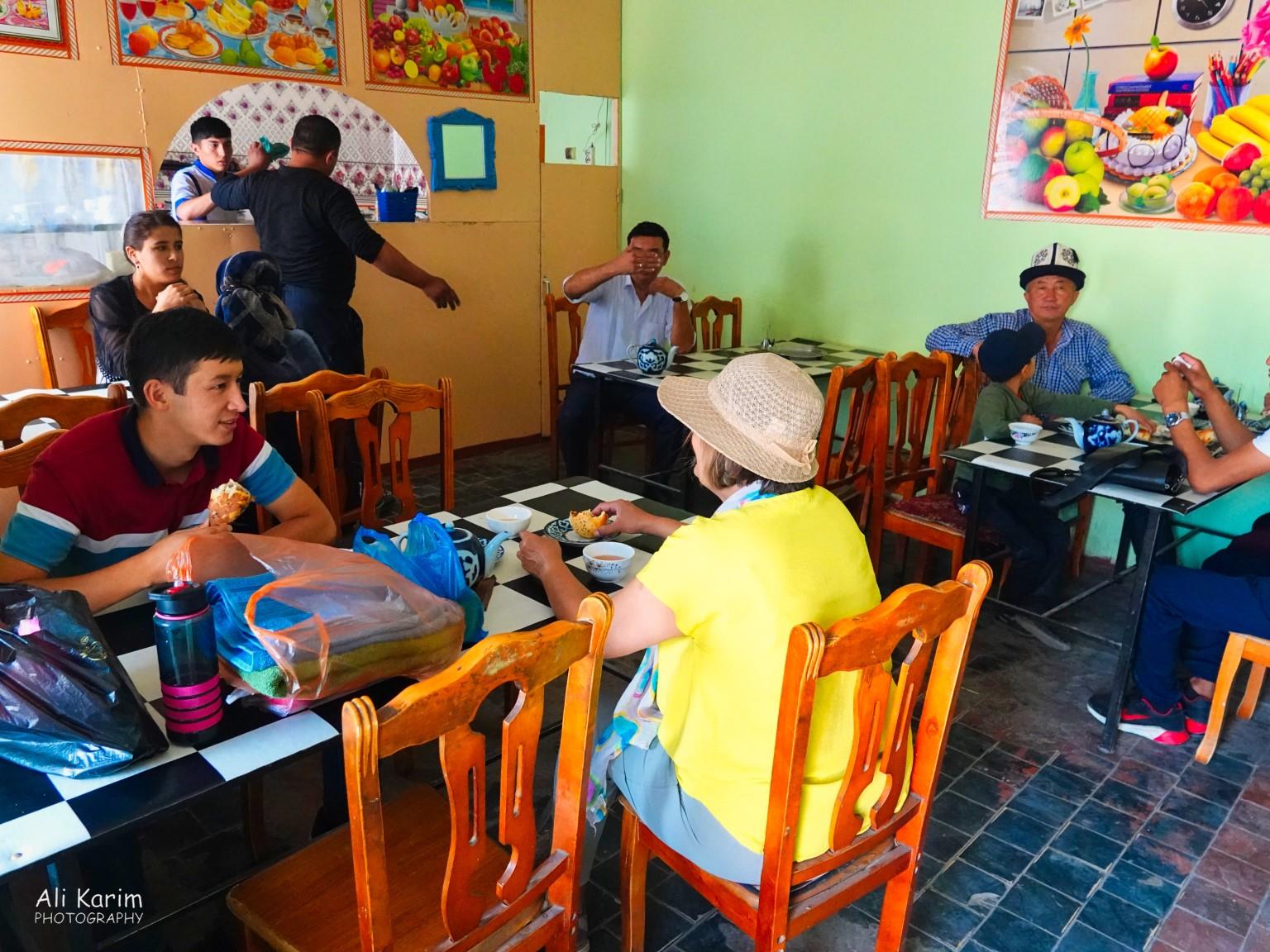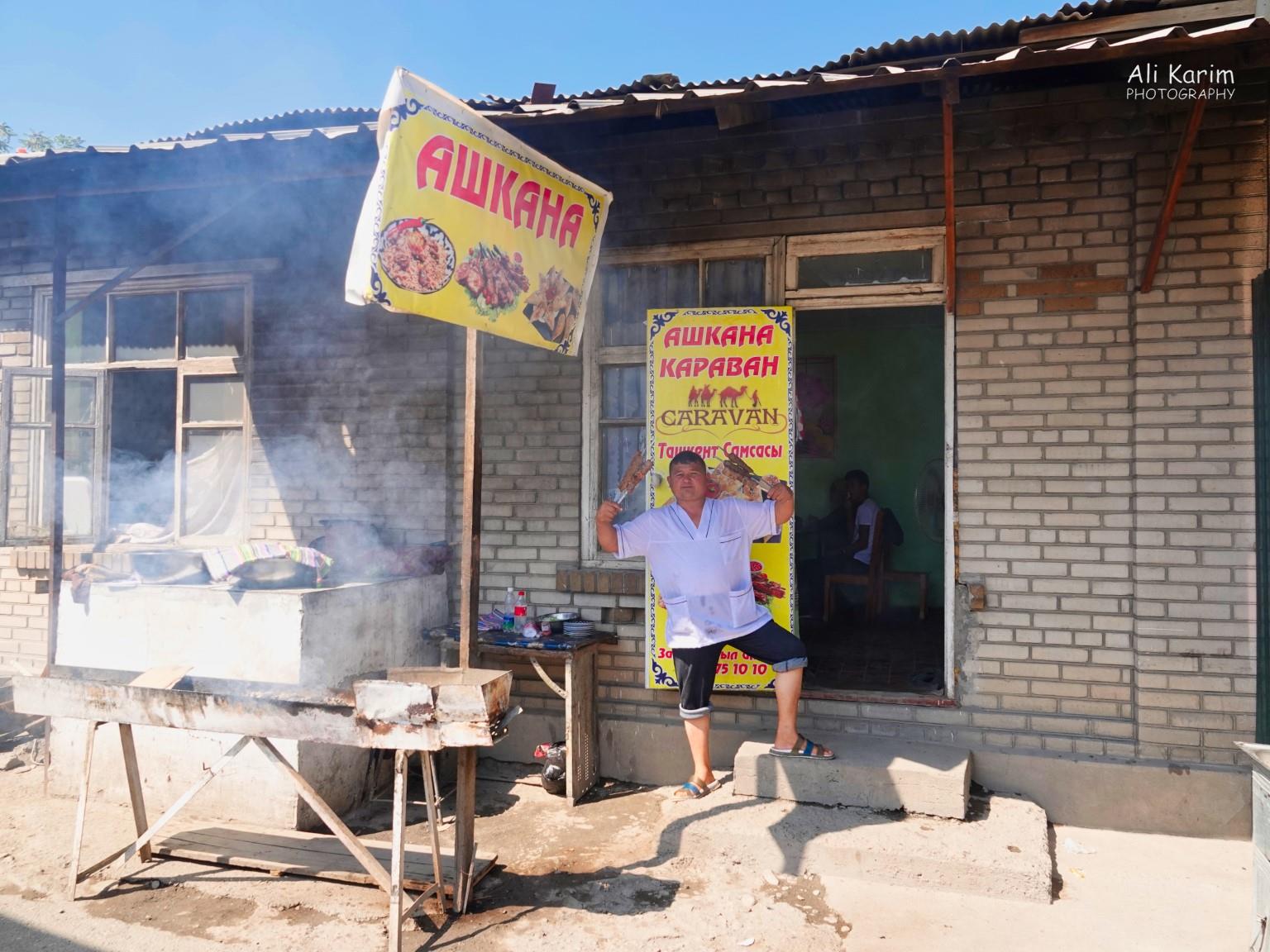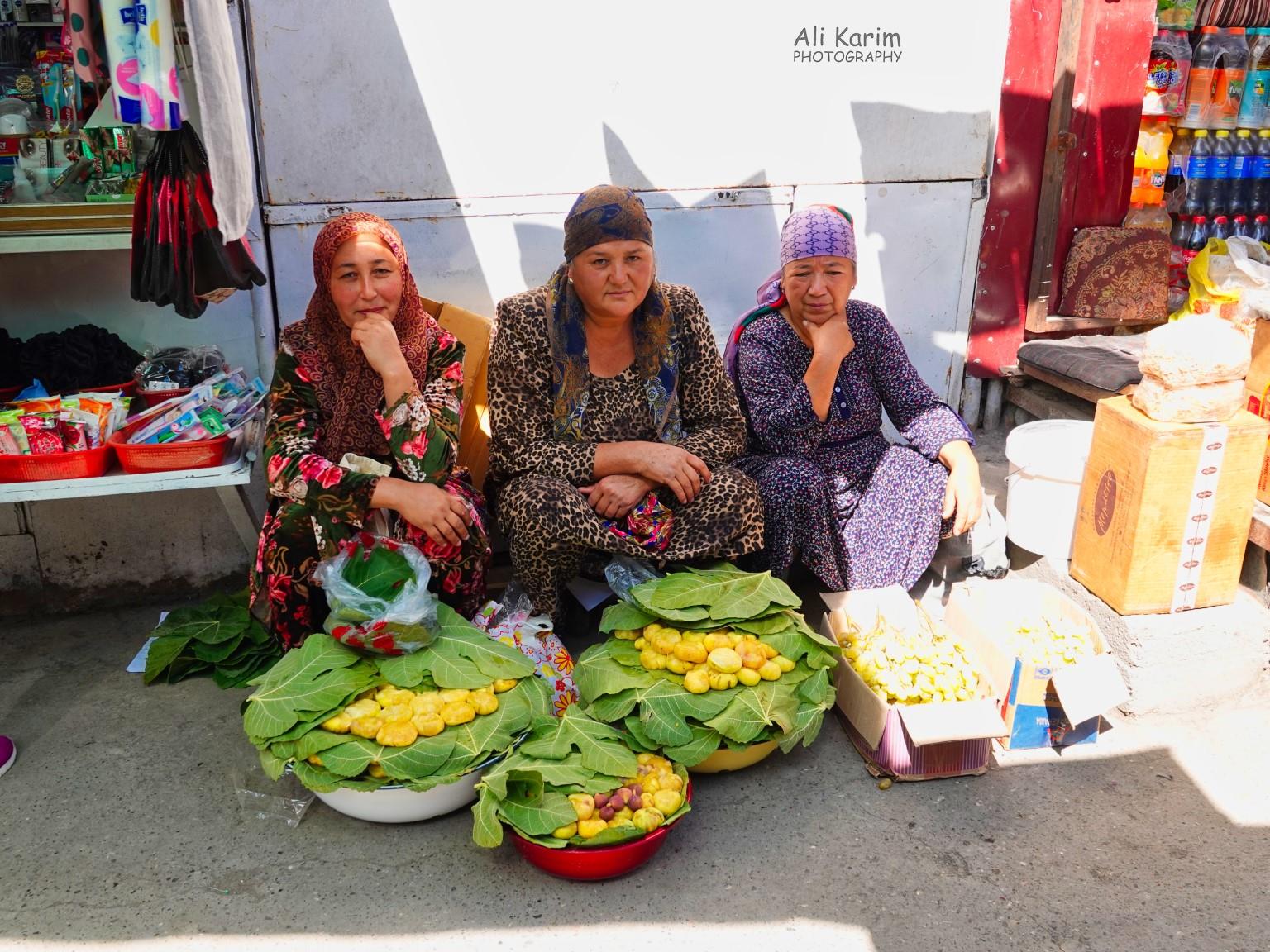 The previous day, when Muayo was translating during our meeting with Alifbek and his family on WhatsApp from Moscow; she had mentioned that she had studied at the Aga Khan School in Osh. So, we asked Erali to take us there; & fortunately, he knew Gulnar, the English teacher there. Gulnar met us and gave us a tour of the school, and we met with the headmaster. The school is from Grade 4 to 12 but has recently been losing students in higher grades to competitors, and so is planning to enroll lower grades as well. The school teaches the standard subjects, and English, German, French, in addition to the required Kyrgyz and Russian. There are very few Ismaili's enrolled here, as the Ismaili population in Osh is only ~50 families. Some scenes below from the school below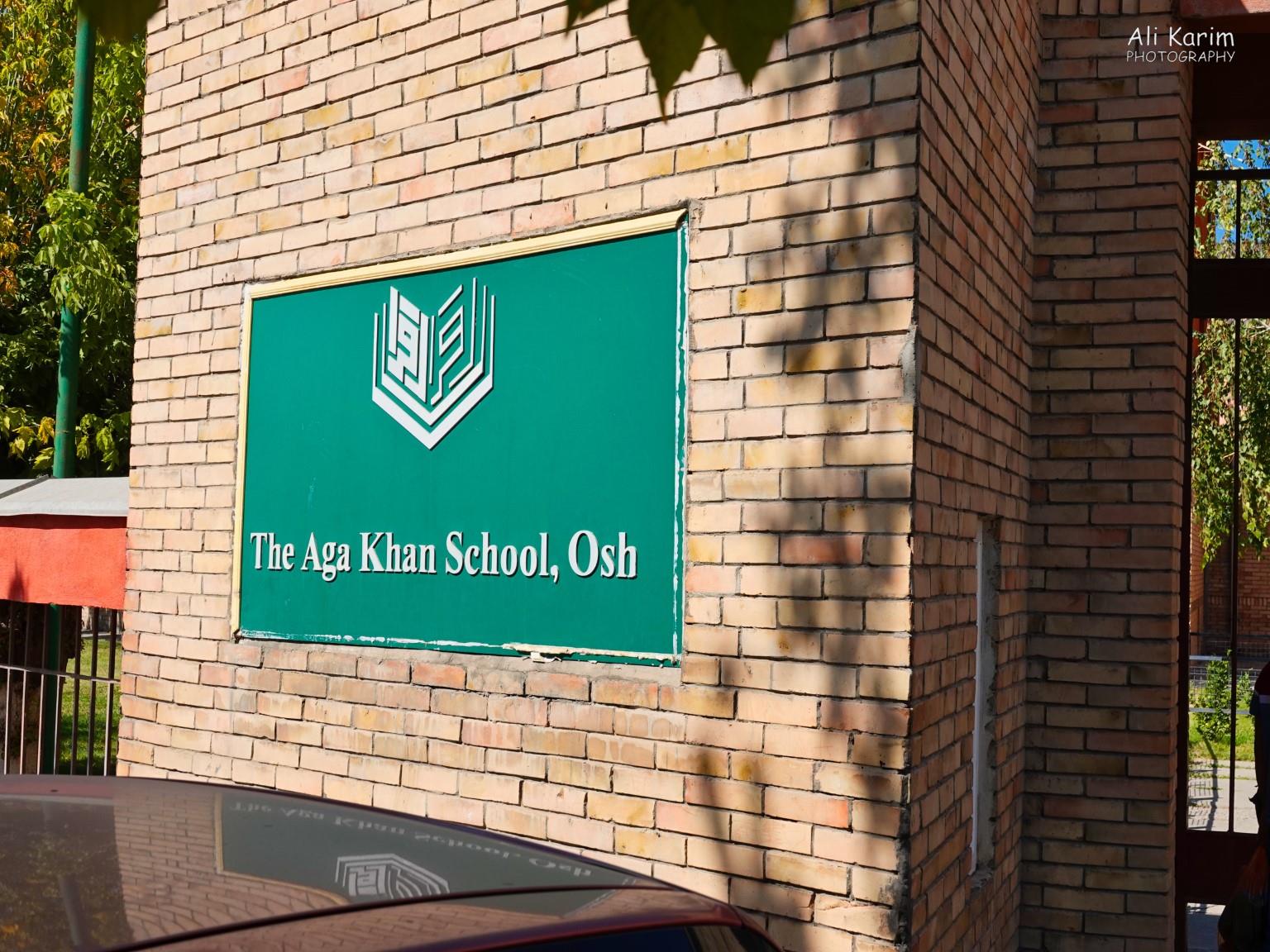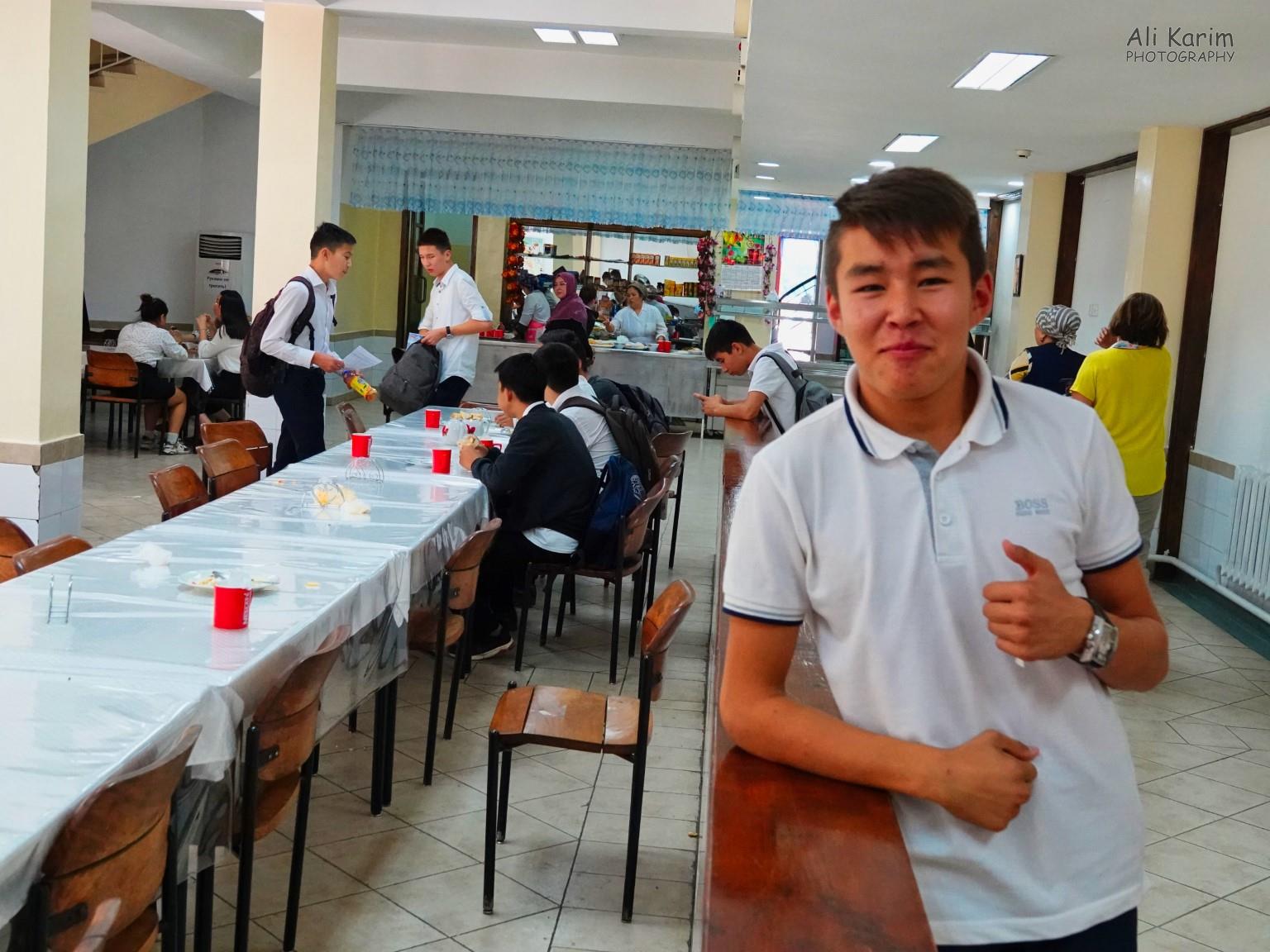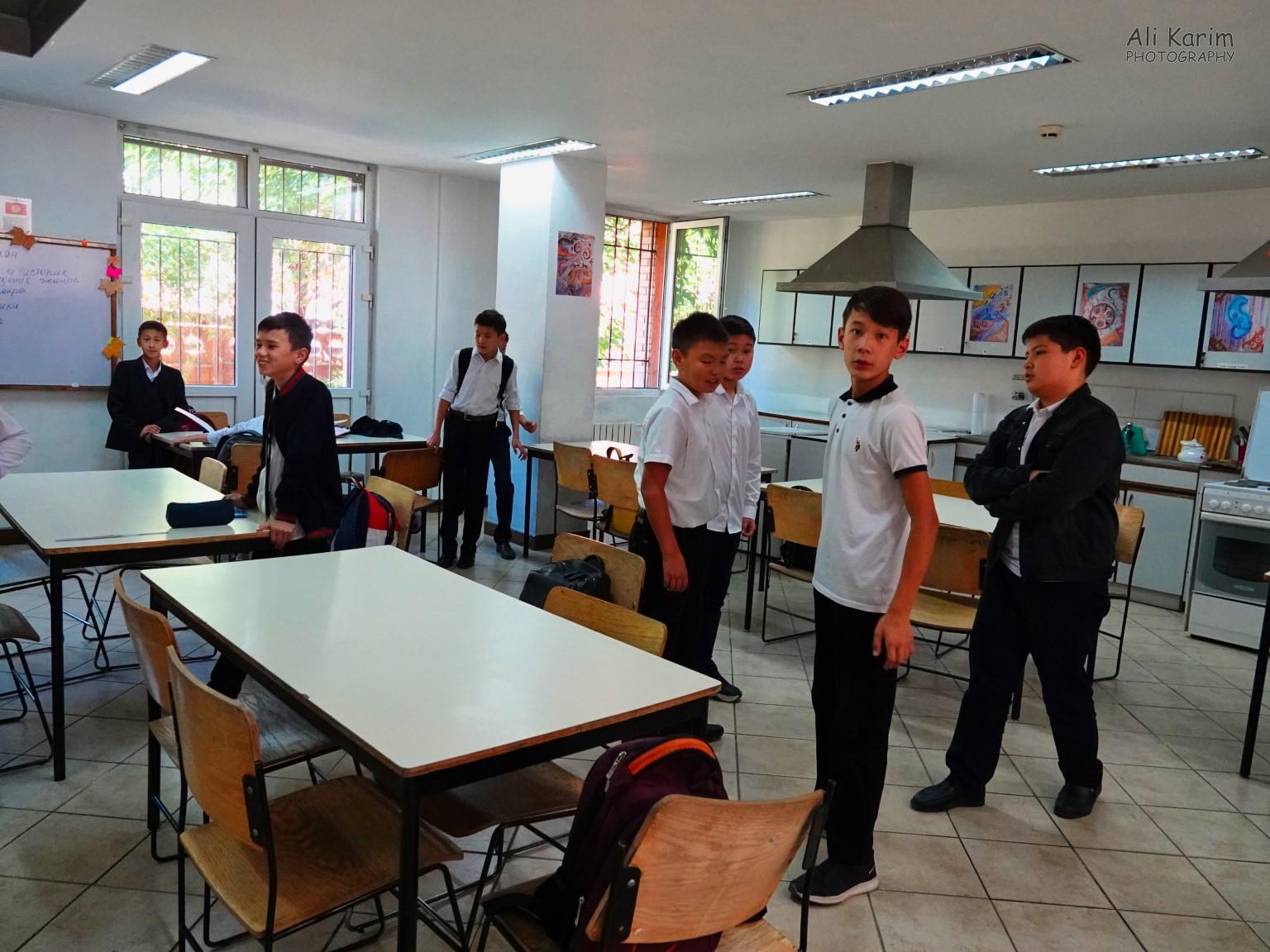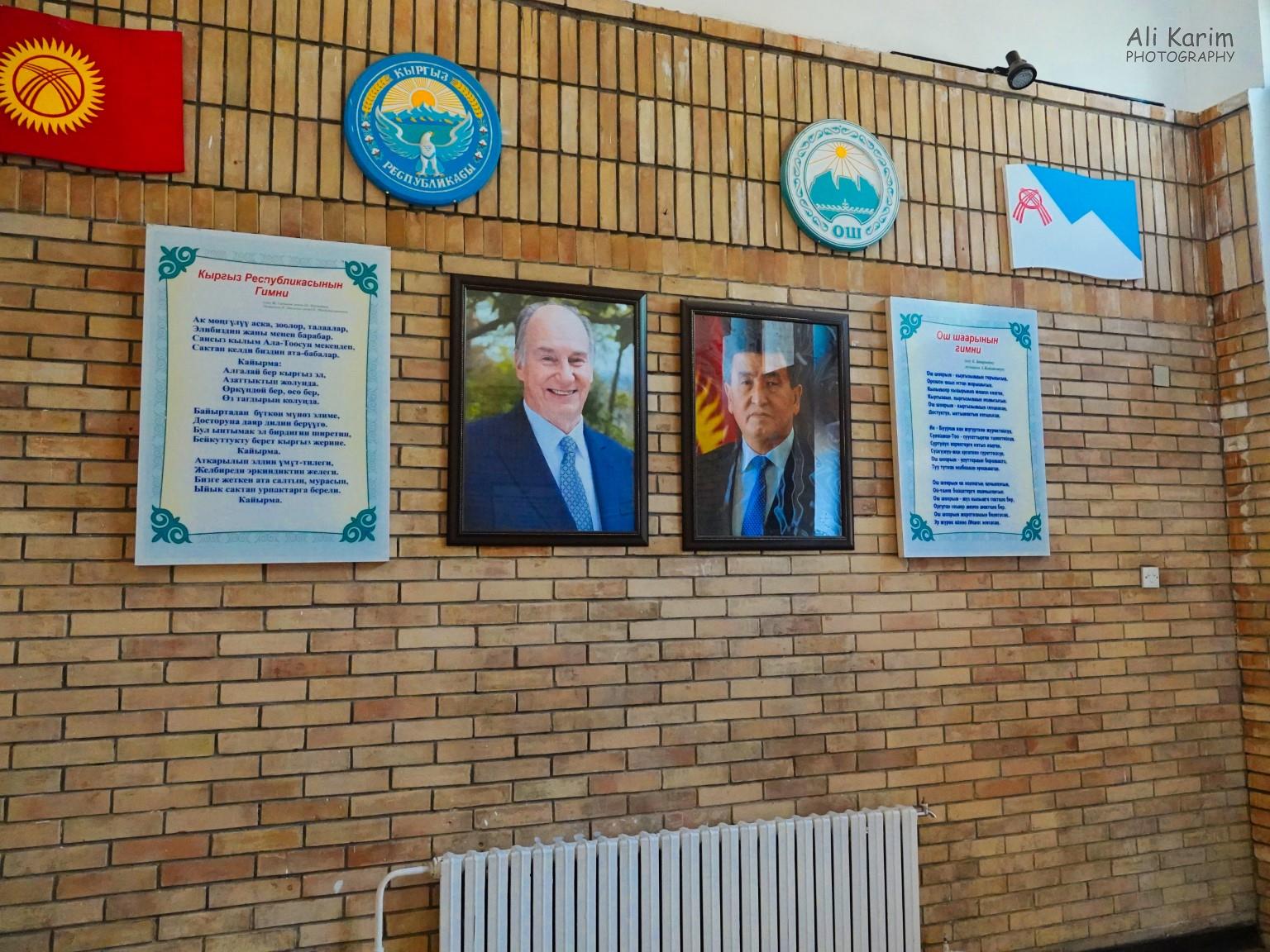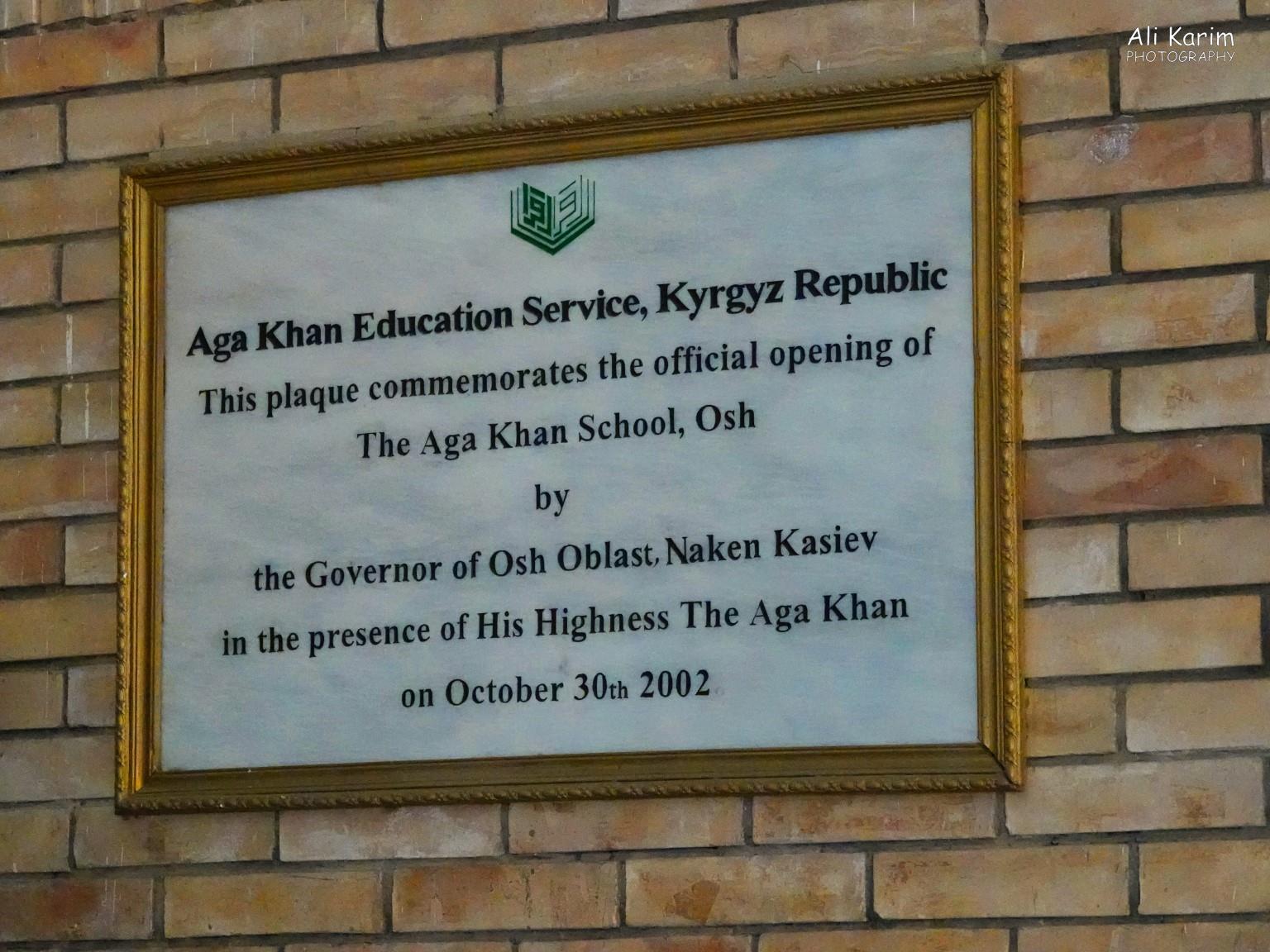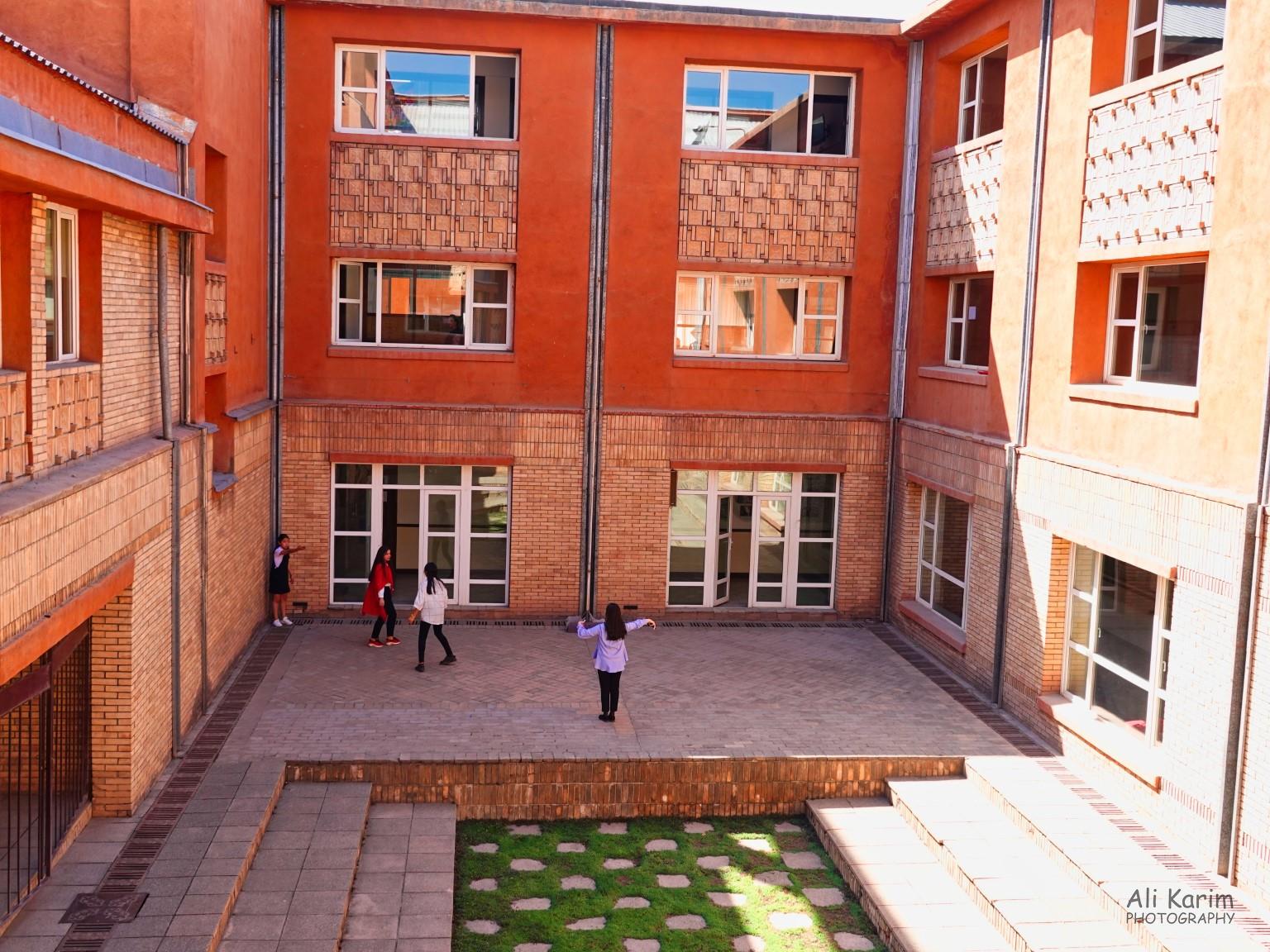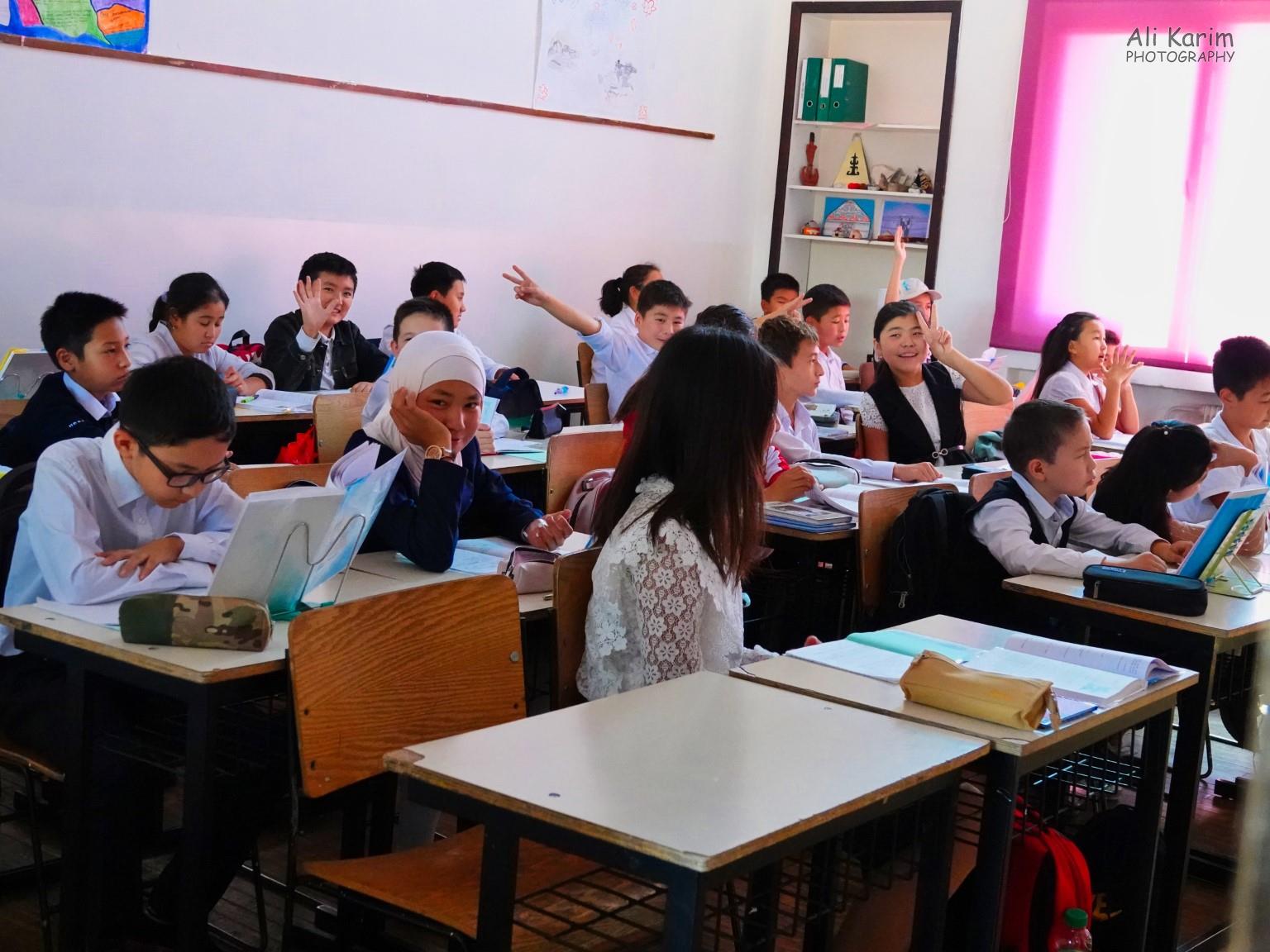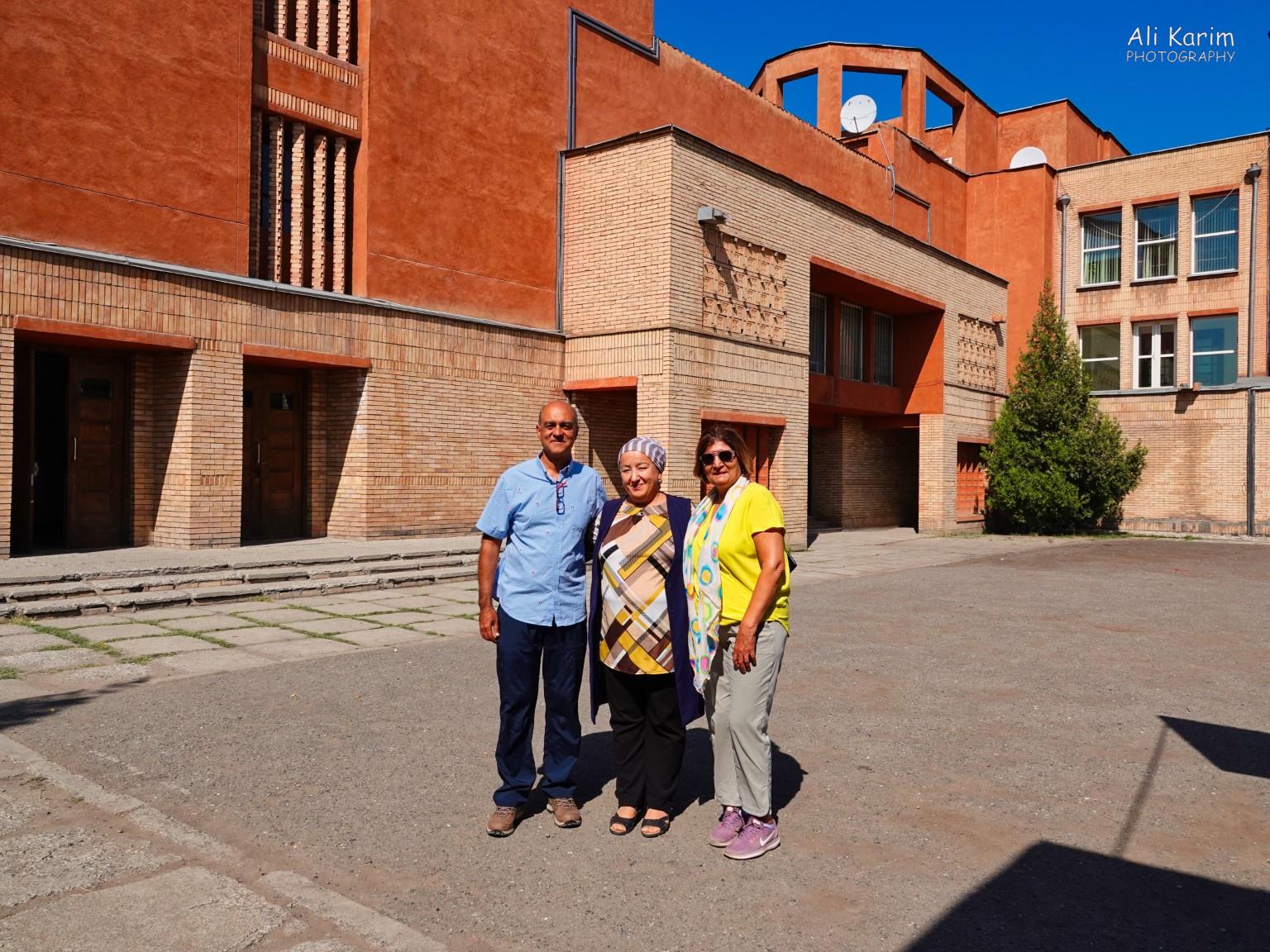 We said our goodbye's to Gulnar, and left to wander around a little in the town; some scenes below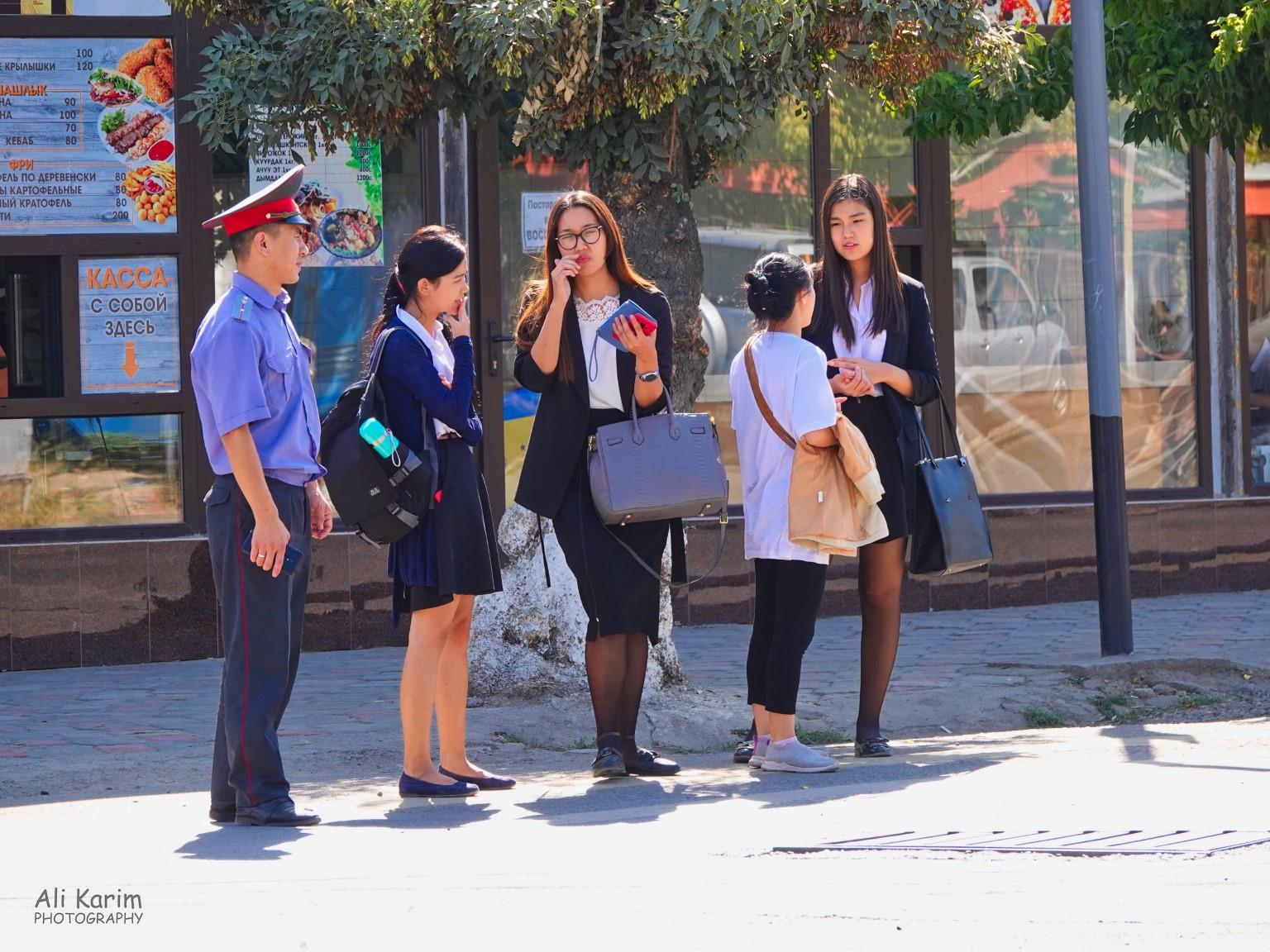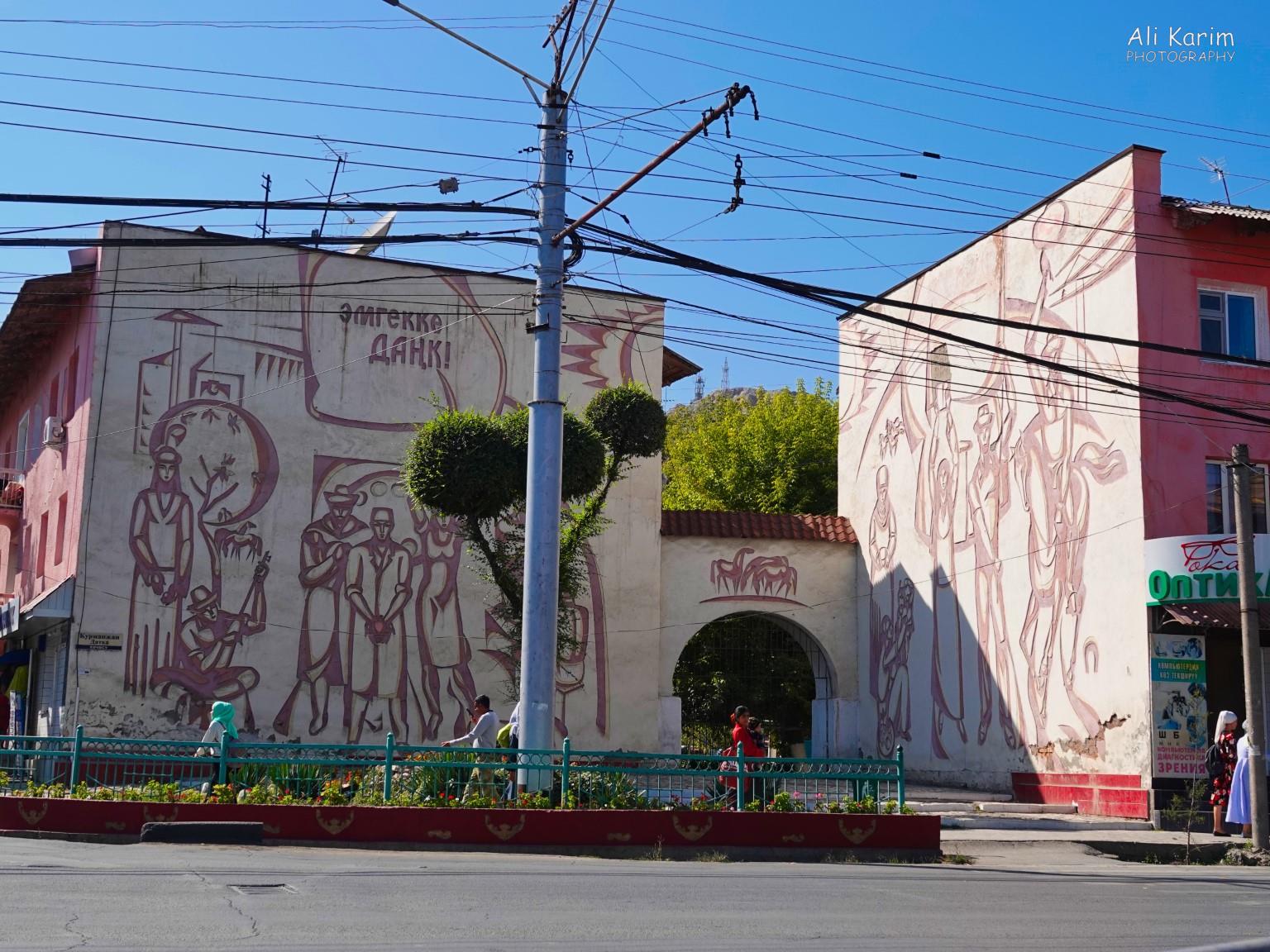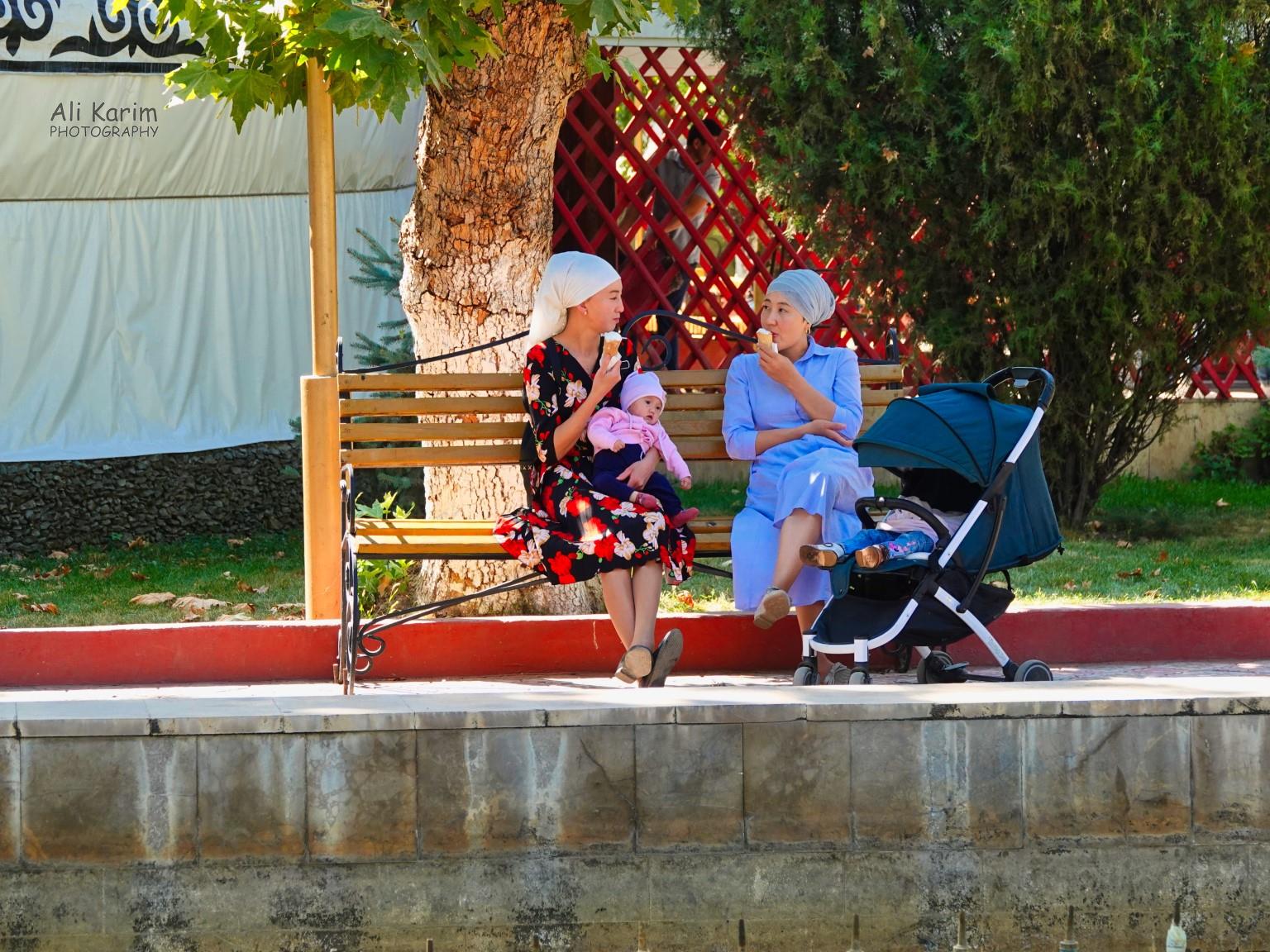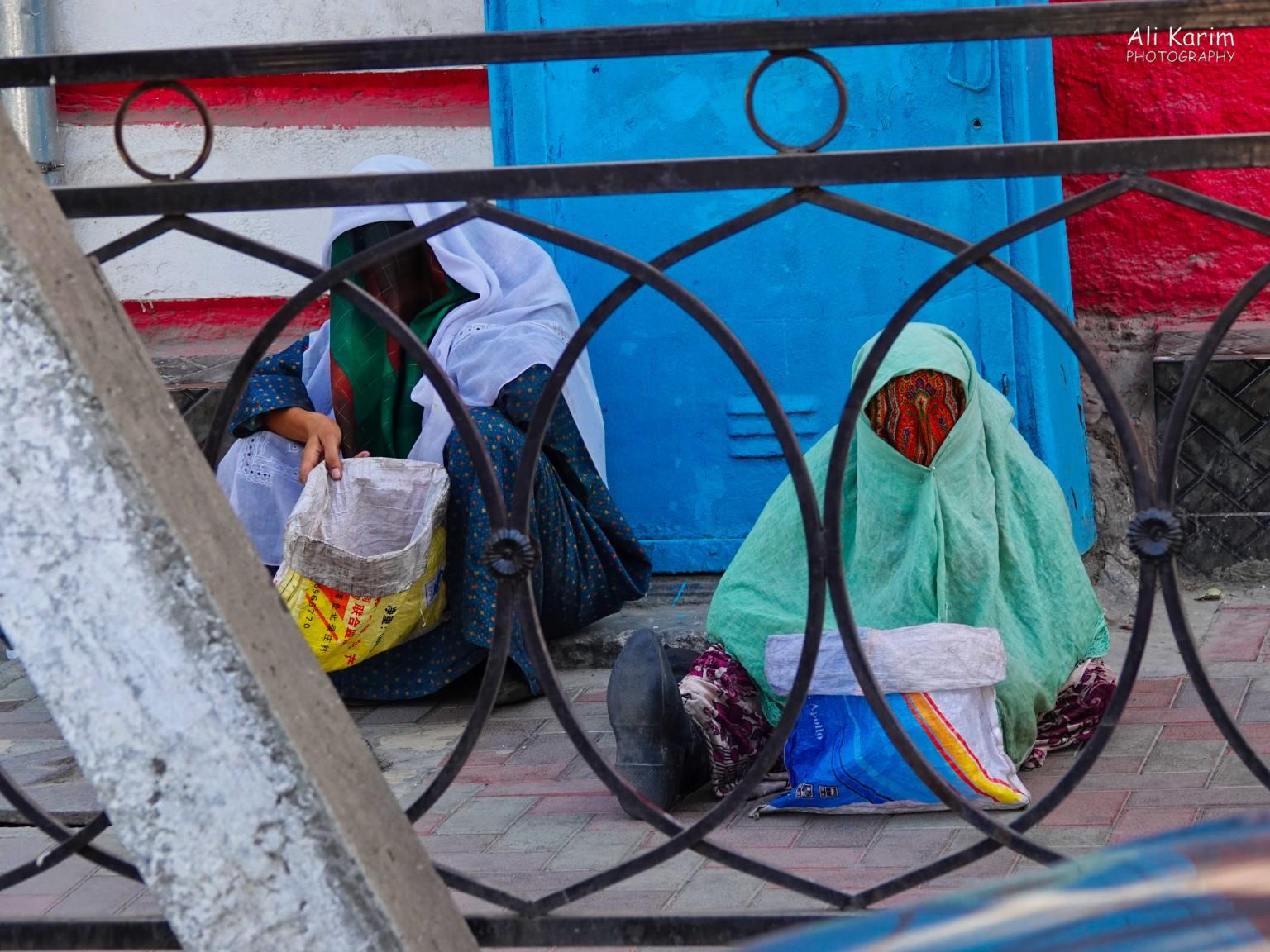 We then went back to the hotel, and freshened up; and shortly, Alifbek came and picked us up, and drove us to his house for dinner. Dinner was a big spread that started with bread, tea, butter, several kinds of jams, sweets, biscuits, fruits, juices etc, such that the table was almost full.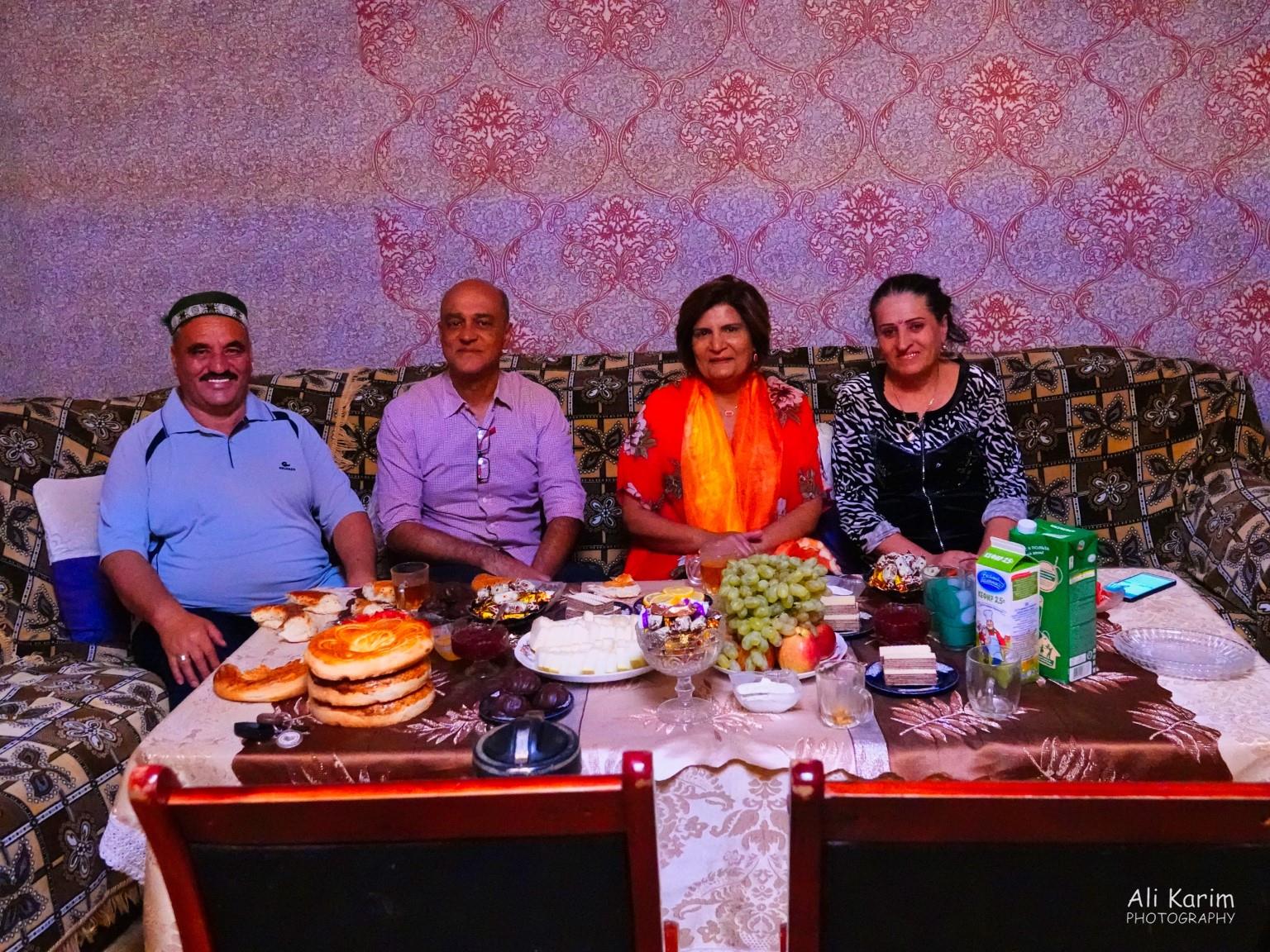 After these starters, and conversation translated by Muayo in Moscow over WhatsApp; we moved onto the main course which was plov. This dish is eaten with your hands (no utensils), by all guests, from this one shared communal plate.
Must Try Dish
Local Dish plov is a must try dish which is mostly made from rice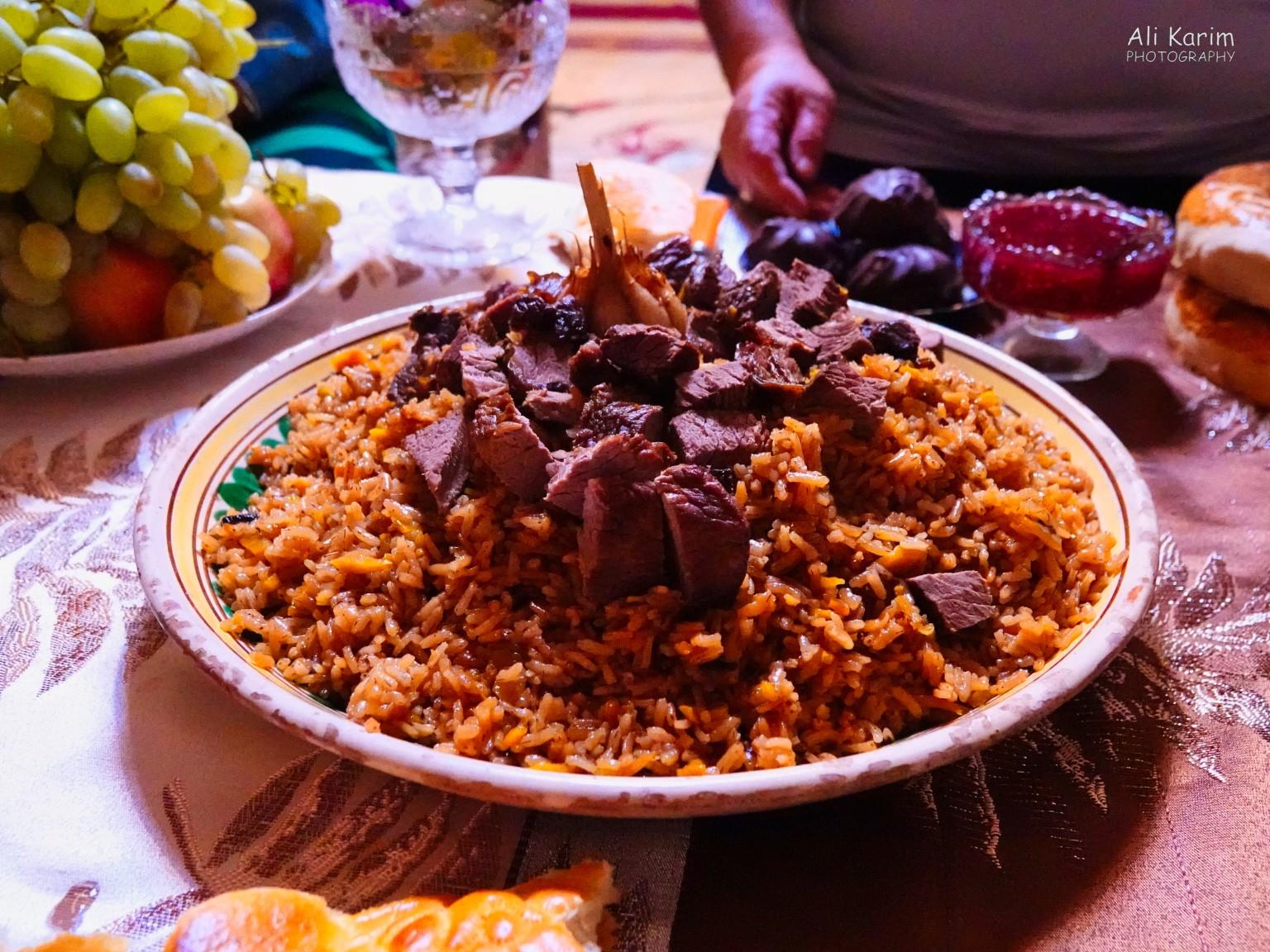 After we could not eat any more, talk turned to Alifbek, who is the "khalifa" or learned leader of the local Ismaili population and leads the prayers etc. He is also sought out by the other local Muslims for his learned knowledge, wisdom, advice, dispute settlement, and guidance on the future endeavors, etc. And for his help, they give him money, which is his income. He did tell me a little about myself, after writing down my name and my mother's name in Arabic and consulting some books he had. Very interesting what he told us about me.
After this, we asked about evening prayers, and he took us outside, where we met a few other Ismaili's that had gathered, and went into a house opposite, that served as a prayer hall upstairs.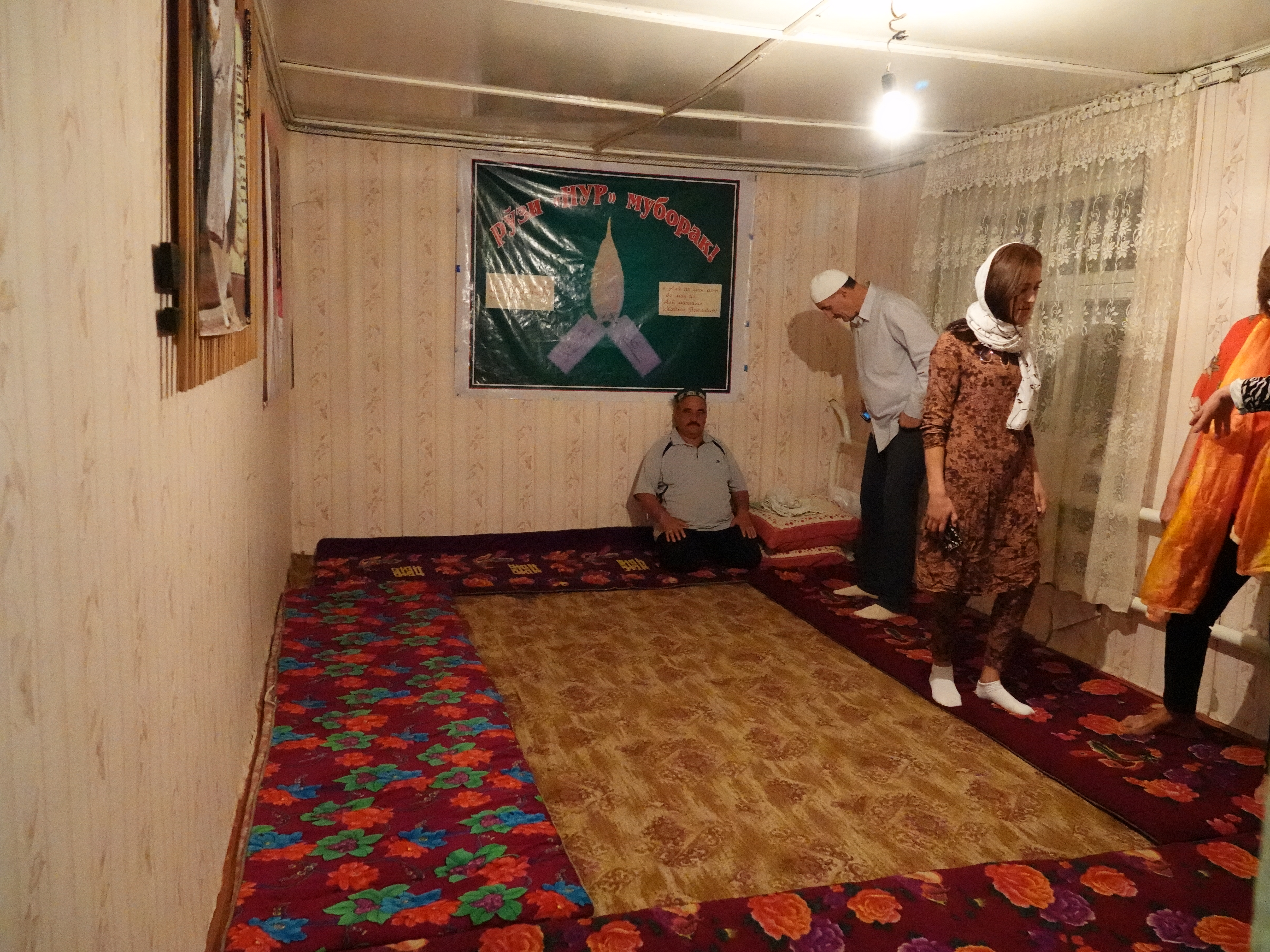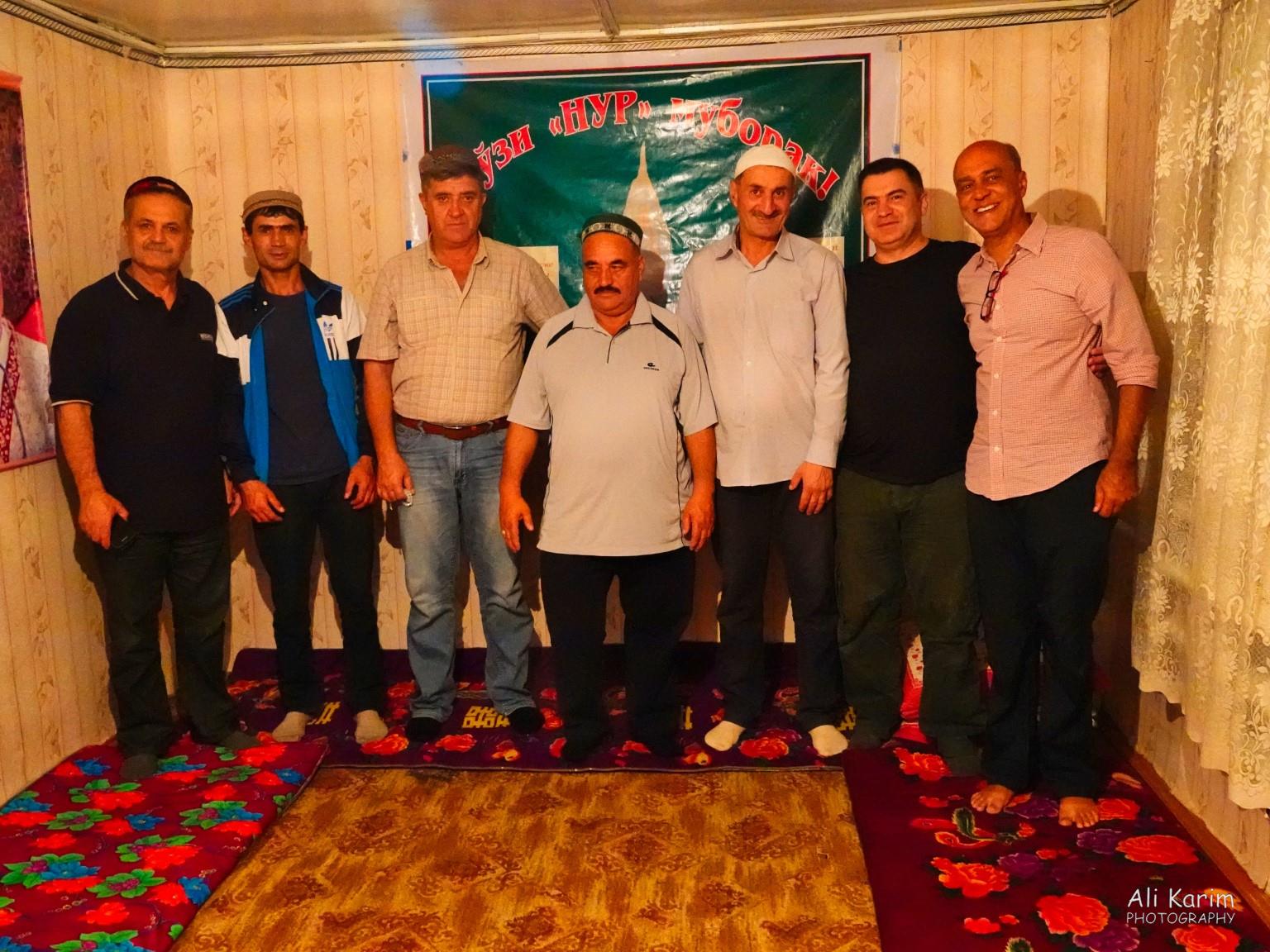 After prayers were finished, we were officially welcomed by the khalifa, and since the gentleman on my right in the picture above spoke good English (he worked in IT at the Agakhan School we had visited earlier that day), the khalifa asked through him, if we wanted to say a few words about ourselves. So, after racking our brains on what to say, we gave them a history about our Gujarati Indian Khoja origins, followed by migration of our grandparents to Kenya, Africa; two generations born in Kenya, and then to England to study, followed by migration to Canada and eventually to the USA. We told to them about our travels all over the world, and they were very interested as most of them had not traveled much. After a short while, we said our goodbye's and went back across the street to Alifbek's house; where we had Sher Chai; which is hot milk tea that has salt added in it. And you add a dollop of butter in it and drink that.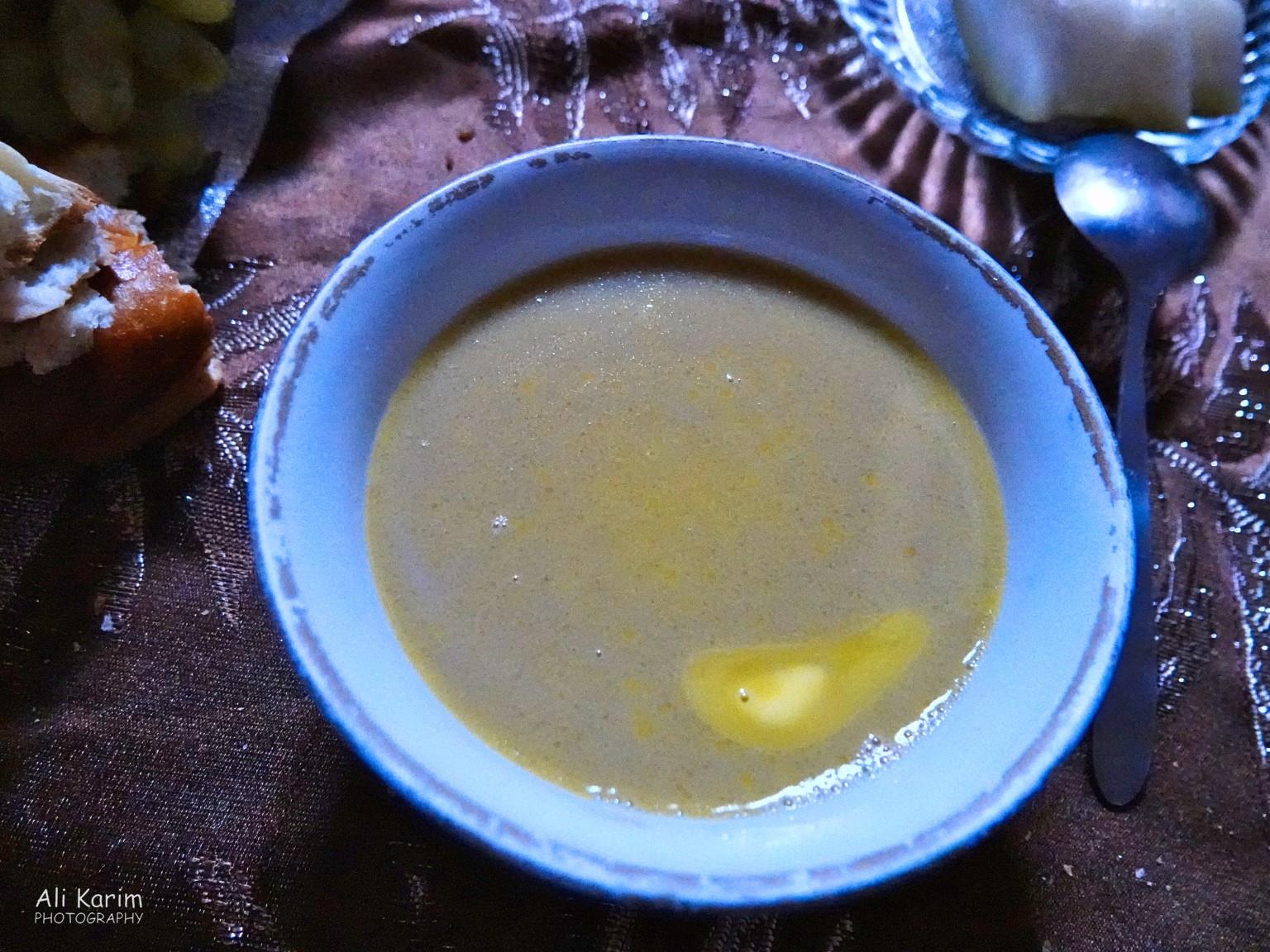 We had experienced the same salted milk tea in Hunza during our trip there, so salted tea seems to be a common theme in high mountain areas, in the Pamir region.
Must Try Drink
Sher Chai the Salted Tea is one of the speciality drinks of the region. One must not miss it
After some time, it was time to go back to the hotel; and Alifbek and his family gifted me with a Pamiri hat, Dilshad was gifted a scarf, and we were both gifted thick woolen socks that Alifbek's wife had knitted herself. Such nice people showing wonderful hospitality and kindness to complete strangers; we were indeed humbled by this whole experience. Alifbek then dropped us off to our hotel, and we said fond goodbye's. So magnanimous of Alifbek and his family.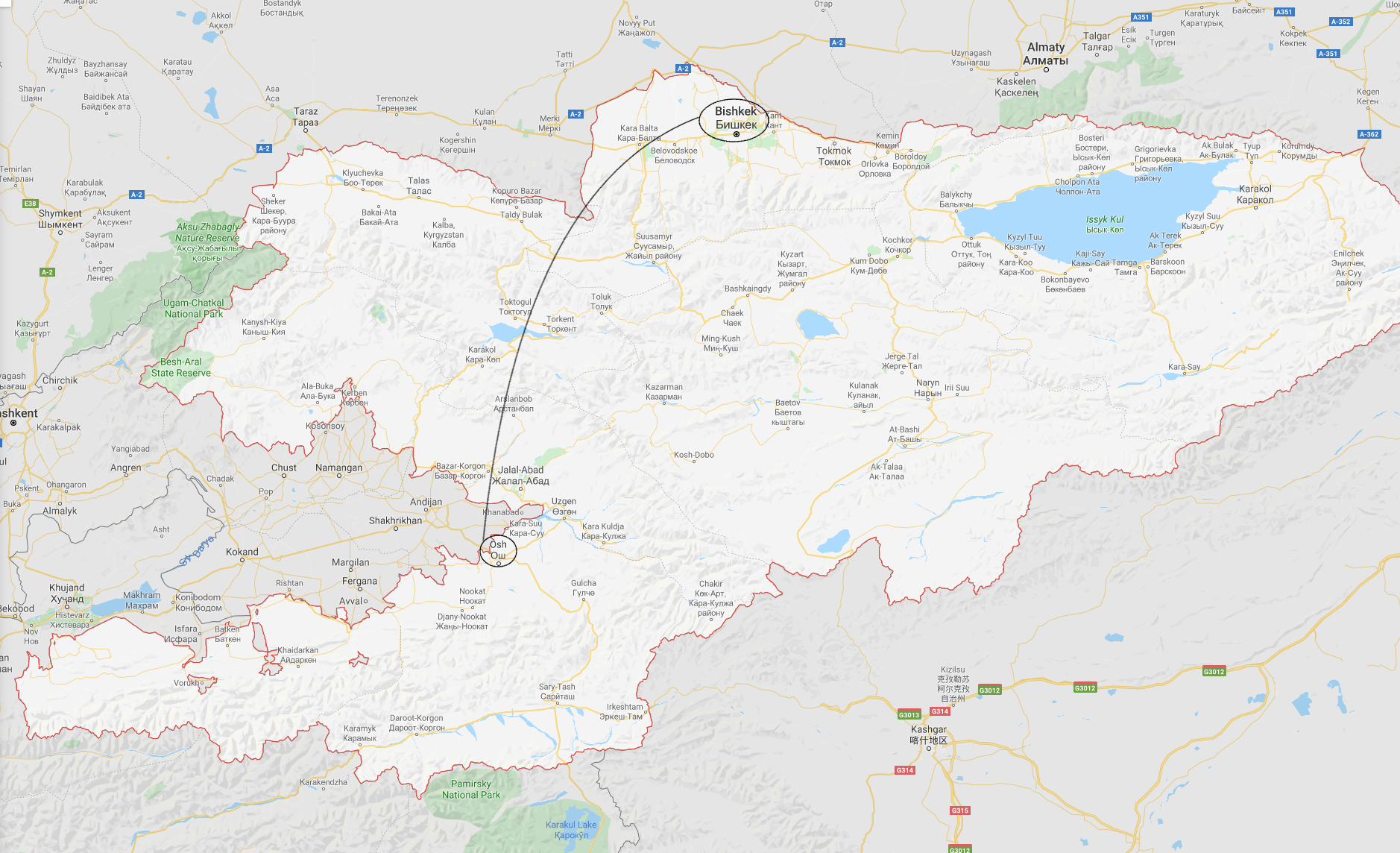 To Lenin Peak & Turpal kul (lake) next
This entry was posted in
Asia
,
Kyrgyzstan
,
Silk Road Kyrgyzstan Sept 2019