Mendoza, Argentina April 2019
Mendoza, Argentina, is a place on our bucket list, and so, in early April, we took a few days off and went to check out this place. We took an overnight flight from Dallas to Buenos Aires (BA); and when we arrived in BA (EZE airport) early the next day, we found out that to take the local Gol airlines flight to Mendoza, we would have to change to the AEP airport; the domestic airport in BA. So we took a $50 taxi ride from the international terminal to the local terminal 🙁 ; steeper than what I would have liked. Fortunately, this was early in the morning, traffic was relatively light, and the taxi driver was friendly and chatty with his limited English 🙂 . Ironically, the flight from Dallas went south to the Chilean coast, and then turned eastward towards BA , flying directly over Mendoza 🙁
Information
Taxi Rides from Airports not so cheap
Mendoza is a city in northwestern Argentina, located just east of the Andes mountains, that form the border with Chile, and was founded in 1561. It's greater metro population is more than 1 million, and its main industries are Olive oil production and Argentinian Malbec wine production; and an emerging tourism industry. Mendoza is the wine capital of Argentina, which is precisely why we came here 🙂 . Before the Spaniards arrived, the local tribes had devised a system of irrigation that was later developed by the Spanish leading to larger scale wine production and sustaining a larger population.
We had booked a rental car at a low rate from a local company (no office at the airport or nearby), and when we landed, we were met by a gentleman who took us to show the car, signed all the papers and took the payment. The car was a little older, but in good shape and relatively cheap. So off we drove to our hotel in the afternoon. This time, we stayed at the Hotel Intercontinental, where we had magically gotten a great rate of $40 per night, including breakfast 🙂 . This place was in a suburb not far from the city center and had great views of the city and the Andes
Hotel Check
Check in the Hotels with good views of the Andes.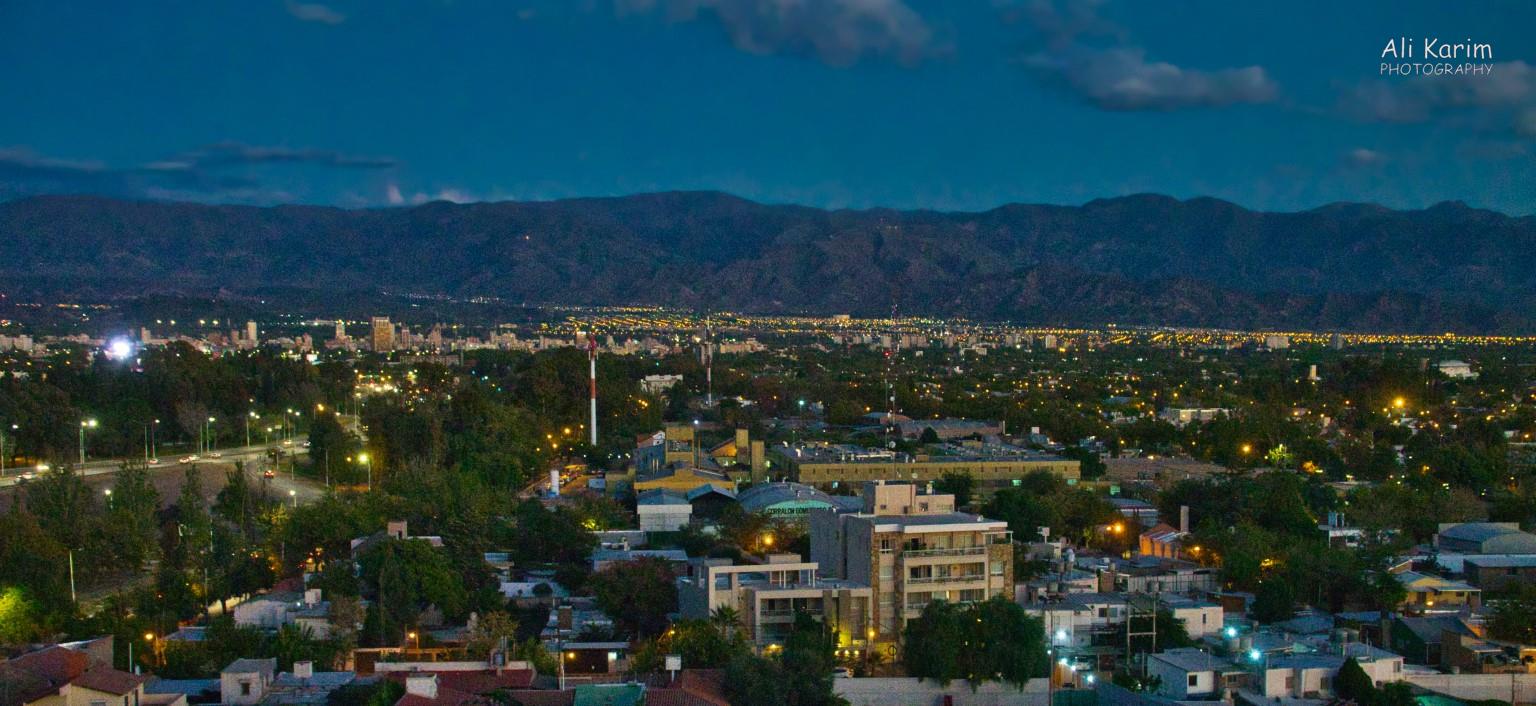 That evening, we were recommended a local restaurant by the hotel, the Restaurant Don Mario. It was close by and it was a small place, fairly full, and we had some of the best steak we have eaten. With wine, steaks, and desert; cost came to about $25 including tip, for both of us. My kind of place 🙂 . Turns out, Mendoza is a foodie place.
Foodie Place
Mendoza is a foodie Place
Steaks from grass-fed, free-ranging cattle are the specialty, and even the smallest/cheapest restaurants will have white table cloths, and well dressed and attentive waiters. The Mendozan's take their food seriously, and with pride; and it shows. The steaks everywhere were at least 2 inches thick, and cooked perfectly evenly through, over wood fired grills. And everything was relatively cheap, because the Argentinian peso was at a discount. After this delicious meal, we went back to the hotel for a well-earned rest.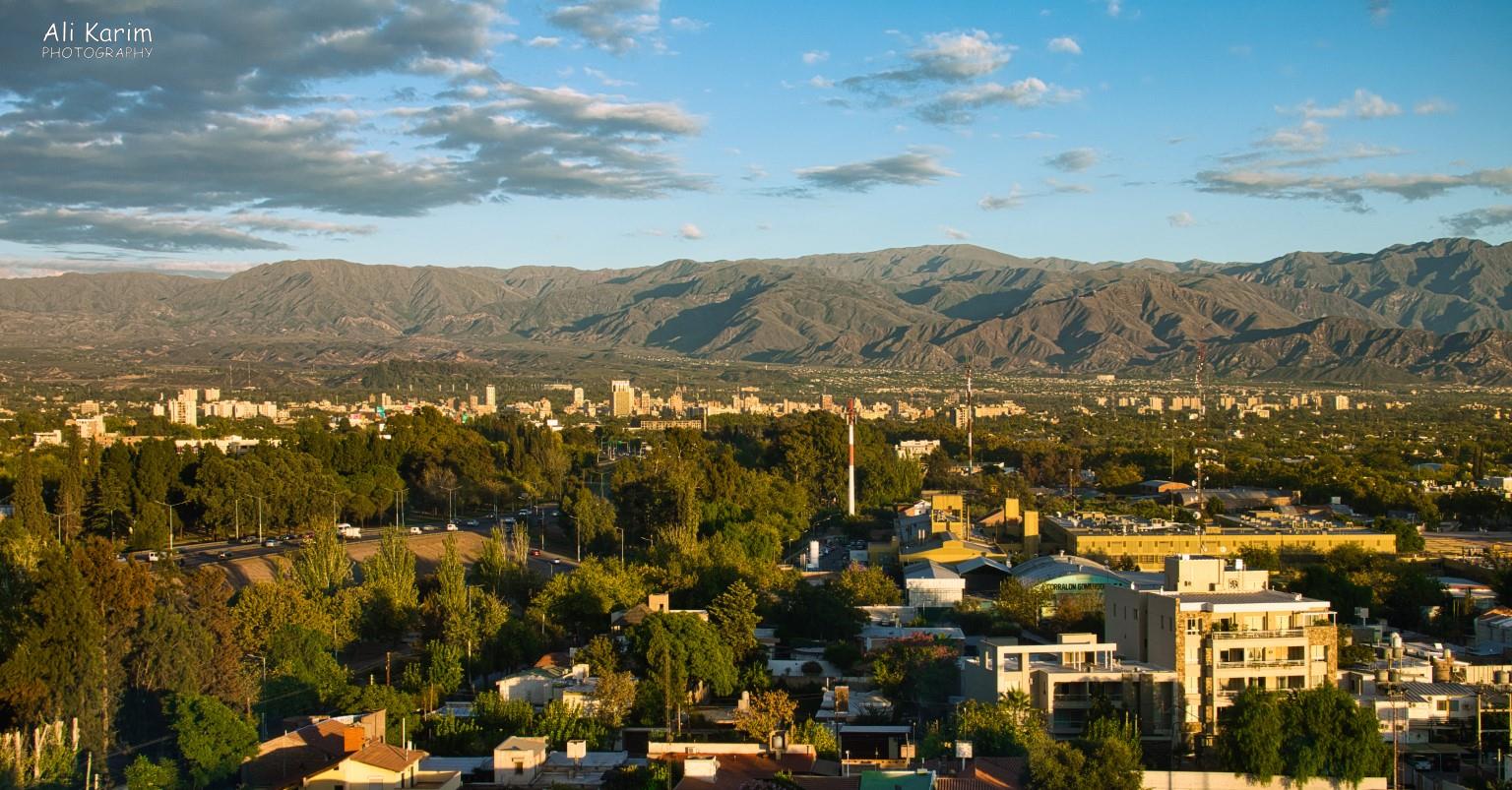 Next day, after a wonderful breakfast at the hotel (included), we decided to spend the day at Termas Cacheuta; a natural thermal spring where there is a hotel/restaurant and spa facilities (relatively expensive) and the nearby Parque de Agua Termas Cacheuta, which is where we ended up at. We drove from our hotel; heading north and west into the Andes mountains towards the Chilean border on Hwy 7, where the springs were located. Some views along the way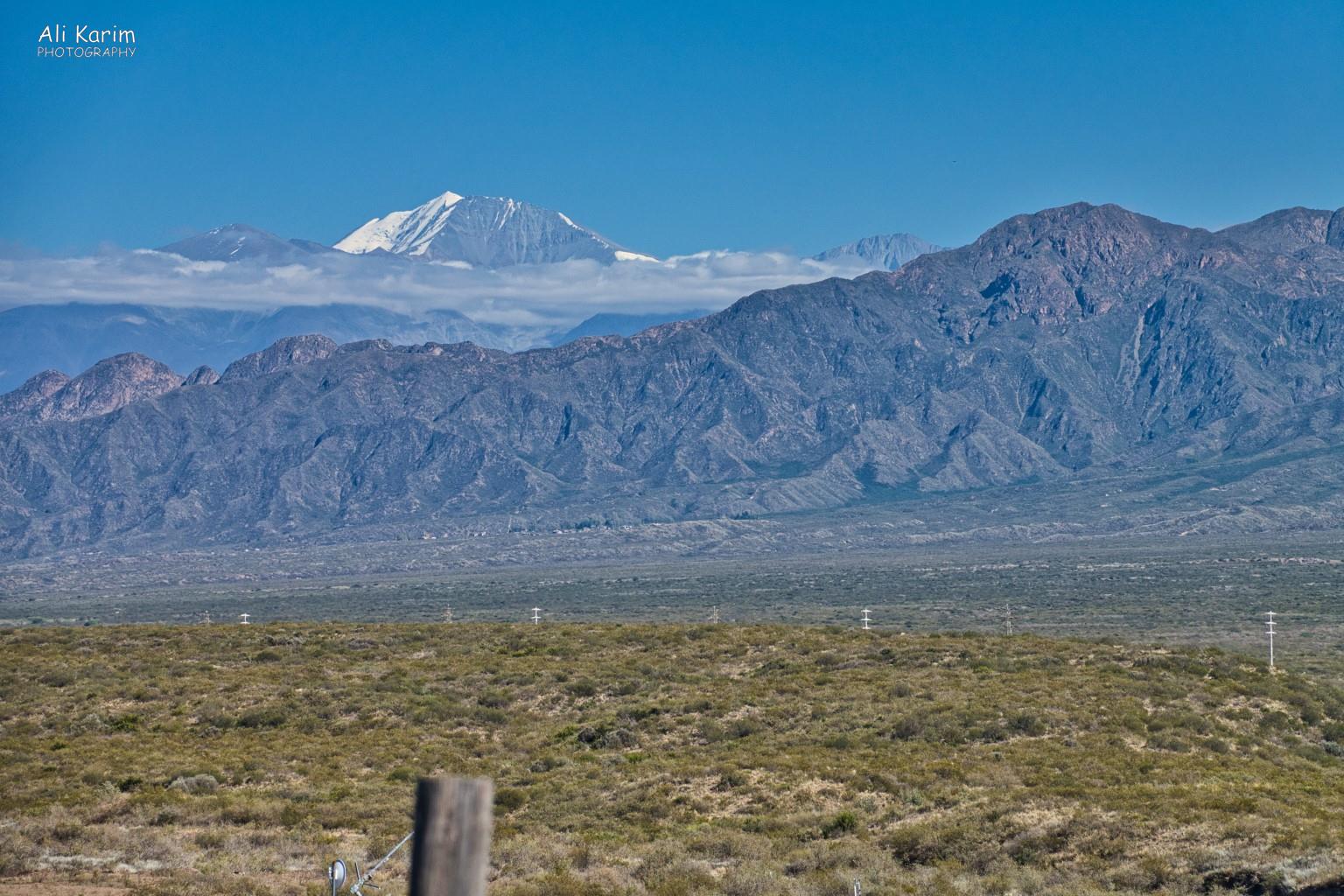 The Parque was off the main road, and you could tell by all the cars where it was. Entrance was about $5 each and that include a locker. The Parque was not upscale like the hotel/spa, but it was also a lot cheaper, and there were many locals here; eating Carne Asada at the large outdoor restaurant, or enjoying their picnics here. Everything was basic, but it was comfortable and clean enough.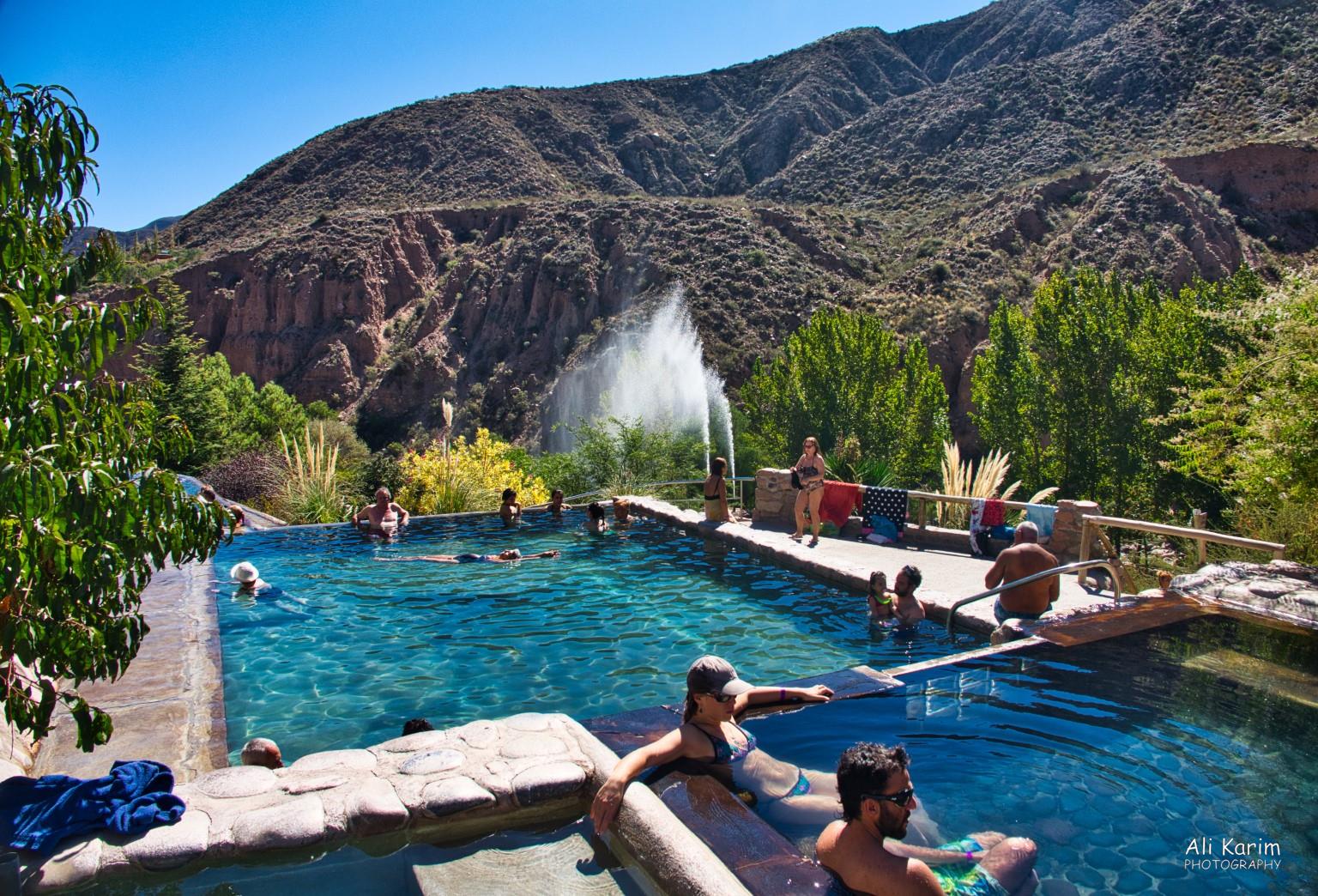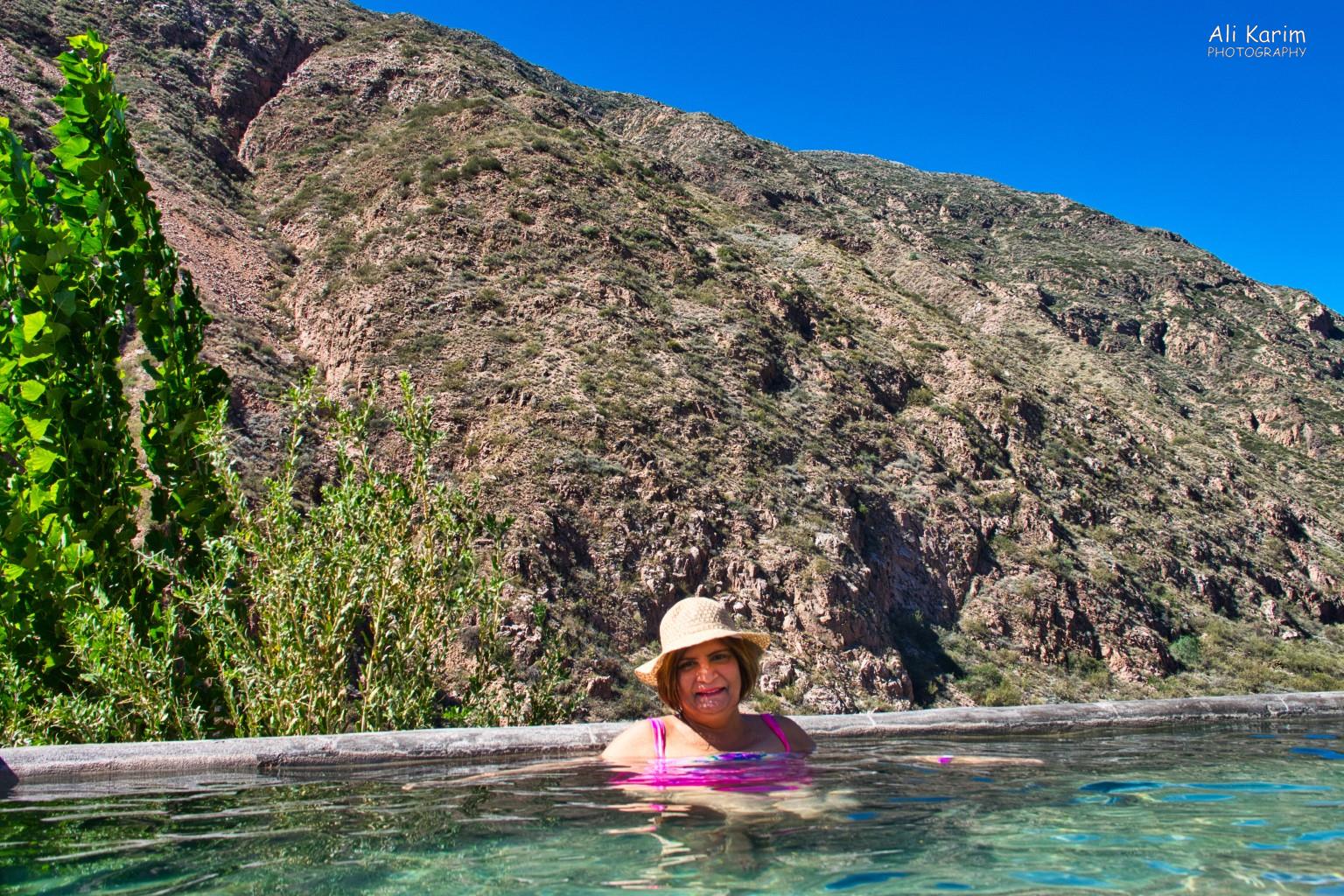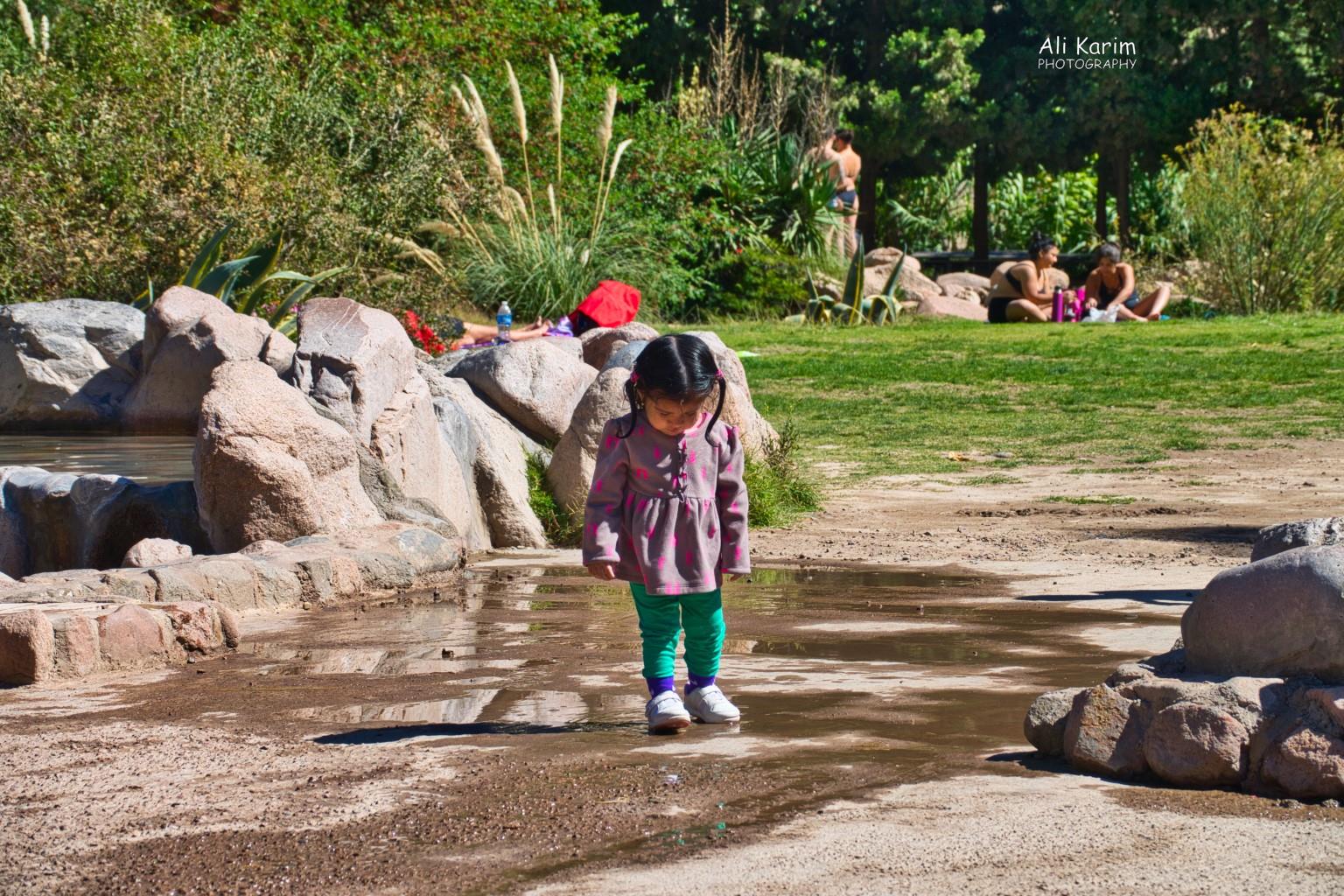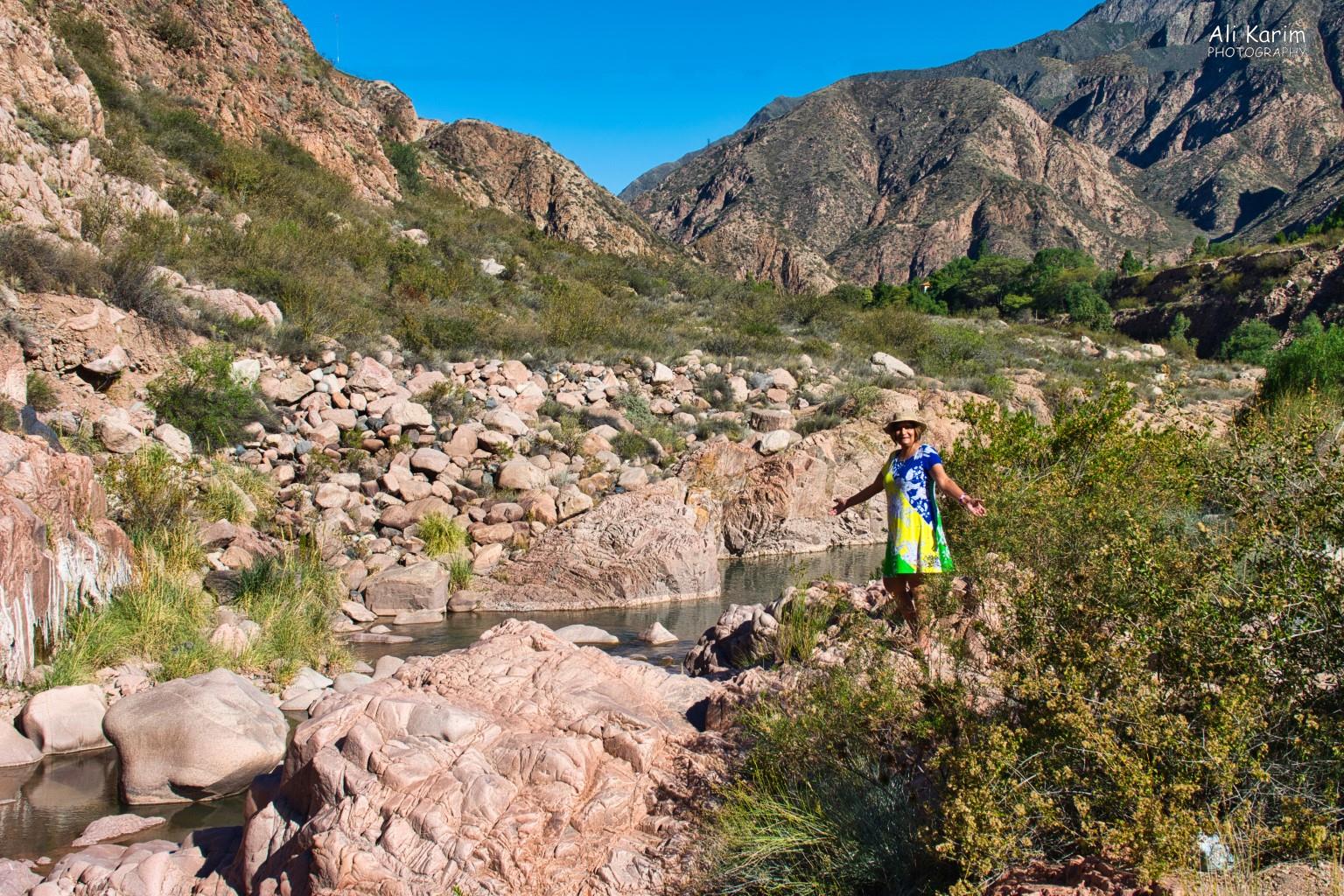 After several hours here checking out the different outdoor and indoor pools, each with a different temperature of water, we had a small snack and drove back to Mendoza. Dinner was at Anna Bistro; which was near downtown. Again, a great dinner and wine place; a little bit more upscale & expensive than Don Mario at $30 for wine, salad, and steak; but still very nice and pleasant.
Next day, we decided to drive the Wine route south of Mendoza, to the Valle de Uco, about 1.5hrs south of Mendoza. This valley is at the foothills of the Andes mountains, and the drive to the wineries is through a lot of rural farming areas, with spectacular views of the Andes mountains to the west. This area is in the rain shadows of the Andes, and so does not receive much rainfall. So most wineries are drip irrigated using the high quality Andean snow-melt water. Also, this region around Tupungato is at 4,200ft above sea level, so nights are cooler, with warm days, resulting in high quality grapes producing some of the best wines (Malbec, Chardonnay, Cabernet and Merlot) in Argentina. First stop was for wine tasting at the Bodega La Azul
Tourist Not to Miss
Wine Tasting session should not be missed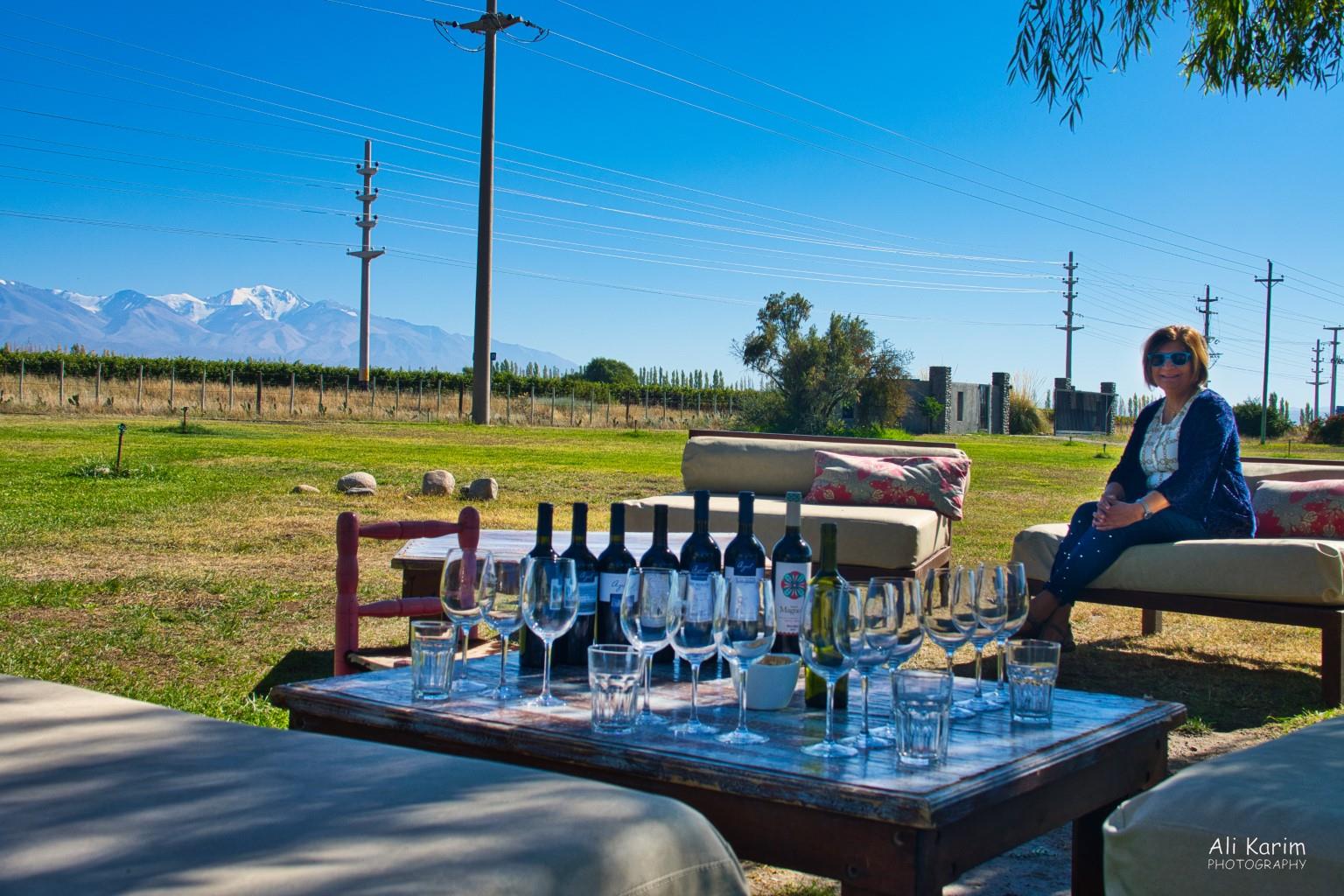 After the wine tasting and a tour of this small winery, we drove 5kms to the Tupungato Divino, a small hotel/restaurant nestled among several wineries for lunch.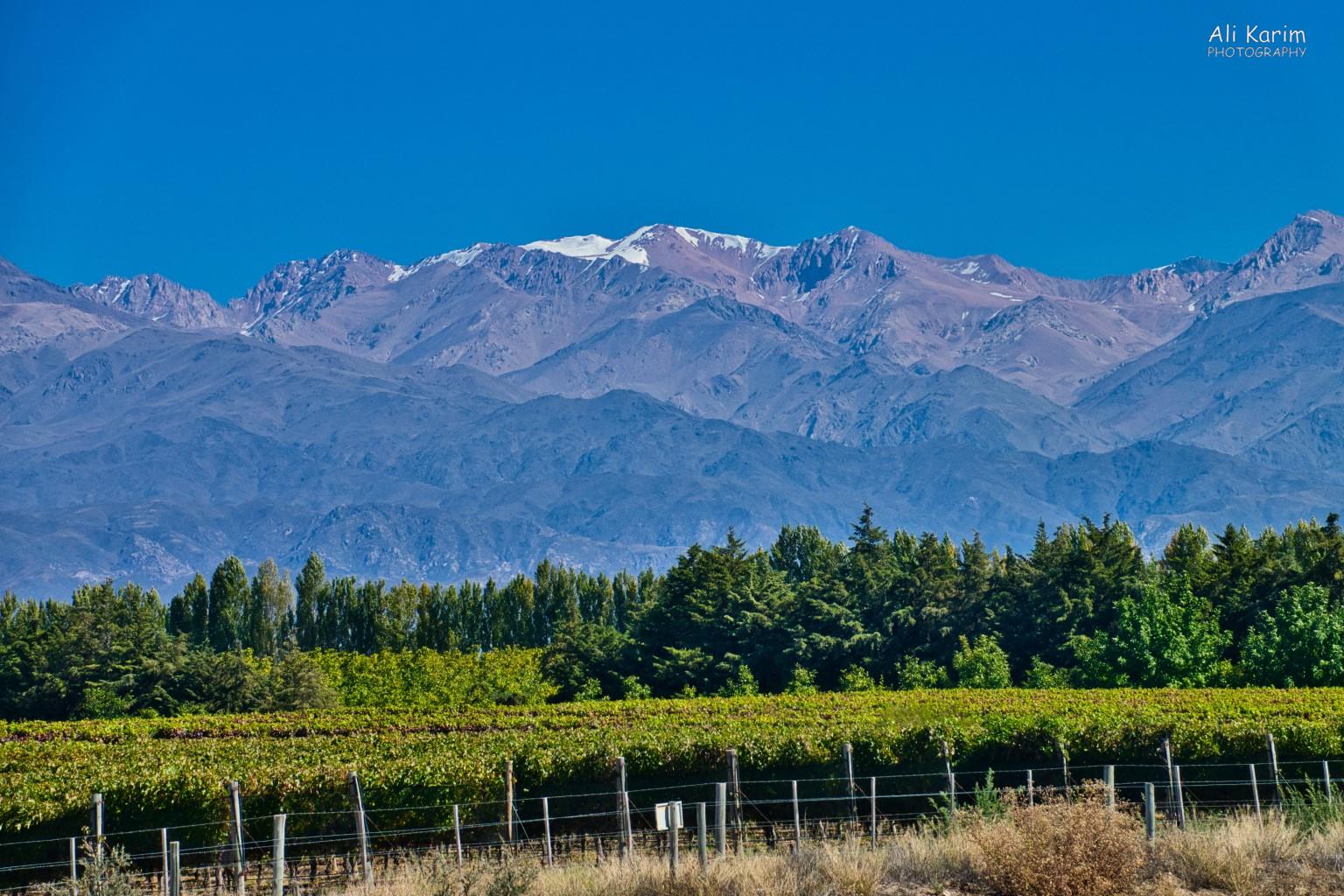 The lunch menu at Tupungato Divino was a set menu, and the 4 course meal we chose was with steak (of course) and this was another one of those best meals we have ever had; all for about $13 per person. Did I say this was a great foodie place?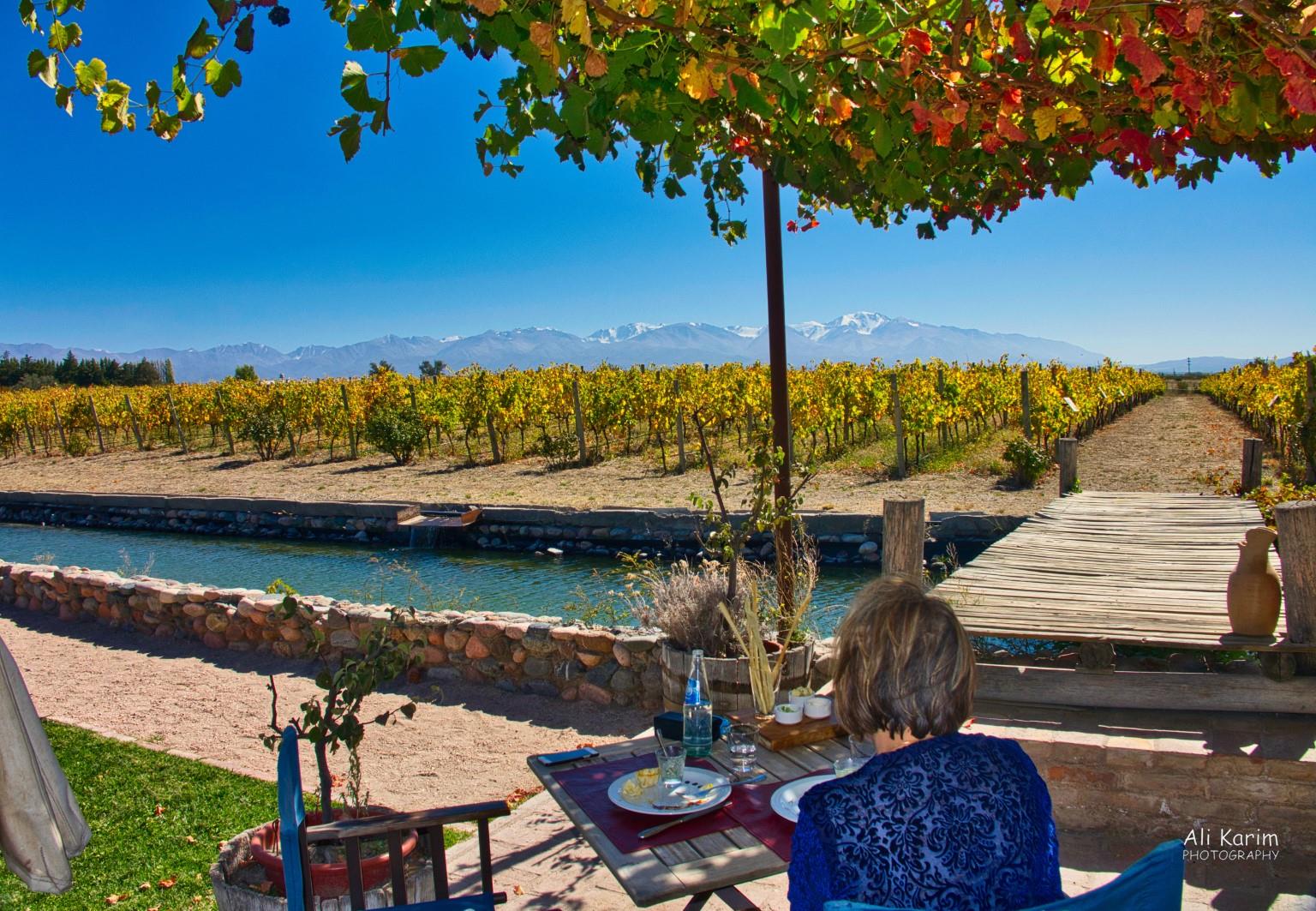 360 degree views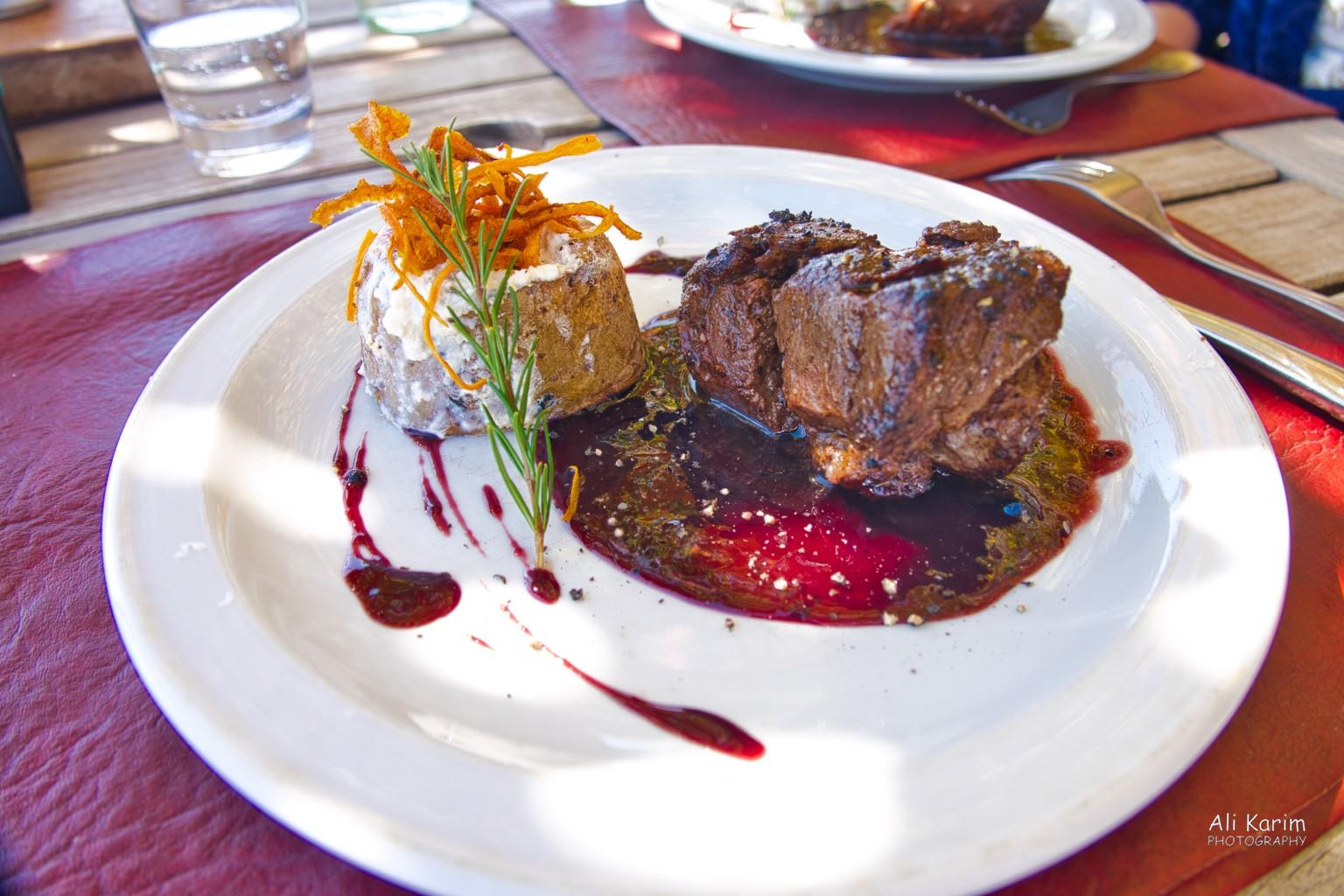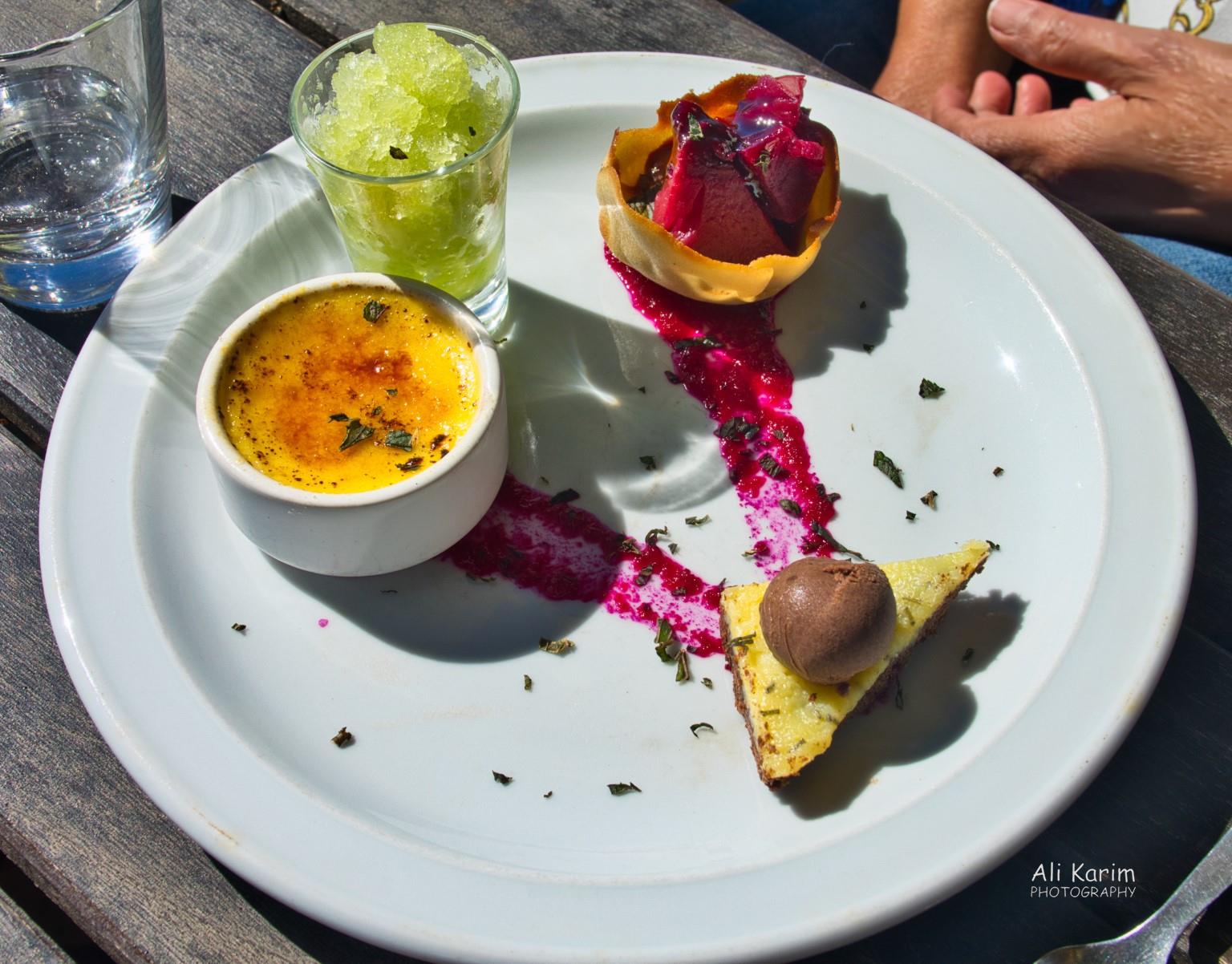 After this great wine tasting and lunch, we drove back to Mendoza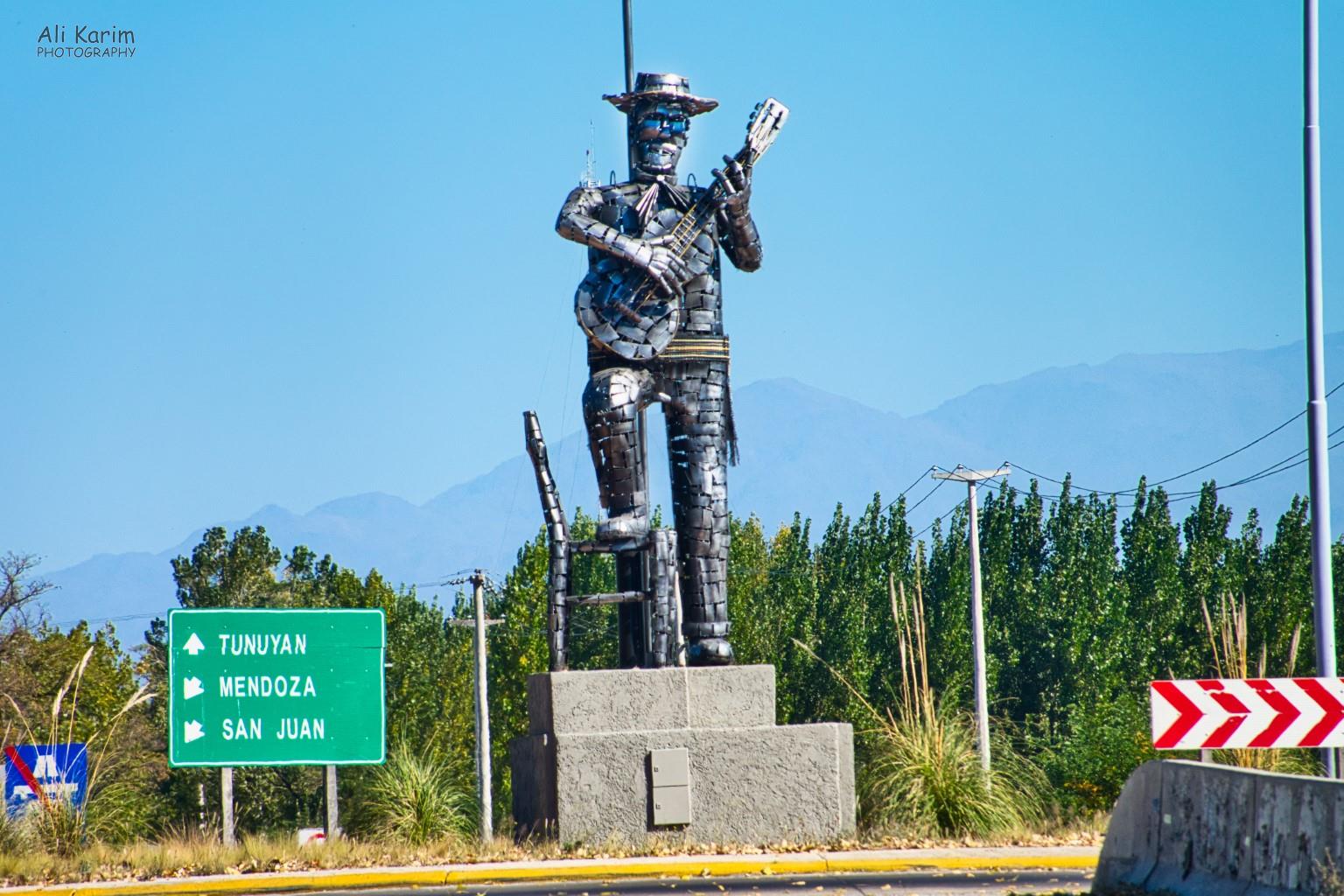 Since we had not spent any time in the city center, we drove to the centro; where there were many large leafy squares with plenty of trees and shade. Some scenes below in the city center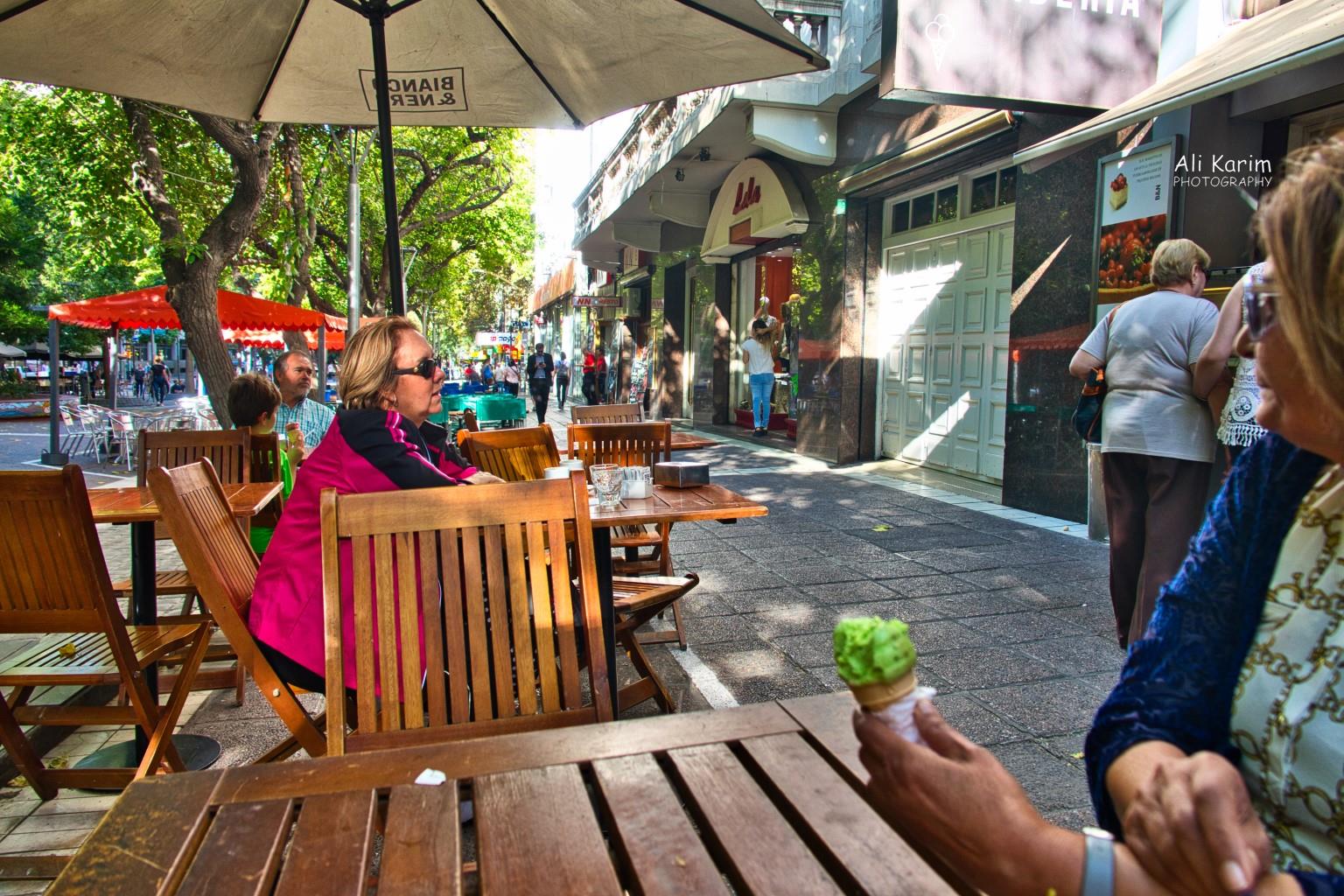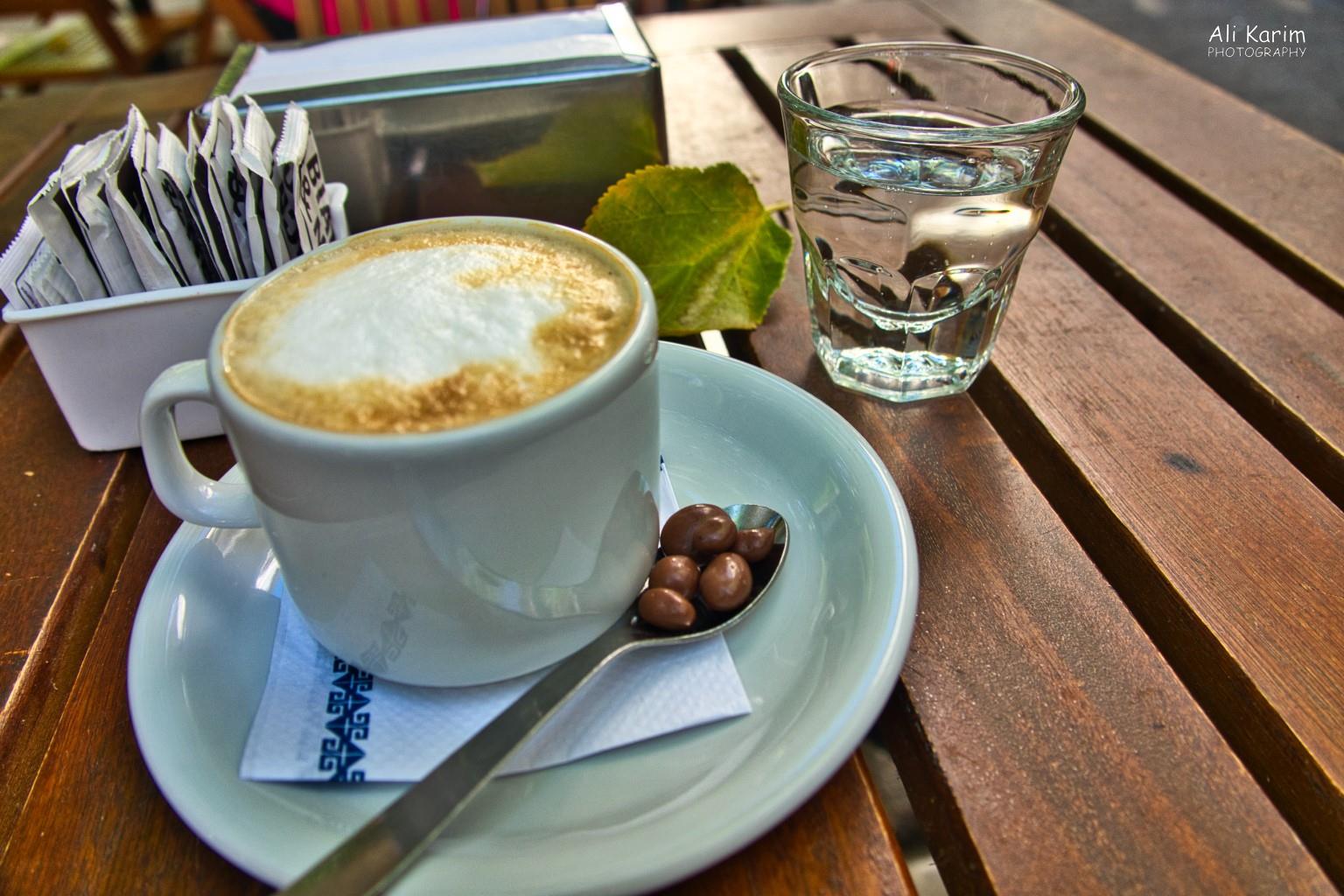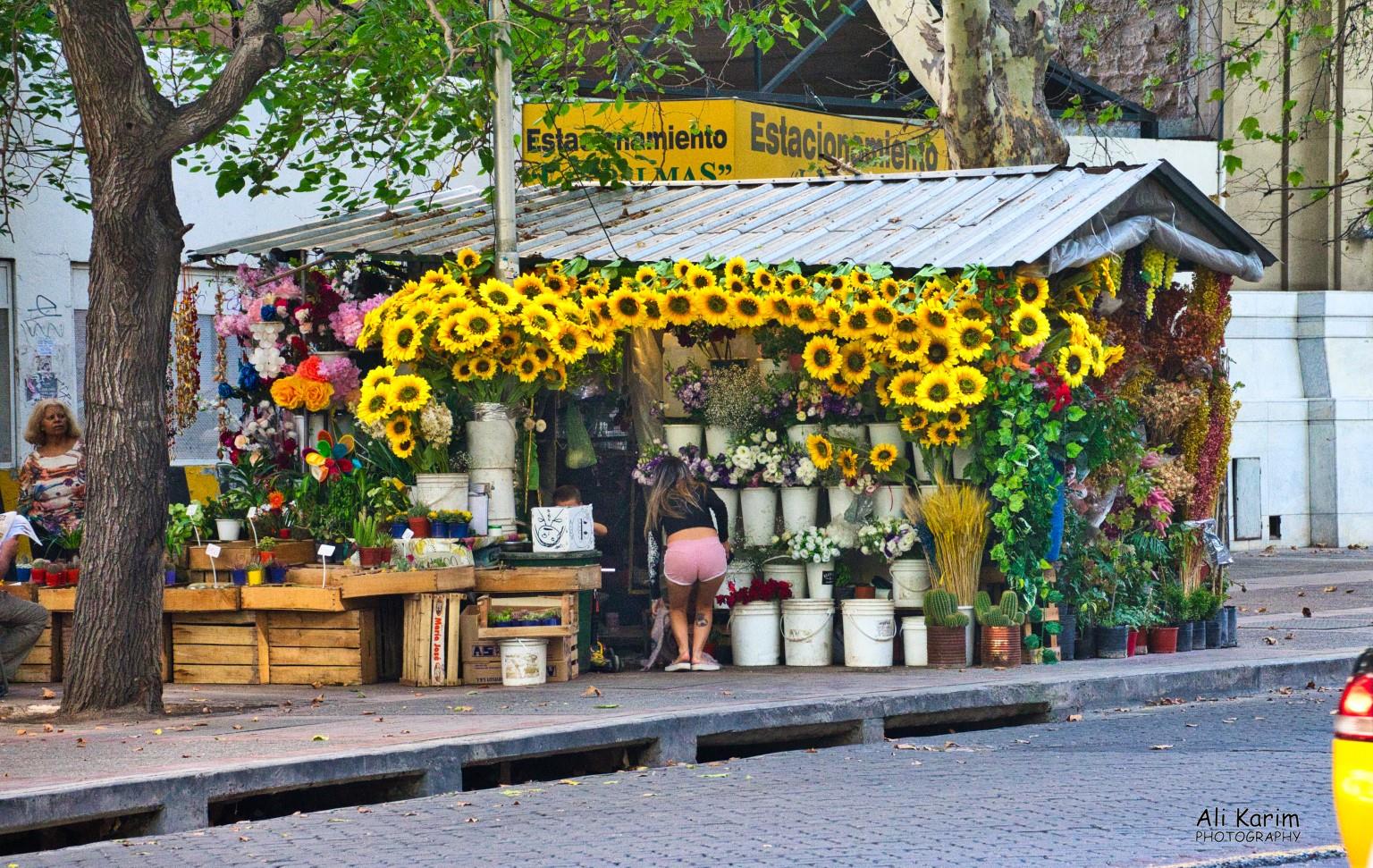 Since we like to check out the local fruits and vegetables, next stop was the Mercado Central. This was a little disappointing as it was quite small with few vendors. I guess most locals shop at the supermarkets. We did see some good vegetables and fruits
Fruits and Vegetables
Fruits and Vegetables looked different in this part of the world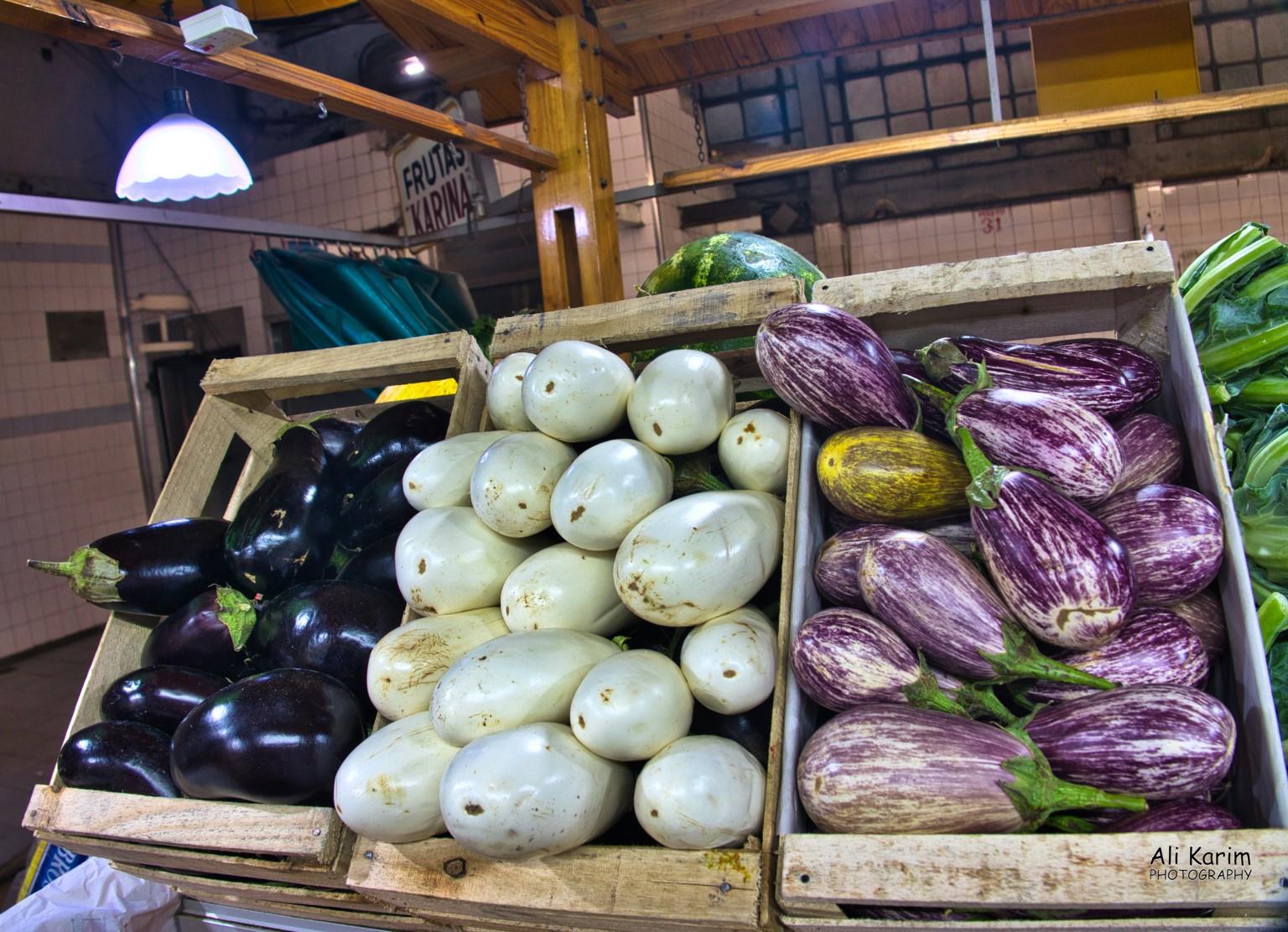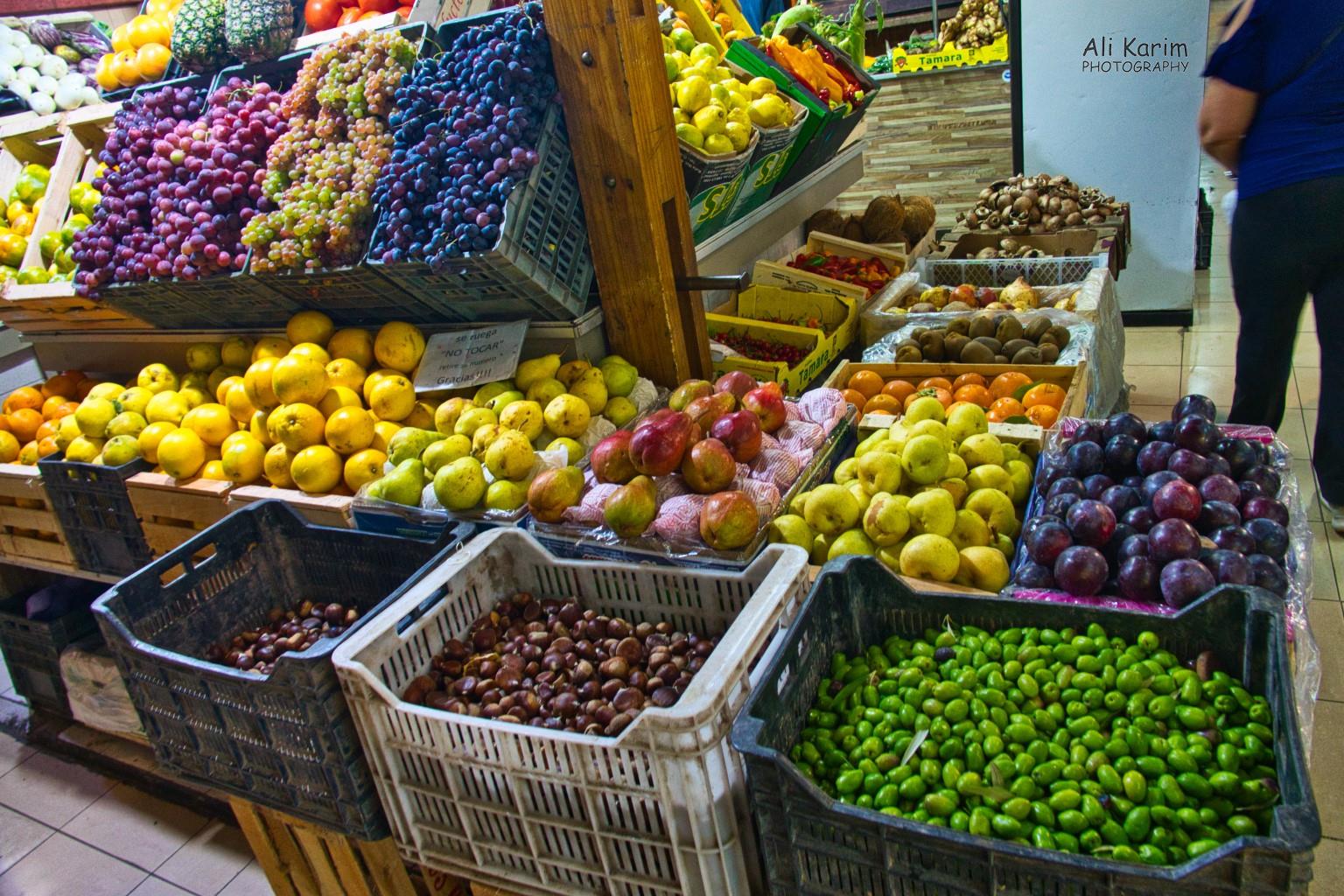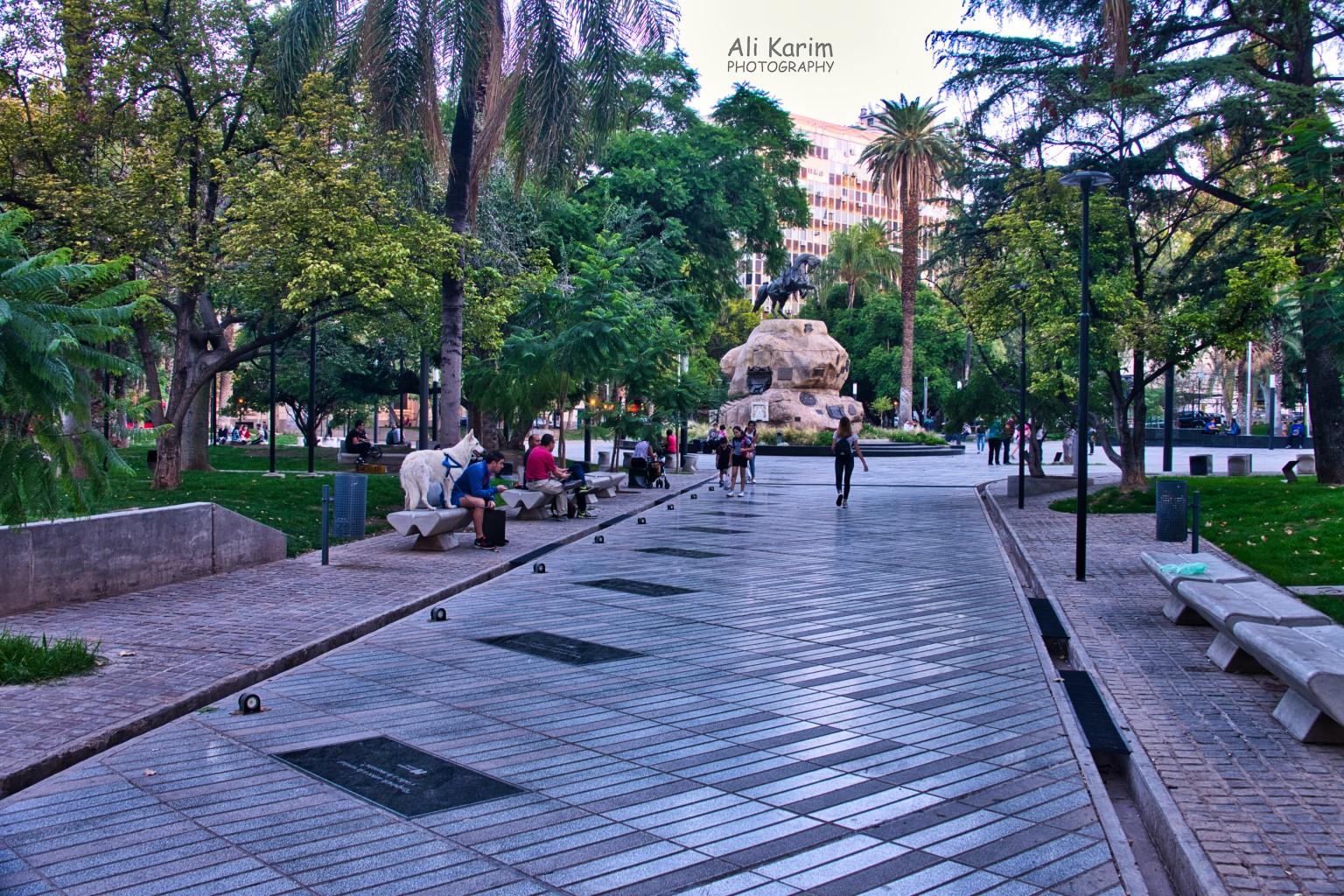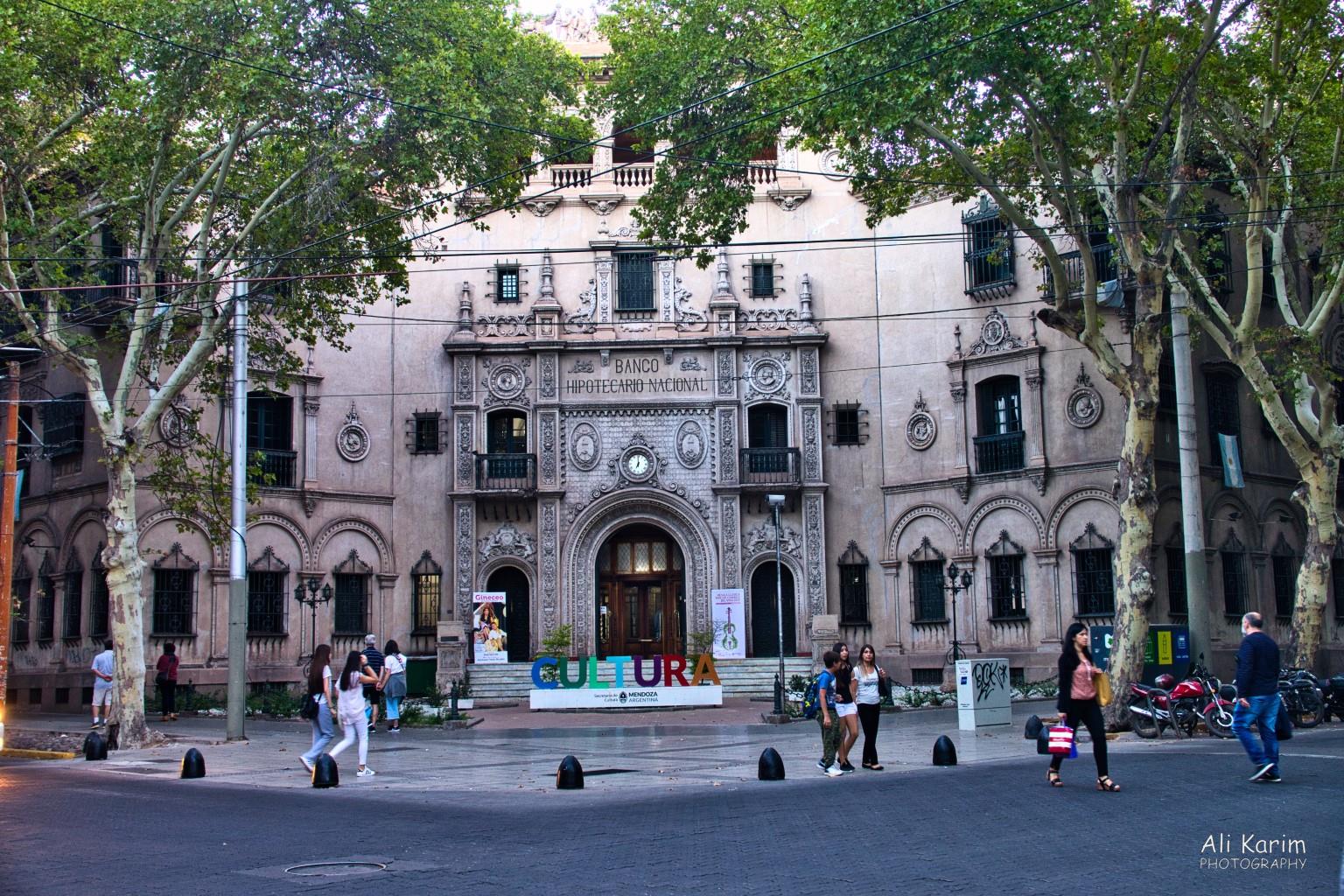 At this Cultural center, we learned that there was a free concert, if you brought a packet of milk as a donation, at 5PM, the following day. So, the following day, we picked up a packet of milk, and went to this place, but were told the concert had already been oversubscribed 🙁 . We donated our milk and carried on 🙂
Cultural Program
Donate Milk and Get inside a cultural Program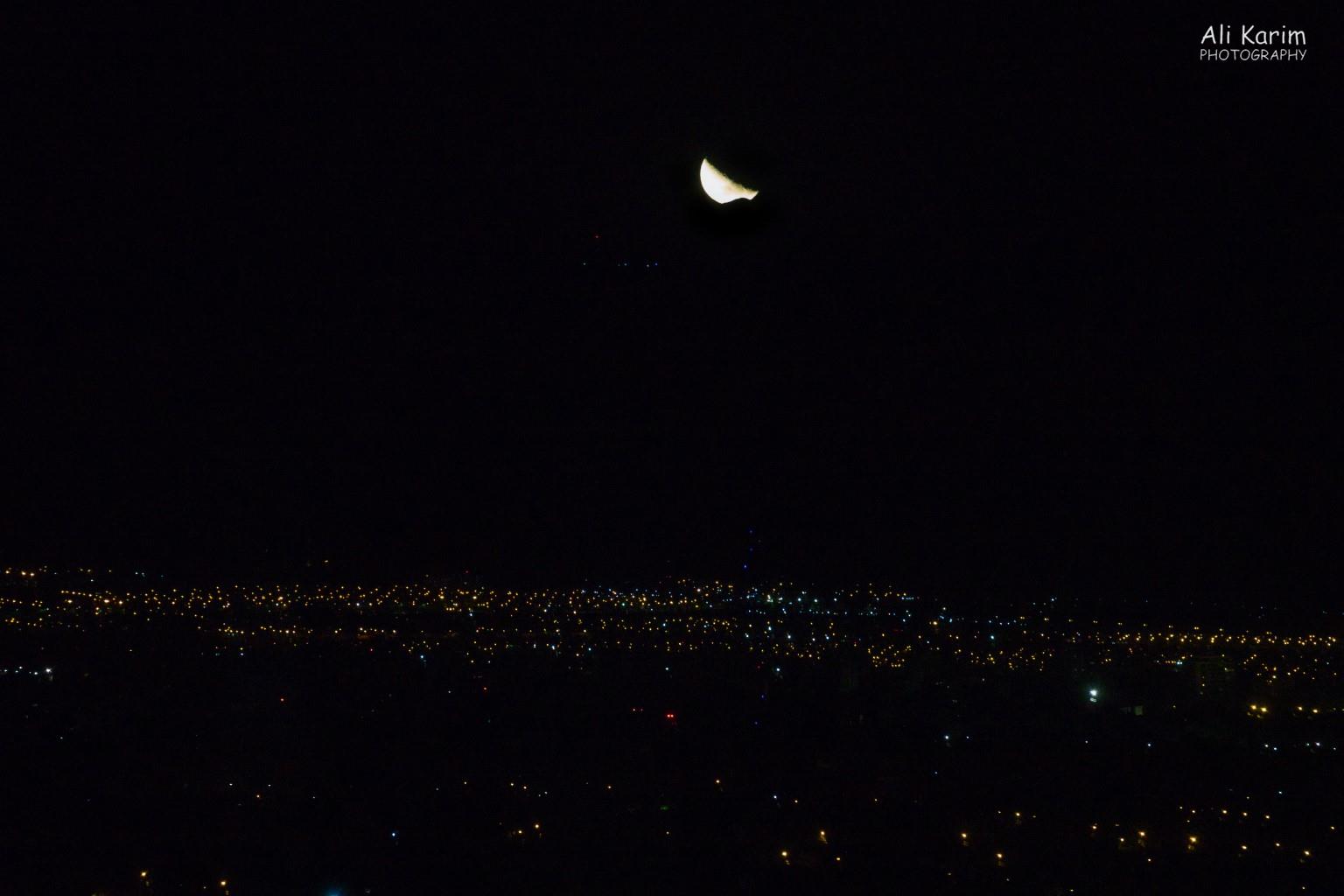 Next: More Mendoza as we explore other areas of Mendoza and other surrounding areas
This entry was posted in
Argentina
,
Mendoza
,
South America