After arriving in Murghab from Lenin Peak Yurt Camp the previous day , we settled in and had dinner at Erali's family Guesthouse, where there were 3 motor bikers from Turkey, also staying overnight here. I never imagined that I would so welcome the hot showers and the western flush bathroom that we enjoyed here 🙂 . Oh how we take these things for granted. Many people in the world don't have such luxuries and that makes us think about life's inequities.
Information
Western Flush Bathrooms and Hot Showers were Available
The fresh fruit & vegetable supplies that Ahmadali and Sherali had picked up in Osh were served to us 🙂 at dinner. There was not much to do here at night, so we decided to get an early night's sleep. Also we needed to take it easy at this continued high altitude.
The next day, we had breakfast and walked around a little before it was time to leave. Murghab is from the Persian word margh-ab meaning "prairie river", and is the capital of Murghob District in the Pamir Mountains of Gorno-Badakhshan Autonomous Region, Tajikistan. With a population of 4,000, Murghab is about the only significant town the eastern half of Gorno-Badakhshan. It is the highest town in Tajikistan (and of the former Soviet Union) at 3,650 m or 12,000ft above sea level, and used to be a Soviet military outpost. Murghab's population is all Muslim, with 85% Kyrgyz and 15% Pamiri (Ismaili). His Highness the Aga Khan had visited here on May 26, 1995, during a tour of Central Asia. Some views of Murghab below
Information
Murghab is the Highest Town in Tajikistan.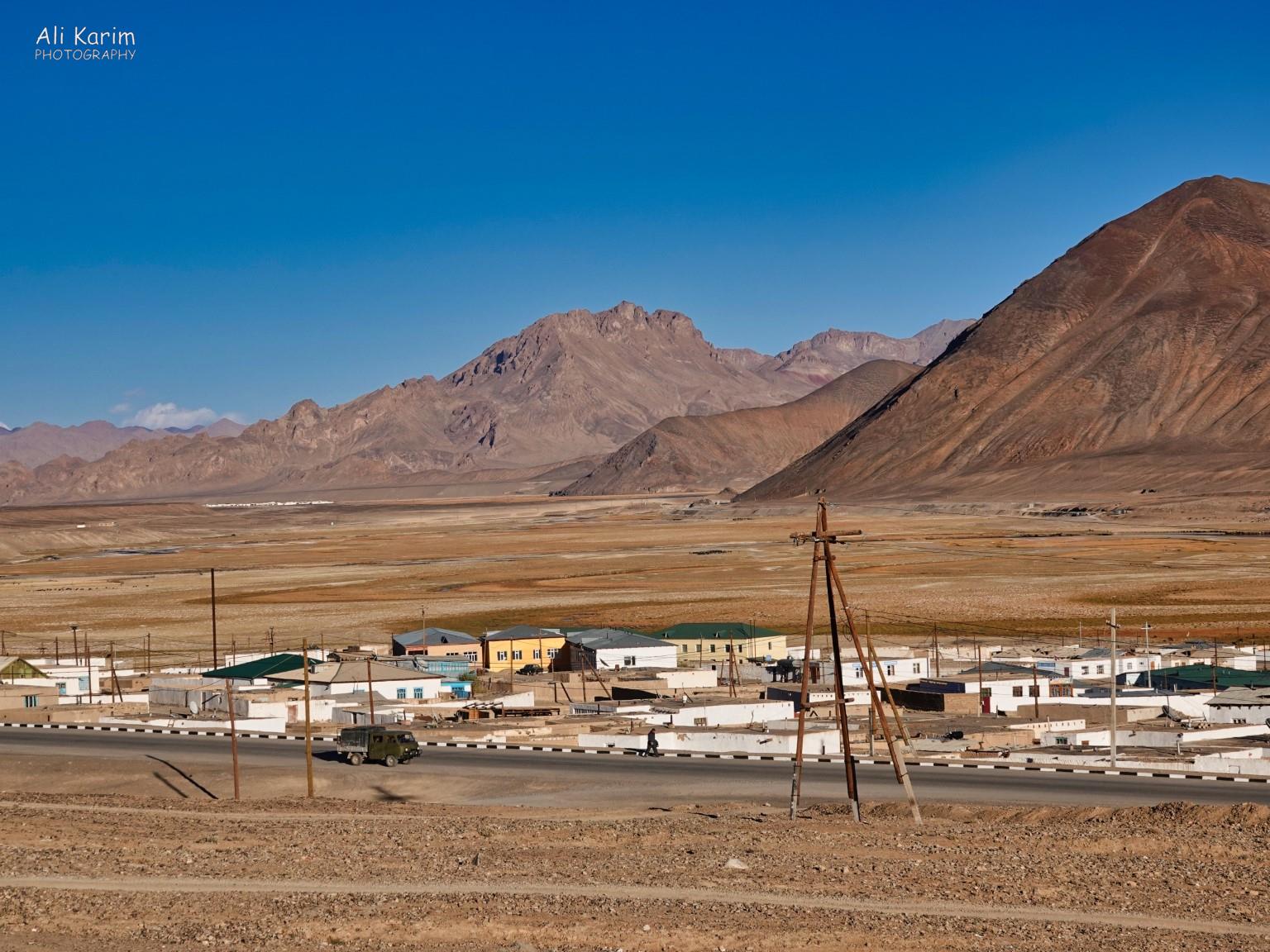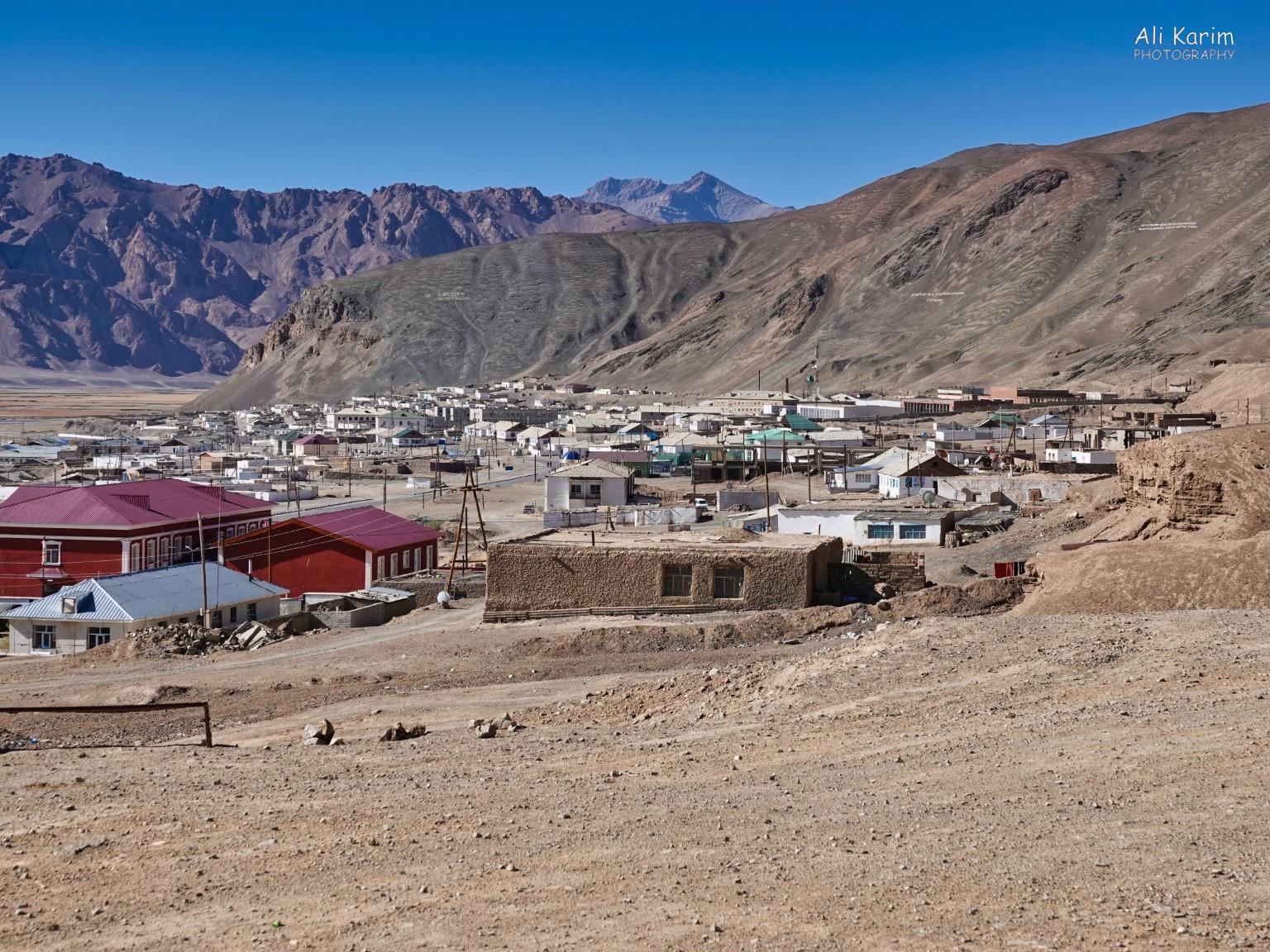 Murghab views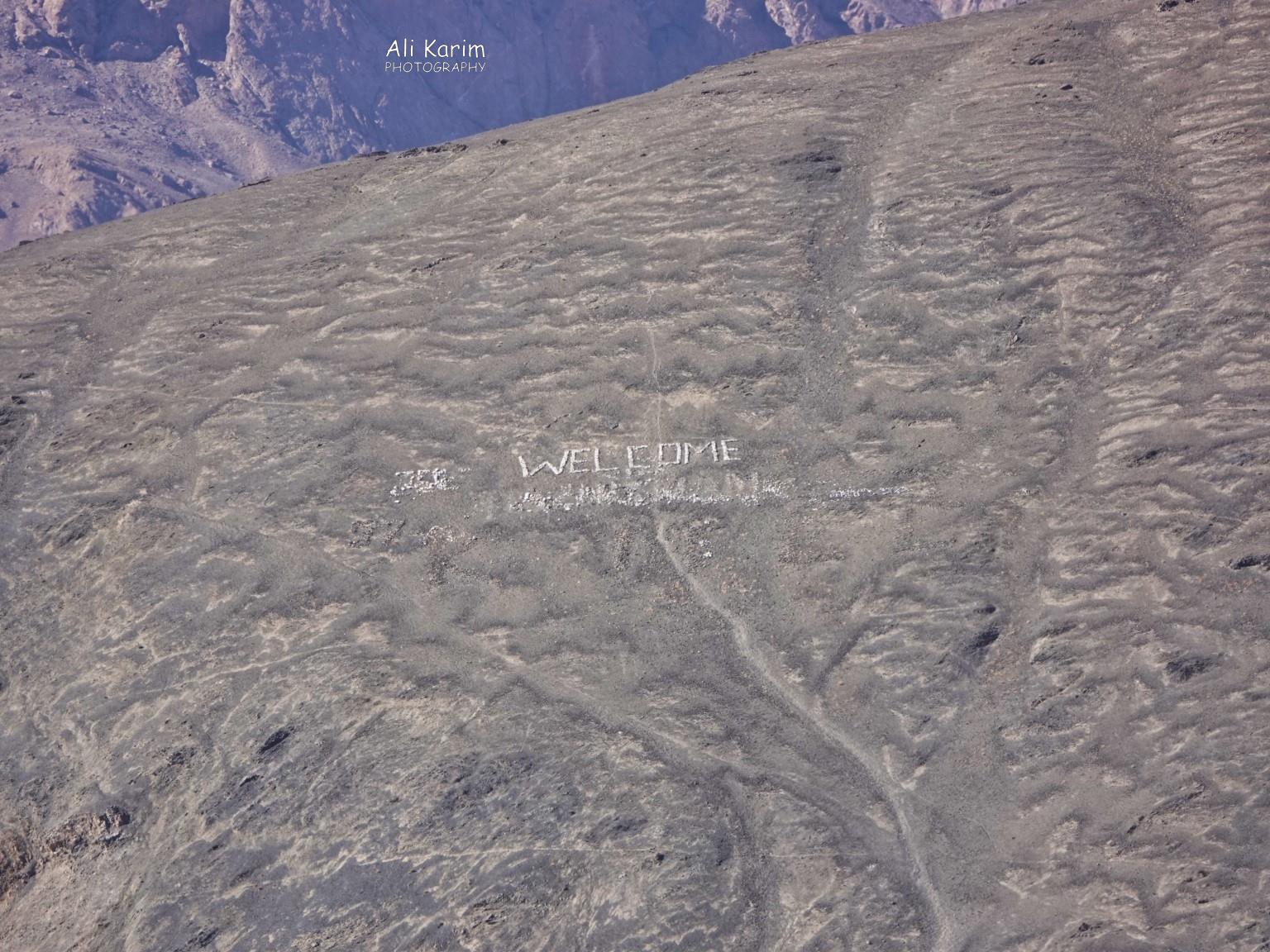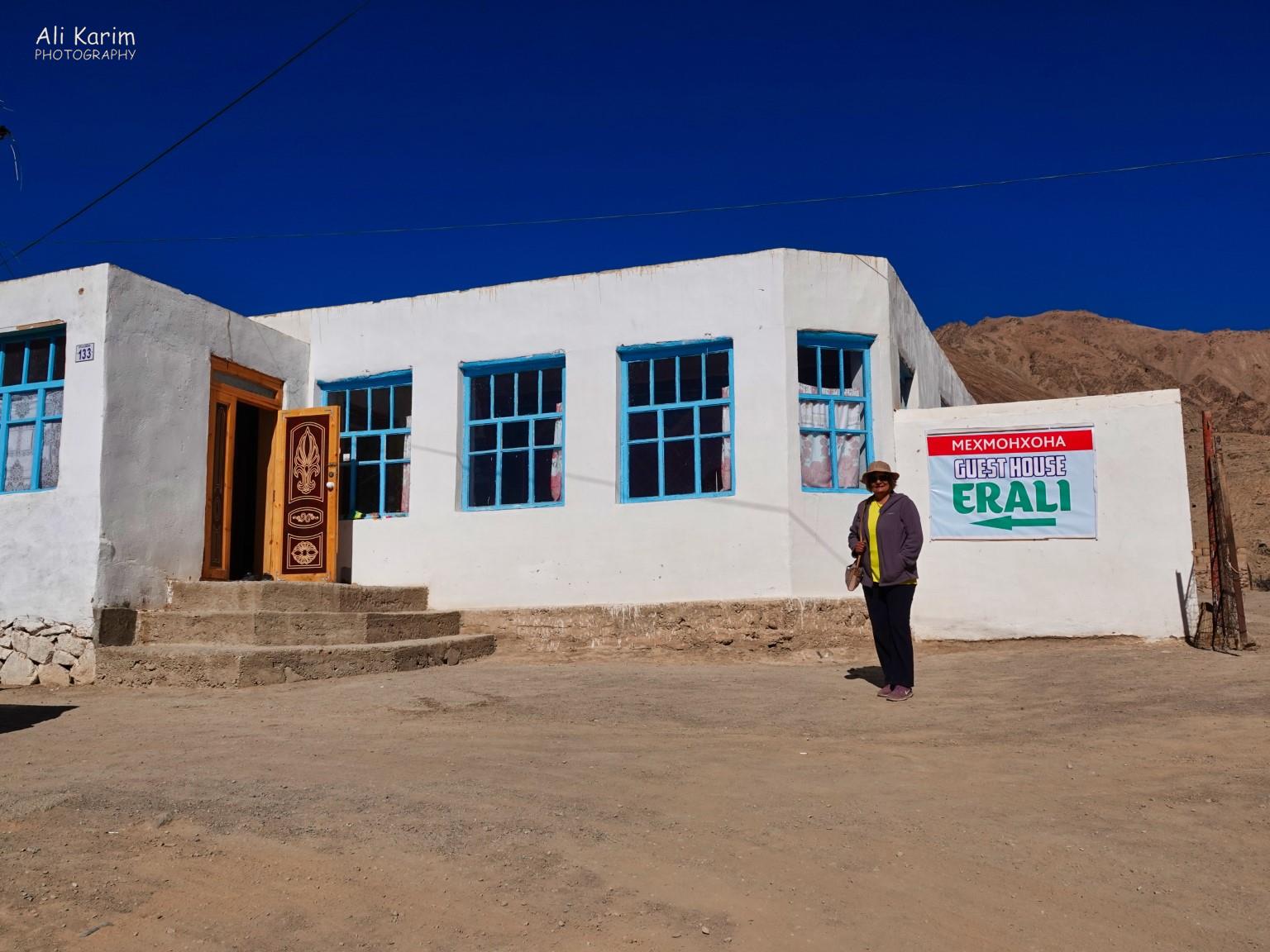 Note the word MEXMOHXOHA on the Guesthouse sign (in Russian) is sounded as "Memon Khona", which means Guest house in some Indian dialects.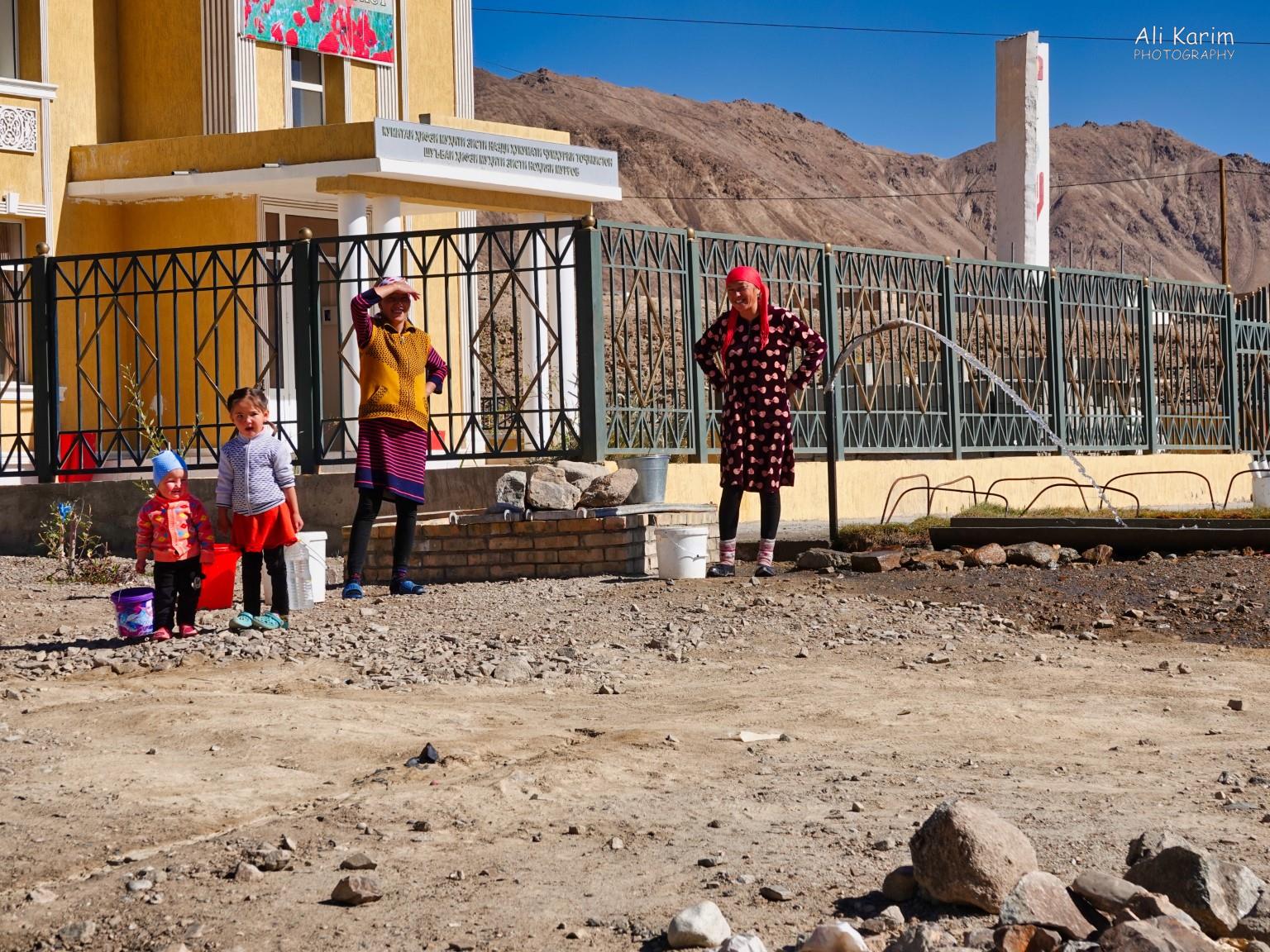 Information
Water is scarce in the area so dont waste water and also keep a bottle of water with you at all times.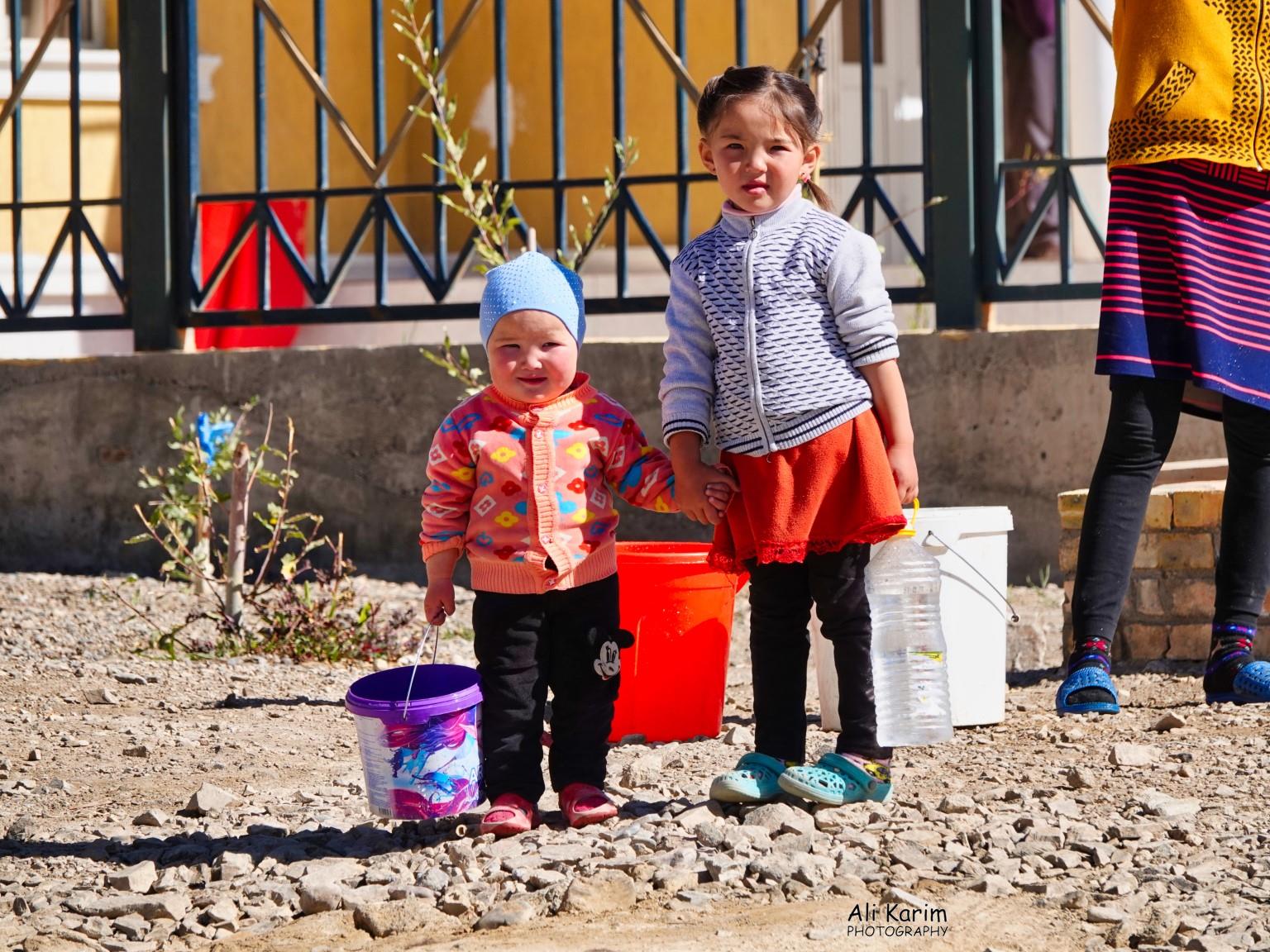 Since this is area of the Pamir mountain's is essentially a high-altitude desert without any close by streams or snow meltwater, many of the households rely on the Govt to provide water. The Govt turns on this waterspout for 1hr each day in the morning; and families come up and collect the water to take home for daily use. If they miss one day, basically, they have to wait till the next day to get water. Once again, we experience how difficult life is for many in this world, while we are so privileged. Sobering experiences like this are necessary to bring us back to earth.
Information
If people miss the water timings they have to wait next day to get the water
It was time to move on, since there was not much to do here, and since we were out of LPG and out of petrol, we headed and got a fill up of petrol.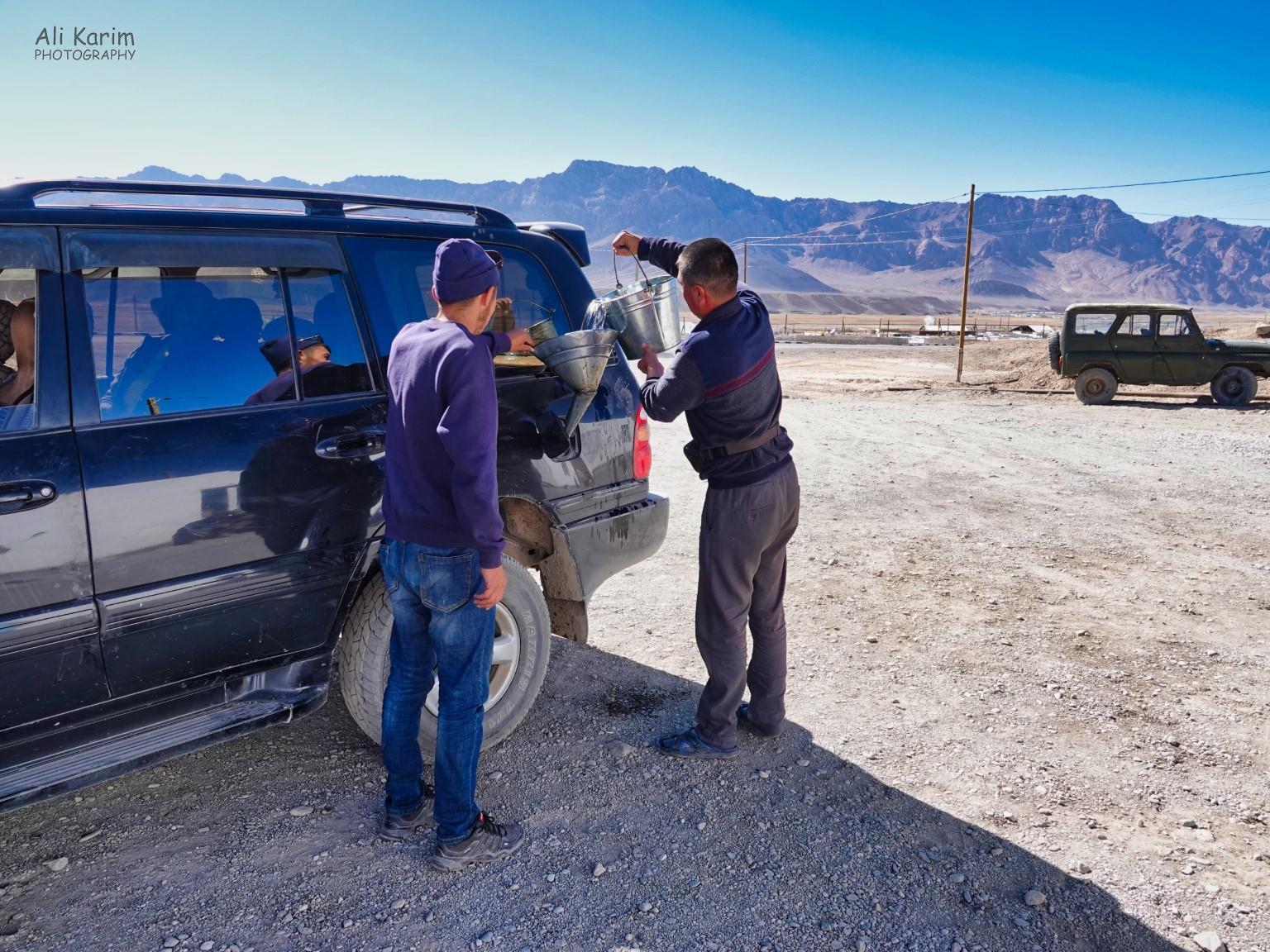 The gas station had no pumps, and instead, the gas/petrol was stored inside large metal drums inside a small strip-building, and it was pumped out manually into measured buckets and plastic containers, and then poured into the gas tank using a large funnel. No high-tech pumps here, no Govt regulations about fire safety etc. You make it work any which way that works…….
Information
Petrol and Gas is supplied via plasic buckets and containers rather than modern technology pumps.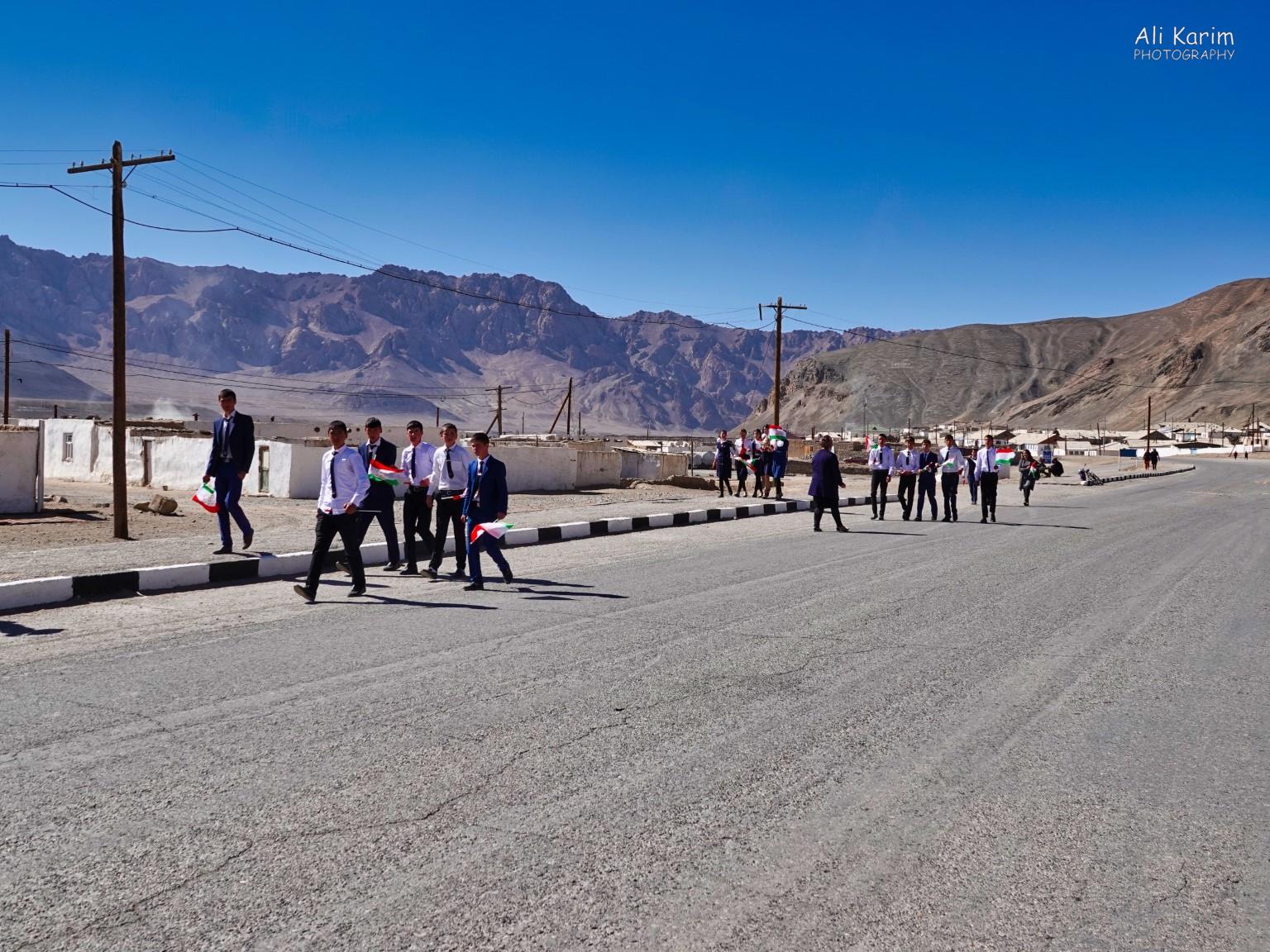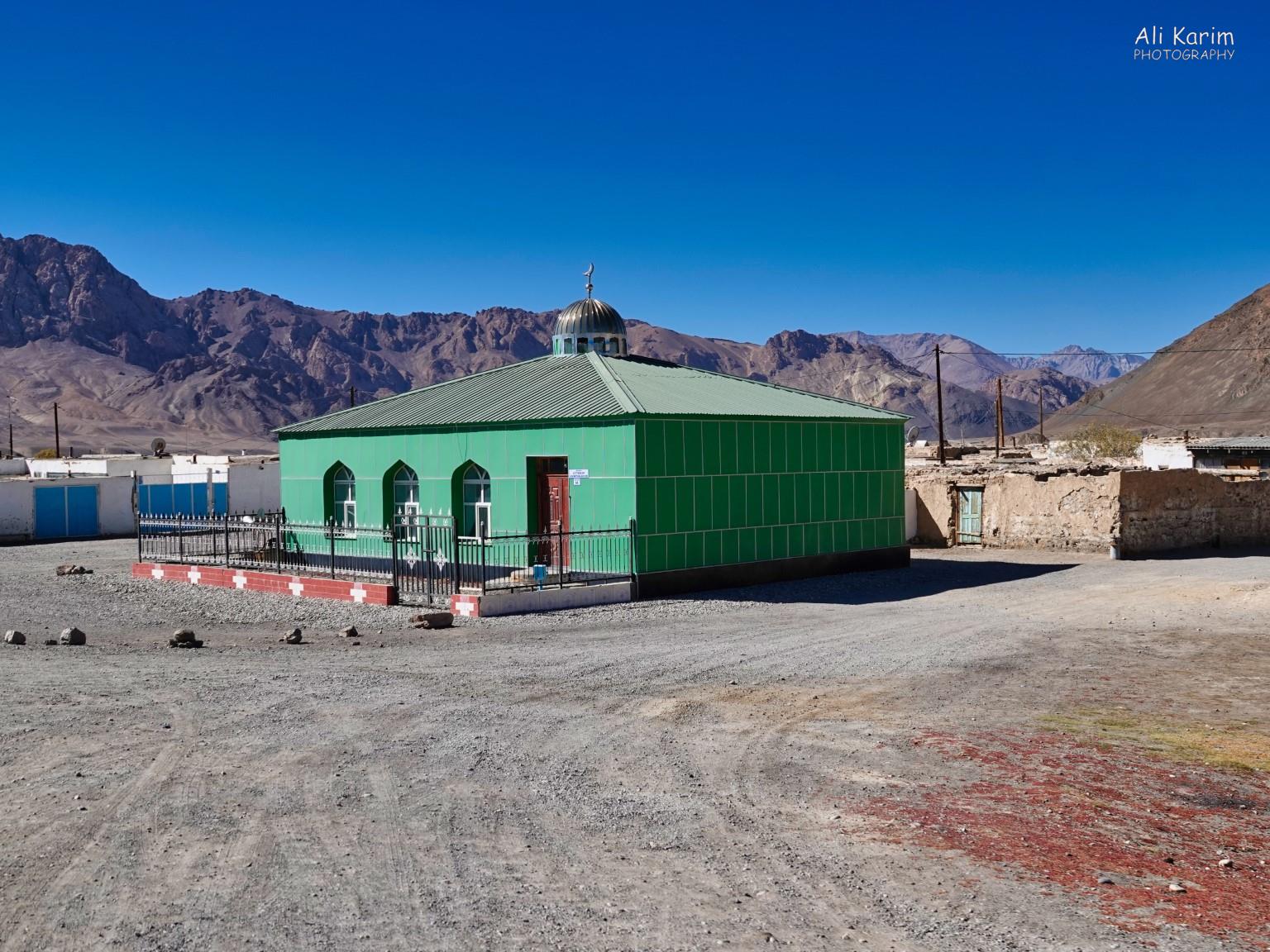 As we were leaving Murghab driving south, we were flagged down by a vehicle going north into Murghab. Ahmedali got out and hugged the other driver in greeting (small town so most people know each other I guess). Anyhow, this other driver gave Ahmedali a plastic ziplock bag that had coca tea bags that Dilshad had left behind at the homestay where we had had lunch at, the previous day in Karakul lake village. What wonderful people in this Pamir mountain region, who took the effort to get this small insignificant item back to us. Humanity is a wonderful trait.
Information
People of the region are very nice and are very helpful.
Some scenes below south of Murghab along the Pamir highway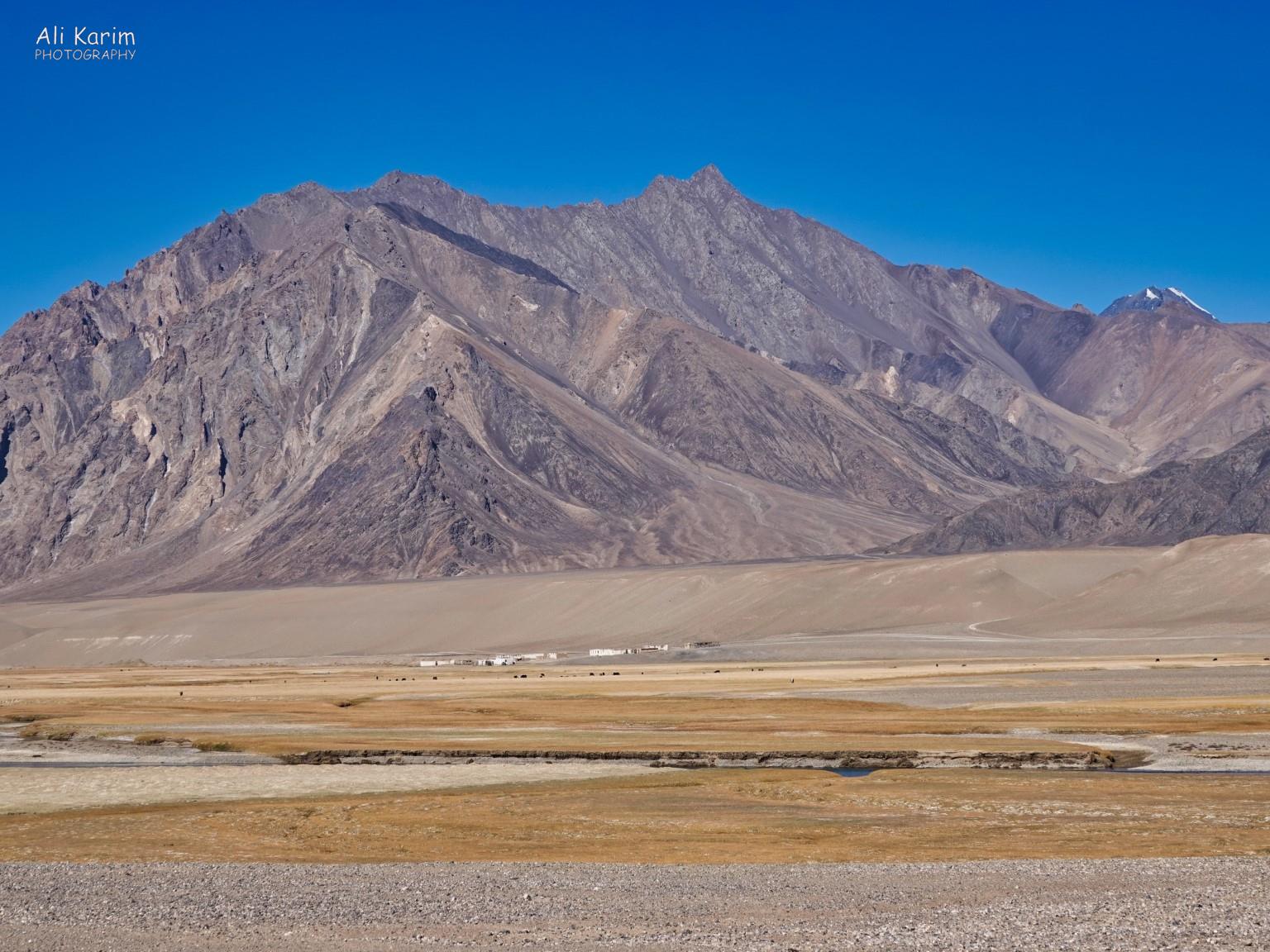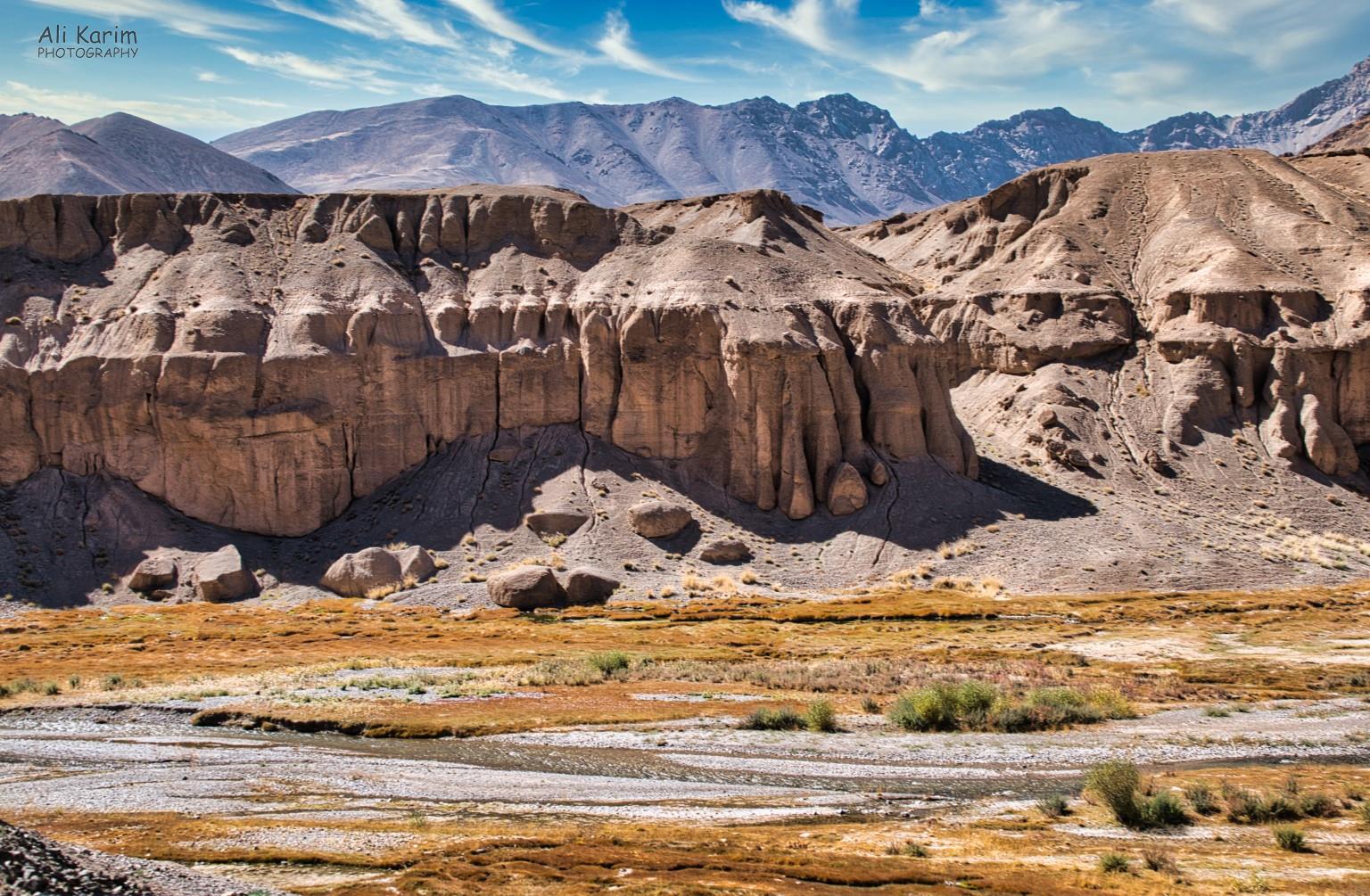 After driving about 20kms south on the Pamir Highway, we turned left, into a small dirt track towards the Kurteskei Valley in eastern Tajikistan. The road was just two tire dirt tracks in a plateau in the high Pamir mountain desert; climate here is high altitude aridity, and an extreme continental climate that causes cold winters with little snow and a short cool summer, often described as "extreme for living". Our first destination was a prehistoric site; that I believe was the Shakhty cave. We drove along the dirt tracks and stopped at the bottom of the hill, and then climbed up 200m or so up a narrow dirt track to a rocky overhang. Climbing was slow as this was at an altitude of 4500m or 14,760ft.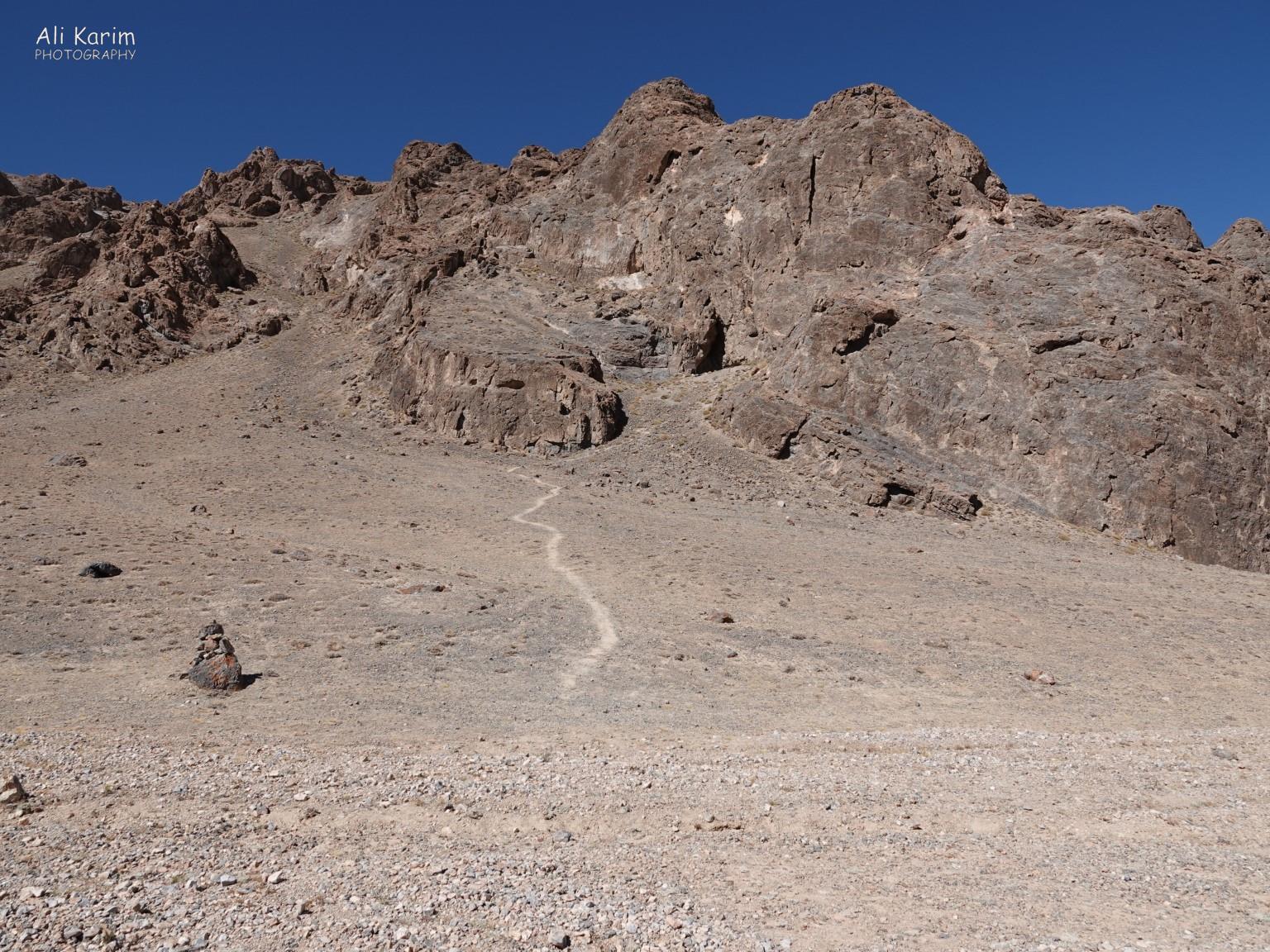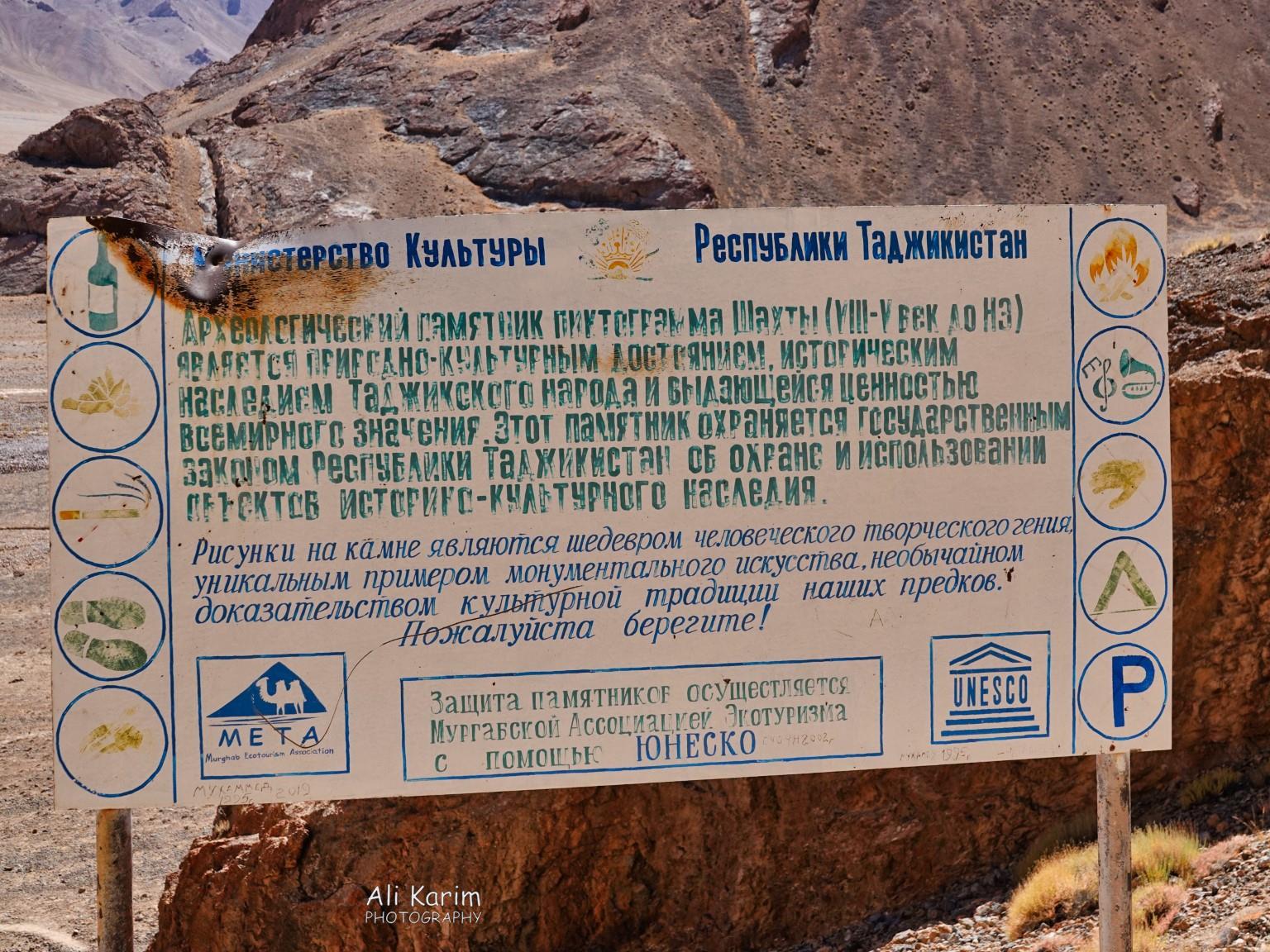 At the entrance to this pre-historic site, was the above sign in Russian, basically designating this as a historic site under the Govt protection.
Information
This prehistoric site is under govt protection and dates back to Neolithic age..
It also says that the site is from 5 to 8 millennia BC; or 7,000 – 10,000 yrs old. It is from the early Neolithic age, thus marking the first appearance of people in Eastern Pamir. The area must have been fertile and habitable with animals for food available. Since then tectonic activity in the 1st millennia BC (3,000yrs ago) caused this area to turn into one of the harshest mountain desert places in the world to live in.
At the entrance to the cave, we saw the petroglyphs; well preserved based on the powdered iron-oxide pigment used from nearby crevices for the paint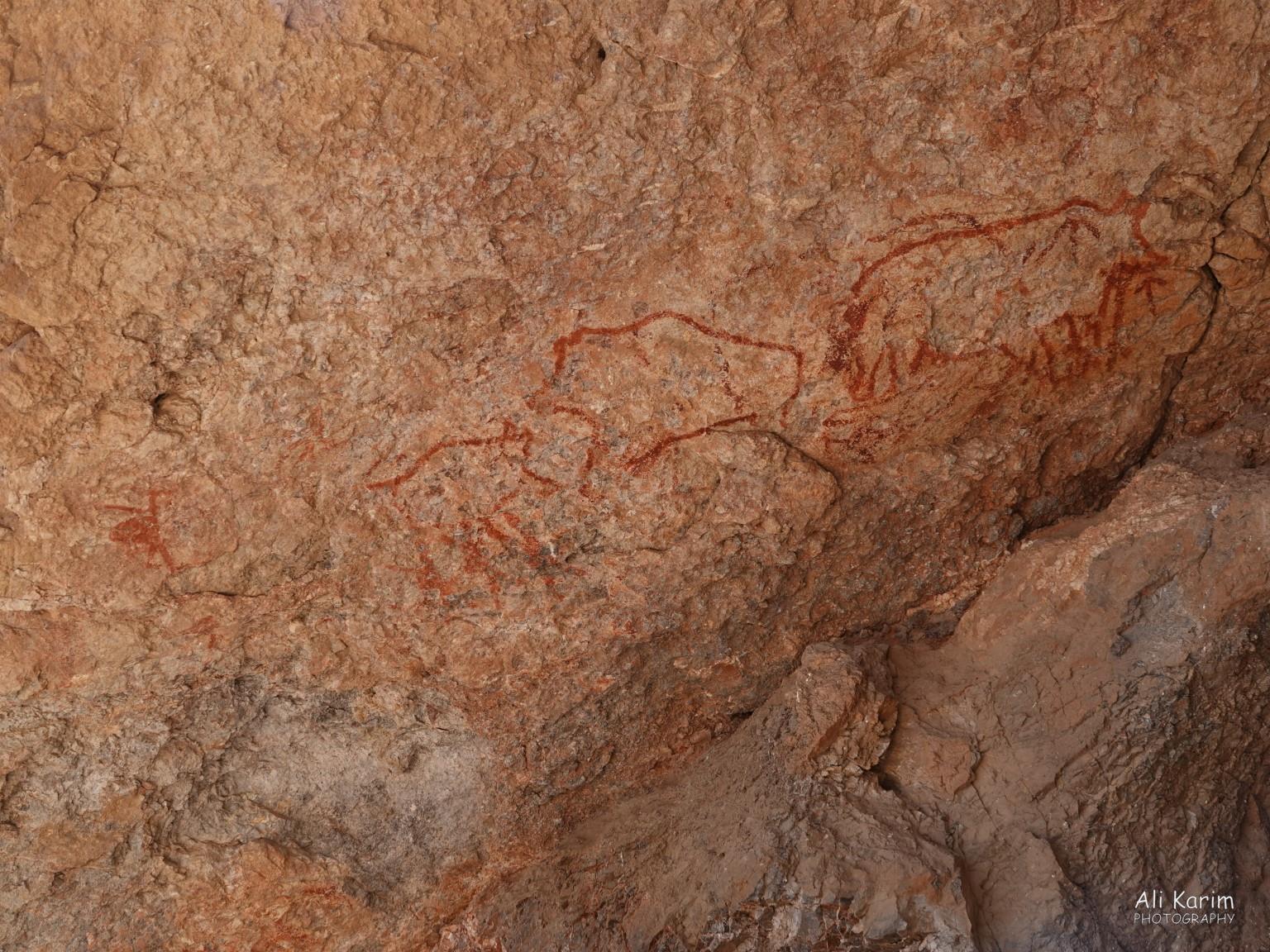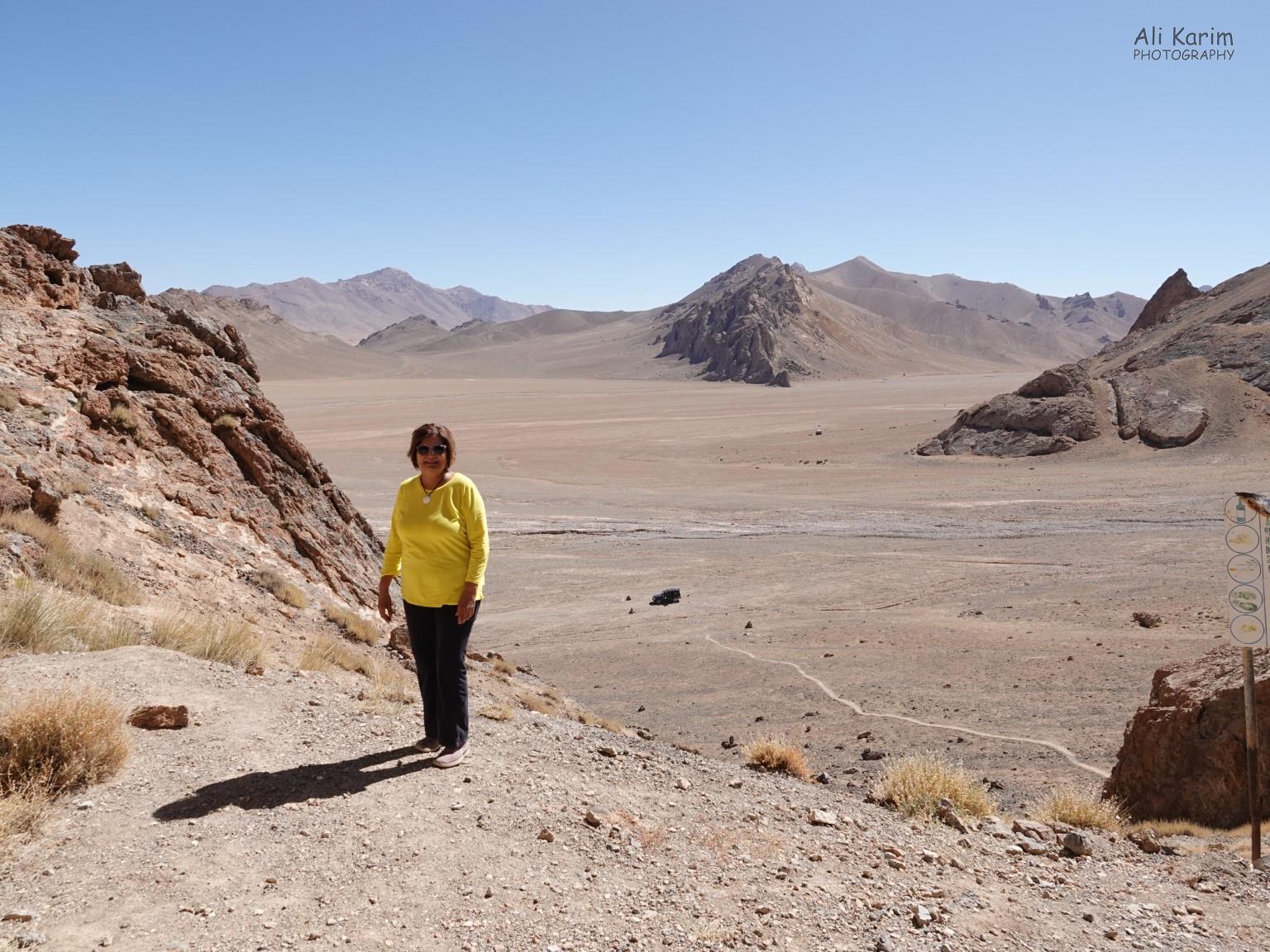 Views from the Shakhty Cave

We climbed down and started driving along the twin dirt track westwards. Our next destination was the Shorbulak (or Shor-Buloq) Observatory; which is located at 4300m (14,100ft) in the middle of nowhere, about 30miles from the Chinese border. The Soviets had built this observatory as part of several observatories world-wide (Armenia (Ararat), Azerbaijan (Ordubad), Caucuses (Kislovodsk Mountain Station), Pamir (Shor-Bulak), Chile, Bolivia, Nikolaev, Russia, and Pulkovo, near St Petersburg, Russia). Most of them went in disuse after the Soviet empire collapsed.
Views from the disused Shorbulak Observatory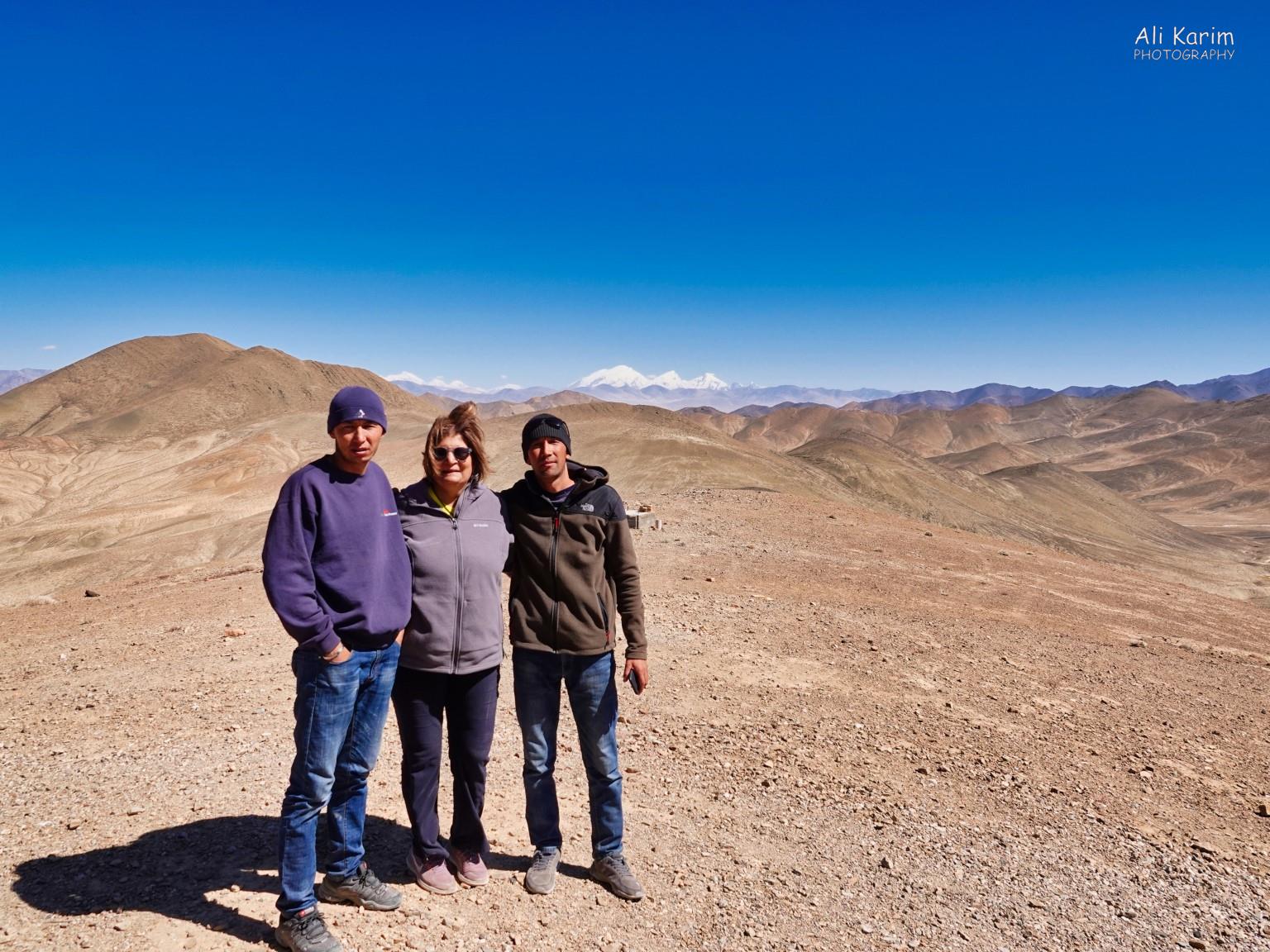 In the image above, the white peaks in the background are of Muztagh Ata (7,546 m) and other peaks in China, at Karakul lake in Xinjiang, China; a part of the Silk Road in China we had visited in 2016
Near the Observatory, the Soviets had built several small buildings for housing and all associated long term living needs. Everything was abandoned, including several vehicles. Local nomads were taking advantage of the abandoned facilities to house their families and animals.
Our next stop was back down the Kurteskei Valley, towards Jarty-Gumbez (or Dzhartygumbez), which is about 15 miles from the Afghanistan border. Jarty-Gumbez is a small village with a natural hot spring. So off we drove down the hill from the Shorbulak back into the high mountain desert barrenness.
Along the way, some scenes below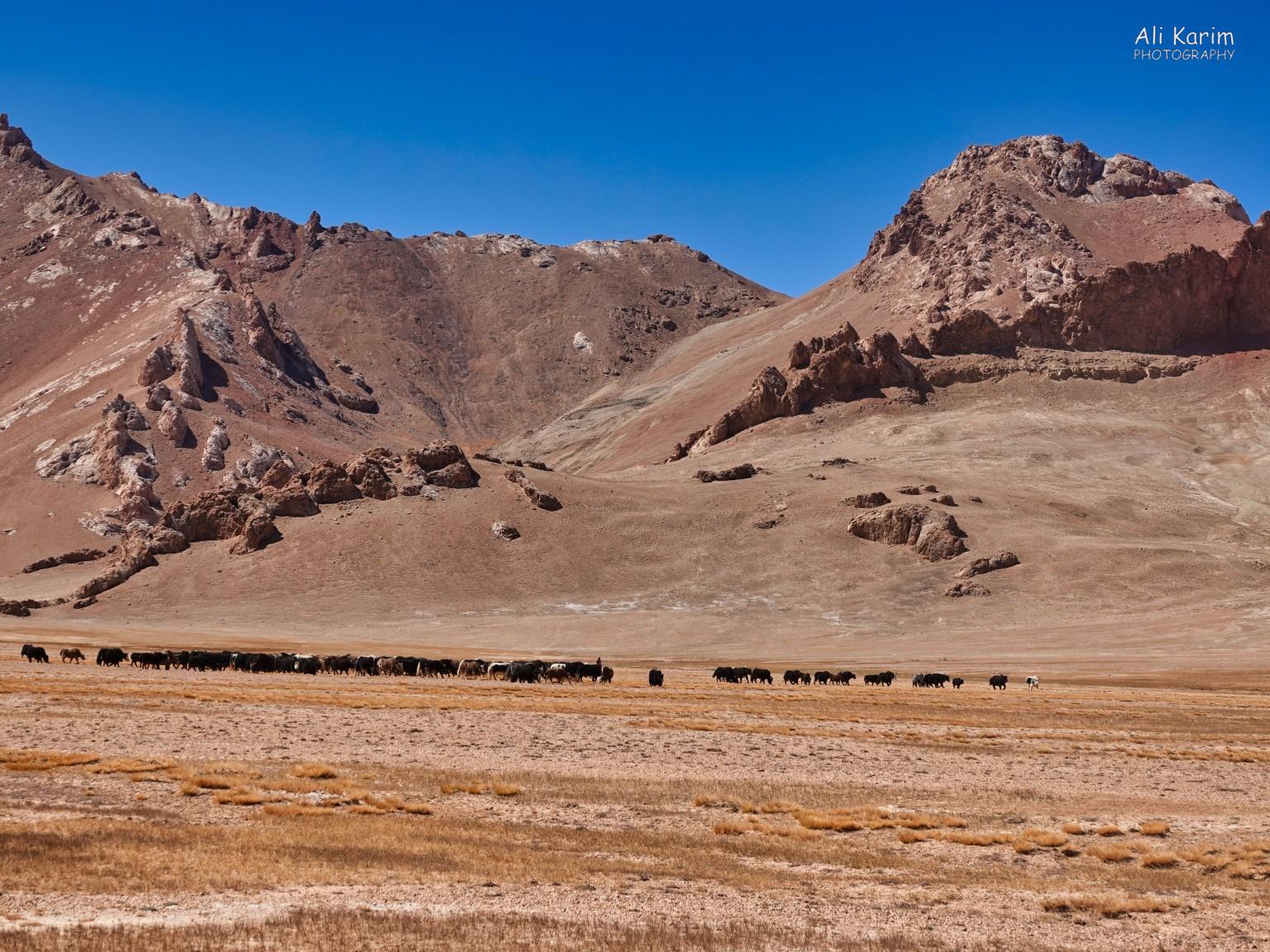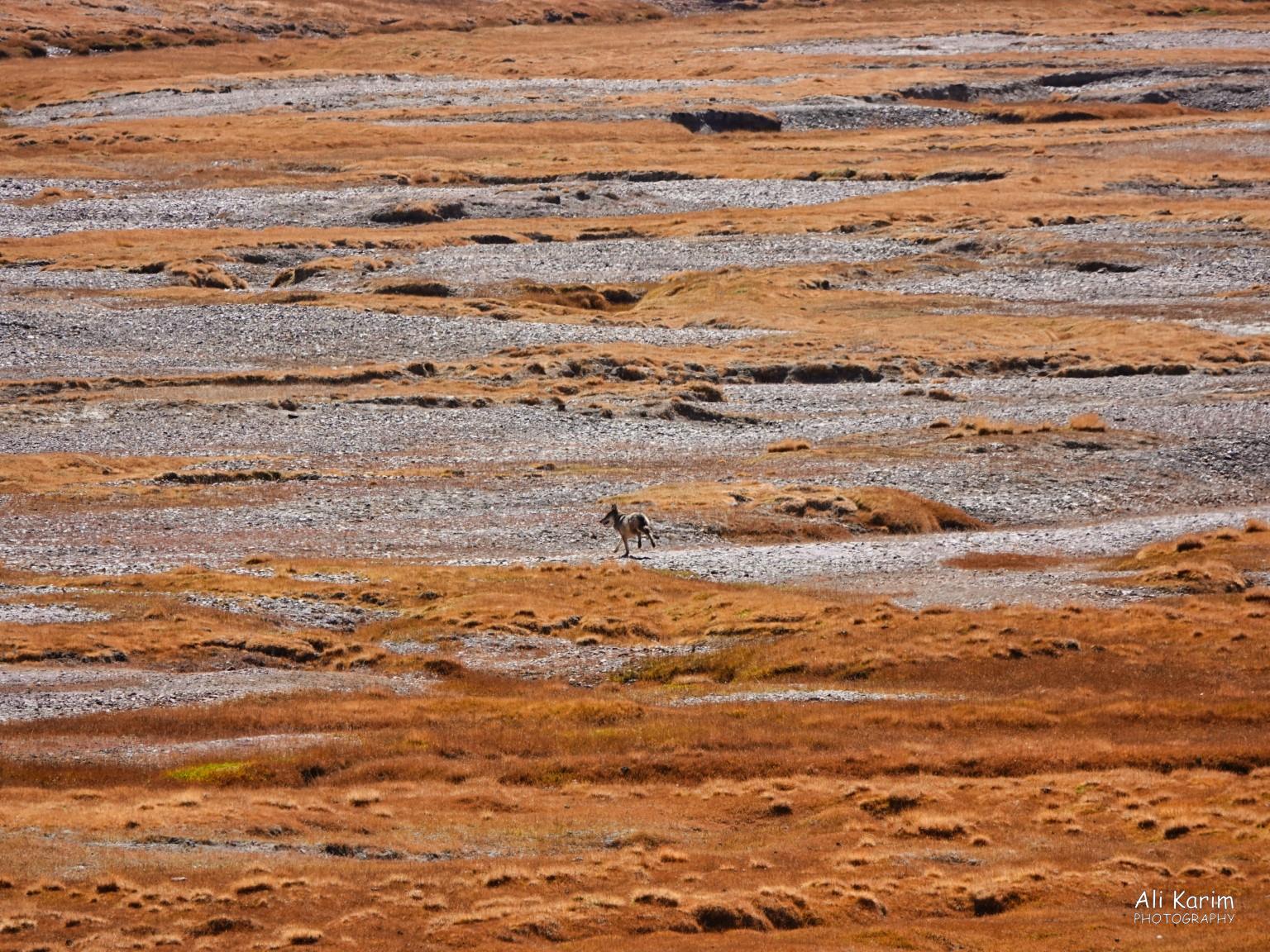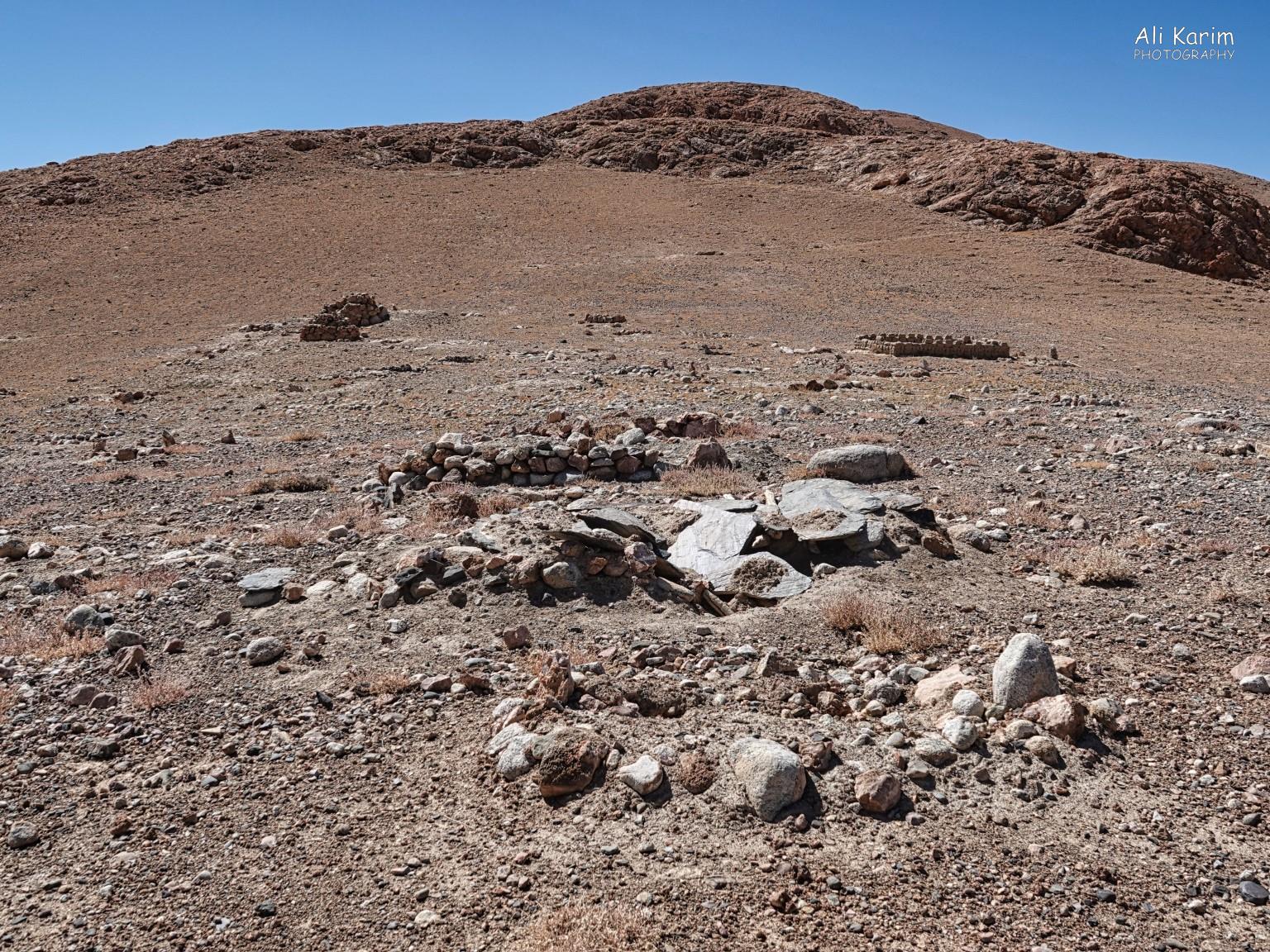 Whenever we passed a kabrastan (cemetery), Ahmadali and Sherali would recite a quick prayer for the deceased.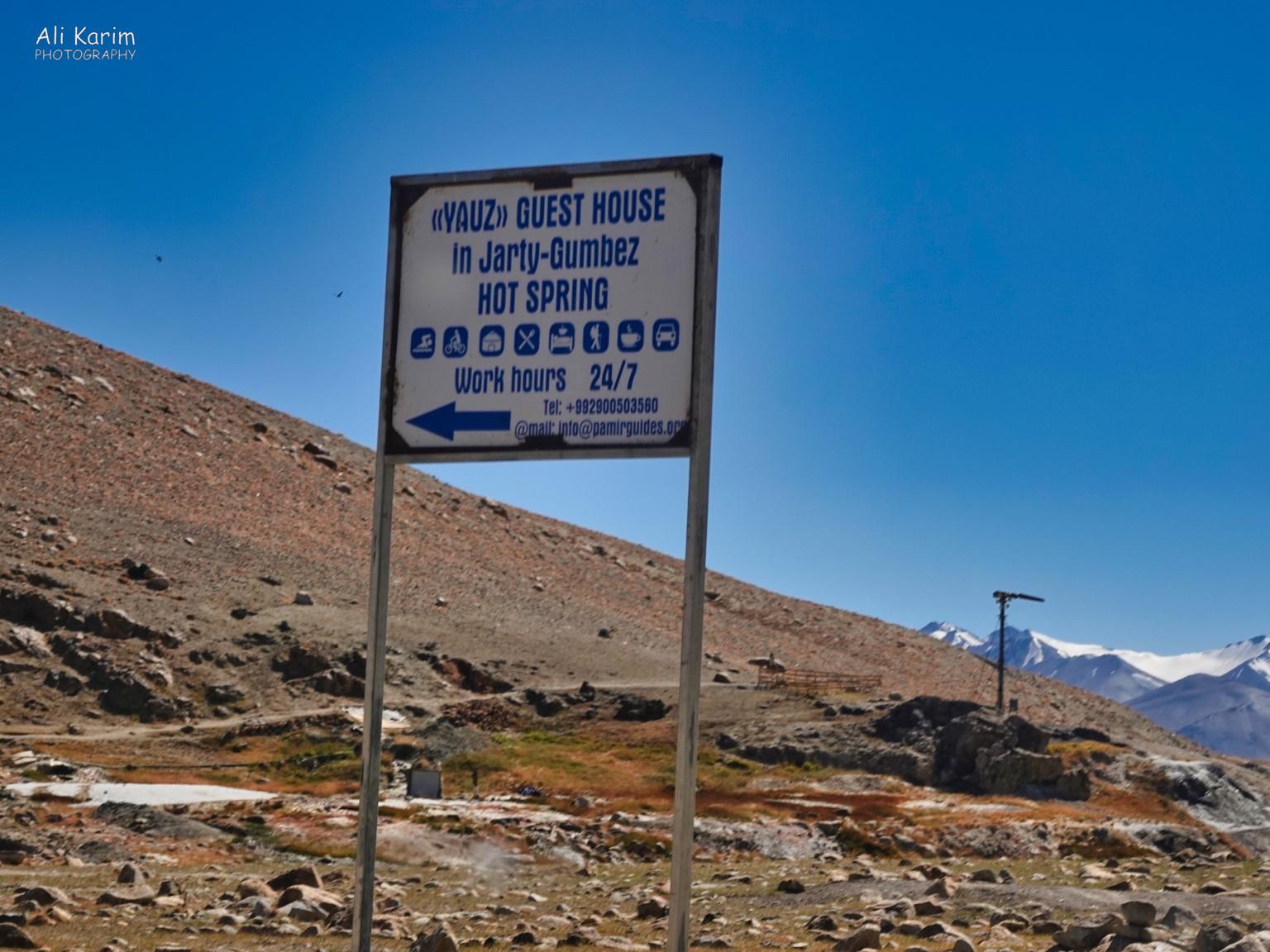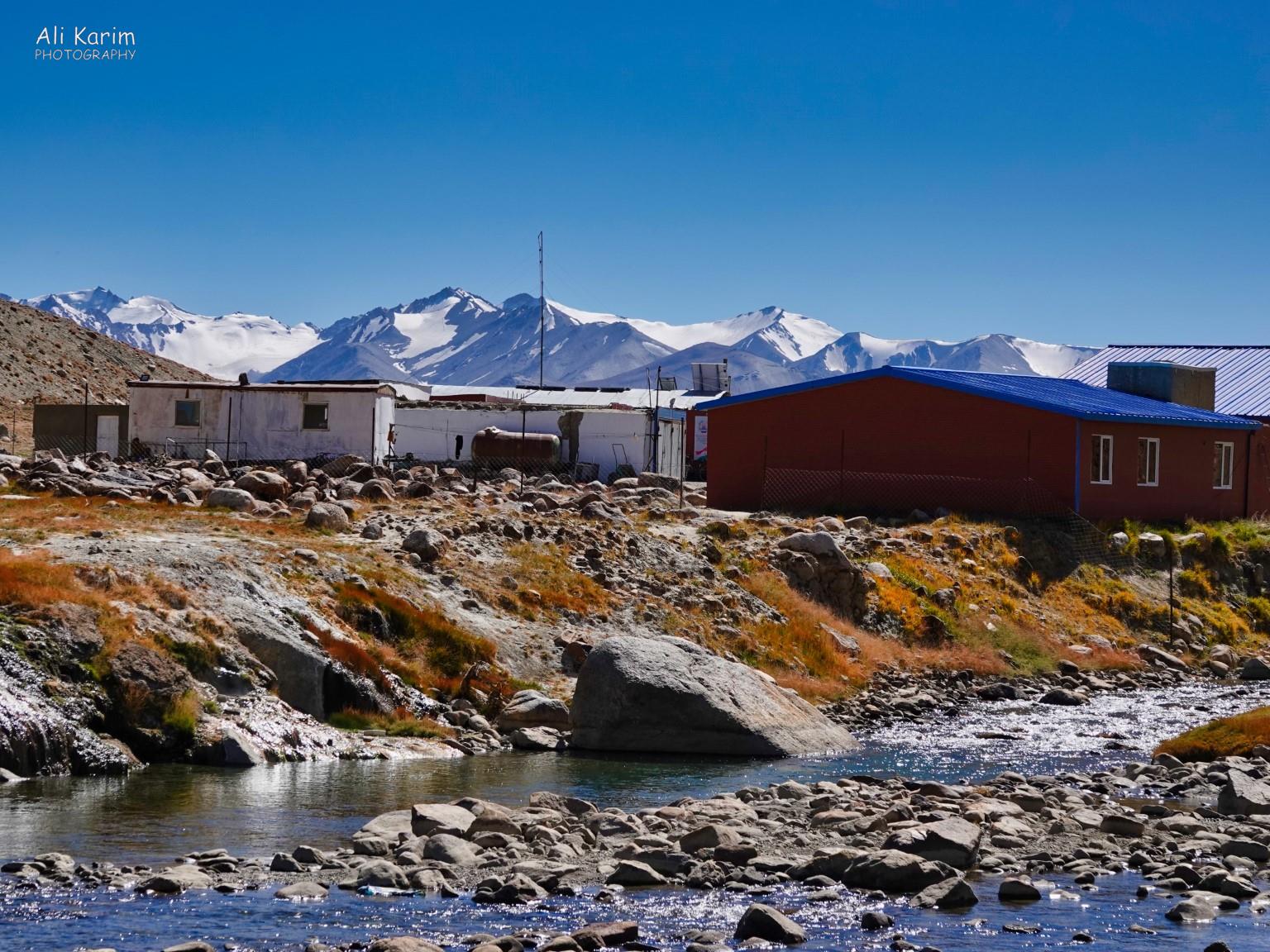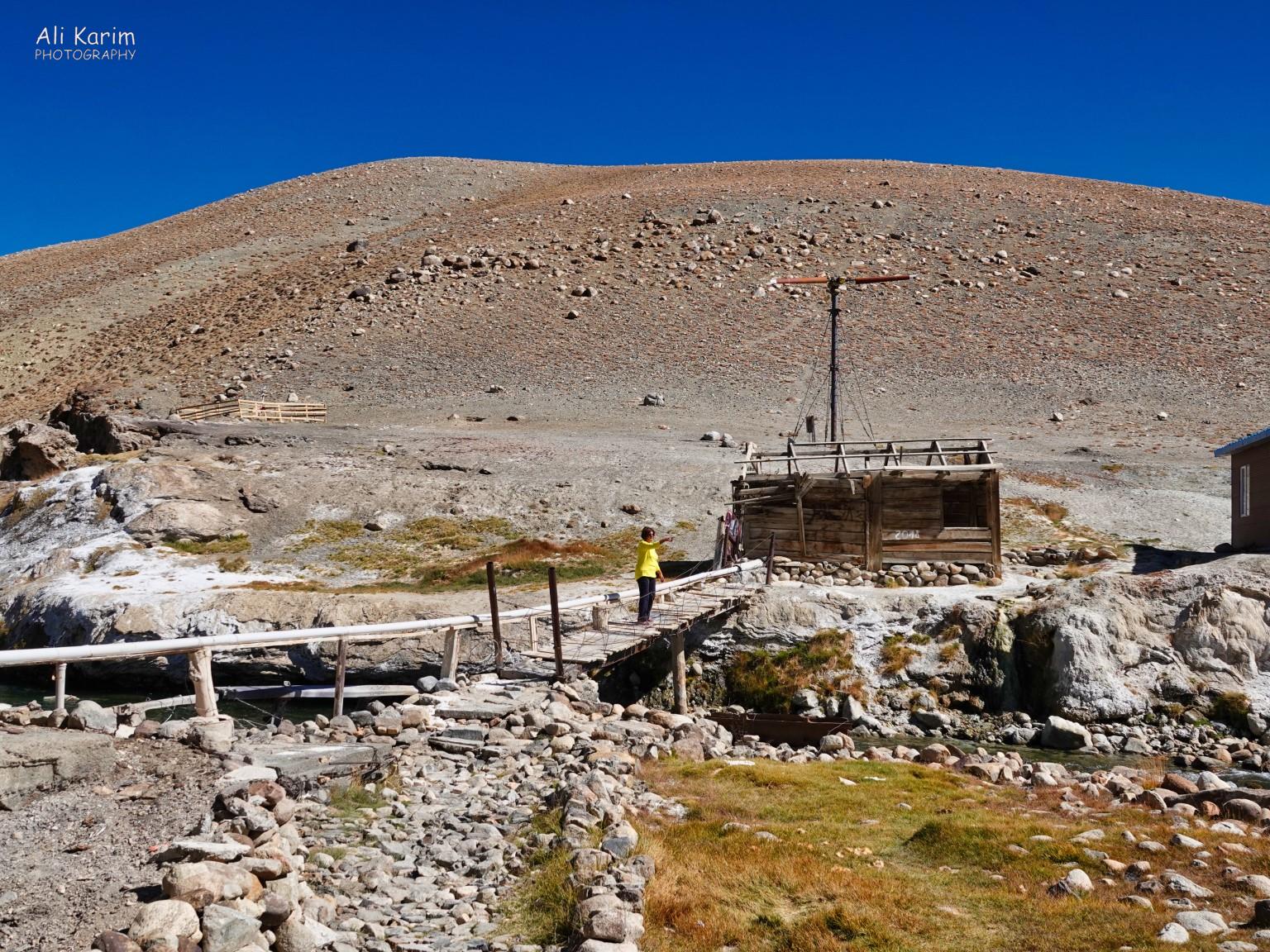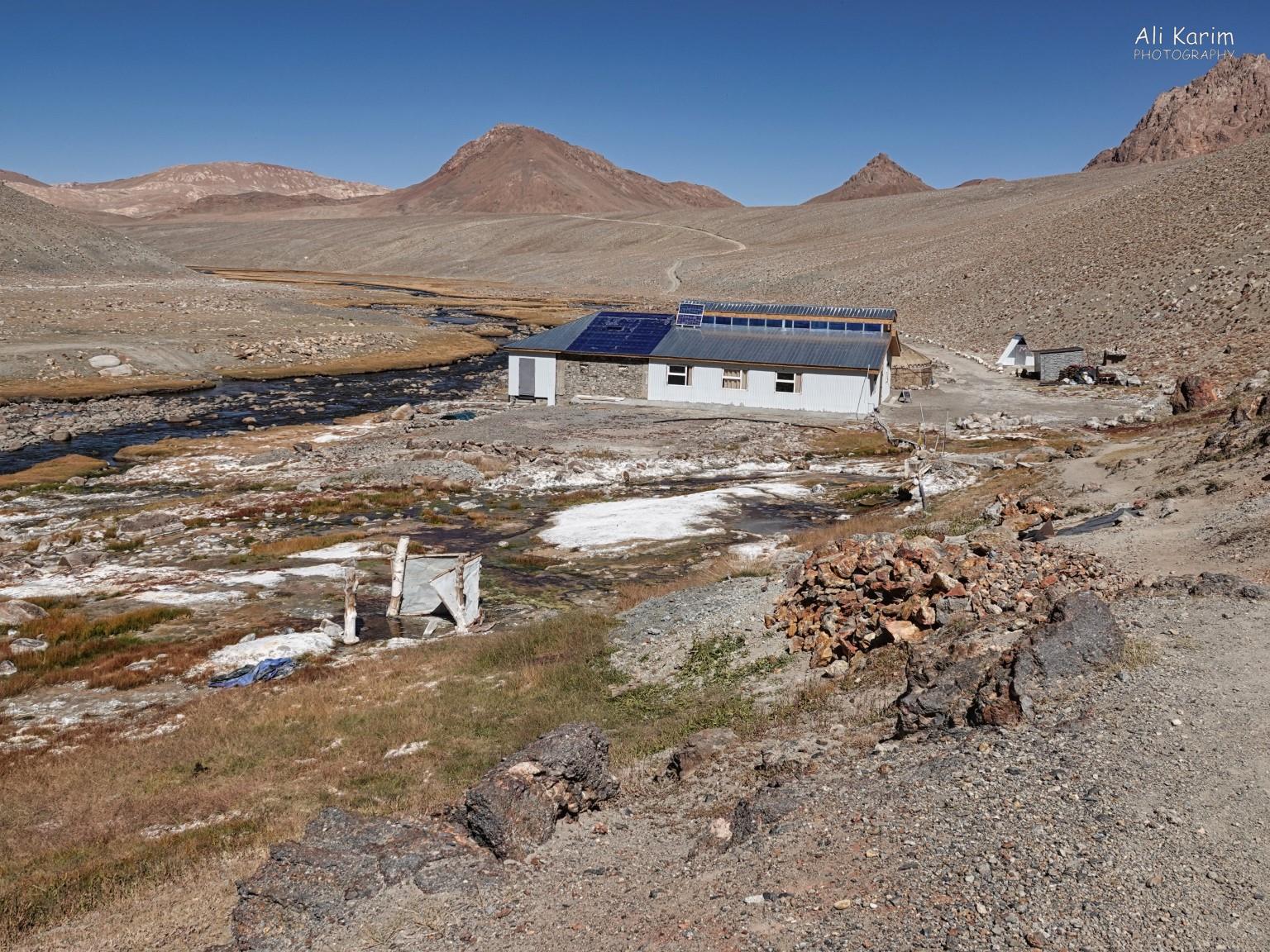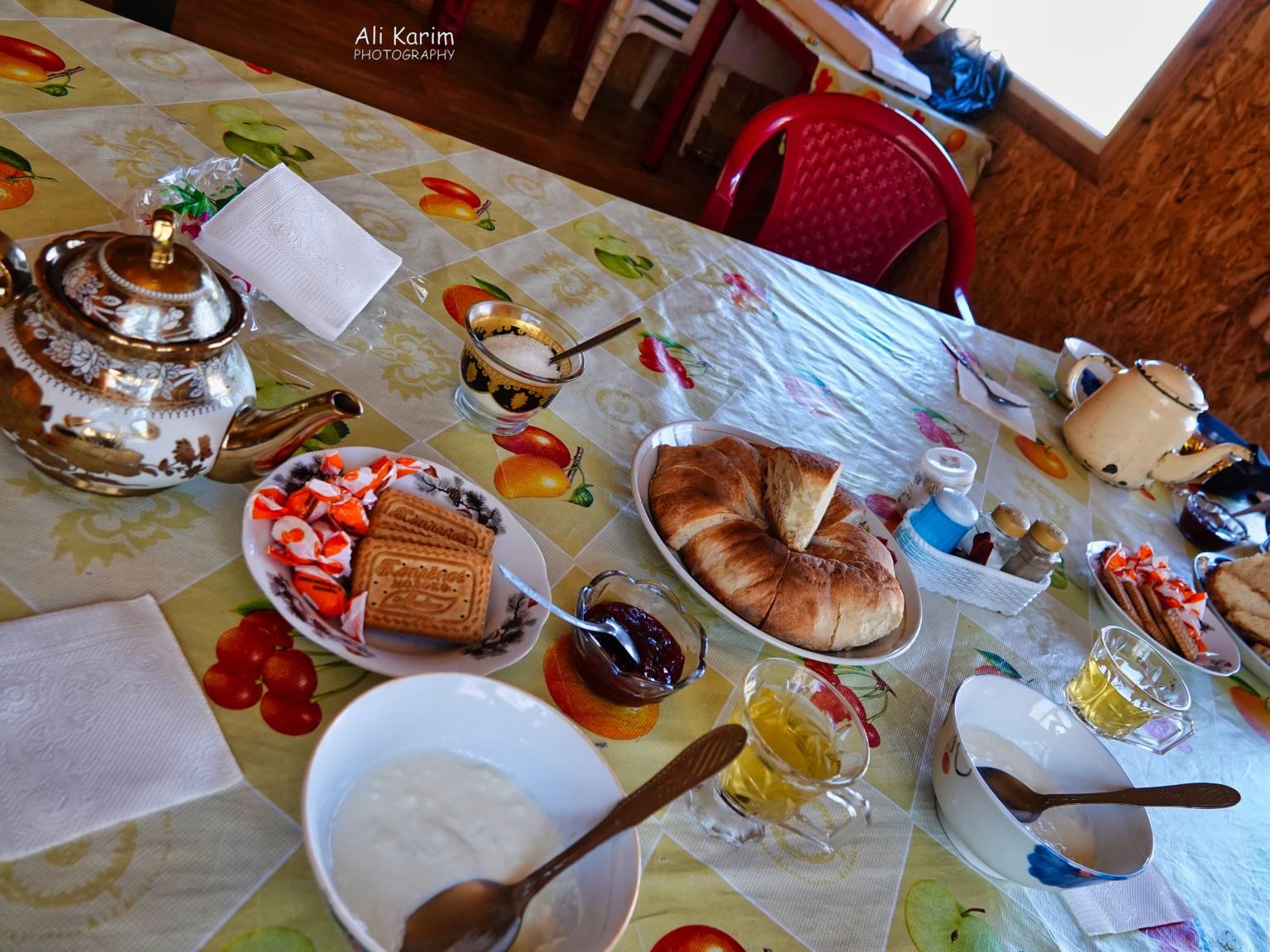 We had lunch at the hot springs guest house, complete with yak milk yogurt 🙂 . Last time we had yak milk yogurt was when we visited Tashkurgan, China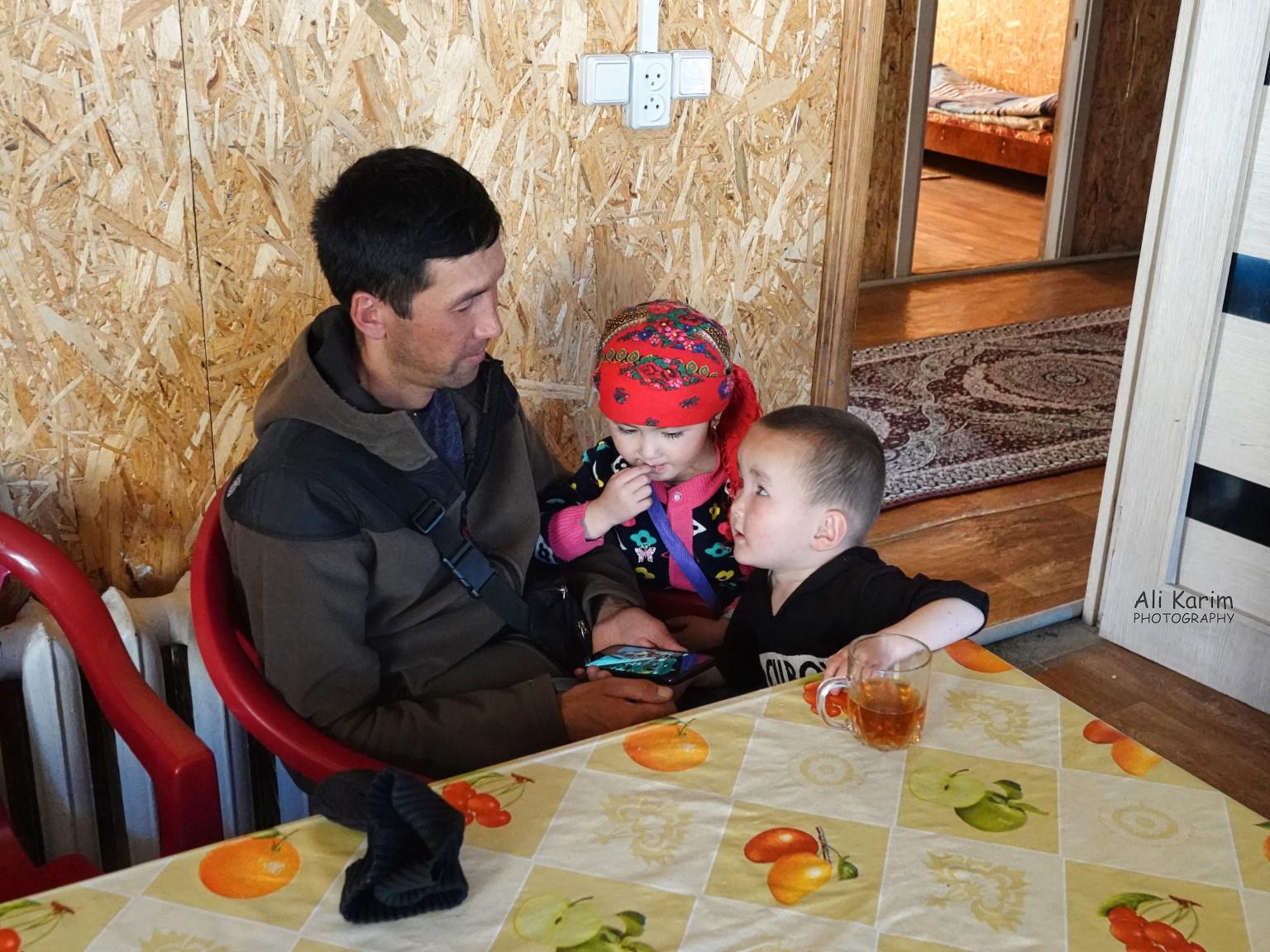 After we spent some time in the hot spring pools, we started driving back to the main road and civilization. All this time, since we had left the main road just south of Murghab, we had seen maybe 3 other vehicles. Since there is no mobile coverage here, if one's car were to break down or if one needed immediate help, then we were at the mercy of the locals and few passerby's. Small sparse settlements in such a harsh environment builds a very close knit community that help each other out; necessary for everyone's survival.
A few scenes on the way back the main road (Pamir Highway) and to Alichur as we drove westward back to the Pamir highway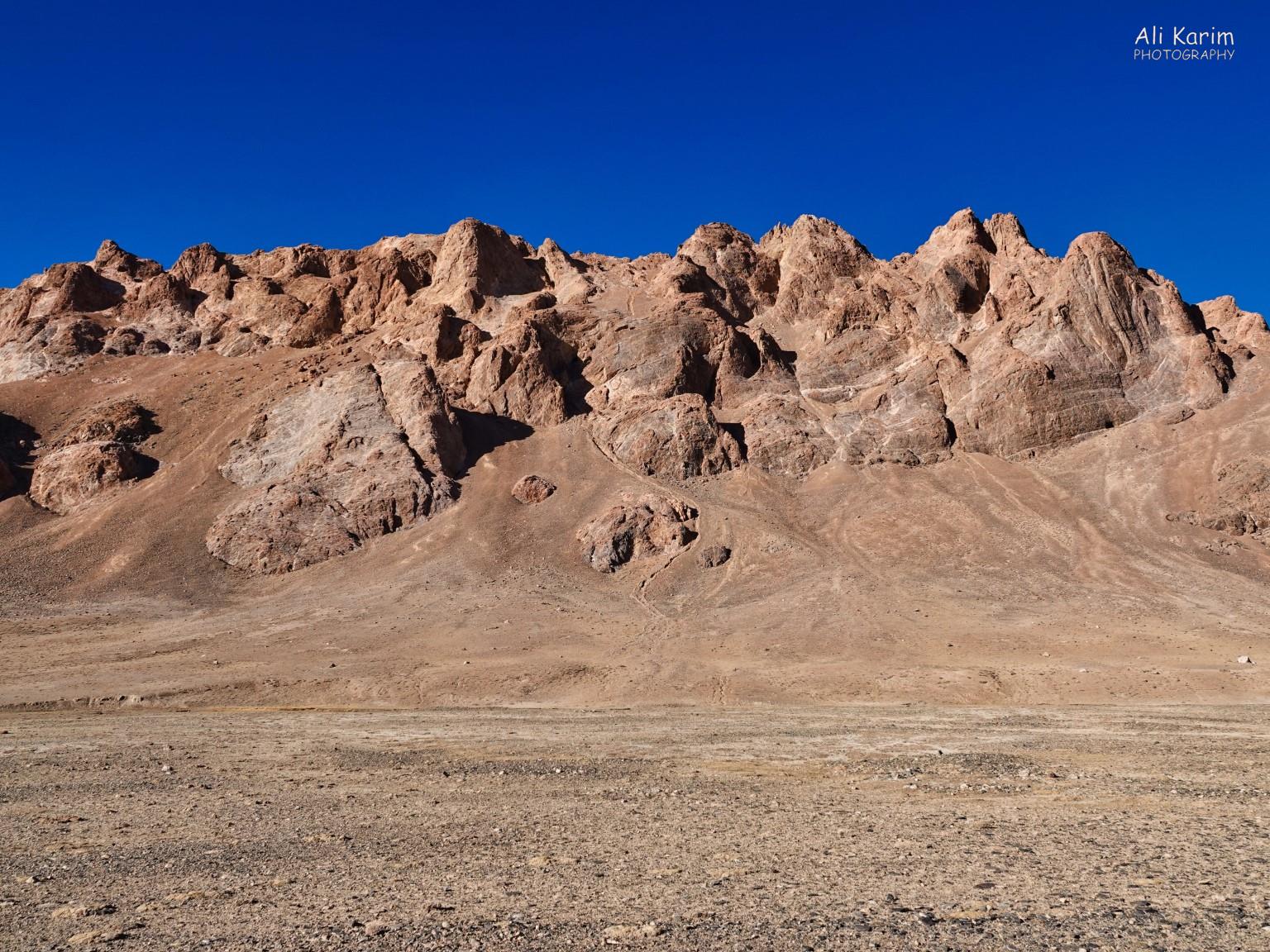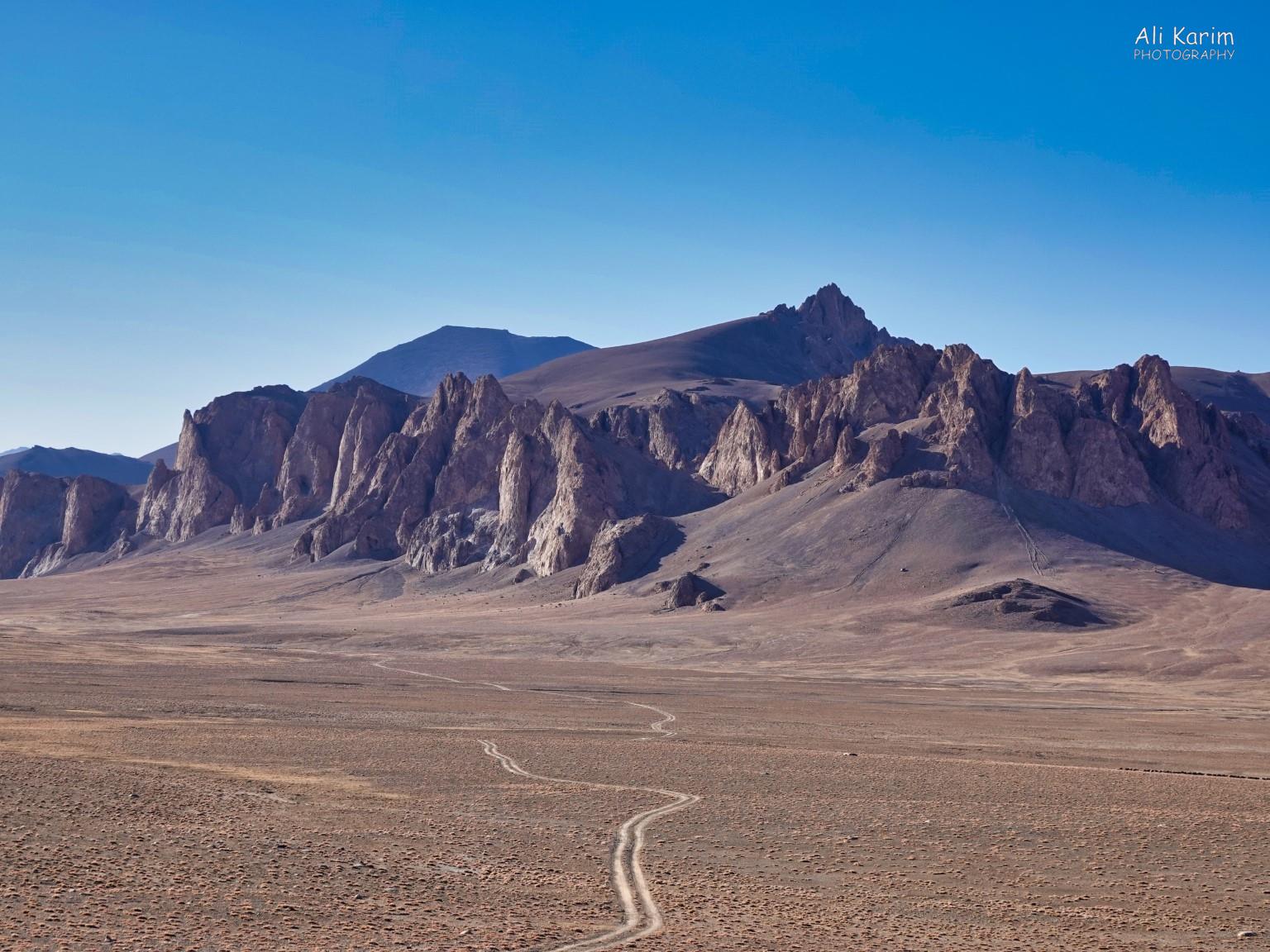 Views after Jarty-Gumbez and on the way towards Pamir highway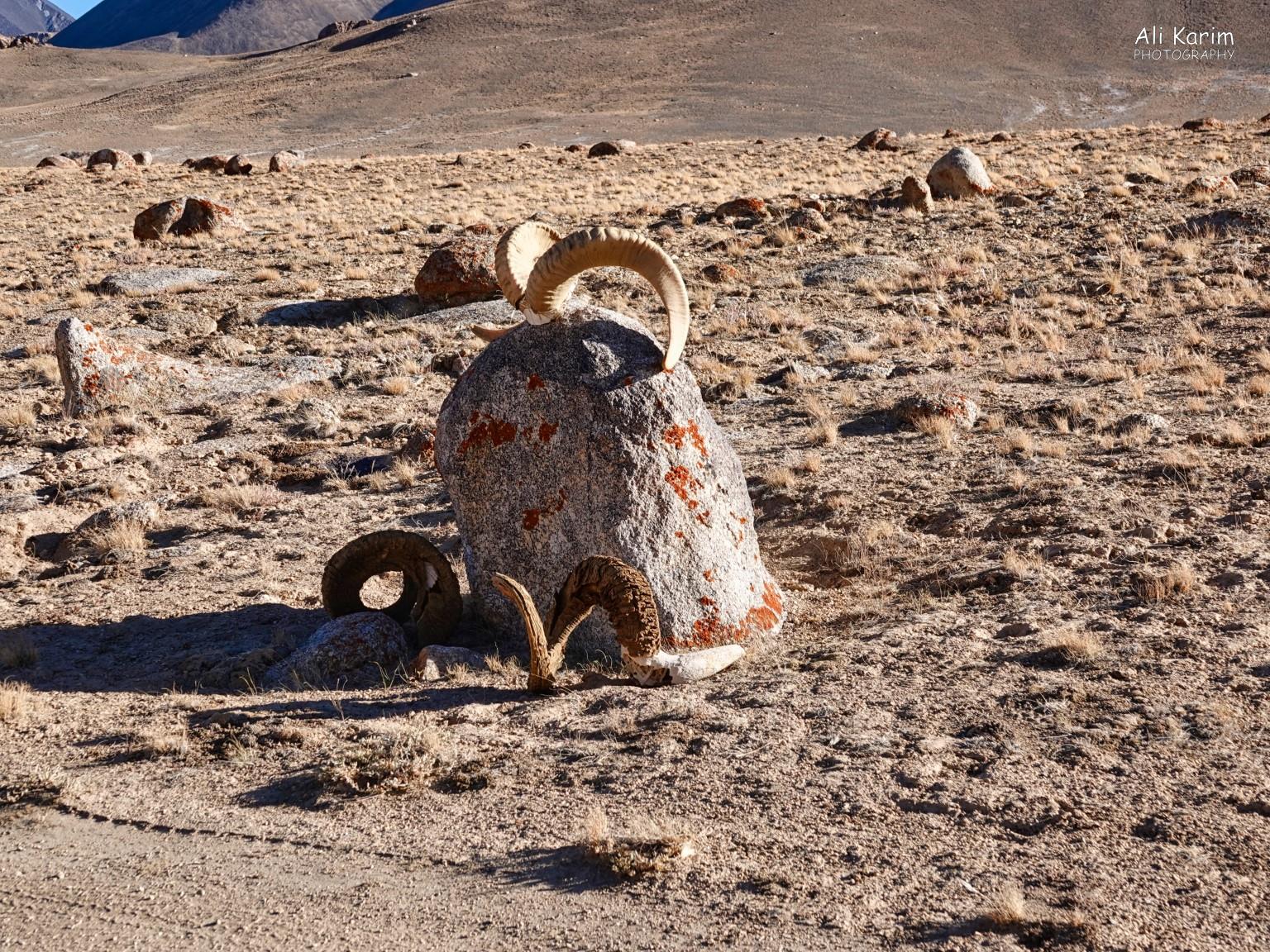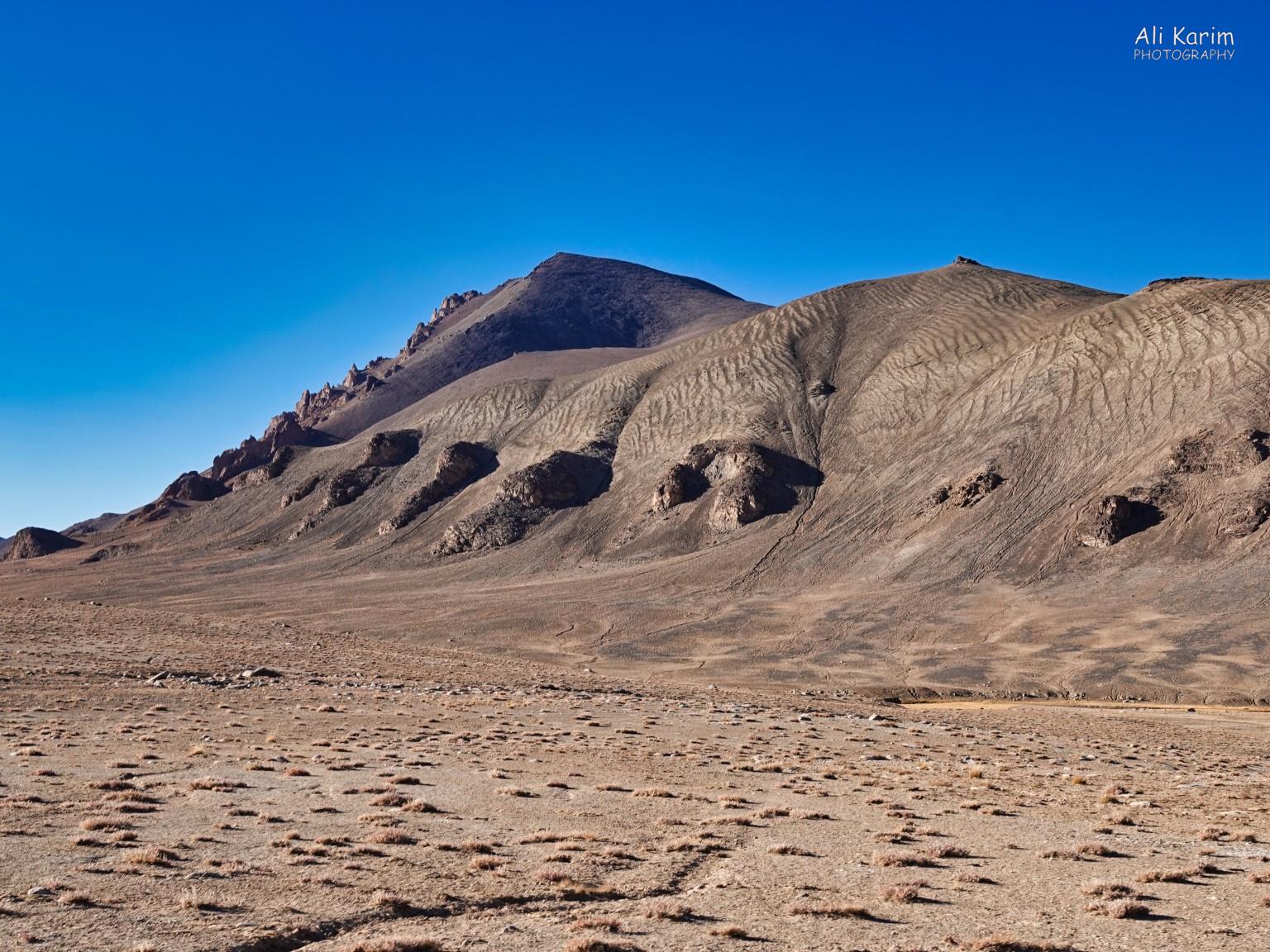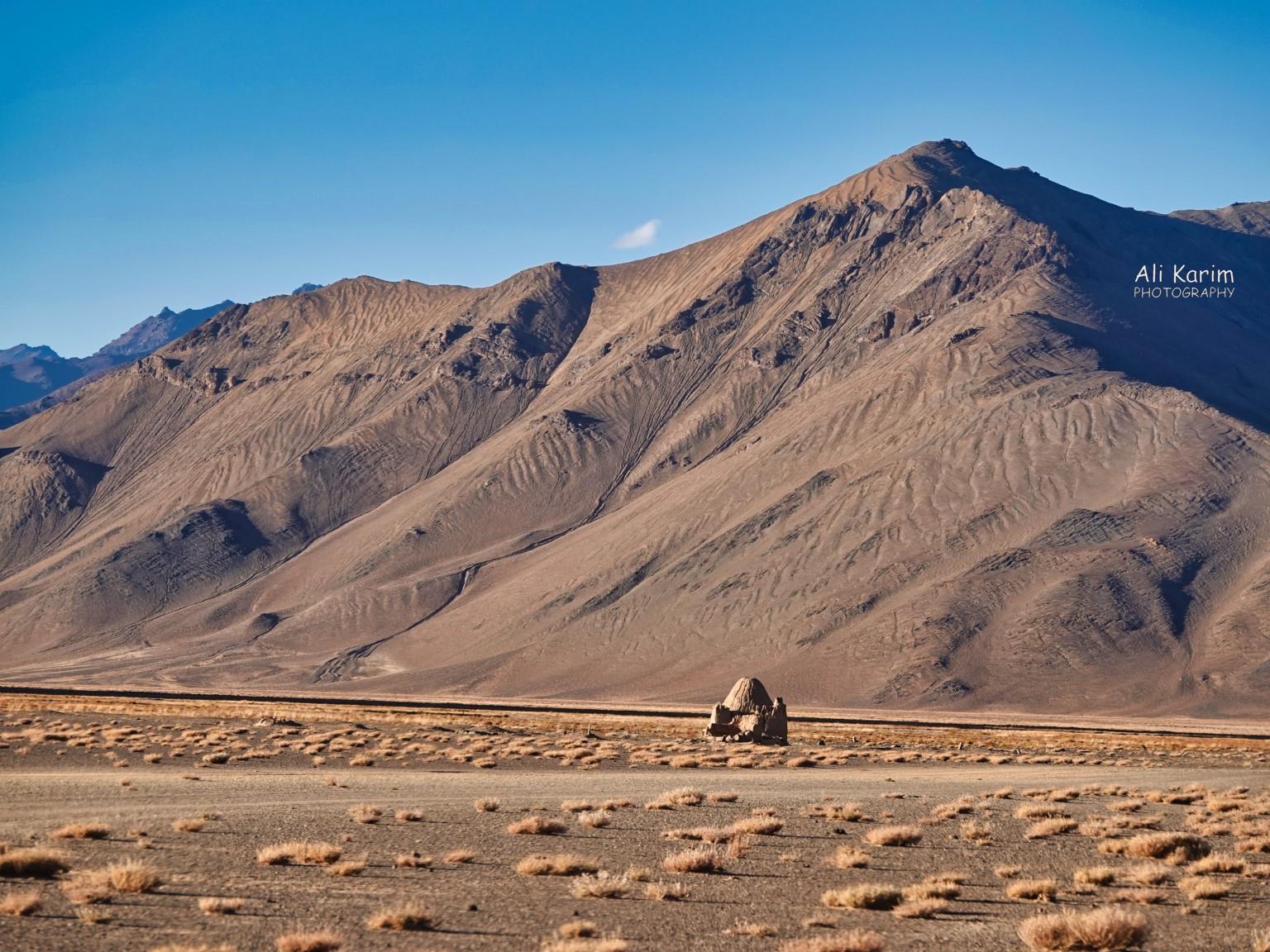 We arrived at, and rejoined the main Pamir Highway and turned south-west towards the village of Alichur. It was evening now, and the sun was going down. We arrived and went to Sher's House Inn, which was the guest house we were going to stay in. It was recently built, and so was new and had conveniences like hot water radiator heating and hot showers, which only were available in the evening when the boiler was turned on for the night heating. We had hot indoor showers, but the toilet was outside :(. It was however, a western flush toilet, and clean :). All Guest houses we had stayed at cost us between $10 and $15 per night (for the 2 of us, 1 room) and included breakfast and dinner. Talk about cost effectiveness.
Information
The guest Houses that we stayed in were significantly low cost and very affordable.
That evening for dinner, we were joined by 2 other couples that had arrived to stay here. One couple was bicycling all the way from England and Europe to Japan; the other couple were hitchhiking their way across Central Asia. As we listened to their stories, we realized that we were the least adventurous people here. After dinner and more conversation, we called it a night.
Our trip so far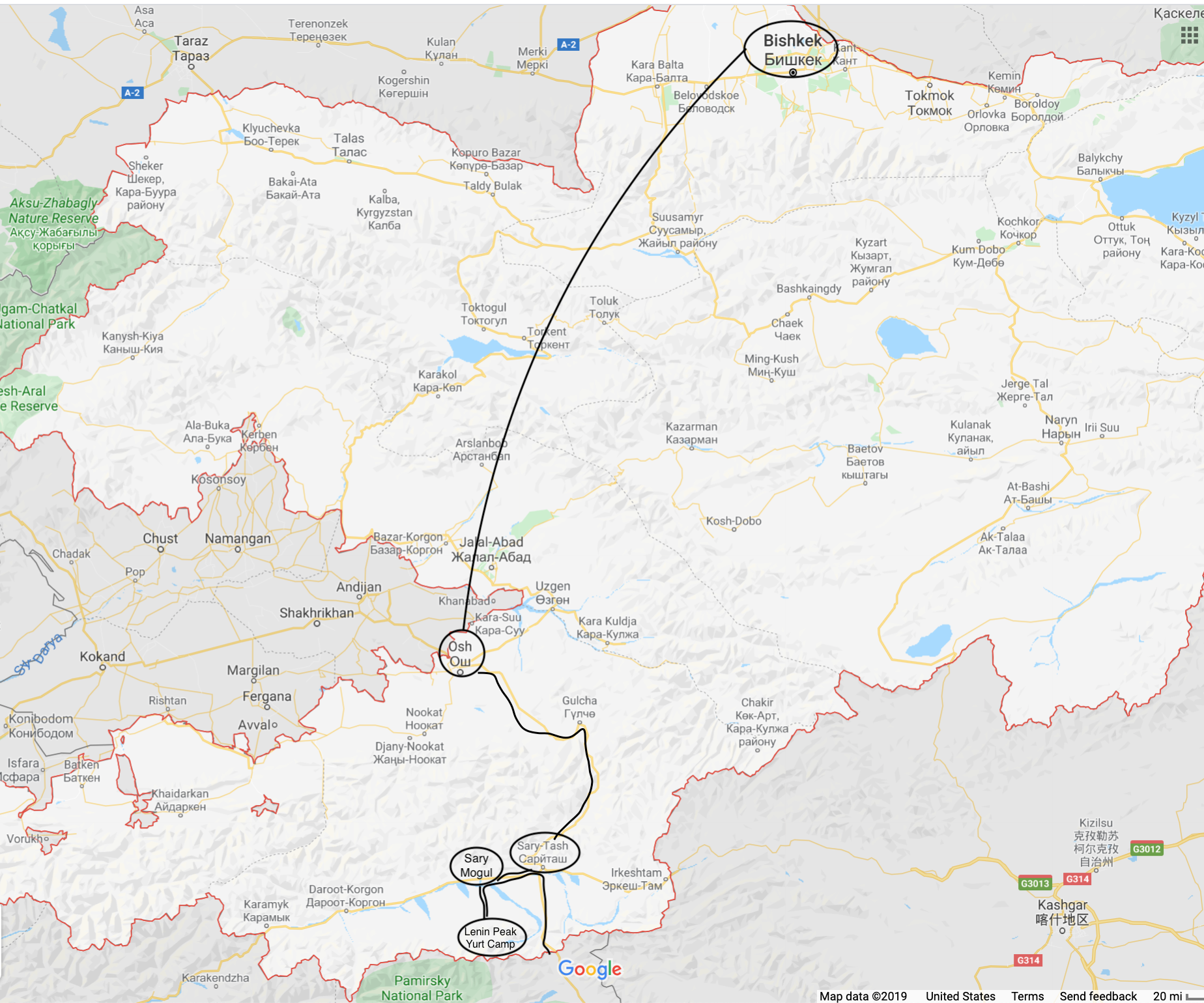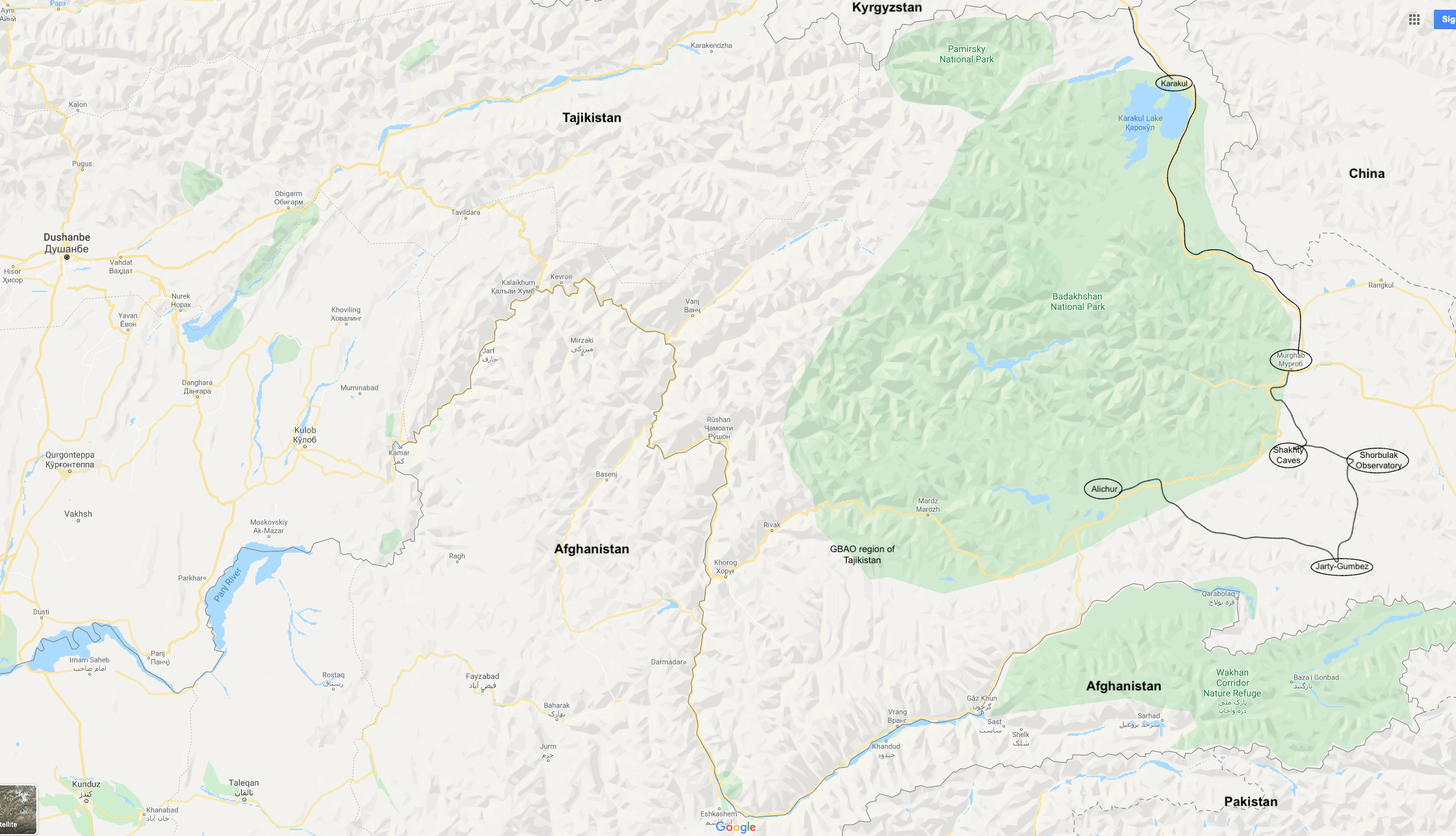 Next, we were off to explore Bulunkul, Yashikul and onto Langar
This entry was posted in
Asia
,
Silk Road Tajikistan Sept-Oct 2019
,
Tajikistan